The big day has come and gone. Now it's just the two of you kicking off your married journey together with a dream California honeymoon!
Home to stunning redwood trees, world-famous cities, beauteous national parks, and cliff-lined beaches, California is a one-of-a-kind destination that offers an experience teeming with diversity, action, and romance.
Get to California dreaming with this ultimate guide! You'll find an array of California honeymoon ideas, from the top resorts and romantic destinations to the best activities and travel tips.
What Makes California Perfect For A Honeymoon
There's a reason why California is coined the Golden State. Its laid-back atmosphere, year-round sunshine, and jaw-dropping scenery make it a high contender among the top honeymoon destinations.
The state's myriad diverse landscapes make it so remarkable; romance reigns supreme within its borders, from the stunning Sierra Nevada Mountains, redwood forests, and verdant wine country to the glamourous cities and gorgeous beaches bordering the Atlantic Ocean.
Turning starry-eyed doesn't even begin to explain the wonders of the state. You'll feel like you're in your very own Hollywood blockbuster here!
Best Honeymoon Resorts, Hotels, and Other Stays In California
When it comes to the perfect honeymoon hideaways in California, you'll have your pick of everything from luxurious oceanfront resorts to mountain retreats and charming wine country settings.
We've put together a select list of the best honeymoon stays throughout California to help you choose the perfect home away from home. No matter what dreamy setting you're looking to have, you're sure to find it with this list.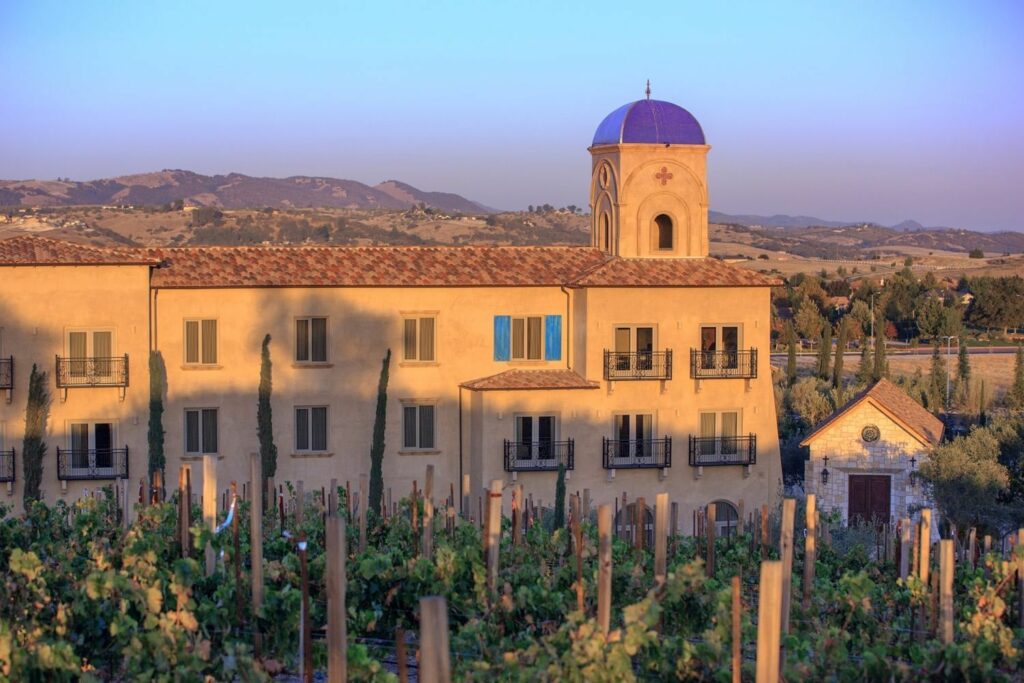 Price per Night: $250-$700
Best For: Younger & older couples, spa treatments, all-inclusive outdoor activities
Availability: Easy to book
Transport yourself into a fairy-tale-like Tuscany as you step into Allegretto Vineyard Resort. Framed by the picturesque vineyards and rolling hills of Paso Robles, the resort is the perfect romantic getaway with vineyard and art tours, luxurious spa treatments, horseback riding, and exclusive wine-tasting events.
The resort's 171 rooms and suites are European-inspired with the spirit of Paso Robles. Guests are spoiled with beautiful Dream Sleeper mattresses and luxe bedding, with some offering patio and balcony options.
Walk the vineyards, rejuvenate with a yoga class, tour the halls' art and antiques from all over the world, or lounge in the Piazza Magica with a glass of wine. Be sure to take full advantage of the delicious food from the local restaurant, Cello Ristorante & Bar. When at a place such as this, that's amore!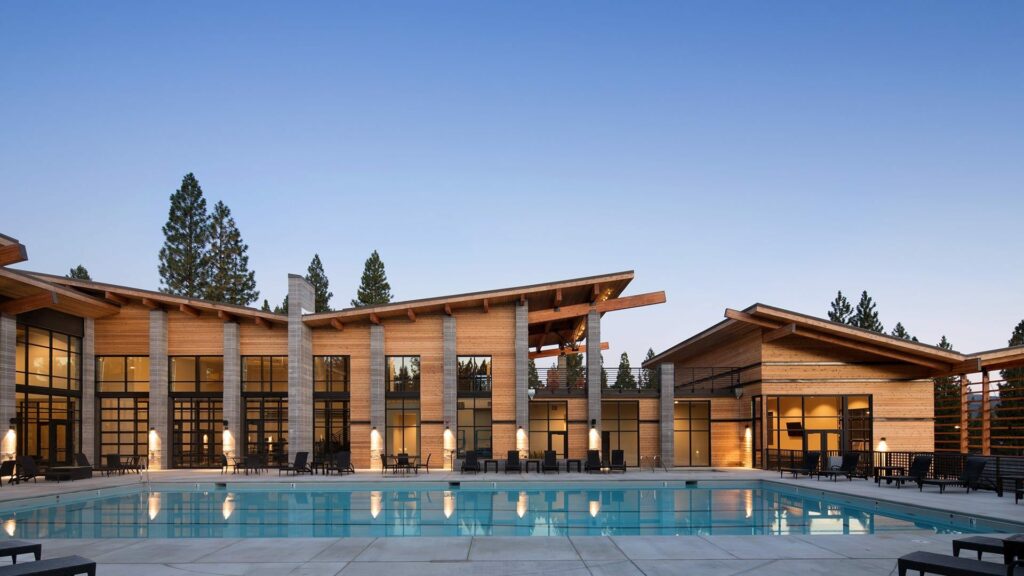 Price per Night: $150-$450
Best For: Older couples, short or long stays, outdoor activities
Availability: Limited
At the center of the enchanting Lost Sierra, the Nakoma Resort is a delightful resort well-suited to couples looking to immerse themselves in nature.
The Inn at Nakoma sits tucked into the high peaks and forests surrounding the resort and features 42 bedrooms with a luxurious and spacious bed, a flat-screen TV, a coffee maker, and scenic views. The Inn at Nakome charges a $25 resort per room per day.
You can spend your days in the resort's state-of-the-art recreation center, playing on the 18-hole championship course, or hitting the scenic hiking trails across Nakoma's 1,200 acres of pine and juniper forest.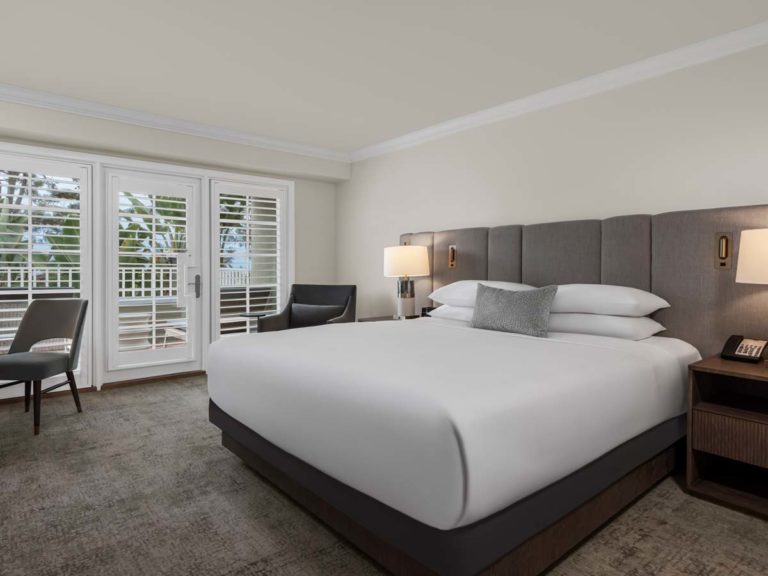 Price per Night: $700-$1,000
Best For: Younger couples & older couples, on-site dining, local attractions
Availability: Easy to book
Affectionately known as the heart of Del Mar, the award-winning luxury resort L'Auberge Del Mar captivates its visitors with stunning scenery as it overlooks the Pacific Ocean.
Seated in the heart of Southern California, this casual yet upscale Four-Diamond resort boasts luxurious rooms, an ocean-inspired spa, gourmet dining, a relaxing pool area, and private access to the beach. All guest rooms have full marble bathrooms, private balconies, an ocean view, a fully stocked refreshment center, and a mini fridge.
Some of the most romantic treats for couples are spending a day relaxing in the herbal steam rooms at the beach house spa, enjoying a glass of Prosecco in a poolside cabana, and indulging in delicious food with an ocean view at the Adelaide Restaurant.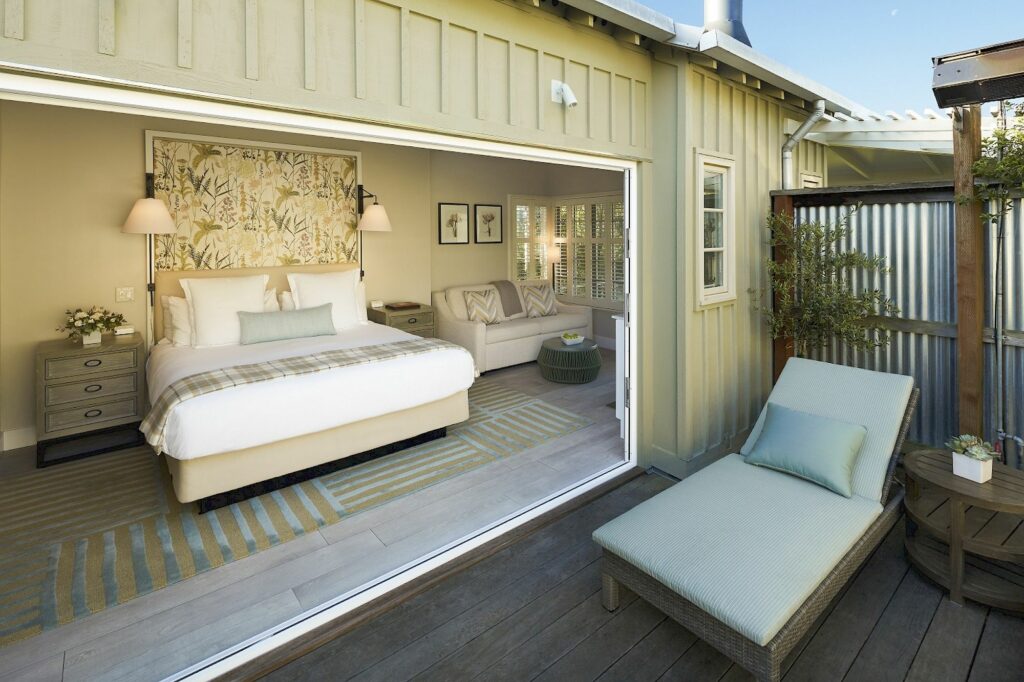 Price per Night: $950-$2,500
Best For: Younger & older couples, extended stays, packages
Availability: Easy to book
Enjoy a relaxed and luxurious quintessential Napa experience at the Carneros Resort and Spa, a perfect honeymoon destination in the heart of California's wine country. Guests can enjoy the award-winning spa, two outdoor pools, and three full-service gourmet restaurants.
The resort's private standalone cottages make Carneros one of the best honeymoon stays. Each cottage comes with a private porch and garden complete with a sundeck, seating, and even a fire pit, sure to create a cozy atmosphere for your romantic getaway.
Perfect for a honeymoon is the resort's "Love is in the Air" package, which includes a two-night stay in a cottage-style accommodation of your choice, a bottle of sparkling wine on arrival, $60 in breakfast credit at the Hilltop Dining Room, and a $100 resort credit which can be used for spa treatments, on luxury dining in the resort, and more!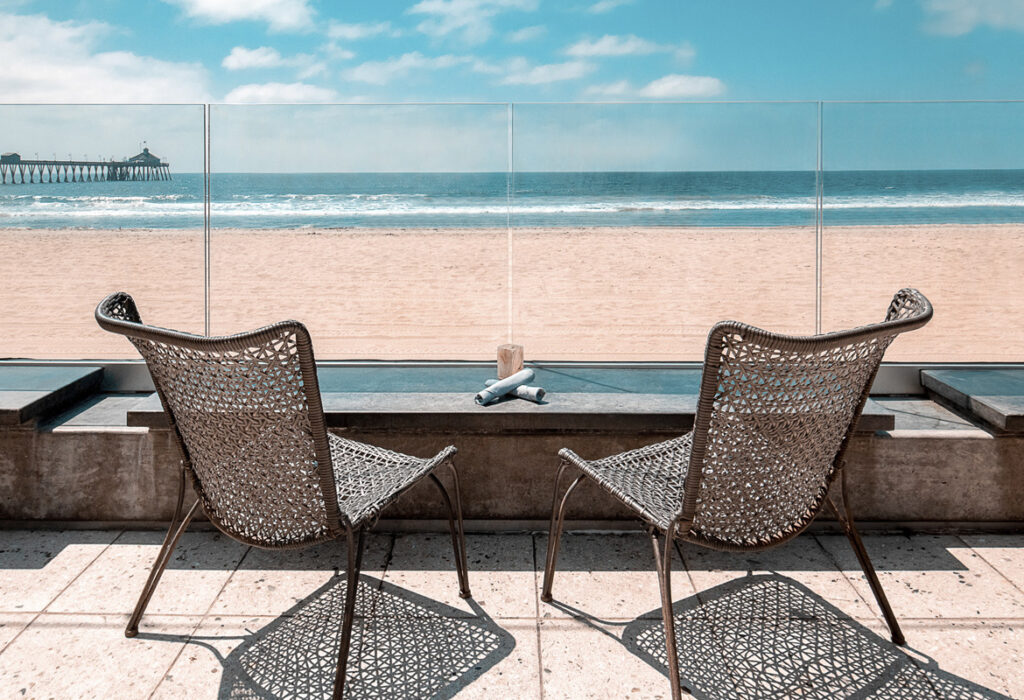 Price per Night: $500-$600
Best For: Short stays, older couples
Availability: Easy to book
Find relaxation at the intersection of sand and surf at the Pier South Resort, a boutique resort located in Imperial Beach, California. The convenient location places guests close to some of Southern California's most cherished attractions like the San Diego Zoo and Coronado Island.
Relieve all that wedding planning stress at the in-house spa or savor delicious delicacies artfully prepared at the in-house restaurant. Their rooftop terrace, outdoor pool, and hot tub feature panoramic ocean views and seating.
After a day of fun outdoor beach activities, find comfort in one of the open floor plan rooms as you look at the ocean views from your window.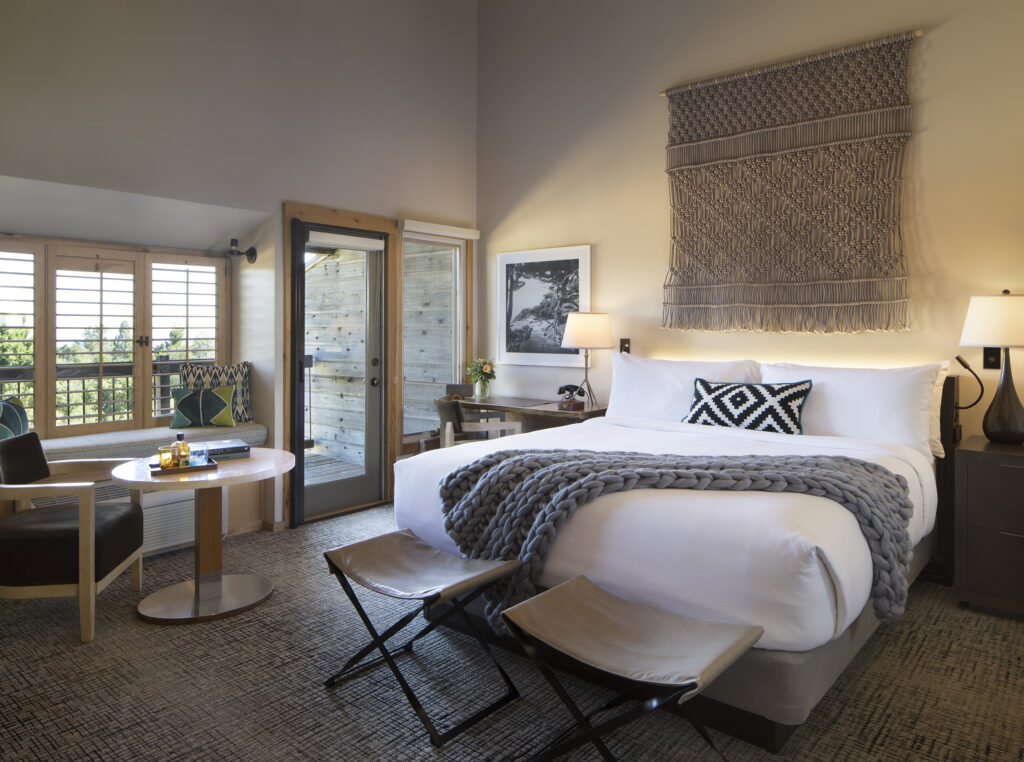 Price per Night: $2,250-$3,500
Best For: Adults-only, all-inclusive, younger & older couples, pet friendly
Availability: Easy to book
Tuck yourself in 160 secluded acres of meadows and redwood forests on a hillside overlooking Big Sur's beautiful Pacific coastline. Ventana offers an unmatched blend of serenity, privacy, and room to explore.
Even inside, you'll always be connected to the great outdoors at Ventana Big Sur. The 59 rustic and inviting rooms and suites blend modern amenities with nature, and every room comes with plush king beds and luxurious bathrooms, including private balconies or patios.
This adult-only enclave makes for one of the top honeymoon destinations. From complimentary morning movement classes and guided tours to Japanese baths and dining in-room, poolside, or perched above the ocean at The Sur House, you'll never want to leave!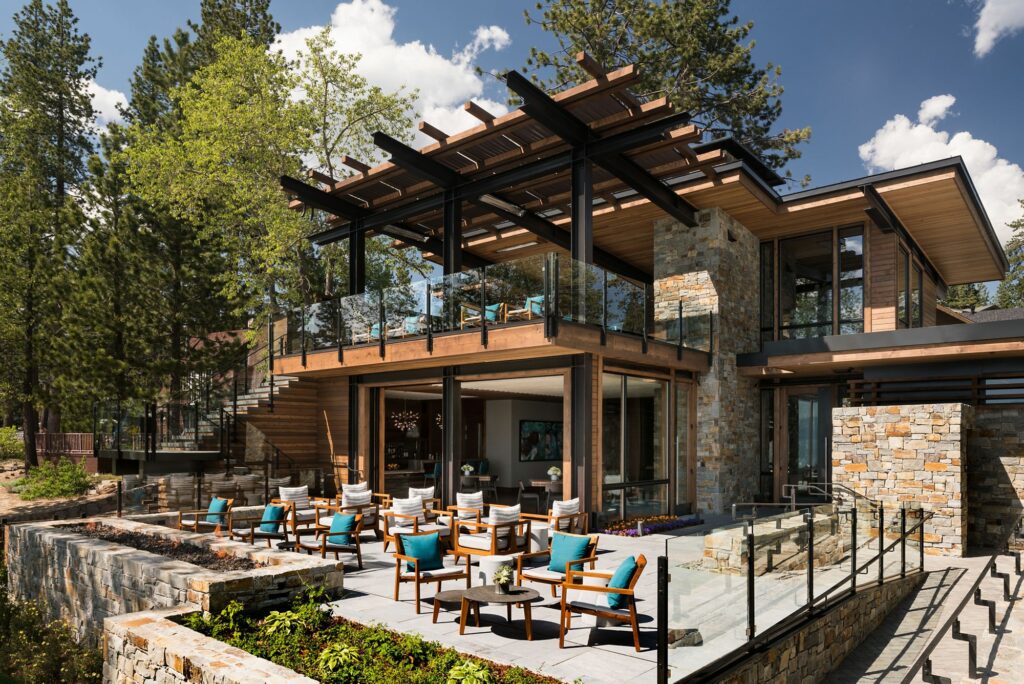 Price per Night: $450-$2,500
Best For: Older & younger couples, outdoor activities & sightseeing
Availability: Easy to book
Discover the breathtaking beauty of Sierra Nevada at the Ritz-Carlton, Lake Tahoe, located on the mountain in the Northstar California ski area. It's an inviting oasis offering luxurious accommodations featuring contemporary mountain décor, cozy gas fireplaces, and floor-to-ceiling windows with beautiful slopeside or mountain views.
The resort is perfectly positioned to put you at the center of all the activities and attractions. Experience the scenic and beautiful Lake Tahoe shoreline – just 15 minutes away – through a fun activity like kayaking or stand-up paddleboarding. Or trek the hiking trails and see the rugged beauty of the California wilderness.
The Ritz-Carlton, Lake Tahoe offers endless opportunities to create a delightful honeymoon, whether you're looking for a relaxing retreat or an exhilarating adventure.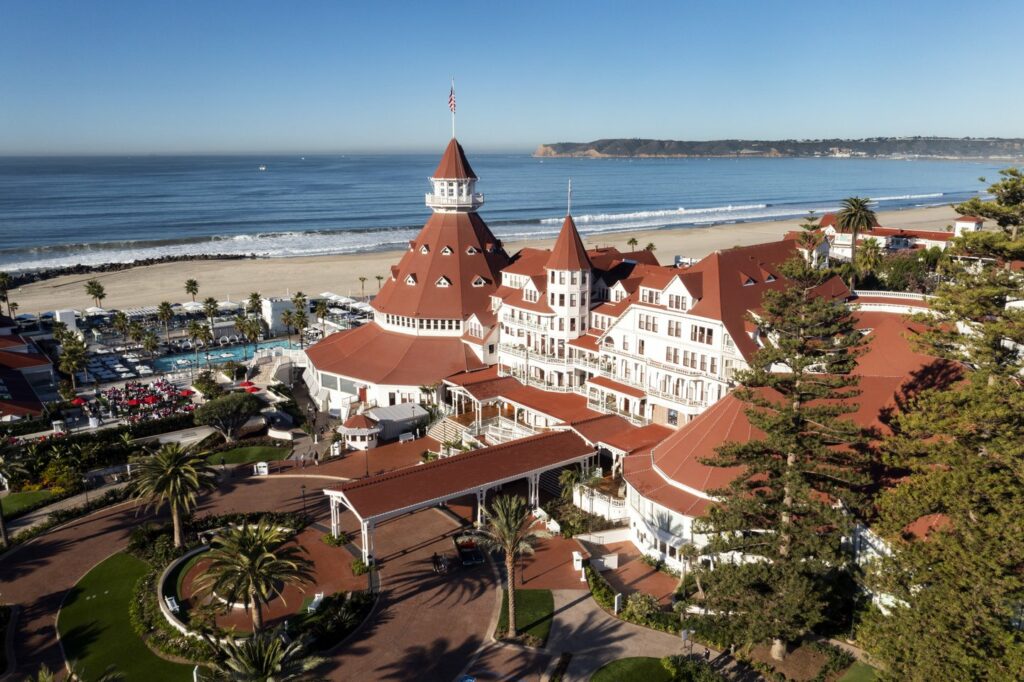 Price per Night: $400-$1,500
Best For: Seaside luxury, younger & older couples
Availability: Easy to book
Experience your personal California Dream at the Hotel del Coronado. Placed right on Coronado Beach, this stunning structure combines Victorian architecture with the modern SoCal scene.
The iconic hotel offers 757 guest rooms spaced between The Victorian, The Cabanas, The Views, Beach Village, and Shore House. Soak up the sun in a luxurious daybed or sand chair on Del Beach. Take a dip in a private pool cabana at the newly enhanced pool. And enjoy some relaxation at the seaside spa and salon.
The hotel is a quintessential California honeymoon destination. With endless things to do and local attractions to see, you'll quickly be building incredible honeymoon memories to last a lifetime.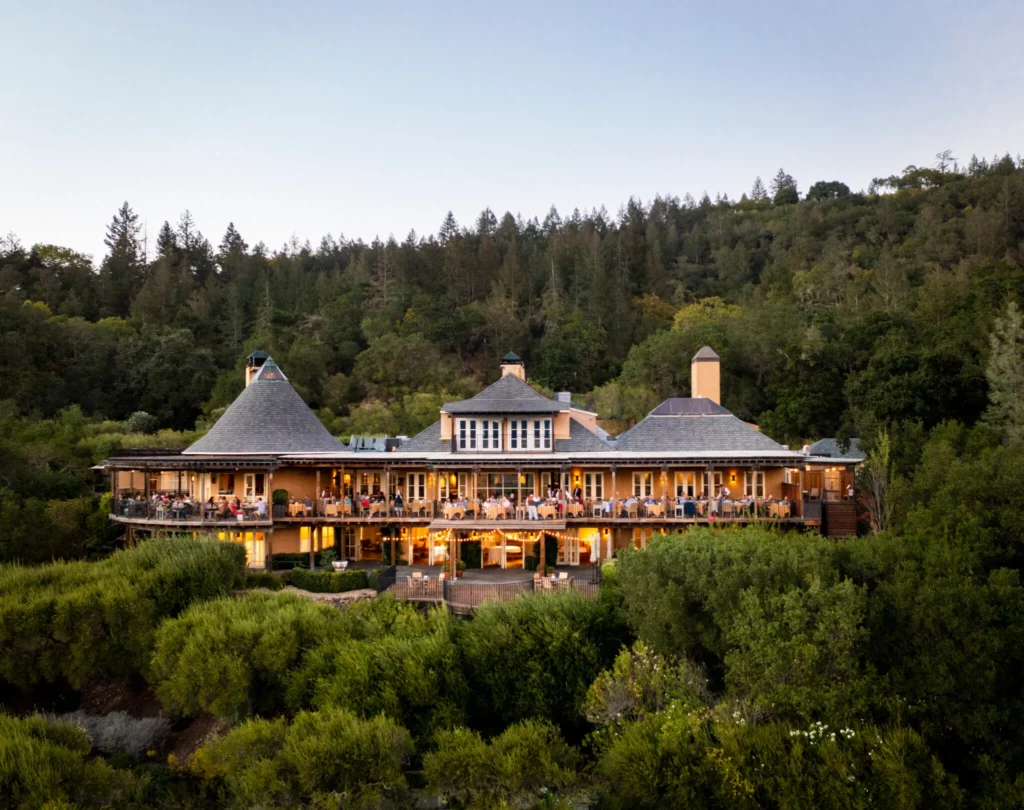 Price per Night: $1,500-$3,000
Best For: All-inclusive, adults-only, luxury, younger & older couples
Availability: Limited
As a five-pearl boutique resort nestled among a 33-acre olive grove with fantastic countryside views, Auberge du Soleil is one of the snazziest places to stay in Napa Valley.
This luxury resort was made for honeymoons with 50 elegant rooms and suites furnished with cozy fireplaces, deep soaking tubs, and incredible views from balconies or moons. The facilities are equally luxurious, with a chic outdoor pool with a hot tub, a gorgeous luxury spa, and a Michelin-star restaurant serving Mediterranean-inspired cuisine.
It's a place for couples seeking rejuvenation, refuge, and relaxation. There's nothing quite as romantic as sipping a glass of wine with your new spouse in a France-inspired enclave tucked away in one of the most mesmerizing locations.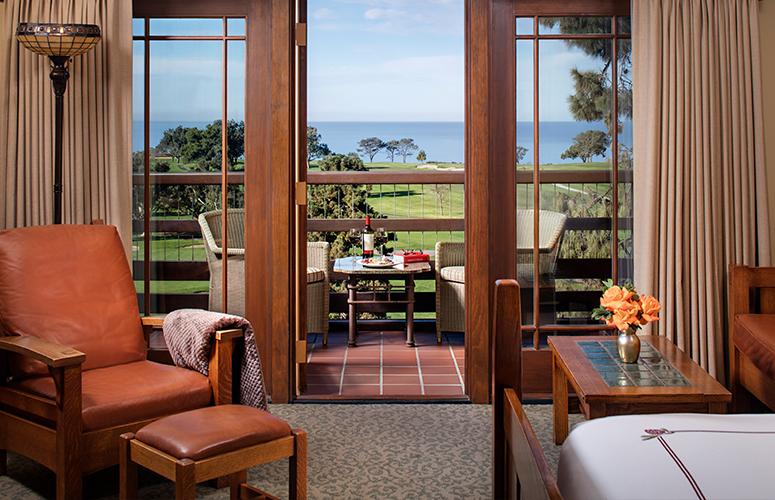 Price per Night: $650-$750
Best For: Older couples, outdoor activities
Availability: Easy to book
Think heavy woods, plush leather chairs, and Tiffany-style lamps paired with breezy balconies and lush forest vistas. The Lodge at Torrey Pines is located in La Jolla, on a rocky cliff overlooking the Pacific Ocean and surrounded by protected forests.
Find comfort and relaxation in the resort's rooms and suites, all equipped with luxurious bedding, spacious bathrooms, an in-room Keurig coffee maker, daily turndown service, and around-the-clock room service.
The resort offers a wide variety of on-site activities for you to enjoy. Dine at world-class restaurants, relax at the full-service spa, or set up a tee time at the famous 36-hole Torrey Pines Golf Course.
The Best Areas To Stay For A Honeymoon In California
There are hundreds of honeymoon destinations in California, from the inviting beaches in Santa Barbara to the beautiful desert oasis settings in Palm Springs.
From North to South, California has places that suit everyone!
1. Palm Springs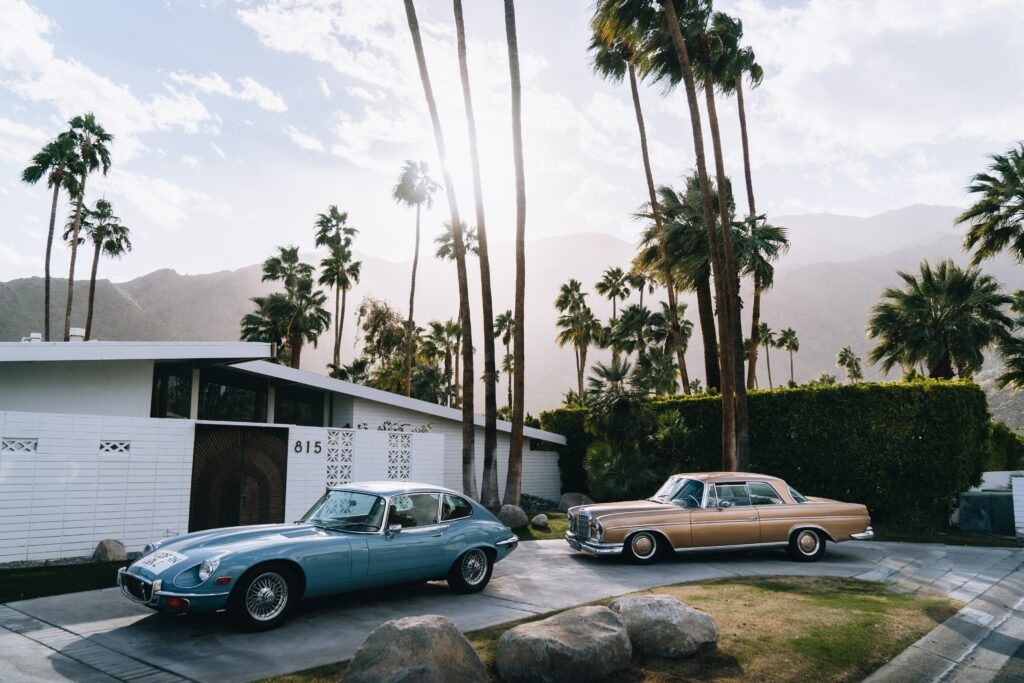 Palm Springs is a perfect California honeymoon destination known for its hot springs, spas, and stylish hotels. It's a place for couples looking for a posh desert getaway with an air of casualness. Here you'll find a great culinary scene, a variety of glamorous hotels and resorts, and Joshua Tree National Park – less than an hour away.
Sandwiched between San Diego and Los Angeles you can have the best of both, Palm Springs is a little Hollywood glam and history. Spend time at Elvis' actual honeymoon spot from 1967. Or feel like you're in the 'Rat Pack' by visiting Frank Sintra's haunts like the Purple Room Supper Club.
2. Wine Country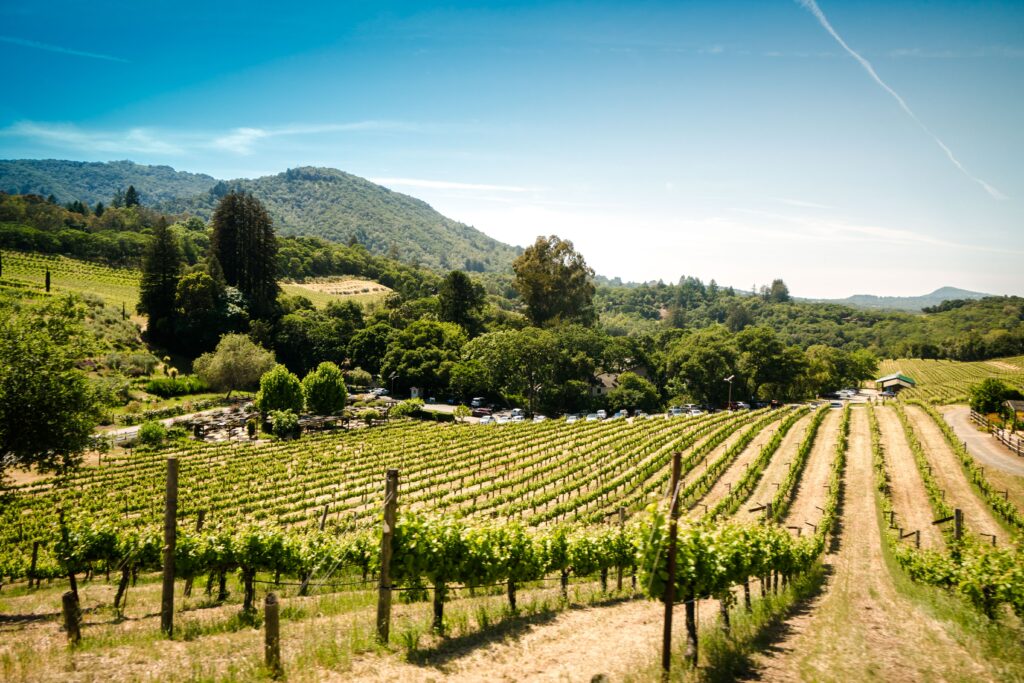 Farther north, you'll hit Sonoma and Napa valleys in Wine Country. Napa Valley is an idyllic town that provides the perfect romantic getaway with slow living, great food, and of course, lots and lots of wine! Learn from winemakers, taste regional specialties, dip into a mud bath at Calistoga, and see wine country from a hot-air balloon with a Napa Valley honeymoon
Sonoma offers a similar honeymoon experience. You can vineyard hop, enjoy award winning food, and hike. Wine country has a rugged coastline and towering redwood trees for you to explore. Take a leisurely drive along the Russian River Valley and tour the many small towns along Highway 116.
3. San Luis Obispo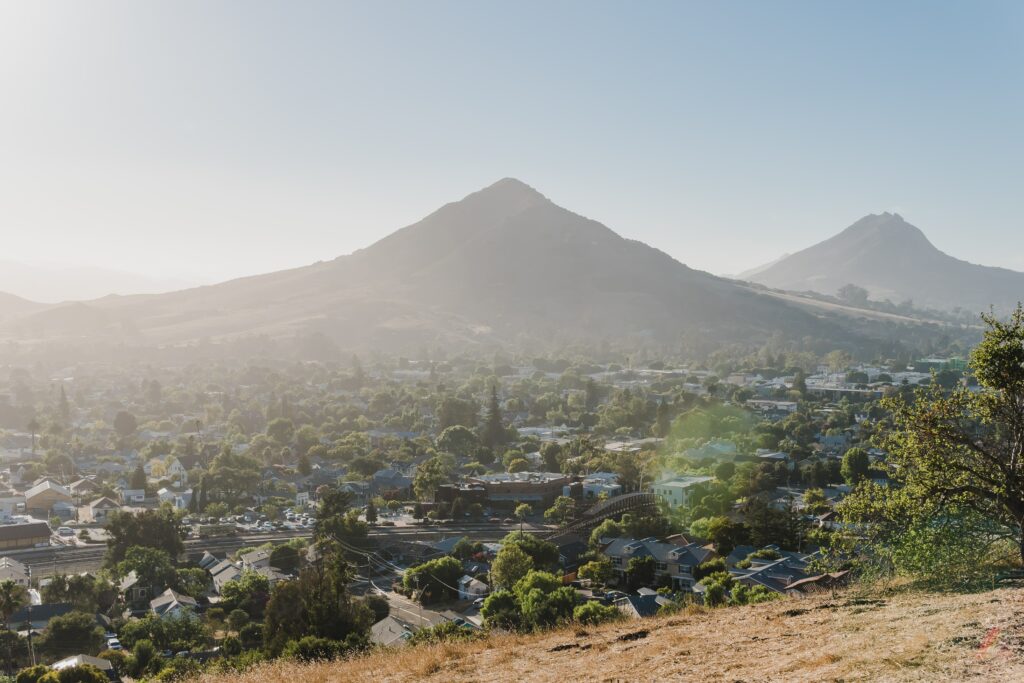 The halfway point between San Francisco and Los Angeles, San Luis Obispo is a hidden gem on California's Central Coast and offers one of the dreamiest destinations for your honeymoon. Thanks to its laid-back charm, endless exploration opportunities, and beautiful weather, it was dubbed "America's Happiest City".
San Luis Obispo offers you a wide array of activities for you to enjoy. Explore artisan craft beer and wines in a small warehouse district at Tin City. Or plan a romantic sunset hike at Terrace Hill. Or surf at Morro Bay. There is plenty to do!
For the most part you will need to rent a car to reach the wineries and hikes slightly outside the city. But downtown San Luis Obispo is extremely walkable or take a nostalgic ride on the Old SLO Trolley.
Top Excursions & Activities To Do On A California Honeymoon
California has something for you, whether you prefer a relaxing beachside honeymoon sipping on cocktails and luxuriating with spa treatments or filling your days with adventure and exploration.
We recommend adding these great California honeymoon ideas to your itinerary!
1. Explore California's outdoor world
California is a world of endless adventures for outdoor enthusiasts, with the most national parks out of any state – nine in total. It's also home to an 840-mile-long coastline with over 420 beaches.
From hiking in Yosemite National Park and climbing in Joshua Tree National Park to surfing in Santa Cruz and rollerblading along the vibrant and eccentric Venice Beach boardwalk, you'll be out of breath with a smile on your face in no time.
2. Go on a wine tasting tour
Raise a glass (or two!) with your new spouse as you sip your way through California's Wine Country on a wine tasting tour. There are many options for wine tours that offer both sipping and sightseeing in places like Napa Valley, Temecula Valley, and Sonoma. Wine lovers are sure to be in for a treat!
3. Take a sunrise hot air balloon ride
See the beautiful Temecula Valley wine country from a birds-eye view with the Vindemia Wine and Sunrise Hot Air Flight package ($188 pp on weekdays) – a one-hour flight with breathtaking panoramic views. You'll also receive included upgrades to celebrate your special occasion and two-for-one wine tasting vouchers at Vindemia Winery.
4. Explore the rare landscapes of Death Valley National Park
Although an eerie moniker, Death Valley National Park draws in visitors with its uncanny yet unique landscapes covering 3 million acres. You could hike on trails over one or two days and visit popular highlights like Badwater Basin, Mesquite Flat Sand Dunes, Artists Drive, and Dante's View. It's an affordable honeymoon destination and great during the winter season.
5. Spend a magical day at Universal Studios Hollywood
If you or your spouse is a major movie buff, Universal Studios Hollywood is essential to include on your California honeymoon itinerary. Experience California's cinematographic empire with popular attractions like The Wizarding World of Harry Potter, Jurassic World, and King Kong 3D.
6. Road trip along the Pacific Coast Highway
Hit the legendary Pacific Coast Highway for a California honeymoon road trip. Hugging over 600 miles of California's rugged and beautiful coastlines, you'll be gasping at the expansive beaches, towering mountains, and the endless Pacific Ocean.
There are plenty of stops worth making as you journey from Southern California to Northern California, including the Golden Gate Bridge in San Francisco, Monterey, Big Sur, Dana Point, and Point Loma.
Sample Itinerary & Budget For Your Honeymoon To California
Although a perfect honeymoon destination, California has a reputation for being expensive and unideal for budget travelers. Raising the question: How much will a California honeymoon cost? We're here to answer that with a general breakdown of what your itinerary and budget might look like.
To help you get a rough idea of what your budget may look like with a California honeymoon, here's a rough outline of expenditures you and your spouse can expect to make during a 7-day trip:
| | |
| --- | --- |
| Activity | Price |
| Accommodation | $1,300 – $5,000 |
| Flights | upwards of $50 (from another state in the US) |
| Food & drink | $630 – $2,000 |
| National parks | Around $20-$30 per vehicle for seven days |
| Wine tasting tour | $240 |
| Hot air balloon ride | $376 |
| Universal Studios Hollywood | $218 |
If you're wondering how to fit all of the exciting activities listed above into a 7-day California honeymoon, here's an itinerary you can take inspiration from:
Day 1 – Land at either San Francisco International Airport or Los Angeles International Airport and settle down at your hotel. If you land before 12, treat yourselves to a delicious lunch either in your resort or at a local restaurant.
Day 2 – Kick off your first full day with something you've been most excited to do, whether that be an activity such as hiking or swimming or an excursion to a popular attraction. Have a romantic dinner to toast your honeymoon.
Day 3 – Consider taking a more relaxed day with a simple spa treatment or activity. Have brunch at a local restaurant and go for a stroll through the town or city you're staying in.
Day 4 – If you're in wine country, go on a wine tour! If you're in the Central California Coast, go hiking at Yosemite National Park. Close to the beach? Spend a day basking in the sun, swimming, and maybe taking part in a fun water activity.
Day 5 – On your fifth day, find out if the resort or inn you're staying in offers any on-site activities, tours, or treatments for you to indulge.
Day 6 – Make your second-to-last day count with one or two fun activities or excursions to do. Have an early rise to the day and set out to explore a little more of what California has to offer before ending it with a relaxing afternoon at your hotel with a drink in hand.
Day 7 – Finish off your California honeymoon with a slow morning as you pack. Enjoy breakfast at your hotel before popping out for one last local perusal.
Frequently Asked Questions
How much does a California honeymoon cost?
A one-week California honeymoon costs an average of $2,500-$5,000, and a luxury high-end honeymoon costs $8,000 and up. The cost of your California honeymoon can differ significantly based on the location of your stay as well as the time of year you go.
When is the best time to visit California?
The best time to visit California can depend on where in the state you're planning to stay. Southern California is warm all year long, while Northern California gets cold and wet during fall and winter. Summer (June-August) brings in more tourists and high-season rates, while springtime (March-May) is the opposite.
Many recommend the months of September and October to visit California. You'll avoid crowds, and the temperature is ideal for many outdoor excursions.
What is the best way to travel around California?
Navigating California is made easy with various train, bus, and public transport options to choose from. If you want to stay in a specific area in California but with the opportunity to explore, either a rental car or bus is a great option. Moving between different regions is most straightforward with a train.
Start Planning The Perfect Romantic Honeymoon Getaway
A honeymoon is not only a post-wedding vacation; it's a special retreat to connect deeper with your new spouse. And what better place to do that than in California? This year-round destination is nothing short of spectacular, and you're sure to make it one of the most memorable journeys yet.
Make your California dream a reality and check out our Couples Travel resources to begin planning the perfect romantic honeymoon!