Maine is an ideal honeymoon destination for couples seeking a romantic getaway full of quaint strolls, cozy hideaways, and some of the best seafood in the U.S.
Picture you and your new spouse lounging in comfy Adirondack chairs along Maine's picturesque coastline, sipping a hot beverage next to a toasty fire, and laughing as one of you attempts to catch a fish. Sounds perfect, right?
Then read on to find out what makes Maine perfect for romantic getaways, including essential tips on when to go, where to stay, destinations to visit, and most importantly, what to do and what to eat!
What Makes Maine Perfect For A Honeymoon
Nothing beats a little TLC in nature as you set your honeymoon against a backdrop of flourishing forestry, sandy beaches, and landscaped vistas. In addition to witnessing these breathtaking views, you'll be devouring fresh, coastal cuisine from acclaimed restaurants and staying at romantic resorts, hotels, and B&Bs.
Maine offers lively art scenes, restaurants, bars, and nightlife, all charged with a romantic air. From the rocky shores of Downeast to the historic harbor villages and ocean views of the Midcoast and Islands region, you'll find adventure with stunning scenery in every corner.
Witness some of the most gorgeous sunsets as you explore the famous Acadia National Park. Dance to live music along the streets in Ogunquit. Enjoy the most delicious lobster rolls in Boothbay Harbor. In Maine, the world is your oyster!
Best Maine Honeymoon Resorts, Hotels, and Romantic Inns
From secluded hideaways in Maine's mountains to lounge-worthy lakeside resorts, you'll find the perfect spot to fall deeper in love with your new spouse.
Maine's beautifully refurbished Old Victorian inns and quaint B&Bs dotted along the coastal towns provide seclusion and privacy. You'll enjoy boutique shopping, a romantic fine dining experience, and warm hospitality here.
Maine's luxury resorts are a top choice for couples looking to settle in a more lively location. You can bask in the sun on one of Maine's many sandy beaches, enjoy watersport activities in the Atlantic Ocean, and watch the sunset from an ocean view balcony.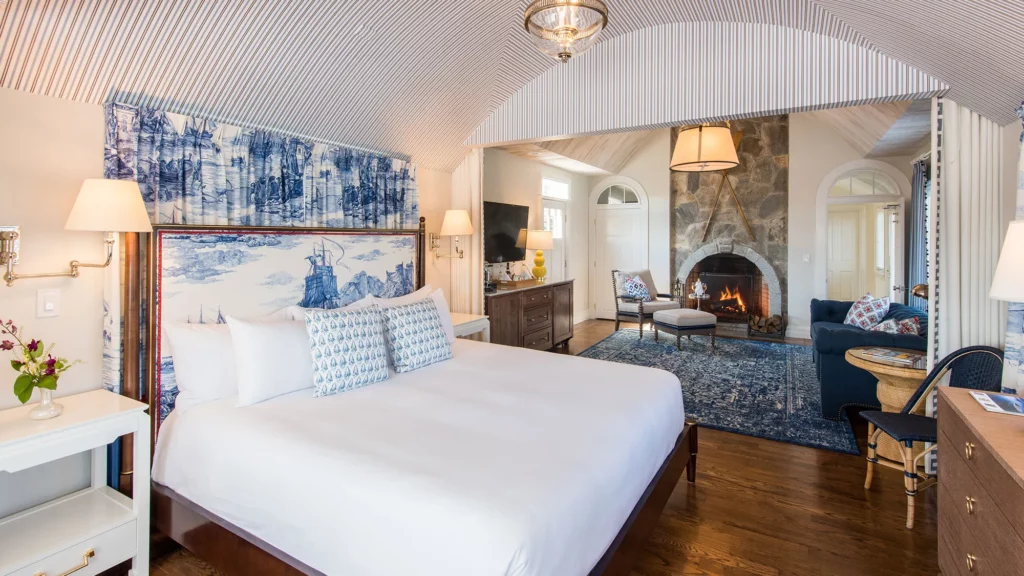 Price per Night: $550-$2,500
Best For: Younger & older couples, short stays
Availability: Limited
Coastal luxury meets rustic charm with the White Barn Inn, located in Kennebunkport, one of Maine's most beautiful coastal towns. Here you're surrounded by New England's relaxing atmosphere and stunning green scenery as you enjoy a quiet romantic escape.
You can choose from the Suites, Cottages, or Guest House, with all 27 rooms spread out over the grounds. Amenities include coastal views, an outdoor infinity pool, access to the resort's award-winning spa, waterfront views, expansive gardens, and marine.
Spend a day exploring Kennebunk port and all its wonder before reveling in the delicious cuisine at the resort's restaurant. Moreover, if you have a furry friend you'd like to bring along, you can, as White Barn Inn is pet friendly!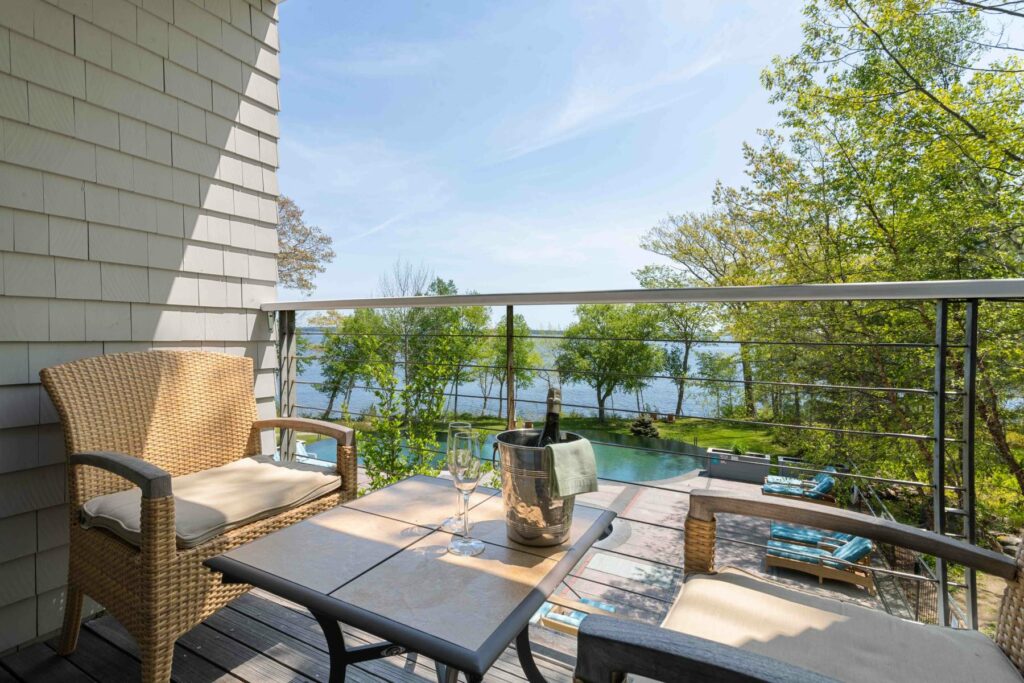 Price per Night: $350-$580
Best For: Younger & older couples, short stays, local attractions & sightseeing, packages
Availability: Easy to book
Perched on 22 acres along the shores of Penobscot Bay, The Inn at Ocean's Edge is the epitome of midcoast seaside luxury. This oceanfront hotel is perfect for a relaxing getaway with its heated sea view infinity pool, spa, and spacious suites.
All accommodations are located in one of three buildings: the Poolhouse, the Hilltop, and the Main Inn. Their delicious gourmet breakfast is included when you book direct.
The hotel also has a variety of romantic packages allowing you to combine the finest accommodations, spa services, and activities in the area for one convenient price. See the quaint town of Camden with the Sail & Dine package, celebrate your honeymoon in style with their Celebration package, or create a new romantic tradition with the Date Night Getaway.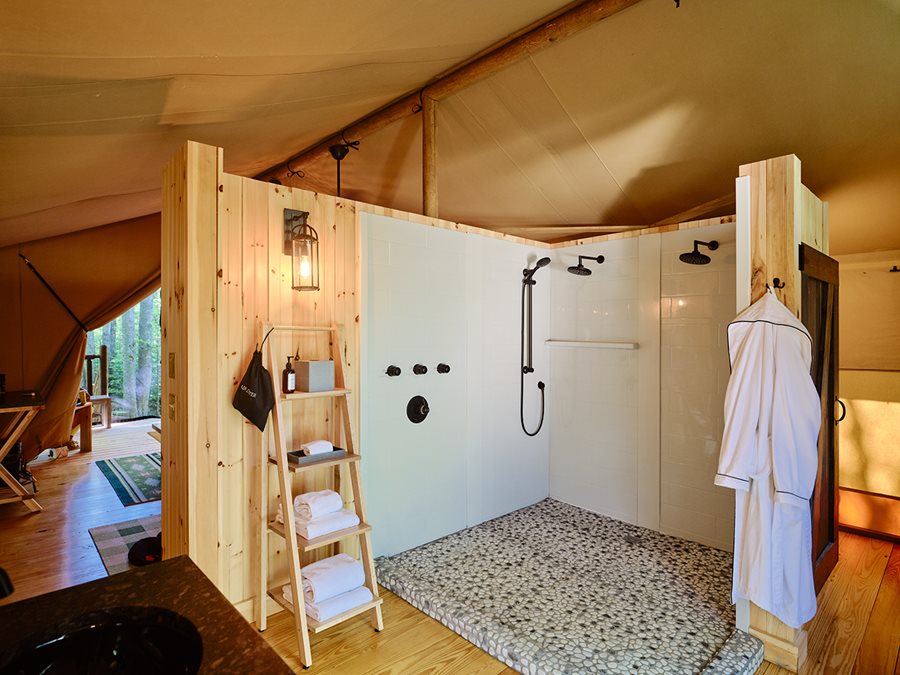 Price per Night: $280-$480
Best For: Younger & older couples, outdoor vacation
Availability: Limited
A "designer hideaway in the woods" perfect for nature lovers, Terramor Outdoor Resort is a glamping wonderland situated in the idyllic Bar Harbor near Acadia National Park.
Wake every morning to the sights and sounds of nature beyond your front deck before heading out for a day of hiking, fishing, or both! You can also enjoy open-air yoga, stargazing, lawn games, and cozy nights with a stone fireplace.
The resort's Hemlock Tent is perfect for couples. It includes a luxurious King Bed and an upscale connecting bathroom; its best feature is a secluded outdoor shower and private fire-ring with seating.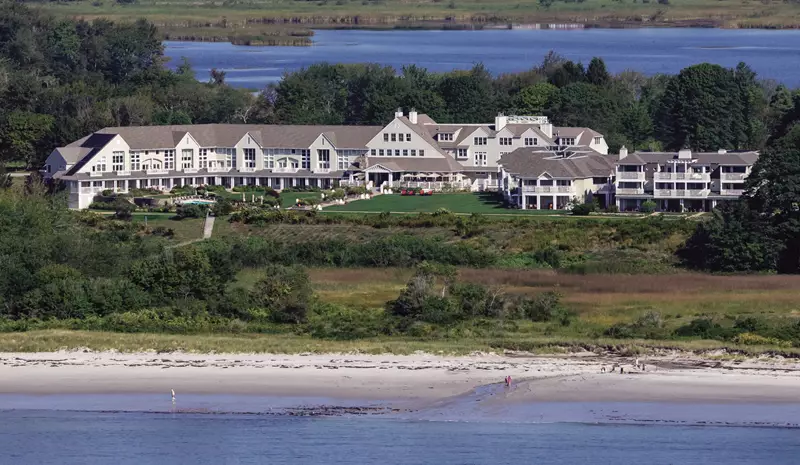 Price per Night: $400-$1,450
Best For: Younger & older couples, extended stays, packages, local attractions & sightseeing
Availability: Easy to book
Tuck yourself away along the shores of Cape Elizabeth at Inn by the Sea, a stately hotel parked right in front of Crescent Beach. Spacious suites with waterfront views welcome you to the perfect romantic getaway.
Lounge by the poolside patio or pristine lawn on one of the Adirondack chairs with a glass of wine in hand. One look at the beach, and you'll be spending every hour of the day here before enjoying a romantic dining experience at the in-house restaurant with delicious local seafood.
The hotel also offers some great packages for you to enjoy. For a real adventure, join a Maine Lobster Boat crew and sail out onto Casco Bay to help bait and pull traps. If you and your new spouse are major foodies, consider taking a delicious tasting tour to USA's Foodiest Small Town, Portland.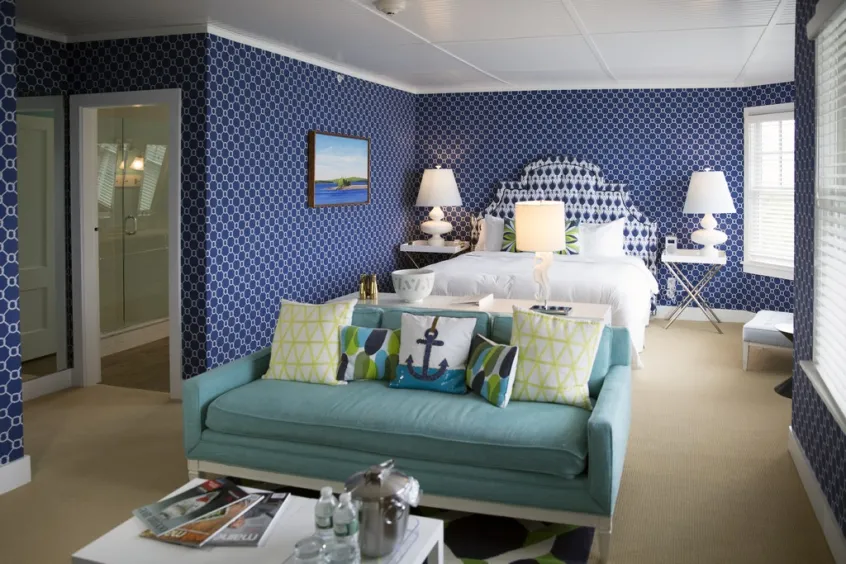 Price per Night: $275-$950
Best For: Short stays, activities, spa treatments
Availability: Limited
Kick off your Maine honeymoon in style with this beautiful waterfront hotel on Goose Rocks Beach. Located in Kennebunkport, Tides Beach Club blends luxury and casualness with its classic architecture and coastal-chic decor.
The hotel features 21 guest rooms, including two oceanfront suites with unobstructed views of the Atlantic Ocean and Goose Rocks Beach from a private balcony. Get involved in one of the hotel's offered packages like forest bathing, cycling tours, nature walks, and SUP and kayaking tours.
As a hotel guest, you also receive access to resort amenities at Hidden Pond – just 1.5 miles down the road – such as the adults-only Hidden Pond Pools, TreeTop Spa, and Fitness Center.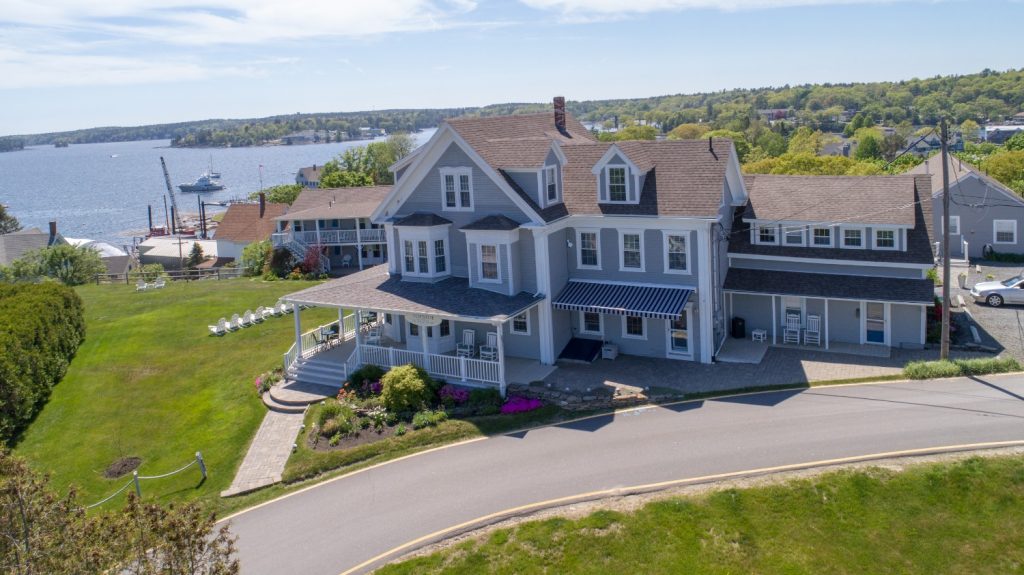 Price per Night: $450-$800
Best For: All-inclusive, short stays
Availability: Limited
Situate yourself in picture-perfect Boothbay at the highest point in town at the Topside Inn, a 19th-century sea captain's home that provides beautifully decorated rooms, panoramic harbor views, gourmet breakfasts, full concierge services, and more!
It's a popular home away from home for both tourists and Boothbay residents. Voted No. 1 Small Hotel in the U.S. and No.7 in the World for 2022, it's an unmatched retreat for romantic honeymoon destinations.
Its convenient location in the heart of town puts you within walking distance of popular attractions, restaurants, and fun things to do in Boothbay Harbor. Take a boat tour aboard a local schooner, indulge in fresh lobster rolls, and explore the Coastal Maine Botanical Gardens.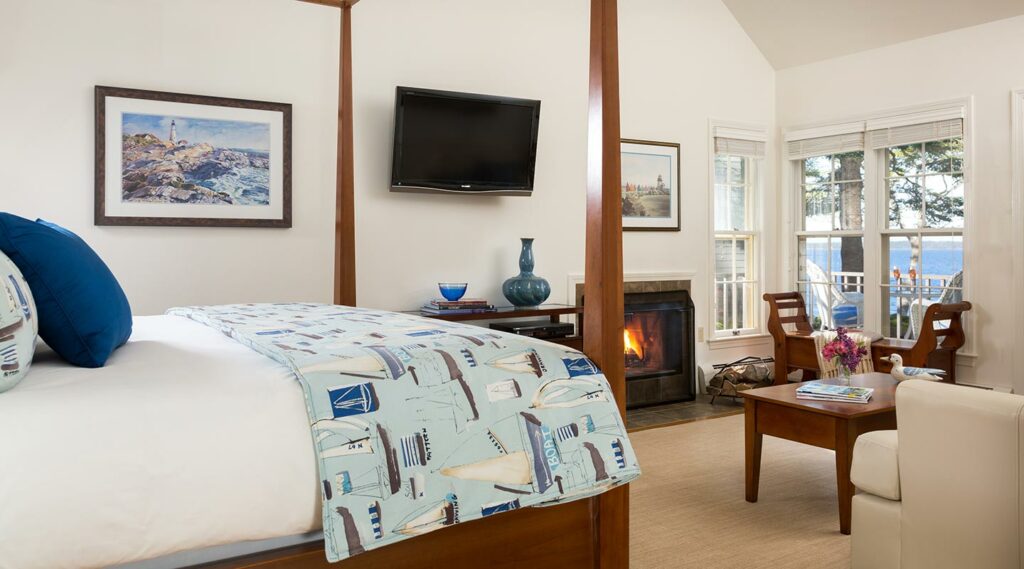 Price per Night: $450-$850
Best For: All-inclusive, romantic getaways, adults-only
Availability: Easy to book
Inn at Sunrise Point is a top-rated boutique hotel near Maine's coastal town, Camden. Quintessentially New England, the hotel is situated on five beautifully manicured acres and features beautiful gardens and an ocean view Breakfast Room and Conservatory.
The twelve beautifully appointed rooms and cottages offer spectacular views, private decks, soaking tubs, and cozy fireplaces. Everything you need for a perfect honeymoon getaway! Staying here means easy access to Camden's historic beauty and sea-faring history and all its attractions.
Surprise your new spouse with the hotel's Ultimate Romance Package ($195 in addition to room charge), designed to make your stay extra special with a chilled bottle of champagne upon arrival, chocolate-covered strawberries, and a beautiful bouquet of seasonal flowers.
Price per Night: $130-$800
Best For: Extended stays, convenient location near attractions
Availability: Easy to book
Acadia Hotel is a premium boutique hotel located on Mount Desert Island in the heart of downtown Bar Harbor. This unique piece of paradise is amid a thriving shopping district full of fine dining restaurants, boutiques, and galleries.
Built in 1880, this small family-owned and operated hotel provides a quirky inn feel with all the amenities needed for a perfect stay, including free parking, two outdoor hot tubs, and free hiking and biking equipment.
Just a 5-minute drive from Acadia National Park and Bar Harbor Whale Watching, this is a perfect place to stay for couples keen to explore the great outdoors!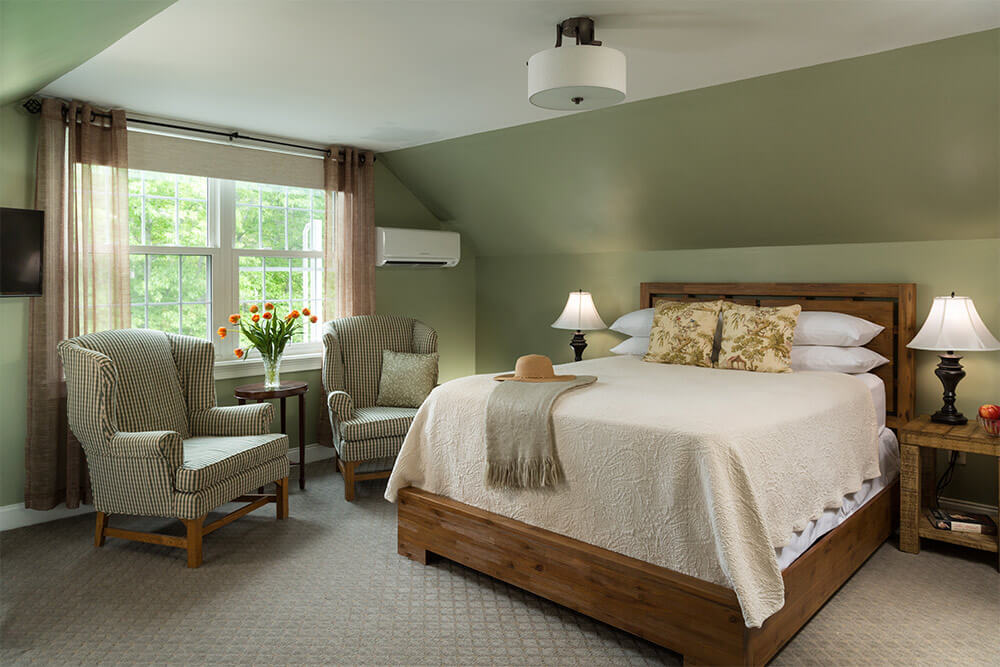 Price per Night: $280-$550
Best For: Younger & older couples, extended stays, honeymoon packages, budget options
Availability: Limited
What's more romantic than spending your honeymoon on a lake? Wolf Cove Inn is the perfect place for S'mores by the fire with a gorgeous sunset backdrop! It's a little piece of heaven right on Tripp Lake in Poland, Maine.
This little B&B features 11 comfortable guest rooms and a beautiful cabin with incredible lake views. The Inn's Eagle's Nest Cabin is perfect for couples wanting privacy or more space, an open concept floor place nestled in the pine grove.
Wake every morning to the sound of the loons as you indulge in a delicious farm-fresh breakfast, included every morning. Take in the natural beauty of the Maine Lakes Region as you paddle on the peaceful waters with the Inn's complimentary kayaks and canoes. Spruce up your retreat with the Inn's "It's Our Honeymoon" Package. You won't regret it!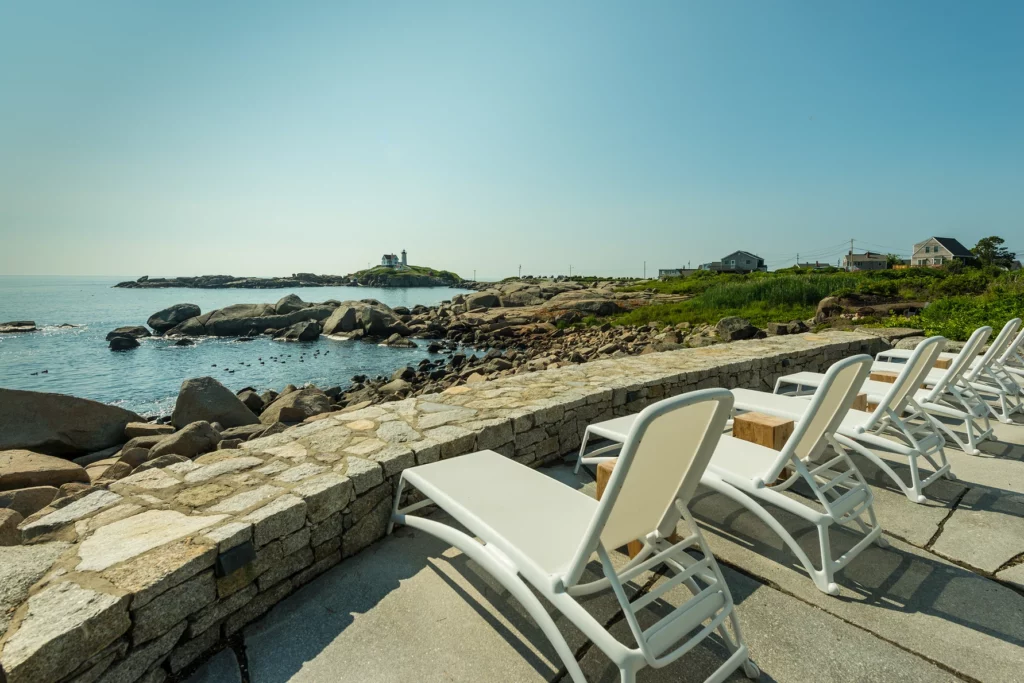 Price per Night: $400-$850
Best For: Younger & older couples, extended stays, local attractions & sightseeing
Availability: Limited
Those looking for a unique Maine experience will find it at this premier boutique hotel nestled on the Nubble peninsula in York. The ViewPoint Hotel offers the comfort and warmth of a luxury resort and the privacy and simplicity of an inn.
With cathedral ceilings and a private, covered porch overlooking the beautiful Atlantic Ocean and Nubble Lighthouse, the Open Loft Suite is perfect for couples! This gorgeous suite features one king bed, an electric fireplace, access to a shared outdoor, heated pool, and one complimentary parking space.
Explore all York has to offer and spend some much-needed time together with interesting local excursions like yoga on the bubble, a visit to the local art galleries and museums, and ultra-fun water sports on York Beach.
The Best Areas To Stay For A Honeymoon In Maine
Maine is a special place filled with diverse and enchanting surroundings. The state accounts for almost half New England's entire land area, from bustling cities to picturesque fishing villages to jaw-dropping natural wonders.
While it's known best for its rugged coastline, prolific wilderness, and ample fishery, Maine offers more than you'd think!
Portland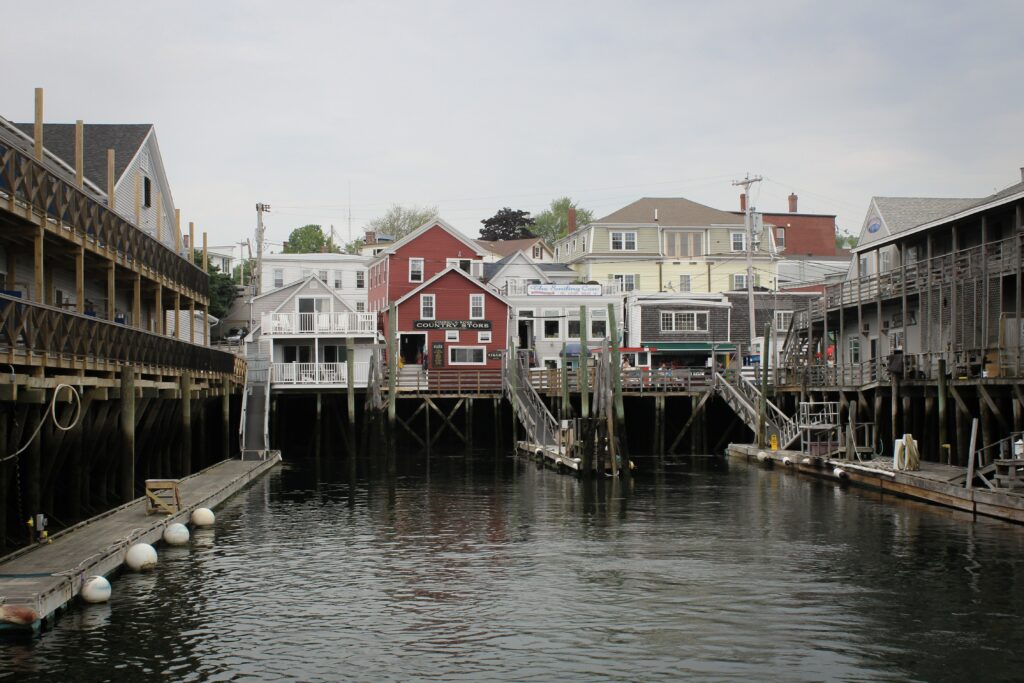 The scenic coastal city of Portland is a must while visiting Maine. You're sure to be busy with its blend of ornate homes, grand Victorian buildings, stunning views, and teeming fishing wharves.
Since it's a seaport town, there are plenty of aquatic activities to enjoy, including fishing, ferry cruises, lobster boat tours, and whale watching trips. Taste some of the best beer in America with a visit to one of Portland's most popular microbreweries, Allagash, Shipyard, or Rising Tide.
The charming city also has a wide variety of accommodation options. The resorts, hotels, and inns provide all the amenities you need while giving easy access to Maine's outdoor wonders.
Bar Harbor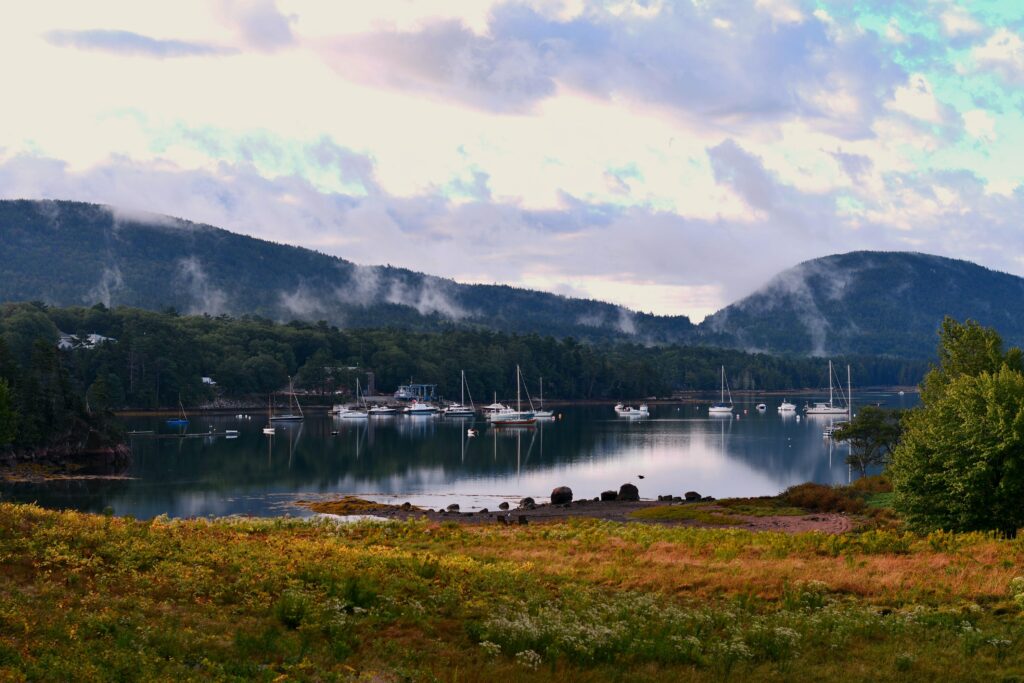 As the gateway to Acadia National Park and the largest community on Mount Desert Island, the historic town of Bar Harbor boasts rocky cliffs, beautiful beaches, and an assortment of outdoor activities.
See the charming historic homes, upscale restaurants, and artsy stores as you paint the town red on your honeymoon. Popular attractions draw in visitors during summer and fall, like the sparkling Frenchman Bay, the sweeping summit of Cadillac Mountain, the lush botanical Azalea Garden, and the uninhabited forested Bar Island.
Whether by land, lake, or sea, nature lovers and outdoor enthusiasts will thrive in Bar Harbor!
The Kennebunks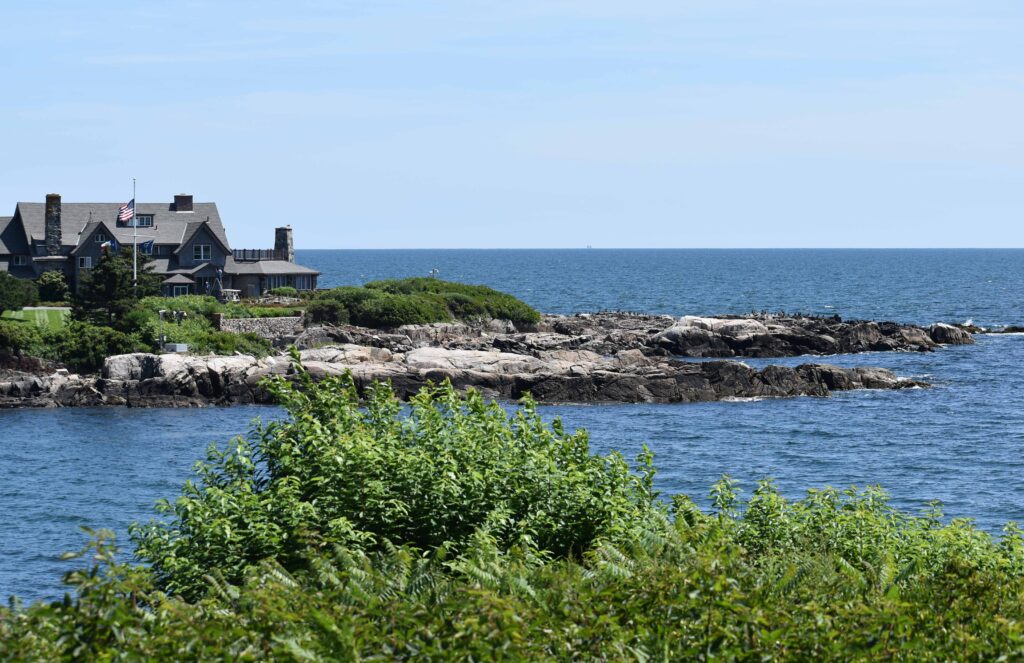 Collectively known as "The Kennebunks", Kennebunk and Kennebunkport are home to striking historic architecture, beautiful shoreline areas, and expansive beaches.
Despite its array of attractions, the main activity hot spot is Dock Square in Kennebunkport, a historic neighborhood perfect for midday snacking and window shopping. Spend a day relaxing on the shores of Kennebunk River, indulge in great food, and buy your special someone something from one of the many boutiques.
Moreover, Kennebunkport boasts easy access to stunning views, attractions, and restaurants from its range of hotels and inns doting the coastline.
Ogunquit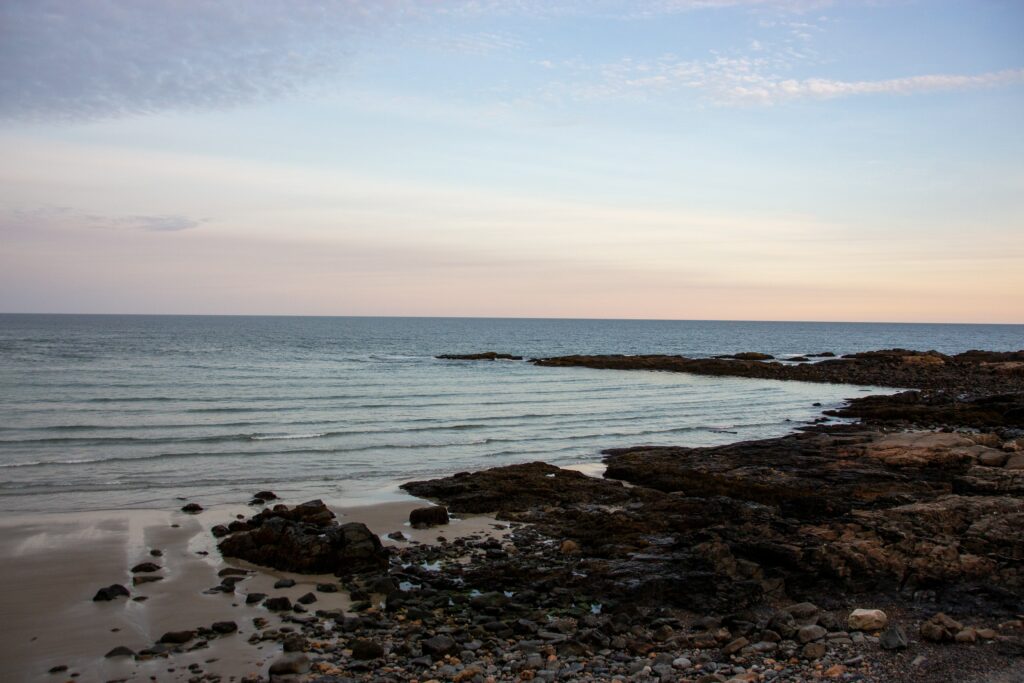 Visiting a seaside town like Ogunquit, Maine can be an excellent adventure for you and your new spouse. Located in southern Maine, Ogunquit Ogunquit is ideal for active visitors and adventurists like many of Maine's cities and towns.
See Ogunquit's beautiful sights as you meander on a bike or your own two feet along the waterfront of Perkin's Cover and Marginal Way. If you're thinking of a fun aquatic adventure, consider kayaking along the 9-mile-long Ogunquit River.
Take advantage of Ogunquit's lively nightlife and entertainment scene in this easily walkable town. Many local restaurants and bars dotting the seaside town offer comedy shows, live music, and a slew of other entertainment for you to enjoy.
Top Excursions & Activities To Do On A Maine Honeymoon
A honeymoon is all about spending some quality time with your new partner. After the stress of planning your wedding, it's no wonder you want to catch a break.
Lounging is great, but you can do that at home. Add these incredibly fun excursions and activities to your itinerary to make the most of your honeymoon, especially with all Maine has to offer!
1. Take a whale-watching cruise
What's a trip to Maine without a cruise? Set sail on a windjammer, a three-mastered sailing boat, for a romantic outing. The whale watching season lasts from mid-April through October, and multiple species visit the state's waters.
Highly recommended is Cap'n Fish's Cruises – Boothbay Harbor Whale Watching Cruise. For $70 pp, you'll travel to Maine's prime whale feeding grounds to see whales, seals, sharks, dolphins, and more!
2. Explore famous parks
Explore the natural beauty of Maine as you trek through the famous national parks and forest trails. See the sunrise from Cadillac Mountain in Acadia National Park – which encompasses 50,000 acres of rocky coastlines and towering mountains.
Thinking of a winter honeymoon? Hit Mount Katahdin in Baxter State Park for some snow sledding and skiing during the winter. You may even see a moose or two.
3. Spend a day (or two) at the beach
Bask in the sun along one of Maine's white sand beaches, covering 70 miles along the state's coastline. Several coastal towns like Old Orchard Beach, Wells, Ogunquit, and The Kennebunks are perfect for this.
Most compelling, however, is Ogunquit Beach, with its gentle surf, soft sandy beach, and local fishing village charm.
4. Smell the flowers at the Coastal Maine Botanical Gardens
Spend a day walking hand-in-hand at the Coastal Maine Botanical Gardens located in Boothbay, Maine. With 300 acres of natural spaces and gardens, including a butterfly house, dahlia garden, and native bee exhibit, it's the largest in New England!
5. Hike to one of Maine's highest waterfalls, Moxie Falls
Not much of a hiker, but still want to explore Maine's natural beauty? Moxie Falls is perfect for you! The hike is a relatively easy walk of a little under one mile before reaching the beautiful waterfall. As this is a popular attraction, visiting outside peak periods like the weekend is best.
6. Spend lazy summer days at the lake
No Maine honeymoon is complete without doing one of Maine's cherished traditions, heading "upta camp" – spending time at camp. Enjoy simplicity as you camp in a cabin on one of Maine's 6,000 lakes and ponds. The sound of the loons and the gentle water lapping is calling!
7. Tour the timber hub of Bangor
See central, eastern, and northern Maine's retail, cultural, and service center. Visit the 31-foot-tall statue of lumberjack legend Paul Bunyan, a local landmark in downtown Bangor.
Are you a fan of Stephen King? You can geek out with a tour of the town that inspired the fictional town of Derry, as well as the outside of his (slightly creepy) house.
Sample Itinerary & Budget For Your Honeymoon To Maine
You've just left your wedding planning stress behind only to enter into more stress planning your honeymoon. But before you become overwhelmed by all the things to do and places to see in Maine, know that we're here to help you make it simple!
Here's a rough outline of expenditures you and your spouse can expect to make during a 7-day Maine honeymoon:
| | |
| --- | --- |
| Activity | Price |
| Accommodation | $900 – $2,450 |
| Flights | upwards of $75 domestic |
| Food & drink | $200 – $680 |
| Whale-watching cruise | $140 |
| National parks | $12-$30 |
| Coastal Maine Botanical Gardens | $44 |
| S.K. Tours of Maine | $80 |
If you're wondering how to fit all of the exciting activities listed above into a 7-day honeymoon in Maine, here's an itinerary you can take inspiration from:
Day 1 – Settle into your resort before exploring a little bit of the surrounding area. Kick off your first night with a romantic dinner and a toast to your honeymoon!
Day 2 -Explore popular attractions and sights in your area. If you're in Portland, visit one of the local microbreweries. If in Bay Harbor, see the charming historic homes. And if you're in Ogunquit, walk along the waterfront of Perkin's Cover and Marginal Way.
Day 3 – Spend your day with one of the top activities and/or excursions on your itinerary. Start the morning off with one, maybe a boat tour. At lunch, get a taste of Maine culture with lobster rolls! And finish the day off with another activity or excursion.
Day 4 – After a busy day like yesterday, it's only fair you treat yourselves to a relaxing spa day. Luxuriate with any spa treatment of your choosing at your resort.
Day 5 – Start your morning with a delicious breakfast either at the resort or at a local restaurant before heading out for a major activity/excursion that you've been itching to do.
Day 6 – Depending on where you stay, consider popping out to another town or city for some sightseeing.
Day 7 – Finish off your Maine honeymoon with a slow morning as you pack. Enjoy breakfast at your hotel before popping out for one last local perusal.
Frequently Asked Questions
How much does a Maine honeymoon cost?
A honeymoon in Maine for two people can cost around $2,300 per week and $4,600 for two. The price will vary depending on the location of your stay, the type of quality you want, and the time of year you go.
When is the best time to visit Maine?
Whatever season you prefer to spend your honeymoon in, know that each season in Maine is welcoming with its seasonal charms, attractions, and activities. Summer is when the state shines; however, you'll contend with higher lodging prices and many tourists. Spring is the best time if you want to skip the crowds and spend less.
What is the best way to travel around Maine?
The best way to travel around Maine depends on where in the state you're spending your time. The main options are by car, train, bus, or taxi. Portland's airport has plenty of car rental options if you're looking to travel throughout Maine. The Amtrak train is used for easy transportation to major towns and cities, while buses and taxis serve you best locally.
How long should you spend in Maine for a honeymoon?
A week or two is ideal for a Maine honeymoon to visit the most attractive coastal towns. If you prefer to spend your time in one or two towns, a few days is more than enough. Whether you want an action-packed or laid-back holiday depends on what you're looking to get from your honeymoon.
Start Planning The Perfect Romantic Honeymoon Getaway
When you consider a Maine honeymoon, you can expect a state defined by beauty, diversity, culture, and of course, lots and lots of lobsters!
As newlyweds, you want a honeymoon that gives you an escape while offering various experiences to savor. Maine offers all that and so much more, and you'll never tire of the state's unending attractions and sights.
Whatever type of honeymooner you're looking to be or romantic getaway you're looking to have, we have you covered. Check out our Couples Travel resources to begin planning the perfect romantic honeymoon getaway to any destination you can imagine!