Wildlife on beaches, in national parks, and sometimes on the roads, amazing wine, crazy-good waves, and mighty mountain ranges with spectacular sunsets that will leave a lasting impression on your heart and soul – South Africa truly has it all. A South Africa Honeymoon will be a once-in-a-lifetime trip that newlyweds will still tell their grandchildren decades later.
This guide will walk you through all possible ways of spending your honeymoon in South Africa. On top of that, we will provide you with a unique honeymoon itinerary to make sure you can relax and unwind after the thrill of the wedding, knowing that all you need to do is hop on a plane and enjoy your first time under the African skies!
What Makes South Africa Perfect For A Honeymoon
Apart from being able to witness some of the most romantic sunsets while facing the ocean, with mighty mountains right behind you, sipping on some delicious local wine, South Africa truly has everything to offer that makes your heart happy, your belly full, and your face smiling.
It's the wild combination of the vibrant culture of the African rainbow nation, urban hot spots such as Cape Town or Jo-burg, diverse wildlife, and the most scenic landscapes mixed with world-renowned wines and outstanding food that will make you want to come back craving more.
And the best thing yet: for what it has to offer, the country's affordability and value for money is a much welcome factor, thanks to the great exchange rates for Americans and Europeans alike. After all, you probably already broke the bank for your wedding; the last thing you will need is another hefty honeymoon bill! Rest assured, a South Africa honeymoon won't put you in debt.
Whether you and your loved one are an adventure-seeking couple and want to experience the infamous big five during a safari honeymoon or are more into the hustle and bustle of the city, South Africa is unlike anything you have ever seen before. At the same time, it makes you feel at home, whether in Cape Town, nestled under Table Mountain, or spotting elephants in the Addo Elephant park in the Eastern Cape.
Best Honeymoon Resorts, Hotels, And Other Stays In South Africa
No matter whether you are a city dweller or a nature lover, there is a little bit (more like a lot) for everyone to choose from in our list of best honeymoon resorts in South Africa: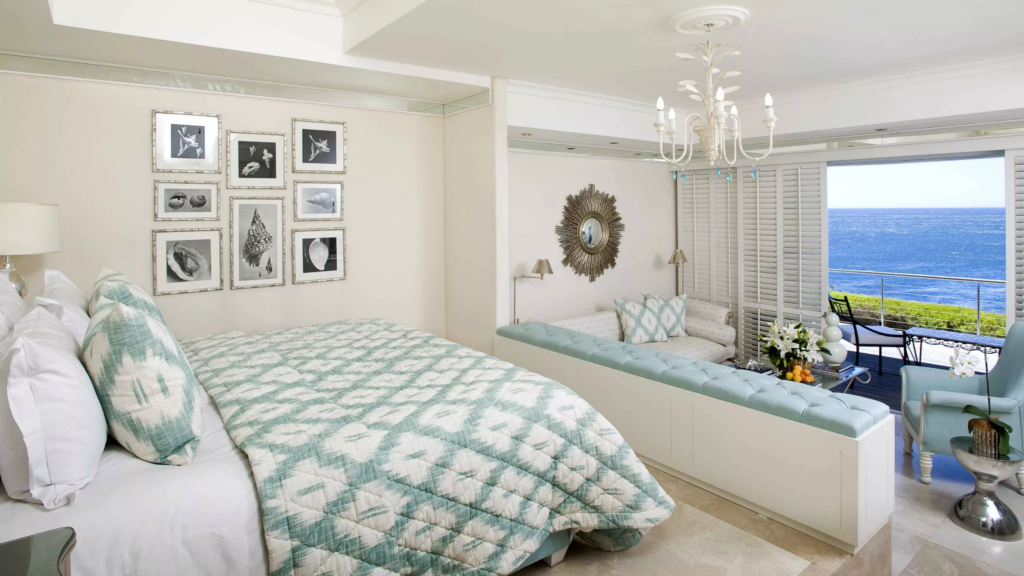 Price per Night: $360 – $680
Best For: All-inclusive, short stays
Availability: Limited
Nestled right on the foot of the Twelve Apostles mountain range, this five-star boutique hotel in one of Cape Town's most prestigious neighborhoods, Camps Bay, is an absolute gem right next to the Atlantic Ocean.
Featuring 70 country-chic rooms and suites, Twelve Apostles is a must for anyone coming to Cape Town.
Amenities include, but are not limited to, fully included breakfast, 24-hour room service, in-room natural beauty amenities, slippers & fluffy robes, TV, free wifi, a minibar, as well as tea and coffee making facilities. On top of that, a complimentary shuttle service to the V&A Waterfront, an award-winning spa, and two very private swimming pools. All-in-all, a perfect base camp that makes exploring Cape Town a pleasure.
As honeymooners, you will be treated extra special at the Twelve Apostles with couples massages in a private candle-lit room decorated with rose petals before enjoying cocktails and canapés on your private balcony for a sundowner or a 3-course meal at the Azure Restaurant.
Oh, and did we mention that this place has its cozy 16-seater cinema for private movie nights with your loved one, including popcorn and refreshments?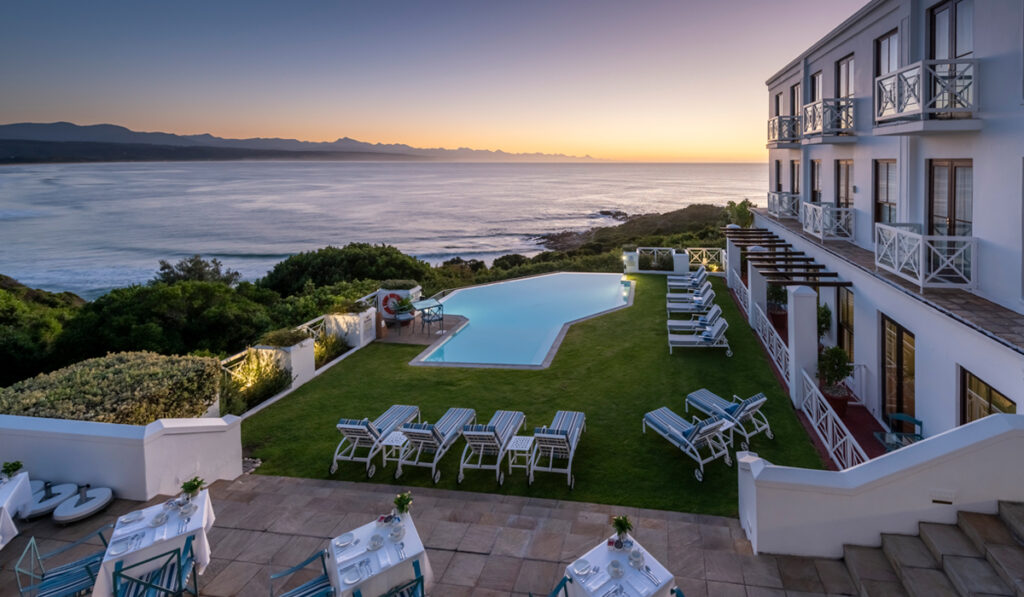 Price per Night: $290 – $1290
Best For: All-inclusive, long and short stays
Availability: Easy to book
Plettenberg Hotel is a charming and elegant option for those who want to head to the warmer waters and golden sandy beaches of the Indian Ocean – a must for your South Africa honeymoon itinerary.
35 individually decorated and spacious en-suite rooms that mainly offer stunning views over the Indian Ocean will provide guests of this five-star hotel with the following amenities:
Access to both infinity pools and spa.
Free Wi-Fi.
Slippers and fluffy gowns.
Room service.
TV and movie selection.
Body hampers.
The contemporary restaurant at the Plettenberg lures locals and hotel guests for dinner due to its stunning views over the cliffs of Plettenberg Bay. You can enjoy walks along the coast while being able to spot whales from the cliffs from September to November.
You can expect world-class service, top-notch cuisine, and staff that will help you with whatever your honeymoon hearts desire. Whether that is a couple's spa treatment or romantic private dining (in-room or a beautiful al fresco setting) – the Plettenberg is committed to making your South Africa honeymoon unforgettable.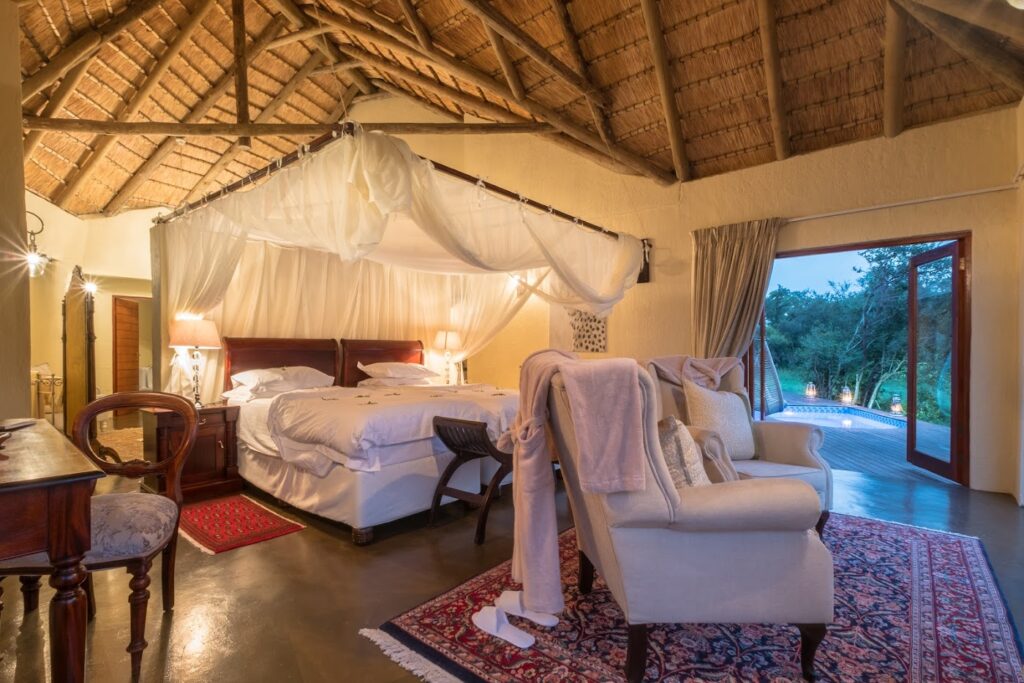 Price per Night: $731 Explorer Suite, $4200 for grant suite (fits 4 people)
Special Offer: 3-night stay with flights from OR Tambo: $1204 (including return flights, all meals, transport, 2 game drives per day, and 5-star luxury stay for 3 nights)
Best For: All-inclusive, short stays
Availability: Limited to book
What would a typical South African honeymoon be if it didn't include a safari honeymoon trip too?
Tintswalo Safari Lodge is one of South Africa's best luxury hotels, only a short drive from Hoedspruit Airport, and perfectly connected to any round trip you might have planned for your South African honeymoon.
Sharing an unfenced boundary with the Kruger National park and the Manyeleti Private Game Reserve, you will be guaranteed to see wildlife near your safari lodge.
This luxury accommodation is a honeymoon destination by the book. Think lavishly decorated suites in the style of the 19th-century explorers, morning and afternoon game drives before eating game at the lodge's boma fire, or in a romantic private setting under the stars.
This is all rounded off with a bunch of incredibly facilities and amenities, such as:
Public lounge with fireplace.
Fire boma for al fresco dining.
Gym with a view into the African bush.
Wi-Fi.
Luxury Spa.
Curio Shop for all your African souvenirs.
Elephant hide.
Ecological Body Care Products.
Price per Night: $631
Best For: All-inclusive, adults-only, short stays
Availability: Easy to book
For those that want to stay in an upscale hotel in the heart of Cape Town that is charmingly unpretentious: book yourself into the Mount Nelson Hotel.
Join the ranks of John Lennon, Winston Churchill, and Nelson Mandela by becoming a guest at the hotel that was painted pink for peace in 1918.
The plush accommodation style is beautifully restored with many modern and quirky touches. Your room will come with king-sized beds, marble bathrooms, Wi-Fi, luxury toiletries, a flat-screen TV, and a nightly turndown.
On top of that, the hotel offers stunning plunge pools and the sought-after Librisa Spa, set in Victorian Houses, including saunas, steam rooms, and many couples' treatments.
If you are not just a city stroller but a keen hiker, Mount Nelson offers guided tours up Table Mountain, where you can see the endemic fauna and flora of the Cape Peninsula, as well as learn about proteas and fynbos.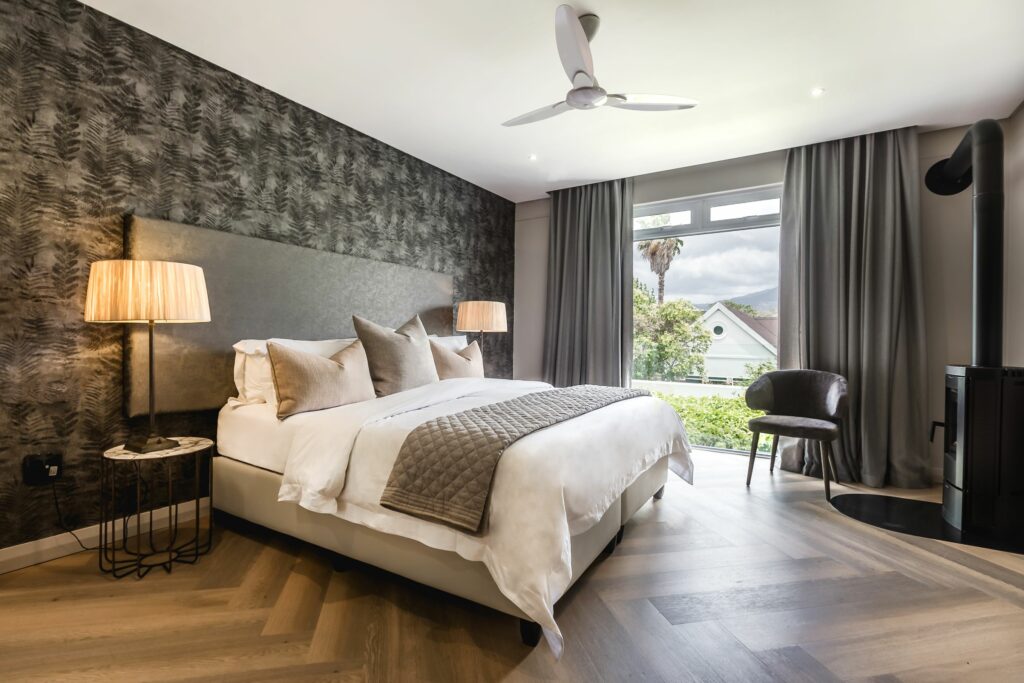 Price per Night: $60
Best For: Adults-only
Availability: Limited to book
This article wouldn't be a complete South Africa Honeymoon Guide without taking you into South Africa's wine country! Stellenbosch and Franschhoek are best known for their wide variety of incredibly affordable but world-class wines while reminding visitors of quaint little towns in central Europe.
If you want to stay over after a South African wine tasting in this area, the Franschhoek Boutique Hotel should be on your South Africa honeymoon itinerary.
Twelve stylish and individually decorated rooms provide a beautiful ambiance and special touches, such as freestanding baths and wine coolers. Amenities also provide heating and aircon and double-volume showers. In addition, the vast living area with a cozy fireplace and armchairs is the perfect setting to unwind after a busy day in the vineyards.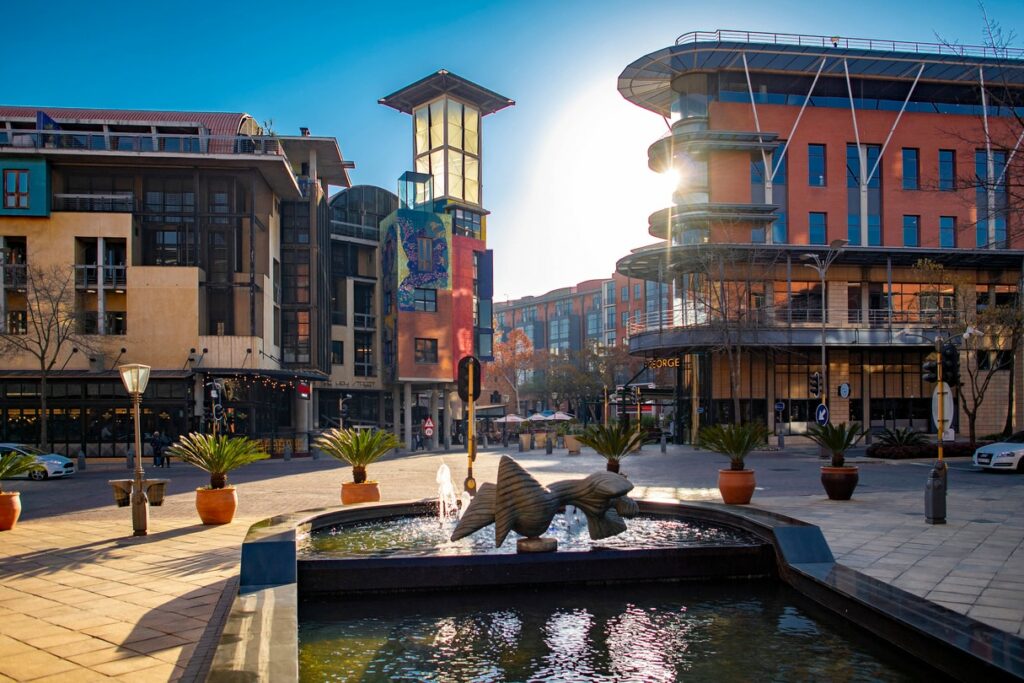 Price per Night: $226 – $369
Best For: All-inclusive, short stays
Availability: Easy to book
When visiting the financial capital of South Africa, the bustling and artsy metropolitan city of Johannesburg, be sure to stay at the Mariott in Melrose Arch. With luxury amenities and access to the city, this hotel provides everything one needs for a quick stop-over in the city.
Enjoy comfy beds, rooms with large flat-screen TVs and wifi, as well as state-of-the-art business facilities within each room. Within walking distance, you will find local shops, boutiques, and trendy restaurants to wine and dine.
If you feel like you haven't walked enough during your shopping tour, you can use the fitness center on the first floor with views over the outdoor pool.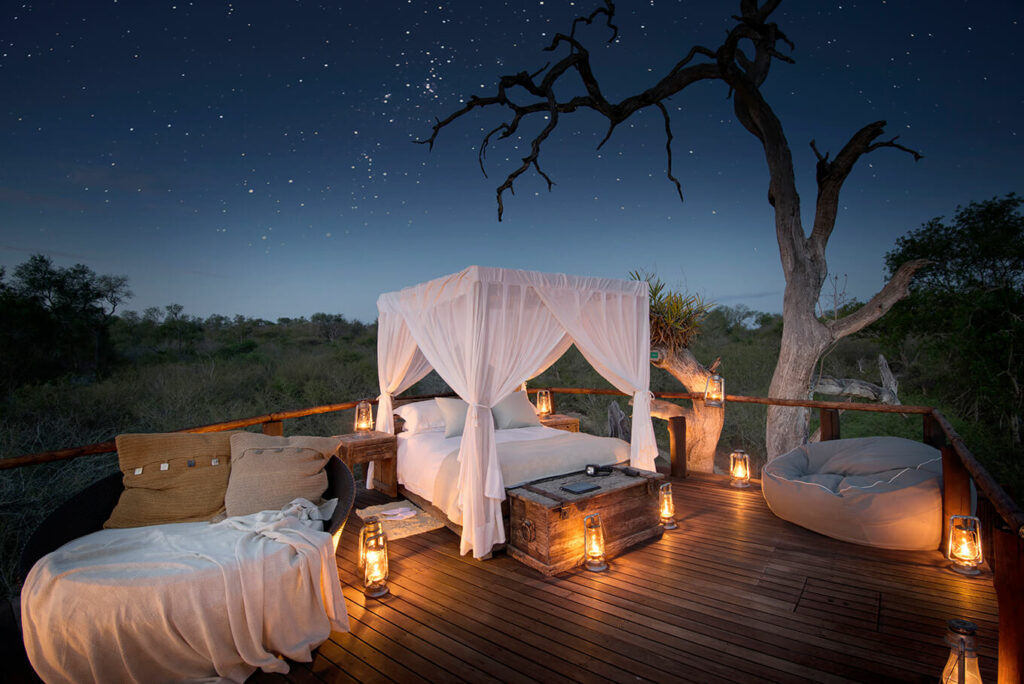 Price per Night: $131
Best For: All-inclusive, long stays
Availability: Limited to book
We would like to provide you with another popular safari lodge to visit: the newly rebuild Lion Sands lodge, situated in the Sabi Sand Game Reserve and overlooking the stunning Sabi River.
When it comes to honeymoon destinations, Lion Sands does not disappoint. Large and lavish rooms boast private fireplaces, viewing decks, and private pools! On top of that, you can expect a 24-hour front desk, an outdoor pool where you'll be greeted by some curious elephants or giraffes, as well as a bar, garden, and free WiFi throughout the lodge.
Apart from that, the safari lodge offers traditional boma al fresco dinners underneath the African starry night sky and two game drives per day. Guests also have the opportunity to sleep in private, tree-top bedrooms, which give honeymooners an unforgettable experience of the African bush at night – a truly romantic addition to your honeymoon itinerary.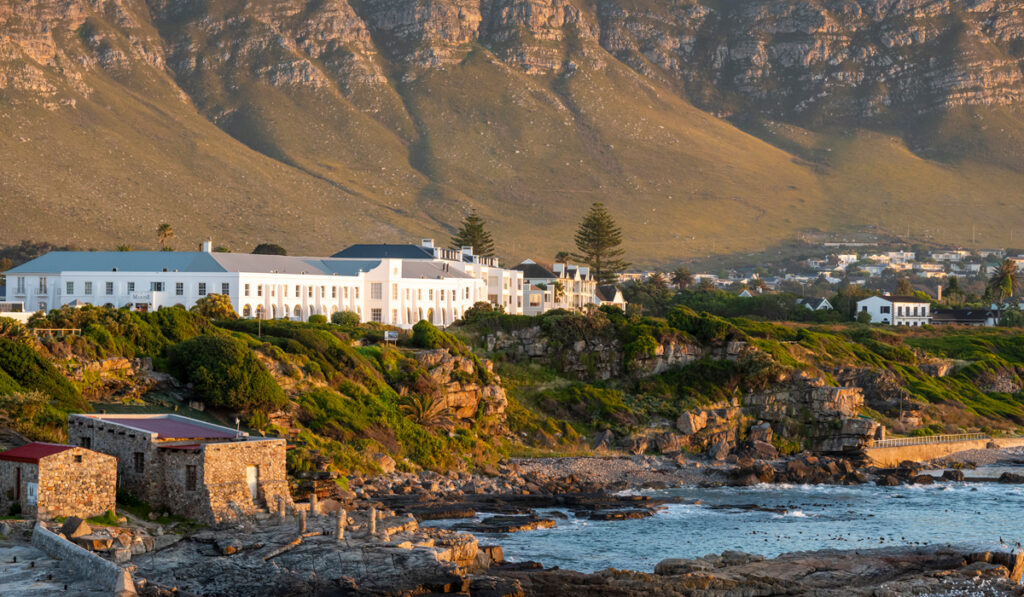 Price per Night: $370 – $770
Best For: All-inclusive, adults-only, short stays
Availability: Limited to book
Did someone say whale watching? The best place to do so from land is certainly Hermanus. The ocean here has a very steep drop just a few meters off the coastal cliffs, which is why whales come very close to land in this area.
When it comes to honeymoon destinations with a sea view, the Marine Hotel is almost unbeatable, with basically all of its rooms facing the beautiful ocean. This means you might wake up in your individually decorated room with a comfy king-sized bed and spot a whale jumping right in front of your private balcony!
The Marine is a renowned hotel that should be on your list of honeymoon destinations. Book the honeymoon suite with a wide loft bedroom and large windows facing the ocean, matched with sundowner cocktails in the Sun Lounge, fine dining in the Pavilion Restaurant, and couples' treatments at the Carchele Beauty Spa!
Best Areas To Stay In South Africa
Now that you have an idea of the most romantic getaways for your South African honeymoon knowing which areas to stay in during your holiday in South Africa should come next.
Here is a list of the best honeymoon destinations in South Africa:
Kruger National Park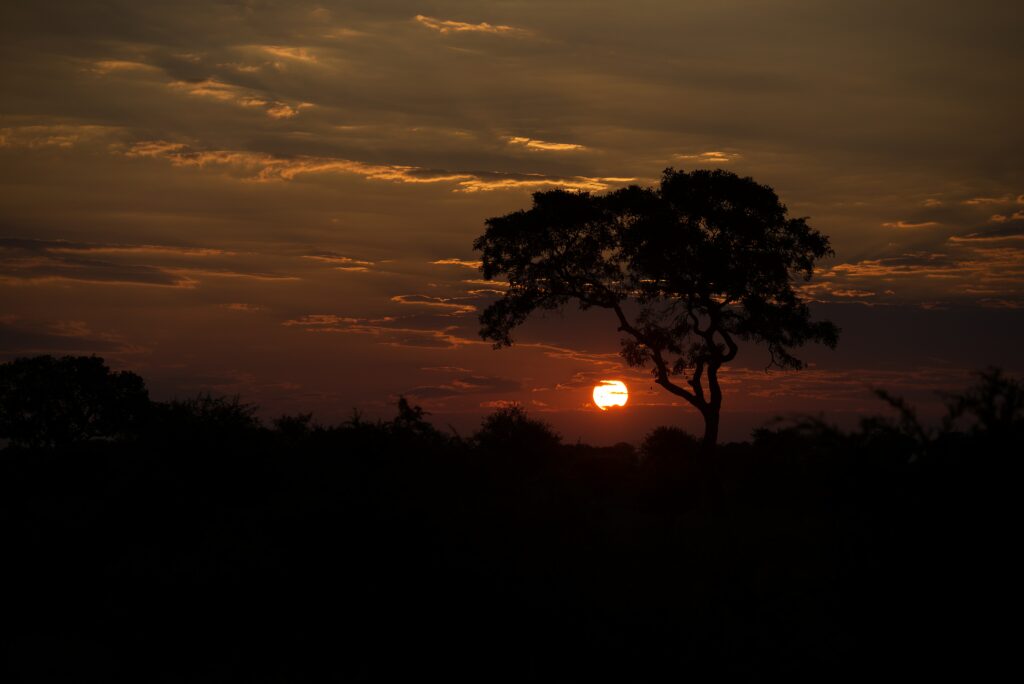 It's true: you shouldn't take a trip to South Africa without at least trying to spot the big five (the Rhino, Elephant, Lion, Buffalo, and Leopard). The best shot you will get to do so is in the greater Kruger National Park area, which boasts plenty of safari lodges and wildlife sanctuaries.
Typical days in the Kruger start with a wake-up call before the sun comes up, to hop onto your safari vehicle for an early morning game drive, followed by continental breakfasts and days by the pool or at the Spa before meeting up for an afternoon game drive again.
The days usually end early after a fine-dining experience under the stars while tasting some of the game you got to spot in the bush.
Western Cape Winelands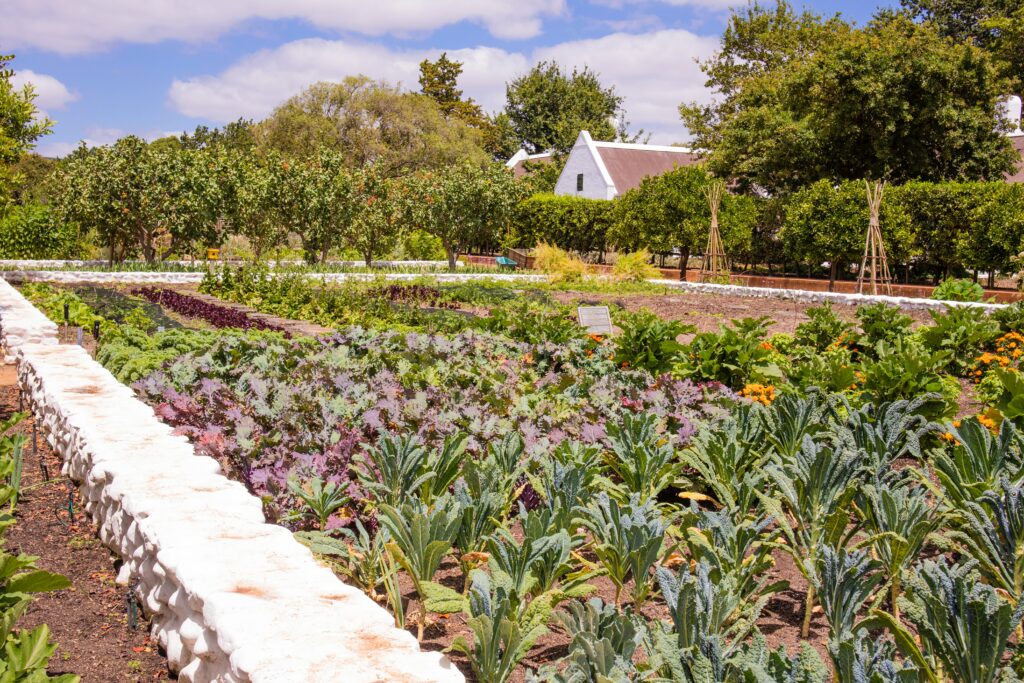 About a 40-minute drive from Cape Town, in the wine country of South Africa, lie Stellenbosch and Franschhoek – any oenophile's dream honeymoon destination.
When visiting Franschhoek, you shouldn't miss hopping onto the famous wine tram. This hop-on hop-off vehicle is a restored train that takes you through the beautiful vineyards and hilly landscape with the mountains in the backdrop, dropping you off at any wine farm of your choice and picking you up after your wine tasting and some amazing food.
You shouldn't leave South Africa without trying the unique pinotage wine, which is a blend of a native South African wine – the Cinsaut and Pinot noir!
Cape Town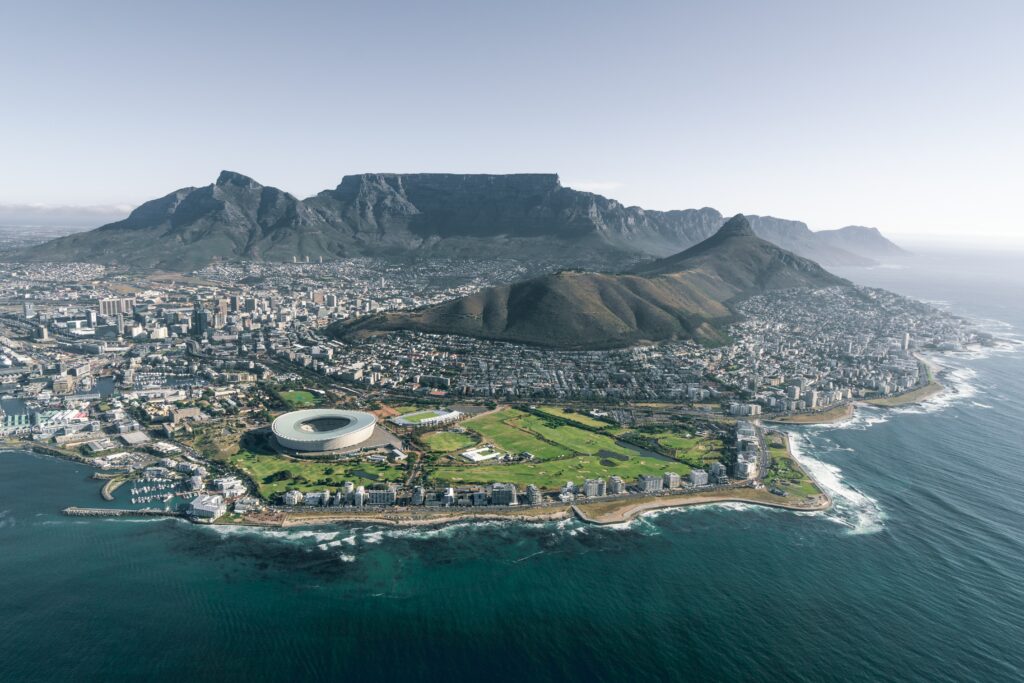 There are many reasons why you should visit Cape Town. Whether it's for hiking Table Mountain, taking a tour to Cape Point (the meeting point of the Atlantic and Indian Oceans), or getting lost in the bustle of the mother city, you can count on getting an authentic experience of the rainbow nation.
Cape Town should be on anyone's honeymoon itinerary, not least because of its many white sand beaches mixed with a rich history and vast cultural background that brings about some of the best food you will ever get to taste.
Garden Route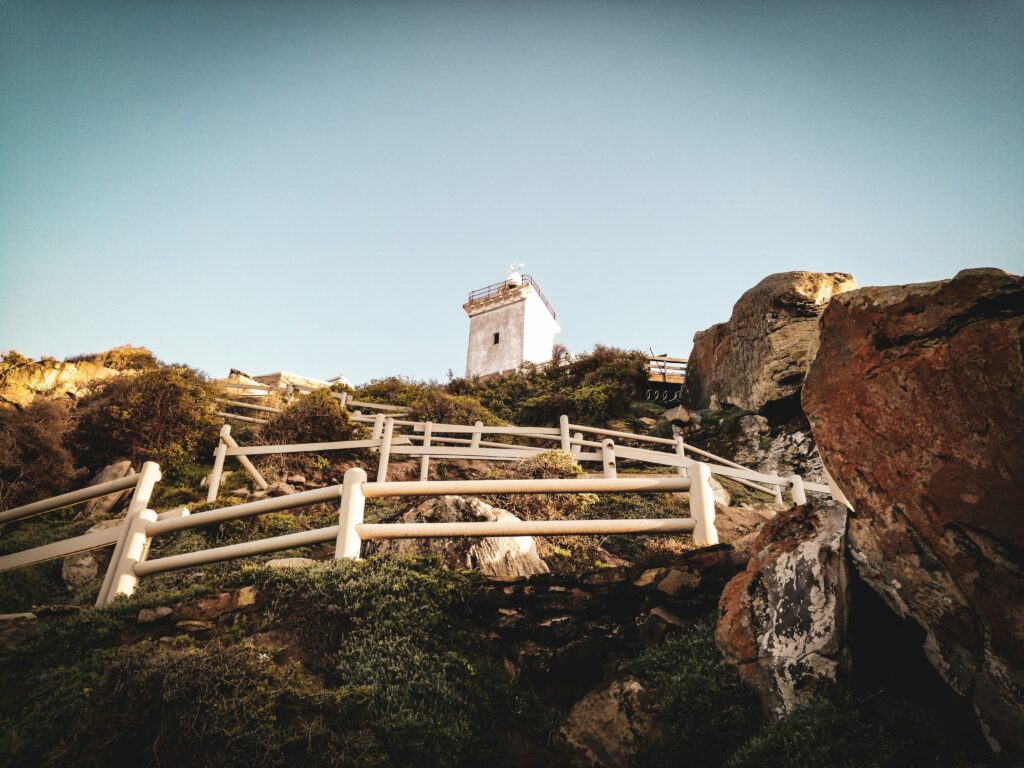 Another popular gem along the coast towards the Eastern Cape, and the infamous Addo Elephant Park, is the Garden Route. With attractions such as the Otter hiking trail, Tsitsikamma Park with the world's highest bungee jump, or the beauty of the Knysna Heads, the Garden Route is loved by locals and tourists alike.
Therefore, you should consider a road trip past small towns such as Wilderness and Sedgefield via the breathtaking Nature's Valley to Plettenberg Bay.
Top Excursions & Activities To Do On A South Africa Honeymoon
Once you have figured out where you would like to stay and which areas are the best to visit, you certainly don't want to miss out on these top excursions for your South African honeymoon itinerary:
Cape Point
Visit where the Atlantic and the Indian Ocean meet, at the second southernmost tip of Africa. Hike or drive with the funicular to Cape Point's infamous lighthouse and take in the breathtaking views over False Bay and the majestic cliffs.
Boulders Beach
Just around the corner from Cape Town and on the way to Cape Point, you will find Boulders Beach with some of the cutest animals you probably would've expected least on an African beach: penguins!
The protected penguin colony of Boulders Beach nests between massive granite boulders on white sandy beaches and attracts visitors from near and far daily to watch these comical birds take a sunbathe or wobble across the sand towards the ocean for a dip.
Wine tasting
South Africa's Cape Peninsula offers more than just beaches and mountains. The culinary experience would certainly not be enough without a trip to the beautiful wine lands around Franschhoek or Stellenbosch.
Therefore, if you are in Cape Town, be sure to book a trip and enjoy some local reds or whites with your significant other.
Bungee jumping at Bloukrans Bridge
For those that seek a bit of adrenaline in their life – why not jump off the highest bungee jump in tandem with your partner at Boukrans Bridge?
Should you find yourself on a road trip through the Garden Route and a bit bored by lengthy car rides, this experience will surely wake you up!
Whale watching
All along the Western Cape coastal areas, you will be able to spot whales from September to November, a spectacle everybody should witness at least once in their lifetime.
Safari in Kruger National Park
As aforementioned, your Africa honeymoon will not be complete without a safari.
While several game reserves are scattered across South Africa, the real deal is the Kruger National Park. This vast stretch of protected wildlife will have you encounter some of the biggest as well as smallest and rarest animals of Africa simply while driving over the most random road.
Hiking Table Mountain
Standing on top of this impressive landmark is an achievement of its own, and luckily, for those that aren't as sporty, there is a 360-view cable car that will bring you right to the top as well!
Visit Robben Island
Experience the place where Nelson Mandela was imprisoned for almost 18 years with a guided tour of Robben Island. Learn about the other famous prisoners and enjoy the hauntingly beautiful views of Table Bay, with the majestic Table Mountain in the background.
Sample Itinerary & Budget For Your Honeymoon To South Africa
Falling in love with South Africa is easy for all of the reasons we just mentioned. Lucky for you, planning a trip to South Africa can be just as easy, thanks to our sample South Africa Honeymoon itinerary below:
Day 1: Fly to Johannesburg. Stay one night at the Mariott Hotel. Walk around Melrose Arch and explore Sandton. Grab an early dinner and relax in your hotel before an early wake-up the next day to catch your plane to Hoedspruit into Kruger Park.
Day 3-7: Kruger National Park. Stay at a safari lodge of your choice and enjoy the African wildlife for a couple of days with daily game drives, educational visits to the Elephant Sanctuary in Hazy view, and many romantic dinner dates under the stars.
Day 8: Fly back to Johannesburg and catch a plane to Cape Town. After arrival and check-in, go for an afternoon high tea at the Mount Nelson Hotel and head to bed early for a morning climb up Table Mountain at first light.
Day 9: Hike up Table Mountain in the morning and enjoy a couple's massage followed by a romantic dinner at the hotel of your choice or one of Cape Town's many fancy restaurants.
Day 10: Drive to Hermanus. Book yourself into the Marine Hotel for one night and enjoy walks along the coastal hiking trail while spotting whales or pods of dolphins. Enjoy a romantic couple's treatment at the world-renowned Spa and dinner at the Pavilion.
Day 11: Head to Franschhoek. On your way back from Hermanus, make a stop in the Cape Winelands and book at least one or two wine tastings in advance. We recommend Allee Bleue, Mullineux, or Spice Route, for example. If you have enjoyed one too many glasses, stay the night at the Franschhoek Boutique Hotel.
Day 12: Explore more of Cape Town. Whether you would like to visit Robben Island, go to the Apartheid Museum or the Museum of Modern Contemporary African Art, or dive into the cultural facets of Cape Town. The Bo Kaap district is especially Instagram-worthy thanks to its colorful houses and cute cafés. Alternatively, relax and enjoy your day on one of the many white sandy beaches, Camps Bay or Clifton, from first to fourth.
Day 13: Take a trip to Cape Point. Explore the second southernmost tip of Africa and visit the penguins on Boulders Beach for your last day! End the day in a typical Cape Town manner and enjoy a sundowner at your favorite Beach restaurant or take a picnic to Camps Bay beach or Clifton for one last romantic sunset.
Day 14: Fly back home from Cape Town international airport. Here are the costs for a two-week holiday in South Africa for two people:
Flights:
From New York to Johannesburg/ Cape Town to New York: $1,400.00.
From Los Angeles to Johannesburg/ Cape Town to Los Angeles: $1,350.00.
From Johannesburg to Hoedspruit (round trip): $288.00.
From Johannesburg to Cape Town: $100.00.
Food & Drinks & Sightseeing per day: About $73 to $150, depending on whether you are eating out on a budget or at a five-star restaurant. Attractions cost between $15 to $35 per entry.
Accommodation: $70 to $500 (on average)
FAQs
How much does a South African honeymoon cost?
Depending on whether you will be staying at a luxury or a budget hotel and how many excursions you book, you can expect to spend about $7,000 (for two people).
When is the best time to visit South Africa?
Truly, South Africa is pleasant to visit any time of the year, but it is especially lovely from August to October when the spring flowers in the Western Cape are in full bloom, and whales start heading down the coast. We'd recommend not visiting in December or January as this is the high season, and flight prices might also be higher.
What is the best way to travel around South Africa?
Traveling around South Africa is best done with a sturdy rental car. Larger metropolitan cities such as Johannesburg and Cape Town have public transport and Uber or taxis. Still, it's best to be independent when wanting to visit different areas.
When traveling between provinces, a national flight with a local airline is advised.
Start Planning The Perfect Romantic Honeymoon Getaway
Whether you're hoping for two weeks of relaxing on white sandy beaches, sipping wine between the vineyards, or a more metropolitan honeymoon exploring museums, you'll never regret booking your flights to this rainbow nation. If you and your significant other prefer hiking trips, trekking through the bush, or want to see ancient San rock art, your perfect trip to South Africa is just a few clicks away!