Are you ready to take that trip? You know, the one where you get all schmoozy with your partner and provide romantic perfection for a few days away.
California is the place for the perfect romantic weekend or more. The choice of cities and locations to get down and flirty is vast, with a limitless number of activities for every intrepid romantic soul. Whether it's a lake cruise, a hot air balloon ride over a ripe vineyard, or sampling sushi on a romantic dinner date, the Golden State has you covered.
We'll explore some of the options for romantic getaways in California and provide some information to help your dream trip come true.
The Essential California Romantic Getaway Guide: Best Places and Travel Tips
California is the ideal state to stage your romantic getaways, especially if you're from next door Oregon, Nevada, or Arizona. A skip across the state line won't cost you your whole paycheck for a few nights of loving, pampering, and fun.
Outdoor California has everything from rolling hills to beautiful beaches and picturesque hiking trails. There is much to do, from sampling the famous California cuisine to wine tasting to spa treatments in pristine settings.
Accommodation options are endless, and you can design these around your budget. The possibilities for getaways in Cali are limitless. Whether it's a historic hotel setting, a rustic cottage, or a night in the open under the stars, your romantic experience won't be limited.
Most Romantic Getaways in California
There are numerous options for romantic getaways in the Golden State for you and your partner. No matter your shared interests and pastimes, you'll find the perfect romantic getaway destination to suit both of you. You might be keen on a romantic trip from one side of Cali to the other or maybe want to find the perfect base to escape to for a weekend away.
The choice is yours; California covers all your desires. From the modern amenities in San Francisco to the vast openness of the Joshua Tree, let's consider your exciting options a little further.
San Francisco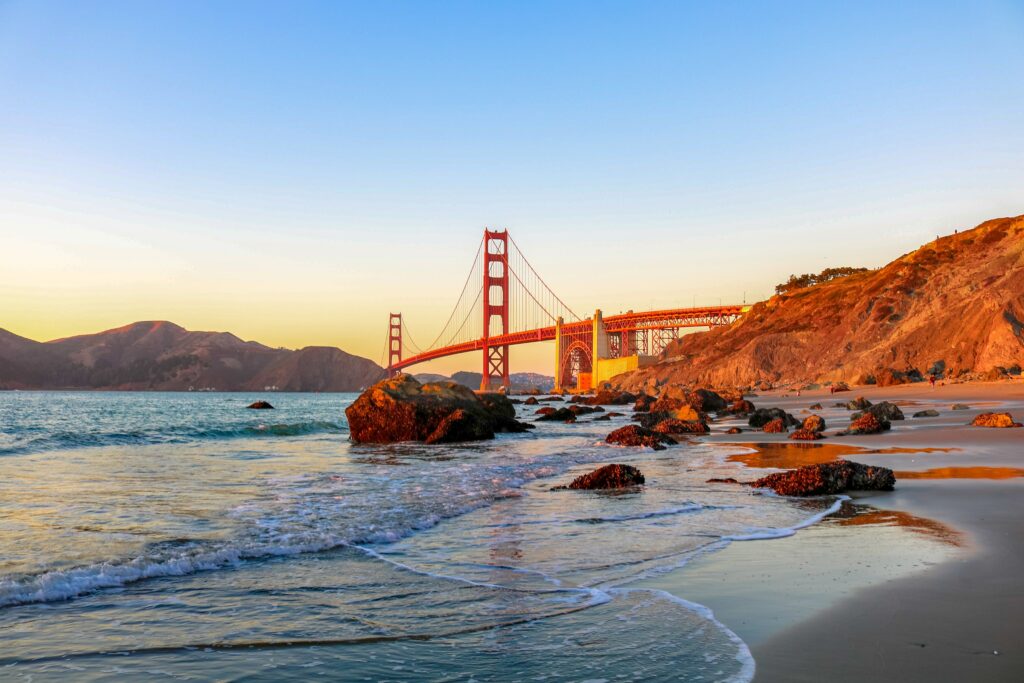 The City by the Bay has it all regarding romance on the Pacific Ocean coastline. Picnics in the park, cruises at sunset, and dinner at Michelin-star restaurants all make for unforgettable romantic getaways. It would be best if you considered Fall or Spring in San Francisco to avoid the many tourists that flock to the city over holidays.
San Francisco offers a variety of activities for lovebirds, so build your itinerary around those that suit you.
Schedule a tour at one or two of San Francisco's multiple museums, like the de Young Museum in Golden Gate Park or the San Francisco Museum of Modern Art.
Golden Gate Park also hosts Stow Lake, a perfect takeout site. Use one of the picnic tables available and take in the captivating view. If you're feeling energetic, consider a peddle-boat ride on the lake.
Go for a relaxing luxury catamaran cruise on San Francisco Bay in the setting sun. Take in the city's famous landmarks from the water and watch as the Golden Gate Bridge lights up.
Surprise your lover with a table booking at the award-winning Gary Danko Restaurant. Enjoying a memorable candlelight dinner is the perfect end to a perfect day.
Best Accommodations in San Francisco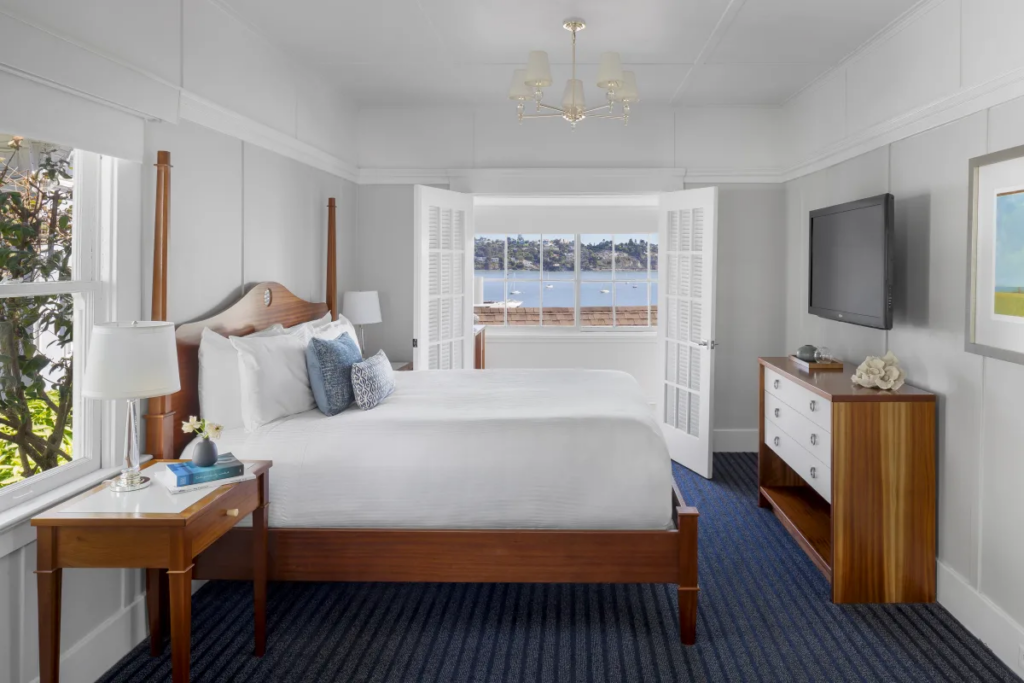 Price per night: From $279
Casa Madrona Hotel's hilltop setting overlooks the bay making it the ideal environment for romance. Yes, the Golden Gate Bridge is visible on the skyline as well.
Lovebirds can expect pampering with a full-service spa and wellness center. Rooms feature cable TV, free Wi-Fi, and a coffee maker complete with Starbucks coffee and Tazo tea. There is a restaurant to replenish yourselves when you decide to leave your room.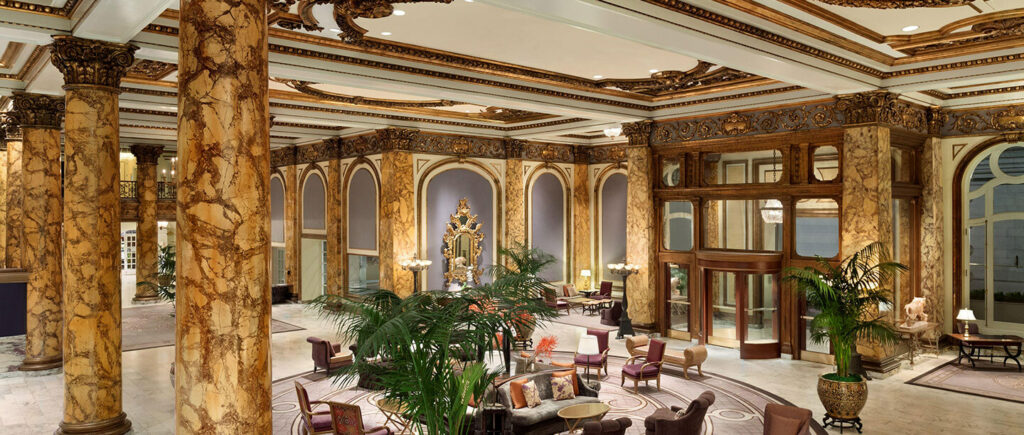 Price per night: From $194
The world-renowned Fairmont San Francisco is steeped in history, presenting a luxurious option for romantic getaways. San Francisco's best panoramic views are from the Fairmont. The impressive service, room service included, will make romantic partners smile in anticipation.
With two renowned restaurants in the hotel, lovebirds won't have to venture far for a bite to eat.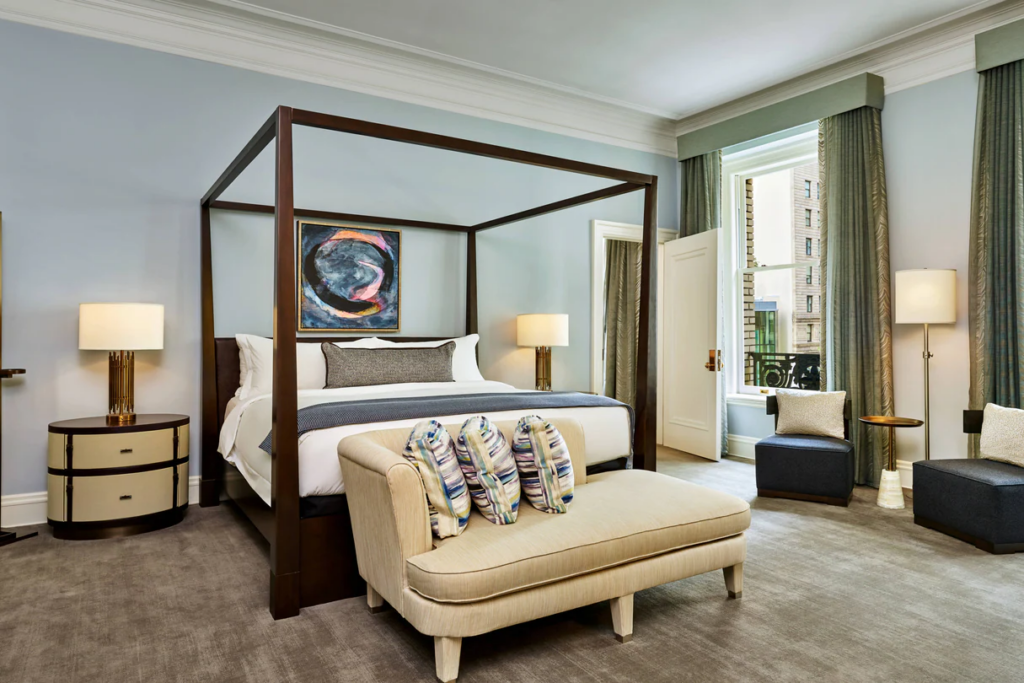 Price per night: From $229
There's much for a couple to do at the Palace Hotel. It features a couple of famous bars, a restaurant adorned with crystal chandeliers, a glass-domed indoor swimming pool, and a workout area. One of San Francisco's premier hotels provides a romantic getaway every pair of lovebirds will adore.
Luxurious linen and pillow-top bedding sets adorn the beds, meaning that your time spent there will be even more memorable. An 11-foot ceiling, 48-inch satellite TV, marble bath, and rain shower mean you'll have the ultimate in overnight pampering.
Napa Valley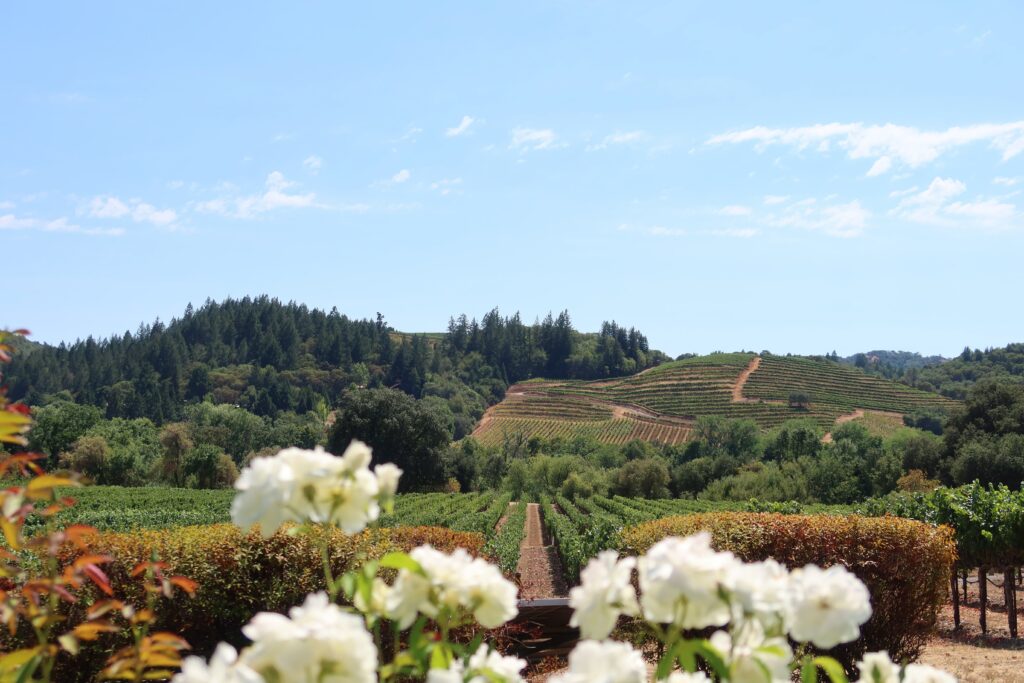 Napa Valley is a popular destination for romantic getaways in California. Whatever the size of your budget, visiting wine country is an option, as several choices will suit every kind of romantic getaway.
The valley is spectacular all year round, but planning a trip during harvest between August and October will make the wine-tasting all the sweeter. Consider the following activities to add to your itinerary for when you arrive.
Give grape stomping a bash if you make your trip during the grape harvest. You can enjoy an authentic experience at specific regional Napa Valley wineries.
Pack a basket of yummy items from the Oxbow Public Market and pick a peaceful riverside spot for a picnic for you and your love.
Climb inside and go up-up-and-away across the Napa Valley sky in a hot air balloon for two to take in the exhilarating vineyard sunset.
Lovers who love wine almost as much as each other can buy a Downtown Napa Wine Tasting Card. You'll then have access to 12 different wine-tasting rooms in the town. Otherwise, you can book a wine tour and find out more about the elite wineries while partaking in some tasting of the nectar of the Gods.
Best Accommodations in Napa valley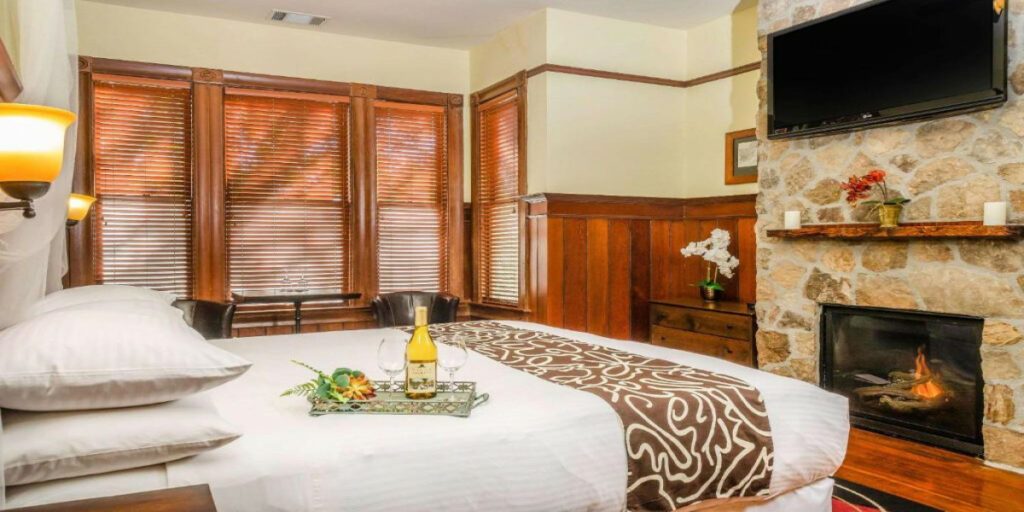 Price per night: From $176
Hotel Napa Valley promises to reveal the secrets of Napa Valley if you book in. The almost-regal rooms feature stunning stone, oak, and old-growth fir floors, with the redwood interiors dating back hundreds of years.
Each room offers various amenities, with HD television and broadband Wi-Fi in each. Lovers should ask for rooms with rooms large spa tubs and stone fireplaces, which might you to add to Napa Valley's list of secrets before you depart.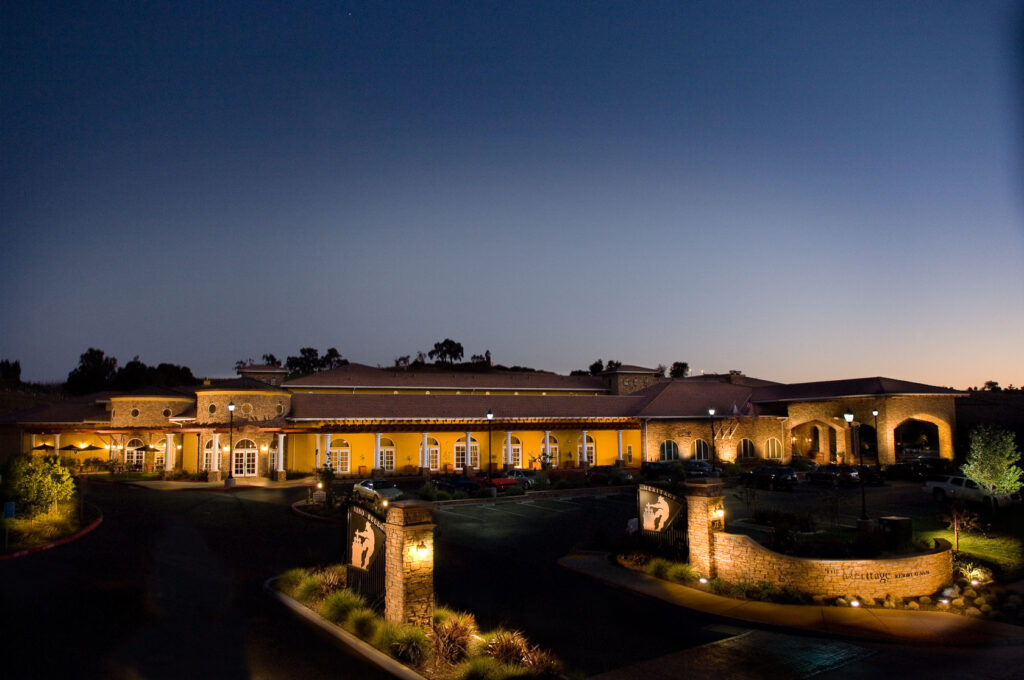 Price per night: From $299
Although the Meritage Resort and Spa might seem on the pricey side, it makes up for it with the environment in which it's set.
These romantic getaways treat you and your partner like royalty. With a glass of champagne on arrival and a two-hour evening wine-tasting experience in the company of visiting vintners on Saturdays, you'll learn and enjoy together. A daily roasted coffee or Nespresso in the Grand Reserve living room precedes the signature Meritage nightly turndown. Your day will be done. Publicly, that is.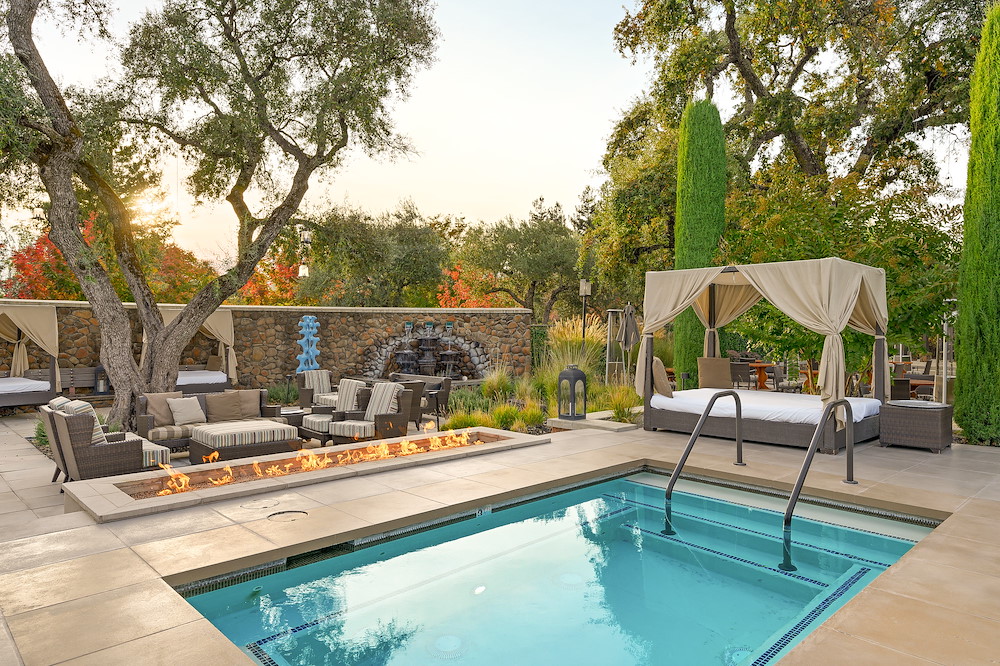 Price per night: From $499
The Hotel Yountville screams extravagant splendor. You can leave the city lights behind and take time to appreciate your surroundings in one of the prime romantic getaways in California.
The hotel's Heritage Oak restaurant provides local produce, organic meat, and sustainable seafood to tickle the most discerning of palates. Try the luxurious spa and relax at the semi-private poolside. With stocked refreshments and some leisurely hours free from even having to think, you'll find the bedroom – we're sure you'll enjoy it!
Joshua Tree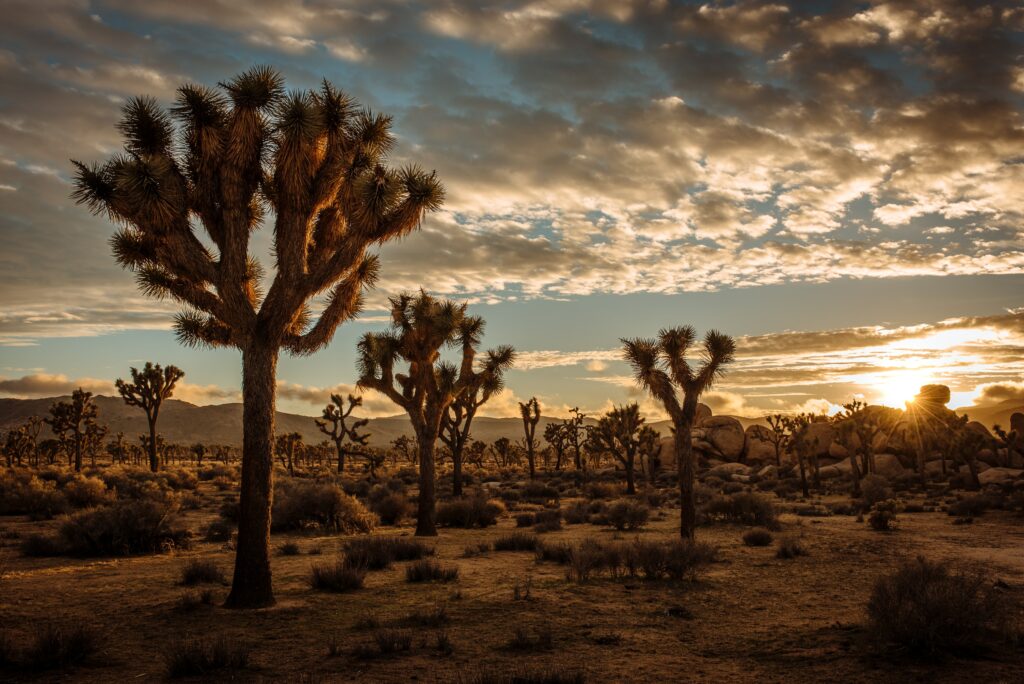 If you're looking to escape from your routine view of civilization in Joshua Tree in Southern California, choose the Spring or Winter months. Over the other seasons, soaring temperatures will make any form of physical activity difficult, and let's face it, that's the last thing anybody wants to contemplate during most romantic getaways.
The Joshua Tree National Park is the unquestioned star of the show in this area, with artists over decades, and the odd rock band, inspired by the breathtaking vast open skies, the gardens of cacti, the massive boulders, and the natural vegetation. Some things you could consider doing while in Joshua Tree are:-
Overnighting in the park: bring your tent and equipment and rough it in the wilderness. There's an ablution with a bathroom, a single visitor center, and many stars! Take food and firewood and enjoy the solitude together.
Enjoy an outside shower under the stars or a hot tub with a spectacular view of the rugged surroundings. If you can, stargaze through a glass bubble dome ceiling while sharing the unique intimacy it affords with the one you love. You can even sleep outside under the stars.
Call in at the Noah Purifoy Desert Art Museum, and find out what you can do with repurposed junk when you view the imaginative sculptures in the museum.
Take a stroll through the town or two during daylight. Pioneertown is a set where Western films have been made and complete with old-style Western facades. Joshua Tree itself has numerous museums, mostly somewhat quirky. Afterward, hire a four-wheeler and spin through the desert searching for Joshua trees.
Best Accommodations in Joshua Tree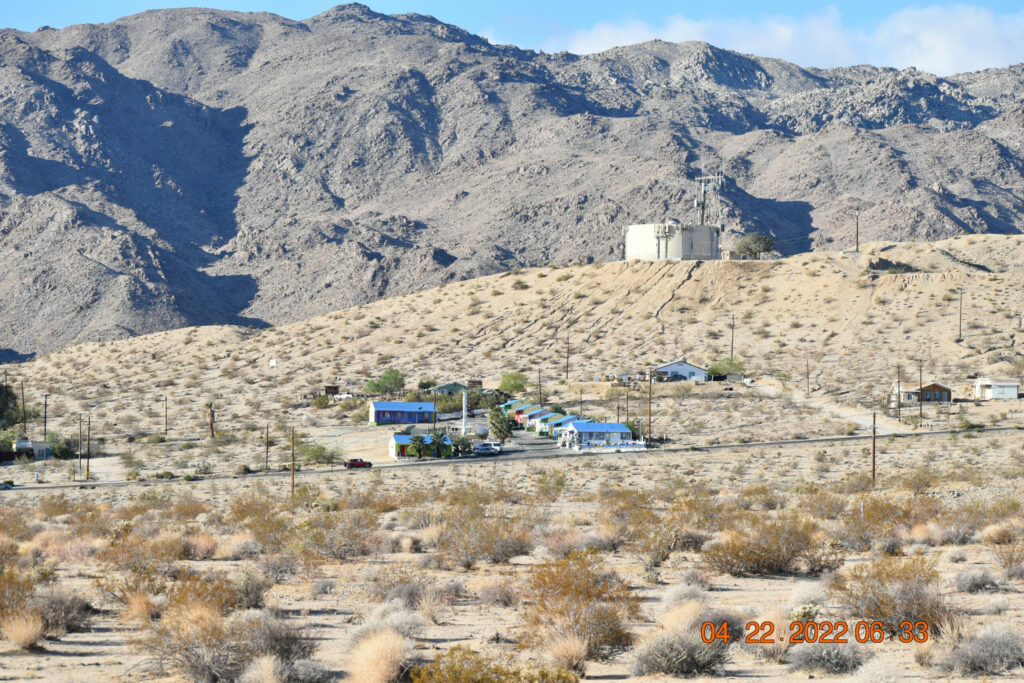 Price per night: From $79
If you're concerned about your budget, look no further. 9 Palms Inn is located right off Highway 62, within three miles of the US Marine Corps base. This former 1940s landmark motel has rooms that include free Wi-Fi, a fridge, a microwave, a phone, and a small oven.
The Ritz it might not be, but it offers privacy and convenient parking.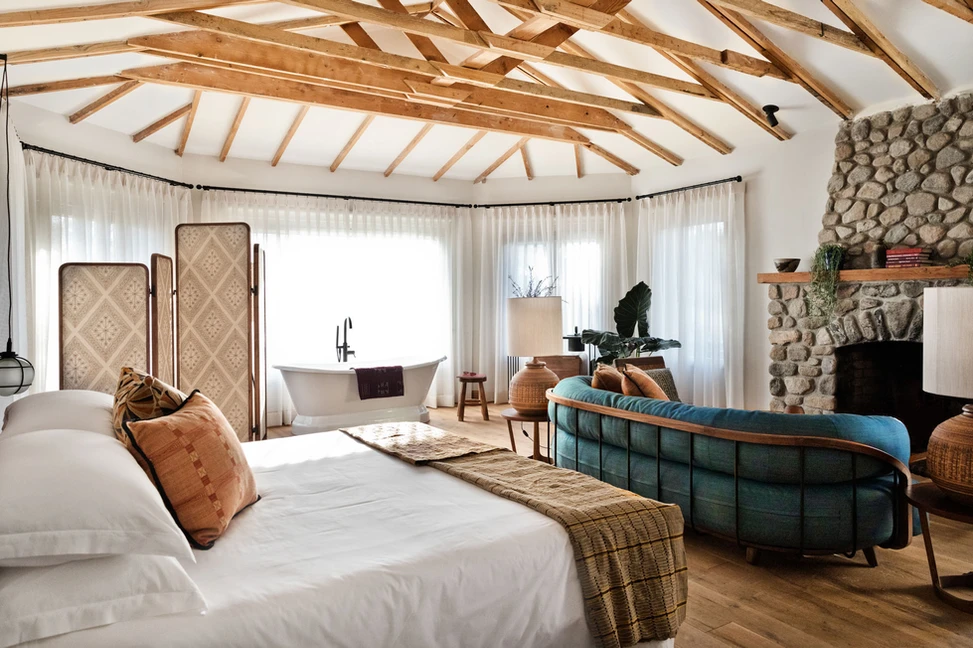 Price per night: From $365
Two Bunch Palms is a modern wellness escape where you're encouraged to find out what the meaning of wellness is for you. It may not be every couple's cup of tea, but it encourages you to be at home while away from home.
Dip yourselves into the centuries-old natural spring consisting of therapeutic minerals that promise to enhance your mood. Follow this with other treatments and a Mezze platter lunch by the outdoor pool. After dinner at the Twine bar, you'll be able to stargaze while again floating in the spring water before heading off to bed feeling refreshed and invigorated.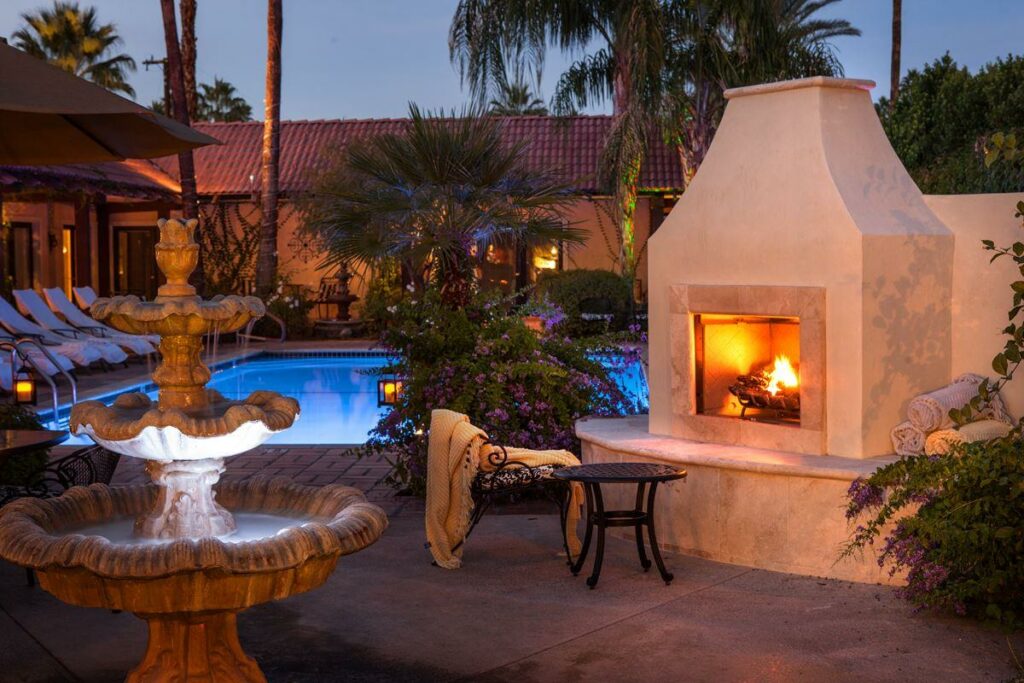 Price per night: From $246
La Maison Hotel is intimate, which is what a romantic getaway is about. You'll feel like you're wandering around your home instead of staying in a crowded hotel. With an outdoor pool and complimentary bicycles for guests, you're encouraged to cycle around town and back for barbeques and free wine and beer at the poolside.
La Maison's rooms are contemporary, with dark wood finishings. Free Wi-Fi is a feature, and complimentary toiletries are left in the en suite bathroom, which is also handy if you decide to spend your day in bed covered with your luxury duvet and linen.
Top Excursions & Activities To Do On A California Romantic Getaway
Every state has its highlights of excursions and activities, and the Golden State is certainly no different. We've highlighted several excursions that would make incredible romantic getaways in California.
If you're in San Francisco, consider visiting Yosemite National Park. The four hours trip will be worth it if you leave early or overnight at the park to see all it offers. Once there, consider a hike on the lower falls trail. Yosemite's Yosemite Falls, Glacier Point, and Tunnel View are about as romantic as any views on a hike that any couple could experience together.
Starting in San Francisco or Napa, with Sonama Valley nearby, affords you the chance to join a wine tour of the area. You will learn about winemaking traditions and history with a small group while sampling wines from three valley wineries. After the tour, you can return to your hotel with a warm and romantic feeling in your stomach.
If you've chosen to spend your romantic getaway at Joshua Tree in Southern California instead of Northern California, you're probably a couple that finds nature romantic. Rock-climbing might not seem romantic to many, but if you enjoy challenging things together, Joshua Tree National Park has over 8,000 rock-climbing routes that'll challenge you and leave you sated.
Sample Itinerary & Budget For Your Romantic Getaway In California
Where would you decide to go if you were to make a list of romantic getaways in California over a long weekend? Would you decide on Southern California and stop at places like Butterfly Bay in Santa Barbara, the Malibu Creek State Park, Santa Catalina Island, or Laguna Beach, or perhaps stop past Carmel by the sea on California's central coast on your way north?
San Francisco in Northern California has several highlights, and we've decided to use these as a sample itinerary for our romantic getaways example. Romantic getaways won't necessarily be the cheapest trips you'll ever take, but you'll enjoy the time away together, and a little expense will be very worth it in the end.
Remember to consider your budget before starting. Certain things could pop up during the trip, which could influence this, such as car problems or finding a last-minute place to stay if you didn't book in advance. Then there are little things like extra meals, or drinks on warm days, so try to leave a little in your budget for sundry items.
Let's get going on our California trip, shall we?
Day One
Before you leave Golden Gate Park on your travels, call on a few local landmarks. Golden Gate Park has around 6.5 million annual visitors, making it one of the most visited parks in the whole USA.
Stop off at the park's Japanese Tea Garden and take time to admire the traditional Japanese bridges, waterfalls, landscapes, and streams.
Perhaps call in at the California Academy of Sciences before you leave. The museum has some interesting exhibits, including the Rainforest Dome, the world's largest indoor rainforest.
Finally, it would be best if you visited the Bison Paddock before leaving Golden Gate Park. Watch several buffalo species roaming free in their natural habitat, including the awe-inspiring American Bison.
With sightseeing done for the day, it's time to head to your stop-over point, My Rose Garden, where you'll spend the night. This intimate B&B is close to restaurants and shops and a few minutes walk from Golden Gate Park.
Cost for day one: $500
Day Two
Day two begins with a trip across the majestic Golden Gate Bridge on your way to the Muir Woods National Monument. The monument is named in honor of American botanist John Muir, known as the "father of National Parks."
Muir Woods is renowned for its regal Redwood trees, some 600+ years old and over 250 feet tall. Over six miles of hiking trails are waiting for you in loops of 30 to 90 minutes, reaching into some of the most spectacular areas in the Golden State.
Choose the Canopy View Trail beginning at the visitor center and follow the boardwalk. You'll climb gently until you reach a position of more than 1,000 feet above sea level. On the way back down, you'll likely see wildlife like deer and part of the Muir Woods railroad. The whole loop takes about three hours and is around three miles long.
When you loop back to the entrance, you can replenish some refreshments at the cafe connected to Muir Woods Trading Company. Then head back to My Rose Garden to bathe and change before visiting one of the fabulous San Francisco restaurants for a romantic dinner before heading back to pick up where you left off at the restaurant.
Cost for day two: $730
Day Three
The last day of your selection of romantic getaways in California takes you inland from the Pacific Ocean into the wine country of Sonoma. You'll catch a tour bus in San Francisco and head out for an early start, visiting some of California's best wineries and vineyards.
The mild climate means winemaking is done all year, and you'll sample several varietals, including the famous Zinfandel. Enjoying the scenery and tasting the outstanding wine is the perfect way to end what will be one of the best romantic getaways you'll have. Once back safely in San Francisco, it's time to make the short trip home.
Cost for Day three: $550
All expenses for two people are included, excluding your gas to and from home. Accommodation, tour fees, entry tickets, restaurant meals, toll fees, and refreshments all feature in the daily costs for a romantic weekend away. The total cost of the weekend is $1780.
FAQs
How much does a California romantic getaway cost on average?
The average price of the best romantic getaways for a 3-day trip over a weekend in California is around $2000 per couple. Staying in a city center averages out at about $350 per night. Restaurant meals cost about $200 per couple, with specialized tours and visits to paid venues pushing up the costs. The best romantic getaways are not always the most expensive.
When is the best time to visit California?
The best time for a California trip is in the Summer, the peak season for tourism. The Golden State is accessible, making outdoor activities like hiking in Northern California possible. It's also the prime period to visit the wine country, with harvesting taking place.
How long do people typically spend in California on a romantic getaway?
California is far too large to visit extensively over a long weekend, but this is likely the average period for a romantic visit. If you wish to travel around California in depth, you'd need a fortnight to do it properly.