New Jersey is one of those destinations that has something for everyone. Like many of the 'less-major' states, New Jersey is often overlooked when people find themselves deciding on a getaway destination. This is despite having windswept beaches, world-class museums, and historic boardwalks.
If that hasn't hooked you by now, then you'll be pleased to know that New Jersey has many different stay options and getaway packages, many of which are guaranteed to suit your pocket and taste.
In this guide, we'll run you through the best romantic getaways New Jersey has to offer. While providing you with some useful to ensure you have the best possible stay. If you're not a fan of spontaneity, then be sure to check out our sample budget and itinerary at the end.
What Makes New Jersey Perfect For A Romantic Getaway?
While this may come as somewhat of a surprise, in many ways, New Jersey epitomizes the ideal destination for romantic getaways. The Garden State doesn't have the best reputation but what you see in mainstream media isn't the absolute truth.
When you hear terms like scenic shorelines, rocky mountains, and picturesque lakes, it's easy to think that someone is talking about California, but they could actually be describing New Jersey. New Jersey state has multicultural cities and dreamy vistas that make it the ideal destination for couples to strengthen their bond.
You'll find plenty of classy inns and boutique hotels but what makes New Jersey truly special is that it pairs the obvious with the unexpected. Accommodation and scenery aside, there's plenty to do in New Jersey, making it a very inviting destination for couples.
Most Romantic Getaways In New Jersey
New Jersey has a wealth of getaway options, which is great because it means you'll definitely find something that's to your taste. The downside is that most of the major cities don't provide easy views of the Delaware River, but this isn't a huge dealbreaker.
Always remember that you don't have to confine yourself to just one destination. In fact, it's generally a good idea to book stays in multiple areas so that you get to experience a destination from different angles.
Here are some of the best romantic getaways in NJ, as well as the best stays in the area:
Long Beach Island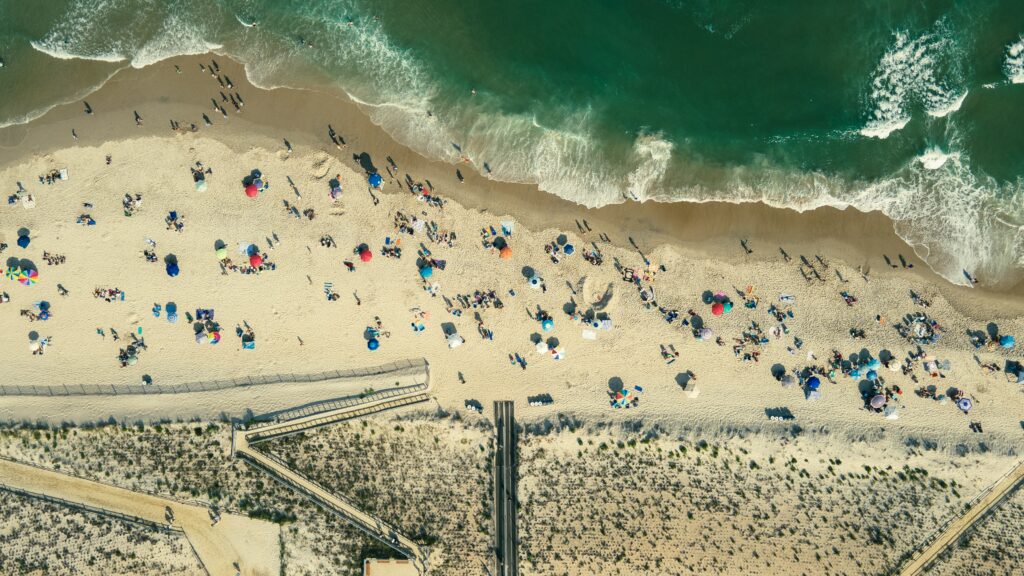 Long Beach Island, also known as LBI, is a great way to escape the bustle of the mainland. It's an 18-mile stretch of island that offers amusements galore and is home to tiny shore towns such as Beach Haven. Beach Haven, in particular, offers spectacular views of the Atlantic Ocean.
The island has a number of romantic getaways. You can also find annual festivals taking place, so be sure to plan your visit according to their schedule if you want to catch one or two.
Best Accommodations in Long Beach Island: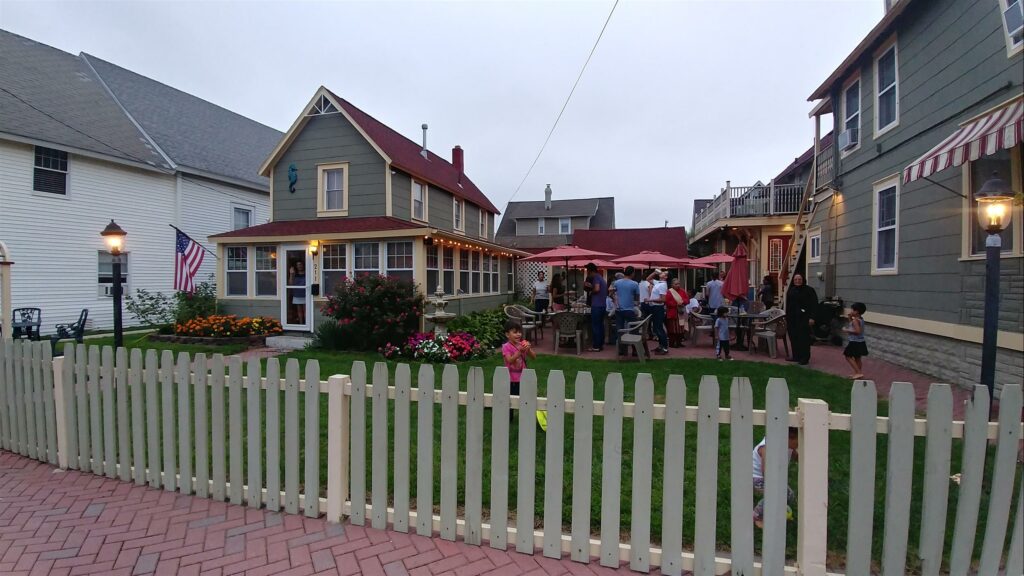 The Island Guest House was voted the best guest house on Long Beach Island. The owners do their absolute best to ensure guests are comfortable. It's dog-friendly with an old-school beach vibe and wholesome breakfasts. Guests can also make use of amenities such as bicycles, beach chairs, and boogie boards.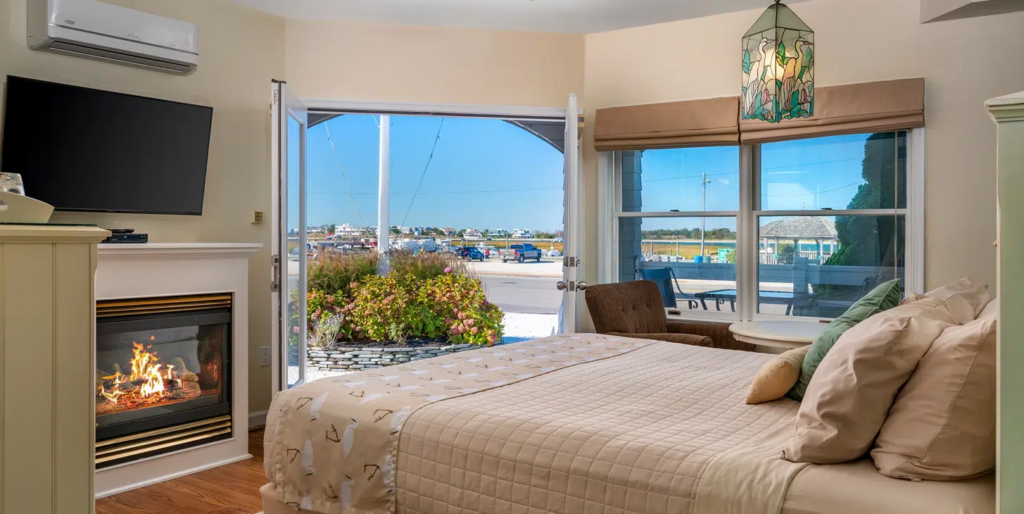 The Sand Castle B&B is a mini-resort that offers a bespoke lodging experience. Besides your typical modern amenities, you can enjoy spacious rooms, a jacuzzi, easy beach access, and dinner in a formal dining room.
This meticulously restored stay combines 1890s charm with contemporary comforts. Top it all off with an elegant restaurant, and you have a stay that's sure to make romantic getaways that much more memorable.
Atlantic City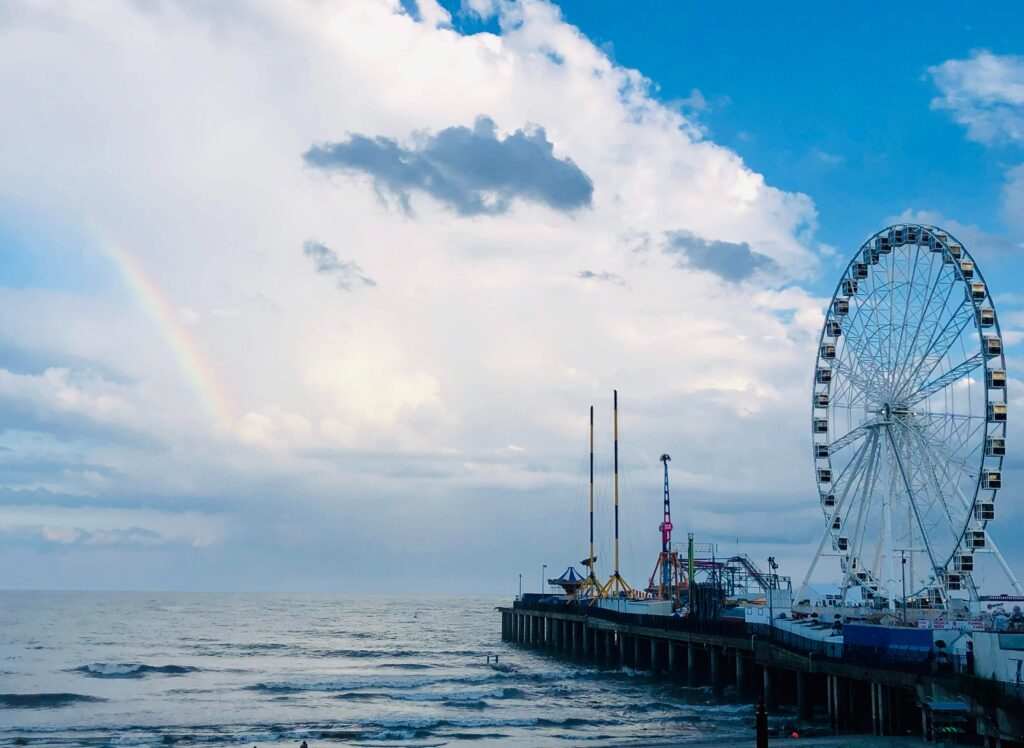 AC is widely known for its vibrant casinos, wide beaches, and historic boardwalk, which happens to be the oldest one in America. Casinos and boardwalk aside, the seaside city has a lot more to offer than gambling and history, thanks to numerous investments over recent years.
It has opulent spas, celebrity-chef restaurants, and luscious golf courses. It's also a shopper's paradise, so be sure to bring cash with you for the boardwalk. You'll also be pleased to know that taxis are very affordable in AC and that beach access is free.
Best Accommodations in Atlantic City: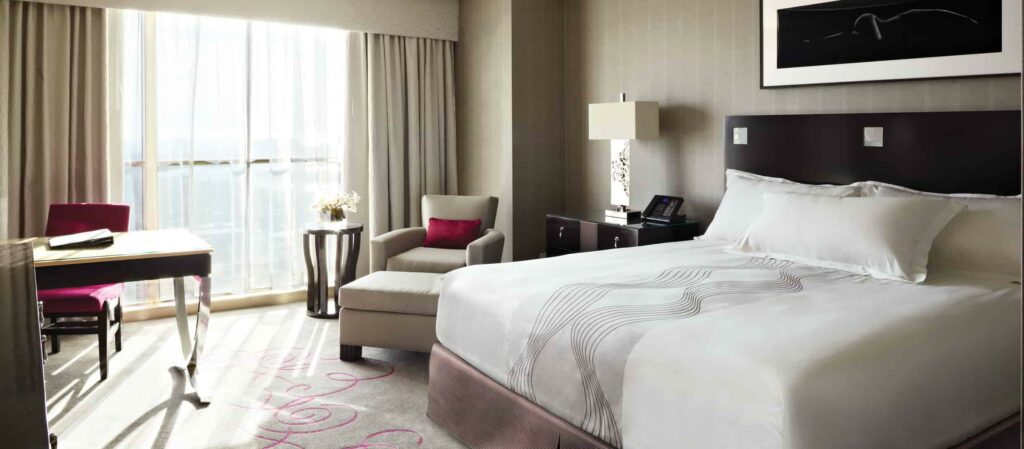 The Borgata provides a truly memorable experience with its five heated pools, fine dining options, and, of course, a buzzing casino. When you're not immersing yourselves in the hype, you can relax in modern rooms with blackout curtains and concierge room service.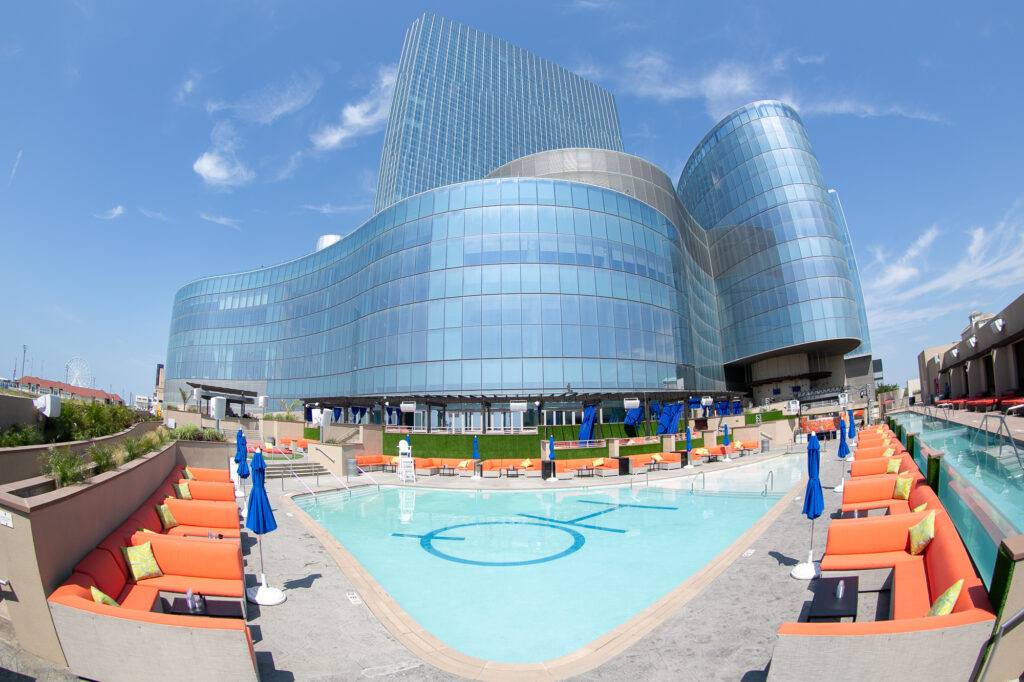 Voted the best resort in AC, Ocean Casino Resort offers sophisticated rooms and modern décor. The floor-to-ceiling windows provide epic ocean views, which you can enjoy while you're given some of the best room service. There's also a casino, a concert venue, and two nightclubs.
Jersey City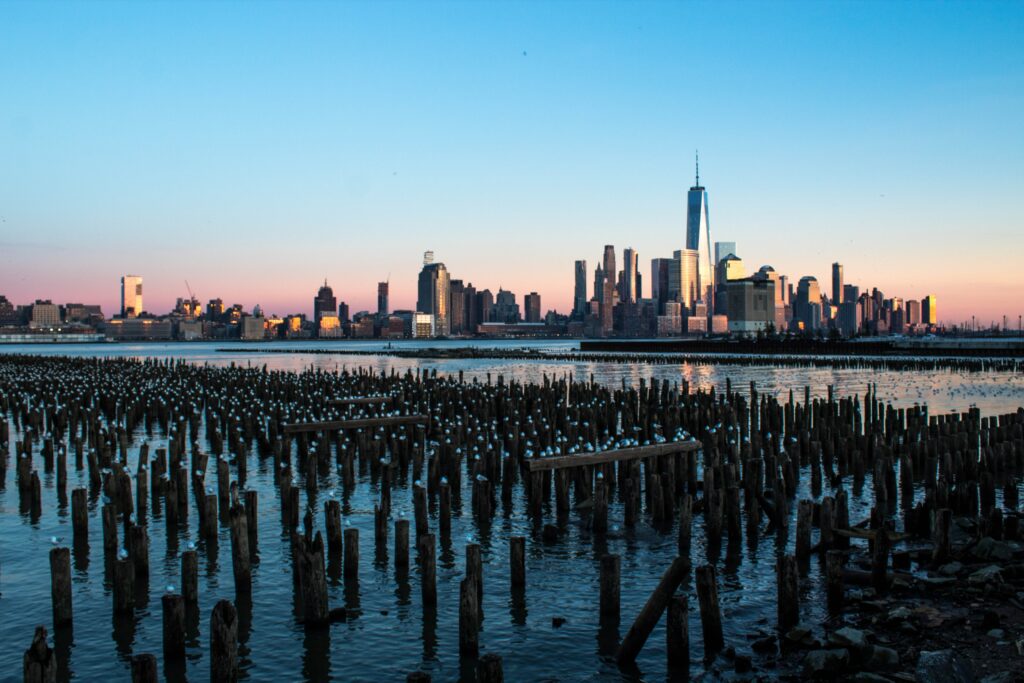 Couples who visit Jersey City are often pleasantly surprised by the scenic views of the New York skyline. The vistas are best enjoyed from the comfort of one of the city's many rooftop bars and high-rise hotels.
When you aren't admiring the views, you can try out one of the trendy spas, book a cruise to Ellis Island, take a sunset stroll through Harborside plaza, or enjoy a dinner for two at one of the many intimate restaurants.
Best Accommodations in Jersey City:
This stay is perfect for romantic weekend getaways. Located just a few minutes away from New York, it's a good reflection of Jersey City's cultural renaissance. It's an elegant hotel with modern amenities and outstanding service.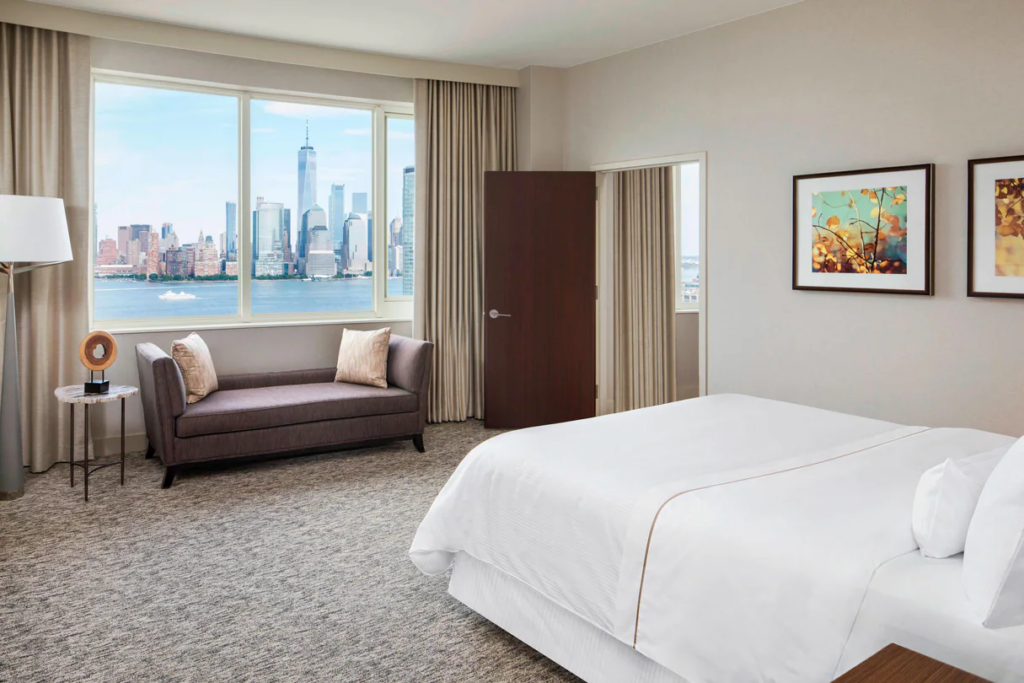 This modern hotel is thoughtfully designed with elegant rooms and deluxe amenities. It's positioned well in the downtown district to allow for max exploration. When you're not exploring all that the hotel has to offer, you can enjoy scenic views of the Hudson River and the Manhattan skyline.
Ocean City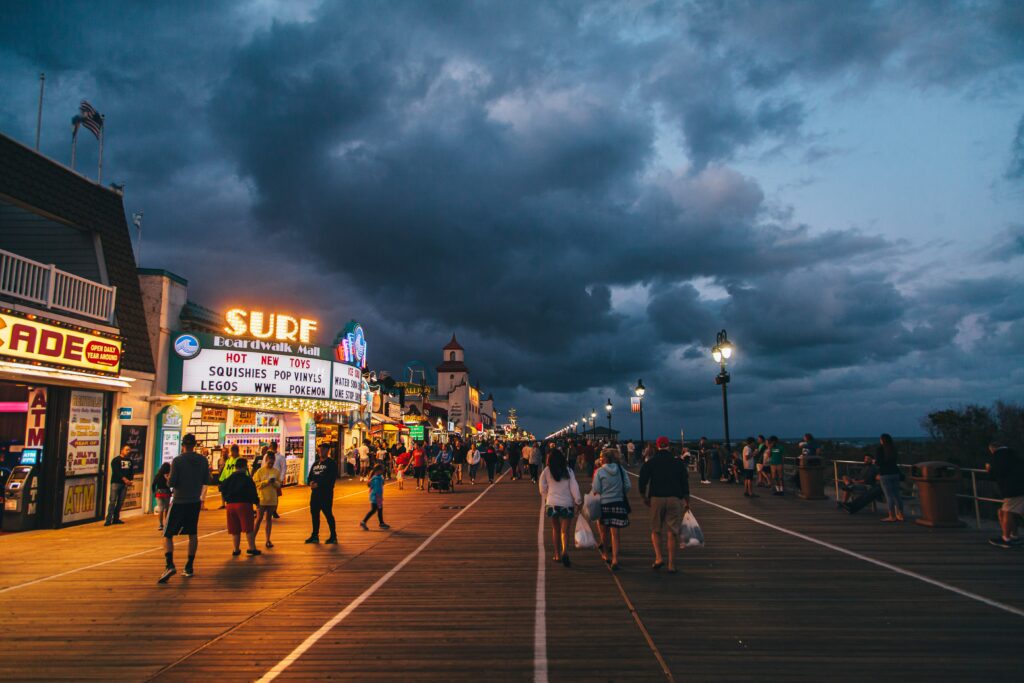 Although generally seen as a family-oriented destination, Ocean City can provide couples with a much-needed change of pace during their getaway. It has a population of less than 12 000, so you more than likely won't find it congested.
You can expect to find your typical amusements in Ocean City, but the main attraction will be the eight miles of pristine beachfront. Once you're done sauntering across the sand, you can find a peaceful spot to sit back, relax, and watch the tide roll in.
Best Accommodations in Ocean City: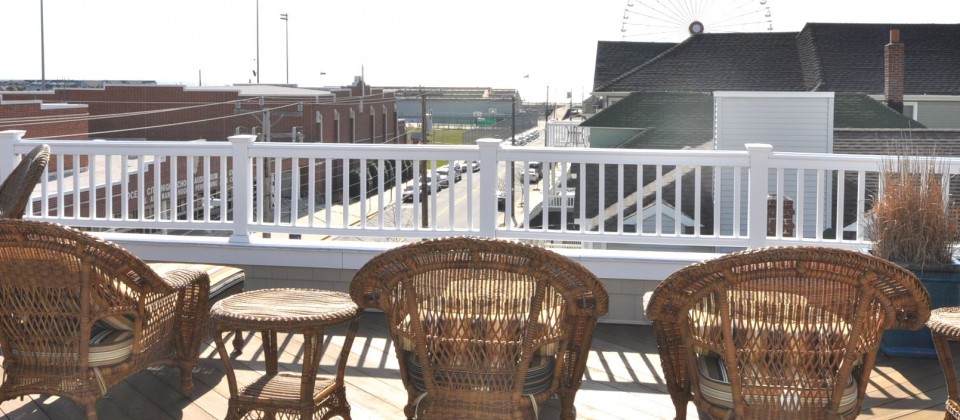 The Atlantis Inn is made to impress with its bold aesthetic. The soundproof rooms come with a private bathroom complete with whirlpool tubs, a flat-screen TV, and air conditioning. You can also enjoy idyllic views of the Atlantic Ocean and take a 13-minute walk to Ocean City Beach.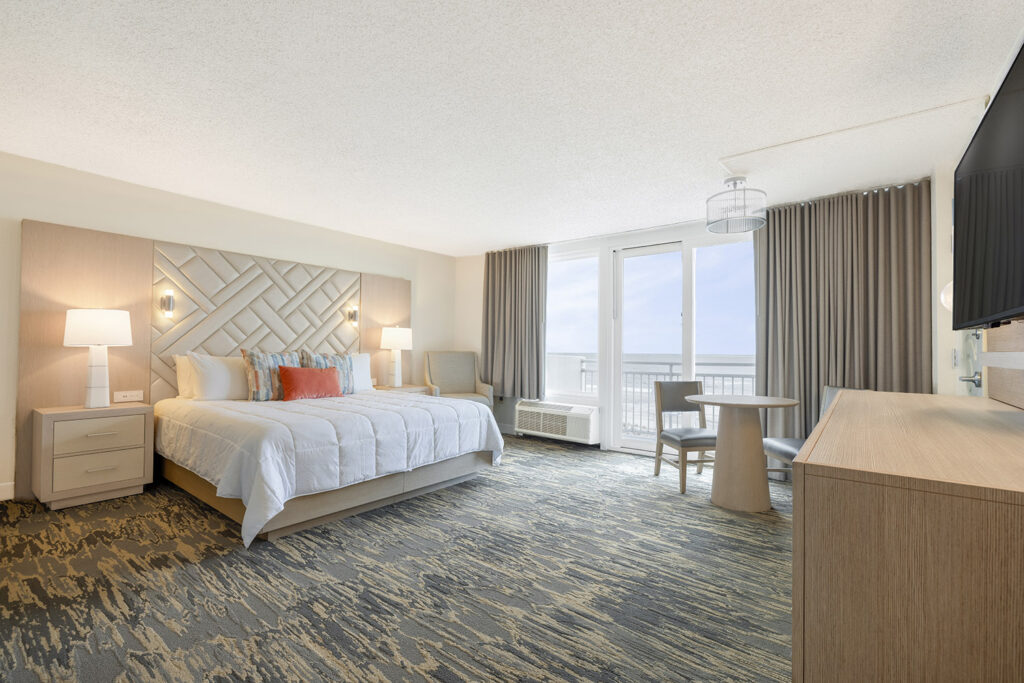 Port-O-Call is a cozy and intimate hotel located on the scenic Ocean City boardwalk. The staff provided uncompromising service. It also has meeting rooms and high-speed internet for those who want to take their work with them.
Cape May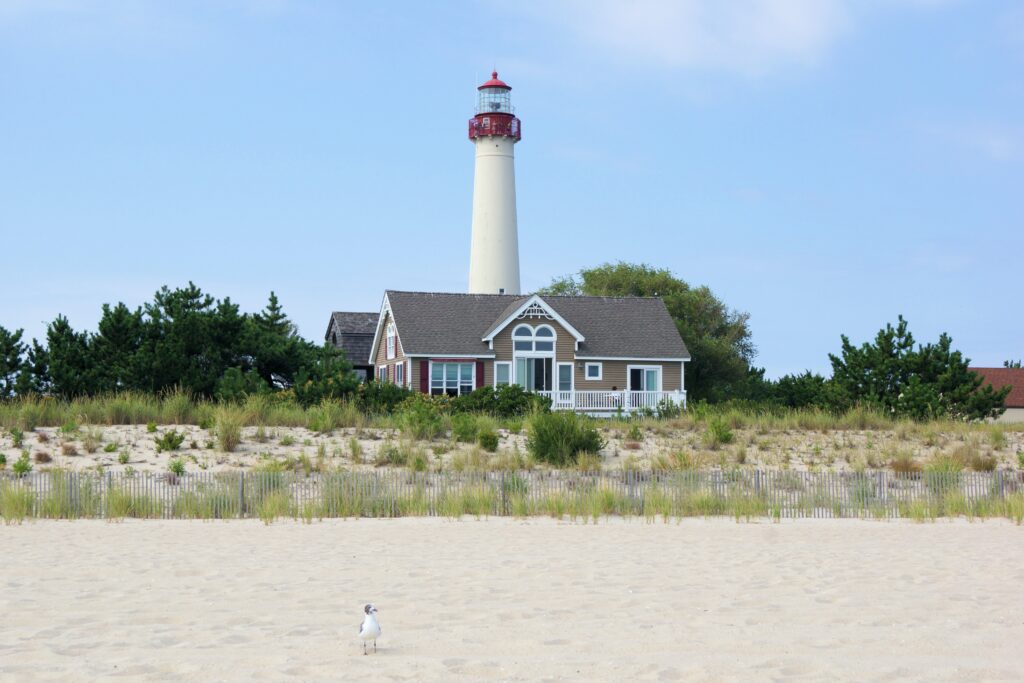 Cape May is easily one of the most popular destinations in New Jersey, largely because of how it embodies romance. This historic town maintains a busy event schedule throughout the year, so it's perfect for couples who always seek a taste of something new.
Those who aren't moved by the prospect of events can do other things, such as farm-to-fork dining, wine farm touring, or going on a hike to the Cape May Lighthouse. You also need to make sure you check out Washington Street Mall, where you can pick up a gourmet ice cream sandwich from the iconic Peace Pie.
Best Accommodations in Cape May: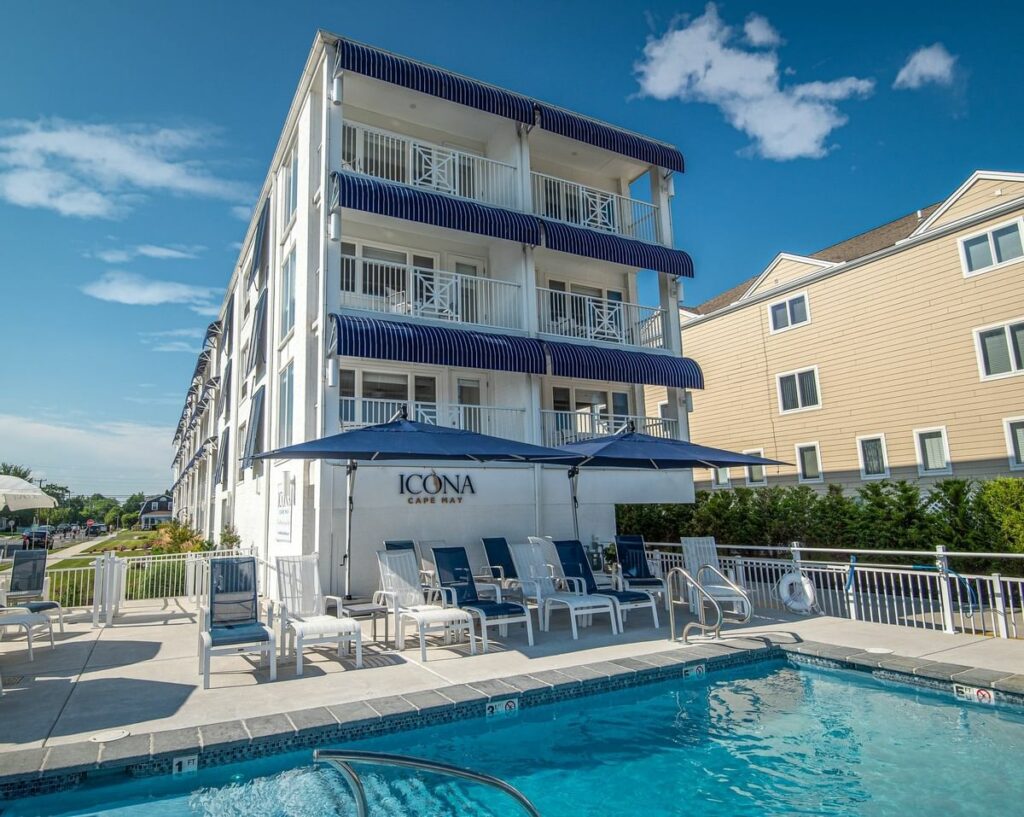 The ICONA Cape May is the definition of a boutique hotel. It's a home away from home with award-winning service and all the necessary creature comforts. It has all the modern amenities you'd expect and is perfect for a romantic weekend away.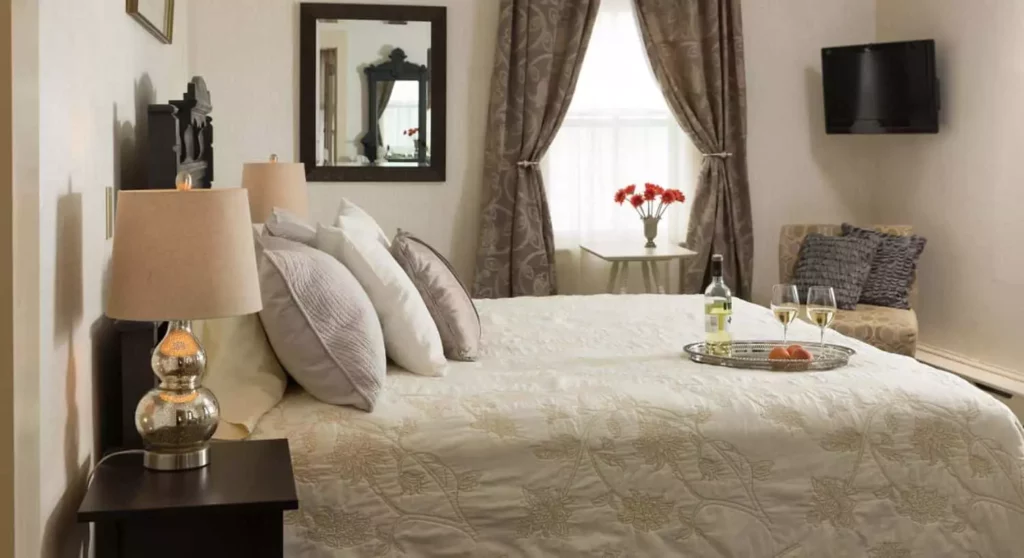 This highly-rated stay is easily one of the most romantic hotels in Cape May. It's a family-owned establishment with a welcoming atmosphere. The 19 spacious rooms come with private baths and highly attentive room service.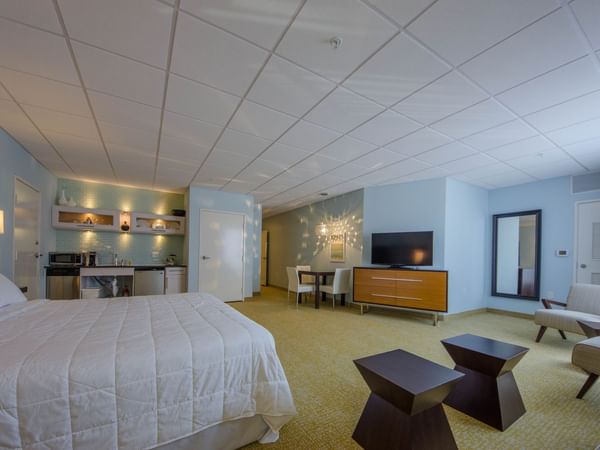 The ICONA Resort Diamond Beach is essentially a larger version of the ICONA Cape May. It's located on its own private beach and has a large outdoor swimming pool that's surrounded by plenty of beach chairs. Besides the outdoor heated pool, it also has a fitness center, beach bar, and private beach club.
Top Excursions & Activities To Do On A New Jersey Romantic Getaway
As we said, New Jersey is unique because of the sheer variety of activities on offer. This is why couples are recommended to allocate a sufficient amount of time for romantic getaways in NJ. Here are a few activities and excursions that you have to add to your itinerary.
Visit Six Flags Great Adventure
This park is the true definition of an adventure, hence the name. It matches Disneyland in terms of diversity but is a lot more manageable where its size is concerned. If rollercoasters aren't your thing, the park has a lot more options that are both exhilarating and romantic.
Drive out to Long Beach Island
Long Beach Island, also referred to as LBI, is one of the best ways to escape the bustle of the mainland. The 18-mile stretch of island offers a myriad of seasonal amusements and beachfront hotels. You'll find pristine beaches for some lazy sunbathing, but beach access requires the payment of a small fee.
Check out Ocean City Boardwalk
In terms of popularity, Ocean City's boardwalk just about edges out Atlantic City's. Its quaint storefronts, amusement rides, and pizza parlors represent Jersey Shore well. It's perfect for either a leisurely bike or stroll but time your visit well, as it can get busy.
Test your luck at Borgata Casino
Borgata Casino is the ultimate entertainment destination. It boasts luxurious accommodations, a spa, and, of course, a buzzing casino. The casino itself is gorgeous, not overly loud, and has plenty of options for couples to indulge in.
Sample Itinerary & Budget For Your Romantic Getaway In New Jersey
While romantic getaways are meant to be stress-free, improper planning can easily hamper that. This is why outlining your plans and allocating your budget is important. Because not everyone has the time to do this, we've created a sample itinerary that can help lighten your load.
The following expenses are per person per day. Do take into account the possibility of them changing due to factors such as availability and the time of year.
| | |
| --- | --- |
| Activity | Price |
| Accommodation | $66 (budget) to $300 (high-end) |
| Flights | from $300 (round trip) |
| Food & drink | $10 to $25 |
| Transport | $2 to $10 |
| Car Rental | $30 to $120 |
| Visit Six Flags Great Adventure | $50 to $75 |
| Dinner at The Frog and Peach | $25 to $100 |
| Visit Liberty Science Center | $32 |
Here's how you can fit some of the best activities into your getaway schedule:
Day 1
It's important to take it somewhat easy on your first day. The stress of traveling can leave you feeling fatigued, thus meaning you may not be able to fully enjoy any vigorous on the first day. Spend this day settling into and familiarising yourself with your accommodation.
Our recommendation would be to start in the capital city, Trenton. Explore the city center and visit the Trenton Farmers Market to get yourself something to eat. If you arrive early in the morning, it may also be a good idea to explore Old Barracks Museum or catch a game of baseball at Thunder Ballpark.
Day 2
Spend your second day in Atlantic City. While there, you might be somewhat overwhelmed with the options on offer, so start with Borgata Casino. After all, the beautiful building is very hard to miss. If it's not your thing, then you don't even have to gamble at Borgata, as it offers a plethora of entertainment options.
After you've explored all the casino's offerings, cap your day off with a romantic dinner at Carmine's Italian Restaurant.
Day 3
By the third day, it's time to turn things up a notch by taking a trip to Six Flags Adventure in Jackson Township. Jackson is just over an hour away from Atlantic City when traveling by car. You can alternatively go by train, which may take longer but may be cheaper and more romantic. Once at Six Flags, you're spoiled for choice in terms of what you can do.
Day 4
The next destination on your list should be Jersey City. This will give you a good taste of the nightlife while you can enjoy stunning views of the New York skyline. We recommend trying out RoofTop at Exchange Place. It's a modern rooftop bar that's very popular among locals.
Day 5
Stay in Jersey City for this day because it still has a lot to offer. Kick off day 5 with a relaxing spa treatment. After your spa treatment, a romantic boat cruise should be next on the agenda. There are a number of different cruise options available, so choose the one that works best for you.
If your timing is right, you can end this day off with a date night at The Landmark Loew's Jersey Theatre.
Day 6
Start the day with a hike to Cape May Lighthouse, after which you can reward yourself with a fork-to-farm dining experience and wine tour.
If a hike doesn't sound enticing, you can substitute it with either beach yoga, dolphin watching, or kayaking.
Day 7
After the exhilaration of the past few days, a change of pace is necessary, particularly as your holiday starts to wind down. Ocean City will be perfect in this regard, as it's a slow-paced beach town with a number of relaxing activities. Spend the day having a relaxing picnic on the beach and basking in one another's presence.
Frequently Asked Questions
How much does a New Jersey romantic getaway cost on average?
On average, a couple can expect to pay just over $2000 for a week-long getaway in New Jersey. This is taking into account the average cost of hotels in the region, in addition to expenses such as transport and food.
When is the best time to visit New Jersey?
According to both tourists and locals, the best time to visit New Jersey is between May and September. During this period, you'll experience optimal weather conditions for outings as well as reasonable flight and hotel prices.
How long do people typically spend in New Jersey on a romantic getaway?
Most people agree that 2 to 3 days isn't enough when it comes to seeing the sights in New Jersey. Because there is a fair amount to do there, spending 15 to 20 days there should give you sufficient time to enjoy yourselves. However, if this isn't viable for whatever reason, a week should give you a fair amount of time.
Which hotel is the best in New Jersey?
Defining the best hotel in New Jersey is a bit difficult, given the number of options. The "best" might also not be the most romantic. It may also be down to personal preference, but the following are some of the best-rated stays:
The Madison Hotel
Crystal Springs Resort
Woolverton Inn
Bungalow hotel
Feather Nest Inn
Spring Lake Inn
Ocean Plaza Hotel
What is the best way to travel to New Jersey?
This will depend on your location and what you value more between the journey and the destination. If you're based out of the country, you can fly directly to New Jersey or a neighboring state and find your way via road or rail.
If, for example, you're located in New York, you can choose between the train, bus, and driving. Choosing between the three comes down to either your budget or whether you want to savor the journey. The train and bus are the cheapest ways of getting there, but a taxi or driving yourself may provide a more romantic experience.
Start Planning The Ideal Romantic Getaway
New Jersey is a small state with a lot to offer. Don't make the same mistake that others have made by overlooking New Jersey as an option. Whether you're looking for historic charm, a modern beach vibe, or the liveliness of a concrete jungle, New Jersey has something that you and your partner are bound to adore.
If you decide to take your romantic endeavors to The Garden State, then give yourself enough time to explore it to the fullest extent. The realities of life tend to get in the way, but if you plan your trip properly using guidance, you're guaranteed to enjoy yourselves.
We understand that sometimes the destination just isn't for you, so be sure to check out our other guides on romantic getaways across the globe to find the one that works for you.