If you live in or nearby Florida, then there are ample opportunities to make the most of the sunshine state for a romantic getaway. But even for visitors from further away, Florida remains a popular destination to spend some quality time with their loved ones.
In this article, we will walk you through all the best areas to visit in Florida and provide you with a list of the most romantic getaways, too. Think private hot tubs, fine dining, swaying palm trees, and a romantic evening by the ocean. We have put together all of this and more in our very own Florida romantic getaway sample itinerary.
What Makes Florida Perfect For A Romantic Getaway?
Florida offers an abundance of different activities for your romantic getaways. Do you want to feel like the only two people in the world on a private island? Or like little kids again in one of the many theme parks? Florida has something to offer for every couple, regardless of your budget.
The endless stretches of white sand beaches along Florida's coastline are perfect to unplug and relax. Or you can get up to fun activities such as waterskiing and snorkeling. Otherwise, simply have a romantic candlelit dinner by the beach.
Miami or Fort Lauderdale have the hustle and bustle of big cities and stunning art galleries. But the Sunshine State has quaint towns filled with romantic hotels for your romantic getaways in Florida.
All of this and more makes the Sunshine State the destination for the perfect romantic getaway.
Most Romantic Getaways in Florida
Because Florida has so much to offer, it can feel daunting to decide where to go for your next romantic trip. Don't worry; we have collected the best areas and hotels to provide you with the best getaways in Florida.
Best Areas to Stay in Florida:
Sanibel Island
If you are looking for a laid-back getaway, then Sanibel Island is perfect for you. Just 25 miles southwest of Fort Myers, you will find this gem offers lots of fun activities as well as relaxation for couples.
The island has stunning beaches en masse. Most noteworthy are Turner Beach as well as Blind Pass Beach, but also the beach by the stunning lighthouse is a must-visit. If you are lucky, you than even spot some dolphins.
Florida Keys
Key West, with its stunning South Beach, is probably the best-known area in the Florida Keys. Anywhere in the Florida Keys, you can enjoy beautiful turquoise waters, palm trees, beautiful sunsets, and much more.
Snorkelers and scuba divers will enjoy the coral reef. There are plenty of other water activities to try as well. You can hop from one island to the next, thanks to the 42 bridges connecting the Key's regions. Any location here will be just as memorable as the next.
Amelia Island
Amelia Island is about 35 miles northeast of Jacksonville and offers green vegetation, stunning shores, and lots to do.
If you wish to just lounge on the endless stretches of beach, then this is your island. If you want to go for long romantic walks underneath the oak trees, this is your island, too. If you want to take it even further and go for a romantic horseback riding session with your loved one, you guessed it; it is all possible on Amelia Island.
On top of that, some top-notch restaurants (check out Le Clos for a romantic dinner) and accommodations await you here as well.
Miami
Turquoise ocean, white stretches of beach, great nightlife, and amazing international cuisine – all of this and more await you and your partner in Miami. You will find plenty of things to do. Take a trip to the Italian Renaissance Gardens or explore the mangrove forests nearby.
If you are artsier and culturally inclined, head to Miami Beach! From there, you can book private boat trips, go parasailing or rent paddleboard and jet skis for lots of watersport fun.
Palm Beach
Palm Beach is hands down one of the best romantic getaways in Florida. Not least because of the plenty of gorgeous beaches within walking distance from shopping centers and luxury resorts.
You can expect some of the best shopping in the world on Worth Avenue and see some of the wealthiest people living up here. If you and your loved one want to feel a true movie star romance, staying in one of the many luxury hotels here will surely do the trick.
Best Accommodations in Florida: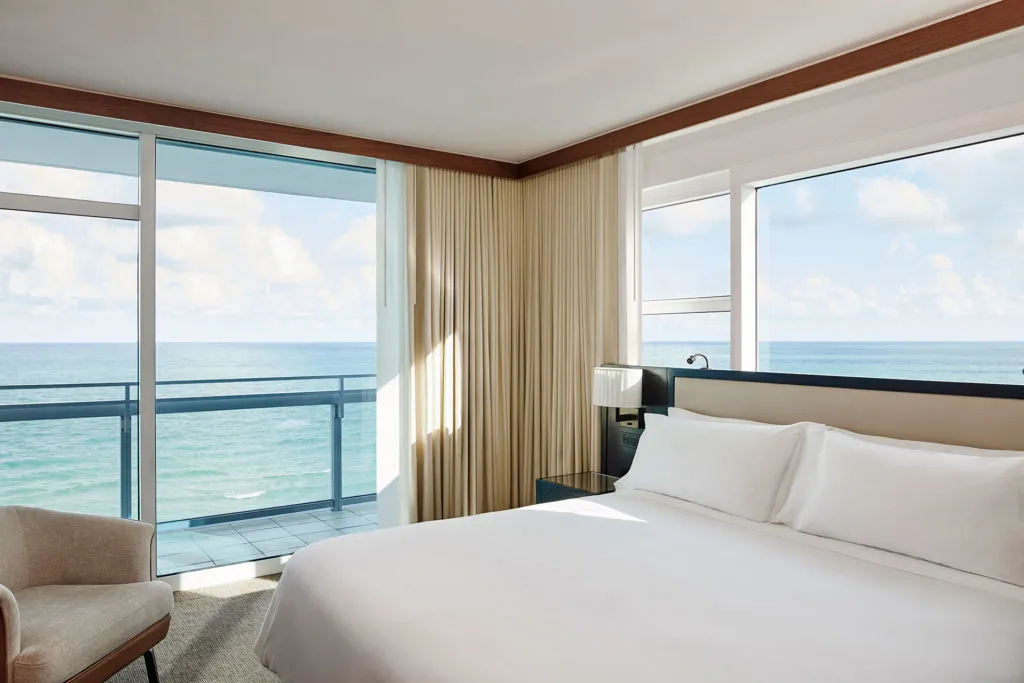 Price per Night: from $599
The Carillion is located in Miami Beach. It offers amazing spa services and the ability to book couples' treatments. Your rooms come with cozy bathrobes and slippers, a fully equipped kitchenette, and a beautiful bathroom.
You can lie by one of the four pools, relax in one of the four hot tubs or get active in one of the many fitness classes this hotel offers. For a romantic dinner, head to the hotel's very own "Strand bar and Grill" with ocean views and a stunning outdoor patio.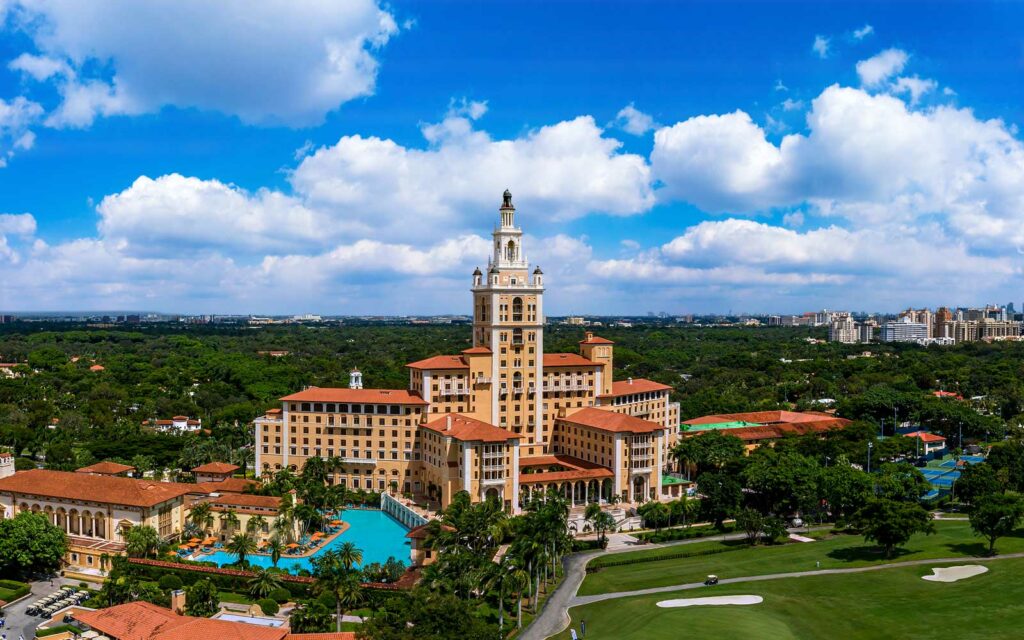 Price per Night: from $499
The impressive Biltmore Hotel boasts luxurious amenities such as:
A stunning spa and fitness center
Ten tennis courts
An 18-hole golf course
A beautiful 2300 square meter outdoor pool
150 acres of lush natural surroundings
You can choose to book room service, should you just wish to stay in the sheets with your significant other and watch soaps on your very own flat screen TV. The robes and linens in your stylish rooms are made out of high-quality fabrics.
There are lots of gourmet dining options for you and your significant other, including a Sunday Champagne Brunch.
No wonder The Biltmore is listed as one of the top romantic getaways in Florida!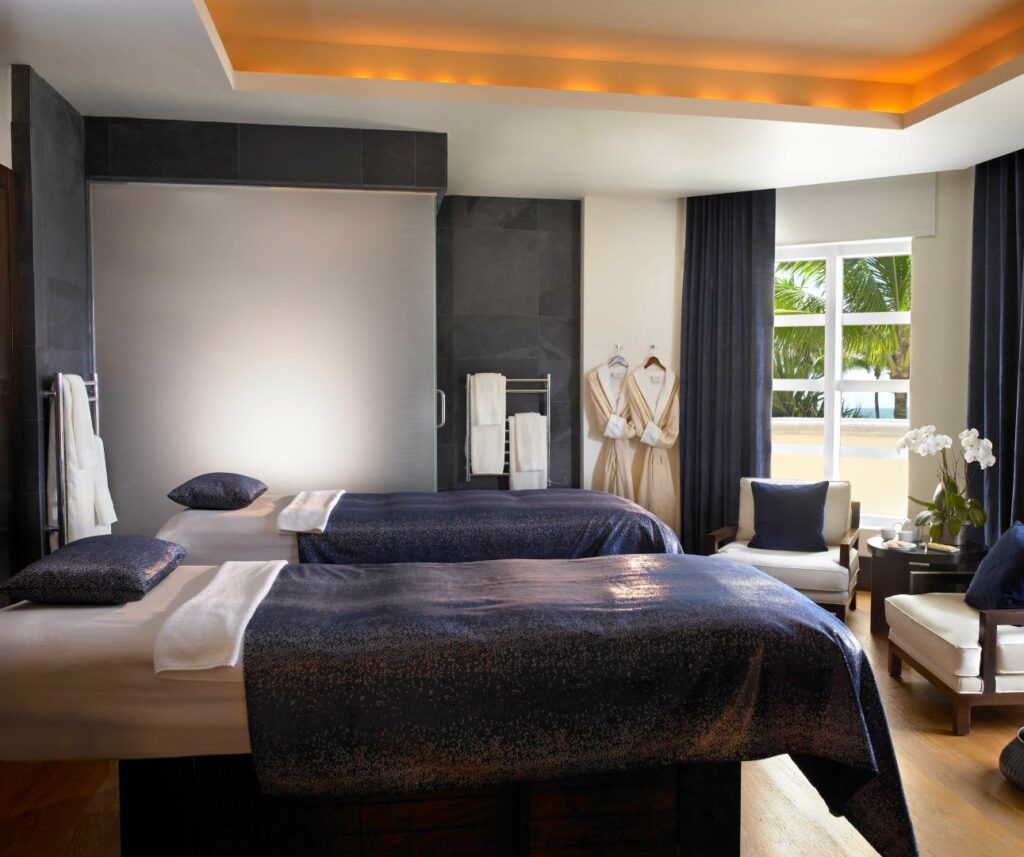 Price per Night: from $1000
About 10 miles north of South Beach, right by Sunny Isles Beach, is the serene Acqualina Resort. It has everything you need to make this the most relaxing of the romantic getaways in Florida. Book a couple's spa treatment, relax in a beach cabana or swim in the adults-only pool after a stroll hand-in-hand on their private beach.
Standard rooms come with Jacuzzis, minibars, and private balconies overlooking the ocean. Should you book the Ultimate Spa Package for Two, you can enjoy four spa treatments, a lunch, welcome drinks, a beautiful oceanfront room, and other perks during your stay.
If you wish to explore Sunny Isles Beach a bit more, you can do so on foot. Perhaps stroll by the Trump International Beach Resort and see if the former POTUS is paying a visit.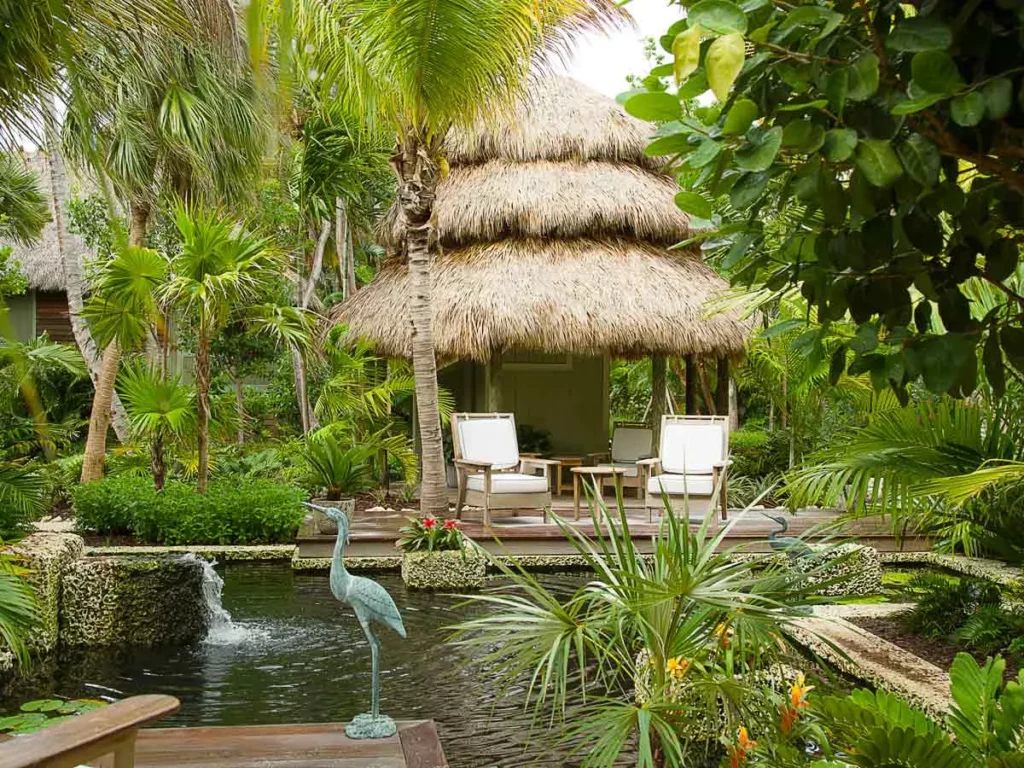 Price per Night: $2152
Features: Adults-Only
Little Palm Island resort features incredible luxury amenities and private bungalows on a four-acre private island. Apart from a stunning pool, you get to enjoy regular dips in the ocean. You can book a couple of spa treatments or just choose to enjoy a good book or a bottle of champagne in your very own hot tub with your significant other.
If you wish to surprise your loved one, chat with the attentive staff, who will prepare a special arrival with flowers, bubbly, and turn-down service for some extra romance.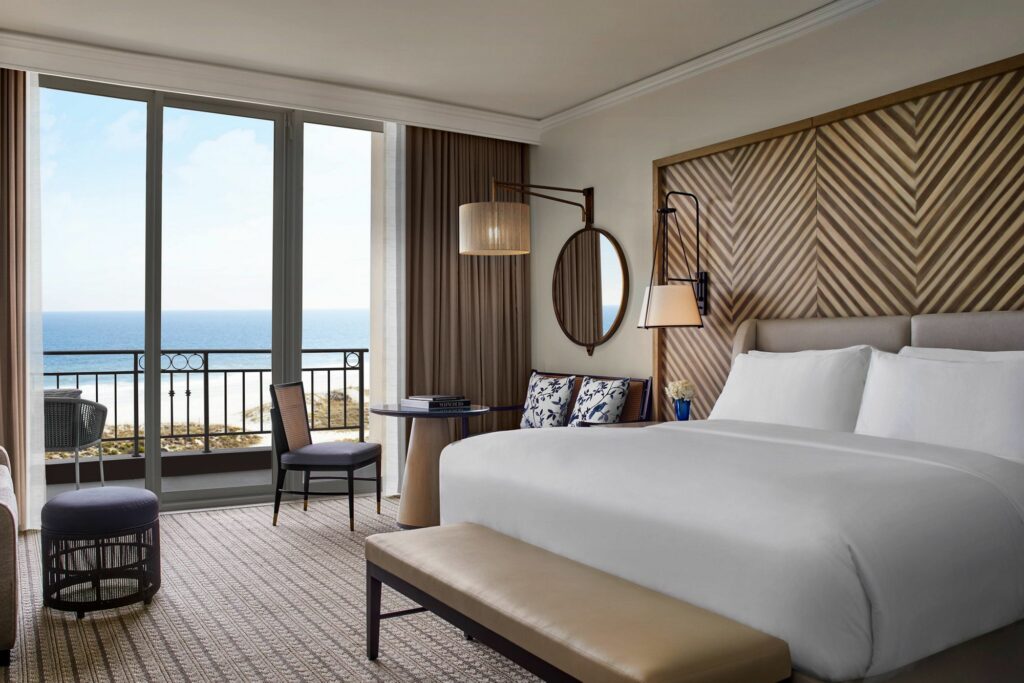 Price per Night: from $745
The Ritz Carlton on Amelia Island is a stunning resort with 1.5 miles of beach right in front of it. On top of that, most of the luxurious rooms face a stunning sea view. Each room has a private balcony; you can get your private hot tub when booking one of their suites.
You and your S/O can enjoy each other's handicaps on their very own 18-hole golf course or take a dip in their indoor and outdoor pool with beach access. Or just cuddle in your very own of the many private cabanas.
No matter what you get up to, the Ritz Carlton doesn't disappoint as one of Florida's most romantic getaways and coastal retreats.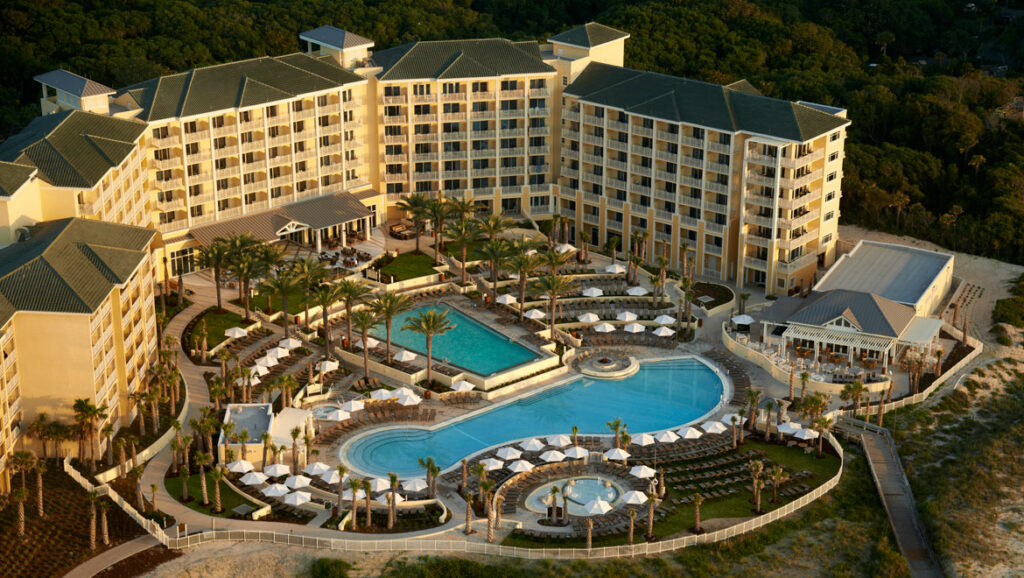 Price per Night: from $229
Specials: Adults-only pool
This stunning property boasts eight restaurants, an adults-only infinity pool, and a massive spa and beauty salon. Oh, and did we mention the 23 tennis courts, golf courses, and fitness center?
If you are traveling with children and want some well-deserved time off, drop your kids off at the kids club. Then you can enjoy a tranquil walk on the white sand beaches right in front of the Omni Hotel.
Each room has Egyptian cotton linens, a patio or balcony, flat screen TVs, and turn-down service.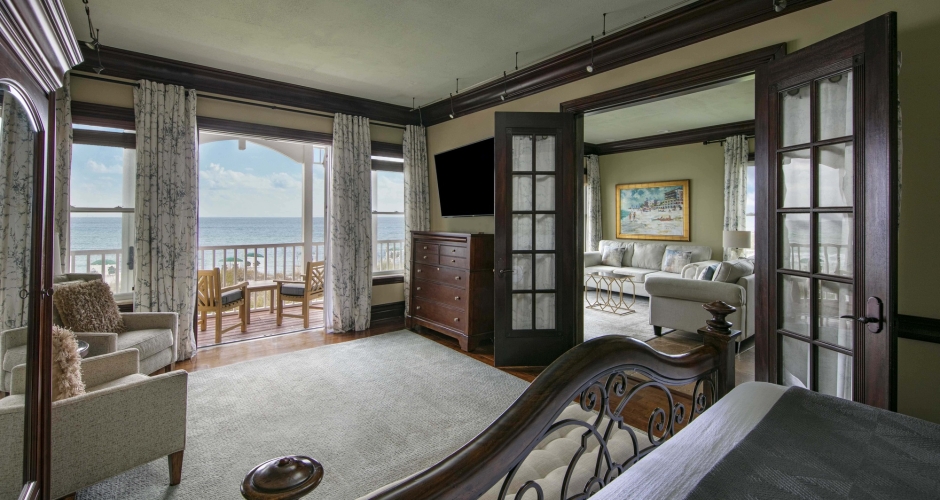 Price per Night: from $295
The stunning Henderson Park Inn is an impressive seaside manor on the Emerald Coast. Packages include a stay in one of its suites, rose petals, a bubbly welcome, or a memorable breakfast delivered to your room.
The Henderson Park Inn is an adults-only hotel with a private beach and oceanfront pools and offers lots of activities, such as kayaking for its guests.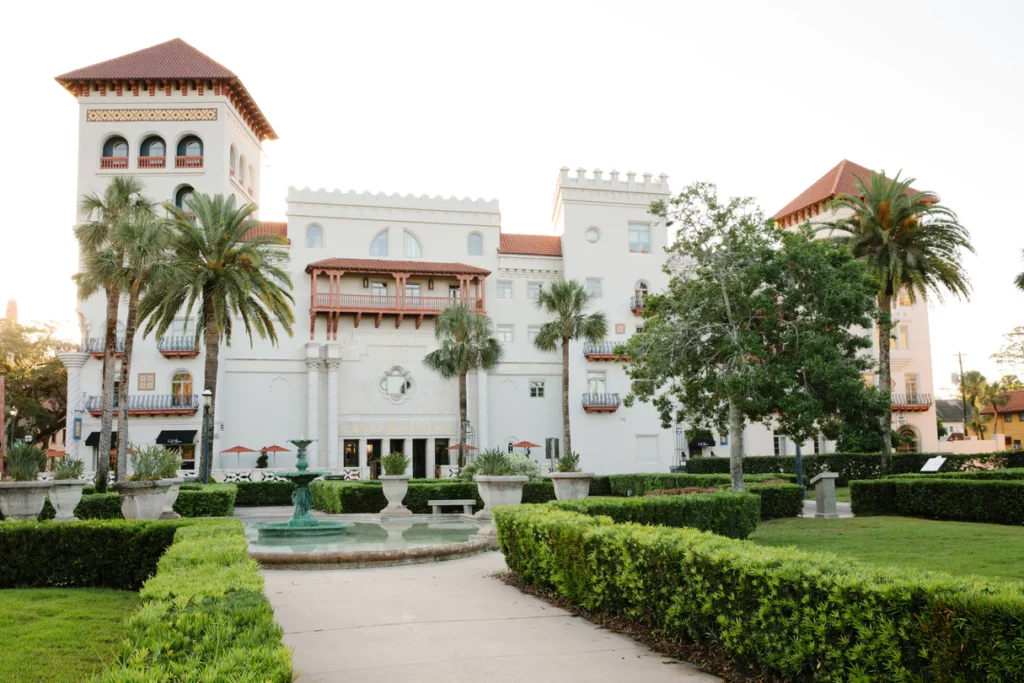 Price per Night: from $342
Come and visit one of the most romantic getaways in Florida that is at the same time nestled in one of the oldest places in America! St. Augustine has been around since the 1400s and offers lots of history and charm to explore before you head to the stylish and cozy Casa Monica Resort.
Book personal touches such as private dining on your terrace or breakfast in bed. Follow it up with a late check-out or surprise your loved one with champagne on your arrival.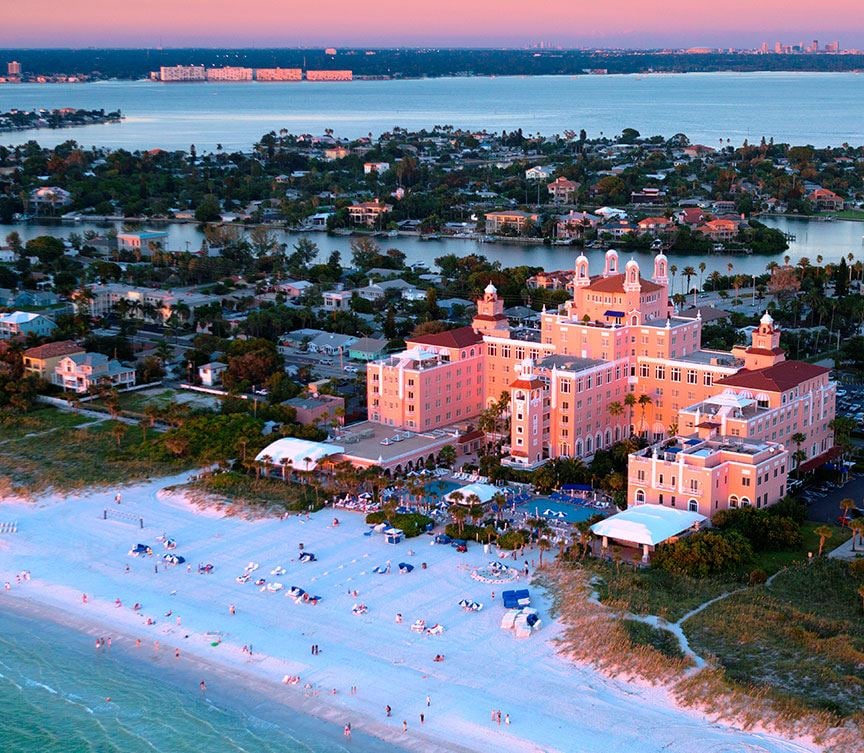 Price per Night: From $499
The Don CeSar, also known as Florida's Pink Palace, has everything to offer to make your stay the most memorable of the romantic getaways in Florida.
Be sure that your stay will be a relaxing one at the Don Cesar. Relax by the poolside and call the in-house concierge for some tropical cocktails. Or, get active in the fitness center – before relaxing again at their local 11,000-square-foot spa. Needless to say that couples' massages and packages are available.
If you are traveling with little ones, there are plenty of child-friendly activities so you and your partner get some relaxing time off. Heaven!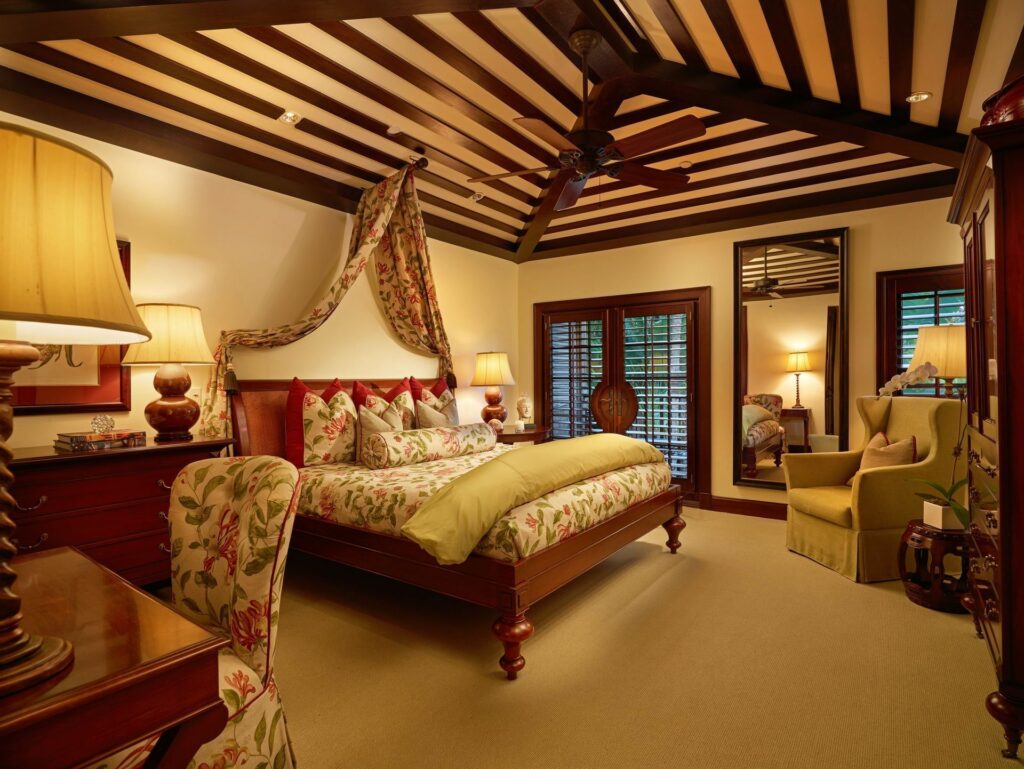 Price per Night: from $989
At the heart of Palm Beach, you will find one of the most romantic getaways in Florida: the beautiful Brazilian Court Hotel.
The historic building is located in a quiet area just off the hustle and bustle of Worth Avenue. When staying at this hotel, you will feel like movie stars.
Enjoy relaxing by the outdoor pools or the hotel's private beach club. The infamous Café Boulud will send you on a culinary journey with a romantic dinner for two. In between, enjoy a day under the covers with your loved one. Spend quality time together and see the hotel's beautiful hand-painted wall panels.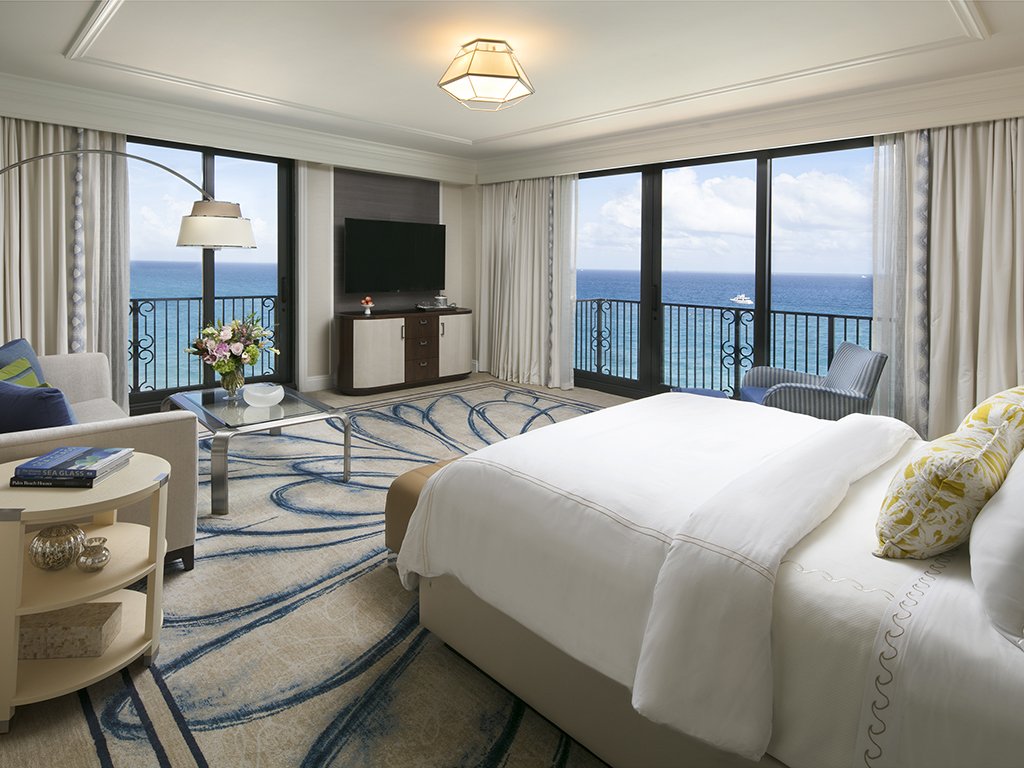 Price per Night: from $1150
At a private beach on a barrier island in Southwest Florida, the Breakers Palm Beach offers luxurious amenities. These include:
On-site spa
Two golf courses
Four heated pools
Five hot tubs
Ten tennis courts
Fitness and wellness coaching
Nine on-site restaurants
Eleven on-site bouquets
On top of that, your rooms come with a private mini bar, safe, plush bathrobes, and slippers, as well as beautiful private balconies with sea view.
There is nothing you cannot get at this West Palm Beach luxury resort on the Atlantic Ocean.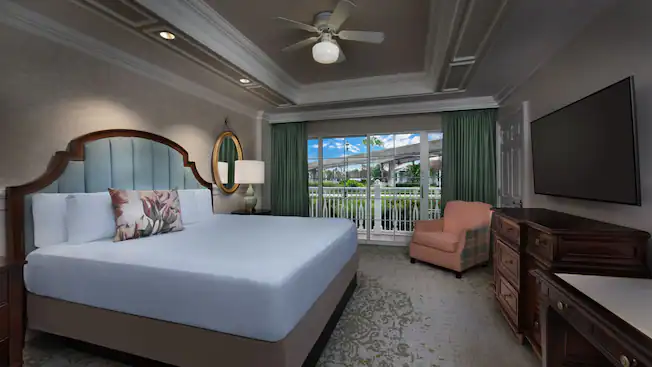 If you and your partner are still kids at heart, then booking yourselves a room at this hotel is an absolute must.
Apart from the fact that it offers easy access to the Magic Kingdom of Disneyworld, the hotel has many amazing amenities. For instance:
Two outdoor pools
Disney-themed restaurants and sights
Complimentary refreshments
Health & Wellness Center
You will get all the perks of a Disney-themed hotel, such as a romantic cocktail by the Enchanted Rose or a special room with views of Cinderella Castle. This place for sure offers one of the more special getaways in Florida.
Top Excursions & Activities To Do On A Florida Romantic Getaway
There are plenty of activities and excursions to go on when visiting Florida, and you surely won't be bored for a second here.
Marco Island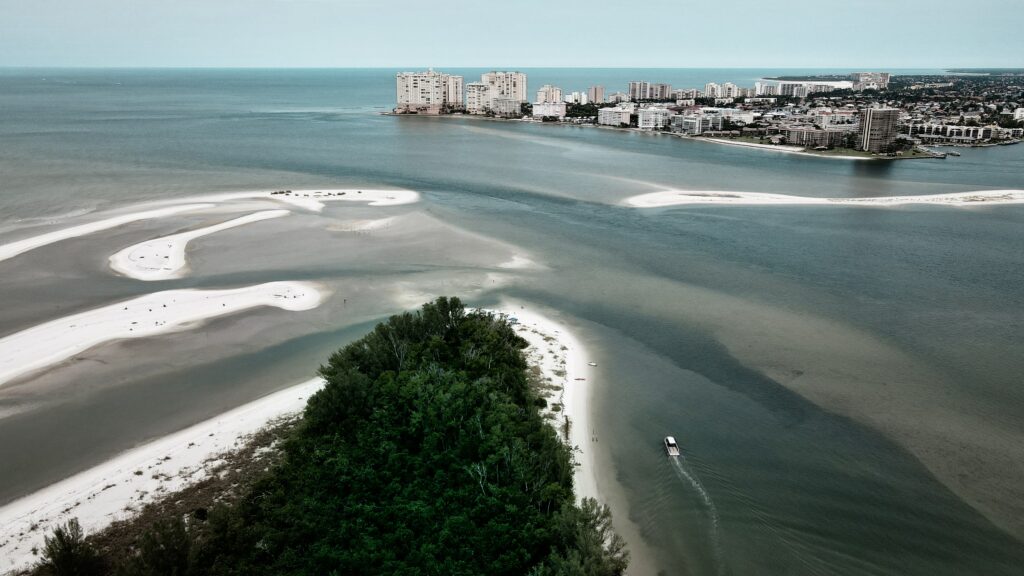 Marco Island is one of those romantic Florida getaways that just has to be on your list. Right by the Everglades and the biggest of the Ten Thousand Islands, this beautiful island has everything to offer you need for a romantic getaway!
Expect white sandy beaches, beautiful turquoise water, and just some of the very best resorts you might ever encounter.
Key West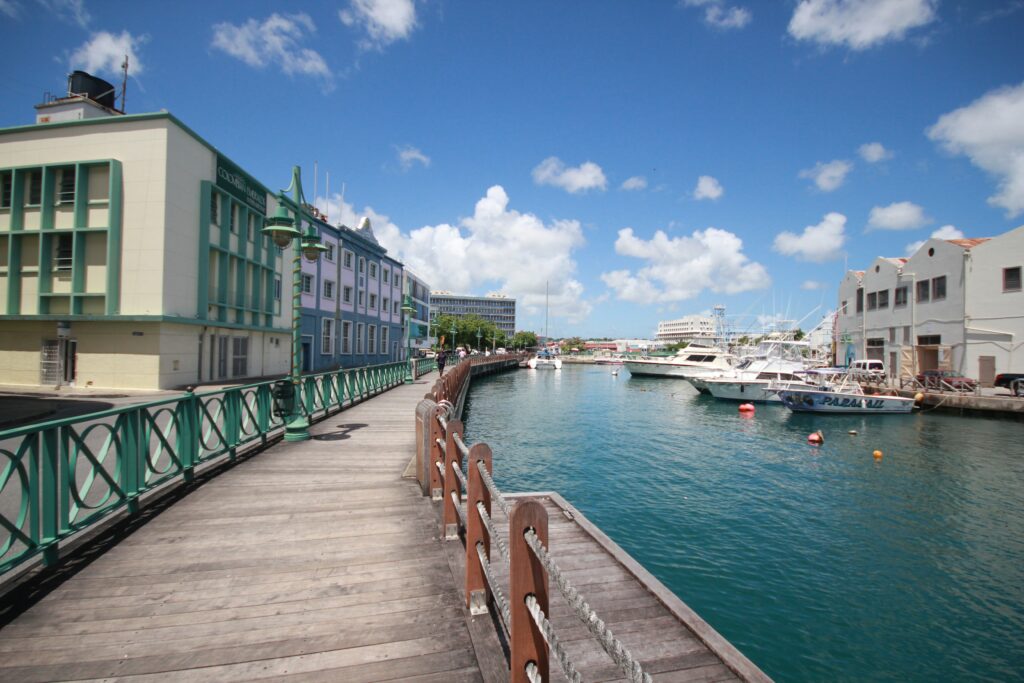 A trip to Key West is not the same if you don't go and charter a boat! Sail into the beautiful sunsets on the west coast of the sunshine state and enjoy lying in the arms of your loved one while sipping on tropical cocktails.
The iconic lighthouse should be on your must-see list for Key West as well.
Should you wish to be active in Key West, we highly recommend going on a scuba diving or snorkeling tour.
Sanibel Island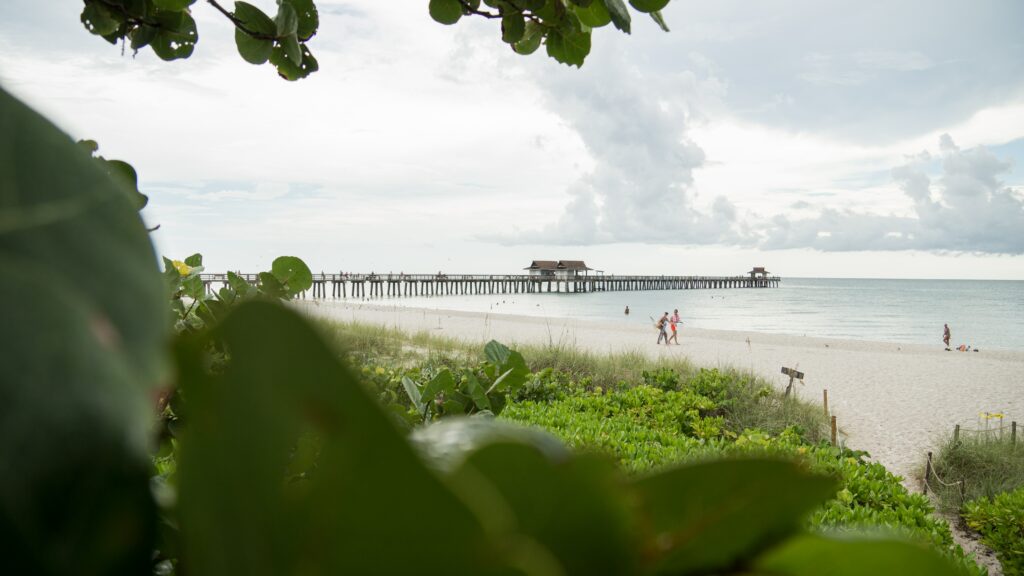 When on Sanibel Island, grab your partner for a romantic stroll on the beach and collect some of the colorful seashells as souvenirs!
Alternatively, you can visit the Darling National Wildlife Refuge in the mangroves.
If you wish to go for some couples' retail therapy, visit Shop on Sanibel for some of the best shopping experiences in Florida. Needless to say, there are amazing restaurants on end here.
Another great excursion is the Butterfly Estates. See how beautiful and colorful nature can be and take some stunning couple shots among the butterflies.
Miami
When you are in Miami, a visit to Miami Beach is a must. A romantic sunset cruise through Biscayne Bay or South Beach is a popular pastime for couples visiting Miami, too.
If you are the active type, rent some bikes and cruise your way along the beach to one of the many restaurants. Visit South Pointe Park Pier for some stunning scenic views of the city skyline and the ocean.
Palm Beach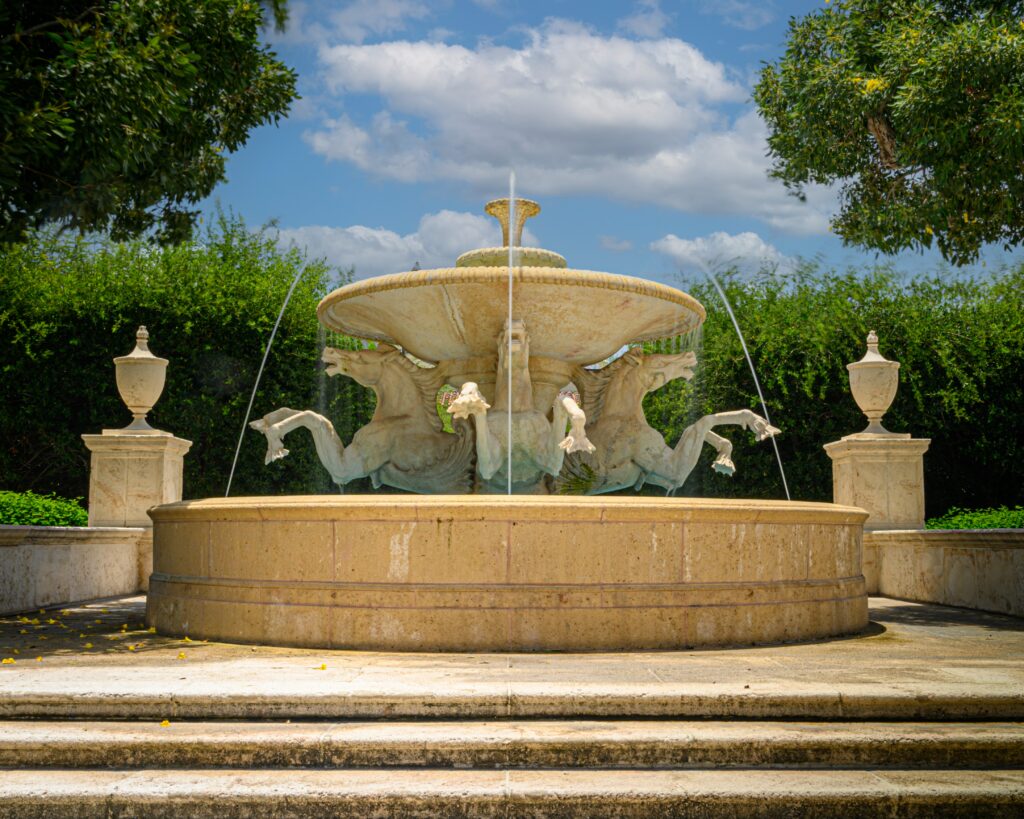 Why not book a whole spa day for you and your loved one at Kaffee's Garden Spa? This is the perfect occasion to reconnect and rejuvenate yourselves.
Climb up the Jupiter Inlet Lighthouse and watch the sunset with your loved one before heading for an intimate dinner at one of the many restaurants in Palm Beach.
Alternatively, rent some of the many paddleboards, kayaks, or snorkel gear for some adventure out on the ocean!
Amelia Island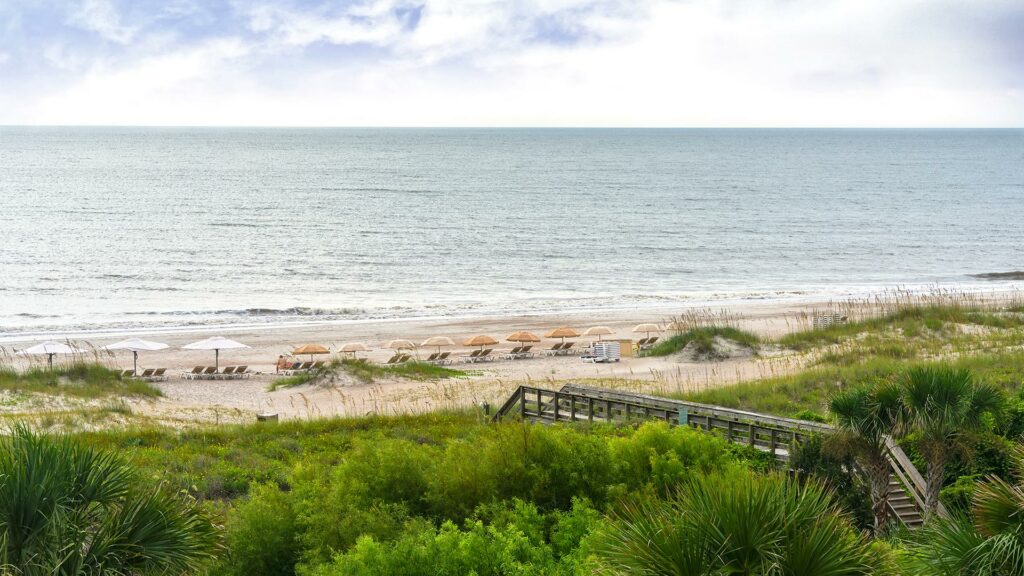 We highly recommend booking one of the Amelia River Cruises into the beautiful sunset. It's what so many come to the island to do, and with the stunning views, who can blame them?
Sample Itinerary & Budget For Your Romantic Getaways In Florida
You can pack a lot into a 3-day stay in Florida. Here's an example itinerary to hopefully get you inspired:
Day 1
Begin your trip to Miami. Rent some bikes ($30) and cruise along the beachfront before you pick a piece of beach to relax on and take a refreshing dip in the ocean.
Afterward, check into your hotel and refresh yourselves before you head off for your romantic dinner for two in one of the many top-notch restaurants.
If you are up for it, why not go out dancing at one of the many clubs Miami has to offer for your first night?
Day 2
Fuel up at your hotel with either a breakfast with bubbly in bed or among the other hotel guests before you get ready for day 2 in Florida.
Take the car and go explore the Everglades with your significant other. Hop onto your private airboat ride ($420) for an exciting four-hour tour through the beautiful nature of South Florida.
After arriving back at your hotel, book yourself in for a couple's massage at your local spa and try to get an early night for another busy day in the morning.
Day 3
After an early morning, take a drive to West Palm Beach and take your partner to some well-deserved retail therapy. If you're looking for some culture, visit the Norton Museum of Art or the Ann Norton Sculpture Gardens.
Grab a bite at the Serenity Garden Tea House before heading to the harbor. There, set sail on a sunset cruise ($38), leaving from West Palm Beach. The perfect end to your romantic getaway in Florida!
Costs
| | |
| --- | --- |
| Activity | Price |
| Hotel Stays/Accommodations | Depending on the accommodation you will be going for, you can expect to pay between $150 and $1500 per night. |
| Mode of Travel | We recommend driving your car or renting a car for your long weekend in Florida. Car rentals will cost you around $60 per day. |
| Food & Beverage | Depending on whether you eat in fancy restaurants or prefer to get a cheap option at a supermarket, you will pay, on average, $10 for a meal. |
| Excursions & Activities | Spending time by the beach is always free. But if you go on excursions, expect to pay anything from $15 to $450. |
Frequently Asked Questions
How much does a Florida romantic getaway cost on average?
This very much depends on the accommodation you are choosing as well as on the number of excursions you are planning to go on.
The total cost for a weekend getaway in Florida will be around 850$ for a romantic trip per person.
When is the best time to visit Florida?
We recommend visiting Florida in the winter or spring, as it won't be as crowded. On top of that, the heat is a bit more endearing during that time of the year.
If you want to make sure you are spending relatively cheap romantic getaways in Florida, book your flights and hotels well in advance.
How long do people typically spend in Florida on a romantic getaway?
Since Florida has so much to offer, you can spend any length of getaway in Florida. From a weekend to several week-long holidays here and not get bored. It is totally up to your time, budget, and your must-see list.
Start Planning The Ideal Romantic Getaway
There is no doubt that there are lots of romantic getaways in Florida.
If you are looking for more inspiration on romantic getaways, visit our website. We have a collection of guides to help you find the best destinations for your holidays.