Canada is the second-largest country in the world and is brimming with a rich array of arresting landscapes and unique experiences. From the powerful waters of Niagara Falls to the cobblestone streets of Quebec City, it truly is one of the best locations for a romantic and varied honeymoon.
To help you plan your first trip as newlyweds, we've taken a close look at some of the best hotels and locations to stay in during your honeymoon, as well as some tips for activities and excursions while you're away.
What Makes Canada Perfect For A Honeymoon?
There are many reasons why Canada is one of the best honeymoon destinations for newlyweds, such as its natural diversity and sheer size. Its breathtaking landscapes include snow-capped mountains, sandy beaches, pristine lakes, and stunning waterfalls.
The variety of experiences Canada has to offer you is almost limitless, and it truly has something for every couple. You could have a romantic getaway in urban Vancouver, go mountain biking in Banff National Park or even see the Northern Lights in the Northwest Territories.
Traveling to Canada is also easy, and most airports in the US have direct flights to one of its many international airports. If you want to take a lot of luggage with you, there's even the option of driving there instead of flying.
Best Honeymoon Resorts, Hotels, and Other Stays In Canada
The most popular type of accommodation in Canada tends to be hotels, and the country has many unique and luxurious options situated in some of the most beautiful places imaginable.
As Canada is so diverse, you have a wealth of honeymoon destinations to choose from. Some of the most sought-after hotels include the Fairmont Chateau in Whistler, British Columbia, for its access to the mountains, and The Ritz-Carlton in Toronto for its glitz and glamour.
Regardless of which area you choose as your honeymoon destination, you can be sure that there will be plenty of luxury hotels for you and your partner to stay in as you explore the romantic vistas and thriving cities of Canada.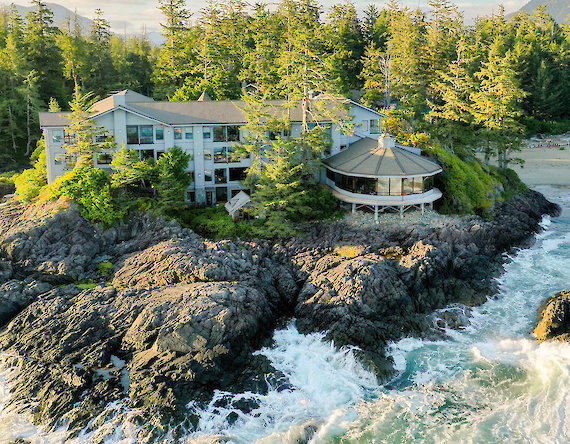 Price per Night: $525 – $2,692
Best For: Couples
Availability: Easy To Book
Located on Vancouver Island, this idyllic hotel offers oceanfront views and a wide range of luxurious amenities and nearby excursions. You can choose to spend your time here relaxing in a hot tub, wine-tasting on a private seaplane, or even whale-watching on Clayoquot Sound.
The Wickaninnish Inn has 75 rooms in total, ranging from elegant suites to more standard rooms to accommodate most budgets. As newlyweds, you can also take advantage of the 'All You Need Is Love' package which includes a five-course tasting menu for two and complimentary champagne.
If you need to take the weight off, you and your partner can spend an afternoon being pampered in the exclusive Ancient Cedars Spa.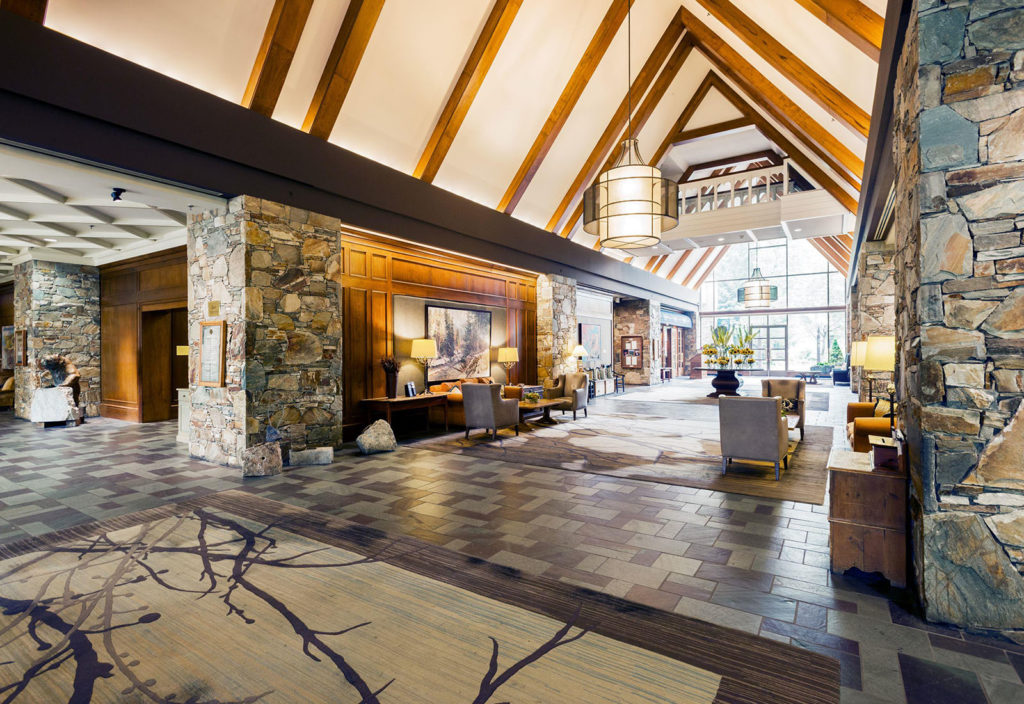 Price per Night: $553 – $1,069
Best For: Short stays
Availability: Limited
Nestled at the base of Blackcomb Mountain in British Columbia, the Fairmont Chateau Whistler offers the perfect balance between adventure and relaxation. It gives you direct access to the ski slopes and even has its own 18-hole golf course.
The hotel boasts 519 luxurious rooms and it truly has something for everyone. Its spacious deluxe rooms have free WiFi, King-size beds, and valley views while its biggest suite is 1,200 square feet and features views over Rainbow Mountain.
As a honeymooner, you'll also have access to the 'Grand Romance' package, which includes chocolate-covered strawberries and champagne.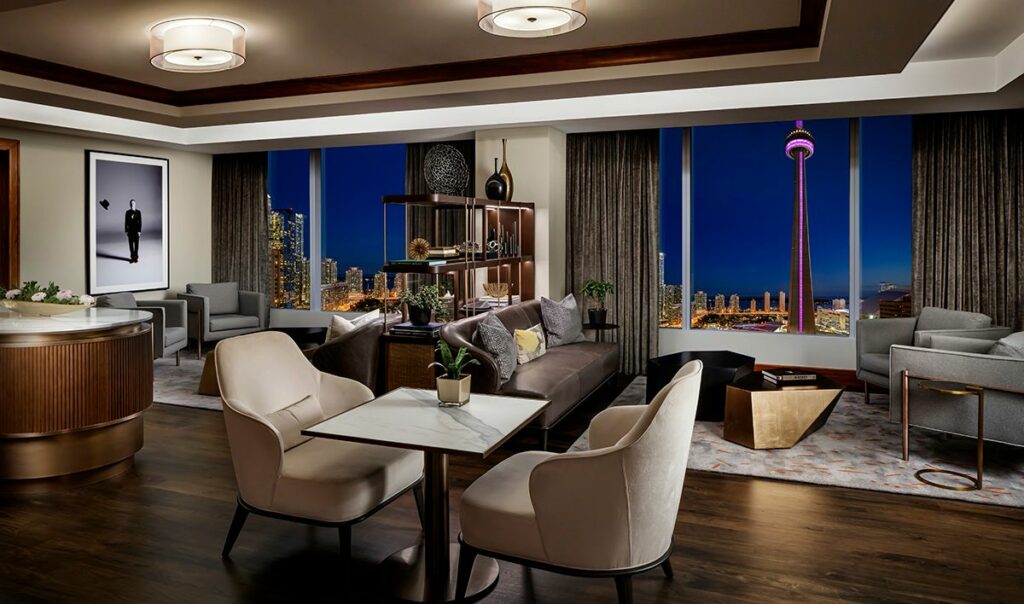 Price per Night: $784 – $922
Best For: Short stays
Availability: Easy To Book
Overlooking the Toronto skyline and Lake Ontario is the glamorous Ritz-Carlton which is ideal for newlyweds looking to celebrate their honeymoon in bustling downtown Toronto.
The hotel is conveniently located near to local landmarks like the CN Tower and gives you easy access to the city's thriving theater and restaurant scenes. If you need a break from city life, you can indulge yourselves with a massage in the 'Spa My Blend' or sip cocktails in the elegant Club Lounge.
There are 263 luxurious rooms to choose from, including corner suites and glitzy Wellington suites, and all rooms feature 42″ LCD TVs, floor-to-ceiling windows, and large bathrooms with deep-soaker tubs.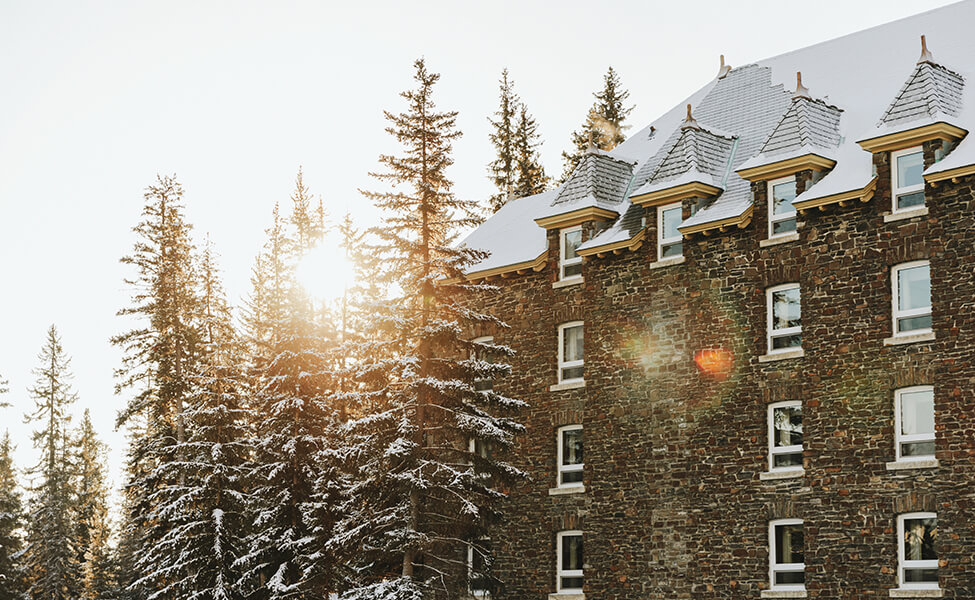 Price per Night: $1,005 – $3,606
Best For: Couples of all ages
Availability: Easy to book
Situated in the magnificent Banff National Park, which is a UNESCO world heritage site, this beautiful alpine hotel is modeled after a Scottish castle and offers guests the height of luxury in a remarkable setting.
During your stay, you can relax in the Willow Stream Spa, visit the museums and galleries in the town of Banff and ski in the world-famous Canadian Rockies. Although the hotel doesn't offer all-inclusive deals, it does have a bed-and-breakfast package for those romantic breakfasts in bed.
There are plenty of different room options available, from spacious suites to cozy, corner rooms which all feature high-quality bedding and amenities. As well as the gourmet dining options available within the hotel, there are also many local restaurants for you to sample during your honeymoon.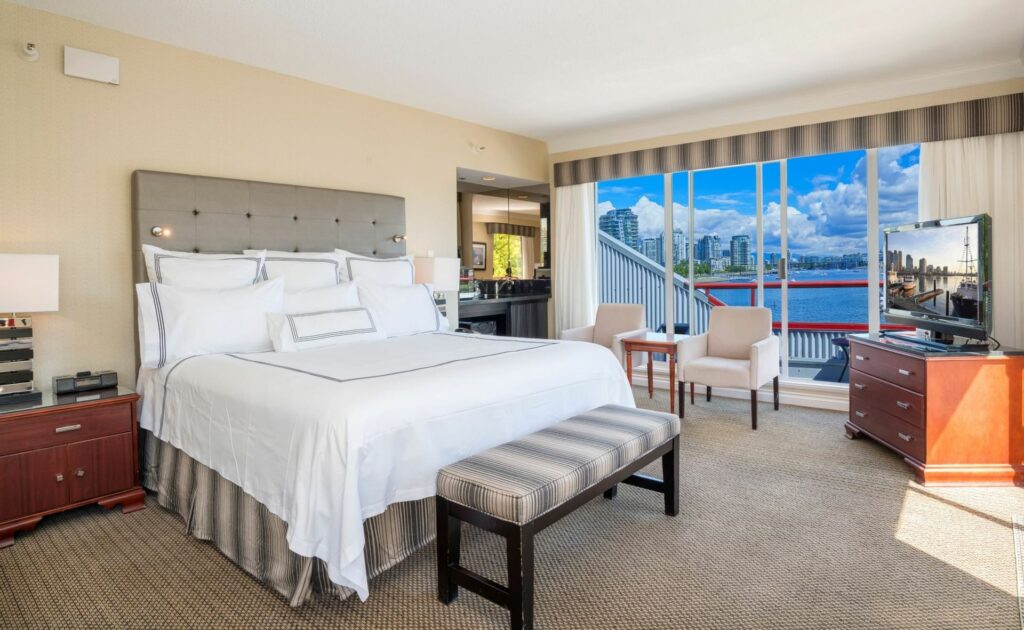 Price per Night: $388 – $424
Best For: Short stays
Availability: Easy To Book
Located on Granville Island in Vancouver, this boutique hotel is a peaceful retreat away from the hustle and bustle of downtown Vancouver. It still gives you access to local attractions like the famous Public Market as well as many art galleries and restaurants.
The rooms feature glorious views of False Creek and the Vancouver skyline, and the attentive staff can arrange various excursions for you, such as biking and kayaking.
The hotel also has several offers like the 'Dine & Stay' package, which gives you a $60 meal voucher and a bottle of British Columbia wine, and there is a wide range of rooms from premium balcony doubles to the Boardwalk Suite.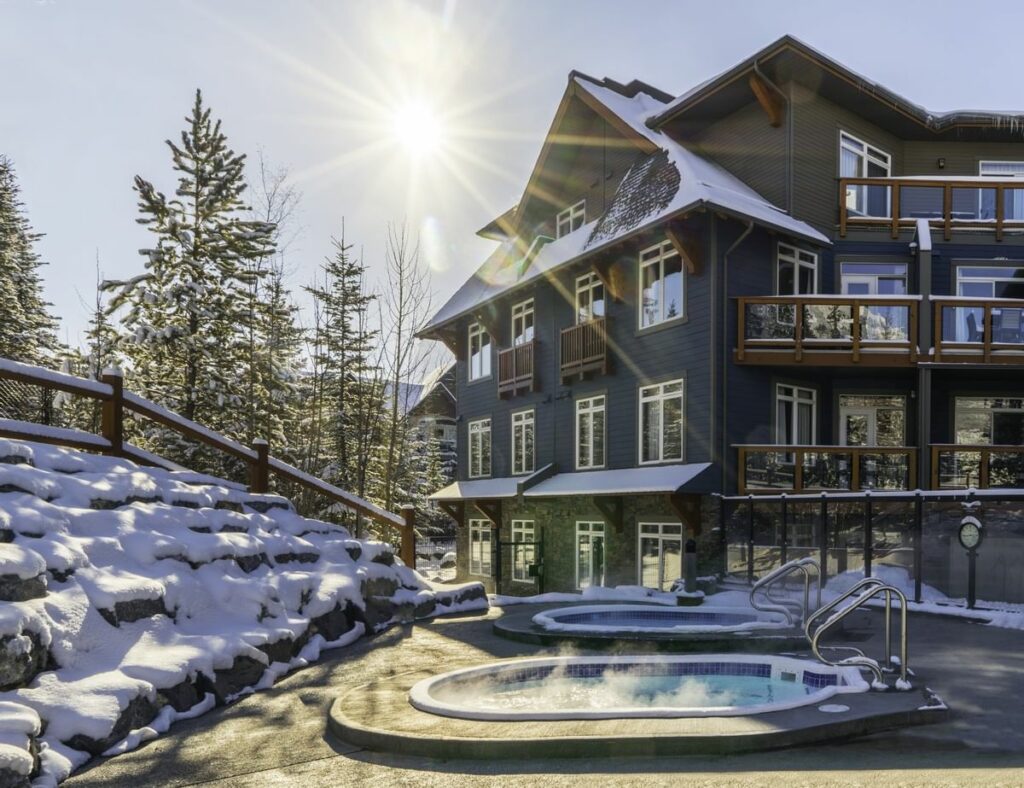 Price per Night: $339 – $1,099
Best For: Couples
Availability: Easy To Book
Blackstone Mountain Lodge is located 20 minutes outside of Banff National Park against the backdrop of the Canadian Rockies.
While staying here, you can sample the bistros, restaurants, and microbreweries of nearby Canmore or enjoy a massage in one of the hotel's private spas. As it's close to the national park, there's also plenty of hiking, skiing, and biking to get involved with.
Its deluxe rooms feature queen beds, free WiFi, and flatscreen LCD TVs, while its luxury suites have their own gourmet kitchens and spacious decks or balconies.
Best Areas To Stay In Canada
One of the main things that makes Canada such a special honeymoon destination is the incredible variety of locations and experiences that the country has to offer you.
From magnificent, old cities like Montreal and Quebec City to natural wonders like the Rocky Mountains and Niagara Falls, the possibilities for your honeymoon in Canada are almost endless.
To help you decide which areas you definitely want to incorporate into your honeymoon, let's take a look at some of the best and most romantic locations that Canada has waiting for you.
Quebec City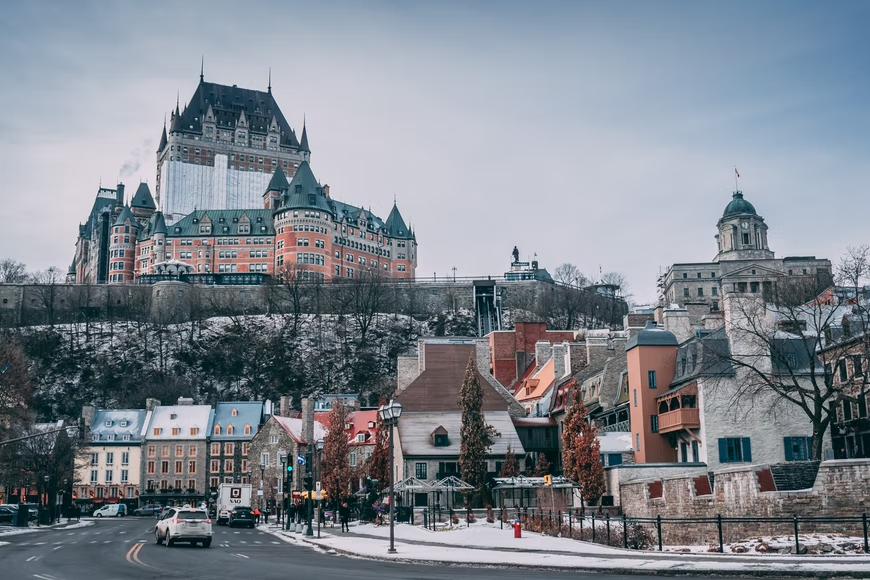 Located in Eastern Canada, the cobblestone streets of old Quebec City give you the sense of stepping back in time. While roaming the streets, you can visit quaint cafes and outdoor ice bars and even ride a sleigh alongside the St. Lawrence river.
If you're feeling more adventurous, you can take part in winter sports at nearby Mont Tremblant or Le Massif, or experience the spectacular Montmorency Falls.
Some of the best and most popular activities in Quebec City include:
Sightseeing cruises along the St. Lawrence River, where you can take in views of the Quebec City skyline and the famous Fairmont Le Chateau Frontenac. Prices start from $43 per adult.
Half-day tours to Montmorency Falls so that you can experience the full glory of this natural wonder while also stopping off at the Basilica of Sainte-Anne-de-Beaupre. The prices for this tour start at $60 per adult.
Whistler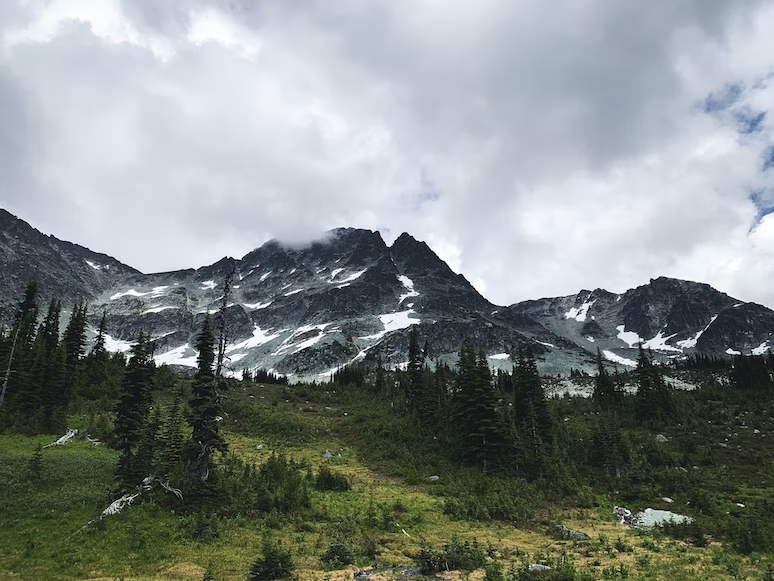 If you're dreaming of a secluded honeymoon in the mountains, then Whistler may be the ideal choice for you. With some of the most stunning landscapes in the whole of Canada and access to exhilarating ski slopes and glorious hiking trails, you and your partner will never be short of something to do.
Some of the amazing activities that Whistler has to offer include:
Snowmobile rides through hidden backtrails where you can witness the breathtaking vistas of this region from a unique point of view. Prices begin at $179 per person.
Peak-to-peak gondola rides that transport you in a cable car from the top of Whistler Mountain to the top of Blackcomb Mountain to give you unrivaled views of the valley below. Prices start at $85 per adult.
Vancouver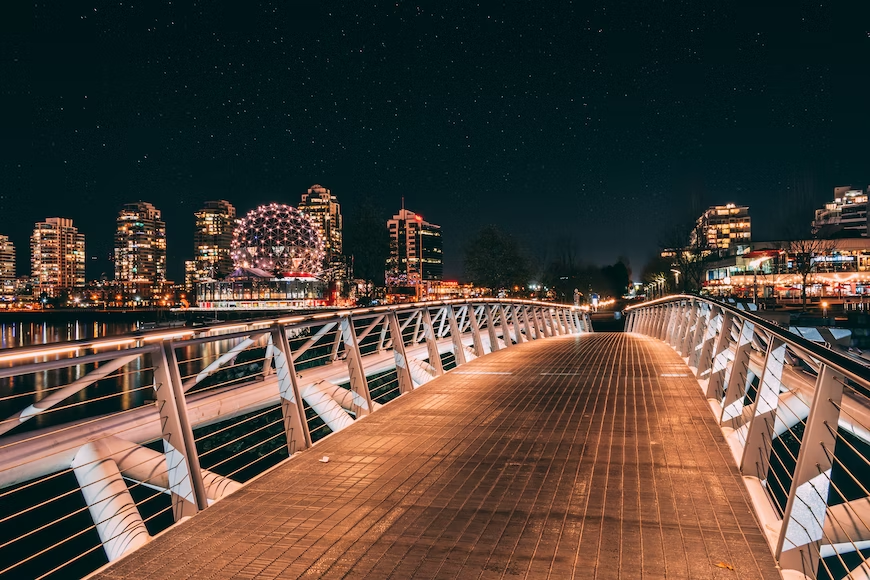 On Canada's west coast, Vancouver is a hub for theater, music, art galleries, museums, and amazing cuisine.
Surrounded by mountains, there are also plenty of other more rural activities for you to enjoy during your honeymoon meaning Vancouver can provide you with the perfect combination of a city break and outdoor adventure.
Some of the excursions that you and your partner could take part in during your honeymoon in Vancouver include:
Seaplane tours that give you an amazing birds-eye view of the city that ends with an exciting landing on the waters of Vancouver harbor. Prices start at $126 per person.
Half-day whale-watching tours aboard a catamaran where you can view whales, seabirds, and a variety of other sea life. Prices start at $170 per adult.
Top Excursions & Activities To Do On A Canada Honeymoon
The rich diversity of landscapes and experiences in Canada means that there are a huge number of excursions and activities to get involved with during your honeymoon.
Whether you prefer skiing down steep slopes, sampling local cuisine or witnessing some of the greatest natural wonders on earth, Canada has got you covered.
Shopping & fine dining
Hotels in Canada are known for their excellent restaurants, but the country also has some of the most renowned foodie hubs in the world. Vancouver and Montreal are famed for their cuisines, and if you're in Quebec, be sure to sample some of the world-famous poutine.
Boat cruises
The most famous landmark in Canada is Niagara Falls, and one of the best ways to experience it is to take one of the many boat tours that are on offer from local operators. You can also make time to stop off at the quaint town of Niagara-on-the-Lake for a horse-drawn carriage ride.
Experience the Northern Lights
For a unique honeymoon experience, Yellowknife in the Northwest Territories gives you the opportunity to experience one of the most romantic sights on earth, the Northern Lights. There are various tours available, and you can also stay overnight in the Aurora Village to view the lights from your own teepee.
Hiking
Outdoor adventures don't get much better than hiking in the Canadian Rockies, and the gorgeous views are about as romantic as they come. There are countless trails to explore, such as the Alpine Loop around Lake O'Hara.
Skiing & snowboarding
The Whistler and Blackcomb mountains are a paradise for skiing and snowboarding, and the white slopes are not to be missed. Experienced skiers will find routes to challenge them, and first-timers can arrange lessons to get them up to speed.
Sample Itinerary & Budget For Your Honeymoon To Canada
The costs of your honeymoon in Canada will vary widely depending on the rooms you stay in, how you plan to travel there, the activities you take part in, and your dining choices.
Staying in a standard room at a good-quality hotel will cost you around $300 a day while a deluxe suite could cost you up to $3,000 a day.
Depending on where you live, driving to Canada can be less expensive than flying. For example, if you fly to Vancouver from Los Angeles in the summer months, it will cost you around $300 per person. Your budget for food will depend entirely on your dining preferences and the area that you stay in.
During your honeymoon, you'll definitely want to take part in some of the amazing excursions that Canada has to offer, and below we've listed some suggestions along with the average prices.
Full-day tour of Niagara Falls $78 – this tour includes transport to the falls from Toronto, three hours of free time to explore, and transport back to Toronto.
Food tour of Jacques-Cartier National Park $74 – take a guided tour of this National Park located just outside of Quebec City while sampling delicious local produce.
Whistler zipline adventure $115 – soar over the alpine forests of Blackcomb Mountain on a zipline and experience the local wildlife from a unique angle.
For a seven-day honeymoon in Canada, here's a sample itinerary:
Day 1: Arrive in Toronto. Take time to unpack and check out the features of your hotel, before heading out for dinner in one of the city's incredible restaurants. You'll want to admire the city's skyline and the iconic CN Tower as you go!
Day 2: Spend your second day touring the city. If the weather is nice, have a romantic picnic in Toronto Music Garden. If not, pay the Art Gallery of Ontario a visit. With more than 90,000 items in its collection, it's sure to keep you busy for a few hours.
Day 3: Either rent a car or take an organized tour to Niagara Falls. Once there, either admire the phenomenal view from dry land, or experience the power of the Falls up close on a boat tour. For a more unique view (and if you're feeling adventurous), you could even take a helicopter tour!
On the way back, consider a pit stop at the beautiful town of Niagara-on-the-Lake.
Day 4: Back in Toronto, why not spend the day exploring the St. Lawrence Market? You can sample some amazing cuisine here, then if you're looking for something a little different, consider the Bata Shoe Museum!
Day 5: To make your honeymoon a time to remember, why not take a day trip to Canada's Wonderland? This theme and water park is perfect for those seeking an adrenaline rush!
Day 6: Consider spending your last full day in Canada relaxing around your hotel. Make the most of the facilities – relax the day away at the spa and pool, then order room service when you get back to your room.
Day 7: Time to pack your bags, visit any last attractions you've missed, and pick up any souvenirs you'd like to take home.
Frequently Asked Questions
How much does a Canada honeymoon cost?
The cost of a honeymoon in Canada will differ greatly depending on many factors. If you stay in a standard hotel room, eat at mid-range restaurants, fly there during the summer, and book three activities, a 7-day honeymoon will cost you around $3,225.
When is the best time to visit Canada?
Canada is an excellent destination throughout the year, but if you're planning to ski or snowboard, you'll need to make sure you visit in the winter months. During the summer, popular activities include hiking in the National Parks and exploring cities such as Quebec City and Vancouver.
What is the best way to travel around Canada?
Canada has many airports all over the country, and it's easy to fly from one region to another. However, driving around Canada is the best way to see as much of the country as possible and will give you the chance to incorporate a romantic road trip into your honeymoon.
Start Planning The Perfect Romantic Honeymoon Getaway
If you decide to go to Canada for your honeymoon, you'll be able to revel in its breathtaking wilderness and wander the quaint streets of its old cities. Due to its sheer size, there are seemingly endless variations and possibilities which means that your honeymoon is guaranteed to be unique and special.
If you're interested in learning about other incredible honeymoon destinations around the world be sure to check out our Couples Travel Guides where we will give you all the information you need to plan your perfect trip.