Besides being incredibly accessible to U.S.-based honeymooners, Mexico offers a wide range when it comes to accommodations and activities. Those planning a romantic getaway in Mexico can choose between staying in a five-star resort or a boutique casita, exploring Chichén Itzá or a hidden cenote by kayak, lounging on Akumal Beach or immersing themselves in Mexico City.
Fancy sunset dinners to the sound of mariachi music? Going on a Mexico honeymoon is certainly one way to make the first week or two of your marriage as memorable as possible. But, being one of the world's biggest countries by area, you're probably wondering where best to land. In this article, we'll go over the best resorts and areas of Mexico to help you plan.
What Makes Mexico Perfect For A Honeymoon?
The biggest draw of a Mexico honeymoon is the accessibility of the country, being just a three-hour flight away on average, depending on where you're based and where you're going. However, a lot of couples come for the ease of travel but fall in love with the all-inclusive resorts, immersive culture, lively atmosphere, and bountiful white sand beaches.
Many of the hotels, unique stays, and top resorts in Mexico are positioned along the country's 6,000 miles of coastline. Some of these resorts have their own private beach club, giving your romantic getaway the feeling of a private island escape. Others can be found in the heart of Mexico City, allowing your honeymoon to be culture-rich with plenty of city-based activity.
Whether you go coastal or inland, you'll be able to find a party atmosphere somewhere. Alternatively, if you want your Mexico honeymoon to consist of quiet couples time, then you can find that, too. In all corners of the country, you can also find affordability.
Best Honeymoon Resorts, Hotels, and Other Stays in Mexico
Whichever region of Mexico you decide to visit, you're bound to find a diverse range of resorts, some of which feature standard hotels, while others boast luxury villas on the beach, treehouses, and overwater bungalows.
In this section below, we've rounded up our top nine honeymoon destinations to help you choose a resort that fits your needs and budget.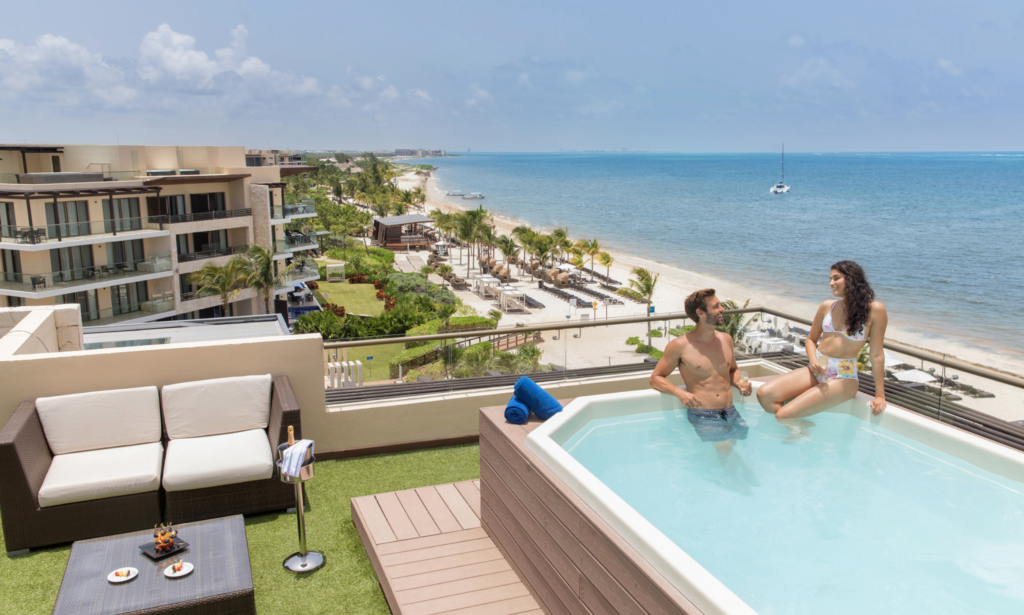 Price per night: $370 – $630
Best for: Adults only
Availability: Easy to book
The Hideaway at Royalton Riviera Cancún allows you to do just that – hide away from the crowds that descend upon Cancún from the comfort of your private pool or balcony area. You could even upgrade to a Diamond Club package to enjoy the private butler service as well as access to the resort's exclusive beach club area.
All of the 343 suites boast rain showers, while some of the other honeymoon-ready rooms feature swim-up access and hot tubs. Plenty of luxurious amenities and experiences can be found throughout the resort, including mixology masterclasses, beach yoga, and several bars and dining areas.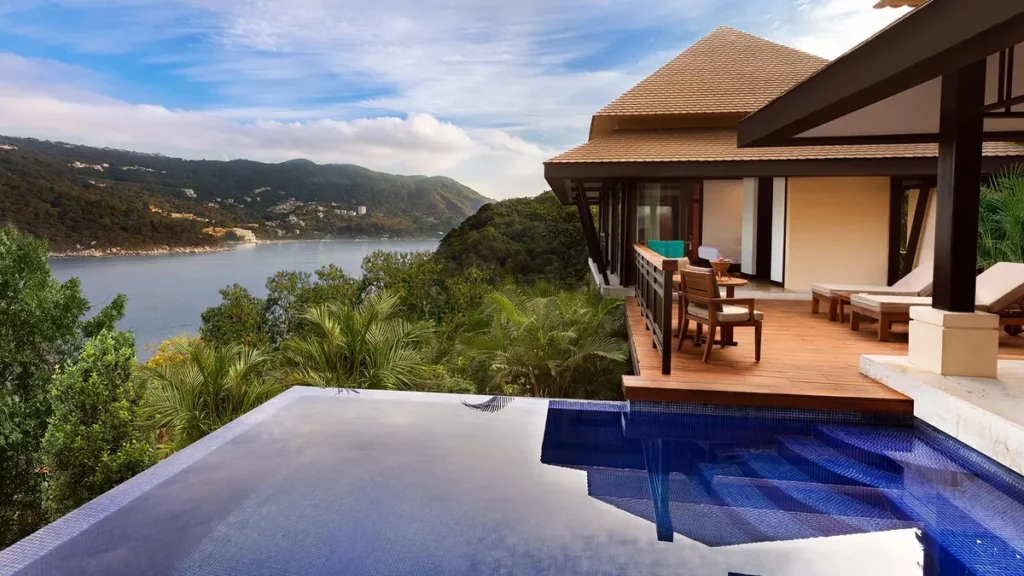 Price per night: $275 – $1,000
Best for: Unique stay, privacy
Availability: Limited
Each of the marque villas at Banyan Tree Cabo is perched on the side of a slope – on stilts! – overlooking a vast stretch of the Pacific Ocean and the crashing waves below. All of this makes a dramatic setting, which newlyweds can admire from the comfort of their own private decking area. Even when inside, the floor-to-ceiling windows keep the ocean in view.
Once checked into your Banyan Tree Cabo Marque, you never have to leave, with private plunge pools for you to cool down in and room service available whenever you get peckish – or thirsty for a cocktail! The onsite Banyan Tree Spa offers masseuse and other spa services.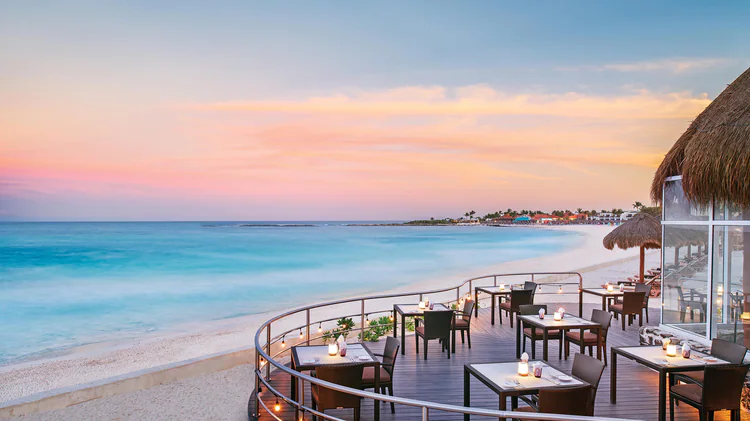 Price per night: $130 -$240
Best for: Spa, ocean view
Availability: Easy to book
Puerto Vallarta may be an old town, but there's nothing old about the modern Westin Resort & Spa, which looks right out onto Banderas Bay. Each suite in this 279-room hotel faces the Pacific Ocean, granting you a perfect view of the hunchback whales that visit the bay. For honeymooners, we'd recommend the Presidential Suite, which features its own whirlpool.
Across the resort's 21 acres, you'll find several pools, an ocean-facing spa center, and a long stretch of private beach front, complete with The Nikki Beach Club, which serves up delicious cocktails. Four restaurants can be found onsite, but the Westin is just a short stroll away from Puerto Vallarta itself, where you'll find a wide selection of eateries, bars, and shops.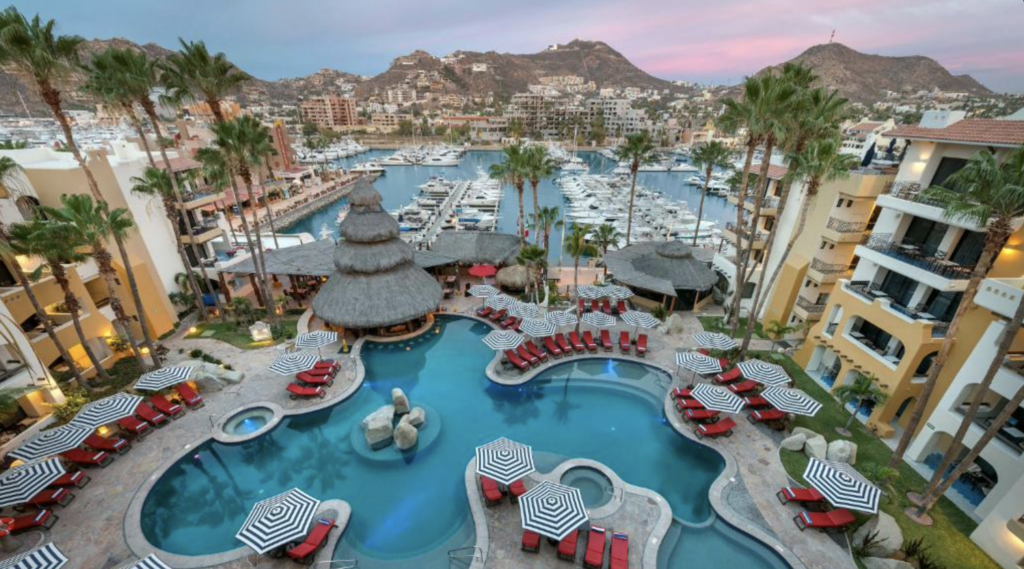 Price per night: $110 – $270
Best for: All-inclusive resort, dining
Availability: Easy to book
The Marina Fiesta Resort & Spa is one of the main all-inclusive resorts in Cabo San Lucas and offers a stretch of tranquility in this busy region. Its position allows guests to spectate both the crashing sea and also the dramatic mountains in the distance, creating a distinctly romantic ambiance. Spa treatments and spacious pools are available to all guests.
The Nautical Junior Suite is the best option for honeymooners, which comes equipped with a terrace, dining area, kitchen, social area, and balcony. This hotel is linked up with all the best restaurants in Cabo San Lucas and offers a Dine Out All Inclusive package to its guests, which allows you to try out all the best eateries in the Marina Golden Zone as part of your booking.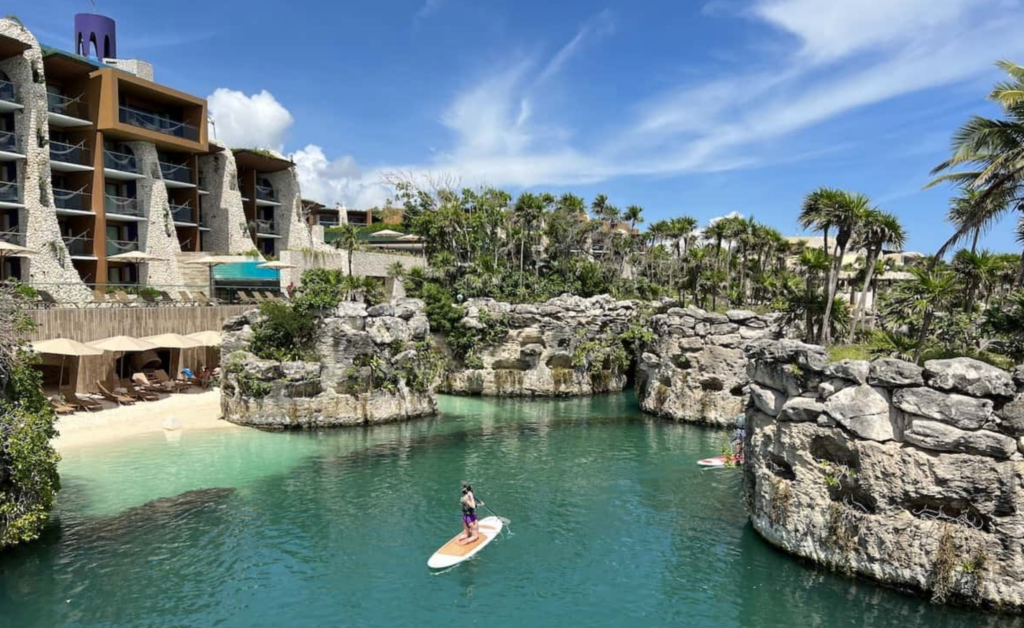 Price per night: $700 – $900
Best for: Short stays, nature lovers
Availability: Easy to book
The Hotel Xcaret, on the Riviera Maya, is one of the most expensive resorts found in Mexico but justifies its price by granting guests access to its range of nearby nature parks, including Xcaret, Xenotes, and Xichen! Each offers a different nature-based adventure, including kayaking experiences, and gives you a unique glimpse at the flora that defines Mexico.
Besides the nature aspect of Hotel Xcaret, guests can enjoy a private beach, the Muluk Spa, and sizable rooms with private balconies.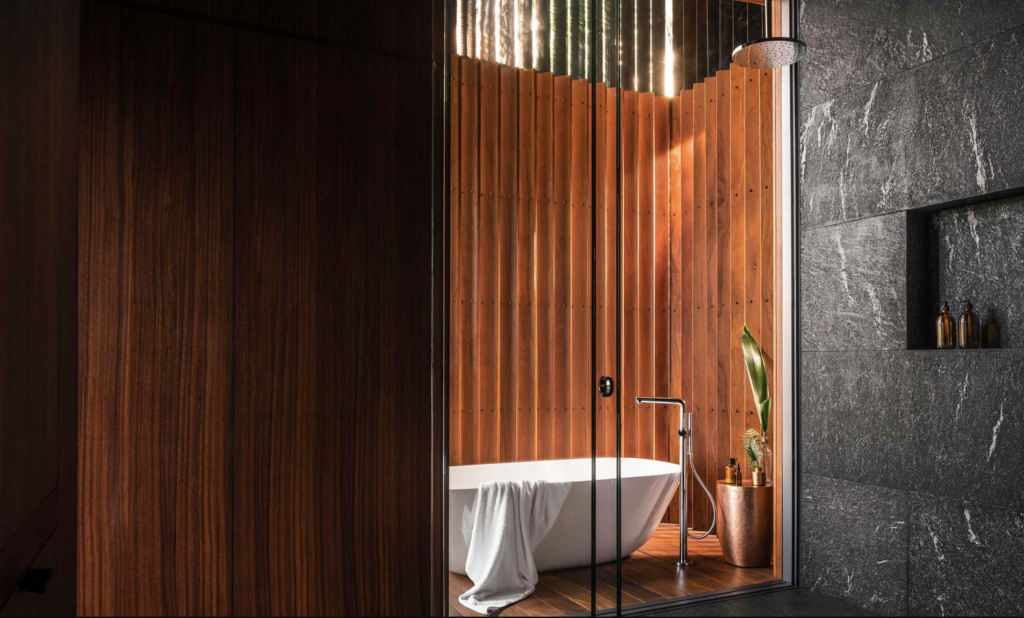 Price per night: $1,490 – $3,500
Best for: Adults only, short stays
Availability: Easy to book
The One & Only Mandarina is the resort for those looking to go all out for their Mexico honeymoon. This resort allows you to immerse fully in the jungles found alongside the Riviera Nayarit, with private treehouse accommodation offered that puts you next to the lofty palm trees. Who doesn't like waking up to the sound of the wildlife paired with crashing waves?
There are also cliff and grand villas available, most of which come with a private plunge pool. Hidden amongst the forest, you'll also find exclusive spas and dining areas, perfect for couples who like to get massaged and drink cocktails while admiring the Nayarit.
The One & Only Mandarina team encourages guests to get as close to nature as possible and organizes regular hiking excursions through La Abuela.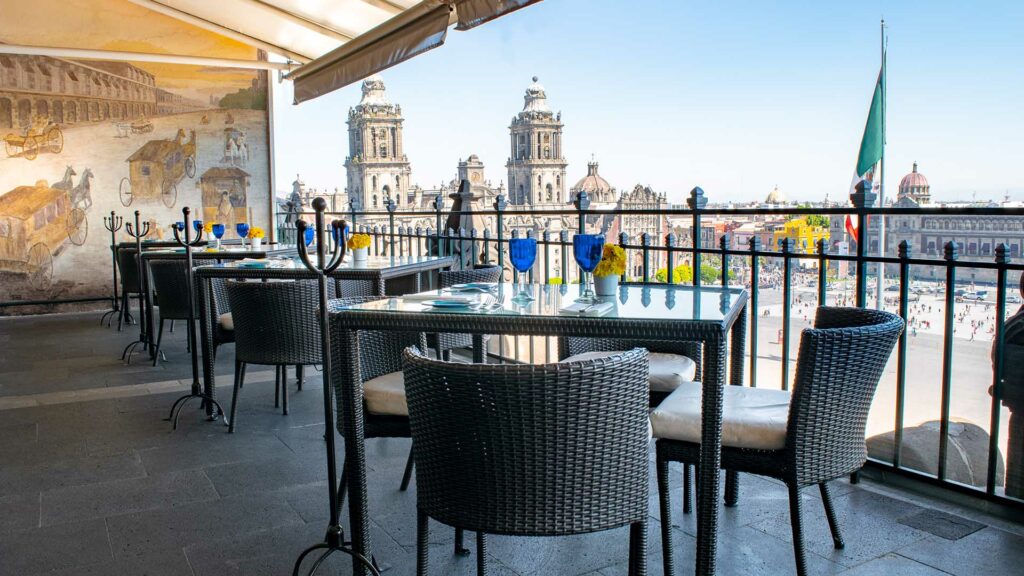 Price per night: $140 – $320
Best for: Older couples, short stays
Availability: Limited
When staying in Mexico City, why not stay in style at the Gran Hotel Ciudad De Mexico? Often topping the lists of most stylish hotels in the capital, the Gran Hotel Ciudad has maintained its art-nouveau elegance since opening in 1899, and you'll truly feel as though you've stepped back in time when you see the stained-glass ceiling and marble interiors.
This same elegance can be found in the rooms, with king-sized beds and large windows boasting views over the city's main plaza. Gran Hotel Ciudad De Mexico can be found in downtown New Mexico, which positions guests nearby such landmarks as Jardin Centenario, the canals of Xochimilco, and the Frida Kahlo Museum.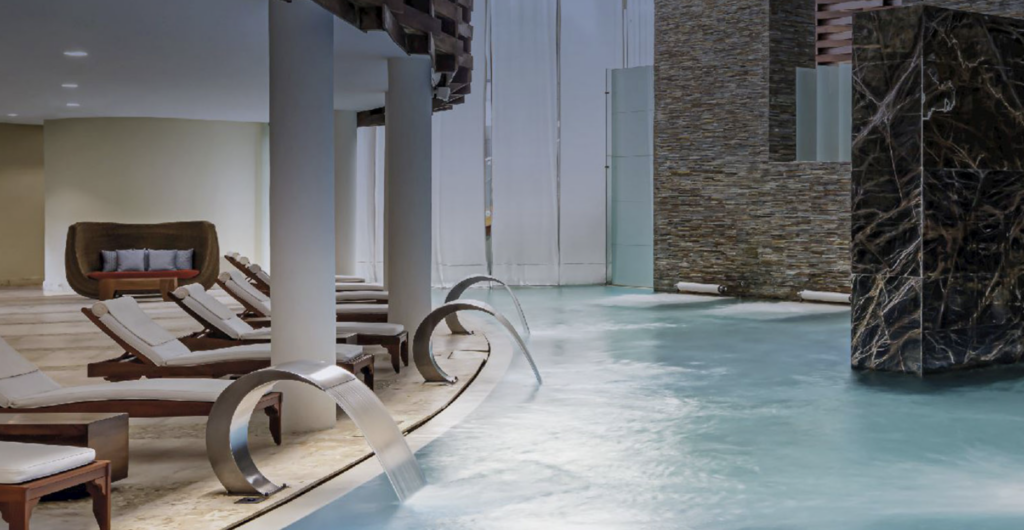 Price per night: $1,190 – $2,345
Best for: Long stays, young couples
Availability: Easy to book
This all-inclusive resort on the Riviera Maya is sprawling with amenities. Surrounded by jungle and poised in front of a private beach, the Grand Velas boasts a world-class spa, a swim-up bar, a plethora of swanky drinking and dining venues, and, the most unique of all, a beach cinema where you and your partner can watch some romantic flicks under the stars!
Each room at this luxury resort features modern amenities as well as private terraces, an indoor jacuzzi, and a mini-bar that gets restocked daily. As soon as you check into your room, you can pop open the complimentary bottle of mezcal, order up some room service, and officially start your Mexican honeymoon!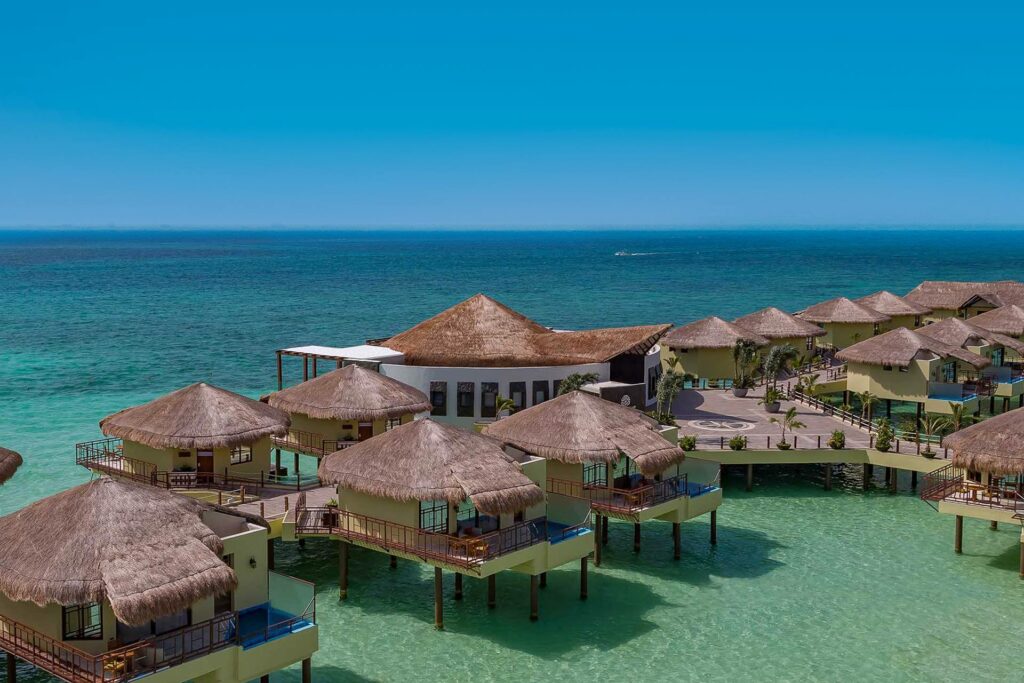 Price per night: $550 -$3,360
Best for: Unique stays
Availability: Easy to book
The El Dorado is one of the best resorts in Mexico in terms of unique stays, with an array of different options available. The highlight, however, is the resort's overwater bungalows (the only all-inclusive resort in Mexico to feature this!) that feature glass floors so you can look down at the sealife below. Being on the Riviera Maya, the waters are crystal clear.
Not only do these bungalows feature a private infinity pool, but they also boast a ladder into the sea, allowing you to dive in whenever you fancy! This beach resort also features plenty more exciting things to do, including beach dining, swim-up bars, and a spa. Experiences on offer range from cooking classes to scuba diving lessons.
Best Areas To Stay in Mexico
The first step to planning your Mexico honeymoon is deciding on which corner of the country to venture to. Mexico is the 13th-largest country by area in the world and has long been a honeymoon hotspot – many regions that were once prime romantic spots are no more, while others are now up-and-coming tourist epicenters.
The following areas are what we believe to be the current best spots for a Mexico honeymoon. To experience the vibrancy of the capital city as well as Mexico's vibrant coastline, why not turn your Mexico honeymoon into a city break-meets-coastal escape? From Mexico City, you could reach some of the other destinations listed here via plane, bus, taxi, or hire car.
Los Cabos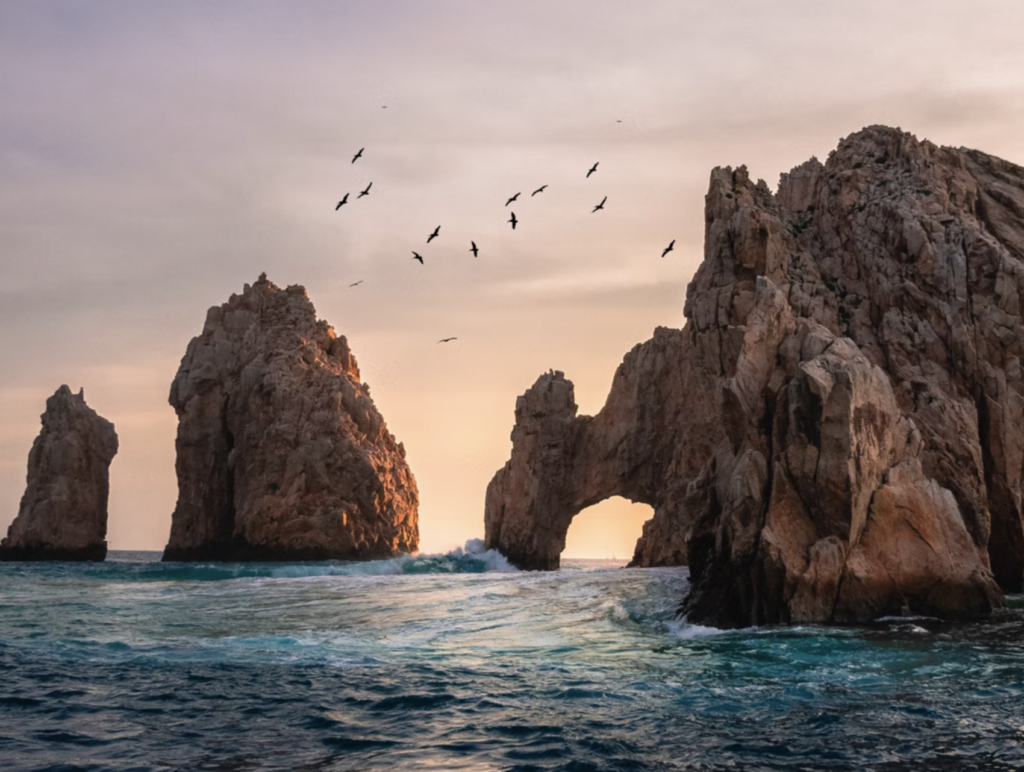 Los Cabos can be found at the very bottom of the Baja Peninsula and is home to some of Mexico's best resorts, including the Marina Fiesta Resort & Spa and Grand Velas Los Cabos. Forming part of the state of Baja California Sur, the city of Cabos San Lucas is where most of the action takes place, with famed beach parties and nightclubs, including Crush Nightspot.
Surrounded by palm trees and desert, Cabos San Lucas has plenty of beaches to relax upon with your partner. This includes the aptly titled Lover's Beach, where you can admire the Arch of Cabo San Lucas. Other popular Los Cabos activities include snorkeling through protected coves, sampling some of the finest mezcal in Mexico, and even swimming with whale sharks!
Cancún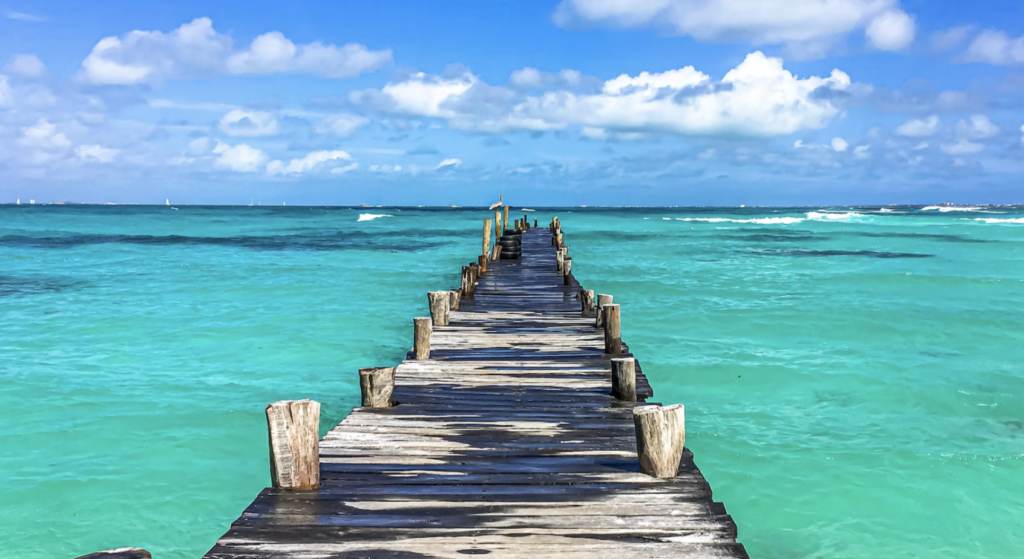 Cancún boasts all-inclusive resorts, boundless white sandy beaches, and some of Mexico's most iconic archeological sites. Perfect for those looking for a tropical honeymoon vibe, the lapping waves of the Caribbean Sea are perfect for swimming in, while the swaying palm trees and the gentle breeze make ocean-front dining and drinking an absolute delight.
The crystalline waters are perfect for snorkeling through, and also ideal for jet skiing and windsurfing, all of which are popular in Cancún. When you're able to peel yourself away from the region's coast, you'll find such inland sites as the Uxmal-Merida and the Chichén Itzá.
Puerto Vallarta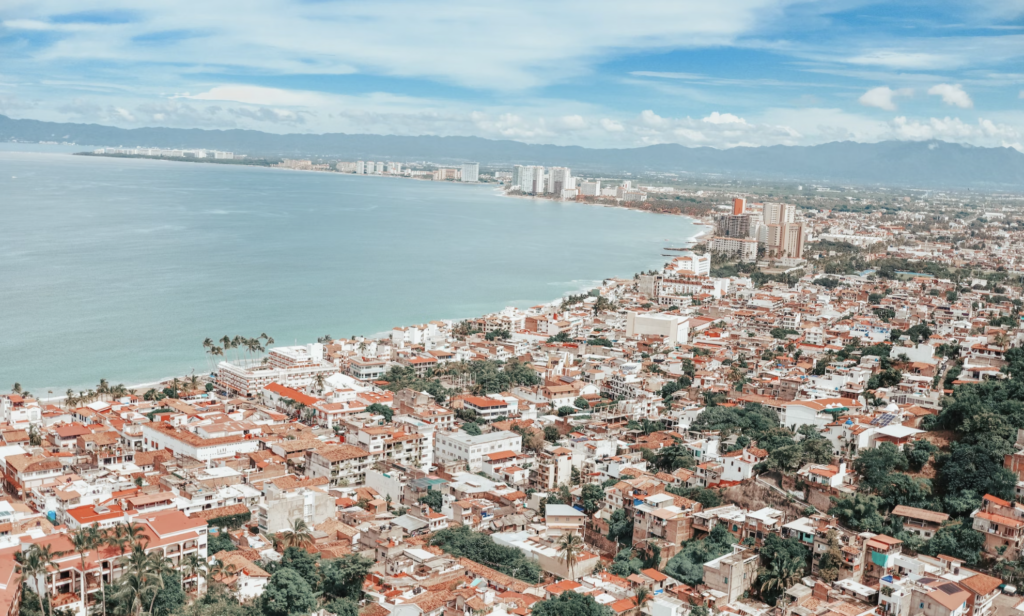 If you like the sound of exploring a romantic old town while having the coast and modern beach resorts nearby, Puerto Vallarta delivers the very best of both worlds. As you meander around the cobblestoned winding streets of Puerto Vallarta, you'll come across Zona Romantica, which will give you an authentic taste of Mexican culture.
Down at Malecón waterfront, you'll find ocean-facing cafes, restaurants, and bars, which are all perfect for spectating sunset. From here, you can enter Puerto Vallarta's 25-mile stretch of golden beach, ideal for romantic evening strolls. Other top activities in Puerto Vallarta include hiring a boat and exploring the nearby coves, or hiring a car to traverse the jungles.
Mexico City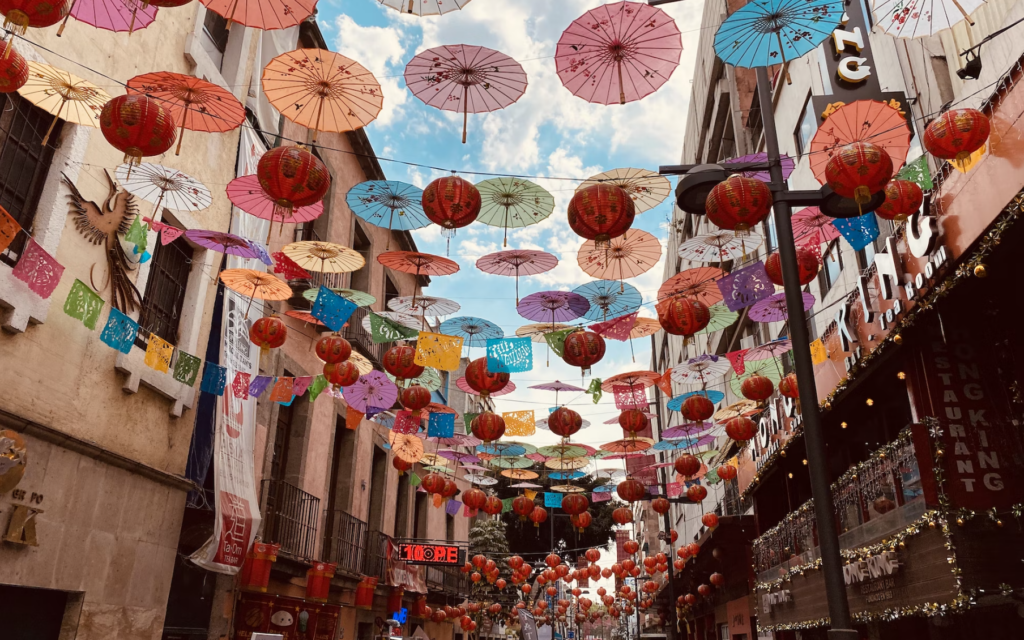 Being the capital, Mexico City is home to the country's most popular airport – Mexico City International Airport – so is the easiest destination to reach from most US locations. Although the city is inland, it still boasts its fair share of exotic resorts featuring honeymoon suites.
It's worth visiting Mexico City for its open-air markets, laid-back neighborhoods such as Coyoacán, and rooftop cocktail bars, as well as its range of cultural activities. The Frida Khalo Museum, the Pyramid of the Sun, and Chapultepec Castle are all within reach!
Playa Del Carmen
Playa Del Carmen is by far one of the most expensive regions of Mexico, and rightfully so, being poised along the coast of the gorgeous Riviera Maya. This stretch of Caribbean Coastline is perfect for swimming and sailing, with many guests of Playa Del Carman resorts setting sail any opportunity that they get.
Still, despite being home to some of the most expensive resorts, Playa Del Carmen has room for all kinds of honeymooners, with the range of bars and restaurants in the city going from opulent to very affordable. When not enjoying the lively seaside city atmosphere, Playa Del Carmen visitors can go on day trips to Tulum, Valladolid, and Xcaret Park.
Top Excursions & Activities To Do On A Mexico Honeymoon
It takes more than picking a resort to plan the ultimate Mexico honeymoon romantic getaway – you also need to plan some unforgettable excursions! We've included this part to give you an idea of what activities to add to your itinerary to make your time in Mexico one to remember.
The most romantic activities to do on a Mexico honeymoon include:
Swim with whale sharks
Although this may not sound too romantic, it's certainly something you'll never forget doing, and getting this close to whale sharks (who are friendly and totally harmless!) can be a life-changing experience. The best place to swim with sharks would be in Cancún with the company Cancún Adventures. Prices start from $158, and hotel pickup can be arranged.
Dine in a Cavern
Throughout Mexico, you'll find plenty of unique and romantic dining options, but how about sharing a meal in a 10,000-year-old cave? This truly unique experience can be done at the restaurant Alux in Playa Del Carmen.
Go horseback riding in Los Cabos
Make the most of Los Cabos' white sand beaches by riding over them on the back of a horse! Coastal horseback rides can be arranged to depart your hotel in Cabos San Lucas to ride right along your nearest beach. Prices for this experience start from $85.
Explore an underground river
Mexico has many fascinating limestone caves and caverns throughout the country. One of the most spectacular – and romantic! – is the Rio Secreto, which features an underground river! The beauty of this nature reserve, which is located in Playa Del Carmen, is not to be missed. Tours of Rio Secreto start from $109 with pickup included.
Discover ancient Mayan ruins
You can find ancient ruins throughout Mexico, but you'll have to travel to the Yucatan Peninsula to discover the most iconic, Chichén Itzá. The entrance fee for Chichén Itzá is around $28.
Go on a sunset cruise in Playa Del Carmen
Going on a 2-hour cruise around the Caribbean Sea is a fun and romantic way to round off a day, and is best done in Playa Del Carmen. Prices for a sunset catamaran adventure start from $75.
Sample Itinerary & Budget For Your Honeymoon To Mexico
Your Mexico honeymoon can be cheap or it can be lavish, depending on what you do and where you stay. To give you a rough idea about how much to budget for your romantic getaway in Central America, here's a rough outline of expenditures you and your partner can expect to make during a 7-day trip in Mexico:
| | |
| --- | --- |
| Accommodation | $280 (budget hotel) – $24,500 (expensive resort) |
| Flights | upwards of $340 (round trip from the US) |
| Food and drink | $1,600 – $1,700 |
| Whale shark swimming | $315 |
| Horseback ride | $170 |
| Rio Secreto | $220 |
| Chichen Itza | $56 |
| Sunset cruise | $150 |
If you're wondering how to fit all of the exciting activities listed above into a 7-day honeymoon, here's an itinerary you can take inspiration from:
Day 1 – Settle into your resort and take full advantage of all the amenities on offer to get you in the vacation mood. Find your favorite poolside spot or try out the sauna facilities.
Day 2 – Kick off your Mexico honeymoon as you mean to go on by going on an exciting trip on day 2. This could be visiting Chichén Itzá, Rio Secreto, or whichever cultural landmark can be found nearby your resort. Reward yourself with some drinks back at the hotel for sunset.
Day 3 – Have a full-blown beach day on day 3. If you're staying at a seaside resort, see if there are any organized water sports you can get involved with, or share a few drinks with your partner at the beach bar.
Day 4 – Explore a nearby town on day 4, enjoy an evening beach stroll, and soak up the party atmosphere. Most beach resorts will be close to some sort of tourist epicenter featuring some nightlife you could get involved with.
Day 5 – Have another beach or pool day, rounded off with a horseback ride, a sunset cruise, or a beach dining experience. Enjoy evening drinks at the hotel bar.
Day 6 – Do something big on your second last day – go whale shark swimming, snorkeling, or any other excursion or activity available locally that you're unlikely to forget.
Day 7 – Round off your Mexico honeymoon with one last day spent at the resort pools or your suite's own private pools.
Frequently Asked Questions
How much does a Mexico honeymoon cost?
The average Mexico honeymoon will cost you around $7,000 – $8,000 all in. This, of course, depends on where you stay, what excursions you do, and where you dine. Mexico can be done on a very affordable budget if necessary.
When is the best time to visit Mexico?
November to March sees the best weather in Mexico, but it's also the time when most of the tourists descend on the coast. We'd recommend visiting in November to avoid the crowds but still experience agreeable Mexico weather. May to September is the rainy season when the weather can be most unpredictable.
What is the best way to travel around Mexico?
It's possible to fly or get a taxi between cities in Mexico, but the most affordable and easiest means of getting around would be by bus. Bus prices vary, but tickets are generally cheap if you organize your trip well in advance. There is no rail service in Mexico.
Start Planning The Perfect Romantic Honeymoon Getaway
Despite being a honeymoon hotspot for decades, on top of being a standard tourist destination, you can still find a secluded part of Mexico to call your own. Whether it be Mexico City, Cancún, or Los Cabos, your honeymoon in Mexico will be one to remember, thanks to the exquisite resorts that can be found in each of the country's hotspots.
Use the advice presented in this guide to plan the ultimate Mexico romantic getaway, or look at our other travel resources aimed at couples vacations.