One of the world's most popular honeymoon locations is sunny Cancun, Mexico, situated on the Yucatán Peninsula. The white sand beaches and palm trees perfectly harmonize in this tropical paradise. But Cancun goes beyond the shores; there is much more to this tropical paradise than meets the eye.
Cancun is a popular romantic and affordable honeymoon destination for newlyweds. The romantic ambiance, atmospheric nightlife, and breathtaking scenery make this a top choice for a honeymoon. Cancun is bursting to the seams with restaurants, shops, and exciting activities to do. This article will showcase the beautiful and historical sights, provide travel tips, and give a broad overview of the top resorts for newlyweds.
What Makes Cancun Perfect For A Honeymoon
Cancun's all-inclusive honeymoon packages are ideal for couples looking for a stress-free getaway. Candlelit beach locations provide the perfect romantic backdrop with cozy couches and hammocks for snuggling up.
Take a boat ride across the Caribbean Sea to the next island, where you and your spouse can go diving or snorkeling. The Chichen Itza, one of the world's seven wonders, is an ideal location for honeymoon photography. Or, you could swim in the crystal-clear water of the Cenote Yokdzono, a secluded underground lake.
Best Honeymoon Resorts, Hotels, and Other Stays in Cancun
All-inclusive resorts in Cancun offer a wide choice of honeymoon packages, with prices beginning as low as $300 per night for the two of you. However, there are more affordable choices accessible in the area, but they come at the sacrifice of the extra all-inclusive services. Luxury resorts in the region may cost upwards of $1,000 per night for the most luxurious stays.
We've compiled a list of Cancun's top seven honeymoon resorts to help simplify your trip planning. Explore the resorts' facilities, accommodations, packages, and more.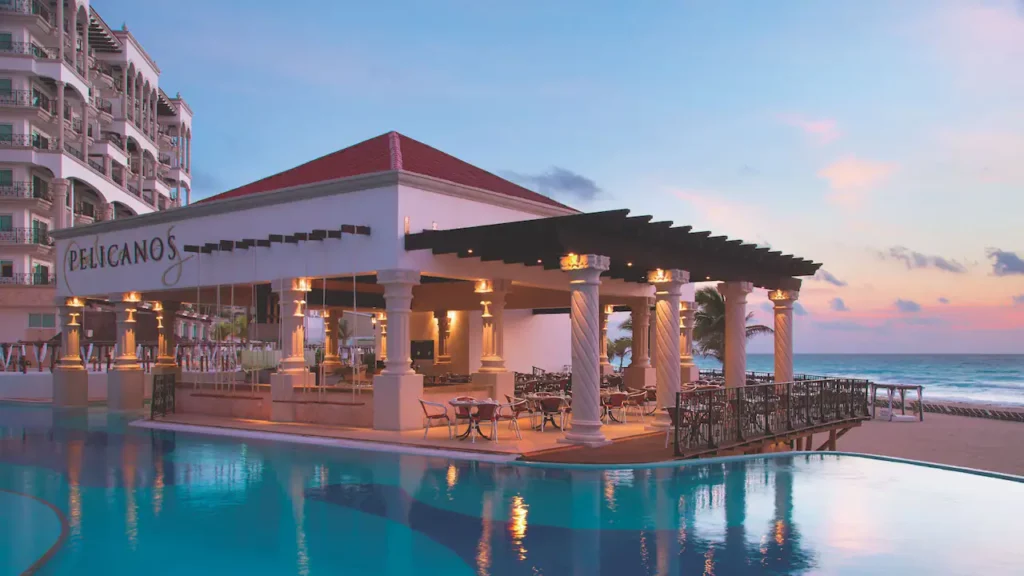 Price per Night: $1,099 – $18,421
Best For: Adults-only, all-inclusive luxury resort perfect for newlyweds and up to 58 wedding guests
Availability: Limited
The prestigious Adults-only Hyatt Zilara Cancun, recognized as one of the top honeymoon resorts on the main road of the hotel zone, provides elegance and luxury together with breathtaking views of the Caribbean Sea. While watching the sunset over the Caribbean, sip on top-shelf cocktails while lounging by the oceanfront pools.
This Cancun resort provides all-inclusive packages with ocean view, ocean front, swim-up, master, and presidential suites, 24-hour room service, and endless dining selections. At this five-star luxury resort, indulge in spa treatments and a hydrotherapy area.
Experience the excitement of kayaking, windsurfing, and paddleboarding on the private beach during the day, and then unwind at night enjoying premium brand liquors and live entertainment.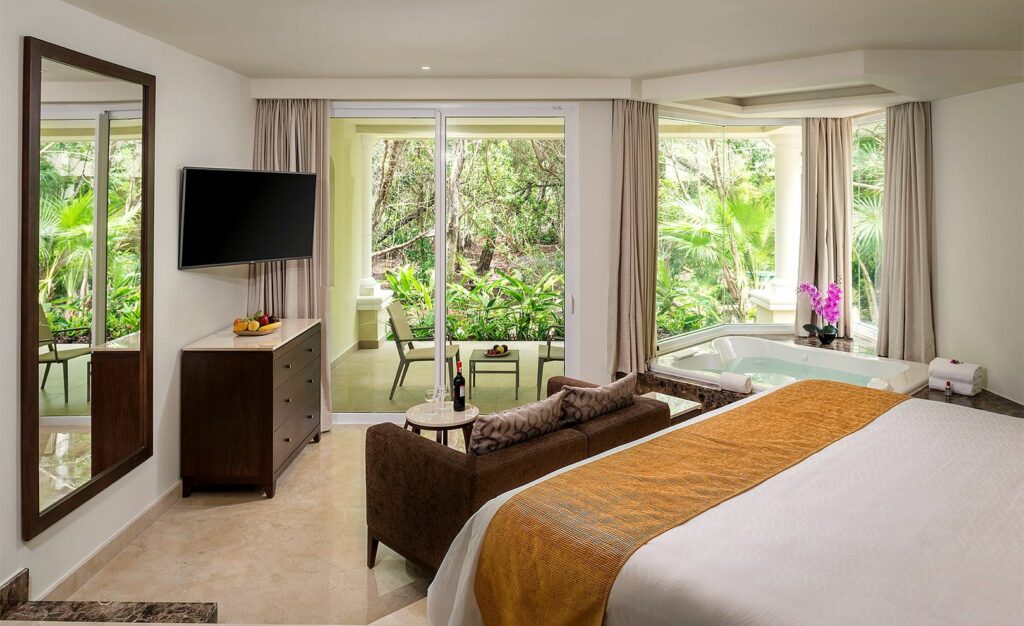 Price per Night: $299 – $710
Best For: All-inclusive resort, luxury hotel rooms
Availability: Easy to book
The Moon Palace is a tranquil haven that offers a peaceful and romantic ambiance and a diverse menu of delectable cuisines. Relax in a peaceful and scenic location with a wide range of delectable dining options, a lavish pool, and poolside gazebos.
Because of their all-inclusive package, newlyweds will enjoy first-class service. Their luxurious rooms, 24-hour room service, unlimited dining at any of the hotel's 14 world-class restaurants, wireless Internet, and in-room twin whirlpool spas are included in your stay.
Mornings are best spent relaxing in a sun-drenched personal sanctuary. The resort is a hive of activity and opportunity from sunrise to sunset. Take in how much or how little you want. Breakfast in bed and dinner under the moonlit stars are the two best ways to start and end your day.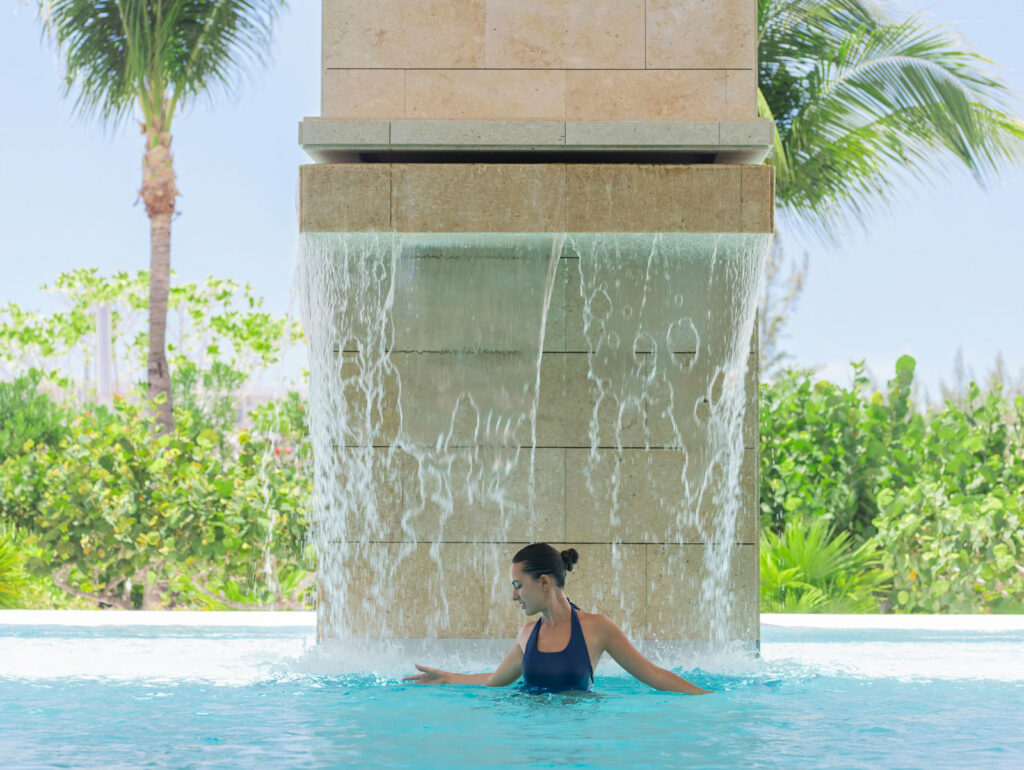 Price per Night: $370 to $770
Best For: All-inclusive resort for adults only, luxury villas
Availability: Easy to book
When looking for a premier honeymoon resort, look no further than the Beloved Playa Mujeres hotel in Mexico. Being all-inclusive and adults only makes this the resort ideal for a romantic honeymoon. The intimacy of a "boutique-type" hotel meets elegance and comfort at Beloved. Playa Mujeres's isolated coastline is ideal for a honeymoon north of Cancun. Every minute of a Beloved Hotel Playa Mujeres honeymoon will be filled with pleasure and relaxation.
Beloved Playa Mujeres embodies the best of contemporary luxury. Newlyweds will have an unforgettable honeymoon thanks to the trendy hotel architecture and décor, extensive accommodations, top-notch service, and luxurious amenities. In addition to exquisite dining, beachside golf, boating, and fishing from the inland marina, you'll also have access to various other activities in this exclusive coastal enclave.
Price per Night: $522 – $615 per night
Best For: All-inclusive, adults only – All-inclusive includes a hot tub
Availability: Good availability but book in advance for the best rates
It's no surprise that Breathless Resorts are known for its coastal elegance, trendy restaurants and bars, exotic beaches, world-class spas, and lively nightlife.
A wedding suite with a treatment room and a shopping boutique are just a few of the facilities this outstanding spa offers. Spa by Pevonia is the perfect place to unwind after a long day, as trained specialists will help you feel relaxed and rejuvenated. Enjoy their private beach and on-site water sports facilities, and end your evenings off sipping exclusive wines in their bar/ Lounge areas.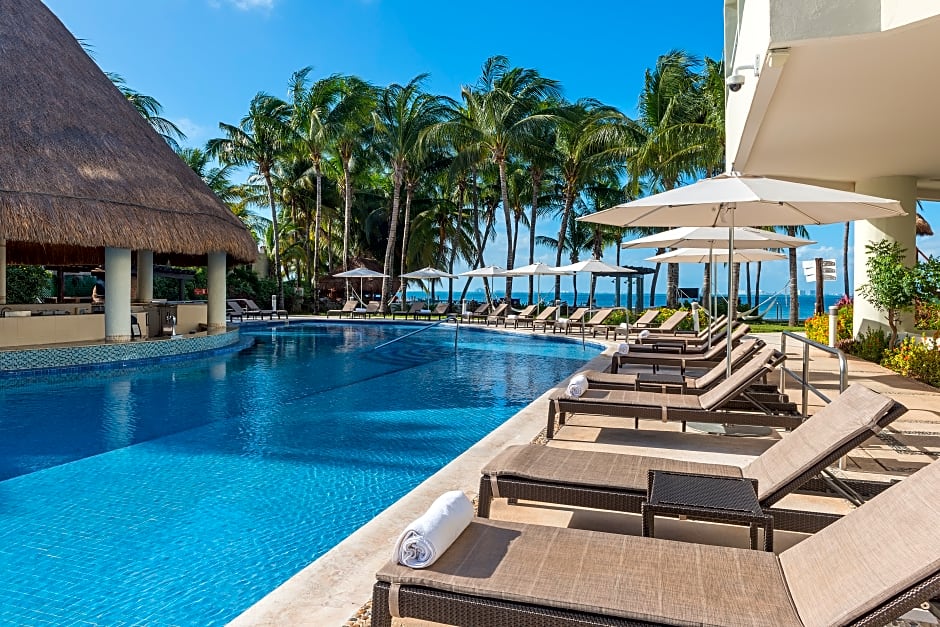 Price per Night: $700 – $1,500 per night
Best For: All-inclusive, adults-only beachfront property with a spa
Availability: Limited, book in advance
Isla Mujeres Palace Couples Within All Inclusive Resort is only a 10-minute drive from Norte Beach, where you can enjoy beach umbrellas, volleyball, and sun loungers. The outdoor pool is entertaining for everyone, while the spa offers hot stone massages for those in the mood for a bit of pampering.
One of its five restaurants, Azul, provides world food and is available all day long for breakfast, lunch, and supper. Other amenities include a marina, a rooftop patio, and a poolside bar at this high-end hotel. All-inclusive packages at the hotel include snorkeling, cycling, bartending classes, and themed events.
Price per Night: $239 – $600 per night
Best For: All-inclusive resort for newlyweds and families with children
Availability: Limited
The premium Paradisus Cancun resort is located on Mexico's white-sand beach, making it the perfect getaway for anyone seeking relaxation and pampering. Couples staying at Paradisus Cancun's opulent hotel will feel at home thanks to its wide range of luxurious accommodations. Each suite has a private balcony with stunning views of the Caribbean Sea or the Nichupté lagoon.
Guests at this all-inclusive hotel and resort may enjoy a wide range of activities. The honeymoon package includes enjoying time in the privacy of your jacuzzi after a romantic dinner. You could also play a round of golf on the resort's course or relax by one of their private pools.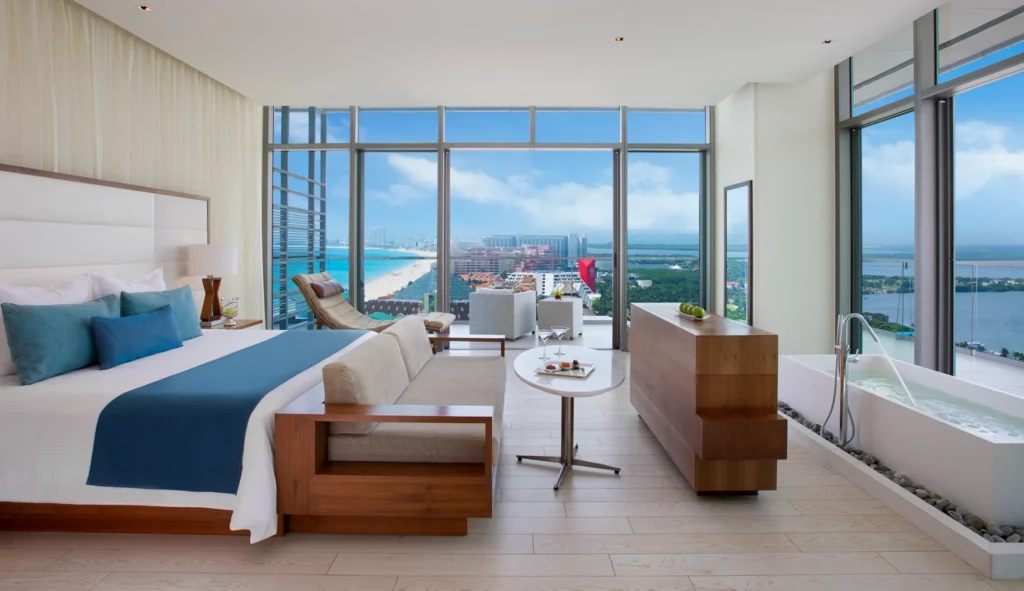 Price per Night: $439 – $1,099
Best For: All-inclusive, 5-star resort
Availability: Easy to book
Are you looking for an all-inclusive Cancun honeymoon resort that will surpass all of your expectations? Look no further than Secrets The Vine Cancun. This resort's features include three vast infinity pools, eight gourmet restaurants to suit every palate, and six contemporary bars and lounges and are only a few feet from one of the world's most stunning beaches.
This beachfront resort is conveniently located about 10 miles from the Cancun International Airport. The hotel also provides a wide range of entertainment options, including free daily activities and live performances at night.
The Secrets Spa by Pevonia, inspired by local cave-like buildings and cenotes, is a breathtaking experience, sure to steal your breath! For those who prefer zen-like meditation in the open air or water aerobics, there are various options available at your disposal.
Best Areas To Stay in Cancun
If you're not the kind that wants total isolation, there's always something spectacular happening in this well-known region of Mexico. A variety of stunning resorts are accessible to tourists, and they come in a wide range of styles, so there's no shortage of options.
Are you and your partner more interested in a romantic getaway or a trip filled with excitement and relaxation? Cancun offers everything you need, and here are a few incredible places to stay in Cancun.
Zona Hotelera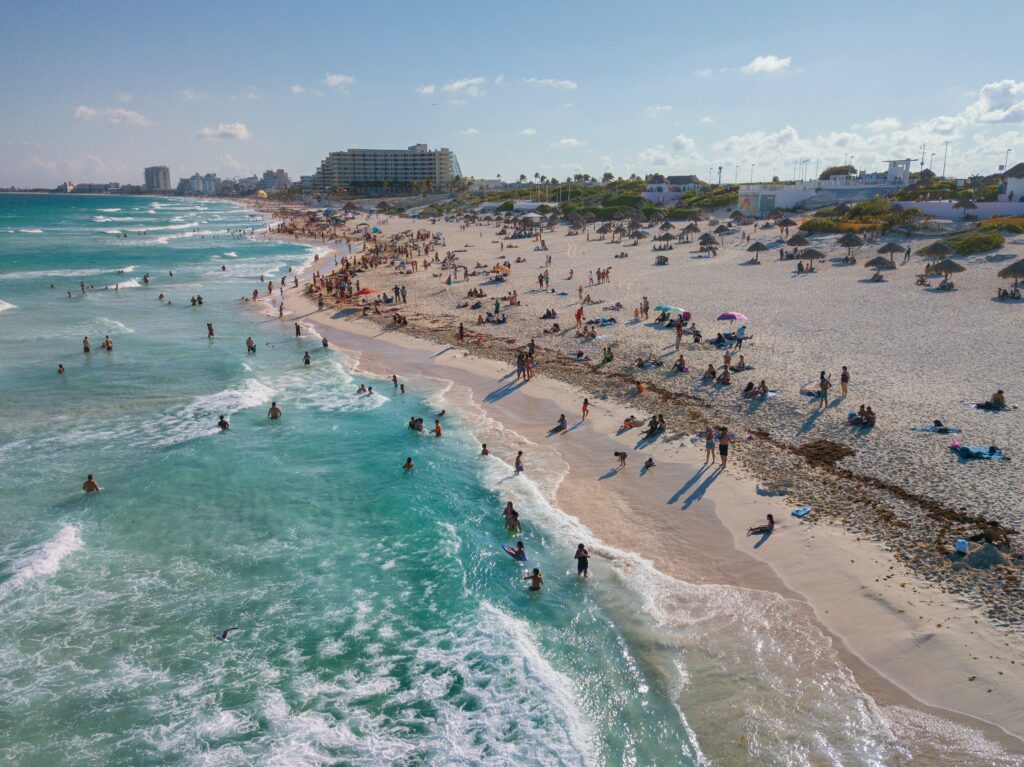 The Zona Hotelera is Cancun's hotel zone that is awash with many Cancun honeymoon resorts and surrounded by beautiful white sandy beaches. Hotel and restaurant establishments abound throughout this 13.9-mile-long peninsula, as do golf courses and retail centers. Mujeres Bay is located in the North Hotel Zone, which is located at the top of this region. Hotels in this neighborhood are within walking distance to El Centro's malls and shops, including the nightlife district of Punta Cancun.
Located near the popular honeymoon resorts are panoramic turquoise waters and beautiful sandy beaches. During the day, honeymoon couples can indulge in water activities, including snorkeling and paddle boarding, in the crystal-clear Caribbean waters.
To the north of the Punta Nizuc beach and the Airport lies a quieter neighborhood known as the South Hotel Zone, which is home to nightclubs, shopping malls, and family-friendly activities.
Beaches located in Zona Hotelera are:
Playa Delfines
Playa Caracol
Playa Ballenas
Playa Marlin
Playa Tortugas
El Centro – Downtown Cancun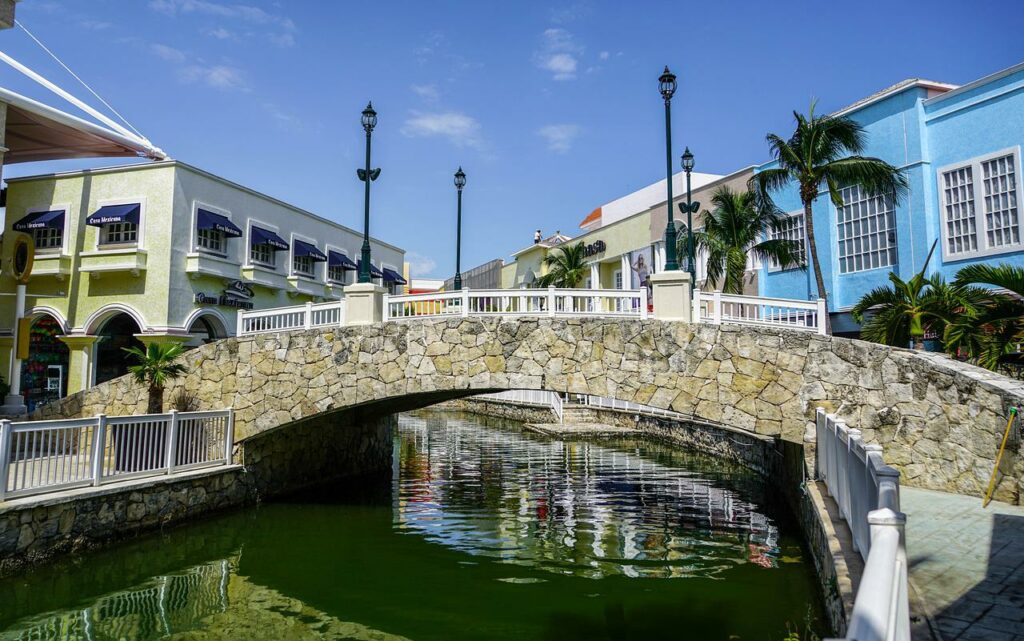 El Centro is the place to go if you want to get a true sense of the Mexican Caribbean. Explore the neighborhood restaurants and bars dishing up Mexican foods like tamales, Cochinita Pibil, and Sopa de Lima, which are all popular in Mexico. The central park in downtown Cancun, Parque las Palapas, is only a short walk from Tulum Avenue, where residents and tourists congregate to relax and socialize. Attractions including food vendors, clothing markets, and concerts are commonplace near the park's main stage.
Yaxchilan Avenue, a popular nightlife destination, offers a lot. You'll find karaoke bars, pubs, live music venues, and authentic Mexican eateries along its length. You may eat at La Parroquia de Veracruz or Los Tarascos and drink at La Cantinita.
Puerto Juarez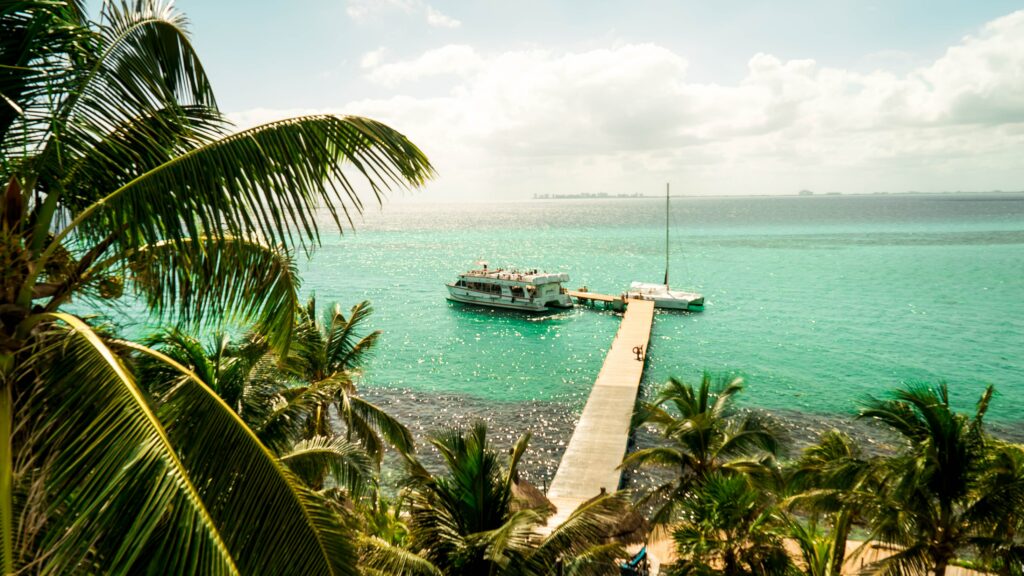 If you enjoy the concept of Cancun but would instead escape into solitude and peacefulness, Puerto Juarez can be a better option for honeymoon couples. It is located just less than 2 miles north of the action and has a port from which you can take a boat to Isla Mujeres and so much more.
In Puerto Juarez, you'll find a wide variety of reasonably priced lodging options and rustic restaurants that complement the area's laid-back vibe. The first item you should look for on local menus is seafood.
You'll find mega-yachts, smaller yachts, and boats of all kinds in the marina. If you wish to spend time in the Caribbean and participate in water sports in Puerto Juarez, this is the perfect location.
Consider staying in Puerto Juarez if you want to escape the biggest crowds, a laid-back ambiance is important to you, and you're a seafood fanatic.
Top Excursions & Activities To Do On A Cancun Honeymoon
There are many places in Cancun where you may learn about the city's illustrious history, such as ancient structures, monuments, palaces, and parks. These historical landmarks and museums will lead you on a journey through Cancun's colorful history.
San Miguelito's Mayan ruins and El Rey's archeological landmarks provide a glimpse into the ancient civilization of the Mayans. Take a day excursion to the pyramids of Tulum and Coba, both close by.
Cancun is the ultimate vacation for those who like water activities and natural beauty. Swimming, canoeing, scuba diving, paddle boarding, fishing, and sailing are popular activities in the Caribbean Sea's warm, tropical waters.
Snorkeling is a popular pastime for tourists visiting Cancun. The richness and beauty of the vibrant tropical fish and other underwater life can be seen without you having to be an expert or even swimming very far. Or, for experiences that will last a lifetime, you may want to go in a glass-bottom boat to see the spectacular underwater views.
Sample Itinerary & Budget For Your Honeymoon To Cancun
Cancun has a wide variety of attractions, so you might want to plan a honeymoon vacation that is both relaxing and adventurous. If you like shopping, you won't be disappointed since there is a wide variety of stores to choose from, ranging from exclusive boutiques to contemporary shopping centers.
When it comes to Cancun, you can count on its locals to make your vacation a positive experience filled with smiles and good spirits. Budget between $255 to $445 daily for your planned excursions, eating at restaurants and cafes, and activities.
Day 1: Visit the beaches.

Located just west of central Cancun, Playa Tortugas is a small but frequently crowded beach with several palapas and restaurants. Visiting the little beach is completely free, and various sports and games are available for all ages and abilities.

At Restaurante Las Hijas de la Tostada, you can enjoy worldwide flavors and some of the island's most excellent seafood for as low as $10 to $40. If you wish to buy some trinkets or other local crafts, there are a ton of shops close by.
Price: Free
Day 2: Explore the fascinating history of Yucatan.

Taking a guided tour of the UNESCO World Heritage Site of Chichen Itza is highly recommended. Day excursions make a visit incredibly simple, too. They usually begin with a pick-up from your hotel in the Hotel Zone or Centro section of the city, followed by transport to the historical site and, if desired, a tour led by an expert historian.

You'll learn about the history of Chichen Itza's renowned constructions, such as the Kukulkan Pyramid, the Temple of a Thousand Warriors, and the Upper Temple of the Jaguar.
Price: $64.00
Day 3: Isla Mujeres and Cancun's centro.

The Ultramar ferry connects the mainland to the island of Isla Mujeres, so you'll need to get up early to catch it. Grab a bite to eat at one of the island's several cafes.

Renting a golf cart for the day is a great way to see the island. Ixchel Temple's amazing Mayan remains may be found near Punta Sur, where wild waves slam against cliffs that hold the magnificent Mayan ruins of Ixchel Temple. If you're in the mood for lunch, go to Acantilado restaurant's outdoor terraces. The fajitas on the menu are to die for, and the margaritas go well with the oceanfront backdrop. Additionally, if you've got the time, you'll find several soft-sanded beaches around that island.
Golf Cart Rental: $40 – $60 a day
Day 4: Explore the stunning Riviera Maya.

When visiting the Riviera Maya, having your own vehicle for the day will make things much more manageable. Even if you can't make it, buses connect most major cities daily. Your lunch destination will be Playa del Carmen. In recent years, this town has grown to rival Chiang Mai in the Yucatan, thanks partly to the influx of excellent foreign cuisine.

La Cueva del Chango's hot salsas and vegetable tacos are too tempting to pass up. Before you dine, take a walk down the main beachfront, lined with loungers and bars. As a popular watersports destination, this is one of the most popular sites on the Riviera.

Take a trip to the Tulum Archaeological Zone. Archaeological remains may be found around this area's gigantic Pyramid El Castillo. Look for Templo Dios del Viento on the coastline if you're looking for a good photo op location. Remember that it takes two hours to return to Cancun from this location, so plan your day accordingly.
Car rental price: $152 per day
Day 5: Cenotes & Nightlife.

You should include the Yucatan Peninsula's many cenotes in every Cancun vacation itinerary. These sinkholes are formed by natural erosion on subsurface rivers and springs. There are several options if you're looking for a place to swim that's not on the beach. You can visit Cenote Siete Bocas, Cenote Azul, and Cenote Dos Ojos, when it comes to Cancun's cenotes.

Lunch is typically included on itineraries that visit three or four cenotes. Hire a car and do it alone, if you choose. We'll let you decide which cenotes are the greatest, although a handful stand out. Regardless of the season, the nightlife in Cancun is positively bouncing. Be sure to visit Congo Bar Cancun; the iconic Coco Bongo, Mandala, and Hard Rock head the pack.
Price – $17 – $35 admission fee
Frequently Asked Questions
How much does a Cancun honeymoon cost?
The expense of a Caribbean or Mexican honeymoon ranges from $5,000 to $7,500. All-inclusive honeymoon packages start at $800 per person for a five-night stay, depending on the hotel and packages you choose.
When is the best time to visit Cancun?
From December through April, Cancun is the most popular tourist destination. The weather is generally warmer but not too hot or humid. There will be temperatures between around 75 and 90 degrees Fahrenheit and no rain. Sometimes, cold fronts might bring a few days of chilly weather.
What is the best way to travel around Cancun?
The bus is the most popular mode of transportation for tourists visiting Cancun. Buses link the Hotel Zone, Boulevard Kukulcán, and Avenida Tulum so that you can travel to most of your must-see destinations.
Start Planning The Perfect Romantic Honeymoon Getaway
Cancun, Mexico is the idyllic honeymoon destination for newlyweds who wish to start their lives together along the city's 8.6 miles of beaches of white sand overlooking the Caribbean Sea. Peace and relaxation are easy to come by at several reasonably priced, all-inclusive resorts.
Cancun has a rich Mayan culture that visitors may experience by going on tours of ancient ruins, trekking through the tropical rainforest, 4×4 adventures, parasailing, and many other activities. Those looking for adventure beyond the resort's bounds can find it in Cancun. Don't miss out on the lively nightclubs in the downtown area of Cancun, which are among the greatest in the world.
Check out each resort's honeymoon packages, and don't forget to use the Couples Travel resources while planning the ultimate romantic honeymoon getaway to any place they can envision.