Nothing paints the picture of a perfect honeymoon better than white sand beaches, crystal clear waters, and relaxing under a swaying palm tree with your loved one. And thanks to the US Virgin Islands, you don't even need your passport or figure out exchange rates to get precisely that for the first big trip as a married couple!
Our ultimate guide to a honeymoon on the US Virgin Islands will provide you with the best honeymoon resorts to relax and decompress after the busy phase of planning and having a wedding, introduce you to the most versatile areas to stay in, as well as a wide array of activities that range from snorkeling to shopping – whatever your soul might desire.
On top of that, we have put together the perfect 7-day itinerary for lovers on their US Virgin Islands honeymoon that will have you completely smitten with your upcoming trip!
What Makes The Virgin Islands Perfect For A Honeymoon
Whether you enjoy sipping cocktails while watching the sunset, go on hikes through lush tropical forests filled with exotic flowers, or seek adventure with water sports in the turquoise waters that surround the numerous smaller islands as well as St Thomas, St John, and St Croix, or just get pampered at your resorts spa during a couples massage – the Virgin Islands have it all and more.
Thanks to being situated right in the Caribbean Sea next to Puerto Rico, the Virgin Islands offer that wonderful Caribbean feeling with lots of exotic influences from South American and Kreole immigrants and its rich history as a vital trading port back in the 1600s.
Besides just relaxing under the palm trees, honeymooners can enjoy some excellent shopping opportunities, hop on jetskis, explore the rich underwater world of the Caribbean Sea, and all of this without even leaving United States territory – what's there not to love?
Best Honeymoon Resorts, Hotels, and Other Stays in the Virgin Islands
No matter what the focus of your Virgin Islands honeymoon trip will be, the main islands of St John, St Thomas, and St Croix have wonderful honeymoon resorts and other accommodations on offer that will suit anybody's interest and budget. To make the choice a little easier for you, we have put together the most outstanding honeymoon resorts: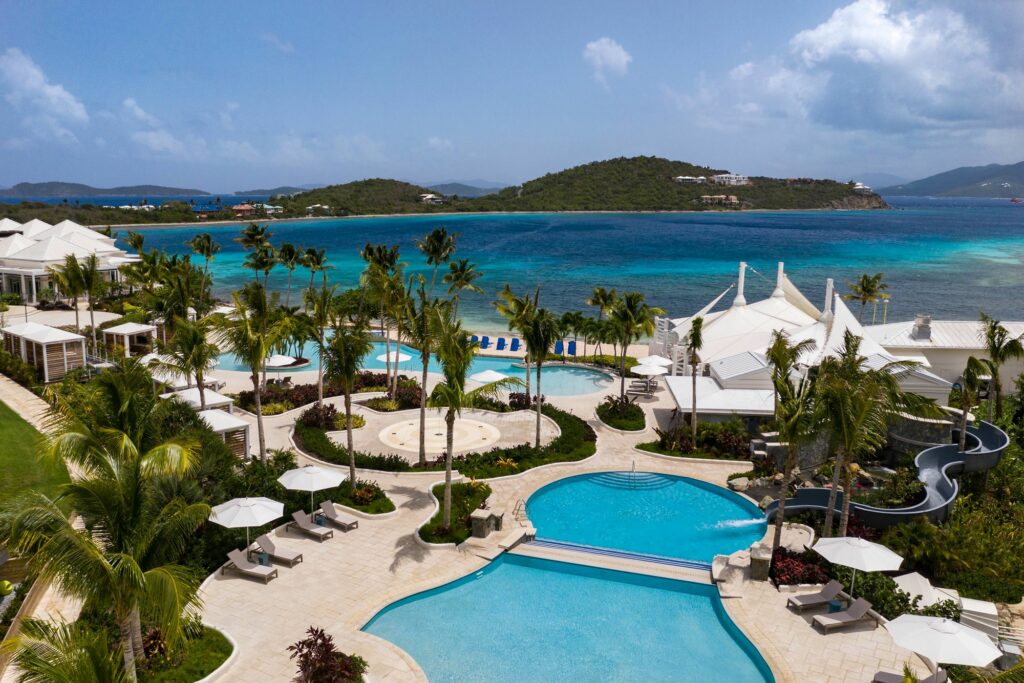 Price per Night: US$849 – US$1,649
Best For: Couples
Availability: Easy to book
The Ritz Carlton is particularly popular with couples seeking a tranquil and effortless honeymoon resort. Thanks to the stunning infinity pool, the close vicinity to stunning white sand beaches of Great Bay, and suites with private terraces and access to a hot tub, you will have anything you need to make this your ultimate romantic getaway.
On top of that, there is access to a catamaran that leaves from the hotel, right into one of the stunning sunsets of the Caribbean Sea.
Price per Night: US$435
Best For: younger couples, all-inclusive
Availability: Easy to book
If you are looking for an all-inclusive honeymoon resort that provides direct access to all kinds of water sports, then Bolongo Bay Beach Resort is the right choice for you.
Apart from beautiful scenic views over the beaches and bay, you will have from your private terraces, and you can go on fun activities with your spouse, such as a snorkel "booze hunt".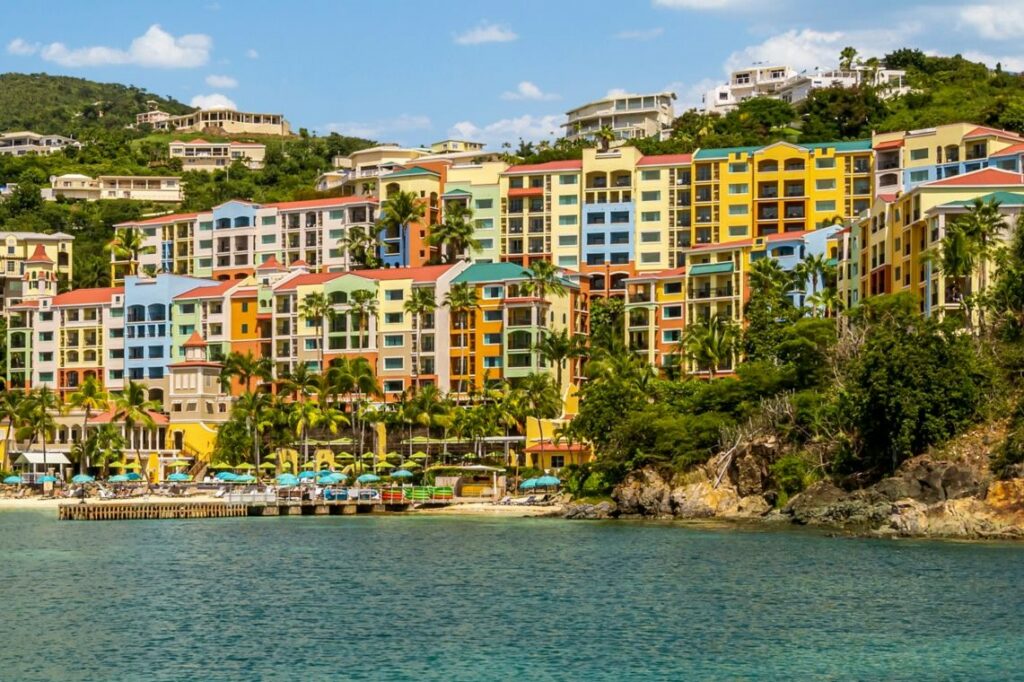 Price per Night: US$539 – US$739
Best For: extended stays
Availability: Limited to book
This stunning location offers villas with all the amenities you could look for, a large spa area and fitness center, and access to two swimming pools overlooking the beautiful Pacquereau Bay.
On top of that, a ferry leaves from right in front of the Marriott's Frenchman's Cove to take you to St Thomas' shopping district.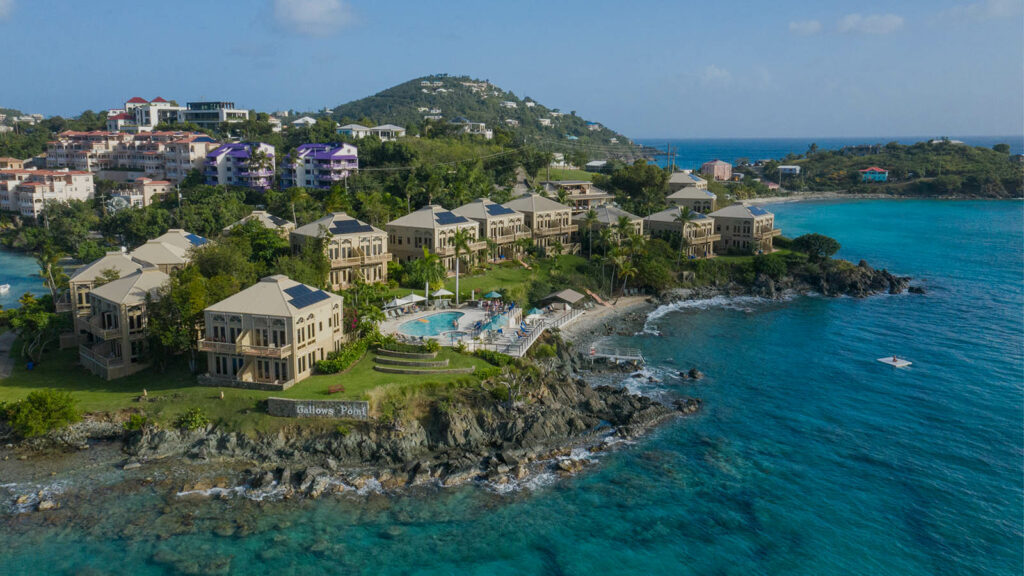 Price per Night: US$1,275 – US$1,785
Best For: couples
Availability: Limited to book
Overlooking the beautiful Cruz Bay, the charming Gallows Point offers an intimate resort with only 60 rooms that each offer a stunning ocean view. On top of that, you get to book activities such as hiking, sailing, or riding on a horse on one of the many stunning beaches of Cruz Bay.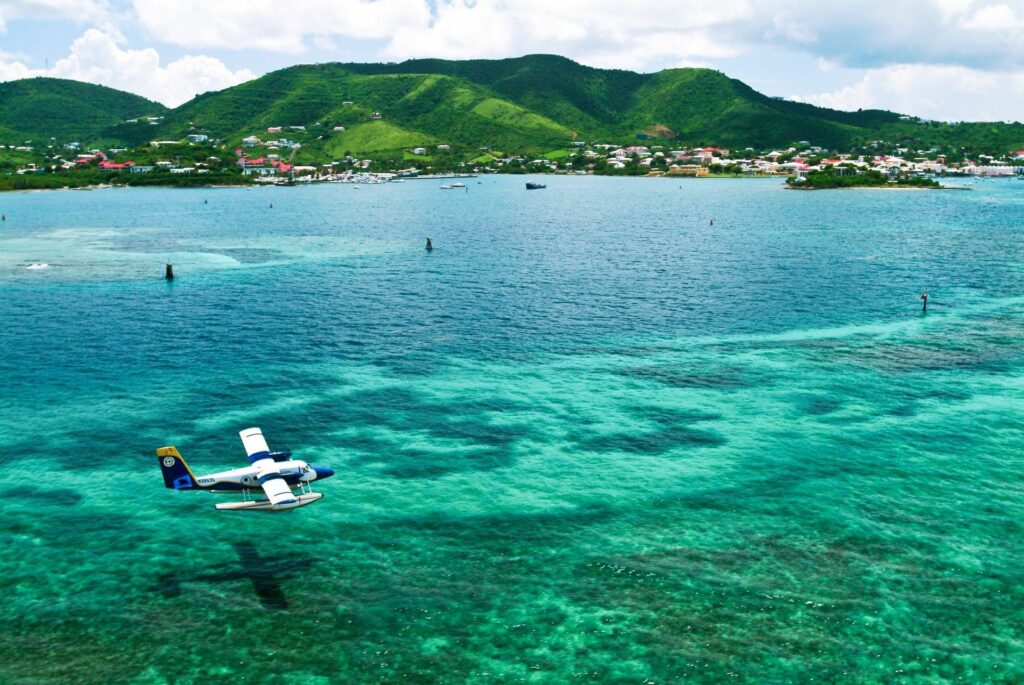 Price per Night: $423 – $1,133
Best For: long stays
Availability: Easy to book
A former sugar mill and factory, this family-owned, eco-focused resort has been restored from its 1730s charm into one of the most prestigious hotels on the Virgin Islands. Plus, each room offers a stunning view of the Caribbean Sea!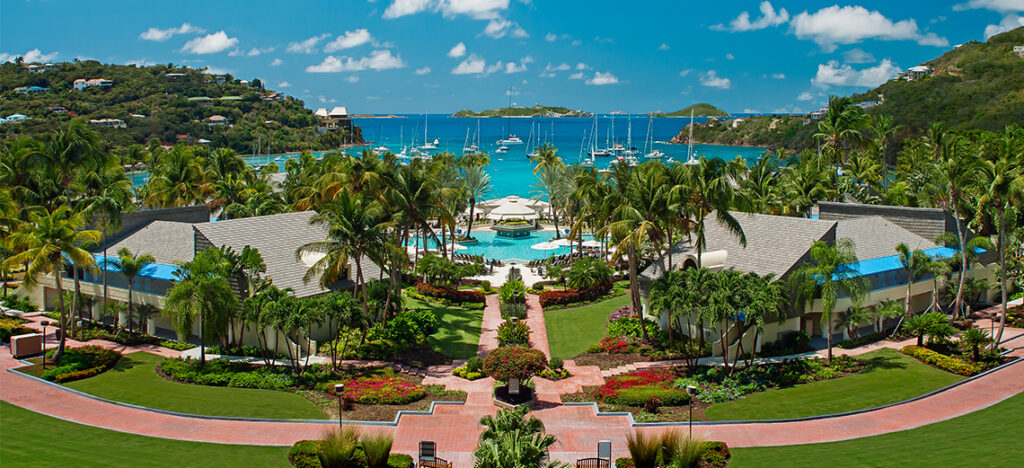 Price per Night: US$479
Best For: extended stays
Availability: Limited to book
Looking for a resort that makes you not want to leave your private villas forever – the Westin on St John offers you access to some of the most beautiful beaches if you ever make it out of your spacious private accommodation. Here you and your loved one get to snorkel, sunbathe and enjoy the serenity of the Caribbean Islands in all their glory.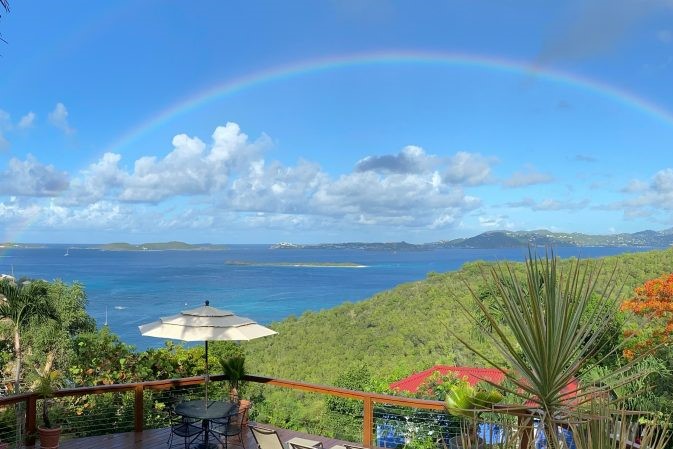 Price per Night: $275 – $315
Best For: adults-only
Availability: Limited to book
If you are looking for the ultimate honeymoon resort on the Virgin Islands, it cannot get better than the boutique hotel, the Estate Lindholm. After all, you will have access to the infamous honeymoon beach!
If you decide to stay in one of the Lindholm's fourteen historic but refurbished boutique rooms, you will be able to add special honeymoon packages and guided tours and excursions from the comfort of your bed, overlooking the Caribbean Sea.
Best Areas To Stay in the Virgin Islands
Now that you have an overview of the different resorts the US Virgin Islands have to offer for your ultimate honeymoon trip, it is also essential to know precisely which areas are best to stay in when visiting the US Virgin Islands for the first time.
With lots of smaller islands all along, such as Buck Island, which is definitely worth a visit, the list below will focus on the three main islands, St Thomas, St John, and St Croix, simply based on the wide variety of offerings and things to do on these three of the Virgin Islands.
St Thomas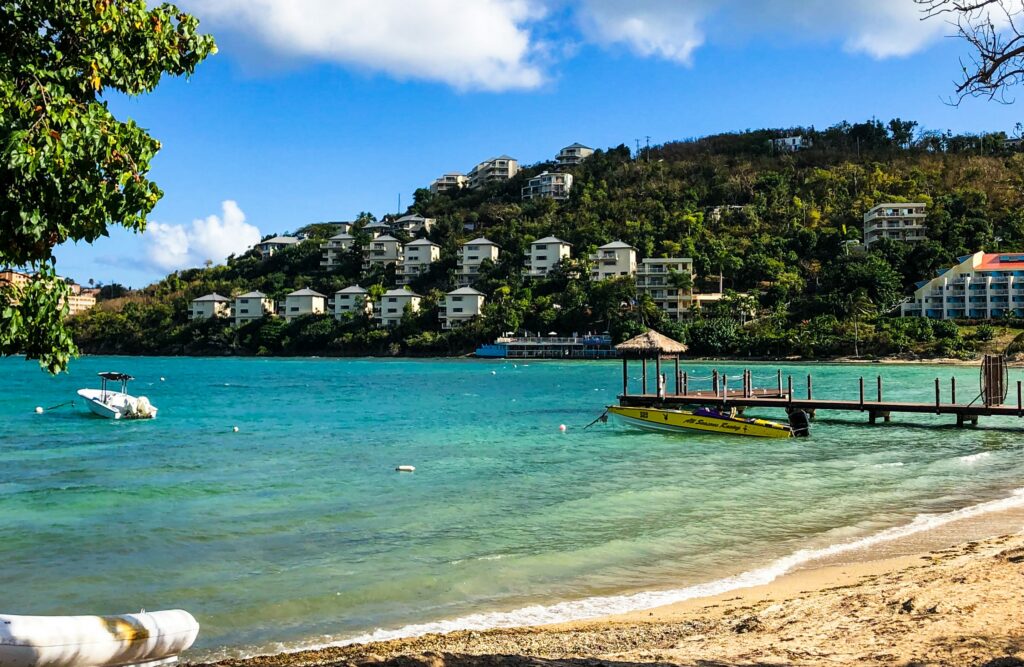 With the territorial capital Charlotte Amalie, St Thomas is probably the most international of all the Virgin Islands and offers plenty of tax-free shopping opportunities while also being a scuba and snorkel paradise for couples and families from across the globe alike.
Here's what St Thomas has to offer:
Coki Beach, with the educational Coral World Ocean Park nearby, which offers a stunning Seatrek Safari for those underwater enthusiasts.
Red Hook offers ample shopping and restaurants if you get bored of just relaxing in your resort.
Another stunning and highly-frequented public beach is Magens Bay Beach. One special feature is the beachside concession stands!
Close vicinity to Buck Island for a short excursion to this jewel of the Virgin Islands
St Croix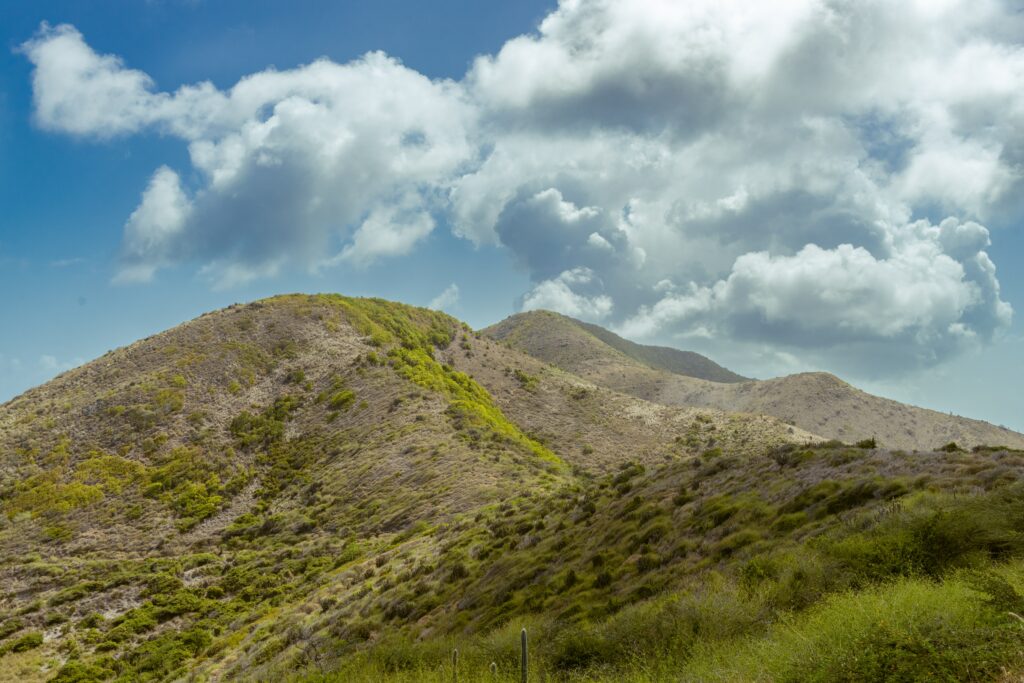 While this island probably has the most historic sites from old Danish colonial times:
Fort Frederik in Frederiksted and Christiansted National Historic District are an impressive remnant of the time the Europeans, specifically the Danish, who used to run these islands.
St Croix is known for its culinary excellence – the "Crucian" influence in the cuisine here is something for foodies from across the globe.
Coral reefs all around the island invite scuba enthusiasts to go into the blue.
For romance – enjoy a lengthy horseback ride on the beaches of the Northern coast, along a historic sugar plantation.
St John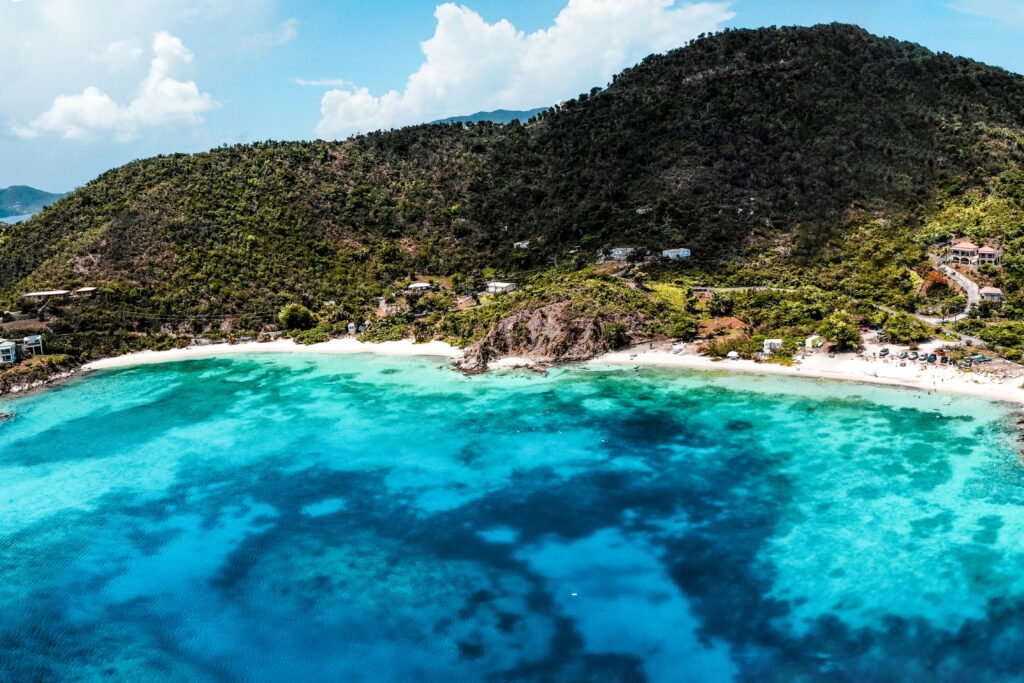 While it's the smallest of the three main islands, St John is also the lushest of the three sisters, with almost two-thirds of it being part of the Virgin Islands National Park and, therefore, truly a haven for nature and outdoor enthusiasts. While you can also enjoy cosmopolitanism in the main town of Cruz Bay, the natural beauty of the island should be the main focal point:
Hiking trails are to be found everywhere across the island, for instance, the scenic but demanding Reef Bay Trail.
Some of the Virgin Islands' most iconic beaches are located here:

Cinnamon Bay
Caneel Bay
Trunk Bay
Jumbie Bay

Leinster Bay is the perfect place to go underneath the surface of the Caribbean Sea and enjoy the extraordinary underwater world while snorkeling in the warm and (mostly) calm waters.
Top Excursions & Activities To Do On A Virgin Islands Honeymoon
Now that you know which islands to focus on when visiting the US Virgin Islands for your honeymoon, here are the top things to do on the three main islands, including an extra excursion leading you to another gem of an island right around the corner.
Some of the most visit-worthy areas and pristine beaches on the three US Virgin Islands are Trunk Bay, Lindquist Bay, the Reef Bay Trail, Magens Bay Beach, Honeymoon Bay, and many more. Still, no matter where you will end up going on either St John, St Thomas, or St Croix, the following activities will be accessible to you from anywhere there:
Water Sports
What is an island honeymoon without spending a significant amount of time frolicking in the crystal waters of the Caribbean Ocean? Here is a list of things that you can (and should) do from almost any bay or one of the sandy beaches these islands have to offer:
Scuba Diving (best in The Cane Bay Wall, St Croix; Cow & Calf Rocks, St Thomas; Frederiksted Pier, St Croix)
Snorkeling (best in Coki Point, St Thomas; Leinster Bay, St John; Cane Bay, St Croix; Hurricane Hole, St John; National Reef Monument, Buck Island)
Kayaking (anywhere depending on tides and currents)
Jet Skiing
Paddleboarding (same as kayaking)
Hiking
As mentioned above, St John has some of the most epic hiking trails where couples can get lost amongst the beautiful canopy of the tropical rainforests. Still, there is excellent hiking all across the islands.
Here is a list of hiking trails that the Virgin Islands offer and are not to be missed:
Reef Bay Trail
Annaberg Plantation Path
Ram's Head Trail
Salt Pond Trail
Sightseeing
Walk through the rich historical sites that tell the tale of times when famous pirates such as Blackbeard or Henry Morgan frequented the ports of these Islands back in the 1600s.
Fort Christian and Crown House
Fort Christiansvaern Fort Frederick
Annaberg Sugar Plantation and sugar mill
Megan's Bay
Visit Buck Island
Close to St Croix and St Thomas lies this adorable islet. Thanks to being part of the Buck Island Reef National Monument, this island lets scuba diving enthusiasts' hearts beat faster. It offers some of the most impressive coral formations in the area, if not possibly the globe.
On the other hand, the island's highest point makes for an impressive viewing spot and can be reached by a leisurely trek. All of this, and more, make Buck Island a worthwhile excursion.
Sample Itinerary & Budget For Your Honeymoon To The Virgin Islands
Now you have all the accommodation and places to go and things to see and do on the US Virgin Islands, but how to decide on doing what and when with such a fantastic range of options on offer?
No need to fall into despair; we have done our research for you so that the two of you can truly focus on just being lovebirds and enjoy your honeymoon, thanks to our epic sample itinerary, which is a mix of a little bit of everything!
Activity
Weekly Cost
Accommodation
$2000 – $15,000 (depending on your choice of accommodation and packages) for a couple for seven days
Flights
Depending on where you will be flying from to the Virgin Islands, here is what you will be paying on average:

-NYC to St Thomas: $200 for 4 hrs non-stop
-NYC to St Croix: $480 for 7 hrs with one-stop
-LAX to St Thomas: $550 for 10 to 11 hrs with one-stop
-LAX to St Croix: $770 for 11 hrs with one-stop
-IAH to St Thomas: $400 for 5 hrs non-stop
-IAH to St Croix: $500 for 7.5 hrs and one-stop

Traveling to St John from either island by boat only will cost:

-Red Hook, St Thomas to Cruz Bay, St John: $6 for 20 mins
-St Thomas Gallows Bay, St Croix to St John: $12 for 45 mins
Food & Drink
$45 per person per day
Local Transport
$20 per person per day
Scuba Diving
$65 per tank/ dive per person
Snorkeling
$6 per person (unless you bring your own gear)
Visit Buck Island
approx $120 per person for a 6-hour day trip
Day 1: Arrival in St Thomas via Cyril E. King Airport and make your way to your resort with your mode of transport. Get settled in, enjoy a refreshing welcome cocktail and let the calm and warm breeze of the ocean tickle your skin.
Freshen up and go for your first romantic meal in one of the island's plentiful and tasty restaurants, specifically in Charlotte Amalie.
Day 2: Take a scenic drive & discover the island! Visit Paradise Point, have a lookout over Charlotte Amalie, or go to the Mountain Top to have the best viewpoint over most of the Virgin Islands!
Spend the afternoon going for a paddle board or kayak trip from Magens Bay Beach, followed by a couples massage and a late romantic meal at your resort.
Day 3: Let's explore some of the islands and islets! Time to jump on a boat and drive out to Buck Island and explore the beautiful coral reefs and water world surrounding the US Virgin Islands.
You can even stop for a short visit to the beautiful honeymoon beach; do we need to explain why?
Day 4: Switch over to St John for a change of scenery and enjoy a full day exploring some of the best beaches the Virgin Islands have to offer. Pack some lotion, a book, and your boo and just relax under the swaying palm tree at one of the many beaches available to you, including:
Caneel Bay Bach
Trunk Bay Beach
Hawksnest Beach
Denis Bay Beach
Jumbie Beach
Cinnamon Bay Beach
If you have relaxed enough, get ready to hike some of the epic trails on St John and get immersed in the lush natural beauty of the island before you return home for a quick refreshing dip in your hotel pool and a local dinner.
Day 5: If you enjoyed your hikes of day four, those were only a little warm-up cause day five should be reserved for the epic Reef Bay and Ram's Head trail, followed by another spa treatment or full-body couples massage at your resort.
Day 6: Now you get to choose whether you would just like to relax on one of the plenty of sandy beaches of St John, or if you would like to go on some further water sports adventure and rent some scuba or snorkel gear and explore the beautiful underwater world around the island.
Round off the week on your last night with some dinner and a cocktail or two in Cruz Bay.
Day 7: Enjoy one last swim in the Caribbean Sea before you pack and catch your ferry before your return flight home from either St Thomas or St Croix.
Frequently Asked Questions
How much does a Virgin Islands honeymoon cost?
A week in the US Virgin Islands can cost you approximately $2800. Remember that this very much depends on your accommodation and travel package as well as on how many excursions and what kind of activities you will be getting up to.
When is the best time to visit the Virgin Islands?
While you can enjoy a visit to the US Virgin Islands all year round, thanks to pleasant weather throughout the seasons, you should beware of the hurricane season (June – October), which could significantly impact your stay.
Our special insider tip, however, is to visit outside the quite touristy winter season, which would leave April to June (the super colorful carnival season) and October & November.
What is the best way to travel around the Virgin Islands?
You can reach St Thomas and St Croix easily by plane but will have to use a boat or ferry service to get to St John or Buck Island. If you wish to get around the islands and explore different parts and towns, a taxi service might be the most reliable way to get around.
Some other modes of transport could include scooters, bicycles, foot, or a rental car.
Start Planning The Perfect Romantic Honeymoon Getaway
The US Virgin Islands seem to be straight out of a fairy tale for honeymooners and helpless romantics. Vast sandy beaches, warm summer breezes, and an ocean with waters so crystal clear you almost won't even need goggles anymore. It is a dream come true for newlyweds worldwide, and we understand why.
Hopefully, this guide gave you insights into what makes the US Virgin Islands such a popular destination for young couples and those wishing to celebrate their anniversaries. Now, if we have even just ever so slightly made you interested in booking your honeymoon here, hopefully, our sample itinerary could help you with the planning even more.
So, what are you waiting for? The Caribbean honeymoon of your dreams is just a short national flight away! If you're interested in exploring more options before settling on your dream honeymoon, be sure to check out our other Couples Travel guides for more information.
List of references: