When planning your next romantic getaway, the planning should never get in the way of the romance! But logistics, accommodations, and what to do with your partner can often cause a lot of unnecessary stress.
But we've got you covered. To make your next romantic trip feel like you're on cloud nine from start to finish, we have put together this ultimate travel guide for Charleston, SC.
Read on to find trialed and tested tips and tricks on where to stay and what to do during your next Charleston getaway. Plus, we'll throw in a sample itinerary and budget to make sure you're covered!
Pack your bags and grab your loved one – off you go, lovebirds!
What Makes Charleston, SC Perfect For A Romantic Getaway?
It might come as a surprise for some, but Charleston is probably one of the most romantic cities in the States.
Charleston will enchant you with:
stately waterfront mansions along the Ashley River
plenty of fine dining
cozy restaurants
romantic walks towards the Morris Island Lighthouse in the evening
and so much more…
On top of that, there are some pretty romantic places in the area, in case you get tired of staying in one place. For instance, Lowcountry or Beaufort. Both are perfect for a day trip, thanks to their vicinity to the Holy City.
Most Romantic Getaways in Charleston, SC
The charming cobblestone streets, historic houses, and the elegant French quarter will offer more than enough for a long weekend. So, you can devote your whole trip to romance and quality time for two.
For history buffs, the many plantations in and around Charleston will be interesting destinations. Foodie couples will love the historic part of Charleston as well as Downtown Charleston, where you can munch away at amazing restaurants.
In summer, couples can take a boat out to sea or take long romantic walks along the beach fronts.
Charleston really offers something for every couple. But to make it easier, we have put together the best spots to definitely check out!
Charleston Plantations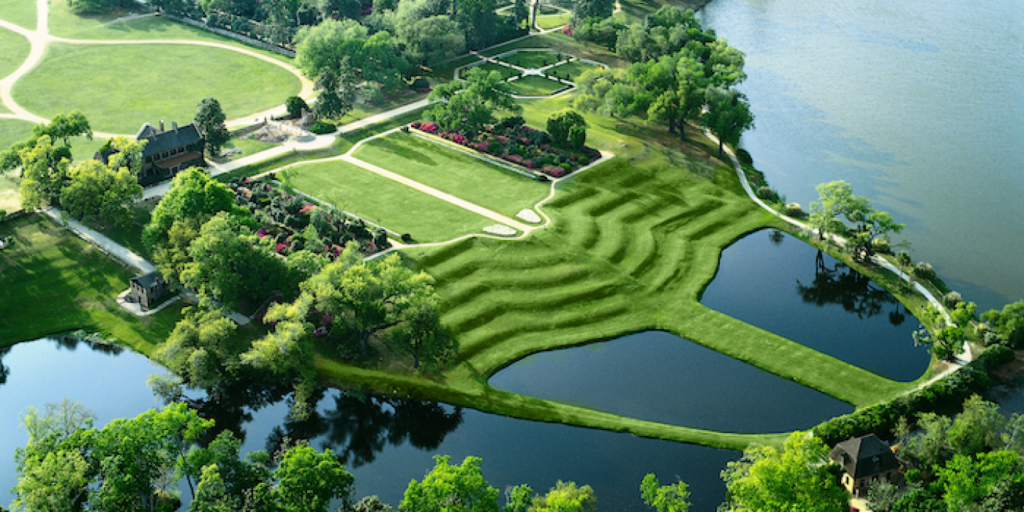 Even though they have a controversial history, the old Plantations of Charleston are one of the top places to escape to. Especially when wanting to get out of the hustle and bustle of the city.
These stunning manor houses and beautiful lush gardens are a sight to behold. We highly recommend trying to see as many plantations as you can during your visit to Charleston.
To make it easy for you, here is a list of the highest-rated plantations in Charleston:
Boone Hall Plantation (which was used for the infamous romantic movie The Notebook).
Magnolia Plantation (with America's oldest garden, dating back to 1676).
Middleton Plantation (with some of the lushest and most beautiful gardens and stableyards).
Historic Charleston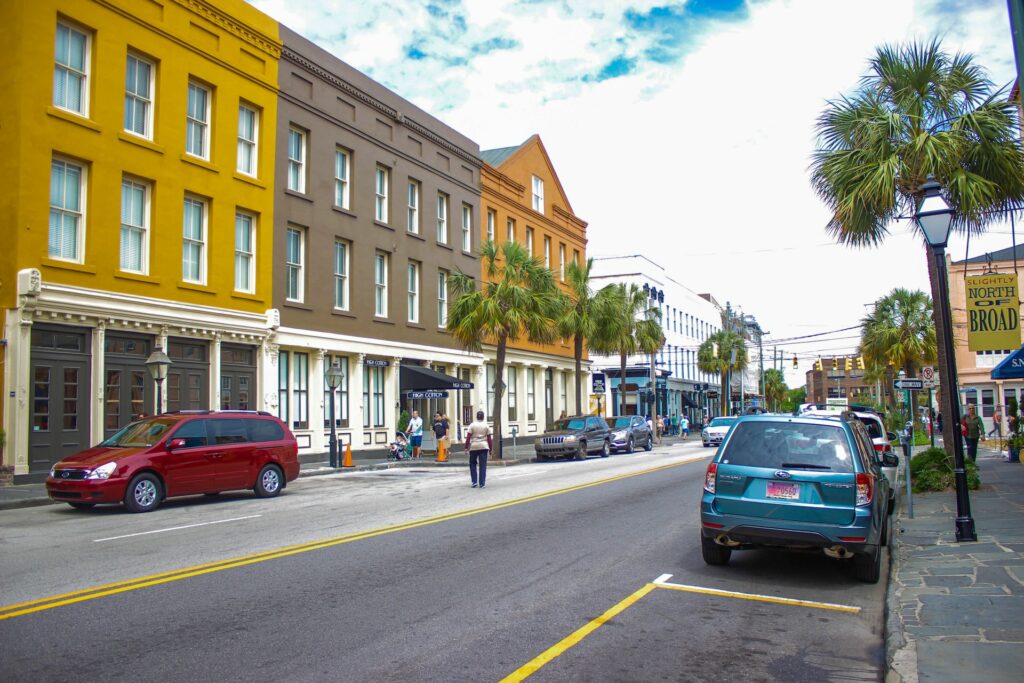 Filled with cobblestones and colorful Georgian-style houses (famously known as Rainbow Row), the old town of Charleston is basically out of a couple's dream.
It includes the stunning Waterfront Park, which offers romantic strolls stretching over 1,000 feet along the coastline and the Ashley River.
Speaking of romantic strolls, a walk down Church Street will definitely not disappoint either. The massive oak tree that overhangs this street makes for a beautiful photo backdrop and is frequented by many horse-drawn carriage tours.
The Battery Promenade is arguably the most romantic spot for couples to watch the sunset over Charleston, SC.
Best Accommodation in Historic Charleston: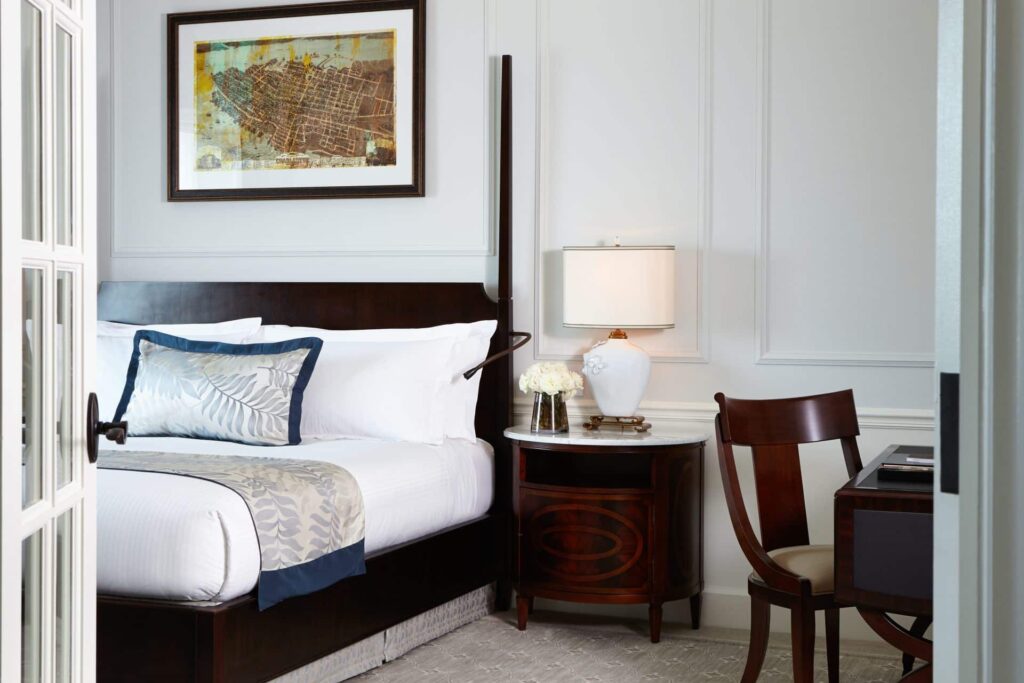 Price per Night: from $418
One of the best-known Charleston hotels is Charleston Place. A historic hotel that offers three in-house restaurants and four bars, as well as a full-service spa and swimming pool. Did we mention the indoor and outdoor pool, by the way?
You will be able to sip away on some cocktails with your significant other on the stunning rooftop terrace by the pool deck before you head to the Charleston Grill. This restaurant offers live jazz music and Southern American cuisine with a contemporary twist.
If you wish to cuddle up between the sheets all day, no worries. All the rooms come with room service, too, so that you can enjoy your continental breakfast in peace.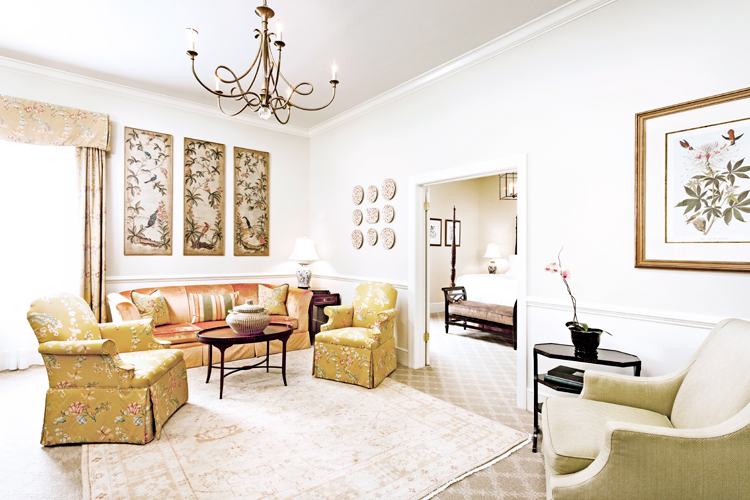 Price per Night: from $318
The Planters Inn was built in the historic district of Charleston, right next to the Historic Charleston City Market.
Apart from outstanding room service and tea, as well as coffee makers in the rooms, you will find complimentary orange and mango tea in the parlor. There are also continental breakfasts for every guest.
The Dock Street Theatre is about five minutes walking distance, so are the:
College of Charleston
Charleston City Market
Waterfront Park
One of the romantic highlights you can book from this hotel are:
Champagne and cake for two
A private carriage ride
A teddy bear as a souvenir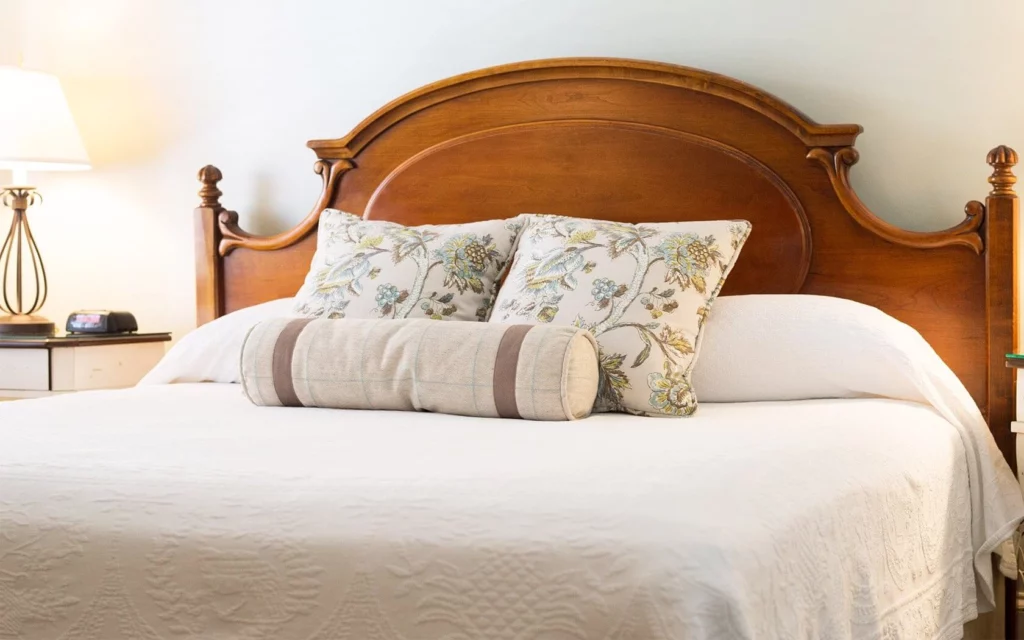 Price per Night: from $229
Located on King Street, the Fulton Lane Inn offers plenty of romantic getaway packages. These will assist you with your quest to explore Charleston and make the planning much easier.
On top of that, you will receive a complimentary continental breakfast delivered to your room daily, while there is coffee and tea available in the lobby 24-7.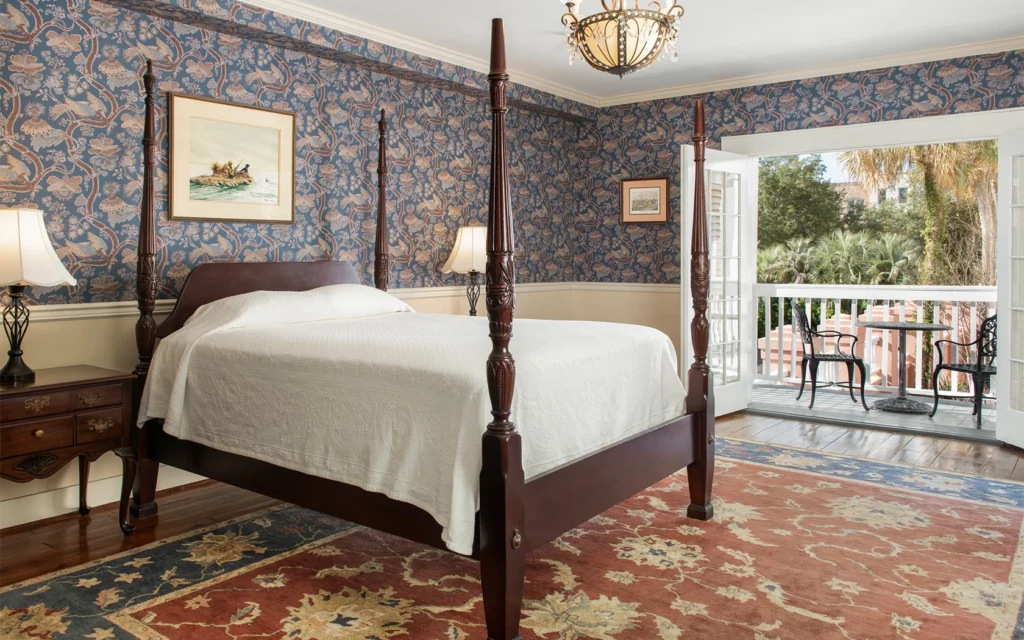 Price per Night: from $218
The beautiful Meeting Street Inn overlooks the White Point Gardens as well as the Charleston Harbor. This bed and breakfast can only be described as elegant and exclusive. So exclusive, in fact, that there is a waiting list for the rooms.
We totally understand the appeal though, especially when a room comes with an option to book a Divine Romance Getaway Package! This beauty of a package does nothing short of delivering the ultimate romantic holiday. It includes:
Red Roses
Champagne
Private Carriage Tour
Chocolates
Price per Night: from $413
The Dewberry comes with floor-to-ceiling windows and a mix of contemporary amenities with period decor pieces.
This boutique hotel will ensure your stay is going to be as comfortable as it gets. Some of its best features are:
Spa and Wellness Center
Spacious rooms
Fitness center
Room service
On top of that, the hotel is in direct vicinity to some of the best restaurants and bars in Charleston, SC. On top of that, the Charleston Museum and Farmers Market, as well as the American Theater, are about a three-minute walk away.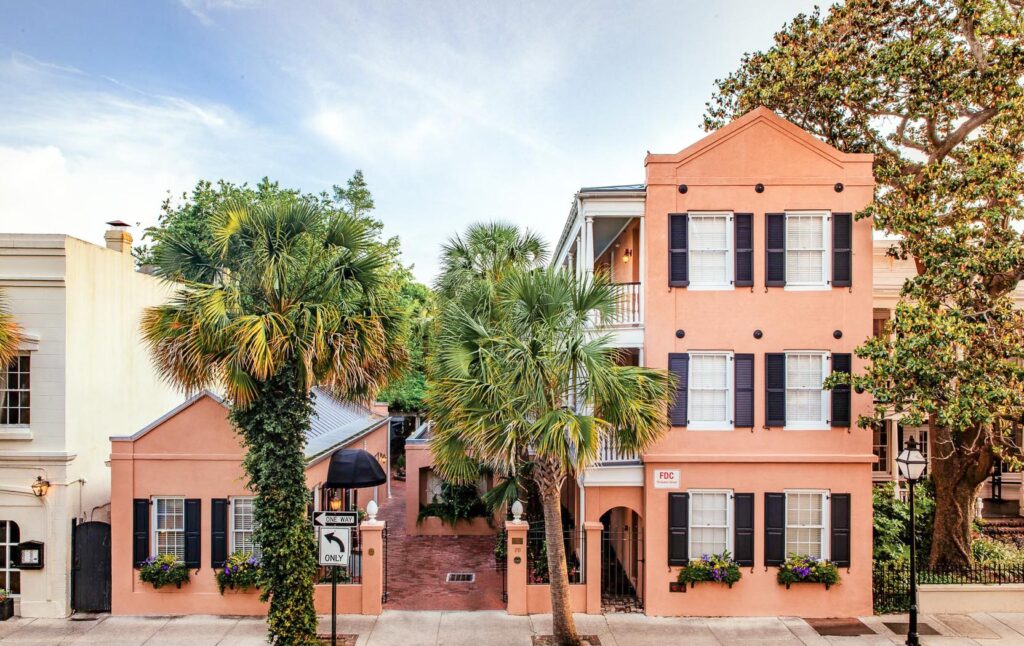 Price per Night: from $179
This former private residence on Queen Street offers an intimate base for your romantic Charleston getaway!
Both rooms, as well as suites, are elegantly decorated and offer you a perfectly located hideaway from the city.
The Elliott House Inn offers romantic specials which you can book before or upon arrival. You can choose to add the following to your romantic weekend at the inn:
Chocolate and Champagne
Dining Vouchers
Late Check-Outs
Turndown Service
Downtown Charleston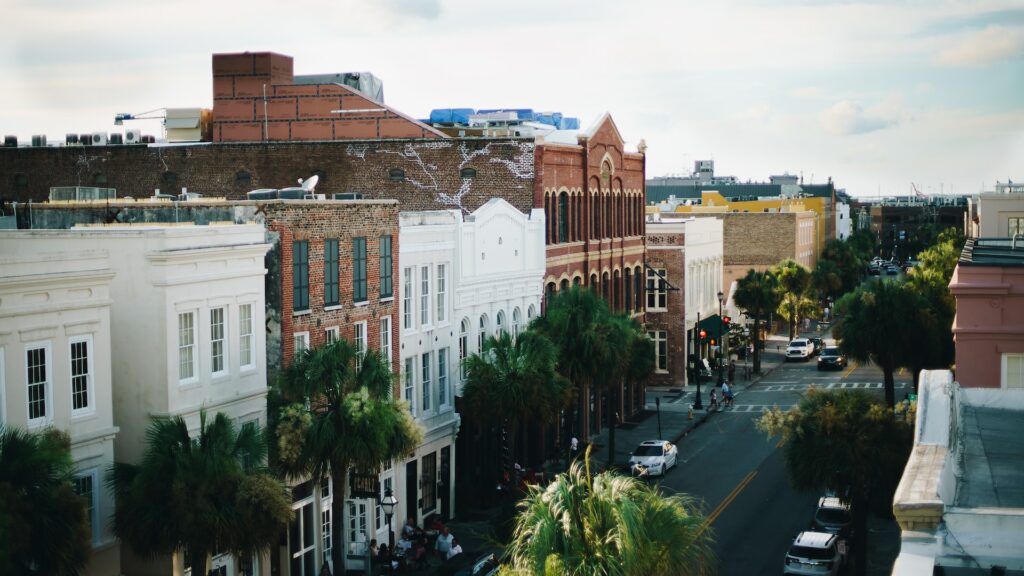 Ready to hit the city with all its splendor and fun? Downtown Charleston offers exactly that. You will find city highlights such as:
Charleston Music Hall
South Carolina Aquarium
Fancy rooftop bars
The French Quarter
Best Accommodations in Downtown Charleston, SC:
Nothing says romance like staying in a historic room at a romantic accommodation in Charleston. Here's our list of favorites, from quaint little places to the big luxury hotels of your dreams. We have put together the most romantic hotels in the Holy City!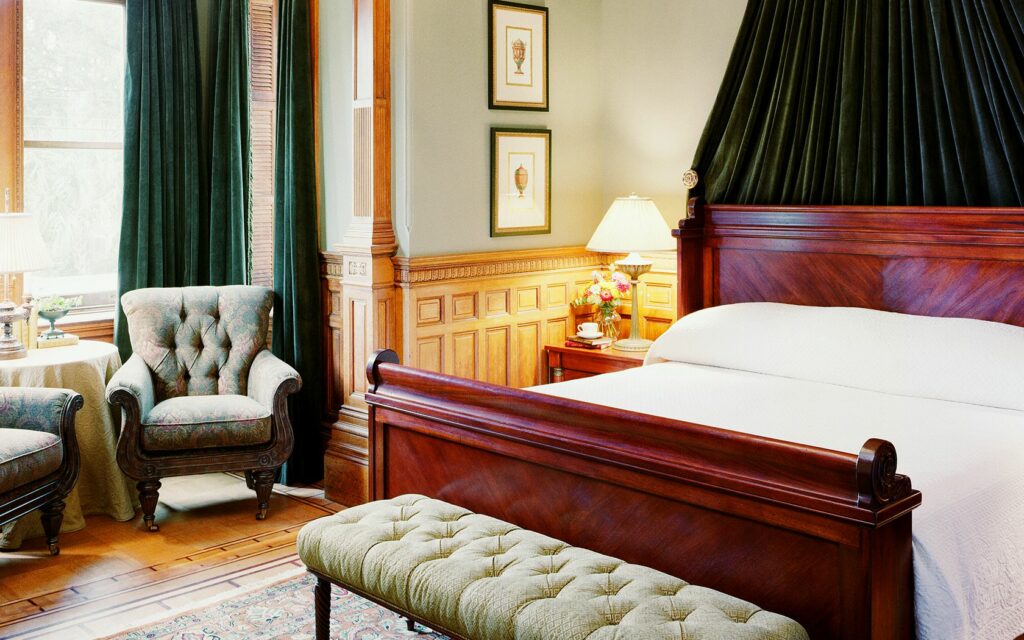 Price per Night: from $450
The best way to describe this boutique hotel-turned-mansion from the Gilded Age is opulent.
The incredibly attentive service will fulfill all your wishes, and their Spa and Wellness Center are to die for. Expect complimentary breakfasts and beautiful rooms. Choose from their romantic getaway package to make this holiday extra sweet for you and your loved one.
On top of that, Colonial Lake is just a stone's throw away. This is the ideal hotel for all romantic getaways!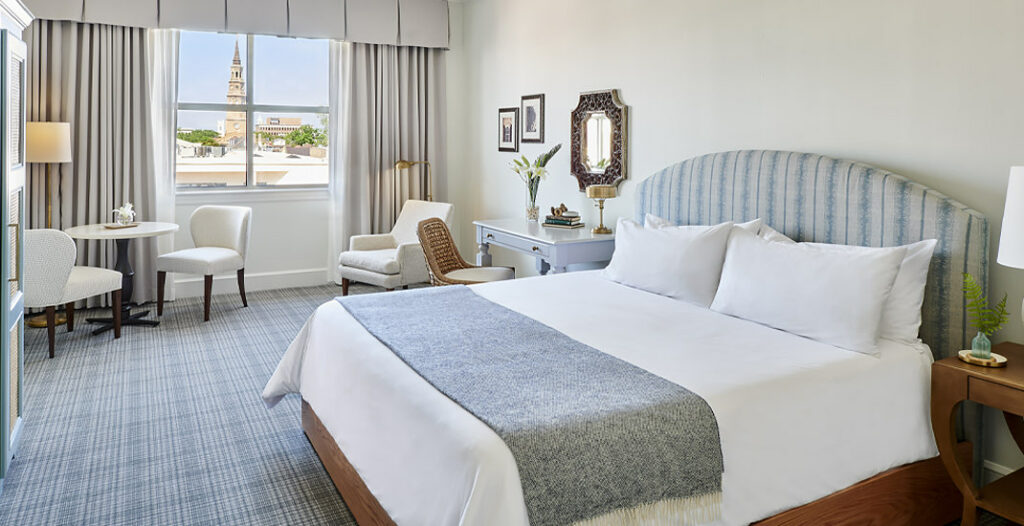 Price per Night: from $259
The HarbourView Inn is a luxury boutique hotel that offers its guests a choice of vacation packages. While none of them are officially proclaimed to be for romantic getaways, they all feature pretty romantic things to get up to, such as:
Dinner and a private carriage tour
Champagne and sailing the Charleston harbor
A ghost tour (if you're that type of couple)
On top of that, the HarbourView Inn offers an intimate setting, incredibly attentive staff with 24h room service, and an absolutely stunning rooftop terrace.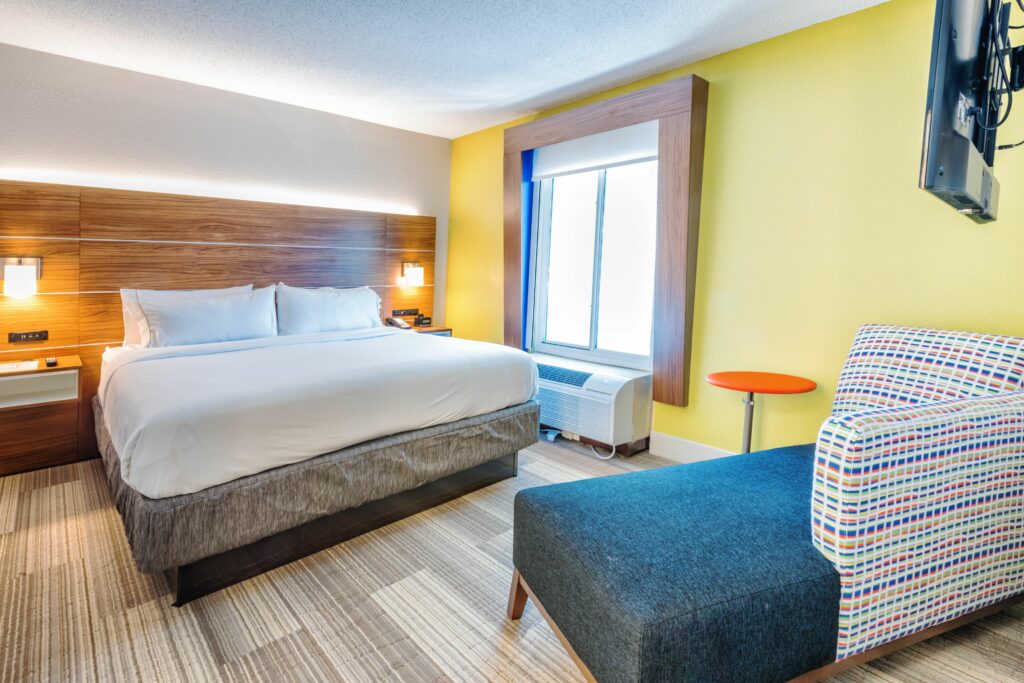 Price per Night: from $126
The Holiday Inn Express in Charleston might not be what everybody expected to see on this list but dare to be surprised.
This hotel offers a complimentary continental breakfast buffet, an outdoor pool as well as a great on-site fitness center.
If you wish, you can book a guided tour of Charleston starting at the hotel lobby.
It's the perfect option for couples on a budget that still want to treat themselves to great amenities. This includes in-room coffee makers and fluffy gowns.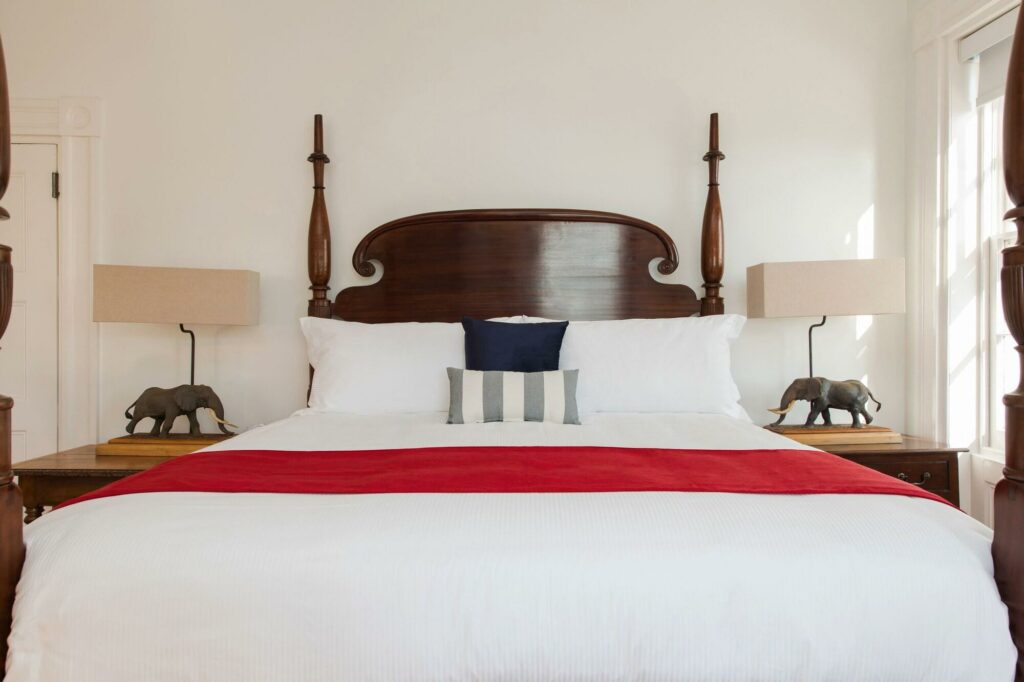 Price per Night: from $300
The Battery Carriage House Inn is now also known as 20 South Battery. This former private mansion dates back to 1843 and is said to be the one luxury boutique hotel that is simultaneously haunted by several ghosts (believe it or not).
The handful of rooms are lavishly decorated in the typical manor house style. The lobby is arguably the most traditional room and functions as an in-house museum, with artifacts dating back to the early 1500s.
The Battery Carriage House Inn is one of those hotels in Charleston that you definitely shouldn't miss out on. Plus, their holiday packages change frequently and always have some romantic specials on offer.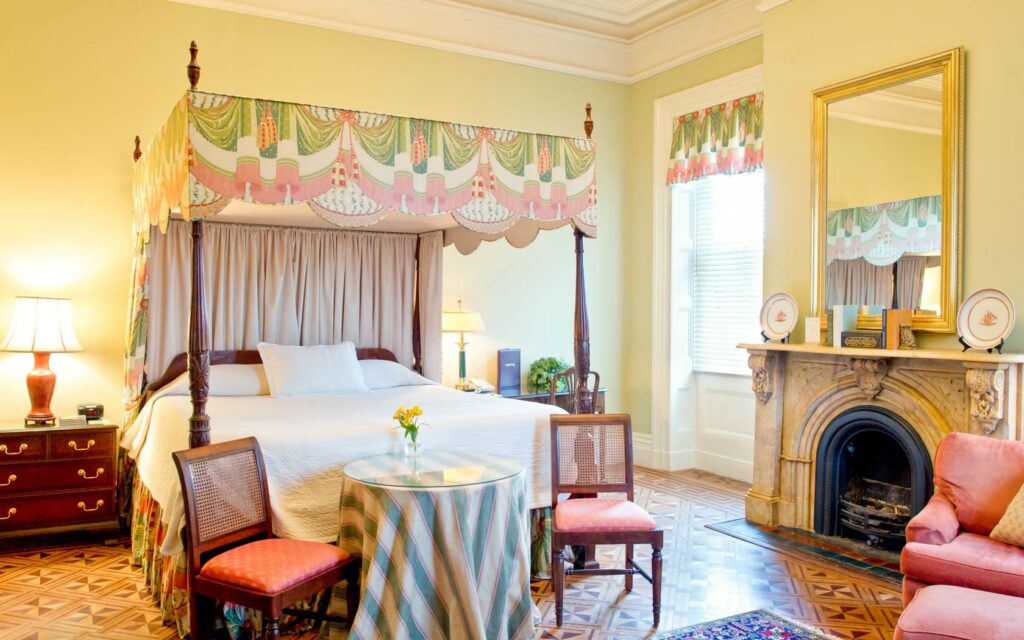 Price per Night: from $343
The John Rutledge House Inn will make you feel like two time travelers or the main characters in a period-piece love story, a la Pride and Prejudice.
The former house of John Rutledge is potentially one of the most romantic hotels in Charleston. It is a designated National Historic Landmark, and the architectural features will simply sweep you off your feet.
Guests can choose to stay in the main house or the old carriage house. No matter what you choose, each room will differ slightly in the way it has been thoughtfully decorated. It impresses with a feeling of grandeur and romance.
Many of the rooms come with Italian marble fireplaces and bathrooms, canopy beds as well as walk-in showers, and whirlpool tubs!
Enjoy complimentary breakfasts, afternoon teas on the piazza or in the ballroom, and free evening drinks before you head back into the future in downtown Charleston.
Top Excursions & Activities To Do On A Charleston, SC Romantic Getaway
So, you know the best choices when it comes to beautiful inns as well as bed and breakfasts in Charleston, SC. Now, it's time to plan what you will be getting up to during your stay in the city!
We have come up with a list of the best things to get up to during your romantic stay in Charleston below.
Visit the Plantations
As already mentioned, the Plantations should definitely be on your list when visiting Charleston, SC.
Make sure to plan sufficient amounts of time to really take in the beautiful cobblestone pathways and breathtaking floral gardens. Look for iconic points of interest, such as the White Bridge, or see if you can spot your favorite scene from romantic periodic pieces here!
Relax at Folly Beach
Thanks to Charleston's close vicinity to the water – whether that's the Ashley River or the actual sea, you can be sure to find a nice beach to relax on during the hot South Carolinian summer days.
One of the best places to do so is at Folly Beach. It offers long stretches of white sand and is highly frequented by locals and visitors alike. Bring a picnic basket and spend an afternoon with your loved one.
Visit the South Carolina Aquarium
Exploring the beautiful underwater world at one of the best aquariums in the States should definitely be a must for you and your partner!
The Aquarium has several attractions on offer apart from just underwater tanks.
Take a culinary tour
The culinary tours through Charleston offer a lot more than just great food. You get to explore the heritage and history of the South Carolinian capital while feasting on world-renowned dishes.
Depending on the city district, you will visit different restaurants and bars as well as food markets that will introduce you and your significant other to Charleston's cuisine. And how does the famous saying go?- "The way to a man's heart is through his belly.". There you have it!
Sail the Charleston Harbor
On a beautiful summer's day, what could be more romantic than setting sails and cruising into the sunset with a bottle of bubbly and your hubby or wifey? Sailing cruises leave regularly from the harbor. Or, if you are an old sea-dog couple – hire your own boat and sail away with your honey!
Exploring Charleston Downtown and Historic District
Sometimes, there is nothing more exciting than getting lost in a city and its many neighborhoods.
For a trip to downtown and the Historic District, we highly recommend visiting the following:
Middleton Place
The Plantation Stableyards
Charleston Music Hall
Joe Riley Waterfront Park and the infamous Pineapple Fountain
The French Quarter
The Ashley River
Sample Itinerary & Budget For Your Romantic Getaway In Charleston, SC
With so many options, we totally understand that putting together your perfect Charleston getaway seems almost impossible. But, as we said, we've got your back!
We have put together a sample itinerary for a weekend getaway in Charleston, SC. On top of that, we will also provide you with a budget, so you know how much the rekindling of your love will cost you, too!
Day 1:
Check into your romantic hotel of choice and refresh for an exciting first day in Charleston, South Carolina.
To start lightly, take your significant other for a stroll down Church Street. Here you will find some of the most beautiful houses in the whole of Charleston. The area offers lots of quiet streets to turn into and share a sneaky kiss.
Don't forget to spot and check out some of the plaques in front of the beautiful mansions. They will inform you about famous residents or house guests that used to reside in these places in former times.
Turn left on Broad Street for Washington Square and the impressive Charleston City Hall. Not far off, you will find the Harken Café to refuel with a coffee or traditional afternoon tea.
End the afternoon with a private carriage ride with Palmetto Carriage Works through the historic district of Charleston.
You can then go wine and dine at one of the many stunning restaurants in Charleston; here are a few of our favorites:
Day 2:
Start your day right with a continental breakfast delivered to you by room service. After all, you are going to need all your energy to go and check out the beautiful Plantations of Charleston.
Make sure you have booked your time slots right. The best plantations to visit are Middleton Place and Magnolia; they are also the most Instagrammable!
All of the Plantations offer beautiful little cafés where you can stay for lunch or an early afternoon tea.
If you, for whatever reason, decide against visiting the Plantations, we can recommend a haunted house tour through Charleston. After all, nothing makes us huddle more closely together than the anticipation of running into century-old souls.
To end your day, head to Charleston harbor for a sunset cruise along the Ashley River and into the sea right in front of the city. Make sure to book the tour that includes drinks (and/or dinner), so you can get festive on the boat for your last evening.
Day 3:
Begin the day with a couple's massage so that you're relaxed and ready for your final day.
Depending on the weather, you can head to Folly Beach and enjoy some sun, but if it's a bit cloudy or rainy, we recommend visiting the South Carolina Aquarium!
At lunchtime, you should definitely go on a Culinary Tour for your final hours to feast on all that Charleston has to offer. This way, you leave the city with a happy belly AND a happy heart!
Sample Budget:
Activity
Price
Accommodation
$250 – $900 for a weekend
Food & Drinks
from $46 pp per day
Transport
$26 pp per day
Sunset Cruise
$45-55 pp
Private Carriage Ride
$250
Plantations
Middleton Place: $26
Magnolia: $29
South Carolina Aquarium
$35
Haunted Tour
$40
Culinary Tour
$75
Frequently Asked Questions
How much does a Charleston, SC, romantic getaway cost on average?
An average day in Charleston costs about $136 per day. Spending a whole weekend in Charleston, including accommodation and several of our suggested excursions, can therefore cost you about $900.
This, however, depends heavily on what accommodation you choose. It also depends on the excursions you go on, and if you decide to fine-dine or just go for the budget option.
When is the best time to visit Charleston, SC?
Every part of the year in Charleston has got its own ambiance. So it is up to you what you and your significant other prefer. The city definitely offers plenty of excursions and things to do for any kind of weather.
For more pleasant weather, we recommend visiting between May and October, while towards the end of the year, you can expect more rain.
How long do people typically spend in Charleston, SC, on a romantic getaway?
Charleston can be enjoyed for a weekend, an extended weekend, or even one to several weeks. That very much depends on your budget and timeframe as well as how much you want to get up to while you are in the city.
We feel like one weekend is sufficient to get a pretty good idea of the city itself and spend some special time with your loved one.
Start Planning The Ideal Romantic Getaway
Charleston does not just have plenty of romantic accommodations; it is also a pretty darn romantic city! We trust that with this ultimate guide, we have given you some great romantic getaway options for the next Valentine's Day or anniversary.
If you'd like to check out more romantic destinations and get travel inspiration, visit our Couples Travel resources online to start planning your next perfect romantic getaway!