Colorado is a match made in heaven for any couple seeking a romantic getaway. From the rugged mountains and vast prairies of the state's Western Slope to the flatlands of the Eastern Plains, there is no shortage of unique landscapes and climates for you and your bae to frolic.
What Makes Colorado Perfect for a Romantic Getaway?
In the Centennial State, you can choose from mountain summits, snow-covered slopes, river valleys, and desert canyons for a romantic getaway. It is ideal for history buffs, mall rats, and nature lovers, with old-fashioned saloons, mining towns, ancient ruins, national parks, and shopping malls to explore.
Most Romantic Getaways in Colorado
With so many great places to stay, from cozy bed-and-breakfasts to luxury hotels, it's easy for you both to find something that fits your travel style in this idyllic setting. Here are seven great options.
Denver
There are many ways to make your visit to the Mile High City unforgettable. Couples who are more into shopping and exploring concrete jungles will enjoy downtown Denver, an area famous around the globe for having amazing gourmet restaurants and dazzling nightlife. Or take a drive to Strawberry Park Hot Springs for a relaxing day in nature.
Best Accommodations in Denver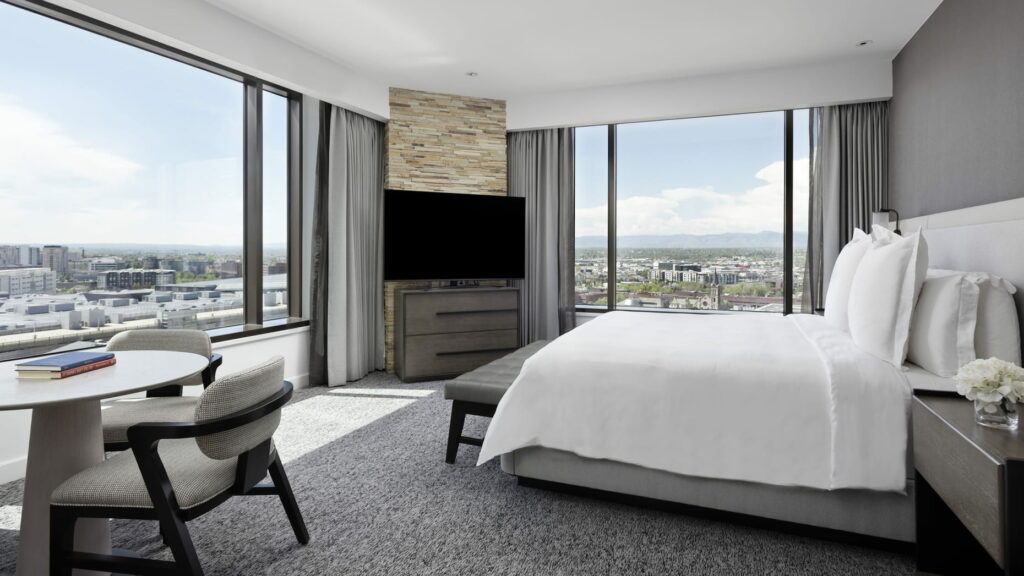 Price per Night: $516 – $3,464
This hotel offers a rooftop pool, a spa and wellness center, fine dining, and a bar. The hotel is also within walking distance of the Colorado Convention Center.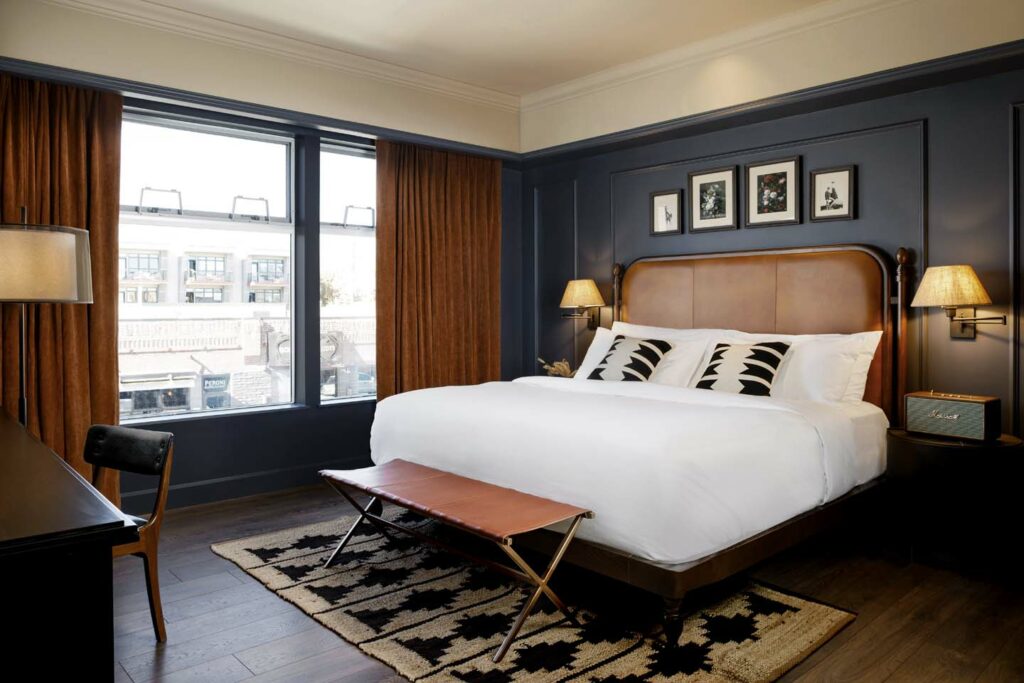 Price per Night: $238 upwards
It offers express check-in and expresses check-out, a dining area, free WiFi, and a bar. With Union Station just 2.5 km away, Life House is convenient for Denver travelers.
Price per Night: $159 – $199
Located just 10 minutes from Glenwood Hot Springs Pool, this hotel features its own brewpub and coffee shop.
The hotel's rooms feature flat-screen TVs, air conditioning, and coffee-making facilities. You'll also find antiques, quilts, and an en suite bathroom with a hairdryer.
Aspen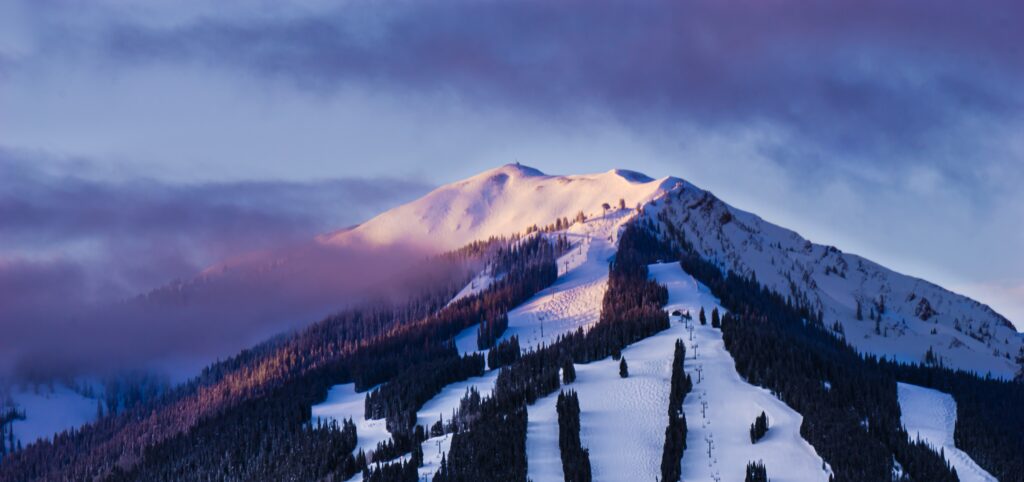 If you're planning a romantic vacation in Colorado, visit Aspen, the most starry-eyed place in the United States. It's the perfect place for honeymooning, celebrating your anniversaries, Valentine's Day, and other lovers' holidays.
Aspen is in the Rocky Mountains and is renowned internationally for skiing. In warmer seasons, they also offer a range of activities, such as walking, cycling, and kayaking.
Best Accommodations in Aspen

Price per Night: $1,169 – $1,385
A luxurious mountain hotel in the heart of Aspen, this property features an on-site restaurant with an award-winning wine list and a tavern. Summer, Fall, and Winter activities can be enjoyed all year long, perfect for romantic getaways.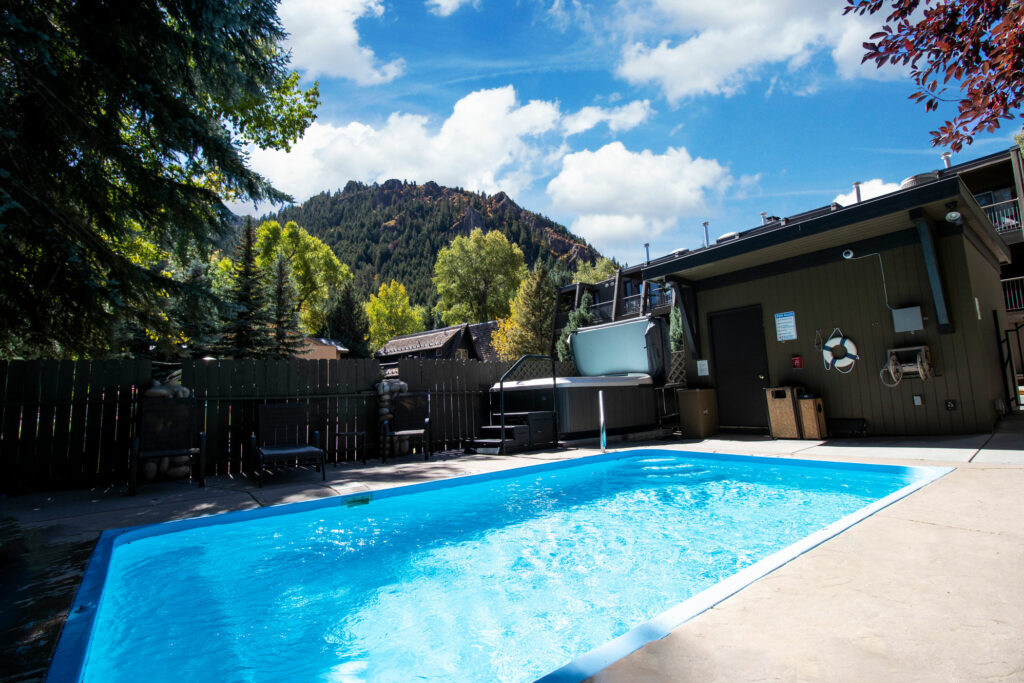 Price per Night: $230 upwards
This Aspen lodging offers a patio and free WiFi. The lodge is 1 km from the John Denver Sanctuary, 7.2 km from Independence Pass, and 1.1 km from the Aspen Art Museum.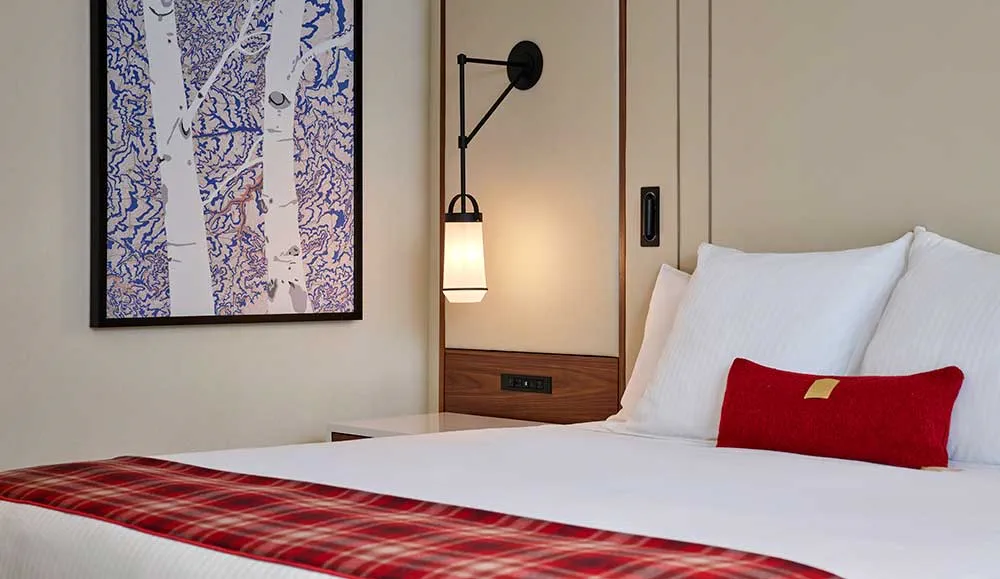 Price per Night: $459 – $1,499
A short walk from Aspen Mountain, the Limelight Hotel offers free Wi-Fi, 32-inch flat-screen cable TVs, and an outdoor pool, hot tub, and rooftop terrace. Guest rooms include iPod docking stations, laptop safety deposit boxes, desks, and ironing facilities, as well as seating areas, desks, and ironing facilities.
Rocky Mountain National Park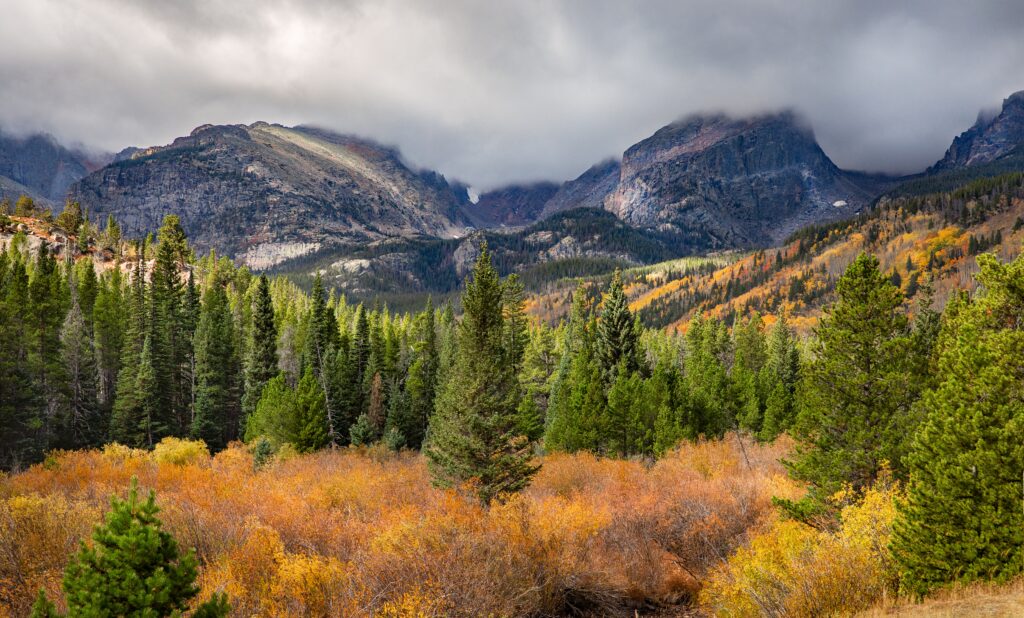 Rocky Mountain National Park is one of North America's most beautiful national parks. The park has three entrances, two in Estes Park and another in Grand Lake.
The park is the perfect location for romantic getaways in Colorado for couples who enjoy outdoor adventures and scenic hikes. With horseback riding, mountain biking, and hiking trails, you and your partner will have no problem finding an activity you can enjoy in the rocky mountains.
Best Accommodations in Rocky Mountain National Park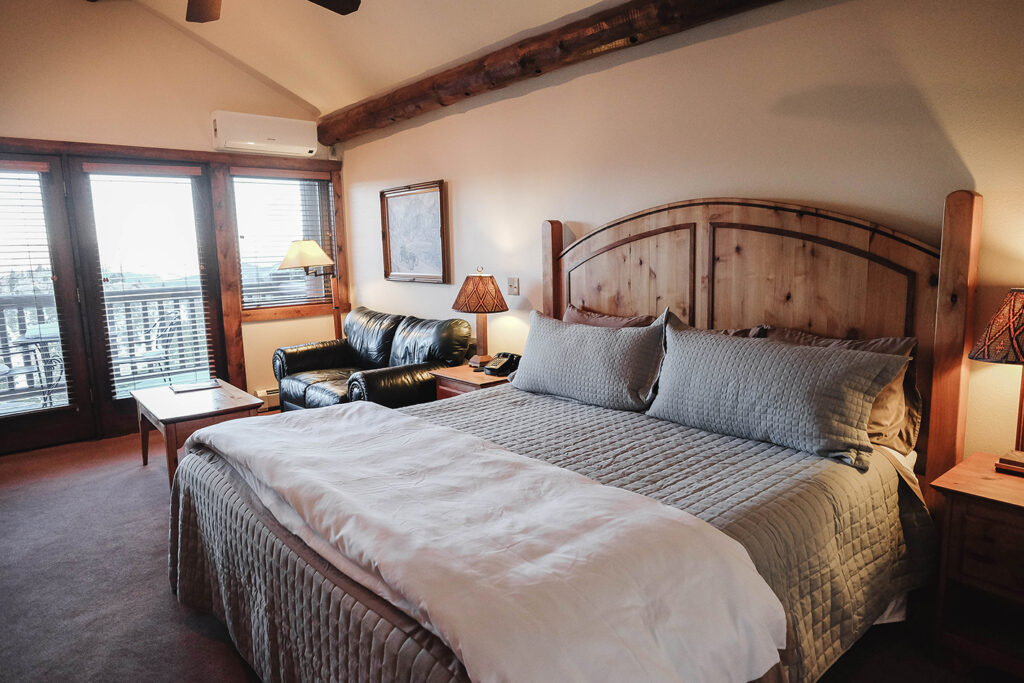 Price per Night: $254 – $434
The Taharaa Mountain Lodge features free WiFi and views of mountains in Estes Park. A restaurant serves American cuisine, and private parking is free.
There are 175 rooms at Taharaa Mountain Lodge, all with air conditioning, satellite TV, DVD player, hot tubs, bathrobes, and hair dryers. All rooms have bed linens and towels provided.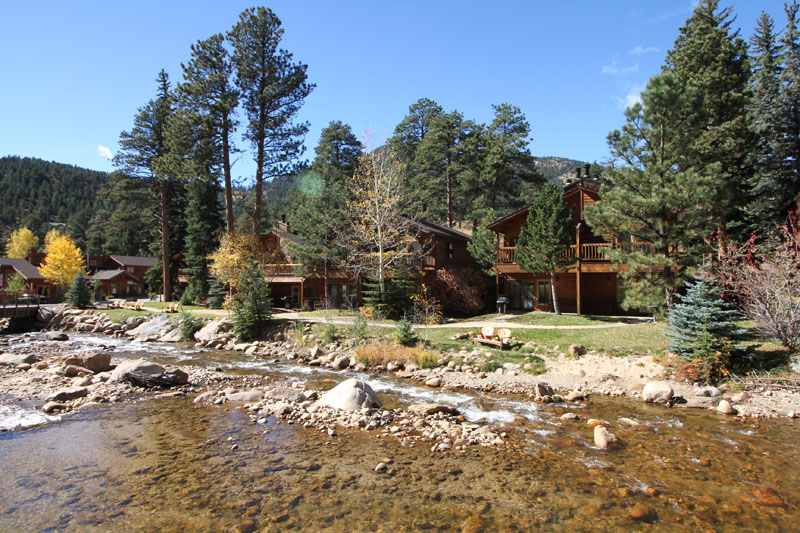 Price per Night: $129 – $329
At Woodlands on Fall River, all rooms feature a dishwasher, a fridge, a coffee maker, a bath, a hairdryer, a flat-screen TV with cable channels, and a DVD player.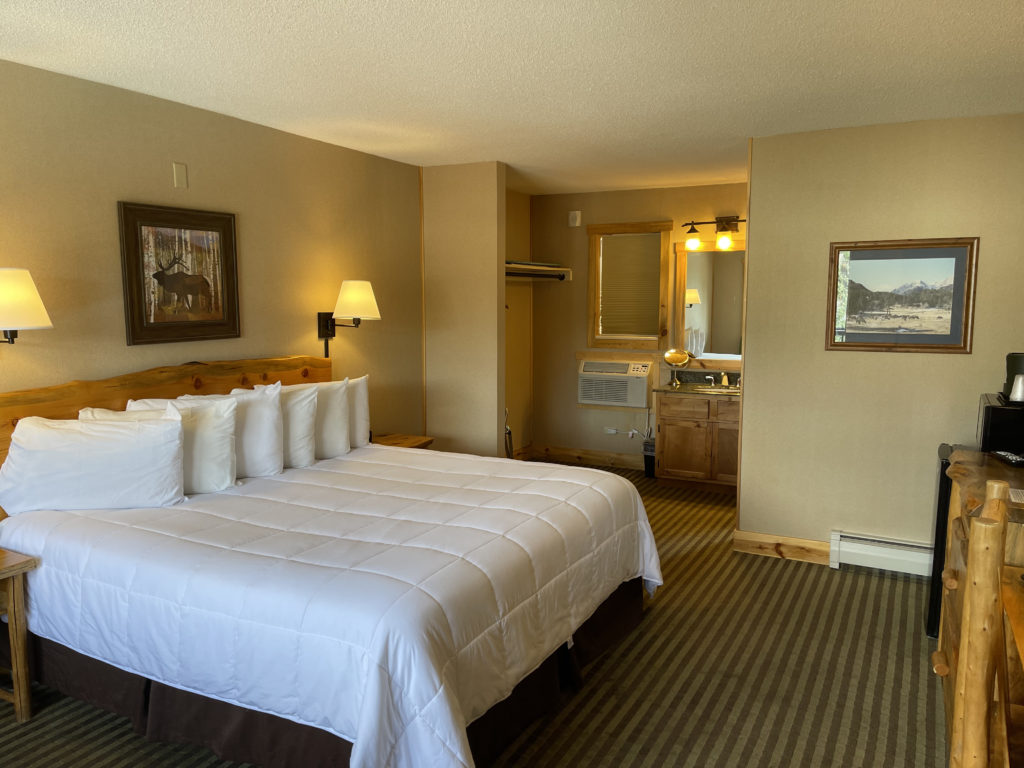 Price per Night: $88 – $143
This hotel is located 9 km from the Rockies and offers a seasonal outdoor pool and mountain views. Guests at Hotel Estes can enjoy free WiFi and a continental breakfast every morning. Simply furnished rooms have tea and coffee-making facilities, a microwave, and a fridge.
Colorado Springs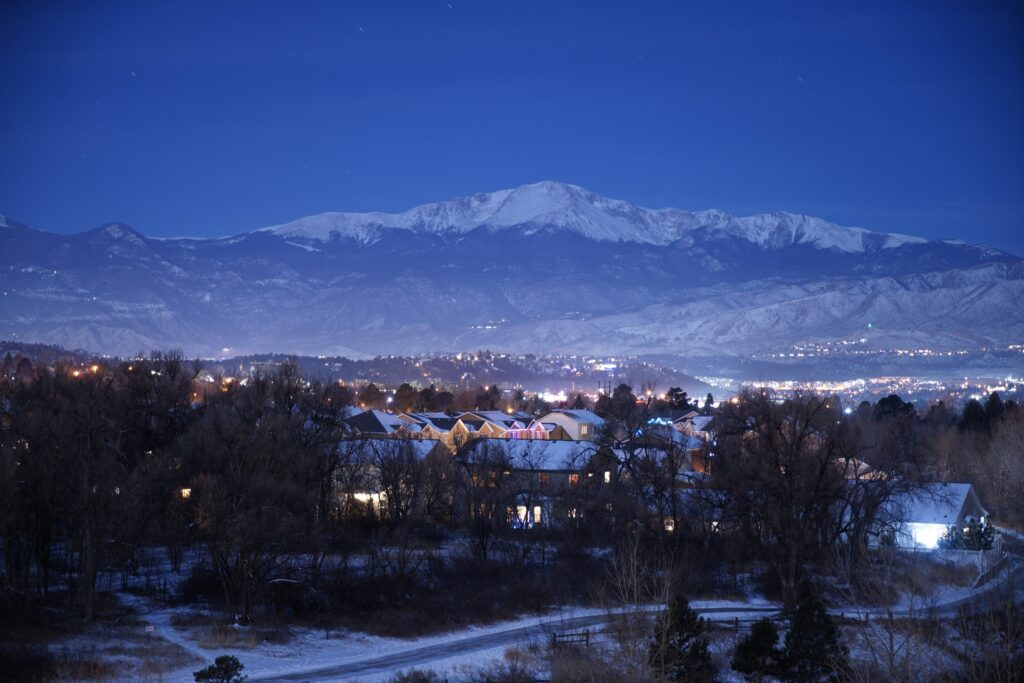 Colourful Colorado Springs is a popular destination for couples looking for a romantic getaway. The city offers tons of attractions and activities to keep you busy while also providing some of the most breathtaking views in the country.
One of the most popular things to do in Colorado Springs is to take a drive through Pike's Peak Highway. This scenic route takes you up through the stunning Rocky Mountains, where you can enjoy breathtaking scenery and watch as the clouds make their way over the peaks. Mountain biking is also possible if you're feeling adventurous!
Best Accommodations in Colorado Springs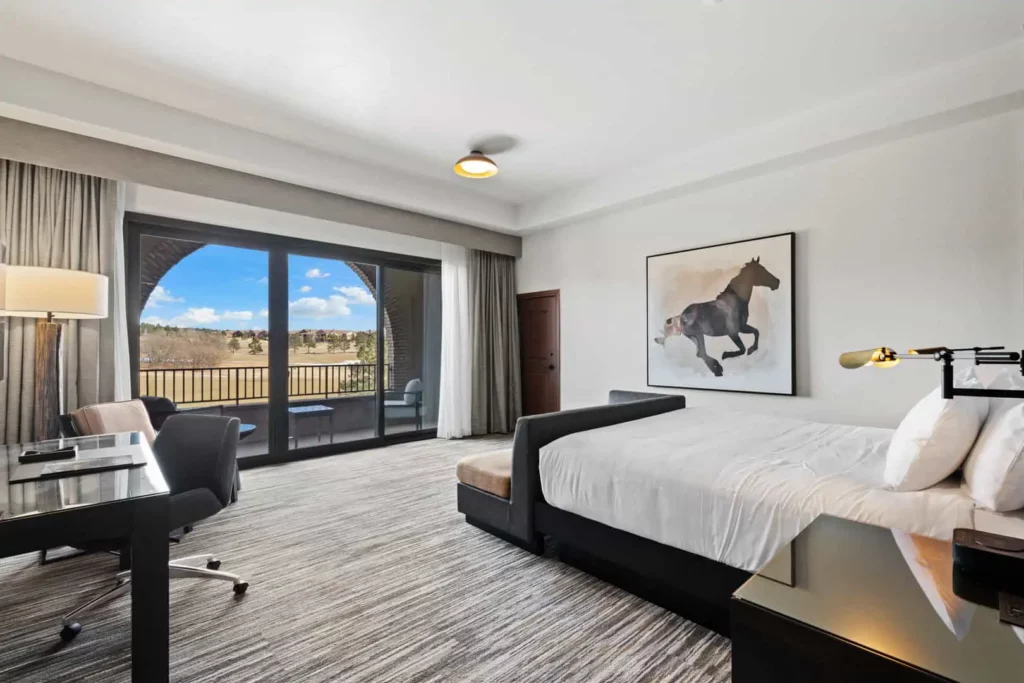 Price per Night: $239 – $259
The Lodge at Flying Horse in Colorado Springs features two private 18-hole golf courses designed by Tom Weiskopf. Garden of the Gods is a 25-minute drive from the lodge. Swimming pools, an athletic club, and a spa are available to guests.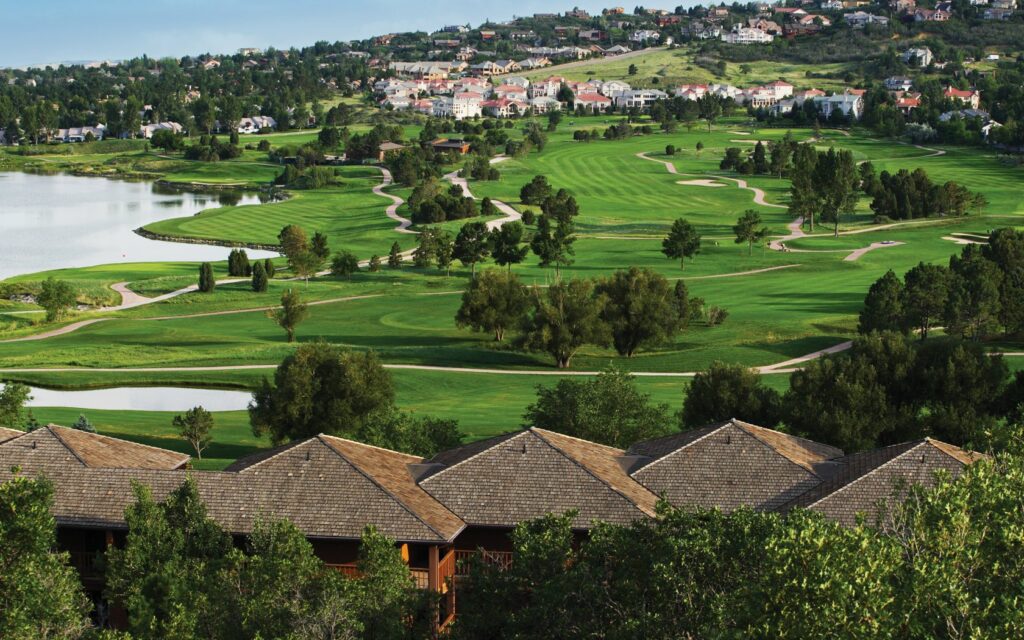 Price per Night: $174 – $754 + $31.75 resort tax
The rooms at this resort include air conditioning, cable TV, and a private bathroom. For your convenience, free toiletries and hairdryers are provided. The resort comes with plenty to do, including:
An 18-hole golf course.
35-acre lake for you and your bae to enjoy.
Spa treatments for the days you just want to be pampered.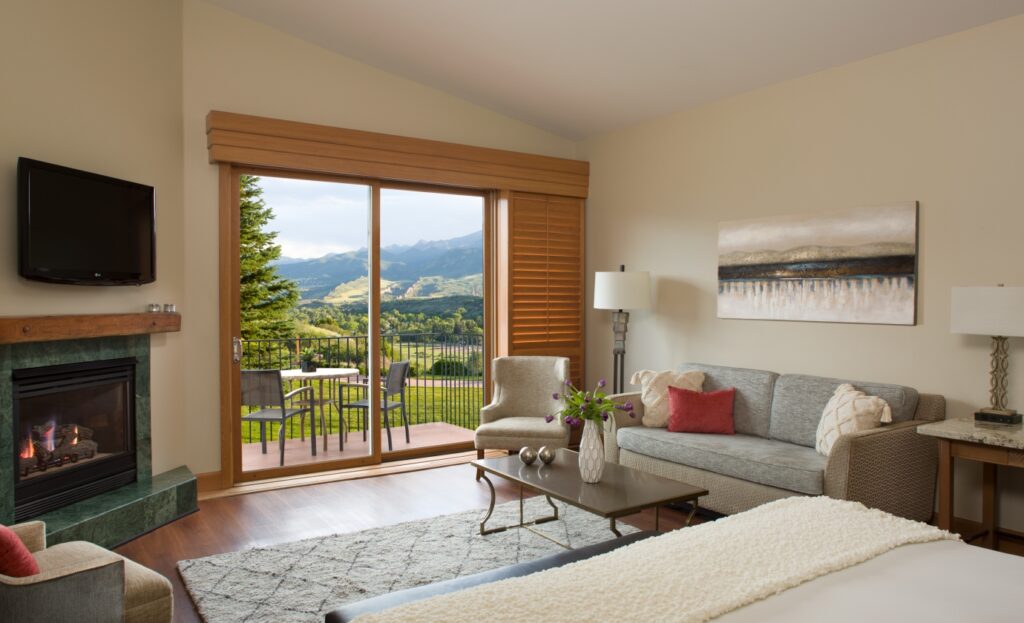 Price per Night: $212 – $1,074
There is a full-service spa and golf course at this Colorado Springs hotel. Kissing Camels Country Club is 2.4 km away from the hotel, and Garden of the Gods Park is 15 minutes away.
Telluride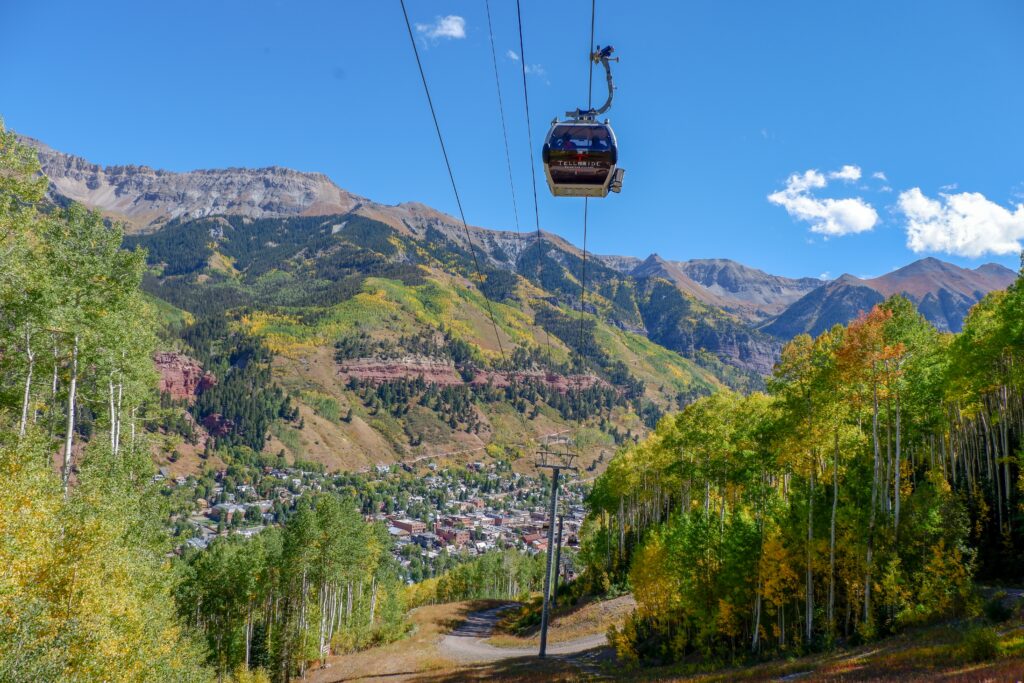 While Colorado offers many beautiful scenic spots, some are not as popular. Telluride was once a mining town turned world-famous ski town. Telluride looks beautiful throughout the year, and its relatively small dimensions make it an ideal place for romantic getaways.
Aside from the prestigious ski slope, couples may choose to go hiking or mountain biking in the warmer months. You can find the best hiking trails in Tellurides Bridalveil Falls, Jud Wiebe Trail, and Blue Lake Trail. Downtown Telluride also offers a snug environment, with small boutiques and restaurants and the San Juan Mountains as the backdrop.
Just a two-hour drive from Telluride is the Dunton Hot Springs which are also worth a visit.
Best Accommodations in Telluride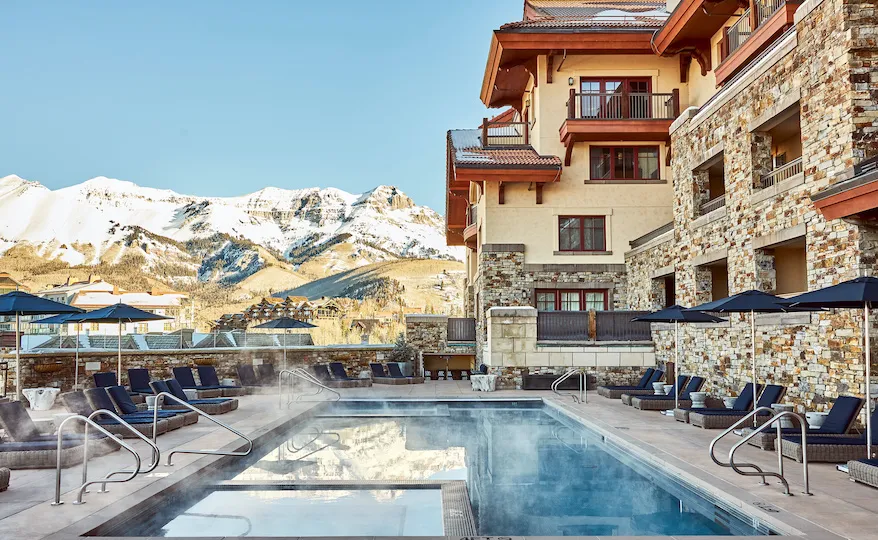 Price per Night: $999 – $1,499
Guests at this luxury hotel can enjoy views of the San Juan Mountains, spa services, spacious guest rooms, a heated outdoor pool, and a choice of restaurants on-site.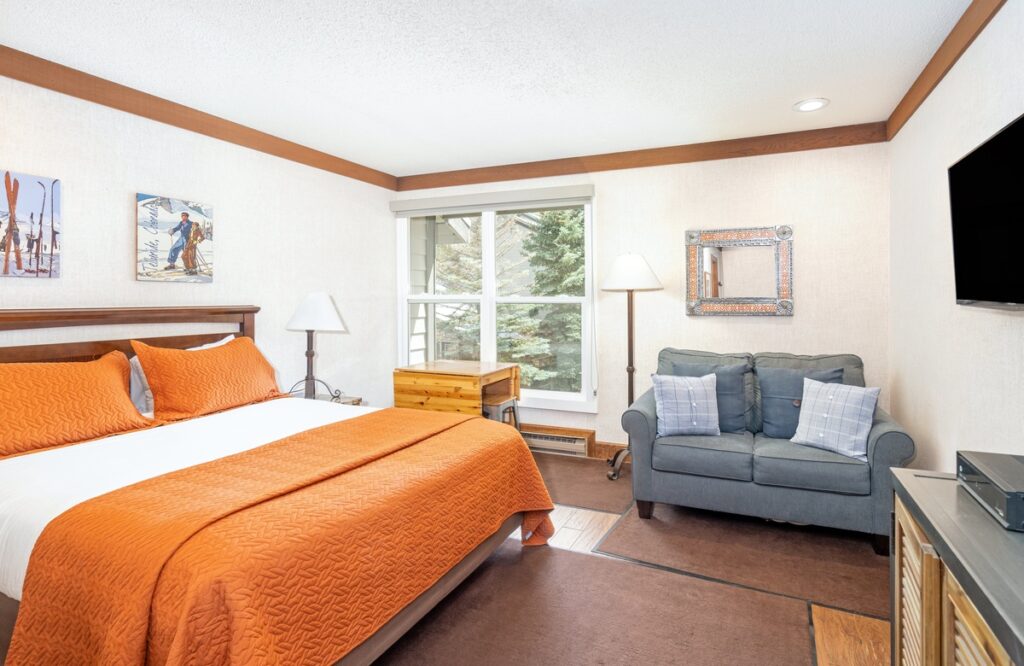 Price per Night: $270 – $310
The Mountainside Inn is adjacent to Telluride Ski Resort, where all rooms include cable TV and tea and coffee-making facilities. The property has a laundromat, and skiing is available from the property.
The inn is less than a 10 minutes walk from Telluride's downtown.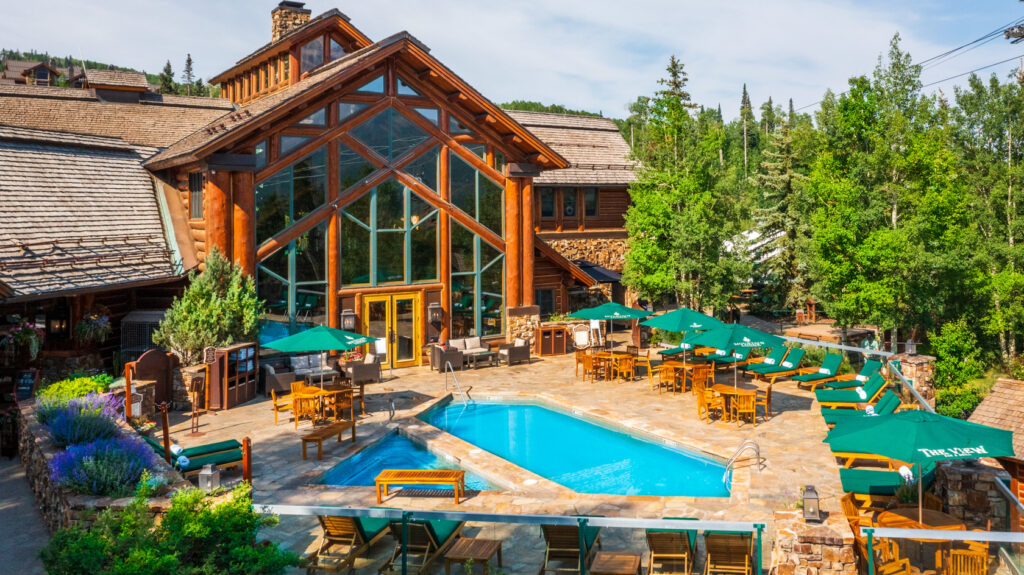 Price per Night: $289 – $467
At Mountain Lodge, you'll find a studio and 2-bedroom apartments with all the privacy and comfort of home.
There are two-way gas fireplaces in every apartment. Gourmet kitchens or kitchenettes come with refrigerators, stainless steel range stoves, microwaves, and dishwashers.
Vail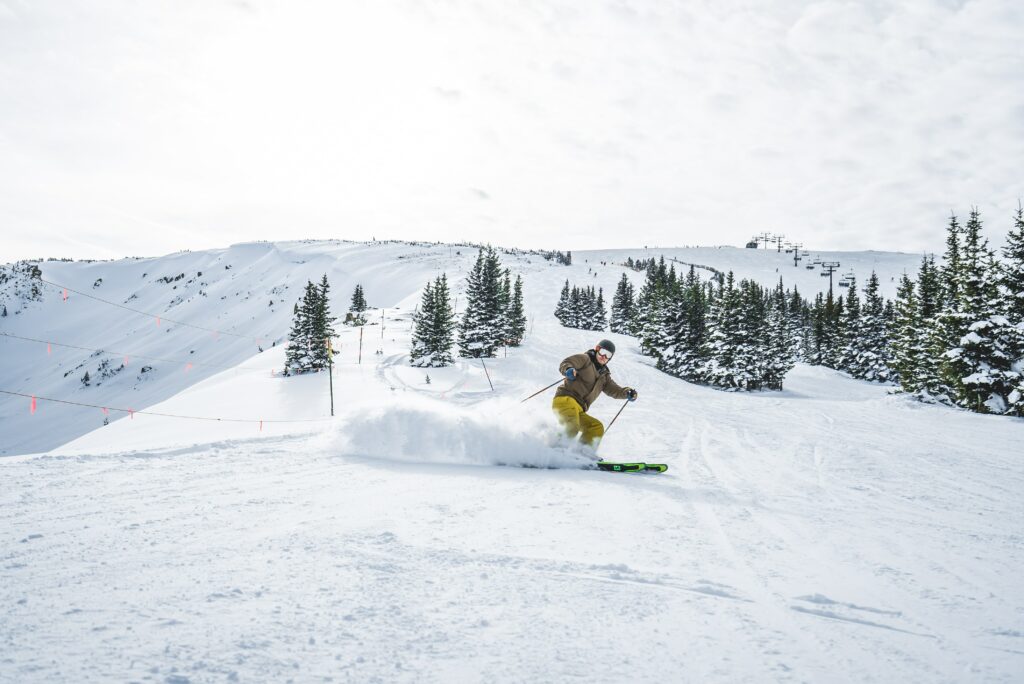 Vail is a beautiful walking-friendly town with many outdoor activities, endless shops, and restaurants for all. Vail has skiable seasons between November and April and hiking from May and November.
It makes for a perfect place for romantic getaways for couples with an appetite for outdoor activities. Booth Falls Road is the most beautiful trail and is ideal for hiking. It is about four miles wide and ends at a spectacular waterfall.
Best Accommodation in Vail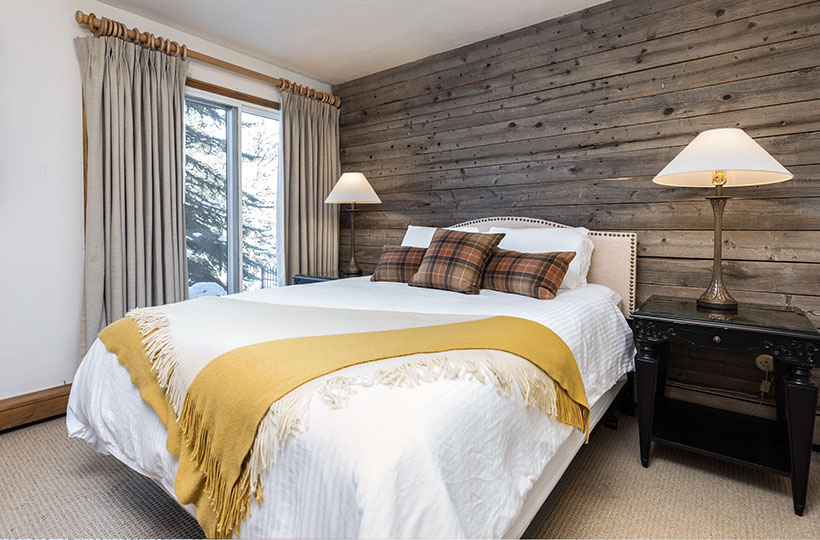 Price per Night: $549-$579
The hotel has rooms with a desk, a flat-screen TV, a private bathroom, bed linen, and towels, as well as a coffee machine. Some rooms also have a kitchen with a dishwasher, microwave, and oven. All rooms have a wardrobe.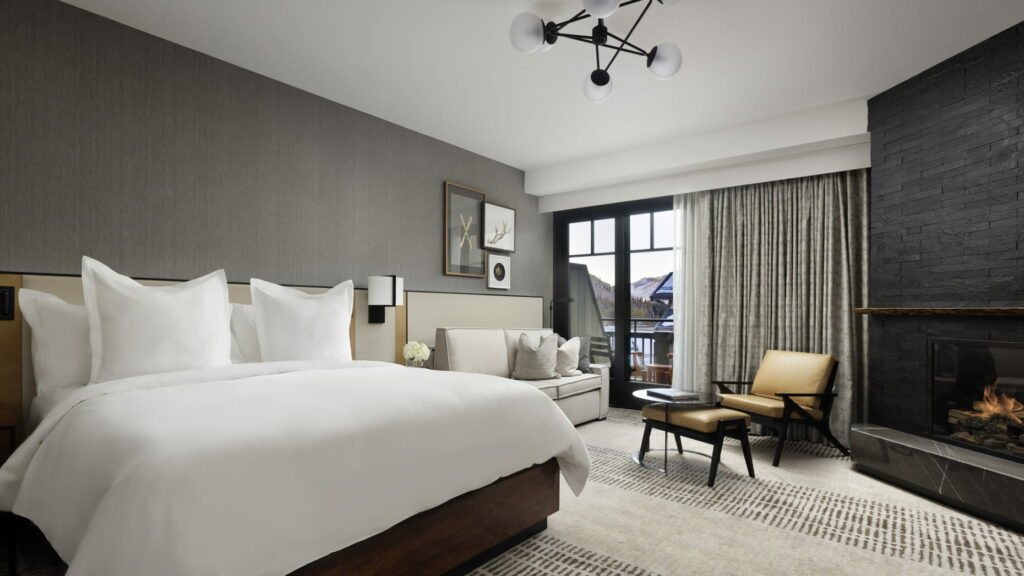 Price per Night: $970 – $3,160
At the base of Vail Mountain, this resort offers a year-round outdoor pool, spa, restaurant, bar, and poolside lounge. Free WiFi is available in all accommodations.
In each room at Four Seasons Resort Vail, guests can enjoy a flat-screen cable TV, a fireplace, and a coffee maker. Select accommodations include fully equipped kitchens.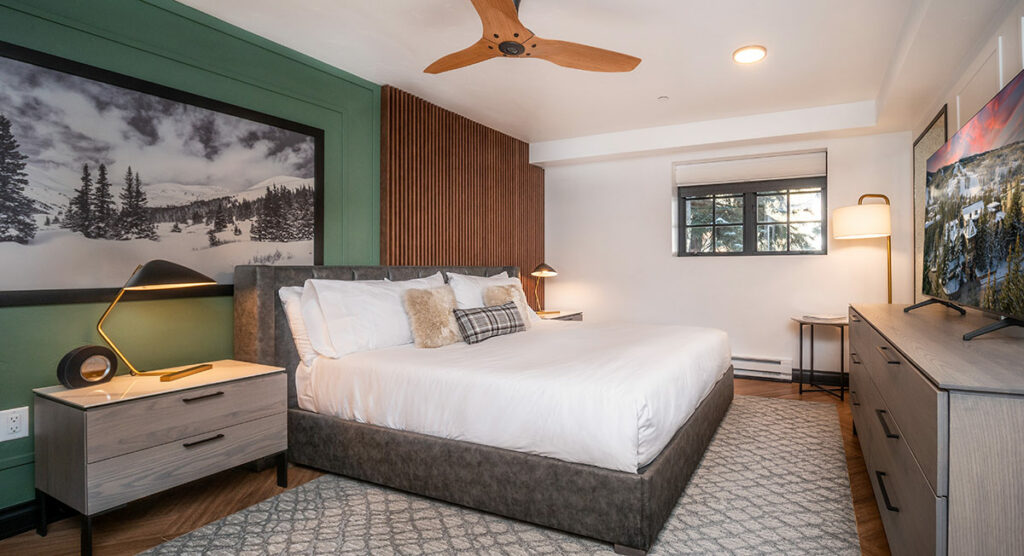 Price per Night: $329 – $722
This Vail, Colorado resort offers an onsite hot tub, spa, and restaurant. A 5-minute walk leads you to Vail Ski Mountains. Each room is equipped with bathrobes and heated bathroom floors.
Ouray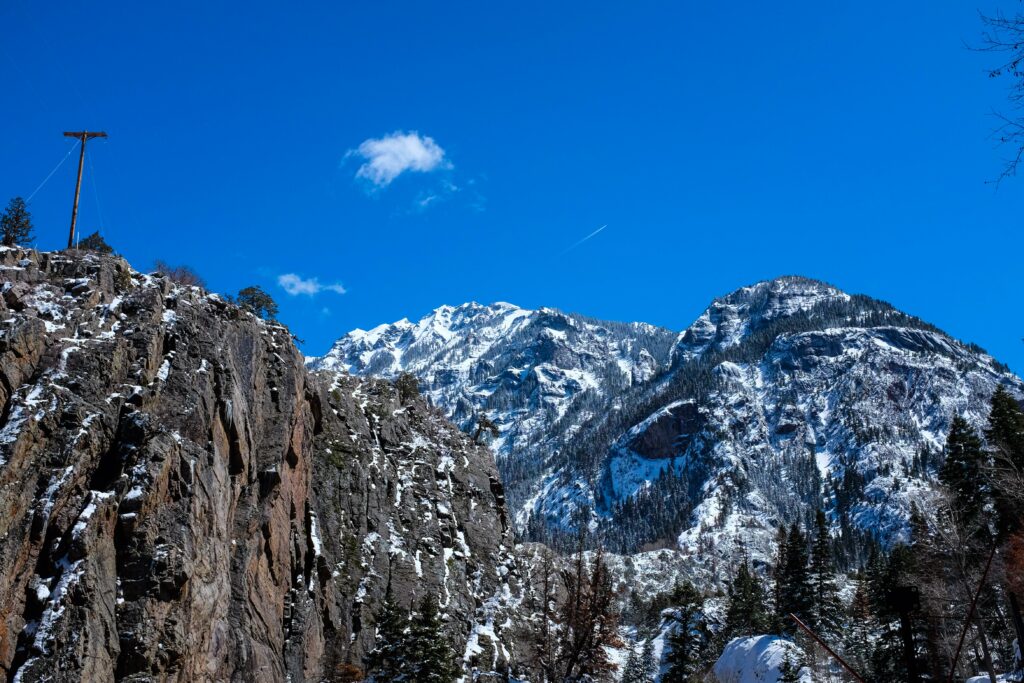 Ouray lies between steep hills with waterfalls just outside the city center. It is beautiful throughout the year, and the landscape is completely different from summer wildflower fields with golden aspen at the beginning of the autumn and snow-capped cliff edges in the winter.
For the best views, couples can drive down Million Dollar Road, which runs directly into the town. There are many Jeep-like trails for offroad riding and hundreds of hiking routes. It's romantic to soak in the local Hot Springs. Outside town, these recreational centers offer many pools laden with mineral water that soften and nourish your skin.
Best Accommodations in Ouray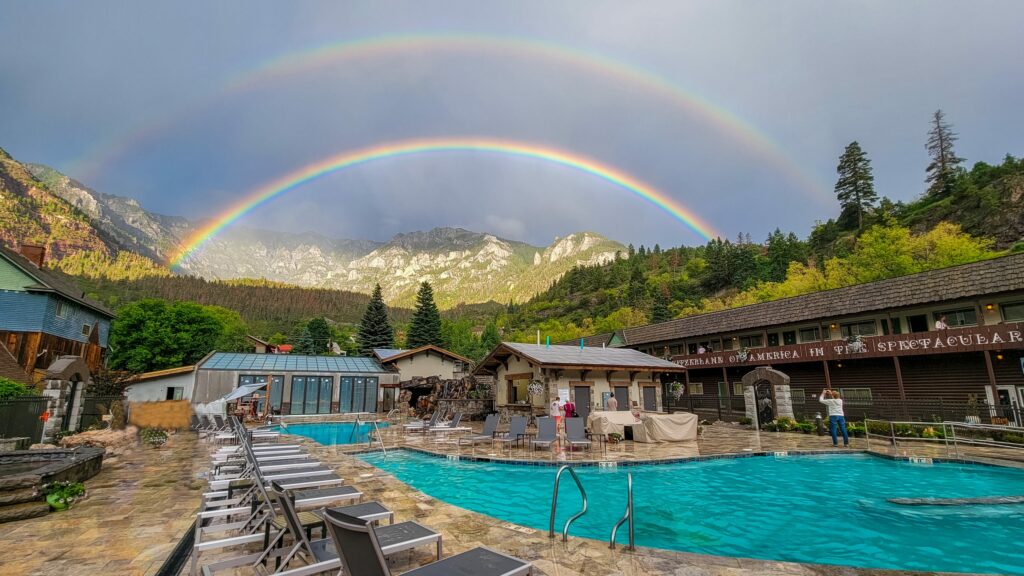 Price per Night: $117-$222
Featuring a shared lounge, Twin Peaks Lodge & Hot Springs has air-conditioned rooms with free WiFi. The hotel also offers a restaurant and an outdoor pool throughout the year. All rooms at Twin Peaks Lodge feature a coffee machine and a private bathroom with a hairdryer.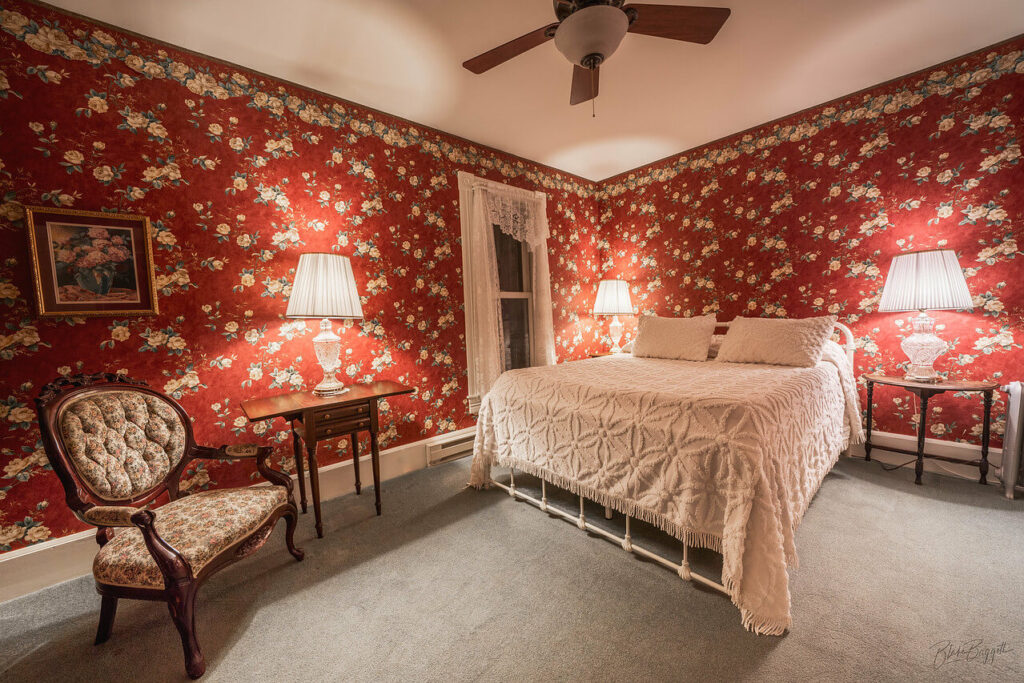 Price per Night: $139 – $255
Guests of this historic hotel will enjoy a sauna and hot tub for relaxation. Rooms feature antique furnishings, and hot springs are only a short walk away.
Free WiFi and free wired internet are available at the St. Elmo Hotel. The en suite bathroom provides complimentary toiletries in all the rooms.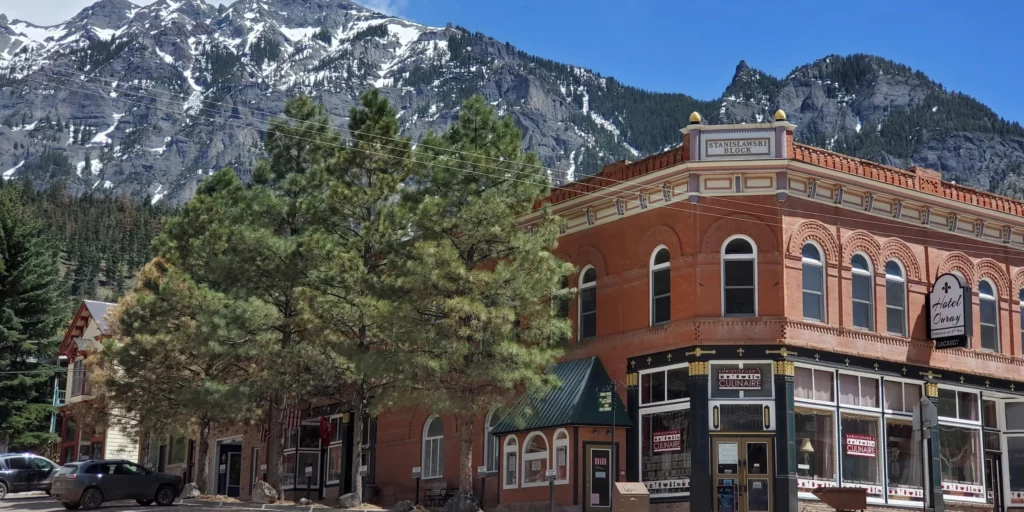 Price per Night: $100 – $200
There is a flat-screen TV in every room and a seating area. Each room also comes with a private bathroom with shower facilities. Free toiletries and hairdryers are provided.
Estes Park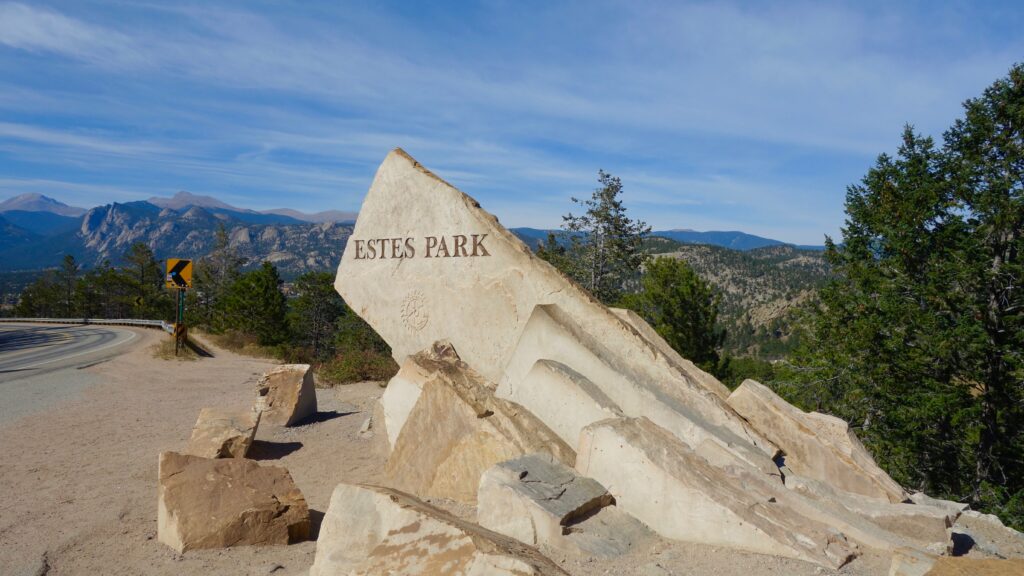 Colorado offers a wide choice of towns with romantic charm, including Estes Park. Approximately 60 minutes north of Denver, Estes Park serves as the entrance to Rocky Mountain National Park. It's ideal for couples to escape from hectic city life.
Estes Park is lovely all year round, but this town is perfect for winter. It is famous for its snowshoeing, ice skating, and sledding experience, which is a great activity to enjoy. Another romantic way to spend a day is packing picnic luncheons and bringing them to the Rocky Mountains national parks. Then go for an enjoyable horse riding tour of the park.
Best Accommodations in Estes Park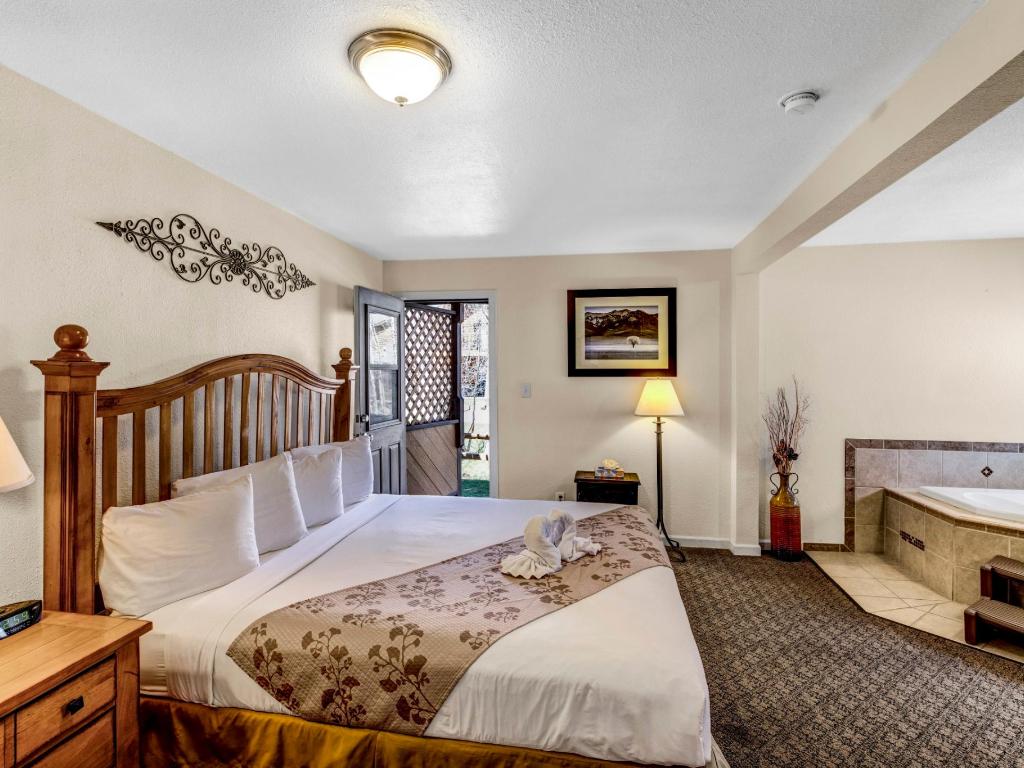 Price per Night: $89 – $134
Murphy's River Lodge features free WiFi, a flat-screen TV, tea and coffee-making facilities, and a refrigerator and microwave; certain rooms also have fireplaces and river-view decks.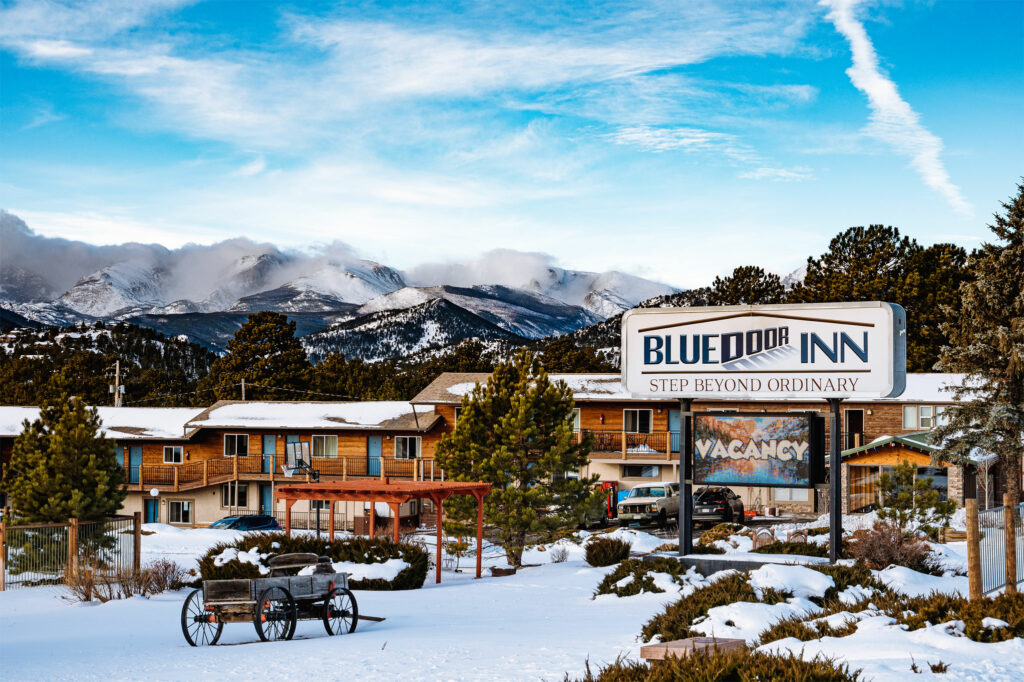 Price per Night: $230 – $280
The Blue Door Inn has a seasonal outdoor pool, a basketball court, and barbecue facilities with picnic tables. Free WiFi is provided in all rooms.
Lake Estes is 3.1 km away. It offers rooms with cable TV, air conditioning, microwaves, refrigerators, coffeemakers, and en suite bathrooms. Some rooms have spa baths and coffeemakers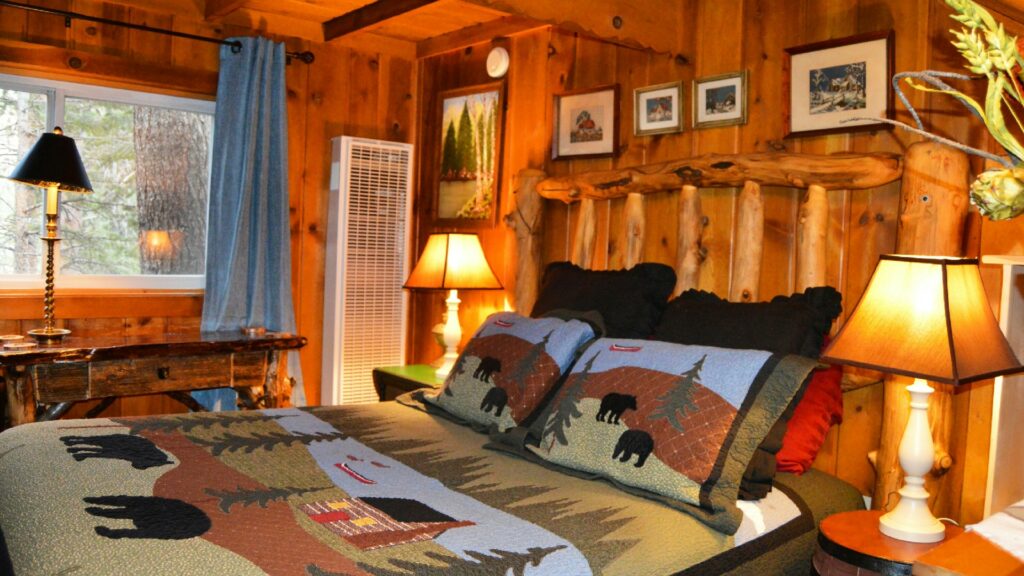 Price per Night: $146 – $167
In Estes Park, Pine Haven Resort offers free WiFi access and a private hiking trail into the Rockies.
The cottages at Pine Haven Resort Estes Park feature mountain views, a flat-screen cable TV, a kitchen with a dining area, as well as an en suite bathroom.
Top Excursions & Activities To Do On Romantic Getaways in Colorado
Colorado has many unique and beautiful locations to explore and activities to enjoy. If a couple had unlimited funds, they could easily spend six months filling up their itinerary, and they still wouldn't have done every activity this state has to offer.
It is with that thought in mind that we recommend these four activities. From breathtaking nature, areas filled with rich history, and a dinner night you'll never forget. Everyone will find an activity they and their partner can enjoy.
The Dinner Detective Murder Mystery Dinner Show – Fort Collins
Throw away the chocolate-covered strawberries and ideas of a romantic dinner and prepare for a humorous and challenging one instead. The murder mystery dinner show offers laughs and fantastic food throughout the event as everyone works together to solve the crime.
Jeep Tours – Foothills & Garden of the Gods
Strap in for an exciting 4WD jeep tour of some of Colorado's most famous sights. The guide will take you through the history and geology of Colorado's classic Old West area. Take part in this tour and catch a glimpse of the famous soaring red rock formations of Garden of the Gods.
Real Gold Mine Tour with Gold Panning and More
Explore historical gold mine tunnels more than 1,000 feet underground while getting involved in a hands-on tour of Breckenridge's only remaining open mine. You can trace the steps of the state's earliest gold hunter while you pan for gold in the sun.
Cheyenne Mountain Zoo
Visit the animals, ride a vintage carousel, enjoy a fine meal at the Grizzly Grill, and take the Mountaineer Sky Ride to the top of the Cheyenne Mountain Zoo for a wild adventure.
Experience the zoo's unique layout that gets zoo visitors closer to the animals. Watch grizzly bears swim and hunt trout, hop next to red-necked wallabies, and let's not forget the opportunity to hand-feed reticulated giraffes.
Sample Itinerary and Budget For Romantic Getaways In Colorado
You'll quickly learn that there is a lot to do in the Rocky Mountain state if you decide to take a road trip to Colorado; hiking, hot springs, ski areas, jeep tours, and many other activities. Putting together a travel schedule might be challenging.
That is why we have come up with a 7-day itinerary that can be modified to each couple's preferences.
Day 1 – Enjoy a relaxing day exploring Downtown Denver's many famous landmarks.
Day 2 – Escape the city for a romantic picnic at the Rocky Mountain National Park.
Day 3 – Shred the famous Aspen mountains.
Day 4 – Soak your tired body in the Glenwood Natural Hot Springs.
Day 5 – Explore the charming town of Vail.
Day 6 – Get lost in the Mesa Verde National Park.
Day 7 – Finish your trip with a thrilling Black Canyon of the Gunnison.
Budget Breakdown
Activity
Price
Accommodations
between $1,500 and $1,700
Rental Car
$170 for a week-long rental
Food and Beverage
$500
Excursions
Ski lift tickets at the world-class ski destination swill range between $185 and $200 per person, depending on whether you arrive during peak season.

Pool passes at the Glenwood Hot Springs Resort cost between $29 and $39 per person. The pass gives you access to their outdoor pools, hot tubs, and soaking tubs.

Every national park listed in the itinerary charge between $20 and $30 dollars for a vehicle pass.
Total
$2,500 and $2,900, depending on whether you travel during peak season.
Frequently Asked Questions
How much does a Colorado romantic getaway cost on average?
The average price of a 7-day trip to Colorado is $2,500 for a couple. However, it's important to note that the estimate given is only taking accommodation into account as every couple would enjoy different activities on their romantic trip.
When is the best time to visit Colorado?
Depending on whether you are looking for cozy cabins or an outdoor adventure in the fields, Colorado has something for everyone.
January through March: the greatest time to enjoy the snow in Colorado is during these months. The winter scenery might make you fall in love
June is a wonderful time to visit Colorado. With summer festivals in full swing and the weather warming up in the mountains for outdoor activities like fishing expeditions, camping, rock climbing, and hiking.
How long do people typically spend in Colorado on a romantic getaway?
Couples should plan for a two-week-long adventure. This will give you ample time to explore many of the sights in the region.
What is the best way to travel across Colorado?
Having a car will enable you to access the deserts, canyons, national parks, and mountain villages of the Rocky Mountain state.
Is Colorado a safe state to travel?
Yes, as long as you keep vigilant in unknown areas, you and your partner will be safe.
Is Colorado LGBTQIA+ Friendly?
Yes, Colorado is a state that has never backed down in its support of the LGBTQIA+ community. In 2019, it took steps to prevent conversion therapies and is one state that allows gender marker updates on both birth certificates and driver's licenses. Recent events aside, this is a perfect spot for your gaycation.
Start Planning The Ideal Romantic Getaway
We hope you have enjoyed this list of romantic getaways in Colorado. We tried to include everything from luxury resorts to bed and breakfasts. Some of them are more on the expensive side, while others can be found at a more reasonable price point.
Colorado is a state that is beautiful to travel to and experience during all times of the year, so you and your partner will quickly find yourselves falling head over heels in love with each other again as you explore and create memories together in Colorado.
Make sure to check out the resources at Couples Travel before planning your next trip!