If you and your loved one are looking to plan one of the most romantic getaways, then why not go to Wisconsin? You can have everything from a quiet small town, a cozy wood cabin, or a time in the hustle and bustle of the city.
Wisconsin is right on the coastline of two stunning lakes. Lake Superior and Lake Michigan make the most scenic backdrops for a fun and romantic weekend.
Explore the stunning surroundings of Lake Geneva on foot and visit stunning beaches. You can also enjoy a romantic cabin in the woods, visit towns, and taste the most delicious food.
Romantic getaways in Wisconsin are unmatched with all the fun, beauty, love, and excitement that the state has to offer. This article will tell you about the best places to stay and sites to see. We'll also look at budgets, and many other details so you can start planning the perfect getaway.
What Makes Wisconsin Perfect For A Romantic Getaway?
A romantic weekend getaway in Wisconsin will be perfect all year round. The state has something incredible to offer, no matter the weather.
It also has something for everyone. If you are big foodies and into tasting all of the finest foods and drinks, you're in for a great time. Maybe you enjoy hiking, or maybe your perfect getaway involves relaxing spa treatments. On the other hand, you can enjoy spending quality time together, surrounded by spectacular views.
You can find it all in wonderful Wisconsin. Visit the beaches, rolling hills, snowy cabins, gorgeous lakes, and busy cities. Some people only stay for a weekend or a couple of days, but with so much to see and do, you can also get a lot of exploring done in a week. It all comes down to the type of getaway you and your loved one are looking for.
Prices on the east coast are relatively high, but if you make your way inland, it becomes a lot more affordable. This is where you will find romantic bed and breakfasts, little towns, and remote chalets. These will make your romantic Wisconsin getaway one to remember.
Wisconsin has a lot of wood cabins, bed and breakfasts, secluded chalets, and some hotels. Wherever you decide to stay, it is bound to be exactly what you were looking for. Getting around this amazing state is also easy. Depending on what area you are in, you can go by car, boat, public transport, or foot.
Love is in the air, and Wisconsin is just waiting to fill your love cup and surprise you with the most romantic holiday yet.
Most Romantic Getaways in Wisconsin
Romantic getaways in Wisconsin are adventurous and special and should be planned to perfection. With so many amazing places to visit, it can be challenging to decide where to go. An obvious place is Lake Michigan. You can also take a romantic stroll along Lake Geneva.
Or, if you are up for more adventure, head over to the Wisconsin Dells. Here are various nature parks, perfect for a romantic weekend getaway in a secluded cabin. From there, go on hiking trails or try kayaking. In winter you can enjoy sports and cross-country skiing.
From the beautiful Door County to the historic Cedarburg and the various other stunning coastal towns of Milwaukee, Washington Island, and Sheboygan – you can have all of the sun and fun you'd like.
Door County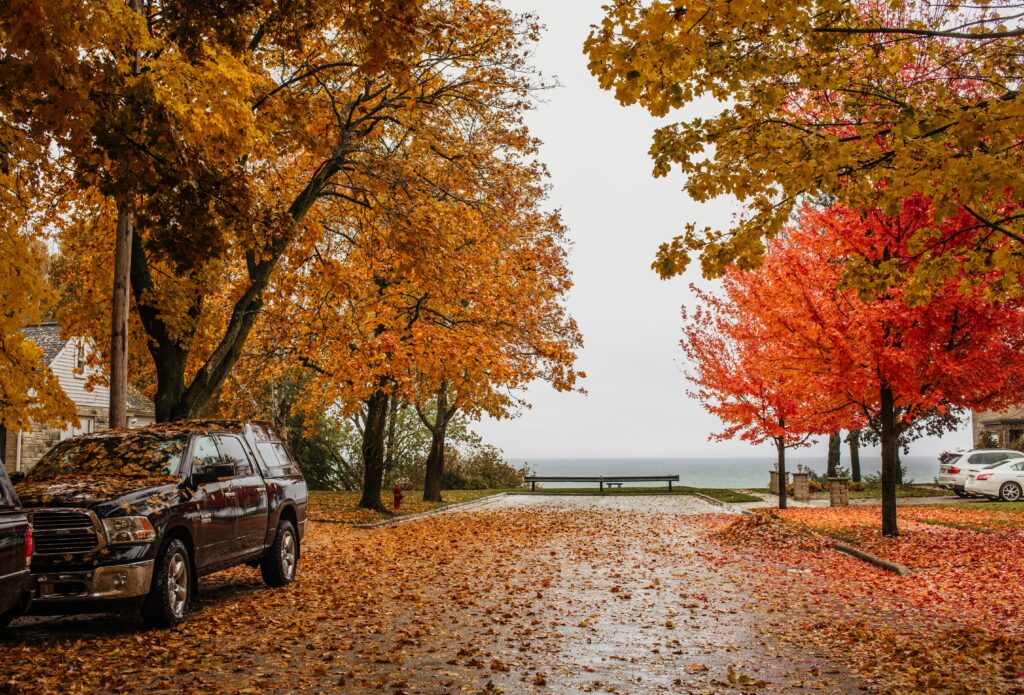 Door County is home to 300 miles of the beautiful Lake Michigan shoreline, which means you will always be right by the water near the paddling, boating, and water sports way of life that the locals have come to love.
Door County has 19 county parks, five state parks, thousands of acres of lush wilderness, and dozens of stunning beaches just waiting to be explored by you and your lover. You can expect locally grown breweries and wineries, waterfront dining, a vibrant and fun arts and culture scene, and special lakeside communities.
If you are looking for a lake getaway in Wisconsin, then Door County is the place for you. This area is great all year round. Go picnicking, cherry picking, beaching, scuba diving, and more during the summer.
You can also go moon and star gazing, what could be more romantic? You can also visit historic lighthouses and sites, go on scenic tours, have spa days, or stay in a stunning little cabin.
Door County is ideal for adventure junkies, sun lovers, beach-goers, foodies, and history buffs. You can create so many different types of romantic weekend getaways.
Best Accommodations in Door County Wisconsin: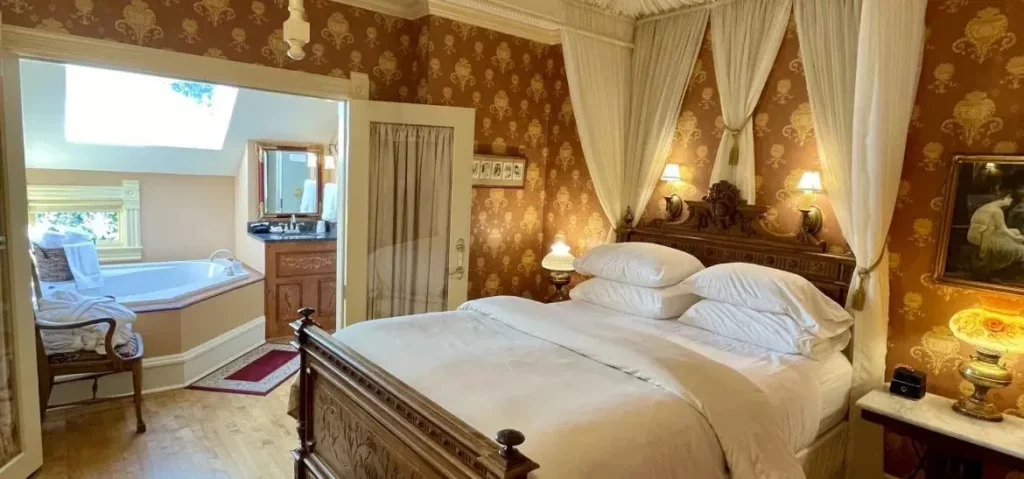 Price per Night: Starting at $249
This lovely stay can be found in Fish Creek. The inn, which is included on the National Register of Historic Places, has six guest rooms and six cottages. Its "Romance Package" includes extras like a bouquet, chocolates, and a bottle of wine.
A candlelit dinner at the stunning White Gull Inn is a must. Watching the sunset at the appropriately named Sunset Beach Park is quite an experience. Either one is perfect after exploring the almost 3,800-acre Peninsula State Park.
While still on the same site as the bed & breakfast, their charming, private cottages with 1-2 beds provide extra privacy. Each cottage in Door County is individually furnished and has its own personality. All of their homes feature fireplaces, and some have Jacuzzi baths. The assortment of six cottages is ideal for romantic holidays.
This is the perfect spot if you are looking for romantic Wisconsin getaways. Hiking, kayaking, shopping, biking, cross-country skiing, golfing, fishing, and visiting art galleries, beaches, marinas, orchards, and farms are just a few of the activities available. After an exciting day of activities, you can arrange an evening full of theater, cuisine, wine, and music.
You can also go visit the Peninsula State Park and Cave Point County Park, go on Fish Creek boat tours, or go on the Door County wine trail.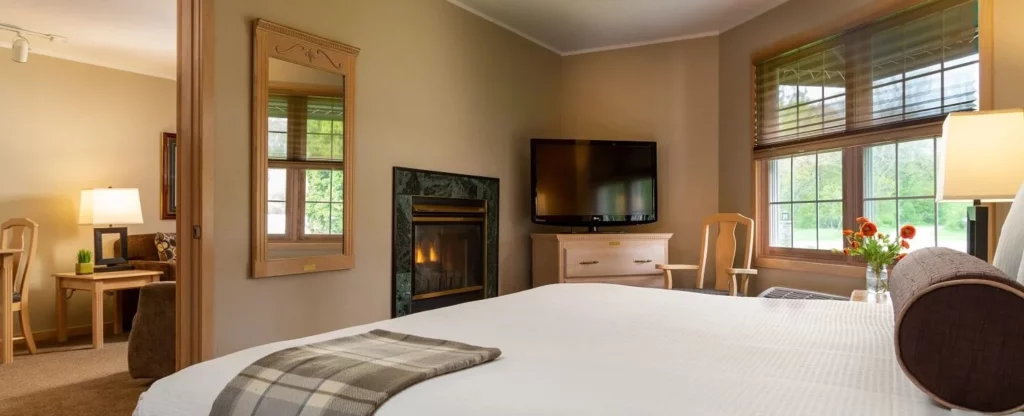 Price per Night: Starting at around $200
Ashbrooke can be found in Egg Harbor. Some of the large rooms and suites have two-person spa tubs in addition to an indoor pool and an outside fire pit.
The Door County Wine Trail offers a collection of nine wineries. These specialize in fruity wines, like cherry and apple, and may be reached from the Ashbrooke. In Egg Harbor, The Fireside Restaurant and the Village Cafe are popular with tourists.
The Ashbrooke Hotel is among the few adult-only and couples-only hotels in Door County. This makes it the ideal spot for a Door County romantic weekend. This is the perfect setting to unwind, reconnect and leave distractions behind. The Ashbrooke Hotel is a haven of elegance and comfort, close to the cultural and natural attractions of the peninsula.
This is one of the finest hotels to stay at during romantic getaways in Wisconsin. It is stylish, sleek, and bursting with romance. The hotel is perfectly located to go out and explore during the day and to come back, unwind, and spend a romantic night.
Price per Night: Starting from $200 per night
This resort is three miles North of Sturgeon Bay, Wisconsin, on the scenic Bay Shore Drive. Westwood Shores Waterfront Resort has the most amazing amenities, from pools to saunas, and all of its rooms offer the most incredible views where you can enjoy the sunset from the comfort of your room.
All of their incredible suites have private rooms, dining and living areas, and a kitchen with all of the appliances you may need to feel relaxed and comfortable. From the hotel, you can go out and explore and get involved in some of the fun local events, do some outdoor activities, and explore the historic lighthouses.
During your stay, you can have a calm and relaxing getaway or a more active romantic getaway; the choice is yours. The rooms are lavish, the location is perfect, and the staff are amazing. You are sure to have the best stay.
Cedarburg
Consider Cedarburg for a delectable weekend that guarantees wine, cheese, and a comfortable B&B for you and your loved one. Couples looking for a quaint tiny town can find one in Cedarburg, which is a little more than 20 miles north of Milwaukee.
Start off your trip with a sampling at Cedar Creek Winery, located in a former woolen mill from the nineteenth century. Try a flight of the winery's products to sample them all, or treat yourself to a seasonal cheese and wine pairing.
Along with more conventional grapes like cabernet sauvignon and pinot grigio, Cedar Creek also provides more unusual selections like its Cedarburg Spice, a rich mulled red wine enriched with clove and allspice.
Best Accommodations in Cedarburg, Wisconsin:
Price per night: Starting at $169 per night
The inn, which opened its doors in 1846, now has 34 rooms distributed across two structures. No matter which lodging option you choose, some of which have fireplaces and Jacuzzi tubs, you'll enjoy a complimentary delicious continental breakfast and a complimentary wine and cheese hour every afternoon.
Book the inn's lovely "Celebrate in Style" package. It includes two tour tickets to the Cedar Creek Winery, a bottle of Cedar Creek wine, two souvenir wine glasses, some sparkling wine, and chocolate truffles to turn up the romance throughout your stay.
This stay is amazing during the winter. You can go wine tasting, snowshoeing and skiing, ice skating, craft beer tasting, shopping, and much more. 34 distinctive rooms are available at the Washington House Inn, including five rooms in the nearby Schroeder Guest House.
Every room includes upscale facilities like free Wi-Fi, the best bedding available for purchase, and many other things. Whirlpool tubs, steam or therapeutic showers, and comfortable fireplaces are a few other opulent extras you might discover.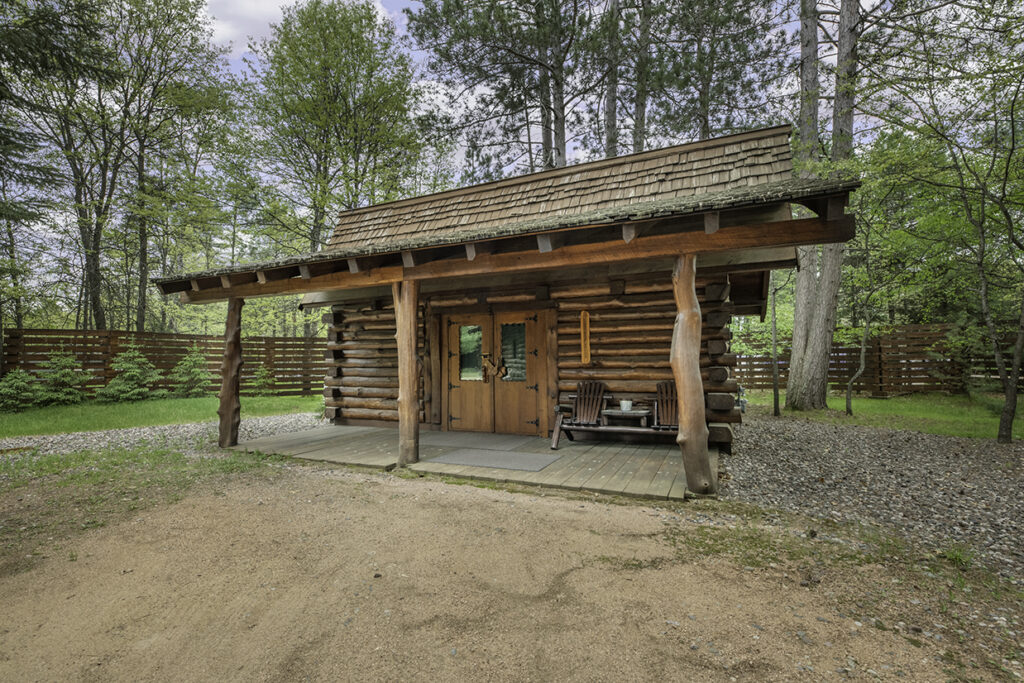 Price per night: Starting at $120 per night
Plan a visit to Big Bear Hideaway if you and your significant other dream of spending nights cuddling up by the fireplace in a remote romantic lodge in the woods. Big Bear Hideaway offers six year-round cottages and is tucked away in the Northern Highland-American Legion State Forest in northern Wisconsin.
These cabins made of stone and logs are furnished with kitchens and rustic furniture. Among other features, some lodgings also have gas fireplaces. If you're traveling with numerous other couples, options range from the Polar Bear Palace, which may also accommodate up to 13, to the Honey Bear cabin, a studio designed just for two.
You and your partner will find a range of facilities outside your lodgings to make your stay more enjoyable, such as a sauna, a fish-cleaning station, a pavilion with a fire pit and grills, and pontoon boat rentals.
Additionally, there are plenty of options for biking, hiking, kayaking, canoeing, snowmobiling, and fishing in the surrounding towns of Boulder Junction, Manitowish Waters, and Minocqua. You will need to venture out to town to find some delicious meals to eat during your stay.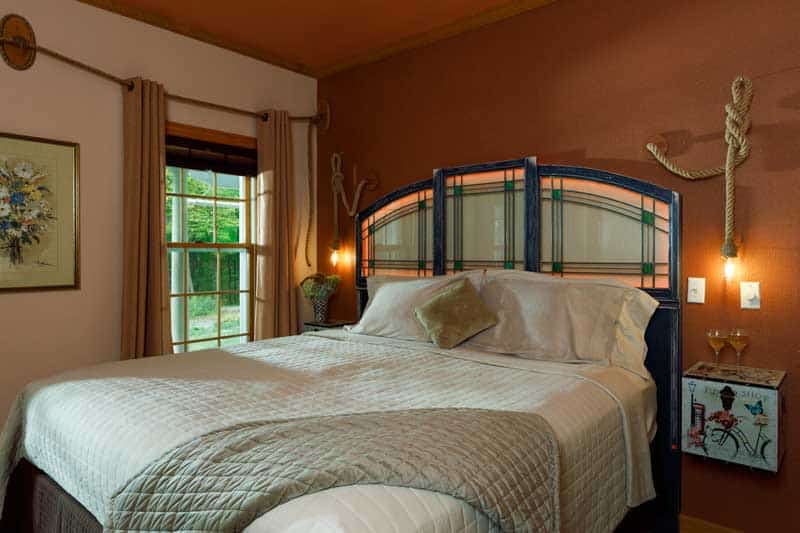 Price per night: Starting at $270 per night
The inn's rooms are made for total coziness, romance, and leisure. Each of their stunning spacious rooms has a lovely view, tasteful furniture, and special attention to detail for you. The facilities include comfortable fireplaces, luxurious jetted tubs, and the best bedding.
They also have an incredible spa where you can book some relaxing treatments for you and your loved one to unwind and really start feeling like you are on holiday. You will be in the perfect location to explore all this stunning area has to offer.
Top Excursions & Activities To Do On A Wisconsin Romantic Getaway
There is so much to do in Wisconsin during romantic getaways. Island hopping is a popular activity. The Apostle Islands and Bayfield are both breathtaking. There is a lot to see and do in Bayfield, a charming coastal town that serves as the entry point to the 21 islands. Island hopping is the best romantic getaways in Wisconsin.
There are 21 coastline islands that make up the Apostle Islands National Lakeshore, each with stunning scenery. There are 12 kilometers of mainland coastline for you to explore, as well as windswept beaches and sandstone cliffs.
Lake Geneva is also a must-see. It's a town filled with stunning houses, charming bed and breakfasts, and a picture-perfect lake that begs to be explored together. The best way to take in all the sights of this beautiful location is to walk along the Lake Geneva Shorepath.
You can end your day with a cocktail, jazz, or sunset cruise, or bring a picnic and sit and watch the sunset on the lake's shores. These are just some of the amazing things to see and do. Others include:
There are many amusement parks, one being the Bay Beach Amusement Park. You can also go on the Lake Geneva cruise line and enjoy the many water activities that Wisconsin offers.
Camp in Kohler-Andrae State Park. It's a truly picturesque jewel with gigantic sand dunes and stunning views and is situated on Lake Michigan. Without any plans or deadlines, it's a fantastic place to go on adventures.
Plan a spa getaway and spend most of the time unwinding and relaxing.
Big Manitou Falls, here you will find waterfalls, rivers, and lakes. Romantic getaways in Wisconsin are not complete without a lot of nature.
Sample Itinerary & Budget For Your Romantic Getaway In Wisconsin
| | |
| --- | --- |
| Activity | Price |
| Accommodation | Around $200 per night |
| Transport | The town is walkable, but you can take the boat to get around, which costs about $35 |
| Food/Beverages | $34 per day for meals |
| Excursions | Most excursions are free. You may just need to pay for travel to get there. Witches Gulch has a $30 entrance fee. |
Day 1: Wisconsin Dells
Check in at your hotel and perhaps book a spa treatment at one of the nearby facilities to unwind after your hours of traveling. The Sundara Inn & Spa makes for a perfect romantic getaway.
They offer various treatments and have luxurious amenities. Then go out and indulge in a delicious dinner at Field's at the Wilderness.
Day 2: Fawn Creek Winery
Wake up and enjoy a delicious breakfast at your hotel or in the town. Then head out to Fawn Creek Winery for the day to sample some spectacular wines. Afterward, you can explore the town, browse some stores, and grab a bite to eat.
You could even end your night off at the Palace Theater for a fun night out.
Day 3: Outdoor activities
Many places are within walking distance, while others may require transport. If you like being outdoors, you may want to consider going to Witches Gulch or Riverwalk. Here you can spend some time outdoors, take in the fresh air, and be amazed by the natural beauty Wisconsin offers.
Catch the sunset or go watch some live music at a bar to end the day off.
Day 4:
Wake up and enjoy a relaxing breakfast at your hotel before heading off to go home or hit another part of Wisconsin. You could make a bit of a road trip and explore other parts of the state – the romance does not need to end here.
Frequently Asked Questions
How much does a Wisconsin romantic getaway cost on average?
Romantic getaways in Wisconsin can be made on a budget, or you can splurge. It also depends on what activities you'd like to do or what type of getaway you are looking for. Activity-filled getaways will likely cost more than relaxing ones would.
On average, a seven-day trip to Wisconsin can cost you around $1,597 as a couple. Costs will vary depending on your choice of accommodation and how long you would like to stay for.
When is the best time to visit Wisconsin?
May to October is the ideal season to travel to Wisconsin. However, Wisconsin is a state with pleasant weather all year round since it has a typical continental climate with lots of moisture in the air.
It also depends on the getaway you want. If you would like to visit the beaches, summer will be your best bet. But if you would like to go skiing and stay in a cabin, winter would be a perfect time.
How long do people typically spend in Wisconsin on a romantic getaway?
Some people visit Wisconsin for a weekend on their romantic getaway, but they tend to stay in one part of the state. At the same time, others make more of a trip out of it and go for a week or longer. If you want to explore Wisconsin, then a couple of days would be best.
What is the best way to travel to Wisconsin?
The easiest way to travel is by plane. Most travelers generally land at Milwaukee Mitchell International Airport (MKE). From here, you can drive to your destination or fly to one of the smaller airports.
Start Planning The Ideal Romantic Getaway
Romantic getaways in Wisconsin are an absolute dream, you will be spoilt for choice with things to do and see, and romance truly blooms in the air in this magnificent state. Couples love getaways in Wisconsin due to the huge variety of places to go. From cities and towns to secluded cabins and the most incredible nature.
Start planning your getaway now so that you can book the best hotels and activities. Be sure to see all of the special attractions and make your loved one feel special by treating them to the best Wisconsin getaway ever.
If there's somewhere else on your list to visit, be sure to check out our plethora of Couple Travels resources on our site to inspire you.