Are you and your loved-up partner looking for a romantic weekend getaway?
Indiana is a great location for romantic getaways in the US, thanks to the variety of cities and landscapes found in the Hoosier state. There is something for everyone, from nature walks to horse-drawn carriage rides to bustling cities.
In this article, we will look at some of the best accommodation options in different regions of Indiana, as well as some must-do activities in this state.
What Makes Indiana Perfect For A Romantic Getaway?
The Midwest is a gorgeous state, and although many lovebirds may flock to the neighboring Michigan or Chicago, Indiana must not be overlooked.
Indiana has a variety of gorgeous landscapes, from rivers and valleys to mountainous regions with breathtaking lakes. The accommodation options in the state are endless as well. Whether you want a quaint bed and breakfast or a vast luxury hotel, you are sure to find your dream stay.
Not only can you find plenty of outdoor activities to enjoy, but Indiana is also generally more affordable for those traveling on a budget.
Most Romantic Getaways Indiana
There are plenty of romantic getaways in Indiana for couples from all walks of life. Whether you take a road trip across the state or hop between cities, the choice is yours.
From wineries to lakeside hikes, picturesque towns to noisy cities – every couple can have their dream romantic escape in the Hoosier state.
Indianapolis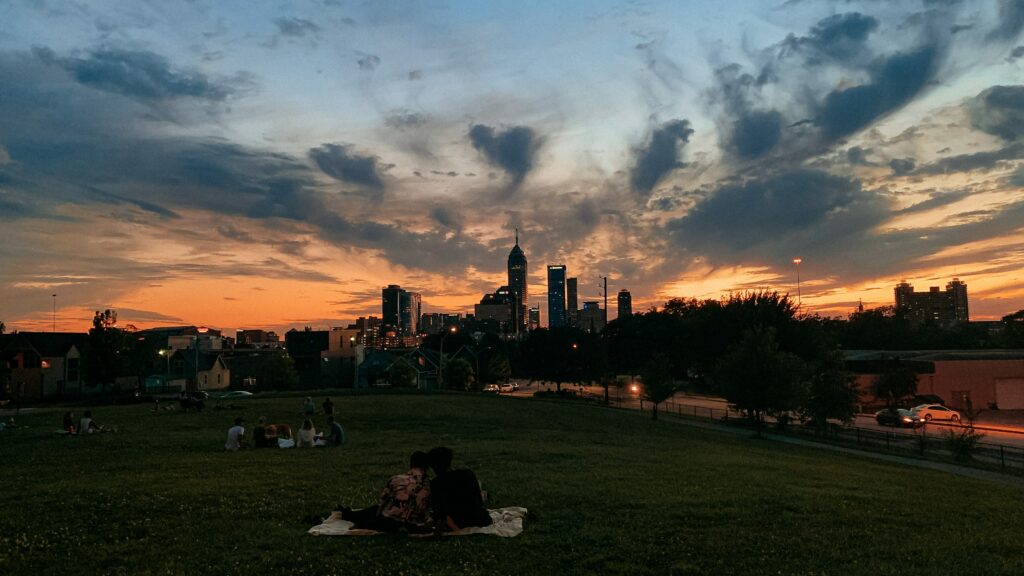 Indianapolis is the largest city in Indiana and a popular stopover for couples visiting the state year-round.
This large city is a mecca for arts and culture, and even nature lovers can get their fill here with the beautiful rivers. Fans of motorsports will also love this city thanks to the Indianapolis Motor Speedway.
There are plenty of romantic things to do in downtown Indianapolis, and outdoor enthusiasts can enjoy the miles of cycling trails in the surrounding countryside.
Here are some of our favorite couples' activities in the city:
Best Accommodations in Indianapolis: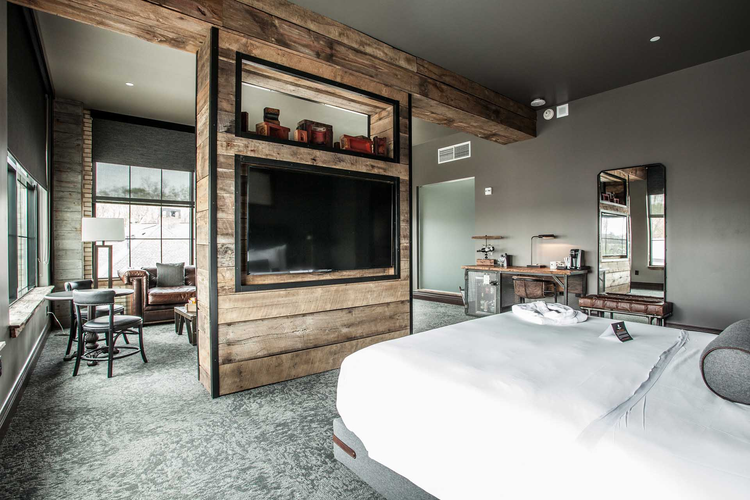 Price per Night: $209 – $1625 per night (minimum 3-night stay)
The Ironworks Hotel Indy is unlike any other hotel you have stayed in. This hip and trendy hotel combines modern amenities with ultimate luxury.
Couples hardly have to venture far to find everything they need. The hotel boasts an on-site restaurant, rooftop lounge, and even retail shops! The rooms are styled like apartments, creating that perfect home-away-from-home feel. There are guest rooms as well as suites on offer.
It is well located in the heart of the city, giving couples easy access to fine dining and tourist adventures.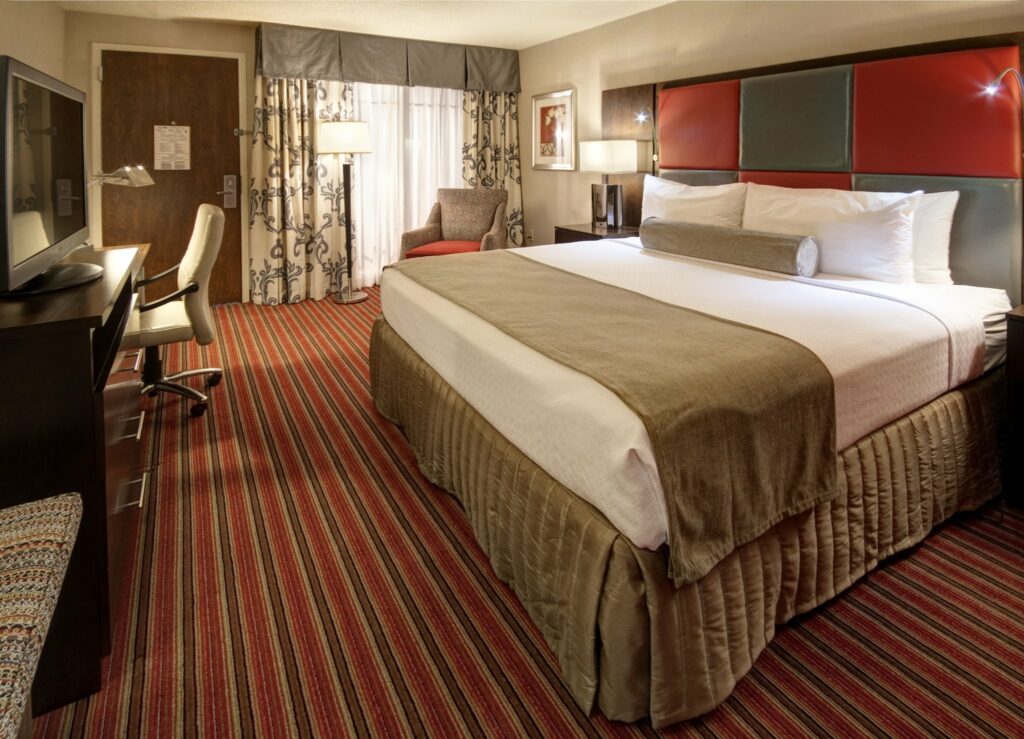 Price per Night: $170 – $246
The Crowne Plaza Indianapolis will make you feel like royalty and is perfect for those romantic couples looking to really spoil themselves.
This historic hotel is situated in one of America's first-ever train stations and offers large rooms and top-notch amenities.
Whether you stay in one of the traditional rooms or decide to make your 1920s dreams a reality in the revamped train carriage, you will have access to the indoor swimming pool and lip-smacking restaurant and also have easy access to everything Indianapolis has to offer.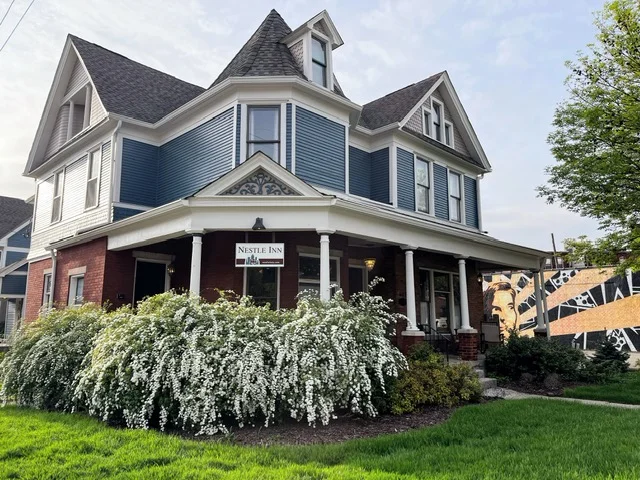 Price per Night: $209 – $249
Why not book your stay at the Nestle Inn? The Nestle Inn describes itself as "not your grandma's B&B," and although it is a boutique hotel, Nestle Inn still has touches of comfort that you do not find in large hotels.
The Nestle Inn was constructed in 1896. There are only six rooms to choose from, each with a soaking bathtub and Wi-Fi. There are also cooking classes available for couples who want to try something new together.
South Bend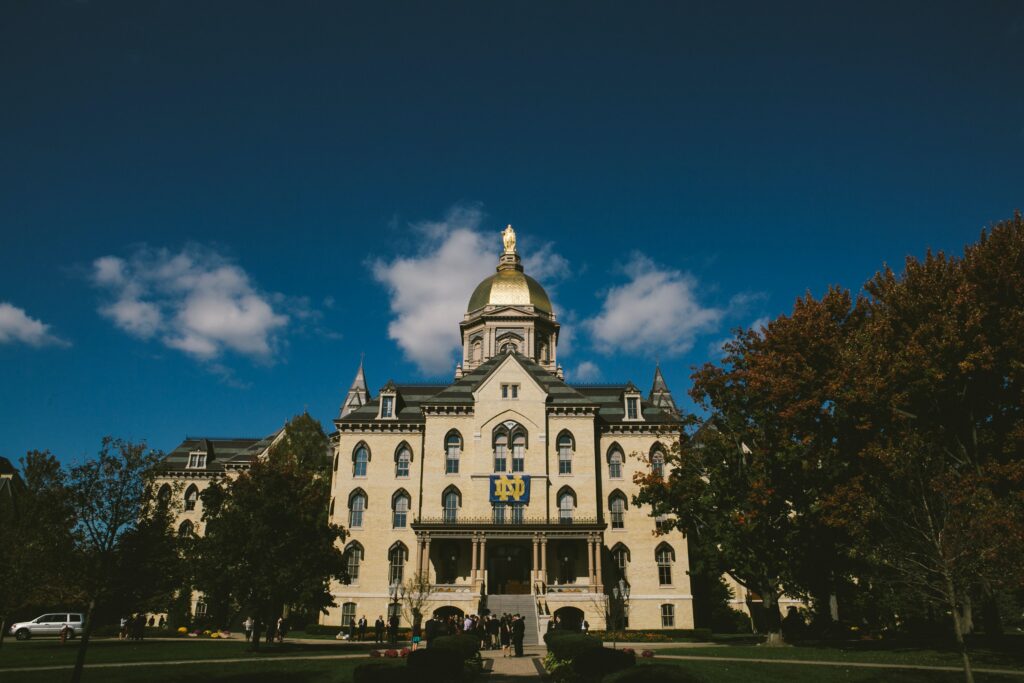 South Bend is a popular destination for couples as it is home to the gorgeous University of Notre Dame. Here you will find a lot of outdoor activities as well as modern restaurants and accommodations.
Here are some of our top picks for romantic activities in the city:
Best Accommodations in South Bend: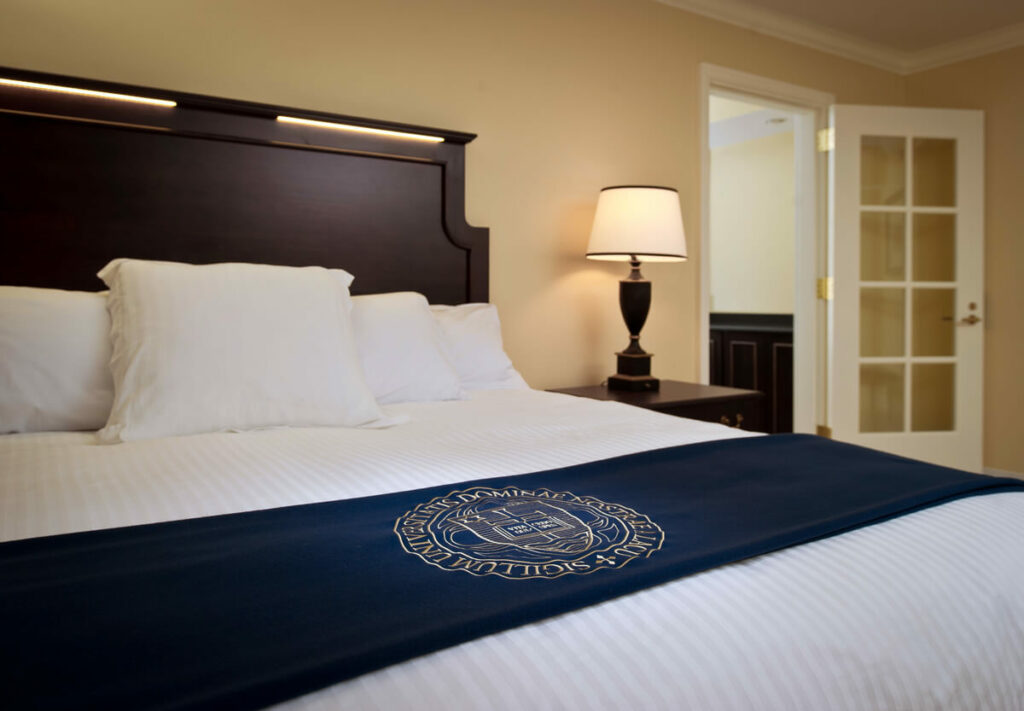 Price per Night: $117 – $899
The gorgeous Morris Inn is located right on the campus of Notre Dame University and is the ideal option for those who want to enjoy the feel of a university town.
The Morris Inn is one of the most romantic hotels and has all the amenities you could desire for all types of romantic getaways. Guests can also access some of the university's facilities, like the sports center, St. Josephs's beach, the North Dome, and the climbing wall.
Price per Night: $189 – $356
The Oliver Inn provides guests with a mouthwatering, truly American breakfast, and couples can unwind in the beautiful garden.
The Oliver Inn is located close to the Notre Dame Stadium, Morris Performing Arts Center, and various museums and restaurants. There are eight individually decorated rooms to choose from at the Oliver Inn, as well as the Carriage House for guests who want a bit more space.
Southern Indiana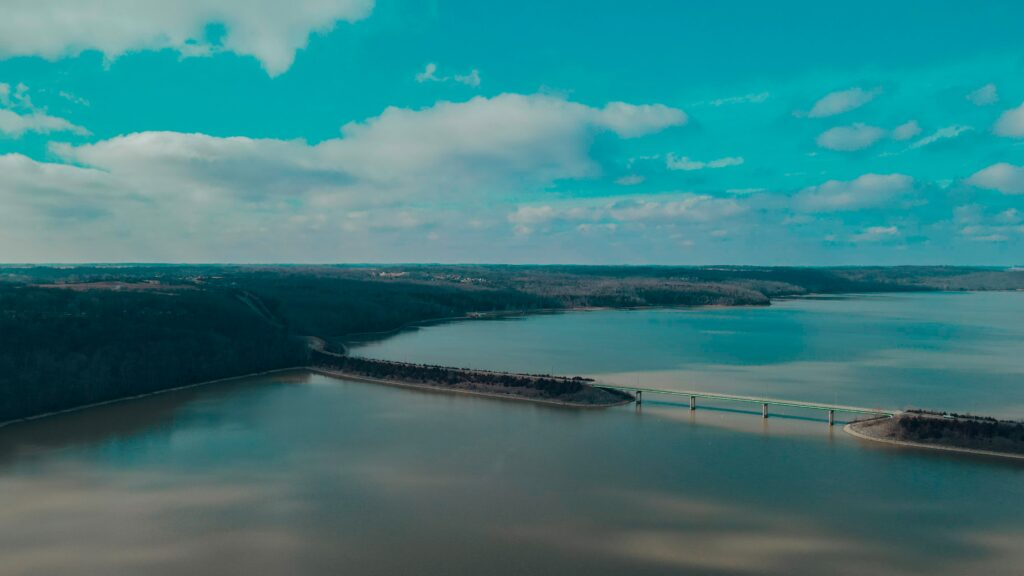 Southern Indiana is a large region, making up one-third of the entire state.
Evansville is the largest city in the region, with plenty to do and see, but the smaller towns dotting Southern Indiana cannot be missed.
The list of activities in this region is endless, but here are a few of our top picks:
Best Accommodations in Southern Indiana: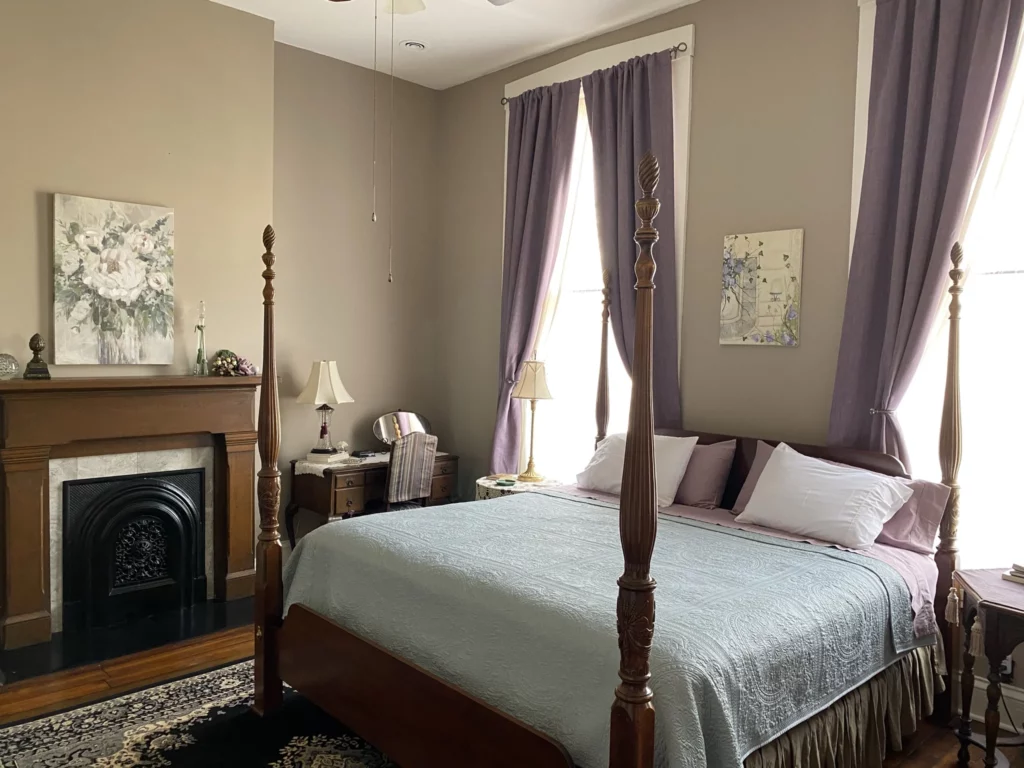 Price per Night: $175 – $205
The Iron Gate Inn is a unique and intimate experience for couples. The Iron Gate Inn was constructed in 1840, and this exclusive Inn only has four guest rooms.
This Bed&Breakfast offers the best in luxury, with candlelit breakfasts, private bathtubs, and easy access to the Ohio River. The Iron Gate Inn is situated close to many restaurants and historic sites in Madison.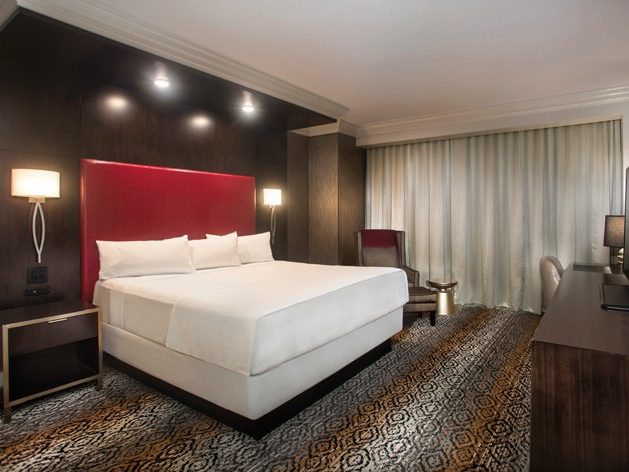 Price per Night: $89 – $109
Ceasars Southern Indiana is located just a hop over the river from Louisville and is a luxury hotel and casino with large rooms and all the best amenities. This hotel is catered to those who enjoy the lively atmosphere of Las Vegas without all the people around.
There are several room options available, such as deluxe rooms and suites, and on lazy days you can enjoy the delicious room service available. The hotel also hosts regular shows, so you do not have to venture far to get your live music fix.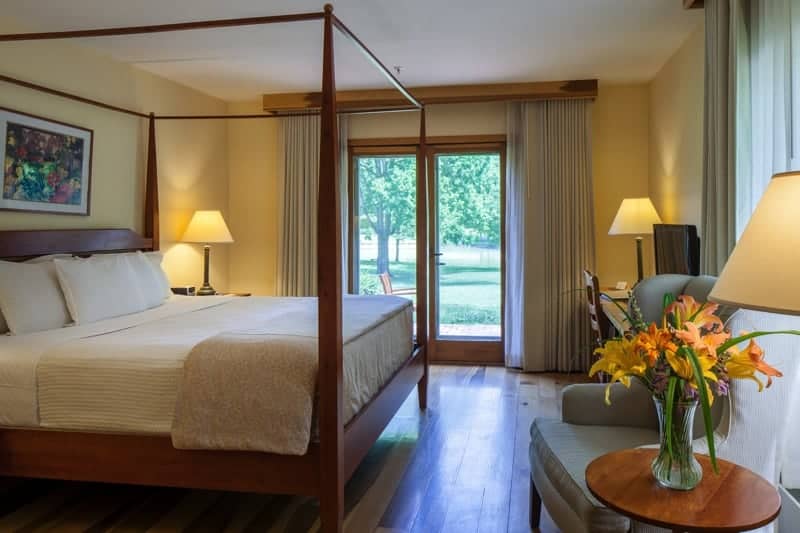 Price per Night: $160-$215
The New Harmony Inn allows you to "find your way back to quiet." Located just outside of downtown Evansville, the Inn provides you with the quiet you so desire while still allowing you to quickly access the city.
At the New Harmony Inn Resort, you will find 90 guest rooms, some with fireplaces, balconies, patios, and gorgeous views of the Wabash River. Guests looking for more privacy can check into any of the New Harmony Inn's four guest houses.
There is on-site dining available at the Red Geranium Restaurant, where couples can indulge in traditional Midwest cuisine and American dining.Couples seeking an escape from the city really cannot go wrong with the charms of the New Harmony Inn.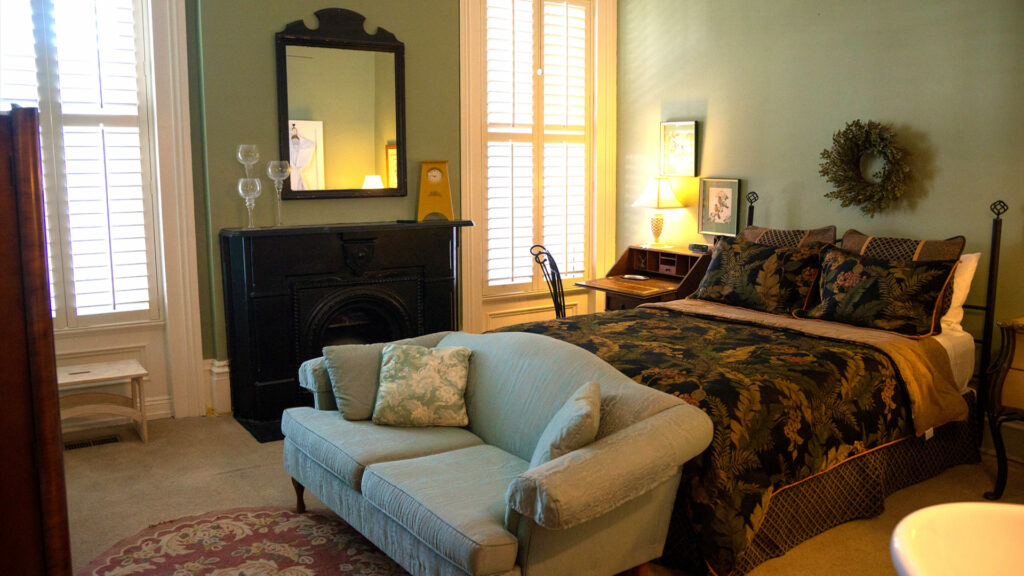 Price per Night: $160 – $210
The Market Street Inn is unlike any other hotel and is the perfect spot for romantic getaways. It is a large brick mansion with an inviting porch where couples can snuggle up and watch life go by.
The Market Street Inn has seven main guest rooms as well as the Carriage House Suites. Each of the guest rooms comes with a historic fireplace and a bath, and the breakfast offerings are enough to get you started with your day.
For guests looking to be more social, the Market Street Inn has a large rooftop deck where guests can gather with drinks.
Northern Indiana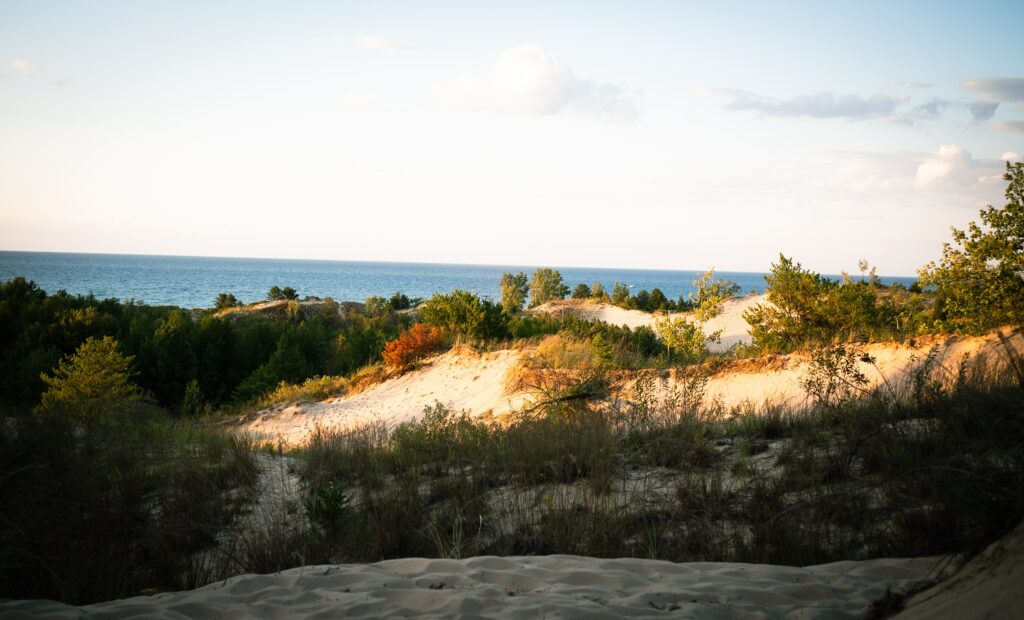 Northern Indiana encapsulates plenty of historic towns and the city of Fort Wayne. This landscape is drastically different from the south, with flat terrain, rolling hills, and plenty of lakes.
A road trip around the region will see you walking through the campus of Notre Dame in the morning, visiting the Indiana Dunes State Park over lunch, and gambling away your stress at a casino when night rolls around.
There is plenty to do and see in this region, but our personal favorites are:
Best Accommodations in Northern Indiana: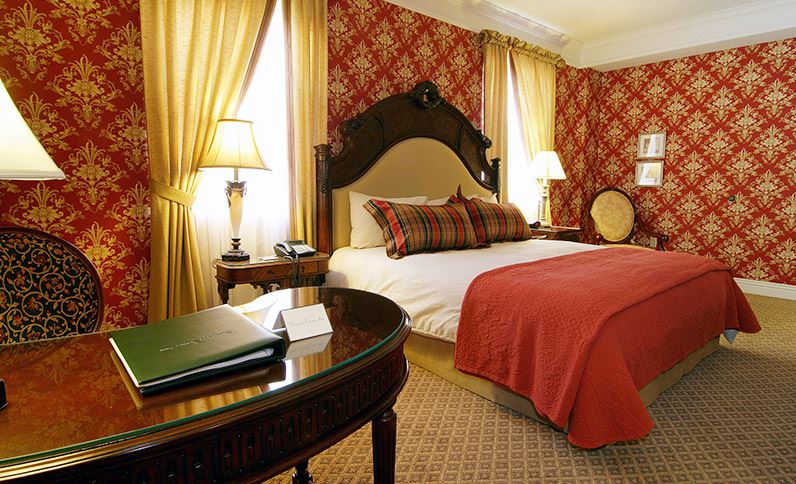 Price per Night: From $330
The Charley Creek Inn is located in the historic town of Wabash. Charley Creek Inn is a boutique luxury Hotel with just 30 rooms. Each of the rooms is kitted out in historic decor but features modern amenities.
There are rooms available for every budget, from basic guest rooms to the Deluxe Suite. Hungry guests will also be happy to learn about the on-site Twenty Restaurant, the Green Hat Lounge, where you are transported to yesteryear, as well as the Wine & Cheese and Ice Cream & Candy Shops, where guests can indulge their tastebuds.
Charley Creek Inn offers a "Romantic Getaways" package that includes a wine tasting, a box of chocolates, fine dining at the Twenty Restaurant, and roses waiting in the room.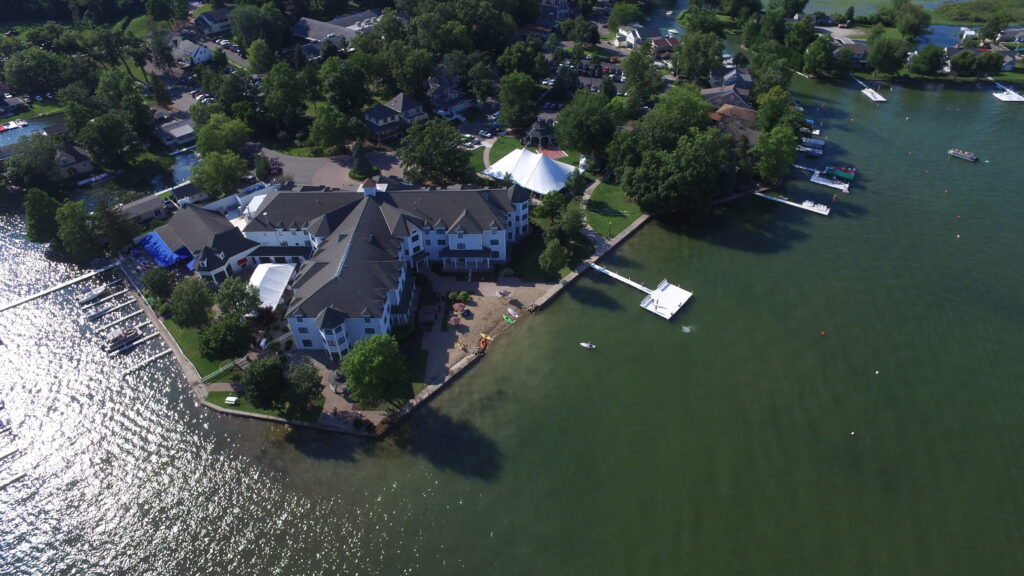 Price per Night: $88 – $200
The Oakwood Resort is located close enough to Fort Wayne so that you can get access to the many sites in the city, but also far enough outside of the city for some peace and quiet.
The Oakwood Resort was historically a camp on the water of Lake Wawasee but has since been upgraded to meet the needs of luxury travelers. Despite the fine accommodations, the resort still feels relaxed.
Couples who enjoy being active can walk, run and cycle across the Oakwood Resort's 27 acres, or relax in their room, suite, or lake house. Guests can also book a boat tour on the lake for just $10. Guests can enjoy a free paddle on a kayak or unwind on the on-site restaurant's patio after a long day of sightseeing.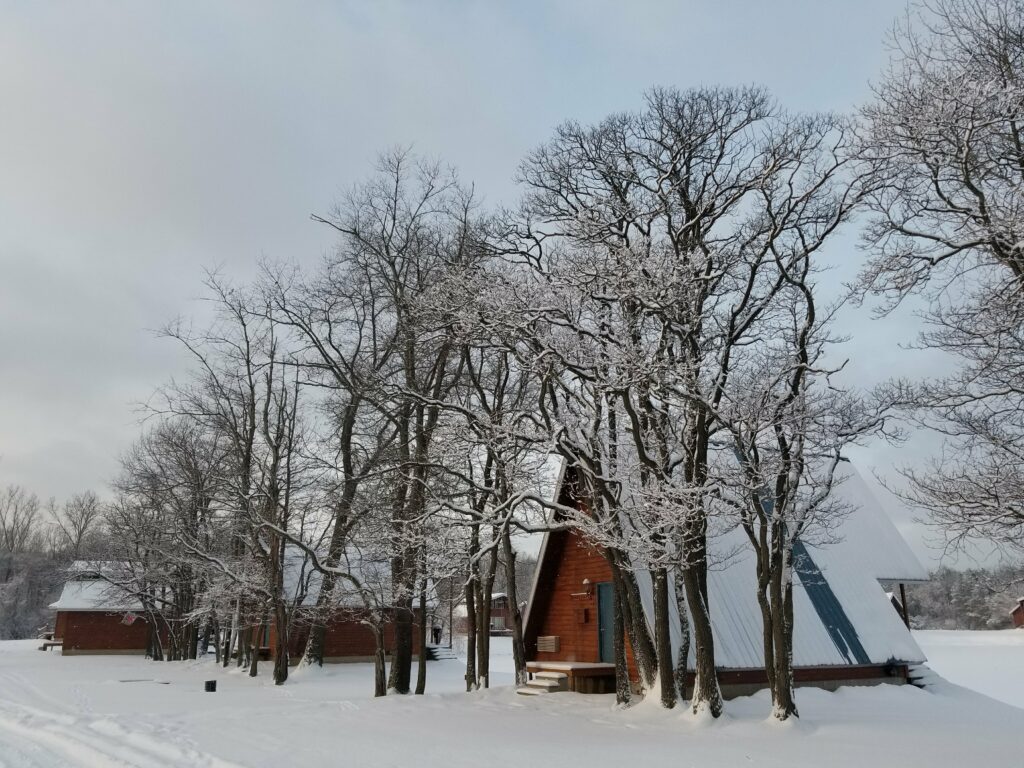 Price per Night: $259 – $599
Serenity Springs is specifically aimed at couples looking to escape, making it one of our top picks for the most romantic hotels in Indiana. The Serenity Springs Resort offers couples seclusion and privacy in private cabins situated in nature.
The log cabins have sunken whirlpool tubs, fireplaces, and a TV for couples who enjoy movie nights.
Guests can enjoy romantic carriage rides across the 85-acre property, and afterward, they can be treated to a candlelit in-room dinner or dine more casually at the Pizzeria on the property.
There are walking and cycling trails, catch-and-release fishing, as well as feeding the local flock of friendly fowl. The Indiana Dunes National Park and Lake Michigan are also a short drive away.
Top Excursions & Activities To Do On An Indiana Romantic Getaway
There is so much to do, but we have managed to narrow down our top romantic activities for couples enjoying romantic getaways in Indiana.
The South Bend River Lights are a beautiful display of twinkling lights on the St. Joseph River. This free activity is perfect for couples visiting in the summer, as they can walk hand-in-hand along the river or pack a picnic while watching the sun go down, and the lights come on. There are brightly lit fountains, gorgeous statues, and a joyous atmosphere in the air.
For those overnighting in Bloomington, Lake Monroe is worth a visit. It is one of the largest lakes in Indiana, with camping, fishing, boating, swimming, and plenty of water sports for adrenaline junkies to enjoy during their romantic weekend getaways.
Wine enthusiasts cannot miss Oliver Winery, the oldest and largest winery in Indiana. Situated on the banks of the Mississippi River, this winery is well-known for its award-winning wines. Visitors can sample the wines in the tasting room, or those that are not keen on alcohol can enjoy a romantic picnic in the gardens.
Hoosier National Forest is a must-see for lovers of all things outdoors. This forest expands across 200,000 acres, with many miles of trails for runners, cyclists, or those simply wishing to be still in nature. Couples can enjoy hiking, rock climbing, and horseback riding through the park.
Sample Itinerary & Budget For Your Romantic Getaway In Indiana
Exploring the whole of Indiana in just a few days is nearly impossible, but we have compiled a sample 3-day itinerary for couples who wish to explore the southern parts of the state.
Day 1
Start your trip off at Evansville, a lively city in the southwest along the banks of the Ohio River. Here you can head over to the USS LST 325 memorial for a guided tour of this WWII military vessel for just $15 per person.
Next, you can head to the Azalea Arboretum and Botanical Gardens in Hazleton, where you can enjoy the azaleas in bloom during spring. You and your partner can walk around the gardens and enjoy a picnic lunch on the sprawling lawns. Entrance to the gardens is $5 per adult.
When night comes around, you can enjoy dinner at one of the many vibey restaurants at Haynie's Corner Arts District in Evansville. There are plenty of hotels to stay at, including the Bally's Hotel and Casino on the riverfront or the Courtyard by Marriott Hotel.
Day 2
Day 2 is all about exploring history and culture. Couples must make an early morning stop at the Evansville African American Museum to learn more about the federal housing project established in 1938 and to explore a historic building from the Lincoln Gardens.
You can indulge in a delicious lunch at the Carriage House Restaurant, located at the Reitz Home Museum ($10 per adult), and if you so wish, you can also take a tour of this Victorian mansion.
Whether you believe in Father Christmas or not, a stopover in the tiny town of Santa Claus is well worth your time. This town hosts the Santa Claus Museum, Santa Clause Christmas Store, Santa's Candy Castle, and Dr. Ted's Musical Marvels.
While there, you can grab lunch of any at the casual dining establishments or head over to the Monkey Hollow Winery and Distillery.
The St. Meinrad Archabbey is also worth a visit for those with religious inclinations, and visitors can pray with the monks and attend Mass.
In the afternoon, you can choose between exploring French Lick or West Baden or heading over to Hoosier National Forest for some outdoor fun. Both French Lick and West Baden have plenty of overnight accommodations for every budget, or you can rough it by camping in the National Forest or in a yurt at the Mary Rose Herb Farm.
Day 3
While in the area, it is worth exploring the once-named "Eight Wonder Of The World," the West Baden Springs Hotel. This resort was constructed more than a hundred years ago, and you will be left speechless after admiring the vast atrium.
Next, it is time to get wild at the Wilstem Wildlife Park, where you can enjoy the company of elephants, giraffes, sloths, grizzly bears, and kangaroos. General admission is $19 for a self-drive safari.
If you are ready for even more adventure, you can schedule a boat tour with Patoka Pride on Lake Patoka and pop in for a visit at Patoka Lake Winery while you are there.
Costs
| | |
| --- | --- |
| Activity | Price |
| Getting around | Car rentals cost around $65 per day in Indiana |
| Accommodation | $50 to above $300 |
| Food and drink | On average, a meal can cost $10 |
| Excursions | $10 – $15 per excursion |
The total cost for a weekend getaway in Indiana will depend on where you stay, what you do, and how you dine, but you can expect to pay in the range of $500 for a romantic trip per person.
Frequently Asked Questions
How much does an Indiana romantic getaway cost on average?
On average, you can get an amazing and secluded self-catering cottage or hotel room for around $100 to $400 for the weekend. The total cost of your weekend will depend on where you stay, what you eat, and which activities and attractions you visit.
When is the best time to visit Indiana?
The best time to visit Indiana is during Autumn, from middle August to October. The weather is more predictable during this time.
How long do people typically spend in Indiana on a romantic getaway?
A three-day trip to one region of Indiana will be enough; however, if you wish to see the whole state, you can extend this to seven days and explore the southern, middle, and northern areas.
Start Planning The Ideal Romantic Getaway
It is easy to see why couples yearn to escape to Indiana. It is the perfect midwestern break for lovers seeking to experience something new. From relaxing stays on the river to wild nights in the casino, no one will be bored during their visit.
Are you ready to start planning your trip? Make sure to check out Couples Travel for all the resources you need!