Connecticut is an ideal location for those couples who want something a little bit different when it comes to their romantic getaways.
It has everything you could want to make a trip away with your spouse a memorable adventure. It's packed with stunning coastlines, lush green forests, rolling hills, and quaint little towns. There's also a great nightlife and bar scene throughout the state, as well as lots of romantic restaurants and experiences to try out.
This article will talk in-depth about the very best things to do, see and visit and where to stay. We'll also give you a price breakdown and an itinerary for a romantic weekend away.
What Makes Connecticut Perfect For A Romantic Getaway?
Connecticut makes the ideal weekend getaway, or a great place to spend longer! The state is fun, exciting, and modern. It's packed with lots of cool leisure activities to keep you buzzing with excitement. There's also a huge variety of unique hotels and charming inns, so regardless of your budget, there'll be somewhere brilliant for you to stay.
The romantic aura of Connecticut is unparalleled. It has stunning landscapes, towns to explore, and friendly, welcoming locals. It also has an abundance of outdoor activities for those feeling adventurous.
Situated on the East Coast of the United States, Connecticut is easily accessible by car and public transport.
Generally, prices for a romantic holiday can range from reasonably affordable to quite costly. You can find hotels for around $100 – $200 per night or luxury resorts that cost over $300 per night.
Most Romantic Getaways In CT
When it comes to romantic getaways in Connecticut, couples are spoilt for a choice of places to visit and stay. Regardless of whether you want a quiet, chilled romantic weekend or a more exhilarating, sports-packed holiday with your other half, Connecticut has it all to make your next romance-filled getaway perfect.
Washington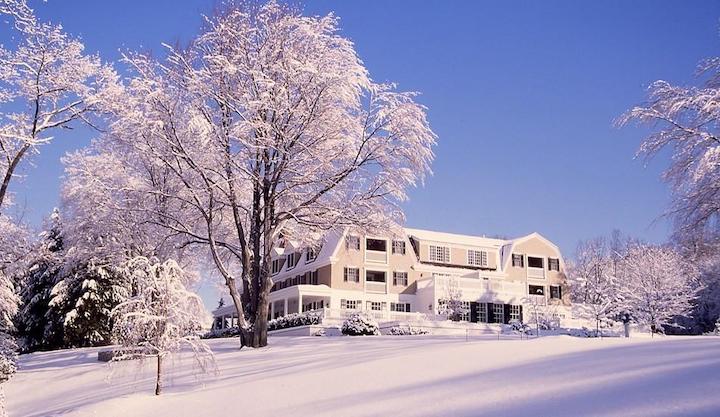 Washington is a charming town in the Litchfield County area of Connecticut. It boasts lots of scenery, pretty, romantic walks, a luxury hotel, and generally has a laid-back feel that appeals to so many couples.
Don't be overly fooled by the peacefulness of this location, however. There is plenty to see and do. There's a variety of community workshops in writing and the arts throughout the year. There are also photo exhibits from local talent and those around the country.
One must-stop location if you enjoy wine is the award-winning Hopkins Vineyard in the area. Home to robust reds, crisp whites, and a huge variety of sparkling options, the vineyard grows 11 different varieties of grapes which form their stunning collection.
Overlooking Lake Waramaug, there is also a guided tour where visitors can get a feel for the meticulous process and labor of love that goes into each bottle. And there are tasting sessions, too!
If walking in this remarkable part of the country appeals to you, you're definitely in the right location. Mount Bushnell State Park is 214 acres, offering some of the most scenic trails in Connecticut. This state is one for those with experience journeying through unmarked trails. It's worth it, though. The colors and views of the area are truly awe-inspiring.
When it comes to shops to explore, there's plenty! Choose from antiques shops or boutique stores to bring home something memorable from your romantic journey. There's also a range of
Best Accommodations In Washington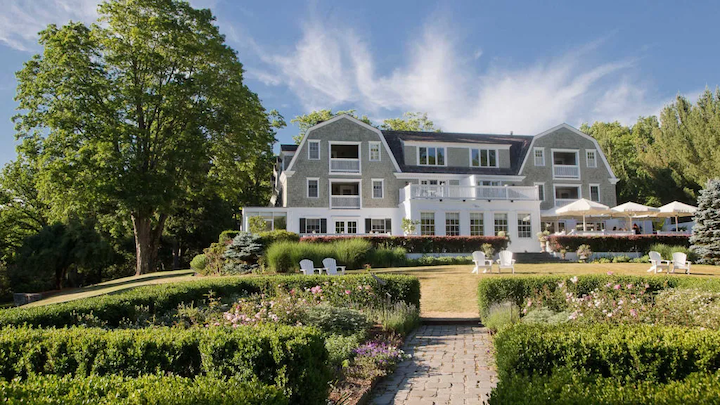 Price: From $692 for 3 nights (Minimum stay) 
If you want a romantic stay in Washington, there is only one option for a hotel. But it's truly incredible and very deserving of a place on our list!
The Mayflower Inn & Spa's exterior is a truly impressive sight with its ivy-covered red brick facade. Inside, guests are welcomed into an atmosphere of luxury, with expensive antiques and fine art adorning every wall. The inn features a variety of rooms, suites, and even small cottages. Each of these has incredible amenities and free Wifi throughout.
This luxury hotel also boasts a world-class full-service spa and wellness center. It offers specialized and bespoke treatments designed to pamper and relax. The spa even offers an array of couples' packages to make a getaway with your spouse even more special.
Dining at the Mayflower Inn & Spa is quite the luxury experience, too! The inn's restaurant serves delicious, locally sourced cuisine with an amazing wine list to match. As one of the romantic inns in the area, it also offers an array of special events throughout the year, including fun cooking classes.
Mystic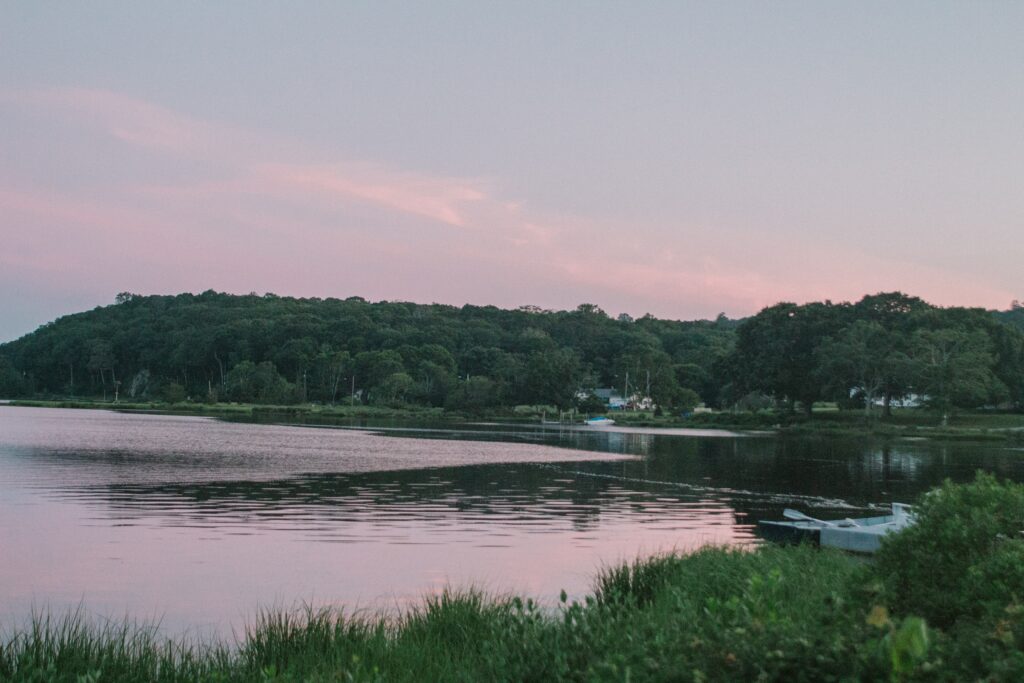 Mystic is a charming little town based overlooking the Mystic River. It is also mere minutes away from the Long Island Sound.
Mystic is home to Mystic Seaport. This is one of the country's oldest and most impressive maritime museums. It's definitely a must-visit location for keen nautical and history buffs.
The town also features lots of downtown cobblestone streets to stroll through. Many of these little streets are packed with independent shops and restaurants to discover and sample. When in the town of Mystic, why not visit one of the most popular eateries for some truly scrumptious fare?
Just a short drive from Mystic is the Inn at Harbor Hill Marina, which, although not included in our list below, is a great place to relax if you would rather stay outside of Mystic.
Best Accommodations in Mystic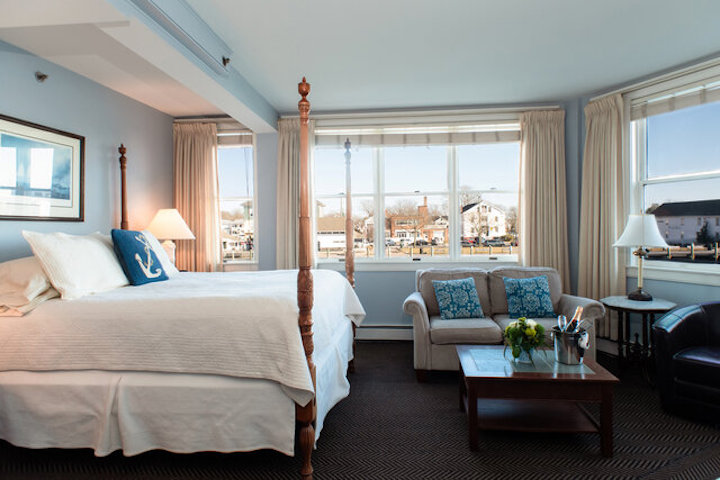 Price per Night: From $229
The Steamboat Inn is a historic building based on the waterfront. The restaurant in the Steamboat Inn offers a variety of seafood dishes, premium steaks, pasta, giant sandwiches, and so much more. It is also very reasonably priced for such high-quality food and drink.
The Inn also has a full bar and an outdoor patio for romantic al fresco dining. During the summer months, the Steamboat Inn hosts lively music and even outdoor movie nights, so you can cozy up to your loved one while watching a good flick if you are visiting during the warmer weather.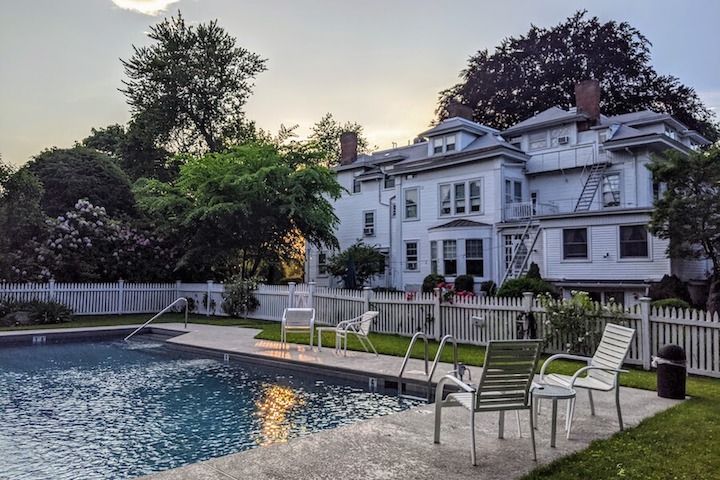 Price Per Night: From $224.08
The Stanton House Inn is another romantic inn and restaurant in the Greenwich area that offers a unique dining experience. The restaurant serves gourmet cuisine in a laid-back, inviting, and homely atmosphere. The menu features delicious dishes such as succulent lobster, tender roasted chicken and duck, and a wide variety of traditional pasta dishes.
The Stanton House Inn restaurant also offers a selection of fine wines to accompany your meal. The restaurant also has a beautiful outdoor terrace, perfect for a romantic evening. The Inn also offers private dining rooms for those seeking a more intimate setting with just your loved one for company.
The rooms at the Inn are absolutely gorgeous. There are guest rooms and suites to choose from, some featuring fireplaces, hot tubs, or patios. On hot days, guests can take a dip in the outdoor pool or relax in the gardens surrounding the inn.
Madison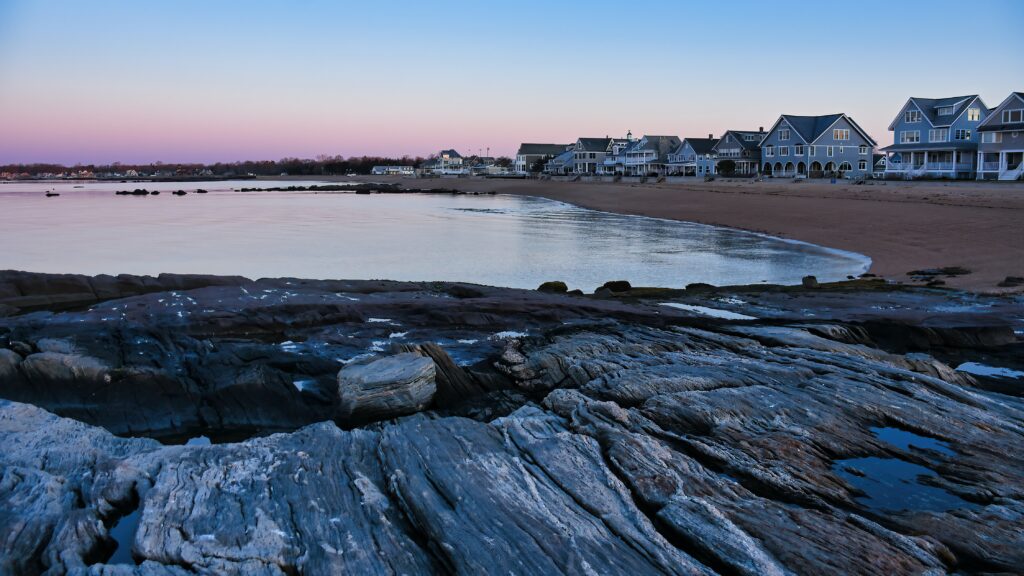 Madison sits in the New Haven area of Connecticut. There are lots to see and do in this idyllic area of the state.
Hammonasset Beach State Park is Connecticut's largest shoreline park. The beach runs for an impressive 2 miles and has a host of activities you can get involved in on your romantic weekend getaway.
You might want to paddle in the pristine waters or even try your hand at scuba diving to see the marine life underwater. You can take a stroll along the boardwalk. This is particularly beautiful as the sun is setting.
There's also the Meigs Point Nature Center, where couples can go on a relaxing nature walk, taking in the sights and sounds of the woodland area. There's an indoor building where you can learn more about the various animals in detail. Further to this, the center places a keen emphasis on conservation.
It has 10 impressive gardens packed with a huge variety of themes, flowers, and foliage. There are butterflies and ponds to explore, as well as waterfalls, which make it an ideal location when partaking in romantic getaways in CT.
Best Accommodations in Madison
1) The Scranton Seahorse Inn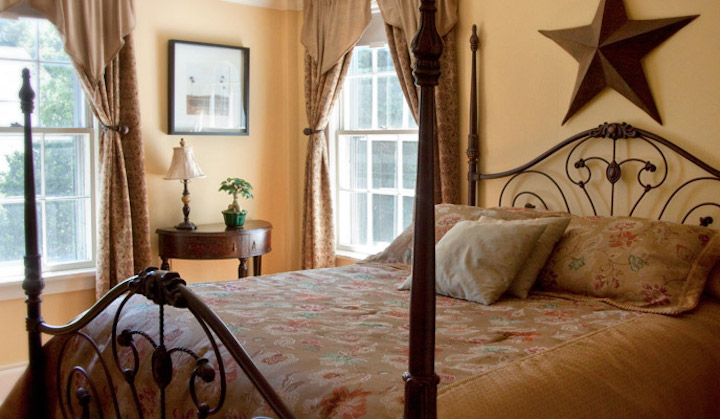 The Scranton Seahorse Inn is nestled in Madison, just 15 minutes from New Haven.
It's packed with a homely and relaxed feel. There's a cozy fireplace and a jacuzzi in 3 of the guestrooms. Order a bottle of bubbly to your room and spend the evening in the tub – what could be better?
Although the inn doesn't have its own full-service spa, there is a wide range of massage treatments. These range from Sports Therapy Massages to Swedish massages. There are even couple's massages available to help you unwind after a long day exploring the area together.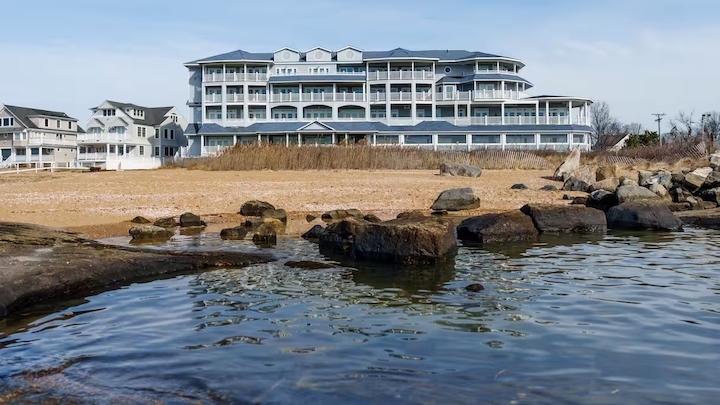 Price Per Night: From $310
The Connecticut Madison Beach Hotel is one of the most romantic hotels in the whole United States. With its stunning location right on the beach, views of the Long Island Sound, and luxurious rooms, it's hard to beat this hotel when it comes to romantic getaways in Connecticut.
The luxurious guest rooms and suites are comfortable, spacious, and modern, with premium quality beds, large windows, and lots of comforts all around.
Guests can enjoy a romantic dinner at one of the many restaurants on-site or take a romantic stroll along the beach. There is also a gym and full service spa, so guests can relax, recharge and keep fit during their stay.
The Madison also offers a variety of activities for couples of all ages, such as wine tasting, kayaking, and horseback riding. There are also plenty of cultural attractions nearby, like the Maritime Aquarium and the Pequot Museum.
Top Excursions & Activities To Do On A Connecticut Romantic Getaway
A romantic getaway to Connecticut is the perfect opportunity to reconnect with your loved one and explore all the beauty and culture the state has to offer. From the stunning landscapes, the rich history, and the delicious food, there is something for everyone to enjoy.
Here are some of the top excursions and activities to do on a Connecticut romantic getaway:
Take a stroll along the Connecticut River
The Connecticut River Valley Inn offers a relaxing and scenic stroll along the river. Take a leisurely, relaxing stroll along the stunning river path in all weathers. It'll be hard not to stop to admire the stunning views of the river and the surrounding landscape. It truly is breathtaking!
As you take a relaxing walk, you can take in the wildlife and the natural beauty of the area. The inn itself is situated in a lovely rural setting. It even has its very own private beach right on the river. It's highly recommended that you stop at the inn to enjoy a bite to eat or a drink while you plan the next part of your couples' adventure.
Visit the Wadsworth Atheneum Museum of Art
The Wadsworth Atheneum Museum of Art in Hartford is a wonderful destination for couples wanting to experience a little bit of culture on their trip away. The Wadsworth Atheneum is the oldest public art museum in the United States and one of the best, showing incredible historical artwork.
It houses a world-renowned collection of art and artifacts from all around the world. These include Greek and Roman antiquities, as well as Impressionist and Modern art.
The museum's collection of European paintings is especially impressive. It includes famous works by Rembrandt, Rubens, Gainsborough, and Monet.
The Wadsworth Atheneum also offers a variety of special exhibitions, lectures, and events throughout the year. So, if you're looking for a fun, educational, and romantic way to spend the day, the Wadsworth Atheneum Museum of Art is definitely worth a visit.
Enjoy a wine tasting at Jonathan Edwards Winery
Jonathan Edwards Winery is a romantic getaway spot for couples looking to enjoy a wine-tasting experience.
Couples can choose from a variety of red, white, or sparkling wines. The winery also offers a wide selection of delicious snacks, including cheese and charcuterie boards, which, unsurprisingly, pair with the wine perfectly!
For the ultimate romantic experience, couples can even book a private tasting, complete with a selection of 3 delicious wines and a relaxing atmosphere.
Take a hot air balloon ride
Hot air balloon rides in Connecticut offer breathtaking views of the state's gorgeous countryside. The altitude provides an amazing perspective, and the silence allows for a peaceful, tranquil, and truly unique experience in the skies.
The ideal time to take a hot air balloon ride in Connecticut is during the warmer summer months. The weather is – usually – more predictable then, and makes for a better ballooning trip.
Sample Itinerary & Budget For Your Romantic Getaway In Connecticut
In order to get the very best romantic weekend away, we've provided a sample itinerary to give you some inspiration.
Note that, depending on the time of year, prices on attractions and hotels can vary. If you are on a budget, consider visiting off-season when costs tend to be lower.
Day 1
Settle into your hotel in Hartford after your journey and unwind with some room service or a trip to the spa for an indulgent, relaxing treatment. Spend the rest of the day exploring the hotel and everything it has to offer. Then settle down for a romantic dinner for 2 in the hotel, followed by a few cocktails to set the mood.
Day 2
After breakfast, day 2 should be all about exploring. Jump in the car (or public transport if you plan to drink) and head to the Wadsworth Atheneum Museum of Art. Here you can spend a few hours taking in the stunning and unique artworks on offer. After a spot of lunch, it's time for a balloon ride to see the state in all its natural beauty from the skies above.
When you've come back down to earth, it's time to hit the bar for some pre-dinner drinks. Then, it's time to choose where you want to eat in Hartford before making your way back home to your hotel for a well-deserved rest.
Day 3
On your last morning in Connecticut, it's time to pack up and have a long, lazy breakfast in your hotel before starting the journey home. While it might have been a fleeting visit to Connecticut, chances are you will have fallen in love with the state and want to return time and time again.
Budget
| | |
| --- | --- |
| Activity | Price |
| Hotel Stays/Accommodations: | $250 per night |
| Car hire: | $60 per day |
| Food/Beverage: | $120 per day |
| Hot air ballooning: | $300 per couple |
| Wine tasting: | $15 per person |
| Wadsworth Atheneum Museum of Art: | $15 per person |
Frequently Asked Questions
How much does a Connecticut romantic getaway cost on average?
The cost of a romantic getaway in Connecticut varies greatly. It will depend on the type of accommodation, activities, the exact location, and attractions chosen. Generally speaking, however, you can expect to spend anywhere from $200 to $300 per night on romantic getaways in Connecticut.
When is the best time to visit Connecticut?
The best time to visit Connecticut is generally during the spring and summer months, which run from April to September. During these months, temperatures are mild and generally go no lower than the mid-70s. This makes it ideal for outdoor activities such as hiking, camping, and biking.
Autumn is also a great time to visit Connecticut and experience the state's foliage and colors. Although there are fewer outdoor activities, this is a great time to explore Connecticut's attractions and museums, too.
How long do people typically spend in Connecticut on a romantic getaway?
The length of time people spend in Connecticut on a romantic getaway can vary depending on individual preferences. Generally speaking, most couples prefer to spend at least 2 nights in order to get the full experience of this remarkable location. However, some couples may opt for a longer stay in order to explore the area more thoroughly.
What is the best way to travel around Connecticut?
The best way to travel around Connecticut is by car. Connecticut is a relatively small state, so it is easy to get around.
Additionally, there are frequent buses and trains run throughout the state and can be used to travel between larger cities. Renting a car is also an option for those who prefer not to use their own vehicle.
Start Planning The Ideal Romantic Getaway
It doesn't get more romantic than weekend getaways in Connecticut with your other half. The state is packed with stunning restaurants, luxurious places to stay, and spellbinding scenery on top of lots to see and do. Therefore, it's no wonder that romantic getaways in Connecticut prove to be so popular with couples.
Suppose you need any more inspiration for a romantic weekend away. Why not consider checking out our Couples Travel resources? They are packed with lots of helpful information about the very best romantic locations throughout the country.