When you think about going on a romantic getaway, there are probably a few places that immediately come to mind. Most people think about the more "popular" destinations and overlook places like Minnesota. Minnesota is a state with a rich history and an abundance of things to do all year round.
Locals are friendly with a great sense of pride. When you take a trip there, you'll quickly discover where that sense of pride stems from.
Besides historic sites and events, Minnesota has a reputation for being the ideal romantic destination. Keep reading to find out why many couples are opting for romantic getaways in MN.
What Makes Minnesota Perfect For A Romantic Getaway?
Minnesota is also known as The North Star State and was established on May 11, 1858. Since then, it has become one of the most popular destinations for couples from across the globe. It has an unmistakable historic charm, but it's best known for having more lakes than any other US county.
To complement its many lakes, Minnesota has the most breathtaking views you'll ever see. In the state's iconic small towns, you'll meet the friendliest locals, who will gladly point you in the right direction.
You can go from sharing a decadent meal to whitewater rafting or enjoying an enthralling live music show – the choice is yours. If Minnesota is starting to sound like the ideal destination for weekend getaways and romantic getaways, keep reading! We'll help you decide where to stay and what you should do there.
Most Romantic Getaways In Minnesota
Minnesota has some of the best romantic getaways. We say this because the state provides a variety of activities that many other destinations can't rival. One of the major problems with variety is that it can leave you feeling unsure about what you want – but don't worry! We have a solution.
While on your romantic getaway, don't stay in one place; give them all a try. This might come down to how much you're prepared to spend. You'll have no problem seeing many places and enjoying activities if you budget well.
Here are a few of the best weekend getaways and romantic getaways in Minnesota, in addition to some memorable stays:
Minneapolis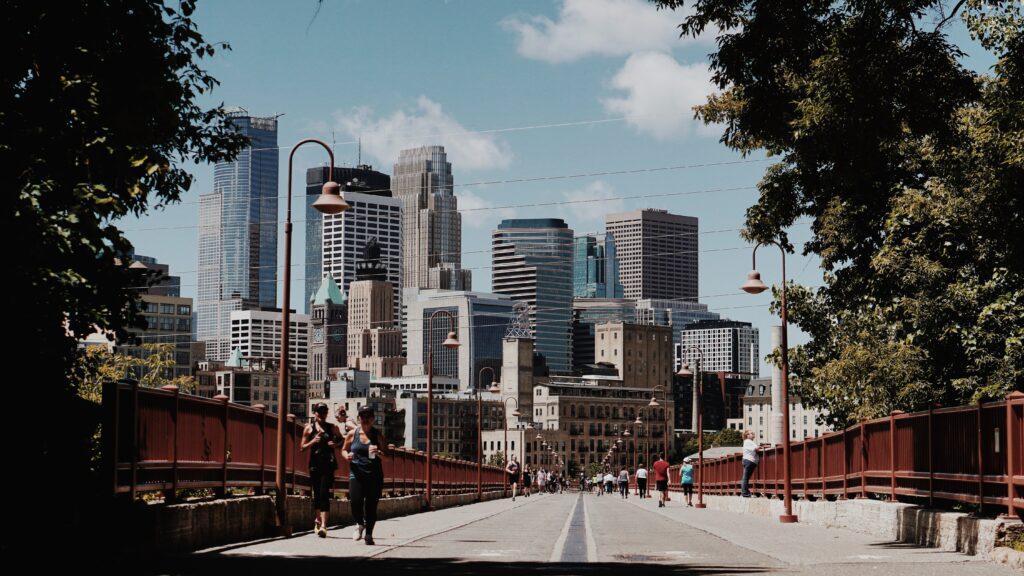 Minneapolis is the largest city in Minnesota and one-half of the "twin cities." It's largely known for its collection of lakes, with the most famous group of lakes, the "Chain of Lakes," being located just a short drive out of downtown Minneapolis.
Locals take pride in being "Minnesota Nice," and the city offers a number of fun activities for couples, such as the Walker Art Center. It's also worth mentioning that Minneapolis has its fair share of sandy beaches.
Best Accommodations in Minneapolis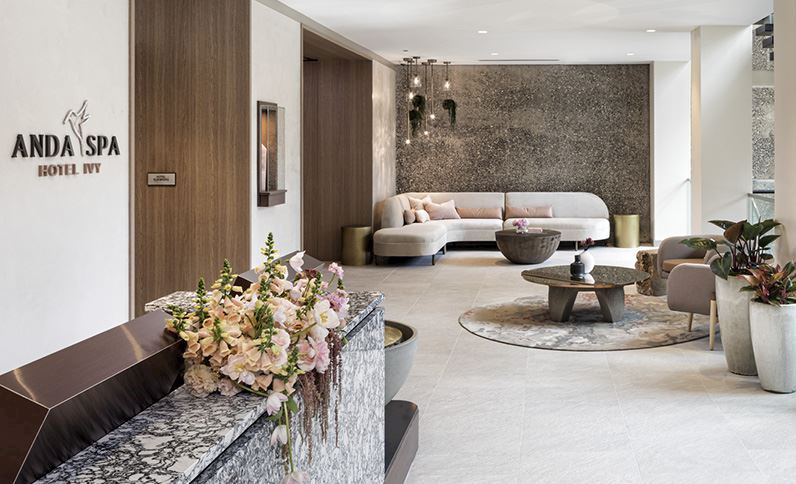 This luxury hotel is one of the best-rated getaways in Minnesota. It embodies the best aspects of Minneapolis, remaining well-connected to the arts, music, and food scene. The hotel itself has it all: spa services, a fitness center, and some of the best room service you'll ever experience.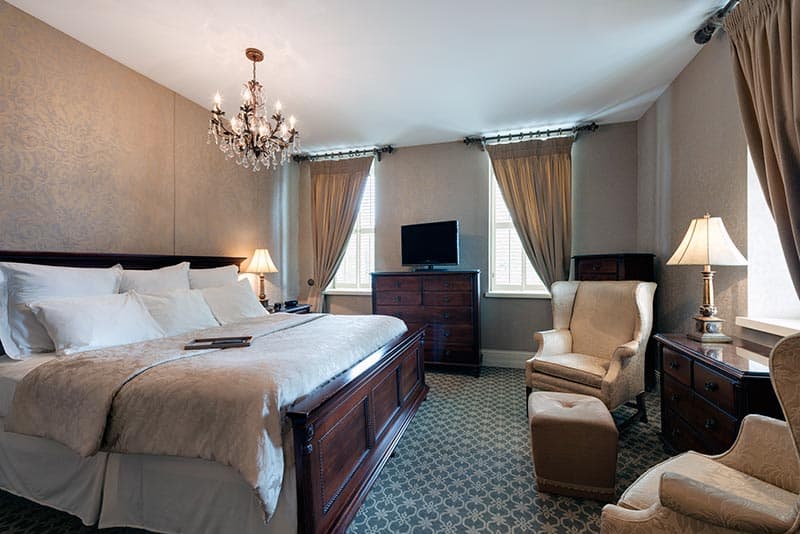 The Nicollet Island Inn takes the essence of a traditional inn to new levels. It's close to most of the city's main attractions and rooms come with all the necessary creature comforts. Besides the on-site restaurant, guests can easily choose from one of many upscale restaurants and bars.
Winona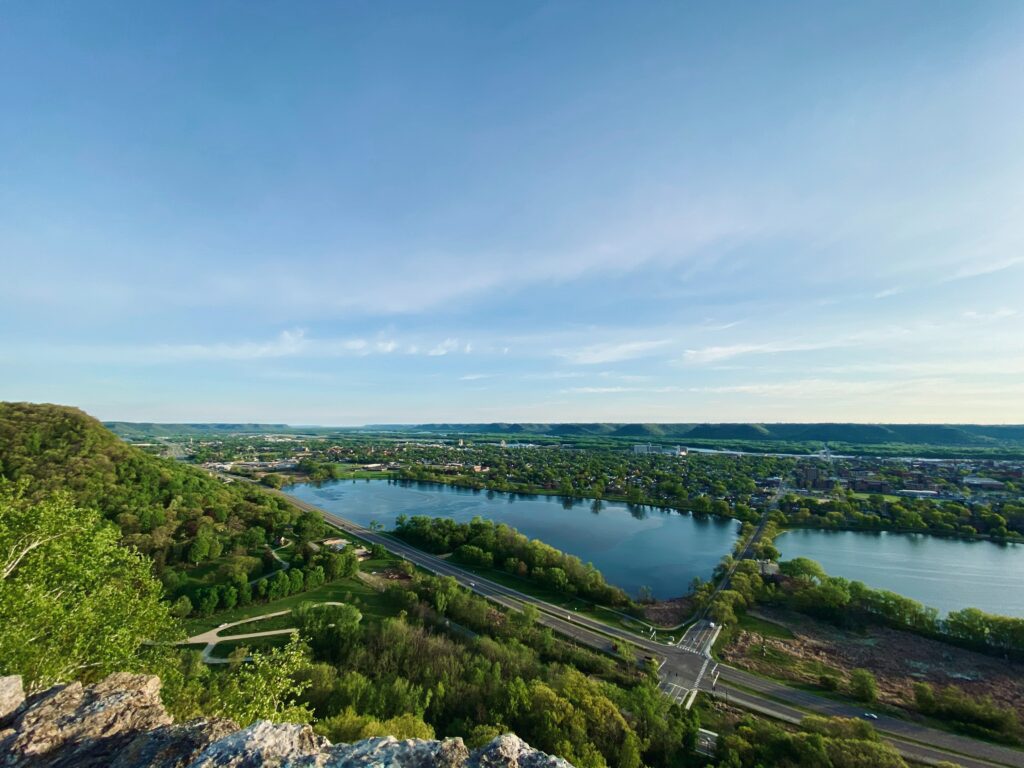 Winona is a quaint city that sits on the shores of the Mississippi River. It's best known for having picturesque parks, stunning architecture, and some of the most interesting cultural hotspots.
This extraordinary city is said to be one of Minnesota's best places for getaways, offering visitors a slow-paced suburban feel. You'll find plenty of bars and parks in Winona and some truly beguiling stays.
Best Accommodations in Winona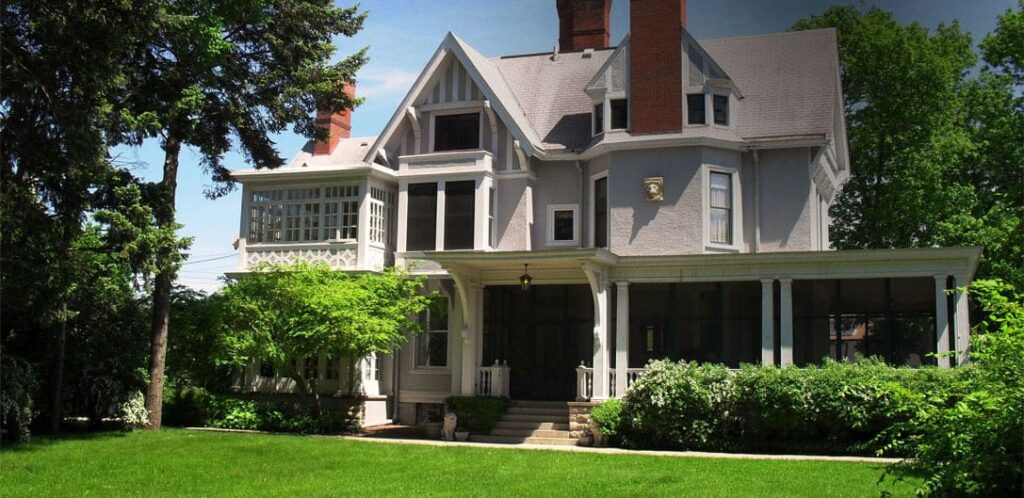 The Alexander Mansion Bed & Breakfast is conveniently located between the Mississippi River and Winona Lake. It's surrounded by a private acre of gardens and trees, making it the perfect location for some quiet time with your loved one. Furnishings are comfortable and rooms come with luxurious amenities.
Alexander Mansion Bed & Breakfast also has a full concierge service to make you even more comfortable.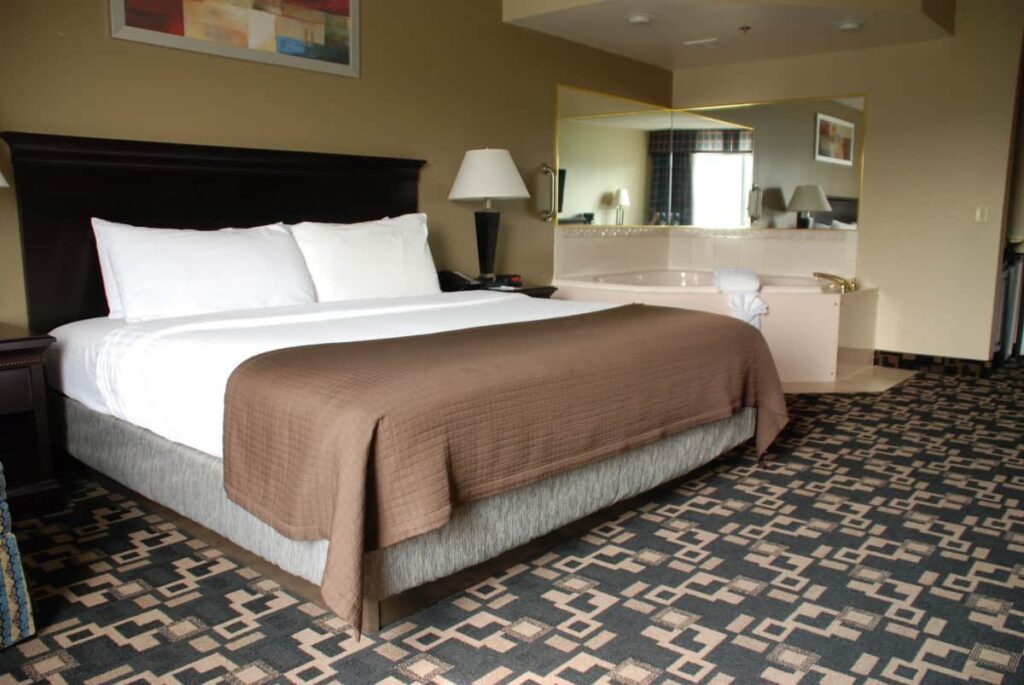 At The Plaza, the staff takes pride in exceeding your expectations. There are a variety of newly remodeled rooms and suites designed to suit every couple's needs. Facilities include a full-sized indoor pool, whirlpool, fitness center, and soothing sauna. These suites are a solid choice for weekend getaways in Minnesota.
North Shore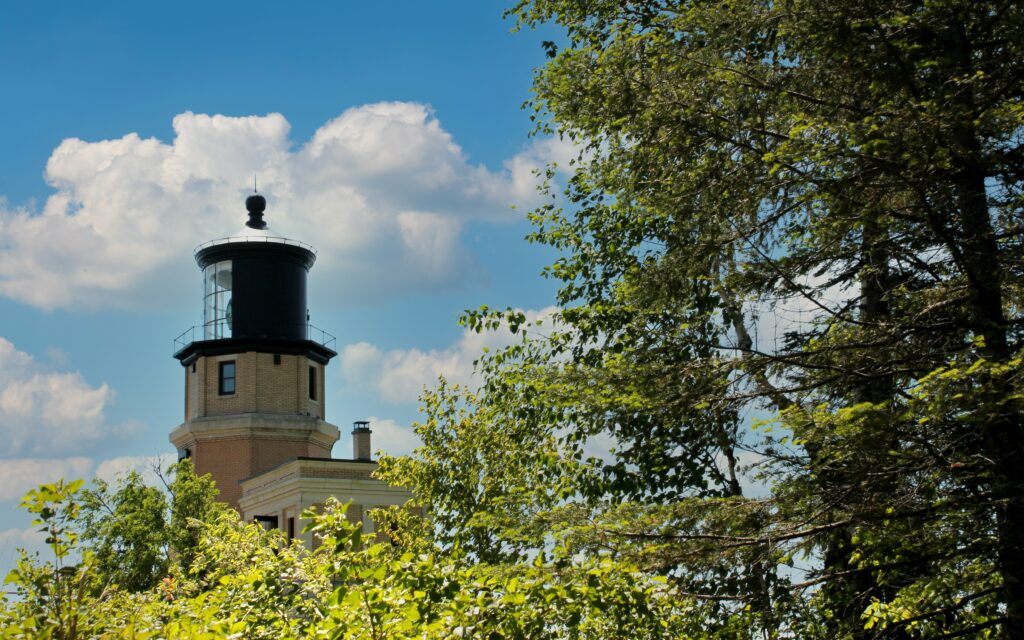 North Shore is a region in eastern Minnesota that runs along the shore of the beautiful Lake Superior. It has a reputation for having scenic views and being full of exciting locales. The 154-mile stretch of the scenic byway truly has something for everyone.
As expected, you find plenty of state parks, but since you may have already seen your fair share of such, you can partake in one of the many local events or check out freshwater critters at the Great Lakes Aquarium. Overall it's a nice place for those seeking a laid-back vibe.
Best Accommodations in North Shore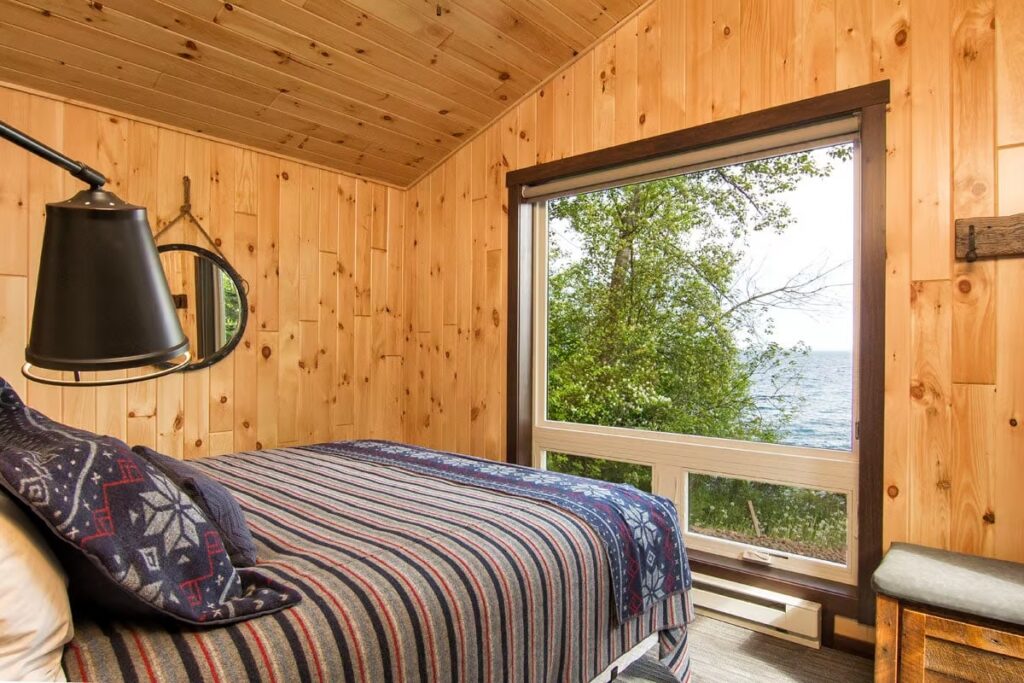 This is the ideal stay to rediscover yourselves in the calm of nature. The timeless setting has 12 cozy cabins that are sure to make you feel at home. When you aren't enjoying the warmth of your cabin, you can take in the dramatic waters of Lake Superior. The hotel has beach access and all rooms have high-speed Wi-Fi and a kitchenette.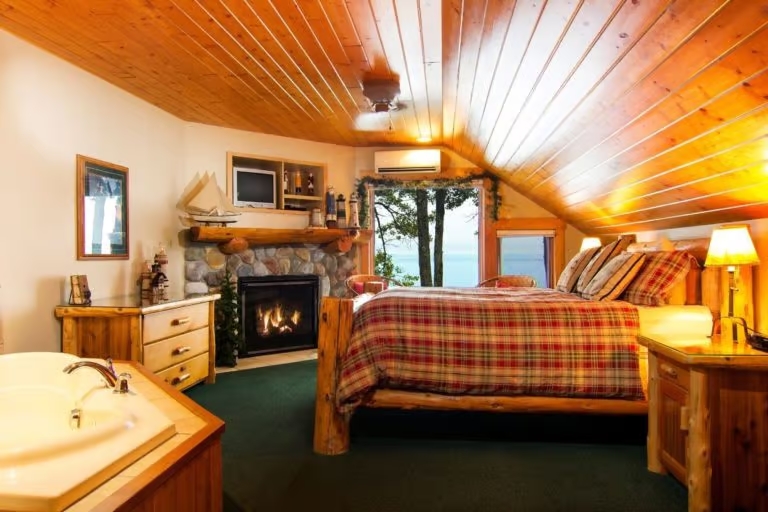 This gem amongst the aged pines and mature birch is an authentic log resort. Despite the rustic vibe, the lodge rooms come with modern amenities. Additionally, the lodge has an on-site restaurant and pool. Visitors often describe the Grand Superior as good value for money and often take short trips to the nearby parks.
Red Wing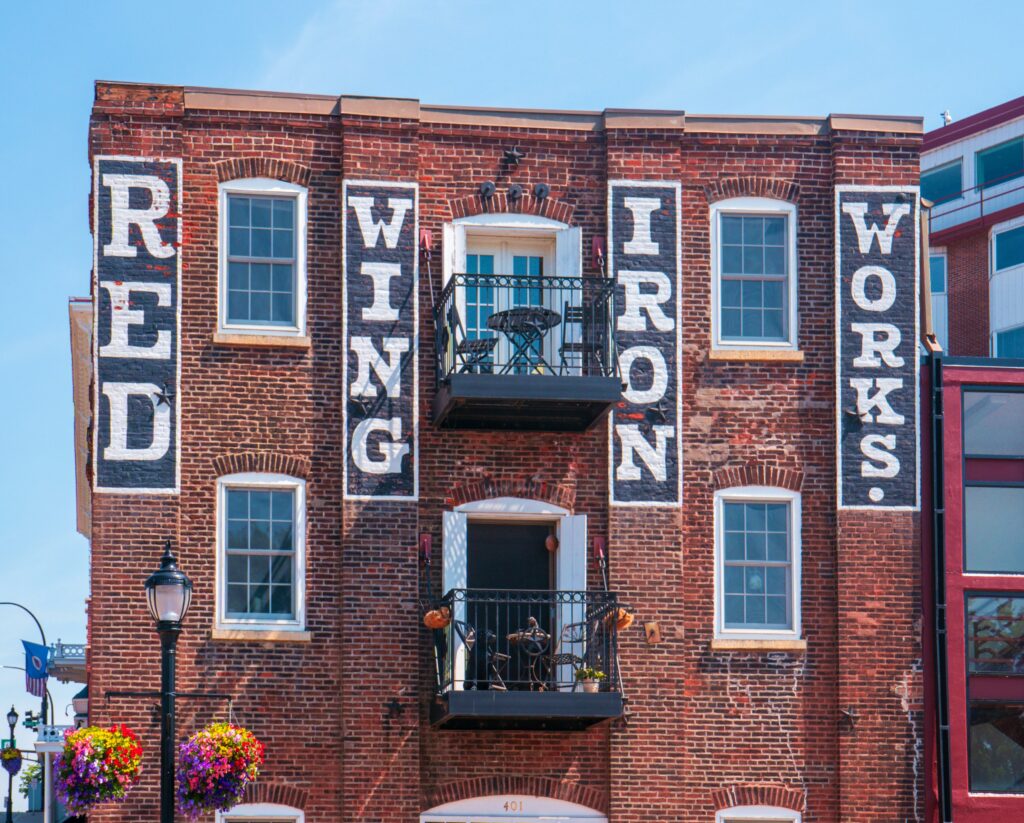 This river town is a true representation of the authentic Midwest. It has a unique blend of artistic vibes, jaw-dropping vistas, and small-town tokens.
In terms of things to do, Red Wing has it all. It has an abundance of wildlife, shopping experiences, and highly creative art exhibits, making it the perfect stop for getaways in Minnesota. The supersized amphitheater at Treasure Island Casino is commonly used for epic performances.
People often neglect to go to nearby towns when in big cities, but small towns like Red Wing are exactly what memories are made of.
Best Accommodations in Red Wing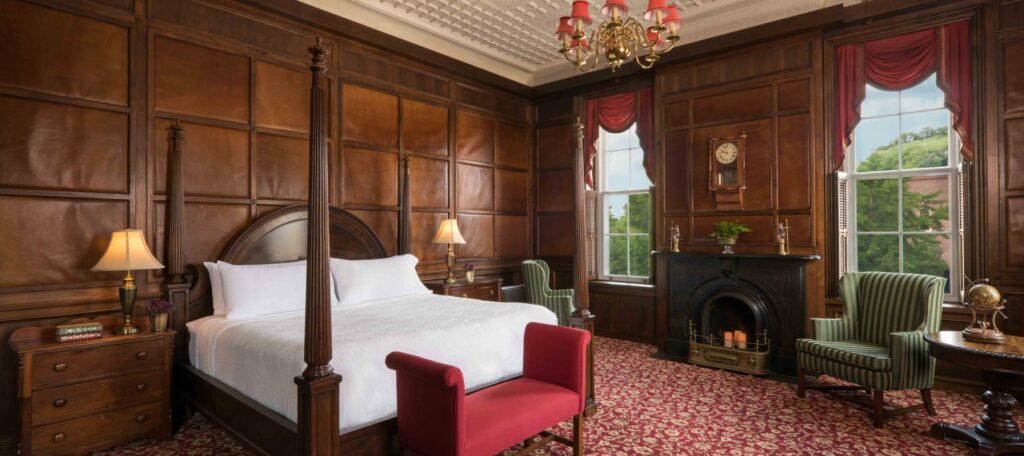 St. James Hotel has been the epitome of hospitality since 1875, so it's safe to say that they know what they're doing. The St. James Hotel can be best described as a boutique hotel. It has exquisitely designed rooms, each with a unique story to tell.
It perfectly balances traditional and contemporary and has amenities such as skiing, facial treatments, and walking tours. This is why the St. James Hotel is such a good option for weekend getaways.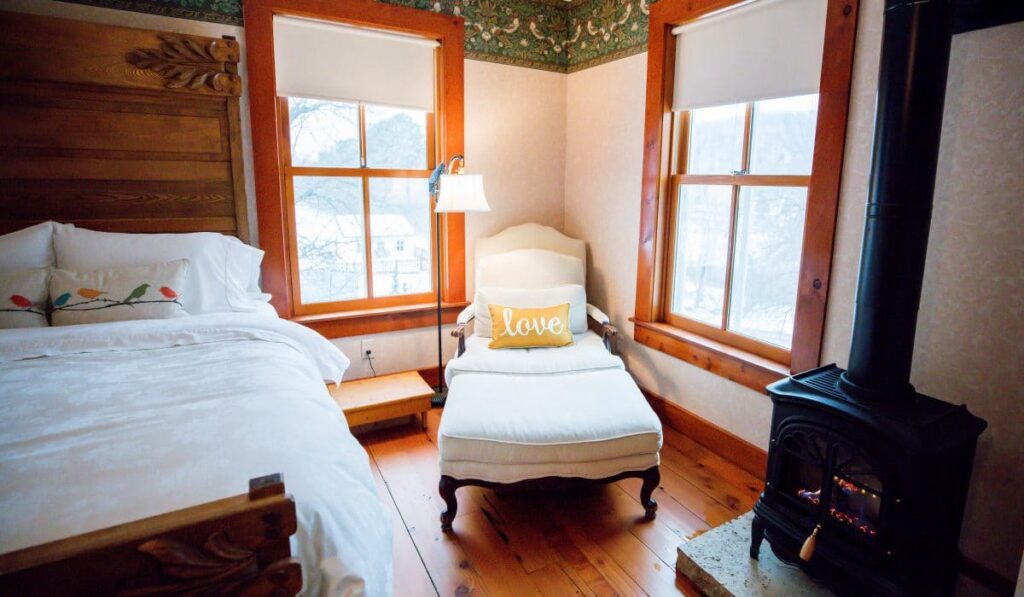 Round Barn Farm is a three-story country manor farm home that has a good view of the Mississippi River valley. Rooms come with a private bath and hot tub built for two. Hot tub aside, they also host weddings and other events throughout the summer and also include a wholesome three-course breakfast with your stay.
Ely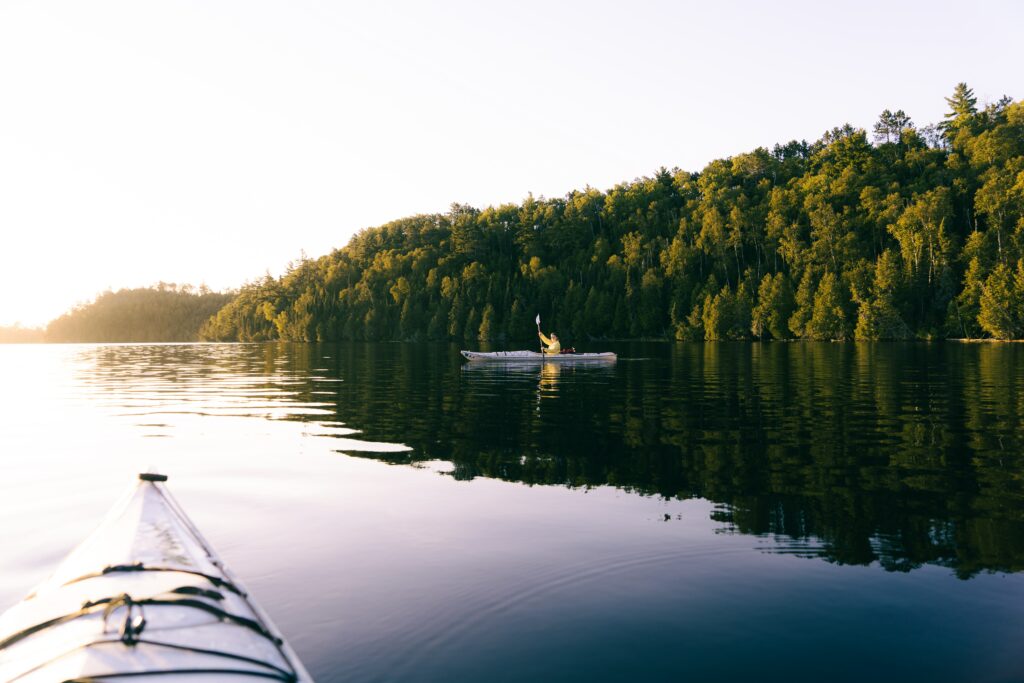 Ely is often seen as a gateway to some of America's best weekend getaways. Once there, you can expect to find acres of untouched wilderness that provide a great escape from modern civilization. Additionally, Ely is rife with native historical sites, annual events, and delicious food.
The friendly outdoor-loving community in Ely does a good job of making visitors feel welcome, so be sure to add this city to your getaway itinerary as adventure awaits you in Ely.
Best Accommodations in Ely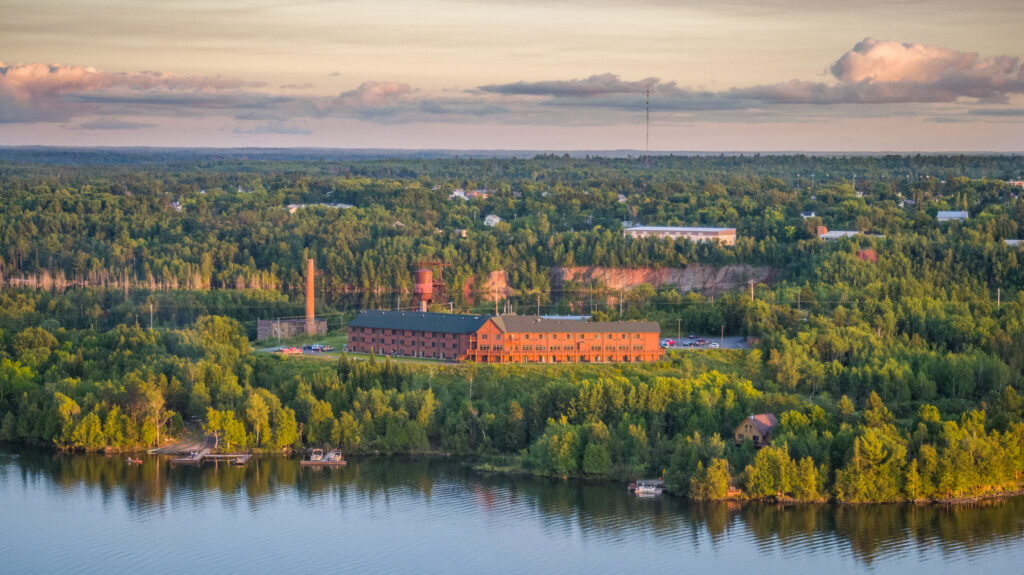 Rooms at the Grand Ely Lodge are clean and comfortable; service is also said to be personable and highly efficient. You'll find amenities such as a fitness center, canoeing, pool, restaurant, and game room on the property. The Grand Ely Lodge is nestled in the heart of the pristine northern wilderness, making it the perfect escape for weekend getaways.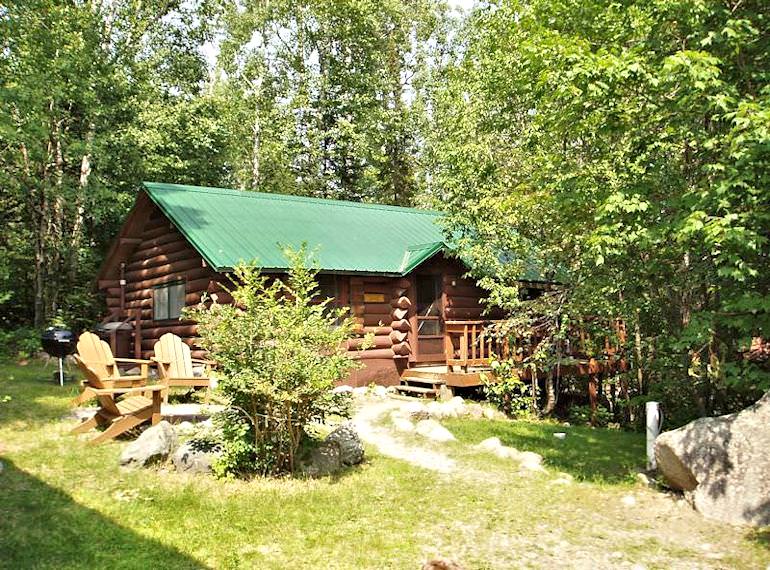 Timber Trail lake lodge is open all year round and offers some of the best lakeside accommodations in Ely. The lake lodge has cabins to suit all budgets and ensure they are fully furnished. One of the reasons this lake lodge is so popular is the multitude of activities on offer, the most noteworthy being the guided fishing tours.
Be sure to regularly check their website to see what seasonal packages they have on offer.
Top Excursions & Activities To Do On Romantic Getaways in Minnesota
Minnesota is one of those regions that's practically designed for couples. It's a great escape that offers sufficient variety, so your partner won't complain about always doing the things that you like. Here are some of the best activities for you and your partner to get lost in.
Hike through Minnehaha Regional Park or Voyageurs National Park
Minnehaha Regional Park is home to one of the most beautiful waterfalls in the world, the majestic 53-foot Minnehaha Falls. As you trek through the verdant surroundings, you'll feel like one of the seasoned nature lovers who regularly do the same. If hiking isn't your thing, then you have alternatives such as biking, disc golf courses, and volleyball.
Voyageurs National Park makes a good alternative to Minnehaha.
Visit International Wolf Center
While learning about wolves doesn't sound like an exciting prospect, the International Wolf Center could easily change that. The well-designed facility was built to advance the survival of the wolf population by teaching humans more about them. In addition to getting up close and personal with the wolves, there are interactive exhibits and live programs.
Shop at Mall of America
Let's be honest, when it comes to shopping, there's always something for everyone. While some may be sighing in anticipation of their partner taking their time in every store, Mall of America could make shopping much more memorable. It's the ninth-largest mall in the world and gives visitors one of the best experiences due to its sheer variety.
Admire art at The Minneapolis Institute of Art
This fine art museum has an extensive collection of art that spans nearly 4000 years. While there, you'll be able to view more than 80 000 works of art. The staff is knowledgeable, parking is ample, and both the gift shop and coffee shop make for ideal stops at the end of your tour.
Sample Itinerary & Budget For Your Romantic Getaway In Minnesota
Because you'll be worried about how you'll get to Minnesota in the first place, budgeting and creating an itinerary might be the last thing on your mind. This is why we've created a detailed budget and itinerary for you so that you can focus on making each other smile.
The expenses listed below are calculated per person per day. Please note that these figures are based on pricing at the time of writing and are subject to change depending on availability and the time of year.
Sample Budget
Activity
Price
Accommodations
$88 (budget) to $200 (high-end)
Flights
from $580 (round trip)
Food & drink
$50 to $100
Transport
$2 to $34
Car Rental
$67 per day
Excursions
Minnesota whitewater rafting – $50
Dinner at Spoon and Stable – $31 to $50
Visit International Wolf Center – $15
Use the following guideline to fit the best activities into your schedule:
Day 1
Getaways in Minnesota should always start in the state's largest city, Minneapolis, by car on your first day. After arriving you can settle into your accommodation and go exploring the city. Because Minneapolis is a 16-minute drive away from fellow twin city, Saint Paul, you can take your exploration to both cities or start your journey in Saint Paul where you can stay at the Victorian Mansion Bed and Breakfast.
Day 2
Don't think about leaving Minneapolis (or Saint Paul) yet, as there is still much to do beyond conventional exploring. Since it's your second day in town, you can start off at either the Walker Art Center or the Minneapolis Institute of Art. After this, you can catch a game of baseball at the famous Target Field or go for a stroll through the Minneapolis Sculpture Garden.
If you want to watch a baseball game, make sure you plan according to Target Field's schedule.
Day 3
On day three, take a trip up to Cloquet to give the holiday a change of pace. Once in Cloquet, you have the option of choosing between whitewater rafting, ice fishing, and cross-country skiing. No matter which one you choose, your heart is bound to start racing from the adrenaline rush.
These activities are weather dependent, so plan your visit accordingly. Be cautious when engaging in activities such as cross-country skiing and ice fishing.
We'd recommend staying in the Northern Rail Traincar Inn. It is an hour's drive away in Two Harbors; not too far away but well worth it. The Northern Rail Traincar Inn also presents a good chance to see the northern lights.
Day 4
After the excitement of Cloquet, North Shore is next on the agenda. When you're not taking in the beautiful scenery, you can visit the Great Lakes Aquarium, where you'll find a diverse selection of exhibits and learn more about the sea. After Great Lakes, Castle Danger Brewery is a must-see, regardless of whether you're a beer lover or not.
Day 5
For your fifth day in Minnesota, seeing Lake Superior is a good idea. Experiencing the lake on the actual water is the best; do so via a boat cruise. Vista Fleet has the best boating services, owing largely to their highly experienced tour guides. To make life easier, opt for a dinner cruise so that you can be well-fed and entertained.
Day 6
Mosey on down to Red Wing for your second-to-last day. Once in Red Wing, it's time to get in some good retail therapy at the many local shops. Be sure not to expend all your energy as you still have to enjoy a live show at either TI Casino or the Sheldon Theatre. You can alternatively check out Featherstone Pottery's pottery shows.
Day 7
Your final day in Minnesota should be spent in Ely. While winding down, Ely's many cultural hot spots and historical sites will do a good job of deepening your understanding of the human condition, and yes, you'll have lots of fun while doing so too. Go to the International Wolf Center and go for a dog sled trip afterward if the weather permits.
Frequently Asked Questions
How much does a Minnesota romantic getaway cost on average?
As you may have guessed, the cost of a Minnesota getaway will largely depend on your personal preferences and what activities you're looking to indulge in. On average, couples will spend around $1800 for week-long getaways in Minnesota. This is based on the average costs of accommodation, food, and transport.
When is the best time to visit Minnesota?
Tourists to the state find Minnesota's summers to be the best time to visit. This is primarily due to the long evenings and higher temperatures. However, winter in Minnesota is also a good option, as this is when the locals make the most out of the snowfall with their outdoor activities and events. In other words, you could go ice skating over a frozen lake.
How long do people typically spend in Minnesota on a romantic getaway?
Weekend getaways to Minnesota are common; however, two or three days won't give you the most comprehensive experience. Visiting all of the beautiful lakes would take over three decades. That might be too long of a getaway, though – go for a week or two weeks max, if your schedule allows.
What is the best way to travel around Minnesota?
Exploring Minnesota by car is a highly recommended option. The Amtrak passenger train service makes a good alternative if you don't want the stress of driving. In the Twin Cities area, you'll find reliable light rail and bus services; however, it's relatively easy to get around on foot and by bike.
What is the best way to travel to Minnesota?
Getting to Minnesota is relatively painless, whether you're driving, flying, or arriving by train. Four Minnesota airports offer international service. Additionally, interstate highways provide easy access for those traveling by car. You'll likely find using the bus to be the cheapest way to get to Minnesota.
Start Planning The Ideal Romantic Getaway
Don't waste any more time; every second you let pass by is taking time away from your romantic getaway in Minnesota. It's the perfect place for you and your loved one to get cozy and strengthen your bond, especially if you go in winter. If you can't make it a week-long trip, just make it a weekend getaway.
If one of you isn't sure about Minnesota and all it offers, remember that compromise is extremely important in relationships. The experience is primarily about you two and not necessarily the activities. The activities should complement what you already have.
Ultimately, Minnesota might not be for everyone and there's nothing wrong with that. Luckily, we prepared for this possibility by creating a series of couple's travel guides on other destinations; make sure you check them out.