Are you dreaming of the perfect getaway? A tropical paradise with white sand beaches, crystal waters, palm trees, and lush green jungles?
Then look no further than beautiful Costa Rica for the best beaches!
This Central American country is home to some of the best beaches in the world. Rated as the 'happiest country on Earth' and with breathtaking views – it's no wonder that Costa Rica makes the perfect holiday destination.
If you're looking for a secluded beach with coves, soft sand, tropical waters, surf spots, and intimate excursions, Costa Rica is the ideal place for (beach)lovers.
So if you like piña coladas and getting caught in the (odd downpour of) rain, then this article is a must-read for any couple wanting a romantic escape.
What Makes Costa Rica the Perfect Destination?
Costa Rica is a rugged, rainforested Central American country with over 800 miles of tropical coastlines spanning the Caribbean and the Pacific Ocean shorelines.
Upon settling into nearby Jaco Beach, Hermosa Beach, Playa Blanca, or Flamingo Beach (to name a few) your adventure can really begin; as you scour the tranquil, untouched, majestic coastlines of some of the best beaches in Costa Rica. Spend your days swimming, snorkeling, hiking, or enjoying a romantic sunset cruise – there really is something for everyone.
What makes Costa Rica such an unforgettable destination is its myriad of activities, golden sands, turquoise waters, and affordability.
If you're not convinced Costa Rica is for you, read about more incredible holiday destinations on our homepage.
Top 10 Best Beaches in Costa Rica
In order to better connect with the local community, we need to talk the way locals do; and to begin our first Spanish lesson, the word "beach" in Spanish is "playa". Here we've compiled a list of the best beaches in Costa Rica with great accommodation suggestions along the way too!
1. Best Overall Beach in Costa Rica: Playa Flamingo, Guanacaste Province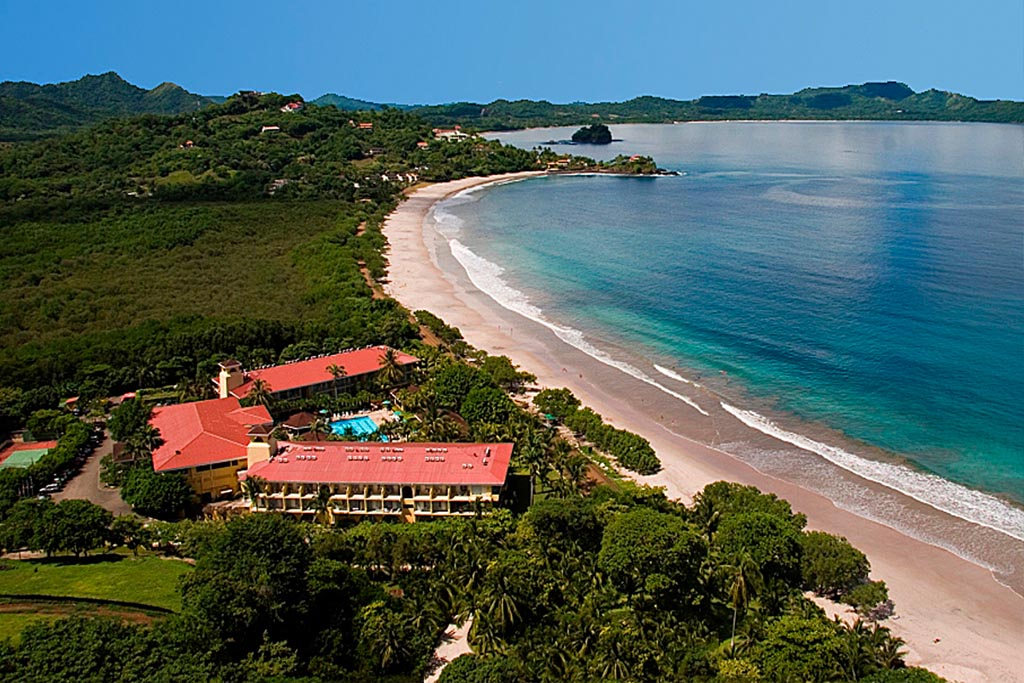 Playa Flamingo is a high-end beach town adorned with luxury condos, apartments, and house rentals situated in Guanacaste Province along the Northern Pacific coast. Don't let the name fool you though, as you won't find many flamingos along Flamingo Beach.
But instead, something even more captivating. It is known that in the right weather conditions, the sandy shores of Flamingo Beach turn a subtle shade of pink. A truly magnificent sight – no wonder it's classed as one of the best beaches in Costa Rica!
Indulge in the ultimate romantic experience with your loved one by embarking on a breathtaking sunset cruise along the stunning Costa Rican shoreline. Book an unforgettable four-hour catamaran tour, where you can enjoy snorkeling amidst vibrant coral reefs and, if luck favors you, catch a glimpse of dolphins, whales, and other majestic marine creatures.
The renowned Lazy Lizard Sailing Company, with its extensive 20-year experience, offers these magical tours that promise to leave you with a lifetime of memories. Easily booked from its tour booth along Flamingo Beach, or on its website, with pricing starting from $130 per person.
How To Get To the beach
Only a 15-minute walk from central Puerto Blanca. Alternatively, you can use the local bus services which run daily; tickets cost roughly $3 – $6 each.
Where To Stay
Flamingo Marina Resort
Featuring an outdoor pool, tennis court, private beach area, and jacuzzi – this hotel is tailored for couples who want to experience the best of both worlds; some alone time or enjoying the amenities of what this hotel has to offer.
4-minute walk from Playa Flamingo
Starting from $108 per night
2. Best for Surfing: Playa Jaco, Puntarenas Province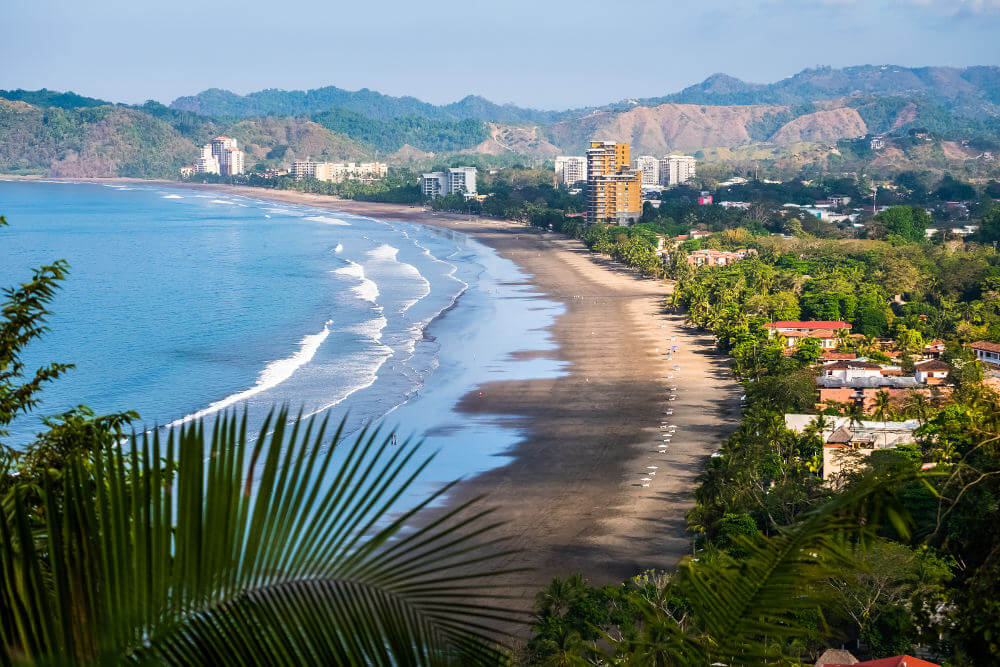 Situated 61 miles from the capital city of San Jose lies the small seaside town of Jaco. Its beaches are some of Costa Rica's finest, known for their surf culture, nightlife, and incredible sunsets, making Playa Jaco a popular destination amongst newlyweds.
How To Get To the beach
Tracopa bus services run daily, departing every hour from San Jose Tracopa Terminal to the Entrada a Jaco. Tickets cost $5 – $10 per person and the trip takes roughly 2 hours. Traveling by bus is an inexpensive way to travel the country as opposed to taking a taxi.
Where To Stay
Oceano Boutique Hotel & Gallery
This hotel is the perfect holiday spot for couples, just minutes from Playa Jaco. It also features a health and wellness spa; ideal for a couples massage or spending your days around the swimming pool.
3 minutes from Playa Jaco
Starting from $110 per night
3. Best for Natural Beauty: Playa Manuel Antonio, Quepos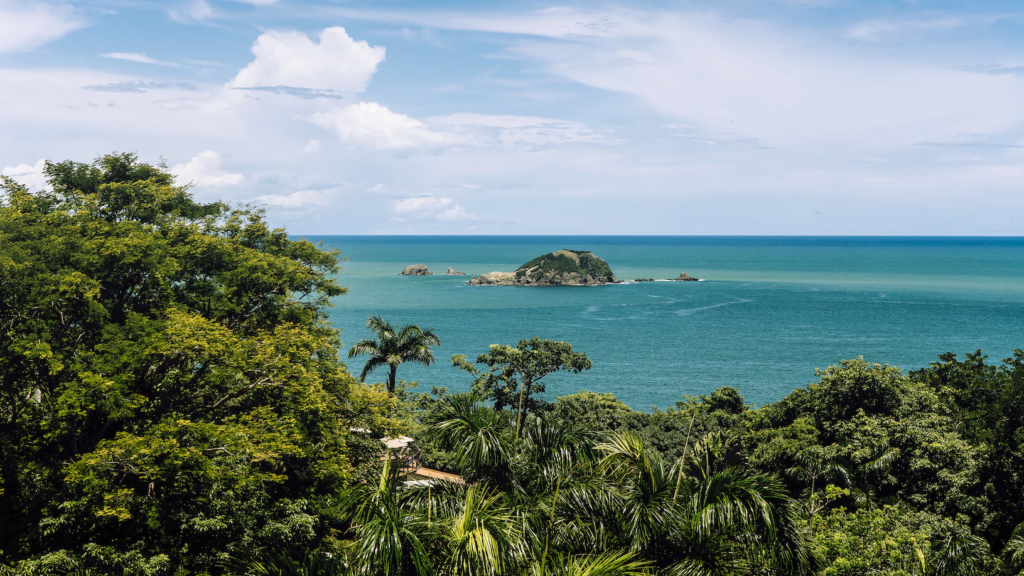 Situated on the Central Pacific Coast of the country, the entire Manuel Antonio Nature Reserve consists of four beaches, each secluded from the other. You must buy a day pass to enter and tickets cost about $18 per adult. Manuel Antonio Beach receives over 140,000 visitors annually – making it one of Costa Rica's most popular beaches.
Here you can enjoy snorkeling, swimming, sunbathing, or hiking in the nearby National Park – a perfect day trip to explore the raw beauty of what Central South America has to offer. The rainforest is filled with an array of indigenous animals, such as; iguanas, sloths, monkeys, and Morpho butterflies.
Note: The Manuel Antonio National Park is open Tuesday – Sunday 07.00 – 16.00
How To Get To the beach
After a 10-minute taxi ride from the town of Quepos you will find yourself on the white sand beach of Playa Manuel Antonio.
Where To Stay
Jungle Vista Boutique Hotel
Savor your morning coffee (or piña colada) while sitting on your balcony, admiring the vibrant scarlet macaws, howler monkeys, and toucans; ideal for couples seeking a serene retreat.
9 minutes from Playa Manuel Antonio
Starting from $191 per night
4. Espadilla Sur, Quepos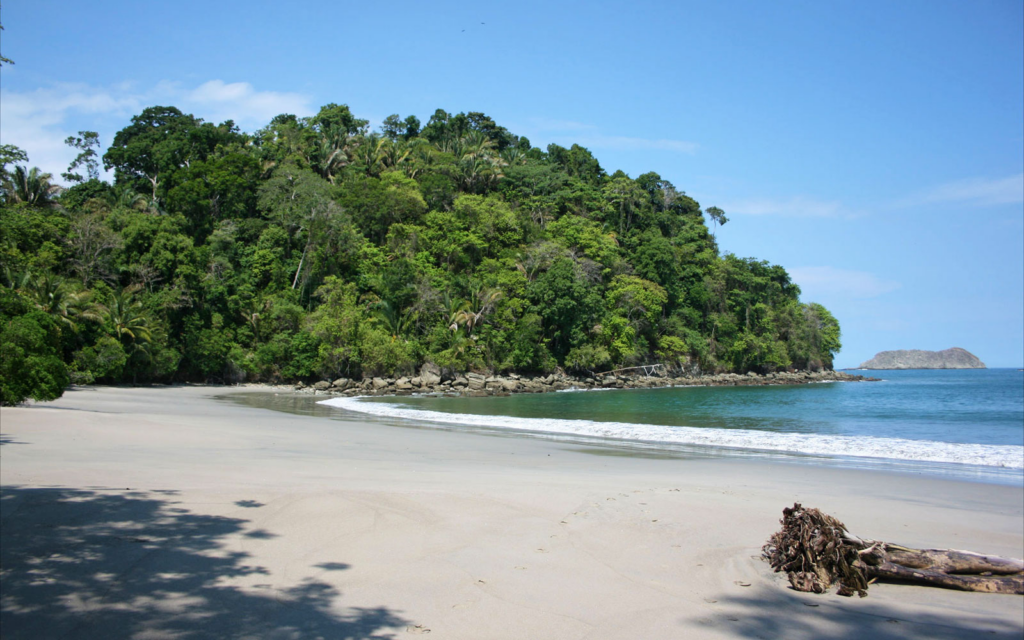 Espadilla Sur is one of four beaches found inside the Manuel Antonio National Park, near the town of Quepos along the Pacific Ocean. This beach is less crowded than Playa Manuel but still boasts golden sand, palm trees, and crystal-clear waters.
You will need to pay for a day ticket which costs around $18 for foreigners (as opposed to $3 for Costa Ricans. Cheeky!)
How To Get To the beach
A short 15-minute bus ride from the town of Quepos will bring you to the salty shores of this spectacular beach.
Bus tickets cost between $1 – $4 per trip, making it more cost-effective than using a taxi.
Where To Stay
Shana By The Beach Resort
With its live music, upmarket restaurant, wellness spa, gym, and luxurious suites featuring private swimming pools, it's clear that this hotel caters to couples.
2.5 miles from Espadilla Sur
Starting from $145 per night
5. Playa Blanca, Puntarenas Province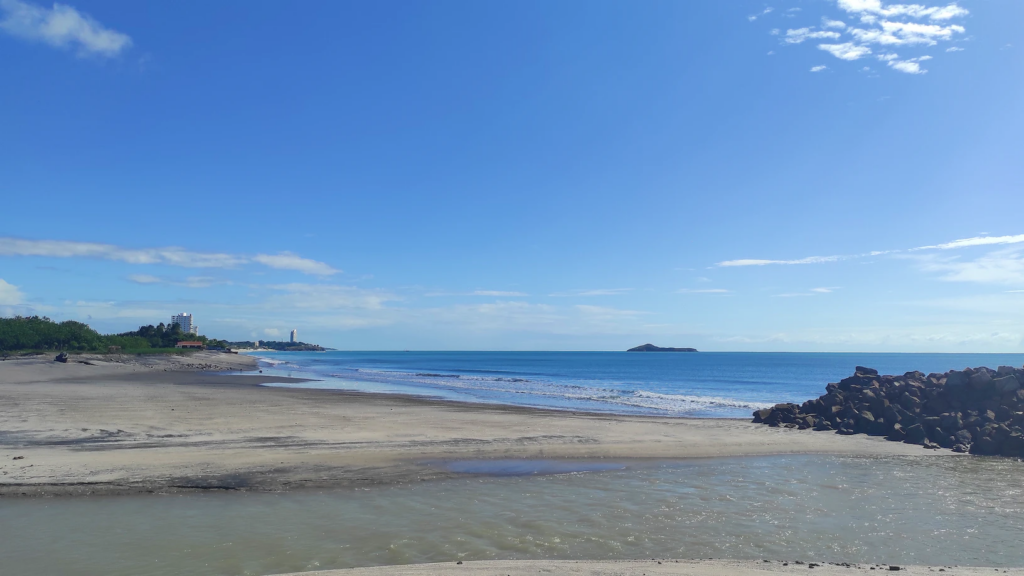 Playa Blanca (aptly-named White Beach in Spanish), is one of the country's best-kept secrets. It's a true hidden gem, ranking as one of Costa Rica's best beaches; its white sands, palms, and crisp turquoise water will make any getaway idyllic.
Situated near the beach town of Jaco, on the South Pacific Coast, Playa Blanca is a semi-private beach that is part-owned by the all-inclusive resort of Punta Leona.
If you love scuba diving and snorkeling, we recommend arranging a diving day trip with one of the local tour guides. Experience the wonders of the underwater world as you embark on a short boat transfer to the underwater sculpture museum in Lanzarote. Explore the cultural-themed sculptures that vividly depict the lives of Lanzarote residents.
Rest assured, qualified dive instructors will accompany you throughout the execution. Tours depart from Playa Blanca and packages start from roughly $100 per person (including equipment).
How To Get To the beach
Now you may think that because of Playa Blanca's location – situated inside a private resort – that this beach is off-limits to the public. The good news is, all beaches in Costa Rica need to have public access by law!
The trick is to type "Parquei Para Particulares" into your GPS and this will take you directly to Playa Blanca's parking lot. Here, a parking attendant will greet you at the entrance and will ask you for a few dollars to watch your car for the day. Fair price to pay, in our opinion.
Where To Stay
Hipotels Nature Palace
This hotel offers a fantastic location, conveniently positioned only 10 minutes from Playa Blanca and just over a mile away from the Aqualava Waterpark. Situated near shops, restaurants, and bars; it provides couples with easy access to local attractions.
1 mile from Blanca Beach
Starting from $112 per night
6. Playa Hermosa, Guanacaste Province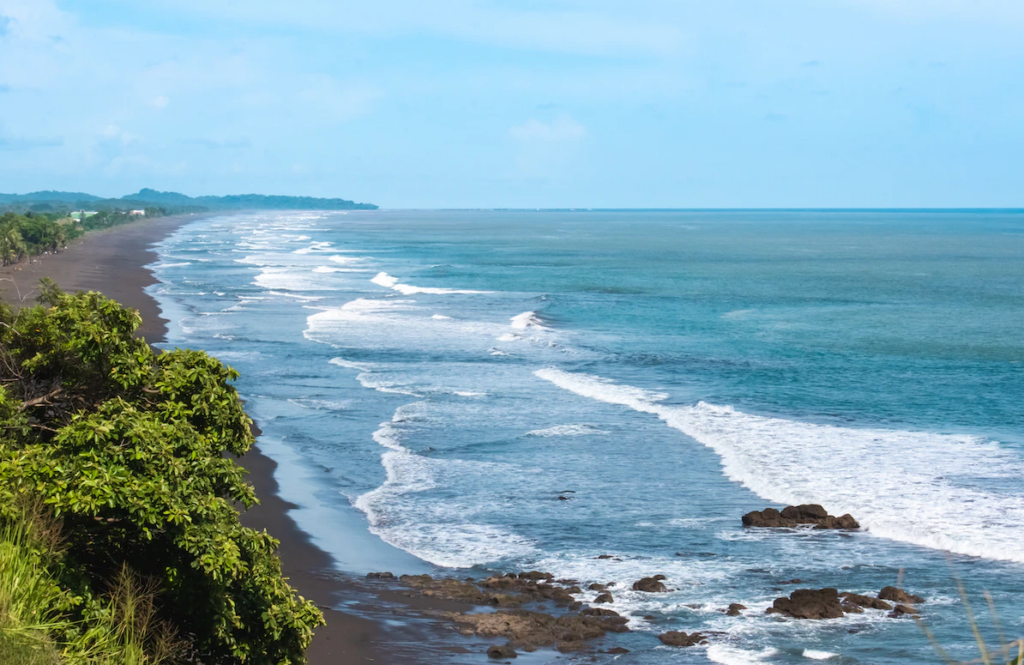 Playa Hermosa, situated in the northern Guanacaste Province, is known for its blackish-grey shores formed from volcanic rock. This wide cove stretches over 1.2 miles and has plenty of palm trees and fig trees for shade. This beautiful beach is popular for swimming, kayaking, stand-up paddling, and boat trips and is an award-winning blue-flag beach.
The black sands of Playa Hermosa are undoubtedly the best place to see baby sea turtles in Costa Rica. You can see turtles all year round but April to October is peak nesting season. Leatherbacks start their journey in March, followed by Loggerheads and Green Sea Turtles. You can book a guided tour to watch these majestic creatures for as little as $45 per person.
How To Get To the beach
Buses operate from Liberia – the largest city in the Guanacaste Province -to Playa Hermosa and run four times daily. Tickets cost $1 – $3 and the journey is about 44 minutes.
Where To Stay
Huetares Hotel & Villas
With three inviting swimming pools, complimentary Wi-Fi, an on-site restaurant, and the added convenience of a private villa, this hotel covers all the essential amenities for couples. It serves as a convenient and affordably priced accommodation, particularly beneficial for those planning to explore the breathtaking Costa Rican shores and spend minimal time in their hotel room.
1 mile from Playa Hermosa
Starting from $83 per night
7. Playa Tamarindo, Guanacaste Province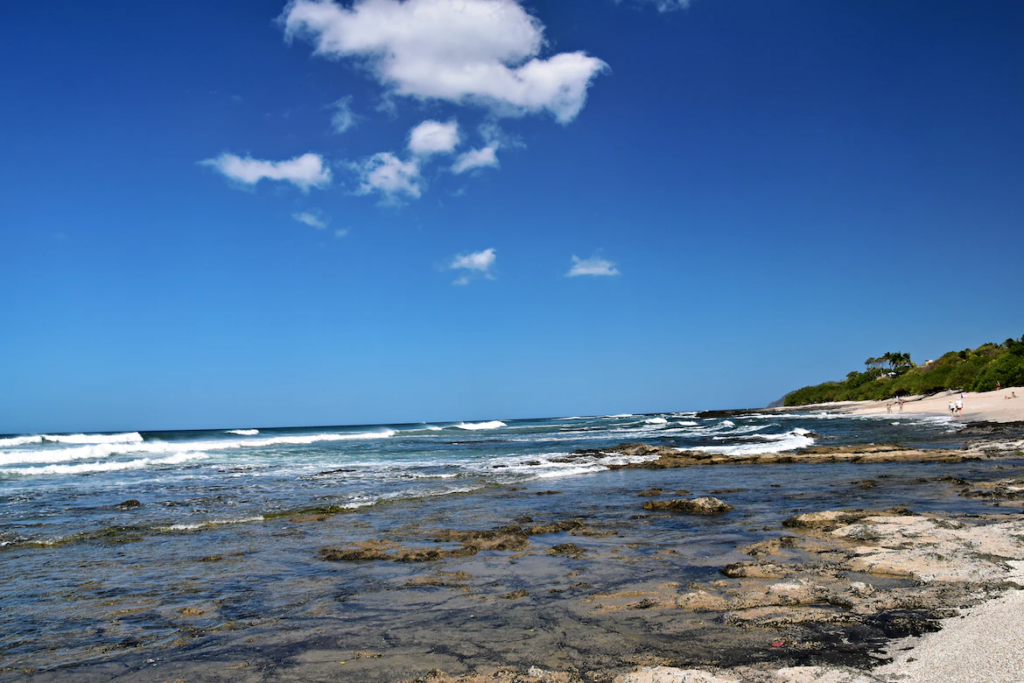 Playa Tamarindo (on Guanacaste Province's north coast) is the largest beach on the North Pacific Coast and is known as a prime surfing destination. You'll find wave breaks and reefs that are ideal for beginners as well as experienced surfers along this shoreline, and renting surf equipment is really easy from beachside vendors.
Tamarindo is the perfect Costa Rican beach if you want to get a taste of local life without being too overwhelmed by a different culture. Check out the vibey El Vaquero Bar; popular for sunset views and happy hour drinks. The locals have even started calling this beach 'Tamagringo', due to its popularity amongst ex-pats and tourists!
If you and your partner are craving an adrenaline-filled experience, consider booking a forest zipline day trip. Soar through the canopies, immersing yourself in awe-inspiring natural beauty, while enjoying an adventure from exhilarating heights! Local travel agencies offer these tours and ticket prices start from $60 per adult.
How To Get To the beach
Hop onto one of the local buses from the Santa Cruz area in Guanacaste Province. A quick 30-minute ride will bring you to the sandy shores of Playa Tamarindo at a cost of roughly $4 (single-fare ticket).
Where To Stay
Best Western Tamarindo Vista Villa
Featuring a private pool, beauty center, bicycle hire, and wellness center, this hotel is perfect for couples seeking relaxation or active pursuits.
Less than half a mile from Playa Tamarindo
Starting from $72 per person
8. Puerto Viejo de Talamanca, Limon Province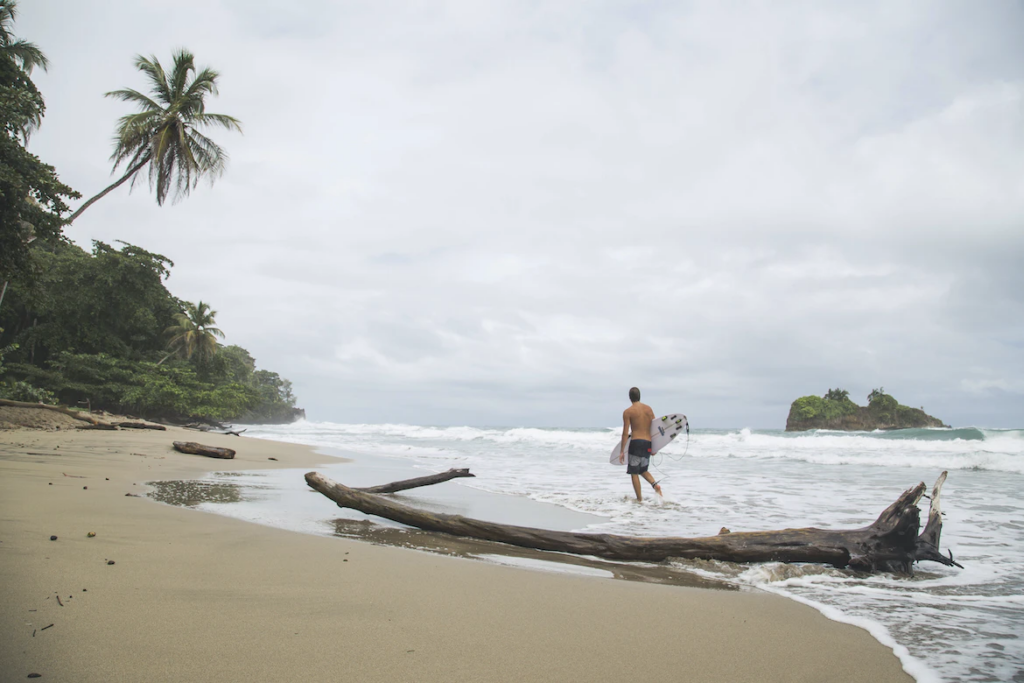 Puerto Viejo de Talamanca is a coastal town in Talamanca in Limon Province on the southeast Caribbean coast, offering some of the best beaches in Costa Rica. Affectionately known by the locals as "Puerto Viejo", its white sand beaches, lush jungles, cacao farms, and ample wildlife are just a few things that this laid-back region brags about.
For (chocolate) lovers, embark on an extraordinary half-day trip to one of the local cacao farms in the region. Do check out Caribeans Coffee & Chocolate, the original bean-to-bar chocolate factory in Puerto Viejo. The tour includes a short hike into the cacao forest, shows how chocolate is made, and has an all-you-can-eat policy for tasting! Tickets cost between $45 – $65 per person.
How To Get To the beach
It's an hour's self-drive from Limon Airport or a 1.5-hour bus trip from Limon Region. Buses operate daily, every 2 hours, with tickets costing $2 – $6.
Where To Stay
Cabinas Jacaranda
Designed for an intimate and romantic escape, this tropical paradise comprises a mere twelve rooms, ensuring a tranquil ambiance for couples.
A 10-minute walk from Puerto Viejo beach
Starting from $75 per person
9. Playa Manzanillo, Limon Province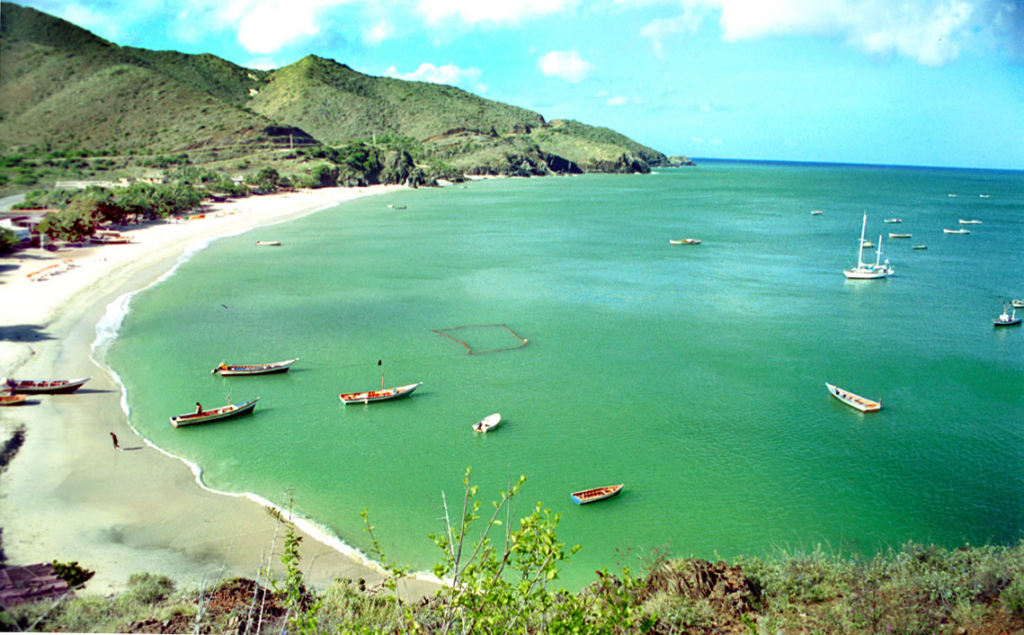 Located on the Caribbean coast, south of Puerto Limon in Limon Province, lies the mesmerizing Playa Manzanillo. Despite its small size of 230 feet, this hidden gem boasts incredible natural beauty. It's home to one of two living coral reefs in the country and is renowned for its stunning sunsets.
With its palm-fringed shores and powdery white sands, Playa Manzanillo's inviting crystal-clear waters and calm surf make it an idyllic destination for swimming, snorkeling, and scuba diving. Alternatively, take your loved one for a scenic stroll along the rocky headland that connects to Playa Puerto Angelito; an adjacent beach that is also worth exploring.
Be sure to explore the Manzanillo Shipwreck during your visit, a ship that ran aground here about 5 years ago and has been a tourist attraction ever since. Local artists have adorned it with creative artwork, making the shipwreck one of the most Instagrammable icons in recent years.
How To Get To the beach
You can easily walk to Manzanillo Beach if you are staying in the central Puerto Escondido area; alternatively, the nearest bus stop to Playa Manzanillo is Parada de Buses La Colina, which is a 3-minute walk away. The local bus service operates daily, and ticket prices range between $3 – $8 each.
Where To Stay
Faith Glamping Dome Costa Rica
Designed with couples in mind, these Geodesic domes provide an intimate haven, ensuring privacy, romance, and ample opportunities for cherished moments together.
1 mile from Playa Manzanillo
Starting from $160 per night
10. Punta Uva, Limon Province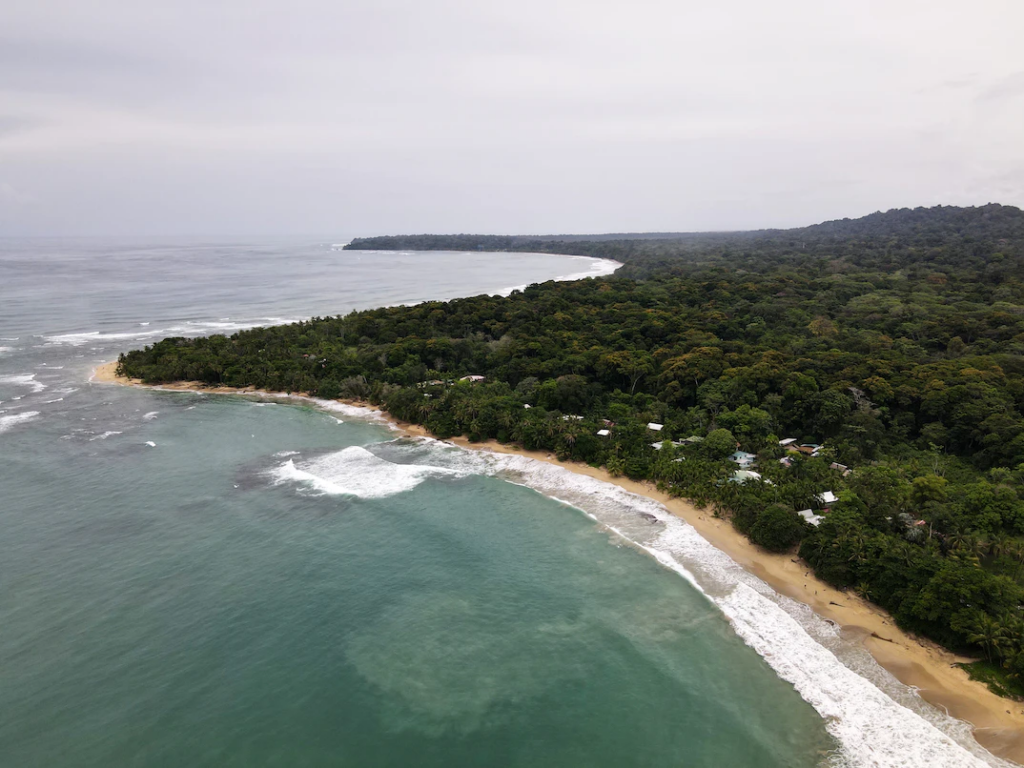 Punta Uva is a small seaside fishing village located along the Caribbean coast of Costa Rica, just north of the Panamanian border. Best known for its bath-like waters and white sand beaches dotted with palm trees, Playa Punta Uva is one of the best, secluded beaches that Costa Rica has to offer.
For a unique experience, embark on an exclusive kayak tour of the Punta Uva area. Discover hidden gems as you paddle through the emerald-green sea and enchanting jungle river on a clear kayak. Search for birds, monkeys, and sloths while you uncover the raw beauty of the South Caribbean. These excursions take about 2-3 hours and cost about $58 per person.
How To Get to the beach
Local bus services travel daily from Puerto Viejo to Playa Punta Uva, with tickets costing roughly $3 – $5.
Where To Stay
Bungalows Punta Uva Inn
Indulge in an authentic Caribbean experience at this remarkable hotel, featuring a wide array of exquisite villas, a grand clubhouse, rejuvenating jacuzzis, and multiple vibey wet bars. Near local shops, bars, and Punta Uva Beach, this makes an idyllic retreat for any couple.
Half a mile from Playa Punta Uva
Starting from $272 per person
Packing Essentials For A Beach Vacation To Costa Rica
You'll be happy to know that packing for Costa Rica is a breeze!
Beach. Sun. Surf.
There's really nothing to it.
Here's a list of things to add to your suitcase:
Pack for comfort: Pack and wear comfortable, loose-fitting, cotton clothing. Dresses and shorts are ideal.
Types of shoes: Flip flops are a no-brainer for the beach but packing in a pair of comfortable walking shoes, such as sneakers, can save your feet from blisters.Hiking boots are another great pair to pack and you'll definitely need these when exploring Costa Rica's rugged forests.
Swimsuit: This is given when going to a tropical paradise such as Costa Rica. You'll need two or three if you plan on hitting the waves every day.
Sunblock: Having an SPF-50 sunblock with you is always good. Since Costa Rica is hot, all year round, you don't want to spoil your holiday by being sunburnt (or worse, having sunstroke!)
Mosquito Repellent: Bug repellent will be useful when doing jungle walks or hikes in the damp, tropical rainforests.
Toiletries & Medication: Always remember to pack any chronic medications that you may need, as they might not be available to get in Costa Rica. Rehydrating sachets to combat the signs of dehydration can be helpful to have and any meds to treat sunstroke.
Rain jacket: It's a good idea to include a lightweight, thin rain jacket in your bag. Even Costa Rica is known for the odd downpour from time to time.
FAQs
Is Playa Conchal worth visiting?
Playa Conchal is one of the exquisite beaches making up the Gold Coast in the Guanacaste Province. Situated just 1.2 miles from Brasilito Beach and near Playa Flamingo, this stunning beach is adorned with crushed shells and coral. Playa Conchal is a beautiful beach and (another) one of the best beaches in Costa Rica that is worth a visit!
Where is the Nicoya Peninsula?
The Nicoya Peninsula is the largest peninsula on Costa Rica's Pacific Coast and refers to a string of beaches along its southern tip. Separated from the mainland by the Tempisque estuary and the Gulf of Nicoya, the Nicoya Peninsula is home to some of the best beaches in Costa Rica, namely Santa Teresa Beach, Montezuma Beach, and Playa Carmen.