North Carolina is an absolute treasure trove of stunning natural beauty and breathtaking coastline. With over 300 miles of perfect beaches along the Atlantic Ocean, NC is a beach lover's paradise.
From the soft sand of Nags Head to the clear waters and nature of Outer Banks, these beaches offer you a diverse range of experiences. So no matter what kind of traveler you are, you're guaranteed an adventure-packed vacation or quiet sandy escape.
In this article, we'll explore the best beaches in North Carolina, each with its own unique appeal, natural wonders, and opportunities for fun and relaxation. So grab your shades and start planning your itinerary because these are some beaches you won't want to miss!
1. Best for Sightseeing: Nags Head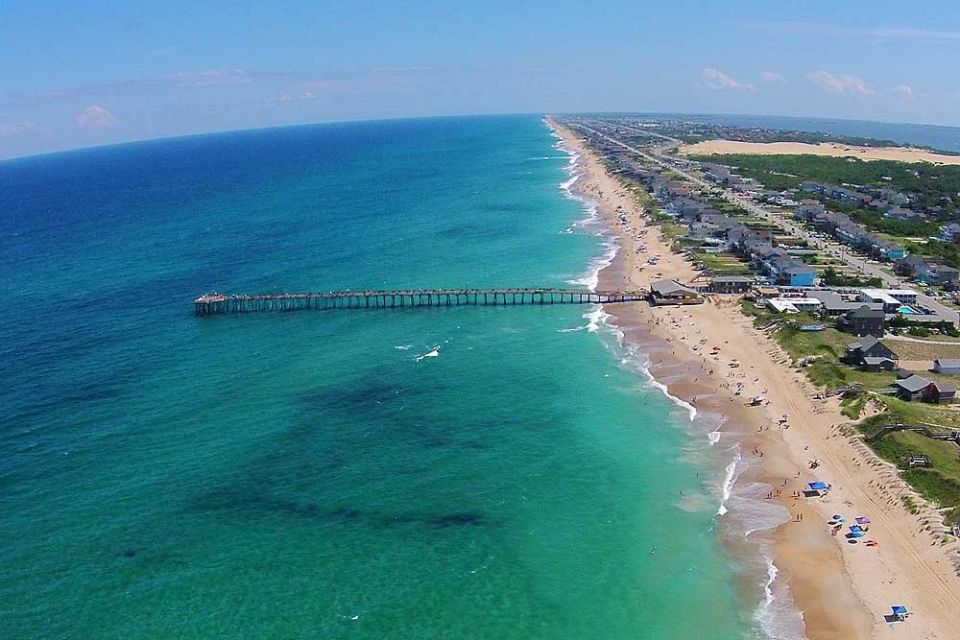 If you're looking for a beach vacation that offers a range of unique experiences, then look no further than Nags Head! Located in the central Outer Banks, Nags Head has a mix of history, culture, and outdoor activities that are perfect for couples.
One of the main attractions in Nags Head is Jockey's Ridge State Park, home to the tallest "living" sand dune on the Atlantic Coast. There's always something to do here, from a walk along the boardwalk to hang gliding, or exploring a nature trail on a relaxing hike.
The nearby Kill Devil Hills and Wright Brothers National Memorial are a must-visit for history buffs. Here, you can learn about flight and see where the famous aviators first took off on their first successful slight.
Of course, no vacation near Nags Head would be complete without a trip to the beautiful beaches. With 12 miles of golden sands and crystal-clear waters, there is plenty of space for travelers who are looking for a sandy paradise. The beaches are also bordered by hotels, restaurants, bars, and stores, making it the ideal vacation spot.
So whether you're interested in history, a nature lover, or a beach bum, you're sure to find something to do at Nags Head.
2. Best for Fishing: Atlantic Beach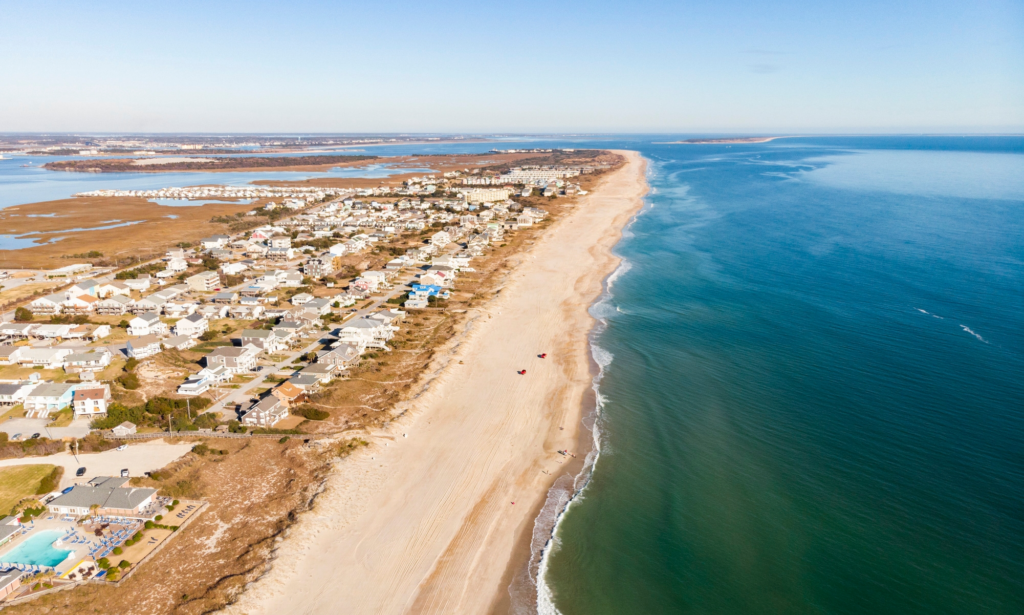 Another one of the best beaches in North Carolina is Atlantic Beach. Often thought of as the perfect blend of relaxation, adventure, and nature, this may just be your next holiday destination!
Found on the Crystal Coast, across the causeway from Morehead City, Atlantic Beach is a fantastic spot for thrill-seeking couples. In fact, this soft-sand beach is one of the most popular areas for water sports in the state. With a south-facing position that shields it from the harsh winds that blow in from the Atlantic, this peaceful beach is the ideal setting.
The beach offers activities like swimming, surfing, and scuba diving. Plus, if you want the perfect catch, it has fishing spots and trips with plenty of unique fish to snag. If fishing is what you're after, you should head to the Oceanana Fishing Piers, where you can watch picturesque sunsets or plan a fishing trip with your significant other.
If you're more interested in seeing the fish than catching them, you can explore the region's marine life at the nearby North Carolina Aquarium at Pine Knoll Shores. And, if you're lucky, you may just catch the sight of sea turtles laying their eggs on the beach from May to October.
Aside from the beach activities, Atlantic Beach offers plenty of other entertainment options. You can take one of the Four Walk Atlantic Beach loops that guide you through different parts of the town. Or, take a drive to Fort Macon State Park to explore its beautifully restored stone fort.
When you're planning a trip to Atlantic Beach, you'll have plenty of places to stay. There are tons of world-renowned resorts and hotels or even smaller holiday homes for couples on a budget.
3. Best for Entertainment: Carolina Beach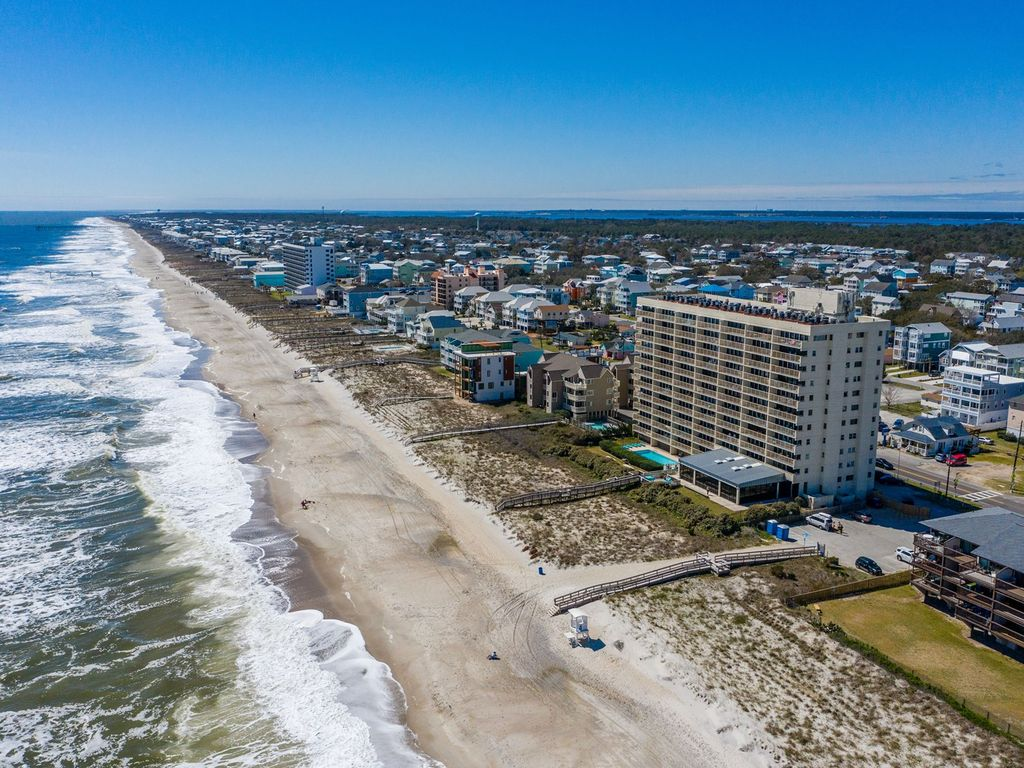 Carolina Beach is one of the most incredible beach destinations for anyone who loves the sun, sea, and golden sand. Just a short drive from Wilmington, it has something for everyone.
The Carolina Beach boardwalk is a real gem and perfect if you love a good promenade. It is lined with bars, restaurants, arcades, and stores that cater to your every need. You can also rent bikes, surfboards, and paddleboards for some exciting water adventures. In fact, the boardwalk is a great place to hang out and catch the sunset over the Atlantic Ocean.
If you want to escape the hustle and bustle of the boardwalk, the Carolina Beach State Park is the perfect place to find tranquility. It's just a short car ride away from the beach and offers plenty of outdoor recreation. It even has numerous hiking trails like the Flytrap Trail, where you can spot the native Venus Flytrap.
The State Park lets you explore miles of sandy beaches so you can ride waves, relax under the sun, or even go fishing. If you're an avid fisherman, the Carolina Beach fishing piers are an excellent place to try your luck. You can also camp out at the State Park, giving you plenty of time to listen to the waves as you have a restful sleep under the starry sky.
4. Best for Surfing: Wrightsville Beach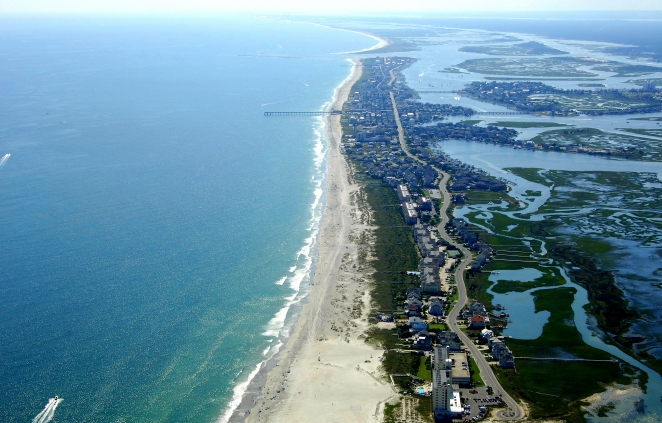 Like Carolina Beach, Wrightsville Beach is just a short drive from Wilmington. In fact, it's even closer! It's a great spot for a weekend getaway or a week-long vacation, with plenty to do and see. So whether you're an experienced surfer, a shopaholic, or just want to visit one of the greatest North Carolina beaches in the state, you're in luck.
Surfing enthusiasts will be glad to know that Wrightsville Beach is known as the birthplace of surfing in North Carolina. The beach boasts the perfect surfing waves and fantastic weather for other activities like kitesurfing.
With surf lessons available and surfboard rentals on the beach, you can think of Wrightsville Beach as surf central! Plus, swimmers and surfers are separated, ensuring a safe and pleasant experience for adventure seekers and quiet beachgoers.
Beyond this, there are plenty of other water sports to enjoy. Kayaking, stand-up paddleboarding, and sailing are all popular pastimes with rentals for these activities available, too. For the seasoned fisherman, Wrightsville Beach offers two fishing piers and fishing charters departing directly from the beach.
Off the sand, you can still have tons of sunny fun. Walking, jogging, and skateboarding along the beachfront are exciting options. But if you want to blow off some steam with some retail therapy, there are plenty of stores and incredible restaurants available.
5. Best for Relaxation: Bald Head Island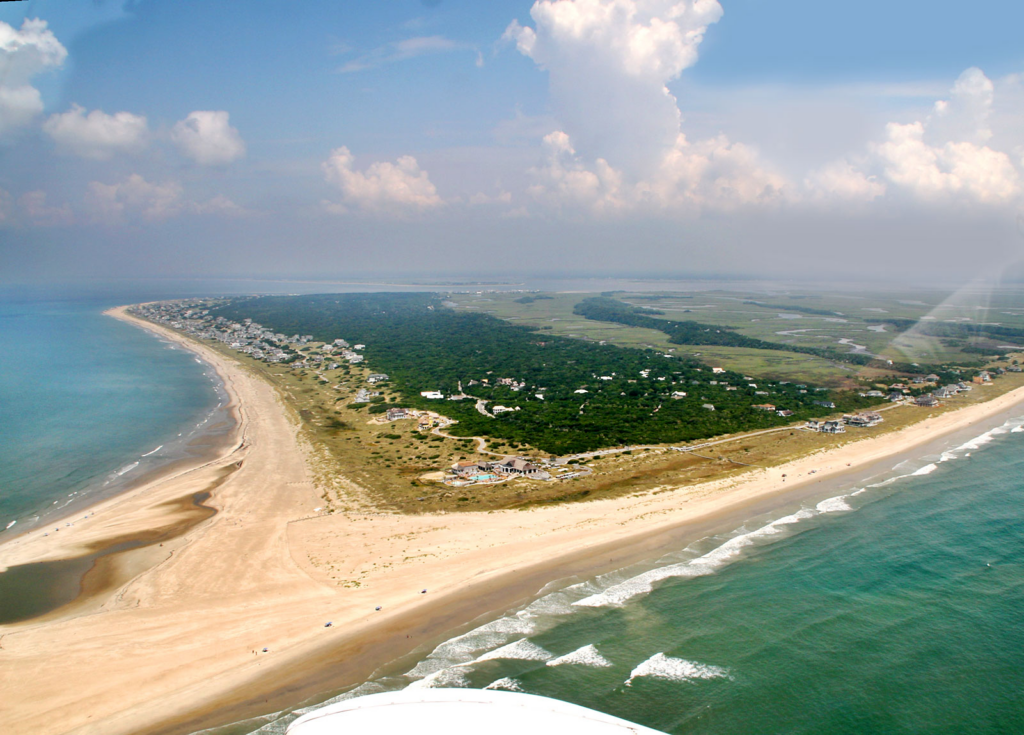 Bald Head Island in North Carolina is a peaceful paradise that you can only reach by boat. This car-free island is a popular destination for anyone who wants a break from the fast-paced lifestyle of the city. You can explore the island's gorgeous beaches, lush forests, and salt marshes by foot, bike, or golf cart.
To get around the island, you can also use a free tram—but only if you're staying at one of the vacation rentals around the island. Still, it's the best way to experience Bald Head Island and see its majestic coastline.
With 14 miles of beautiful beaches, Bald Head Island is an idyllic destination for couples. The island is also home to North Carolina's oldest standing lighthouse, Old Baldy, which offers unparalleled views from the top.
Here, you can even witness the largest sea turtle nesting spot in North Carolina or learn more about the local wildlife at the Bald Head Island Conservancy.
Aside from beach activities, the island has an 18-hole golf course, hiking trails, kayaking, and even a spa if you have a less active itinerary! Overall, Bald Head Island is a great place to relax and unwind on a getaway, honeymoon, or just a day trip.
If you're visiting the island for the day, you'll need to be prepared for the trip. You need to take a 20-minute ferry ride from the Deep Point Marina in Southport.
6. Best for Nature Lovers: Emerald Isle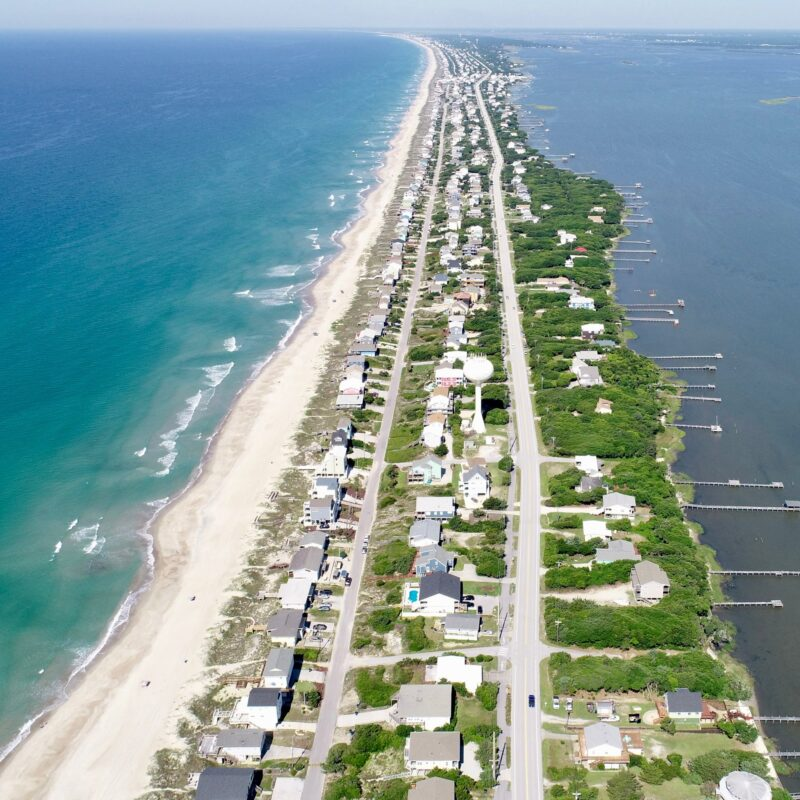 Emerald Isle, located on Bogue Banks Island, is a stunning beach getaway destination on the Crystal Coast. The golden sand beach stretches for around 12 miles with crystal-clear water and a rich dining scene for beach lovers and foodies alike.
Aside from relaxing on the lovely beach, Emerald Isle visitors can enjoy a range of outdoor activities. These include fishing, jet-skiing, kayaking, paddleboarding, and more. The Bogue Inlet fishing pier is a must-visit for fishermen and offers an opportunity to catch a huge variety of fish.
Nature enthusiasts will love exploring the North Carolina Birding Trail in Emerald Isle Woods Park. Here, you can catch a glimpse of a variety of bird species – so don't forget your binoculars! For a stunning sunset, you can also make your way to The Point, which is one of the best spots along the North Carolina coast for breathtaking views.
7. Best for Tranquility: Hammocks Beach State Park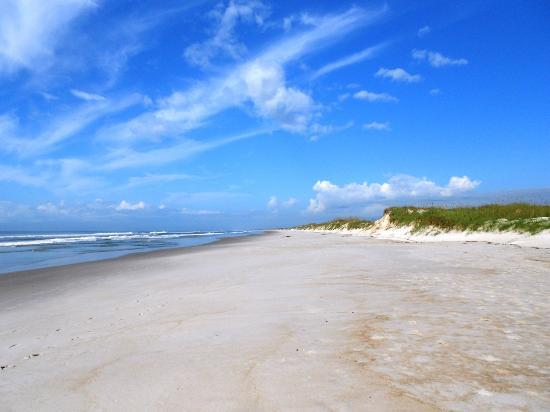 Hammocks Beach State Park, located on the barrier island of Bear Island, is a true local gem. As it's accessible only by boat or ferry, this largely untouched beach offers a tranquil and remote setting that's perfect for a quiet day. You won't find large hotels or rows of restaurants here – which is exactly why people love it!
Here, you can experience the park's wildlife and rent canoes or kayaks to explore nearby marshes, Bear Island, and Huggins Island. Bear Island is also a popular camping spot for couples who enjoy getting out into nature and seeking out adventure.
Hammocks Beach State Park provides a full-service visitor center with a snack bar and bathhouse, as well as year-round camping opportunities near the beaches. The park also has various educational programs and exhibits that will help you get acquainted with the island's endangered species and ecology.
What's really great about Hammocks Beach is its excellent safety and gentle waves. Unlike other crowded and developed beaches, this beach offers the perfect vacation spot for absolutely everyone.
8. Best for Vacation Rentals: Topsail Island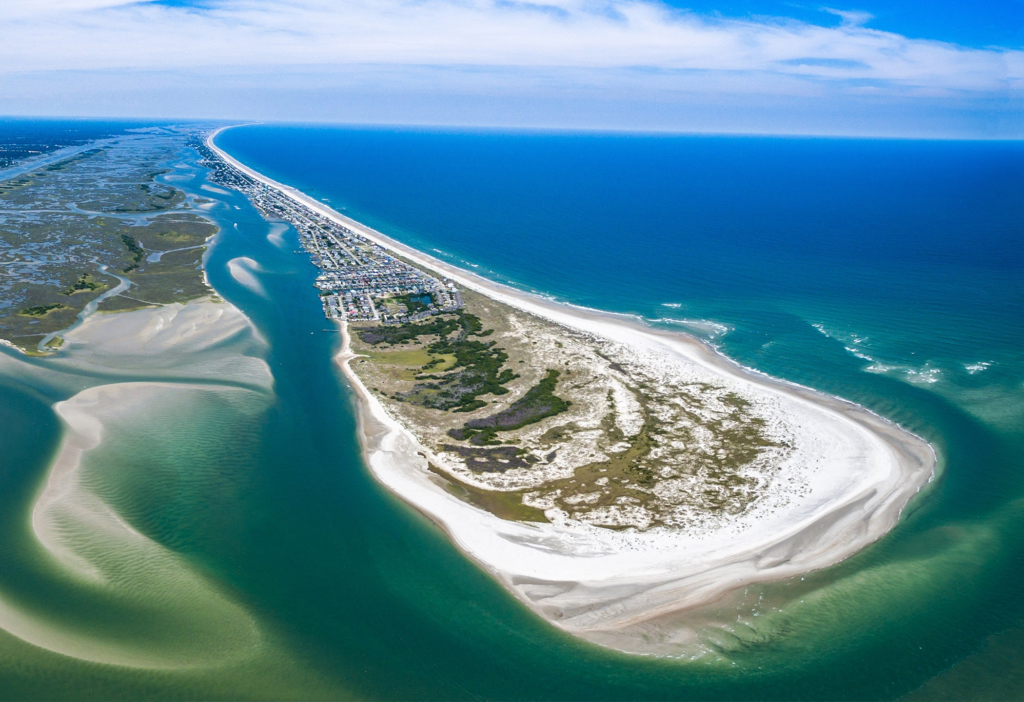 Topsail Island is just south of Jacksonville and is a diamond in the rough for avid beachgoers. The 26-mile stretch of wide-open sand is perfect for a peaceful day of suntanning and contains three towns (Topsail Beach, North Topsail Beach, and Surf City). Still, it also offers a range of activities for anyone seeking excitement and adventure.
From mid-May through August, you can watch loggerhead sea turtles come ashore to nest and lay eggs along the coast. This makes it a great spot for animal lovers as well! And if you're interested in conservation efforts, be sure to visit the Karen Beasley Sea Turtle Rescue and Rehabilitation Center in Surf City.
For history buffs, Topsail Island is steeped in rich history. In fact, legend has it that the area was once a popular place for pirates, and visitors can try to search for treasure on Topsail Beach if they're feeling lucky.
The island is home to a variety of vacation rentals, including ocean front, marsh front, and inland options. You can also enjoy a variety of water sports like jet skiing, fishing, surfing, and boating. If you're looking for a relaxed swimming experience, you will love the protected side of the island that has calm, shallow waters.
If you want to explore beyond the island, Topsail Beach is an ideal spot. The beach boasts historical ties to World War II, accessible motels, and plenty of restaurants for seaside dining.
One of our top tips is to check out Serenity Point, which offers a stunning and panoramic view of the sunset that will have you coming back for more. With its rich history, serene beauty, and laid-back vacation vibe, Topsail is the perfect destination for the best of both worlds.
9. Best for Gorgeous Views: Holden Beach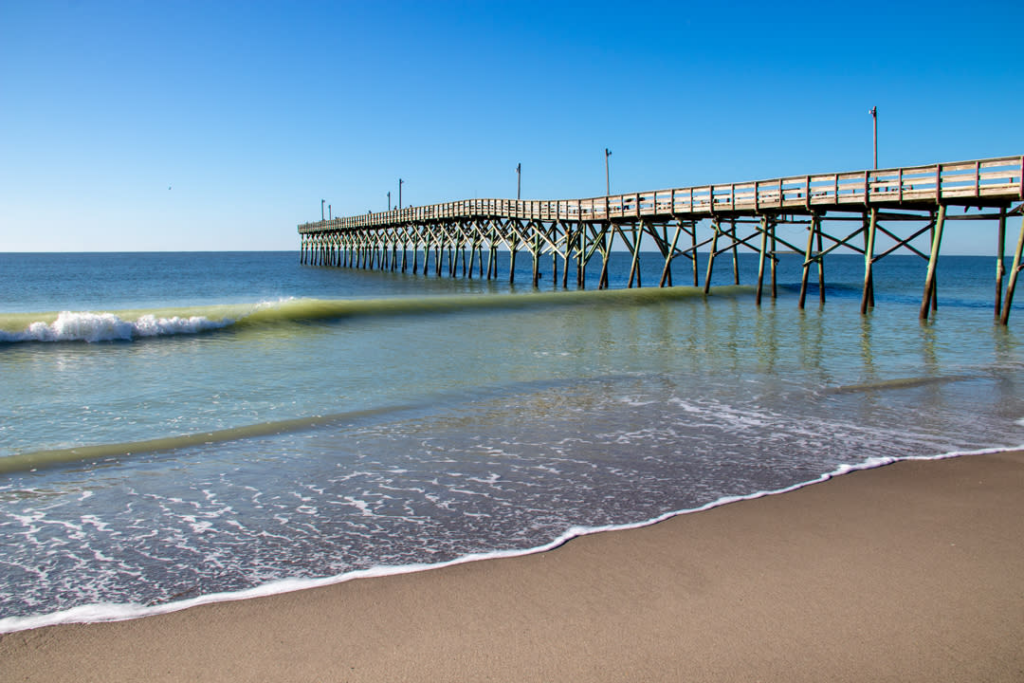 Located in the Brunswick Islands of North Carolina, Holden Beach is a charming town that gives you the perfect summer escape. With its unspoiled beauty and small-town appeal, it's a fantastic destination for couples looking to unwind and have some fun.
For a relaxing beach trip, you can head onto Holden's stretch of gorgeous golden sand. Here, you can walk along the shoreline or take a dip in the cool, salty water. If you want to try something new, why not try your hand at fishing, golfing, or birding amidst North Carolina's natural beauty?
When you need a break from the sand and sea (as if!), you can wander behind Holden Beach to find a variety of seafood restaurants. There, you'll find a delicious meal with a view of the Intracoastal Waterway.
One of the unique features of Holden Beach is that it has a natural and relaxed feel. Unlike other crowded beaches, you won't have to fight for space here. It's also home to a number of vacation homes, so you won't have to stray too far from the water at the end of the day.
With its welcoming waters, this beach is fantastic for couples both young and old. And if you're looking for a little more excitement, Wilmington is a short 35-minute drive away.
10. Best for History Buffs: Ocracoke Island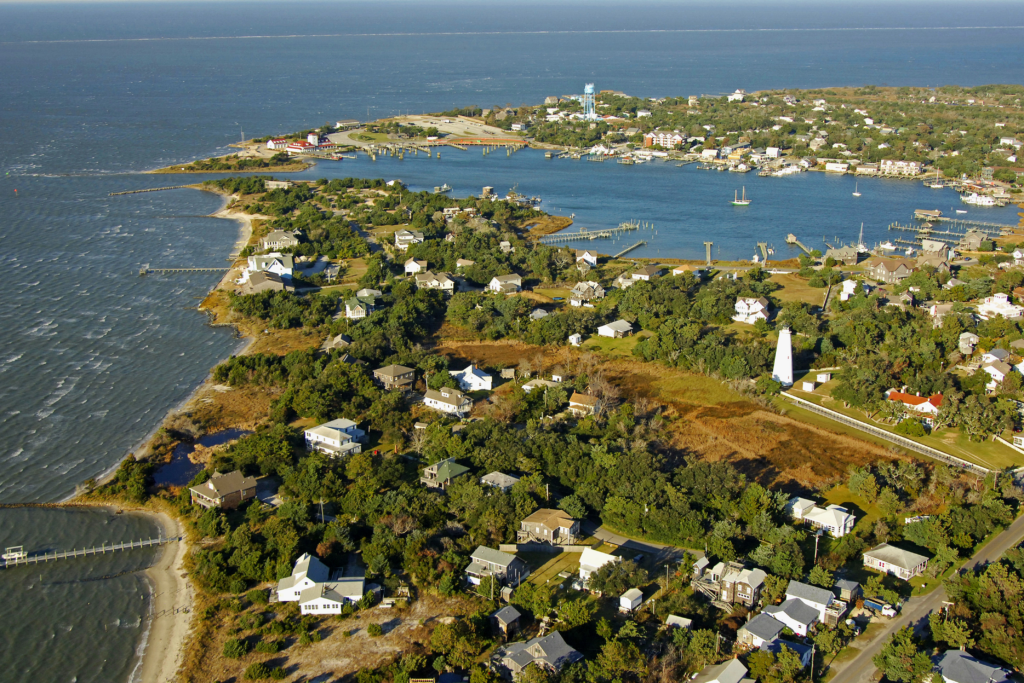 Ocracoke Island is a hidden treasure off the coast of North Carolina, offering a peaceful escape for couples.
To get there, you'll need to take a ferry from Swan Quarter, Hatteras, or Cedar Island. As soon as you arrive, the island's laid-back nature will wash over you and help you unwind with 16 miles of white sand and a plethora of activities like sailboating and surfing.
You can rent a boat or golf cart to explore the area or check out the trails for a serene nature walk. Then you can turn your attention to Silver Lake Harbor, where you can take in the sunset and enjoy a variety of shops, restaurants, and hotels.
Ocracoke Island is often considered the pearl of the Outer Banks, full of historical sites to discover. These sites include North Carolina's oldest (and most beautiful) lighthouse, the Ocracoke Island Lighthouse, and the Ocracoke Preservation Museum.
Other popular activities include fawning over the island's wild ponies at the Pony Pen or delving into nature at Springer's Point.
The town of Ocracoke is compact and full of dining spots and shopping hubs as well as fishing and boating spots. So no matter why you're traveling, you're promised an unforgettable stay here. Your accommodation options also range from a national park camping ground to standard accommodations like hotels and charming bed-and-breakfasts.
11. Best for Wildlife Spotting: Cape Hatteras National Seashore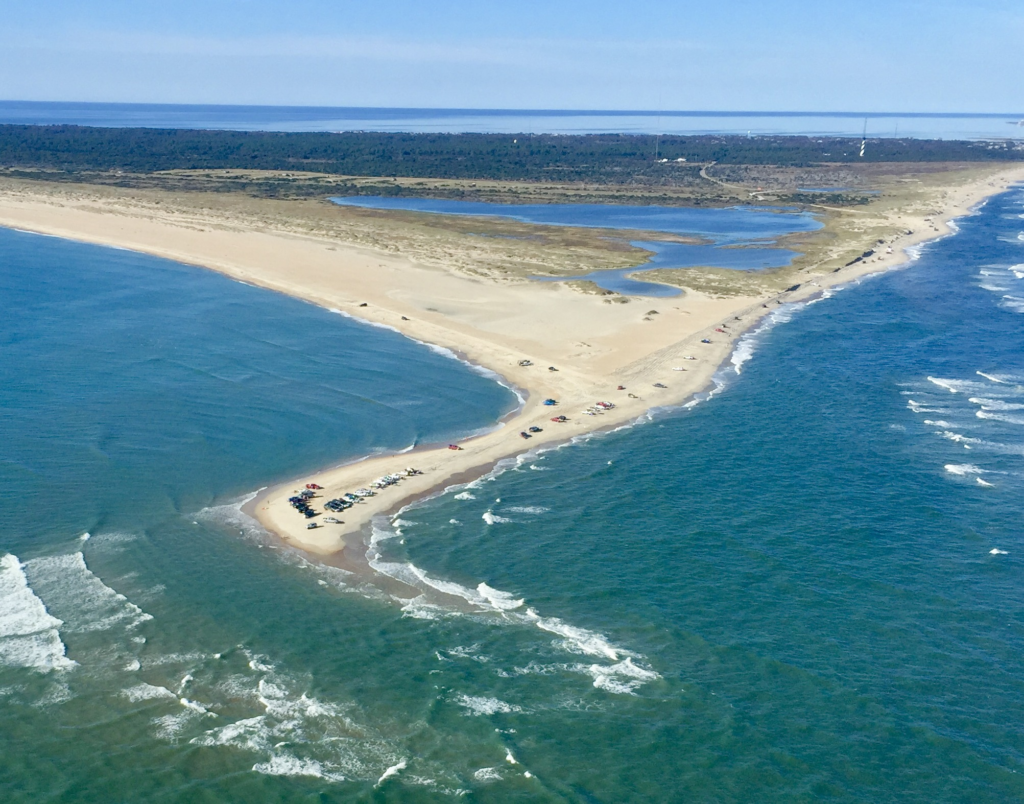 Cape Hatteras National Seashore is a stunning sprawl of protected coastline along the Outer Banks of NC. This massive (70-mile long!) seashore includes some of the most majestic and untouched beaches in the country. This makes it a popular destination for travelers and beach-goers alike.
After its establishment as the country's first national seashore in 1937, it has become a top destination for anyone looking to experience the beauty of the Atlantic Ocean. The park offers a variety of recreational activities, like hiking, bird watching, surfing, and swimming.
Of course, one of the main attractions here is the famous Cape Hatteras Lighthouse. One of the most recognizable landmarks in the Outer Banks, the lighthouse is the tallest brick lighthouse in the United States. And when you visit, you can climb the 257 steps to the top for a jaw-dropping view of the ocean and the surrounding landscape.
The seashore itself is home to a diverse range of wildlife, including sea turtles, dolphins, and over 400 species of birds. So if you want to get as close to nature as possible, while also feeling your toes in the sand, this is the place to be!
FAQs
What beach in North Carolina has the most attractions?
Emerald Isle is a great option if you're looking for one of the best North Carolina beaches with the most attractions.
While you're here, you can soak up the sun or grab a seat at a nearby restaurant to watch the sunset. Beach activities include paddleboarding, kayaking, and surfing. But if hitting the water isn't your thing, you can also go bird-watching or enjoy a spirited game of disc golf.
Does North Carolina or South Carolina have better beaches?
Both North and South Carolina have beautiful beaches. Still, the answer to this question really depends on your beach vacation preferences. Beaches in North Carolina offer a range of activities like fishing, surfing, and wildlife watching. On the other hand, South Carolina beaches are known for their charming towns and historical sites.
The best North Carolina beaches include Emerald Isle, Wrightsville Beach, and Outer Banks. Popular beaches in South Carolina include Myrtle Beach, Hilton Head Island, and Kiawah Island.
What is the best family beach in North Carolina?
Most North Carolina beaches are family-friendly. The majority of these beaches have plenty of activities and stays. These include water sports and mini-golf, family-friendly resorts, and excellent eateries.
If you visit any of the beaches in North Carolina from our list, you can be sure that you're going to find soft sand, gorgeous waters, and natural scenic beauty. Some of our favorite choices include Carolina Beach, Wrightsville Beach, and Emerald Isle.