If you picture your honeymoon as a destination where you get to relax on white-sand beaches, dive in crystal clear waters, and soak up the sun at a luxury villa, then Fiji is the perfect honeymoon destination for you.
This island nation situated in the South Pacific Ocean is the perfect destination for newlyweds who like to move about and travel while on their honeymoon – because Fiji is an archipelago that consists of more than 300 islands!
In this honeymoon guide, we will look at the top Fiji honeymoon resorts, the best islands to visit, and what you can do when you visit Fiji after your wedding.
What Makes Fiji Perfect For A Honeymoon
There are so many reasons why Fiji is the perfect South Pacific honeymoon destination.
The islands are steeped in natural beauty – from white sandy beaches to jungles and waterfalls. The locals are incredibly warm and welcoming. And we have to mention the Fiji honeymoon resorts. There are resorts, villas, and hotels for each budget, but all are incredibly well-appointed to make your honeymoon extra special.
From having your own private beach at your hotel to having an entire island to yourself, the reasons why Fiji is a great spot for your honeymoon are innumerable. Here are just some of the top reasons to plan your honeymoon on the Fiji islands:
The locals are incredibly kind and also very happy.
It is a multicultural country with amazing local cuisines and history.
The beauty of the islands and surrounding vibrant coral reefs are unmatched.
The temperature is incredibly pleasant and warm throughout the year.
Best Honeymoon Resorts, Hotels, And Other Stays In Fiji
There are plenty of gorgeous, luxury resorts in Fiji. Almost each of the inhabited islands boasts some type of accommodation that will make any honeymoon extra special.
With so many islands to choose from, it is hard to narrow it down, but the best luxury accommodation can be found on Viti Levu and Malolo Island.
Below we have curated a list of some of our top picks of places to stay while honeymooning in Fiji.
Our top pick – the Nanuku Auberge Resort, is one of the best resorts in Fiji, offering honeymoon packages, five-star luxury, amazing dining options, and breathtaking views.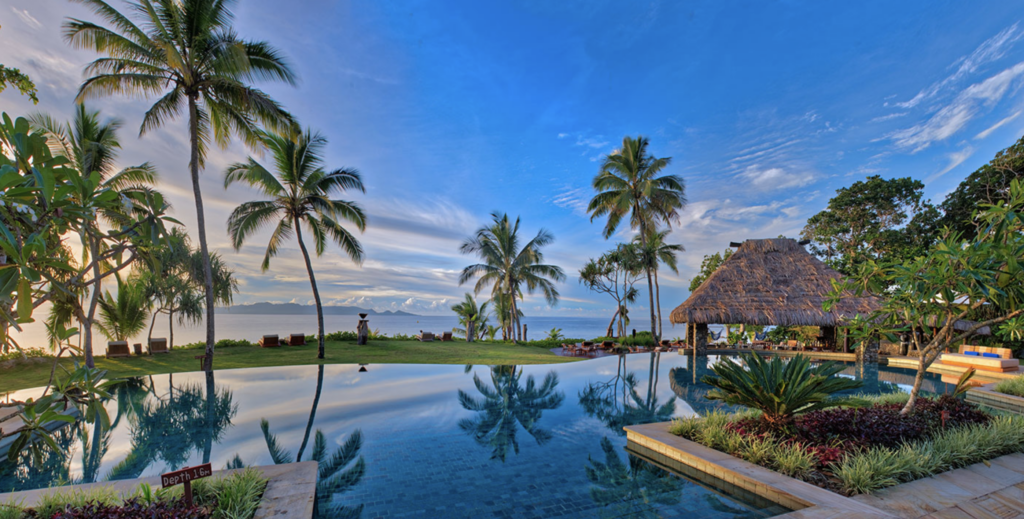 Price per Night: $1,450 – $2,513
Best For: Romantic getaway, couples
Availability: Easy to book
This beautiful island resort offers five-star accommodations and gourmet dining experiences.
Located on the popular Viti Levu island, this resort offers different room options, including smaller suites, villas, and entire residences. There is also a private infinity pool on site, with views out over the sprawling lawns and ocean.
The friendly staff will also help to arrange experiences and excursions for the adventurous couple, like snorkeling, surfing, scuba diving, boat cruises, spa treatments, or food safaris.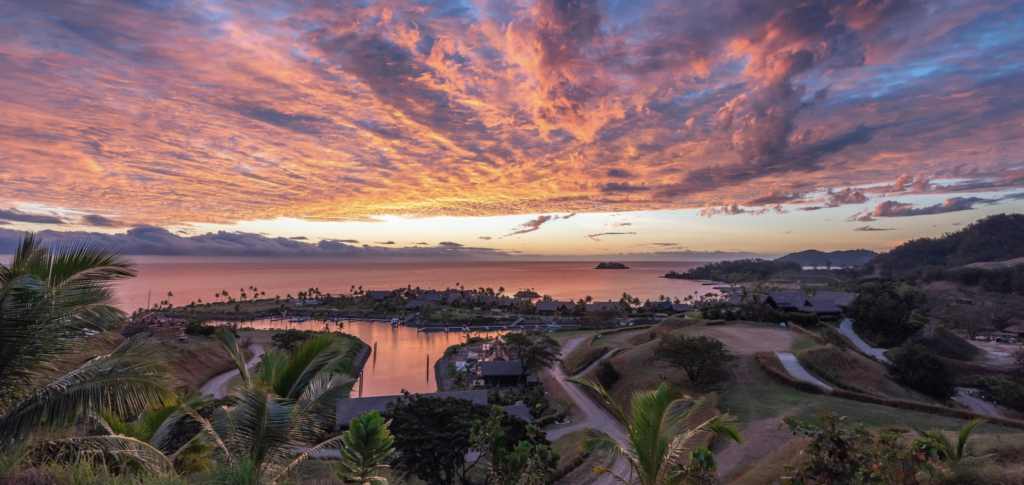 Price per Night: $884 – $2,791
Best For: Vacation packages, romantic getaway
Availability: Easy to book
The Six Senses hotel and resort chain are world-famous for their luxurious offerings and wellness treatments.
Six Senses Fiji stays true to this reputation, offering plenty of relaxation offerings as well as some adventure experiences for adrenaline junkies.
There are several fine dining options, as well as an adults-only pool. The private rooms and suites with their own private balcony and the proximity to (and views of) the ocean make this an unforgettable stay. There are also private villas with their own pools, for those wanting to spend a bit more.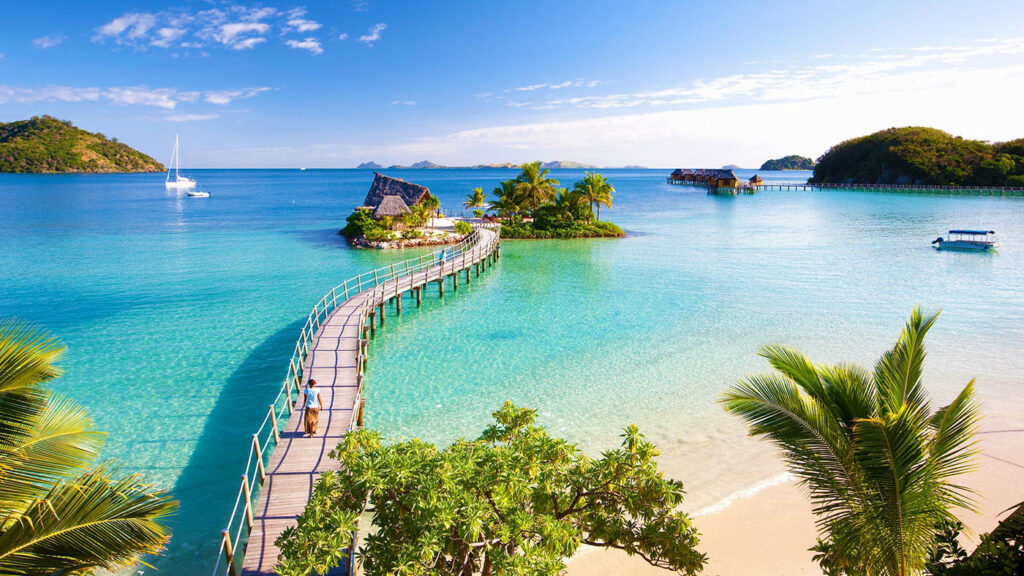 Price per Night: $1,026 – $1,390
Best For: Adults-only
Availability: Easy to book
This exclusive wilderness Fiji honeymoon resort offers villas located right on the water – one of the only resorts in Fiji with authentic overwater villas. The quiet and pristine environment is a unique place for newlyweds, as the hotel has been designed in a traditional Fijian style.
The center of the resort is a building that has been designed to mimic a Fijian canoe house. Guests can marvel at the beauty of the resort and the surrounding ocean, enjoy delectable meals, unwind at the wellness spa and explore the nearby uninhabited Mociu private island.
If staying over the water is not for you, then you can also relax in a beachfront bure (traditional cabin) or a garden bure with views of the lush rainforest.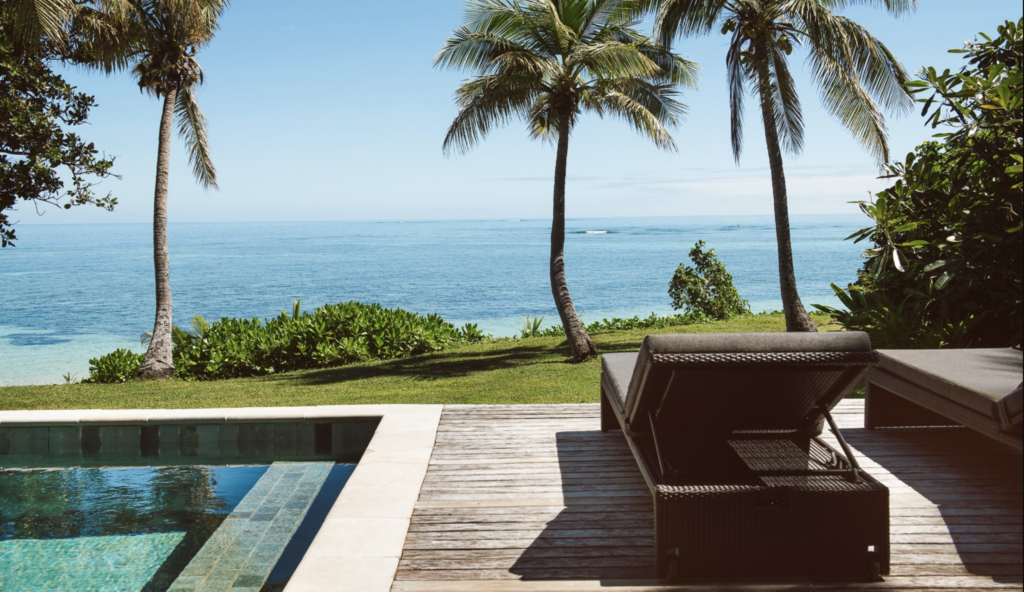 Price per Night: $590 – $890
Best For: Adults-only
Availability: Limited
Tokoriki Island Resort is a boutique adults-only resort offering traditional Fijian bures. There are 36 bures available, meaning it is a very intimate and romantic environment where each guest will be treated like royalty.
The villas are well-appointed and modern, with air conditioning, outdoor showers, beautiful lush gardens, and ocean views. Guests can also enjoy massages at the spa, private picnics, ocean adventures, or relaxing by the pool.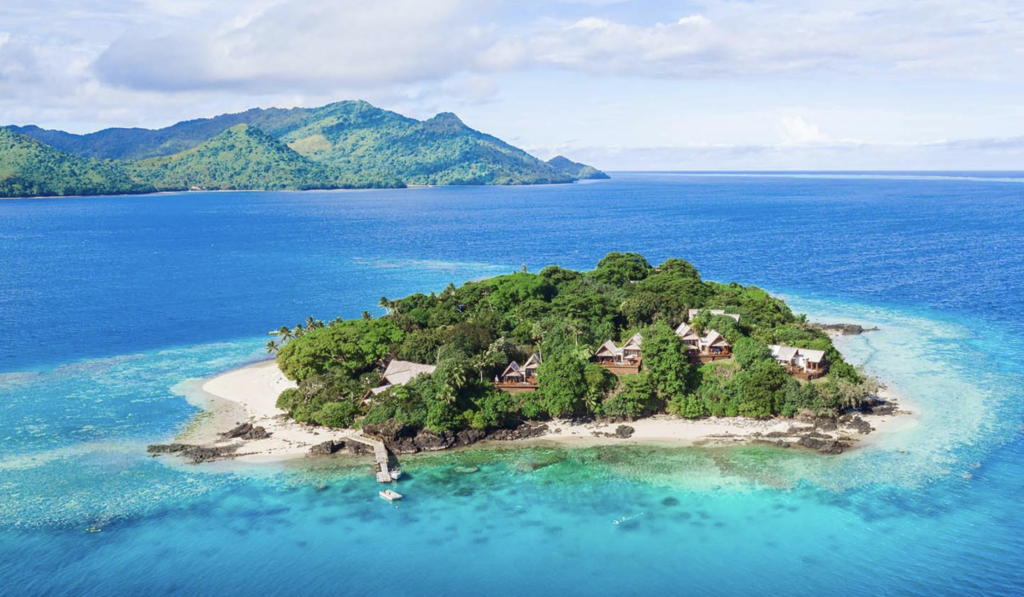 Price per Night: $1,063 – $1,355
Best For: Adults-only, all-inclusive
Availability: Easy to book
Royal Davui Island is an adults-only resort where guests really are treated like royalty.
The resort is located on 10 acres of tropical paradise and boasts 16 luxury private villas. The staff are welcoming and genuinely kind, and are there to help guests get the most out of their stay. Fijian spa treatments, private pools, pristine beaches, and close to the Nadi international airport – it is easy to see why this Island Resort is a prime option for newlyweds.
There are different villas to choose from: the sunset plunge pool villa, the Davui plunge pool villa, the lagoon plunge pool villa, and the island plunge pool bungalow.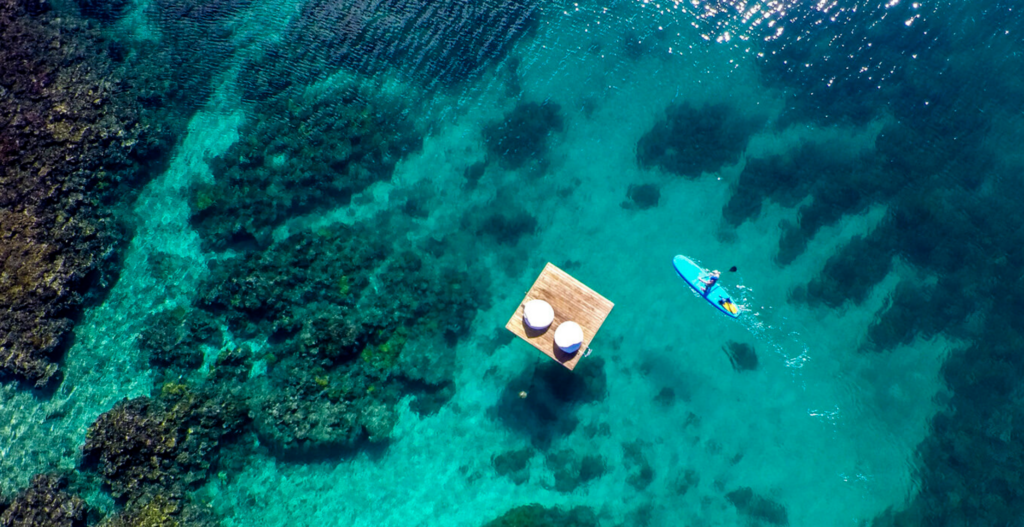 Price per Night: $888 – $1,254
Best For: All-inclusive
Availability: Limited
The Remote Resort truly is remote, making it the ideal location for newlyweds wanting to enjoy the tropical climate and explore the remote islands of Fiji. It is located within the famous Rainbow Reef region, which has many beautiful local villages, gorgeous coral reefs, waterfalls, wildlife, and plenty of natural beauty.
There are a variety of accommodation options available, from luxury villas to larger retreats. But if you want to stay here you have to act fast – there are only 8 villas available on the 64-acre island. You can only access this resort by boat.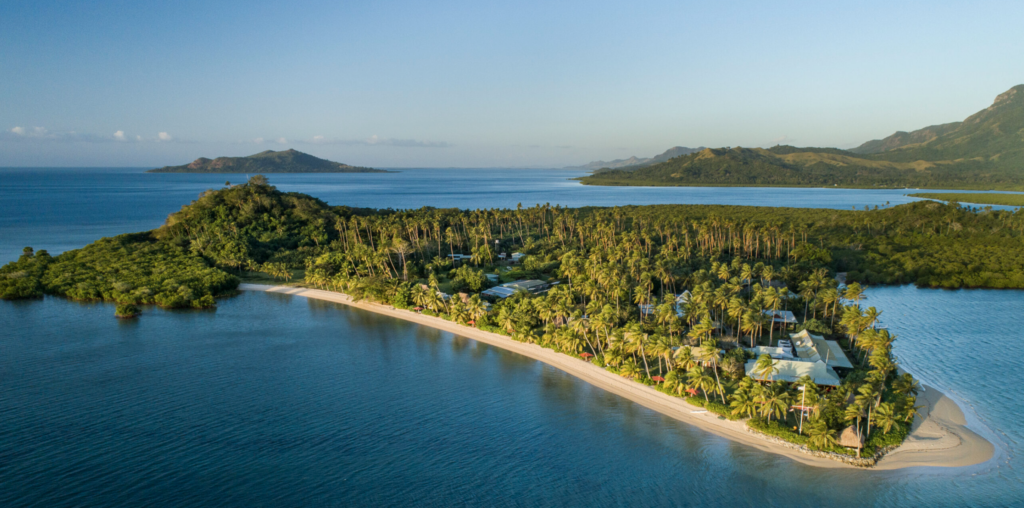 Price per Night: $2,247 for the island, 3-night stay minimum
Best For: All-inclusive
Availability: Limited
Nukubati is a private Fijian island, where you and your new life partner can relax and unwind. This island resort, consisting of seven bures and suites, has been specifically designed for honeymooners, and you will never have to share the island with more than six other couples.
Private beaches, picnics on the white sand, a tropical breeze, fantastic hospitality, couples massages, and romantic starlit dinners – if your ideal honeymoon destination looks like this, then Nukubati Private Island is the place for you.
You also have the option of booking the entire island for yourself and your loved ones.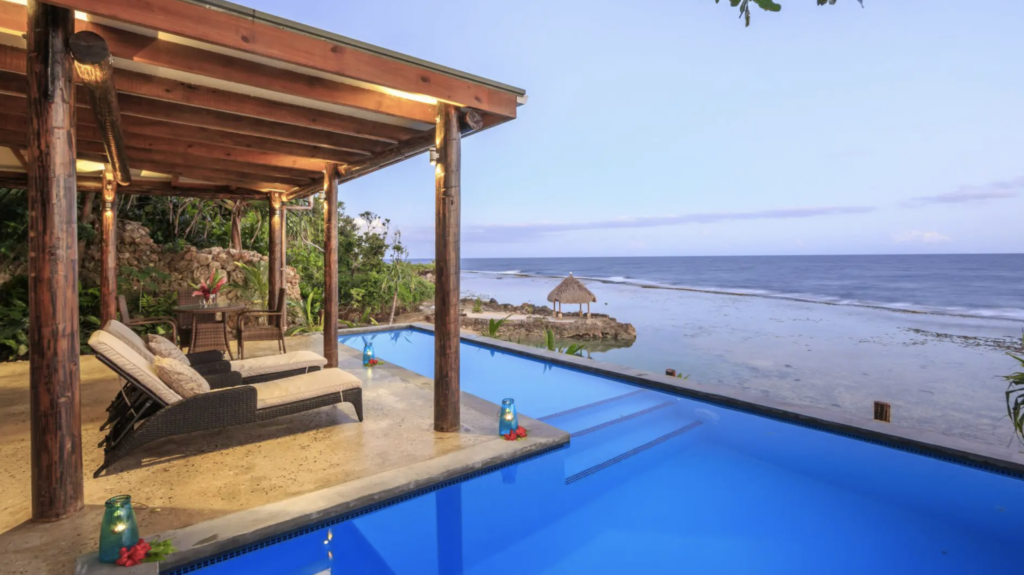 Price per Night: $400 – $1,128
Best For: Romantic getaway
Availability: Limited
Savasi Resort is small, private, and incredibly romantic. Situated on a 52-acre private island, this resort is surrounded by turquoise lagoons, private beaches, volcanic fissures, and limestone ridges, all inhabited by unique fauna and flora species.
The private villas at the resort have large terraces and uninterrupted ocean views, with access to the island's white sand beaches. The villas have been designed to bring nature indoors, by using bamboo and traditional wood furniture, embracing Fijian cultural values and architecture.
Best Areas To Stay In Fiji
With 300 islands in Fiji (of which 110 are uninhabited), it can be overwhelming to pick a place to visit during your honeymoon. Here is a list of some of the main areas where couples can spend their honeymoons because of the availability of luxury accommodation, activities, excursions, and accessibility.
Viti Levu Island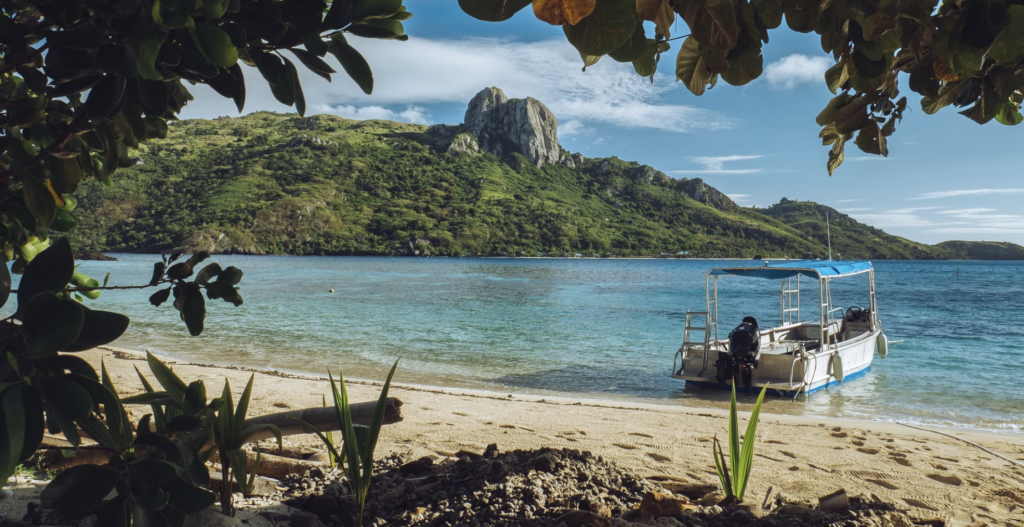 Viti Levu is the main island in Fiji, containing the capital city as well as 70% of the Fijian population.
This island has plenty of resorts on offer and is a great base to explore the surrounding smaller islands, have outdoor adventures, or simply relax and soak up the Fijian culture.
Here are some top activities that couples can enjoy while staying on Viti Levu Island:
Vanua Levu Island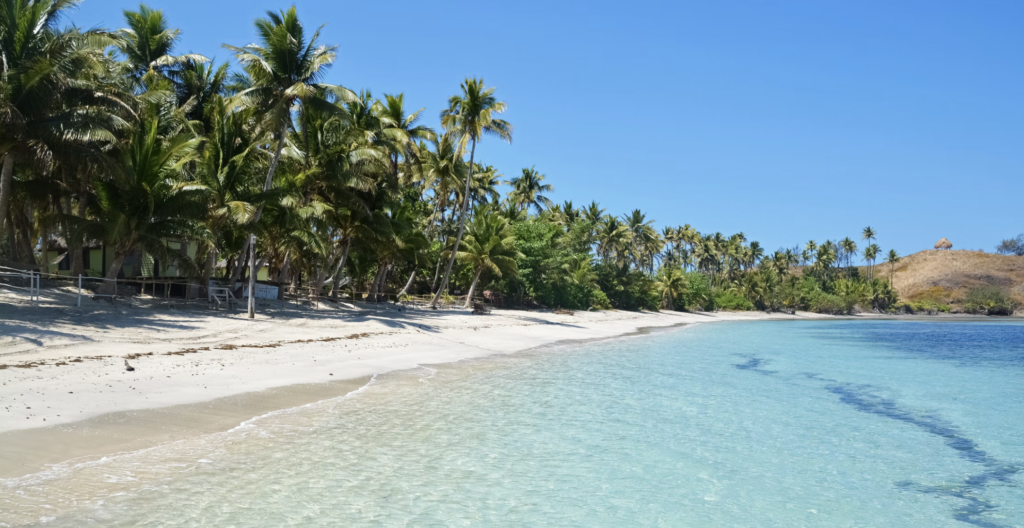 Vanua Levu is another large island, with plenty of dining and resort options for honeymooners. There are plenty of outdoor adventures, like hikes and four-wheel drives, or you can simply relax on the beaches of this less touristy island.
Couples can enjoy many of the following activities when staying on Vanua Levu Island:
Take an easy walk to the Vuadomo Village and Waterfall (there is no entrance fee, but visitors are expected to buy kava for $10)
Walk to the top of the Flora Tropical Gardens for the most amazing views (group tours available from $25 per person).
Learn about the history of chocolate at KokoMana. Chocolate tours cost around $14 per adult.
Spend your day in the warm waters of the island – swimming, surfing, or snorkeling (free admission to the beaches).
Mamanuca Islands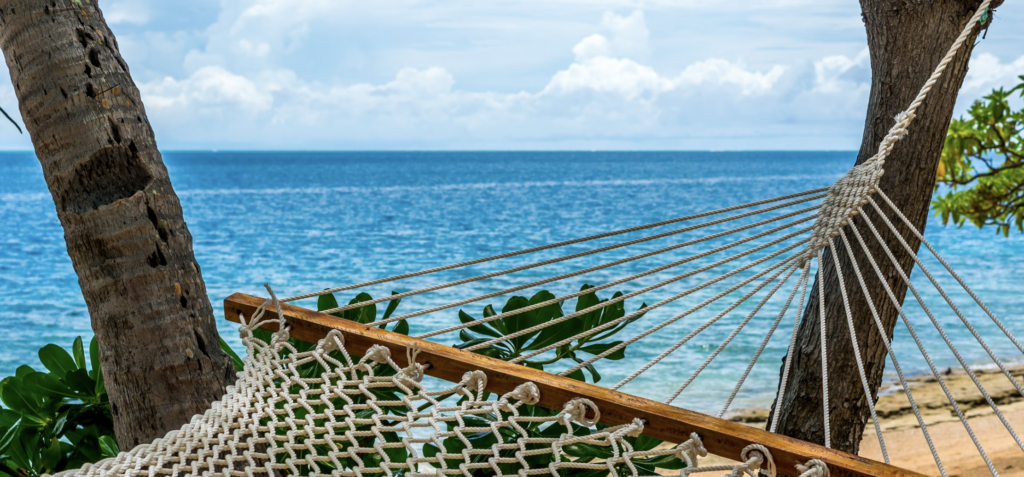 The Mamanuca Islands are known for their natural beauty. This cluster of islands is great for couples who enjoy spending time outside. Movie-buffs will also be excited to know that the film Cast Away was filmed on these islands.
Couples can enjoy the following romantic activities while visiting Mamanuca Islands:
Spend a day sipping on cocktails at the Malamala Beach Club (a cocktail will set you back around $10).
Walk hand-in-hand down Sunset Beach for spectacular colored skies at the end of the day.
Spot sea turtles and other sea creatures at South Beach.
Jet ski or take a boat cruise on the flat, warm, crystal clear sea. Jet ski tours cost anything from $125 with Jet Ski Island Adventures.
Yasawa Islands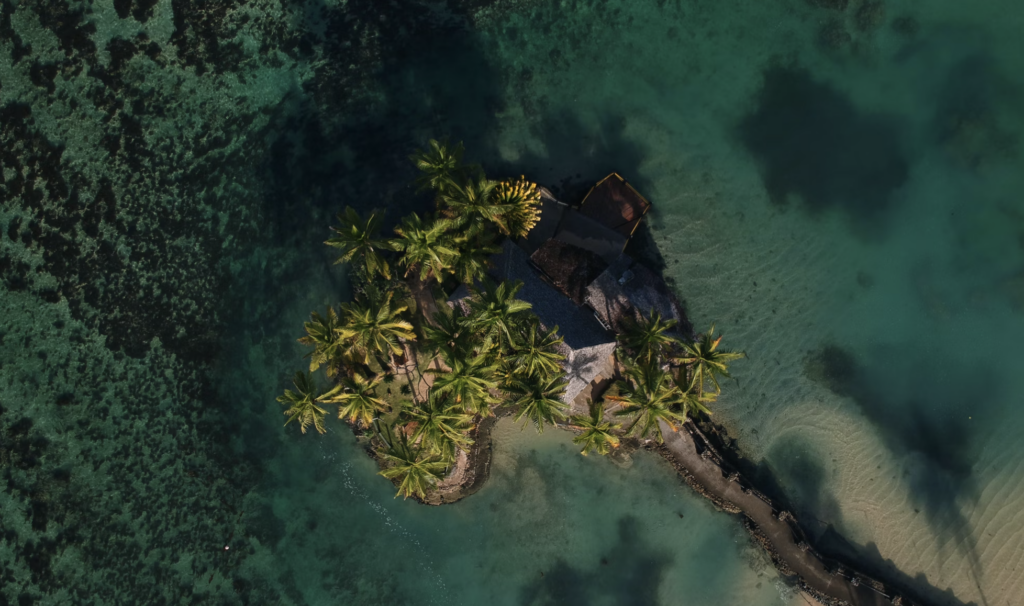 The Yasawa Islands are north of the Mamanuca Islands and are less busy and more rural. This means that visitors can truly enjoy the natural beauty of these unspoiled islands.
Couples visiting these six volcanic islets can enjoy the following activities:
Take a helicopter ride over the islands to appreciate the breathtaking landscapes (Heli-Tours Fiji offers a variety of tours and packages starting at $100).
Enjoy a beach picnic on any of the beautiful beaches along the South Pacific.
Strengthen your bond on a double kayak in the lagoon.
Top Excursions & Activities To Do On A Fiji Honeymoon
There is plenty to do on each of the Fiji Islands. Here is a list of some of the best activities that you and your life partner can enjoy while on your honeymoon.
Enjoy the Sea
Fiji can feel like your own tropical oasis, surrounded by the sea. There are plenty of water-based activities couples can enjoy: snorkeling around the coral reefs, surfing some challenging waves, scuba diving with sharks, boat cruises, or standup paddle boarding.
Check out Fiji Diving for some of the best spots to experience the marine life, or rent your SUP from Momi Surf.
Relish in a Spa Treatment
Almost all the resorts and hotels in Fiji will have a private wellness spa, so couples can treat themselves to massages, facials, or even just an express manicure as a little treat. Most spas offer simple treatments starting at $50.
We highly recommend the Valeni Sasauni Spa Sanctuaryon Vanua Levu.
Explore the Islands by Road
The larger islands have decent road infrastructure, and you will regret it if you don't venture inland and explore the many secrets of the islands. Car rentals will cost you around $42 per day.
Of note is the King's Road on Viti Levu, which will take you on a day trip across the island, with many small villages and secret beaches along your route.
Take a cruise
If you don't feel like getting wet, then a boat cruise is the best way to enjoy the ocean. There are several cruises on offer on the myriad of islands – sunset cruises, party cruises, transport cruises, or cruises that take you to uninhabited islands.
Captain Cook Cruises offers some amazing sailing and cruising option in Fiji, including dinner cruises and full-day cruises.
Sample Itinerary & Budget For Your Honeymoon To Fiji
The Fiji archipelago is the perfect honeymoon destination. Seeing all 300 Fiji islands during your honeymoon will be impossible, so we have come up with a 7-day itinerary to help you make the most of your trip to Fiji. You can expect to pay around $73 to $181 per day on your honeymoon.
This itinerary is for those wanting to travel and see and do plenty during their honeymoon. It is completely customizable, and couples can decide to extend their honeymoon by a few days if they want to spend more days relaxing and fewer days traveling.
Day 1: Arrive at Nadi Airport and travel to Denarau Island ($20 for a luxury airport transfer). Denarau Island has plenty of honeymoon resorts where you can relax after your long journey. The island is only 20 minutes away from the airport, meaning you can get there very quickly and start your honeymoon in style. Relax by the pool, get a massage, and enjoy some good food on your arrival day.
Day 2: Travel to Mamanuca Islands. You will have to take a water taxi/ferry to get to the famous Mamanuca Islands, which will cost around $90 per person. There are more than 20 islands to choose from, with plenty of resort and hotel options. Find a resort in your budget and get ready to explore the region.
Day 3 and 4: Explore Mamanuca Islands. These islands are all about romance. From couples kayaks to beautiful hikes, newlyweds will have plenty of things to do and see on the islands. There are several lunch options available and you can take a water taxi and explore the many small islets. Make sure to also have time to relax and lounge by the pool or find a local swim-up bar for some drinks in the sun.
Day 5: Travel to Yasawa Islands. A ferry or water taxi can take you to Yasawa Islands for $90, where you can immerse yourself in Fijian culture and interact with friendly locals who will welcome you into their homes. Take the day to explore your resort and get settled in.
Day 7: Departure. Traveling to the Nadi Airport can still be an adventure. You can charter a plane or helicopter to head back to the international airport, to catch your last glimpses of these beautiful islands. The easiest way is to fly from the nearby Suva airport to Nadi international airport for $51 per person.
The budget for your 7-day honeymoon will completely depend on what you do, where you stay, and what means of transport you take to get around.
Frequently Asked Questions
How much does a Fiji honeymoon cost?
For a seven-night honeymoon, couples can expect to pay about $5,000 per person, including flights and resorts that include breakfast. Where you stay and what you do, or what type of package you choose, will of course influence this cost.
When is the best time to visit Fiji?
Fiji is great to visit all year round. The most popular travel period is from July to September because there is less rain during these months. The rainy season is between November and April, and it is also incredibly humid at this time.
The temperatures stay pleasant throughout the year, so if you want to deal with fewer tourists, lower prices, and are not afraid to get wet, then the off-peak, rainy season would be the best time to go.
What is the best way to travel around Fiji?
There are plenty of ways to travel around Fiji:
By road: The larger islands have road infrastructure and you can get around by bus, private taxi, car rentals, or organize hotel transfers.
By air: If you want to splurge and treat yourself, then you can charter a private plane or helicopter to take you to different islands. There are also some domestic flights to the larger islands.
By sea: The easiest way to get to different islands is by sea. You can take passenger resort ferries, local public ferries, or book a private water taxi.
How long should you spend in Fiji for a honeymoon?
With so much to do and see, there is no one right answer to this question, however, we recommend spending a minimum of 7 days and staying on at least two islands to get the most out of your honeymoon trip.
Start Planning The Perfect Romantic Honeymoon Getaway
Fiji is a beautiful island nation and the ideal honeymoon destination. There are plenty of luxury resorts, villas, and private islands that couples can stay at, as well as innumerable activities, to enjoy while on your honeymoon.
Fiji is all about the ocean and the best honeymoon resorts offer their guests unspoiled ocean views, private plunge pools overlooking the sea, overwater bungalows, as well as gourmet dining experiences, and day excursions.
So, what are you waiting for? Check out our Couple's Travel tips and tricks to get the most out of your Fiji honeymoon.