Are you on the hunt to find your perfect honeymoon destination? Well, we have got just the place for you! This guide will tell you everything you need to know about a romantic Idaho honeymoon.
You may be wondering, why Idaho? But this northwestern state is full of magic and unique places and activities. You can plan some of the most romantic getaways in this area, and we have covered everything from resorts, budgets, places, and an itinerary.
Planning a wedding is stressful, and thinking about what to do afterward adds to that. But we are here to make your life easier, so leave all the planning to us. Here is everything you need for the perfect Idaho honeymoon.
What Makes Idaho Perfect For A Honeymoon
An Idaho honeymoon has the potential to be amazing. Idaho has many fun and exciting activities and provides an incredible vista. It certainly is a place for those who love being outdoors and active.
Romance is in the air in Idaho. The Dark Sky Reserve is one of the most unique places you will find on earth. The reserve stretches between Sun Valley, Ketchum, and the stunning Redfish Lake. Here you can see the Milky Way and all the planets, which makes for a romantic experience like no other.
Idaho has forests, rolling hills, mountains, and deserts. The climate is also perfect for a winter escape and summer holidays. With all of its natural beauty, Idaho has become a popular destination for romantic getaways.
Best Areas To Stay in Idaho
Twin Falls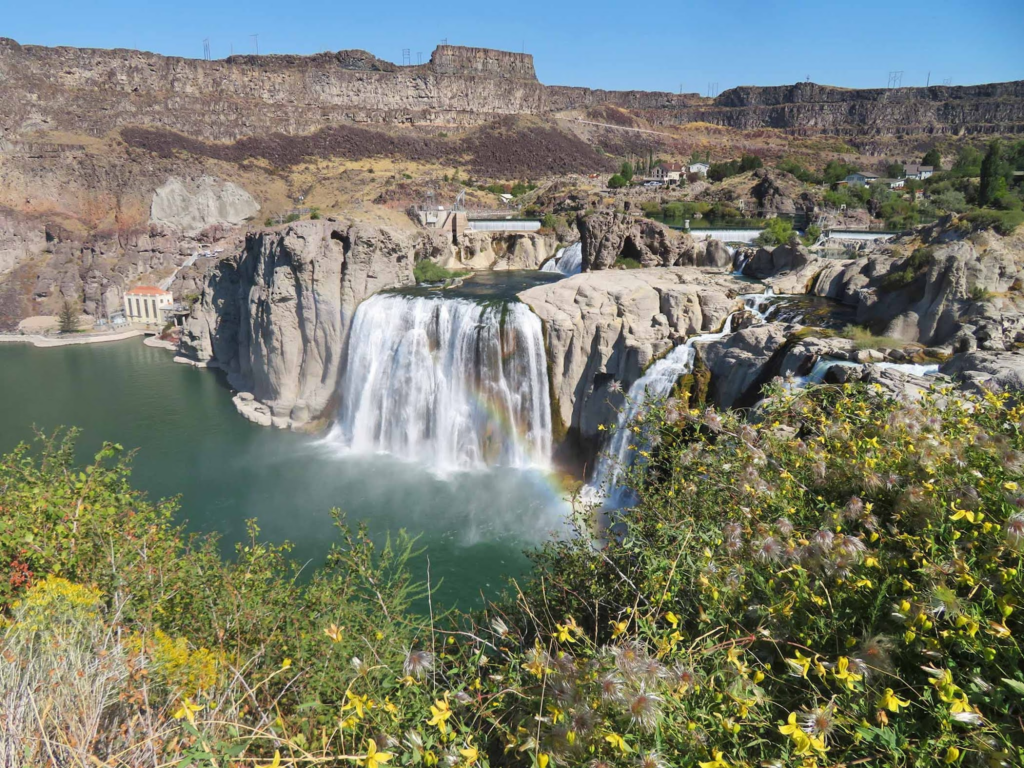 Twin Falls has more than 30 waterfalls in its surroundings, but it took its name from the two waterfalls in the Snake River. It is the perfect place for romantic getaways. However, this Southern city is so much more than just waterfalls. The vibrant and busy downtown is also a hotspot. You can find the Snake River Canyon just ten minutes away, and in town, there are delicious eateries and the amazing Perrine Bridge.
Twin Falls is perfect for couples who like keeping themselves busy with activities and things to see. We highly recommend going for a beautiful sunset walk along the beautiful Canyon Rim Trail, then going to the "Love Lock Gate" and leaving a lock.
Visit Twin Falls' most famous waterfalls, Perrine Coulee and Shoshone Falls, or kayak on the Snake River. Kayaking in Idaho is a true bucket list experience.
Boise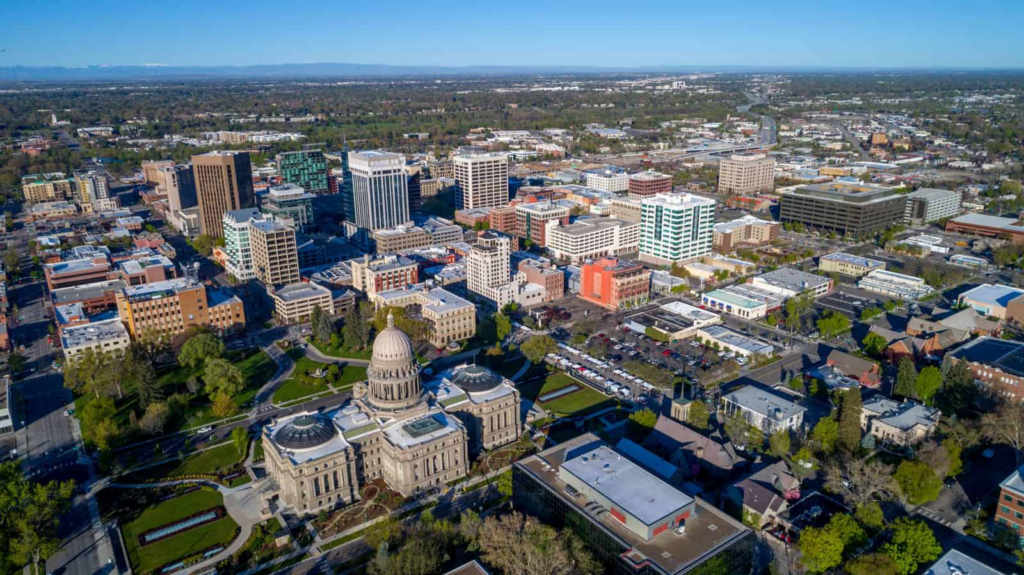 Boise is Idaho's capital. It is the perfect place to go if you want a honeymoon that offers all the thrills of a big city. Here you can find the most incredible wineries, restaurants, live shows, breweries, and exciting outdoor adventures.
From downtown Boise to the North, you'll find plenty to do. If you want a honeymoon jam-packed with activities, it is the perfect place to go. You are sure to be out and about the whole day. We suggest taking a tandem bike ride, a stroll along Boise's 25-mile Greenbelt, the Coiled Wine Bar for delicious wine tastings, or Payette Brewing Co. for craft beer flights. You also need to go to Table Rock to watch the sunset!
Sandpoint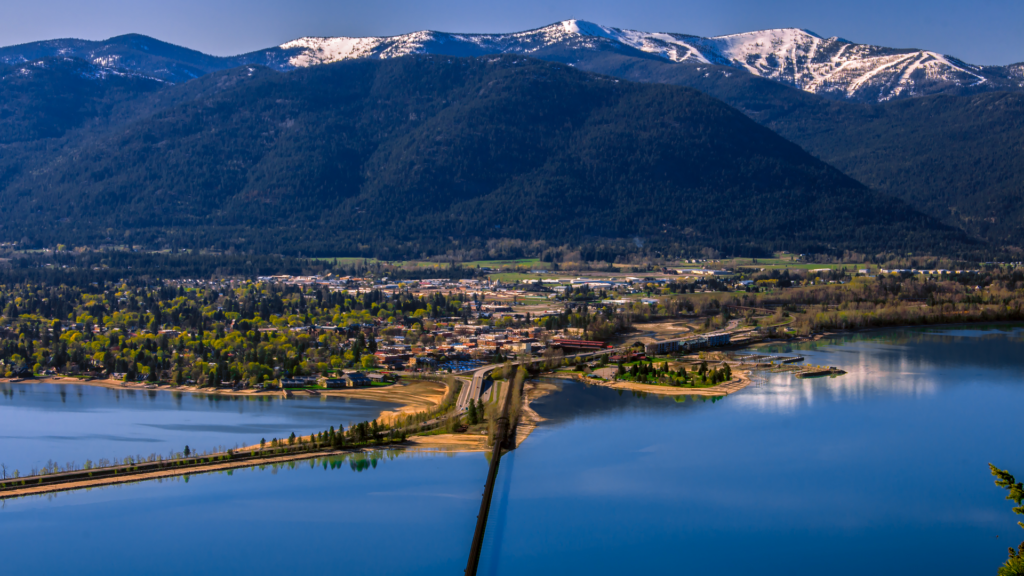 Sandpoint is a small and idyllic town between three stunning mountain ranges; the Cabinet, Selkirk, and Bitterroot mountain ranges as well as Lake Pend Oreille. Idaho has loads of incredible mountain towns, but Sandpoint is a must-see. It truly is a magical place.
Spend your mornings hiking or skiing at Schweitzer and then go and explore the galleries, local shops, and amazing eateries in the town. You must go on a full moon or sunset cruise while you are here on Lake Pend Oreille. You can find some amazing options with Lake Pend Oreille Cruises.
In the summer, you can go horseback riding or ride on a horse-drawn sleigh during the winter. Or head to City Beach and go kayaking, paddle boarding, or simply lounging in the sun.
Best Honeymoon Resorts, Hotels, and Other Stays in Idaho
The perfect honeymoon is only complete with an incredible place to stay! You can find hotels, resorts, and almost anything in Idaho, and all promise a romantic and unforgettable stay. The following are some of our top picks: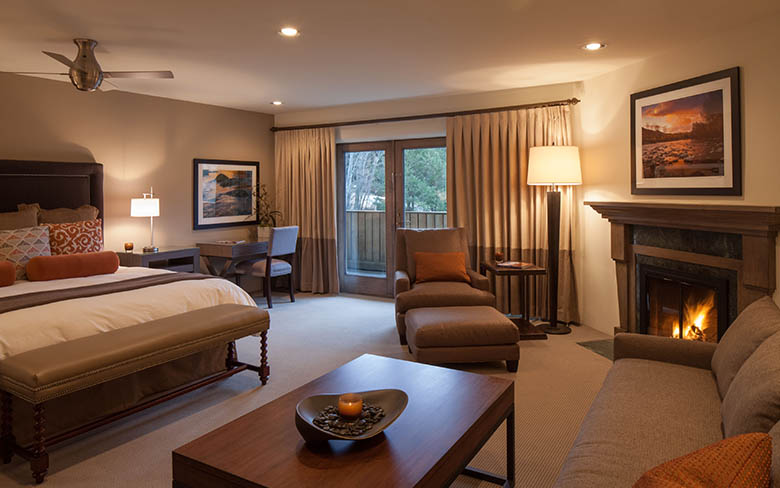 Price per Night: $182 to $463
Best For: long stays, all types of couples
Availability: Limited availability
Get ready for warm hospitality and top-class personalized service, perfect for a romantic getaway. Knob Hill Inn can be found in Ketchum, and it is one of Idaho's top 5-star hotels. There are many facilities, like a heated pool, gym, wi-fi, taxi service, and dining.
Their designs and features are very modern, making it a very attractive place for guests. The rooms are well-decorated and very comfortable. You'll feel right at home. Wake up and enjoy your morning cuppa on your balcony while admiring the most incredible views of the Idaho mountains.
During your stay at Knob Hill Inn, you will be treated to a complimentary breakfast, and you can indulge in delicious food and drinks from the bar. Participate in loads of activities from swimming to skiing and hiking. There are also several restaurants around.
Knob Hill Inn is very secluded and romantic and is a top choice during a romantic getaway.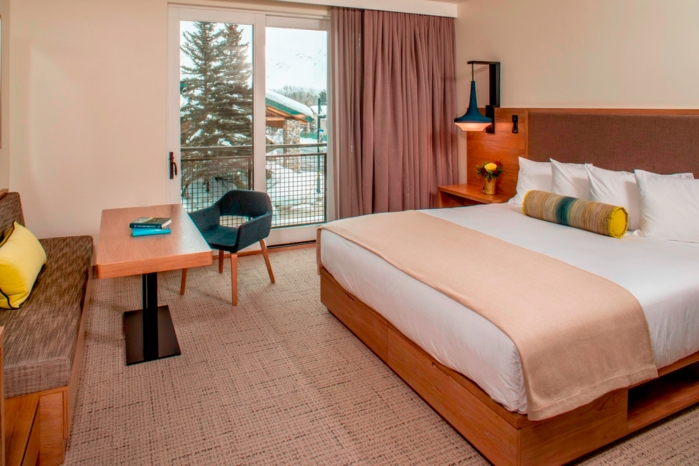 Price per Night: $235 to $574
Best For: long stays, young couples
Availability: Easy to book
Limelight is in Ketchum and is the ultimate escape. Packed with adventure, there is something for every couple to enjoy. The hotel has six suites and 93 different rooms available, all with stunning views of the mountains and forests. Limelight also promises top-class luxury, just what some may be looking for on their honeymoon.
The hotel offers amazing breakfast and gourmet dishes for dinner, so you can eat your heart out. You can also hire bikes and go on adventures. The Limelight Hotel can help plan some fun excursions for couples during their stay. Horseback riding is popular during the summer, and skiing is a must during the winter. This is one of Idaho'sIdaho's most fun and romantic hotels.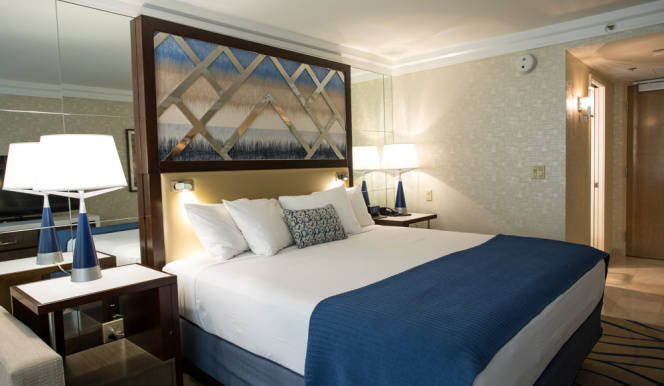 Price per Night: $209-$409
Best For: All couples, all-inclusive, long or short stays
Availability: Easy to book
Coeur d'Alene Resort is a well-known lakeside resort. You cannot go wrong with this romantic paradise. There are loads of suites and guest rooms. We highly recommend booking the Lake Tower Suites; they have the best views of the water and cozy fireplaces for cuddling up during the colder seasons.
There are six restaurants at Coeur d'Alene Resort. There are also special dining packages, so you will not even need to think about the cost of food during your stay. There is nothing better than a stress-free romantic dinner. You can also find the one and only "Floating Green" golf course at the Coeur d'Alene Resort.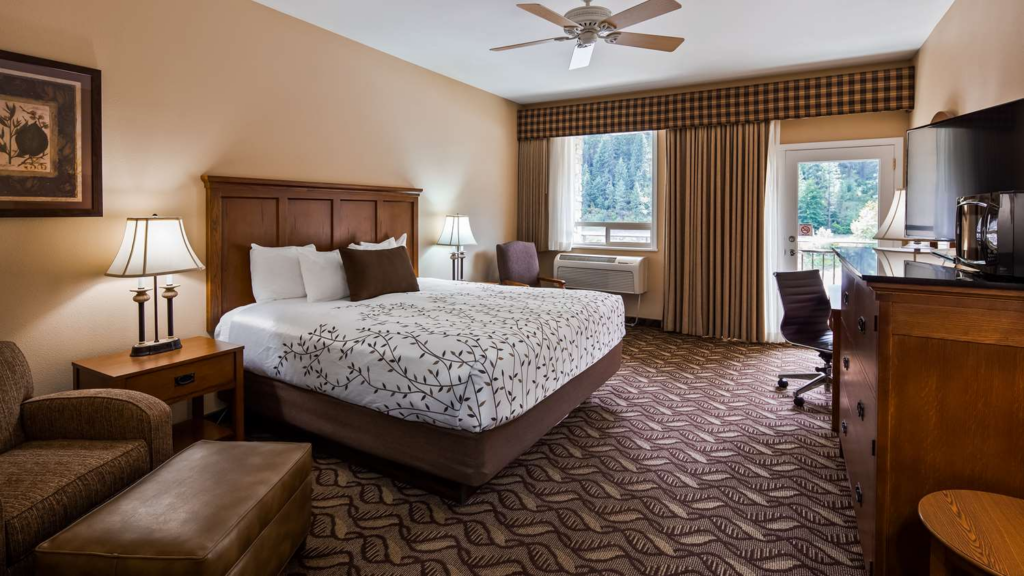 Price per Night: $119 to $164
Best For: Young and old couples
Availability: easy to book
The Best Western Lodge at River's Edge can be found in Orofino, which offers first-class services and amazing amenities. The lodge's modern features and unique design attract plenty of guests. All of the rooms are beautiful, comfortable, and spacious. You can also take in the views from your own private balcony.
The lodge has many amenities, like an indoor pool, Wi-Fi, banquet rooms, and a gym. You will also be served complimentary breakfast every day, you can choose from the buffet, and they serve the most delicious drinks here.
During your stay, you can explore the city and the nearby attractions. The hotel can also assist you with making plans and give you great tips on what to do and see. Western Lodge has it all, and you will be in for one romantic getaway.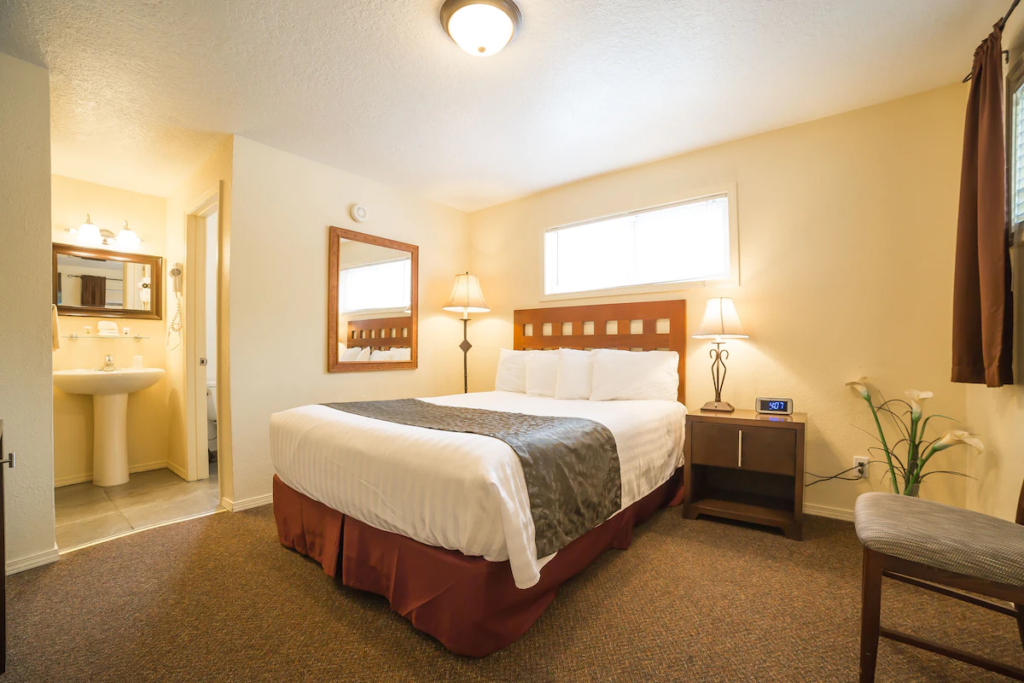 Price per Night: $109 to $139
Best For: short stays, all couples
Availability: Easy to book, Good availability
The Home Hotel can be found in Lava Hot Springs. It is downtown and offers the most unique experience, as you will have private hot springs right by your room. The suites and guest rooms here will blow you away, and you can spend all your time in your private two-person hot tub during your stay.
Everything in Lava Hot Springs is also within walking distance. You can find some amazing eateries, like the Portneuf Grill and the Chuck Wagon Cafe, both of which offer a lovely dining experience.
The hot pools are open throughout the year, and you can get to them on foot. The Lava Zipline and Olympic Swiming Complex are also nearby.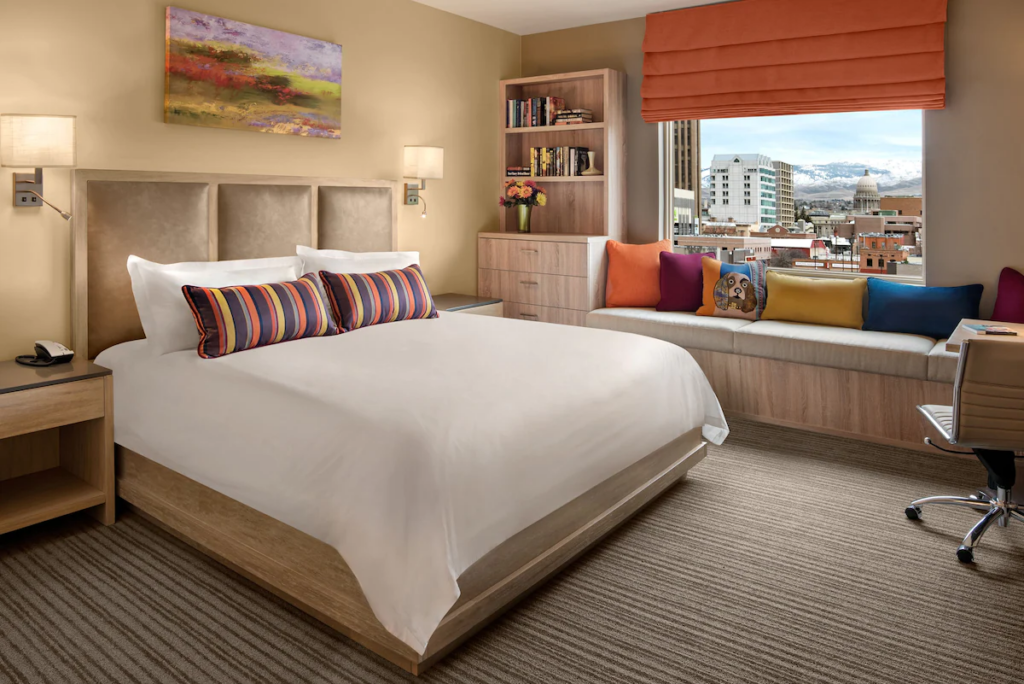 Price per Night: $201 to $288
Best For: short stays
Availability: Easy to book, Good availability
The Inn at 500 Capitol is a luxurious stay in Boise. This boutique hotel offers numerous facilities to make your stay incredible and comfortable. They have a fully stocked bar, airport transportation, a gym, and a restaurant that serve's Italine cuisine. All of the rooms are well-decorated, spacious, and very comfortable.
The bar serves some amazing food and delicious drinks. You will also have complimentary coffee during your stay, and get treated to some welcome drinks upon arrival. Couples will never be bored with so much to do and see in the surrounding area. You can rent a bicycle and explore the city, starting in downtown Boise.
Boise has loads of amazing restaurants and exciting attractions. This hotel is secluded and romantic. You sure are in for one unforgettable stay.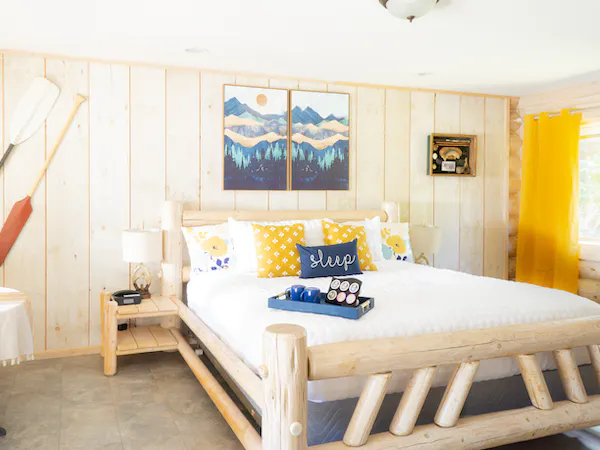 Price per Night: $101 to $131
Best For: long and short stays, active couples
Availability: Limited availability
The Log Inn at Bonners Ferry is a top-class stay and a popular choice in Idaho. It showcases the raw beauty of Idaho. The rooms are just spectacular; you will feel right at home and have everything you need to feel comfortable.
The Inn serves amazing drinks and healthy and delicious meals. You will also be treated to a complimentary breakfast, and afterward, you can indulge in various activities in the area. Stroll around the city to explore all the local spots and visit some of the top restaurants and attractions. Bonners Ferry Log is a top choice for honeymooners.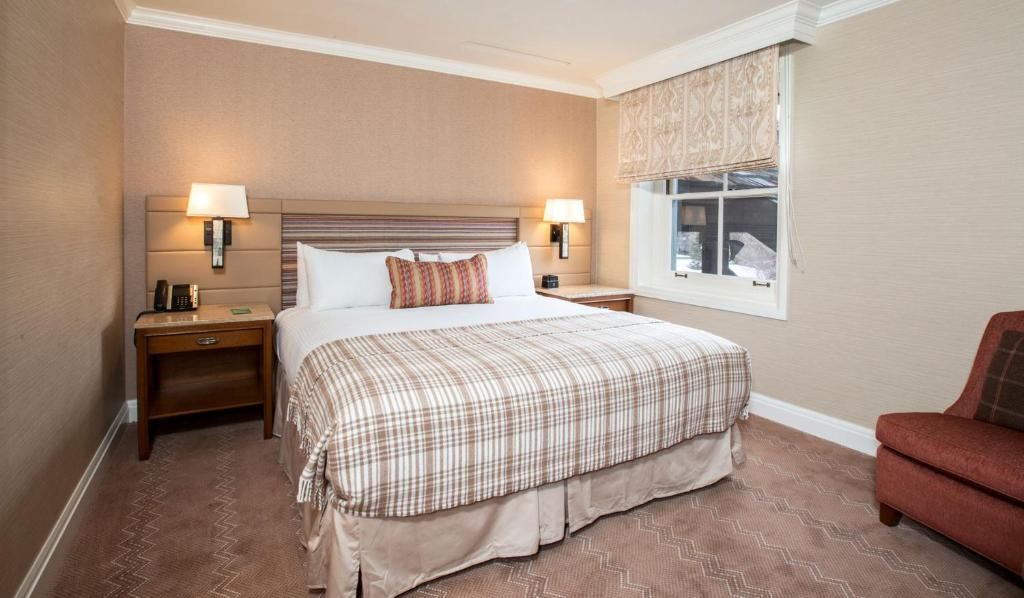 Price per Night: Prices go as high as $900
Best For: long stays
Availability: Good availability, easy to book
This premier destination is the ultimate spot for couples wanting a luxurious and relaxing getaway. The Sun Valley Lodge is absolutely spectacular. They have 108 suites and guest rooms, all with unique amenities. Picture granite floors, fireplaces and walk-in showers.
Sun Valley Lodge offers a Celebrity Suite where couples can have separate living spaces and a huge bedroom. The Trail Creek Cabin is on-site and offers an amazing western experience. The area has many restaurants, and you can find an unforgettable dining experience on a mountain.
Couples can also treat themselves to the Sun Valley Spa, which offers body rituals, massage therapy, and other wellness healing treatments. Sun Valley Lodge is a top-class stay, and you will be in for one unforgettable experience.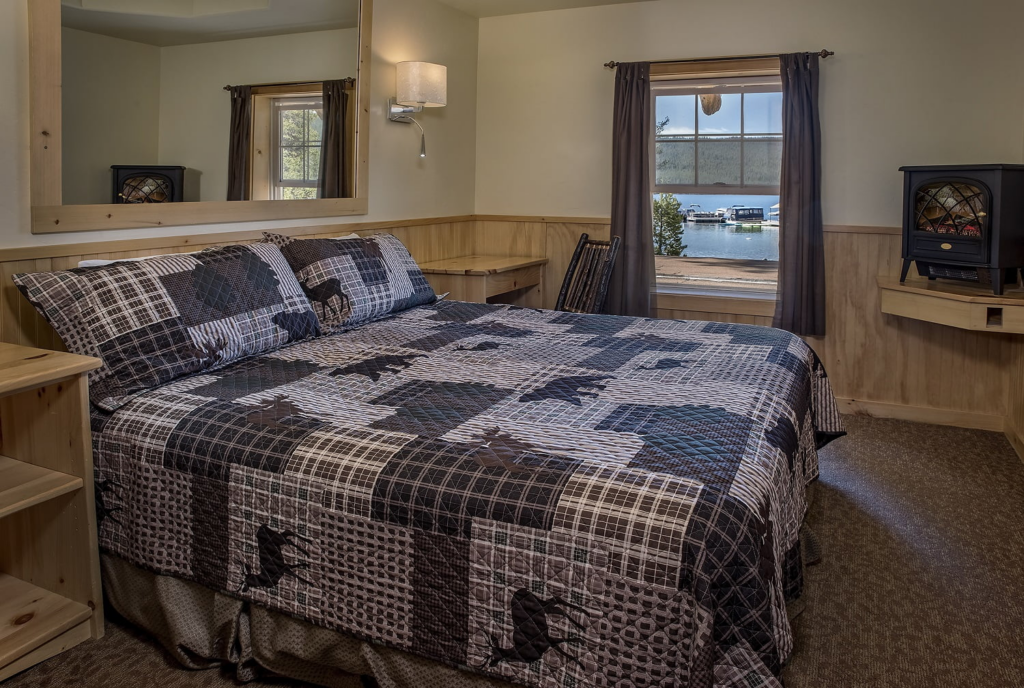 Price per Night: $151
Best For: long stays, all couples
Availability: Book far in advance
Redfish Lake Lodge is at 6,550 feet of elevation, nestled between mountains in Stanley. Incredible beaches, woodland forests, and crystal-clear lakes surround Redfish Lake Lodge. All the Redfish Lake Lodge cabins are secluded and linked to their natural surroundings.
This is the perfect stay if you are looking for an unplugged honeymoon. Forget about alarm clocks, phones, and televisions. You can find Limbert's on the first floor, where they serve amazing breakfasts. Their dinner menu is fully inspired by Northwestern culture and cuisine.
Guests can venture off and participate in various outdoor activities, like horseback riding, hiking, or renting a bike. Guests can also take boats out onto the Redfish Lake Marina. And if you would skip the marina, the Salmon River is located nearby and features lovely nature walks.
Top Excursions & Activities To Do On A Idaho Honeymoon
Craters of the Moon National Monument & Preserve
This excursion is a must-do. These craters are phenomenal and like something you have never seen. They just might be one of the greatest wonders in the world. Here you can see huge cracks in our earth that occurred because of volcanic activity. The last eruption on record was about 15,000 years ago.
There is a complete volcanic landscape consisting of craters and lava fields. You should start by heading to Arco, where you can go to the Robert Limbert Visitor Center and get all the vital information you need.
You should notice the lava flow trail of blackened ground at the Moon Crater Monument. You can adventure through scenic trails, and it looks and feels like you are on the moon. It is amazing during the spring when all the colorful flowers bloom.
You can also take the Wilderness Trail to the Echo Crater, set up camp, and sleep under the beautiful stars here. It makes for a once-in-a-lifetime activity.
Boise Nightlife
Boise has grown in popularity, and its nightlife scene has really boomed. There is so much to do and explore in Boise that you will never feel bored. You can also go drinking and dancing, it's the best place to let your hair down!
Some popular bars include The Olympic and Press & Pony, where you can find amazing cocktails, as well as The Spacebar for trivia evenings and games. A popular choice is The Reef; they offer island drinks and live entertainment.
The Boise nightlife has a lot to offer, and there is a vibe for anyone to enjoy. Whether you are looking for something relaxed or wild, Boise will have it.
Lake Coeur d'Alene Cruises
You must go on one (or many) of the incredible cruises on the rivers and lakes in Coeur d'Alened'Alene. You can go on a brunch or romantic dinner cruise to enjoy a delicious meal surrounded by incredible views.
You could also go on the St. Joe River or the Spokane River. The cruises offer three hours of fun, romance, and amazing sights. They also offer special holiday tours. You can find just about any type of cruise here, from yoga cruises to party cruises.
Sample Itinerary & Budget For Your Honeymoon To Idaho
It always helps to have a good idea of how much you need to budget for a trip. It eases the stress and makes plans more realistic. You can have a budget romantic holiday in Idaho or splurge on your honeymoon; the state caters to everyone.
Before you panic, we have planned the perfect itinerary and budget to make your honeymoon planning a breeze.
Flights: The flight prices will differ depending on where you are flying from and what airline you choose to fly, but on average, these flights can cost you $160-$800 for a couple.
Accommodation: On average, a hotel will likely charge $100 or more per night. You may find budget stays that cost less than this. It all depends on the type of accommodation you want. Luxurious hotels or luxury suites can cost you $2,000 or more.
Food and drinks: If you want to enjoy fine dining, you can pay between $200-$500 for a meal. It all depends on where you would like to eat. Cheaper restaurants can cost as low as $32 for a couple. Many hotels include meals, but it may be best to budget $100 per day for the two of you.
Travel: We highly recommend renting a car during your stay. You can hire a car for around $41 a day. This will be cheaper than taking public transport and Uber or Lyft.
Excursions: A cruise with Lake Pend Oreille Cruises can be around $50 per person, and wine tasting at the Coiled Wine Bar costs around $20 per person. Entrance at the Craters of the Moon National Monument & Preserve costs $15 per car.
Day 1 and 2
Get settled into your stunning accommodation and let the relaxing and romance begin. Enjoy a romantic dinner during your stay or venture out and visit a restaurant. Wake up feeling fresh on Day 2 and enjoy your complimentary breakfast. Spend some time lounging in the hot springs or the pool, and then grab a nice bite to eat in town.
Day 3
Do something adventurous depending on what your accommodation offers. You could hike, visit some waterfalls, go skiing, or rent a bicycle.
Day 4
Explore the surrounding area and venture into the town to see all the shops, local attractions, and hidden gems. Who knows what exciting things you come across? You can also visit some amazing cafes, wineries, or restaurants.
Day 5
After days of activity and exploring, book a lavish spa day. Spend the whole day relaxing in a tranquil environment and give your mind, body, and soul the peace they deserve after months of crazy wedding planning.
Day 6 and 7
Spend your last two days exploring the resort and getting involved in fun local activities. There are so many romantic things to do in Idaho that you can make a whole bucket list. Go kayaking, stroll through parks, explore the mountains, or tuck into local cuisine.
Frequently Asked Questions
How much does an Idaho honeymoon cost?
On average, couples should expect to spend between $3,000 and $4,800 on their honeymoon. You can find more budget options depending on your accommodation. And if you prefer luxury suites, the price will be much higher.
When is the best time to visit Idaho?
The best times to visit Idaho are during the spring and summer. Summer activities are excellent in the outdoors; however, there is more than enough to do in winter.
What is the best way to travel around Idaho?
It is recommended that you rent a car during your stay, this way you can explore on your own terms and go on any adventure you like. There is enough public transport in the area, but all of these bus and train tickets can add up.
Start Planning The Perfect Romantic Honeymoon Getaway
Now that you know everything you need to know about planning a romantic honeymoon in Idaho, it's time to start booking. There is so much to do and see in this beautiful state that you cannot miss. It truly is one of the most romantic places on earth!
Make sure to consult Couples Travel for more resources to plan the ultimate honeymoon.