Nothing says honeymoon like a trip to the Caribbean Sea, and the Dominican Republic is no exception to this rule.
Check out our extensive Dominican Republic guide and sample honeymoon itinerary to get inspired for your dream honeymoon under the Caribbean sun!
What Makes Dominican Republic Perfect For A Honeymoon
A two-hour flight away from Miami, this island country in the Caribbean Sea is not only affordable for Americans but also conveniently close.
Thanks to being such a rich melting pot of cultures (with native, African and Spanish influences), the Dominican Republic offers a zest for life that is hard to compare with any other island country.
Think of tasty foods, exotic drinks, lots of music, and enthusiastic and steamy dancing wherever you go.
All of this mixed under wavy palm trees and on white sand beaches surely sounds like the ultimate honeymoon!
Whether you are into watersports, such as jet skiing, scuba diving to explore underwater sea caves, or prefer mountain biking or hiking on land to one of the many mountain tops or waterfalls – it's all available in the Dominican Republic.
Alternatively, plenty of resort areas will let you lie happily by the pool or on the beach for hours without a worry in the world.
Best Honeymoon Resorts, Hotels, And Other Stays In Dominican Republic
Whether you are looking for an all-inclusive luxury resort or a hotel that offers lots of activities and cultural experiences, our list of Dominican Republic honeymoon resorts will provide you with something for your taste and your budget.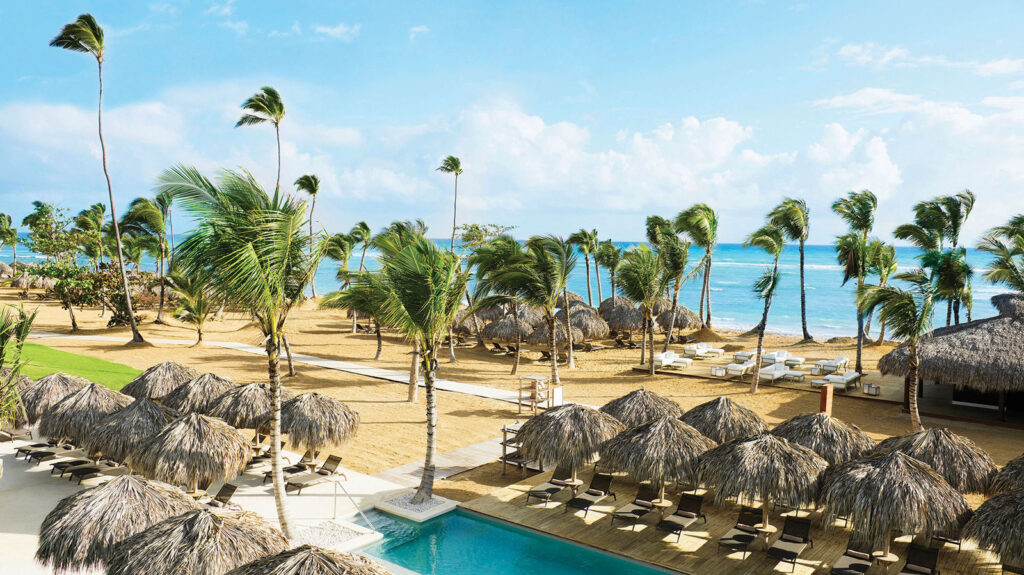 Price per night: $225 – $575
Best for: All-inclusive, adults only
Availability: Easy to book
If you are looking for a secluded romantic getaway, the Excellence El Carmen is perfect for you.
Remote and surrounded by white sandy beaches, this hotel offers an adults-only and all-inclusive luxury stay of every honeymooner's dreams.
In addition to a world-class spa, the hotel has a whopping twenty-three pools, a wide range of world-class restaurants, daily entertainment activities, and course, live music.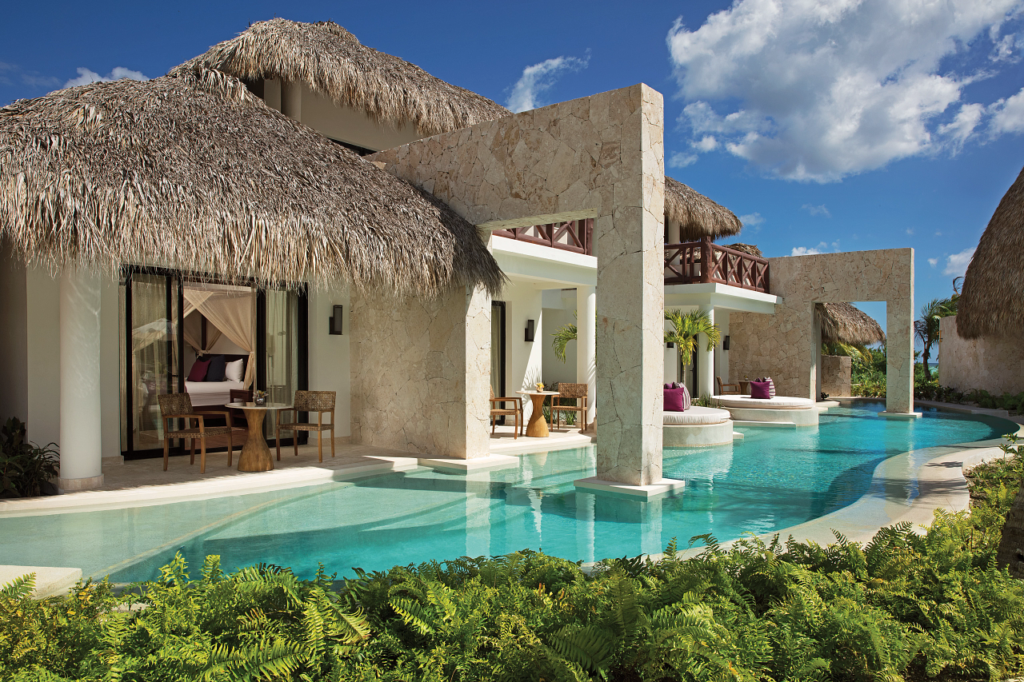 Price per night: $250 – $750
Best for: adults only
Availability: easy to book
Twenty minutes from Punta Cana International Airport, Secrets Cap Cana Resort is a hidden treasure that provides its guests with the highest level of luxury. The adults-only resort (and spa) is tucked away in one of Cap Cana's exclusive gated communities, and visitors have easy access to the crystal blue ocean waters and white sands of Juanillo Beach.
Choose from 457 suites with 24-hour room service and a daily-restocked minibar in sophisticated Caribbean-styled rooms.
Thanks to its proximity to the Harbor Marina, you can go on thrilling excursions such as deep sea fishing or take it easy on the Punta Espada golf course right around the corner.
If you want to take it easy, the resort's world-class spa offers an array of luxury treatments to beautify yourself for one of the many stunning and extremely romantic dining options available at this luxury resort. Not only that, but guests have exclusive access to Cap Cana's expansive infinity pool.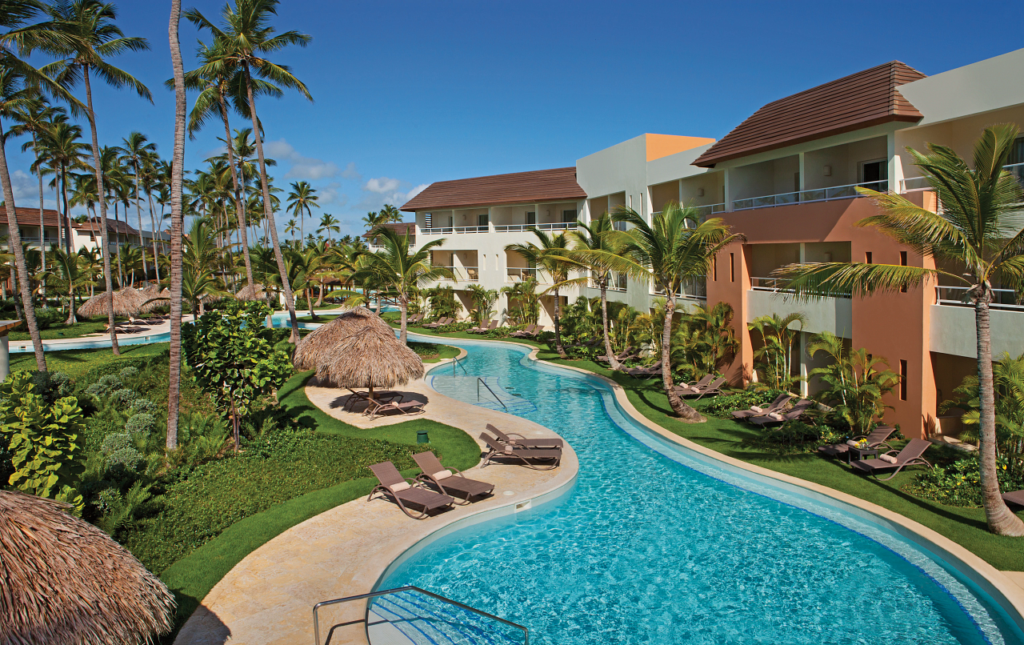 Price per night: $175 – $525
Best for: All-inclusive, long stays
Availability: Easy to book
At Dreams Royal Beach, the name already says it all. Atop dreamy, white-sand beaches, this luxurious beachfront honeymoon resort is definitely what dreams are made of and is one of the most popular honeymoon destinations in the Dominican Republic.
This hotel offers many outdoor activities, such as tennis, beach volleyball, and water sports. Guests can lounge around by the pool or on the beach – the perfect opportunity to get a holiday tan.
The luxury spa is also definitely not to be missed. After one of their couple treatments, you'll feel relaxed and rejuvenated to enjoy a sunset cocktail with stunning ocean views in this all-inclusive luxury hotel.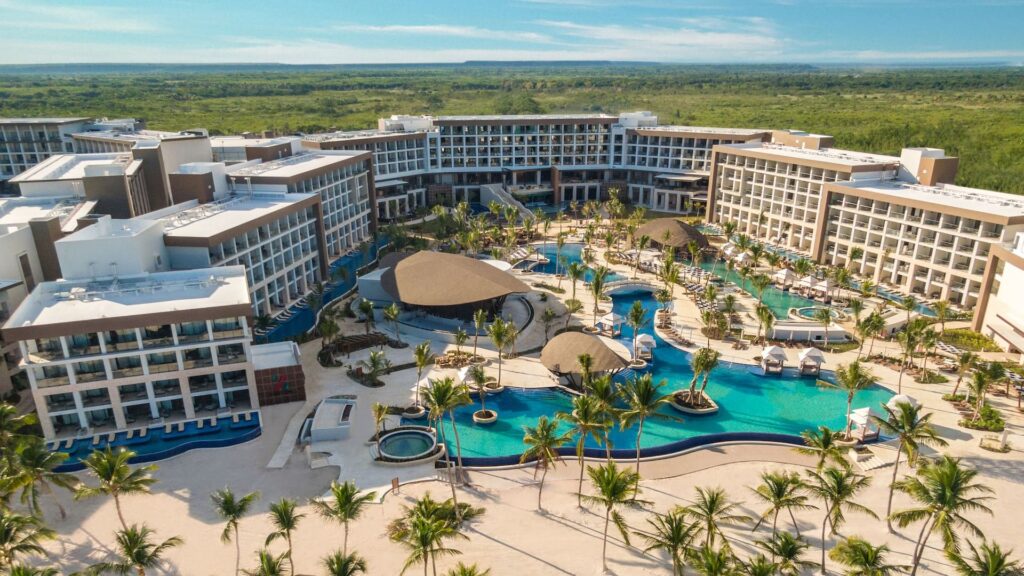 Price per night: $300 – $560
Best for: All-inclusive
Availability: Easy to book
The newest addition to the gated community of Cap Cana is the Hyatt Ziva. With direct access to the dreamy sandy beaches of Cap Cana, this all-inclusive tropical paradise resort has everything that newlyweds could desire.
Amenities include six restaurants, a swim-up bar in the infinity pool, four outdoor pools, a free water park, and a spa with a sauna and fitness room.
All 375 rooms have 24-hour room service, air conditioning, and designer toiletries. Many of the balconies and patios face the oceanfront.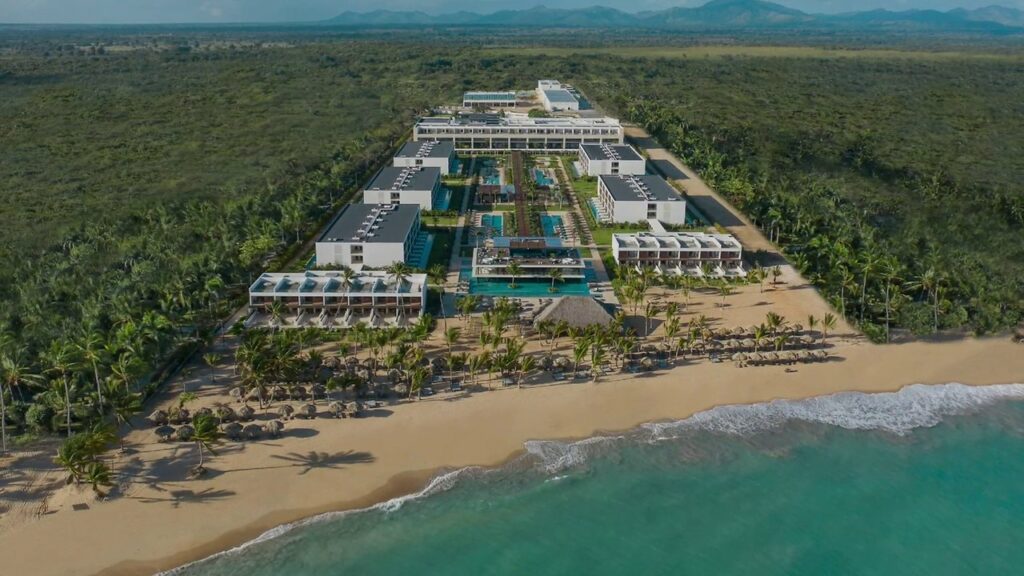 Price per night: $255 – $645
Best for: All-inclusive, adults only
Availability: Easy to book
With elegance and contemporary, this sophisticated inclusive luxury honeymoon resort offers guests a magical stay. Surrounded by beautiful beaches and lush greenery, this adults-only hotel will make you and your significant other never want to leave.
Whether you want to relax in one of the chic honeymoon suites (complete with a private pool) or on your own terrace, indulge in one of the many bars and restaurants, join a beach yoga session or partake in one of the many water sports activities before relaxing in the secluded spa – this luxury resort offers it all.
Oh, and for those seeking a cultural experience – no need to leave the hotel premises; the Live Aqua Beach Resort has its own indoor theatre with nighttime shows and, of course, lots of music and dancing!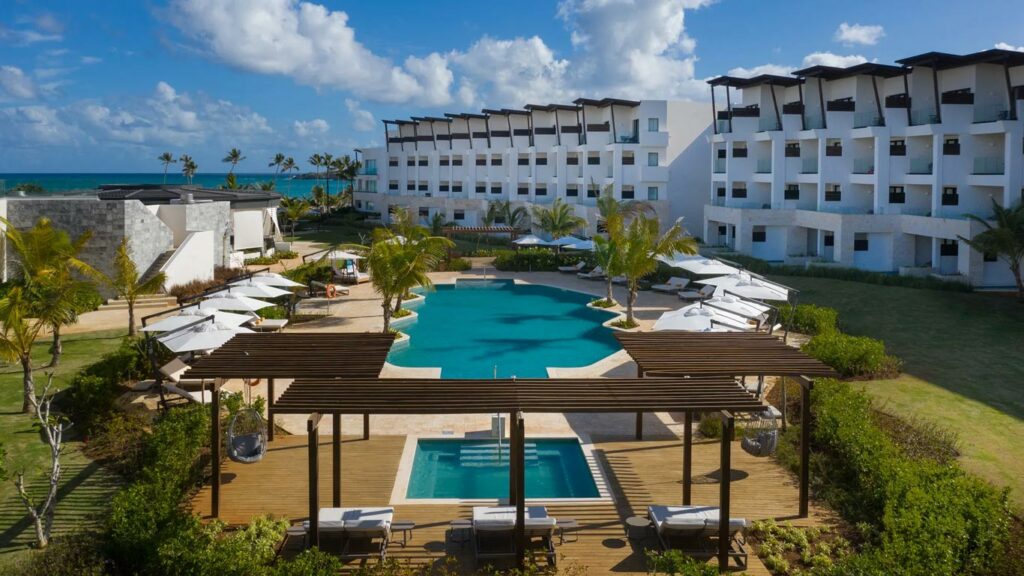 Price per night: $220 – $580
Best For: All-inclusive
Availability: Easy to book, villas available
Another one of the many all-inclusive resorts in the Dominican Republic is the Dreams Macao Beach resort. With 500 luxury suites and spacious villas, this is one of the area's bigger resorts but doesn't feel crowded.
With three poolside bars and a total of four outdoor pools alongside a water park, you will have plenty of fun splashing around with your significant other.
If you seek serenity, the world-class spa can offer you tranquility and private time together as a couple, while guests can find adventure on the resort's lazy river.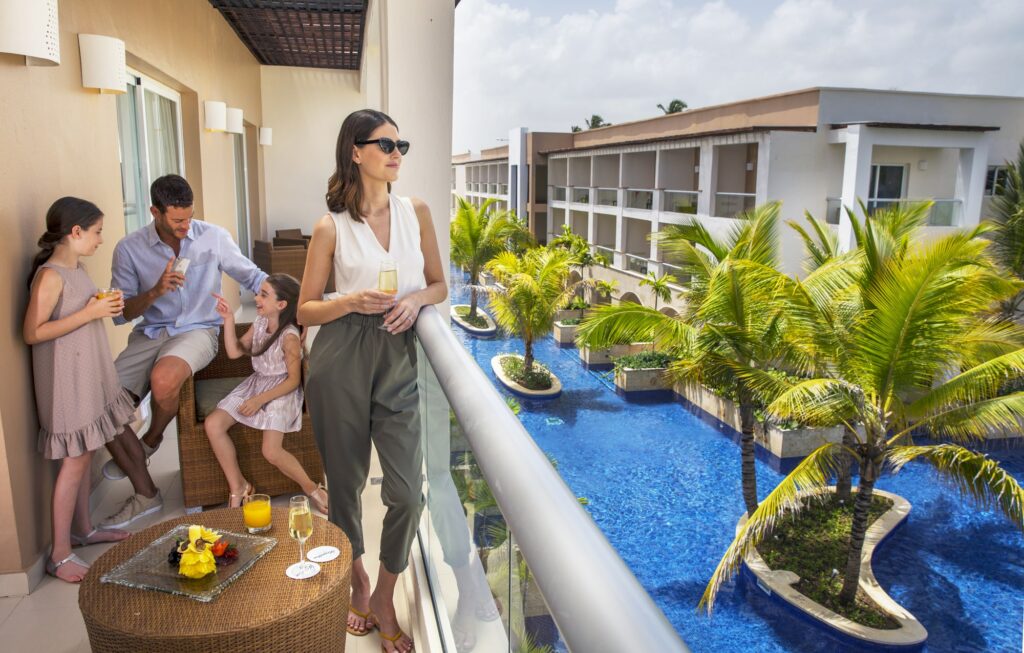 Price per night: $252 – $567
Best for: All-inclusive
Availability: Easy to book
The Royalton in Punta Cana will not leave you anything short of feeling like royalty.
With six restaurants offering top-notch international cuisine, two beach bars, two poolside bars (10 bars in total), three outdoor pools, and rooms with interiors to die for, this is one of the top luxury resorts in the DR.
Rooms come with luxury toiletries, fluffy bathrobes, flat-screen TVs, aircon, iPod docking stations, and 24-hour service.
If you want to get active, you can join an aerobics class, play tennis or volleyball, train in their huge fitness center, or take a day trip for deep sea fishing, scuba diving, or kayaking around the Caribbean Sea. Whatever your hearts desire – this hotel has it all.
On top of that, you can expect nightclubs, a full-service spa, and shopping amenities in this resort!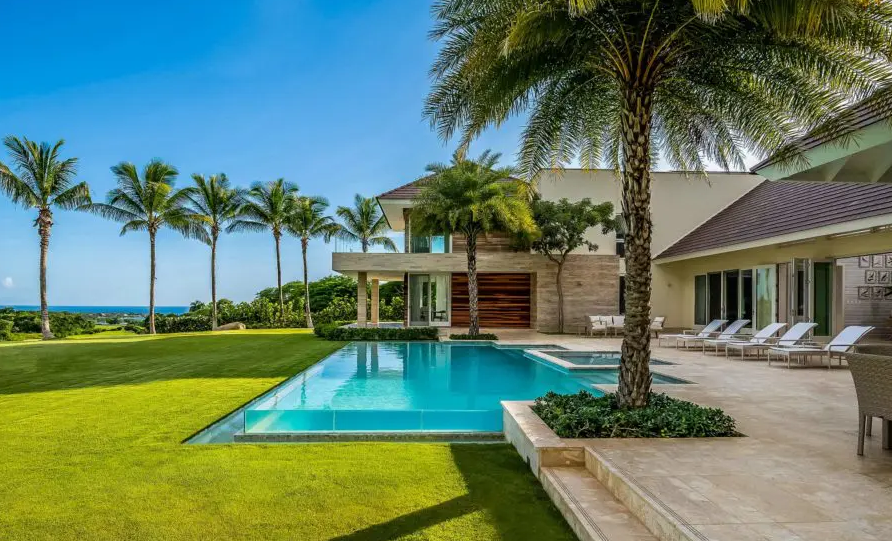 Price per night: $485
Best for: All-inclusive, adults only
Availability: Limited (very exclusive)
Casa de Campo is an experience that shouldn't be missed. This private, luxurious gated resort is one of the world's top 1% resorts – and welcomes some of the world's top 1% celebrities.
If you want to feel like Jay-Z and Beyoncé (or potentially bump into them), you should book yourself into this hotel, positioned ideally on an expansive 7,000-acre property. The resort's appearance is partly inspired by 16th-century Mediterranean architecture.
You can expect boutiques, museums, an amphitheater, inaugurated by Frank Sinatra himself, a Polo & Equestrian Club, a shooting club, and of course, a Marina & Yacht Club.
On top of that, guests will only be served the best wines, paired with world-class gourmet food and top-of-the-notch service in one of the hotel's seven restaurants.
Rooms come with aircon, coffee and tea machines, a personal golf cart, garden or golf course views, a minibar, fluffy robes and slippers, flat-screen TV, private terraces, and free WiFi.
The luxury spa and the designer golf course are just the cherries on top of the cream.
Make sure to ask for their "Romance is in the Air" honeymoon package if you feel experimental and want to try the local aphrodisiac Mamajuana!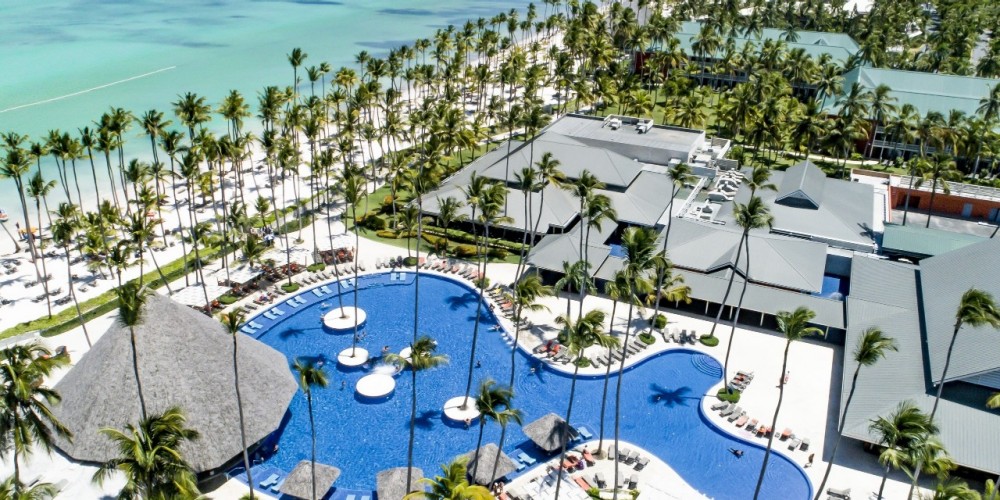 Price per night: $138 – $480
Best for All-inclusive, short stays
Availability: Limited
Adjacent to Playa Bavaro (one of the best beaches in the world), this all-inclusive resort, which boasts 580 rooms and eleven restaurants, is exceptional.
At Barcelo Bavaro Beach, you will never have to worry about getting bored on your honeymoon as there are plenty of activities to keep you entertained!
The impressive oceanfront resort offers a special accommodation option to honeymooners that like their trip to the Dominican Republic to be a little extra. If you book the Premium Level Ocean Front Suite Room, you will not just get the best views of the Caribbean Sea but also a hot tub, lavish living room, and top-notch interior design.
A contemporary spa offers hydrotherapy, and you can book a complimentary round of golf or sip a cocktail at either of the two stunning bars.
There is nothing amiss for a perfect honeymoon with lots of fun under the sun and relaxation and romance as much as you like, as this is one of the best Dominican Republic honeymoon resorts on offer.
Best Areas To Stay In Dominican Republic
While there are luxury resorts scattered all across the island, and you won't have to leave most of them to have a good time, it is still good to have options to explore and see something different.
Below are some of the best areas to stay in for your Dominican Republic honeymoon:
Santo Domingo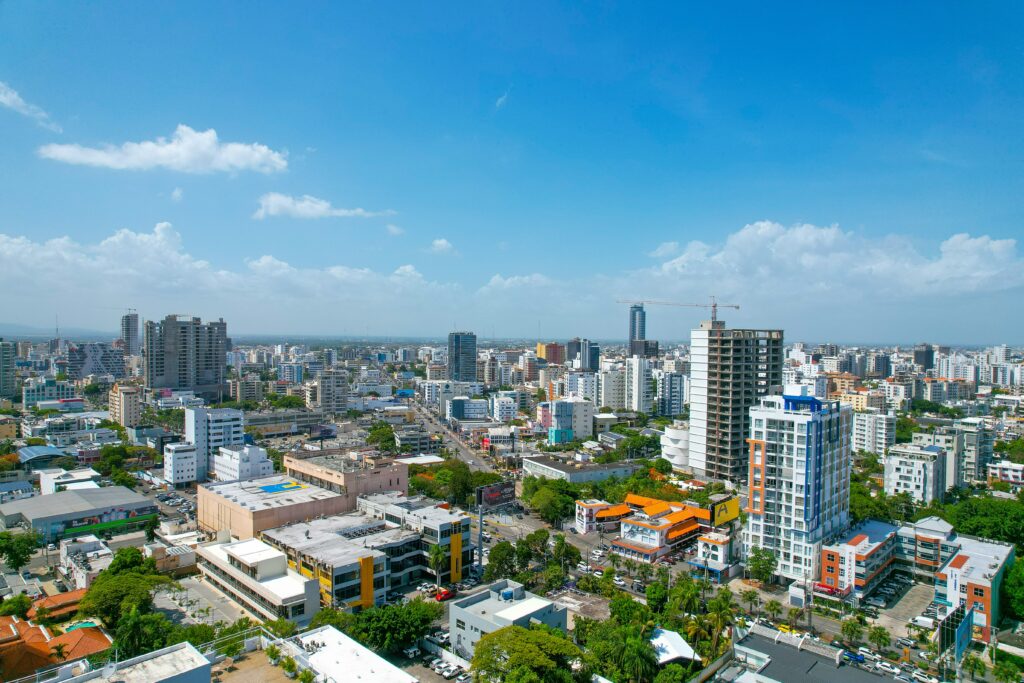 The Dominican Republic's capital is best known for its active and vibrant nightlife. Here, dancing and music are sown into many daily activities, while at night, the array of nightclubs and bars bustles with people and throbbing merengue beats.
In Santo Domingo, dancing in the streets, at the park, or even in a shop is the most normal thing and a wonderful way to connect with the locals, so don't be shy and swing your hips with your loved one!
Punta Cana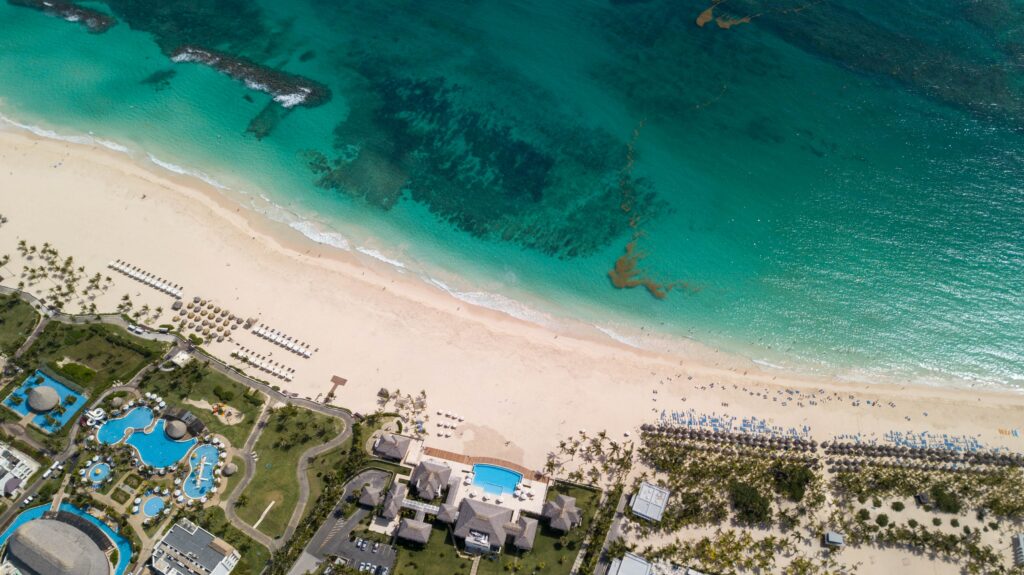 This haven for all-inclusive resorts is the most popular area to visit in the Dominican Republic for honeymooners and general tourists alike.
Punta Cana's beaches are peerless throughout the DR and will leave you with a lasting impression of crystal clear oceans and white sand as far as the eye can see.
It also has lots of nightlife on offer but is quieter than the vibey Santo Domingo, so couples still get their fair share of relaxation and downtime after a strenuous wedding.
La Romana
This coastal city offers a tranquil escape for honeymooners looking for a little getaway from the hustle and bustle of the main cities.
Here you will find pristine beaches, hiking, outdoor adventure on the rugged shores, and potentially the best golf course – Casa De Campo.
While your hubby goes and tries to improve his handicap, you can visit the city's art museums and galleries or shop in small boutiques in the historical area of La Romana.
Las Terrenas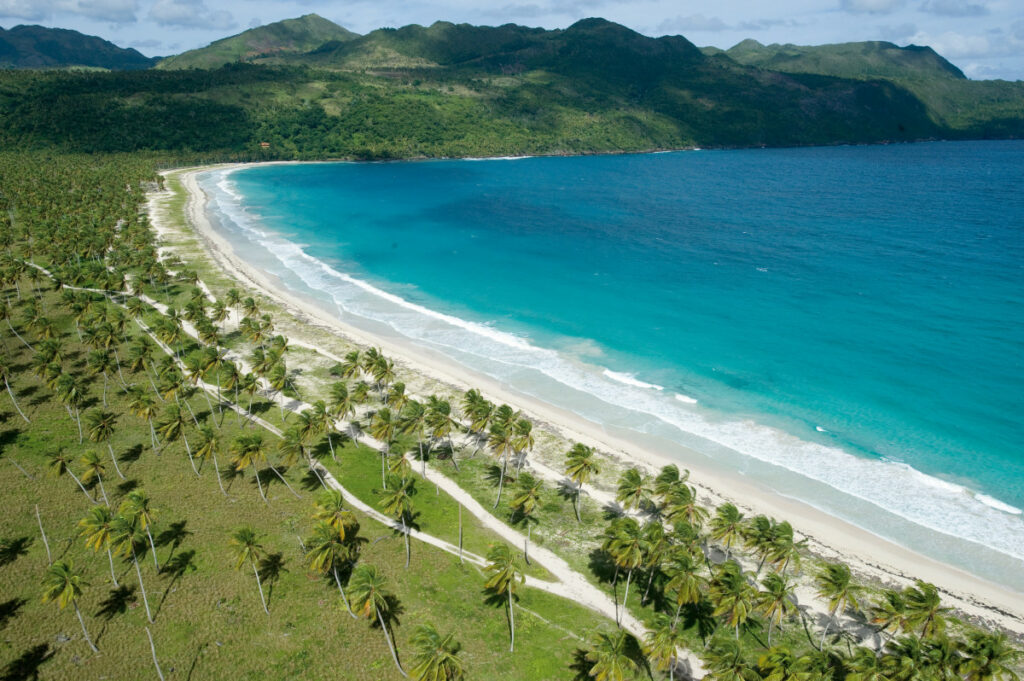 There are probably few places as picturesque as this spot, located on the Samana Peninsula.
Las Terrenas offers the serene Caribbean seaside flair one would dream of for their honeymoon getaway. Situated on the east of Samana's north coast, the protected crystal waters are perfect for snorkeling, swimming, or just taking in the view of waving palm trees and swaying fishing boats.
The town of Las Terrenas is a completely underrated spot to explore and offers honeymooners lots to explore and experience the true flair of the Dominican Republic outside of the picture-perfect developed honeymoon resorts.
Top Excursions & Activities To Do On A Dominican Republic Honeymoon
Whether you are an adrenaline junkie or a culture vulture, our list of activities around the Dominican Republic has something on offer for any newlywed couple that wants to have a change of scenery from their Dominican Republic hotels:
Historic Santo Domingo
With strong historical ties to the first European settlers that arrived on their way to discover the Americas, this old part of Santo Domingo is as picturesque as it gets and will make you feel like you are discovering a brand new world.
The popular Parque Colon is frequented by tourists and locals alike, thanks to its pedestrian-only policy. You can watch street performers and dancers in the afternoon or stroll along the cobblestone roads to shop in quaint boutiques or dine in exotic restaurants.
Underwater Caverns
The Three Eyes National Park (Los Tres Ojos) is just a few miles from Santo Domingo and offers some of the most stunning underwater caves, which are highly frequented by scuba divers and snorkelers.
Whether you dive through underwater caves or step into the lakes (eyes), you'll experience a world sheltered from the outside hustle and bustle. Visitors can enjoy the calm beneath the water's surface while cooling down from the heat of the day.
Cool side note: some of the Jurrasic Park scenes were filmed here!
Boca Chica Beach
One of the DR's most beautiful beaches is Boca Chica. The sand is exceptionally white, and the ocean seems even more turquoise than the rest of the island. On top of that, the water is extremely calm, so you don't even have to be a good swimmer to enjoy it here. Plus, calm waters mean amazing snorkeling!
The calm waters are anything but representative of the nightlife though. Boca Chica's nightlife is bustling as ever, with bars and restaurants lined up along the sidewalk and merengue rhythms seemingly coming from every angle.
At night, the streets become one big bloc party with people dancing outside and flooding in from the bars.
Make sure to try the infamous Boca Chica fried fish – but generally, all the seafood in this Caribbean paradise is amazing.
Visit La Romana
In the southeast of the Dominican Republic lies the seaport La Romana.
Developed as a sugar mill town, it is now renowned for a world-class golf course and incredible fine dining options.
The nearby Cotubanama National Park offers beautiful hidden caves and lush forests to hike and mountain bike in.
Enjoy Caribbean water sports activities
We've already mentioned snorkeling, scuba diving, and fishing several, but that is only because it is so amazing and diverse here!
You can dive several wrecks around the Dominican Republic or enjoy a deep sea fishing trip, where you can try to catch your own dinner.
Horseback riding
The long stretches of white sand scream for romantic horseback riding sessions. Therefore, it is one of the most popular activities by locals and tourists alike.
If you want to switch it up, you can ride along the Dominican Republic's interior trails and explore waterfalls, hidden caves, and lush forests on the back of your horse, followed by a private picnic with your significant other.
Explore Samana Peninsula
The Samana Peninsula provides a forested and very hilly area with beautiful bays and coves.
It is especially known for whale watching and amazing action-packed activities such as hiking or chasing waterfalls such as the famous El Salto del Limon (The Waterfalls at El Limon).
Sample Itinerary & Budget For Your Honeymoon To Dominican Republic
For those eager to plan your dream honeymoon to the Dominican Republic but don't know where to begin: we are here to help. Because let's be honest; this place offers not only some of the best honeymoon resorts but also a vast array of activities and places to visit.
Day 1: Arrive at Punta Cana
Fly into Punta Cana International Airport (cheaper than Santo Domingo) and explore the area and Bavaro Beach! Check into your hotel or resort of choice and freshen up before hitting the streets for your first go at merengue!
Day 2: Relax at your hotel
Enjoy the beautiful weather and scenery and use this day to relax and recharge after a busy wedding. Treat yourself to a couple's massage and choose from one of the potentially plenty of restaurants in your resort for a romantic dinner for two.
Day 3: Explore La Romana
Take a day trip to check out la Romana on foot and explore the old seaport with your loved one. If you feel adventurous, take it to the National Park and check out the hidden caves and lush forests to cool down from the heat.
Day 4: Time to have some fun with Caribbean Watersports!
Whether you would like to go whale watching, scuba diving to one of the wrecks, snorkel the reefs or go deep sea fishing, check with your resort what it offers and what sounds like the best option to you!
After all, you cannot go to the DR without spending some time at sea! Whatever you decide, make sure to end your day with a seafood dinner (potentially your own catch) at Boca Chica Beach!
Day 5: Excursion day!
Whether you are an avid golfer or have never even visited a driving range before, you can't leave the Dominican Republic without a round on the famous golf course!
Otherwise, if golfing is not your thing, perhaps a romantic horseback riding session on the beach or into the lush rainforests would rather be something you and your significant other would enjoy.
After seeing who has the better handicap, visit Las Terrenas and take a romantic stroll along cobblestone streets before ending the evening off with some exotic dining experiences.
Day 6: Last full day of activities.
Start your day early and make your way to El Limon Waterfall to end your trip with one of the most memorable experiences.
After the strenuous hike, book yourself into your resort's spa for a couple's massage. End the evening with a sundowner on one of the many oceanfront rooftop bars available.
Either decide to go for a lavish dinner experience or paint the town red and party like a true Dominican for the last evening of your honeymoon in La Romana!
Day 7: Fly back home from Punta Cana.
For those of you that were now wondering how much this will cost you, here is a sample budget:
| | |
| --- | --- |
| Activity | Weekly Cost |
| Return Flights | From New York to Punta Cana: $518 per person |
| Accommodation | $91 per person/night (1 room(s) at $ 182); prices tend to differ depending on where you decide to stay! |
| Food & Drink | $40 per person/day (or included in your accommodation price if you have booked all-inclusive resorts) |
| Activities and Excursions | $14 per person/day |
| Transport | $55 per person/day |
Frequently Asked Questions
How much does a Dominican Republic honeymoon cost?
A honeymoon in the Dominican Republic will cost you around $3840 for two people, depending on your accommodation type and how many excursions you will go on.
When is the best time to visit Dominican Republic?
While the DR has great weather year-round, you might want to avoid the especially crowded times during late December and the beginning of January. Accommodation prices will also be higher then.
Note that the summer months are not just extremely hot but tend to bring a lot of rain, so perhaps don't plan your travels around August and September if you are looking for blue skies!
What is the best way to travel around Dominican Republic?
You will fly into the DR by plane but can then easily take Ubers, taxis, or even ride bicycles around the island.
Start Planning The Perfect Romantic Honeymoon Getaway
The Dominican Republic is a lover's paradise with bustling towns next to stunning ocean views that offer romantic tranquility for two or adventurous excursions for active couples.
Either way, you will find yourself falling in love even more while dancing some steamy merengue and cuddling underneath the swaying palm trees, so make sure to book your honeymoon in the Dominican Republic soon!