Caribbean crystal clear waters, white sandy beaches, a little French flair, and that bit of je ne sais quoi, which will make your trip as newlyweds magical, can be found on one of the most luxurious islands in the world: St Barts!
A St Barts honeymoon is probably any engaged couple's dream trip, and below we have put together some of the many reasons.
If our list of St Barts' best hotels and resorts gets you dreaming, take a look at our sample itinerary for a perfect week of luxury in the sun with your loved one! We've put together a short guide on how to relax, unwind and treat yourselves after your wedding – you and your significant other deserve it!
What Makes St Barts Perfect For A Honeymoon
Saint Barthelemy, more regularly referred to as St Barts or St Barths, is a french speaking island in the Caribbean Sea that seems to be straight out of a honeymoon catalog.
If azure waters and white sandy beaches with swaying palm trees weren't enough to make us swoon, the exotic Caribbean vibes mixed with French sophistication woven into every detail of this island certainly will.
A St Barts honeymoon is ideal for couples that want to experience the French joie de vivre without having to take the red-eye and fly into a completely different time zone. Paris might be the city of love, but St Bats will make you fall in love with love and life all over again!
Whether it is the gourmet restaurants, super trendy beach clubs with lavish nightlife, or the dozens of luxury resorts and hotels to enjoy, you will fall in love with this French island.
The beautiful beaches offer more than just a spot to tan and relax: they are home to a long list of water sports, such as scuba diving, jet skiing, snorkeling, and deep sea fishing. Gustavia, the capital, is world-renowned for its harbor filled with sailboats and big luxury yachts.
Visitors can enjoy incredible views, rows of shops as far as the eye can see, dine-out options every night, and beautiful hikes across the island. St Barts is the smallest island of the French West Indies and only stretches 2.5 miles in width and 11 miles in length.
All of the above and many more reasons make St Barts (or Barths) a mecca for jet setters and honeymooners from around the globe.
Best Honeymoon Resorts, Hotels, And Other Stays In St Barths
There is more than one perfect spot to stay when being a guest on the Caribbean island of St Barths. Each resort has a special take on luxury and taking care of you as newlyweds, so always ask for special offers individually.
The below-listed resorts are some of the best places to stay for honeymooners looking for laid-back romance: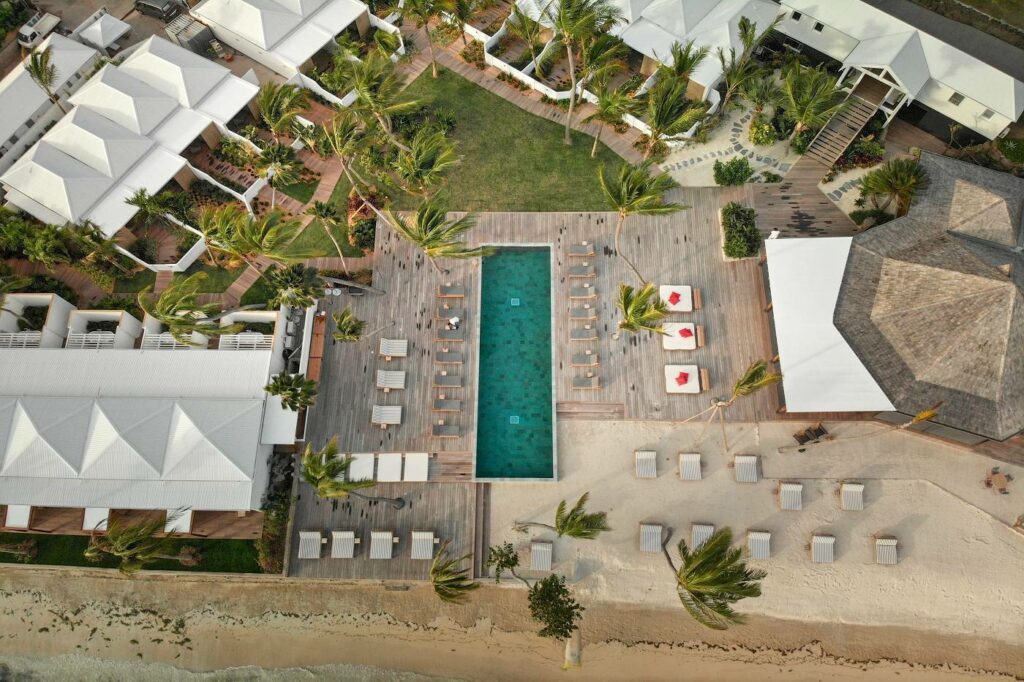 Price per night: $890 – $2350
Best for: Privacy, older couples
Availability: Limited
This historic hotel provides possibly the most private honeymoon option you will ever get, right at the Grand Cul De Sac Beach.
Le Sereno's intimate beachfront is a magical part of the stay – you can't get any closer to the island's crystal-clear waters.
The luxury service, which is very classy and understated, has been especially popular with honeymooners and attracts many guests who become loyal returning families. Le Sereno is easily one of the most chic hotels in St Barts.
As a member of the Leading Hotels of the World, this private property contains 39 rooms and three private villas along 180 meters of white sandy beach. Each room has a sea view of the turquoise waters, naturally.
On top of that, each room comes with air-conditioning, a designer interior, your personal iPad (yes, iPad), a coffee and tea-making station, a private bar, granite sinks, bath robes, and complimentary WiFi throughout the property.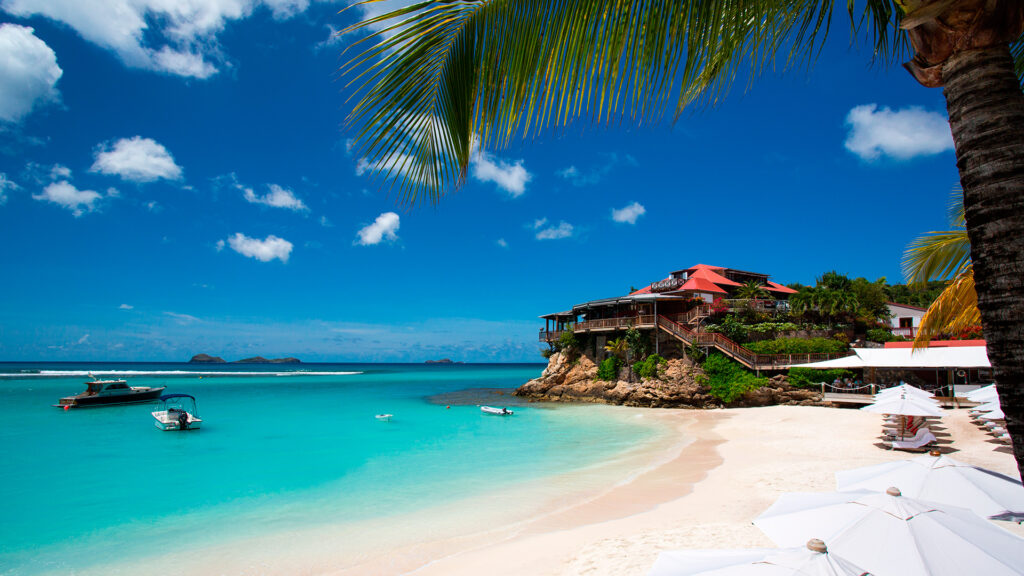 Price per night: $2000 – $3000
Best for: Exclusive short stays
Availability: Very limited
Eden Rock is probably the most famous of all hotels on St Barts. Not only because of its prime location in St Jean Bay but also because of its long list of celebrity guests, this is a must-visit for all St Barts honeymooners.
Well-known as the perfect hideaway for Hollywood celebrities, the beauty and sophistication of this resort are incredibly alluring.
With a local boutique, a lavish spa that offers some of the most sought-after treatments which will make you glow like a Hollywood star yourself, and an extensive art collection scattered across rooms and hallways of the Hotel, Eden Rock does not disappoint.
The hotel's 37 rooms are carefully decorated with a mix of selected materials and artworks that are as individual as its guests. All come with sea views, king-sized beds, air conditioning, coffee and tea-making facilities, and 24-hour room service. Needless to say that each bathroom comes with fluffy robes and luxury toiletries!
You can charter your own private yacht from the hotel for a romantic sunset cruise before returning for a romantic dinner at the Sand Restaurant, run by world-famous Master Chef Jean-Georges Vongerichten.
Even if you decide not to stay at the Eden Rock, make sure to pop into this restaurant with its al fresco deck or stop for a drink at the Rémy Bar & Salon – you won't be disappointed.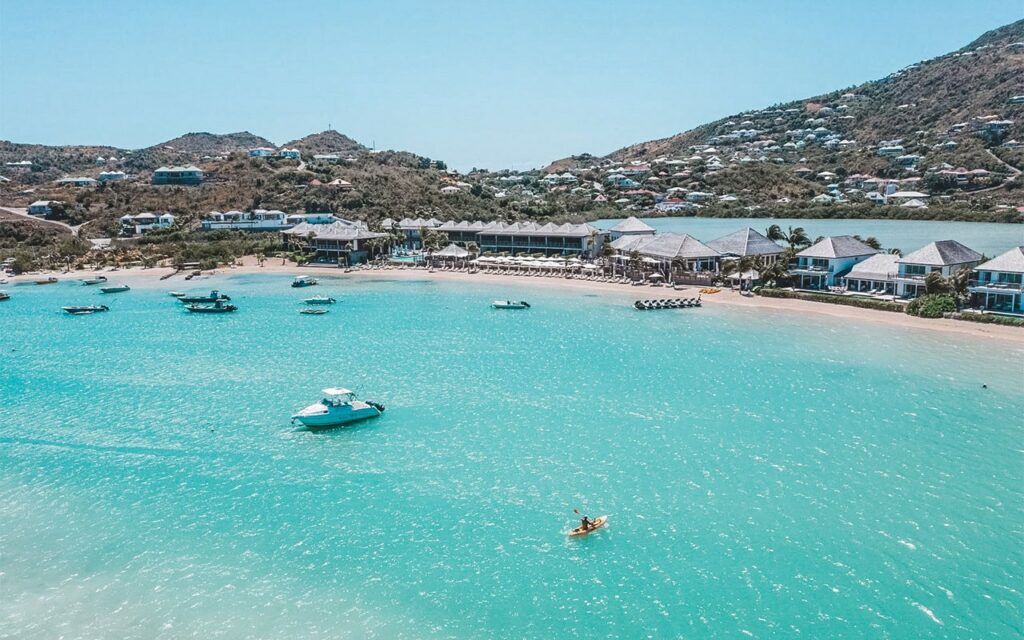 Price per night: $750 – $2750
Best for: Villa rentals
Availability: Limited
Le Barthélemy Hotel is a beachfront hideaway and part of the Small Luxury Hotels of the World (SLH) community.
You will surely find yourself relaxed and restored after an emotionally taxing wedding in this luxury hotel – with a chic Parisian interior courtesy of designer Sybille de Margerie.
The spa at this hotel offers massages, treatments, and holistic healing therapies tailored to your needs. Their goal? To provide you with the ultimate feeling of serenity.
The hotel offers guests a choice of 44 rooms and suites, as well as two luxury villas. All are fully accessible with an extremely stylish interior mirroring the ocean and natural surroundings. Each accommodation has invisible drop-down screens to make your private terrace even more private and shady, while Diptyque provides all in-room amenities.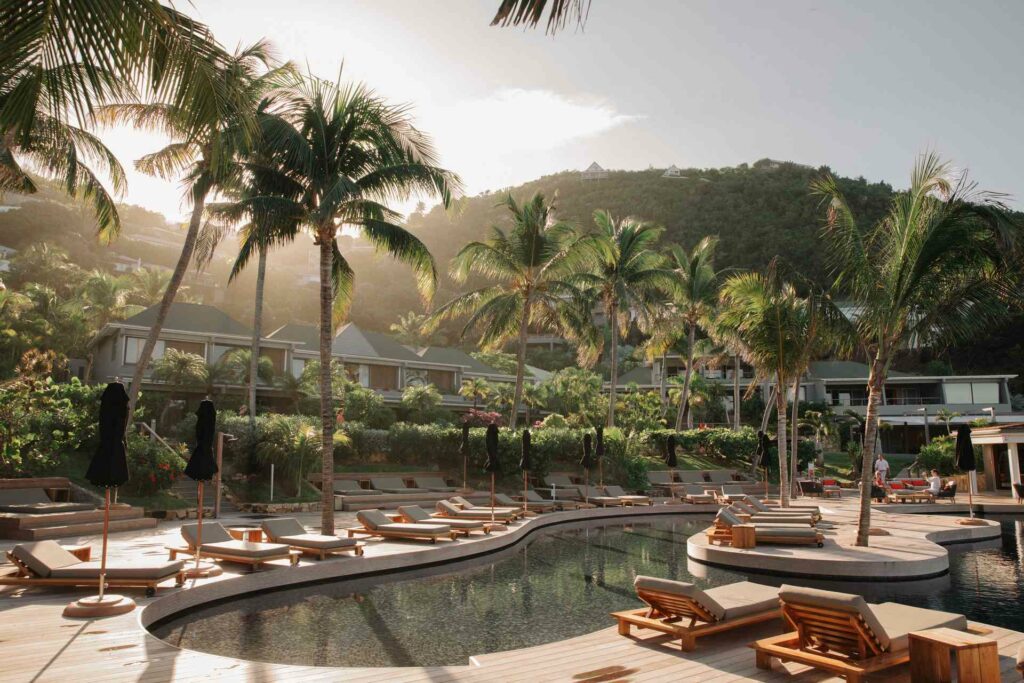 Price per night: $560 – $1750
Best for: Privacy, short stays or weekly packages, young and older couples
Availability: Limited
Nestled in a secluded bay on the northern shore of St Barths lies Christopher Hotel, a 5-star hotel facing the beautiful Caribbean sea. Thanks to its privacy and secluded location, it is one of the most popular honeymoon hotels on the island.
This luxury hotel's elegant design and lofty feeling will make you feel serene and relaxed, a perfect turn-down spot to unwind after a stressful and taxing wedding planning and celebration.
Its 42 rooms and suites, inspired by Creole architecture, are all decorated with contemporary touches, overlooking the sea and providing marvellous views of the bay at sunset. Expect your own private balcony no matter which rooms you book.
On top of that, the hotel offers the option to rent private villas, too. Check out their "stay 7 pay 6" offers if you are considering staying in St Barths for a week.
Each accommodation provides fluffy robes and slippers, luxury toiletries, cotton sheets, 24-hour room service, air conditioning, flat-screen TVs, laundry services, and a complimentary welcome minibar!
You will find one of the largest infinity pools on the island at the Christopher Hotel, an amenity that makes up for the lack of a sandy beach. The Sisley Spa should not be missed, while the French Riviera restaurant will provide you with exquisite French-inspired meals throughout your stay.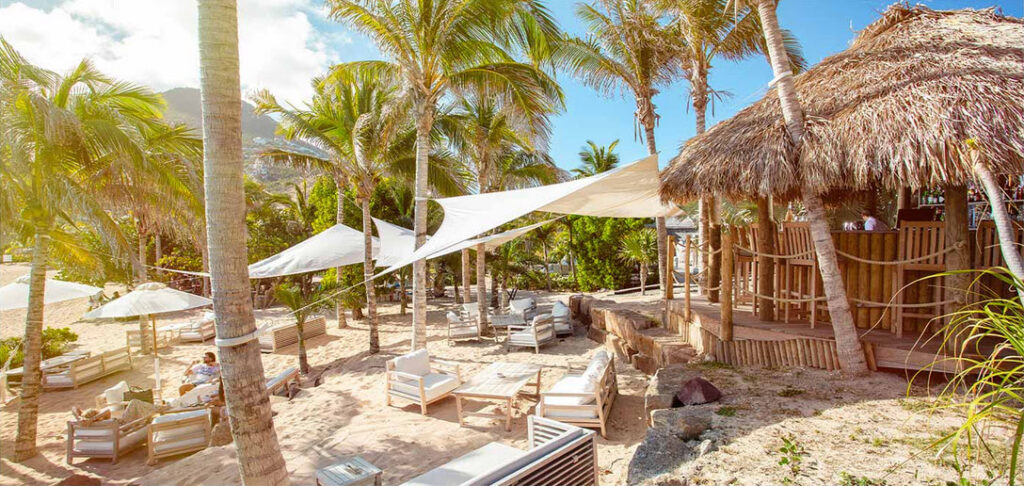 Price per night: $1250 – $3750
Best for: Privacy & short stays.
Availability: Limited
A bit of an alternative take to the other seaside hotels, Hotel Le Toiny offers 22 fully private suites with either single or double bedroom options, perched on the island's hillsides with a beautiful view above the island.
If you take a walk down to their exclusive beach club and bar, you will enjoy some of the best service and a true island vibe.
Both restaurants offer outstanding food. The Beach Club is ideal for enjoying fresh local seafood during the day, while Le Toiny Restaurant offers a fine dining experience coined a "magical experience."
Best Areas To Stay In St Barts
St Barths offers 21 stunning beaches, world-class shopping, and plenty of relaxing spa services to book. Ultimately this means that it doesn't matter where you stay on this island – you will have a good time no matter where you bunk down for the night.
In addition, as it is a relatively small island, you will know where everything is within one or two days of being there (if you ever manage to leave one of the amazing honeymoon resorts).
Nonetheless, we have put together the most sought-after areas on this Caribbean island so that you can make sure you will be where it's at and are not missing out!
Gustavia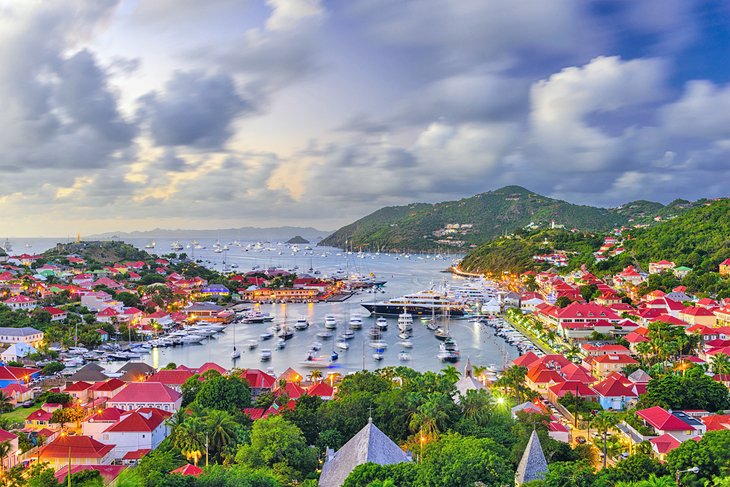 The island's capital is certainly the biggest tourist hub and where the main port is located. From here, you can charter beautiful sailboats or yachts and go on fishing or diving trips.
Gustavia was built by the Swedish in 1787 (hence the name), more precisely the Fort that sits atop the city and provides a panoramic view of the port – Fort Gustav. Most of the wooden and stone buildings from the Swedish area were restored and are now a picturesque backdrop for romantic couple selfies.
Don't miss the St Barts museum and library in one of these renovated old buildings – the Wall House.
Shops, boutiques, and restaurants line the bustling waterfront and you will be able to recognize many well-known designer names above the doorsteps. Gustavia is the place to be if you need a bit of retail therapy.
St John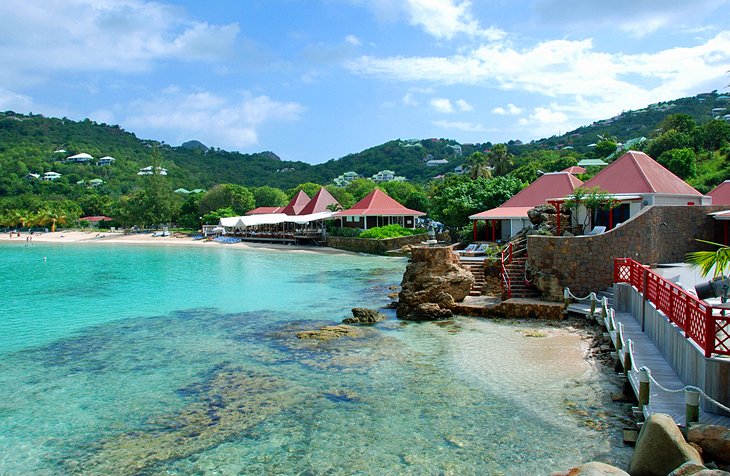 The little area, also called Saint-Jean, is where you will find the most hidden gems for luxury hotels and villas.
This suburb is centrally located, and you will easily find the second best shopping on St Barts. But most people come here to admire the extravagant hotels and villas mainly belonging to celebrities. You might spot George Clooney and the likes at the world-famous Eden Rock Hotel, right next to Nikki Beach club!
If you are not interested in real estate, head to the beaches of Saint Jean and enjoy a day filled with all kinds of water sports, or relax under the palm trees with a cocktail.
Lorient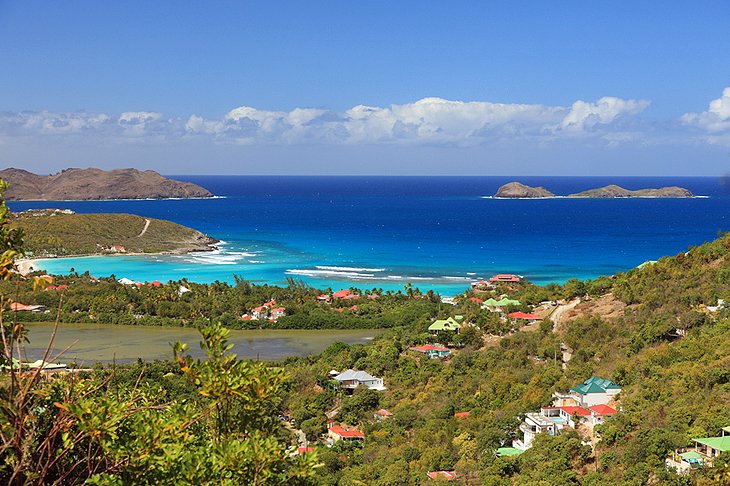 One of the oldest villages on St Barths, you will also find a lot of religious remnants in Lorient. The recently restored church is a must-visit if you are a culture enthusiast. Lots of concerts and festivals are also hosted at this venue.
Lorient offers a more laid-back atmosphere and is popular for families and surfers, thanks to the good swell and shore break here.
You will probably be able to find some more affordable accommodation in this area, as well.
Top Excursions & Activities To Do On A St Barts Honeymoon
St Barts offers a lot of things to get up to, from fine dining in trendy restaurants to chic bars and nightclubs, all the way to all kinds of water and outdoor sports. But here are some of the top excursions and activities you definitely shouldn't miss out on during your St Barts honeymoon:
Visit the best beaches
Colombier Beach: one of the most popular beaches with lots of watersport options.
Grand Cul De Sac Beach: if you are an avid snorkeler, you will love the calm and reef-protected waters of Grand Cul de Sac.
St Jean Beach: popular for windsurfers as well as snorkelers. Extremely beautiful as it is slightly secluded and borders lush greenery.
Flamands Beach: the wide, white sandy beach on the northwest tip of St Barths and frequented by bodyboarders and body surfers.
Shell Beach: this beach has some of the most stunning sunset views and the most beautiful sea shells to collect (hence the name). The nearby Shellona restaurant offers amazing Greek food if the sunbathing makes you hungry.
Saline Beach: if you fancy a dip au natural, then Saline beach will be your best bet. Thanks to the hilly path, it is trickier to get to, which is probably why it is not as populated as other beaches and allows for a cheeky skinny dip.
Gustavia
Visit Gustavia for some retail therapy and history.
You can also charter a yacht or go on a boat cruise around the island, or visit the neighboring islands from Gustavia, thanks to its main port.
Nikki Beach Club
Nikki Beach Club offers the best music and cocktails for a little day party and is a celebrity hotspot. Day or night, other great places for a boogie are Bonito Bar, La Cantina, Casa Club, Bagatelle, or Le Ti. Here you'll also find some of the best cocktails you've ever tasted, adding to the honeymoon mood.
Water sports
St Barths offers a whopping 22 dive sites around the island and an incredibly vibrant marine life that you can enjoy while snorkeling or scuba diving.
One of the highlights will be snorkeling with sea turtles at L'Orient beach – an unforgettable experience.
Booking a sailboat or catamaran cruise around the island and exploring the beautiful ocean around St Barths is a must, specifically for sunsets – what is more a romantic setting than to sail into the sunset with your one and true forever?
Day trip to neighboring islands
Since St Barts is such a small island, why not take a day to explore the neighboring islands, such as St Martin?
Head to Gustavia and catch a ferry or charter a boat to head to St Martin. Taking a catamaran will take you around the island to spots such as Oyster Pond or Marigot, Simpson Bay, and Philipsburg.
On St Martin, you will also find one of the biggest rum distilleries; what better way to toast to your nuptials than that?
Sample Itinerary & Budget For Your Honeymoon To St Barts
If you're yearning for a trip to St Barths but don't know where to begin planning the trip, fear not – we have you covered.
Below you will find our one-week sample itinerary and budget suggestions for your perfect St Barths honeymoon:
Day 1: Arrive on St Barths via your connecting flight or ferry and check into your hotel. Freshen up before you take a stroll at the nearest beach and take your first dip in the Caribbean ocean before heading back for a sundowner cocktail and your first romantic fine dining experience of the trip.
Day 2: Get a rental car and explore the island's most scenic beaches for a day full of salty hair and zero care. If you feel relaxed enough, freshen and glam up at your hotel before heading to one of the many beach clubs and dancing the night away with your significant other.
Day 3: For those that enjoy water sports, why not book a snorkeling or scuba diving trip at St Jean Beach or Grand Cul de Sac beach for the day before heading back to your accommodation for a couple's massage followed by a romantic dinner on the beach?
Day 4: Now that you are feeling more relaxed, why not dive into the hustle and bustle of Gustavia for some retail therapy and culture? Grab a bite at La Guerite-Saint Barthélemy restaurant before you take a scenic drive to Lorient church and watch the surfers catch some waves before sunset.
Day 5: Why not explore the surrounding islands by hopping on a catamaran ferry that will take you around the island of St Martin for the day? Snacks, drinks, and a seafood dinner will be provided on your trip.
Day 6: Use your last day to collect some souvenirs on Shell beach and have a light greek lunch at Shellona Restaurant. Book yourself in for another couple's treatment before dining out one last time at a restaurant of your choice or the sought-after Eden Rock Sand Restaurant.
You can either decide to head to bed early or dance the night away one last time at one of the beautiful beach clubs if you haven't already made friends with one of the VIPs who invited you to a private party at a yacht club!
Day 7: Enjoy the last morning's coffee on your private balcony overlooking the ocean before you pack your bags and head back home with a heart full of memories, a belly full of good food and relaxed mind and soul, and potentially a bit of sand in your shoes.
| | |
| --- | --- |
| Activity | Weekly Cost |
| Flights | $1,380 for two people |
| Food & Drink | $43 per person per day |
| Transport | $18 per person per day |
| Scuba Diving | $50 per person per day |
| Snorkeling | $25 per person per day |
| Trip to St Martin | $50 – $100 round trip per person |
Frequently Asked Questions
How much does a St Barts honeymoon cost?
St Barts might not be the best option if you are on a tight budget because you already spent most of your marriage fund on the wedding.
Due to the high number of jet setters and celebrities and the vast offers of world-class restaurants and high-end boutiques, this holiday will come with a hefty price tag.
For a week in St Barts (including accommodation), you can expect to spend from $10,000 to $35,000 per couple – which might not include your flight costs. But if you are on a budget and find a cheap Airbnb or Bed& Breakfast, you could get away with about $3,000 per couple.
However, a honeymoon is a once-in-a-lifetime trip and something to tell your grandchildren in decades to come. It's the perfect ending to a grand gesture of your love for one another – and that love is priceless, isn't it?
When is the best time to visit St Barts?
The best time to spend your honeymoon or any holiday on St Barts is definitely from December to the beginning of May.
If you want to avoid the crowds and are not too bothered by the hotter temperatures, then perhaps aim for November and the end of May/ June. The busiest time of the year is certainly December and January, and you will likely have to book everything in advance.
Remember that most hotels will be closed around mid to end of August, all through to October, because of hurricane season.
What is the best way to travel around St Barts?
Since St Barts has one of the shortest runways in the world, you will most likely fly to another Caribbean island and then fly with a smaller propeller plane from San Juan or Saint Maarten to St Barts.
Once there you can rent a car, or get a taxi to where you need to be. Another fun way to get around the island and potentially see more is by scooter or motorbike. This is another popular mode of transport on the island and will certainly give you more of that French riviera feeling.
The roads can be relatively narrow and quite steep; therefore, you should be somewhat of an experienced driver, whether on the scooter or in the car. You will likely never drive longer than 20 minutes to get to your destination on this island, though.
Start Planning The Perfect Romantic Honeymoon Getaway
St Barths is certainly not a cheap getaway for honeymooners, but it is what honeymoon dreams are made of.
Unobstructed views of the crystal clear Caribbean waters, stylish yachts and sailboats, stunning boutiques, and beaches will leave you speechless – what every newlywed couple should have on their bucket list. And what better time to do it than your honeymoon?
Sources: