Thailand is a culturally-rich exotic escape, with activities and excursions available for all tastes. Whether you're an adventurous couple, big spenders, or coastal dwellers, Thailand's rugged, jungle-lined, and beach-abundant landscape can play the perfect setting for an unforgettable honeymoon. Think golden sands, sealife-rich lagoons, and impressive temples.
Honeymoon planning can be stressful enough, especially when you've selected a country as big as Thailand as your destination. Fear not – this article will highlight the best resorts and excursions available throughout the island while providing some useful travel tips along the way.
What Makes Thailand Perfect For A Honeymoon?
Newlyweds flock in droves to Thailand thanks, in part, to the country's incredibly hospitable resorts found along its coast and in its cities. Some of these hotels are found near The Emerald Lagoon, while others are found within Khao Yai National Park, and others still are located near the shopping mecca of Bangkok.
From America, it may be a little complicated to reach Thailand and will likely take at least a day's worth of traveling. However, this massive commitment is definitely worth it.
Honeymooning, for some newlyweds, is all about experiencing something neither partner has before. There's a wealth of once-in-lifetime activities and excursions to do to really solidify your honeymoon as an unforgettable trip – from riding elephants and snorkeling vast reefs to rooftop drinks and beach dining. The best part? Thailand remains very affordable to visit.
Best Honeymoon Resorts, Hotels, and Other Stays in Thailand
Throughout Thailand, there is an overwhelming number of resorts, accommodations, and unique stays that are ideal for a honeymoon. Some provide you with a laid-back and tranquil setting that you won't want to leave for the duration of your Thailand honeymoon, while others give you easy access to explore the surrounding nature and other islands.
Whatever you're looking for, you'll be able to find an affordable option in Phuket, the Krabi Islands, Bangkok, or the Phi Phi Islands. Here are our top 9 recommendations;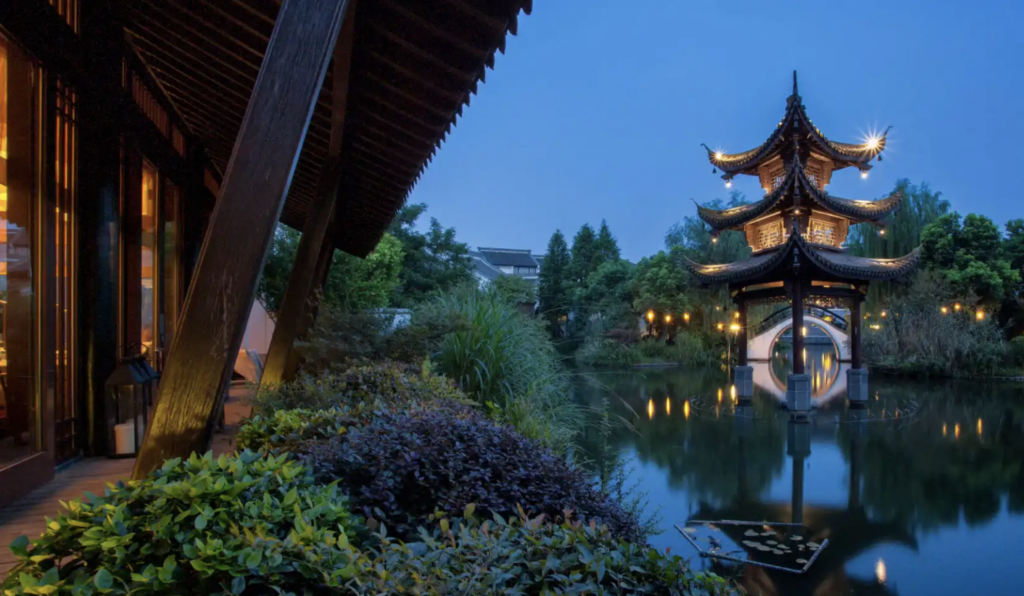 Price per Night: $365 – $1,140
Best For: Short stays, honeymoon packages, easy access
Availability: Easy to book
The Banyan Tree Resort is just a short car ride away from the Samui International Airport, making it a top island resort choice for those looking for easy accessibility. The time you save on traveling to and from this resort can be spent next to one of Banyan Tree's many pools.
The resort is made up of several private villas, each with its own infinity pool, dotted alongside a secluded hillside. Guests can enjoy the onsite fitness suite, yoga center, library, and numerous dining options, or meander down to the golden sands and turquoise waters.
Banyan Tree Resort offers a honeymoon package like no other, which comes with nature hike passes, Thai cuisine cooking classes, and spa treatments, each of which creates an immersive experience for you and your partner.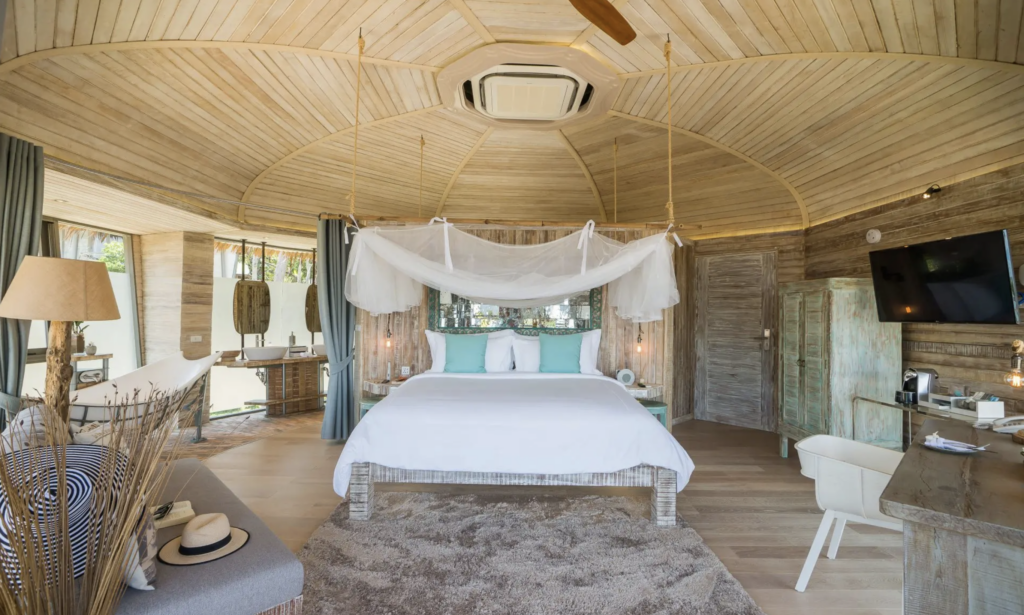 Price per night: $325 – $1,300
Best for: Adults only, unique stays
Availability: Easy to book
If you want to make your Thailand honeymoon as unique as possible, we'd recommend staying at TreeHouse Villas Koh Yao, Koh Yao Noi, poised at the tip of a very secluded island. A stay at this Koh Yao Noi island escape makes you feel cut off from the rest of the tourist crowds, partially because it's only accessible by private boat, and also because it's couples only!
On one side of your treehouse villa, you can look out onto the verdant jungle that covers the rest of the island, and on the other, you can see and hear the crashing waves of the sea.
Climb down from your villa – which comes equipped with its own suspension bridge, decking, and private infinity pool area, to explore the resort's private beach, book a yoga class, or hire a bike to venture around the rest of the island.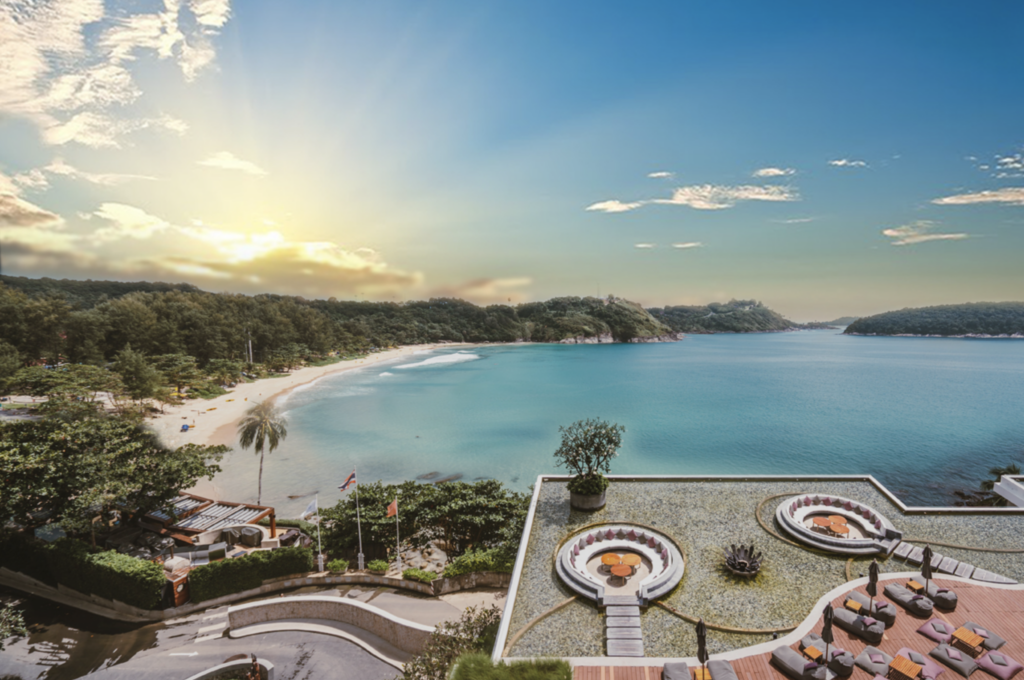 Price per night: $140 – $470
Best for: Sea views, room service
Availability: Easy to book
Being by the sea is romantic enough, but being directly in front of Phuket's best beach is another level. The Nai Harn is often ranked as one of the best resorts on the island, which is why the Nai Harn Beach, with its pristine waters, is arguably the best Thai beach to swim in. The resort is also nearby Ao Sane Beach, which is a prime spot for snorkeling.
There are plenty of places throughout the resort to view the breathtaking Andaman Sea from: the sizable hotel rooms, the infinity-edged rooftop bar, or one of the many restaurants. Other onsite amenities include the rooftop swimming pool and an extensive fitness center.
As newlyweds, you can enjoy privacy on your balcony while you take full advantage of the "Press for Champagne" button found in all suites.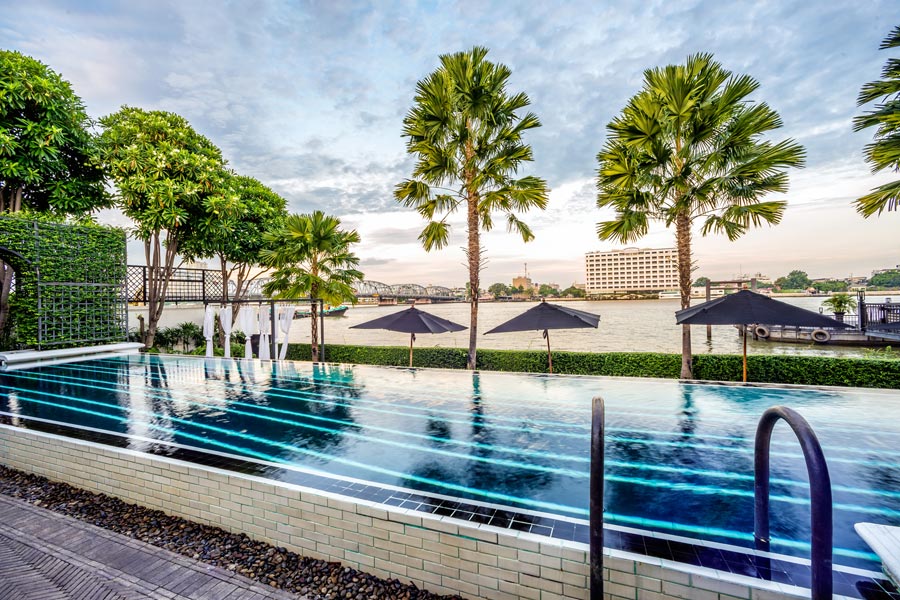 Price per night: $500 – $1,800
Best for: Location, short stays
Availability: Easy to book
If you're looking to spend a few days in Bangkok, either at the beginning or end of your Honeymoon, the city's Siam Hotel is a top choice. Not only does it offer you a slice of serenity amongst the bustle of the city, but it also positions you within proximity of Bangkok's top attractions, from the Wat Benchamabophit to Nang Loeng Market – one of the city's oldest!
From your private villa, you'll be able to look out at the Krung Thon Bridge and a stretch of the Chao Praya River. Each room and private pool area is decorated with ancient oriental artworks, while the gardens below have been landscaped meticulously. Onsite activities include Thai cooking classes, the Opium Spa, a beauty salon, and a yoga terrace.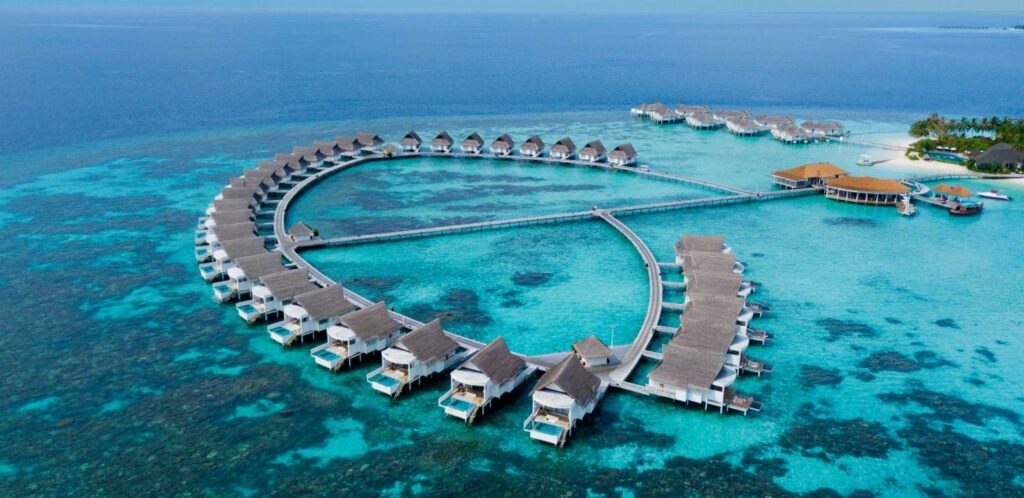 Price per night: $190 – $370
Best for: Young couples, beachfront resort
Availability: Easy to book
Having only opened its doors in 2020, the Centara Reserve Samui is one of the most modern resorts you're likely to find on the island of Koh Samui. This 5-star hotel delivers everything you need to ensure your honeymoon is refreshing, with such amenities as the two resort pools, five bars and restaurants, day spa, and a fitness center.
Centara also provides direct access to the long and winding beach that is Chaweng Beach, which is perfect for lounging during the day and going on romantic strolls in the evening. The suites and villas offered by Centara are all kitted out with contemporary furnishings and every room comes with personalized butler services.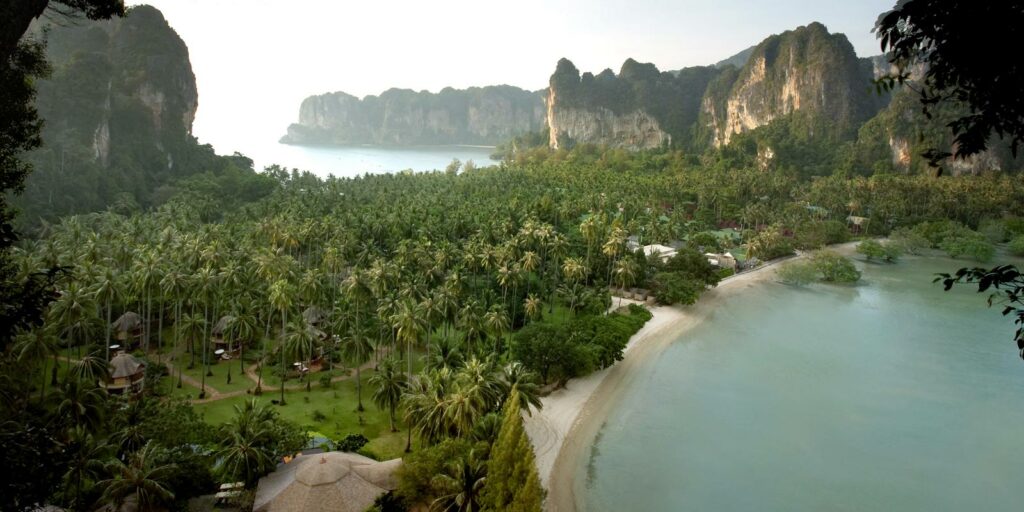 Price per night: $365 – $1,350
Best for: Scenery, older couples
Availability: Limited
We've selected Rayavadee as one of our top Thailand honeymoon destinations due to its amazing scenery and spectacular hotel services. Guests can admire the tropical surroundings and crashing waves from the comfort of one of the hotel's two-story pavilions, which are surrounded by coconut groves.
When walking outside this resort, your attention will be immediately held by the dramatic limestone cliff outcrops that peer over the sea. Surrounding them, you'll see plenty of lush greenery, which gives the Rayavadee the feeling of being a tropical island escape.
When not out on the beach or by the pool, guests can enjoy such amenities as the fitness center and canoe hire.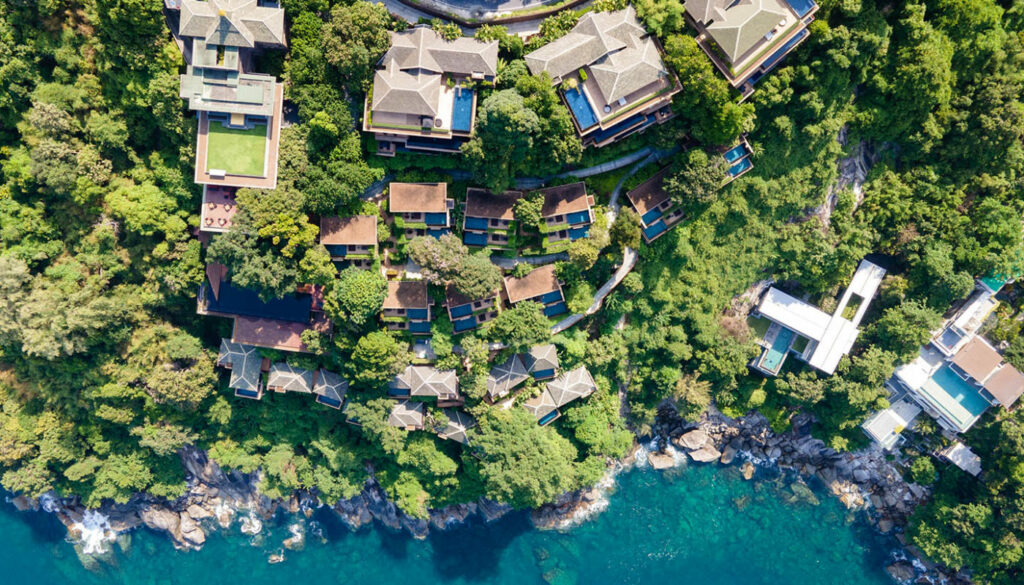 Price per night: $400 – $750
Best for: Ocean-facing infinity pools, honeymoon package
Availability: Limited
Paresa Resort is only a 40-minute drive away from Phuket International Airport and is positioned on the "Millionaires Mile" stretch of the west side of the island. This stretch gets its name due to the number of opulent villas that can be found here, as well as it running parallel to Kamala Beach, one of the best beaches to spend your Thailand honeymoon on!
Highlights of this hotel include the award-winning spa and Michelin Plate-approved restaurant, which serves up Thai culinary delights. All of the rooms feature a private balcony area and infinity pool, but we'd recommend going for the Honeymooner's Paradise package to make your romantic getaway extra special.
This honeymoon pack includes a reservation in the best room of the resort, the Cliff Pool Villa, where you can enjoy lofty views, sparkling wine breakfasts, a couples' massage, and airport transportation.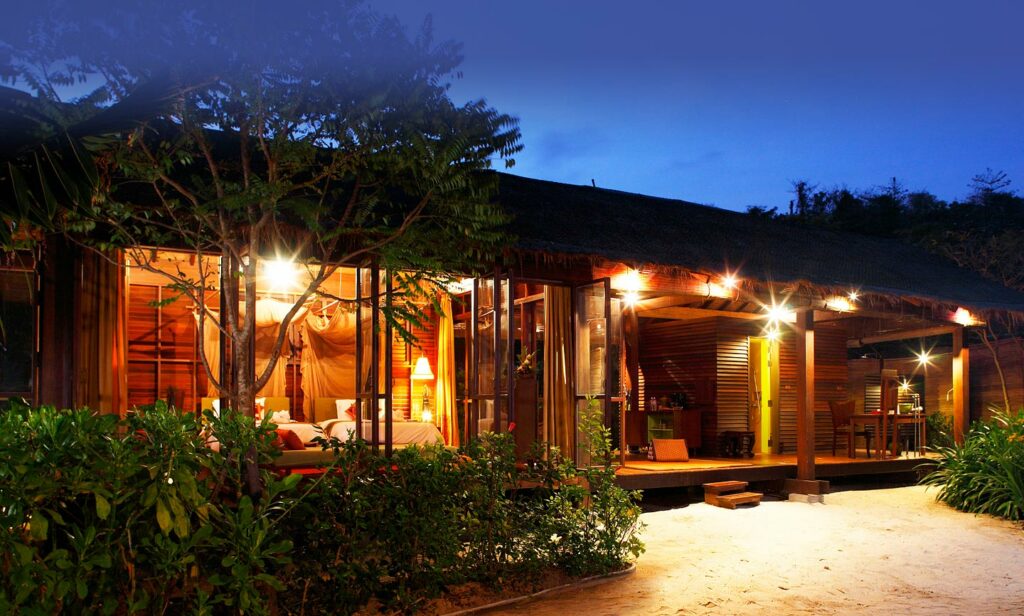 Price per night: $140 – $370
Best for: Long stays, eco-stay
Availability: Limited
The Zeavola Resort & Spa brings 5-star luxury to sustainability, featuring comfortable, grass-roofed villas based on original Thai architecture. Another resort that's only accessible by boat, the Zeavola Resort & Spa truly feels private to the rest of the world, both in terms of location and layout. Sand paths run throughout, leading you towards the pool and Laem TongBeach.
The suites offered boast ocean views, private infinity pools, and a quiet decking area to enjoy the sunset from. This Phi Phi Island resort is surrounded by wilderness – you won't find any villages nearby. To make up for this, the resort offers plenty of experiences onsite, including scuba diving, kayaking, and island hopping excursions.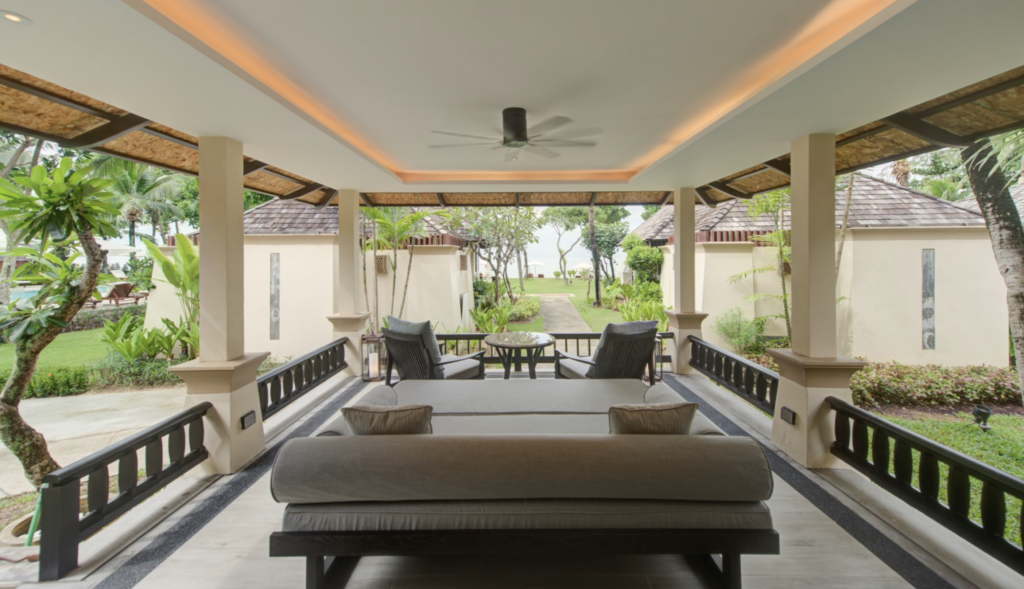 Price per night: $110 – $710
Best for: Beach bungalows, adults only
Availability: Easy to book
The Layana Resort and Spa treats all its guests like movie stars, starting by arranging a private speed boat to the island of Koh Lanta Island, where it is located. Once arrived, you and your partner can book in for a session at the onsite spa, relax in a saltwater infinity pool, or catch the sunset at the Sundowner Bar and Lounge.
We've chosen this Koh Lanta resort as one of our top Thailand honeymoon resort options for the accommodation offered, specifically, the beach bungalows. Putting the sea right on your doorstep, these bungalows offer unparalleled privacy.
Best Areas To Stay in Thailand
Relative to other prominent honeymoon destinations, Thailand is a massive island (the 50th biggest in the world and larger than Spain!). Within this huge land mass, there's loads of variety when it comes to destinations, cities, and areas, each with its own unique draws. From the vibrancy and liveliness of Bangkok to the tranquillity found on the Krabi islands.
To help you decide on the best area (or areas, if you're feeling like turning your honeymoon into a Thailand adventure) to spend your Thailand honeymoon in, here is a brief overview of the best areas to stay in Thailand for your honeymoon.
Bangkok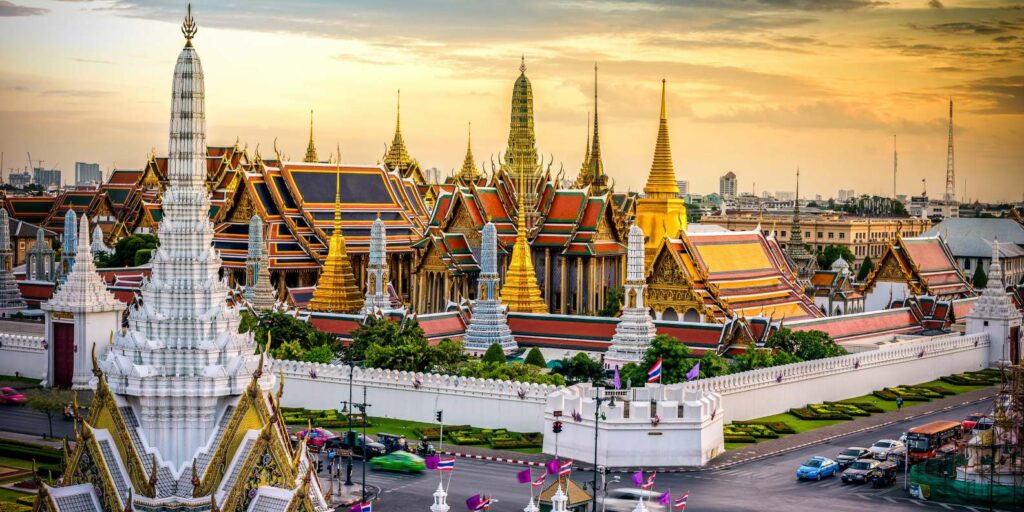 There's a reason Bangkok is the 4th most visited city in the world: it offers impressive cultural landmarks such as the Temple of the Emerald Buddha, authentic Thai culture in the form of restaurants and shopping malls, and luxury resorts, all of which can be experienced for a very affordable price.
Some couples only fly into Bangkok, but others spend their whole honeymoon here! The main activities include going on extravagant shopping trips, rooftop dining at Vertigo, and exploring the main landmarks, such as the Temple of the Reclining Buddha, or seeing the city from a different angle by going on an Apsara River cruise.
Krabi Islands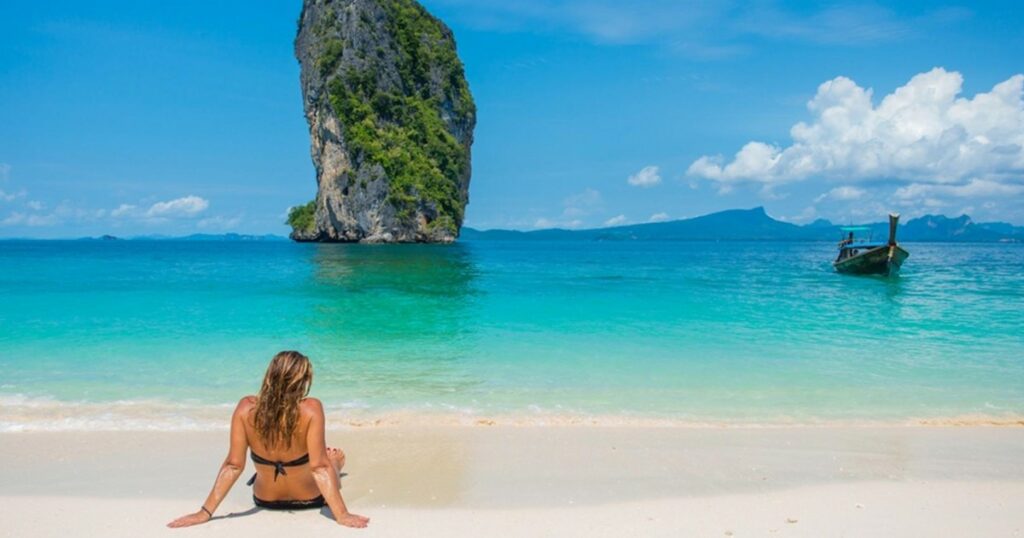 The Krabi Islands consist of 130 islets poised along Thailand's southern coast that stand as the antithesis to the bustle of Bangkok. Here, you'll find private beachfront resorts which offer you and your partner some much-needed post-wedding seclusion. By day, you can use these private beaches for tanning, and come nightfall, you can dine out on them under the stars.
One of the most notable aspects of the Krabi Islands is that there are no cars on the islands, giving you a first-hand experience of rural life in Thailand and adding a really strong sense of adventure to your honeymoon.
When not sunbathing in this serene setting, guests can explore coral reefs, caverns, and Railay Beach – one of the most famous beaches in the whole of Thailand!
Phuket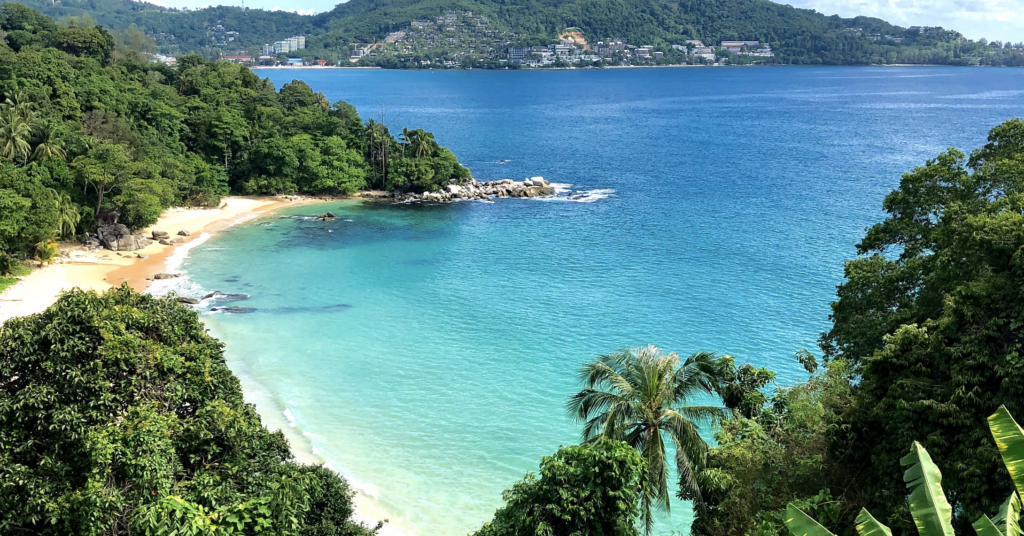 Being Thailand's biggest island, Phuket offers the most variety in terms of activities and cultural experiences. Encircled by an azure coastline, this island has its fair share of sandy beaches, sea caverns, and coral reefs. Inland, you can visit Phuket Big Buddha, Chaithararam Temple, and several animal sanctuaries.
Newlyweds often spend their time on Phuket exploring the island's outskirts by canoe, feeding elephants, or soaking up the lively and varied nightlife. On Phuket, you can have a quiet night sipping a few cocktails poolside, or a wild night in one of the island's clubs.
Koh Samui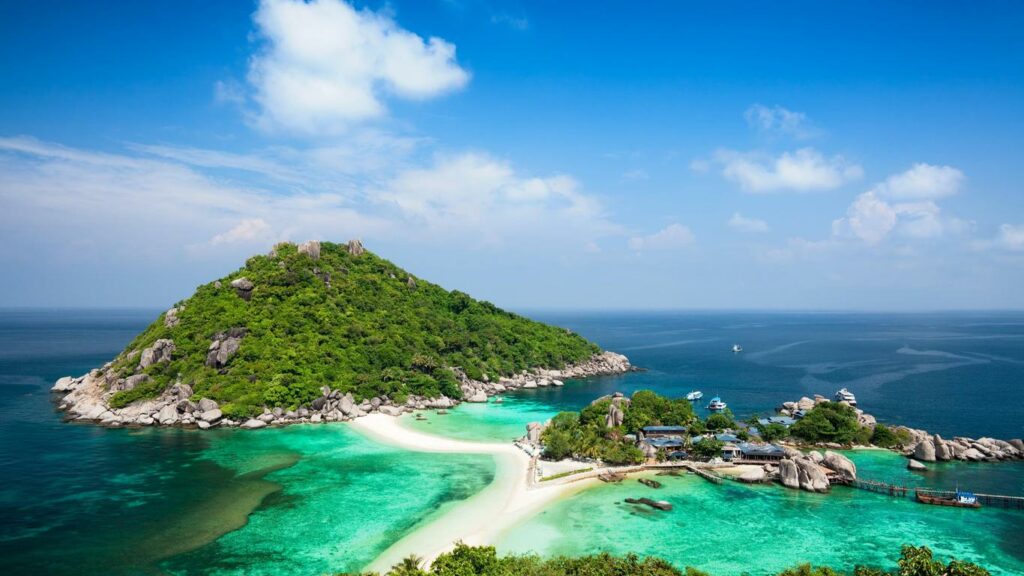 Koh Samui is another party island, but not in the same way Phuket is. Koh Samui is famed for its moon parties that take place on the beach most nights, which are more romantic than they are lively. Newlyweds often soak up the atmosphere, dance all night on the sand, and spend the next day replenishing themselves at one of the island's many spas.
Koh Samui also offers plenty of other activities, such as trekking to the Namuang waterfalls or drifting along the Ang Thong National Marine Park, where you'll be able to spot a diverse range of sea life.
Phi Phi Islands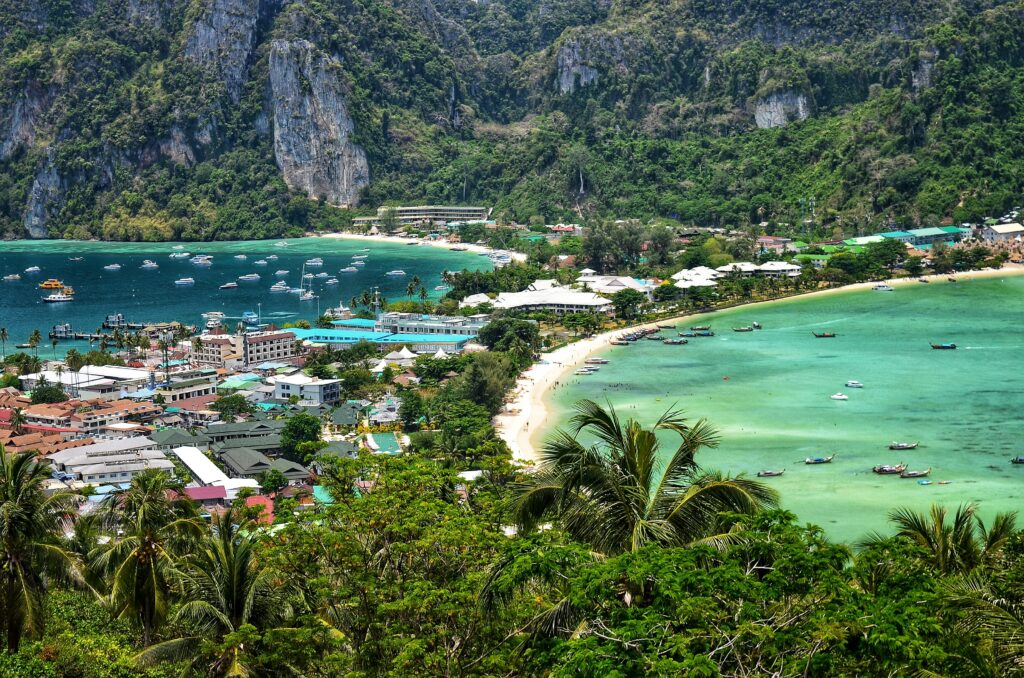 The Phi Phi Islands, located between the Straits of Malacca and Phuket, almost feel made for newlyweds. Here, you'll find the most romantic Thailand honeymoon resorts, such as Saii Phi Phi Island Village, many of which boast long stretches of private beach, ideal for both lounging during the day and dining at night.
The activities offered also couldn't be more romantic, which include taking a dip in the turquoise waters of Pileh Bay Lagoon, gently kayaking along the verdant scenery of the islands, taking a deep dive at Natural Paradise, and hiking toward one of the island's lofty viewpoints.
Chiang Mai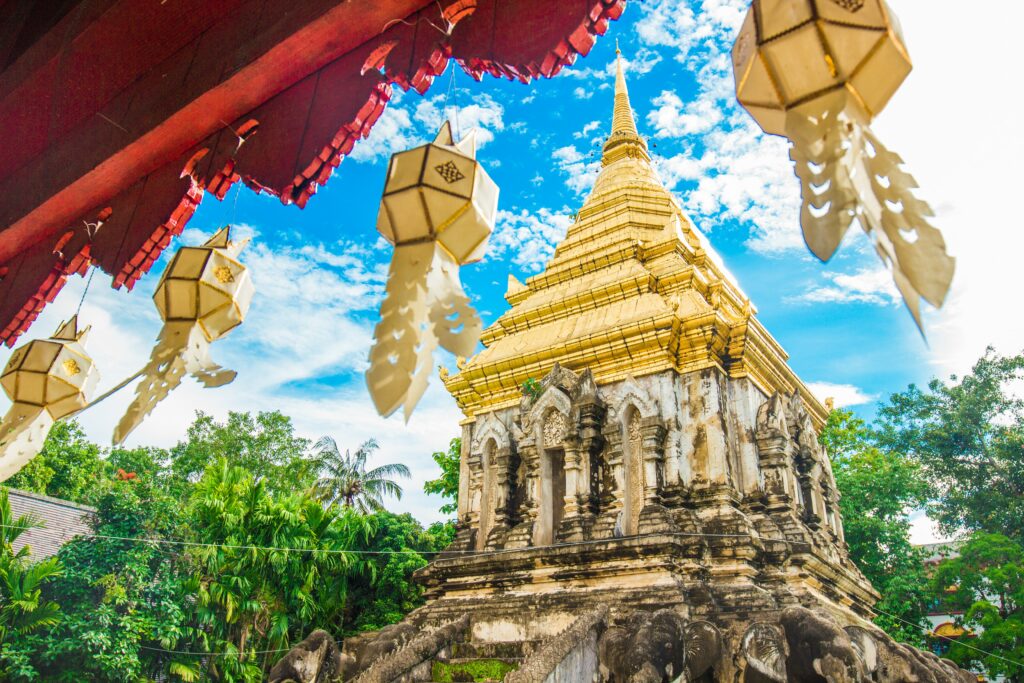 You can find Chiang Mai in the north of the country, and it's well worth adding to your Thailand honeymoon itinerary if you want your time abroad to be action-packed. Here, in the biggest city found in the north of the country, you'll be able to water raft, ride hot air balloons, feed elephants, enjoy beautiful beaches, shop in a night market – and so on!
Chiang Mai International Airport allows for easy access in and out of this city, and its high altitude gives it agreeable weather conditions the whole year round – even during the rainy season!
Top Excursions & Activities To Do On A Thailand Honeymoon
If you want a little more from your Thailand honeymoon other than sun lounging on Railay Beach or by your resort's poolside, here's a list of alternative excursions and activities to make the most of your honeymoon destination:
1) Dine under a waterfall
Yep – you read that correctly! At the Sarojin hotel, located in the Phang Nga Province, you can sample Thai cuisine, sip champagne, and enjoy a romantic dinner with a natural cascading waterfall beside you, setting the tone. This experience will cost you around $600, but it's worth it!
2) Get close to the elephants
You can do this all over Thailand, but one of the best places to get connected with the local elephants is in Chiang Mai, northern Thailand. At the Elephant Nature Park, you can feed, bathe, and generally socialize with the resident elephants, all for the price of $85.
3) Take a hot air balloon over the mountains
In northern Thailand, you'll find mountainous landscapes which are best viewed from the air. From Chiang Mai, you and your partner can catch a hot air balloon ride that'll take you over the rugged landscape. For a round trip, you can expect to pay $240.
4) Hire a boat
Although jumping on a regular boat tour can be fun, it's not as romantic as hiring out your own boat and exploring the white sand beaches of the islands yourself, is it? In the Phi Phi Islands, you could hire out your own boat for as little as $50 for three hours on the water!
5) Go Khampan Rafting
Another reason why Chiang Mai is top of many traveler's lists of places to visit is because of the khampan rafting – or, white water rafting – opportunities that are offered there. This extreme activity may not be at the top of your romantic things-to-do list, but it's a fun way to make your Thailand honeymoon as memorable as possible!
White water rafting experiences start from around $55.
Sample Itinerary & Budget For Your Honeymoon To Thailand
Whether you visit Chiang Mai, Koh Lanta, Chiang Rai, or Koh Tao, you're going to need to budget accordingly. To help you out, here's a rough outline of how much you should budget for a honeymoon in Thailand for one week:
| | |
| --- | --- |
| Accommodation | $560 – $12,600 |
| Transport between destinations | $50 (two speedboat trips between mainland and islands) – $140 (for in-land flights) |
| Food and drink | $800-$1,000 |
| Feed elephants | $85 |
| Hot air balloon trip | $240 |
| Boat hire | $50 |
| White water rafting | $55 |
To help you organize a basic 7-day itinerary, here's ours to give you a rough outline:
Day 1 – Check in to your luxury resort. Having traveled from the U.S., you'll be imaginably tired, so either get some rest in your king-sized bed, relax by the pool, or book yourself into the sauna. Take things easy for the rest of the day!
Day 2 – Take full advantage of all the resort's onsite amenities as you ease yourself into your new surroundings. Explore the private pool, check out the fitness suite, and dine out at the restaurant.
Day 3 – Depending on where you're located, do whatever fun activity is offered nearby, such as snorkeling, hiking, visiting the Grand Palace, etc. Reward you and your partner in the evening with rooftop drinks or waterfall dining, if it's available!
Day 4 – Hit a fancy beach nearby for a relaxing day of sunbathing and swimming. There's probably a high-rated beach nearby your resort, such as Kata beach, Sunrise beach, or Surin beach.
Day 5 – Hire a boat and take a trip out to the nearby islands. Explore beaches and landmarks on other coasts. Make your way back during golden hour.
Day 6 – Fit in one last unforgettable activity such as feeding elephants or going white water rafting. Make the most of your second last evening by ordering cocktails at your resort bar.
Day 7 – Sit at your favorite poolside spot all day and soak up the last rays of the Thai sunshine. Prepare yourself for the return journey home.
Frequently Asked Questions
How much does a Thailand honeymoon cost?
We'd say that a Thailand honeymoon shouldn't cost you any more than $6,500. That estimate is with the average hotel, food, drink, and excursion expenditures factored in. It's very easy to make a Thailand honeymoon affordable if you want it to be.
When is the best time to visit Thailand?
The best time to visit Thailand would be between November and April. April to May tends to be the hottest time, so may not be the best time to visit for those who are uncomfortable in extreme heat! July to September is also best avoided if you want your Thailand honeymoon to remain dry.
What is the best way to travel around Thailand?
For a Thailand honeymoon, the most romantic method of transport would be to hire a boat and make your own way between the mainland and islands. However, there are also regular speedboats and some ferries running between the islands that you could take. Inland, the best way to travel around would be a plane, as it's a very big island!
Start Planning The Perfect Romantic Honeymoon Getaway
The reason why so many choose to spend the first week of their marriage in Thailand is simple: waterfall dining, dramatic coastal backdrops, a lively island atmosphere, and unforgettable experiences, from elephant feeding to hot air balloon rides.
When choosing your Thailand honeymoon, choose between the Phi Phi Islands, Bangkok, the Krabi Islands, Phuket, Koh Samui, and Chiang Mai, and choose one of the top 9 resorts highlighted in this article. For other vacation ideas, please take a look at our other travel resources to help plan a perfect trip to anywhere in the world!