Are you craving some fun in the sun? Look no further than the beautiful East Coast beaches of the United States!
With miles of sandy beaches, the East Coast is home to some of the most breathtaking coastal destinations in the world. From bustling boardwalks to secluded coves, there is an ideal East Coast beach out there for every type of traveler.
1. Best for Tourist Attractions: Myrtle Beach, South Carolina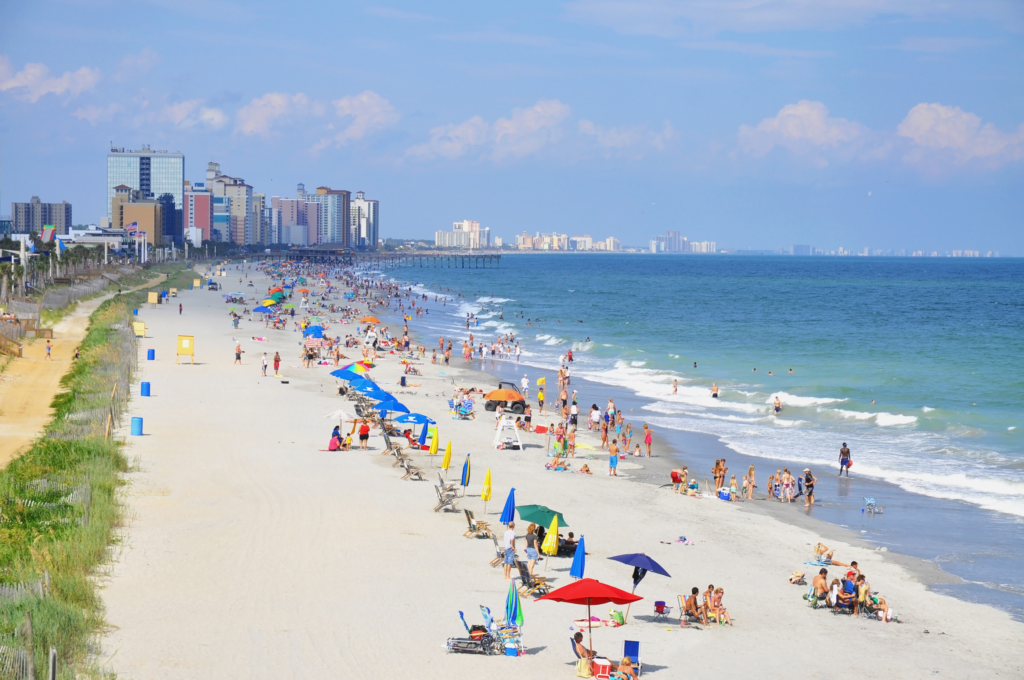 Myrtle Beach, named after the city it's located in, is a beautiful beach that sits right in the center of the Grand Stand (a 60-mile stretch of beaches along South Carolina's coastline).
The beach is usually quite busy during the summer months, especially around holidays and weekends. But don't let that discourage you! There will still be plenty of space to spread out and find a spot to relax, even on the busiest days.
However, Myrtle Beach is not just about the sand and water. There are also many other attractions and activities to enjoy.
The SkyWheel at Myrtle Beach is an absolute must. The 187-feet tall observation wheel takes visitors on a roundabout ride with panoramic views of the ocean and the beach strip. Tickets cost $16.99 for adults and $12.99 for children aged 3-11.
Exploring Myrtle Beach State Park is another must-do while you're in the area. This is a popular camping area located in South Carolina's oceanfront maritime forest. The park is home to some awesome hiking trails and picnic spots that are perfect for nature-lovers.
If you plan to visit the beach during wintertime, definitely take advantage of the horseback riding experience! This is a great activity for adventurous couples and a fun way to explore the coastline. Why walk when you could be on the back of a horse?
2. Best For Natural Beauty: Coast Guard Beach, Massachusetts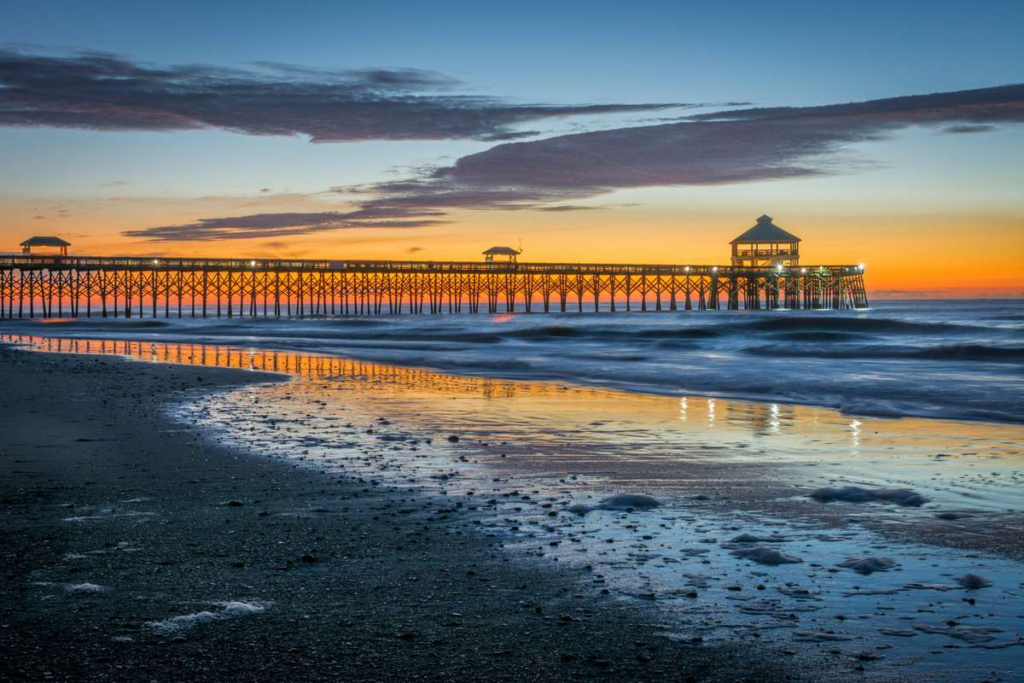 Coast Guard Beach is a stunning beach located in Eastham, Massachusetts, on the Cape Cod National Seashore. This beach is known for its beautiful coastal landscape and waves that are perfect for watersports, making it arguably one of the best beaches on the East Coast.
One of the unique features of Coast Guard Beach is its location at the point where Nauset Bay meets the Atlantic Ocean. This creates an ever-changing landscape, with tidal pools, sandbars, and beautiful waves.
The beach is open year-round, but the peak season is from late June through early September. This is the best time to partake in watersports such as swimming, surfing, boogie boarding, and paddle boarding, with lifeguards on duty to make sure you stay safe.
However, if you find yourself visiting Coast Guard Beach in the winter months, you're still in luck. This is when you're most likely to spot seals swimming and playing around the marshy areas of Nauset Bay or resting on sandbars.
3. Best for Surfing: Folly Beach, South Carolina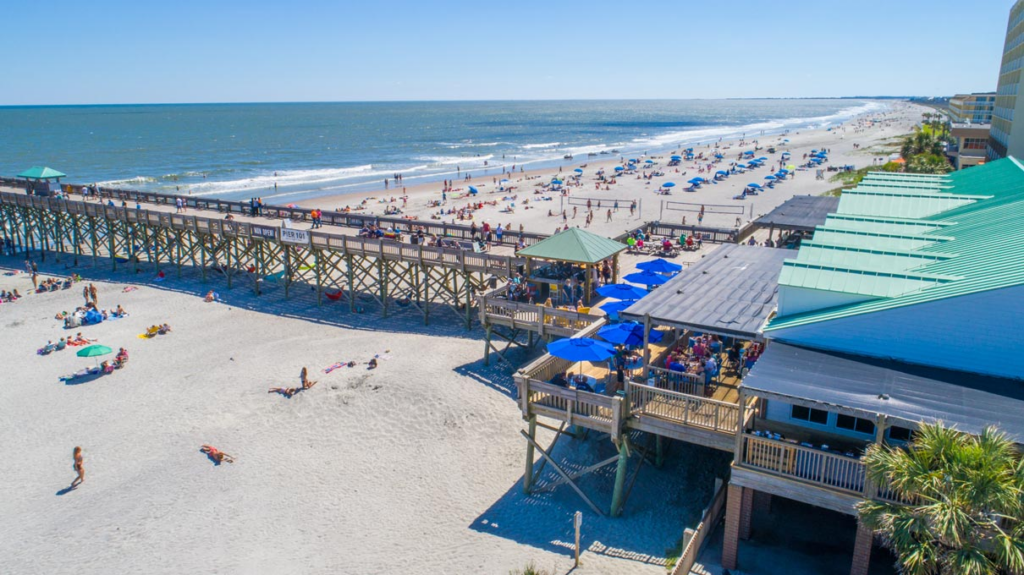 Folly Beach is a popular beach town located just outside of Charleston, South Carolina.
Surfers love Folly Beach for its prime surfing conditions, with waves that are generally larger and more powerful than at other beaches on the Charleston coast. Visitors who are interested in catching some waves can visit one of the many surf shops in town for equipment rentals, or if needed, surfing lessons.
The beach is also home to a pier that stretches 1,045 feet out into the Atlantic Ocean. Take a seat on one of the several benches along the pier to take in stunning views of the coastline and surrounding ocean with your loved one. It's particularly beautiful during sunrise or sunset, so make sure to get there early or stay until late!
A fun fact about Folly Beach is that it has its own currency: Folly dollars! You purchase a gift card which is then credited with Folly dollars for you to use at all the shops, excursions, and main attractions at the beach. How cool is that?
4. Best For Picturesque Views: Siesta Beach, Florida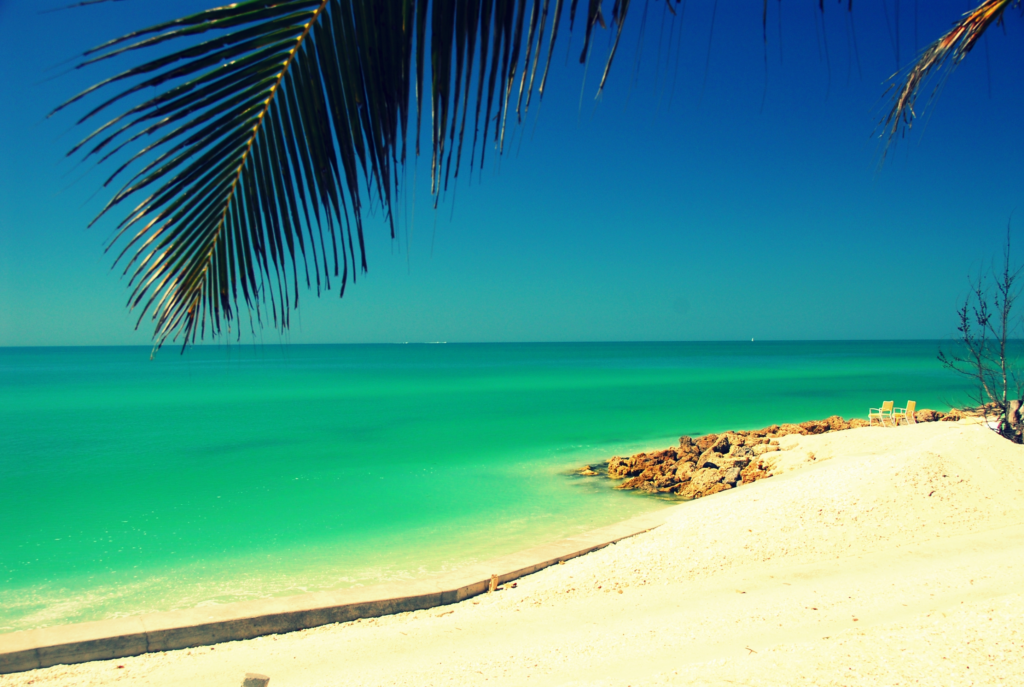 Siesta Beach is a sandy paradise located on Siesta Key, a barrier island off the coast of Sarasota, Florida.
The sand at Siesta Beach isn't just any old sand – it's 99% pure quartz! That means it's super soft, almost powdery, and cool to the touch. Plus, the turquoise waters are so crystal clear, you'll feel like you're swimming in one of those places you see on a postcard.
Siesta Beach offers a variety of recreational activities, such as volleyball, paddleboarding, and kayaking. For the fishing fanatics, the nearby jetties are a perfect spot for some epic catches.
Feeling hungry? Siesta Beach has got you covered with their concession stand, "Siesta Beach Eats," serving food daily from 10 am to sunset. Treat yourself to a classic hot dog, hamburger, nachos, and a wide variety of other snacks. Also, make sure to catch happy hour at the Sand Pavilion, which starts at 5 pm and offers daily drink specials.
5. Best For Celebrity Spotting: South Beach, Florida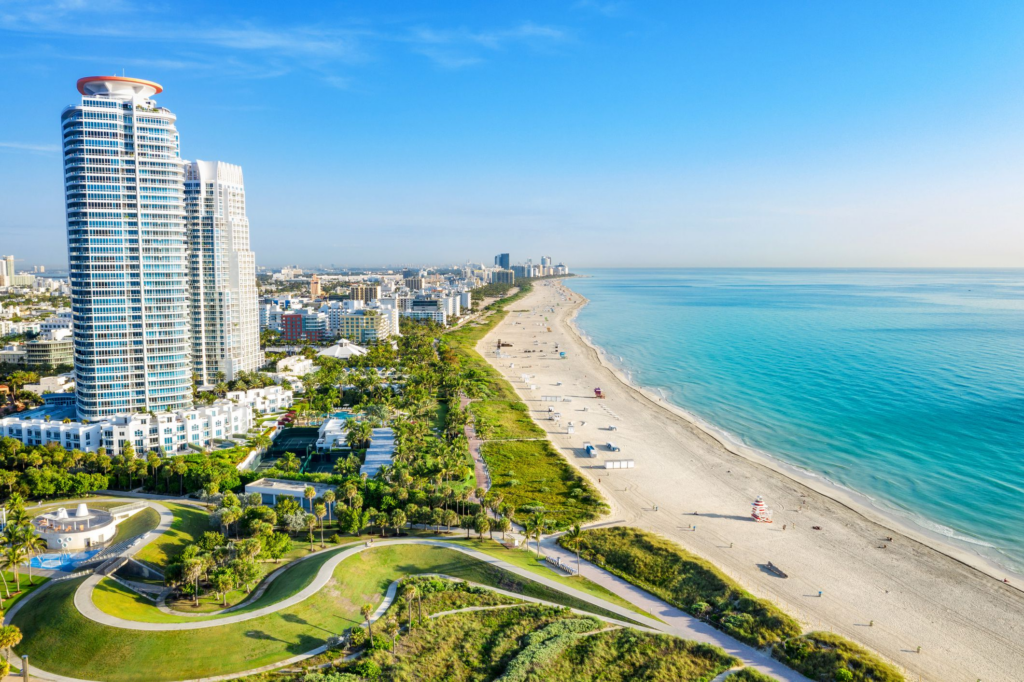 South Beach, also known as SoBe, is the East Coast land of sun, fun, and palm trees!
This iconic beach in Miami, Florida, is a popular destination for locals and tourists alike. South Beach is one of the best beaches on the East Coast when it comes to celebrity spotting, having attracted countless stars over the years, from Beyoncé to Shaquille O'Neal.
After spending a day on the sandy beach, head on over to Ocean Drive Street. This is one of the most popular streets in Miami that features colorful art deco buildings, vintage cars, and trendy restaurants. There is a lot of history ingrained in this neighborhood, so book a walking tour if you want a more detailed and educational experience.
You can't leave South Beach before soaking up some Miami vibes at South Pointe Park. Here, you'll find a paved walkway, art and light sculptures, a 450-foot-long pier, a dog park, and various concession stands.
6. Best For Stargazing: Sand Beach, Maine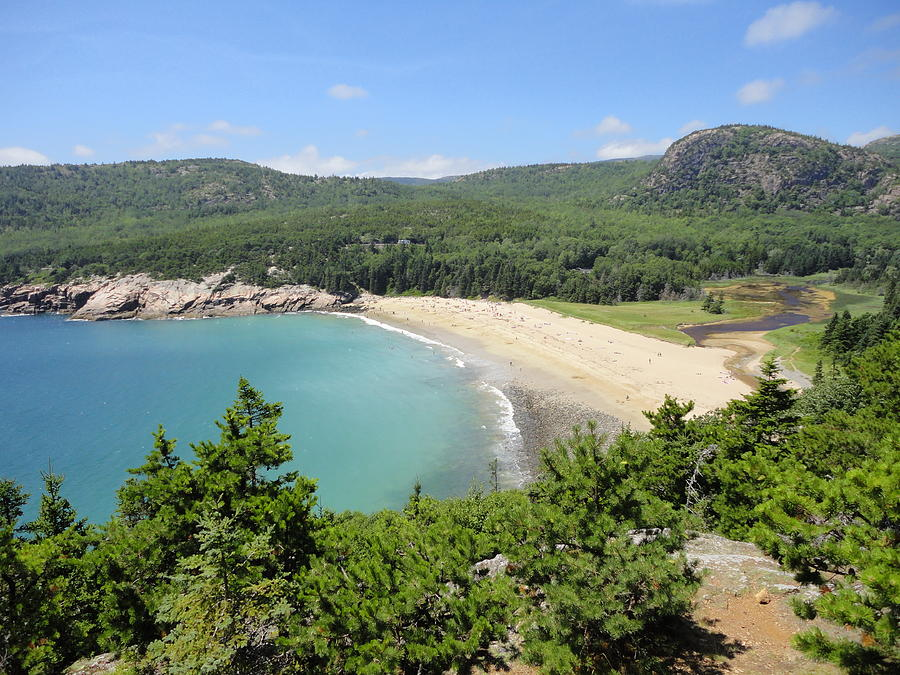 Sand Beach is an absolutely gorgeous cove-style beach nestled within the breathtaking Acadia National Park. This stunning region, situated on the picturesque Maine coast, is renowned for its awe-inspiring scenery and wild, rugged coastline.
The cove offers great protection from the waves, making Sand Beach a great spot for sunbathing and swimming. If you're brave enough to withstand the water temperature that rarely exceeds 55°F, that is. Daily water temperatures are usually posted on the bulletin board near the entrance to the beach, so you can check them before heading in for a swim.
Another thing that makes the beach unique is its sand – which is a combination of sand and crushed seashells. This mix of materials gives the sand its light pink hue and makes it much coarser than the sand you'll find at the likes of Siesta Beach.
Sand Beach has a strict no-dog policy from 15 May to 15 September.So if you are planning a visit during this time, be sure to leave your furry friends at home.
And last but not least, if you're a stargazing fanatic, Sand Beach is one of the best East Coast beaches for exactly that. Make sure to stay on the beach well after sunset for some amazing views of the Milky Way, which you can see clearly thanks to the surrounding cliffs that block out light pollution. Just make sure to bring your warmest clothes, as temperatures can drop quickly at night.
7. Best for Whale-Watching: Race Point Beach, Massachusetts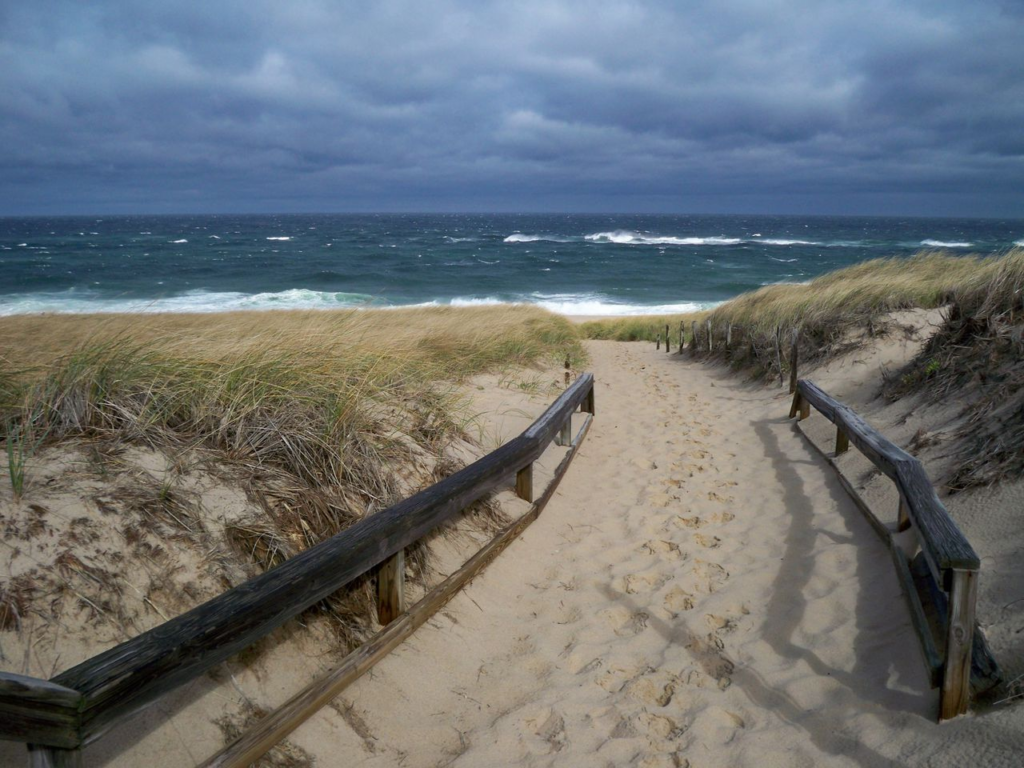 Race Point Beach is a popular beach located on the northern tip of Cape Cod, Massachusetts. Just like its neighboring beach, Coast Guard Beach, Race Point Beach is one of the best beaches on the East Coast for those who love the natural beauty of a sand dune backdrop.
And like Coast Guard Beach, Race Point has some of the best surf on Cape Cod. While the beach is a popular spot for experienced surfers during stormy weather, beginners can also enjoy it in calmer conditions.
If you fancy a beach walk, consider walking to the Race Point Lighthouse. This is a 2-mile walk (one-way) that offers beautiful views of the coastline. The lighthouse itself is charming and holds a lot of history. It is open for touring on the first and third Saturdays of each month from June to October.
It's also one of the best places on the East Coast for whale-watching during spring months, as the area is home to humpback, finback, and minke whales. If you plan on coming out of whale season, don't worry. You're still likely to see some more common marine life in the area, such as seals and seabirds.
8. Best For An American Boardwalk Experience: Hampton Beach State Park, New Hampshire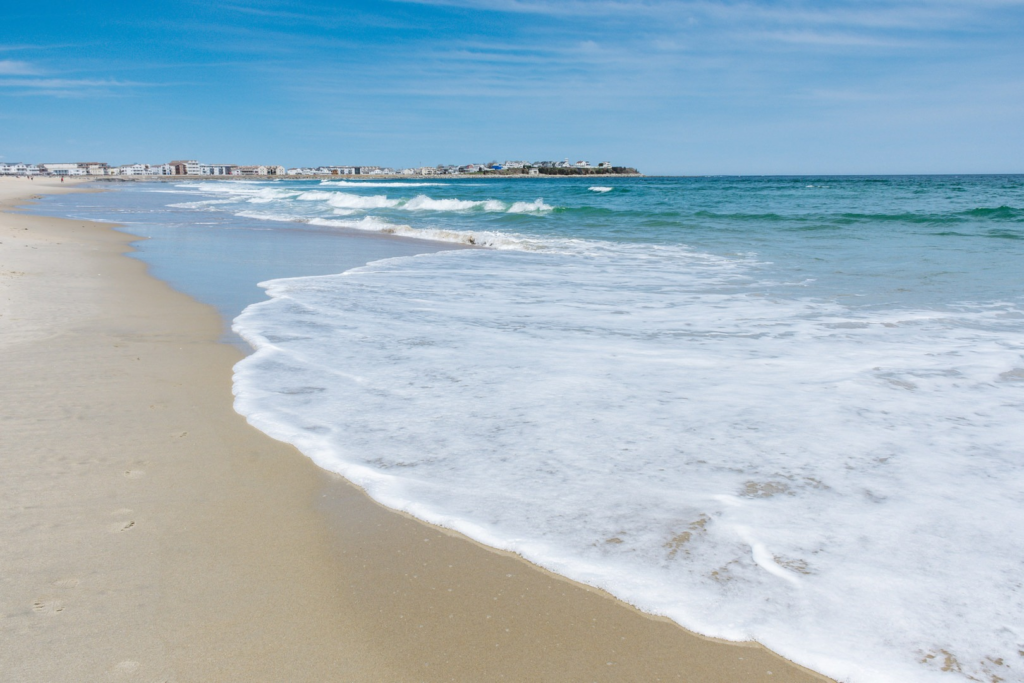 Hampton Beach State Park is a popular park located on the southern coast of New Hampshire, adjacent to the town of Hampton Beach.
Hampton Beach is popular for a range of water activities. This includes surfing, boogie boarding, paddleboarding, and something a bit more unique – parasailing. So if you're a couple looking for an adrenaline rush, drifting 1,000 feet in the air over the ocean should do the trick!
If you'd rather keep your feet on dry land, take a walk along Hampton Beach's boardwalk. Recognized as a "classic American boardwalk," you will find old-school gaming machines, tasty fast-food vendors, and live entertainment at an outdoor amphitheater called the Sea Shell Stage.
Hampton Beach State Park is also a popular RV camping spot. There are 28 campsites to choose from where couples can hook up their vehicles and settle in for some quality time. The rate per night is $50, which includes the cost of hookups to water, electricity, and sewer.
9. Best For Peace and Quiet: Bethany Beach, Delaware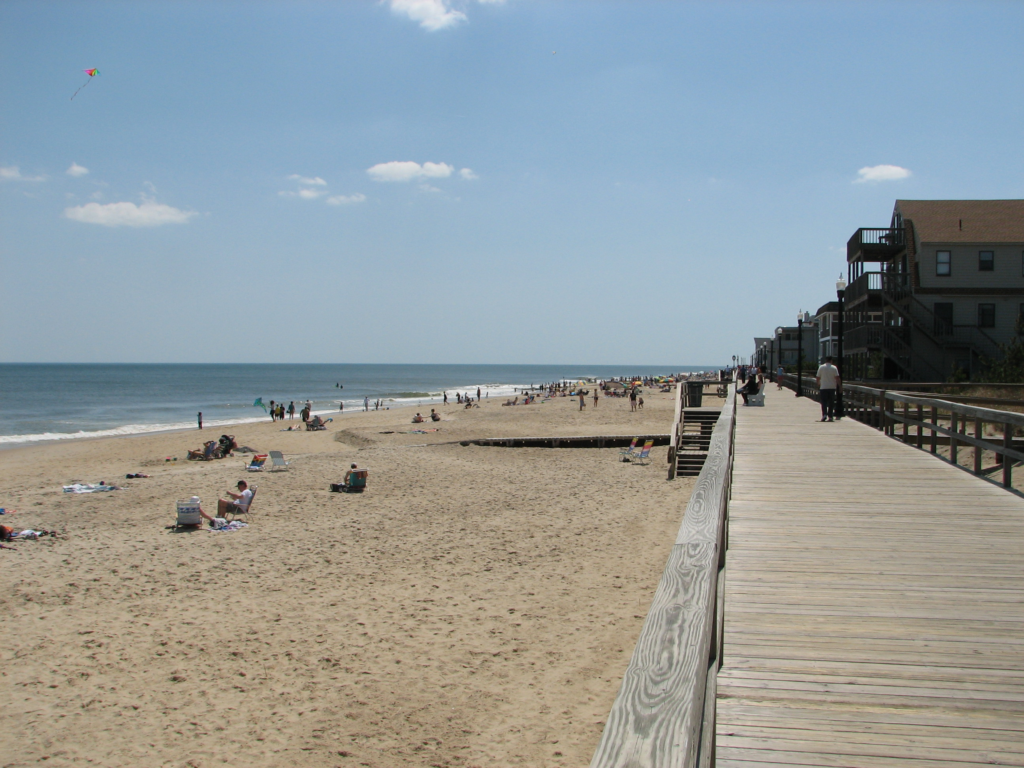 Bethany Beach is a charming seaside town located in Delaware, known for its relaxed atmosphere.
Bethany Beach is less crowded than the more popular beaches in the area, making it ideal for those who prefer a quiet and peaceful beach experience.
Apart from the beach itself, Bethany Beach boasts a boardwalk that stretches for half a mile along the coastline. There are no amusement-style rides and games that you often find at other classic American boardwalks, but there are plenty of little beach shops and eateries that add to the quaint and charming atmosphere.
10. Best For Beach Events: Coney Island Beach, New York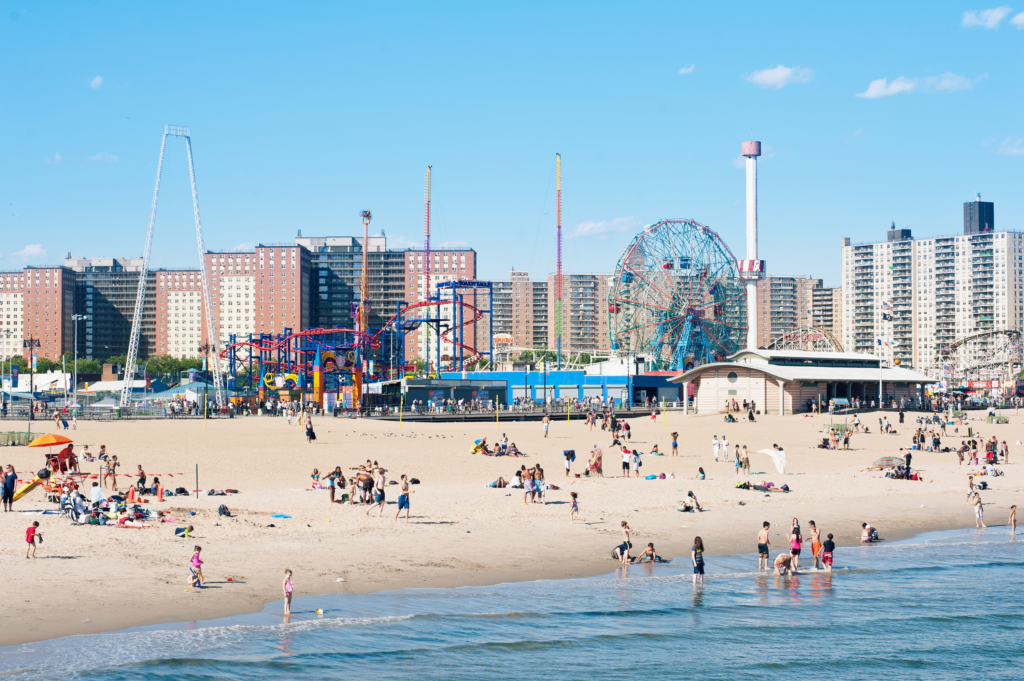 Coney Island Beach is one of the most famous beaches on the East Coast, located in Brooklyn, New York City.
The two-mile sandy beach offers plenty of space to relax and soak up the sun. The beach can get crowded during peak season (from June to September), so make sure to arrive early to secure your spot!
For those who love to keep active, Coney Island Beach is a popular spot for surfing. There are several surf schools in the area that offer lessons for beginners. You can also rent a bike, take a stroll along the boardwalk, or join a game of beach volleyball.
Throughout the summer, Coney Island Beach hosts a range of events and festivals. This includes the famous Nathan's Hot Dog Eating Contest on July 4th and the Mermaid Parade in June. There are also free firework shows every Friday night, so make sure to stay past sunset to see some dazzling lights in the night sky.
11. Best for Thrill-Seekers: Ocean City, New Jersey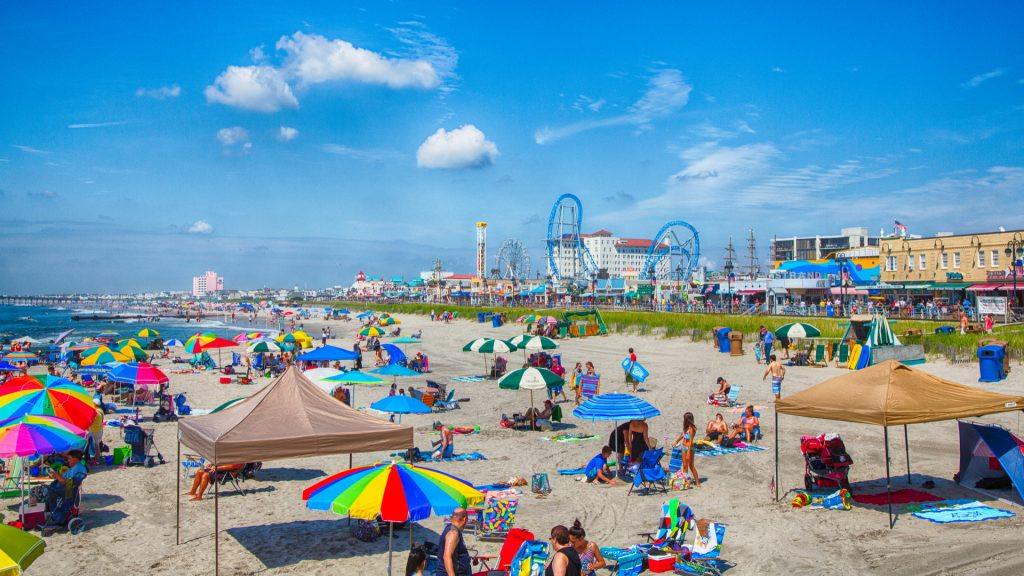 Ocean City is a charming coastal city located in Cape May County, New Jersey.
The beach at Ocean City is very clean and known for its family-friendly atmosphere. The city has strict rules regarding littering, smoking, and alcohol, which helps to keep the beach clean and safe for visitors of all ages.
Ocean City Beach is one of the best beaches on the East Coast for those seeking entertainment. For the kids (and adults who enjoy amusement park fun), Gillian's Wonderland Pier is the best place to visit. This amusement park has one of the tallest Ferris wheels on the East Coast, miniature golf, and a super fun slide—perfect for the young at heart!
The beach is also known for hosting a variety of events, such as the annual Night in Venice boat parade and the Miss New Jersey Pageant. All upcoming events can be found on the events calendar on their website.
12. Best For Nature-Lovers: Cape May Point State Park Beach, New Jersey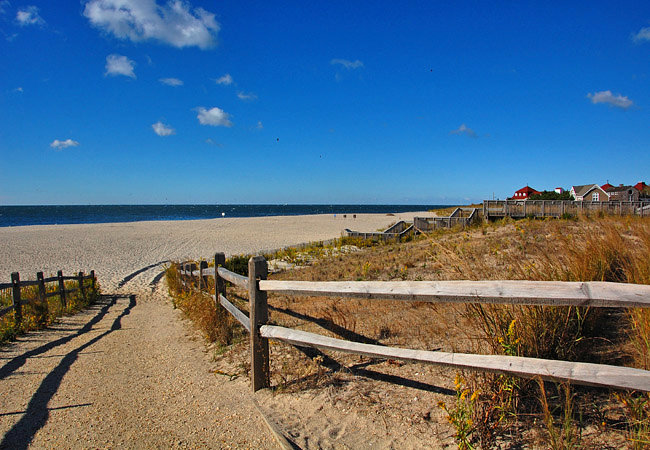 Cape May Point State Park Beach is a beautiful beach located in Cape May County, New Jersey. The Cape May Point State Park provides a stunning backdrop at the beach, covering over 200 acres of protected landscape.
Being located in a state park, this is the perfect place for birdwatchers, nature enthusiasts, and those looking for a peaceful retreat. There are three hiking trails in the park that take hikers through areas of marsh and coastal dunes. It's a perfect opportunity to observe nature.
Cape May Point State Park Beach is also home to the historic Cape May Lighthouse, which was built in 1859 and is open for tours during the summer months. Other historical landmarks in the area include the World War II Lookout Tower and Fort Miles Battery 223.
It's important to note that due to underwater hazards, this is a no-swimming beach. Visitors are encouraged to instead admire the nature surrounding the beach.
The beach is open from Memorial Day to Labor Day, and access to the park is completely free.
13. Best For Dolphin-Watching: Tybee Island, Georgia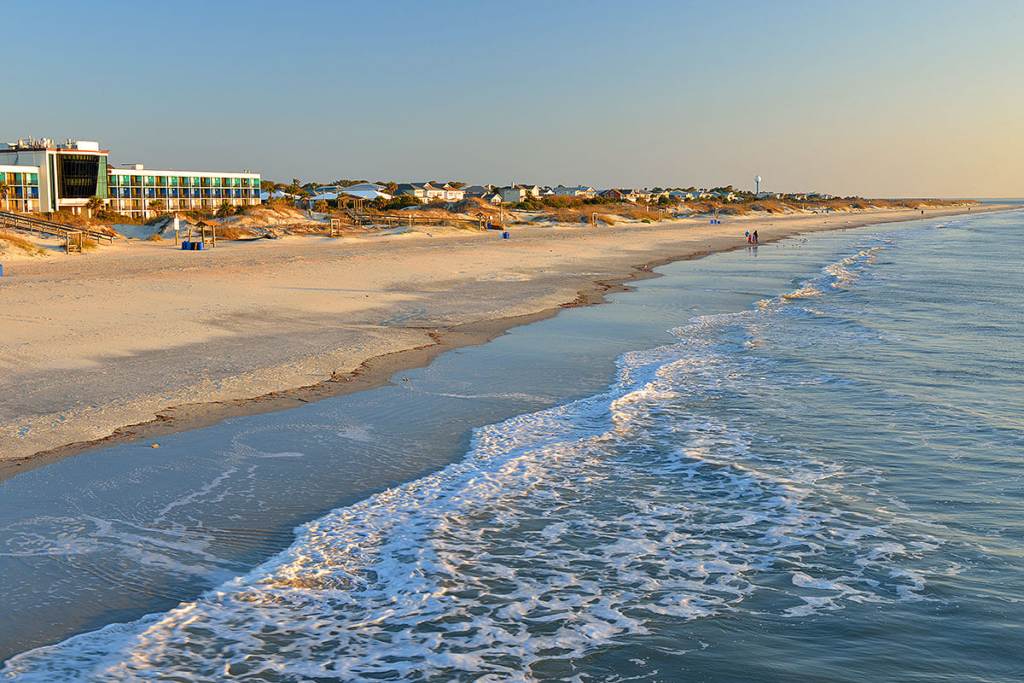 Tybee Island Beach is a popular spot on the eastern coast of Georgia if you're looking to relax, swim, and sunbathe. The water is generally calm, making it a suitable destination for weak swimmers. Visitors can also rent beach chairs and umbrellas from vendors along the beach.
While there's no charge to access the beach, you'll need to pay $3.50 per hour if you want to park in one of the lots nearby.
One of the highlights of Tybee Island Beach is its iconic lighthouse; if you can face the climb to the top, you'll be treated to panoramic views of the Atlantic Ocean.
Nature-loving couples are bound to enjoy the area's dolphin cruises—if you're lucky, the dolphins will put on a show by jumping in the waves behind the boat! We'd recommend booking one of the 1-1.5-hour-long cruises around sunset, as this is when you'll see the sky painted with beautiful hues of pink, purple and orange – truly a sight to behold!
Lastly, you can't visit Tybee Island Beach without going to The Deck Beach Bar and Kitchen. This beachfront restaurant serves delicious seafood and American cuisine. Make sure to sit on the deck for 180-degree views of the stunning Atlantic Ocean.
14. Best For A Lively Atmosphere: Virginia Beach, Virginia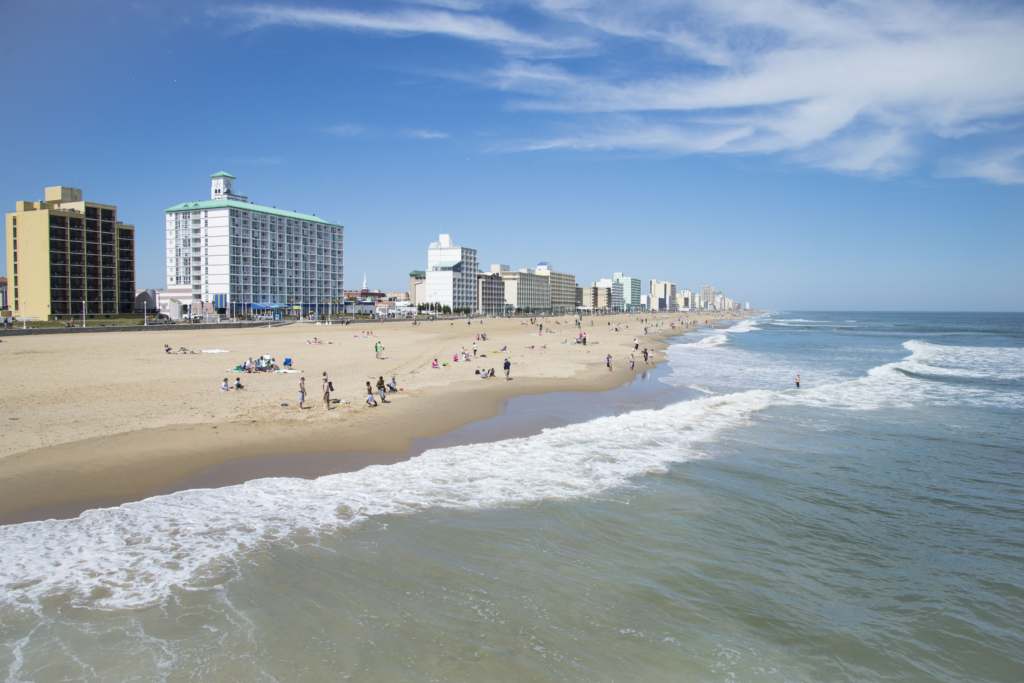 Virginia Beach is a popular beach destination located in the southeastern part of Virginia. The beach is approximately 3 miles long and is famous for its beautiful golden sand and vibrant boardwalk.
The beach is always crowded around summertime, but this is what adds to the lively atmosphere. You will see people swimming, surfing, kayaking, water skiing, and more, making it perfect for people-watching.
Visitors can also seek entertainment on the boardwalk, where there are plenty of eateries and shops to explore. And don't forget to snap a picture with the Neptune Statue while you're there!
This is also one of the best beaches on the East Coast for those who love cultural events. Virginia Beach hosts the annual Neptune Festival (in September) and the American Music Festival (in October), which attract visitors from all over the world.
Lastly, those who love marine life must pay a visit to the Virginia Aquarium and Marine Science Center. Here, you can see all sorts of marine life, including sharks, seals, rays and sea turtles, from scenic decks or from glass tunnels.
15. Best For A Beach Escape: Mansion Beach, Block Island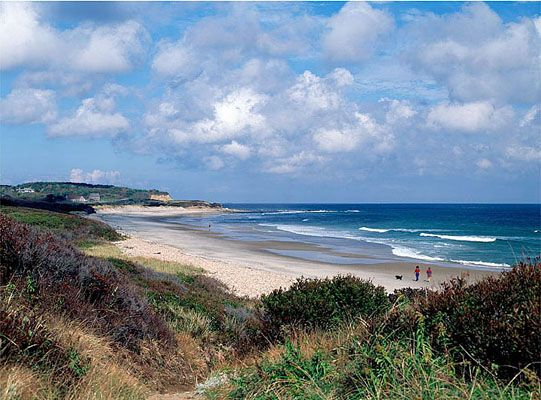 Mansion Beach is a hidden gem located on Block Island, off the coast of Rhode Island. Despite its name, you won't be able to spot the mansion there anymore; it burnt down in the 1960s.
The beach has a serene and tranquil vibe, perfect for those looking to escape the hustle and bustle of everyday life.
The beach is situated in a stunning scenic location off the beaten path. The rolling dunes are covered in tall beach grass and wildflowers, and the ocean is the most beautiful emerald hue.
One of the unique features of Mansion Beach is the large rocks and boulders that create natural pools for wading and exploring. These pools are especially popular with those who don't enjoy waves but would still like to get their feet wet.
The surf conditions at Mansion Beach are known to be some of the best on Block Island, so make sure to bring your surfboard along.
FAQs
Where are some of the best East Coast beaches?
Some of the best beaches on the East Coast can be found up north in the Cape Cod and coastal Maine regions. However, there are also some popular East Coast beaches further south, such as Myrtle Beach in South Carolina and Miami Beach in Florida.
What is the best time to visit beaches on the East Coast?
The best time to visit East Coast beaches depends on your preferences. For warmer weather and water, the summer months of June to August are the most popular. However, if you prefer to avoid crowds and enjoy milder temperatures, spring (March to May) and fall (September to November) are great times to visit.
Where can I find white-sand beaches on the East Coast?
Siesta Key Beach in Florida has some of the whitest sand on the East Coast. Other white sand beaches on the East Coast include Clearwater Beach, Florida; Sunset Beach, New Jersey; and Virginia Beach, Virginia.
How are East Coast beaches different from those on the West Coast?
East Coast beaches tend to have warmer water temperatures and more humid weather, while West Coast beaches have cooler water temperatures and dryer weather. West Coast beaches also tend to be more rugged and untouched, while beaches on the East Coast are often more well-developed with boardwalks and restaurants that cater to the crowds.