When you think of fabulous beach destinations, Texas probably doesn't spring to mind – but this oversight definitely needs rethinking.
The Lone Star State has over 360 miles of coastline and is blessed with a richness of scenic bays, natural parks and sanctuaries, and barrier islands. Add to that the mild mid-winter temperatures and the warm waters of the Gulf of Mexico and you have a sun 'n surf pleasure land that offers something for every couple.
Beaches on the Texas Gulf Coast run the range from vibey coastal playgrounds to private island retreats offering a true re-connection to nature. Dive into our countdown of 16 of the best beaches in Texas, and help us pick the very best!
1. Best Beach in Texas Overall: South Padre Island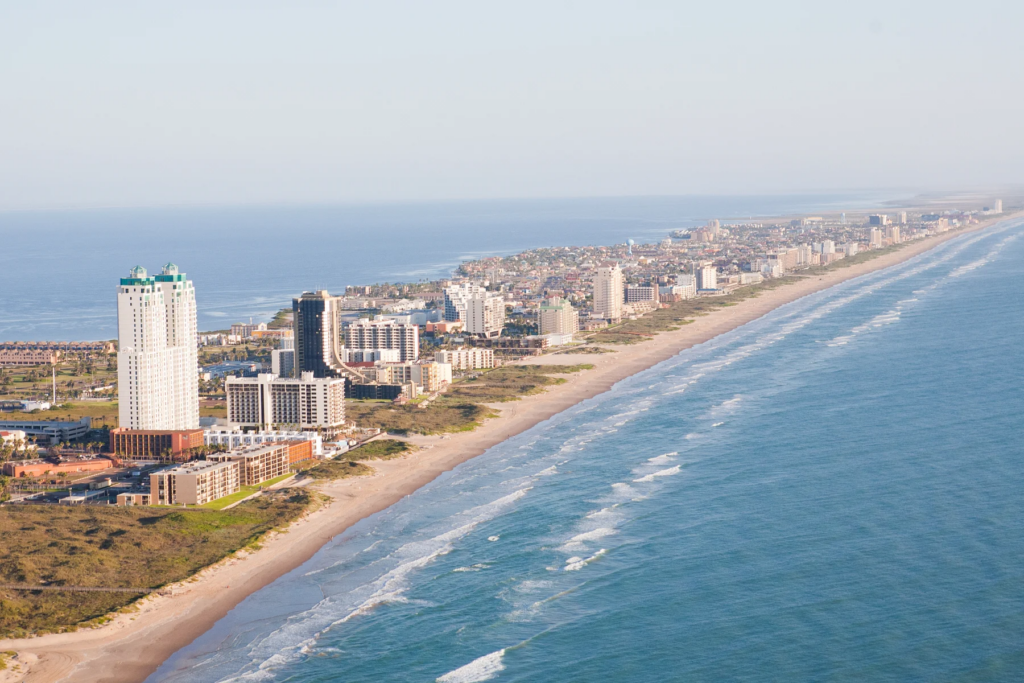 South Padre Island is consistently rated one of the top beaches in Texas. This keenly visited tourist destination is situated on the Lone Star State's southernmost tip. It is home to South Padre Island Beach, a long and wide stretch of sandy shores and pleasant waters.
South Padre Beach is ideal for families, with lots of activities and amenities to keep everyone smiling. Kids will love building sandcastles on the beach, while adults can dive into water sports and fishing – that's if they're able to raise themselves off the beach lounger!
South Padre Beach is also something of a nightlife hotspot. A variety of bars, clubs, and restaurants present live music, karaoke, and dancing. Vacationing students are among the good-time patrons who flock to this lively scene.
South Padre Island is renowned for super surfing. So, if you and your partner have ever wanted to ride the breakers together, this is a swell spot. Dolphins and sea turtles often accompany surfers in a unique commune of humans with nature.
Overall, South Padre Island is the perfect package. With its awesome location, great amenities, and vibrant nightlife, there is something for everyone here. For this reason, we subjectively rate South Padre Island as the best beach getaway in Texas.
2. Best for Privacy: San Jose Island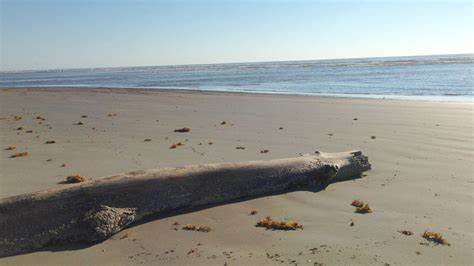 San Jose Island is an easy pick for our "best beaches in Texas" list. This mostly undeveloped barrier island located just off the coast of Port Aransas is an oasis of seclusion and unspoiled beauty.
You have to reach this little paradise by ferry or private boat. Once there, you'll sink into miles and miles of fine white sand alongside nature's own enchantment.
Laid-back, chill, and tranquility are the operative words on San Jose Island. There are 21 miles of beach, so things never get crowded. There are no vehicles around either. Explore, hike, and shell, entirely at your own pace. The shells on the island are some of the most eye-catching around. Look out for cockles, moon snails and sand dollars.
As you would expect, a vast array of birdlife and wildlife flourishes in this environment. There is always something interesting to see and photograph. Stroll the shallows to see sting rays and a variety of fish and crabs in the clear water.
San Jose Island is a fantastic choice for couples who want to experience the beauty and serenity of a remote barrier island, together with a range of outdoor excursions. You'll want to bring your own food, water, and sunscreen to San Jose because facilities are limited.
3. Best for Sports and Activities: Crystal Beach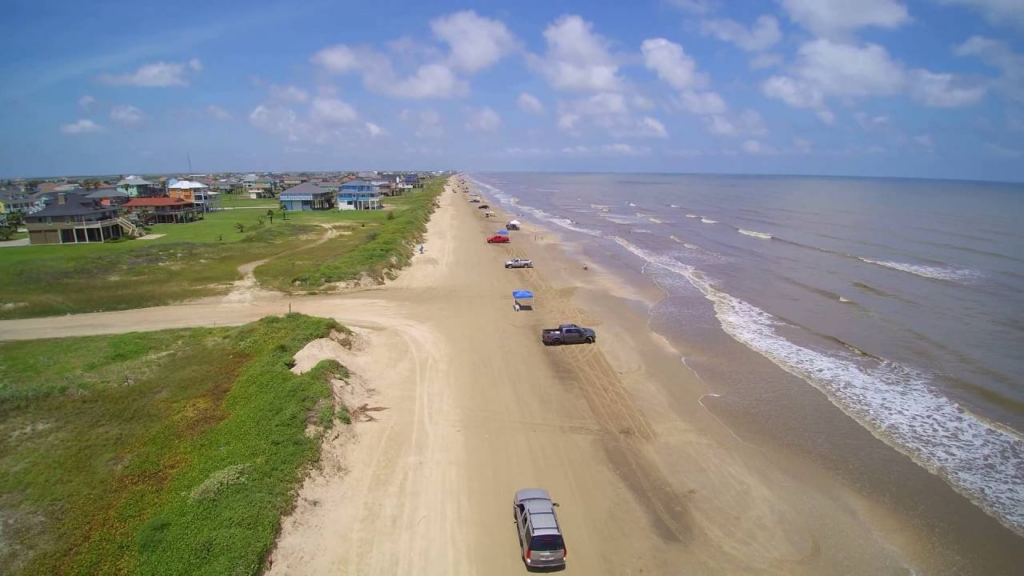 The awesome Crystal Beach allows you to escape from the world in your private beach cabin. Enjoy a fun-filled day of R&R on the soft sand; then sit around a romantic beach fire at night (fires are permitted on Crystal Beach).
Crystal Beach is on the Bolivar Peninsula and spans 7 miles of welcoming shoreline.
For couples who enjoy watersports, rent jet skis and paddleboards and race across the warm waters of the peninsula. Visit the nearby Sea Rim State Park which is a gateway to wonderful hiking, biking, paddling, and birdwatching among coastal marshes.
A free ferry ride between the Bolivar Peninsula and Galveston Island provides gorgeous views of the Gulf of Mexico. To the delight of passengers, dolphins and sea turtles make regular appearances.
Dining options include great Tex-Mex at venues like Taqueria el Antojito, as well as fresh seafood.
4. Best for Nature Lovers: Matagorda Bay Nature Park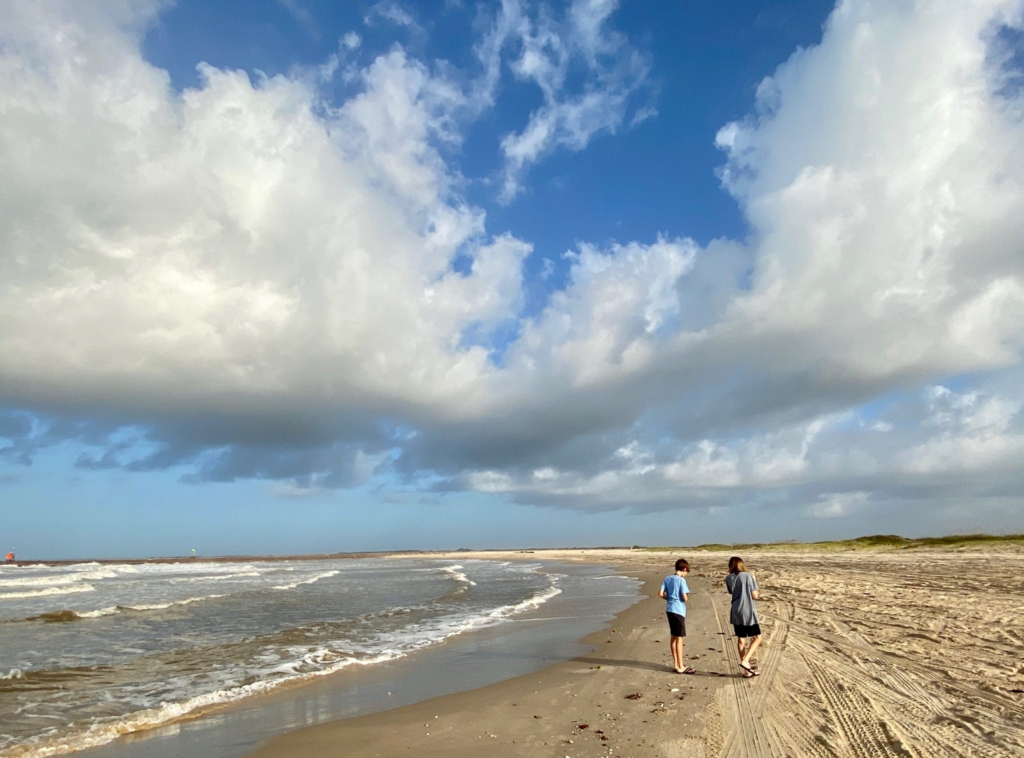 Matagorda Bay Nature Park is not necessarily an obvious choice for one of the best beaches in Texas. But for couples seeking to immerse themselves in nature's unspoiled beauty, this serene, secluded stretch of coastline should be high on the bucket list.
Matagorda Island is located just northeast of San Jose Island, with Matagorda Bay Nature Park as its beating heart. Matagorda is home to almost 60 miles of natural beach, only around half of which are accessible by foot. The bay is an excellent place to set up camp so you can explore the inland regions.
Acres of hiking trails ensure stunning bird-watching opportunities. You are very likely to see (and photograph) storks, herons, spoonbills, egrets, mockingbirds, vultures, and hawks. Take a horseback ride along the picturesque shore with your loved one and forge unforgettable memories.
5. Best Winter Beach: Boca Chica Beach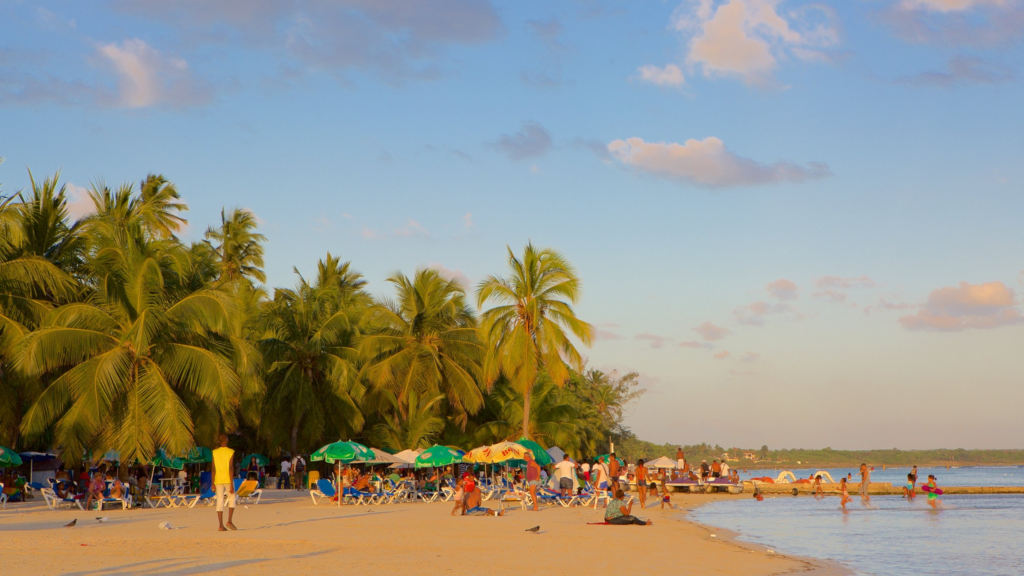 Boca Chica Beach is located just north of Mexico across the mighty Rio Grande River. Situated in a half-moon bay in Boca Chica State Park, it is one of the most secluded and unspoiled beaches in all of the state. Boca Chica is renowned as a laid-back destination where you come to escape life's hustle and bustle. Just the tonic you need!
Boca Chica Beach is one of the best beaches in Texas to extend your tan into winter because it is one of the southernmost vacation grounds. Temperatures rarely fall below 70 degrees Fahrenheit (21 degrees Celsius). Surfers and boogie boarders make the pilgrimage to Boca Chica whenever the waves call.
The lack of development means Boca Chica is short on amenities and facilities, so it's recommended you bring your own provisions and gear. Set up a camp and while away your Boca Chica break beachcombing, swimming, fishing, snorkeling, or surfing.
6. Best for Couples with Kids: East Beach, Galveston Island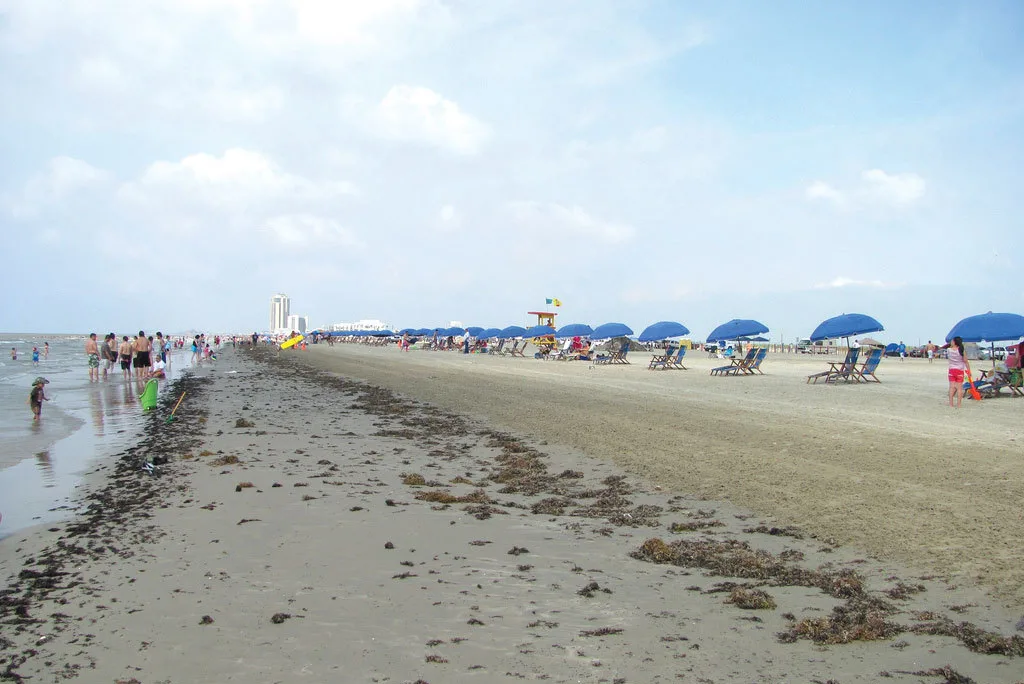 East Beach is on Galveston Island; a barrier island on the Gulf Coast about 50 miles from Houston. It's home to some of the best beaches in Texas. East Beach may be Galveston's pride of place.
Galveston East Beach is a wonderful stretch of white sand and clear blue water. It's a great spot for swimming, sunbathing, or just kicking back to relax. As part of the larger island resort, there is a great deal to do here. Volleyball, beach soccer, jet skiing, and parasailing are just some of the activities you can enjoy.
East Beach is a short hop from other fun and interesting attractions such as Schlitterbahn Waterpark. There are live concerts at the beach pavilion in summer, and the annual AIA Sandcastle Competition draws thousands of visitors every year.
If you're traveling with children, East Beach caters very well to young ones. The swimming is safe and the entertainment includes playgrounds, Moody Gardens Amusement Park, and ice cream trucks of course.
7. Best Urban Beach: North Beach, Corpus Christi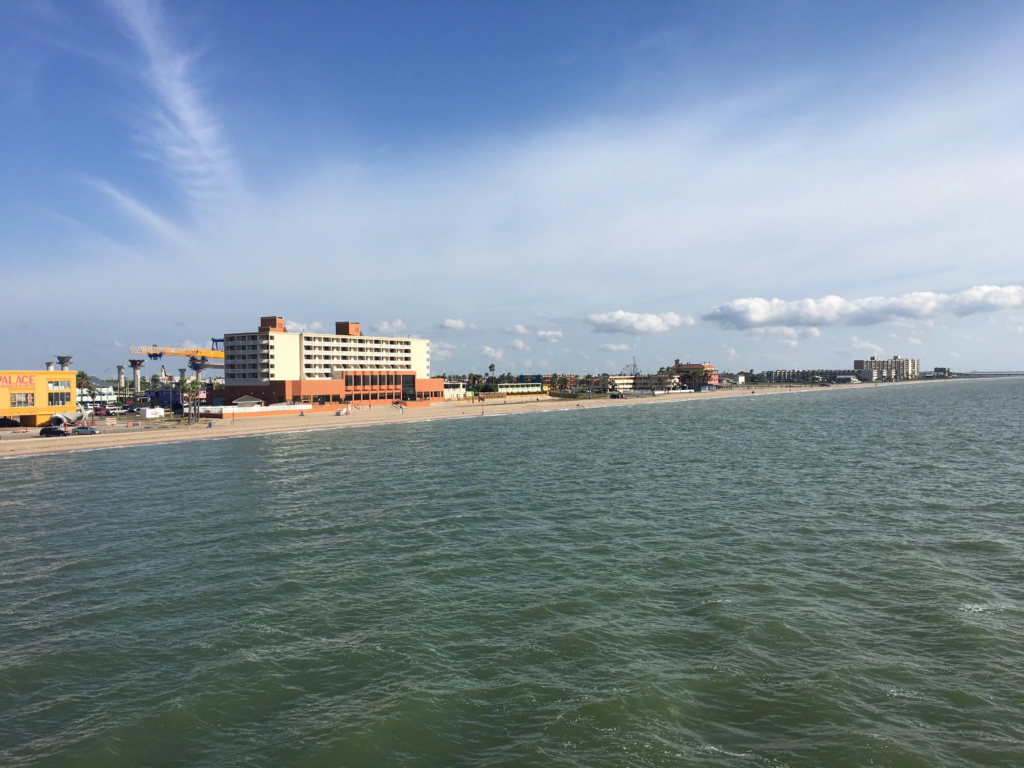 North Beach lays claim to be one of the top five urban beaches in the United States. Situated in the idyllic Corpus Christi Bay area, this mile-long stretch of smooth white sand is among the best beaches in a region blessed with fantastic shorelines. North Beach, also known as Corpus Christi Beach, is a short drive over the city's Harbor Bridge.
The bayfront view from this vantage point is pretty dreamy. The surroundings have changed somewhat since Spanish explorers came upon this sub-tropical bay and named it the "Body of Christ." North Beach today features a mile of welcoming hotels, condos, vibey restaurants, and souvenir shops with jetties at both ends.
The concrete walkway is great for cycling and skating. Or you could just take a romantic stroll, before grabbing a bite and sipping a sundowner (or three).
If you or your partner are history buffs, soak in the local history through tours and museums and perhaps learn more about those Spanish explorers. The storied WW2 aircraft carrier, the USS Lexington now serves as a local museum and offers Escape Room and Flight Simulator experiences for the adventurous.
8. Mustang Island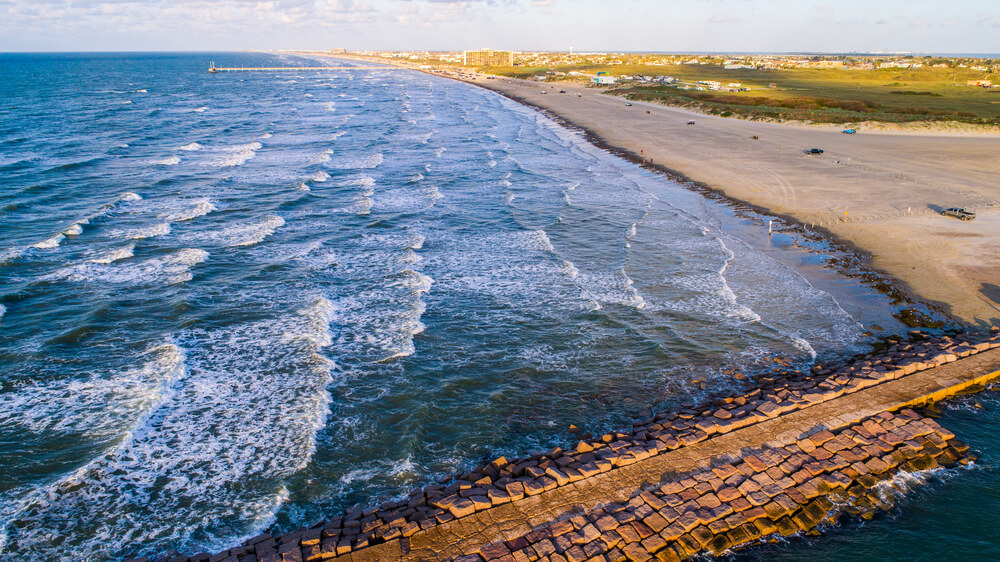 Mustang Island is a barrier island on the Gulf of Mexico in south Texas. It has over 18 miles of beautiful beaches, so you and your partner will never squeeze for a spot to lay down your towels. The Gulf Coast waters surrounding Mustang Island are irresistible to swimmers and paddlers. Wander to the local pier and see fishermen as you take in a glorious island sunset.
Mustang Island Beach Club lays on a range of amenities, including condos with private beach access, a cool swimming pool, and a grab-bag of shopping and dining venues.
The Mustang Island Paddling trail has kayaking and canoeing enthusiasts covered. The trails cover over 20 miles of waterway and allow adventurers to access breathtaking views of the Gulf of Mexico.
9. Magnolia Beach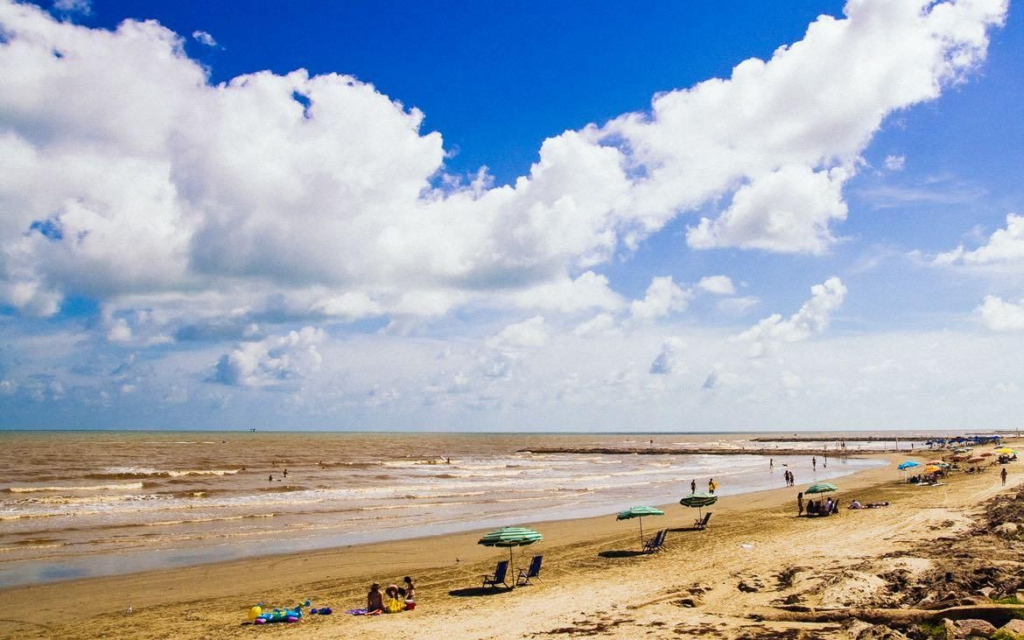 Magnolia Beach is a lovely getaway; a small community on the coast of Lavaca Bay perfect for a romantic weekend break for over-stressed couples. The beach consists of miles of inviting soft sand that conjures a more intimate feel than many other beaches in Texas.
You can drive your vehicle onto Magnolia Beach almost to the water's edge, or pull up at a covered shelter with picnic tables and set up a grill. The area is a popular fishing destination, so you're quite likely to see an angler hauling in a catch as you wander the sands.
Lavaca Bay is abundant with wildlife and bird species. Take a guided tour or rent a kayak or boat to explore the bay and observe the wildlife – including alligators. Dolphins often drop in for a visit and a frolic off Magnolia Beach.
Some of the earliest settlers in Texas arrived in nearby Indianola where you can visit the La Salle Monument to learn more about its early history.
10. Lighthouse Beach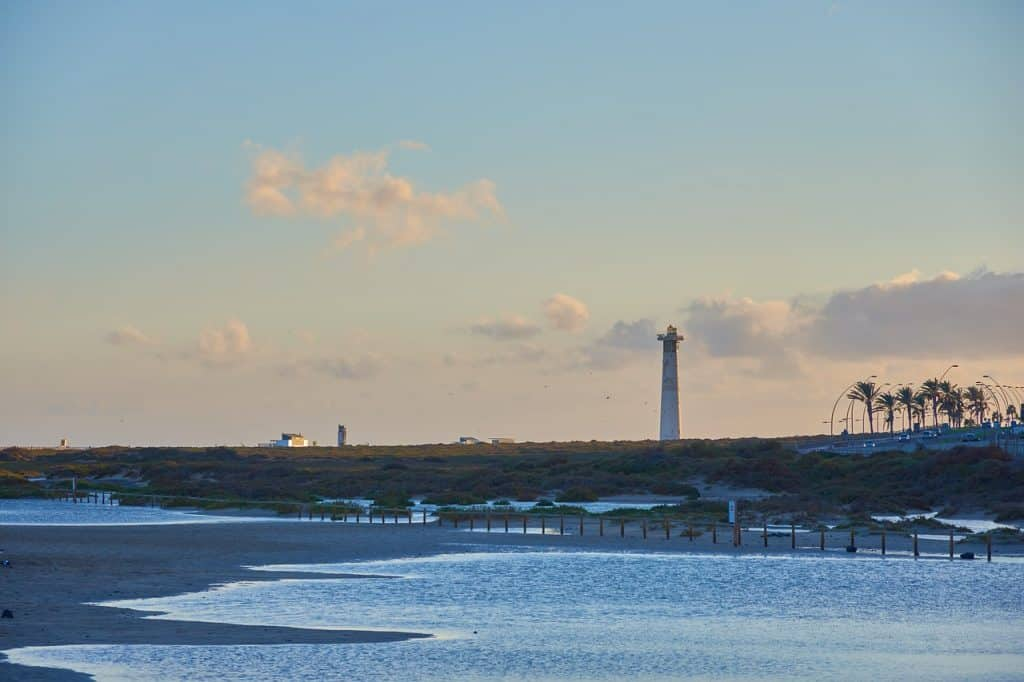 Lighthouse Beach in Port Lavaca is a blissful interlude for couples wanting to connect with nature in a scenic, clean, well-maintained environment. For beachcombing, picnicking, birdwatching, and splashing, Lighthouse Island delivers in spades. Swimming in the warm waters of Lavaca Bay is a treat.
It's definitely worth sampling the local shrimp and seafood, and there are several dining options nearby. We recommend the Bayside Seafood Restaurant.
The shoreline is a bird sanctuary, so birdwatchers and nature lovers are in their element on Lighthouse Beach. The adjoining Formosa Wetlands Walkway is a bird-watching gem. Stroll along the peaceful, well-maintained walkway to the Alcoa Bird Tower to spot numerous species.
For an even closer connection to the local wildlife, couples can camp at one of Lighthouse Beach's campgrounds.
11. South Packery Channel Beach (South Packery Jetty Beach)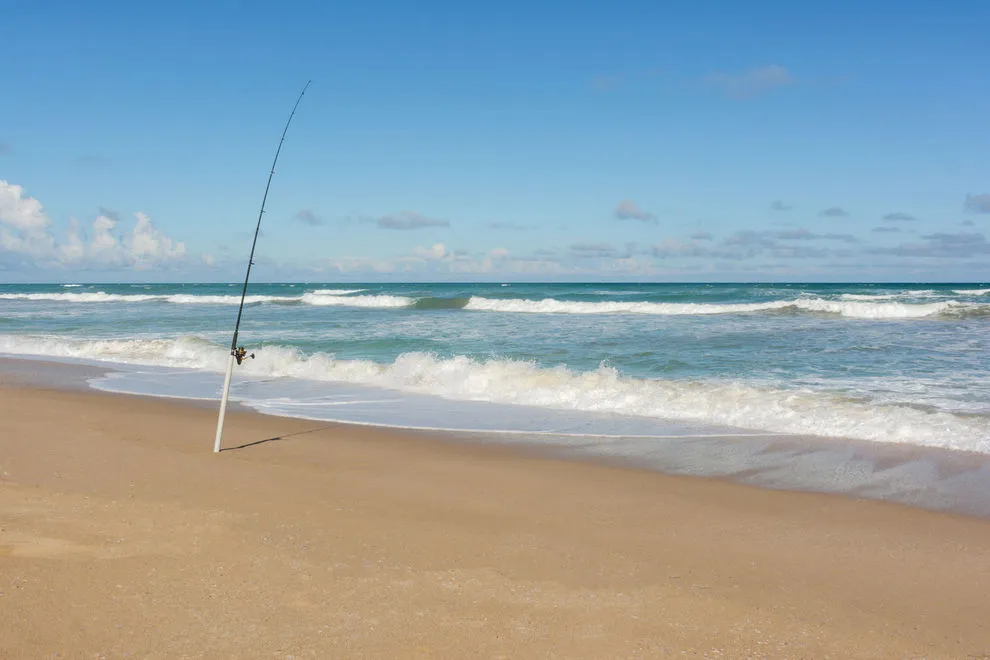 The South Packery Channel Beach is nestled between Padre Island and Mustang Island. This sandy strip is also known as South Packery Jetty Beach. It's peaceful and calm in almost all respects. The channel waters are placid enough for even beginner kayakers and paddleboarders to venture out. Snorkeling is also recommended.
A word of caution: when snorkeling, swimming, and kayaking, steer clear of the jetty where riptides may occur – and watch for anglers' lines in the water.
South Packery Channel Beach is close to the large saltwater lagoon of Laguna Madre where you will find a diverse array of bird species, including herons, egrets, and pelicans.
The shoreline is lovely for beachcombing and viewing stunning Gulf scenery. The combination of pretty seashells, amazing sunsets, and an inter-island setting infuses South Packery Channel Island Beach with romance.
12. Stewart Beach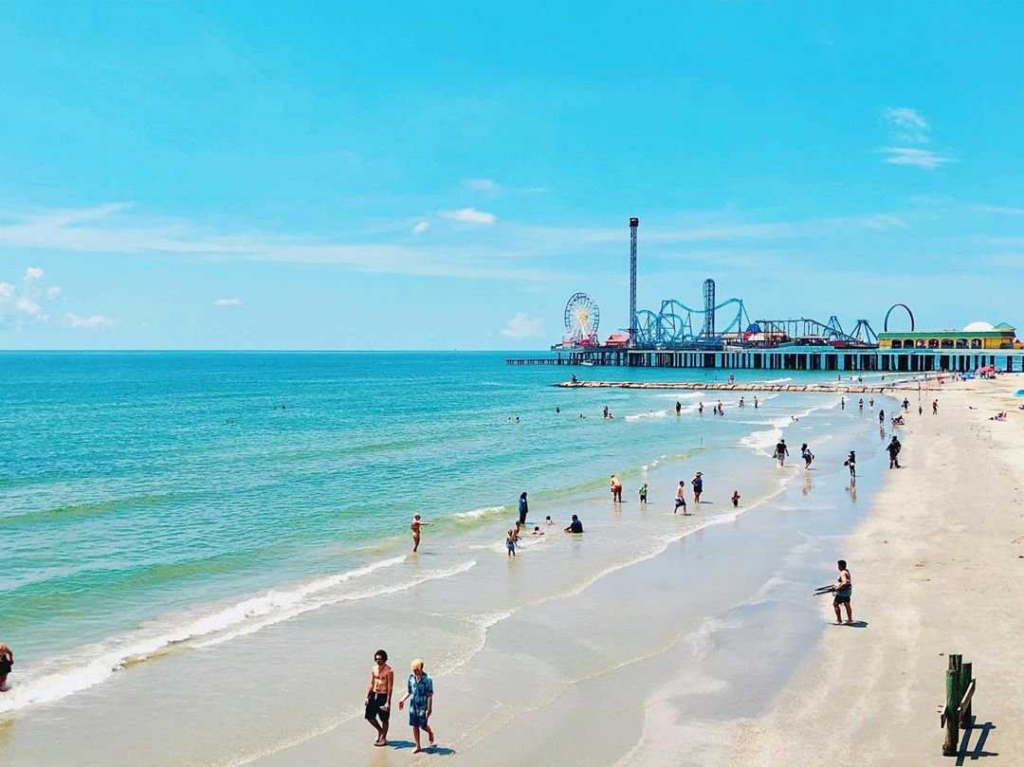 Stewart Beach on Galveston Island is a welcoming, convenient getaway – and a definite on our list of the best beaches in Texas. The island is around an hour from Houston.
Stewart Beach is ideal for couples who like the seaside with plenty of facilities and don't mind if the beach gets busy. Stewart Beach lays on manicured sands and gentle waves, all watched over by lifeguards.
Candy-hued umbrellas, assorted sandcastles, a juice and snack bar, and volleyball courts are part of the colorful backdrop on any given sunny holiday. In the water, swimmers relish the calm surroundings, and boogie boarders look to catch a foaming swell all the way to shore.
The beachfront, showers, and restrooms are well-maintained. Alcohol is off-limits on the beach. For drinks and nourishment check out Whataburger and Mario's Seawall which are within a few hundred yards from the beach.
13. Rockport Beach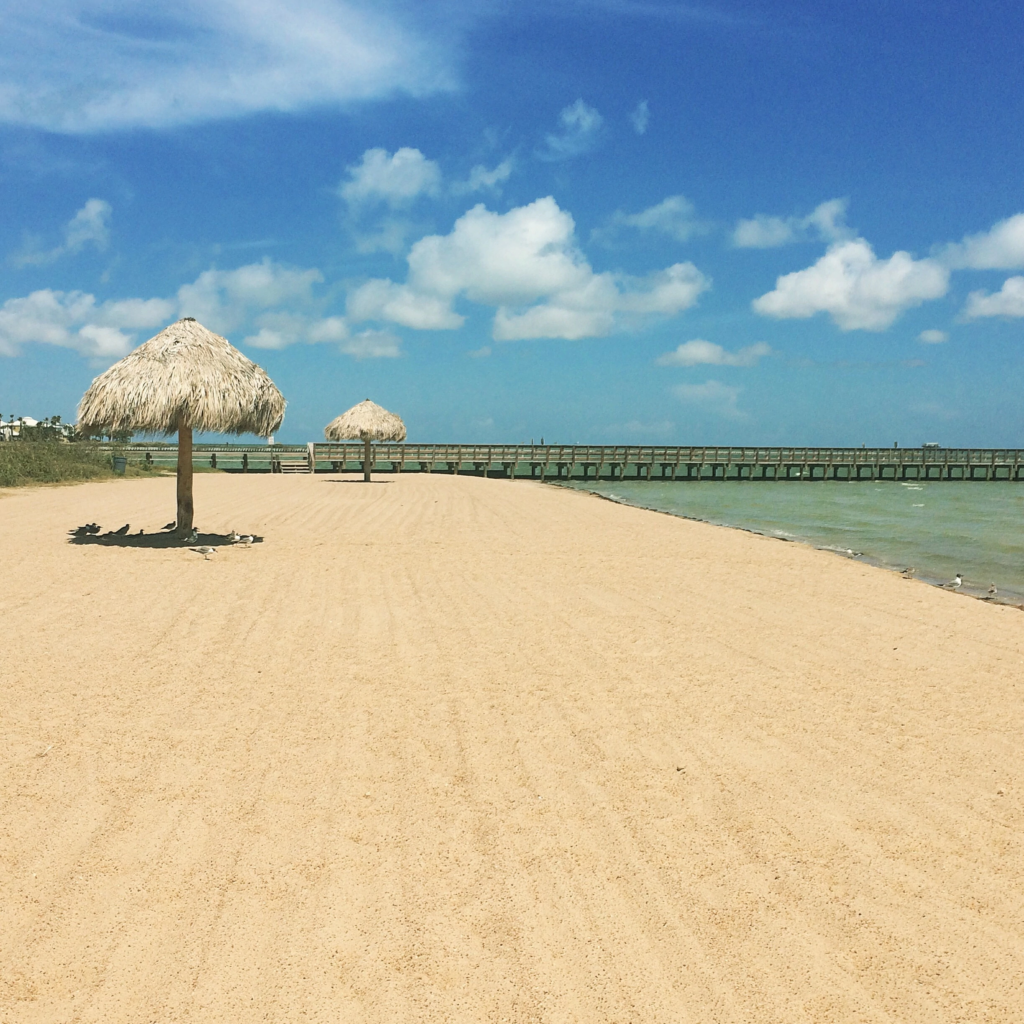 Rockport Beach is a crescent-shaped gem across from Aransas Bay in the state's southeast. Pristine sands and sheltered waters come together in happy harmony at this beach. Swimming is a sure bet in these safe, clean waters, which are largely unaffected by rips and undertows.
Besides the mile of beach, Rockport offers chilled picnic areas, BBQ pits, playgrounds and volleyball courts. No cars, dogs, or fires are permitted on this beach.
For sporty couples, jet ski, kayak, and fishing equipment rentals are readily available. If you are more inclined to leisure, soak in the nearby saltwater swimming pool or take an easy stroll along the promenade and enjoy the views and the people-watching.
Rockport Beach can lay claim to being one of the very best beaches in the state on account of it being the first beach in Texas to be recognized as a Blue Wave Beach by the Clean Beaches Coalition. This is an international environmental certification that acknowledges clean, well-maintained beaches worldwide.
So for couples seeking a clean, well-maintained shore, Rockport Beach is a certified winner!
14. Surfside Beach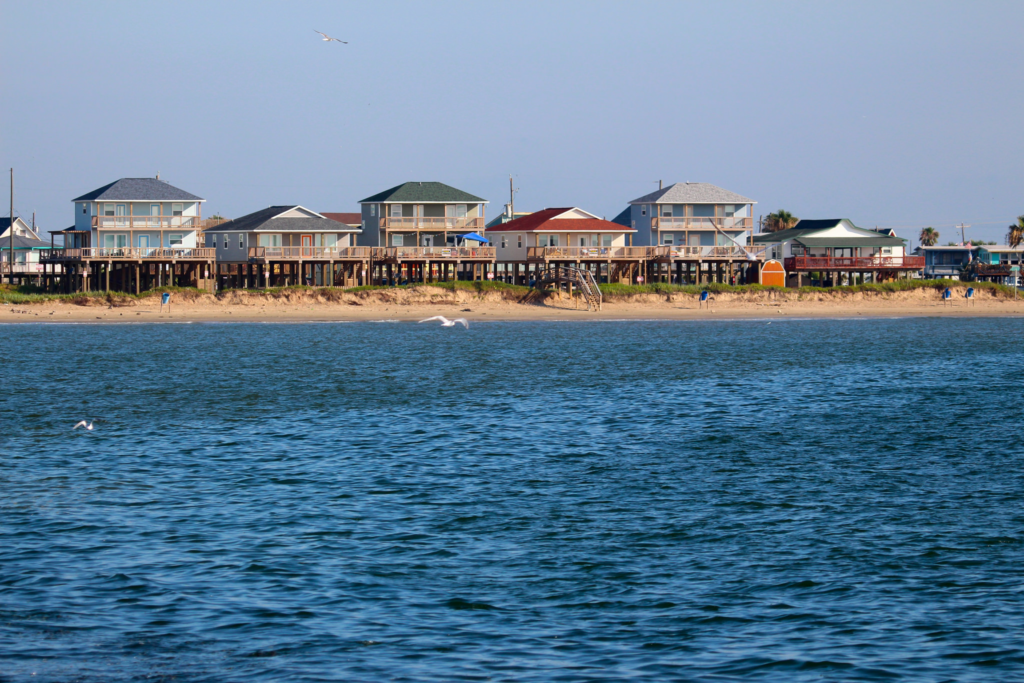 Surfside Beach is a small beach town on the Gulf Coast, around 60 miles from Houston. It's popular among big-city slickers wanting to unwind on sandy shores and de-stress in warm Gulf Coast waters. Driving on Surfside Beach is allowed and there is usually enough free parking.
There are a number of local cafes and eateries to cater to hungry and thirsty visitors to Surfside Beach. Beachfront Deck Bar & Grill serves a hearty weekend brunch and loaded burgers and fries. Deck drinks invariably go down smoothly at this easy-going beachfront hangout. Live music often kicks in after dark.
Surfside Beach is ideal for couples looking to enjoy some relaxed boogie boarding, crabbing, and shelling. Horse riders will surely enjoy cantering their mounts along the shore or in the shallows.
The town doesn't have the liveliest nightlife, so Surfside Beach may not be the best pick if you're looking for a party.
15. Port Aransas Beach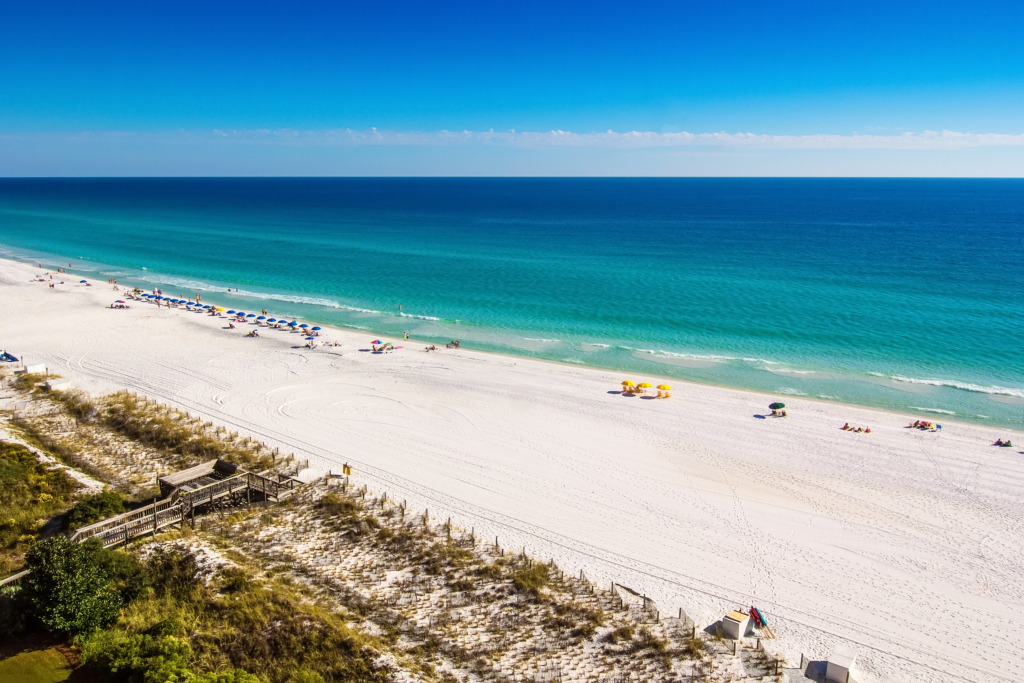 Port Aransas on the Gulf Coast presents 6 miles of flat sands and balmy Gulf temperatures. Like the coves of Galveston, this is one of those Texas beaches where pirates once buccaneered.
The sands of Port Aransas Beach are rich in silt and clay, which is terrific for sandcastle building. A three-day sand sculpture competition, SandFest, takes place in Port Aransas in spring or summer every year. So for couples wanting to reconnect with their inner child, this is the sandpit.
The water in Port Aransas Beach is warm and enticing and makes for excellent swimming. For the more adventurous there is fishing, a dolphin tour, jet skiing, and paddleboarding. For fitness fanatics, experience the essence of Port Aransas with a hike through the sand dunes.
Port Aransas boasts a number of quality restaurants, bars, and shops, so you'll have plenty of options when it comes to dining and entertainment.
For wildlife lovers, the nearby Aransas National Wildlife Refuge allows a peak into the habitat of whooping cranes, alligators, and bobcats.
16. Padre Island National Seashore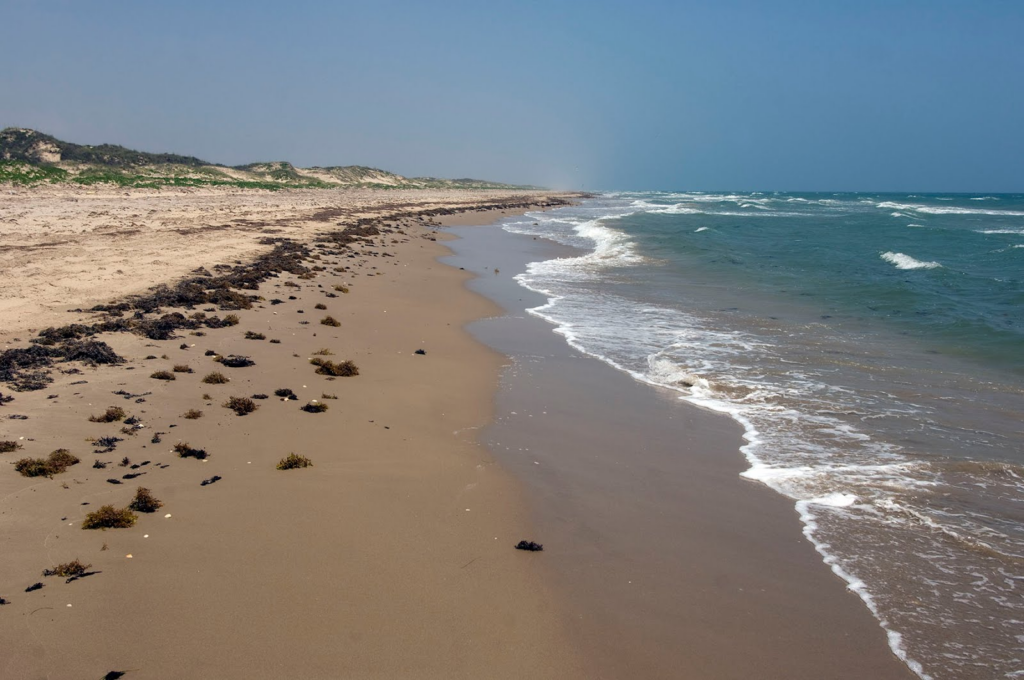 PadreIsland National Seashore is nature's jewel in the crown on Padre Island.
Padre Island National Seashore encompasses 66 miles of beach and dunes along the Gulf shoreline. The park serves as a protective sanctuary for the endangered Kemp's ridley sea turtle and is home to nearly 400 bird species and other wildlife. Despite Padre Island National Seashore being a nature sanctuary, you are currently permitted to drive on much of the beachscape.
Early-rising couples may get to experience the wonder of hatchling baby sea turtles being released. Eagle-eyed nature lovers can delight in bird-watching for most of the day. Padre Island National Seashore also offers ranger-led activities, including beach walks and, birdwatching tours.
For kayakers, rent a kayak and explore the park's many exciting waterways. Hikers should head along the trails of Laguna Madre and Malaquite Beach.
The enticing beaches of Padre Island Natural Seashore may easily tempt you to lounge lazily, getting up only occasionally to dip into cooling waters. Little Shell and Big Shell Beaches hide a treasure trove of exquisite shells, so be sure to wander these romantic shores before you leave this enchanting island.
FAQs
What are the most pet-friendly beaches in Texas?
Texas beaches are mostly welcoming of dogs and other pets, provided they are managed on a leash. The most pet-friendly beaches in Texas are Padre Island National Seashore, Surfside Beach, Port Aransas, South Padre Island, Matagorda Bay Nature Park, and Galveston Island.
What are the best beaches in Galveston?
There are a number of attractive beaches in Galveston. East Beach, Stewart Beach, Babe's Beach, Porretto Beach, and Seawall Urban Park are among Galveston's best beaches.
What is the best surfing spot in Texas?
South Padre Island has some of the best beaches in Texas for surfing. Waves around the island are consistent and often powerful due to the continental shelf being closest to the coast at this location. Surging waves are generated out of north, east, and south swells.