The Bahamas is the perfect getaway for honeymooners, because of its beautiful beaches, local culture, outdoor adventures, and amazing resorts.
It is also ideally located, just a stone's throw from the coast of Florida. The Bahamian archipelago has more than 700 islands, meaning there is plenty to choose from when you plan your honeymoon to the Bahamas.
In this guide, we have listed some of the best Bahamas honeymoon resorts, as well as highlighted the best areas to stay and things to do, so keep reading to plan your perfect Bahamian honeymoon.
What Makes The Bahamas Perfect For A Honeymoon
The Bahamas is the perfect location for a honeymoon because of its warm weather, natural splendor, and tropical atmosphere.
Located just off the coast of Florida, you don't have to travel far, yet you will feel like you are worlds away from your everyday life.
The water around The Bahamas is some of the clearest in the world, with plenty of outdoor activities to partake in. Or, if you're not an adventure junkie, then there are several luxurious resorts that offer spa treatments and cocktails by the poolside.
With a rich culture, vibing Bahamian music, and delectable local cuisine, it's not hard to see why you should go to The Bahamas for your honeymoon.
Best Honeymoon Resorts, Hotels, And Other Stays In The Bahamas
From villas to a private island resort – there is something for everyone traveling to The Bahamas.
The most popular type of accommodation is luxury, all-inclusive resorts, although there are also small boutique hotels or villas available. With so many islands to choose from, we had a hard time narrowing down the best Bahamas honeymoon stays!
The most popular islands in the Bahamas, offering the best hotels and luxury resorts, are Exumas Islands, Paradise Island, and Eleuthera Island.
Read on for our top picks.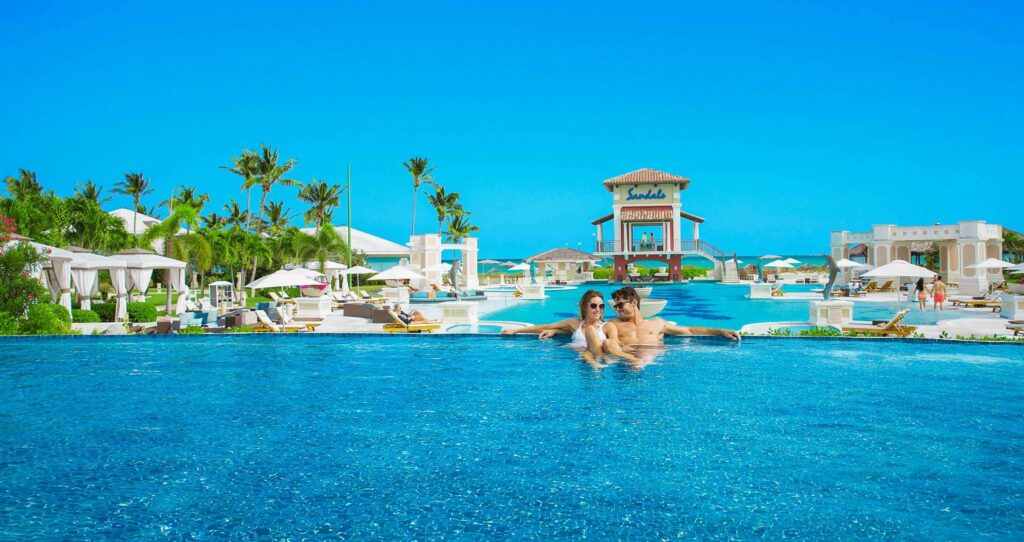 Price per Night: $650 to $1,950
Best For: All-inclusive, adults-only
Availability: Easy to book
Sandals Emerald Bay is located on the Exumas Islands and combines luxury with the chilled Bahamian atmosphere. This all-inclusive resort has excellent hospitality, and despite its large size, the staff makes you feel like you are the most important guest.
Located on 500 acres along the beach front, the villas and suites at Sandals Emerald Bay blends perfectly into the surrounding jungle. The hotel has three gorgeous pools, eleven restaurants, a golf course, and a fire pit, and the friendly staff is more than happy to organize day excursions and outdoor activities.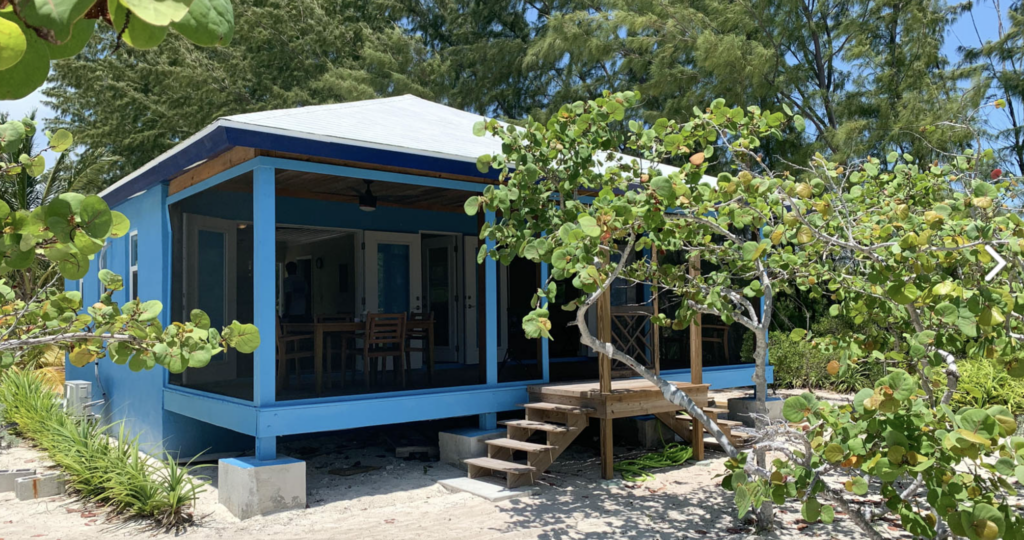 Price per Night: $728 to $1,904
Best For: All-inclusive
Availability: Limited/Easy to book
Andros Beach Club is all about relaxing. Andros Island is well-known for its eco-approach to tourism, despite being the largest Bahamian Island.
The Andros Beach Club invites guests to relax and unwind on 4 miles of private beach. The Club gives couples access to diving and snorkeling adventures on the Andros Barrier Reef and Andros Blue Holes, as well as fishing out at sea.
The boutique hotel has large and small villas, as well as suites and houses, all decorated in a light and bright ocean theme.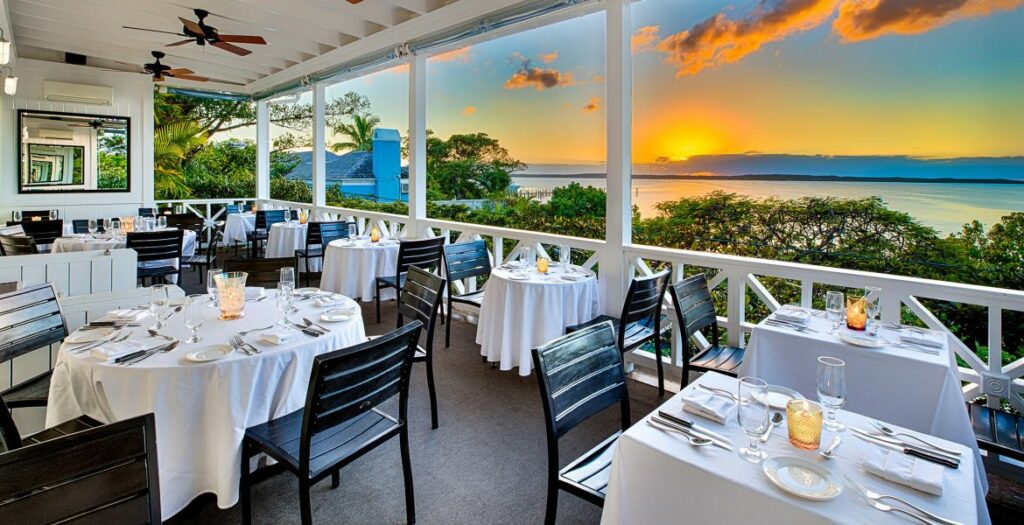 Price per Night: $390 to $768
Best For: Adults-only, romantic getaway
Availability: Limited
The Rock House is an adults-only resort on Harbour Island. This boutique hotel is the perfect spot for a romantic getaway, with an on-site restaurant, excellent service, and 10 uniquely decorated suites.
Harbour Island is one of the oldest known settlements in The Bahamas, so couples exploring this island will have the opportunity to be steeped in history and culture. Guests can also appreciate the 18th-century architectural masterpiece, and stroll hand in hand along the famous Pink Sand Beach.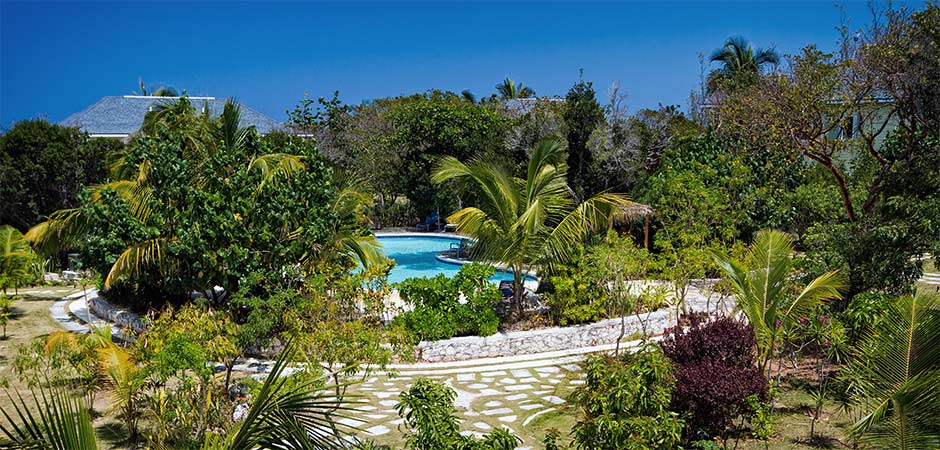 Price per Night: $263 to $395
Best For: Short Stays
Availability: Limited
Pineapple Fields Resort is located on Eleuthera Island, southeast of the famous Governor's Harbour. Situated on the most amazing two-mile blue beach, couples can enjoy the secluded ocean views and private paradise.
Pineapple Fields Resort treats all their guests like friends, with personal service and comfortable rooms providing you with everything you need. There is a one and two-bedroom condo, and guests can enjoy unlimited access to Tippy's Beachfront Restaurant and Bar.
There is plenty to do and see on Eleuthera, and Pineapple Fields Resort is the perfect base to explore the island.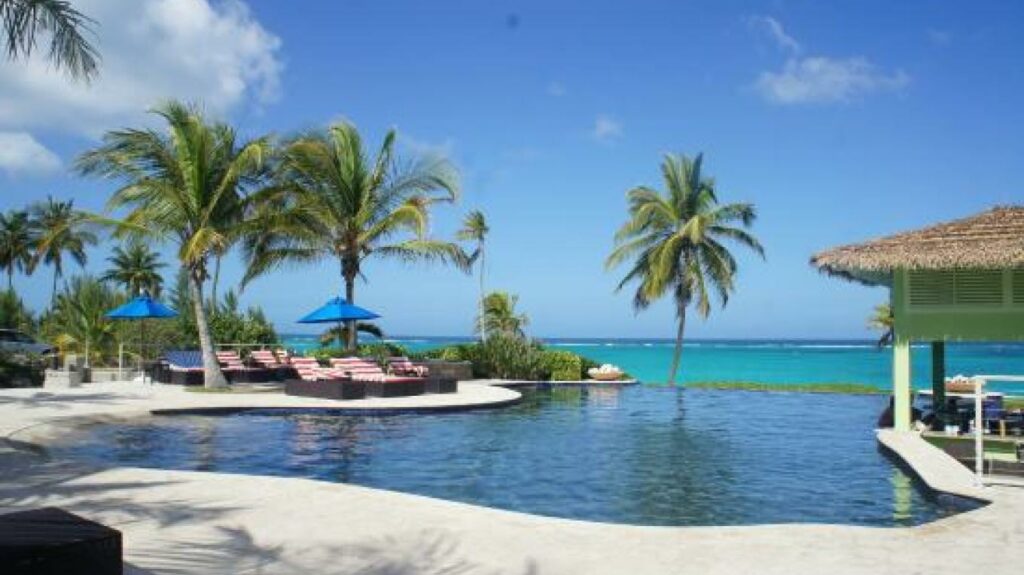 Price per Night: $325 to $1,300
Best For: Long stays
Availability: Easy to book
Sky Beach Club is an intimate resort with seven rooms, suites, and villas, each with a breathtaking view of the ocean. This club is situated on the Out Islands and has some of the most luxurious villas in The Bahamas.
One of the best honeymoon hotels, Sky Beach Club has been designed with relaxation in mind. The restaurant and bar on-site serve mouthwatering food and drink, and guests can relax at the swim-up bar or read a book at the poolside.
Sky Beach – just a short stroll from the Club – has pink sand that continues along the coast for more than a mile.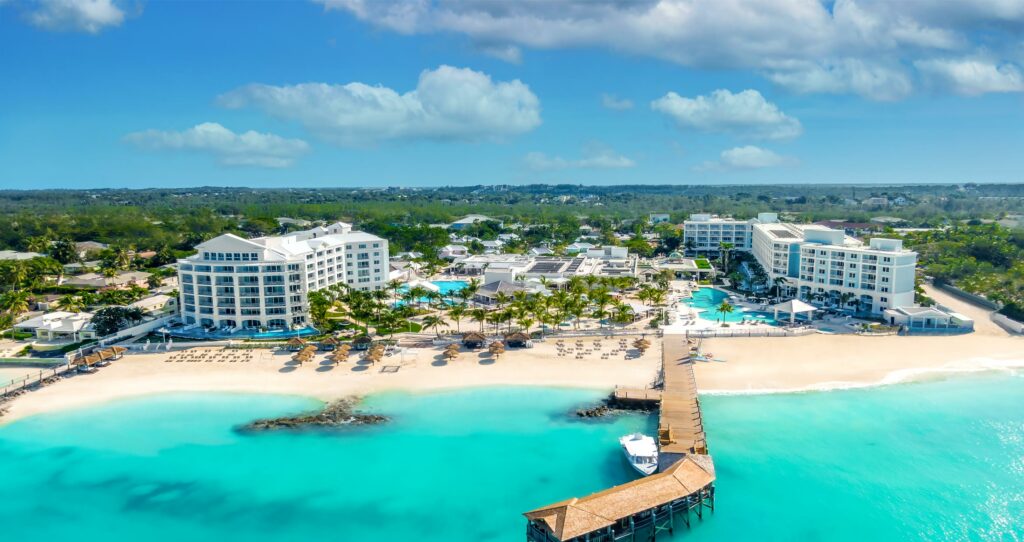 Price per Night: $350 to $830
Best For: All-inclusive, adults-only
Availability: Easy to book
Just like all Sandals Resorts, Sandals Royal Bahamian is an adult-only, all-inclusive resort with a variety of accommodations to choose from. With access to two secluded beaches, this resort offers guests a real tropical experience with Western luxuries.
There are eleven restaurants at the resort, with two large pools along the shoreline, and the world-famous Red Lane Spa.
The accommodations at Sandals Royal Bahamian include rooms with swim-up pools and butler service, villa suites, junior suites, villas with a private pool, a penthouse, beachfront rooms, and rooms with outdoor tranquility tubs.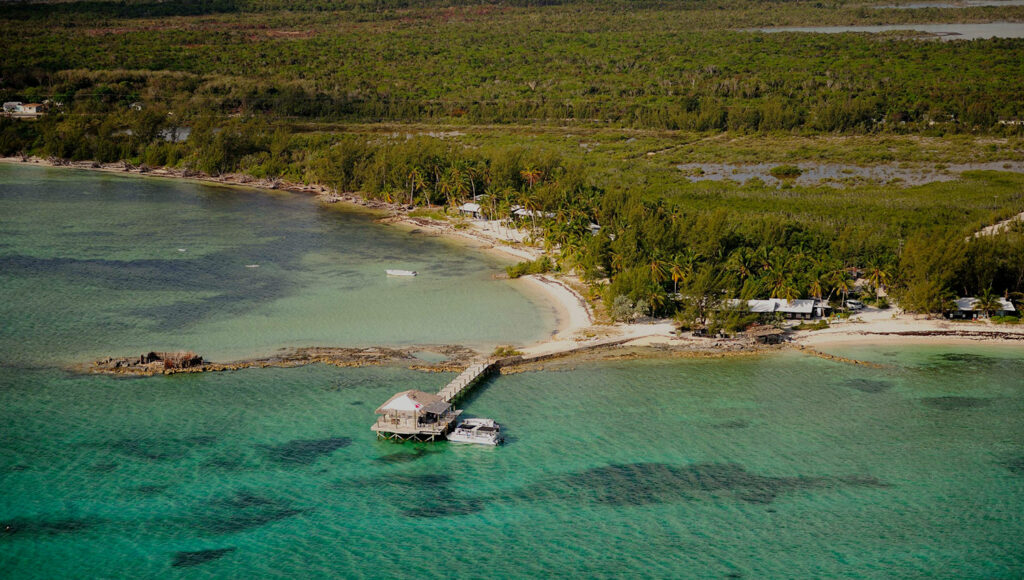 Price per Night: $300 to $550
Best For: All-inclusive, eco-friendly accommodation
Availability: Easy to book
Small Hope Bay Lodge is located in a natural setting, with unspoiled beauty all around. With 18 eco-friendly beachfront cabins and local food, guests can soak in the nature and wildlife surrounding the lodge. There are plenty of scuba diving and snorkeling opportunities around, as well as easy hikes and strolls in nature.
The lodge is located on the remote Andros Island, and its all-inclusive honeymoon package makes it the perfect destination for newlyweds.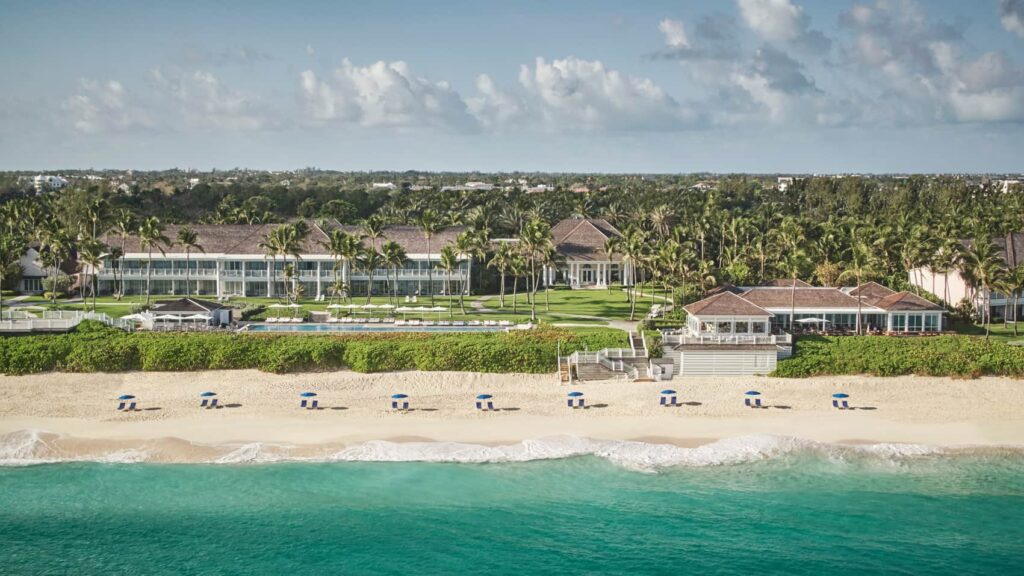 Price per Night: $1,300 to $2,500
Best For: All-inclusive, romantic getaway
Availability: Limited/Easy to book
The Ocean Club is a Four Seasons Resort that has been a popular honeymoon destination for many years, and it is easy to see why.
This luxury resort is situated right on the beach and offers brilliant service, the world-famous Dune restaurant, three pools, daily yoga and pilates, and two comfortable lounges.
There are nine accommodations at the Ocean Club: oceanview rooms and suites, a bungalow with a private plunge pool, and large beachfront villas.
Best Areas To Stay in The Bahamas
With more than 700 islands to choose from, it is easy to see why The Bahamas is one of the top honeymoon destinations. Located just a short flight from South Florida, honeymooners can land on many of the large islands, and then easily travel to smaller islands.
Here are some of the best islands to stay on while on honeymoon in The Bahamas.
Grand Bahama Island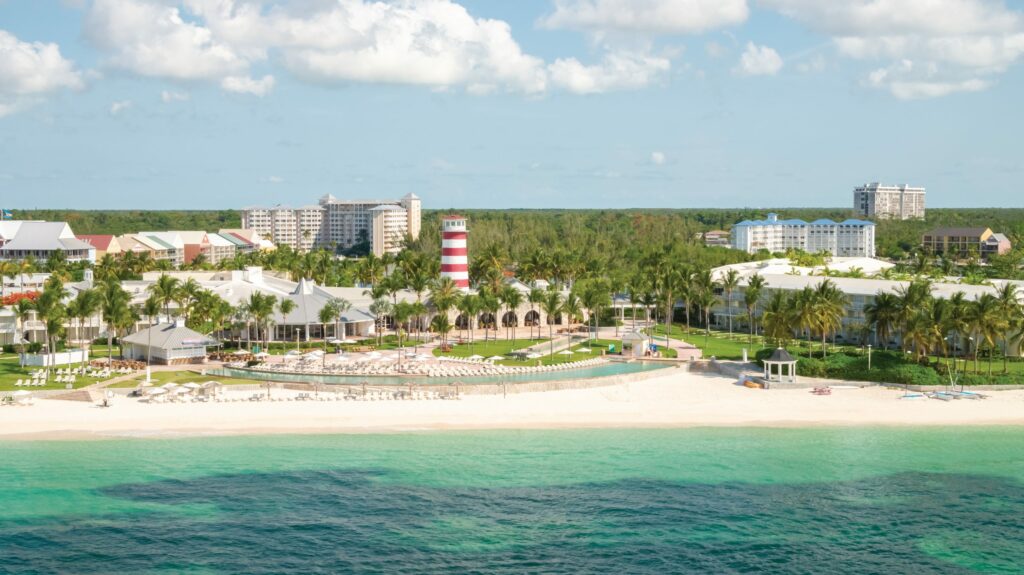 Grand Bahama Island is a must-see during your honeymoon. This large island can be reached by plane ($120+) or ferry ($105+) from Fort Lauderdale.
There is so much to do and see on this island, and plenty of accommodation options as well. Couples can enjoy some of the following romantic activities on Grand Bahama Island:
Get lost in the Garden of the Groves (entry fee of $17 for adults)
Soak up the sun at Taino Beach.
Enjoy duty-free shopping at Port Lucaya Marketplace.
Have a picnic at Lucayan National Park (admission fee of $5 per person).
Enjoy snorkeling at Fortuna Beach. Reef Oasis Diving Center offers some amazing snorkeling and diving adventures.
Paradise Island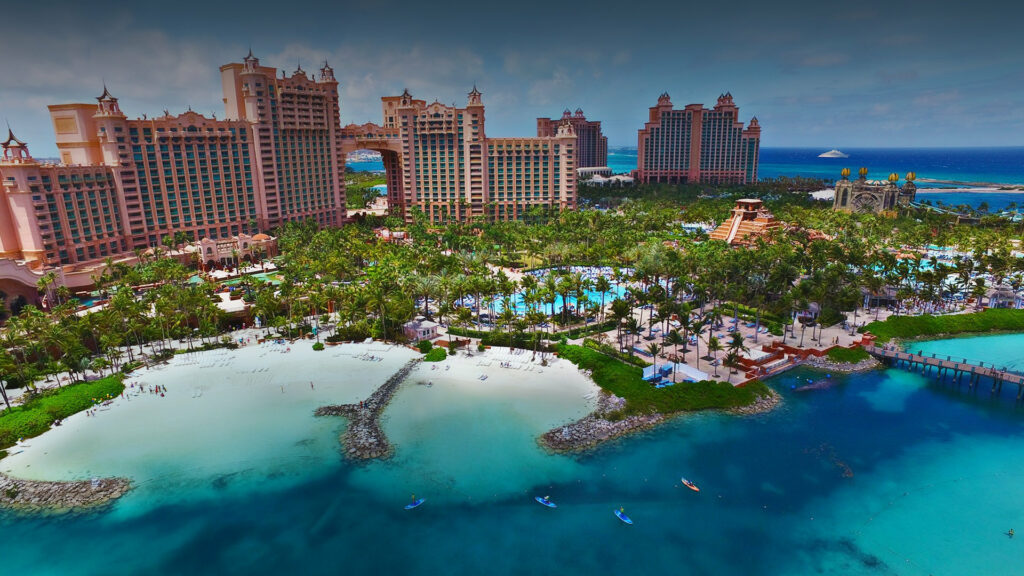 Nassau Paradise Island is located in the Lucayan Archipelago and is a popular destination for honeymooners. It boasts the Atlantis Resort, a must-see resort, and ocean-themed experience.
Couples can enjoy the following activities while visiting Paradise Island:
Get their adventure fix at Aquaventure water park located at Atlantis Resort. Guests not staying at Atlantis Resort can book a day pass in advance to the resort and water park.
Charter a boat and have a barbeque at Rose Island with Yachts Bahama Charters.
Risk it all at the Atlantis Casino.
Get lost in history at the Versailles Garden and Cloisters (Free entrance).
Wine and dine along the Marine Village.
Swim with wild dolphins and rays at Dolphin Cay.
Nassau Island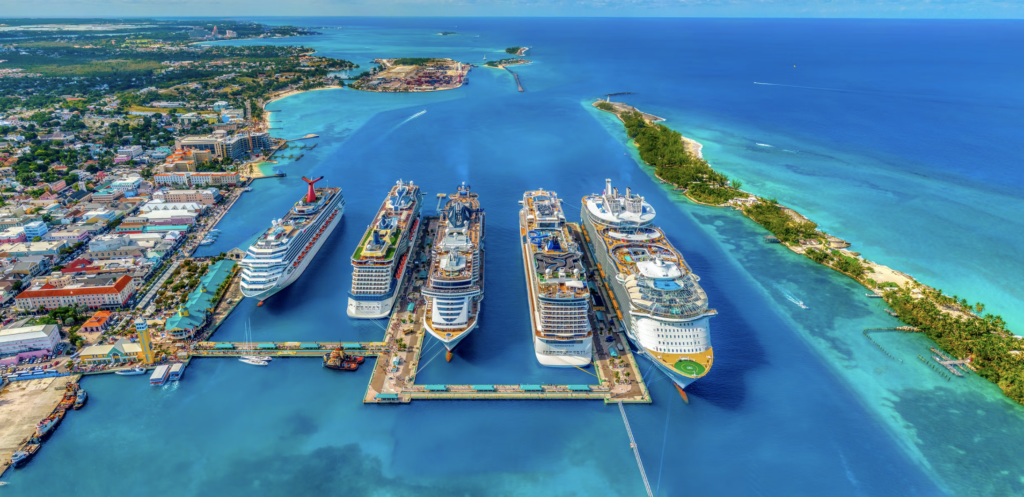 Nassau is the most famous port in the Caribbean and is the capital city of The Bahamas.
Despite being the capital, this island still has plenty of natural beauty, pristine beaches, and many top-class resorts.
Couples can enjoy the following activities at Nassau Island:
Take a dip at Cable Beach.
Snorkel at Blue Lagoon Island (tours to Blue Lagoon Island start at $59 per person).
Explore Bahamian history at the Queen's Staircase (no admission fee).
Relax and unwind at Cabbage Beach.
Have a family-friendly, fun time at Pirates of Nassau Museum ($13.50 for adults).
Get your shopping fix at the Nassau Straw Market.
Top Excursions & Activities To Do On A Bahamas Honeymoon
With so much to do on your Bahamas vacation, it can be hard to narrow down the bucket list of excursions and activities. But, don't fret, we have you covered. Here are some of our top picks of activities while on honeymoon in The Bahamas.
Spend time at the beach: There are so many beaches to choose from, but most notable are the pink sand beaches. There is the world-renowned Pink Sands Beach at Eleuthera, as well as Cable Beach and Cabbage Beach. You can lounge on a sun chair, have cocktails at a beach bar, or dip your toes in the warm waters of the Caribbean.
Get in the water: Divers and snorkelers will be amazed at the marine life of The Bahamas. Shark Wall, situated a few miles from the southwest coast of New Providence Island, is a famous spot to swim with friendly sharks and reef fish and can cost between $140 and $440 to reach by boat. There is also a network of underwater caves in Lucayan National Park to explore ($5 admission fee).
Catch that fish: Couples who enjoy fishing will have a great time. From coastal fishing to deep sea fishing, there is something to catch for everyone. Bimini Island is affectionately called "The Big-Game Fishing Capital" because of the large swordfish, marlin, tuna, barracuda, and sailfish that are often caught around the island. You can get a fishing charter from Bimini Island Fishing Charters for
Stay above water in a boat: Kayaking, cruising, and sailing is all popular activities for couples. You can kayak in the marine protected area of the Exuma Cays Land and Sea Park, where you can spot sea life in the crystal blue waters. Kayak Permits cost $27 per day. There are also plenty of catamaran cruises and sailing trips available which will allow you to explore nearby islands and watch amazing sunsets with a glass of bubbly in hand.
Relax: All the adventure-centric activities aside, it's important that you make time to relax. Lounge by the pool, book a spa treatment, order a gourmet meal, and simply unwind after the stress of planning your wedding.
Sample Itinerary & Budget For Your Honeymoon To The Bahamas
You can expect to spend around $200 per day on your honeymoon in the Bahamas.
Below is a sample nine-day, two-stop itinerary which you can adapt to suit your needs and check your bucket list while on your honeymoon in the Bahamas.
Day 1 – Nassau arrival Flying to Nassau is easy, and on your first day you can check into your accommodation and explore the city to get a feel for the area. Pop down to the ocean for a sunset walk, or eat at many of the amazing restaurants nearby. An average meal will cost around $20 per person. We can highly recommend Sapodilla for some casual fine dining.
Day 2 – Explore Nassau: Book a walking tour with Private Excursion so you can explore the local cuisine and meet the locals. In the afternoon you can head to the beach to enjoy some snorkeling or soaking in the warm waters.
Day 3 – Nassau sailing trip: It is time to venture a bit further. Book a cruise or sailing trip to the nearby Rose Island, where you can enjoy the day having lunch on the beach and swimming in the ocean. Nassau Sailing offers a variety of sailing trips.
Day 4 – head to Eleuthera: A quick 30-minute flight (flights from $170) will see you landing in Eleuthera. Head to your accommodation and take the afternoon to relax by the pool and grab some delicious dinner.
Day 5 – Explore Eleuthera: There is plenty to do and see on this small island. Head to the pineapple plantations (at $25 per adult), explore Gregory Town, or discover remote beaches on the south of the island. Take a walk over the Glass Window Bridge, which gives you stunning views of the Atlantic on one side, and the Bight of Eleuthera on the other side.
Day 6 – visit Harbour Island: You cannot miss Harbour Island during your honeymoon in The Bahamas. This island can be reached by boat for $5 per person for a 10-minute ferry ride, and is home to the world-famous Pink Sands Beach. Dunmore Town is also worth a visit, and you can grab a Bahamian lunch before heading back to Eleuthera.
Day 7 – relax at Eleuthera: After the excitement of Harbour Island, take the day to relax at your accommodation or any of the local beaches. Enjoy a couple's massage, build sandcastles, relax by the pool, or take a leisurely stroll along the beach.
Day 8 – Visit the Spanish Wells: The Spanish Wells is a very small island north of Eleuthera. You can reach it by ferry or private boat, with tickets ranging from $5 to $100. Pack some snacks and your snorkeling gear, and get a water taxi to this tiny island. There is a gorgeous fringing reef just off the coast of the Spanish Wells, where you can spot sea turtles and beautiful reef fish.
Day 9 – Departure Day: It's time to head home. If you have time, grab a last breakfast or spa session before flying back to Nassau and then back home.
Frequently Asked Questions
How much does a Bahamas honeymoon cost?
On average, you can expect to pay between $4,000 and $8,000 for a week-long honeymoon. Depending on your honeymoon package or your DIY itinerary, the costs of your honeymoon in The Bahamas can vary greatly. Food prices are fairly reasonable, and there is a variety of accommodation on offer – from a self-catering AirBnB at $100 a night to a luxury villa costing more than $1,500 a night.
When is the best time to visit The Bahamas?
The Bahamas are great to visit right throughout the year thanks to the pleasant year-round temperatures. The peak tourist season is from the middle of December to the middle of April when freezing Americans flock to the warm weather. During this time, flights and hotels will increase their prices.
There is a hurricane season between June and November, so you might not want to schedule your honeymoon during those months.
So, if you want to avoid people, go during the off-peak season, but if you want to avoid hurricanes and rain, rather skip the months from August to November.
What is the best way to travel around The Bahamas?
There are several ways to travel around the Bahamas Islands:
By air: There are 19 airports dotted across 12 islands, so you can charter a plane or take a domestic flight to several of the larger islands.
By road: Those wanting to stick to their own travel plans can rent cars to travel longer distances, or scooters to find hidden gems off the beaten track. Jitneys – the famed minibusses of The Bahamas – are a cost-efficient way to explore the islands and will give your honeymoon some local flavor.
By sea: Ferries and water taxis are a good way to travel from Nassau to some of the larger islands. There are also chartered boats and catamarans available if you wish to travel in style.
How long should you spend in The Bahamas for a honeymoon?
We would recommend spending at least seven days in The Bahamas on your honeymoon. This will allow you to see two different islands and have enough time for adventure and relaxation. Ideally, you would want a two-week honeymoon, if your budget allows it, as it will give you time to stay on more islands and do a lot more activities.
Start Planning The Perfect Romantic Honeymoon Getaway
It's easy to see why a Bahamas honeymoon is a great idea. This island nation is synonymous with sandy beaches, luxury resorts, outdoor adventures, snorkeling and diving the reefs and enjoying the warmth of the locals.
You can also completely customize your honeymoon itinerary to suit your budget, as the accommodation offerings on the islands range from affordable self-catering options to five-star, all-inclusive resort stays.
If you are ready to start planning your Bahamas honeymoon, head over to the Couple's Travel resources to get ready for your once-in-a-lifetime adventure with your new life partner.