Florida is home to some of the world's best coastal getaways if you're looking to soak up some sun, sea, and sand. But what are the best Florida beaches worthy of a spot on your travel itinerary?
From sandy shores and nature trails to scuba diving and deep-sea fishing, there's a beach for every type of vacationer along the state's 1,197-mile coastline. The Atlantic Coast is a favorite among watersports aficionados for its impressive waves. The Gulf Coast, however, is home to some of the world's clearest waters and whitest sands.
But with at least 189 official beaches to choose from, you're guaranteed to find the perfect base for your couple's vacation.
So, whether you have a trip planned or are just looking for inspiration, keep reading to check out our comprehensive guide to the best beaches in Florida. We've also provided some top tips for places to stay, eat, and shop.
1. Best for Nightlife: South Beach, Miami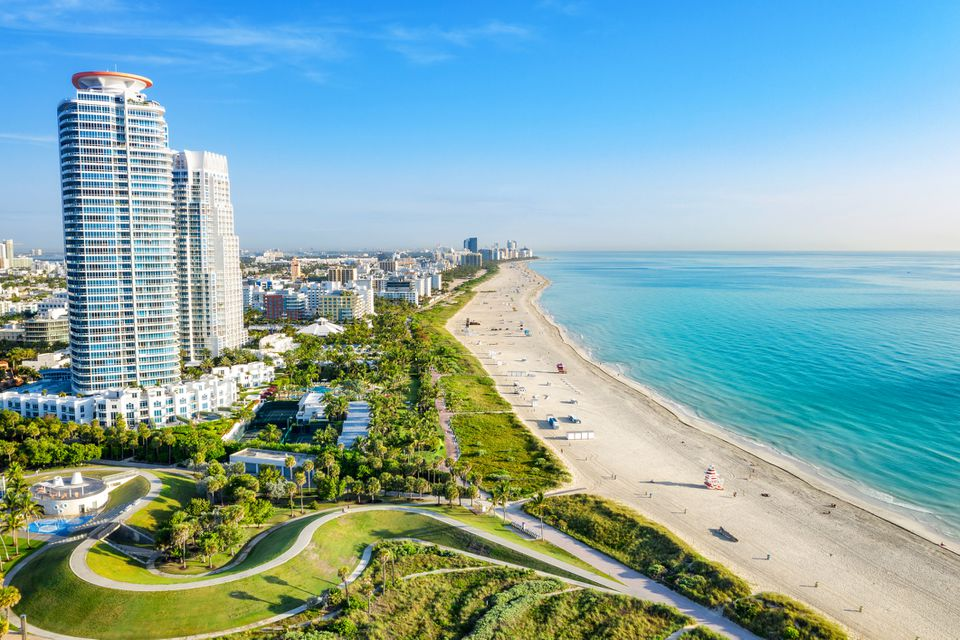 No list of the best beaches in Florida would be complete without mentioning South Beach. A true coastal metropolis and one of the country's most famous beaches, it's certainly worth a visit during your next trip to the Sunshine State.
Whether you want to catch a wave, party until the sun comes up, or just admire the Art Deco architecture, there's something for everyone at this glamorous vacation destination. And with Ocean Drive just a stone's throw away, there are plenty of places to rest your head and grab a bite.
The iconic beach is also one of the three beaches that make up the nine-mile-long Miami Beach. So there's more than enough space to lay down your towel and catch some rays. Or if water sports are more your thing, why not hop on a speedboat, airboat, or jet ski? The view is just as gorgeous from the sea as it is from the sand!
2. Best for Things to Do: Clearwater Beach, Clearwater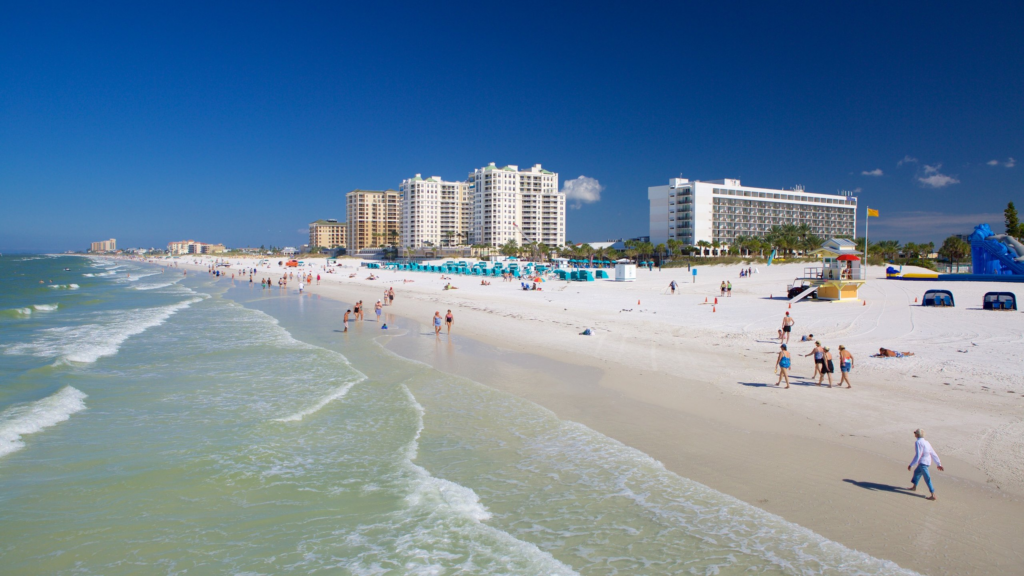 Clearwater Beach is home to the kind of crystal-clear waters that truly must be seen to be believed. From the lush green palm trees to the sky-blue beach umbrellas, you'll feel like you've walked into a postcard the second you arrive.
There's also plenty to see and do. The Clearwater Marine Aquarium is just a few minutes' drive away while Honeymoon Island State Park is a 30-minute drive away. And keep your eyes peeled, because this part of the Gulf is famed for dolphin sightings!
But don't just take our word for it. Clearwater Beach has taken the top spot on TripAdvisor's list of best beaches in the country twice. This makes it one of the most popular beaches in Florida for both local and international tourists.
3. Best For Peace and Quiet: Amelia Island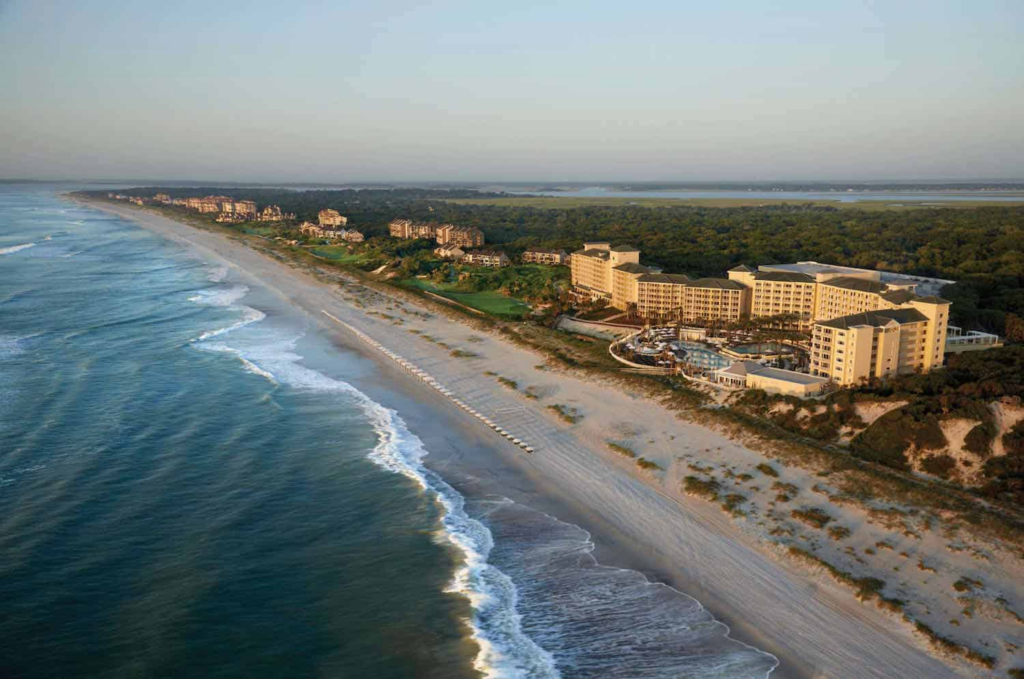 Amelia Island is a true hidden gem and beach lover's paradise. With over 13 miles of uncrowded coastline, this barrier island is the perfect place to kick back and relax without the hustle and bustle of some of the state's more popular vacation spots.
The area is also home to some of the country's most diverse wildlife including alligators, sea turtles, birds, and – of course – dolphins. So be sure to keep your eyes peeled whether you're sunbathing or catching a wave during your visit to Amelia Island.
Amelia Island has also become known for its luxury resorts that offer spectacular sea views and sunsets every night.
The nearby Jacksonville Beach and St. Augustine Beach are also just a short drive away and are well worth a visit if you have time to spare on your trip!
4. Best for Activities: Panama City Beach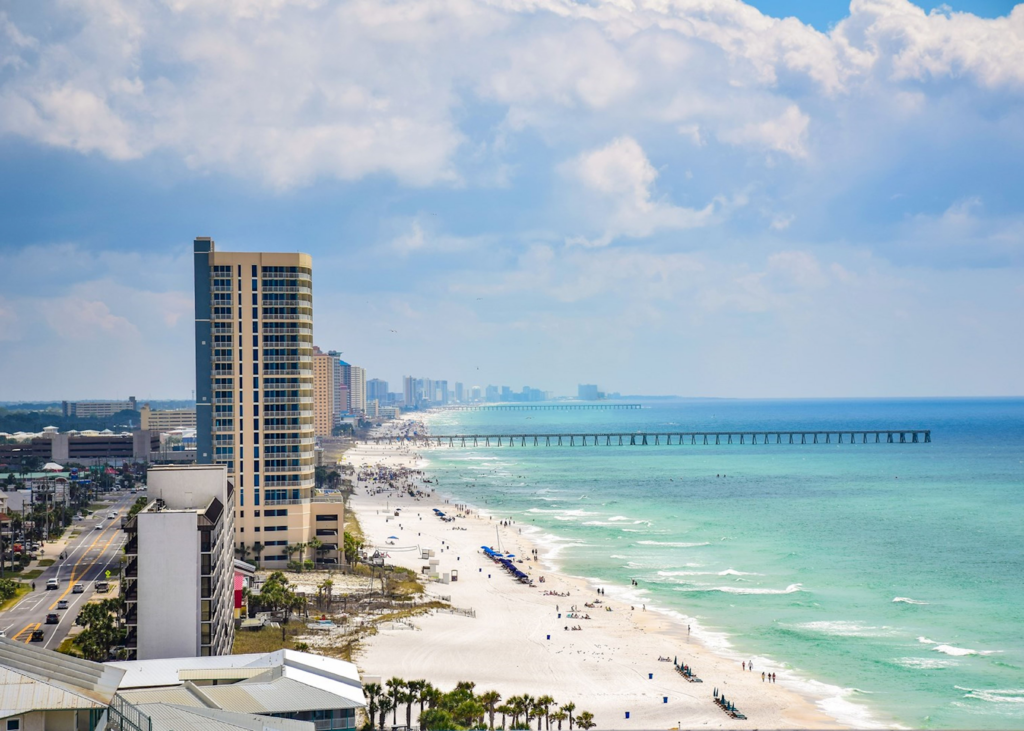 Panama City Beach is known for its sprawling sandy beaches and picturesque ocean views. It was also voted the third-best beach in the United States by TripAdvisor in 2019. And with 27 miles of coastline to explore, it's the perfect spot for a fun-filled couple's vacation!
Why not admire the view from one of the town's various piers or aboard a dinner cruise? Or wait until sunset for a front-row seat to nature's best show. The unspoiled George Island State Park is also just a day trip away and well worth a visit if you have the time.
When you're tired of admiring the views (although that's unlikely), there are plenty of things to keep you busy. Panama City Beach is home to nature trails, hiking routes, and state parks galore. Some are even dog friendly so you can guarantee your furry friend will be met with a warm welcome wherever you end up.
There's also mini golf, horse riding, escape rooms, and even axe-throwing so you certainly won't be short on things to do when you visit this busy beachfront location.
5. Best for Laidback Couples: Grayton Beach, Santa Rosa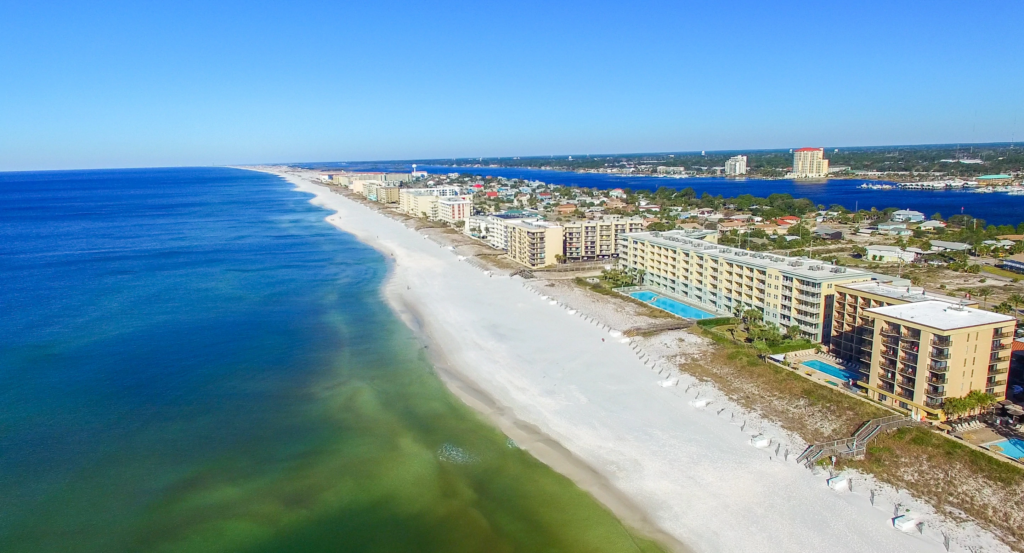 Grayton Beach is just a short walk from Grayton Beach State Park. Frequently voted one of the best beaches in Florida as well as the US, this Gulf Coast paradise has something for everyone.
The area has become known for its eclectic art, music, and food over the years. And with the beach not known for crowds, it's a perfect getaway for couples that like to live like a local on vacation.
Why not sample the catch of the day at Grayton Seafood before grabbing a drink at the world-famous Red Bar? You can also find live music at most bars and nightclubs, so you can dance the night away after a day of sun, sea, and surf.
The laidback attitude of this unconventional beach paradise is sure to have you coming back for more!
6. Best for Sunbathing: Pensacola Beach, Santa Rosa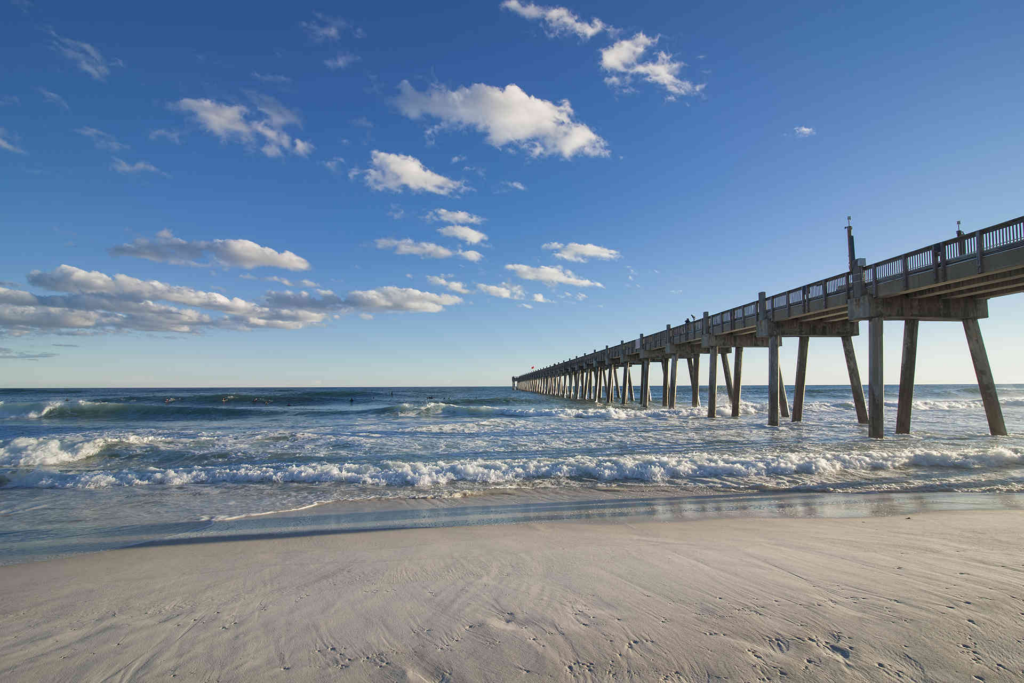 The Gulf Islands National Seashore. White sand beaches. Crystal clear water. Warm sea breezes. Pensacola Beach is one of those Florida beaches that really does have it all.
Ranked among the best beaches in the US by TripAdvisor, USA Today, and the Travel Channel, there's plenty to see and do at this Emerald Coast location. From visiting a historic fortress to hopping aboard a dolphin sightseeing cruise, you'll never be bored when you visit one of the most diverse beaches in Florida.
This Gulf Coast beach is also nestled on the western panhandle. This means it benefits from an unusually mild temperature and wet climate. So if you're not a fan of the heat, this could be the perfect vacation spot for you.
7. Best for Relaxation: Santa Rosa Beach, Santa Rosa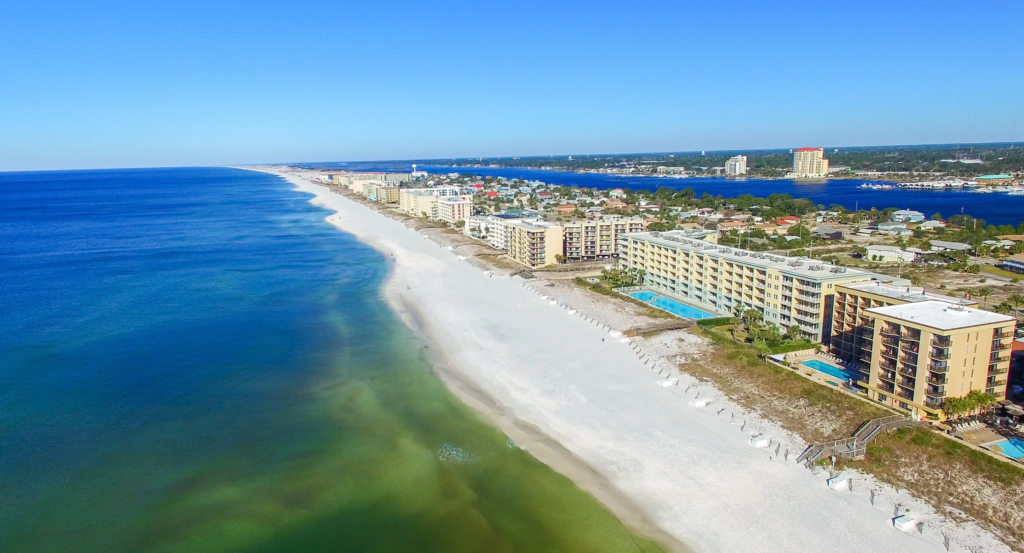 Situated in the picturesque county of South Walton, Santa Rosa Beach is famed for its turquoise waters and sandy shores. And because it's so secluded, its laid-back waters are great for a bit of swimming or snorkeling.
The area has an upmarket and relaxed feel that sets it apart from some of the state's more popular beaches. With upscale dining, a diverse art scene, and a lack of nightlife, it's a great vacation spot for couples looking for a slice of peace and quiet. Don't forget to check out Pazza Italiano for great wood-fired pizza!
However, with Grayton Beach State Park, Laguna Beach, and Panama City Beach all situated less than an hour's drive away from Santa Rosa Beach, your next beach adventure is only ever just around the corner!
8. Best for On-The-Go Couples: Miami Beach, Miami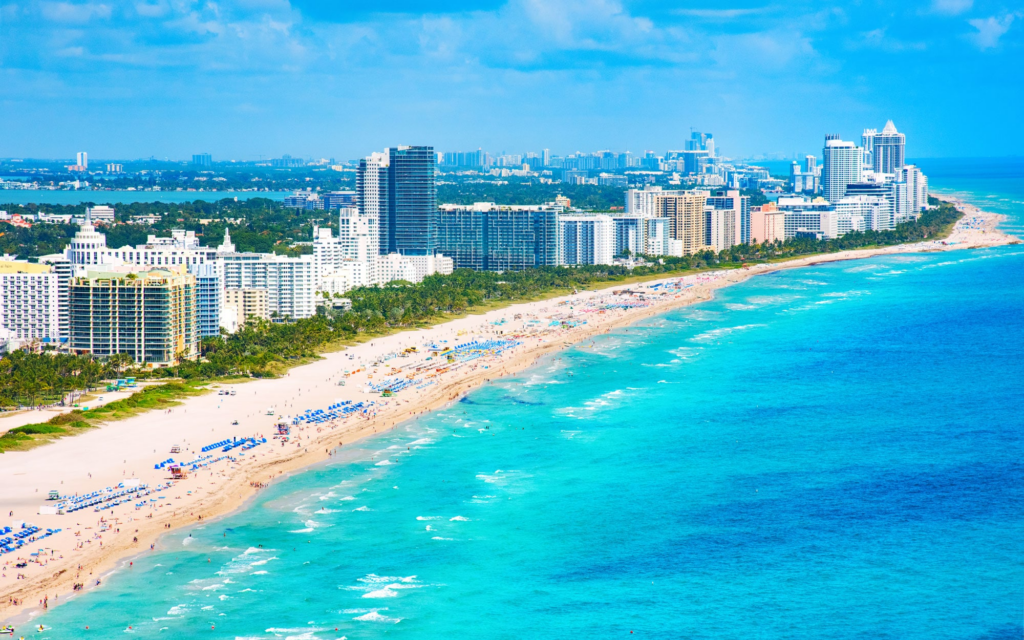 South Beach might be perfect for couples that love to party until the sun comes up, but Miami Beach is ideal for couples looking for a more laid-back, relaxed trip. Although part of the same beach, South Beach tends to be a little more crowded.
From sunset cruises and delicious seafood to segways and skydiving, there is plenty to see and do at this vibrant world-class destination. Not to mention some of the best luxury hotels in the US.
The Architectural District is a must-see for couples interested in the history of the local area. . The city's art scene is also second to none with plenty of art exhibitions, museums, and performances happening all year round.
Situated just a short drive from Everglades National Park, there are guided tours available to take you from the sea to the swamp if you want to try your hand at spotting some wildlife. But beware of the gators!
9. Best for Surfing: Cocoa Beach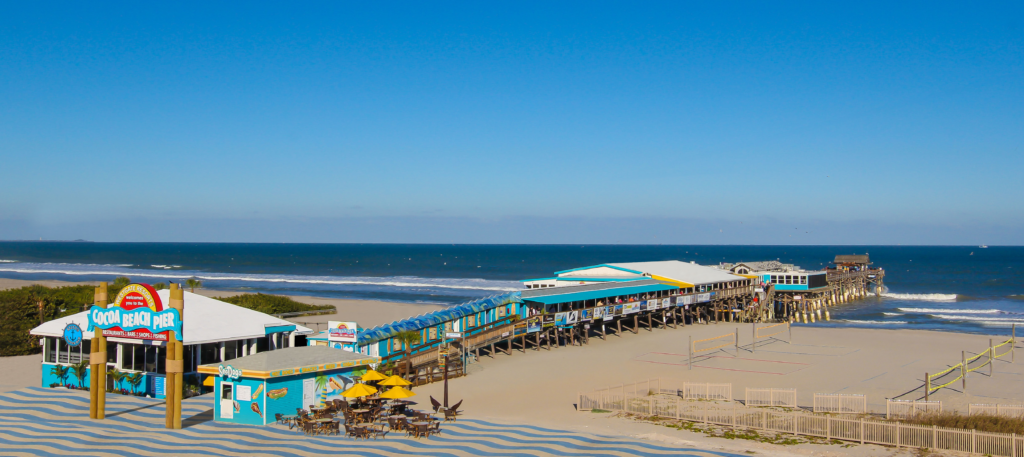 Home to the East Coast Surfing Hall of Fame, Cocoa Beach's consistently high waves and year-round warm temperatures make it a true surfer's paradise. But don't worry if you're not a seasoned surfer because there are so many other things to do and see at this action-packed vacation spot.
Cocoa Beach Pier is packed with a variety of restaurants, bars, and shops so you'll never be short on options when you fancy a bite to eat or a bit of retail therapy. There are also plenty of gift shops for you to pick up that all-important beach-themed trinket.
From sunset cruises and luxury hotels to kayaking and live music, there's something to suit both adventurous and laid-back couples at this diverse beachfront location.
Cocoa Beach is also just a five-mile drive from Cape Canaveral so you can catch a wave and a glimpse of a spaceship if you're lucky!
10. Best for Honeymoons: Sanibel Island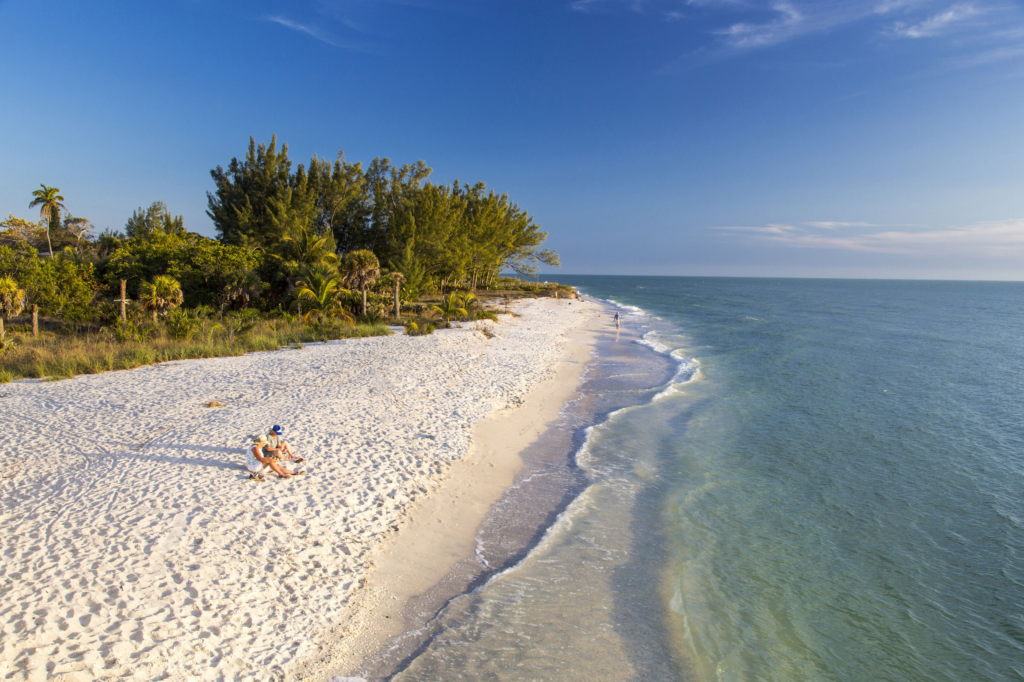 Sanibel Island is perfect for couples looking for a romantic getaway.
Located 25 miles from Fort Myers, this barrier island is renowned for its shell beaches and exotic wildlife. Flamingos, manatees, coyotes, and alligators are just some of the animals you can expect to bump into (hopefully not literally) when you visit this island paradise.
But aside from sunbathing and wildlife spotting, this honeymoon-favorite island is also a great place for a spot of fishing. The surrounding waters are teeming with fish and with the water practically transparent, you should have no problem reeling in a catch.
Travel & Leisure Magazine even named Sanibel Island the third-best shelling spot in the US. So if you're looking for an idyllic couple's vacation with plenty of natural attractions, the picture-perfect island of Sanibel should top your list.
11. Best for Swimming: Deerfield Beach, Broward County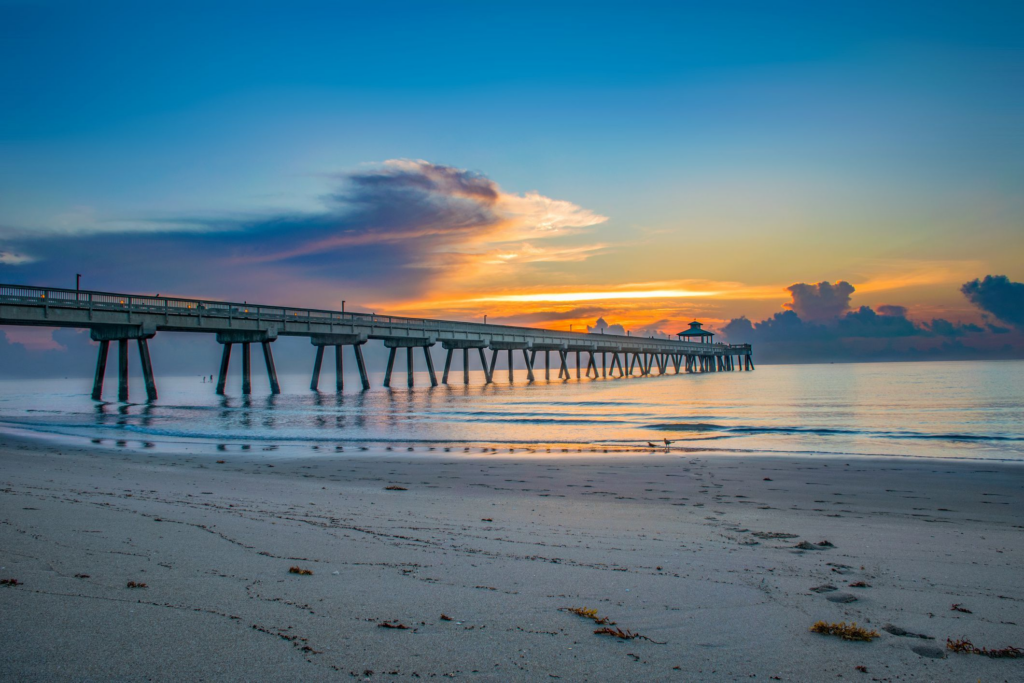 Just south of Boca Raton, Deerfield Beach is an upscale neighborhood that is perfect for a fun-filled romantic getaway. Whether you love watersports or prefer to people-watch at a snazzy cocktail bar, there really is something for everyone at this Fort Lauderdale hot spot.
If it's a day at the beach you're looking for, you'll be glad to know that, like Amelia Island, Deerfield Beach is also one of the state's lesser-known vacation destinations. But unless you like the thought of a remote island getaway, Deerfield Beach has more amenities than Amelia Island.
There are also plenty of shopping and dining options so whether you're in the Fort Lauderdale area for a day or a week, you'll be spoiled for choice!
12. Best for Lazy Beach Days: Siesta Key Beach, Siesta Key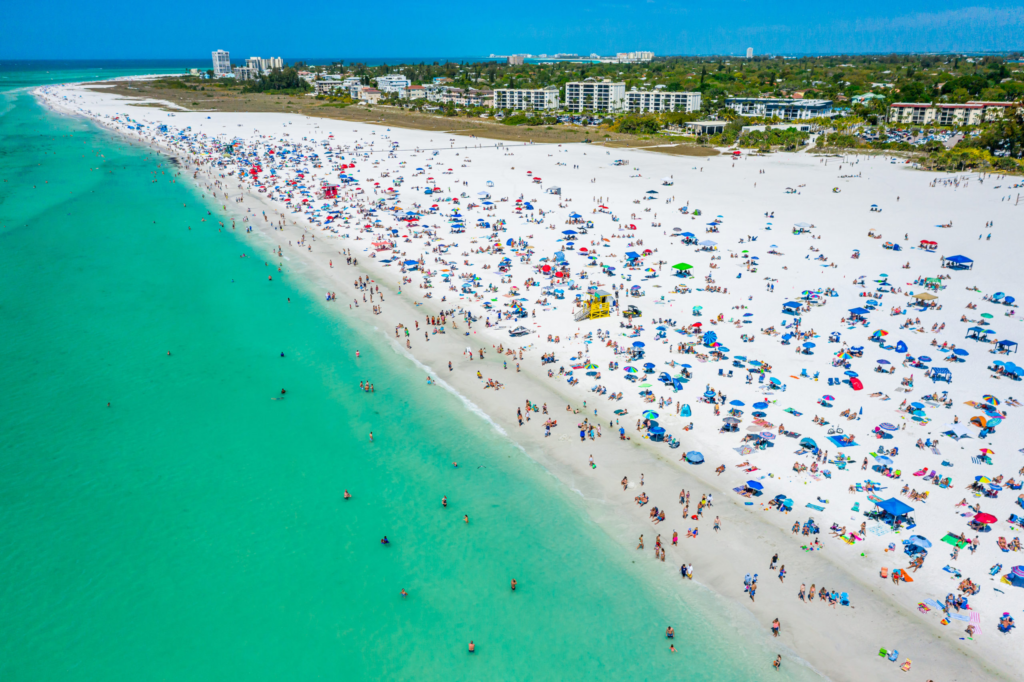 Siesta Key Beach, or Siesta Beach, is the perfect spot for a lazy dip in the sea or, as its name suggests, an afternoon siesta in the sun. Another Florida beach ranked among the top in the US by TripAdvisor, you'll understand why as soon as you feel the soft, white sand between your toes.
This beach is perfect for couples looking to relax and that like to return from a vacation feeling rejuvenated and refreshed. And with Clearwater Beach less than two hours away, you can beach hop to your heart's content!
Florida's Siesta Key Beach is a must-visit for couples searching for a quiet place to kick back for the day. So if this sounds like you, be sure to add Siesta Key Beach to your travel itinerary this summer.
13. Best for Shops and Restaurants: Palm Beach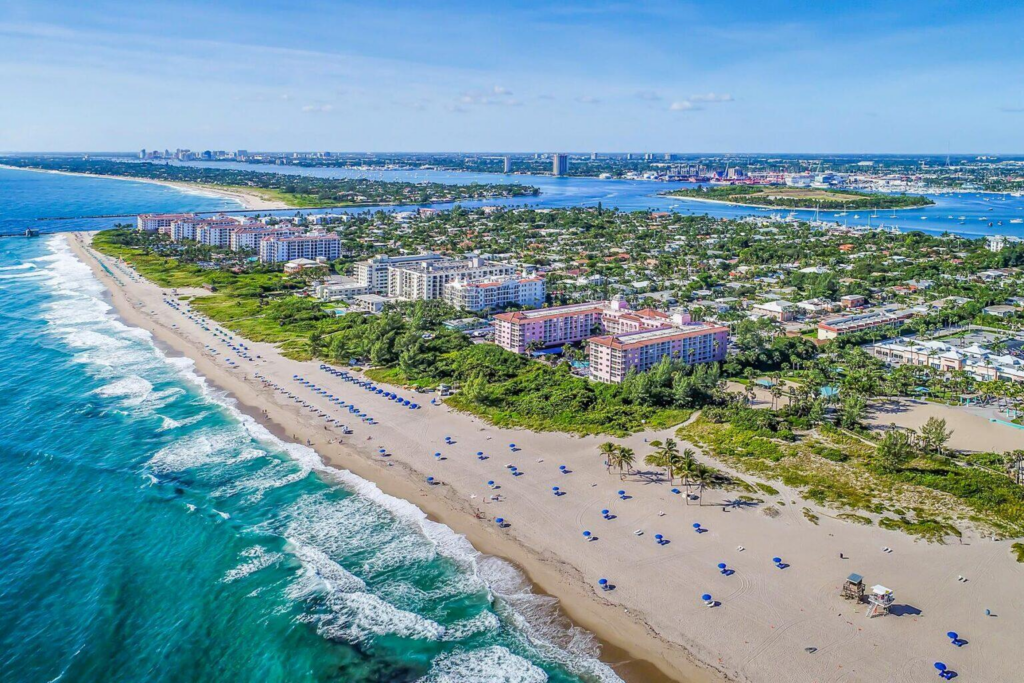 Do you love a bit of glitz and glamour on vacation? Well, the seaside community of Palm Beach might be the perfect spot for you.
Luxurious resorts, historic mansions, and century-old landmarks line the beachfront of this classy vacation spot, which is located just off the mainland. But don't let that put you off because there are plenty of things to see and do here without spending a penny.
The 16-mile beach tends to be used by more locals than tourists so you're almost always guaranteed to get a prime tanning spot all year round. There are also plenty of watersports activities up for grabs so you can cool yourself off when that Florida heat hits a mid-afternoon high.
With a wide range of upscale and budget cafes and restaurants, you also won't have any trouble finding somewhere for a bite to eat. Try Cafe L'Europe for a fine dining experience or Nick's 50s Diner for cheap eats.
14. Best for Snorkeling: Marco Island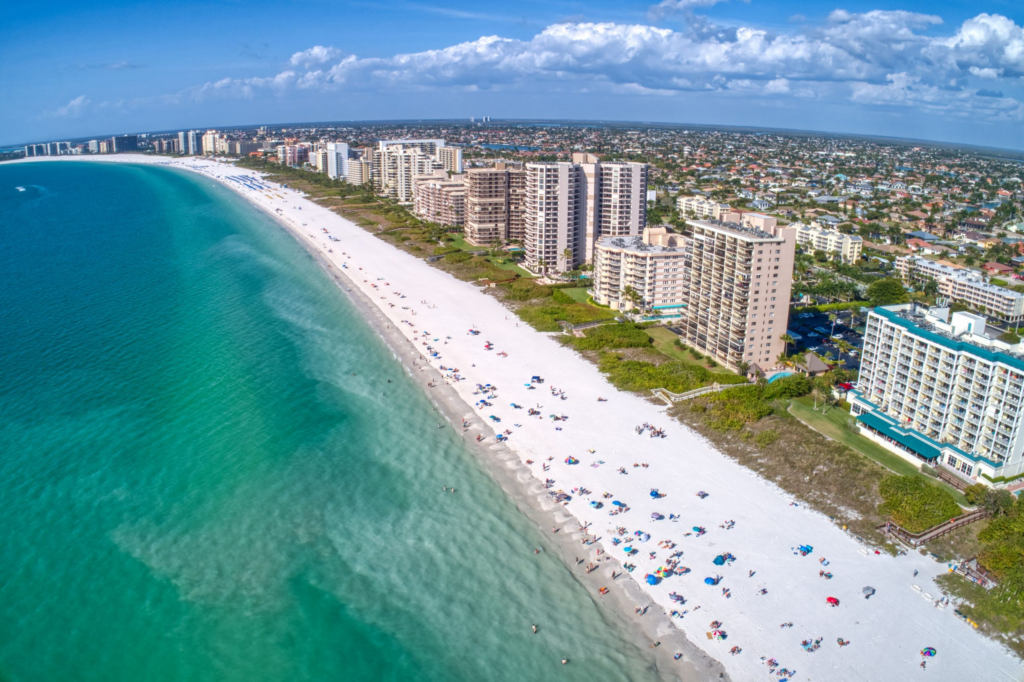 World-class beaches. Classy cocktail bars. Historic attractions. Marco Island has everything you could ever want from a romantic couple's vacation.
The largest of the Ten Thousand Islands, you'll feel like you've arrived in paradise when you visit this picture-perfect vacation destination. And with pleasant temperatures all year round, there's never a bad time to visit Marco Island.
Widely considered to be one of the best beaches in Florida, you'll be spoiled for things to do and places to stay in Marco Island. There are plenty of watersport activities to get your adrenaline pumping or beachfront golf courses if you prefer to take things easy.
There's also a wide range of luxury hotels so you can rest assured you'll have a good night's sleep after a long day exploring this South Florida favorite.
15. Best for Entertainment: Hollywood Beach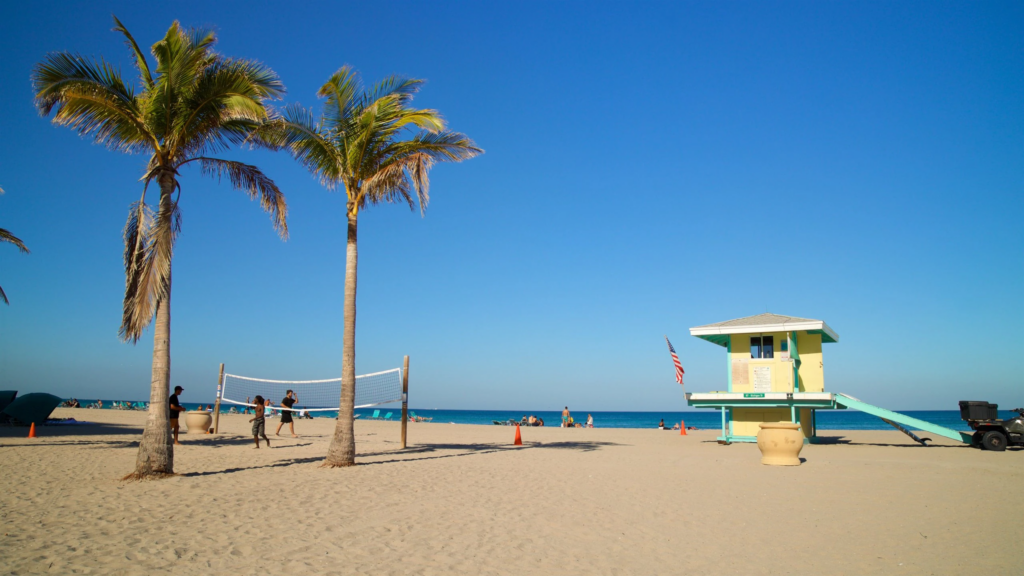 When it comes to Florida beaches, Hollywood Beach is one of the few that has retained an interesting mix of old and new. Situated between Fort Lauderdale and Miami, it is famed for its tall palm trees, 2.5-mile boardwalk, and beachfront restaurants, hotels, and bars.
The nearby Hollywood North Beach Park is also worth a visit. Home to a picnic area, fishing pier, observation tower, and even a sea turtle exhibit, there's plenty to do whether you want a better view of the Atlantic Ocean or just need to get out of the sun for an hour or two.
Recognized as one of the cleanest and safest beaches in Florida, Hollywood Beach is a firm favorite amongst the millions of local and international vacationers that visit every year.
16. Best for Shopping: Miramar Beach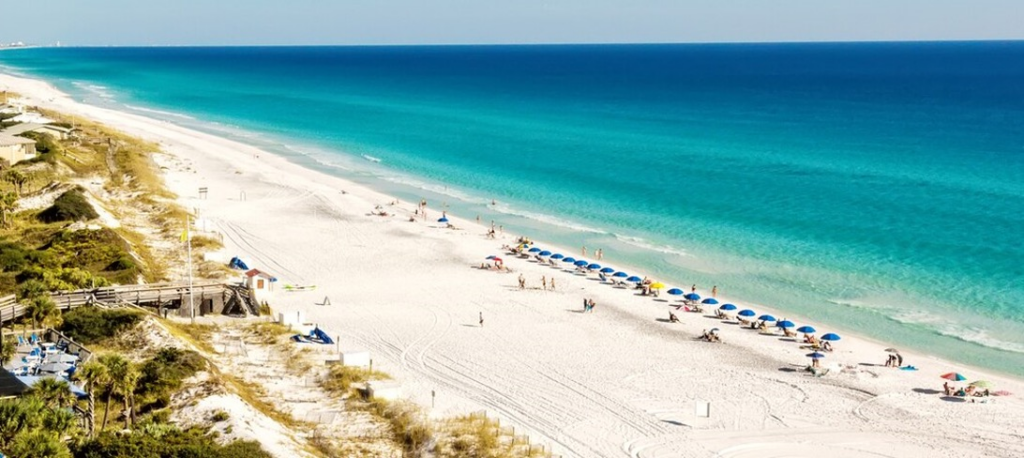 Another beach situated in picturesque South Walton County, Miramar boasts panoramic views of the Gulf of Mexico.
Like most Florida beaches, it is also home to a wide range of surf shops, waterfront restaurants, and beachfront hotels. It's also one of the few beaches in the county famed for watersports. So if you've always wanted to try your hand at jet-skiing or parasailing, you're in luck!
But if you're looking for something a little less adrenaline-inducing, don't worry because Miramar Beach has the best of both worlds. Just a few minutes' drive from the beachfront is Silver Sands Premium Outlets which boasts over 100 big-name brands. The nearby Grand Boulevard is also home to a wide range of shops and eateries from both independent and recognizable vendors.
There's also so much more to do on the beach than just swimming or sunbathing. Why not join a game of beach volleyball? Or book a fishing charter? With so many activities to choose from, you'll be booking your return trip before you've even left.
17. Best for Adrenaline Seekers: Daytona Beach, Daytona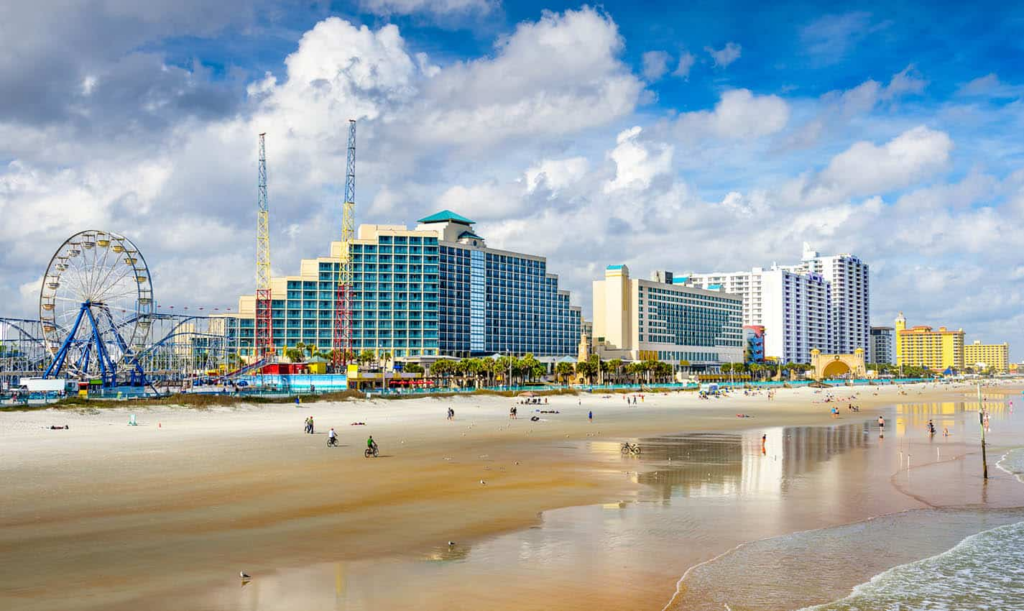 One of Florida's most famous beaches, Daytona is the place to be for fun, relaxation, and thrills. Daytona might be seen as a mecca for car and motorcycle enthusiasts thanks to the iconic Daytona International Speedway, but there's so much more in the city for couples to enjoy.
But if you're not a petrolhead, don't let that deter you! Daytona's crystal-clear waters and white sands attract millions of vacationers every year. And with plenty to see and do, there's something for adventure seekers and sun worshippers alike.
Why not attend a free concert at the Daytona Beach Bandshell? Or, if you're not quite ready for a lap of Daytona Speedway, race around the go-kart track at Daytona Lagoon. There are also plenty of shops and restaurants offering everything you could ever want from a trip to the beach. From cafes and wine bars to souvenirs and surfboards, Daytona Beach has it all.
18. Best for Wildlife Lovers: Bahia Honda, Florida Keys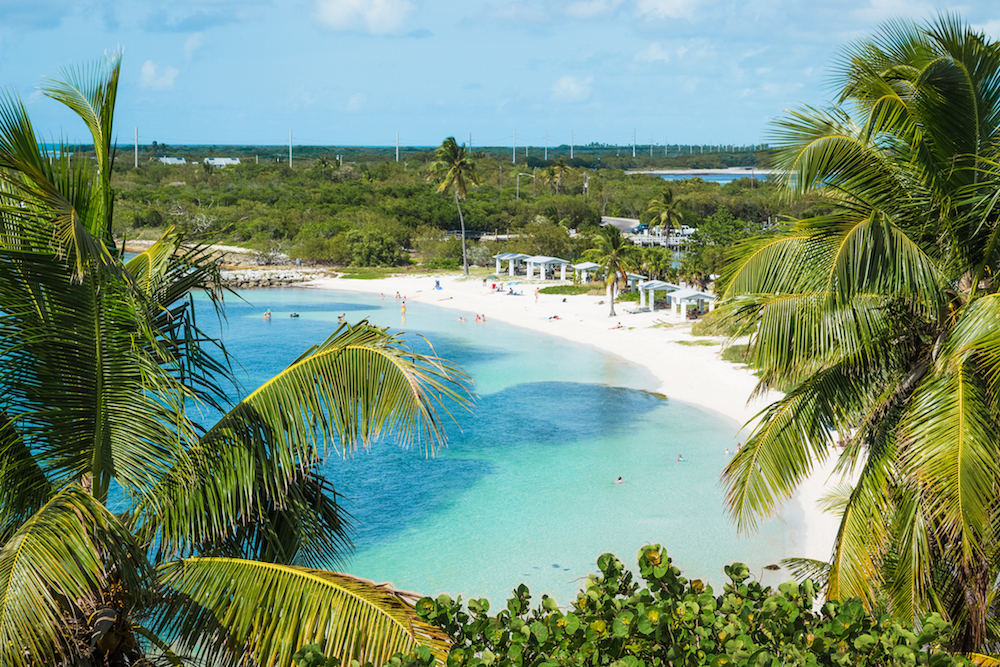 Another island paradise, Bahia Honda is situated in the Florida Keys off the coast of South Florida.
Think white sand beaches, turquoise waters, tall palm trees, and, most importantly, no hustle and bustle. Most tourists tend to stick to mainland beaches so you know it'll never be crowded, even in peak season.
Unlike Amelia Island, Bahia Honda is also completely uninhabited, making it the perfect romantic getaway for couples looking for complete peace, quiet, and tranquility. This means you'll probably spot some interesting plants and animals during your time here.
FAQs
Which side of Florida has the best beaches?
Florida's unique shape makes it one of the best places in the US for a beach vacation. The Atlantic Coast has the best waves while Florida's Gulf Coast tends to have calmer shores. Both are worth a visit!
Which beaches in Florida have the clearest water?
Almost all of Florida's beaches are renowned for having crystal-clear water. However, South Walton County beaches are considered to have the clearest water. This is due to St. Andrew Bay filtering most of the sediment from the water before it reaches the shore.