San Diego in sunny California is absolutely filled with popular spots for beach lovers of all ages! The area boasts over 30 amazing sandy beaches to choose from, each with its own unique attributes that make them so popular and keep visitors coming back.
This informative article will delve into some of the best beaches in San Diego to help you decide where to visit next Whether you are looking for a day of relaxing, family fun, or adventure, the beaches in San Diego have all that and more.
After highlighting some of the best San Diego beaches and what they have to offer visitors, there will be a small section addressing any pressing questions that may have come up during the article.
1. Best for Swimming: Coronado Beach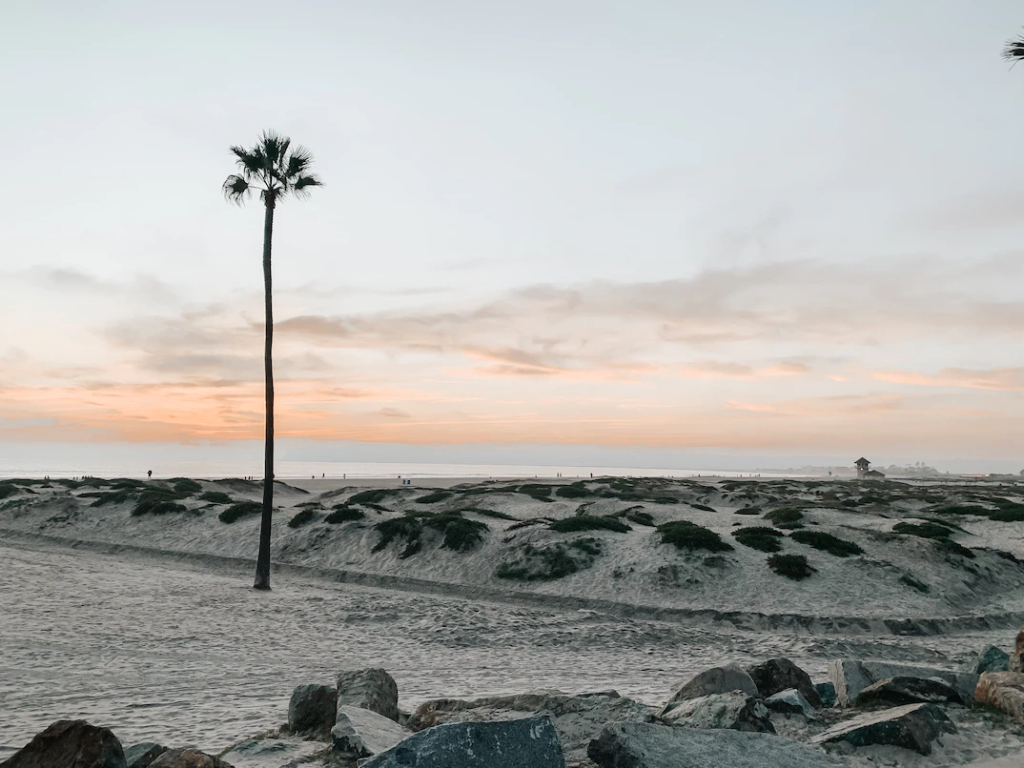 Coronado Beach, also known as Central Beach, is located on a peninsula that makes up the western side of San Diego Bay. It's popular with both locals and holidaymakers and is considered one of the best beaches in all of California.
This beach is great for swimming thanks to its calm waters with gentle waves. There are even lifeguards on duty year-round from 9 am to sunset to ensure that everyone is safe. If you're not a strong swimmer and prefer to stay in shallower waters, the tide pools are a perfect spot for cooling off.
You don't need to worry about heading home covered in sand or salt water, as Coronado Beach has washrooms with showers. Why not pack some sausages to grill too; there are plenty of fire pits and picnic tables to rest after your swim.
The biggest feature of Coronado Beach is the famous Hotel Del Coronado which was built in 1888 and was the setting for Some Like it Hot. Just outside the Hotel Del Coronado, there are often giant intricate sandcastles built by a local artist for visitors to marvel at.
Travel tip: As you've probably guessed after reading what's on offer here, this area can become packed during the summer months. We recommended making lunch and dinner reservations at the nearby restaurants well ahead of time. Waitlists can become quite long during peak dining times and you're bound to be hungry after all the swimming!
2. Something for Everyone: La Jolla Shores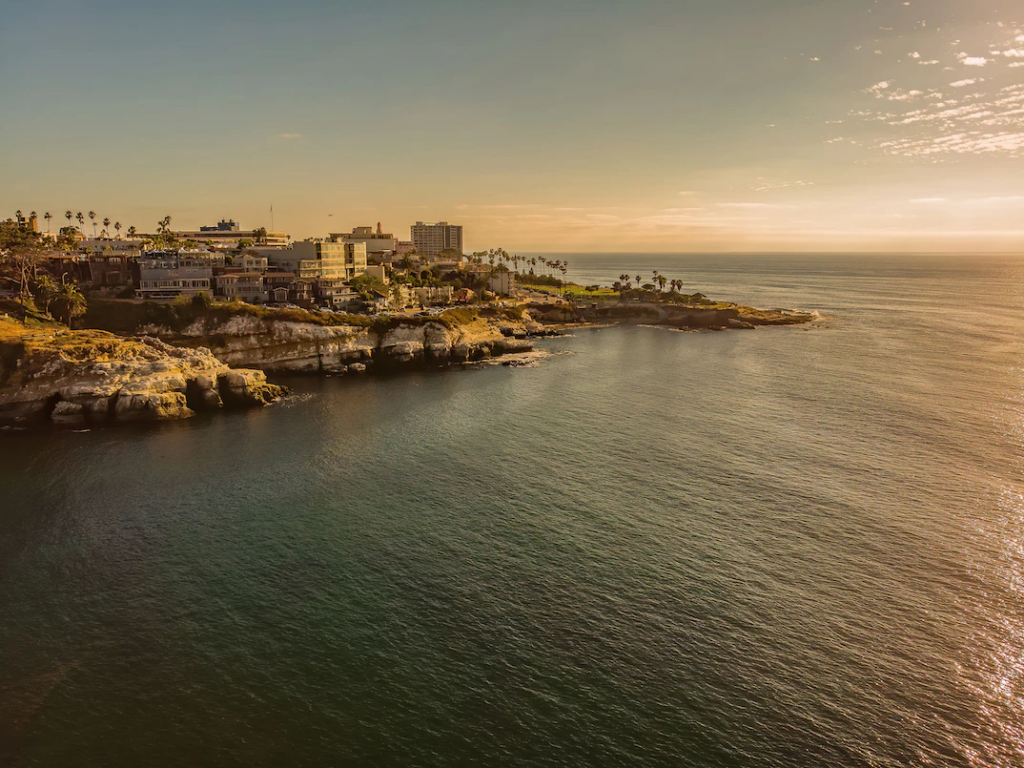 La Jolla Shores Beach is located in the northwestern coastal San Diego suburb of La Jolla. The mile-long crescent-shaped beach is the longest of several beaches that lie between a series of cliffs along the La Jolla coastline.
It's perfect for more adventurous couples; you'll never be bored with the surfing, scuba diving, and kayaking on offer here. Come nightfall, it's still not time to head home. Join the countless others who have the same idea of lighting up a fire on the beach and cuddling up with their loved ones.
Don't worry if you'd prefer your daytime activities to be as relaxing as your evening ones, though. The water at La Jolla Shores has been separated into two areas, so you'll find the perfect spot no matter what you want to do. The area north of Scripps Pier is meant for surfing only, whereas south of the pier is reserved for swimming, kayaking, and paddleboarding. And, there are on-duty lifeguards that watch over the entire beach during daytime hours. After your aquatic adventures, there are toilets and outdoor showers to get comfortable again.
If you're feeling peckish, Kellog's Park, located at the south end of the beach, offers couples a nice space to set up picnics. If you feel like cooking, beachside firepits offer the perfect spot to barbecue. Plus, there are restaurants located nearby in the village of La Jolla if you don't feel like packing a lunch.
La Jolla Underwater Park is an aquatic ecological reserve that spans from La Jolla Shores a couple of miles south to La Jolla Cove. The partly man-made reef is a fantastic site for diving and snorkeling, offering visibility of up to 30 feet in clear water. The underwater park also features seven caves, only one of which is accessible by land. A guided kayak tour is the best way to explore the sea caves if you're feeling adventurous.
Travel tip: La Jolla Shores isn't just a favorite sunbathing spot for humans—seals and sea lions are also known to hang out here. If you go down on a nice sunny day, you might catch them resting on the rocks during low tide.
3. Best Boardwalk: Mission Beach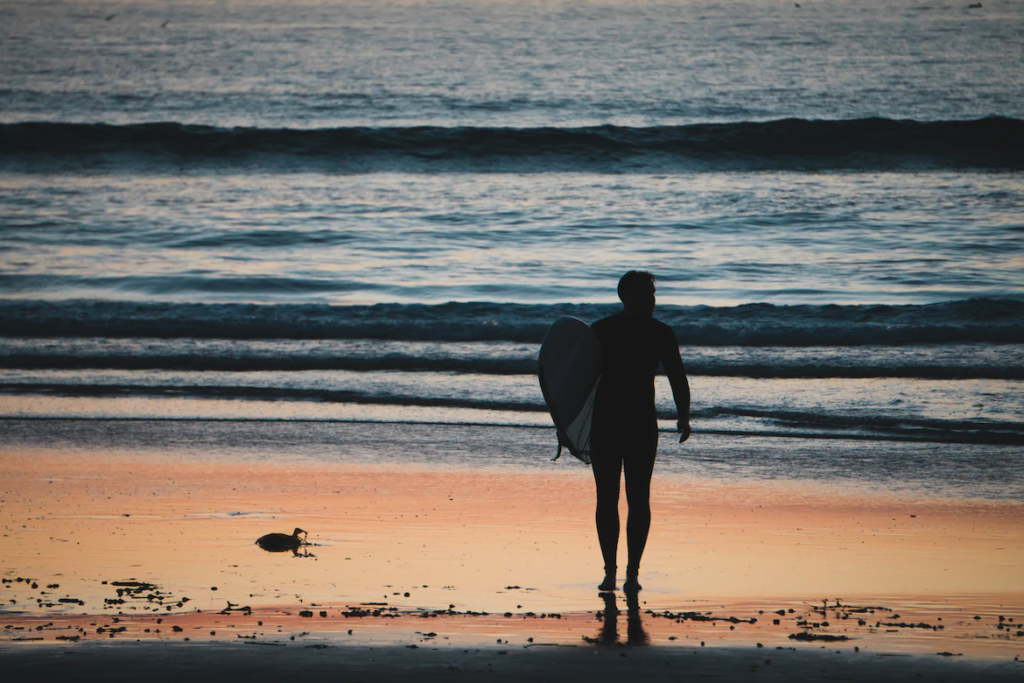 Mission Beach is San Diego's classic boardwalk town, offering two miles of action-packed boardwalk. It's perfect for couples looking to spend less time sunbathing and more time rediscovering their childhood. You'll find Mission Beach on the northwestern side of the city, just below Pacific Beach. Mission Beach starts on the south side of Crystal Pier.
Ocean Front Walk runs along the length of Mission Beach, starting at Pacific Beach and ending at South Mission Beach at the end of the peninsula.
This walkway is popular for both leisurely strolls and bike rides, as well as for distance runners—whether you choose to take things easy or keep active on your vacation is entirely up to you. As you'd expect, there are many great places to eat, drink and shop along the boardwalk, all offering up fantastic views of the beach.
The beach itself has basic washroom and shower amenities as well as a small park with picnic tables and barbecues. There are also on-duty lifeguards during the day hours to ensure the safety of all visitors. Fire pits allow you to enjoy sunset beach bonfires if you're not ready to go home after an action-packed day.
For the young at heart, Mission Beach is home to Belmont Park and its amusement park and an arcade. The park offers rollercoasters for thrills and spills, and carnival-type games and concession stands for those who prefer to keep their feet on the ground.
If you still fancy more amusement park fun, SeaWorld San Diego is just two miles away (five minutes by car).
Travel Tip: If you're visiting Mission Beach, don't miss the opportunity to join a guided kayak tour at Bonita Bay or Mariners Basin. The tour will take you to explore the inlet area, which divides the peninsula from the mainland.
4. Best for Bird-watching: Torrey Pines State Beach
The Torrey Pines State Beach is located in the nature reserve of the same name, slightly north of the University of California San Diego and just south of the beachside town of Del Mar.
There are three different beaches at this park, so you can really make a day of it if you want to visit them all. North Beach features a very shallow lagoon and salt marshes, while South Beach offers a wide sandy beach good for sunbathing and beach combing.
Perhaps the best of the three is Flat Rock Beach. A word of warning; there's quite a hike along and down the cliff paths, but the views of the stunning geological sandstone formation make it a worthwhile trek. At low tide, you can climb the rock, but keep away during high tide; take caution around the bluff as parts of it are known to collapse.
If you want to do more than lay around in the sand, the park offers hiking trails that look over the ocean and the saltwater marsh below. These hiking trails attract a lot of bird enthusiasts; keep your eyes peeled and you might spot red-tailed hawks or California quails. If you're worried about getting lost or want to learn more about the area, guided hikes led by state park workers leave every day at 10 am.
Travel Tip: Torrey Pines State Beach has several trails that take visitors up into the surrounding cliffs. The viewpoints from these cliff trails make a great secluded spot for whale watching with your other half. Whale-watching season is from January-March, so plan your trip accordingly!
5. Best for Cyclists: Ocean Beach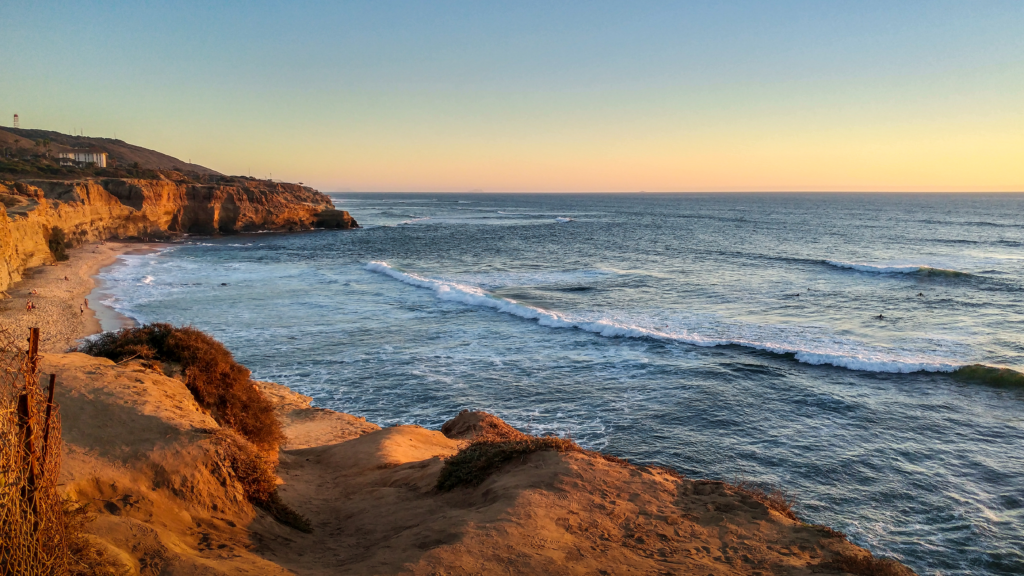 Nestled on the picturesque south side of the Mission Bay channel, Ocean Beach's captivating charm is sure to offer you a day out to remember. This idyllic oasis in the heart of San Diego has carved its place near the entrance of the San Diego River, forming a wide expanse of sandy coastline.
It's ideal for those seeking adventure on two wheels: The Ocean Beach bike path is a scenic route that guides cyclists along the tranquil south bank of the San Diego River, eventually leading them to the historical charm of San Diego's Old Town District. After crossing the river, riders can savor the refreshing sea breeze as they pedal back toward the coast of Mission Beach, following the paved SeaWorld walkway.
Once you get there, this San Diego beach has all the home comforts you need for the perfect day out. Well-maintained washroom facilities and convenient picnic tables, perfect for a seaside feast with your partner, are sure to make your trip more comfortable.
As with many of San Diego's beaches, Ocean Beach permits visitors to create cherished memories around crackling flames with beach bonfires. If you fancy a dip, diligent lifeguards keep a watchful eye during designated swimming hours to ensure you stay safe.
If you fancy keeping active, join the many surfing aficionados and beach volleyball enthusiasts that flock to Ocean Beach. Whether you want to ride the waves or engage in a friendly-yet-competitive game on the sun-kissed shores, there's always something to keep you busy.
Perhaps the greatest thing about visiting Ocean Beach is uncovering the hidden wonderland of tidal pools that emerge during low tide. If you plan your day well, you can immerse yourself in rock pooling and discover the vibrant creatures that call the Pacific Ocean home.
When you're ready for a break from the sand and the waves, discover the splendor of the OB Municipal Pier. It can only be considered an architectural marvel; it's the longest concrete pier in the world and has a distinctive T-shape. The pier sometimes has to close following storm damage, but when it's open, the iconic pier provides awe-inspiring vistas of South Mission Beach to the north and the natural beauty of Sunset Cliffs Park to the south.
Travel tip: If you've arrived by bike, lock it up at the dedicated parking area near Dog Beach before hitting the sand. If you haven't brought your own wheels, fear not. San Diego, known for its bike-friendly culture, offers plenty of bicycle rental companies.
6. La Jolla Cove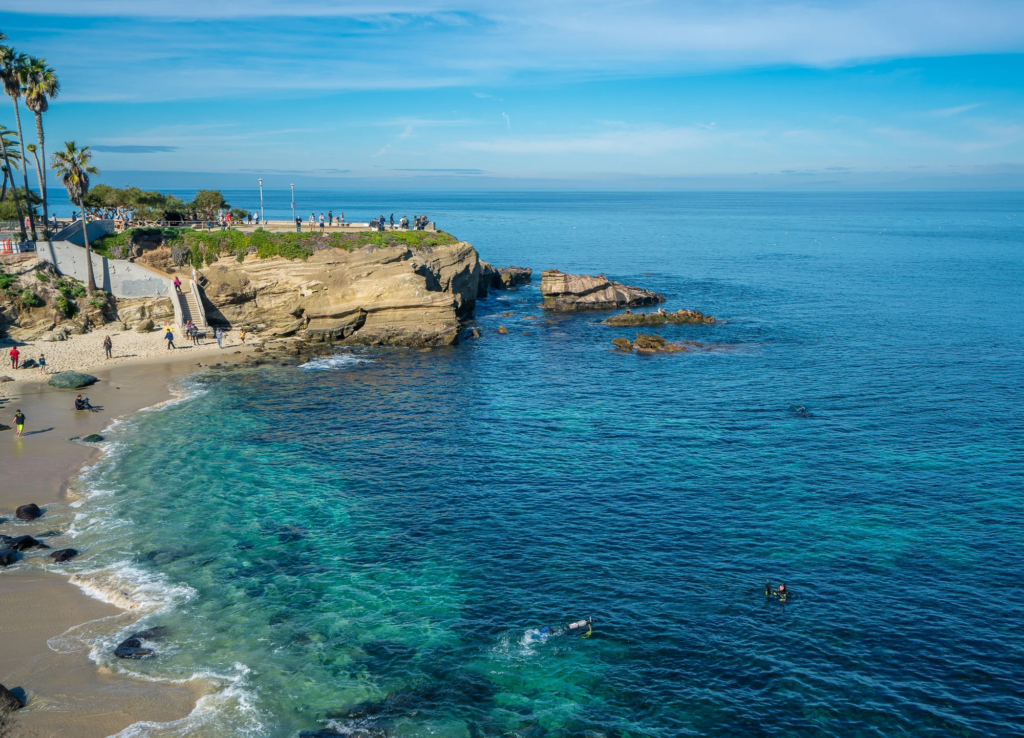 La Jolla Cove might be small, but it's a true gem that captivates visitors with its natural beauty and abundant marine life. Don your snorkeling gear and you might be lucky enough to spot one of the colorful Garibaldi fish that call the Cove home. The water is often calm at this spot, so it's a great place to try out snorkeling for the first time, or just for a refreshing afternoon dip.
The Cove is renowned for its picturesque setting, offering a unique and unforgettable experience for adventurous couples. Indeed, one of the defining features of La Jolla Cove is its breathtaking cliffs, which frame the small, sandy beach below. Although there's not much sand, it's the ideal spot for sunbathing, picnicking, or simply immersing yourself in the beauty of the surroundings, if you get there early.
Beyond the beach and underwater adventures, La Jolla Cove offers several coastal trails; the scenic clifftop paths provide panoramic views of the Pacific coastline. After hiking the paths, you can make your way down the stairs or paths to the beach.
Travel tip: Don't forget a visit to The Cave Store while you're in the area. This stairway will take you through a tunnel and into a natural sandstone sea cave where birds and seals take shelter from the waves. The self-guided tour takes just 15 minutes, and you can treat yourself or a loved one to a beautiful piece of jewelry in the gift shop afterwards.
7. Del Mar City Beach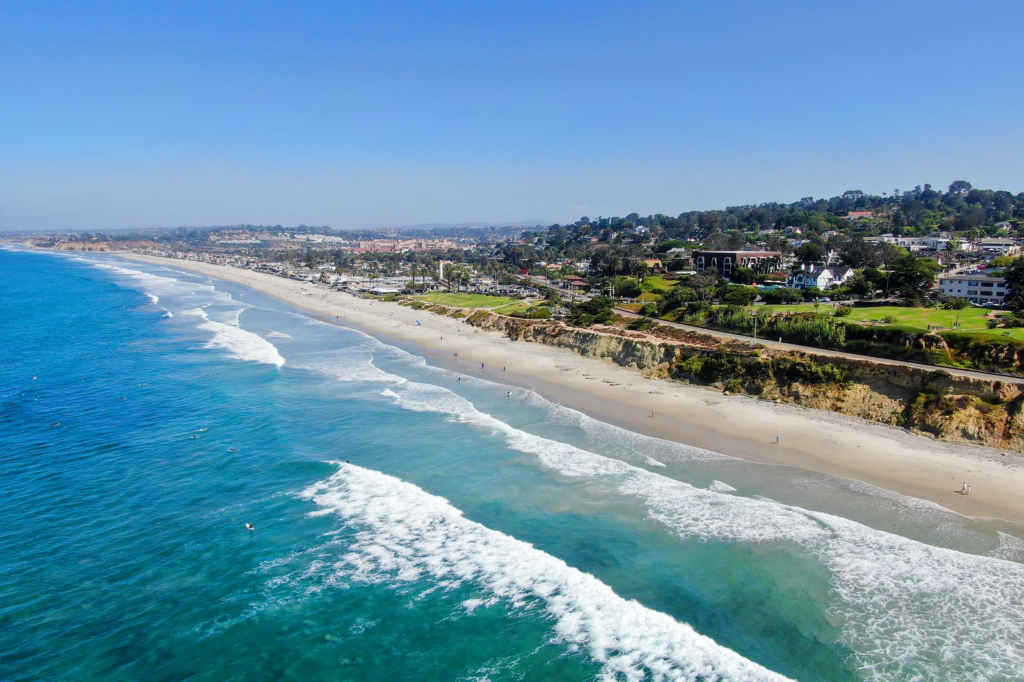 Del Mar City Beach is located in the very popular beachside town of Del Mar, about a 25-minute drive north of San Diego. The beach itself sits south of the lagoon entrance of the San Dieguito River.
It is divided into a north beach and a south beach. The Del Mar North Beach borders the river (with the Dog Beach across the way), while the south beach is close to Torrey Pines State Park.
This beach's shallower waters are great for paddling and splashing around, but venture past the shallows and you'll find the perfect waves for surfing and bodyboarding. The beach has a large two-story lifeguard tower that is open during peak swimming hours to ensure you can enjoy the water safely. When you're back on dry land, this San Diego beach has washroom facilities located at the lifeguard tower.
Del Mar City Beach features two grassy parks: Powerhouse Park and Seagrove Park. Powerhouse Park has picnic tables and benches overlooking the water, making it a great place to take a break from the sand. Seagrove Park is more secluded, offering couples an intimate spot to enjoy lunch in the shade of the surrounding palm trees.
Travel tip: Del Mar City Beach hosts a Summer Solstice festival on June 22. Plan your trip well and you can enjoy bites from the beachside restaurants, wine and beer tastings from local producers, live music performances, and much more!
8. Pacific Beach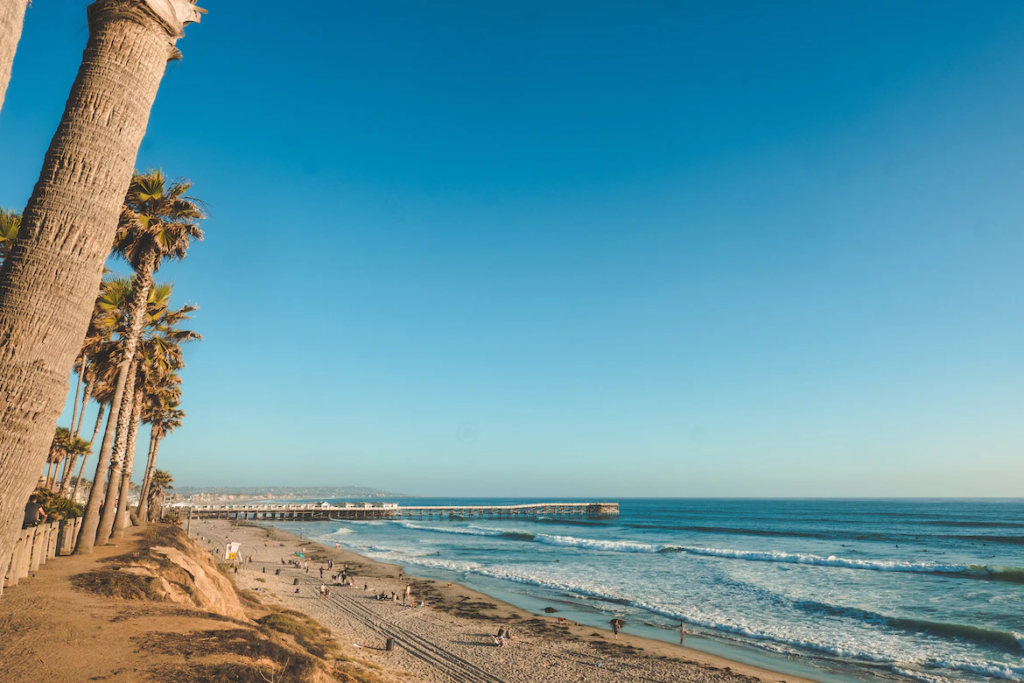 Pacific Beach lies between Pacific Beach Drive and the Crystal Pier, south of La Jolla and north of Mission Beach.
Ocean Front Walk runs adjacent to Pacific Beach, southwards through Mission Beach and down the peninsula. There are many beachfront restaurants and beach bars along this paved walkway and bicycle path to enjoy, as well as cute craft shops and boutique stores to take home a souvenir of your day.
There are beach volleyball courts if you'd like to engage in a little competitive fun with your other half, or maybe you'd like to people-watch and enjoy as others play the sport instead.
If you'd rather get your feet wet, surfing and bodyboarding equipment are available from one of the many rental companies dotted along the street side of Pacific Beach. Back on dry land, bike rental is also an option if you'd prefer to explore the coast on two wheels.
Back on the beach, you can't miss the iconic Crystal Pier—an 872-foot-long public fishing pier that visitors can enjoy, or even stay at. There is a hotel at the entrance of the pier that rents out small cottages located along the length of the pier. Beach views don't come much better than this!
Travel tip: The Pacific Beach parking lot is quite small. Arrive early to secure a parking spot, or you'll be searching for parking several blocks inland.
9. Sunset Cliffs Natural Park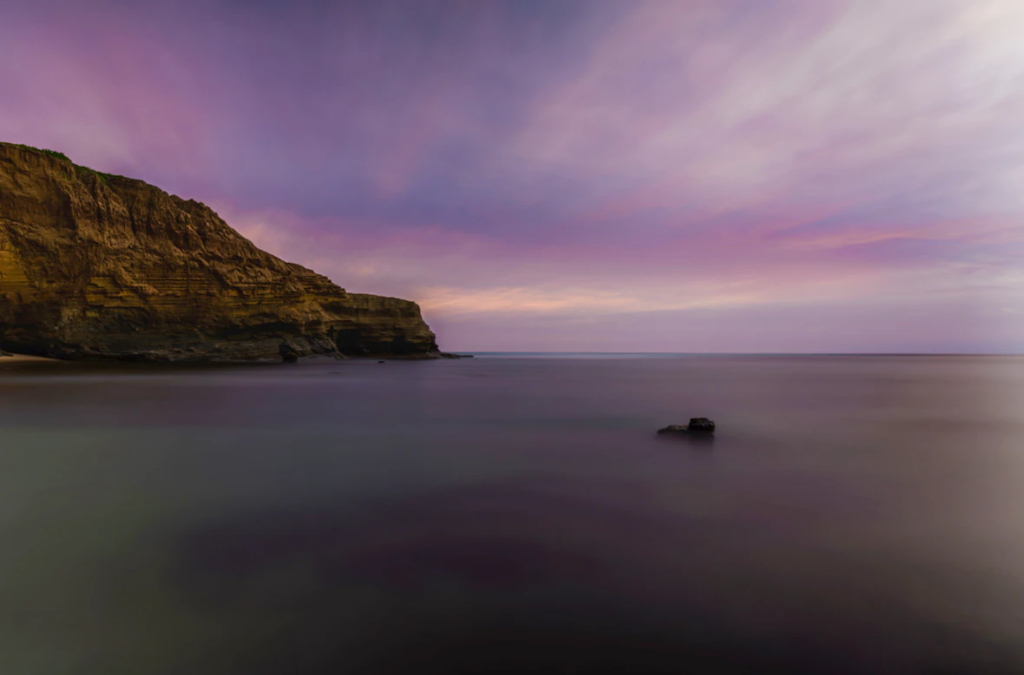 The beach at Sunset Cliffs Natural Park is also known as "Garbage Beach", but don't be put off by this unattractive name! Sunset Cliffs is located about one-third of the way down Point Loma which marks the entrance of San Diego Bay.
Besides the small sandy cove, Sunset Cliffs Beach is not a flat beach and is quite rocky. You'll also need to climb down a flight of stairs along a cliffside to get to the water's edge.
However, the rockiness of the beach is great for tidal pooling at low tide. Additionally, this nature park has sea caves to the north, which attracts the inner explorer in everyone.
This park draws outdoor adventure types from all over with its hiking and dirt-biking trails. The elevation of the park offers great views during the whale-watching season too.
Travel Tip: Trails in this park are known to hold fossils. If you enjoy archeology and geology, you'll love exploring this clifftop landscape with the potential of finding an ancient creature encased in stone!
FAQs
Which beach in San Diego is the most dog-friendly?
The most dog-friendly beach in San Diego is the aptly-named Dog Beach, located on the very north end of Ocean Beach. Dogs are allowed off-leash and may run around as much as they please. Coronado Dog Run Beach also permits unleashed dogs on the beach but not in the park area.
San Diego beaches allow leashed dogs during certain times of the day, usually before and after peak hours. A few beaches prohibit dogs altogether, so double-check before taking your dog to any beach to avoid getting fined.
Is beach camping permitted at any of the San Diego beaches?
Some San Diego beaches allow camping, like Silver Strand State Beach, South Carlsbad State Beach, San Elijo State Beach, and San Onofre State Beach.
Can you drink alcohol on the beaches in San Diego?
Alcohol is not permitted at any of the city beaches in San Diego, but it is allowed at the adjacent beach parking lots. Alcohol is also forbidden at the day-use areas of the California State Parks but is allowed at overnight campsites.