Morocco is a prime honeymoon destination for adventurous couples, for those seeking a culture shock in all the best possible ways. Whenever you step out onto Marrakech's sprawling market, look out over the Sahara desert, or spectate the ebbing and flow of the ocean from the coast of Essaouira, you'll feel as though you've left your home very far behind.
This north African country offers one of the most unique in terms of unforgettable experiences. Where else can you drink mint tea in a 12th-century riad, dine out in the sand dunes, or admire a garden landscaped by none other than Yves Saint Laurent? In this guide, we'll let you in on the best resorts, cities to visit, and excursions to sign up for.
What Makes Morocco Perfect For A Honeymoon
Morocco is a great honeymoon destination choice for those seeking an authentic experience. Although cities like Marrakech have long been popular with tourists, the city's Medina remains wholly Moroccan. Meandering through the boundless market, you can get a real taste of Moroccan culture, particularly in terms of food, music, and atmosphere.
Although the resorts have all the amenities you'd expect from a luxury hotel, they are either found in ancient riads or are new structures built in the style of traditional Moroccan architecture. At the plush, honeymoon-friendly hotels, you can enjoy sunning by the pool while sipping mint tea and listening to the sound of traditional Gnawa music.
In terms of excursions, you can book high Atlas mountain hikes, desert camping trips, and camel rides from the comfort of the main cities.
Best Honeymoon Resorts, Hotels, and Other Stays in Morocco
Riads are the dominant style of honeymoon resort found throughout Morocco, both in the cities and on the coast. However, several unique stays are also found throughout, such as traditional Berber tents and kasbah hotels.
To help you choose where to stay during your Morocco honeymoon, here are our top 10 resorts, hotels, and unique stays.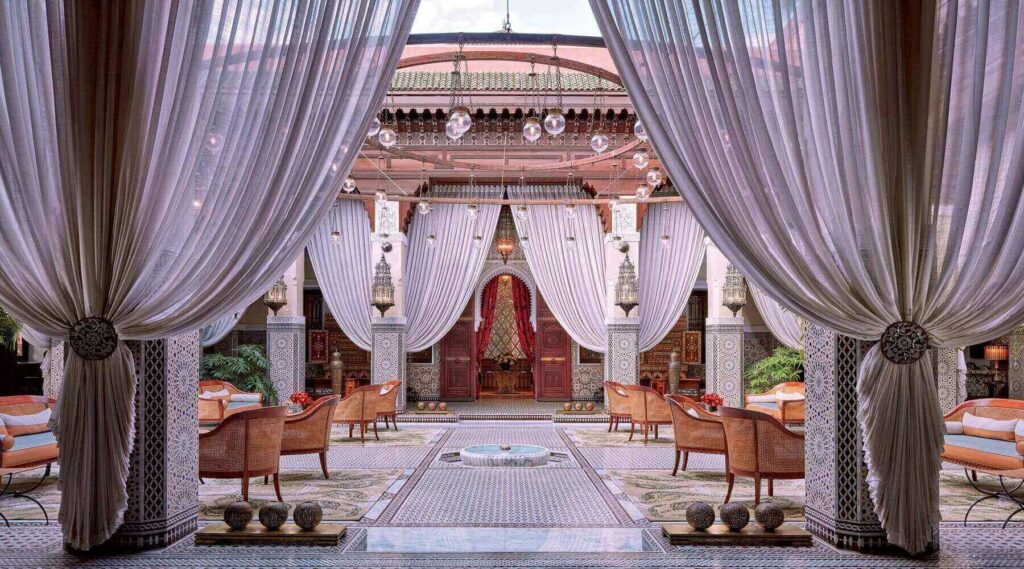 Price per Night: $1,160 – $2,340
Best For: Short stays, bridal suites
Availability: Easy to book
If you want to experience riad-living in the most lavish way possible, the Royal Mansour in Marrakech gives you precisely that. This palatial resort consists of 53 individual riads, each of which is rented out privately to guests and consists of fountains, plunge pools, and several living rooms. Bridal riads are available, done up in a pistachio and blush color palette.
The Royal Mansour is located just off Jemaa El Fna, giving guests some much-needed refuge from the hustle and bustle of the market. Throughout the communal area of the resort, guests will find a larger pool under a glass roof and the La Grande Table Marocaine restaurant, which serves the very best in traditional Moroccan cuisine.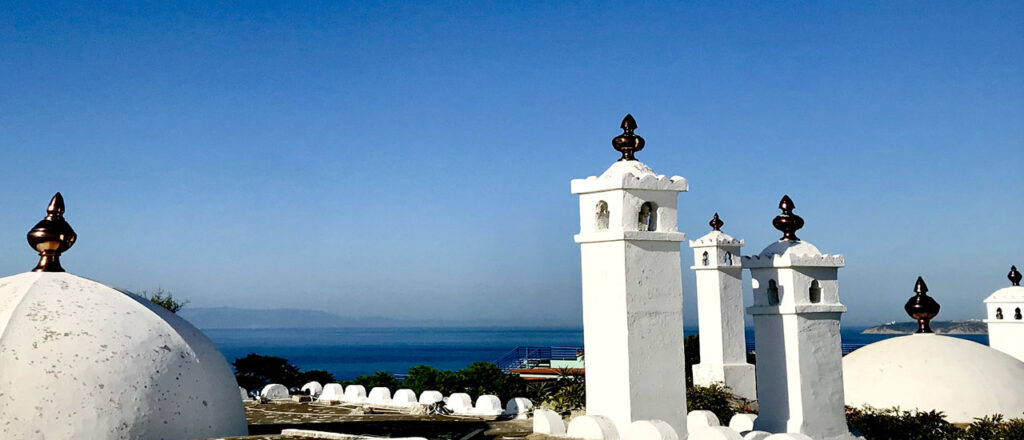 Price per Night: $75 – $150
Best For: Boutique hotel, long stay
Availability: Limited
Located in Tangier, Dar Nour is a family-run boutique hotel (the oldest guesthouse in the city!). It offers guests the perfect way to immerse themselves in this historic port city. Found in the Kasbah neighborhood, Dar Nour offers rooftop views of the city's skyline and a close locality to the city's main sights, such as the Sultan's Palace.
Inside, guestrooms are decorated with ceramic tiles and bohemian furnishings. The family who runs Dar Nour strives to make every guest feel right at home and offer a complimentary breakfast consisting of crêpes and crème caramel. They know the city inside and out and will be able to point you in the direction of authentic eateries and cafes.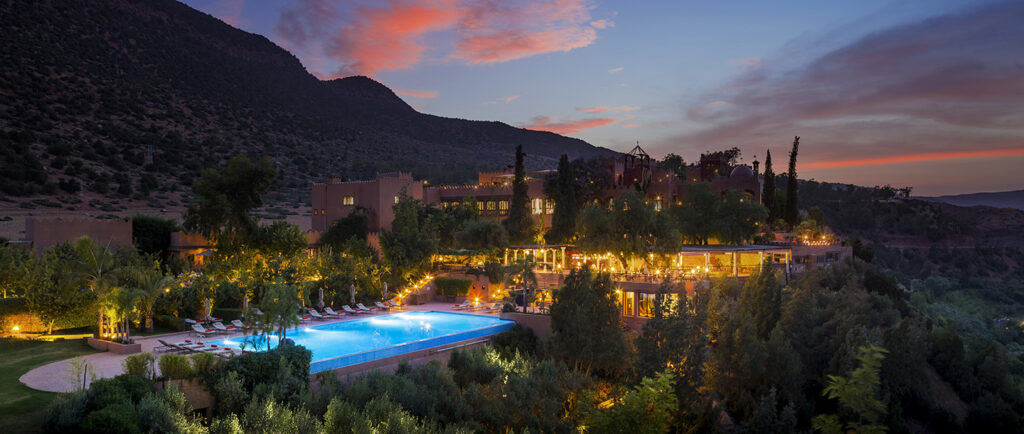 Price per Night: $535 – $1,500
Best For: Unique stays
Availability: Limited
Why limit a visit to the Atlas Mountains to a day trip – why not stay amongst the lofty peaks for a couple of nights? Kasbah Tamadot allows you to do that, located in Asni, a small village on the side of the mountains. Easily reachable from Marrakech, Kasbah Tamadot will enable you to discover the authentic Berber way of life.
Start your day off with mint tea before heading out on a mule trek or partaking in a Berber bread-making class – experiences are aplenty at Kasbah Tamadot! The range of rooms is also diverse, from Berber tents to comfortable suites with pools. A communal pool with dining is also available, which is perfect for admiring the mountains at night.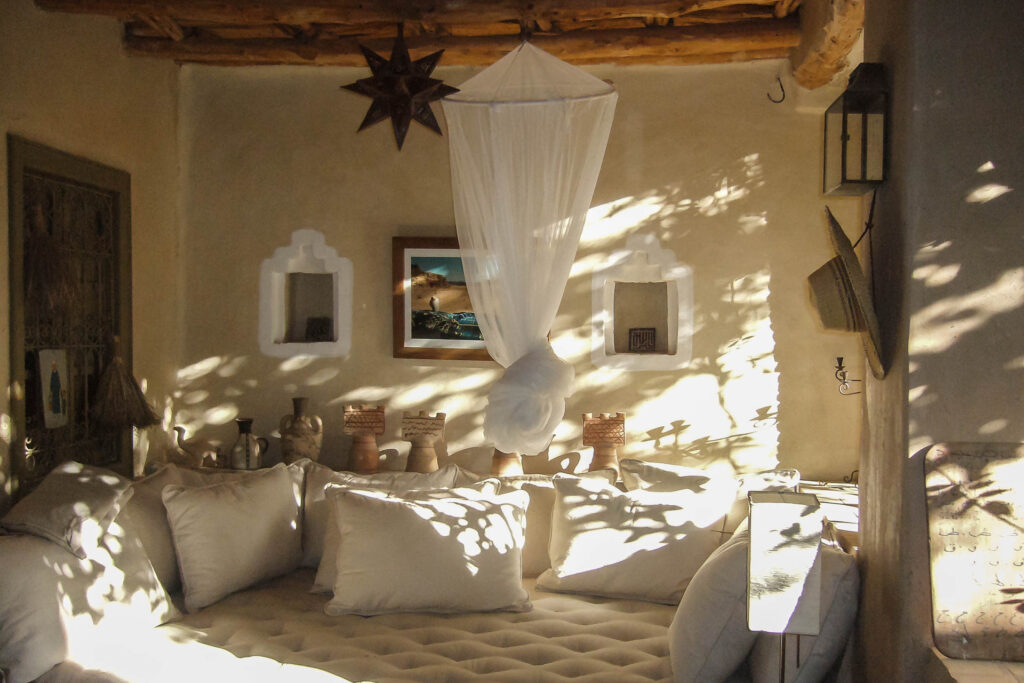 Price per Night: $85 – $350
Best For: Nature lovers
Availability: Limited
The Dar Zahia Garden villas are five Amazigh-styled cabins located on the outskirts of Taroudant. Each sleeping quarter is minimal, consisting of little more than a bed and private terrace, but the surrounding nature gives these accommodations a unique atmosphere. Inside the clay-walled garden, you'll find eucalyptus, aloes, citrus, and olive and fig trees.
This small resort also boasts a pool and a rooftop terrace, where guests can enjoy traditional meals prepared by the owners. Spectacular views of the Atlas Mountains are guaranteed! The Dar Zahia Garden is only a short stroll away from Taroudant, where guests can browse the souks, dine out, and soak up the city atmosphere.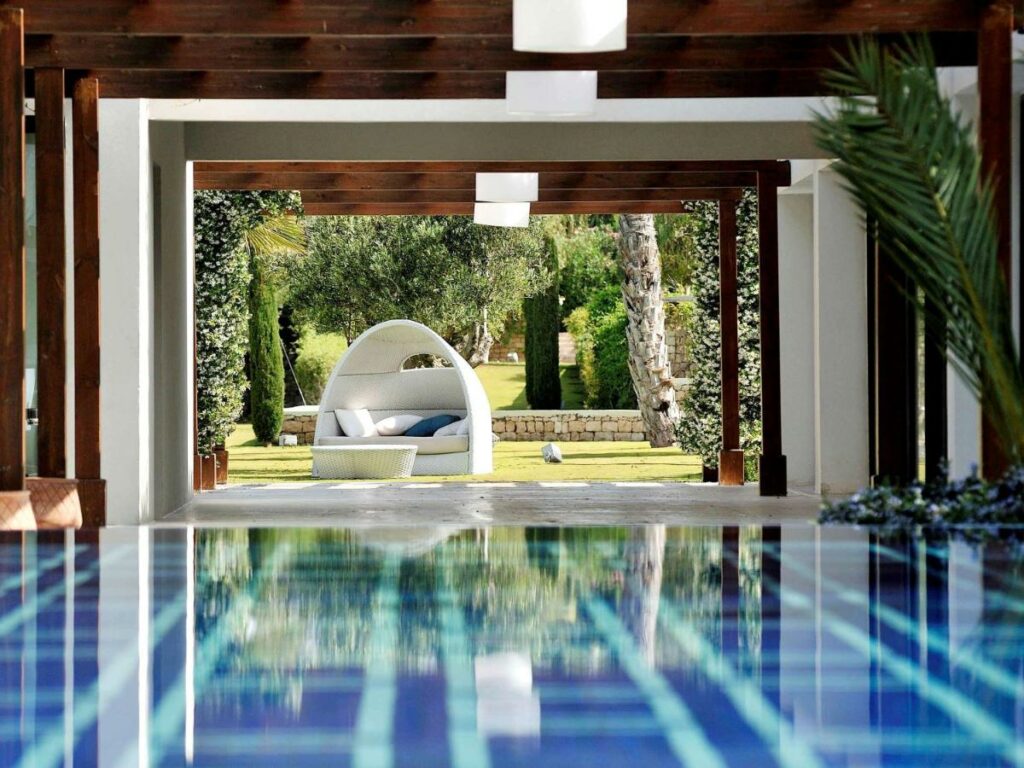 Price per Night: $115 – $605
Best For: Luxury resort, bridal suites
Availability: Easy to book
The coastal city of Essaouira is already dream-like enough, but you can take it to the next level by staying at the Sofitel Essaouira Mogador resort. The Sofitel allows guests to relax and take in the sea breeze and views from the comfort of the large outside pool – there's also a pool, and plenty of seating is available around its perimeter.
The city is a short distance from the resort, but there's plenty to do onsite to keep you entertained. The golf course and spa are ideal for spending a quiet couples afternoon together, while the onsite dining and evening entertainment is perfect for mingling with other guests. Rooms come with a minibar and private balcony, each giving unique ocean views.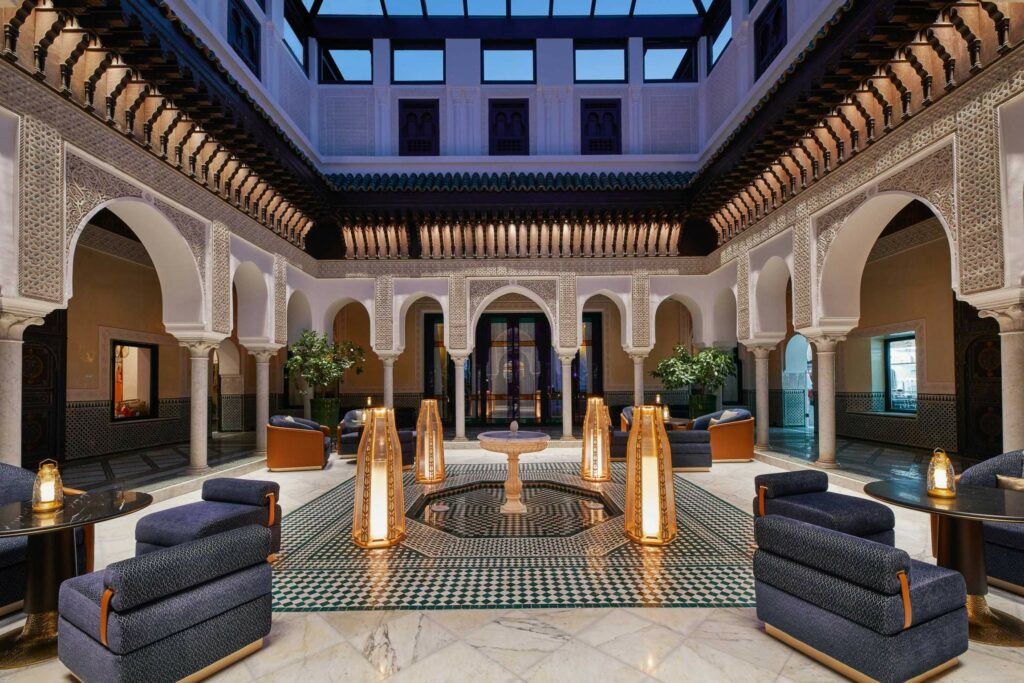 Price per Night: $450 – $1,900
Best For: Short stays
Availability: Limited
It's impossible to talk about Morocco honeymoon resorts without mentioning the legendary La Mamounia. Even tourists who aren't staying at La Mamounia come to admire its grandeur. Its grand riads, five restaurants, tearooms, and expansive spa center have attracted celebrities and honeymooners for over a century now.
This sprawling complex is inspired by the Medina, which is located just outside the hotel, allowing you and your partner a more exclusive Moroccan market experience. Ideal for honeymoons, the suites pull together rich fabrics, Moroccan furnishings, and unbeatable views of the surrounding mosques and gardens of Marrakech.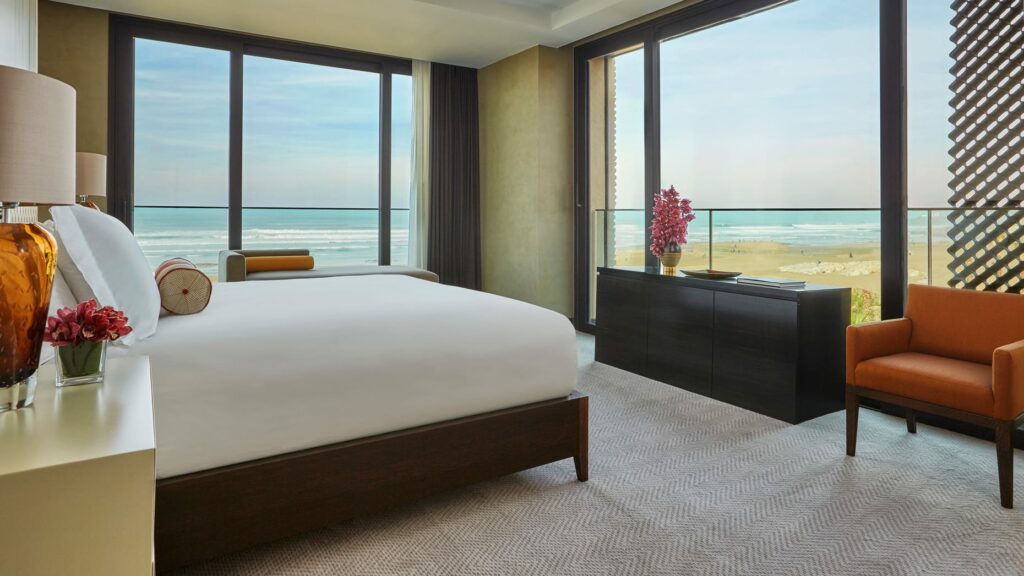 Price per Night: $360 – $5,250
Best For: honeymoon package
Availability: Easy to book
Out of all the glamourous hotels in Casablanca, Four Seasons has got to be one of the best offerings, thanks to its locality to the oceanfront. Casablanca can seem overwhelmingly big, but Four Seasons is poised conveniently between the beach and the city center, which makes getting around the metropolis easy. It even offers romance packages, ideal for a honeymoon.
In this package, you'll receive a room boasting a private terrace, couples' massages at the spa, a gourmet breakfast served to your room, and an itinerary prepared by the staff, which can include things like cooking classes and yoga experiences. The resort upholds the Four Seasons standard, with a large private pool, beach area, and a plush bar area.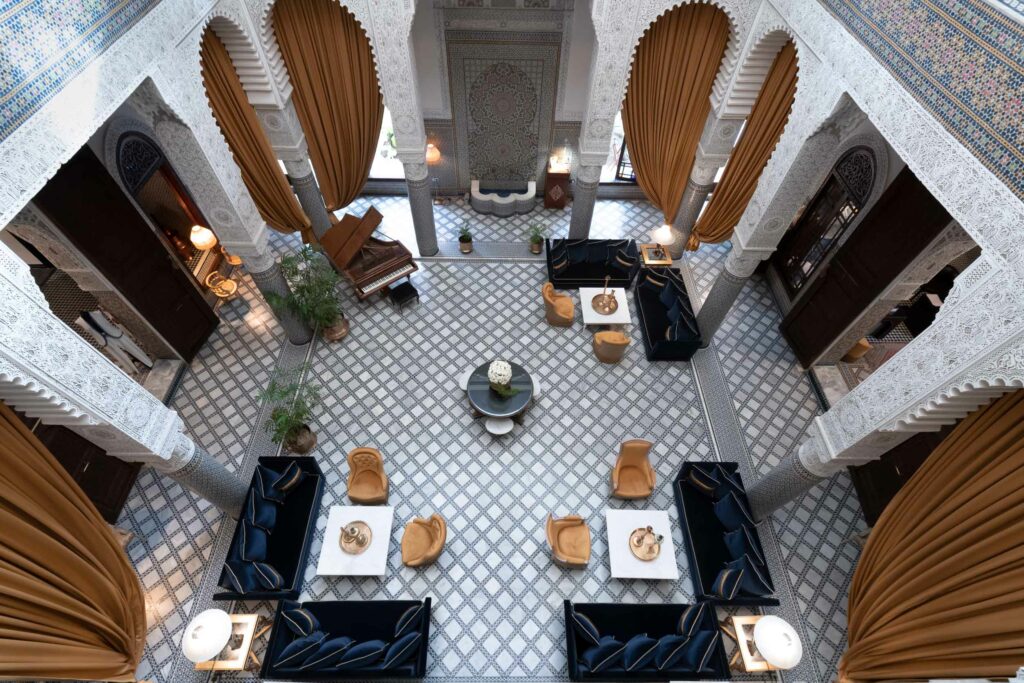 Price per Night: $220 – $1,820
Best For: Couples activities
Availability: Easy to book
If you're planning on visiting the northeast, the best Morocco honeymoon resort option would be Riad Fes. Not only do the rooms have romantic decor reminiscent of Arabian Nights, but the resort is found in the heart of the Medina, which makes the window views particularly exciting. The rooms are very traditional, with rich rugs and delicately decorated walls.
The biggest highlight of Riad Fes, however, is the amount of couples-orientated activity the resort offers, which includes mud baths, spa experiences at the onsite Hammam, cooking classes, and horseback rides around the grounds. Other onsite facilities include an outdoor pool, bar, restaurant, and lounge area.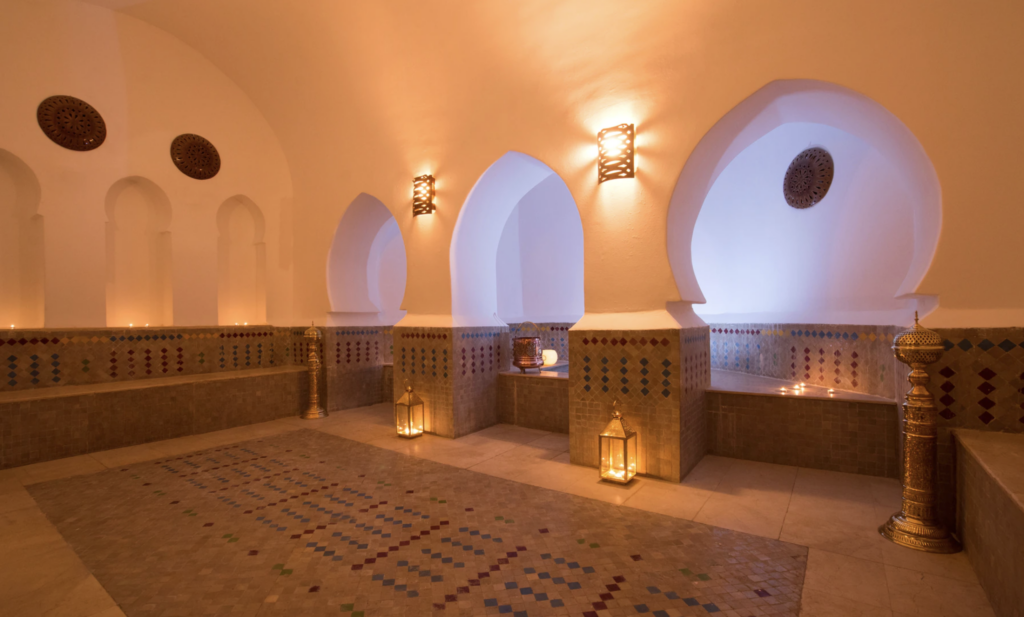 Price per Night: $200 – $630
Best For: Private beach access
Availability: Easy to book
The Iberostar Founty Beach resort puts you on the oceanfront, meaning you can kick off each day of your honeymoon swimming, surfing, or sunbathing on Agadir's famed coastline. This is a bigger hotel with 470 rooms, so if you're expecting a lively hotel atmosphere, Iberostar Founty Beach is a great option. There are plenty of ocean-facing suites available!
Regarding romantic activities for newlyweds, you could book in for couples' massages at the onsite SPA Sensations, relax poolside, or dine out at one of the hotel's eateries. The Agadir souks are a quick trip in the car or a 30-minute walk away, giving you a romantic and traditional area to explore.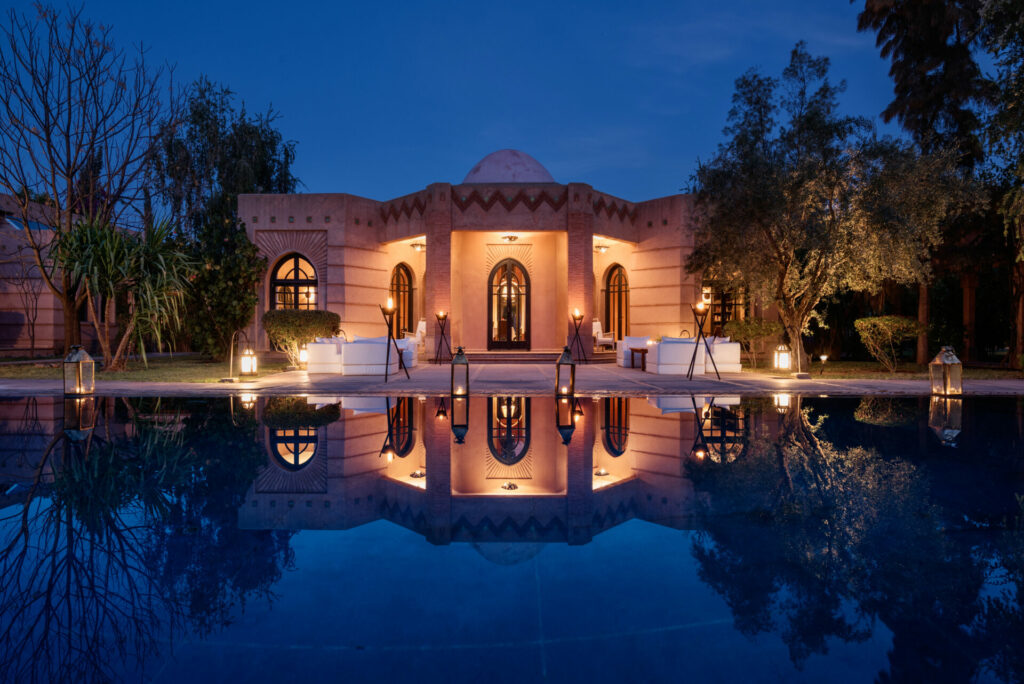 Price per Night: $170 – $260
Best For: Adults-only
Availability: Limited
Villa Al Assala is a budget-friendly, adults-only resort located slightly outside Marrakech's Medina. The palm and olive trees surrounding it make the outside pool area all the more appealing, providing much-needed shade during the summer. Even in cooler months, Villa Al Assala is a top choice for honeymoons, with the pool heated throughout the year.
The private balconies in each room at this resort look out onto the delicate garden area, with the Atlas Mountains visible in the distance. Chef Habiba serves up the best in Moroccan cuisine for lunch and dinner, but if you fancy trying some of Marrakech's top restaurants, the Medina is only 10 minutes away.
Best Areas To Stay in Morocco
Morocco may appear small on the map, particularly when compared to neighboring Algeria. Still, the north African nation is home to several imperial cities, beautiful small towns along the Atlantic coast, and plenty of countryside in between. This gives you a range of destination options for your Moroccan honeymoon – but where should you go?
Here are our top choices for cities and areas that you can consider must-visits for your Morocco honeymoon. If you are tempted to incorporate a few stops on your honeymoon in Morocco, train lines keep all the main cities connected – such as Marrakech and Casablanca – while buses are available for shorter trips, such as between Marrakech and Essaouira.
Marrakech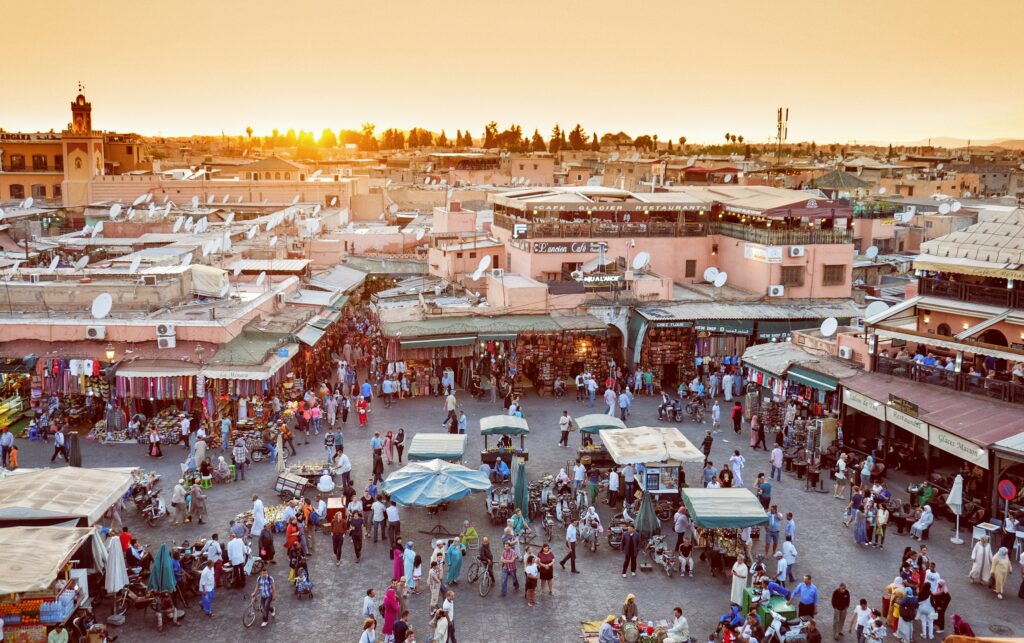 Marrakech may not be the capital city of Morocco, but it is undoubtedly one of the biggest cultural capitals in North Africa. The city consists of an old and new city; the former is mainly occupied by the vast market, which encompasses curious stalls, tranquil gardens, and irresistible restaurants. The new city consists of familiar shops, bars, and restaurants.
Some of the best dining experiences include Cafe Árabe and Nomad, while the best cultural things include meandering around the Le Jardin Secret, the House of Photography, and the Bahia Palace. A magical moment of your time in Marrakech will be sampling Morocco's national drink, mint tea, which is available everywhere!
Essaouira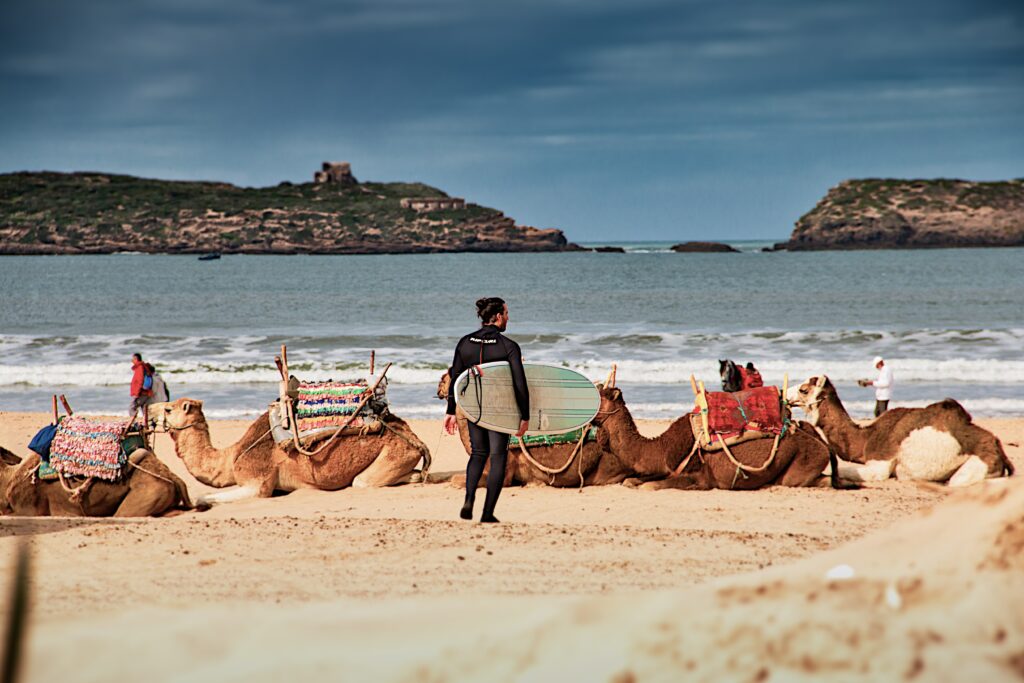 Essaouira has always had a romantic and artistic draw to it, having been a refuge for musicians such as Jimi Hendrix and a popular filming location for directors such as Orson Welles. Today, it stands as a UNESCO World Heritage site, with streets that have a relaxed and delicate appeal. White riads line the streets, many of which are popular eateries.
Essaouira has a lengthy beachfront popular for volleyball and sunbathing amongst the tourists, bordered by the city's hectic fish market. Honeymooners can pick up the local culture around the souks, art galleries, and traditional music venues. Tourists can also walk along the ramparts that border the city.
Fes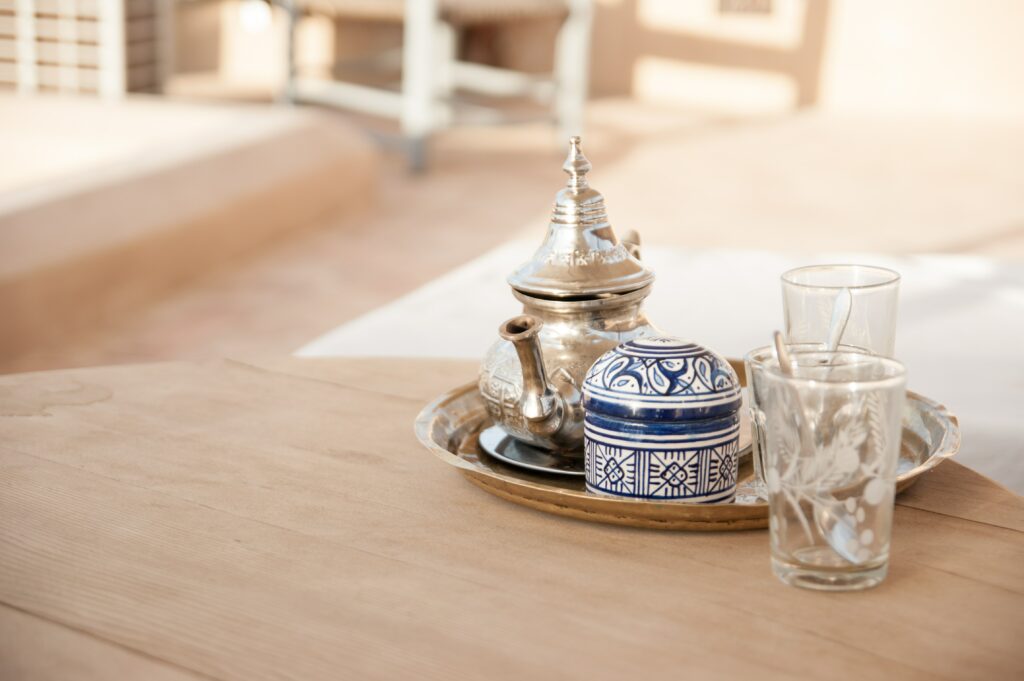 To some, Fes (or Fez) is the spiritual capital city of Morocco, being one of the oldest cities in Africa. It also has one of the oldest medina areas in Morocco, which looks just like something from the medieval era! One of the biggest appeals of Fes' market is that it's a lot more chilled out than that of Marrakech, giving tourists time to consider their purchases.
Fes offers many honeymoon-worthy activities, including climbing up Medersa el-Attarine, taking in the ancient town's views, and strolling around Bou Jeloud Gardens. You'll find plenty of tagine-serving restaurants and tea-drinking opportunities.
Tangier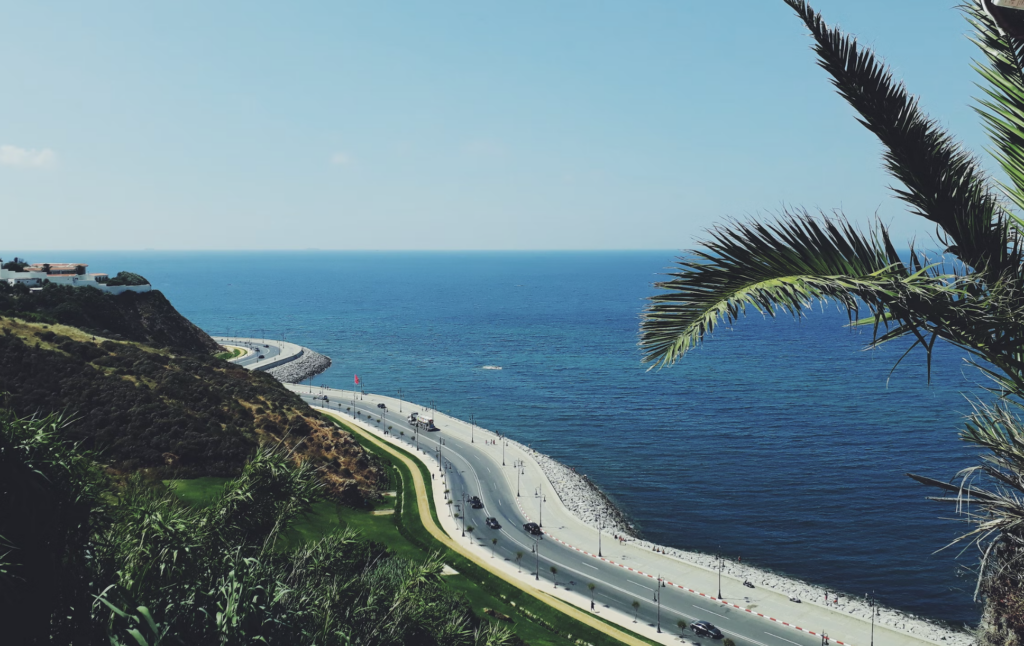 Tangier is the most culturally diverse corner of Morocco and is worth visiting to see this amalgamation of French, Spanish, and other European architectural styles alone. Tangier is often considered to be the gateway to Africa, which is quite literal, being located directly across from Gibraltar – it's even possible to see this strait from Tangier!
As newlyweds, you'll find plenty of activities to do in Tangier, including a private tour of Hercules Cave or Parc Perdicaris, relaxing on Tangier beach, or camel riding.
Casablanca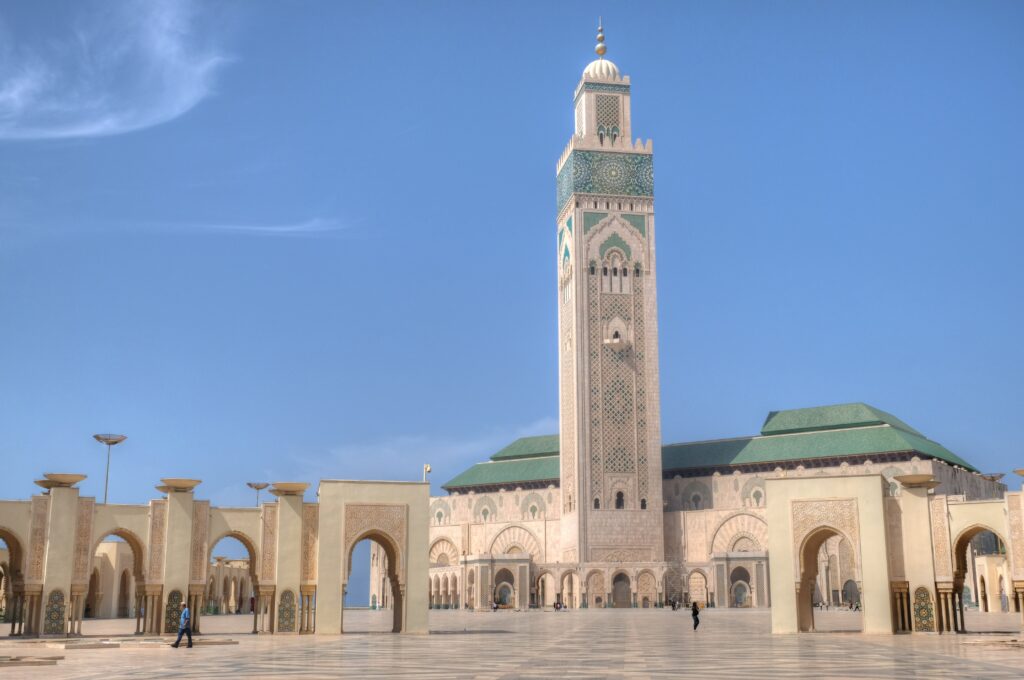 Famed for the Hollywood film of the same name, Casablanca may not be the same city today, but it still has very glamorous corners, an inviting market area, and a lively coastal stretch. Often topping the list of best romantic destinations in the world, Casablanca is the biggest city in Morocco, with romantic activities found throughout.
In terms of what you can get up to in Casablanca, you could spend a romantic afternoon shopping at Morocco mall, walk through the Corniche, or sunbathe on one of the city's several beaches, which includes Ain Diab Beach and Monica Beach in Mohammedia.
Top Excursions & Activities To Do On A Morocco Honeymoon
There's also a wide selection of excursions throughout the many great cities and regions to choose from in Morocco. Here are some of the best to add to your Moroccan honeymoon itinerary:
Desert camps
The Sahara desert runs along the southern part of the country. Although no major tourist cities are located here, there are plenty of desert camps poised along the dunes that you and your partner can stay in overnight. A desert camp can easily be booked from the city you're staying in, with pick-ups available from the likes of Marrakech and Fes.
A Sahara desert camping experience costs around $70 per person.
Hot air balloon ride
One way to make your honeymoon in Morocco memorable would be to take to the skies in a hot air balloon ride. Numerous hot air balloon ride experiences are available, with prices starting from $335 for couples and airport pick-up available. Balloon rides typically start in the desert and fly over Marrakech.
Explore a garden
Although the medinas found in Morocco's city centers are fascinating, they can sometimes be overwhelming. This is where the gardens come in handy – offering you and your partner some much-needed tranquility from the fast pace of the market.
Although some are free, such as Fes' Jardin Jnan Sbil, many charge for entrance. For example, Le Jardin Secret in Marrakech costs around $22 for admission.
Ascend the Atlas Mountains
Although the High Atlas Mountains take a few days to ascend, it's possible to do a short tour of the region within a day. The Atlas Mountains and 3 Valleys & Waterfalls & Desert Agafay is a popular tour that leaves from Marrakech square daily and takes tourists by mini-bus to the Berber villages, such as Armoud, that line the side of the mountain range.
Guests will get the chance to drink tea with villagers and admire the sweeping cascades that trickle down the mountain range. This tour can cost as little as $26.
Tour around Chefchaouen
Chefchaouen is a small town located in the northwest of Morocco that has garnered the nickname 'The Blue City' thanks to the indigo and sapphire-colored buildings found here. Although these hues can be found throughout Morocco, there's not another city where this color scheme is quite as mesmerizing.
The Blue City is best explored when staying in Fes, with Fes day trips to Chefchaouen for as little as $37.
Sample Itinerary & Budget For Your Honeymoon To Morocco
With so much to see and do in Morocco, we'd recommend splitting your honeymoon over two destinations. Although Marrakech is bustling with activity, you don't have direct access to the Atlantic Coast like in Essaouira and Tangier.
Transport between cities is very straightforward. For example, you can get on a bus nearby Marrakech Railway Station directly to Essaouira for upwards of $5, which will take around 3 hours. Alternatively, you could hop on a train at the same station to Casablanca for about $8, which will only take 2 hours and 45 minutes.
To help you estimate your budget overall, here's a breakdown of all the costs you and your partner can expect to make if you choose to visit Morocco for your honeymoon:
| | |
| --- | --- |
| Accommodation | $135 (budget hotel) – $12,740 (expensive riad) |
| Food and drink | $600 – $700 |
| Airfare | $1,000 – $1,200 (roundtrip) |
| Travel inside Morocco | $30 – $35 (for return tickets) |
| Sahara desert camping experience | $140 |
| Hot air balloon ride | $335 |
| Garden entrance | $45 |
| Atlas Mountain trip | $55 |
When planning your own Morocco honeymoon itinerary, use this sample for inspiration:
Day 1 – Check into your hotel in Marrakech. If you're ready to taste what the country's about, step out onto the Medina and explore its winding streets. Alternatively, if you're feeling jetlagged, take the rest of the day off to enjoy the tranquility of your riad.
Day 2 – Kick off your day with a swim in your resort's pool and head out to the Medina for lunch. There are plenty of hidden restaurants that are honeymoon-worthy, such as Cafe Árabe. In the afternoon, wander around the market some more before heading into Le Jardin Secret. For sunset, hit one of the rooftop restaurants.
Day 3 – Get up early and join an organized day trip, such as the popular Atlas Mountains and 3 Valleys & Waterfalls tour. This will take up most of your day and bring you back to Marrakech in the early evening. Check out another restaurant in the Medina, such as Nomads, or dine at your hotel restaurant. Spectate the snake charmers in the Jemaa el-Fnaa Square.
Day 4 – Head to Marrakech train station and get a bus to the coast. A bus ride to the likes of Agadir will take you through some beautiful countryside and neighboring villages. Check into your beach resort and enjoy the coast in the afternoon. Have a romantic candle-lit dinner in one of the town's eateries.
Day 5 – Take it easy on day five – spend the entire day poolside, on the beach, or wandering around the local market square.
Day 6 – Book a Sahara desert private tour experience either just for the day or overnight (if you have time!)
Day 7 – Have one last day of relaxation at your resort. Book in for a couples' massage if there's an onsite spa.
Frequently Asked Questions
How much does a Morocco honeymoon cost?
You can expect to pay between $6,000 and $8,000 for the ultimate Morocco honeymoon experience, including flights, accommodation, and food and drink. Although market food is cheap, romantic restaurants in cities like Marrakech and Casablanca will be similarly priced to a western restaurant.
Although Morocco can be done cheaply, a romantic getaway will likely be costly.
When is the best time to visit Morocco?
We recommend visiting either in the autumn or spring months to experience the best weather for your Morocco honeymoon. However, be aware of Ramadan if you plan to visit in March or April. Although it's still possible to visit during this time, you may find some of the restaurants to be closed.
What is the best way to travel around Morocco?
The best and most reliable way to travel around Morocco is by bus or train. We would advise against getting taxis unless your resort organizes it, as taxi drivers are known to increase their fares significantly for tourists.
Start Planning The Perfect Romantic Honeymoon Getaway
From exploring the Sahara desert to riding in a hot air balloon over the country's ancient cities, there's plenty to do during a Morocco honeymoon to make it an unforgettable experience. And from staying in centuries-old riads to camping out in the Sahara dunes, there are also plenty of accommodation types to match.
When planning your Morocco honeymoon, use the information in this article to ensure you have the best time possible, and check out our other resources for more romantic getaway tips!