Hawaii, a real-life paradise, is a playground of stunning beaches that will knock your flip-flops off. Picking the perfect beach to visit in The Aloha State is quite the task, so here's a guide that'll make choosing a little easier. Grab your towel and don't forget to pack some sunscreen, because you'll be on the next flight to Hawaii before you can say Mahalo nui loa.
1. Best for Adventure: Waikiki Beach, Oahu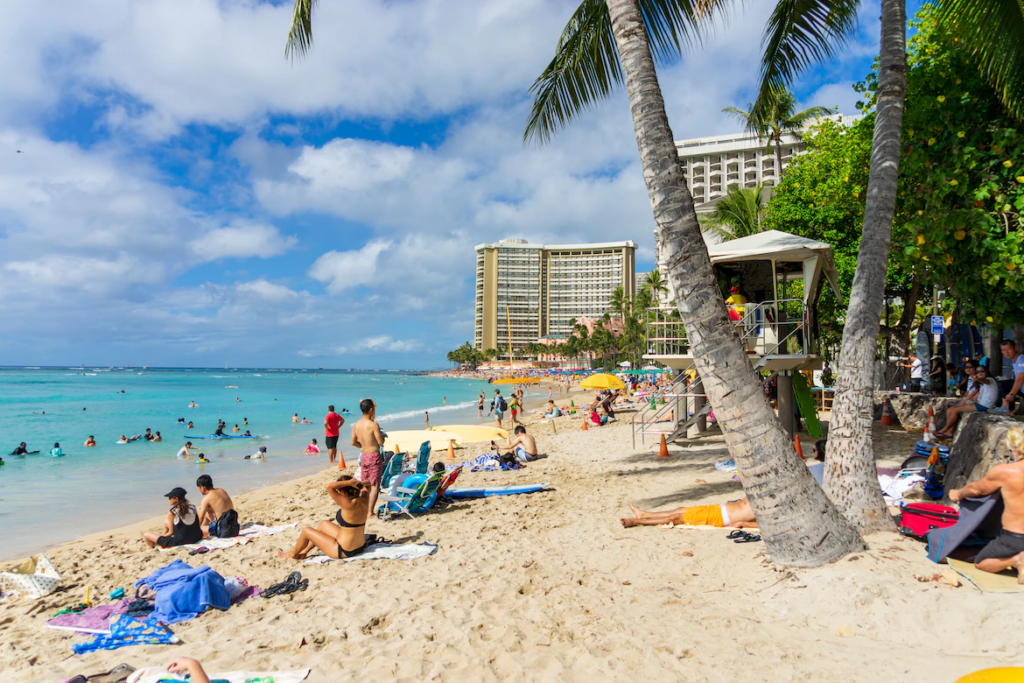 Situated in the heart of Honolulu, this is the most famous beach on our list. Waikiki Beach is best known for its vibrant atmosphere and is arguably the most popular beach on our list. Both locals and people from around the world visit Waikiki Beach in droves to see what this hub of activity has to offer.
Once there, you can expect to find soft white sand, clear waters, and unrivaled views of a volcanic crater referred to as Diamond Head. Scenery aside, Waikiki Beach has no shortage of activities. Enjoy your typical surfing and bodyboarding or you check out one of the many events that take place throughout the year; it's up to you.
And it's not all about beach lounging at Waikiki – you've also got the chance to swing by Kalakaua Avenue. It's the main road of Honolulu and for a good reason, given all of its luxury resorts and high-end restaurants.
2. Best for Spectacular Sunrises: Lanikai Beach, Oahu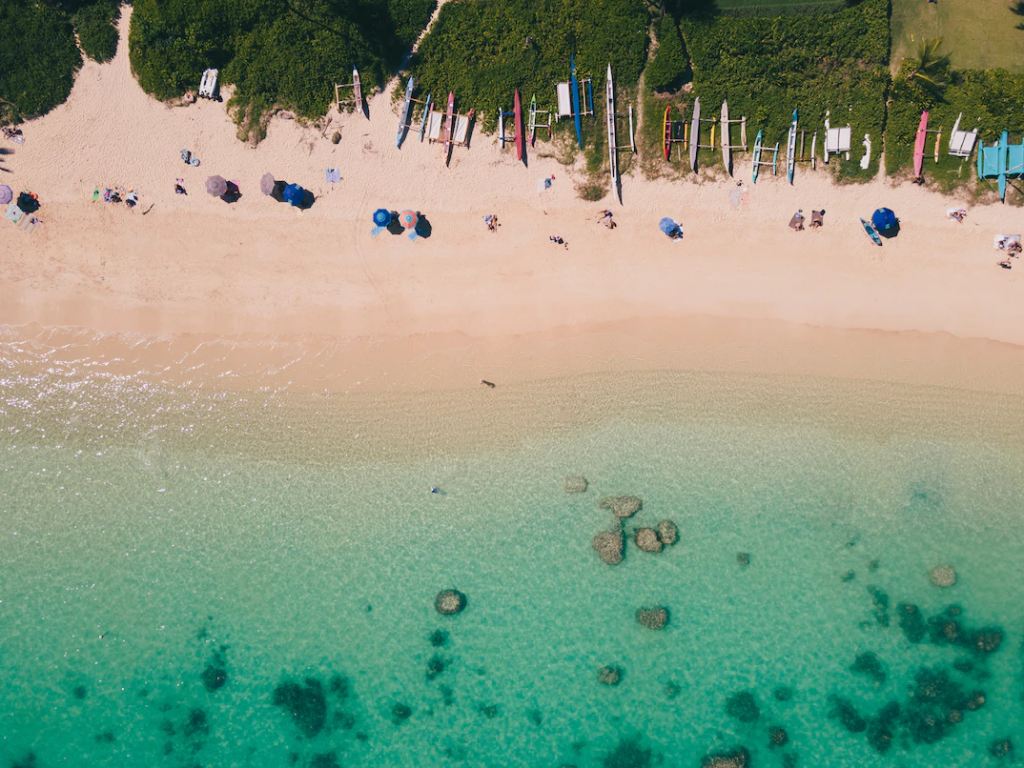 Lanikai Beach is a family-friendly gem located 15 miles outside of Hawaii's capital, Honolulu. Lanikai Beach is easily one of the most popular beaches in Hawaii and is well-known for its spectacular sunrises. Visitors often take leisurely walks along the beach to bask in the sun and admire the sunrise.
When you aren't in awe of the sunrise at Lanikai Beach,you can also enjoy some of the best views of the Mokulua islands. The Mokulua Islands are very raw and showcase the beauty of nature; what more could you want from a once-in-a-lifetime trip with your loved one?
If you need a little more excitement, activities such as paddleboarding and snorkeling are also on offer. For those brave enough, kayaking to the Mokulua Islands is also an option. Once there, you'll be able to catch an up-close glimpse of the unique flora and fauna.
3. Best for Relaxing Aura: Poipu Beach, Kauai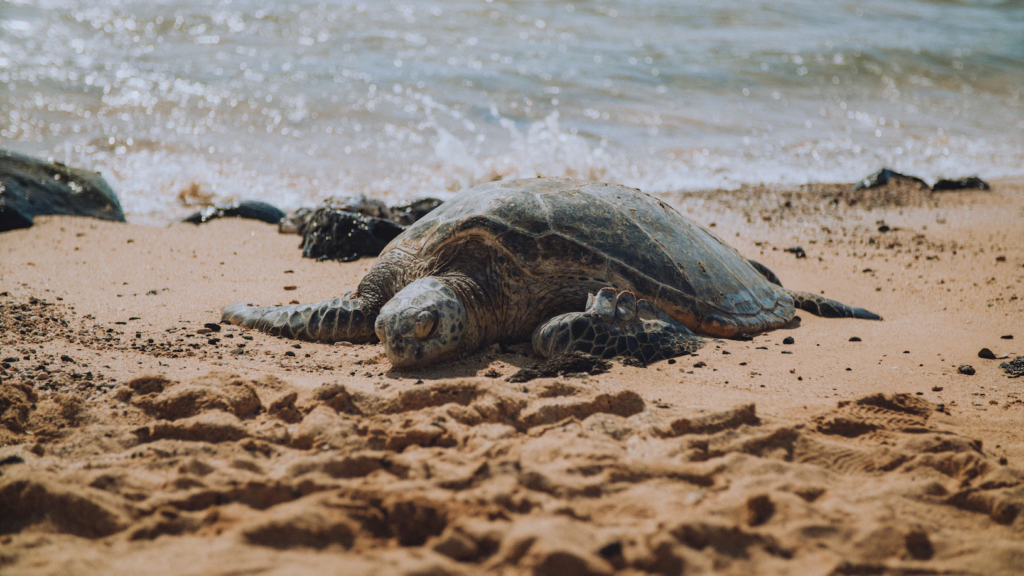 This charming beach on the south shore of Kauai is the perfect destination for those seeking a laid-back beach experience. As you might expect, Poipu Beach offers beautiful views of the Pacific Ocean and tall palm trees. What truly sets Poipu Beach apart from the others is that it's highly suitable for an array of watersports.
If you're not a fan of watersports, you can always simply laze about on the beach. Do bear in mind that you probably won't be the only one with this idea, as Poipu Beach can get a little crowded at times with both sea turtles and people.
There's also a bunch of picnic tables, restrooms, and a natural wading pool. All these factors make this beach a highly convenient option for beachgoers.
4. Best for Spotting Marine Life: Waimea Bay, Oahu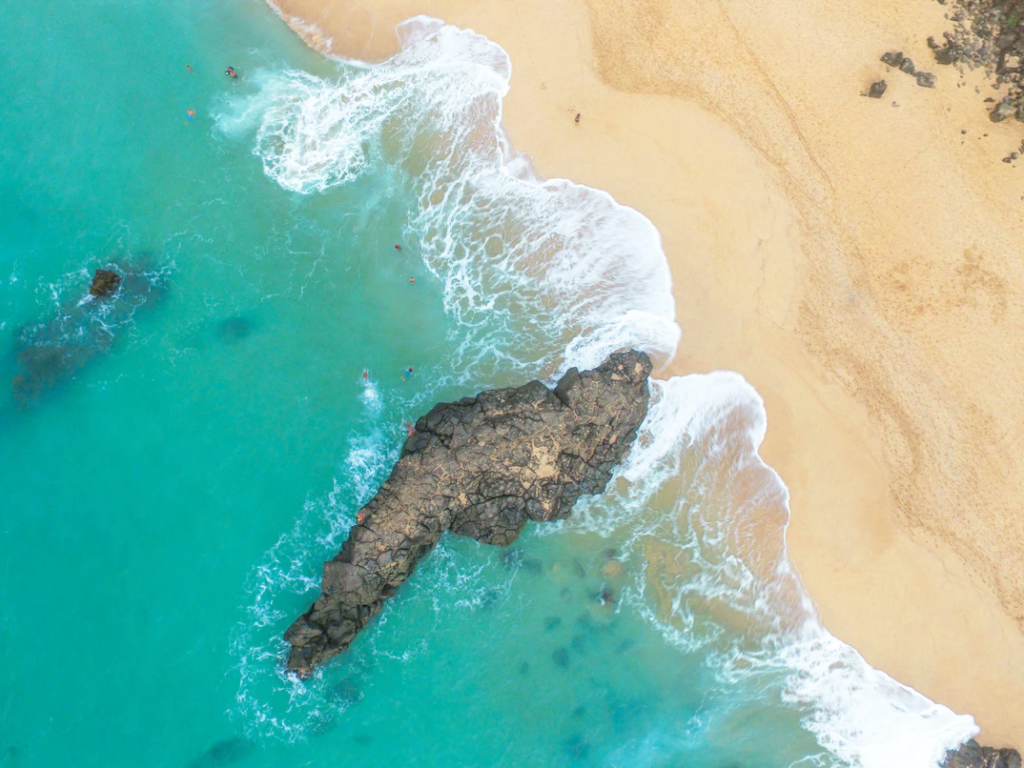 Waimea Bay is a hidden beach with a serene natural environment. The bay is encapsulated by towering cliffs which are perfectly complemented by a sandy beach and turquoise waters. The water itself boasts its fair share of tropical fish and is also a good spot for seeing Hawaiian green sea turtles.
If you're an adrenaline junkie, then Waimea Bay has got to be the beach for you. Here, you can surf waves that go up to 30 feet high or go cliff jumping. Alternatively, you can explore the nearby Waimea Valley which will allow you to get out of the sun and explore a verdant botanical garden.
5. Best for Snorkelling: Hapuna Beach, Big Island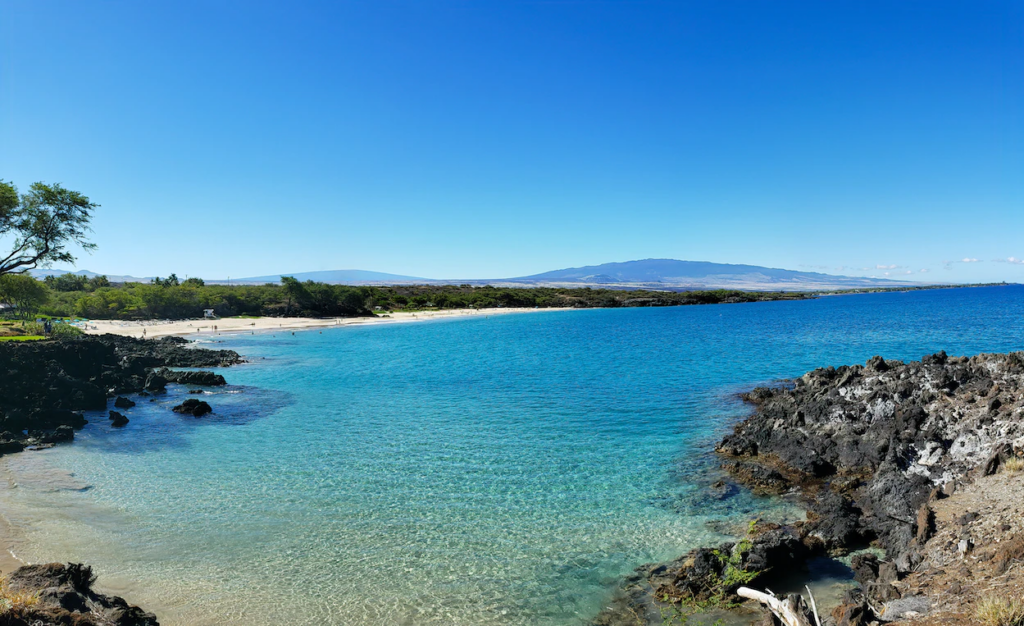 This big beach on the Kohala Coast of the Big Island is the definition of a fun-filled experience. Visitors of Hapuna Beach typically enjoy snorkeling in the shallow coral reefs. However, if snorkeling isn't really your thing, the abundance of marine life is easily visible through the crystal blue water.
If you're tired of seeing green sea turtles, then you won't be disappointed, as Hapuna Beach is a good place to spot humpback whales migrating along the coast. Hapuna Beach is surrounded by lush greenery which offers opportunities for hiking and exploring the natural landmarks nearby.
6. Mauna Kea Beach, Big Island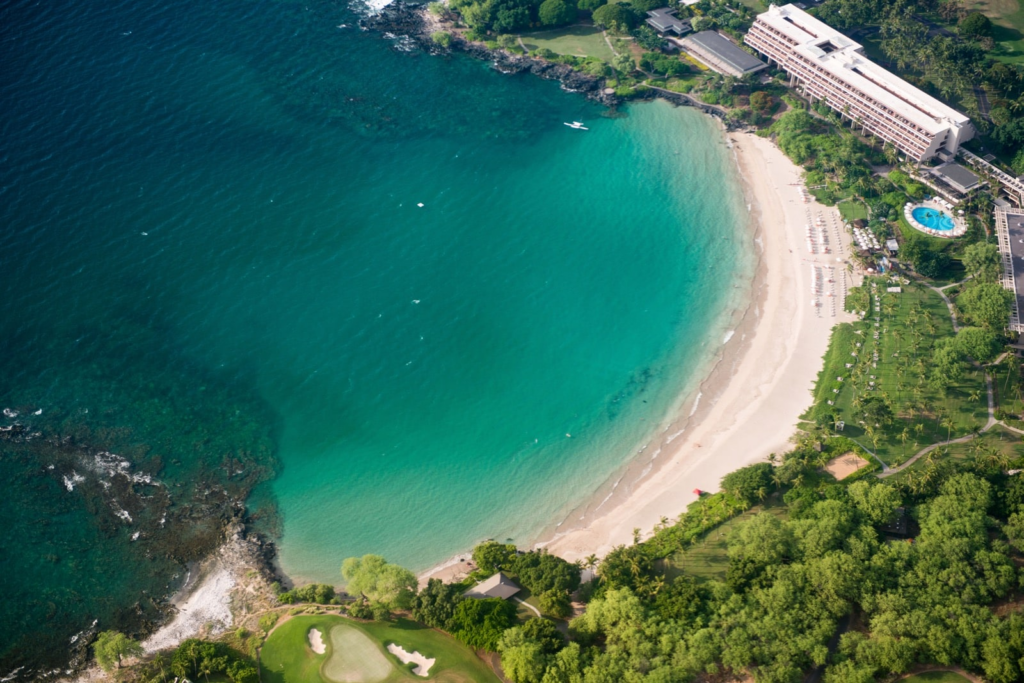 Crashing waves, soft sand, and people boogie boarding; this Big Island beach is what postcards are made of.
The waves at Mauna Kea Beach tend to be quite powerful during the winter, so if you want to explore the coral reefs on the south shore you're better off going during the summer months. In summer, you'll typically find calm waters and gentle waves, making it far easier to explore the coral reefs.
If you're traveling with your own vehicle, Mauna Kea Beach offers free parking (it's notoriously expensive in Hawaii). Just make sure to arrive very early and ask for a parking pass.
7. Mahana Beach, Big Island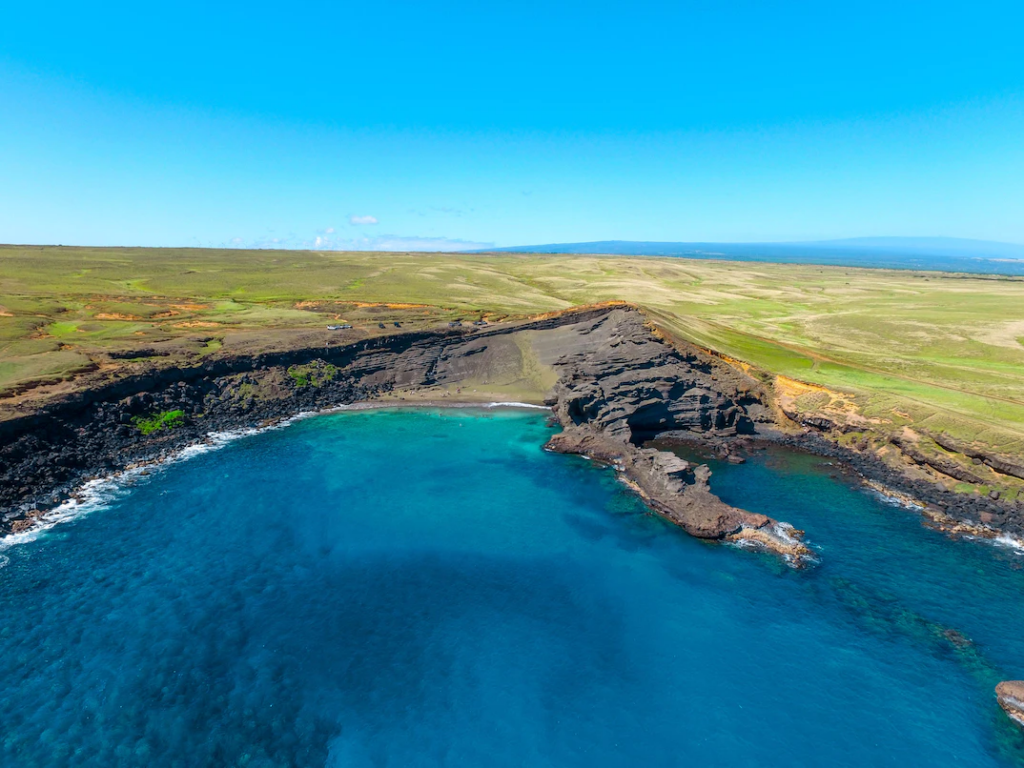 Another reason why tourists flock to Hawaii is to lay their eyes on the island's rare green sand beaches. Mahana Beach, also known as Papakolea Beach, is a highly popular green sand beach on Big Island.
This remote beach is accessed by hiking down a two-mile trail and going down a ledge. This makes it perfect for couples seeking privacy and a unique experience.
Do bear in mind that this green sand beach isn't the best beach to go to if you want to swim. There also isn't much shade there, so the best time to visit is in the morning.
8. Kaanapali Beach, Maui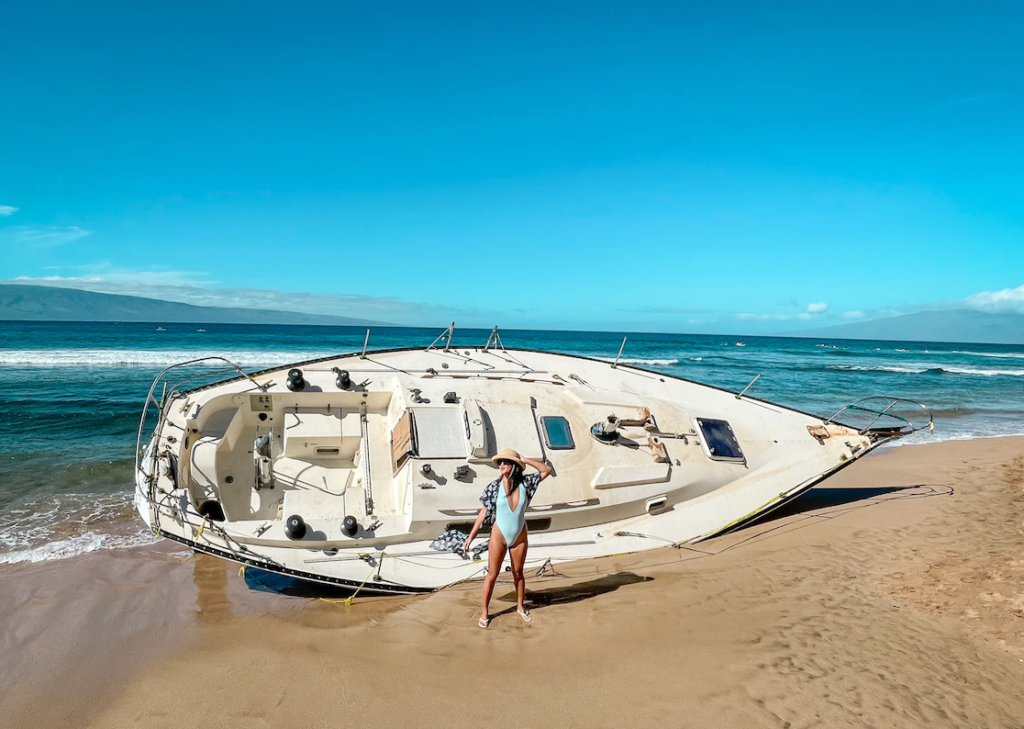 This three-mile-long stretch of sand is another of the best beaches in Hawaii and a world-class resort destination. Kaanapali Beach has upmarket hotels, fine dining restaurants, and plenty of high-end shopping spots, making it ideal for those who revel in opulence.
Despite this, the luxurious lifestyle isn't the only thing that got Kaanapali onto our list of the best beaches in Hawaii. The main attraction of this beach is its daily cliff diving ceremony. During the ceremony, those brave enough jump off a 16-foot black rock to pay homage to King Kahekili, Maui's last independent king.
Kaanapali also has two championship golf courses and offers visitors the chance to spot humpback whales—truly something for everyone.
9. Sunset Beach, Oahu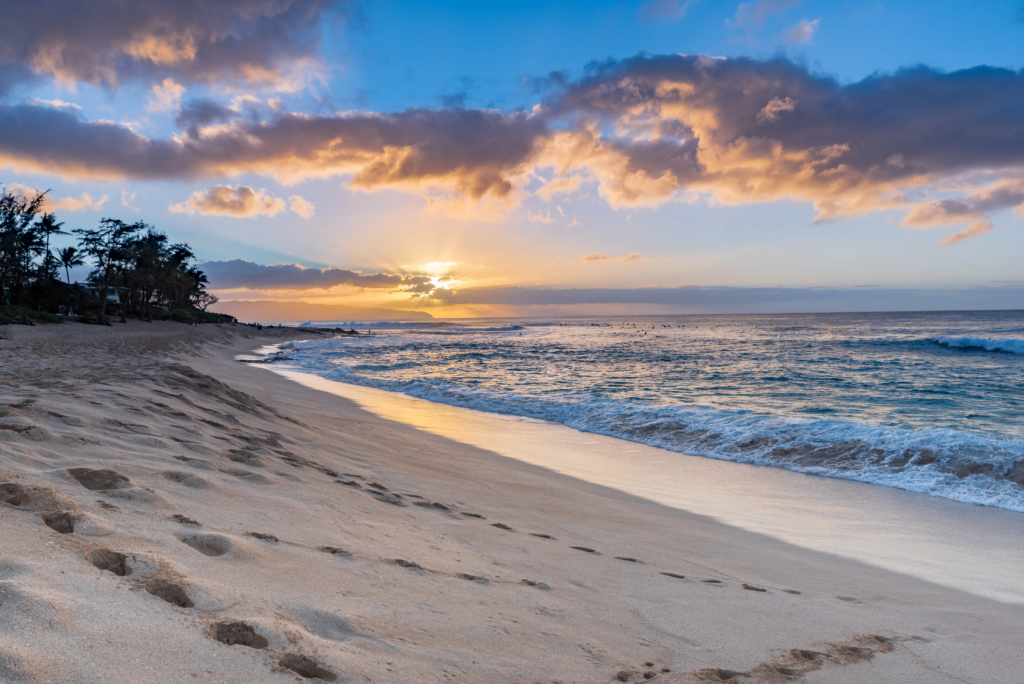 This stunning beach is one of Hawaii's most iconic destinations. Beyond being perfect for couples seeking a romantic and peaceful escape, Sunset Beach is also ideal for thrill-seekers. During winter, the beach has world-class surfing waves which attract professional surfers from around the world. Boogie boarding is also extremely popular amongst visitors of Sunset Beach and is the better option if you find surfing intimidating.
After you're done catching some waves or strolling on the beach, the nearby town provides a great chance for shopping and dining. You'll also be pleased to know that this North Shore beach is easily accessible by car, thanks to its location near Haleiwa.
10. Wailea Beach, Maui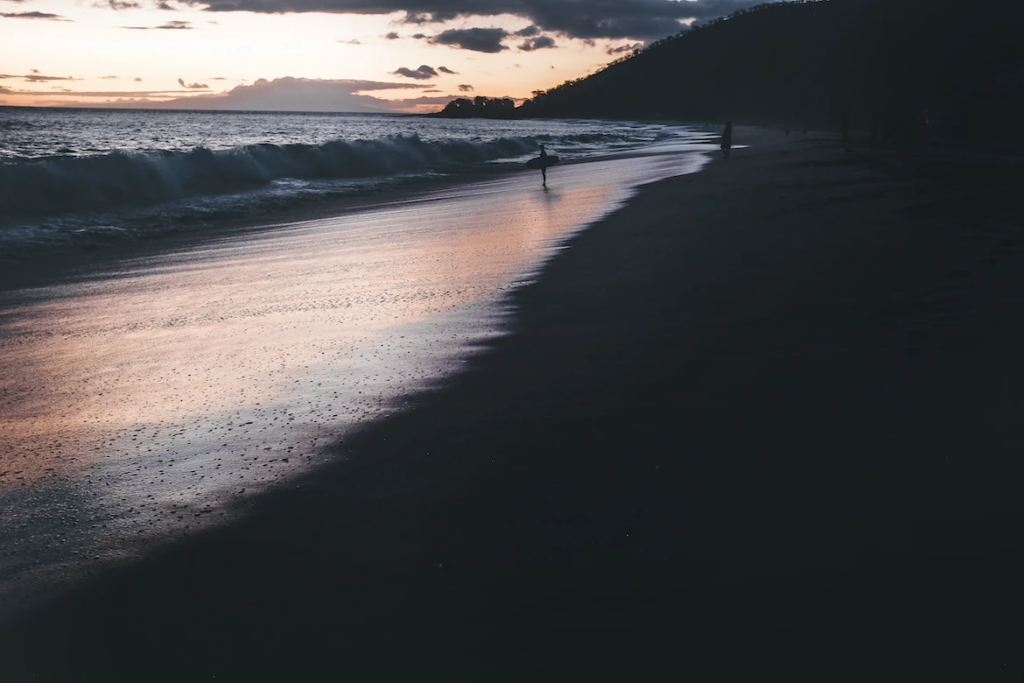 The soft white sand and calm waters of Wailea Beach make it easily one of the most beautiful beaches in Hawaii. This stretch of sandy beach offers most of what you'd expect from a Hawaiian beach, such as paddleboarding and coral reef snorkeling. However, the main draw of Wailea Beach is the many upscale eateries that serve up gourmet cultural dishes and fresh seafood.
If you're having a hard time parting ways with the enchanting views at Wailea, then you don't have to: The beach is also home to an assortment of luxury resorts such as Grand Wailea and Four Seasons Resort Maui at Wailea.
11. Hanauma Bay, Oahu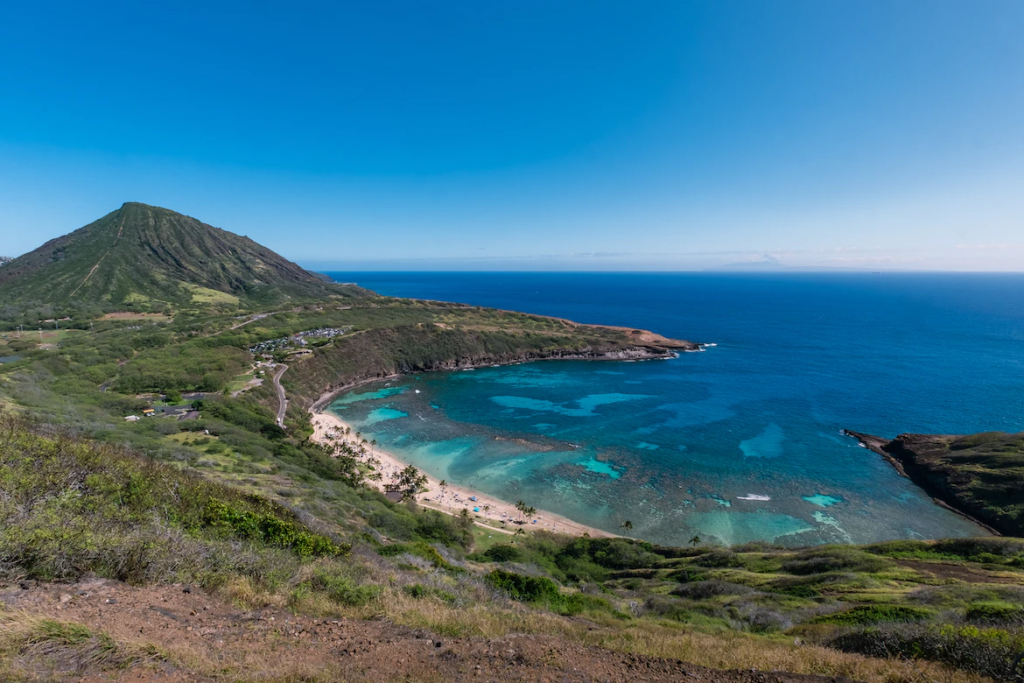 This crescent-shaped bay is a constant feature on the lists of those seeking an unforgettable experience. Hanauma Bay is home to over 400 different species of tropical fish, making it one of the best beaches in Hawaii for scuba diving.
The nearby Hanauma Bay lookout gives visitors panoramic views of the ocean and surrounding mountains. So, it's also the perfect opportunity for sketch artists or photographers to draw inspiration.
In a bid to conserve the delicate underwater ecosystem, local tour buses are no longer allowed within the beach area. However, travelers shouldn't be discouraged from making the journey by themselves to explore the trappings of Hanauma Bay.
12. Polihua Beach, Lanai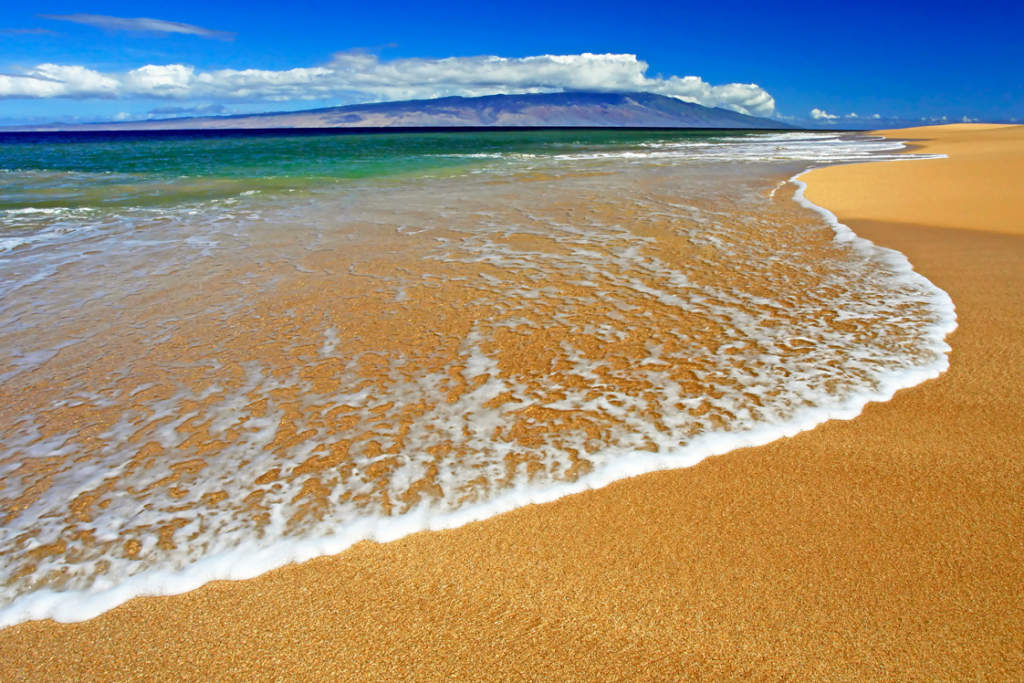 Unlike most of the other beaches in Hawaii, Polihua Beach is significantly harder to access: It's only accessible by a four-wheel-drive vehicle. But this is what makes this gorgeous beach one of the best beaches for some private time with your loved one.
Polihua Beach offers a serene experience away from the crowds that you might find at beaches such as Waikiki. The long expanse of pristine white sand is ideal for sunbathing and taking in the peaceful surroundings.
Also, if you're a fan of wildlife viewing, then Polihua Beach is just the spot for you, particularly during the winter months.
13. Makena Beach, Maui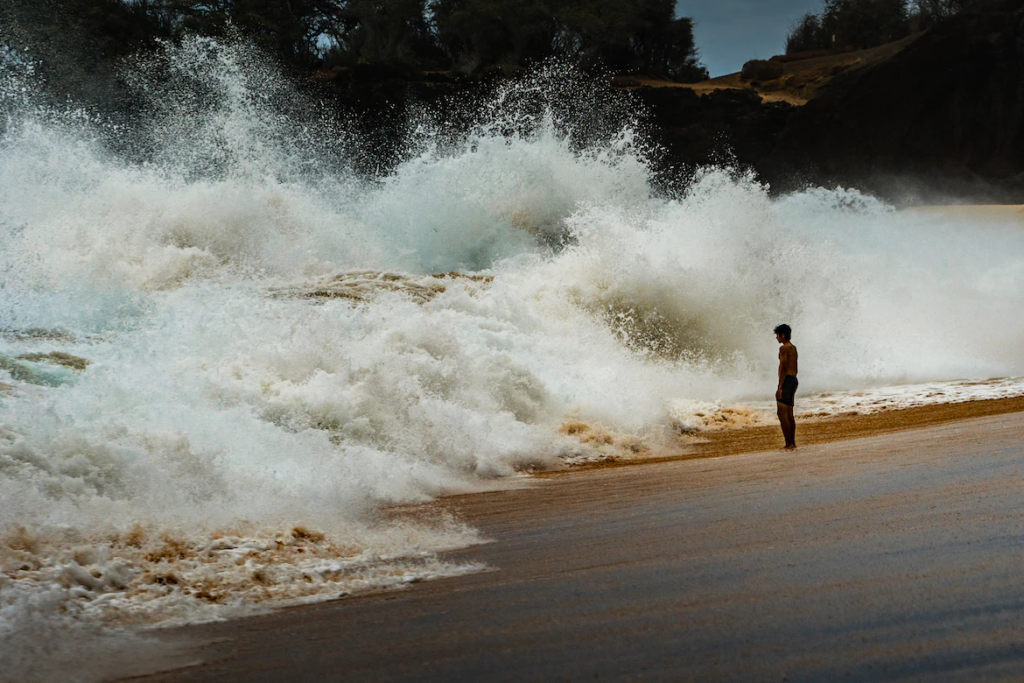 Makena Beach, also known as "Big Beach," is yet another Hawaiian beach with a relaxing atmosphere. Rugged rocks, stunning mountain views, and a long stretch of beautiful sand are the components that harmonize to form Makena Beach.
That sheer amount of space means that you won't find yourself clamoring for a comfy sunbathing spot. The shore break at Makena also brings in large swells that make watersports such as boogie boarding and surfing all the more exciting.
14. Ko Olina Beach, Oahu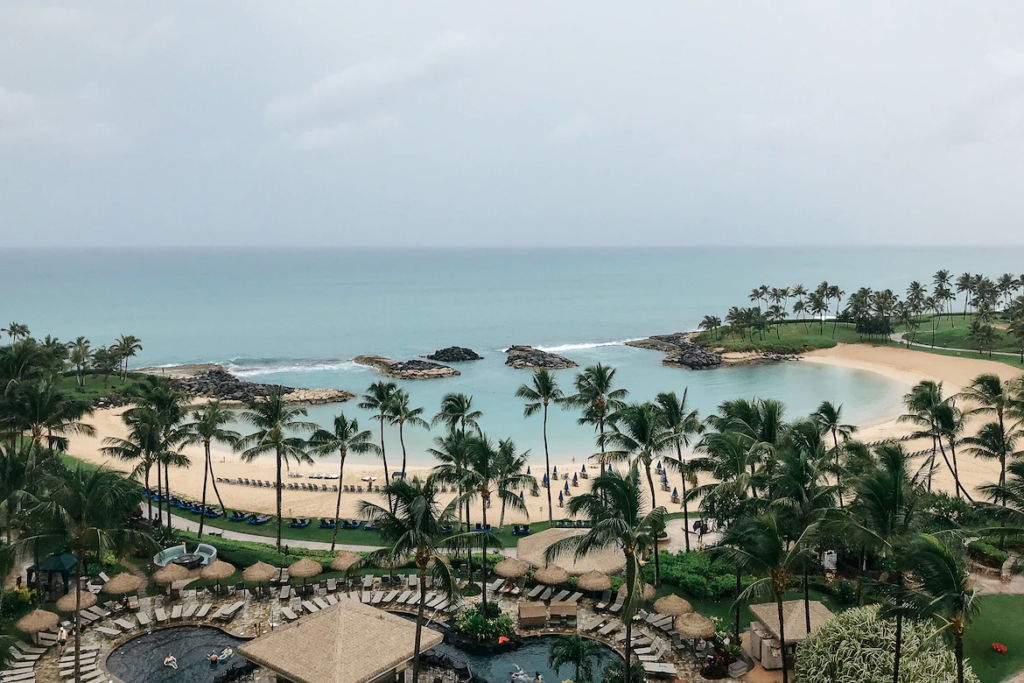 The next entry on our list is another beach that's best suited to those in need of a luxurious experience. Much like Wailea, Ko Olina Beach is home to several high-end stays, such as the Four Seasons Resort Oahu at Ko Olina.
What makes Ko Olina Beach unique is that it's comprised of four different lagoons. Do note that the beaches in Ko Olina are privately owned and activities such as surfing and scuba diving are prohibited there. However, visitors are still welcomed with open arms.
15. Hulopoe Beach, Lanai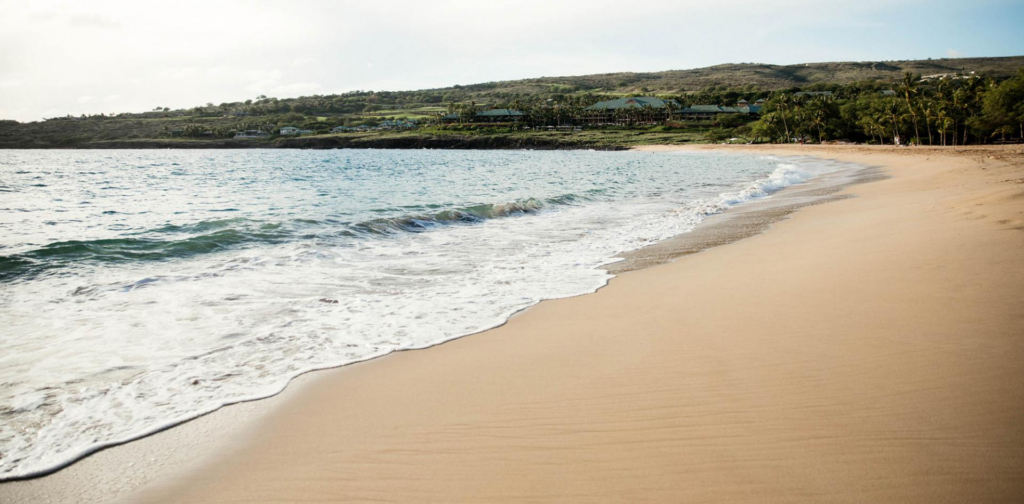 Hulopoe Beach could easily be mistaken for a Windows background. Its sheer beauty alone is what makes it one of the best beaches in Hawaii for photographic opportunities.
It's located on the southernmost tip of the island and is part of a marine protected area. This basically means that you can expect a well-maintained beach with plenty of wildlife. Hulopoe is also a good beach for families, as it offers restrooms, showers, picnic tables, free parking, and much more.
It's also worth mentioning that Hulopoe has large tide pools which are perfect for weak or non-swimmers to explore at low tide.
16. Punaluu Beach, Big Island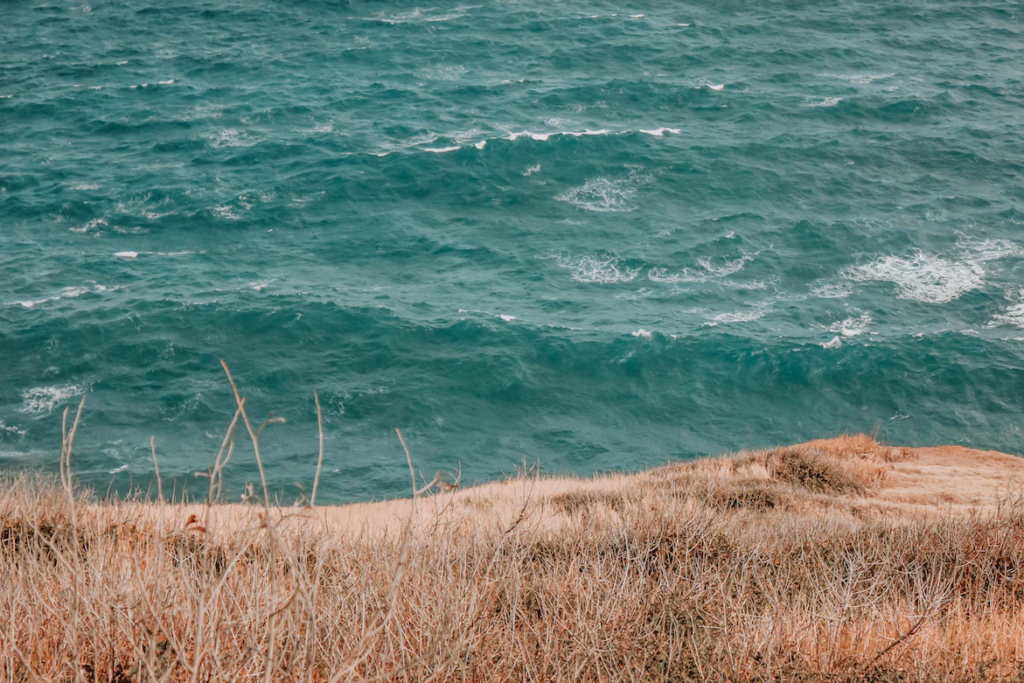 Another popular beach option in the southern section of the Big Island is Punaluu Beach. It's one of Hawaii's best-known black sand beaches. Black sand beaches are simply the result of volcanic activity and can make for a fun and highly unconventional experience—and wonderful photos!
Visitors of Punaluu Beach also have the option of exploring the nearby Punaluu Black Sand Beach Park, which features picnic areas, restrooms, and hiking trails.
If you do decide to visit Punaluu, do be cautious of the rough black lava rocks and hot black sand, as they likely won't do your feet any favors. Remember to pack your sandals or pick up a pair of water shoes.
17. Hanalei Bay, Kauai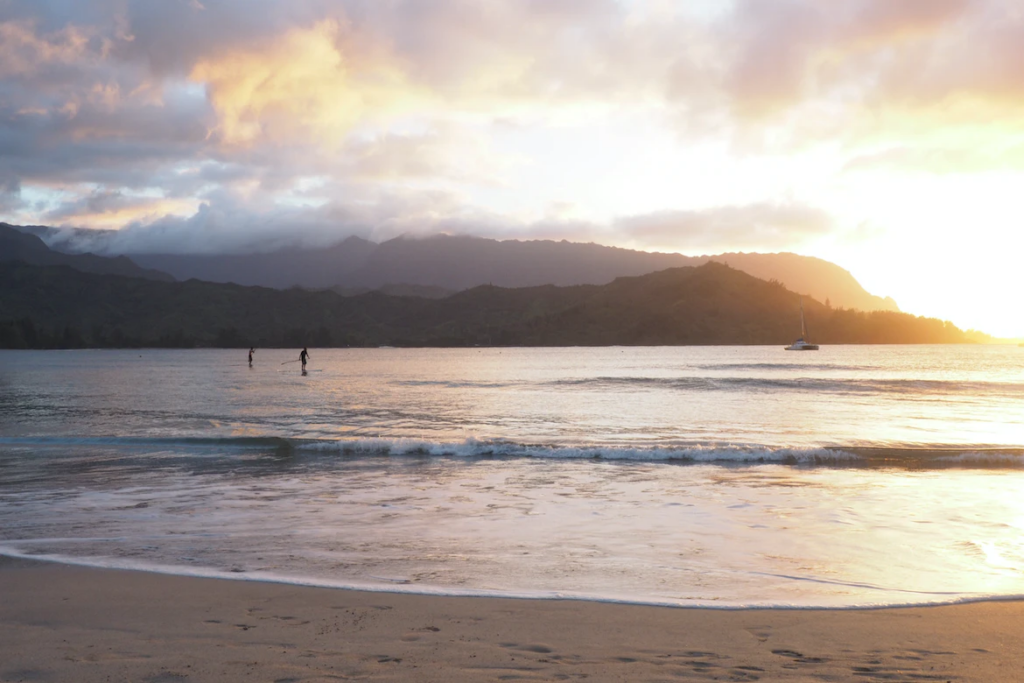 Hanalei Bay is a truly incredible beach. Its dazzling vistas of the velvet-green mountains and deep blue ocean make an awe-inspiring contrast which is topped off by the soft stretch of sand.
Depending on the time of year that you decide to visit Hanalei Bay, you can expect it to either be a surfer's paradise or a calm berthing for yachts. Make sure to arrive at Hanalei as early as possible, as it can get relatively crowded.
18. Kehena Beach, Pahoa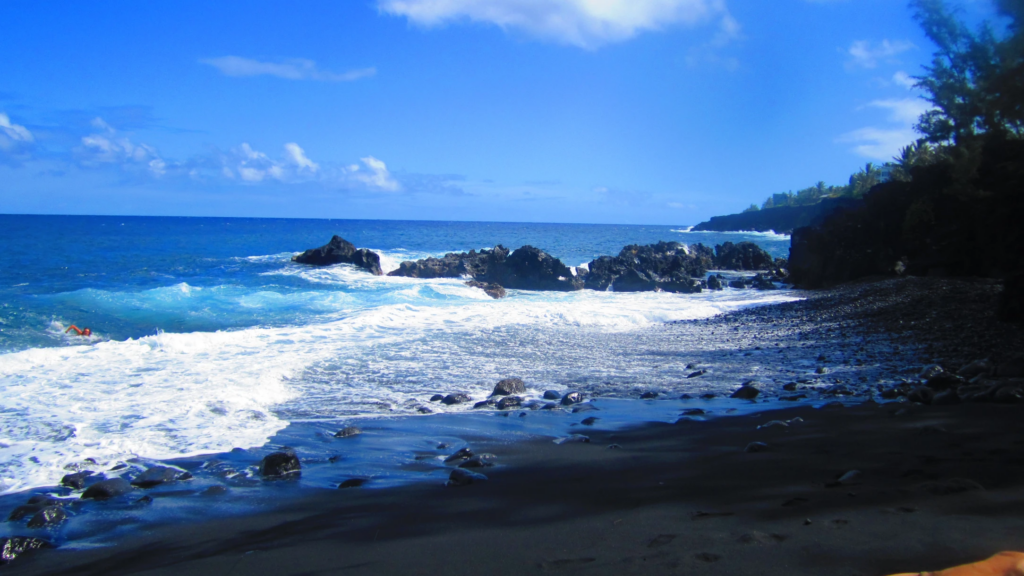 Kehena Beach is yet another one of Hawaii's black sand beaches. Along with its jet-black sand, Kehena offers visitors the option to leave their clothing behind. Yes, you read that correctly. At Kehena Beach clothing is optional. So, if you've grown tired of the constraints brought about by modern-day cloth, then Kehena is a chance to feel free again!
Don't worry about getting burnt while there, as the beach is well-shaded by ironwood and coconut palm trees. Swimming is possible at Kehena but only when the water is calm, as the beach is exposed to the open ocean.
19. Halawa Beach Park, Molokai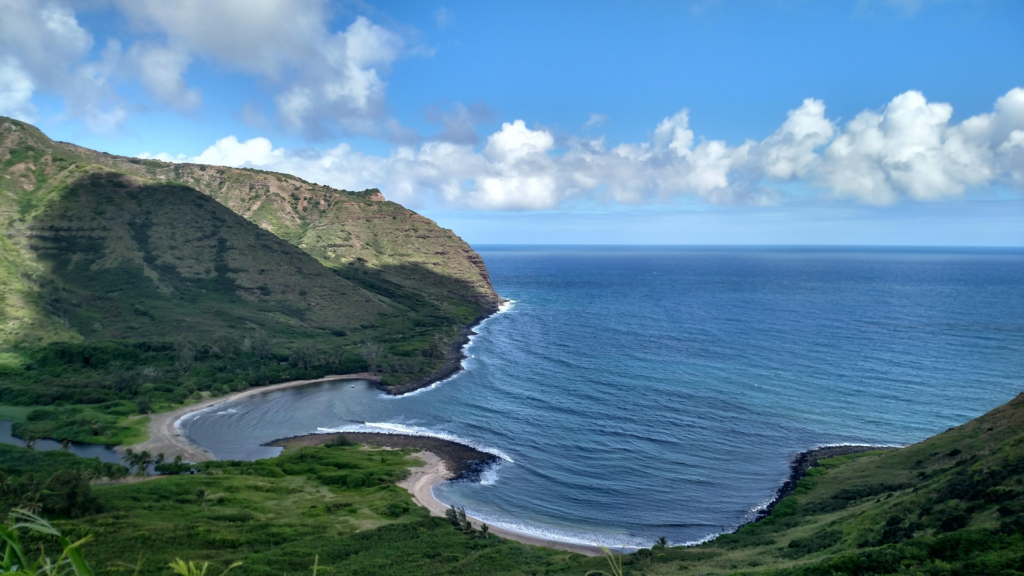 Halawa Beach Park is a slightly different entry on our list, as it has two swimming beaches, instead of just one. The beaches, Kama'alaeaand Kaiwili, have water that is typically warm and calm, so Halawa is a perfect place to swim. Despite this, there aren't any lifeguards around this beach, so all water play has to be carried out with caution.
Other than that, Halawa is another great place to kick back and relax, while surrounded by lush vegetation, waterfalls, and ancient Hawaiian cultural sites.
20. Tunnels Beach, Kauai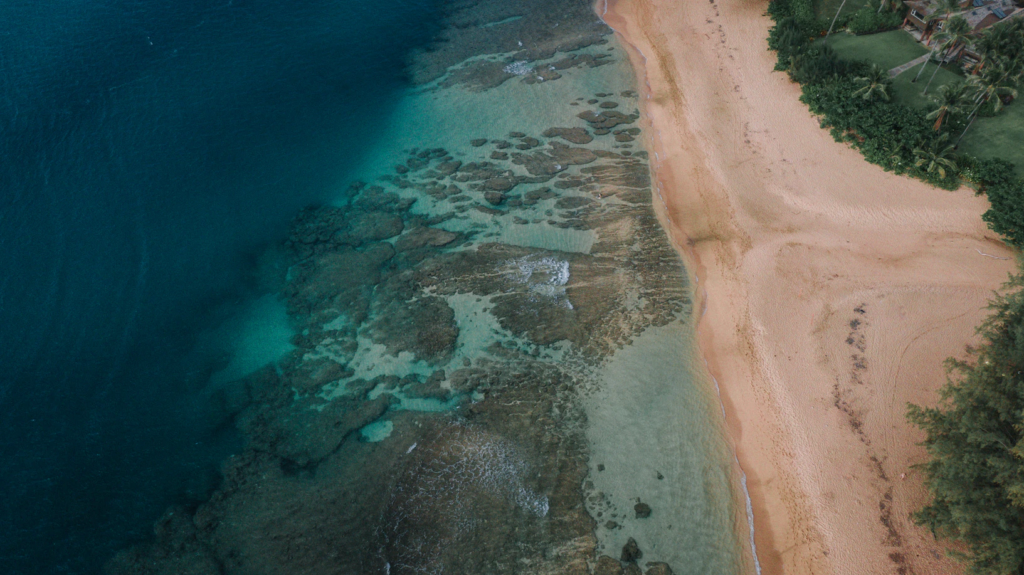 Tunnels Beach, otherwise known as Makua Beach, is a remote gem on the north shore. When you get there, the first thing you have to explore is the enormous cave next to the parking area.
Naturally, the weather tends to vary significantly at Tunnels Beach, so you'll find different activities on offer depending on when you go. But one thing that stays consistent throughout the year is the scenery. The towering mountains, verdant tree lines, and golden sand are all truly picturesque. If you come at the right time, you might even be able to spot a monk seal lazing about.
21. Waimanalo Beach, Oahu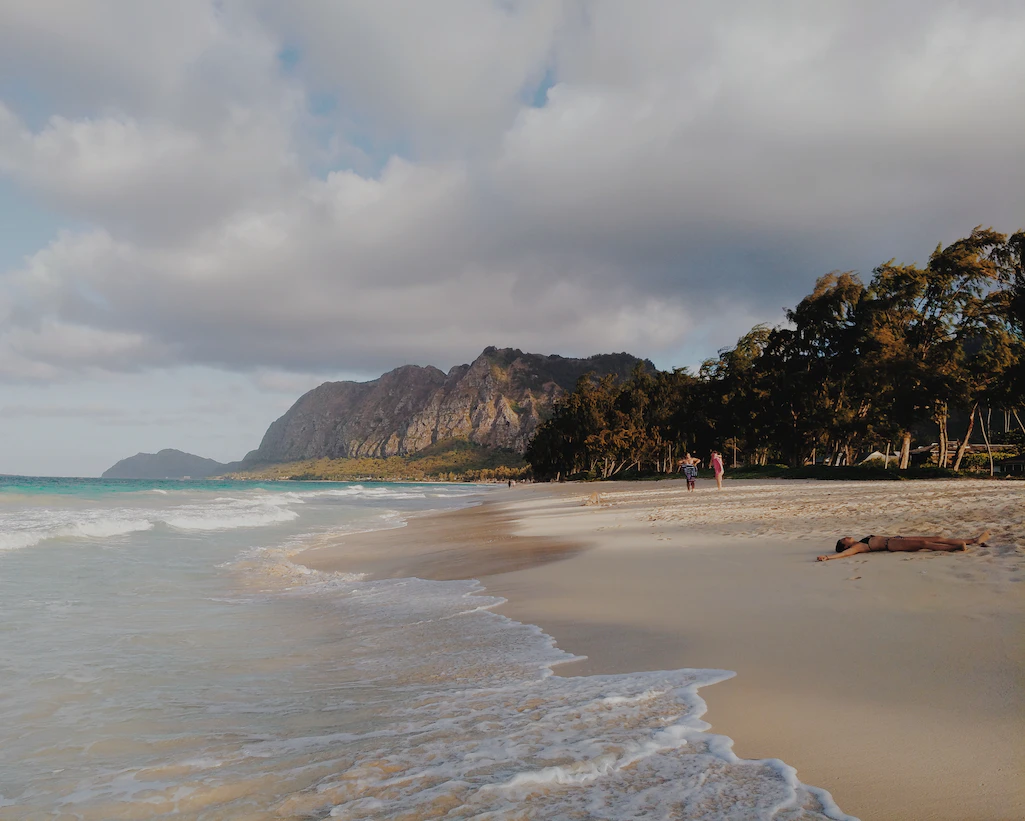 We have a lot of beautiful beaches on this list, so it may be hard to keep up with all of them. Waimanalo Beach is also a beach that doesn't disappoint in the looks department. While it certainly isn't the most popular beach in Hawaii and lacks in terms of amenities, Waimanalo makes up for it by giving visitors truly unrivaled peace.
Such beaches often get overlooked by tourists and, if you ask us, this could be the perfect opportunity for you to escape the hustle and bustle of the city while getting to properly connect with your loved one.
22. Papohaku Beach, Molokai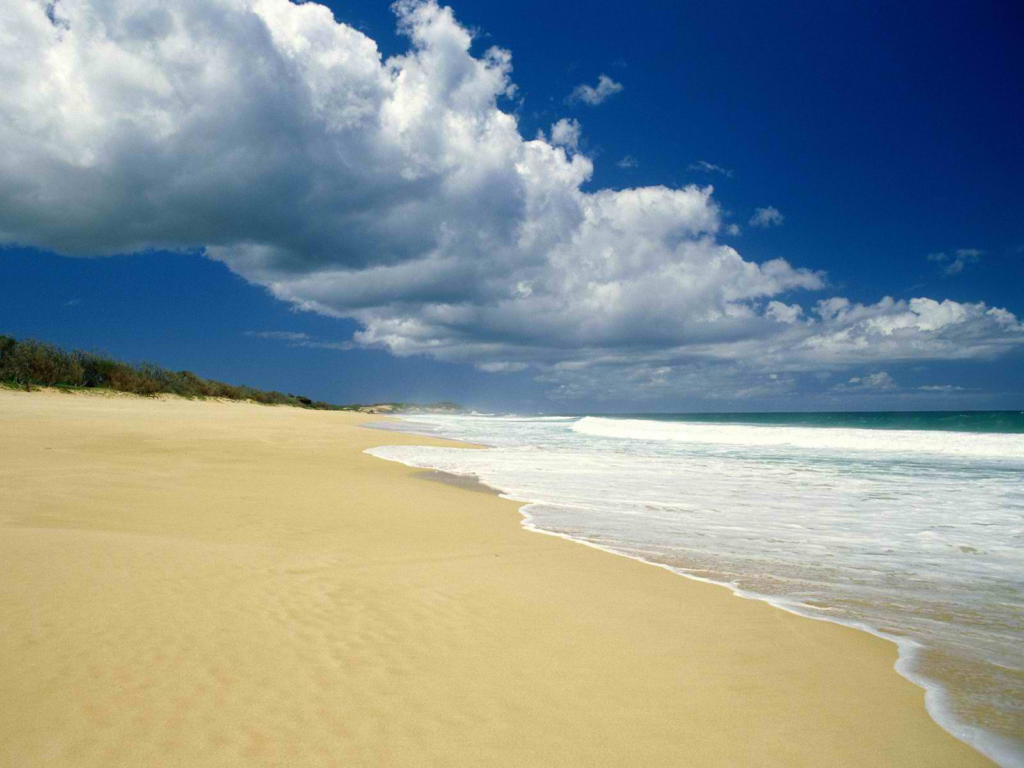 Located on the island of Molokai is one of the longest and widest sand beaches in Hawaii, Papohaku. This beach also isn't as popular as most of the other beaches in areas such as Big Island. However, that doesn't mean that it shouldn't be on your list of beach destinations to visit.
A common practice all year round on this beach is for families to camp along the stretch of white sand. It's also generally a very safe beach to swim at and has ample picnic and restroom facilities.
23. Oneuli Beach, Wailea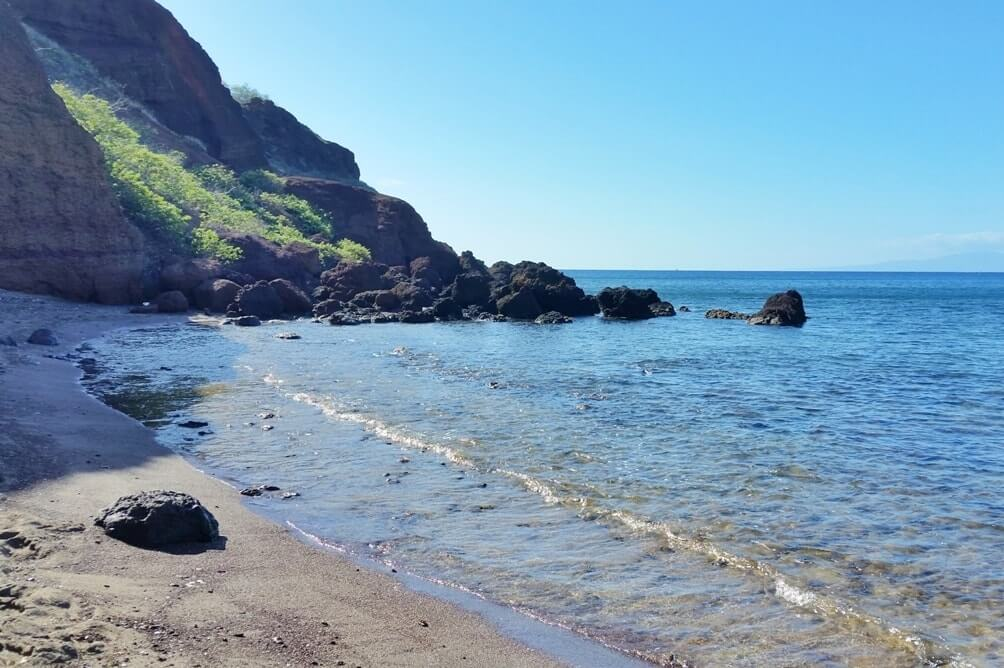 And to conclude our list of the best beaches in Hawaii, a beach that doesn't see as much activity as the others. When translated, Oneuli means "dark sands," a truly befitting name considering the beach's mixture of black and white sand.
Swimming isn't recommended at Oneuli, making snorkeling the main attraction. For the truly adventurous, it's also a good place to launch a kayak.
FAQs
You'll find that many of the beaches in Hawaii are suitable for people of all ages. Waikiki, Poipu, and Hapuna Beach are prime examples of family-friendly beaches.
Are the beaches in Hawaii family-friendly?
While many beaches are safe for families, practicing water safety and supervising children closely is still very important. Also, be sure to check surf conditions and warning signs before entering the water.
What's the best way to travel around Hawaii?
If your itinerary and budget allow for some flexibility, you might want to consider trying out various ways of getting around Hawaii.
It's common for visitors to take bus tours as they're a convenient way to explore the islands. However, bus tours may be relatively rigid in terms of their route. In this sense, you'll have no problem getting around via shuttle, taxi, or ride-sharing services.
Which Hawaiian island has the best beaches?
All of the islands in Hawaii have stunning beaches with their own unique appeal, however, the most popular beaches are on Maui and Oahu.
When is the best time to visit Hawaiian beaches?
The best time to visit Hawaiian beaches largely depends on personal preference. If you enjoy a lively atmosphere during your adventures, visit during Hawaii's peak tourist season, from mid-December to mid-April. You'll also find the weather to be drier and cooler during this period.
Whereas if you prefer lesser crowds and lower prices, consider visiting between late April and early June or September to mid-December. The weather will still be warm and pleasant during these times.
How common are sharks in Hawaii?
Sharks are commonly found in the waters surrounding Hawaii. However, the frequency of shark encounters varies depending on the location and time of year.
You can rest assured as shark attacks are relatively infrequent in Hawaii. Despite this, it's still important to be careful when engaging in water activities, like swimming, in areas known to be frequented by sharks.