Are you dreaming of the perfect getaway for you and your amore? Somewhere lined with palm trees, surrounded by aquamarine waters and white sand beaches? Then look no further than beautiful Italy! The country is renowned for its beauty; from jagged limestone cliffs and pristine beaches to sidewalks adorned with bright bougainvillea.
With over 4500 miles of coastline meeting the Mediterranean Sea, this European nation sure is a magical place. And if you're looking to bask in Italy's year-round sunshine at one of its many idyllic beaches, you're in luck! This article is dedicated to showcasing the best beaches in Italy which are definitely worth a visit!
What Makes Italy the Perfect Destination?
Situated in south-central Europe, Italy's main international airports in Rome, Milan, and Venice are easy to get to, with daily non-stop flights from the US. Italy's jagged peninsula is washed by the Adriatic Sea to the east, and the Ionian Sea to the south. Nicknamed "lo Stivale" (the Boot), this nation has some of the most varied and idyllic landscapes on Earth.
The Italians have a famous saying "dolce far niente," which means the "sweetness of doing nothing." It doesn't refer to being idle, but rather relishing in the slowness of life and making the most of not having anything to do. This saying could not be more apt when it comes to enjoying one of the best beaches in Italy!
This country makes an ideal, laid-back holiday destination with hot summers, warm springs and autumns, and mildly cold winters. Beaches in Italy range from rugged and remote, to wide open sandy shores and picture-perfect paradises.
Explore secluded coves, swim in the crystal clear sea off the shores of Southern Italy, or hike along Cala Goloritze – these are just some of the magical things to experience in this enchanting country.
If an Italian holiday is not what you're looking for right now, you can read about other spectacular holiday destinations on our homepage.
Top 10 Best Beaches in Italy
Here we've compiled a list of some of the best Italian beaches with accommodation suggestions along the way. Get ready to fall in love with these stunning shores, clear turquoise waters, and golden sands!
1. Best Overall Beach in Italy: Marina Grande Beach, Capri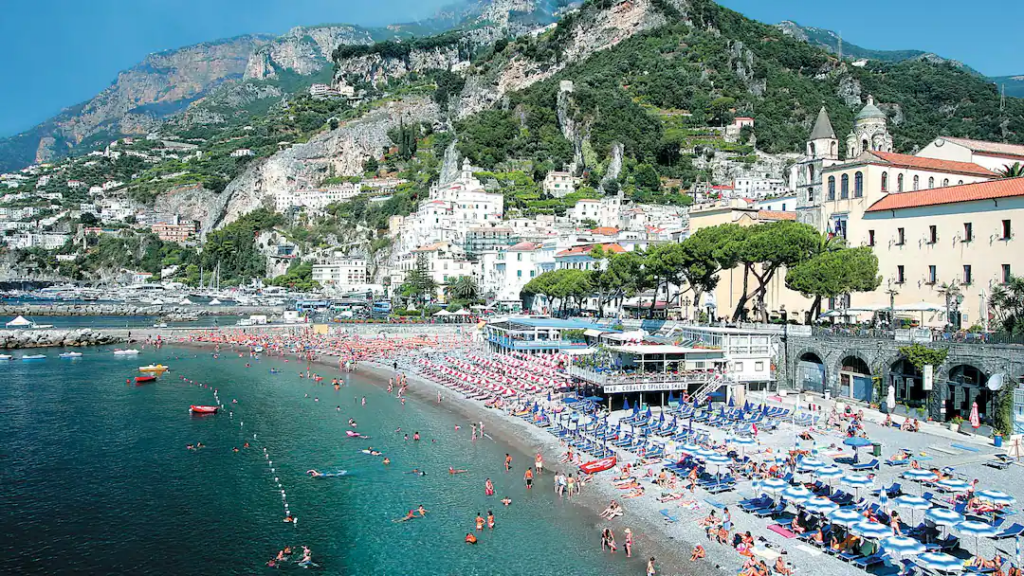 This beautiful beach is one of Capri's finest – an island on the Amalfi Coast that needs no introduction. Situated beside the island's main port, Marina Grande is also Capri's largest beach. The waters of this sandy beach are an exquisite shade of turquoise, providing the perfect backdrop for magical photos. This bellissimo beach is free to enter and is perfect for swimming and sunbathing.
It is one of those particularly popular beaches in Italy with families and small children; so make sure you arrive early.
For more adventurous couples, explore the incredible phenomenon of the Blue Grottos of Capri. These grottos on the Amalfi Coast form a magical cove that glistens a wonderful shade of blue (surprise surprise…) and is only accessible by row boat or kayak. You can rent these from nearby vendors – a small price to pay for such a spectacular sight in our opinion!
How to get to the beach
Local bus services operate daily from central Capri station, they depart every two hours and lead directly to Marina Grande Beach. Tickets are roughly $3 – $6 each (cheaper if you purchase a day pass!) and the journey takes 15 minutes.
You could always walk instead: Marina Grande is around half a mile from Capri Central.
where to stay
Mari Palatium Hotel Capri
This hotel's prime location near Marina Grande makes it highly sought-after, and its exquisite sun deck provides a captivating spot to savor refreshing beverages whilst admiring the oceanic views.
One minute from Marina Grande
Starting from $137 per night
2. Best for Boat Tours: Marina Piccola Beach, Capri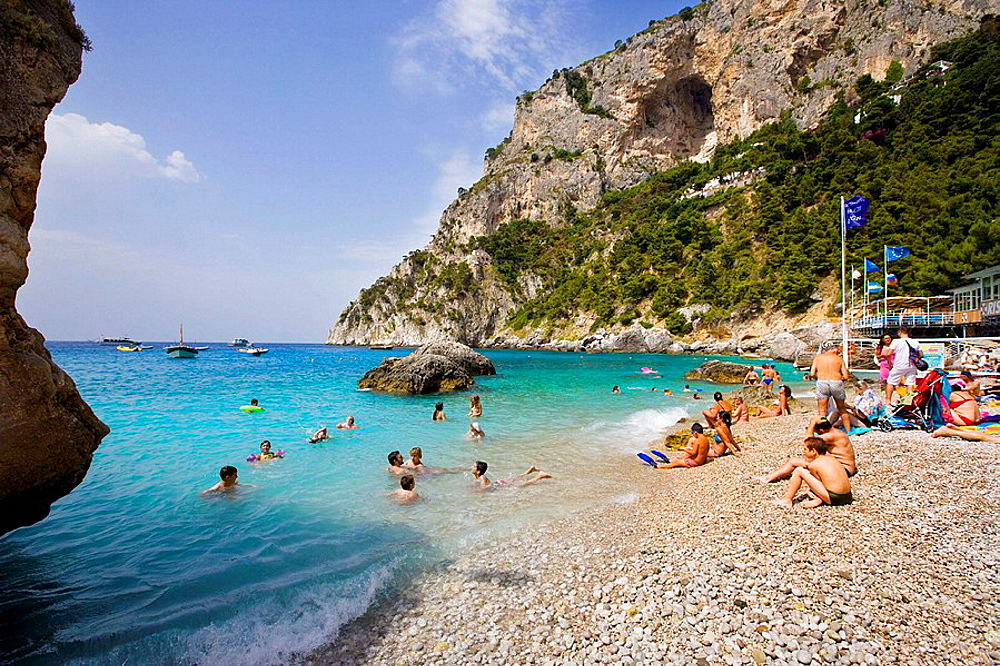 On the southern side of Capri, Marina Piccola is one of the best beaches in Italy for yacht-watching. The deep blue waters of this pebbly beach make it a popular spot for tourists. Marvel at the huge rock formations, boat cruises, and stunning views that Marina Piccola has to offer.
There are a couple of public beaches in the area: two stretches of free beach; Marina di Mulo and Marina di Pennauro.
Embark on a romantic full-day boat tour led by a professional sailing team. Glide through azure waters aboard a traditional Italian gozzo – a classic wooden boat – while you take in the breathtaking sights of the Amalfi Coast. You can book these tours from local travel guides in Capri at a cost of $1070 per day.
how to get to the beach
This beach is only about a 10 to 15-minute walk from the Piazzetta. Take the stairs down to the beach at Via Mulo, or catch the lift down to sea level, at a cost of €1 (just over $1).
where to stay
La Canzone del Mare
Boasting deluxe suites overlooking the Amalfi Coast, this romantic hotel is highly rated for couples' travel.
Less than 1 mile from Marina Piccola Beach
Starting at $244 per night
3. Best for Snorkeling: Porto Cesareo Beach, Lecce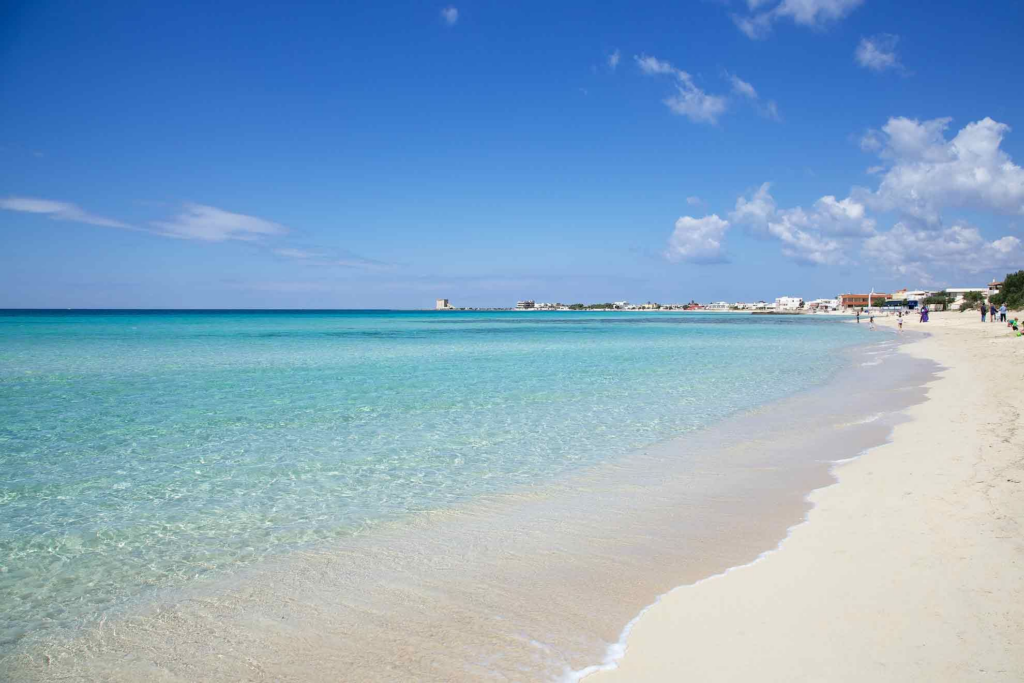 Located on the Ionian Coast and 13 miles from the city of Lecce, you will find the seaside town of Porto Cesareo. Among the many beaches along this stretch of coast, Porto Cesareo Beach is one of the largest protected marine areas in Italy.
Known for its beautiful beaches, shallow turquoise waters, and fine white sand, Porto Cesareo certainly is well worth a visit and is ranked as one of the best beaches in Italy.
Discover the quieter side of the Ionian Coast aboard a catamaran – an area that not many people venture to. Sail up the Gulf of Taranta and explore hidden coves, secluded sandy beaches, and snorkel amongst vibrant reefs and old Roman ruins. Book one of these 3-4 hour tours through local tour guides at a cost of roughly $65 per person.
how to get to the beach
A short 700 m walk from Porto Cesareo Central will bring you to this gorgeous beach.
where to stay
Porto Cesareo Lecce
This laid-back island hotel is in excellent proximity to local restaurants, bars, and nearby beaches; perfect for couples who want to explore the Italian way of life with limited time spent in their hotel rooms.
Less than a mile from Porto Cesareo Beach
Starting from $82 per night
4. Scala dei Turchi, Sicily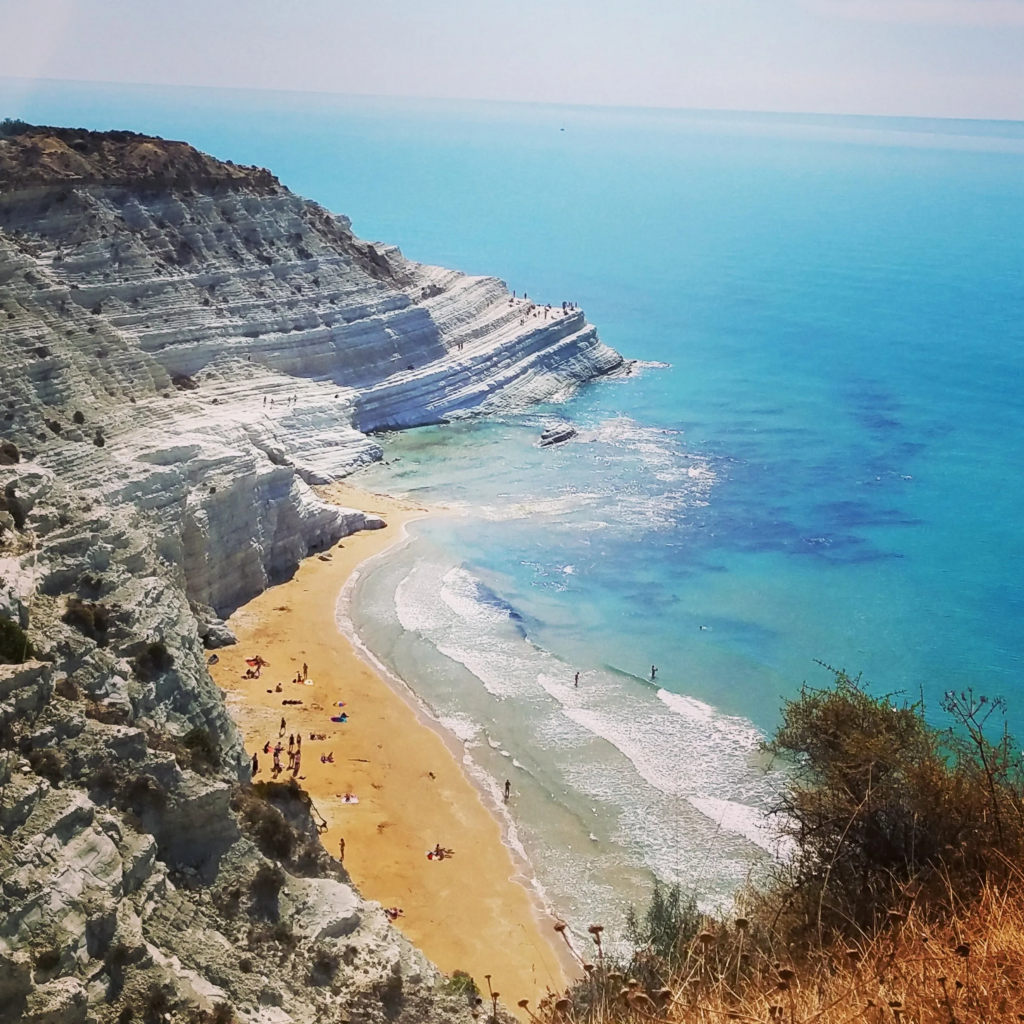 The Scala dei Turchi – Italian for "Stairs of the Turks" – is a rocky cliff face near Porto Empedocle on Sicily's south coast. It's famed for its white cliffs that resemble a flight of stairs, hence the name.
Sicily is Italy's largest island, surrounded by the Tyrrhenian Sea. It boasts jaw-dropping views, pristine beaches, and crystal-clear waters. Scala dei Turchi is popular amongst sunbathers and swimming enthusiasts, and is famous for being one of Sicily's most beautiful natural wonders – and one of the best beaches in Italy, of course!
It's worth mentioning that although this beach is accessible and open to anyone, the entrance points have set times. The cliffside viewpoint, however, is open 24 hours a day.
While in Sicily, there is just so much to see and do; making it a challenge to choose where to explore next! The Valley Of Temples, just outside the Sicilian town of Agrigento, is really worth a visit. These ancient ruins date back to 400 – 500 BC and The Temple of Concordia is undoubtedly the most famous, known for being the best preserved ancient Greek temple in the world – apart from the Parthenon in Athens!
how to get to the beach
There is no direct bus connection from the town of Porto Empedocle to Scala dei Turchi. But you can get a bus to Realmonte (a 12-minute ride) and then a taxi to the beach.
where to stay
Scala dei Turchi Resort
This luxury resort is located in one of the most charming areas of Italy. It's near Scala dei Turchi Beach and The Valley of Temples, so this hotel is perfect for couples looking to explore the historical landmarks of the region.
One minute from Scale dei Turchi Beach
Starting from $85 per night
5. Cefalu Beach, Sicily
This idyllic beach sits alongside one of Italy's most picturesque towns in Northern Sicily. Known for its scenic surroundings and mesmerizing backdrops, Cefalu certainly does not disappoint in being one of the most beautiful beaches in Italy.
Indulge in the blissful experience of strolling along the golden sands bordered by swaying palm trees; this beach is a true paradise, with free entry for all to enjoy. To enhance your day, consider renting a couple of sun loungers from local vendors, adding an extra touch of relaxation to your beach experience.
You can't visit Sicily without seeing Europe's largest and most active volcano, Mount Etna. Catch a glimpse of this natural beauty by taking a shuttle to Refugio Sapienza, and take advantage of their range of paid tours. From there, you can take a cable car to begin hiking up the 2.5 km trail. You will need to be accompanied by a registered guide, and cable car tickets cost about $72 per adult.
how to get to the beach
A train runs daily between Palermo Central and Cefalu station. Tickets start from about $5 each. Cefalu Beach is about a ten-minute walk from the Cefalu train station.
where to stay
Astro Suite Hotel
This modern sea-facing hotel is an oasis of relaxation, ideal for a couple's getaway. It's within walking distance of Cefalu Beach, the Mandralisca Museum, and the mesmerizing Cathedral of Cefalu: a true gem if you ask us.
Less than 3 miles from Cefalu Beach
Starting from $165 per night
6. Fisherman's Beach, Savona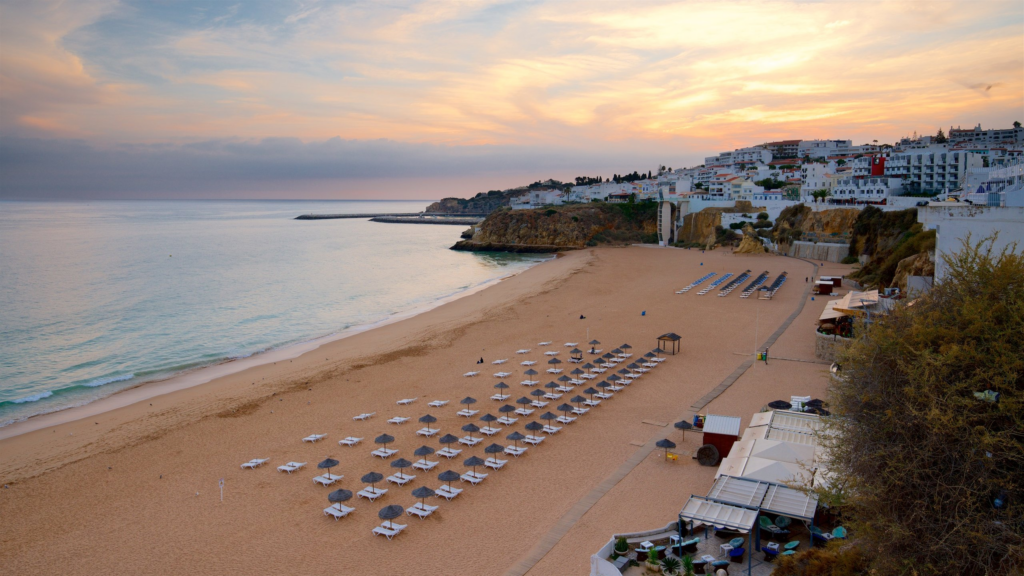 Skip the crowds of the Amalfi Coast and head to Spiaggia dei Pescatori (known as Fisherman's Beach) on the isle of Ischia. This laid-back town is adorned with colorful old houses dotted along its sandy lagoon and was once a popular fishing destination amongst the locals – hence its name. Spiaggia dei Pescatori is famous for its freshly-caught fish, relaxed vibe, and rustic beach bars.
If you and your partner are eager to delve into Italy's diverse history, we recommend reserving a half-day bus tour. These tours, led by expert guides, provide an excellent opportunity to explore Italy's historical treasures while comfortably cruising around. Immerse yourself in the stunning sights that Ischia has to offer and be mesmerized by the stunning vistas of the Bay of Naples. Book these tours from local travel agencies at a cost of $60 per person.
how to get to the beach
Local bus services run daily from the town center to Fisherman's Beach. Using public transport is an inexpensive way to get around in Italy, with tickets costing roughly $3-$6 each.
where to stay
Hotel Mare Blu
Situated in the charming village of Ischia Ponte, this luxury hotel oozes elegance, indulgence, and divine relaxation. Its wellness spa is definitely worth a visit; with your choice of mud baths and massage therapies; an ideal retreat for couples seeking tranquility and intimate time together.
Four minutes from Spiaggia dei Pescatori
Starting from $180 per night
7. Cala Luna, Sardinia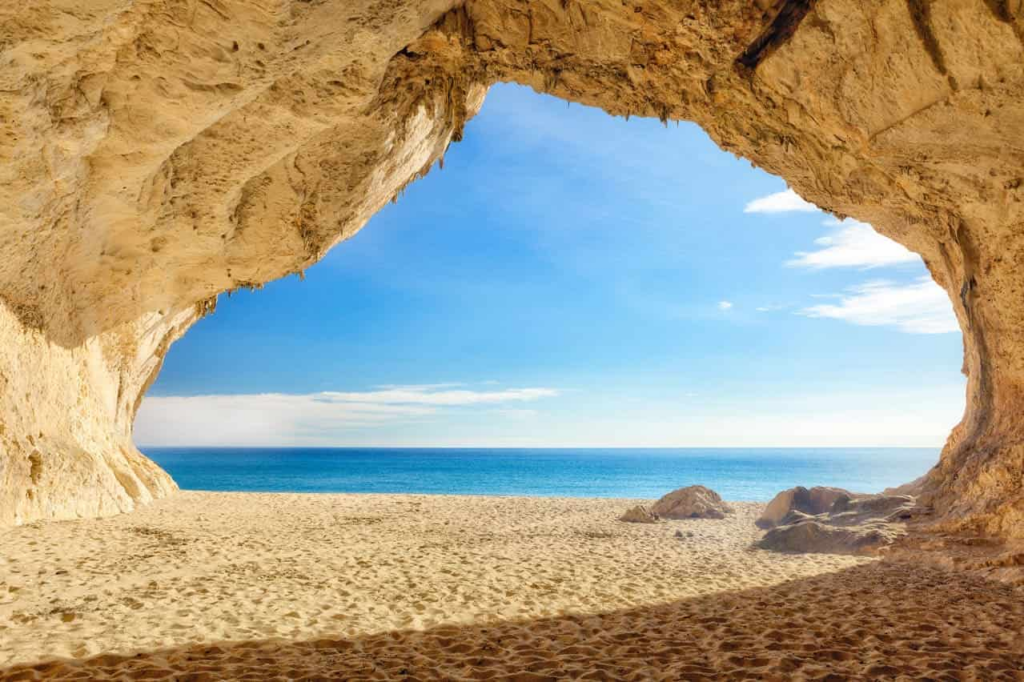 Cala Luna, on the eastern coast of Sardinia, is one of the most picture-perfect and beautiful beaches in Italy. So much so that it's been used for numerous movie sets, making it an incredibly famous beach in Italy. Located at the base of a gigantic 320-foot volcanic rock formation on the Tyrrhenian Sea, Cala Luna gets its name from its narrow crescent shape.
To fully submerse yourself in the enchantment of the area, do visit Grotta del Bue Marino – a mesmerizing 3-mile expanse of mystical caves. Consider booking a guided boat tour through local travel agencies which depart from nearby Cala Gonone. Here you will witness the extraordinary formations of stalactites and stalagmites, alongside Neolithic wall carvings; a truly majestic sight to witness first-hand!
how to get to the beach
Cala Luna is only accessible by boat. Ferries and boats run frequently from Cala Gonone. Ticket prices vary depending on the type of boat you hop onto. Ferry tickets are roughly $20-$25 for a round-trip.
where to stay
Cala Luna Boutique Hotel
These upmarket, semi-secluded luxurious beach villas blend into the surrounding natural jungle, making an idyllic escape for newlyweds (or any couple for that matter!)
5.6 miles from Cala Luna Beach
Starting from $400 per night
8. La Pelosa Beach, Sardinia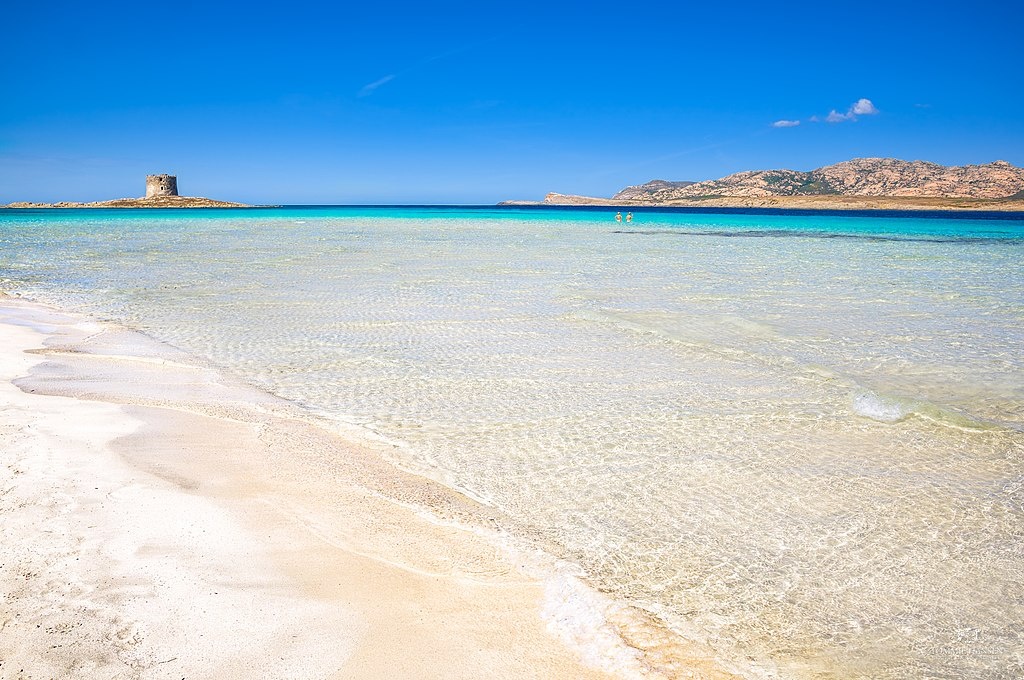 Located on the northwestern tip of Sardinia, La Pelosa Beach is known for its immaculate expanse of fine white sand, secluded coves, and border of tall pine forests. Its aquamarine waters and old ramshackle castle just offshore make La Pelosa the prettiest beach in Italy; creating the perfect backdrop for an unforgettable experience.
No trip to Italy will be complete without seeing some of its world-famous dive spots, and La Pelosa Beach is one of the best beaches in Italy to explore these underwater worlds. Plunge into the ocean and scour its reefs for exotic marine life and corals. Local diving agencies cater to both beginners and advanced divers, starting from about $78 per person (including equipment).
how to get to the beach
This beach is easy to get to; roughly 1 mile from the nearby harbor village of Stintino, with local bus services running daily and tickets costing between $3 and $6.
where to stay
Residence Hotel La Pelosetta
Located just a stone's throw away from Pelosa Beach, this affordably priced hotel is a great option for couples who want to spend most of their time outside their hotel and in the beautiful Italian waters!
A five-minute walk to La Pelosa Beach
Starting from $93 per night
8. Spiaggia dei Conigli, Lampedusa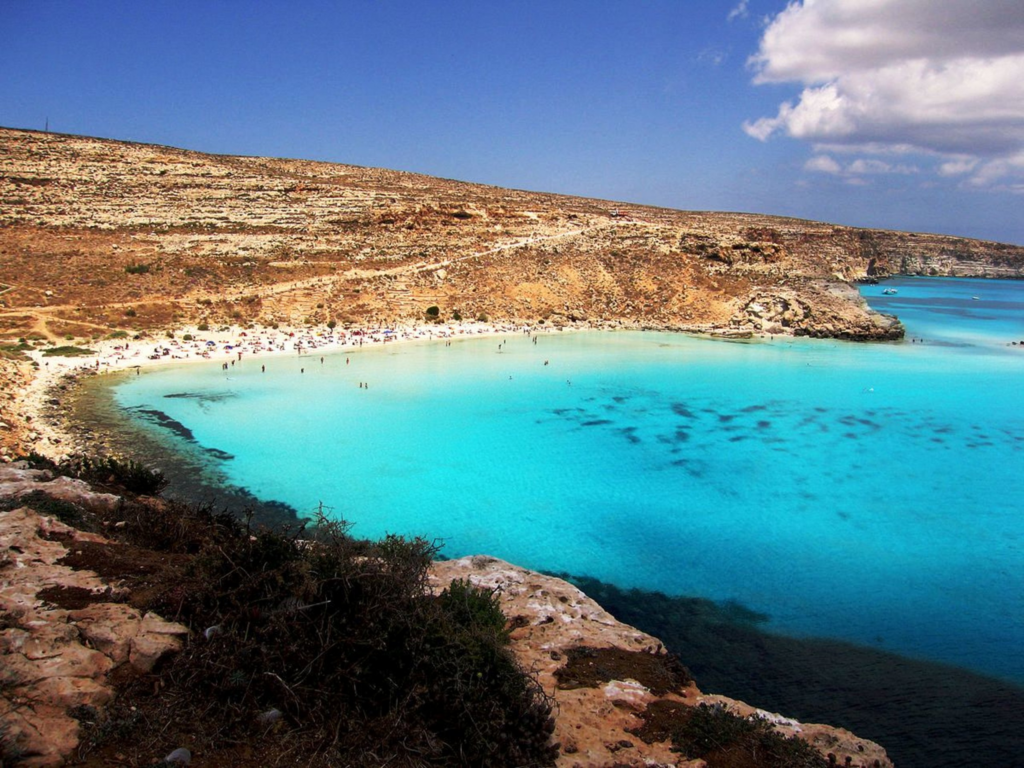 Spiaggia dei Conigli, popularly known as "Rabbit Beach," is situated on the southern side of Lampedusa. The beach acquired its name from the once-abundant rabbit population on the island, but that's not what you'll go here to spot. Instead, its shallow waters make it one of the best beaches in Italy for snorkeling (although sunbathing and swimming are equally popular).
Navigating the Italian coastline may seem quite a challenge, but what is more iconic than renting a scooter in Italy? Nothing, if you ask us! Hiring a scooter is an alternative way to explore Italy's most beautiful beaches and intricate inner-city alleyways. Take your pick from vintage Vespas or modern motorcycles – there really is something for everyone.
Vespas are by far the cheaper option, starting from about $45 per day when compared to motorcycles which cost between $135 to $336 per day, depending on the model.
how to get to the beach
The beach is only about 3 miles from downtown Lampedusa; easily accessible by bus, taxi, or scooter. Rabbit Beach is located on the strip of land connected to the islet of Conigli Island and is only accessible by boat.
where to stay
Villaggio Camping La Roccia
For those who love a holiday in close contact with nature, this rustic campsite is for you!
Less than 2 miles from Spiaggia dei Conigli
Starting from $105 per night
9. Cala Goloritzé, Sardinia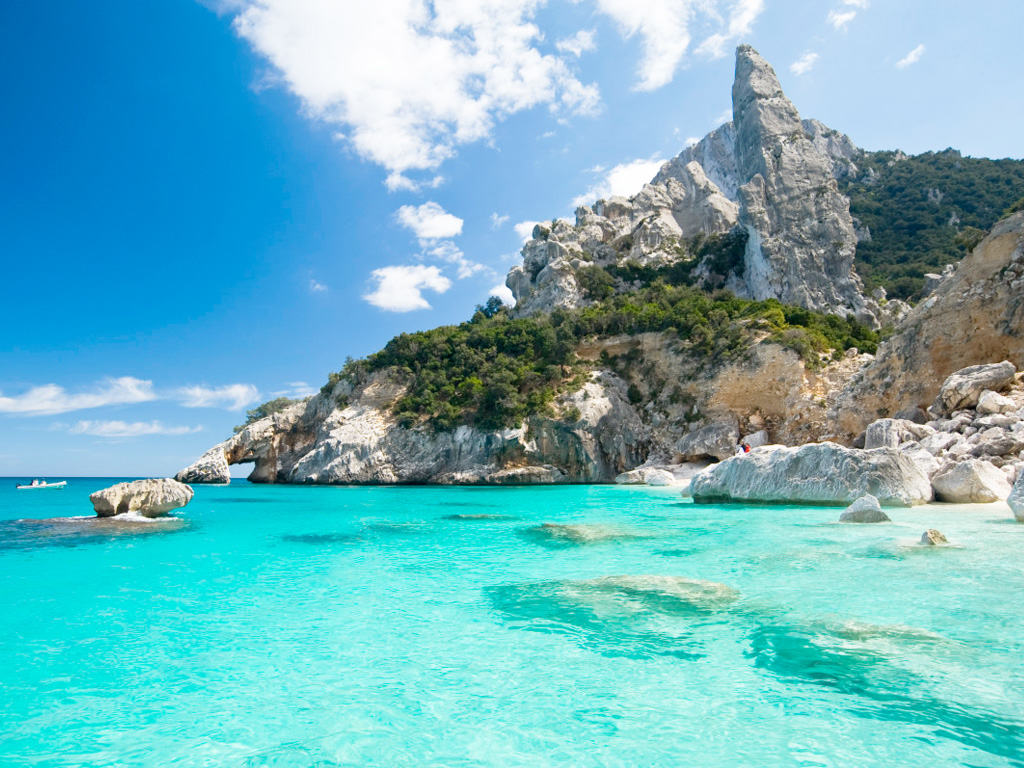 This is one of Italy's most famous and beautiful beaches, located on a ravine on Sardinia's northeastern coast. This thin sliver of coastline boasts impressive limestone cliffs, stretches of sandy beach, and intricate rock pools, with panoramic views of the Tyrrhenian Sea and the Gulf of Orosei.
Classified as a UNESCO World Heritage Site in 1995, it's a popular beach for tourists and locals alike, becoming quite crowded in the summer months.
how to get to the beach
Cala Goloritzé is only accessible by boat or a 2-mile hike. Since it is situated inside the reserve, you will need to buy a day pass costing around $7.
where to stay
Hotel Goloritze
This family-run hotel, nestled between sea and mountain on the east coast of Sardinia, is an idyllic, tranquil getaway for couples.
6 miles from Cala Goloritze
Starting from $95 per night
10. Marasusa Beach, Tropea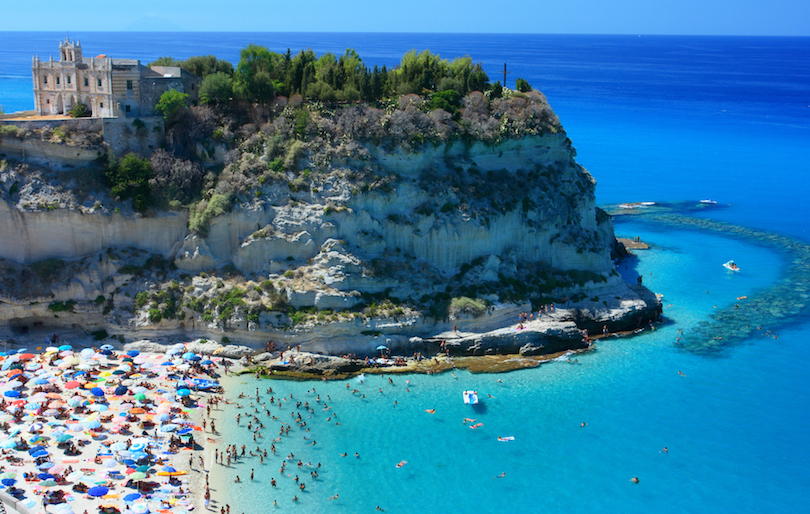 Located in the "toe" of Italy, you'll find the old town of Tropea, where Marasusa Beach and the surrounding coastline have earned the name, "The Coast of the Gods." It certainly lives up to its fame, as being one of the best beaches in Italy – with pristine white sand, handsome cliffs, and calm azure waters.
The Tropea region is widely recognized for having some of the most stunning sunsets throughout Italy, earning its well-deserved stamp of approval.
Indulge in the ultimate romantic escapade with your loved one onboard an enchanting guided sunset cruise through the Aeolian Islands. Be captivated by the natural beauty of the picturesque Lipari and Panarea Islands and Stromboli volcano; relishing in the sheer beauty of these breathtaking sights. Tours can be arranged by local travel agencies and cost about $80 per person.
how to get to the beach
You can easily walk to Marasusa Beach, as it is just 2 miles from Tropea city center.
where to stay
La Dolce Vita in Tropea
This exquisite hotel is built on the edge of the Tropean coastline, boasting unparalleled views of the ocean and the Santa Maria monastery. It's highly recommended for couples who love a bit of history and want to explore the Italian way of life.
Less than 3 miles from Marasusa Beach
Starting from $175 per night
FAQs
Is Biodola Beach worth visiting?
Biodola Beach is located about a 20-minute drive from the capital of Portoferraio. It's well worth a visit as it's popular for its warm waters, water sports, beach clubs, and seafood restaurants.
Where is Camogli Beach?
Camogli is a small town located on the western side of Portofino in the Liguria region. A true representation of authentic Italy and the epitome of beauty.
Camogli Beach is one of Italy's finest, brushed by the hands of the Gods! The old church that juts out into the sapphire waters truly creates the most idealistic setting. This is without a doubt one of the most beautiful beaches in Europe.