Are you looking for a land of sun, sea, and sand? Then Spain is the place to be! With over 3,000 miles of coastline, there's no wonder that Spain is home to some of the most breathtaking beaches in the world.
From the sparkling waters of the Mediterranean Sea to the wild waves of the Atlantic, these beaches offer something for every beachgoer. Whether you want a romantic getaway, a watersports adventure, or just a tranquil escape, you're sure to find it here.
In this guide, we'll explore some of the most amazing beaches you have to see when you're on a Spanish holiday. So, what are you waiting for? It's time to book your flights and pack your bags because your ideal vacation destination awaits!
1. Best for Beautiful Views: Playa de Bolonia, Costa de la Luz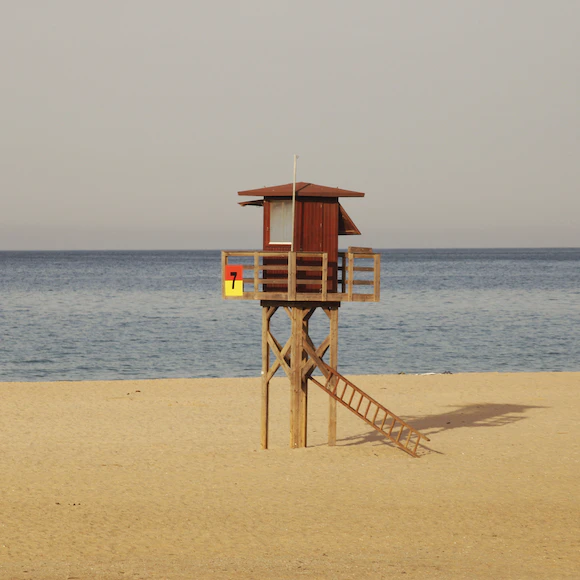 Playa de Bolonia is a hidden gem of a beach located in the picturesque town of Tarifa, Spain. This absolutely stunning beach is nestled in a peaceful haven that has a slower pace than the rest of the developed city beaches. So if you're looking for somewhere quiet to escape to, then you've come to the right place.
The sand here is a powdery white, and the grassy banks give way to crystal-clear waters that are perfect for swimming. But that's not all you can do. In fact, Playa de Bolonia is the ideal spot for anyone who loves watersports. Still, if you prefer to lay back and soak up the sun, you can find the perfect spot among the dunes.
Indeed, one of the most unique features of this beach is the towering sand dune that dominates the entire landscape. Surrounded by fragrant green pines, it truly is a sight to behold (so don't forget your camera!). If you're feeling adventurous and want a breathtaking snapshot of the Atlantic Ocean, you can climb to the top for the best views.
For history buffs, the beach is also home to the Roman ruins of Baelo Claudia, which date back over 2,000 years. It's a fascinating place to explore and learn more about the history of ancient civilizations.
Whether you're looking for a tranquil respite or you want to gather travel stories to take back home, Playa de Bolonia is an incredible experience for any beachgoer.
2. Best for Foodies: La Concha Beach, San Sebastian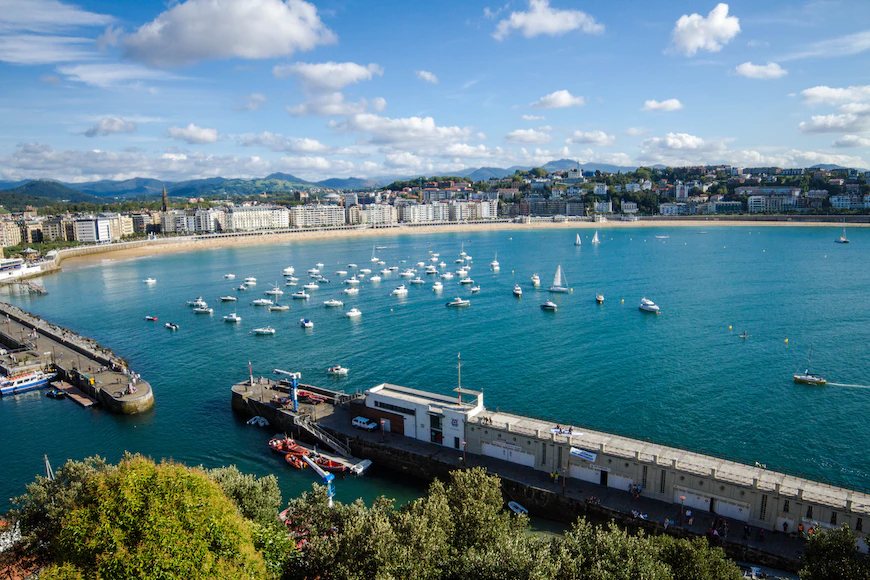 Perhaps the most beautiful city beach in Spain is La Concha Beach. You can find this magnificent golden sand beach in the town of San Sebastian, with a crescent-shaped shoreline that is ideal for strolling or a refreshing dip in the calm waters.
The beach offers jaw-dropping views of the bay, islands, and boats, and is encompassed by gorgeous green mountains. Its elegant architecture and numerous dining options make it a delightful destination for those who want to indulge in the local cuisine with the perfect backdrop.
There's more to San Sebastian than this stunning beach, though. The city is renowned for its excellent pintxos (Basque-style tapas) and has the highest number of Michelin-starred restaurants in Spain. In fact, there's a Michelin-star restaurant, the Amelia Restaurant by Paulo Airaudo, just a few steps away from the shoreline.
If you want to hang around for a few days of sea, sun, and adventure, you can easily find hotels within walking distance of La Concha. Trust us, you're going to want to make a reservation!
Once you get to San Sebastian, you won't want to leave any time soon. So be sure to pack your bathing suit (and a lot of sunscreen) and immerse yourself in everything La Concha Beach has to offer.
3. Best for Things to Do: Burriana Beach, Nerja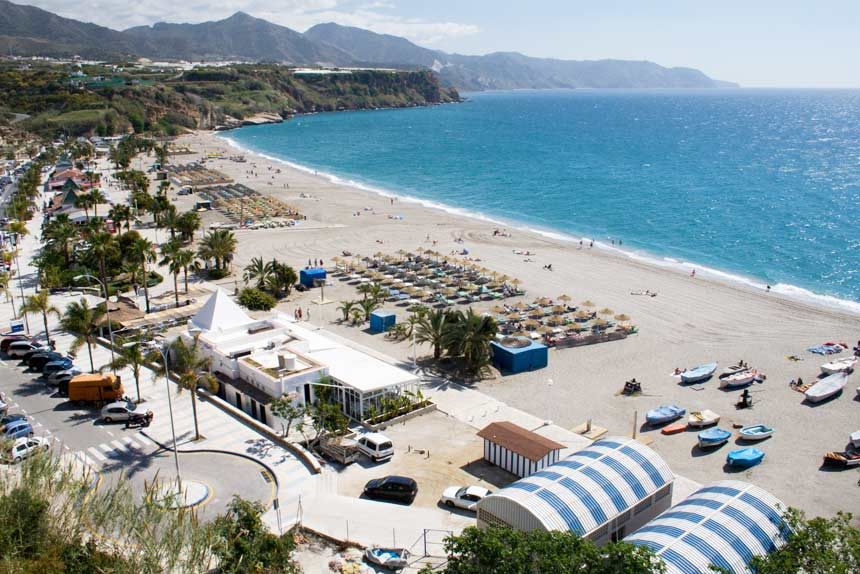 Burriana Beach is located in the sunny resort town of Nerja on Spain's famous Costa del Sol. This amazing stretch of sand and sea is over 2,000 feet long and is renowned for its vibrant atmosphere.
Here, you can find everything from sunbeds and parasols to jet skis and beach bars. While it sounds like a great place for a party, you may be surprised to learn that it also has plenty of space to sprawl out on the sand and enjoy the sunshine, ensuring a fun day out for every kind of couple.
Although the sand is a little rocky, the beach more than makes up for it with its incredible views and excellent facilities. There is even a spacious promenade teeming with shops and restaurants, making it the ideal choice for a full-day trip.
If you're in the mood for more excitement, you can rent kayaks and paddleboards. Or perhaps you might like to try your hand at parasailing for a birds-eye view of the gorgeous coastline.
Additionally, you can find Burriana Beach just a short walk from the town center and the famous Balcón de Europa viewpoint. This viewpoint boasts panoramic vistas of the sea and surrounding rocky cliffs—ideal if you'd rather keep your feet on the ground while enjoying the view!
4. Best for Quiet Getaways: Isuntza Beach, Lekeitio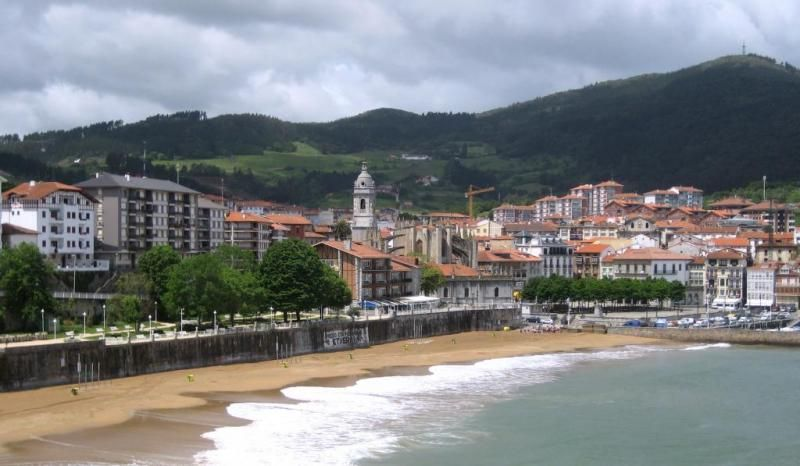 Between the idyllic cities of San Sebastian and Bilbao, you'll find a beautiful beach that will steal your heart. The charming town of Lekeitio is home to a delightful strip of coastline that reveals its magic at low tide. Of course, we're talking about none other than Isuntza Beach.
The beach offers calm waters and is very clean with fine white sand that's dotted with beach bars along the shoreline.
If you're feeling particularly brave, you can go canoeing or scuba diving to see the regional marine life. But there's more to do here than splash about in the turquoise waters!
Staying in Lekeitio gives you a rare glimpse into the culture of the Basque Country, with some incredible food and historical Gothic architecture. Close to the beach, you can find a quaint Gothic church that is perfect for a photo op, and after you've taken the perfect holiday picture, you can enjoy fresh seafood or tapas at one of the nearby restaurants.
Although it may not be the most bustling town, Lekeitio is the ideal destination for a quiet getaway. So when you're planning a romantic retreat you can escape the crowds of tourists here.
5. Best for Affordable Accommodation: Playa del Silencio, Asturias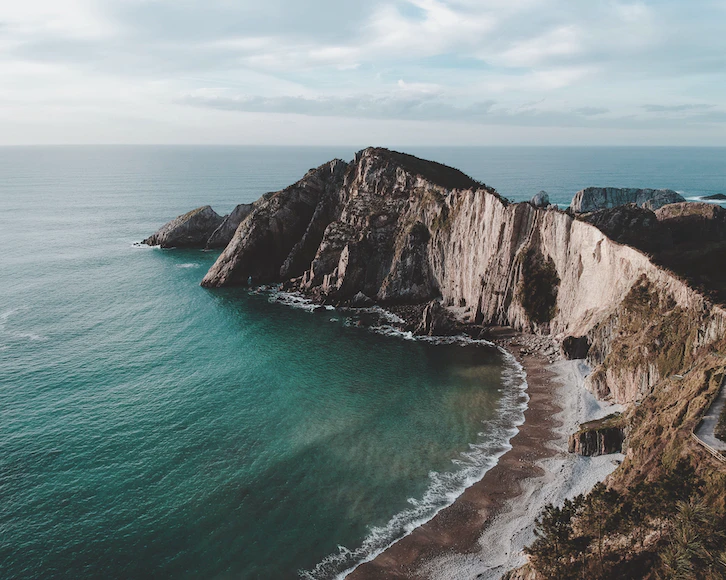 Looking for a peaceful, untouched slice of Spanish paradise? Then you've come to the right place! Playa de Silencio is the crown jewel of Asturias' beautiful beaches. Although sunshine is never a guarantee here, it's more than worth the risk to experience the wonder of this gorgeous location.
As you approach the beach, you'll be greeted by virgin sand that seems to stretch on for miles. Decorated with white sand dunes and towering rock formations, this area has been declared a monument to ensure its pristine condition for generations to come.
Despite the rocky terrain making it unsuitable for swimming, Playa de Silencio, or 'the beach of silence' is a tranquil haven for couples. It's important to note that with no facilities on the beach and little to no activities for younger children, it's not well-suited to families. This means that Playa de Silencio is largely an unofficial 'adults-only' beach!
If you want a relaxing vacation with a backdrop of the beach, the nearby town of Cudillero has got you covered. With affordable accommodation and plenty to do on land, you can have an incredible couples' getaway.
On the other hand, younger couples may want to check out the nearby city of Gijón. Here, you'll find plenty of parties and bustling nightlife to keep you entertained all day (and all night) long.
6. Best for Water Activities: Playa de la Victoria, Cádiz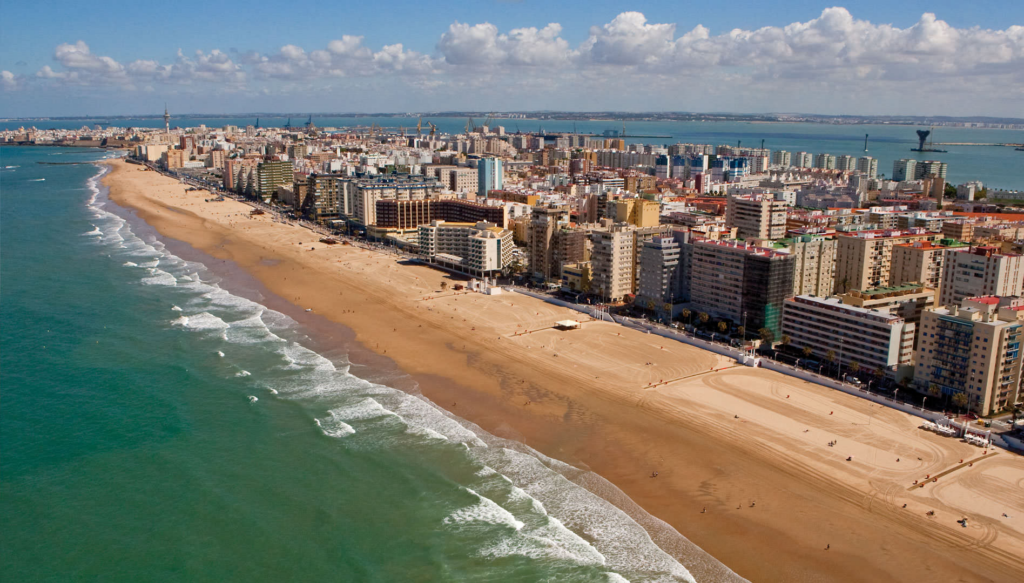 Found along the Costa de la Luz or 'coast of light', Playa de la Victoria stretches for over a mile. Noted as one of the most popular beaches in Spain, the beach comes alive during the summer months and is full of energy and activities. Located in the tourist hotspot of Cádiz and covered in fine goldesand, it's also perfect for a stroll or a dip in the warm, gentle waves.
Not only is this the ideal beach to visit for some rest and relaxation, but it's also a hub for plenty of sports. In fact, the beach has rugby goals and football fields for competitive couples to enjoy a spirited game in the sunshine. If you want something truly unique to do on your sandy vacation, this is the spot to be.
A small street separates the sand from a row of eateries and shops, so you can always head on over to buy some souvenirs and taste as much of the local cuisine as you can handle.
There's plenty to do for everyone, making it one of the most versatile beaches in the area. Don't forget to budget for a paddleboat rental, either. You won't want to miss the stunning views of the Atlantic Ocean – right from the water.
It may be important to note that while the soft sand is great for sunbathing and idle strolls, there are some rocky areas in the water itself that you should be aware of if you want to go swimming.
7. Best for a Secluded Beach: Playa de los Genoveses, Cabo de Gata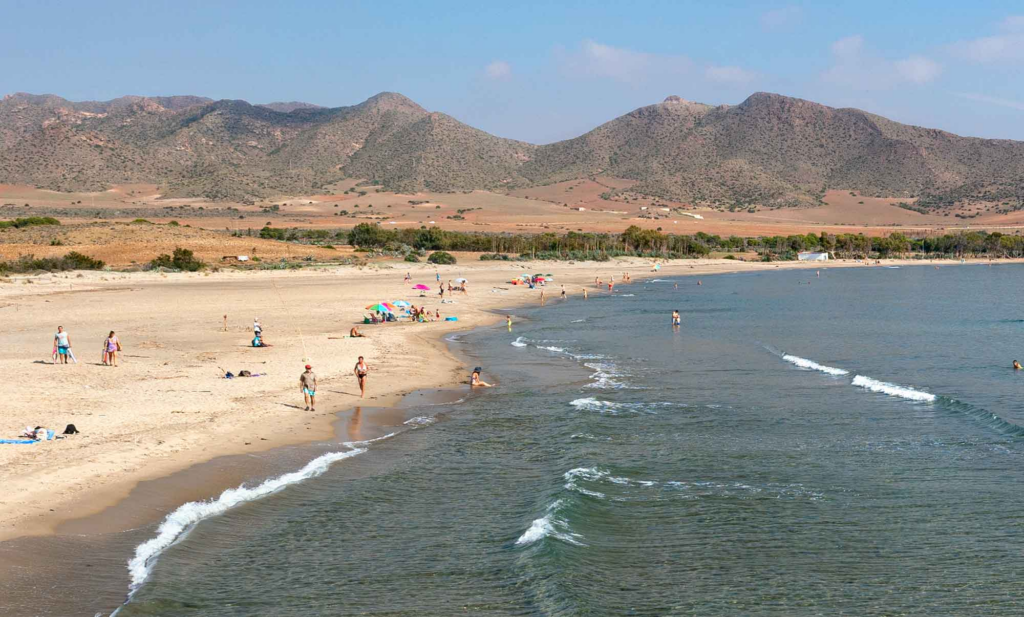 Hidden in the rugged and unspoiled terrain of Almeria lies Playa de los Genoveses. This horseshoe-shaped beach is a nature lover's paradise, free from the hustle and bustle of tourist crowds. Here, you can find serenity amidst the shallow waters and soft sand dunes.
As you explore this untouched gem in southern Spain, you'll find hidden coves and picture-perfect views that will leave you wanting more! Nestled in the heart of the Cabo de Gata Natural Park, the beach is surrounded by pale volcanic sand and cacti.
Playa de los Genoveses occupies the entire bay here, so there is more than enough space to soak up the sun, relax under the shade of the tropical trees, or let your hair down and go for a relaxing swim.
If you're a first-time visitor, you'll need to remember that private car access is restricted in the summer months, so you won't be able to drive directly to the beach. Instead, you'll need to take one of the public transport buses from San Jose, which is around ten minutes away from Almeria.
Although it isn't explicitly a nude beach, it's important to note that there are plenty of locals that practice naturism at Playa de los Genoveses.
8. Best for Nature Lovers: Platja de Ses Illetes, Formentera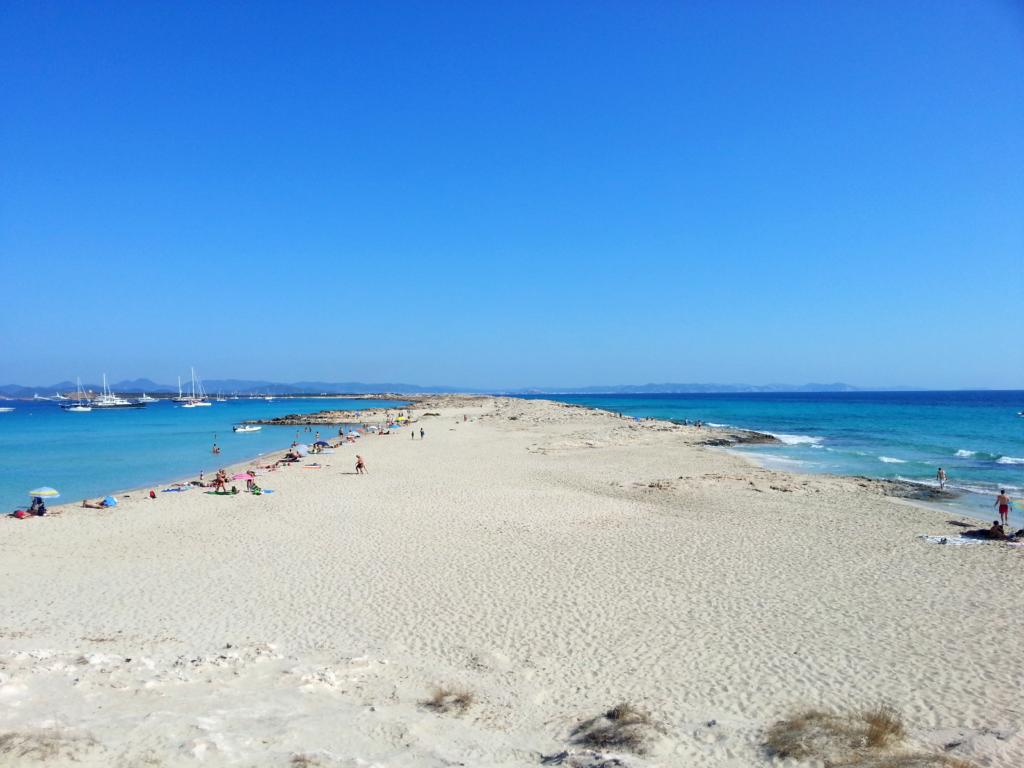 Get ready to visit heaven on earth! Ses Illetes Beach, located on the island of Formentera, is a natural paradise that you don't want to miss. With stunning, sparkling waters and fine sand that ranges from white to pink in color, Platja de Ses Illetes feels more like a Caribbean wonderland than a Spanish beach.
Formentera is a small island that is a must-see for nature lovers who want to explore the wild beach and escape the crowds. Touted as the most beautiful beach in Spain, the beach itself is actually a narrow strip that divides the sea in two.
This truly unique beach is understandably busy in the summer months, with day-trippers lining the sand. So be sure to arrive early!
As one of Spain's only pink beaches, Platja de Ses Illetes gets its color from small pieces of coral that wash up onto the shore. This gorgeous pastel bay is also almost completely encircled by land. Thanks to its warm and calm waters, it feels more like a heated outdoor swimming pool that's perfect for a refreshing dip.
With limited access, the beach is largely untouched by developers and retains its natural beauty – despite being one of the busiest beaches in the region! It's ideal for honeymooners and couples who will have a great time stretched out on the warm, inviting sand.
9. Best for Experiences: Maspalomas, Gran Canaria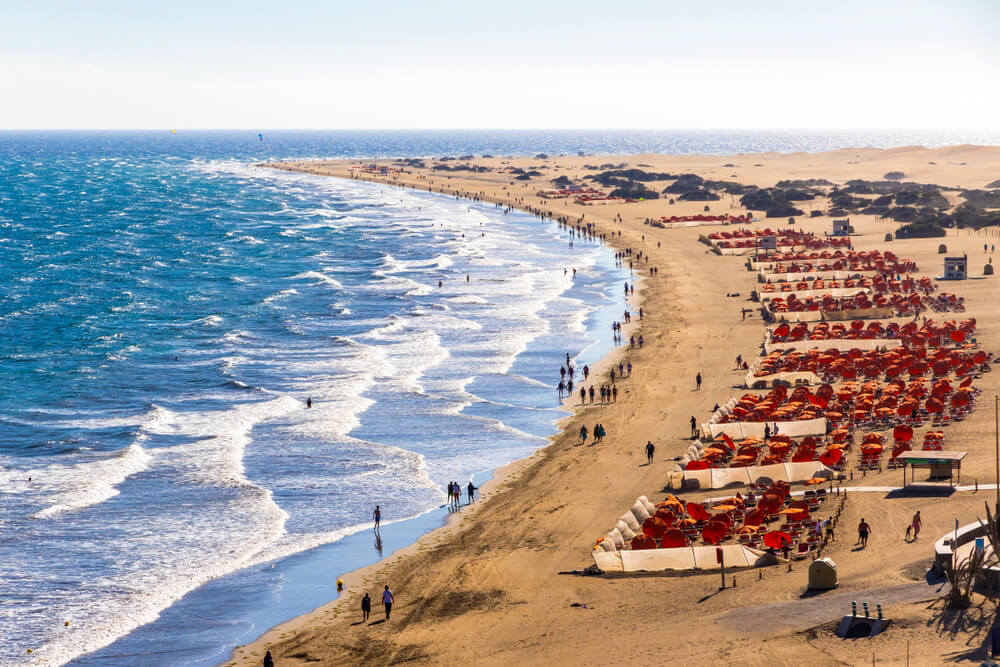 Although you may confuse this beach with a desert with rolling sand dunes, Maspalomas Beach can be found in Spain's very own Gran Canaria–a Spanish island off the coast of Morocco. This beach has beautiful golden sand that seems to stretch on forever and is divided into three distinct parts. One of these sections is dedicated to families, with the others being open to naturists and other travelers.
Here, the sun shines all year long, so it's always the perfect time for a vacation. Remember that the sun gets pretty intense here, so don't forget to pack your sunscreen, an umbrella and a towel to sit on if you want to avoid being burnt!
Maspalomas Beach offers a variety of activities for any kind of traveler, including camel rides through the dunes and jet-ski rentals for adrenaline junkies. If you want a more relaxed experience, the beach is fantastic for bird watching as Charca de Maspalomas is home to a variety of birdlife.
As one of the most beautiful beaches in Spain, it can get a little crowded here during peak months. But since the sun is always shining, you can avoid the crowds by going during quieter months (the high is still 72°F in December). In fact, when the crowds start to thin, the beach becomes an idyllic retreat for couples.
10. Best for Honeymooners: Tossa de Mar, Costa Brava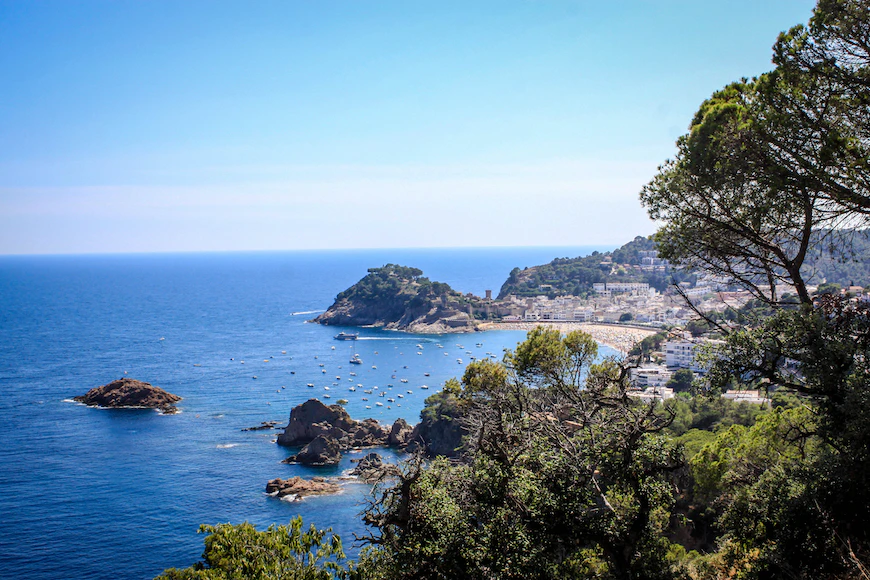 Tossa de Mar is a true paradise that is located in the gorgeous Costa Brava region of northeastern Spain. Unlike the bustling city beaches, Tossa de Mar is one of Spain's best-kept secrets. The serenity and privacy of this coastal town give it the feel of a private escape, making it perfect for a romantic retreat or week-long honeymoon.
This town is filled with rich history and plenty of culture. If you want more to your vacation than feeling the warm sand between your toes, this is the place to be. Of course, the best part of Tossa de Mar is that it isn't home to just one beach. It's actually home to several jaw-dropping beaches, each more incredible than the next.
Playa Gran, the widest beach, has a distinct horseshoe shape that is encased by the bay. With deep blue waters and soft golden sand, it's the best beach for unwinding and taking a load off. With calm waves and a less active atmosphere than some of Spain's more popular party beaches, it's a honeymooner's paradise.
If you want a secluded getaway with your partner, you can always head out to Cala Pola which lies just outside of town. Here, you'll find more rugged beauty and fewer tourist attractions, but that doesn't mean it's any less beautiful! It's surrounded by perfect landscapes, which only add to the quiet atmosphere.
No matter what you're looking for, Tossa de Mar has it all. From culture and history to mind-boggling views and incredible weather, you won't be disappointed. Just be sure to check the weather before you head out to the beach. When the weather is warmer, most of the bigger beaches are filled with larger crowds of locals and tourists.
FAQs
What is the best time to visit the best beaches in Spain?
The best time to visit the beautiful beaches in Spain will depend on your preferences. Generally, the summer months of June to August are the peak tourist season and the busiest time to visit. The weather is hot and sunny, which makes it perfect for swimming and sunbathing.
However, if you prefer a quieter and less crowded beach experience, you should consider visiting during the quieter seasons of May and September. During this time, the weather is still warm, but the crowds are much thinner.
Of course, some of these beaches experience sun all year around, making them the ideal spot for any time of year. Just be sure to check the weather for your destination before you book your flights!
Where is the best place to go for a beach vacation in Spain?
Spain has some of the best beaches in the world, which makes it difficult to choose a single destination to visit. Still, if you want to settle in for a trip to one location, some of the best places to go include:
Costa del Sol in Andalusia
Costa Brava in Catalonia
Ibiza in the Balearic Islands
Tenerife in the Canary Islands
San Sebastian in Basque Country
These destinations offer a range of activities, including watersports for daytime adventures and beachside dining for a romantic evening.
Is it free to visit the best beaches in Spain?
Yes, most of the beaches in Spain are free and open to the public. However, there may be some beaches that charge an entry fee during peak season or for the use or rental of certain amenities. It's always best to check ahead of time and plan your trip (and budget) accordingly.
Some beaches aren't accessible by car, meaning you'll need to walk or use public transportation. If you need to use public transport, this can add to the cost of your day trip to the beach.
Are there any beaches in Spain that are good for surfing?
While there are several beaches in Spain that are good for surfing, most of these sandy escapes are known for more laid-back activities like paddleboarding or swimming. However, if you can't resist the waves, you can always head out to one of these fantastic surfing destinations:
Playa de Zarautz in San Sebastian
Playa de Famara in Lanzarote
Playa de Somo in Cantabria
Be sure to check the surf conditions before you head out, though. Some Spanish beaches are renowned for their gentle waves and shallow waters, which means they are less than ideal for surfers.