If you've just got hitched in the U.S., Hawaii is one of the easiest destinations to reach to spend your honeymoon. However, its locality isn't the only reason it's still a dream destination for newlyweds: it's laidback, diverse, and offers recently married couples that much-needed post-ceremony intimacy. Although touristy, you'll be able to discover great Hawaii honeymoon resorts to suit your needs.
Alternatively, if you're looking for adventure and excitement on your honeymoon, Hawaii has you covered – from ascending volcanos and scuba diving to the bottom of the ocean to soaking up the nightlife and beach atmosphere. Want to plan the ultimate Hawaii honeymoon? In this guide, we'll highlight the best hotels, excursions, and other tips for newlyweds in Hawaii.
Why Choose Hawaii For Your Honeymoon?
Hawaii has had a long-standing reputation as being the ultimate honeymoon destination. Its romantic aura is created by its poolside cabanas, white sandy beaches, tropical gardens, and authentic hospitality – in addition to its dramatic volcanic backdrop! Despite having been one of the most popular honeymoon destinations for decades, even today, Hawaii maintains its tropical paradise allure.
Poised in the Pacific Ocean and easily accessible via the southwest of the U.S., Hawaii is, of course, the 50th U.S. state. This means U.S. citizens can fly in and out freely, without even flashing their passports! Even once you arrive in Honolulu, traversing between islands is made easy by regular, short flights. Turn your honeymoon into an adventure by island-hopping.
Despite its popularity, you'll still be able to find luxury resorts, white sand beaches, and poolside cabanas in Hawaii that feel private and secluded. Plus, with countless zip lining, kayaking, hiking, and other exciting experiences available, not a moment of your Hawaii honeymoon will be boring!
Top 10 Honeymoon Resorts in Hawaii
There are seven inhabited islands in Hawaii, each of which boasts its own luxury resorts and atmosphere. No matter what resort you pick, you're going to be met with a tropical breeze, boundless pristine beaches, and the incredibly welcoming hospitality that's part of Hawaiian culture. However, each resort features its own amenities, suites, and honeymoon package offers.
To help you decide which to choose, we've selected the 10 best resorts across the islands, featuring a breakdown of costs, amenities, rooms available, and other useful information.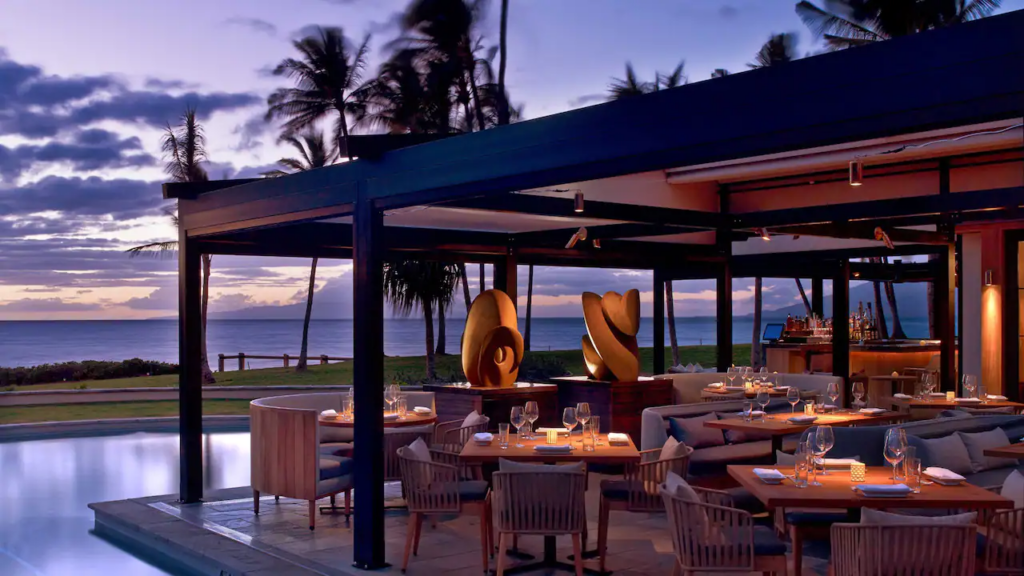 Price per Night: $1,095 to $3,000
Best For: Long stays, beach access
Availability: Easy to book
The Andaz Maui at Wailea Resort can be found in South Maui and provides direct access to Mokapu Beach. The private oceanfront balconies found in some rooms of this resort each look out onto this boundless stretch of sand, palm trees, and lapping waves. The resort takes full advantage of this, by providing snorkeling, kayaking, and paddle boarding experiences.
The rest of the 321 rooms have a garden-facing view, which provides the perfect setting for sunrise and sunset. For the ultimate honeymoon long-stay, you could rent out one of the resort's Premier Suites, which comes with its own kitchen and extended living area. Guests can also enjoy farm-to-table dining, the on-site spa, beach luaus, and outrigger tours.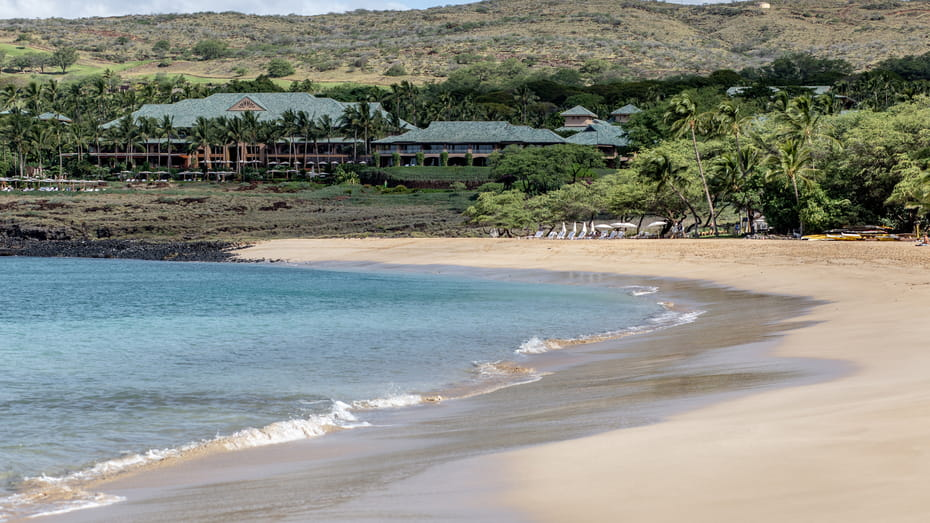 Price per Night: $1,500 to $3,000
Best For: Luxury experiences, specialty suites
Availability: Limited availability
The Four Seasons hotel chain has a strong presence throughout Hawaii with four separate resorts: the Four Seasons Resort Lanai, the Four Seasons Resort Maui, the Four Seasons Resort Hualalai, and the Four Seasons Resort Oahu at Ko Olina. Each location boasts its own benefits, but each luxury resort also provides the perfect setting for a Hawaii honeymoon.
In all four resorts, you can enjoy romantic sunsets, access to beautiful beaches, and excursions prepared by the Four Seasons' Ocean Adventures team, which include snorkeling, scuba diving, paddle boarding, watersports, and a whole lot more! You'll also find a variety of room types, from beachside cabanas to poolside villas.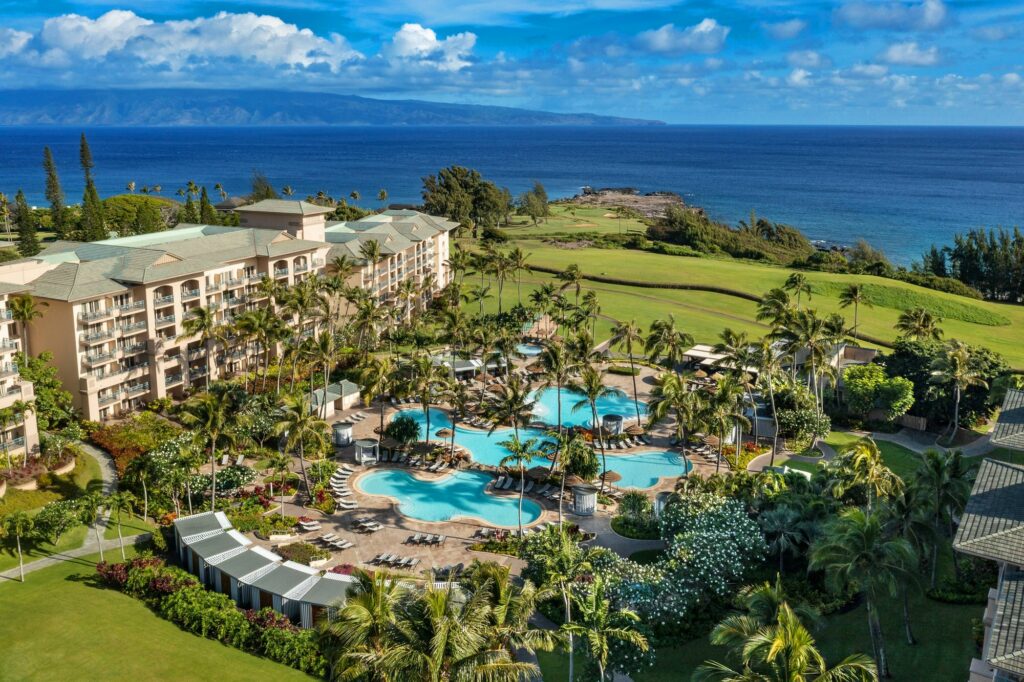 Price per Night: $1,000 to $2,500
Best For: Spa & wellness treatments, on-site dining
Availability: Easy to book
Newlywed guests at the Ritz-Carlton, Kapalua can make the Maui resort's 54 acres their own. This popular honeymoon destination provides the best in relaxation, with a secluded beach out front for guests to enjoy. Out of all the rooms offered for honeymooners, the Ritz-Carlton Suite is the best option, with two separate balconies and a master bedroom.
The Ritz-Carlton can be found on the north shore of the island and goes above and beyond in terms of onsite amenities. The seven onsite restaurants take the very best of traditional Hawaiian cuisine and serve it in fine dining style. The Ritz-Carlton Spa is great for couples massages, while the golf courses, gym, and tennis courts are ideal for exercising together.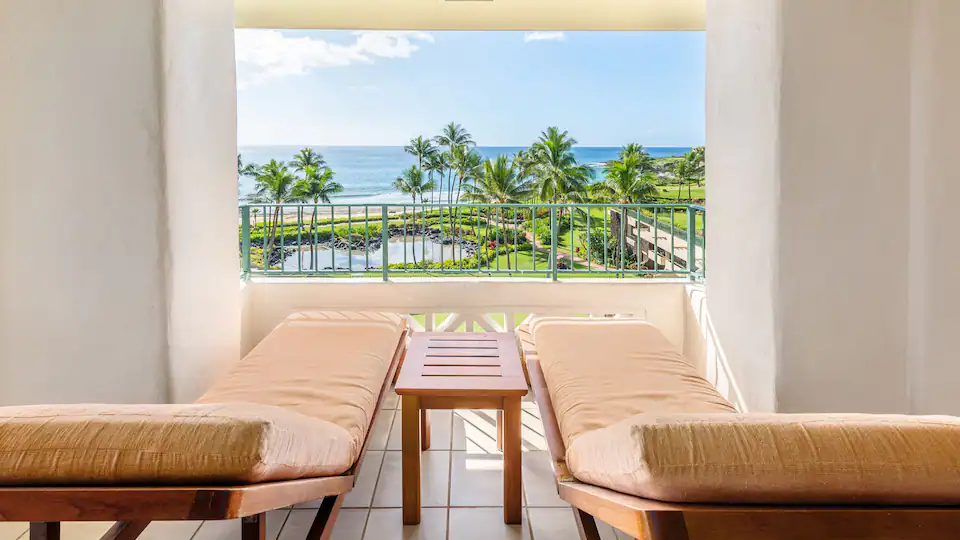 Price per Night: $500 to $1,000
Best For: On-site resort activities, beach access
Availability: Easy to book
The island of Kauai is one of the most secluded islands in Hawaii, which is why many newlyweds opt to go on a Kauai honeymoon. Sometimes referred to as the Garden Isle, Kauai's natural scenery surrounds the Grand Hyatt hotel, giving it a tropical island appeal. We'd recommend the Presidential Suite for honeymooners, which offers the best garden view.
With multi-level swimming pools and a saltwater lagoon, you can meet your swimming needs while staying within the grounds of the Grand Hyatt.
Poipu beach and other white sand beaches are also close by, where guests can partake in snorkeling, surfing, and paddleboarding, or simply take a romantic stroll. Private cabanas are also available. Before dining out, why not receive some treatments at the Anara Spa?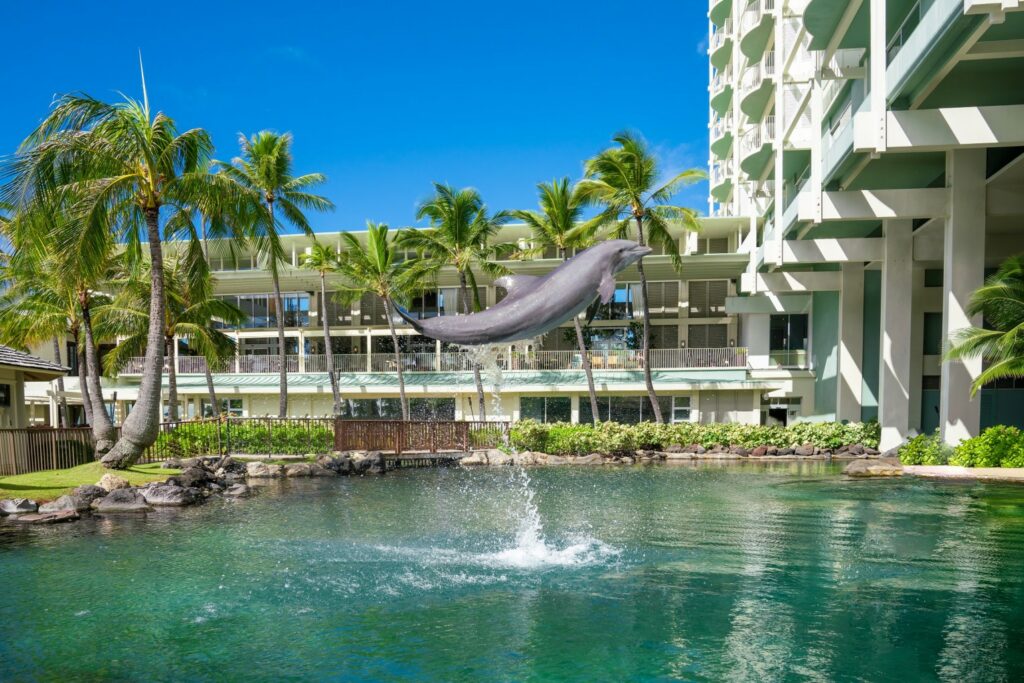 Price per Night: $600 to $1,200
Best For: Young couples, on-site events
Availability: Easy to book
If you want to spend your Hawaii honeymoon in the capital city, Kahala Hotel, Oahu will put you close to the action, while still offering some privacy. This hotel has long been a much-coveted accommodation, thanks in part to its locality to Waikiki Beach. Amenities include pools, fine dining at Hoku's, and Dolphin Quest excursions, where you can train dolphins!
It's also one of the best hotels on Oahu that caters to newlyweds, with honeymoon packages available. Honeymoon suites, attentive room service, and unique experiences organized by the on-site concierge team will certainly make your Hawaii honeymoon unforgettable. There's a reason celebrities and even royalty book rooms at the Kahala hotel.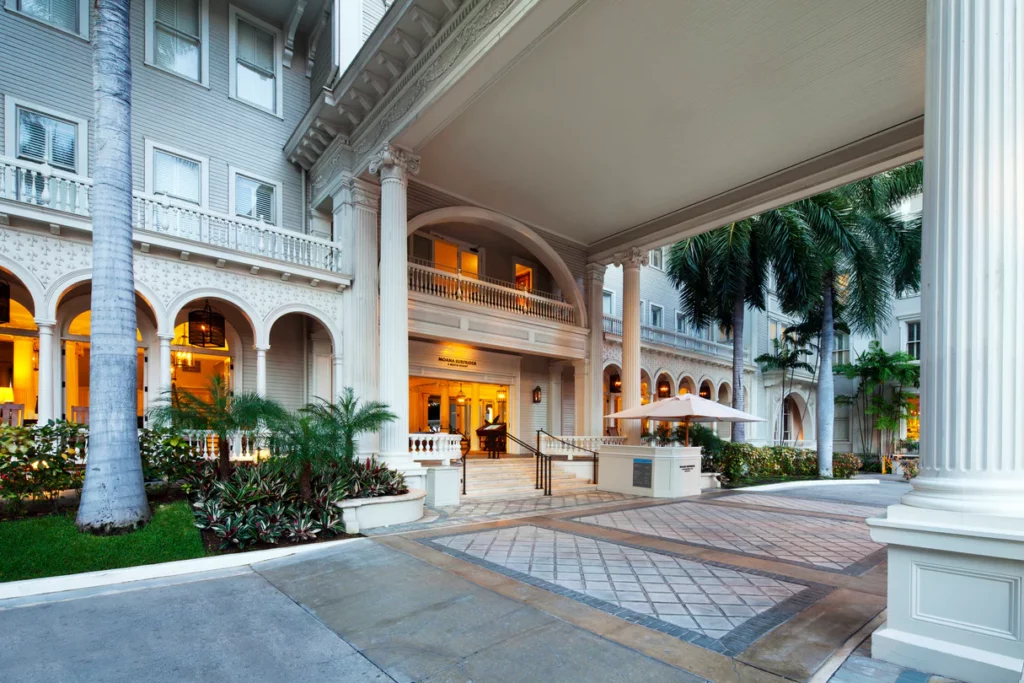 Price per Night: $350 to $1,000
Best For: Beach access, young couples
Availability: Easy to book
The Moana Surfrider is another prime Honolulu resort, which positions guests just a stone's throw away from Waikiki Beach. Out of all the resorts that look onto Waikiki Beach, it's the only one that boasts its own full service spa out front.
If you and your partner want to spend some special time on the beach, the resort also has its renowned Beach Bar. At Banyan Tree, immerse yourself in Hawaiian music and luau dancing. Out of the three towers that make up Moana Surfrider, the best one for a Waikiki Beach honeymoon would be Tower Ocean Suites, which features ocean views.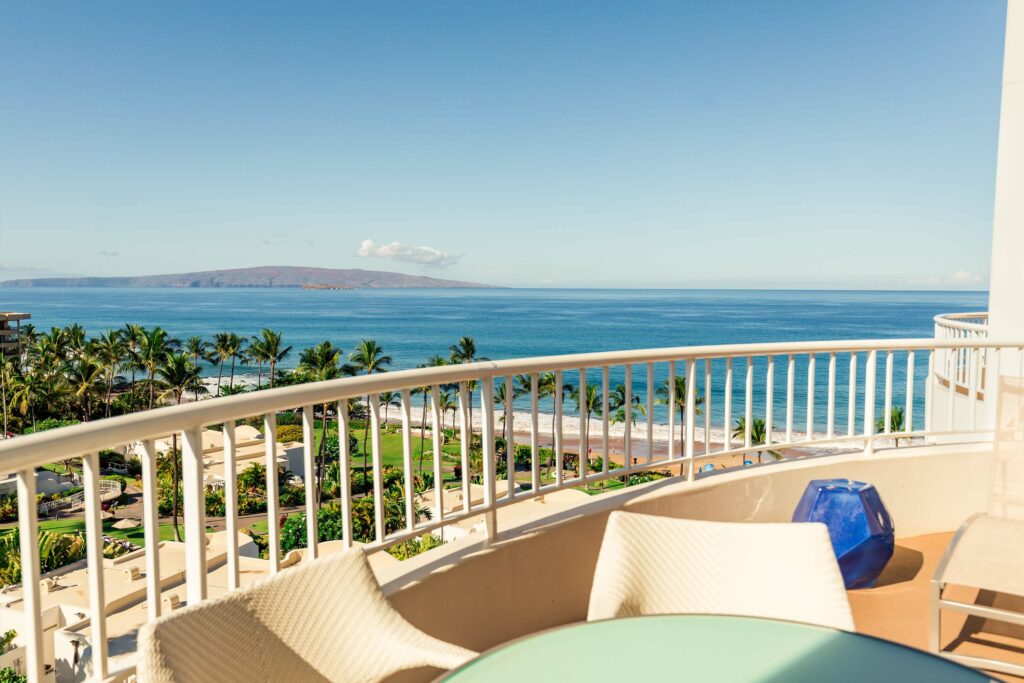 Price per Night: $900 to $1,500
Best For: On-site Dining, younger couples
Availability: Limited
Fairmont Kea Lani packs all the best qualities of Maui into the resort amenities, so you never even have to leave this tropical paradise once checked in! On top of the seven restaurants, which each serve up a unique take on Hawaiian food and international culinary, you'll also find a market. So, in between sun lounging, you can browse for some honeymoon keepsakes.
You could even experience some of the best activities while staying on-site, such as canoe, hulu, and even ukulele lessons. With direct access to Wailea's Polo Beach, guests can explore the 600-foot worth of sandy beach and lava rock outcrop. The hotel is also enshrouded by some of the most stunning flora found on the Hawaiian island.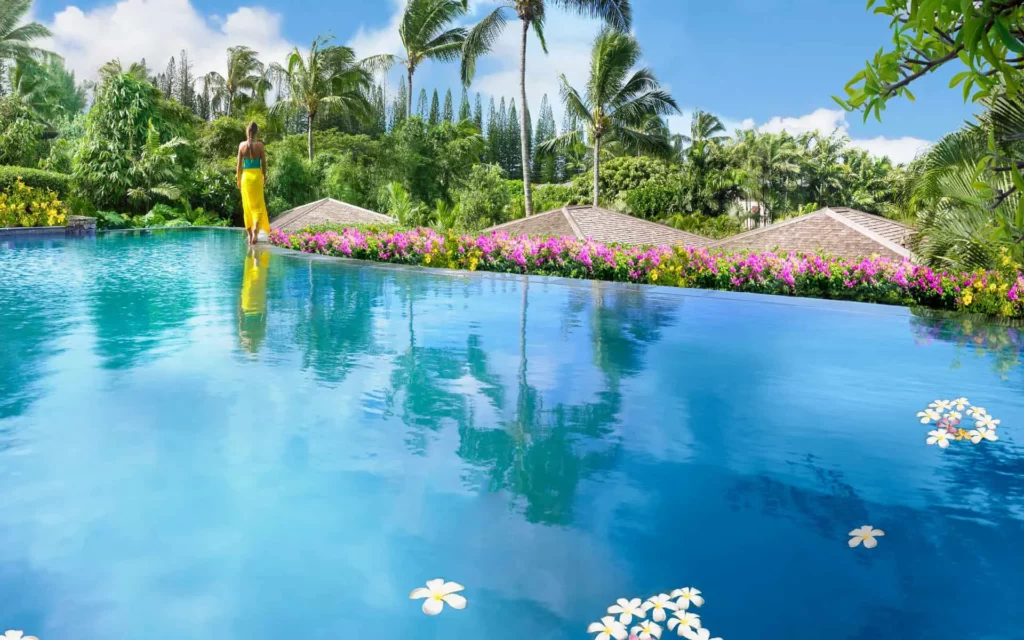 Price per Night: $2,000 to $5,000
Best For: Luxury experiences, on-site recreation
Availability: Limited
Although open to families, you'll be able to find your own private corner of Montage Kapalua Bay to enjoy your Hawaii honeymoon. Taking up a generous stretch of the Maui coastline, the Montage Kapalua Bay resort sets the stage for you to live your honeymoon dream, whether that's frolicking along the nearby Namalu Bay or having a sunset dinner at Cane & Cano onsite.
Out of the 360 rooms available, several have a distinct homely appeal, with fully furnished kitchens, private lanais, and living rooms. When not enjoying your suite, you could head down to the Spa Montage, or try out the resort's exciting zip lining experience. The Montage Kapalua Bay resort also boasts several tennis courts and golf courses.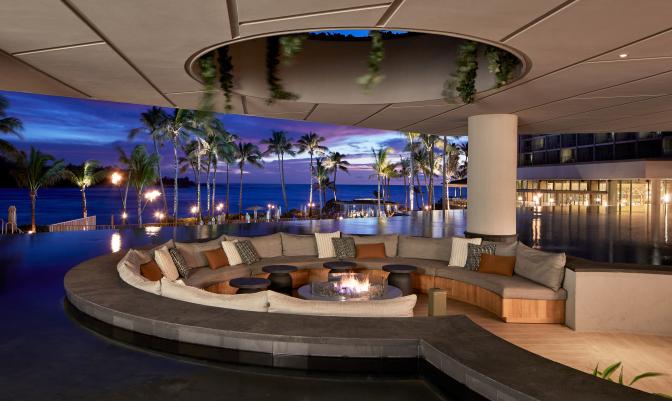 Price per Night: $575 to $767
Best For: Ocean views, beach access
Availability: Easy to book
True to its name, Turtle Bay Resort is just a short walk away from the Bay and Turtle beach. There is no room in this hotel that doesn't look out onto the sea, so ocean views are definitely a guarantee. When not admiring and swimming in the turquoise waters, you could pamper yourself and your partner at the Nalu Kinetic Spa or take a dip in the communal pool.
Dining options are plentiful, from Roy's Beach House, which delivers the very best in modern Hawaiian cuisine to The Point Bar & Grill, which will keep you in supply of snacks throughout each of your pool days. Other amenities suitable for newlyweds include the two 18-hole golf courses, a fitness center, and various organized experiences, including horseback rides.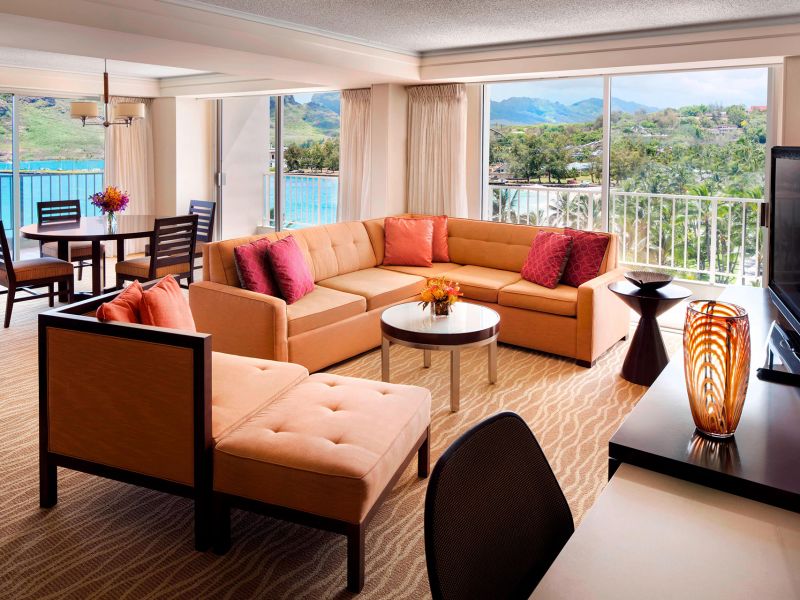 Price per Night: $400 to $1,000
Best For: Young couples, luxury amenities
Availability: Easy to book
The Royal Sonesta is one of Kauai's most popular resorts and recently underwent a $50 million upgrade, making it more up-to-date and better than ever! This resort is a great choice for your Hawaiian honeymoon as its communal pool is overwhelmingly big (the largest single-story pool found on this Hawaiian island!) making it easy to find a private spot poolside.
Royal Sonesta looks right out onto Kalapaki Bay, meaning it's great if you're looking to spend days and evenings on the beach, but even better if you're looking for an ocean view. Garden-facing and private lanai room options are also available. Other amenities at this hotel include the Kauai Lagoons Golf Club and the Alexander Spa.
Which Hawaiian Island Should You Stay On During Your Honeymoon?
Before settling on a hotel, you should probably consider which of Hawaii's islands best meets your needs in terms of atmosphere and culture. On all the Hawaiian islands, you'll be able to immerse yourself in the state's rich culture and heritage, but subtle nuances become apparent once you've visited a few.
For the more adventurous newlyweds out there, you may be tempted to island hop between a few of the different islands to notice these differences for yourself. Whether you decide to do this or would rather just stick to one island, here are the six of Hawaii's main islands that are definitely worth visiting.
Maui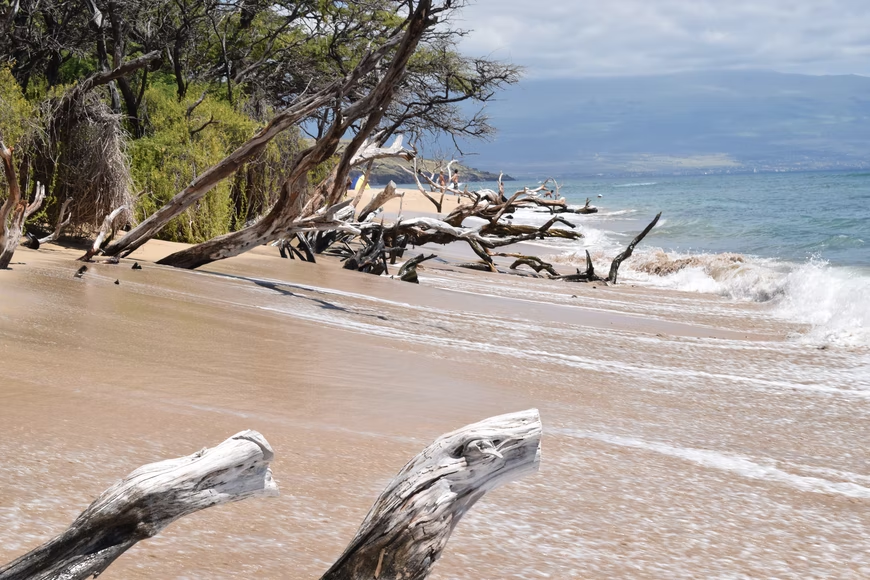 Maui's dramatic scenery makes it a prime honeymoon spot and has also garnered it the nickname 'the Valley Island'. The most romantic sight of this Hawaiian island is Haleakala, Maui's highest mountaintop, which makes the perfect backdrop for your honeymoon photoshoot. Nature can be found all over, especially during a road trip to the east coast.
For being one of Hawaii's most popular islands, you'll be surprised to know that the majority of Maui lies below sea level. The underwater Maui is just as geographically interesting as the above-water side, with beautiful coral reefs surrounding the land. This makes it perfect for couples who scuba dive. Maui is also particularly good for sampling authentic Hawaiian meals.
Kauai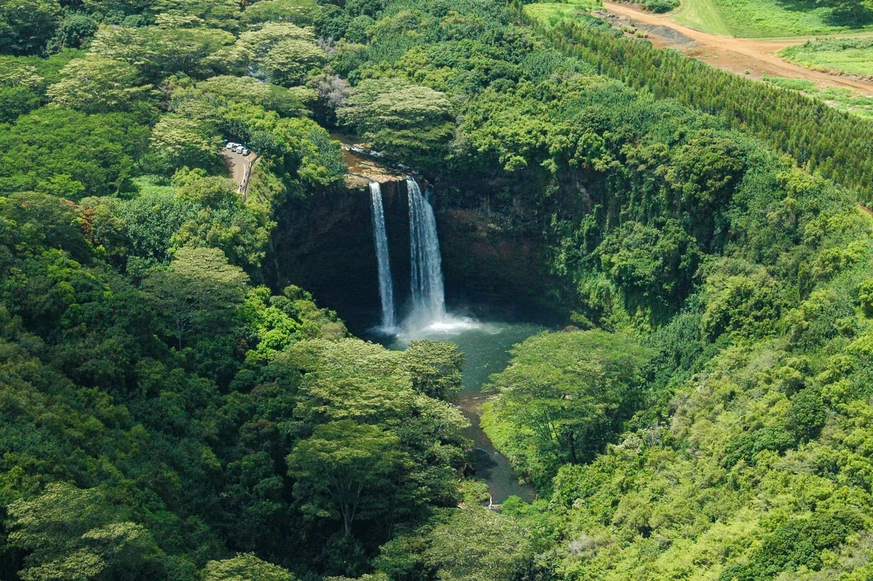 Where Maui is the Valley Island, Kauai is the Garden Isle, with the most diverse range of flora and fauna of any other Hawaiian island. Breathe in and fill your lungs with the fresh tropical air as you hike through the Kauai jungles towards one of the island's mystical waterfalls. The most famous cascades on the island include Wailua Falls and Opaeka'a Falls.
Despite its lush look, Kauai doesn't pull in as much tourism as the other islands, which means you and your partner will be able to find more tranquil places to rest. You'll find several fantastic beaches throughout Kauai, including the Na Pali Coast, which you may remember from Jurassic Park!
Oahu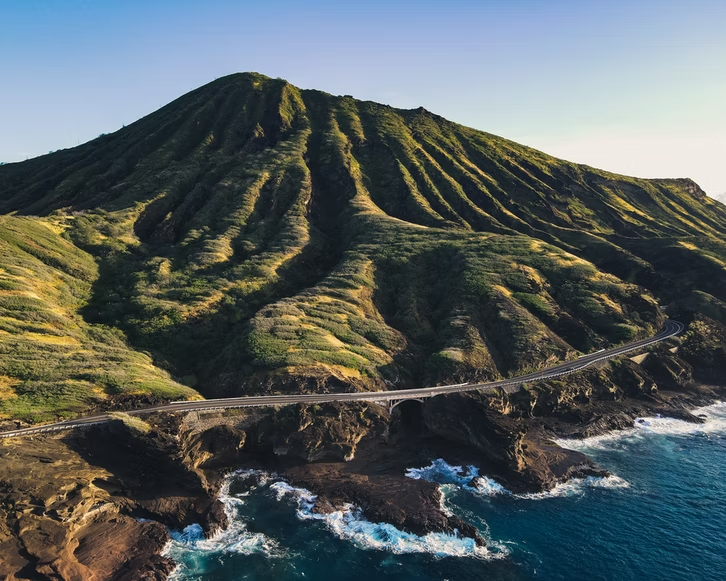 Oahu is the most visited island in Hawaii, mainly due to the fact it's home to the capital city of Honolulu as well as the most famous beach of the Hawaiian islands, Waikiki Beach. If you can put up with the tourism, it's worth spending a few days on Oahu as it truly offers the best of both worlds.
On one side of the island, you have breathtaking scenery, quiet beaches to stroll along, and landmarks to discover, while on the other, you've got alluring restaurants, exciting nightlife, and extensive shopping opportunities. Besides hiking, you can make your days exciting by taking a surf lesson. Tourists could also visit Pearl Harbour and learn about Hawaii's history.
Lanai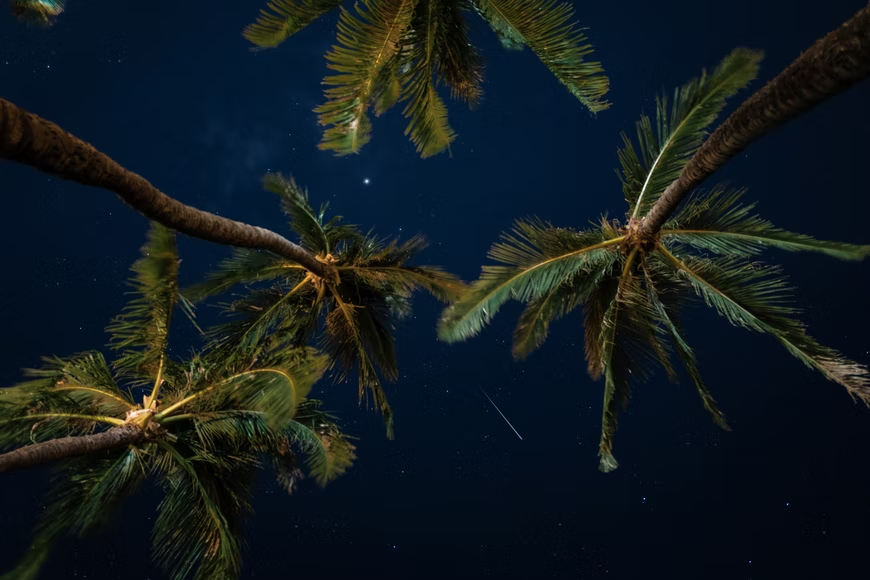 If you thought Kauai was quiet, then Lanai offers a totally different kind of isolation. Despite being the smallest inhabited island, you can pass massive stretches of land on Lanai without bumping into another tourist. Lanai is normally visited as part of a day trip from Maui, so if you want to experience proper seclusion for your Hawaii honeymoon, stay at Lanai!
Lanai is sometimes referred to as 'the Pineapple Island', as it was formally the home of Hawaii's biggest pineapple plantations. On top of its unspoiled beauty, Lanai can deliver all that makes Hawaii a desirable honeymoon destination: white sand beaches, luxury resorts, and a pristine reef.
Molokai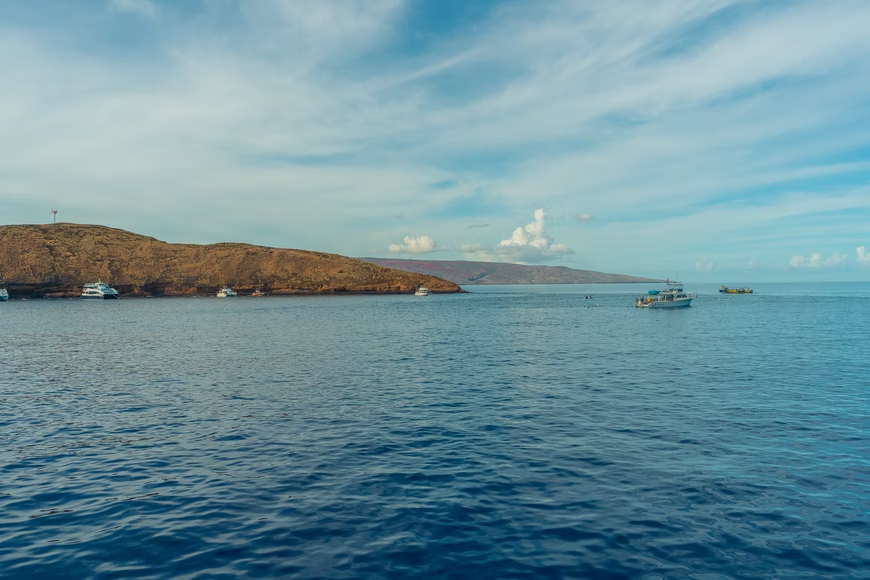 Molokai can provide you with the most authentic Hawaiian honeymoon possible, being the island with the largest native population. This outer island is rarely visited but is definitely worth considering adding to an island-hopping itinerary. If you choose to stay here, you'll find a range of traditional lodging options available – you won't, however, find a resort.
In terms of romantic activity, Molokai is particularly rich. The north shore is popular amongst kayakers, while its lofty cliffs are ideal for scenic horseback rides. Inland, you'll find waterfalls and plant life that truly outdoes Kauai in terms of untouched, natural beauty. At some corners of the island, you'll feel totally remote from the rest of the world.
Hawaii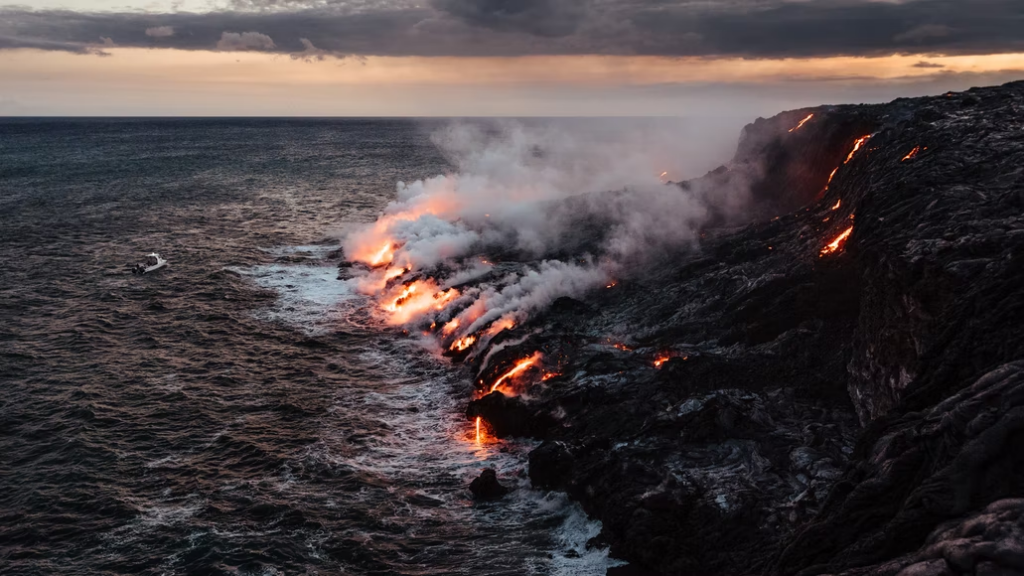 'The Big Island', as it's commonly referred to, features some of the state's top resorts, including the Hapuna Beach Resort Hotel, and provides all you need to enjoy your Hawaiian honeymoon. It gets its nickname from the simple fact that it's the biggest island in the region, so you can guarantee it features an array of different experiences, sights, and sounds.
It offers the best of both relaxing activities, such as spa and beach days, and adrenaline-pumping day trips, such as exploring Hawaii Volcanoes National Park, which features an active volcano! Like most other Hawaiian islands, the Big Island has its fair share of waterfalls, resplendent forestry, and beautiful beaches.
What To Do On Your Hawaiian Honeymoon
Your Hawaiian honeymoon doesn't have to be all about beach lounging and poolside fun (although, we wouldn't blame you if that's all you plan on doing!). There are several fun day trips and activities you can organize to make your honeymoon all the more memorable.
1) Romantic sunset walks
The best beaches to go on romantic walks and watch the sunset include Waikiki Beach on Oahu, Hanalei Bay or Poipu Beach on Kauai, Kaanapali Beach on Maui, and Hapuna Beach on the Big Island (Hawaii).
2) Private helicopter tour
Booking a private helicopter tour is one way to take in the region's diverse landscape, and to get up close and personal with some of the island's magnificent volcanoes, waterfalls, and the Na Pali Coast. Alternatively, if you're particularly interested in the volcanoes that define the Hawaiian skyline, definitely pay a visit to Volcanoes National Park.
3) Honolulu shopping trip
For more relaxing excursions, why not take a shopping trip to Honolulu, or visit one of Hawaii's wineries. The best places for this include the Big Island's Volcano Winery, Oahu's Oneo Winery, or MauiWine on Maui.
4) Swim with dolphins
Swimming with dolphins is frequently described as life-changing, making it the ideal activity to make your honeymoon unforgettable! There are several dolphin sanctuaries found throughout Hawaii, including Sea Life Park, Oahu, which offers dolphin experiences for $179 per person.
Sample Itinerary & Budget For Your Honeymoon To Hawaii
To help you plan your Hawaii itinerary, here's a rough idea of how much you should aim to budget. Bear in mind that the price could be affected majorly by what hotel, island, and region you decide to stay in, in addition to the time of year you choose to visit. A single person in Hawaii for a week could expect to pay:
| | |
| --- | --- |
| Activity | Weekly Cost |
| Accommodation | $280 (budget hotel in Honolulu) – $35,000 (expensive resort) |
| Food and drink | $400 – $500 |
| Inter-island transport | $30 (single ferry tickets) – $250 (return flights between islands) |
| Volcanoes National Park entrance fee | $30 (per vehicle) |
| Big Island's Volcano Winery entrance fee | $35 |
| Helicopter tour | $230 – $440 |
| Dolphin swim | $179 |
To help plan your 7-day honeymoon in Hawaii, here's a sample itinerary:
Day 1: Start your Hawaiian getaway as you mean to go on: by making the most of your resort's pool area. The first day of your honeymoon should be all about relaxing and getting used to your surroundings.
Day 2: On day two, you should treat yourself and take full advantage of your resort's onsite amenities. For example, if you've got an onsite spa, book in for a couple's shared massage. Once fully relaxed, take an evening stroll along the beach.
Day 3: Hit the beach on day three. Many resorts boast private beaches, giving you and your partner some seclusion for sunbathing.
Day 4: If you're dividing your time between two islands, day four would be a good day to ferry across to your second resort. Alternatively, take a day trip to another island!
Day 5: After adventuring on day four, spend day five taking it easy, either by the pool or on the beach. Split up the day by signing up for some resort-organized water sports.
Day 6: Save the best activity for last! On day six, swim with dolphins, go on a helicopter tour, or explore Volcanoes National Park.alt="landscape photography of lake and mountain"
Day 7:Enjoy one last day luxuriating before your trip home.
Frequently Asked Questions
How much does a Hawaii honeymoon cost?
A Hawaii honeymoon will likely cost you a lot, all things considered. Although you don't have to fly across the Pacific ocean to get there, hotels, food, drink, and excursions are typically expensive. The average honeymoon couple can expect to pay somewhere between $4,000 and $5,000.
When is the best time to visit Hawaii?
To get both the best climate as well as the best value for money, the best time to visit Hawaii includes the months of April, May, September, and October. Not only are the summer months most expensive, but the climate is also less agreeable. During the winter, you may find the trade winds to be too strong to enjoy a Hawaii honeymoon.
What is the best way to get around the Hawaiian islands?
The best way to travel between islands is by plane. All of the six main islands have their own airport and regular flights take place daily. Inter-island flight prices range from $100 to $250 for a round trip. Alternatively, you could catch a ferry between islands. For example, the Expeditions Lanai Passenger Ferry costs $30 for one-way transport between Maui and Lanai.
In terms of traveling while on the island, the best transport methods include bus tours, Ubers, and hire cars.
Start Planning The Perfect Romantic Getaway For Your Honeymoon
Despite how easily Hawaii is to reach, don't leave planning your honeymoon to the last minute. It's easy to feel the romantic aura of the islands as soon as you land, but the quality of your romantic getaway will be limited if you don't pick the right honeymoon resort, island, and excursions.
Each of the main islands has its own offerings, and each can offer completely different honeymoon experiences. When planning your honeymoon in Hawaii, use Couple's Travel other resources to help you achieve the ultimate getaway.