Iceland: the Land of Ice and Fire, home to Vikings and the northern lights. It may not initially seem like the most obvious honeymoon destination, but you'll be surprised at what Iceland has to offer newlyweds.
This Nordic nation is perfect for couples who enjoy the outdoors, but that doesn't mean you have to be an adventurer to appreciate Iceland on your honeymoon. From thermal spas to luxury cabins under the aurora borealis, those looking for a luxury, romantic getaway are guaranteed to fall in love with Iceland during their honeymoon.
So, if you're considering an Iceland honeymoon, read on! We've compiled a list of the best hotels, excursions, and tips to help you see why Iceland is one of the best honeymoon destinations in the world.
What Makes Iceland Perfect For A Honeymoon
Iceland truly is one of the most beautiful nations, with a rich history dating back centuries, and unspoiled nature with glaciers, volcanoes, and rolling hills. During the summer months, you can enjoy incredibly long days as the midnight sun hardly ever sets, and in the colder months, discover a winter wonderland amongst breath-taking scenery.
There is something for everyone in Iceland: exquisite beaches, hot springs, national parks, volcanoes, wonderful wildlife (including the hardy Icelandic horses), luxury hotels, and remote cabins.
When it comes to budget, Iceland is known for being pricey, so you can budget around $164 per person per day, depending on the activities you do and where you stay. Fortunately, it's relatively close to the US, meaning you only have to take an inexpensive, short flight over the water to reach this magical country.
Best Honeymoon Resorts, Hotels, and Other Stays in Iceland
Iceland's capital city has plenty of luxury hotels available, while the more remote regions of the country also host beautiful hotels and cabins.
Reykjavik, the capital city, is a must-see destination and honeymooners can find plenty of accommodation options while there. The famous Blue Lagoon, less than an hour's drive from the capital, also has a handful of boutique hotels to choose from, making it a popular destination for newlyweds.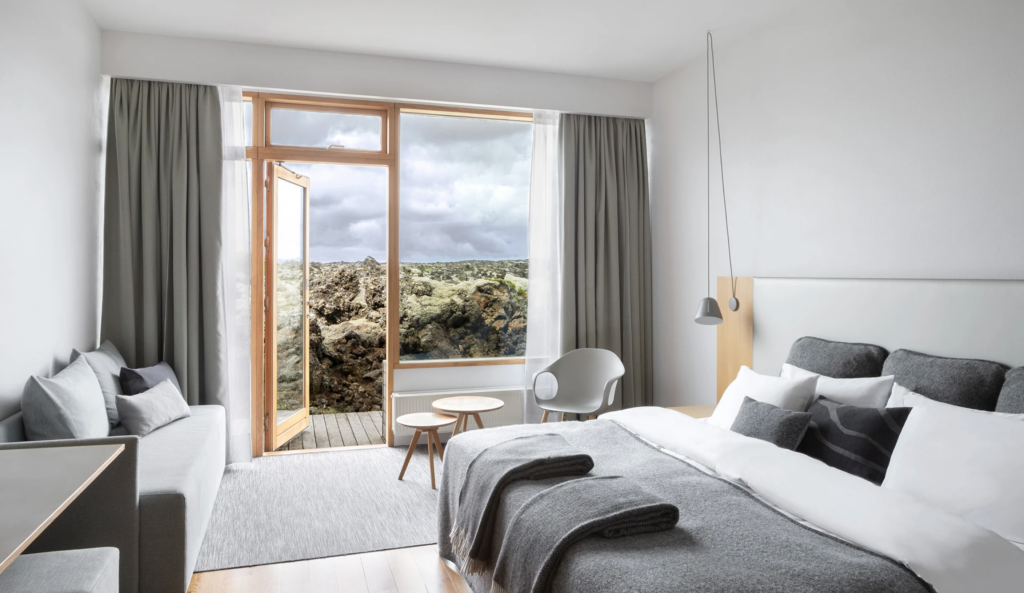 Price per Night: $533 – $586
Best For: Romantic getaway, spa treatments.
Availability: Easy to book
The Silica Hotel has plenty to offer, from breath-taking scenery to a relaxed atmosphere and that perfect romantic vibe. The on-site spa has plenty of rejuvenating treatments, including couples massages, and you can dine at any of the four restaurants for some unique culinary experiences.
This hotel offers three room types: The Lava Deluxe, Silica Deluxe, and Mountain Deluxe. There are also various day tours and excursions that the hotel will organize for you, such as hiking, sightseeing by car or helicopter, exploring lava tunnels, a gourmet food tour, or riding snowmobiles on the ice.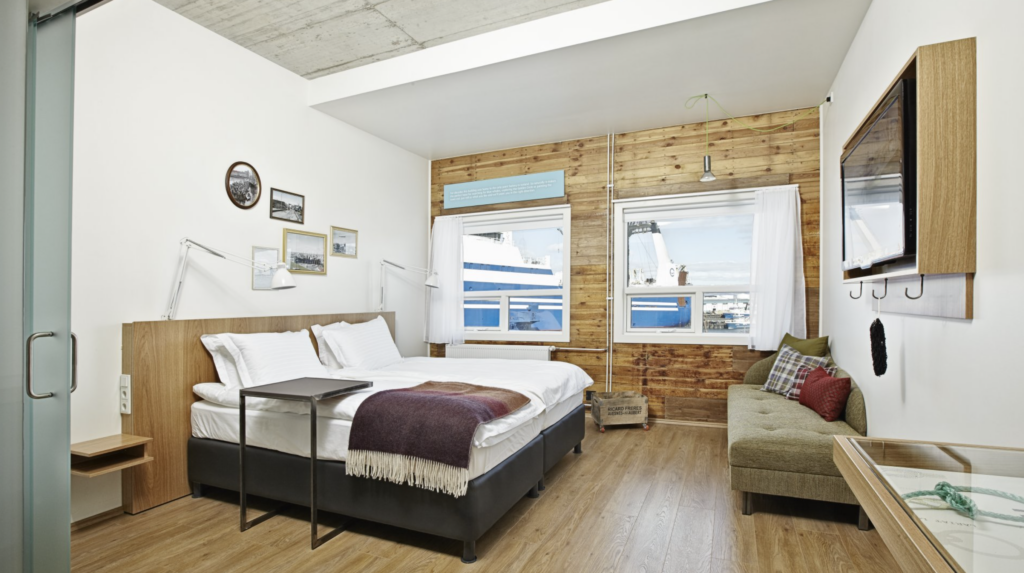 Price per Night: $226 – $790
Best For: Breakfast included in certain packages
Availability: Easy to book
The Icelandair Hotel is situated in the capital city of Reykjavik and is a unique hotel featuring fun designs and an artsy vibe. It also boasts a great location to explore the city.
This large hotel has 154 rooms and suites, but despite its large size, the service still feels personal. Plus, it's a green hotel (meaning it is eco-friendly), uniquely located in the Marina, the downtown harbor area of the city.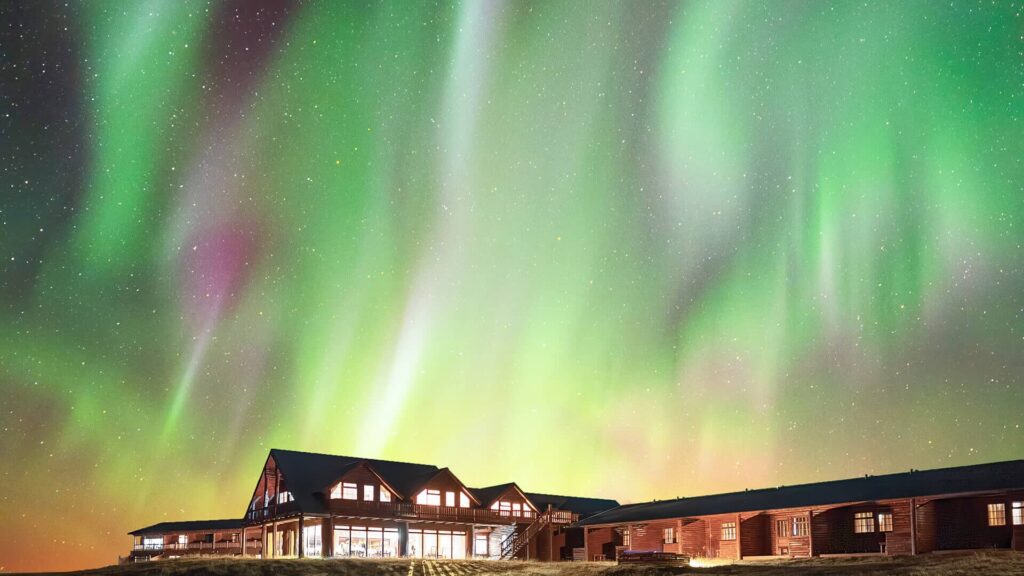 Price per Night: $326 – $1,035
Best For: Honeymoon packages, adventure packages, culinary experience
Availability: Easy to book
Hotel Rangá is a remote hotel that is all about the northern lights. This hotel has an observatory dedicated to viewing this magical phenomenon, as well as outdoor hot tubs to keep you warm under the stars.
There is a variety of rooms on offer, from comfortable standard rooms to large master suites. They also offer a delicious culinary experience where couples can sample some of the best local cuisines.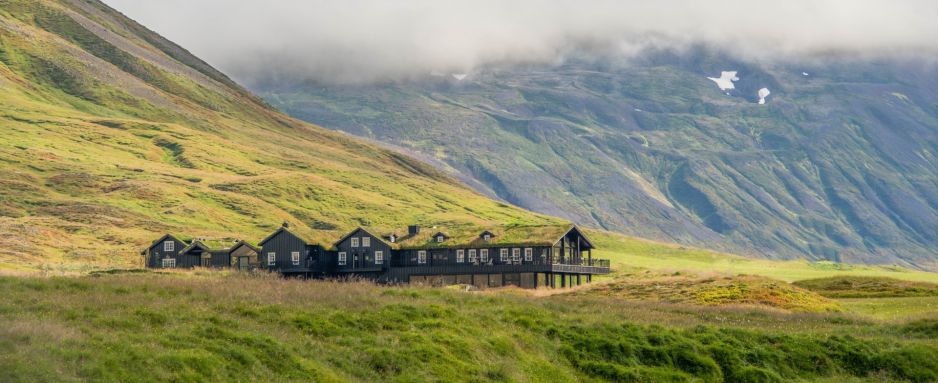 Price per Night: From $3,368
Best For: All inclusive
Availability: Limited
Deplar Farm is a remote, luxury villa in northwest Iceland in the Fljót valley. There are 13 rooms at the villa, but if you are going on a family-moon, then the entire villa can be booked for you and your loved ones.
All meals and activities are included during your stay, so you and your partner can create the perfect itinerary to make the most of your stay at Deplar Farm. The beautiful, minimalistic rooms ooze Nordic sophistication, while the farm-to-table cuisine will let you enjoy authentic Icelandic foods in a traditional setting.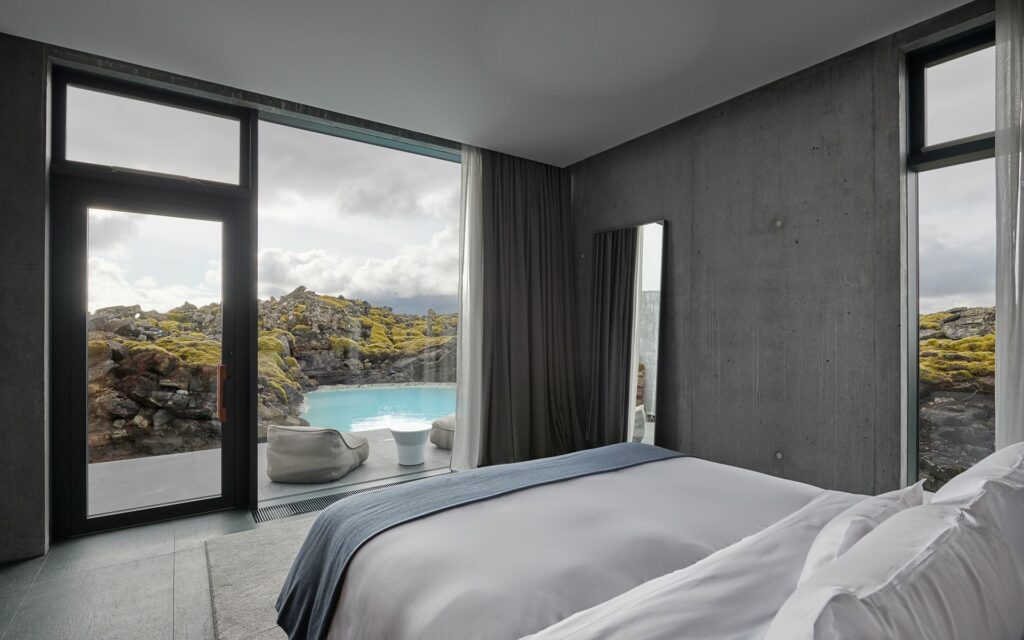 Price per Night: $1,315 – $2,485
Best For: Honeymoon packages, Couples Deals
Availability: Easy to book
The Blue Lagoon Retreat is a luxury hotel situated by the Blue Lagoon's legendary geothermal pools, and the modern, luxurious rooms are perfect to use as your base to explore this region. There are various rooms available: the Moss Suite, Lagoon Suite, and Lava Junior Suite, named after the surrounding environment and lava fields.
The Retreat Spa is a world-famous spa destination, with access to private hot springs and mud treatments. The hotel also offers a variety of couple's packages, including the adventurous Geopark Adventuring package and the relaxing Luxurious Exploration and Radiant Rejuvenation package.
6. Hotel Búðir, Búðir, Western Iceland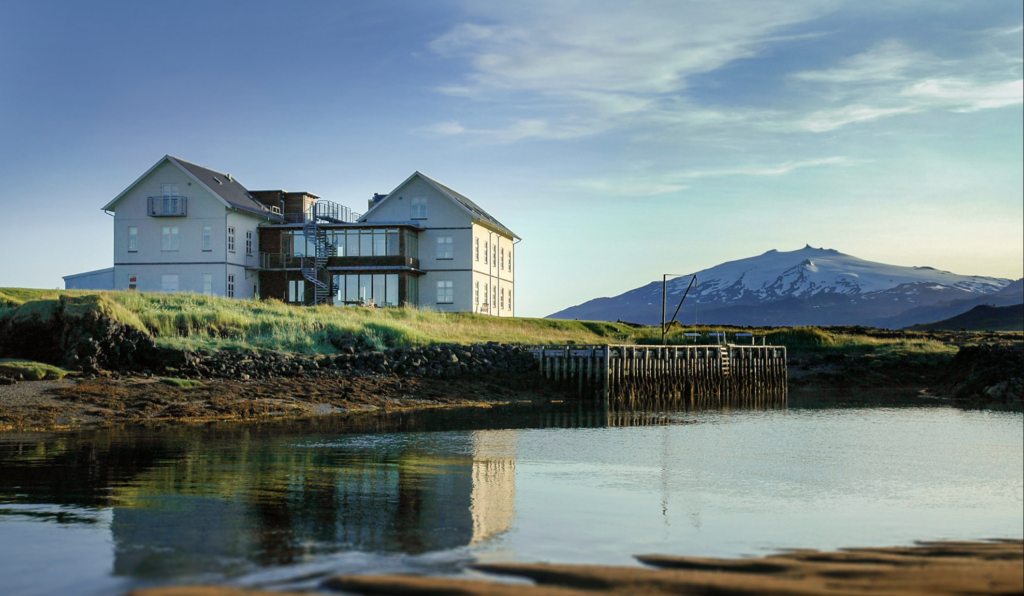 Price per Night: $190 – $370
Best For: (all-inclusive, adults-only, younger couples, older couples, long stays, short stays)
Availability: Limited
Hotel Búðir is ideally situated for exploring the Snæfellsnes Peninsula. This remote hotel is one of only two buildings in the area – the other is the world-famous Black Church. This means it truly is a unique experience for your Iceland honeymoon.
The hotel has 28 rooms, including loft rooms and master suites. There is also a restaurant that faces onto the glacier, that specializes in seafood and lamb dishes. Located just two hours away from Reykjavik, it's the ideal place to kickstart your romantic adventure.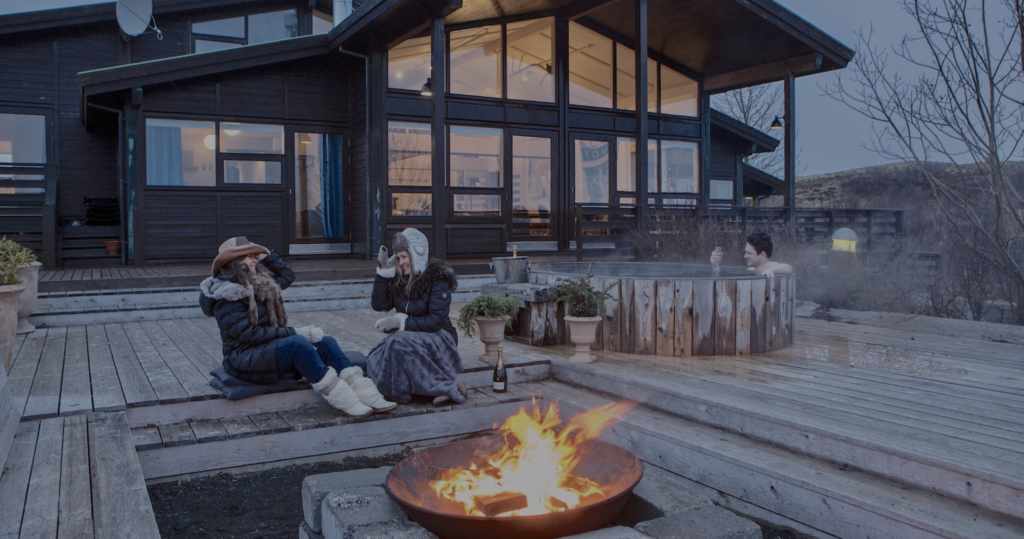 Price per Night: From $2,244
Best For: All-inclusive, Family-friendly
Availability: Limited
Úlfljótsskáli Luxury Lodge is a boutique lodge with only 9 bedrooms, and the entire lodge can be booked out if you are planning on including your family on your honeymoon. This luxury lodge is an offering by Iceland Luxury Lodges and is ideally situated on the Golden Circle in South Iceland, meaning you can easily reach various attractions from this hotel.
There is an indoor spa and sauna for those cold nights, as well as a games room and dining area. And for those willing to brave the outdoors, you'll find a fire pit and outdoor hot tub.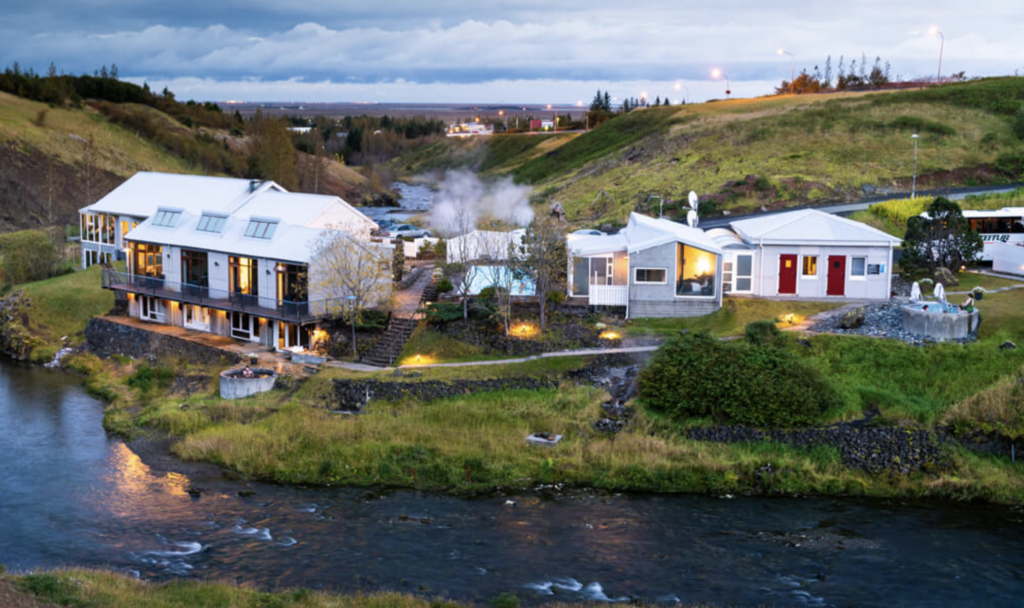 Price per Night: $240 – $490
Best For: Breakfast included
Availability: Limited
The Frost and Fire Hotel focuses on these elements – providing you with a view of snowy peaks while bathing in thermal hot springs. The hotel also has an amazing restaurant, Varmá, which serves up local delicacies like fish and lamb dishes, as well as reindeer and game birds.
Despite being only 30 minutes from the capital city, the Frost and Fire Hotel feels completely remote. There are various rooms available, from the smallest Budget Room to the largest Superior Double Room with a balcony; Family Rooms are also available.
Best Areas To Stay In Iceland
Iceland has plenty of places to go on your honeymoon, with each one offering a special, once-in-a-lifetime experience.
The capital city of Reykjavik is a must-see and a good place to start exploring this fascinating country. From there, you can travel across the island, from the dramatic black sand beaches on Iceland's southern coast to inland glaciers and volcanoes.
Below is a list of the best places to visit and stay when on your honeymoon in Iceland.
East Fjords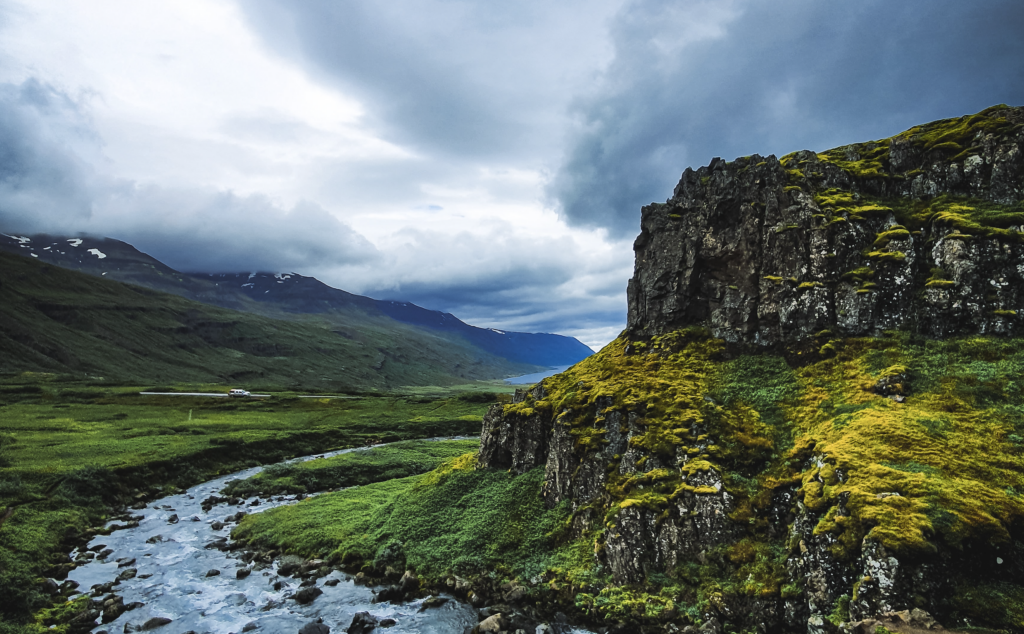 The East Fjords are a must-see because of the world-famous black sand beaches. These beaches are unique because of the dark sand coloring, and are lovely to visit during the long summer days.
The East Fjords are overlooked by many, because they are located so far away from the capital city, on the other side of the island. It will take around 8h30 to drive to this location from Reykjavik, but we promise you that they are well worth the trip!
Some attractions and activities you and your partner can enjoy while exploring the beautiful East Fjords include:
Visiting the Jökulsárlón Glacier Lagoon on the south coast while traveling towards the East Fjords.
Taking Instagram-worthy photos in the town of Vestrahorn (2 hours 40 mins drive south of the glacier).
Admiring the local artwork at the "Eggs of Merry Bay".
Taking a boat tour to the island of Papey ($87 per adult, including a guided hike and birdwatching tour).
Going bird watching at the nearby Hallormsstaðaskógur forest andLjósárfoss waterfall.
Reykjavik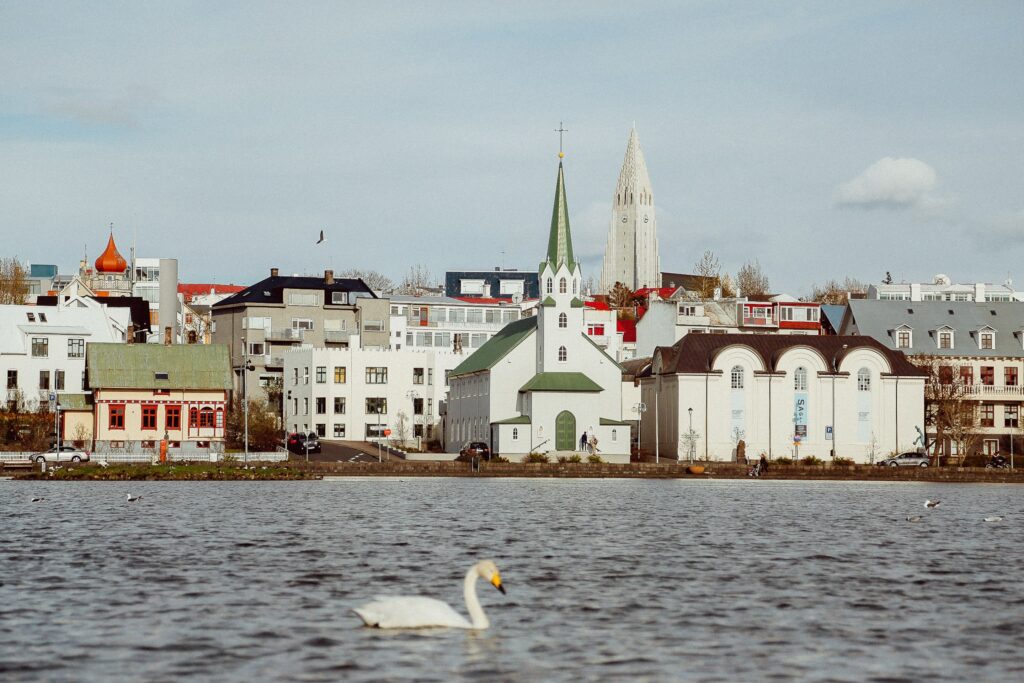 Reykjavik is home to Keflavík International Airport and is your first destination when going on your honeymoon in Iceland.
Most tourists and honeymooners spend a few days in Reykjavik, as there is so much to see and it's a great base, with lovely accommodation to fit every budget.
Reykjavik is a modern and lively city, with cute bakeries and gourmet restaurants dotted all over the place. The locals are incredibly friendly towards travelers, and are excited to share their country's rich history with you.
We highly recommend the following activities for your honeymoon in Reykjavik:
The Golden Circle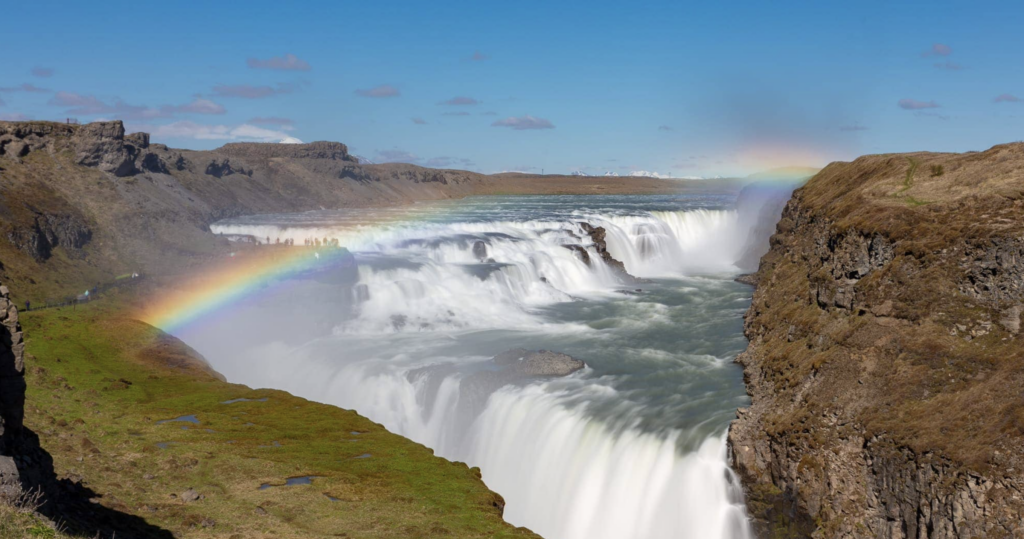 The Golden Circle is not exactly a destination, but rather a route to see some of the most popular destinations in Iceland.
The Gullfoss Waterfall, Thingvellir National Park, and Geysir Geothermal pools are all located on this route. There is plenty of accommodation options along the Golden Circle too, and couples can book a guided tour if they don't want to do a self-drive experience.
You can do the Golden Circle in one day, however, we highly recommend you take your time and stop off at various spots to properly explore the amazing sites.
Here are some activities for newlyweds along the Golden Circle:
Take a Guided Tour and visit the Golden Circle and Sky Lagoon ($150 per person).
Go snorkel at Silfra with DIVE.IS ($135 per person).
Take an exciting river rafting ride along the Hvita River with Arctic Face (starting at $100 per person).
Hike along Brúarhlöð Canyon and reach the observation point for breath-taking views (free).
The Blue Lagoon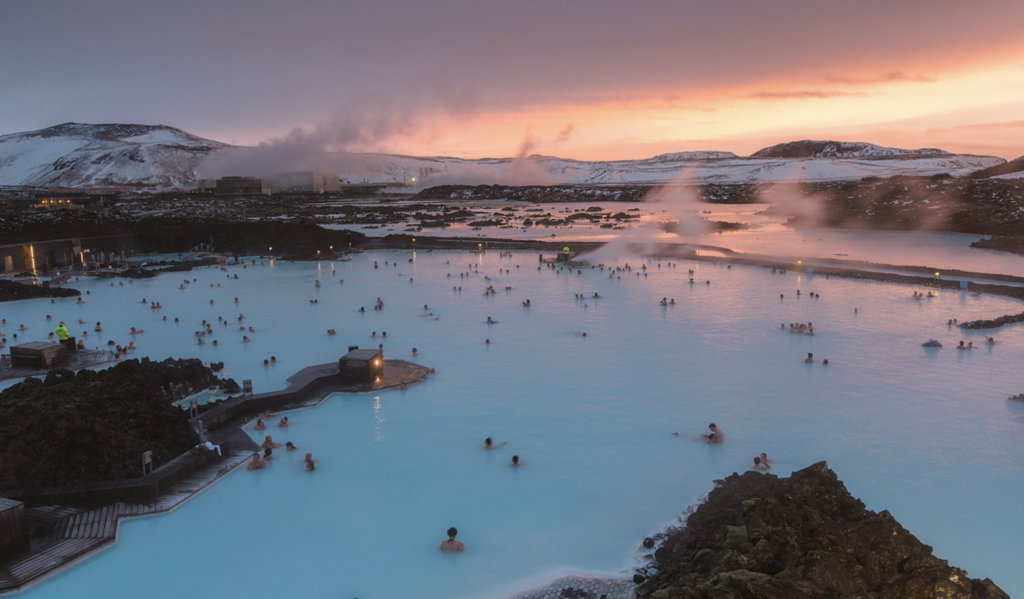 As already mentioned, the Blue Lagoon is a must-see during your honeymoon in Iceland, and it is undoubtedly one of its most romantic places.
The warm lagoon with pristine blue waters is surrounded by lava fields from the Reykjanes Peninsula. The hot waters make this the perfect place to relax, and staying at the Blue Lagoon Retreat Hotel will be an unforgettable experience.
Couples can enjoy the following activities while visiting the Blue Lagoon:
Get an entry ticket to the lagoon. There are different ticket options, from $80 to $580.
Visit nearby Seltún, an area rich with geothermal activity and boardwalks over mud pools.
Marvel at the clear seawater at Brimketill pool and learn about the myth of the giantess who used to bathe in these waters.
Top Excursions & Activities To Do On An Iceland Honeymoon
Iceland is famous for its natural beauty and rugged terrain. Even though it is popular with outdoor enthusiasts, there is also plenty to do for those that prefer to live in luxury.
Here are some of the top excursions and activities honeymooners can enjoy while visiting Iceland. And don't worry, this list contains something for everyone!
See the northern lights
The northern lights can be seen from various locations in Iceland. Couples have the option of going on a Northern Lights Tour (starting at $50 per person) where the odds of seeing the lights are greater, or you can simply find an outdoor hot tub somewhere and wait for the magic to light up the sky.
Visit a Geothermal Spa
The Blue Lagoon Geothermal Spa is a short 50-minute drive from Reykjavik, and is a must for couples who wish to unwind for the day. You can either go for a day trip, or stay overnight at the Blue Lagoon Retreat Hotel. Soaking in the azure waters of the Blue Lagoon will wash away all that wedding-planning stress.
Go Chasing Waterfalls
Akureyri is located in the north of Iceland, and is a city that is home to some real natural beauty. The Godafoss and Dettifos waterfalls are just outside of the city, and couples can also see traditional Icelandic homes at Laufas Turf House Museum.
This city also boasts the Arctic Botanical Gardens (free entry), or you can go on a romantic horse riding trip or even dip your toes into the Myvatn nature baths.
Go for a Horse Ride at Grindavik
Grindavik is just 45-mins away from Reykjavik, located next to the Blue Lagoon. and it's the perfect place to find some Icelandic horses for a day trip to nearby sites (we recommend Arctic Horses). You can visit the Gunnuhver hot springs if the Blue Lagoon is too busy for you, or cautiously admire the Fagradalsfjall volcano from a distance(it's still active!).
Sample Itinerary & Budget For Your Honeymoon To Iceland
We've compiled a sample 7-day itinerary for a self-guided driving tour for your honeymoon in Iceland. You can expect to pay around $800 per person for this type of tour.
Day 1: Golden Circle. Land in Reykjavik, and make your way to the Golden Circle, where you can visit Thingvellir National Park, several waterfalls, Kerid Crater, and Langjokull Glacier. You can also visit several hotsprings in the area. If you don't want to drive by yourself, there are many day tours available from Reykjavik to the Golden Circle.
Day 2: The South Coast. Iceland's southern coast is beautiful, with many coastal towns to stop at. Skogafoss and Reynisfjara black sand beach is a must-see, and you can also stop at the Sólheimajökull glacier to admire Iceland's natural beauty. This glacier is one of the easiest to access from Reykjavik.
Day 3: Ferry to Westman Islands. You can take a ferry to the Westman Islands for only $15 one-way, with the trip time, including the drive from Reykjavik, lasting around 3 hours. While on the island, make sure to visit the Eldfell Crater and the Heimaey Stave Church.
Day 4: Visit the Skaftafell and the Glacier Lagoons. This day is all about seeing the beauty of Iceland. Pay a visit to the Skaftafell National Park, and visit the beautiful glacier lagoons of Julsarlon and Fjallsarlon. You can also stop in at Diamond Beach for a sunset stroll or picnic.
Day 5: Southeast Iceland. This day is a relaxing day of site seeing. When visiting southeast Iceland, you cannot miss the towering peaks of the Stokksnes mountains in the distance. You can take an easy hike along the Mulagljufur Canyon to see some amazing waterfalls. Start planning for your return to Reykjavik.
Day 6: Explore the Snaefellsnes Peninsula. When visiting the Snaefellsnes Peninsula, make sure to visit the Kirkjufellsfoss Waterfall. Spend the day relaxing at your accommodation, and maybe even treat yourself to some spa treatments.
Day 7: Return to Reykjavik via the Blue Lagoon. On your final day, you can visit the Blue Lagoon for some relaxation before getting ready to fly out of Keflavík International Airport and return home.
Budgeting for your trip
Your 7-day itinerary is completely flexible, and you can see and do as much as you want or have budgeted for. There is plenty of free activities in Iceland, such as hikes to waterfalls and visiting beaches, but for some of these activities, you will have to budget for a guided tour, transport, or for the activity itself (such as horseback riding).
Here is a breakdown of costs you can expect to pay for 7 days in Iceland on your honeymoon:
| | |
| --- | --- |
| Flights | Around $300 per person |
| Accommodation | Hotels can cost from $80 to $400 per night, or you can get a nice Airbnb for around $200 per night |
| Car Rental | Having a rental car is the best way to see Iceland, and will cost about $1,000 for the week |
| Food | Meals in restaurants can cost you anywhere from $10 to $30 |
| Tours and excursions | Budget around $1000 per person for different tours and excursions for the 7 days |
Frequently Asked Questions
How much does an Iceland honeymoon cost?
You can budget a minimum of around $164 per person per day, although a fancier honeymoon can cost from $1,500 to $3,000 for two people for a week.
The cost of your honeymoon in Iceland will depend on the duration, as well as where you stay, and what you do.
When is the best time to visit Iceland?
If you want to see the northern lights, then visit Iceland between October and April. If you are interested in whale watching, then visit between May and September. If you want long summer days, then June to August is the best time (there are also plenty of summer festivals to enjoy). June is the best for hiking and sightseeing as the days are very long.
What is the best way to travel around Iceland?
For the most freedom, we recommend renting an SUV with 4×4 capabilities. There are lots of roads across the island nation, and you can easily plan a self-drive tour to get around. If you don't want to drive, there are bus tours between tourist destinations as well. There are also domestic flights available. For the hardcore adventurers, you can also rent a bike and cycle around Iceland (although we recommend you only attempt this in the summer months!).
How long should you spend in Iceland for a honeymoon?
As a minimum, we recommend 7 days in Iceland. There is so much to see and do, that 7 days is barely enough, and if you want to increase your chances of seeing the northern lights, you should spend two weeks exploring this beautiful country.
Start Planning The Perfect Romantic Honeymoon Getaway
Iceland truly is the perfect honeymoon destination. There are amazing scenic views, beautiful landscapes, and a rich history. It's easy to see why it's becoming an increasingly popular honeymoon destination for couples.
There are amazing hotels all around the island, offering luxury accommodation and remote beauty. From awe-inspiring waterfalls to rejuvenating hot springs, Iceland has it all.
Are you ready to start planning your honeymoon in Iceland? Make sure to check out Couples Travel to begin the journey towards your ultimate honeymoon.