Jamaica is one of the favorite honeymoon destinations, and in this guide, we'll unpack exactly why. From beautiful beaches to jungle escapes, there is something in Jamaica for every couple to enjoy.
Jamaican honeymoons are not just for newlyweds who are looking for a luxurious beach resort in Jamaica. There are plenty of other adventures to be had, such as learning more about the history of this Caribbean nation, exploring the jungles and rivers, or simply enjoying a romantic dinner with a view.
Read on to see some of our top tips for your honeymoon in Jamaica, including where to stay, what to see, and how to budget.
What Makes Jamaica Perfect For A Honeymoon
Tropical destinations and honeymoons go hand-in-hand, but the lovely warm weather and crystal blue ocean is only part of the reasons why resorts in Jamaica are so popular with honeymoon goers.
Because of the lovely weather, a Jamaica honeymoon is all about relaxing on the beach, dipping your toes in the water, and enjoying watersports and marine life.
You can also step away from the beach and still find plenty to do. A luxury resort (and there are plenty of all-inclusive luxury resorts dotted across Jamaica) can offer you access to golf, volleyball, tennis, or daily excursions. There are theme parks and city tours to enjoy too.
The variety of honeymoon destinations in Jamaica means you can spend as little or as much money as you want. You can stay in a five-star super all-inclusive resort, or opt for a three-star resort and seek out your own adventures.
Best Honeymoon Resorts, Hotels, And Other Stays In Jamaica
Jamaica is awash with all-inclusive resorts, and there is something for every couple and budget.
With so many to choose from, it can feel overwhelming to not only find the perfect honeymoon resort, but also the perfect area to celebrate the beginning of the new phase in your life.
Montego Bay, Ocho Rios, and Negril are all great areas where you'll find many amazing honeymoon accommodations, although most of the stays offered in these areas are either villa suites or luxury resorts.
Let's take a look at the top picks to stay in on your Jamaican honeymoon.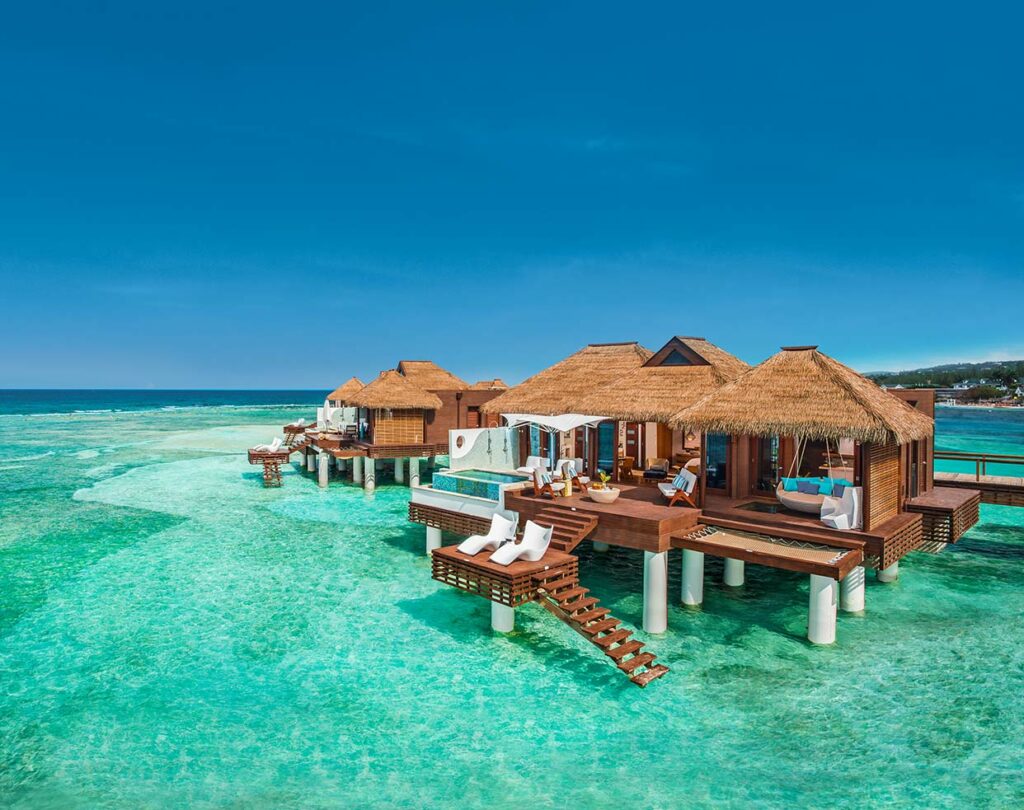 There are seven different Sandals Resorts in Jamaica.
Price per Night: $235 – $2000
Best For: All-Inclusive, long stays.
Availability: Easy to Book, although the over-water villas are limited.
With seven Sandals Resorts to choose from in Jamaica, you really are spoiled for choice. Sandals Royal Plantation is one of the highest-rated Sandals Resorts because of the beautiful overwater bungalows, but each of the other Sandals Resorts is ideal for couples enjoying a romantic getaway.
The Sandals Resorts in Jamaica are:
Sandals Royal Plantation
Sandals Royal Caribbean
Sandals Montego Bay
Sandals Negril
Sandals Ochi
Sandals South Coast
Sandals Dunn's River
Each of these has been carefully designed to give honeymooners and couples the best, most romantic experience, with spas, honeymoon packages, romantic dinner options, and beautiful ocean views.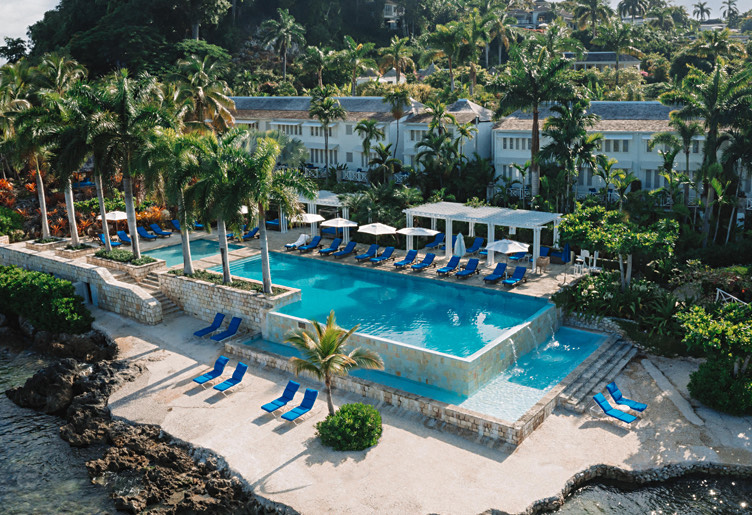 Price per Night: $650 to $5,000
Best For: Romantic getaway, family holiday.
Availability: Easy to book
Round Hill Hotel and Villas is a hidden gem tucked away in the lush greenery of Montego Bay.
This five-star hotel offers uniquely decorated, boutique rooms, a luxury spa, some of the best dining on the island, and is hidden in a secret bay with some of the best beaches around.
There is a variety of room options available, including boutique rooms designed by Ralph Lauren, lavishly appointed suites, and private luxury villas – each with a gorgeous view of the ocean.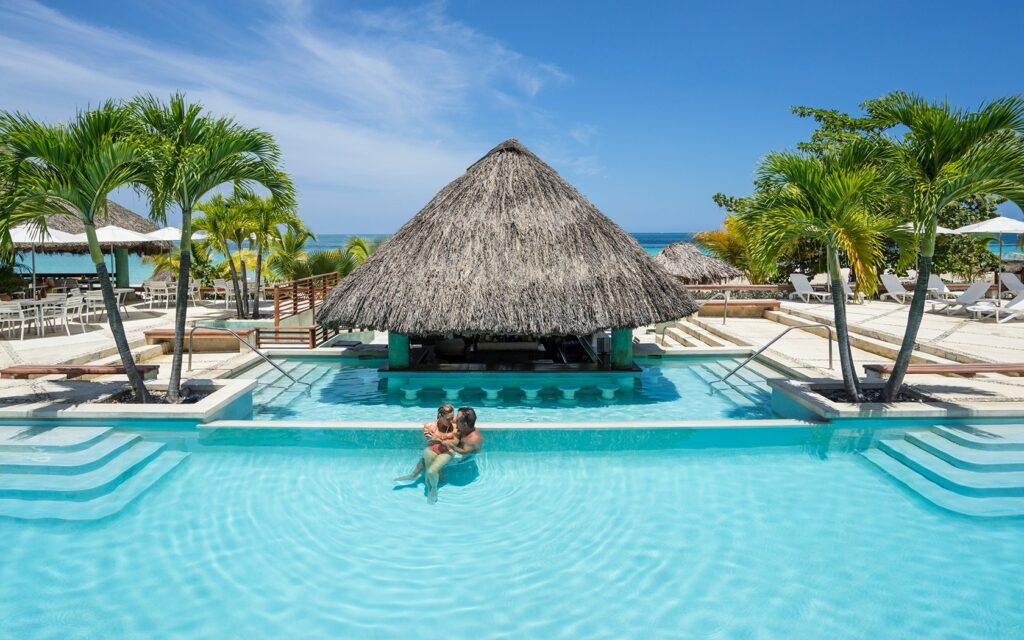 Price per Night: $436 – $644
Best For: All-inclusive
Availability: Easy to book
The Couples Swept Away resort is located on the beautiful and world-famous Seven Mile Beach in Negril. This all-inclusive resort is perfectly named because it will sweep visiting couples off their feet as soon as they set foot on the beautiful 19-acres resort.
From romantic dining to snorkeling, sports, and marine excursions, honeymooners can sit back and relax while enjoying the amazing Couples' hospitality. With nightly entertainment, unlimited cocktails, and private pools, it's easy to see why Couples Swept Away is one of the best honeymoon resorts in Jamaica.
You can also check out the other Couples resorts on the island, including Couples Sans Souci, Couples Negril, and Couples Tower Isle.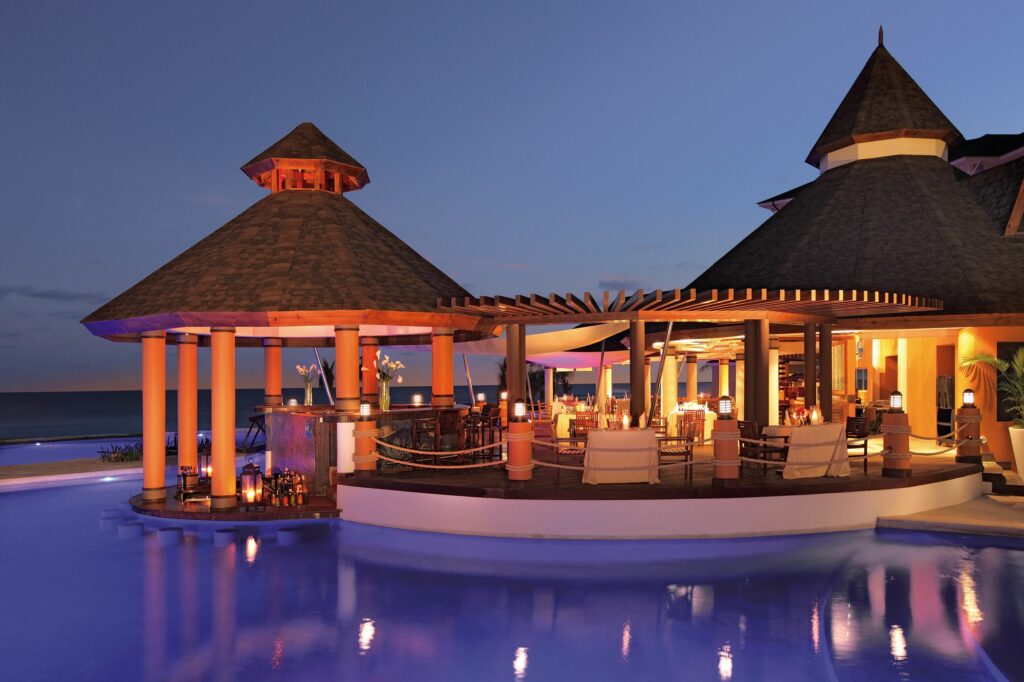 Price per Night: $515 – $2,575
Best For: All-inclusive, adults-only resort
Availability: Easy to book
Secrets St James Montego Bay is located on a peninsula, surrounded on three sides by the turquoise Caribbean Sea. This AAA Four-Diamond hotel is all about relaxation – with a Secrets Spa by Pevonia, luxury suites, fine dining, and access to the beach for a sunset beach walk.
Couples staying at Secrets St. James will also be able to enjoy the offering called "Sip, Savor and See", which allows you to visit participating resorts to enjoy a complimentary dinner, drinks, and entertainment.
From simpler well-appointed suites with a terrace to luxury swim-out suites, there is something for every couple to enjoy.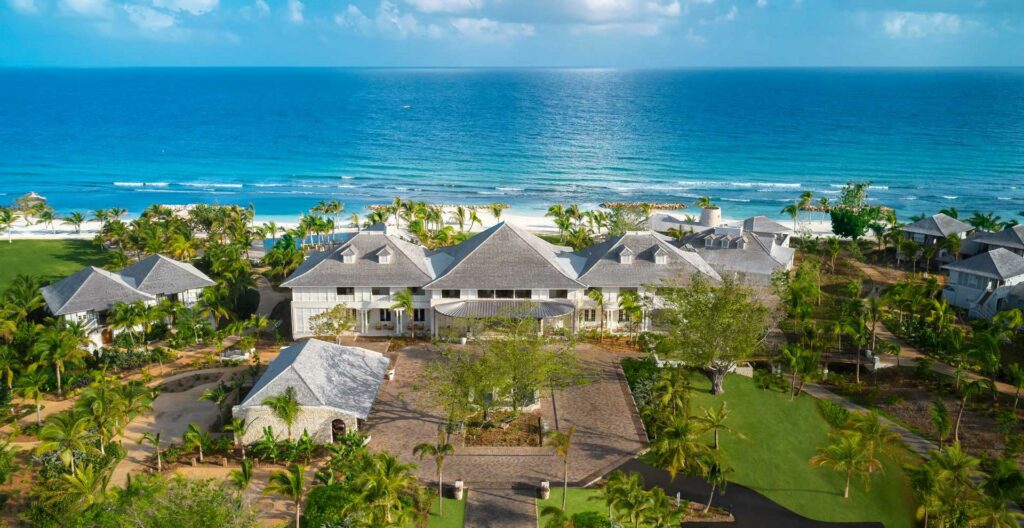 Price per Night: $550 – $4,180
Best For: Family-friendly, long stays
Availability: Limited/Easy to book
According to the Forbes Travel Guide, Half Moon is Jamaica's highest-rated resort. With access to private beaches, private pools, and accommodations that come with butler service, it is easy to see why this luxury resort is the perfect Jamaica honeymoon destination.
The private equestrian center allows newlyweds to enjoy beach rides, or the resort can organize day excursions to nearby attractions like the Bob Marley Museum or the organic Zionist Farm.
There are three accommodation options, Eclipse, Founders Cove, and Rose Hall Villas, each uniquely appointed and available with optional dining packages.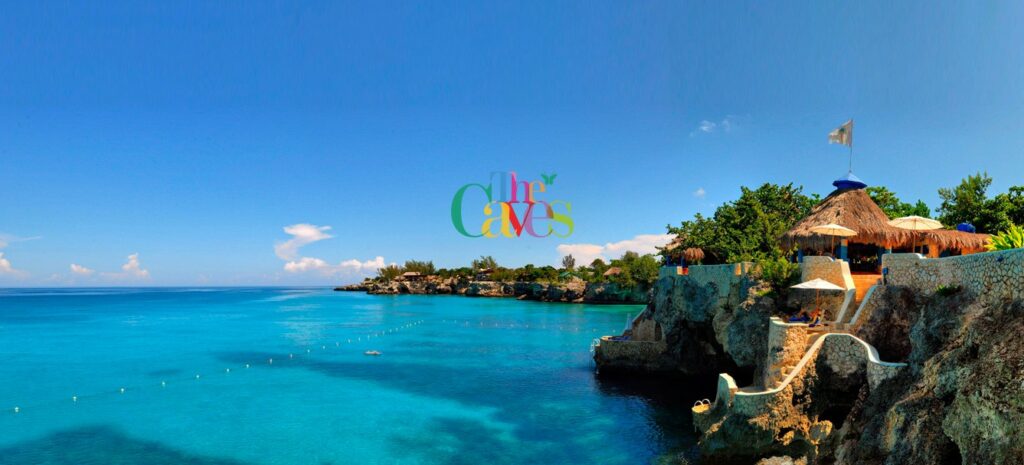 Price per Night: $570 – $705
Best For: All-inclusive
Availability: Limited
The Caves Hotel is one of the best all-inclusive resorts in Negril. As the name suggests, this resort has been constructed inside caves, overlooking the Cerulean sea. The suites have the appearance of floating over the water and have been fitted with modern luxuries.
Couples will enjoy the romantic candlelight dinner hosted nightly at the hotel.
The resort boasts 12 unique bungalows located in the sea caves and has a minimum 2-night stay. With either a garden view or an ocean view, newlyweds won't regret their stay at this gorgeous hotel.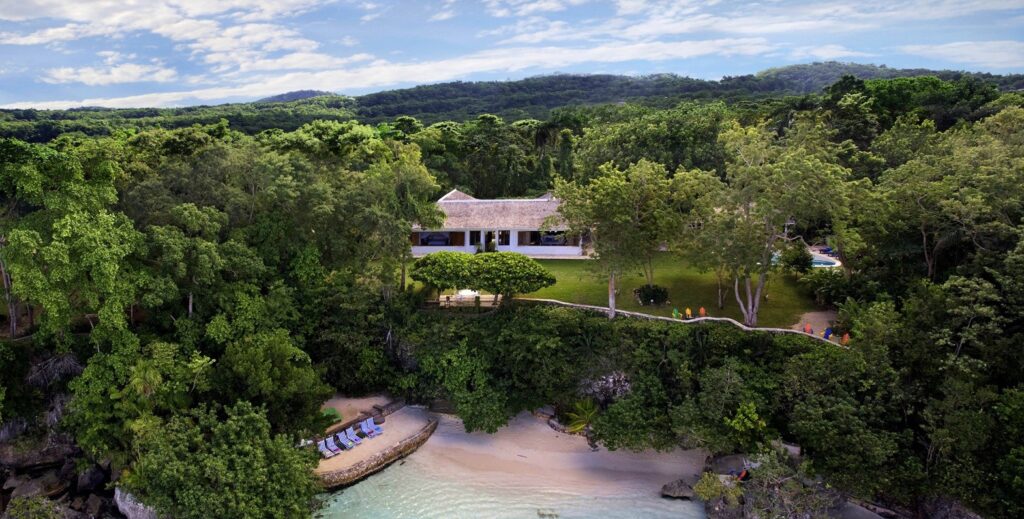 Price per Night: $5,494
Best For: All-inclusive, adults only
Availability: Limited
Book-lovers and James Bond fans rejoice – you can now stay at the villa where author Ian Fleming created the superspy, James Bond.
Fleming Villa is located on a private beach and comes with a private chef, butler service, and easy access to the nearby airport.
This private villa can accommodate 10 adults in the main house and two separate cottages, making it the ideal honeymoon destination if newlyweds wish to celebrate with their friends.
Best Areas To Stay In Jamaica
Jamaica can be reached by plane through the international airports at Montego Bay, Ocho Rios, and Kingston. This doesn't mean that honeymoon-goers are limited to these areas though. There are plenty of beautiful beaches and jungle escapes within a few miles of these airport hubs.
Although all the parts of Jamaica are great to visit, the areas of Montego Bay, Negril, and Ocho Rios certainly stand out for the many resorts on offer as well as the natural beauty. It is also easy to travel between these different areas (by boat or chartered plane) – which is recommended to make certain you get the most out of your Jamaican honeymoon.
Here are some of the best areas to stay on your honeymoon in Jamaica.
1) Montego Bay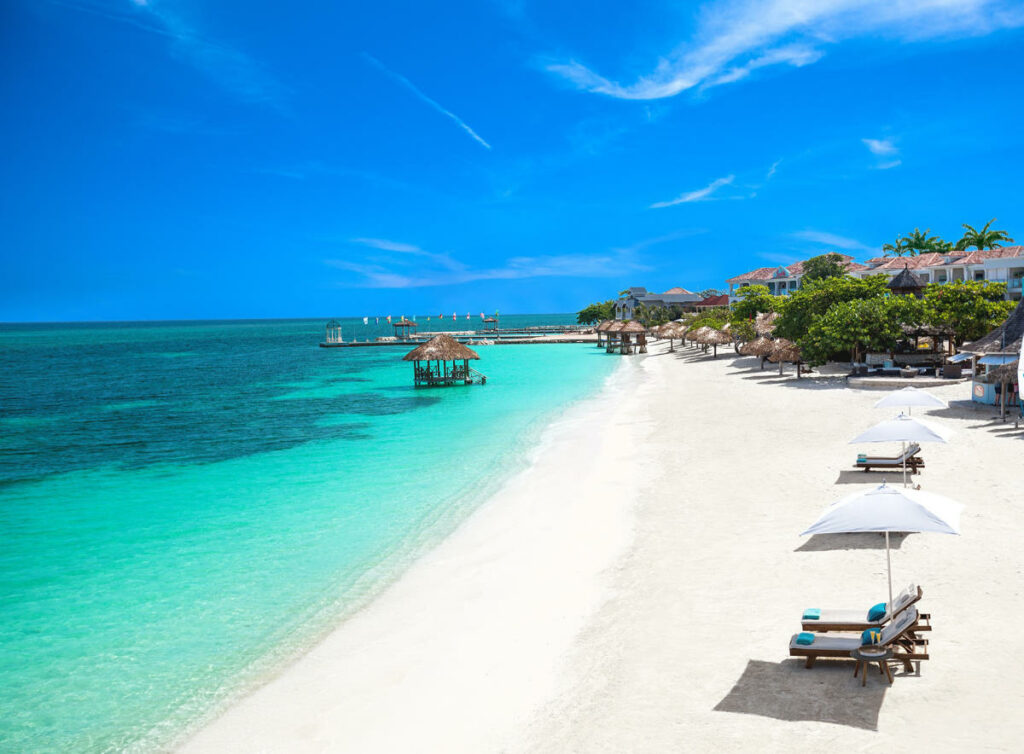 Montego Bay is easy to access because of its proximity to the international airport. This bustling part of Jamaica is popular with tourists because of the many luxury resorts, coral reefs, dining options, watersport activities, and spas.
This location has a "spring break" atmosphere, with lively nightlife and plenty of activities to keep couples busy.
Some notable couples activities include:
Rafting on the Martha Brae River ($77 for two adults)
Relaxing at Doctor's Cave Beach (free admission)
Learning about history at Croydon Plantation (free admission)
Exploring the Hip Strip
Enjoying nature at Abeokuta Paradise Nature Park ($5 entrance fee, $4 extra for a guided walk)
2) Ocho Rios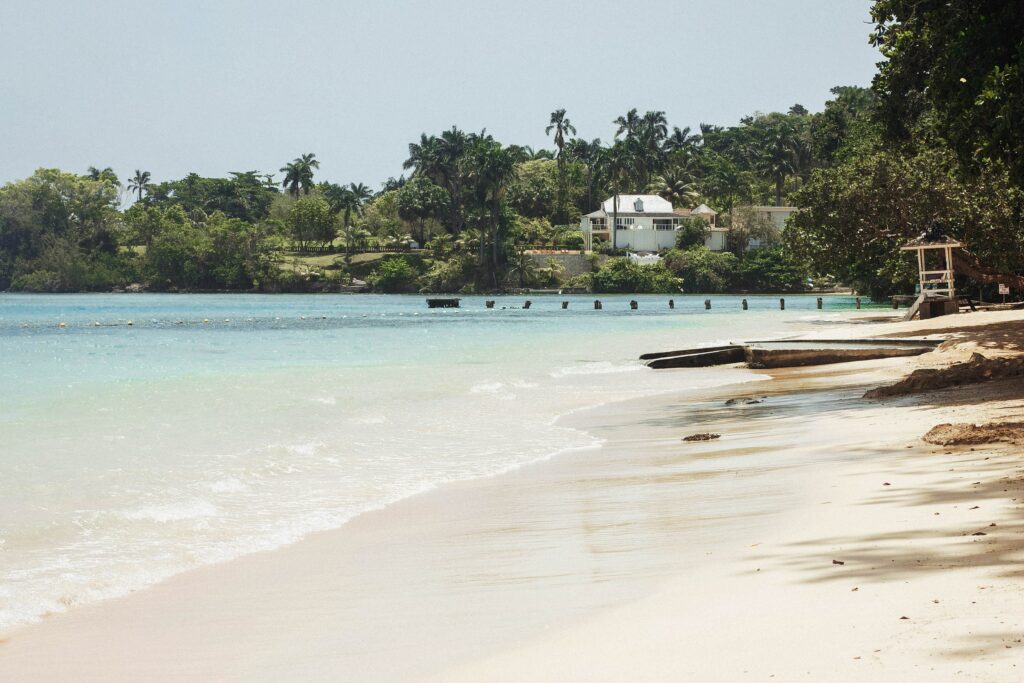 Ocho Rios is all about natural beauty. With pristine beaches and plenty of eco-tours, couples visiting this location will be able to immerse themselves in Jamaican nature.
There is a large harbor that gives access to cruise ship passengers, and there are plenty of must-see restaurants in the vicinity. The plantations are the main draw of this region and will give visitors an opportunity to learn more about the history of Jamaica.
Some must-see couples activities in Ocho Rios include:
Visiting Dunn's River Falls and Park ($25 per adult and $17 per child)
Exhilarating cliff jumps at the Blue Hole ($20 per person)
Tube down the White River (From $114 per person with Ocho Rios Adventure Tours)
Lounging on Ocho Rios Bay Beach (free admission)
Exploring Laughing Waters which has access to small waterfalls, a river, and a warm beach ($15 per person to book)
3) Negril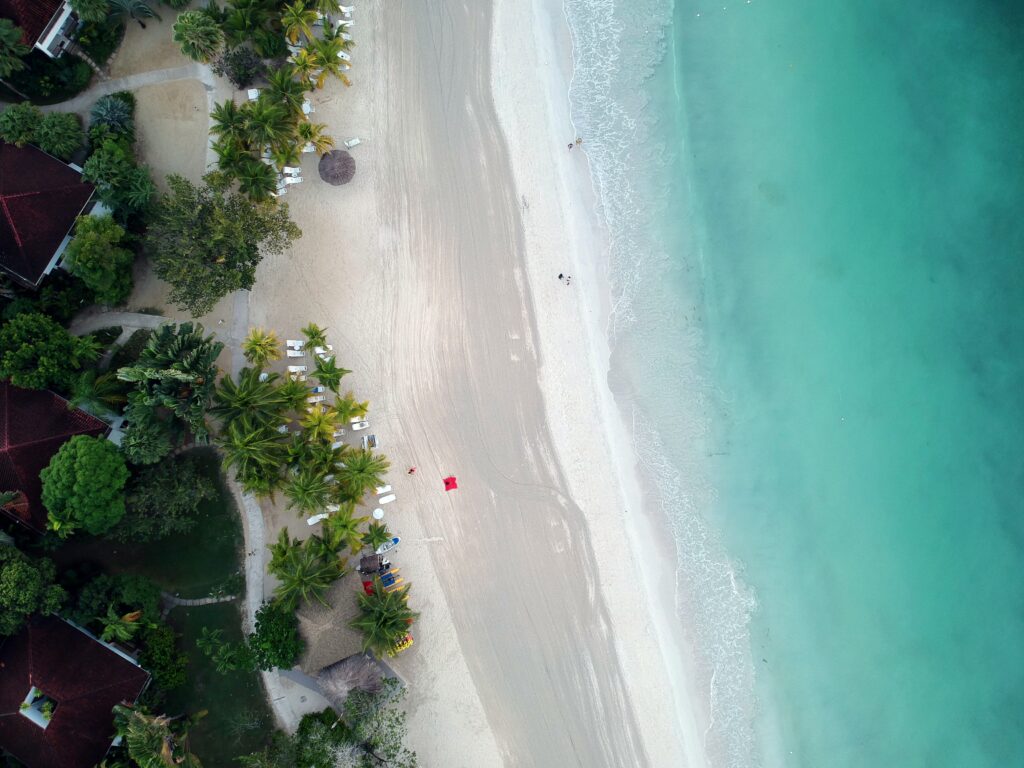 Negril is located on the west coast of Jamaica and boasts some of the most pristine white-sand beaches, including the world-famous Seven Mile Beach.
Unlike Montego Bay, Negril is incredibly laid back and more secluded, with a less touristy atmosphere. It is also home to the incredibly romantic The Caves Hotel.
There are plenty of activities for couples in Negril, including:
Walking hand-in-hand down Seven Mile Beach (free admission)
Gazing at the Negril Cliffs (free admission)
Enjoy lobster and the famous jerk chicken at Booby Cay Island (a glass bottom boat to the island will cost $60 per person with snorkeling)
Snorkel at Half Moon Beach (rent snorkeling gear at $6 per day)
Zip-lining at YS falls ($50 per adult for the canopy tour)
Top Excursions & Activities To Do On A Jamaican Honeymoon
You may think a honeymoon in Jamaica is all about massages and lounging on a white-sand beach. And although that is certainly a big part of it, there are plenty of other activities that couples can enjoy while on their honeymoon.
Jamaica honeymoons are all about enjoying the beauty of the island – whether you do that from a hammock on the beach or jumping off a waterfall is completely up to you.
Here are some of the top excursions to enjoy while honeymooning in Jamaica.
1) Dunn's River Falls and Park
Dunn's River Falls is the main natural attraction in Ocho Rios. These falls are huge, with water cascading down several terraces. It is recommended to take a guide with you who can help you clamber down the waterfalls. Admission to the park is $25 per adult.
2) Bobsledding
If you are a fan of the movie Cool Runnings, you probably want to experience a Jamaican bobsled yourself. Mystic Mountain has developed a 0.6-mile "bobsled" track that is powered by gravity, which will allow you to live out your Jamaican bobsledding team fantasies. It costs $49 per person and more, the cost will depend on what is included in the ticket.
3) Blue Hole Spring
Blue Hole Spring is a mineral spring with a depth of 35 feet, located outside of Little Bay, Negril. Visitors to this gorgeous blue spring can soak in the waters or enjoy some low cliff jumps. Admission to Blue Hole is $20 per adult.
4) Appleton Rum Tour
Appleton Estate has been creating world-famous Jamaican rum for more than 265 years. Couples can tour this ancient rum estate, learning more about the history of Jamaica while enjoying a run cocktail. You can commemorate your matrimony with an exclusive bottle of rum, to be enjoyed on your next anniversary. Admission to Appleton Estate is $39 per person.
5) Rafting on the Martha Brae River
Located just outside of Falmouth is the Martha Brae River, which is a calm river that flows through the jungle. Couples can enjoy a relaxing float down the river on a bamboo raft. Although there are plenty of white-water rafting experiences in Jamaica, this is a more relaxing occasion to enjoy the jungles around you. A raft for two adults will cost $77.
6) Glistening Waters
The Luminous Lagoon, also called Glistening Waters, is a breathtaking experience. Because of bioluminescent organisms living in the waters of the lagoon, it glows at night when swimmers disturb the waters. This is a once-in-a-lifetime experience that couples can enjoy. A private night tour to the lagoon will cost anywhere from $120 with Jamaica Mesmerizing Tours Limited.
7) Scuba diving
Plenty of hotels and resorts offer scuba diving excursions, but of note is diving down to the Throne Room in the water surrounding Negril. When diving at this site, you are guaranteed to see sea turtles, small sharks, and octopus, as well as beautiful reef fishes and clear waters. Scuba diving at the Throne Room can cost about $98 per person for gear rental and transport.
8) Horse rides on the beach
The best place to enjoy a beach ride (and even a swim with horses) is at the Half Moon equestrian center. These well-trained horses love taking their riders into the warm water, and couples can enjoy galloping on the sandy beaches at sunset. A beach ride for experienced riders will cost $160 per person.
9) The Blue Mountains
The Blue Mountains are about 2 hours from the international airport at Kingston, but it is well worth the journey. The mountain peak sits at 7,402 feet, and fit couples will be spoiled with unparalleled, uninterrupted vistas of the island, jungles, and sea. A hike to the peak in time for sunrise costs $20 per person for non-residents.
10) Sunset Catamaran Cruise
There are plenty of catamaran cruises available to newlyweds. From catamarans that host a dance party, a snorkeling trip, or a sunset cruise with chilled sparkling wine – any type of couple will find a cruise that suits their needs.
The costs of catamaran cruises differ depending on the company you choose and the island you are visiting, but you can expect to pay upwards of $70 per person.
Sample Itinerary & Budget For Your Honeymoon To Jamaica
With so much to do and see, it can be difficult to come up with a honeymoon itinerary when visiting Jamaica. Although you can stay for days at the top honeymoon destinations, you probably also want to see as much as possible during your short stay.
The activities listed above are some of the best to enjoy while on your honeymoon, but perhaps if you are limited in time and money you probably can't do all of them. To help you plan for your Jamaica honeymoon cost, we've compiled the perfect 7-day honeymoon itinerary.
Of course, this is just to kickstart your plans, and you can adapt this itinerary to do and see everything you want during your honeymoon.
On average, a honeymoon in Jamaica will cost you about $106 per person per day, with several different honeymoon packages on offer.
Day 1: Arrive at the airport and check in to your resort, villa, or hotel. Enjoy the amenities on offer at your hotels, such as the private beach, pool, and restaurant. (Note: the estimated average cost for a hotel in Jamaica is $136 per couple but this can vary greatly).
Day 2: Book a couples spa treatment package (around $400 for a full couples package) and spend another day relaxing at your resort. Explore the local area a bit on foot (or bike).
Day 3: It's time for some activities. Depending on where you stay, you can hike to a waterfall (like the Dunn's River Falls), go rafting on a river, or visit the Bob Marley Museum. Activities range from $20 per person, upwards.
Day 4: After the previous day's activities, it is time for a relaxing day at the resort. If your resort offers tennis, golf, or volleyball, you can try your hand at these activities. Or you can enjoy a relaxing boat cruise. Boat cruises are available from $50 per person, or you can simply enjoy the free activities offered by your accommodation.
Day 5: With the relaxation out of the way, you can venture inland again to enjoy some adventurous activities. From zip-lining over waterfalls to cliff jumping in the Blue Hole, this day is all about making memories. Admission to parks and waterbodies costs around $15 – $25 per person.
Day 6: Stay local at your resort. You can enjoy snorkeling, watersports, or simply read a book in the sun. Make sure to try out some local cuisine. You can budget about $20 per person for food each day.
Day 7: Prepare for your trip back home.
This is only an example itinerary, and you can travel between resorts and different locations on the island to make the most of your seven days. Your budget will also determine which activities you do and how much you move between accommodation.
Frequently Asked Questions
How much does a Jamaican honeymoon cost?
The cost of a Jamaica honeymoon can really vary, but on average it costs around $4,000, excluding airfare. You can either purchase all-inclusive honeymoon packages or opt for a do-it-yourself travel itinerary. There is no one-size-fits-all budget when it comes to your honeymoon.
You can more or less expect the following costs:
| | |
| --- | --- |
| Activity | Weekly Cost |
| Resort accommodation | $400 – $1,000 per night |
| Romantic dinner | $150 – $250 per couple |
| Flights | $500 – $1,200 |
Other costs will include your activities as well as your travel costs to get around the island.
When is the best time to visit Jamaica?
The best time to visit Jamaica is from the beginning of November to the end of December. The weather is lovely and warm during this time, and there are also affordable flight and hotel deals available.
January to March is the peak holiday season, and room rates and flights can be incredibly high during this period at any of the beach resorts.
What is the best way to travel around Jamaica?
There are plenty of minibusses that traverse the island, which is an affordable (but slightly chaotic) way to travel long distances at $1-$2 per person. For short trips, you can consider a private taxi or renting a car (with out without a driver), which will cost you $25 – $200.
Start Planning The Perfect Romantic Honeymoon Getaway
It's easy to see why Jamaica is the perfect honeymoon destination. There are gorgeous sandy beaches, world-class resorts with affordable honeymoon packages, delectable local and foreign cuisine, plenty to do, and a generally relaxed atmosphere.
Montego Bay, Negril, and Ocho Rios are some of the best places to stay and explore while on your honeymoon in Jamaica. These locations offer plenty of amazing resorts, beaches, and jungle adventures. There are also multiple great restaurants to choose from at each of these destinations.
Hotels and villas in Jamaica are available for any budget. From quaint ocean-view rooms to larger villas with luxurious furnishings on a private beach, newlyweds will find the perfect place to call home for a few days.
If your wedding is on the horizon, then it's time to start planning your Jamaica honeymoon, and the tips above and our help at Couple's Travel will make it a pleasure. So, pack your bags and get ready to travel!