Illinois is the ideal honeymoon destination, as it offers a range of accommodations, plenty of romantic activities, and delicious food throughout the state.
From the skyscrapers of Chicago to the windmill in Geneva, you and your partner are sure to find the perfect place for your first trip as a married couple. Honeymoon cabins and presidential suites are available to you in this state that offers it all!
Not sure where to begin planning your honeymoon to Illinois? This blog covers the best areas and places to stay, as well as what to do on your romantic trip – so keep reading!
Why Should I Honeymoon in Illinois?
This state has it all! Chicago offers a lively atmosphere with plenty to see and do. Lake Michigan is perfect for outdoor enthusiasts who want to get out on the water. Then there is the beauty of the Mississippi River.
Just a short drive from Chicago, you are surrounded by quaint villages, lakes, forests and parks. Further south and you will find the Shawnee National Forest and the Ohio River, which forms the southern border of the state.
Illinois also offers accommodation and dining for every budget. From chain hotels to cozy inns, spa resorts or bed and breakfasts, you and your partner are sure to find the perfect honeymoon destination!
Best Areas To Stay in Illinois
Narrowing down the best areas to stay in Illinois is no easy feat. We've included areas in northern, southern and central Illinois so you can plan road trips across the state for your romantic getaways.
Splitting your stay across several areas is easy if you have a car, or you can even take flights from Chicago to some of the smaller airports, like the Abraham Lincoln Capital Airport in Springfield or the General Downing-Peoria International Airport in central Illinois.
Galena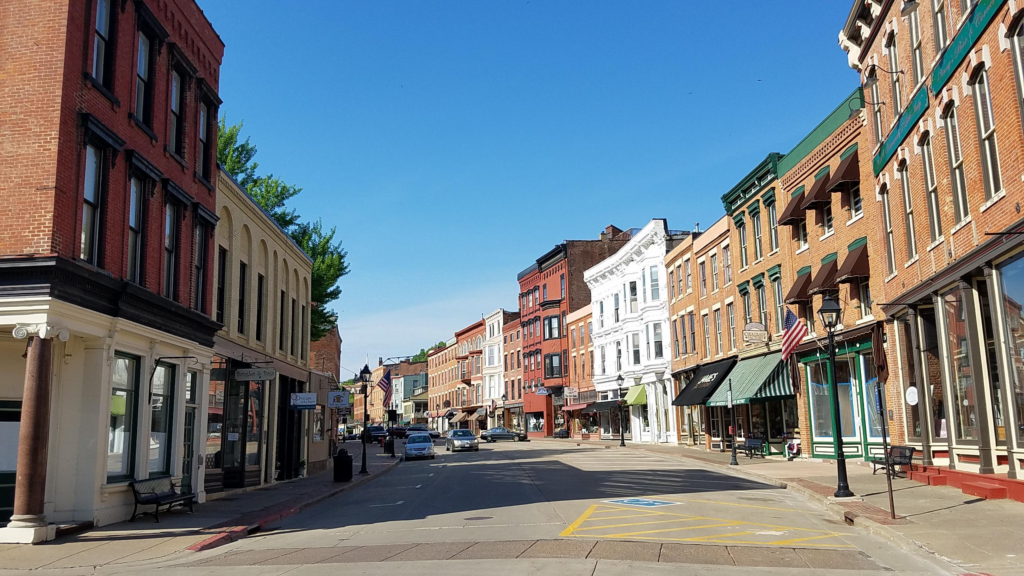 Galena might be a small town, but it is definitely worth a visit!
Galena has kept its 19th-century architecture – so you might be lucky enough to stay in one of its unique and historic houses!
Downtown Galena has a lot to offer. There are boutique stores and a lot of restaurants, many serving traditional American fare. The Main Street in Downtown Galena has more than 100 shops – you can spend hours here!
If window shopping is not for you, then you can pop into the Bread & Vine Bakery, which combines two of our favorites: wine and bread! If you would rather skip the wine, then Galena Roasters has the best coffee in town.
Close to Galena, you will find the Apple River Canyon State Park. Here you can go hiking or cycling along the many trails.
Ready to dip into some history? A short drive from Galena, you will find the Wapello Land & Water Reserve. This reserve honors the area's Native American heritage, and there are guided tours of the prairie to give you some historical context.
East Dubuque, situated on the Mississippi River, is a 20-minute drive to the north, and also makes for a great day outing.
Chicago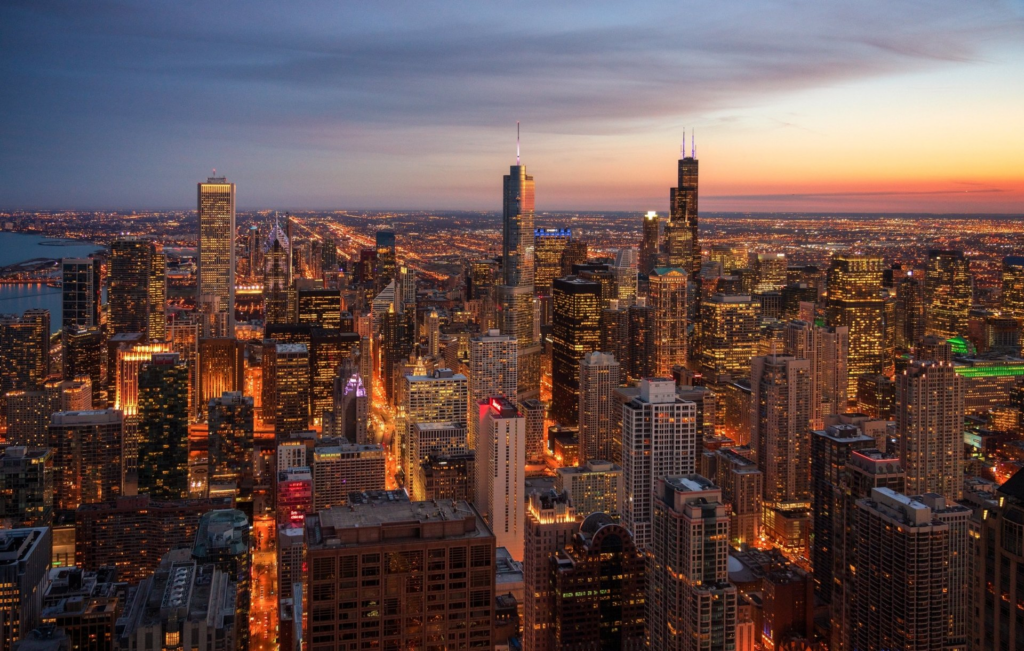 Chicago is an obvious choice for honeymooners who enjoy city life. Chicago is probably one of the most famous cities in the world!
On the banks of Lake Michigan, Chicago offers top-notch dining, entertainment, free access to museums and parks, and a wealth of historic sites.
The list of things you can do in The Windy City is endless, because so many attractions are within walking distance of the heart of the city.
We will try to keep it short:
Shawnee Hills Wine Trail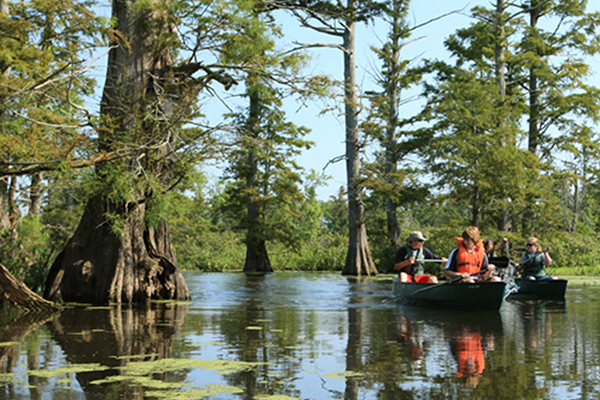 The wine trail winds along Hickory Ridge Road in southern Illinois. Eleven of the very best wineries in the state are located on this 40-mile trail.
Honeymooning is all about relaxing, and you can discover the hidden gems of this trail at your own pace. The Wine Trail is surrounded by the National Forest and crosses streams and hills as you drive.
To take advantage of this destination, we recommend that you go in September, as it has been declared Illinois Wine Month.
Should you wish to get out of the car for a bit (because let's face it, the best romantic getaways are not spent in a car!), then you can do an easy 0.3-mile walk through the Shawnee National Forest on the Pomona Natural Bridge Trail.
There are plenty of lodgings available at the wineries along the route. The Wine Trail is also dotted with welcoming inns and bed and breakfasts.
For a complete list of the wineries and their opening hours, check out the official Shawnee Hill Wine Trail website.
Geneva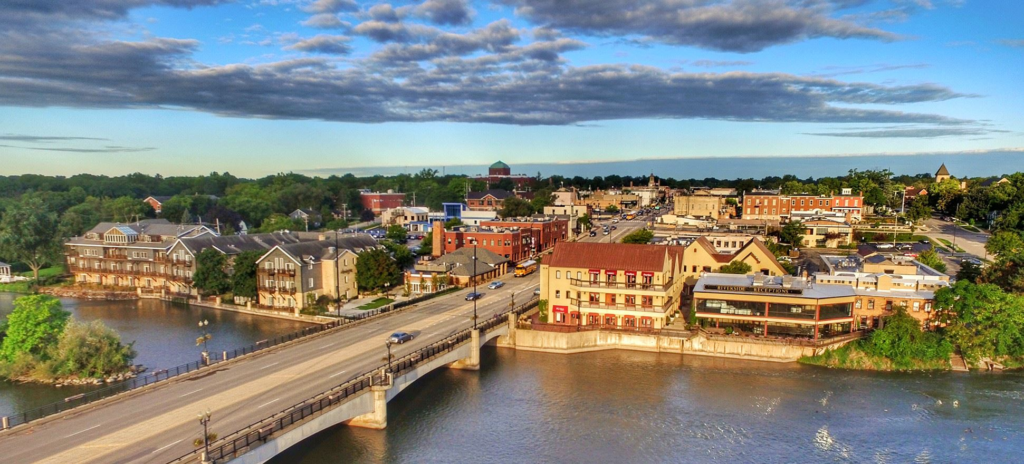 Geneva is a small town with a lot to offer. The town is located on the banks of the Fox River and retains a quaint historical charm. You can spend the morning in the Fabyan Japanese Garden, which was planted in 1910 and features an authentic Dutch windmill!
If you are feeling snacky, the Little Traveler is the best place to refuel. This Victorian home opened its doors to the public and sells gifts and light snacks.
Best Honeymoon Resorts, Hotels, and Other Stays in Illinois
Illinois might not have all-inclusive beach resorts, but that doesn't mean it falls short as a honeymoon destination. Visitors can check into large, luxurious hotels in cities, or stay in romantic rooms in one of the smaller towns' inns.
The inns and hotels in Illinois cater to every budget, with both affordable and luxury stays on offer.
We have compiled a list of the top eight accommodations in Illinois, so that newlyweds can have the perfect romantic getaway.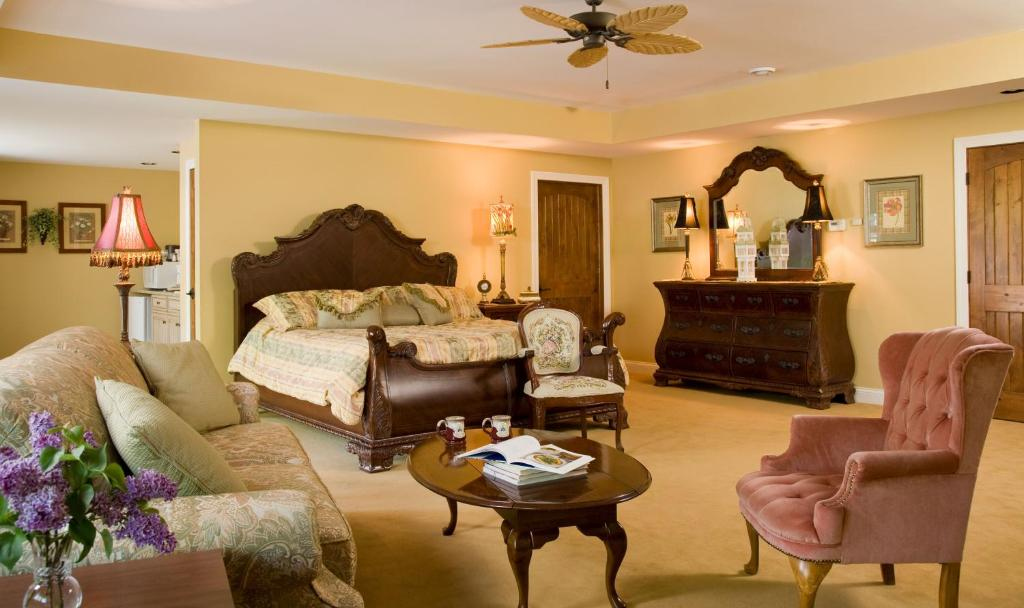 Price per Night: $330 – $430
Best For: Younger Couples; Older Couples; Long Stays
Availability: Easy to Book
The Goldmoor Inn is one of the best bed and breakfasts in Galena, and not just because of its spectacular views of the Mississippi River!
Those planning romantic getaways in Illinois must reserve a room at the Goldmoor Inn. Calling this establishment an inn is actually a disservice, as it is more like a castle, complete with a tower!
The Goldmoor Inn has 13 romantic suites to choose from, including suites with whirlpool tubs and fireplaces.
There are also two honeymoon cabins and three country cottages on the property. The cabins at the Goldmoor Inn come with kitchens, fireplaces, porches, and whirlpool tubs. The suites and romantic cabins also have hand-carved furniture coupled with modern amenities.
The restaurant has been voted the best restaurant in Galena and offers fine dining and a menu that includes produce from the garden, and classics like Beef Wellington, Risotto, and Lamb Shank.
Other amenities at the Goldmoor Inn include a spa where you can book a couple's massage. If you would rather stay put for the day, you can relax in the rose garden or on the sprawling lawns.
For the true homebodies who just want to snuggle all day, your Goldmoor Inn complimentary breakfast is delivered straight to your room!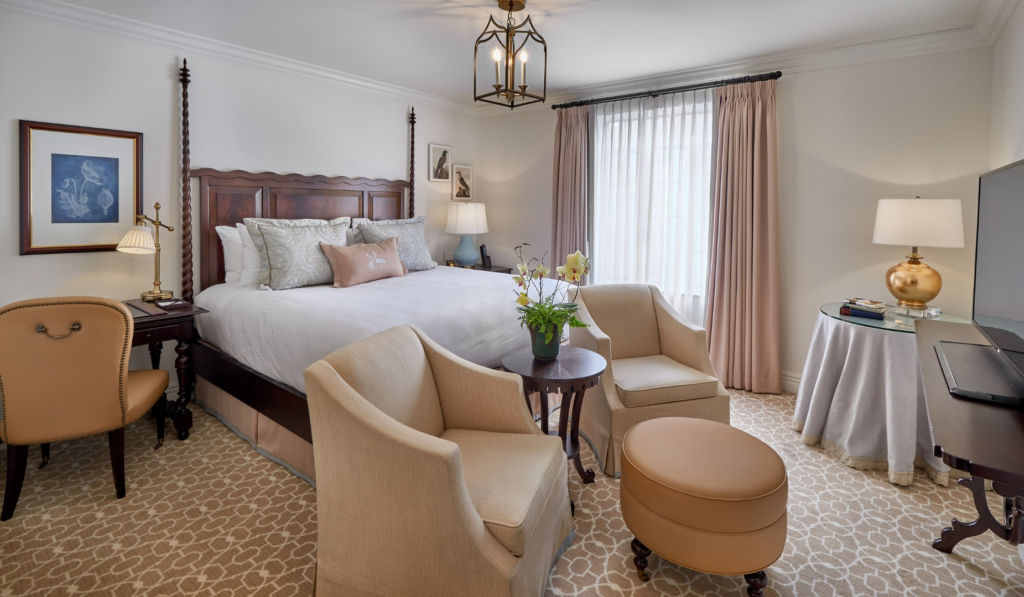 Price per Night: $369 – $719
Best For: Short Stays, Older Couples
Availability: Easy to Book
The Deer Path Inn is located in the charming town of Lake Forest.
This boutique hotel was built in 1929 and boasts a classic Tudor style. The hotel was recently renovated while still keeping its historic charm.
The hotel features 57 rooms, of which 23 are suites. There is also a large space for events and a modern yet classic restaurant.
Each of the rooms has free Wi-Fi, a satellite flat screen TV, and hardwood floors, and some rooms and suites have fireplaces.
Feeling peckish? The Deer Path Inn has plenty of options to fill your belly! Enjoy the festivities in the old-world English White Hart Pub, enjoy a classic Sunday brunch in the English Room, sip cocktails at the Bar, or forego the alcohol during Afternoon Tea.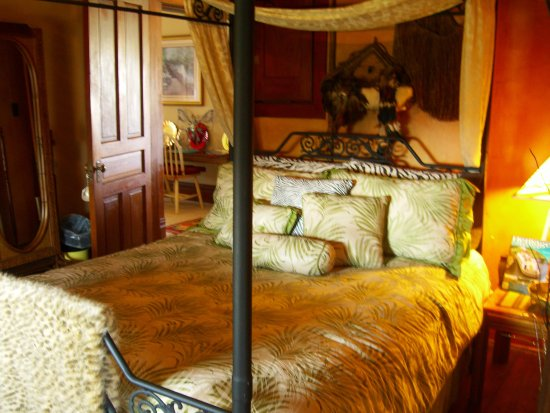 Price per Night: $87 – $117
Best For: Short Stays, Younger Couples, Older Couples
Availability: Limited
The Fox River Bed and Breakfast is a home away from home, making it the ideal stopover on romantic getaways in Illinois.
The Fox River Bed and Breakfast is near the Fox River in Ottawa and is situated on 17 acres of forests and lawns. The Inn is an old Victorian farmhouse that has been renovated to meet the expectations of guests from all over the world.
There are only five rooms available at the Fox River Bed and Breakfast, so make sure to book early! Each is unique, beautifully decorated and includes free Wi-Fi, a microwave, fridge, and satellite TV. Couples can decide if they want breakfast included in their rates.
Newlyweds can rent a canoe and spend the day on the river, taking in all the sights and sounds of nature. Bird lovers should pack their binoculars to spot Indigo Buntings or Blue Birds, while those after an adrenaline rush can head to nearby Starved Rock State Park or Matthiessen State Park for some mountain biking and hiking.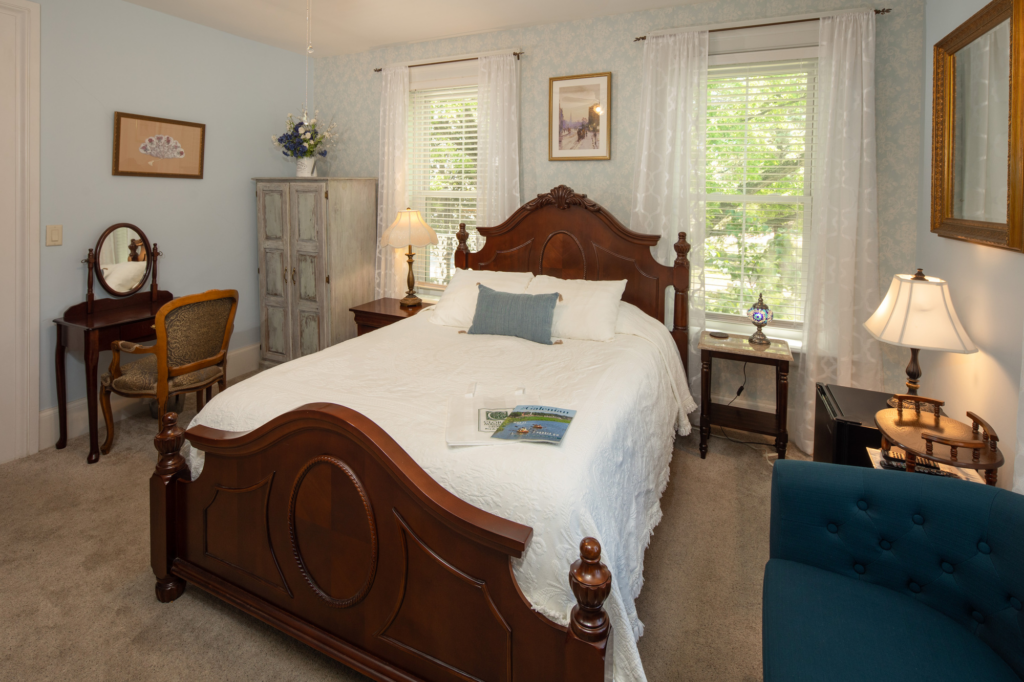 Price per Night: $125 – $235
Best For: Short Stays, Older Couples
Availability: Easy to Book
The Cloran Mansion Bed and Breakfast is the ideal destination if you wish to have your wedding and honeymoon at the same location.
It is the quintessential luxury inn, offering guests all the amenities they would expect. Cloran Bed and Breakfast boasts a gorgeous Italian design with true American hospitality.
Couples can stay in any of the beautiful guest rooms, or opt for the suites or the more private cottage. The Tower Suite is probably the best pick of the lot, as it offers a gas fireplace, a king-sized bed, and a chandelier that doubles as a fan. But the real treat is the bathroom, which features stairs that lead up into the 1880s tower! There is also a flat screen TV and a stocked mini fridge.
Just like the Tower Suite, some of the other rooms also feature whirlpool tubs, fridges, fireplaces, and TVs.
After a relaxing night, you will be spoiled with a six-course gourmet breakfast. After breakfast, relax in the dining room, snuggle up with a book in the library, or head out into the beautiful gardens. The Cloran Mansion Bed and Breakfast really is the perfect romantic getaway!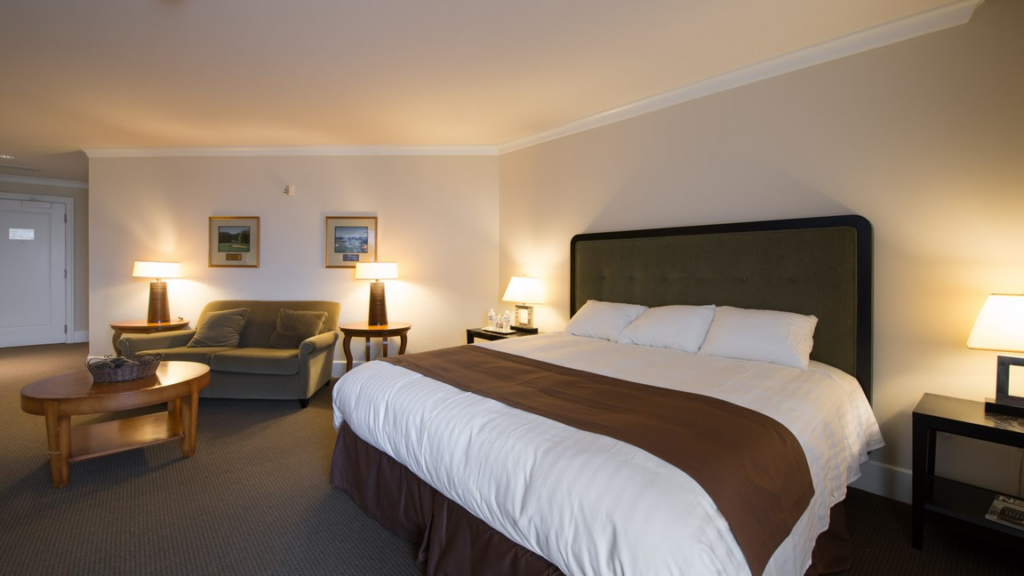 Price per Night: $205 – $235
Best For: Younger Couples, Short Stays
Availability: Easy to Book
The Glen Club is the perfect honeymoon destination for golf lovers. But even if you would rather not tee off, this is still one of the most romantic getaways in Illinois!
The boutique hotel at Glen Club features 21 rooms, with gorgeous views over the golf course and surrounding nature. This hotel is the epitome of elegance and is targeted at guests who enjoy the finer things in life.
The Bridal Suite is our preferred room, as it offers a Jacuzzi tub, HD flat screen TV, seating area, and a balcony.
Situated outside of the madness of the city, it is still within easy reach of many of the famous sights of Chicago, such as the Lincoln Park Zoo, the Navy Pier, Wrigley Field, and the Magnificent Mile.
The Glen Club also has an amazing restaurant, the Glen Club Grill, which serves delicious American Cuisine in a laid-back setting.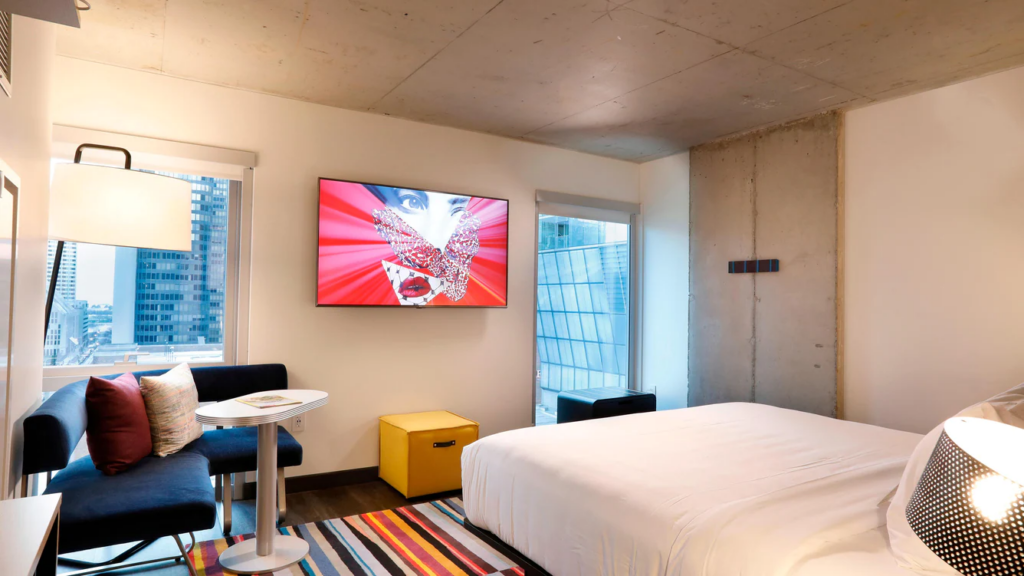 Price per Night: $268 – $282
Best For: Short Stays, Younger Couples, Older Couples
Availability: Easy to Book
The Aloft Chicago Mag Mile is a Marriott Hotel in the heart of the action. Its central location on Chicago's Magnificent Mile means you get immediate access to some of the best the city has to offer. Couples looking for a bustling and lively romantic getaway should definitely book a night or three here!
The guest rooms and suites have been artfully designed, featuring minimalistic decor, large TVs, free Wi-Fi, and luxurious bath products.
The hotel also has a fitness center, indoor pool, convenience store, and an on-site restaurant (Re:Fuel) and bar (W XYZ Bar).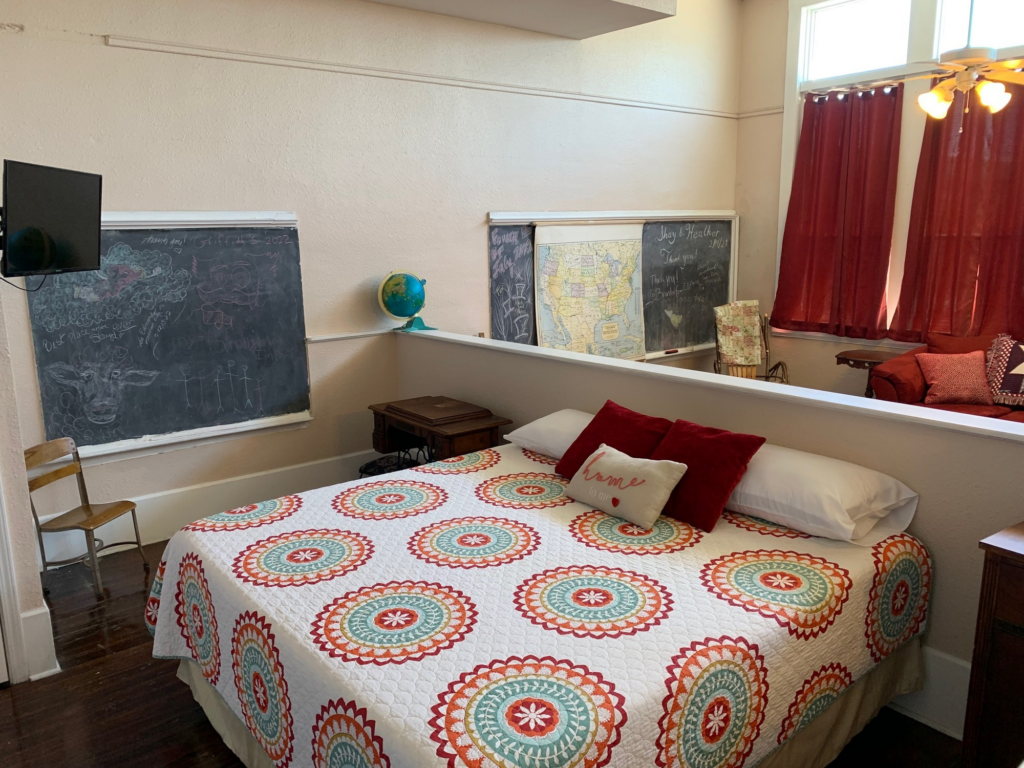 Price per Night: $149 – $249
Best For: Long Stays, Couples
Availability: (Limited/Easy to book)
There is just something about living in a historic school building that seems to attract couples from afar.
The Davie School Inn is ideally located on the Wine Trail, meaning it is the ideal stopover for those who got a little bit too festive at the wineries. The Inn has eight suites and three luxury suites. The suites, named according to colors, are either romantically- or school-themed for a truly unique stay.
You can enjoy whirlpool tubs, king-sized beds, private seating, and Wi-Fi when you stay at the Davie School Inn. Before you head out to sample some more wine, tuck into the complimentary breakfast, which includes extra-large muffins and cheesecakes!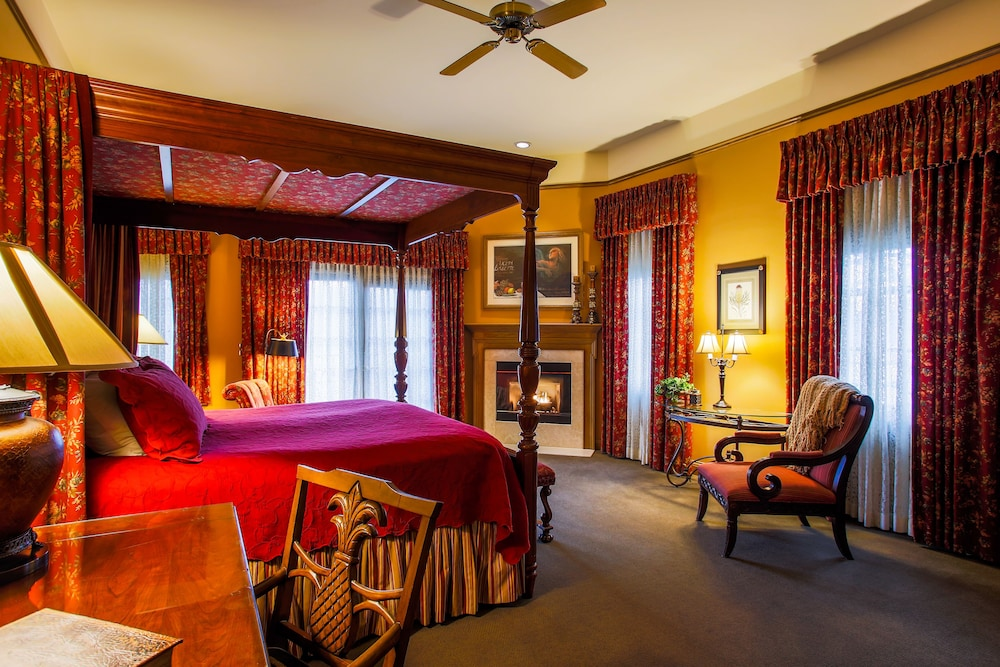 Price per Night: $219 – $399
Best For: Long Stays, Older Couples, Younger Couples
Availability: (Limited/Easy to book)
The Herrington Inn and Spa is unlike your usual hotel. This imposing building is built right on the banks of the Fox River.
The European architecture makes this hotel unique. Inside, couples are greeted with warm colors and lighting, tapestries on the walls, cozy armchairs, and crackling fires.
The Inn features 60 guest rooms that seamlessly blend character with modern conveniences. The rooms feature whirlpool tubs, robes and slippers, gas fireplaces, and unique decor.
Before starting your day, you get to enjoy a free European Continental Breakfast. Ready for bed? You will be grateful for the homemade cookies and milk waiting for you in your room.
The restaurant at the Inn, Atwater's Restaurant, has a farm-to-table approach, offering local American dishes.
The Spa is a must for honeymooners needing some downtime. You can enjoy amazing spa therapies and massages without ever setting foot outside of the hotel!
Top Excursions & Activities To Do On An Illinois Honeymoon
Illinois is a large state, and narrowing down the top activities for couples can be a tough one. We know that planning a wedding is already stressful enough without having to worry about your honeymoon as well. That is why we have compiled a short list of all the top activities and excursions for couples while honeymooning in Illinois.
The Art Institute of Chicago
You do not have to be an art expert to appreciate The Art Institute. There are constantly changing exhibitions and events on the calendar, including exhibits on life in Ancient Egypt, Chinese headdresses, Japanese Prints, and photography.
Admission costs $14 for residents of Chicago and $25 for adults not from the city.
Millennium Park and The Magnificent Mile
Staying in the heart of Chicago, you would be remiss not to visit Millennium Park. Couples can walk around the Lurie Garden, spot the public artworks, or take a turn on the McCormick Tribune Ice Rink (free admission, but book online in advance).
The Magnificent Mile is also worth a whole day's visit, with plenty of sightseeing, shopping and dining opportunities.
Visit a Brewery
There is no shortage of breweries in the state! Here are some of the best craft breweries that are certainly worth a visit:
Walk, Run or Cycle the Lakefront Trail
The Lakefront Trail in Chicago is an 18-mile-long trail for pedestrians and cyclists, and some of the best views in the city. You'll be able to spot Chicago's most popular sites, and enjoy unspoiled views of Lake Michigan. You can access this trail from several points across the city.
Sample Itinerary & Budget For Your Honeymoon To Illinois
Sample Itinerary
We have compiled the perfect four-day sample itinerary for your honeymoon in Illinois.
Day 1: Chicago
Arrive in Chicago and set out to explore many of the famous landmarks in the city. If you don't want to walk around all day, you can book an architecture boat tour on the Chicago River ($48 per adult). For dinner, explore any of the amazing restaurants in the city, but try to sample some deep-dish pizza!
Day 2: Geneva
Geneva is around an hour away from the city by car or train. Visit the Fabyan Japanese Gardens and Windmill (admission asks for donation), and make sure to stop in at the Geneva History Museum ($5 per adult) to learn more about the town.
If you have time left, end the day with some wine at one of the local wineries.
Day 3: Galena
Galena is a 2.5-hour drive from Geneva, so start early to make the most of your day. Enjoy the downtown trolley tour to appreciate the city, and make sure to stop in at the home of Ulysses S. Grant, a U.S. Grant State Historic Site.
Day 4: Galena to Chicago
Spend your last day exploring the Main Street in Galena. If you're exhausted from all the traveling, make sure to book a spa treatment at one of Galena's spas.
Note on the itinerary
This is just a sample itinerary and can be extended if you wish to include southern Illinois, such as the Shawnee Hills Wine Trail.
Sample Budget
Below are the estimated prices per couple per day.
Accommodation: $150 -$300
Dining and drinks: $100 – $150
Car rental: $50
Excursions or activities: $100
Frequently Asked Questions
How much does a honeymoon in Illinois cost?
The cost of a honeymoon in Illinois depends on when you go and what you do. On average, you can expect to pay $500 per couple per day; including accommodation, food, transportation, and activities.
When is the best time to visit Illinois?
The best time to spend your honeymoon in Illinois is between April and October. The weather is pleasant and there are plenty of festivals and events during summer.
What is the best way to travel around Illinois?
Having your own car or renting a car is the easiest way to travel. There is also a good public transport system, with trains and buses connecting towns and cities across the state.
Start Planning The Perfect Romantic Honeymoon Getaway
Are you ready for your honeymoon in Illinois? We have provided you with all the information you need, and it is easy to see why couples choose Illinois as their honeymoon destination! With amazing scenery, lively cities, and historical sites, Illinois is the top choice for many couples.
Make sure to check out Couples Travel for all the top tips and tricks for planning your next romantic getaway!