Most people visiting Illinois head there to experience the vibrancy of Chicago, but there is so much more to see and do in this Midwestern state.
Illinois offers something for everyone. Visitors can enjoy a five-star all-inclusive hotel with a hot tub, or a quaint bed and breakfast on the Mississippi River banks. And don't forget – that bed and breakfast includes delicious, home-style cooking.
Read on to start planning your perfect getaway to the gorgeous state of Illinois, from where to stay to what to do and everything else you need to know.
What Makes Illinois Perfect For A Romantic Getaway?
Traveling across the state is easy. There are plenty of small towns to see as you drive, and lots to do. It is no surprise that many couples turn to Illinois when they want a romantic escape from their everyday lives.
Couples wanting to stay in modern cities can opt for Chicago or Springfield. "Outdoor wanderers" can head off into the wilderness to explore the many State Parks and Nature Reserves.
Even foodies will find their fix here, as Illinois is the birthplace of the much-loved Chicago Deep Dish Pizza.
Illinois is not an expensive state and has so many accommodation options for a romantic weekend getaway. Couples can take their pick from all-inclusive resorts to traditional inns – even on a budget.
Most Romantic Getaways Illinois
Illinois is set in the deepest part of the American Midwest. The state is dotted with traditional bed and breakfasts and modern, contemporary hotels. Whether you and your loved one want to cozy up in a cabin or order room service to your guest room in the hotel, you are sure to find the perfect getaway.
Illinois offers romantic experiences for every kind of traveler. There are vibrant cities and riverside towns, modern museums and historical treasures.
Let's take a look at some of our top picks for romantic getaways in Illinois.
Springfield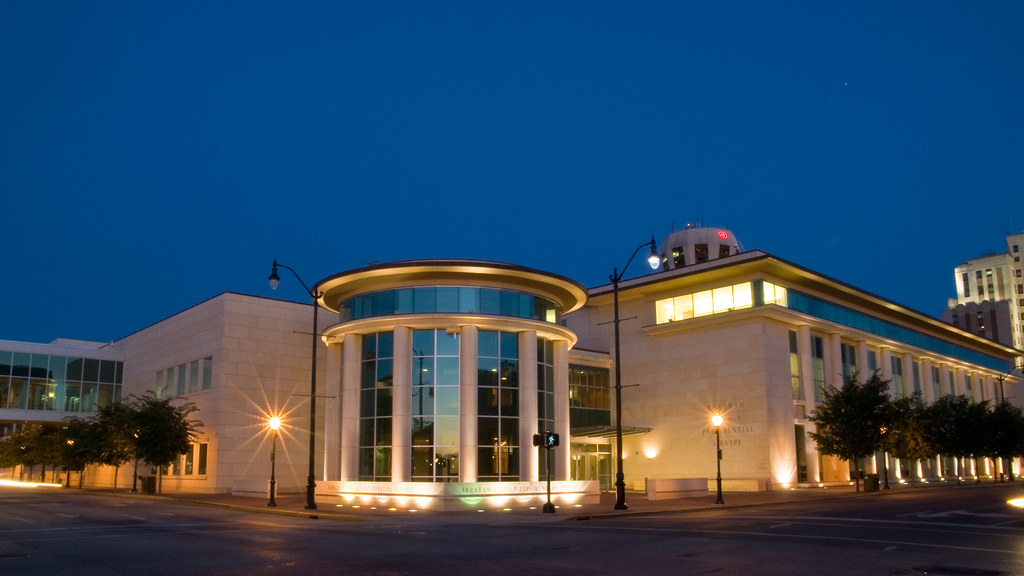 Springfield has a close association with late president Abraham Lincoln. There are plenty of historical landmarks in Springfield, as well as a range of popular tourist sites.
Here are some of our favorite sites to visit and things to do while staying in Springfield:
Best Accommodations in Springfield: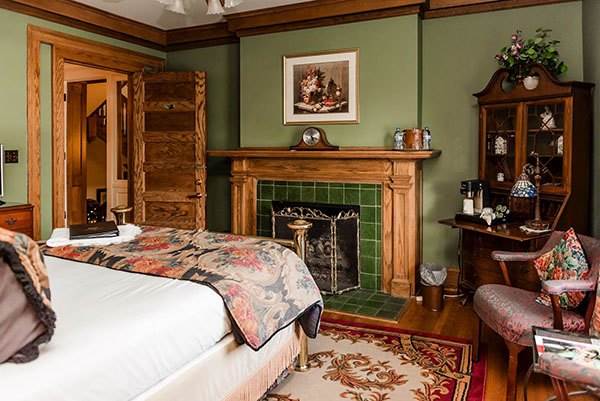 Price per Night: $122 – $265
The Inn at 835 is part of the Conn's Hospitality Group. This boutique hotel is located in a luxurious, turn of the century building. The Inn has combined all the modern luxuries you would expect in a boutique hotel, coupled with historic decor.
The hotel has 11 guest rooms in the main building as well as two suites in the Bell House. Each room is uniquely decorated, but come with modern touches like Wi-Fi, Smart TVs and up-to-date bathrooms.
Couples wishing to take it easy can enjoy the complimentary breakfast. Although lunch and dinner are not on offer, there are plenty of restaurants nearby, as well as a communal fridge and microwave.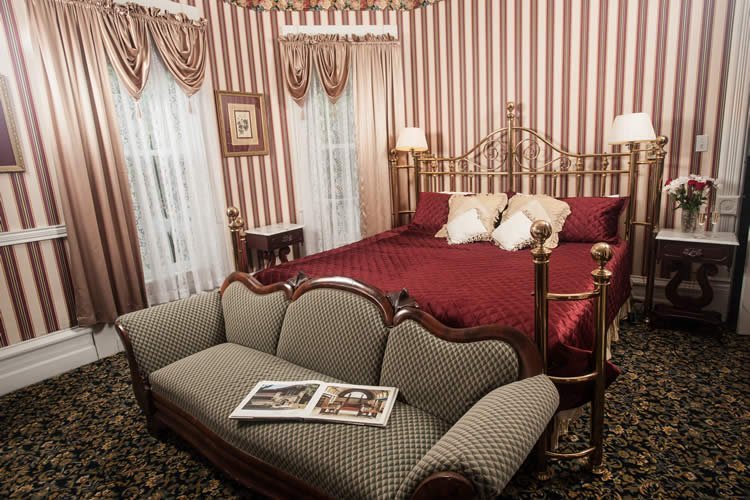 Located just 30 mins from the city center, the Market Street Bed and Breakfast in Taylorville is a must-stay option for history buffs. Taylorville was the home of Abraham Lincoln before he became president. This home built in 1892 will make you feel like you are the neighbor of the great man himself.
The Market Street Bed and Breakfast has eight suites as well as the 1899 Carriage House where there are a further two suites. Most of the guest rooms have a fireplace, while some have en-suite baths.
You will find the best gourmet breakfast at the bed and breakfast, with puffed French toast and traditional tomato pie.
Chicago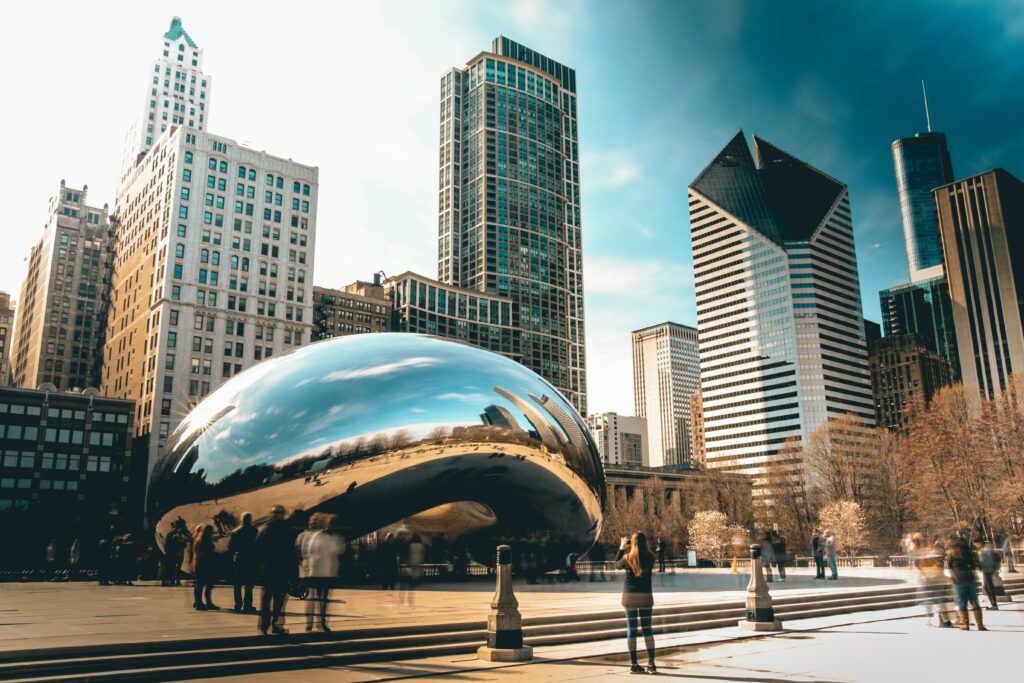 Chicago, also known as the Windy City, is a great draw for tourists from across the world. The amazing nightlife, culture, restaurants and architecture means there is something for everyone.
Located on Lake Michigan and the Chicago River, this city is a great getaway for couples that enjoy both a modern city as well as time in nature.
Here are some of our favorite things to do in the Windy City:
Outdoor enthusiasts will love the many hikes, cycling routes and walks around the city. Of note is the North Branch Trail, the Lakefront Trail for a view of the city skyline, or the Prairie Path Trail.
If you don't mind navigating a slippery situation with a few children around, then head on over to the Maggie Daley Park Skating Ribbon. Just remember to book your tickets ($16 – $20) online before you go.
There are plenty of public art structures around the city. You can simply walk around town to see which artworks you stumble across.
Couples looking to unwind can go take a dip in the calming waters of the AIRE Ancient Baths. There are several massage packages on offer as well.
Best Accommodations in Chicago: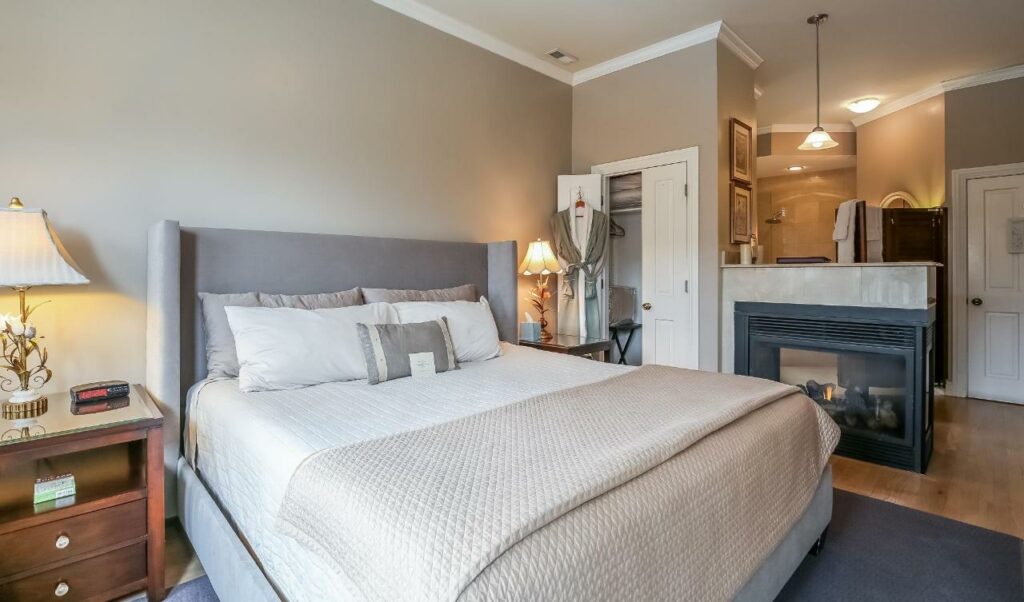 Price per Night: $241 – $319
The Harvey House Bed and Breakfast is located in the heart of the city. It is the perfect peaceful escape for couples who want to retire somewhere quiet after a day of sightseeing.
This luxury bed and breakfast is different from your standard small town inn. Here you will find whirlpool tubs, fireplace rooms, king sized beds and massage packages.
Want to spoil your partner? The Romance Package for $40 comes with a bottle of bubbly and handcrafted chocolate truffles.
Price per Night: $129 – $179
Tucked away just a short drive from the city, the Victorian Rose Garden Bed and Breakfast will give couples all the relaxation they need. This mansion bed and breakfast dates back to 1886, but has been upgraded to include all the luxuries a modern traveler would expect.
Couples can enjoy homemade snacks and drinks in the dining room or snuggle up on the large porch while watching the world go by.
The Victorian Rose Garden Bed and Breakfast has five uniquely decorated rooms. Each of the rooms has a historical feel with contemporary amenities.
Wake up to the aroma of freshly brewed coffee and home-made muffins, and appreciate the smell of roses wafting in from the gorgeous garden.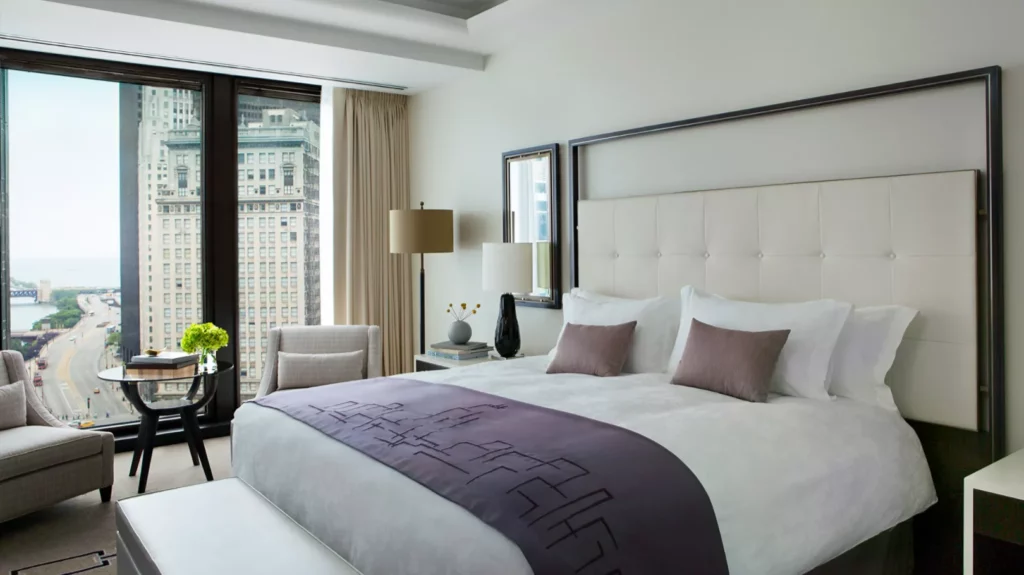 Price per Night: $553 – $829
The Langham Chicago is the perfect romantic weekend getaway for couples really wanting to treat themselves.
This all-inclusive five star hotel and spa is situated on the river, and has a "timeless British style" in the middle of the urban jungle. There are guest rooms and stylish suites to choose from.
There are plenty of special offers that couples can choose, from Bed and Breakfast to Suite Temptations. Guests also have access to the Chuan Spa, indoor pool and health club.
The on-site Travelle Restaurant offers American eats, or you can sip on tea and nibble on snacks at the Pavilion Tea Room. Finally, for those seeking exclusivity, private dining can be arranged in a private dining room.
Ottawa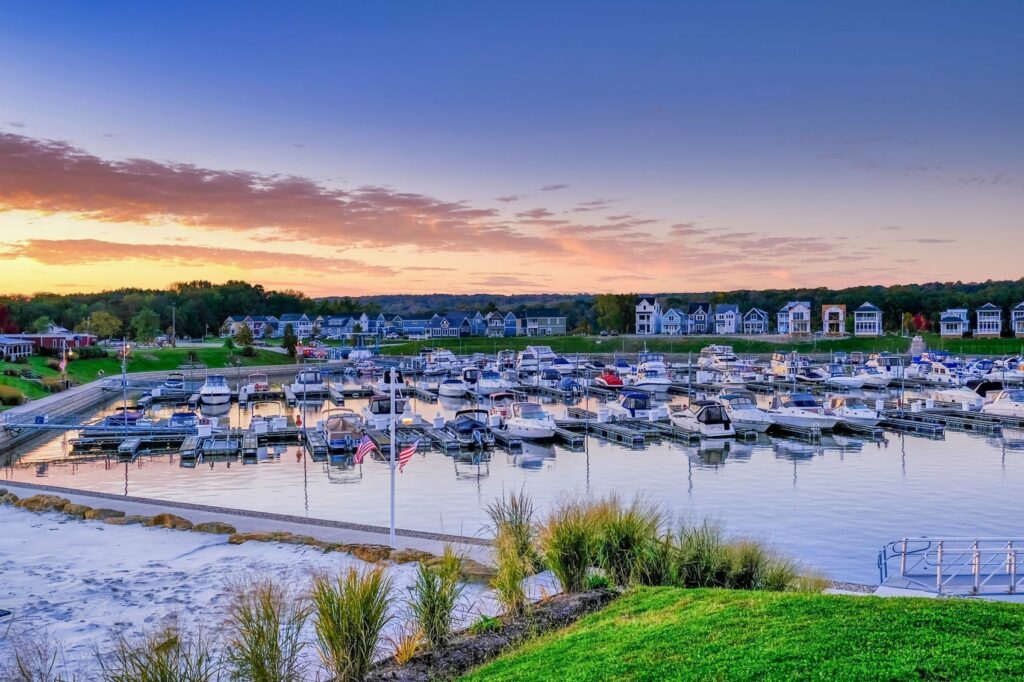 Ottawa is a unique destination as it is located on the meeting of the Illinois and Fox Rivers.
This historic river town is perfect for those seeking nature, as it is the gateway to the world-famous Starved Rock State Park. There are also plenty of historic architecture to spot around town.
Here are some of our top picks for romantic activities in Ottawa:
Book a boat ride or simply meander around Heritage Harbor, fantasizing about that yacht you will buy one day.
Stretch away your worries at Salt Tree Yoga. From sweating it out in a salt cave to getting a feet detox, you will feel refreshed when stepping out of the facilities.
Indulge yourself at the Tangled Roots Brewing Company's Lone Buffalo Restaurant. Here you will find local American cuisine and amazing local beers.
Meander and discover history by yourself around the Washington Park Historic District.
Best Accommodations in Ottawa: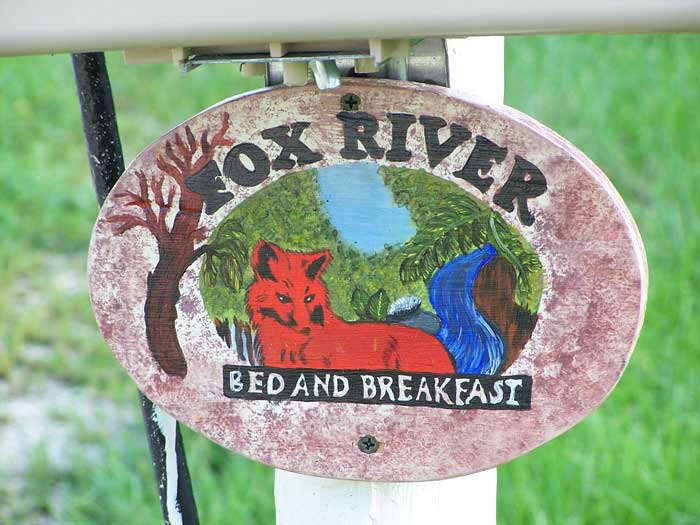 Price per Night: $67 – $117
Fox River Bed and Breakfast is the perfect romantic break for couples wanting to visit Starved Rock. This Bed and Breakfast is situated on 17 acres, and there are plenty of hiking and cycling trails available.
If you would rather not build up a sweat walking around nature, then you can hop into a canoe or canal boat and spot some birds along the Fox River.
The Fox River Bed and Breakfast is a family-run establishment with five unique guest rooms on offer. Should you rather pop out to one of the local eateries for breakfast, you can request a room rate without breakfast included.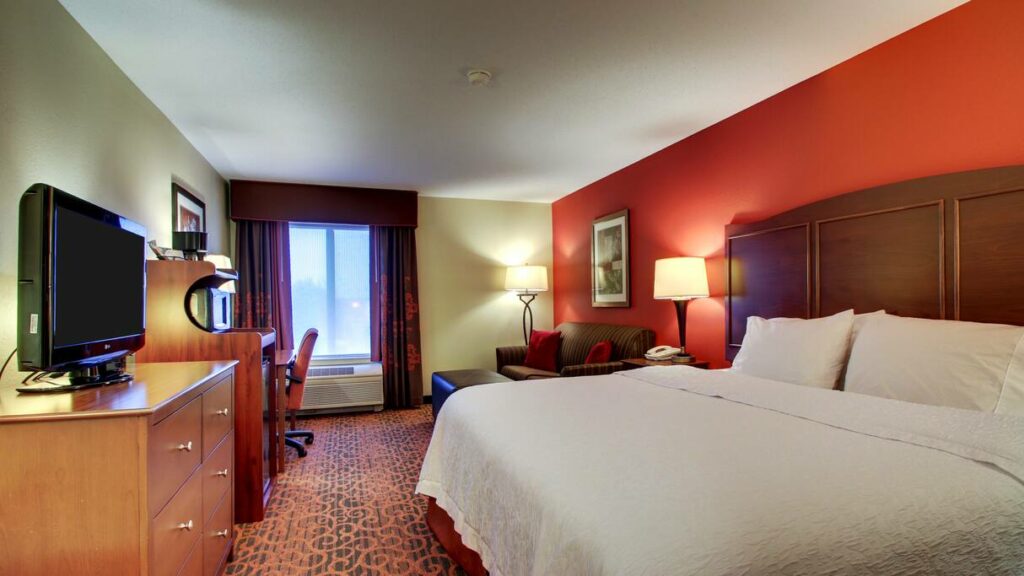 Price per Night: $148 – $157
The Hampton Inn by Hilton is more than just your run-off-the-mill chain hotel.
This hotel is a great stopover for adventurers heading to the canyons of Starved Rock. It is also within easy reach of the airport and several other parks and golf courses.
There are several guest rooms as well as accessible rooms on offer. There is also a free hotel breakfast available.
The Hampton Inn is great for couples traveling on a budget who want to see the best of Ottawa and Illinois famous State Parks.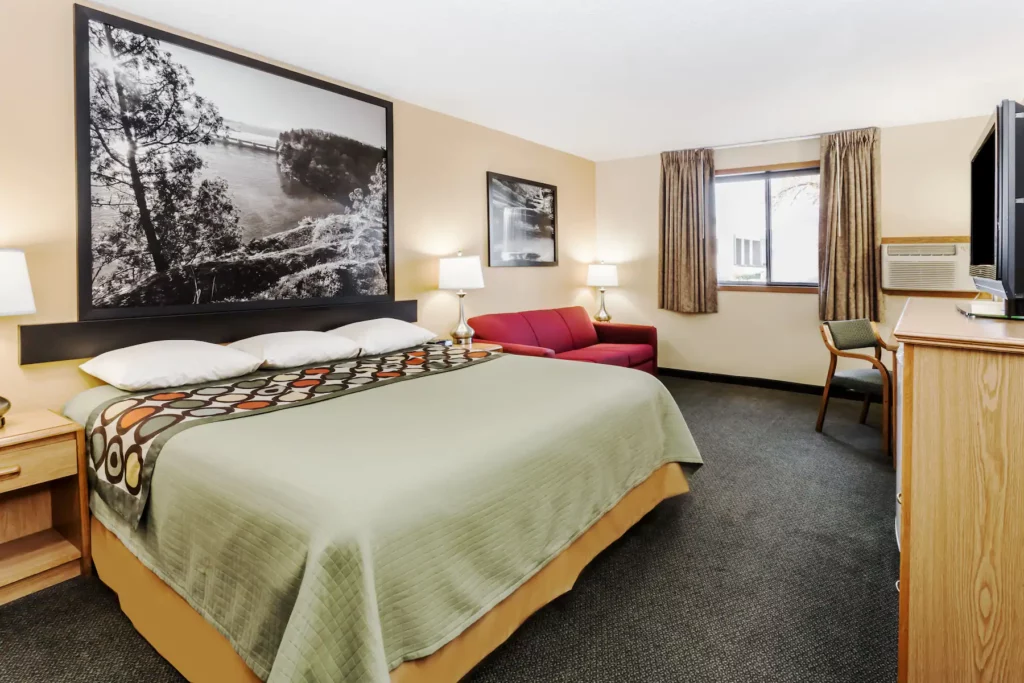 Price per Night: $87 – $139
The Super 8 has been awarded "Decades of Excellence for Customer Service and Cleanliness". This means you can rest assured that you are getting the best quality during your stay.
The Super 8 is the perfect option for hikers wanting to stay in the area. It is located just a short drive from Starved Rock, Buffalo Rock, Illini and Matthiessen State Parks
There is complimentary breakfast available. Super 8 rooms come standard with a microwave and fridge should you rather stay in and feed yourself.
Galena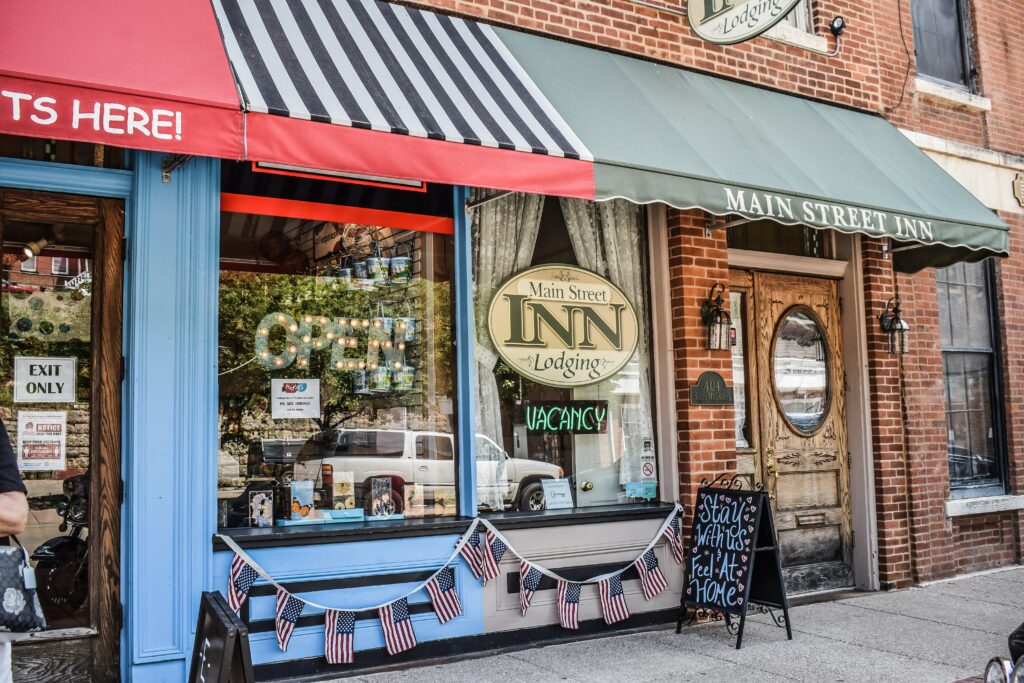 Galena is located in the north western part of the state. This historic town is the perfect escape for couples who wish to break away from the city. Situated in the Mississippi River Valley, Galena is a prime location for lovers of history, nature and peace and quiet relaxation.
Walking around the town will have you marveling at historic architecture, and dipping in to local stores and art galleries.
There is plenty to see and do and Galena, but here are our favorite romantic activities:
Walking down Galena Main Street will have you in awe of the gorgeous architecture and adorable boutique stores.
Pack a picnic and head over to the green grass of Grant Park, located besides the Galena River.
If you are an avid Instagrammer, then you can head over to Thunder Bay Falls for some Insta-worthy photos, especially at sunset.
Take a guided tour of Dowling House, the oldest building in Galena.
Sample the finest spirits the state has to offer at The Blaum Bros. Distilling Company.
Best Accommodations in Galena: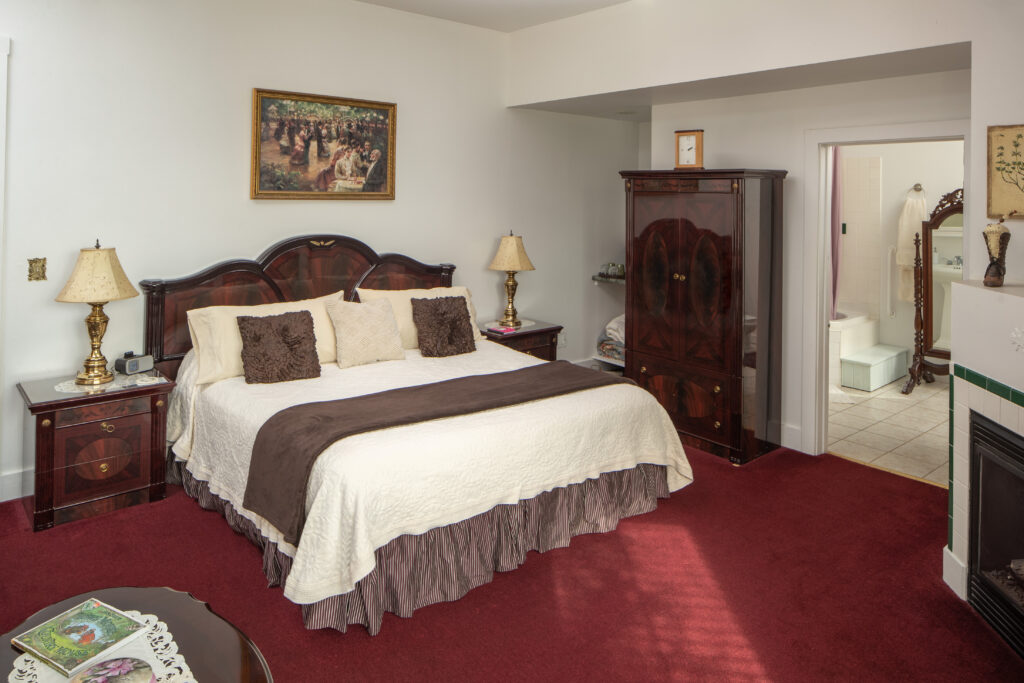 Price per Night: $150 – $235
Have you ever wished to stay in a historic, luxury mansion? The Cloran Mansion Bed and Breakfast might just be the perfect place for all romantic getaways in Illinois.
There is a variety of rooms available at the Cloran Mansion Bed and Breakfast, from guest rooms that are pet friendly to honeymoon suites.
Cloran Mansion Bed and Breakfast is surrounded by luscious gardens. Couples can hide out and have deep conversations or you can have a moment of silence in the library.
Your stay includes a complimentary breakfast with delicious offerings. This includes Belgian Waffles, French toast and local fresh produce.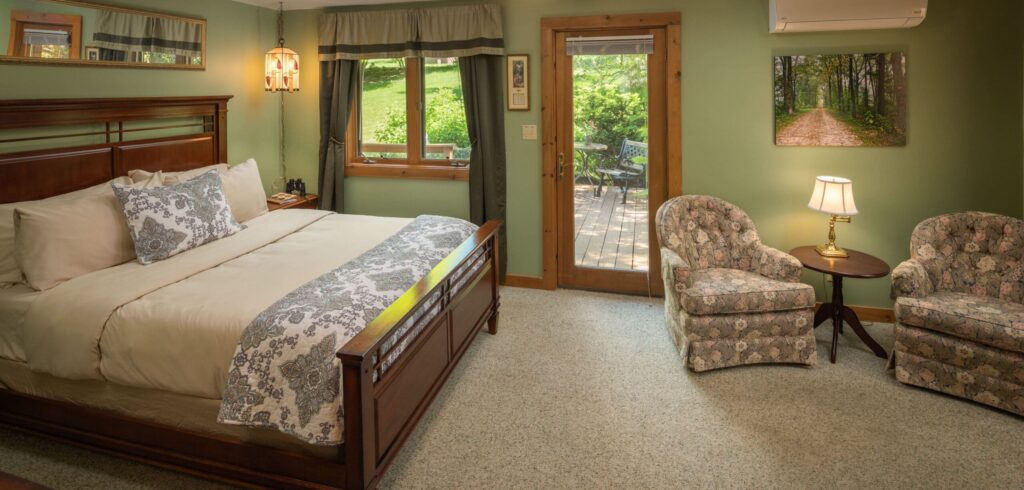 Price per Night: $160 – $347, minimum 2-night stay
Nothing quite says romance in Galena as the Hawk Valley Retreat and Cottages. This Retreat is situated on 10 acres of lush property, with trails for walking and cycling as well as a pond for contemplating life.
Whether you stay in a room in the main house or a secluded cottage on the property, you will have the most romantic time.
Cookies, drinks and breakfast are included in the room rate. You can also enhance your stay even further by organizing pizza, desserts or a couple's massage. Special packages include a massage package, meal packages, flowers and choccies, or a mini-moon package.
Hawk Valley Retreat and Cottages are perfect for nature lovers seeking romantic getaways in Illinois.
3) Goldmoor Inn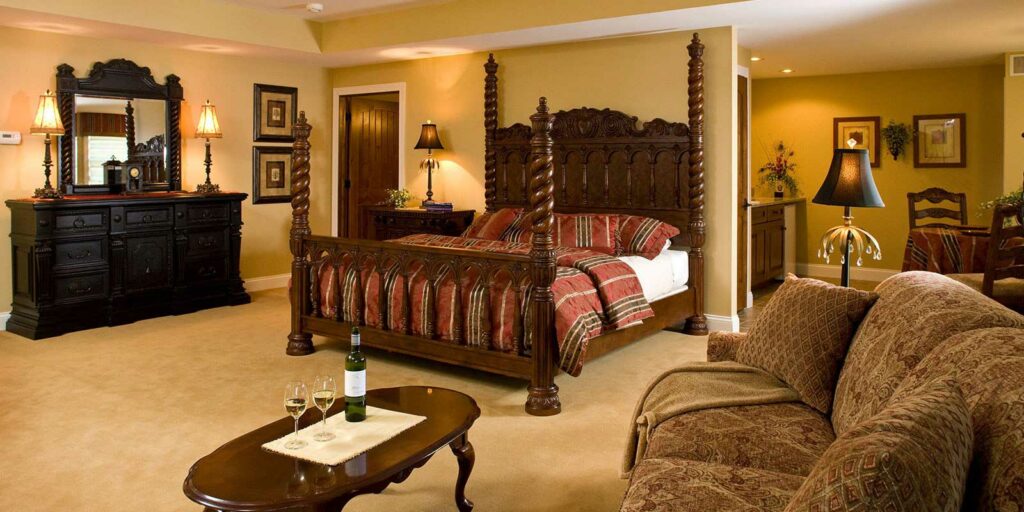 Price per Night: $345 – $425, minimum 2-night stay
Goldmoor Inn identifies itself as "a romantic Galena stay", and we couldn't agree more. This castle-like inn was previously a private estate. It has since been transformed into a luxury bed and breakfast on the banks of the Mississippi River.
Couples can choose from luxury suites, log cabins or cottages. Each accommodation option has modern amenities with a historic country house twist.
There are plenty of modern amenities on offer. Guests can choose from rooms with whirlpool tubs, fireplace rooms or breakfast nooks. There is also a spa onsite and a complimentary seasonal gourmet breakfast.
Guests can enjoy a guided tour of local wineries or partake in outdoor recreational activities like golf, skiing (in winter) and horse riding.
Top Excursions & Activities To Do On An Illinois Romantic Getaway
Illinois truly has something for everyone. From outdoor escapes to vibrant city nightlife, couples will never be bored.
Below are our top excursions and activities for those seeking romantic getaways in Illinois:
Fort Sheridan Forest Preserve is located near Lake Forest and is an oasis of nature on the banks of Lake Michigan. Outdoor couples will have the perfect romantic day at the Preserve, where they can enjoy bird-watching, hiking, fishing or simply relaxing next to the tranquil waters.
The Shawnee Hills Wine Trail also cannot be missed. There are eleven top wineries, along with some of the oldest vineyards in the state. Whether you go on a guided tour or drive the 40-mile Shawnee Hills wine trail yourself, you will be in awe of the Shawnee Forest and local shops along the way. You can avoid drinking and driving by staying on-site at many of the local wineries on the Shawnee Hills Wine Trail.
The Starved Rock State Park makes for the ultimate romantic getaway in Illinois for lovers of the outdoors. Waterfalls, canyons and cliff formations await you – infect 14 of the 18 canyons have waterfalls! Whether staying overnight in a secluded cabin or popping in for a day trip, you will not be disappointed.
Here are some further date ideas for visitors to Illinois to make the most of their romantic getaways:
Sample Itinerary & Budget For Your Romantic Getaways In Illinois
Day 1 – Chicago and Ottawa
Start off with an early morning walk along the Lakefront Trail or go on a scavenger hunt for local art around Chicago before heading to lunch at Everest for some French food and views of the city. After lunch, you can make the short drive to Ottawa, where you can stay in the historic Fox River Bed and Breakfast.
Day 2 – Ottawa to Springfield
After your complimentary breakfast at your accommodation, spend some time exploring Ottawa. Walk around the historic Washington State Park, and grab lunch at The Lone Buffalo.
After lunch, head on through to the city of Springfield, where you can enjoy fine dining at Indigo Restaurant before settling in for the night at any of the amazing accommodation options in the city.
Day 3 – Road trip to Galena
The drive to Galena may be four hours, but it will be worth it. The drive will see you heading through Peoria, across the Illinois River, into neighboring Iowa, and then back into Illinois across the Mississippi River.
Once in Galena, you can explore the quaint town and historic architecture, and stop off at one of the lovely bed and breakfasts in town.
Estimated Budget
| | |
| --- | --- |
| Activity | Price |
| Accommodations: | $60 for a budget hotel to $800 for a five-star resort |
| Mode of Travel: | $72 per day for a car rental |
| Dining and Drinks: | $24.50 per person |
| Excursions: | There are plenty of free excursions in Illinois if you are happy to walk around or visit local parks. Access to Starved Rock State Park is free, tasting along the Shawnee Wine Trail is on average $5, and access to museums is around $10 – $20 per person. |
Frequently Asked Questions
How much does an Illinois romantic getaway cost on average?
It really depends on where you stay, how long you stay, how far you drive and which excursions you enjoy.
On average, you should budget for around $250 per person per day if you wish to rent a car, stay in mid-range accommodation and do one excursion daily.
When is the best time to visit Illinois?
Illinois really comes alive between mid-April to early October. Although there is some rain during the summer months, the temperatures are comfortable between 60-86 degrees Fahrenheit.
How long do people typically spend in Illinois on a romantic getaway?
You can see two or three towns or cities in the span of a long weekend; however, a 5-day trip will allow you to see the best the state has to offer.
Start Planning The Ideal Romantic Getaway
Romantic getaways in Illinois can be adapted to suit every kind of couple. From those seeking luxury and relaxation to adventurous nature lovers – there is something for everyone.
Make sure to check out Couples Travel to begin planning your perfect romantic escape!