Whether it's the romance package of the Ambassador Hotel in Tulsa, the mountain air of the Quartz Mountain Resort in Southern Oklahoma, or the queen-sized hammock at Stone Creek B&B in Broken Arrow, you can be sure there are romantic getaways in Oklahoma to suit your budget.
Oklahoma is jam-packed with all things natural, including its cowboy culture and Native American traditions. Combining these with a little city charm will find you those romantic getaways in the Sooner State that the doctor ordered. Yessiree.
What Makes Oklahoma Perfect For A Romantic Getaway?
Oklahoma. It's the land of the cowboy, where chicken fried steak and fried okra are staples, and a man knows exactly how to woo a lady. Oklahoma is one of the original romantic states, and, as such, you should not overlook it as your romantic destination.
With its mountains and fresh air, walking trails, and famed hotels, everything about Oklahoma shouts old-school. That's how a man should want to treat a lady and how the lady would like to be treated. To a point, of course.
You might only be free for a weekend, or perhaps you've got the whole week. In Oklahoma, it makes no difference. Time will stand still with the one you love in a secluded getaway like a rustic lodge or in your own steam sauna. Romantic weekend getaways in Oklahoma should set you back less than two thousand dollars – a small price to pay for a slice of heaven.
Most Romantic Getaways in Oklahoma
The thing about Oklahoma is that there are so many potential destinations you could consider for your romantic getaways. Everywhere you look, there's a positive point or feature. Oklahoma has museums, music, and art, and we haven't even touched on nature yet. There's hiking, birdwatching, white river rafting, ziplining, and fly fishing. Wait, there's still more.
Pampering. There's no shortage of this in Oklahoma. Whether you're into whirlpool tubs or a walk-in shower, there's a chance. If you want spa services or a swim in a warm indoor pool, it's a possibility. Romantic getaways in Oklahoma are about reaching out for the opportunities that come your way. You'll remember them for a lifetime.
We'll look at romantic destinations in Tulsa, Oklahoma City, and Norman.
Tulsa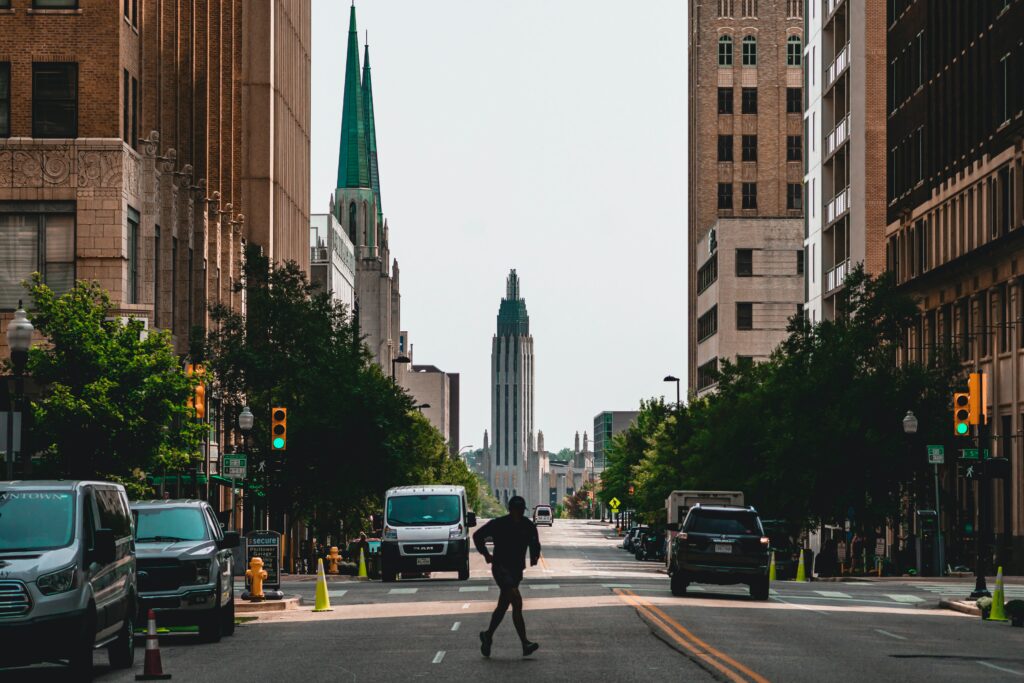 Tulsa's blend of arts and culture, music history, and outdoorsmanship makes it a perfect destination for romantic getaways in Oklahoma. There are many prime locations you can call home throughout your stay.
There are some engaging museums to stroll through when you're not otherwise physically active. Art buffs can tour the Philbrook Museum of Art, the Western American 108 Contemporary, and the Gilcrease Museum. You could also visit the Brady Arts District and its fine galleries.
Music fans can take a trip down memory lane by popping into the Woody Guthrie Center or calling on the Oklahoma Jazz Hall of Fame. The Tulsa Ballet often performs at the Tulsa Performing Arts Center too.
You could see the Tulsa Air and Space Museum & Planetarium, the Tulsa Zoo, and the Aquarium.
If you prefer the outdoors, the Tulsa River Parks has 26 miles of hiking and biking trails, where you can also rent a bike. Turkey Mountain Urban Wilderness Area also provides hiking. Maybe you could stroll through Woodward Park and smell its 9000 roses.
Best Accommodations in Tulsa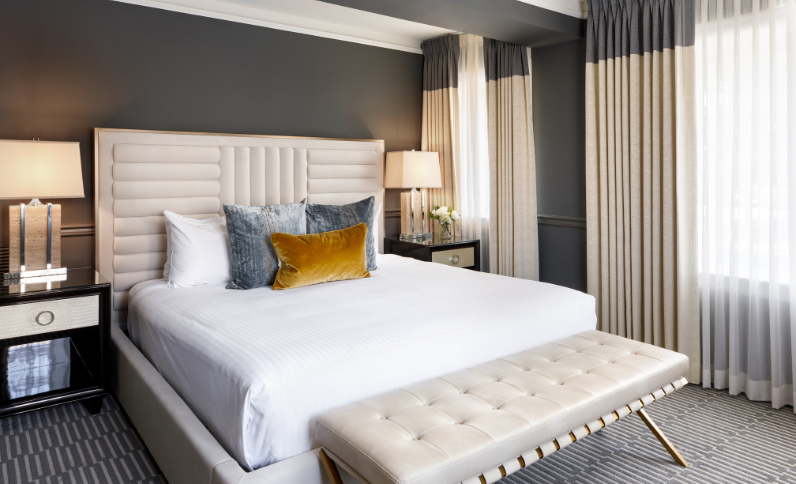 Price per night: From $194
The Ambassador Hotel Tulsa is a Tulsa boutique hotel with numerous awards – the Marriott Guests' "#1 Autograph Hotel" and the U.S. News & World report's "Best Hotel in Oklahoma" titles included.
The hotel's Chalkboard restaurant is a busy gastropub renowned for its pork belly, beef wellington, and a range of interesting drinks. For romantic foodies, this alone makes it one of the best romantic getaways in Oklahoma.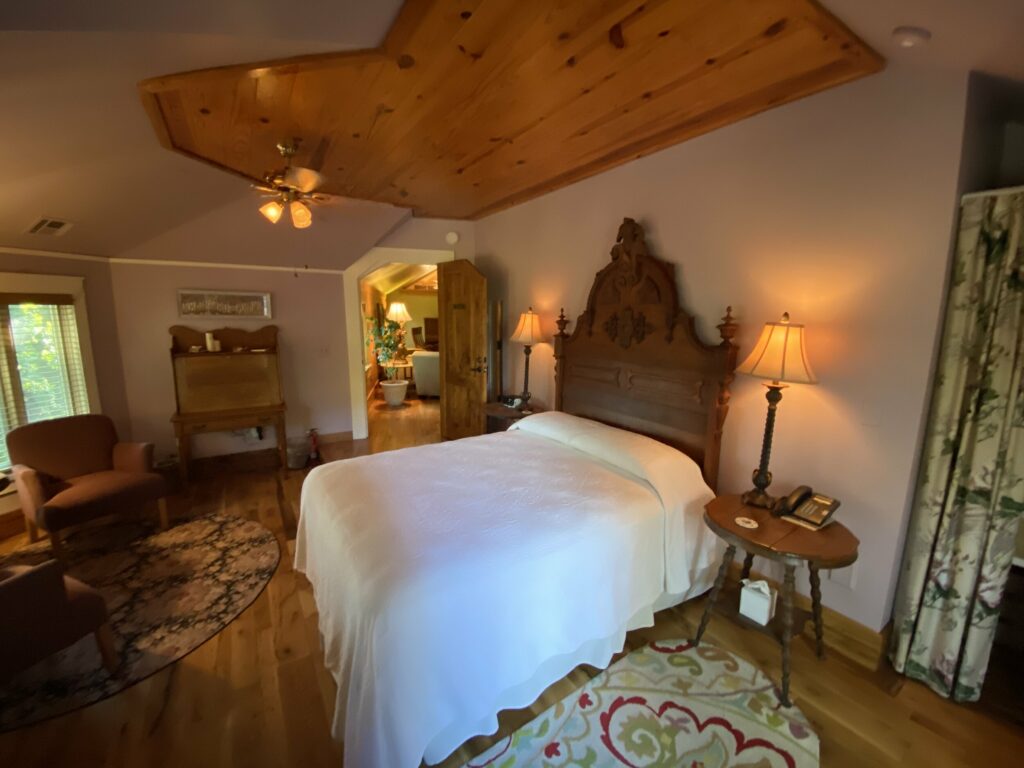 Price per night: From $230
The Cedar Rock Inn's stone building has stood since 1890. Numerous renovations ensure it's a popular location for romantic getaways in Oklahoma. It combines contemporary luxury and natural surroundings to suit the most discerning guests.
Regain your vigor after an energetic night with their gourmet breakfast before chilling on the sheltered patio. Take a stroll down one of the hiking trails starting at the Redberry Farm, where the inn is located. Afterward, you can enjoy homemade chocolate-chip cookies out of the bottomless jar at the inn.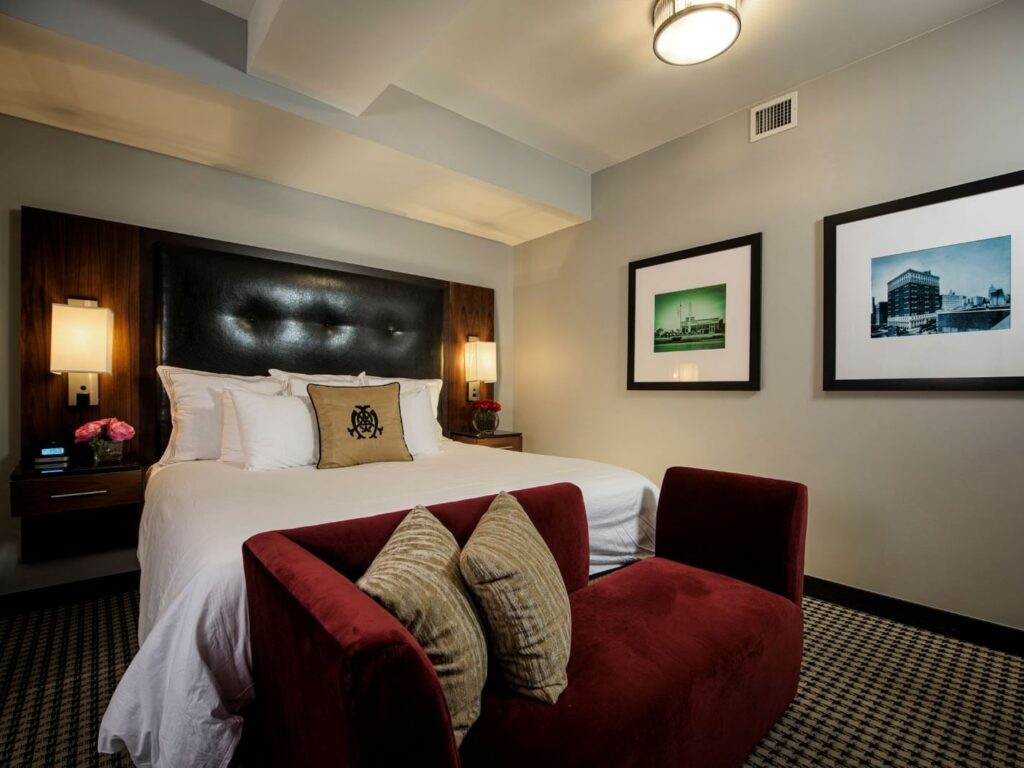 Price per night: From $154
The Mayo Hotel has been open since 1925 and is now quite the Tulsa landmark. The $42 million 2009 upgrade has incorporated contemporary flair into a building filled with rustic charm. The Mayo is close to many Tulsa attractions, including the Gilcrease Museum, the Bok Center, the Philbrook Museum of Art, and Utica Square.
"Making romantic memories at The Mayo" is only one package the hotel offers, designed especially for romantic getaways with champagne and chocolate-covered strawberries included in the deal and discounts for longer stays. With several food and drink establishments on the premises, the Mayo Hotel is a prime destination for foodies.
Oklahoma City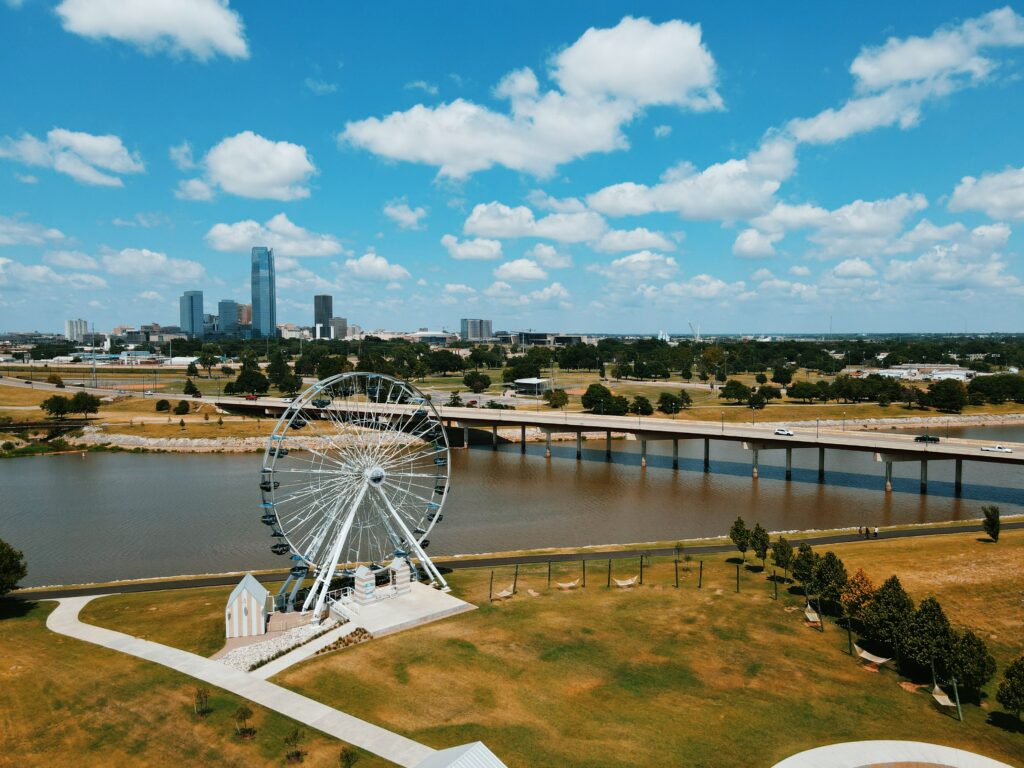 Oklahoma City is the perfect destination for romantic weekend getaways. With sunshine all year round and a hodgepodge of attractions available to lovebirds, it's often visited.
The Cowboy and Western Heritage Museum and American Banjo Museum both provide entertainment value. At the same time, the Oklahoma History Center and Oklahoma Hall of Fame will enchant history enthusiasts.
Art and music enthusiasts will love the Civic Center Music Hall, with ballet and classical music predominant.
The Boathouse District offers kayaks, canoes, and paddle boards to rent. Riversport offers zipline rides and white-water rafting.
Athletic types can keep active with hiking trails at Lake Hefner and Stinchcomb Wildlife Refuge. Nature walks at Martin Park Nature Center can also keep you moving, with the splash park at Myriad Botanical Gardens perfect for the young at heart.
Best Accommodations in Oklahoma City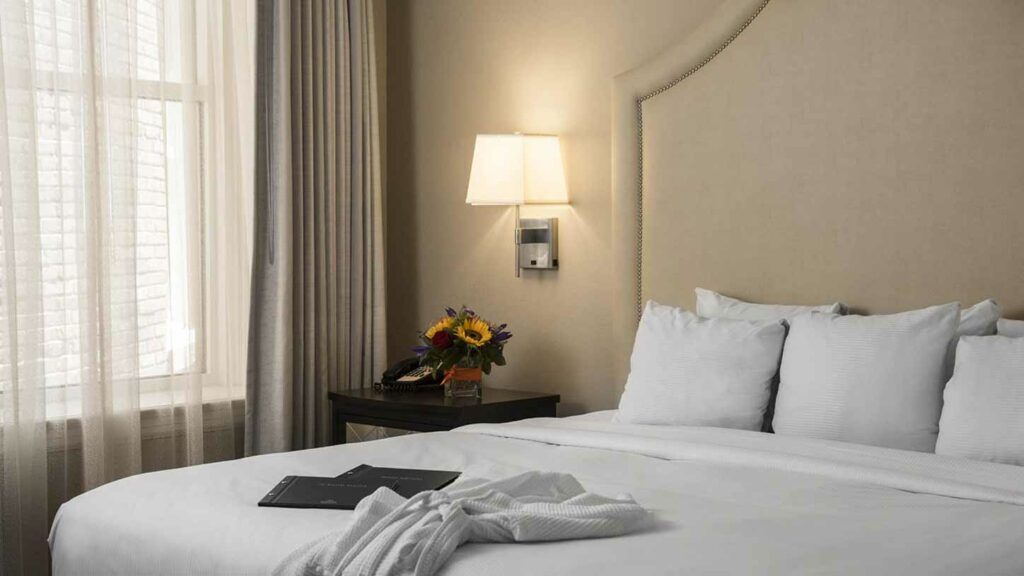 Price per night: From $164
For some, romantic getaways in the city can be every bit as appealing as a romantic couple's cabin or a mountain escape are for others. The Skirvin Hilton in Oklahoma City enables city slickers to stay in their natural habitats while away from home. Its location grants easy access to everything the city has to offer.
The Skirvin Hilton has Historic Hotels of America membership. It's close to the renowned Bricktown Entertainment District, but you needn't pop out for entertainment. The hotel's own Red Piano Lounge can provide it so you can enjoy your weekend getaway sipping top-class cocktails to the sounds of live jazz music.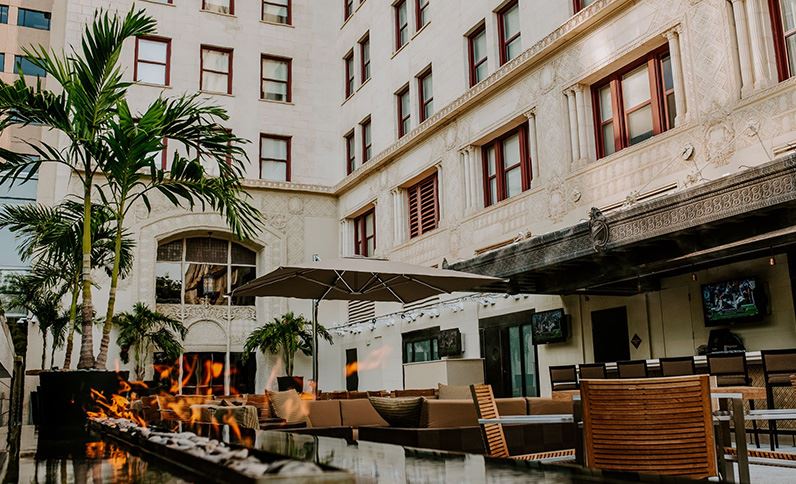 Price per night: From $189
Since its opening in 1910, the Colcord Hotel has grown a reputation as one of the most luxurious hotels in Oklahoma City. The Colcord hotel rooms include luxurious Euro-top mattresses, soft robes for romantic couples, and complimentary morning tea or coffee. With Flint and Vast, two delectable restaurants in the hotel, you needn't go far for mouthwatering food.
The Colcord Hotel is only a stone's throw from the city's highlights. Take a stroll down the Bricktown Canal to enjoy the Myriad Botanical Garden's flowers and natural scenery, or admire the Oklahoma City Museum of Art's many fine works. The Colcord Hotel is a prime destination.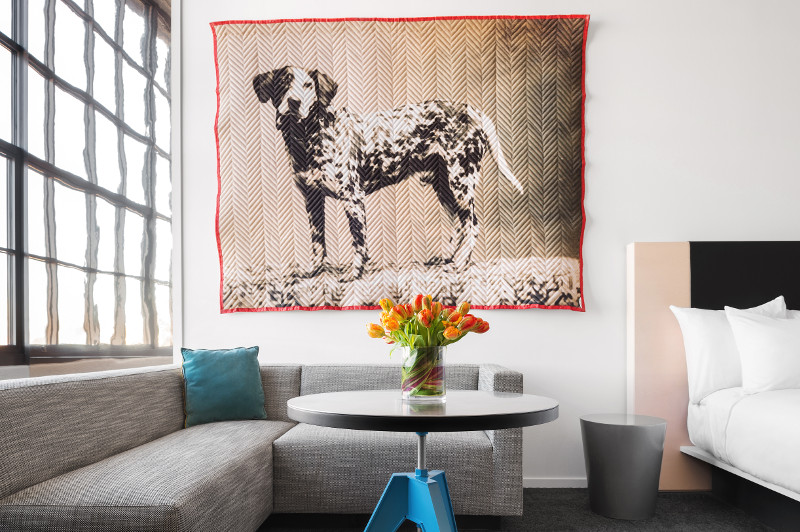 Price per night: From $139
Art lovers, prepare for one of the best romantic getaways in Oklahoma if you book into the 21C Museum Hotel. It incorporates a contemporary art museum, with the astounding River of Time and Woozy Blossom among its breathtaking pieces.
The 21c Museum Hotel has 135 guest rooms, a spa, and the phenomenal Mary Eddy's Kitchen to enjoy that romantic dinner. When you do leave your bedroom, there's plenty to do. Ride the Bricktown Water Taxi, visit the Crystal Bridge Tropical Conservatory, or check out Milk Bottle Grocery and its giant milk bottle.
Norman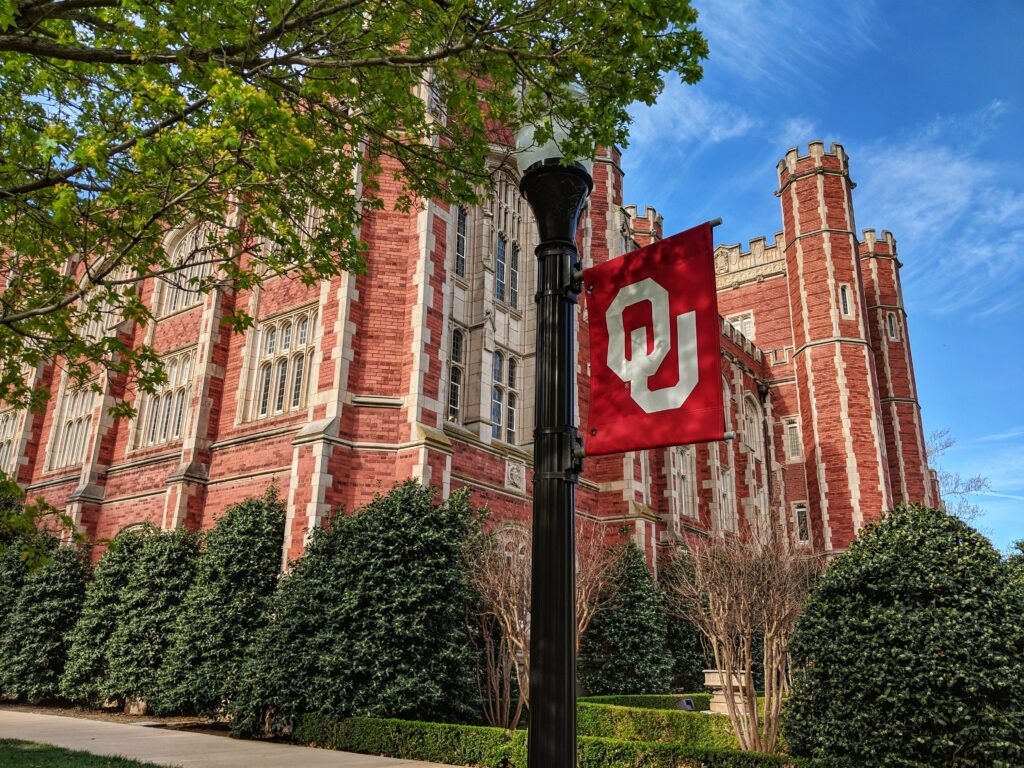 Norman is a delightful destination for a romantic getaway, positioned only 20 miles to the south of Oklahoma City. The town has various engaging educational, fun, and cultural activities. There's a Welcome Center in Main Street where helpful locals are on hand to provide you with maps of the area and countless tips on where to go.
Visit the Alpha Chi Omega Sorority House, the Beta Theta Pi Fraternity House, and Boyd House if you want to see three different styles of local historical architecture. Afterward, stop at the Chautauque Historic District to see attractive historical homes from the 1920s.
The Fred Jones Jr. Museum of Art contains works by Renoir, Monet, and Van Gogh. You can also visit the National Weather Center, the Discovery Cove Nature Center, and the Sam Noble Oklahoma Museum of Natural History.
Lake Thunderbird State Park is perfect for watersports, hiking, cycling, or camping.
Best Accommodations in Norman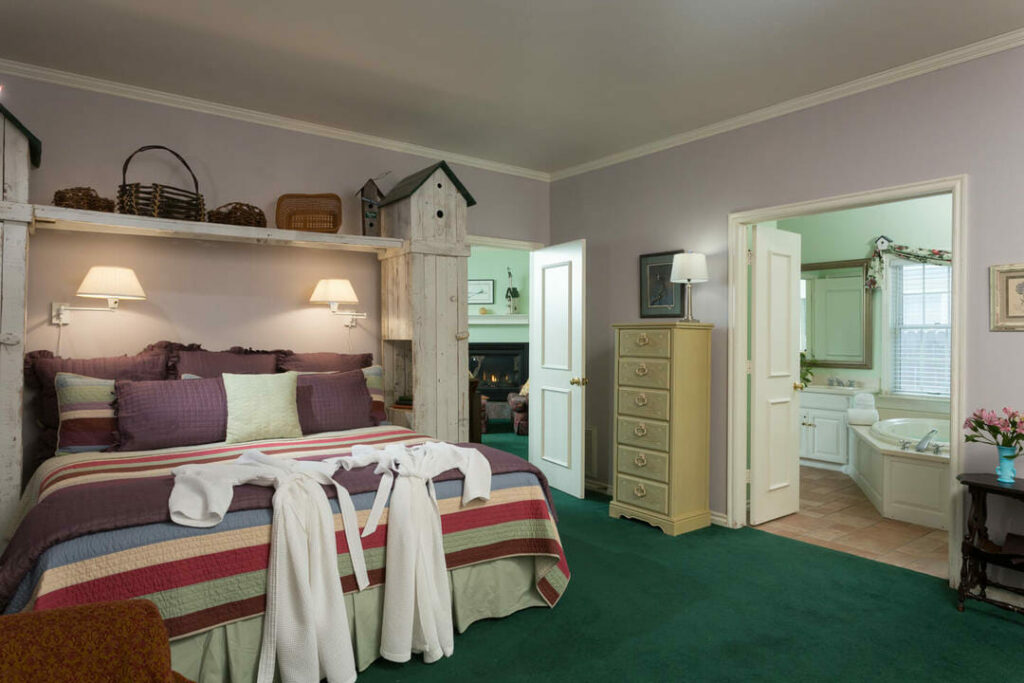 Price per night: From $140
Norman's Montford Inn Bed and Breakfast has 16 rooms, and it is one of the town's most romantic hotels. All rooms include WiFI, cable TV, fireplaces, and private bathrooms. The adjoining cottages are perfect for romantic getaways and include a private balcony or porch with a screen, hot tubs, and a king-sized bed.
Lovebirds can take a romantic stroll through the pristine gardens or relax on the shaded patio. The dining room hosts breakfast every morning, with a variety of fruit, pancakes, eggs, bacon, and smoothies available. One of Norman's fine restaurants or cafes makes lunch or dinner a delight when shared with your loved one.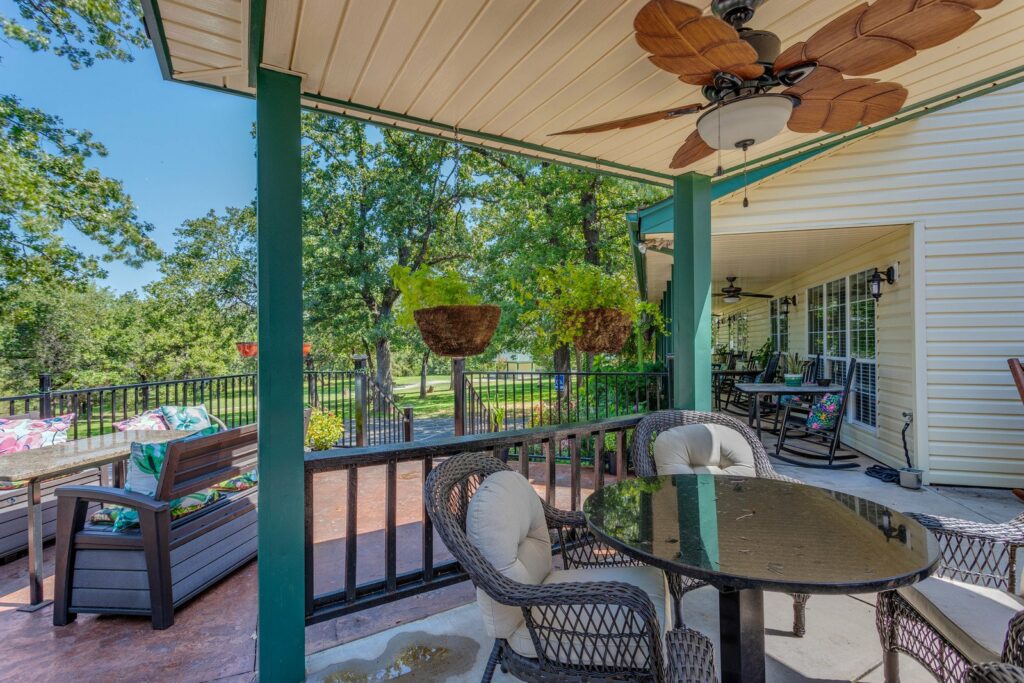 Price per night: From $79
Experience unique country hospitality at The Whispering Pines Inn, a rustic old-school bed and breakfast with seven individually-decorated rooms. All rooms include cable TV, a microwave, a fridge, a coffee maker, and a DVD player. Couples can spend hours together in the lush landscape and koi pond, with a two-seater swing to try.
The inn's restaurant includes a bar stocked with different liquor, wine, and beer and offers dinner and brunch to patrons. Gourmet dinner options include pork tenderloin, shrimp cocktail, and several others. Room service is also available. Two casinos, an IMAX theater, horse riding, and a park make up nearby options for entertainment.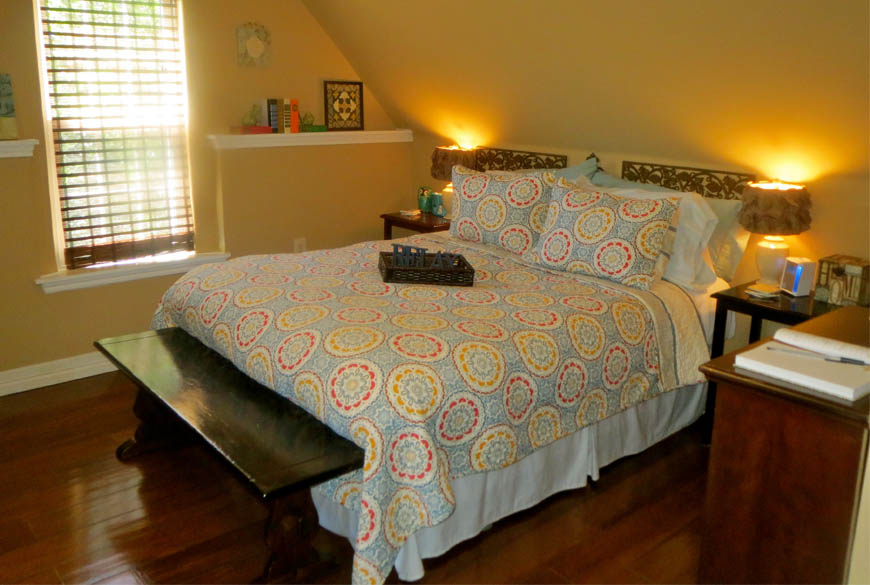 Prices per night: From $150
The Manor Bed and Breakfast is the perfect hideaway for romantic Oklahoma vacationers. With only a single suite, couples are assured that they'll receive personal service. The suite includes a private bath and a private hot tub for two, including water jets, and is positioned under a skylight.
Also included in the suite are a minibar, a coffee maker, a 32-inch flat-screen TV, and a balcony. There is free WiFi, private access, and a romantic fire pit, with complimentary snacks on offer from The Manor. You can enjoy a delicious breakfast in bed, in the dining room, or on the patio. The B&B is within walking distance of a range of parks and museums.
Top Excursions & Activities To Do On An Oklahoma Romantic Getaway
Depending on where you go for romantic getaways in Oklahoma, you can partake in activities while taking time away from your room. We've mentioned three destinations and some of the highlights you'll enjoy there, but what of the rest of the Sooner State? The Wichita Mountains, Lake Murray, and the famed Route 66 provide weekend getaway options.
Traveling down the portion of Route 66, which dissects through Oklahoma, is a romantic weekend adventure. Be flexible with your schedule to spend time at the hotspots you want to know more about. It's easy to take day trips from both Tulsa and Oklahoma City, but you could also explore the possibility of overnighting on the route.
Oklahoma's Wichita Mountains are a sight to behold. It's about a 90-mile trip from Oklahoma City to reach them, so a day trip driving through the passes and admiring the scenery is possible. There is a lot of cabin lodging in the region where you could stay if you're keen to spend more time in the mountains.
Lake Murray, specifically the Lake Murray State Park, is one of the attractions you don't want to miss during romantic getaways in Oklahoma. Watersports on offer include jet-skiing, paddle boating, sailing, kayaking, and canoeing. Equipment for these is available to rent at the lake, and there are also several great fishing spots.
You can hike, bike, or bird watch if you prefer dry land. There are numerous trails, some even dedicated to off-road motorcycling and quad biking. There is also an 18-hole golf course, tennis courts, badminton courts, and volleyball nets. Some romantics prefer a round of mini-golf instead – you're in luck, as the lake has that too.
Lake Murray State Park is a reasonable distance from Oklahoma City and Tulsa, so if you choose to stay over, there are also cabin facilities on site.
Sample Itinerary & Budget For Your Romantic Getaway In Oklahoma
We've created a sample itinerary for one of any number of romantic getaways in Oklahoma that are possibilities. We'll look at long-weekend romantic getaways in Oklahoma City and how you could spend your time in the state capital.
Day One
Arrive in Oklahoma City and book into your hotel of choice, the Skirvin Hilton.
Stop at the Harvey Bakery & Kitchen for breakfast. Choose from a variety of toasted or plain sandwiches and anything else on their delightful menu.
Get right into exercise with a spot of white water rafting at Riversport, or hit the SandRidge Sky slide. Whatever tickles your fancy – both options will get you pumped for the fun and romance that awaits you.
Visit the First Americans Museum and understand the past atrocities experienced by the 39 tribal nations. Note the stories and the artifacts of these first Americans during their thousands of years in America.
Go back to the 80s at the Flashback Retropub. You can play Space Invaders, Donkey Kong, and the original Playstation games while sipping on pink drinks. If you drink pink drinks.
Finish off the day with an early meal at Barrios Fine Mexican Dishes. Give the Spicy Peanut Kale salad or the Lamb Barbacoa Tacos a try. Round off the day with a romantic walk through the park to enhance the mood before heading back to the hotel for a hot tub, nightcap, and more.Cost for day one: $700
Day Two
Wake up feeling refreshed after a romantic night in clean, fresh linen. Head out to Café Kacao for a delicious Guatemalan-themed breakfast. Order some decadent pancakes from their rotating list of flavors, and see why they're ranked among the top 100 restaurants in the U.S. Arrive early, as the cafe doesn't take reservations!
Visit one of the nearby attractions, the Myriad Botanical Gardens, a vast urban garden and park in downtown OKC. It's free, so take a romantic stroll and look at the variety of plant life and vegetation, along with the other interactive features. Ride the carousel and, if you're daring, dance in the water fountains.
Ride the Bricktown Water Taxi, a form of transport unique to getaways in Oklahoma. Explore downtown OKC riding through the charming canals of the Entertainment District.
If you've got a sweet tooth, visit Pinkitzel Sweet Shop but don't stay too long! Everything's pink, with candies, French macarons, cotton candy, and cupcakes, and that's just the start. There's pink lemonade, pink ice cream, and pink cones too. Take some home to feed your lover in front of the TV later.
Visit the 21c Museum Hotel and take a self-guided tour of the museum before dinner.
Enjoy the Peruvian cuisine of the bohemian La Brasa Restaurant and sample their craft cocktails. Give the Tuna Ceviche or the Peruvian Ribeye a try for dinner before leaving for your drinks destination before retiring.
Catch the elevator to the 7th floor of the Ambassador Hotel and order a drink or two at O Bar. Sip your drinks in the stylish surroundings while taking in the spectacular city views. It's the perfect way to end another day of one of the finest romantic getaways in Oklahoma.Cost for day two: $550
Day Three
Have a last early morning hot tub together before booking out of the Skirvin Hilton and stopping for breakfast at Hatch Early Mood Food. Sip a Frigid Baboon Coffee Cocktail while waiting for your Hatch French Toast and Parfait a la Hatch order to arrive.
The Factory Obscura is worth a visit. Its bold and colorful local art collection includes several immersing exhibits that scream art. Romantic getaways in Oklahoma City would not be the same without appreciating this weird and vibrant experience through the diffraction glasses provided.
Visit the National Cowboy and Western Heritage Museum. It features over 28,000 Western and American Indian artifacts, so enjoy learning about American Indian art and rodeo history.
It's almost time to leave OKC, but first, you must surprise your partner and fulfill your reservation at Nonesuch. This 22-seat, tasting-menu establishment affords you to enjoy the nuances of Oklahoma's cuisine. It has several cocktails to sip on while you savor the culinary samples, including non-alcoholic pairings.Cost for day three: $300
We've included all expenses for two people excluding your gas to and from home. Accommodation, entry tickets, cab or Uber fares, restaurant meals and drinks, and refreshments are all daily costs for this example of one of the best romantic getaways in Oklahoma. The total cost of the weekend is $1550.
Frequently Asked Questions
How much does an Oklahoma romantic getaway cost on average?
A three-day weekend trip to Oklahoma costs around $1350 for a couple. If you're looking to spend your nights in a city, this could increase by $200 to $300.
When is the best time to visit Oklahoma?
The best months to visit Oklahoma are between June and September, the peak tourism season. The attractions are all functioning, and the weather, although a little warm with a maximum of 95 degrees, is generally sunny and perfect for sightseeing and outdoor activity.
How long do people typically spend in Oklahoma on a romantic getaway?
Long weekend romantic getaways are more common than any other period when visiting Oklahoma. It is possible to visit several destinations in the Sooner State during this timespan, and it won't put too much of a dent in your pocket.
Start Planning The Ideal Romantic Getaway
The Sooner State has it all. The great outdoors combine with history, culture, excellent accommodation, and delectable local cuisine for a memorable experience. For true romantics, easy accessibility to different attractions doesn't require any significant expense or traveling time.
In Oklahoma, you'll find those chocolate-covered strawberries, wrought iron patio furniture, a private boat dock, or delicious breakfast without looking too hard. Romantic getaways in Oklahoma make sense.