Congratulations! You've just tied the knot and now want to explore all Japan has to offer. If you love immersive travel experiences, fascinating culture, and delicious food, it's no surprise you're thinking about a Japan honeymoon.
The natural beauty of Japan shines through as one of the most romantic destinations, and given its popularity among many newlyweds, it's just about perfect for any couple.
With this guide, you'll be able to curate the perfect honeymoon in Japan with essential tips on when to go, where to stay, destinations to visit, and most importantly, what to do and what to eat!
What Makes Japan Perfect For A Honeymoon?
Also known as the "Land of the Rising Sun", Japan is a destination to fall deeper in love with your partner while also falling in love with the country itself. The island country's majestic shrines, refined culture, delicious food, and pleasant people are unlike any other.
From the white-sand beaches of laidback Okinawa to the spirited capital city of Tokyo and the fine old streets and architecture of Kyoto, you'll find plenty of beautiful places to see and romantic things to do on your honeymoon in Japan.
Equal with its traditional arts, cuisine, and beautiful sights is Japan's unique spirit of Omotenashi – meaning 'hospitality' – which can be found in every corner of the island country. Japan prides itself on its safety, cleanliness, and hospitality to tourists, so you'll feel welcomed and comfortable at every destination here.
Best Honeymoon Resorts, Hotels, and Other Stays in Japan
For some, a place to stay is just a place to sleep while they spend their days exploring. For others, a hotel or resort is part of the honeymoon experience. Whatever you're looking for, Japan has you covered.
If you're looking to splurge (it is your honeymoon, after all), stay at a high-end luxury Ryokan. This traditional inn is one of the most splurge-worthy experiences to have in Japan with its peak culinary dining and private onsens (hot springs).
Or perhaps you're interested in a beach-side villa for your stay? What about a luxury room above the bustling city of Tokyo? Japan is home to some of the world's most stunning hotels and resorts. Find the top honeymoon favorites below!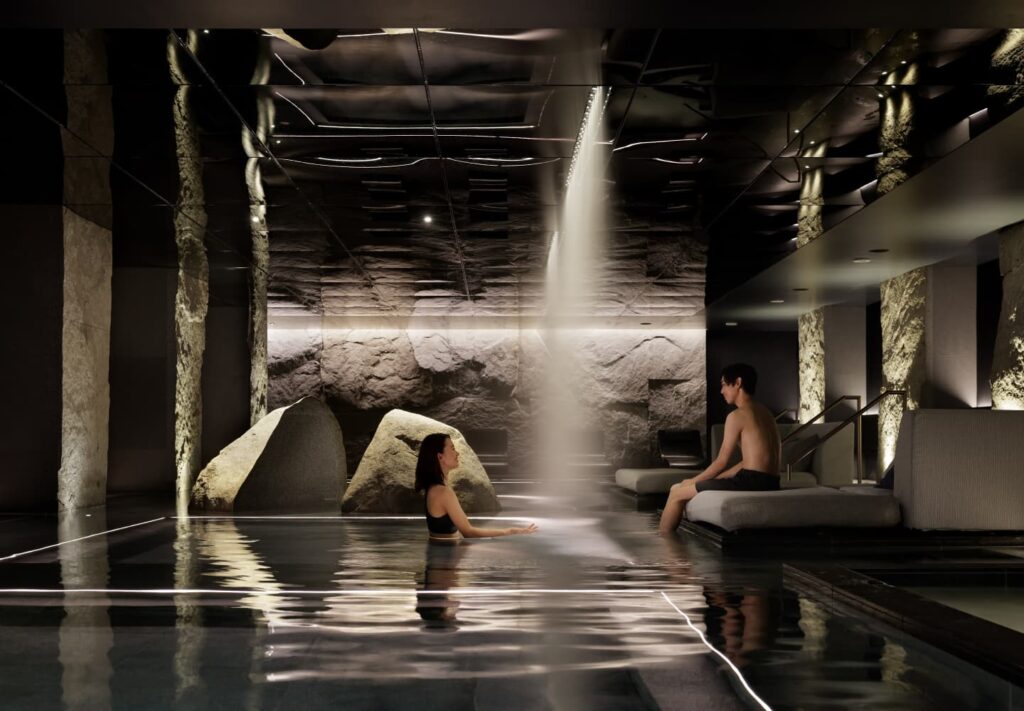 Price per Night: $600-$12,000
Best For: Short stays, younger and older couples, luxury spa treatments
Availability: Limited
Enjoy a stay in the cultural heart of Japan at Hotel the Mitsui Kyoto, a luxury accommodation that boasts stunning architecture, Japanese history, and a natural environment right across from Nijo Castle.
The hotel brings the finest ingredients and gastronomic experiences to your plate with 5 restaurants and bar facilities surrounding the hotel's beautiful garden. Their 161 suites are a modern reimagining of the traditional Japanese tearoom, and some even feature access to a natural onsen hot spring.
All suites and rooms come with climate-controlled air-conditioning, free WiFi, and kitchen amenities.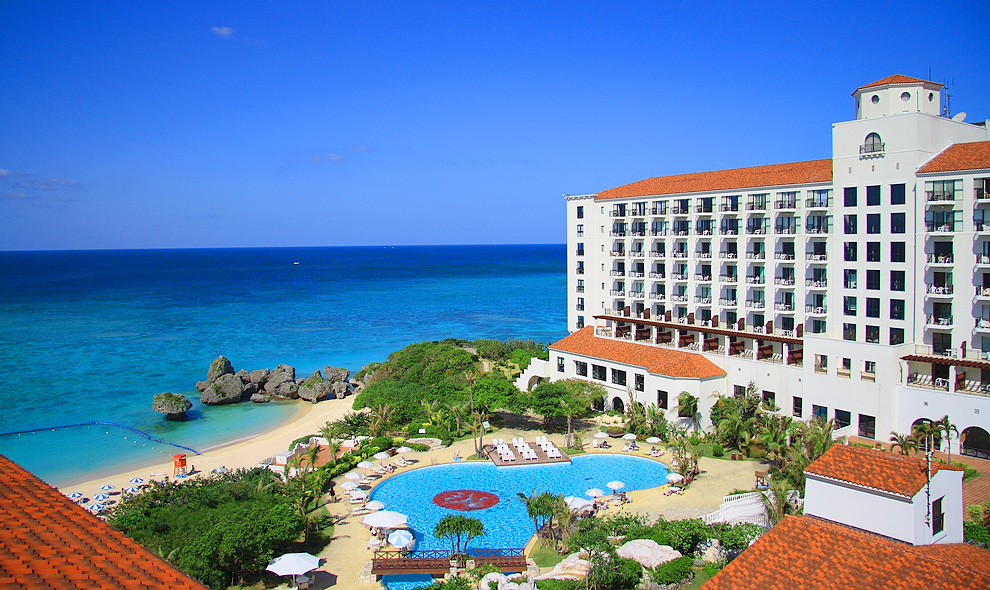 Price per Night: $240-$480
Best For: Long stays, budget options, on-site dining and activities
Availability: Easy to book
Experience elegance and refinement at this stunning resort banked by Okinawa's coral reef and Nirai beach. A hotel strategically situated in Yomitan, it allows you proximity and access to local attractions and sights.
With the resort's 7 restaurants and bar facilities, you can enjoy a wide variety of dishes and food experiences that suit every taste. Start each day with a delicious in-house breakfast before enjoying the recreational opportunities offered by the hotel, like spa treatments, watersport activities, and beach horse riding!
Each room is designed for your comfort, with some equipped with air conditioning, linen service, a balcony or terrace, and in-room entertainment and kitchen amenities.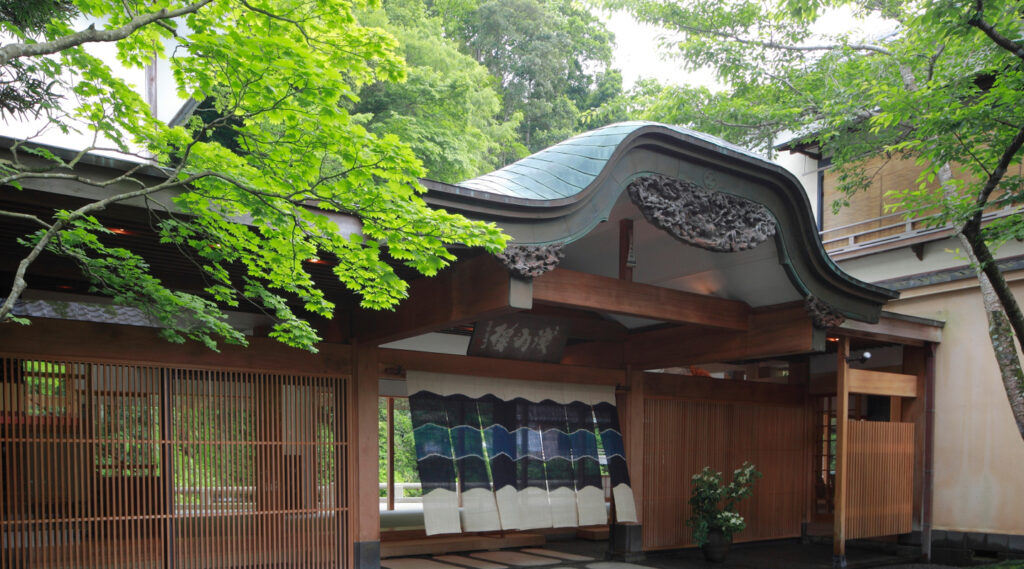 Price per Night: $1,200-$4,300
Best For: Short stays, younger and older couples, activities, peaceful getaway
Availability: Limited
Nestled in the mountainous Izu Peninsula and amongst the lush greenery of the hot spring onsen town Shuzenji, enjoy a tranquil retreat in a timeless setting at Asaba, one of Japan's finest traditional ryokan inns.
Taste rich combinations of sweet and savory traditional dishes for various seasons, or experience serenity at its finest with a dip in the indoor and outdoor onsen hot springs. This romantic location is perfect for nature lovers with activities like hiking, biking, fishing, canoeing, and diving.
The 11 rooms at Asaba are all traditional Japanese style with tatami flooring, but include WiFi and air conditioning. The intimate and serene atmosphere makes for one of the best romantic honeymoon destinations.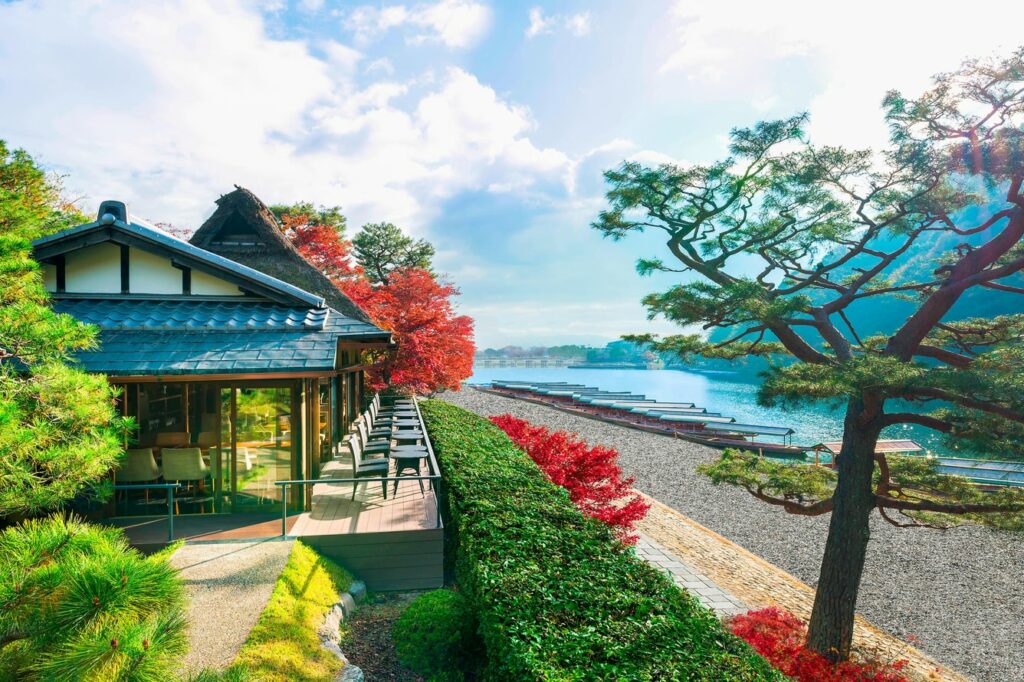 Price per Night: $500-$2,000
Best For: younger and older couples, sightseeing, peaceful getaway
Availability: Limited
Immerse yourself in the traditional Japanese culture at Suiran situated along the peaceful and picturesque Hozu River. With its convenient location in Kyoto's popular sightseeing district, Arashiyama, you're placed close to popular attractions and dining spots.
The hotel has an intimate collection of 39 rooms, 17 of which offer onsennatural hot springs for ultimate relaxation, as well as 6 specialty rooms. Relish in an intimate dinner with a locally inspired meal in the 100-year-old traditional Japanese villa, Kyo-Suiran.
Perfect for newlyweds is the hotel's private traditional boat ride and champagne package on the Hozu River during dusk (30 min) or their Arashiyama exploration package with a Rickshaw Tour (80 min) where you can see the world-famous Arashiyama Bamboo Forest, and other historic sites and ancient temples.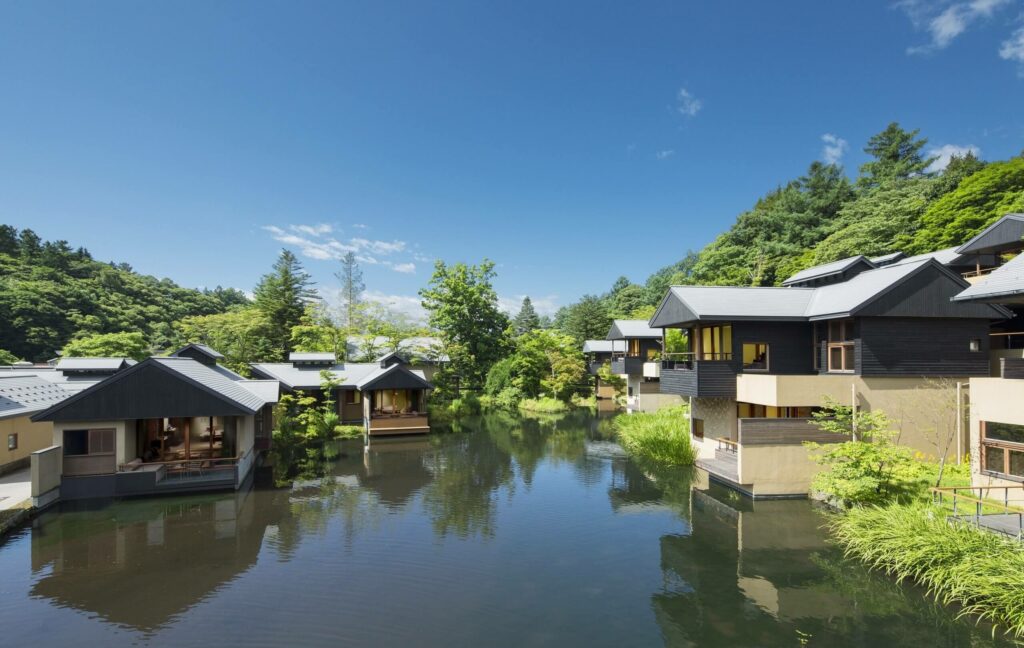 Price per Night: $250-$1,000
Best For: Sightseeing, peaceful getaway, on-site excursions
Availability: Limited
Leave the hustle and bustle of Tokyo with a 90-minute trip into the HOSHINOYA Karuizawa, a secluded mountainside ryokan resort village with natural hot springs and award-winning ec0tours.
If you and your loved one are nature lovers, this is the perfect romantic getaway for you. All guest rooms are designed to surround the resort's location and natural beauty. The resort offers three sets of guest pavilions, each with its own unique setting and layout.
After a walk along the woodland trails, relax with a nature-based spa program and cypress-bath soak before enjoying the seasonal cuisine that connects you to your surroundings.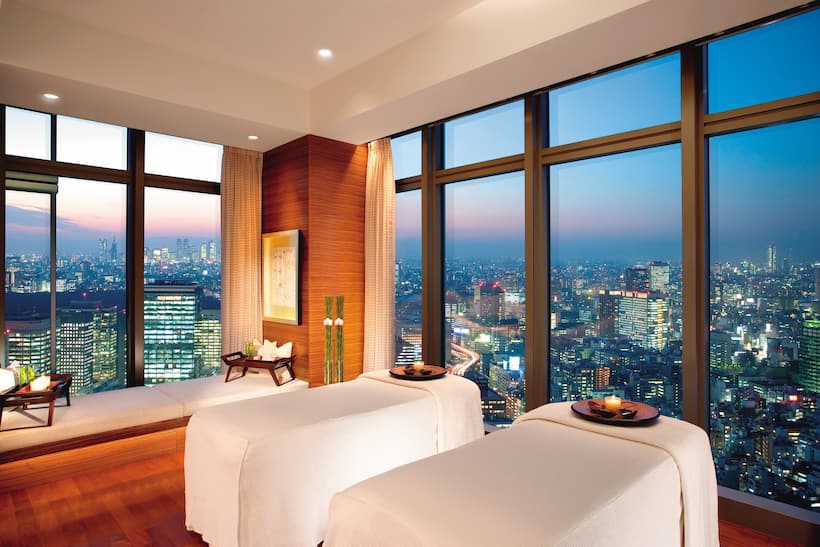 Price per Night: $450-$2,000
Best For: Unique dining, city views & attractions
Availability: Easy to book
If you and your loved one are looking to immerse yourself in the city life of Tokyo, the Mandarin Oriental is a perfect stay for a Japan honeymoon. Experience sophisticated luxury with an award-winning spa, breathtaking views of Tokyo's city skyline, and delectable cuisine across 10 restaurants and bars.
The hotel's 157 rooms and 22 suites artfully capture the core of Japanese style and design with futuristic luxury and walls of windows for a sweeping city view. Relaxation is the hotel's specialty, with a variety of spa facilities and treatments to indulge in.
Explore the beating heart of Tokyo with the hotel's wide range of bespoke experiences, like a Zen meditation class, Geisha performances, paper-making workshops, and private onsens and rickshaw tours.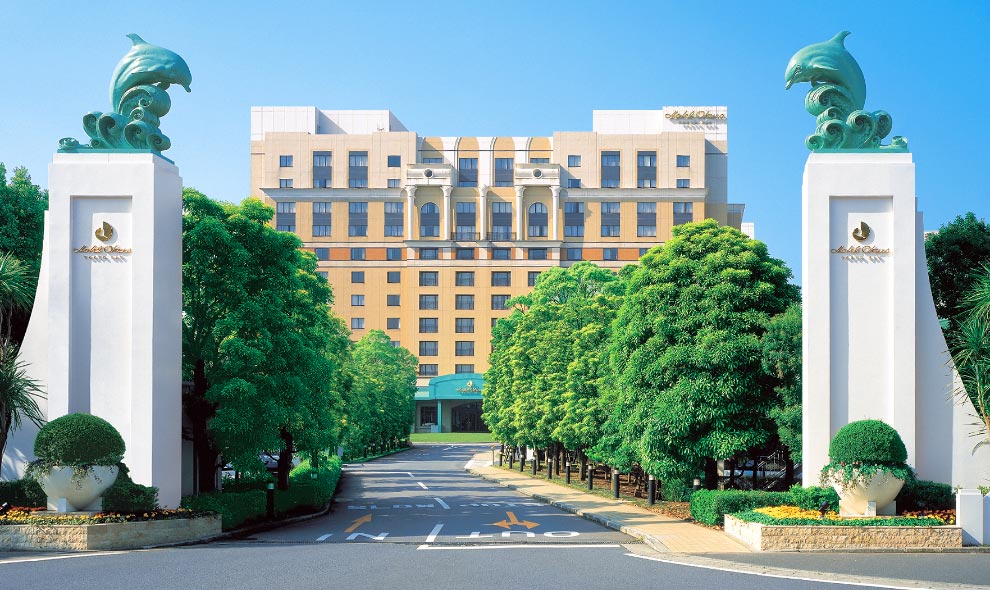 Price per Night: $150-$250
Best For: Popular attractions, long stays, budget options
Availability: Easy to book
If you're looking for a fun, adventure-filled honeymoon, consider staying at Hotel Okura in the Tokyo Bay area. As the gateway to the Tokyo Disney Resort, this is the perfect stay for nearby access to Tokyo Disneyland, Tokyo DisneySea, and a host of other fun and romantic things to do.
Dive into Okura's outstanding hospitality and food as you enjoy the luxurious and spacious guest rooms and facilities with stunning ocean views. All rooms feature air conditioning, a seating area, a flat-screen TV, spacious marble bathrooms with a separate shower booth and bathtub, and kitchen amenities.
Enjoy on-site fine dining with the hotel's Japanese, Chinese, French, and Western restaurants.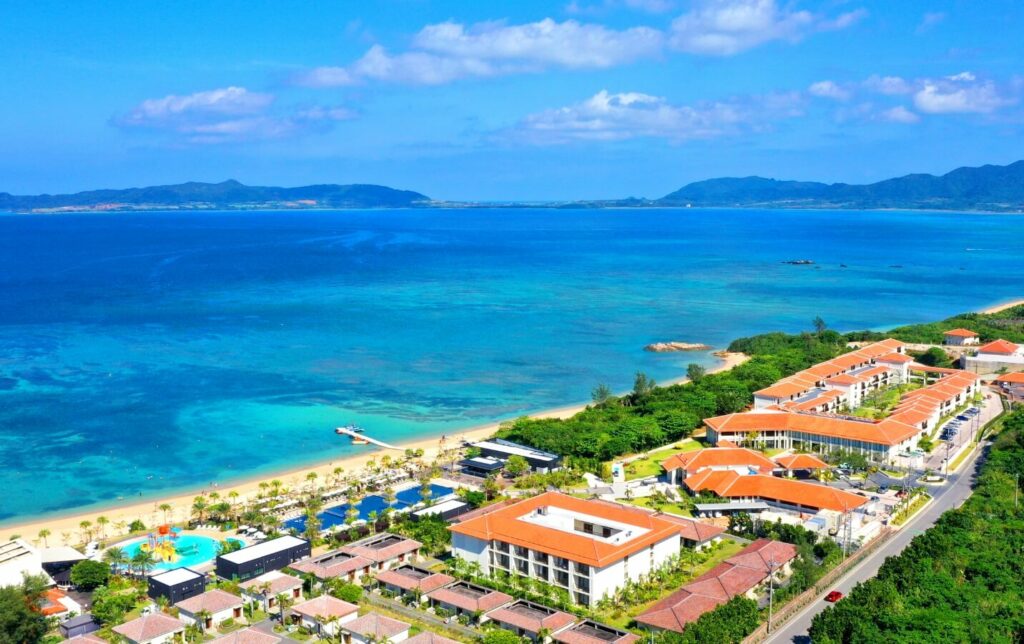 Price per Night: $400-$1,200
Best For: On and off-site excursions, short stays, luxury villas
Availability: Easy to book
The Fusaki Beach Resort promises you the perfect romantic tropical getaway with the sun, sea, and sand right at your doorstep, literally! Experience the heart and soul of Ishigaki Island, the commercial hub of the Yaeyama Islands.
Choose from 17 room types with either a garden or ocean view; all rooms boast luxurious locally inspired décor. The hotel offers a wide range of marine activities like snorkeling, scuba diving, flyboarding, and SUP. You can also find outside tours like a cycling course around Hateruma Island or an Iriomote Kayaking and Trekking Tour to Sangara Falls.
Whether you're swimming with tropical fish, basking in the year-round sun, or witnessing the most stunning sunsets from the hotel beach pier, you'll find absolute bliss and comfort here!
Best Areas To Stay In Japan
A honeymoon is one of the most special adventures for newlyweds, and in a place like Japan, you're sure to make it one of the most memorable and romantic getaways!
Japan's stunning sights and rich cultural heritage create the perfect atmosphere to celebrate the honeymoon of your dreams. A Japan honeymoon can offer anything from the busy city life of Tokyo to noise-free honeymoon destinations like Hakone, Kyoto, and Himeji.
We've put together our picks of the top honeymoon destinations and spots Japan has to offer!
Kyoto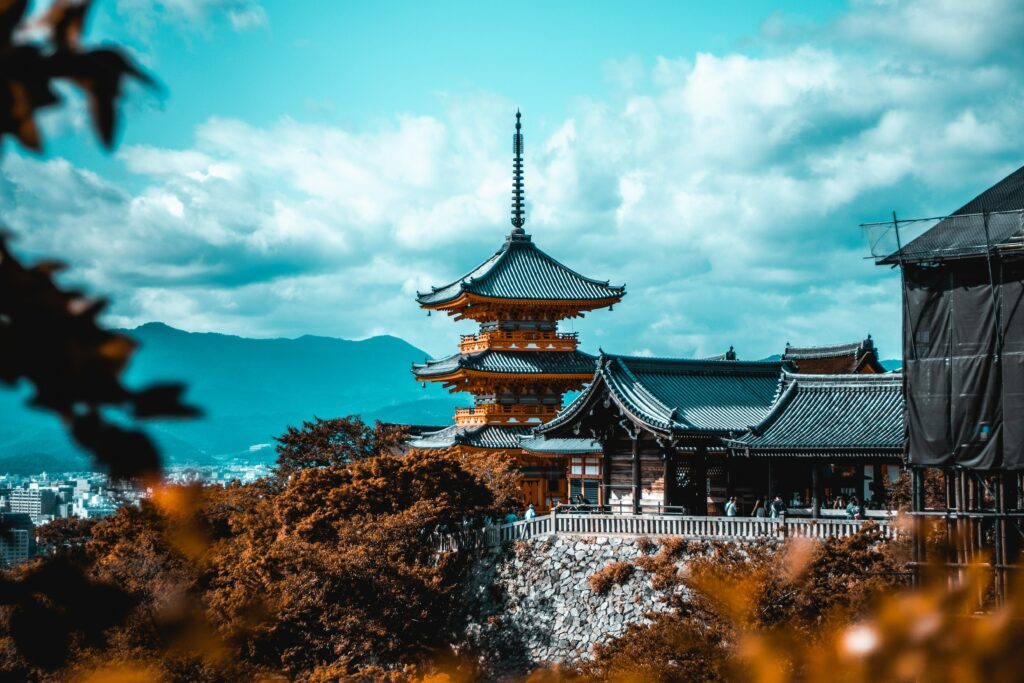 Imagine you and your loved one walking hand-in-hand down beautiful and quaint cobble streets with cherry blossoms hanging above your head. Kyoto is where you'll find this perfect picture.
Kyoto captures historic Japan with its tranquil zen gardens, bamboo forests, time-honored ryokan inns, and beautiful Shinto temples. Feel the love in the air at the ancient capital by visiting the two popular shrines, 'Golden Pavilion' of Kinkaku-Ji and Kiyomizudera 'Pure Water Temple' with the 'Stone of Love' feature.
Kyoto is easily accessible from most cities using your JR Pass (Japanese rail pass), and you can find a range of activities such as a bike or rickshaw ride through the historic city, a tour to the Imperial Palace, and a sophisticated Japanese dining experience with multi-course kaiseki.
Okinawa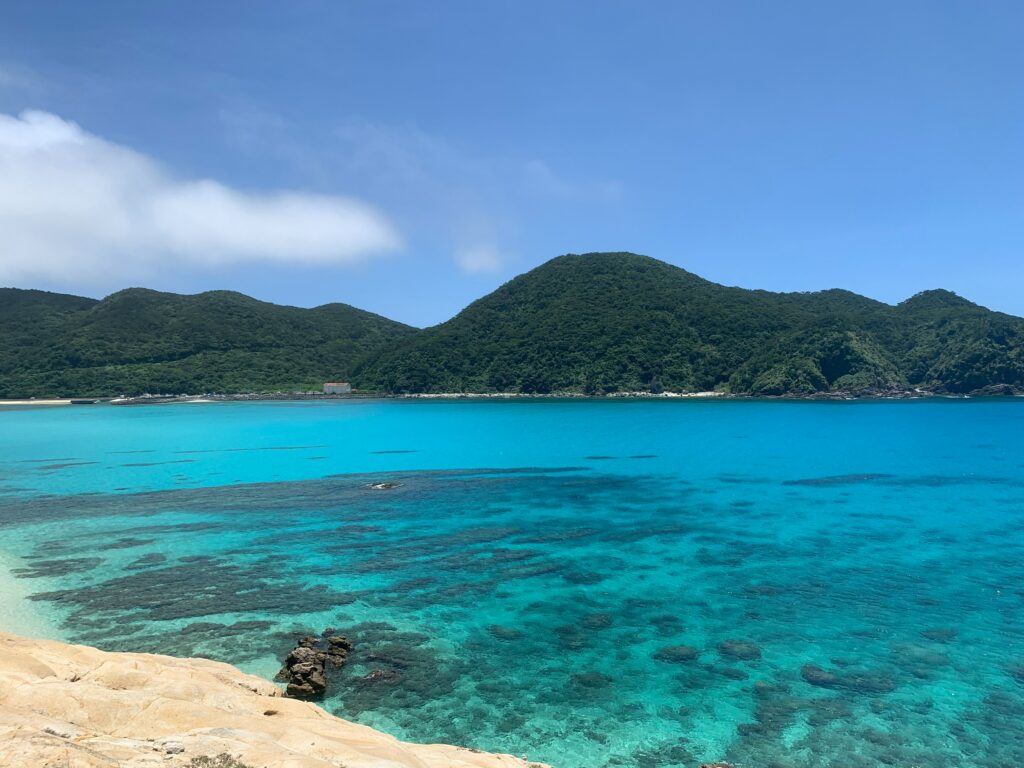 If you're looking for a romantic beach holiday with a taste of adventure, Okinawa is the place! Made up of a chain of 160 islands in the East China Sea, you'll find amazing honeymoon destinations with a treasure trove of sandy beaches banked by clear blue waters.
Snorkel in Okinawa's Blue Cave, visit the mystical Hamahiga Island and have a barbecue picnic on Yojima Island with a cocktail in hand. Check out Taketomi Island for a traditional Japanese experience with its beautifully preserved Ryukyu village.
There's never-ending exploration while island hopping in Okinawa, and you'll certainly feel love in the air!
Mount Fuji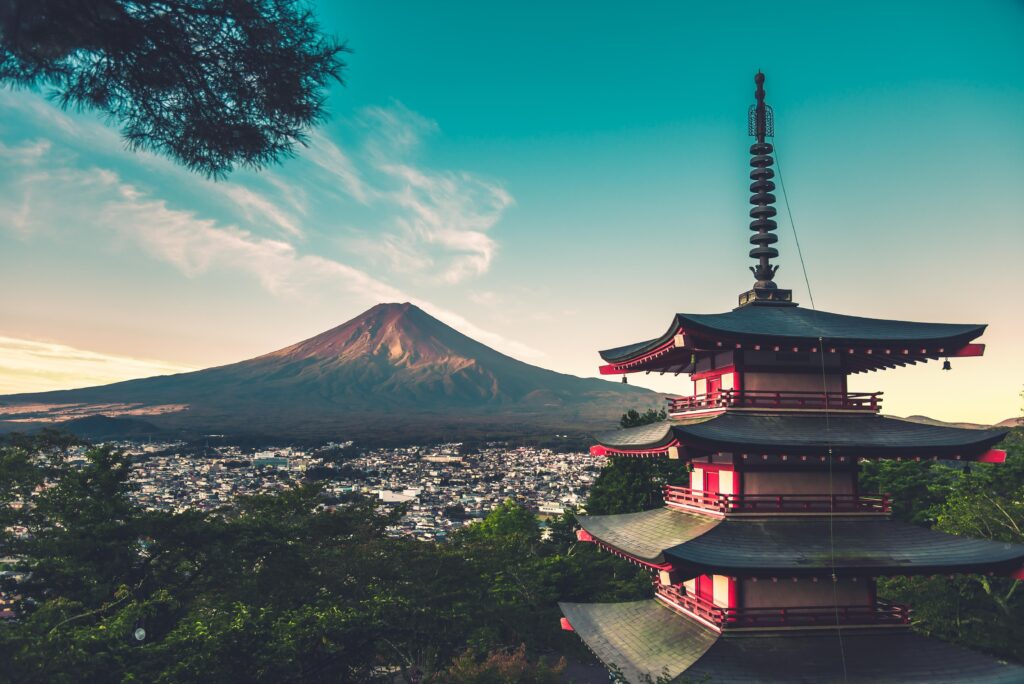 It's no surprise that Mount Fuji made it on the list of the best honeymoon destinations. As an iconic sight with the most romantic backdrop, the sacred mountain is a must-see when visiting Japan on your honeymoon. Especially during spring when the cherry blossoms are in full bloom.
If you're looking to hike the mountain, know that it's not for the faint of heart. But that's not all you can do at this dreamy destination. Visit the peace memorial Chureito Pagoda in Fuji Five Lakes or the open-air Sky Terrace at Hoko Tea Farm for a mesmerizing view of Mount Fuji.
Hida-Takayama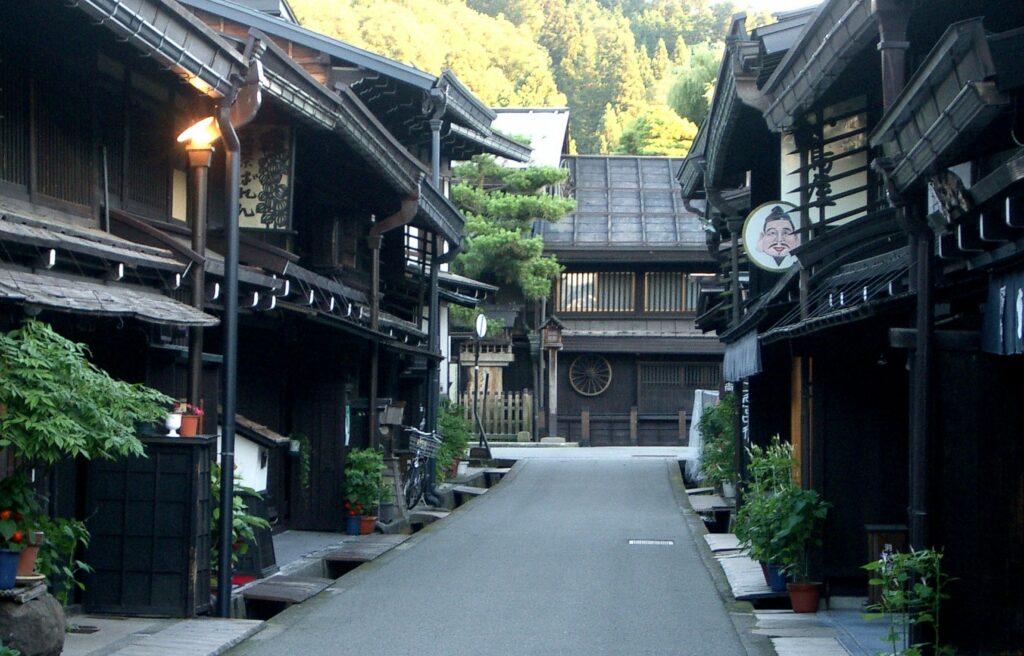 Located in the far north of Gifu prefecture lies the secluded mountain town of Hida-Takayama, which boasts an element of magic with its trees, rivers, and mountains.
The town is one of the best preserved historic areas in Japan, and amongst its greenery, you'll find the old town Takayama houses of Sanmachi. Enjoy the Takayama Spring Festival in April when the beautiful town celebrates cherry blossom season.
Equally well-known for its thriving food hub of Takayama ramen and Hoba Miso are nearby popular destinations like the historic village of Shirakawa-go, the alpine valley of Kamikochi, and one of Japan's premier historic castles, Matsumoto Castle.
Karuizawa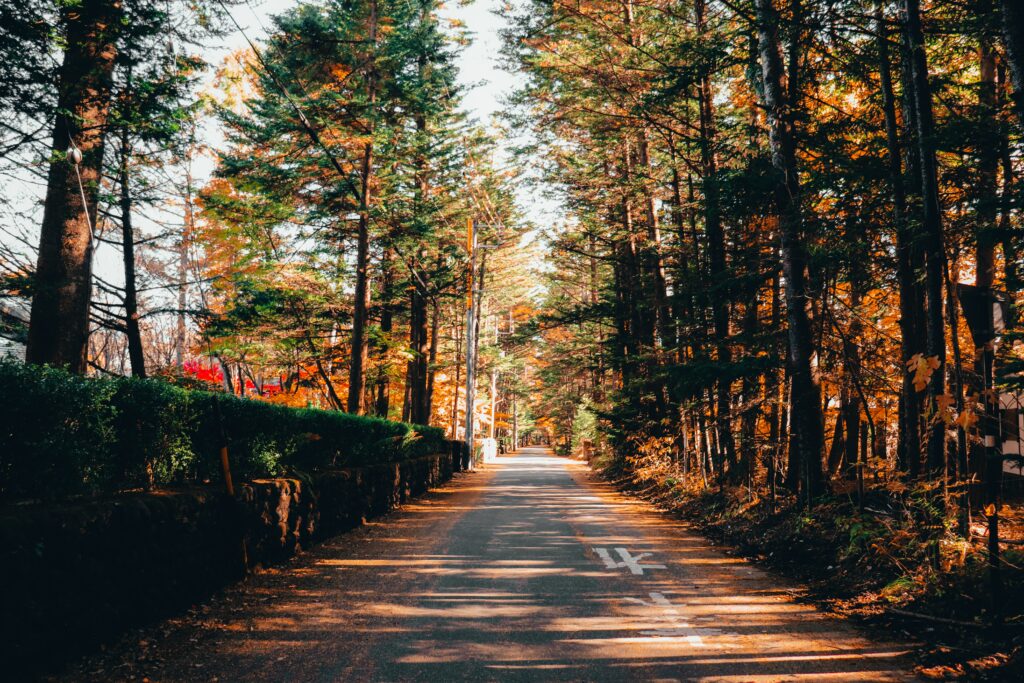 Just over an hour outside of Tokyo with the Hokuriku bullet train, you'll find one of Central Japan's hidden gems, Karuizawa. A popular tourist destination all year round, it boasts mountain peaks, forests, wetlands, alpine flora and fauna, and the active volcanoes Mount Asama and Mount Kusatsu-Shirane.
It's considered a great honeymoon destination for couples looking to connect on a spiritual and mental level with each other. Love imbues the resort town with its churches, Stone Church and Karuizawa Kogen Church, where many Western-style weddings take place.
Skiing and hot springs in winter, cycling and walking paths along sites like Kumoba Pond and Shiraito Falls in summer, whatever season, Karuizawa is the perfect place to be.
Top Excursions & Activities To Do On A Japan Honeymoon
A honeymoon is all about spending time with your new partner, filled with romantic nights, adventurous days, and relaxing activities. A Japan honeymoon offers all of that and so much more!
You'll find everything you can do on a Japan honeymoon below, whether you're looking for some fun nightlife, interesting dining experiences, or fascinating sightseeing and attractions.
While planning your Japan honeymoon, we recommend adding these activities and excursions to your itinerary!
1. Enjoy a Sushi Making Experience at the Tsukiji Fish Market
Learn more about Japan's intimate relationship with seafood with a 4-hour sushi-making class and tour of Tsukiji Fish Market, one of the world's largest seafood markets. Learn from a sushi master and enjoy your creations for lunch.
2. Take part in a traditional Japanese tea ceremony
Discover one of Japan's ancient art forms with a Japanese tea ceremony hosted by a Geisha. This intricate practice, also known as chanoyu – meaning 'the way of tea' – is offered by most ryokans, and there are numerous tea houses around Japan where you can attend one.
3. Spend a magical day trip at Universal Studios Japan
The perfect excursion for adventure seekers, Universal Studios Japan offers world-class entertainment with exciting attractions for Harry Potter fans and anime lovers. And just around the corner, you can also explore Osaka Castle, Shinsaibashi-suji Shopping Street, and Kuromon Market.
4. See Nagano's resident snow monkeys
People aren't the only ones fond of a natural hot spring! Witness the Japanese Macaques, also known as the famous hot-spring-bathing snow monkeys, at Jigokudani Snow Monkey Park. The Park is open year-round, and you can embark on private tours and charters.
5. Let loose at the Epic Robot Restaurant in Tokyo
For those that love an interesting and wacky experience, hit the Epic Robot Restaurant for a high-energy night of dancing, robot battles, and crazy costumes in downtown Tokyo. Why have a normal dining experience when you can experience this neon-filled spectacle?
6. See the cherry blossoms at Shinjuku Gyoen
Nothing says "romantic honeymoon in Japan" more than seeing the beautiful Sakura flowers as you walk with your partner. Take a tour of Japan's most popular place, Shinjuku Gyoen, to view cherry blossom trees and see stunning sights from the Tokyo Tower.
7. See the beauty of Hiroshima Castle
If you're a history buff, you'll thoroughly enjoy a tour at this popular attraction site that honors the past. For only a $2 entrance fee, you can view the beautiful museum inside that details the architecture and traces Hiroshima's history before and after the atomic bomb.
Sample Itinerary & Budget For Your Honeymoon To Japan
Planning a trip to Japan can seem overwhelming at times with the sheer amount of places to see and things to do. How much will this cost? Is travel expensive in Japan? What about food? Ultimately, costs will vary depending on the location you stay in, the time of year you go, and what your priorities are for your honeymoon.
To ensure you experience the honeymoon of a lifetime, here's a rough outline of expenditures you and your spouse can expect to make during a 7-day honeymoon in Japan:
| | |
| --- | --- |
| Activity | Weekly Cost |
| Accommodation | $700 (business hotel) – $12,000 (expensive ryokan inn) |
| Flights | Upwards of $380 (round trip from the US) |
| Food & drink | $1,100 – $2,000 |
| Sushi making experience at Tsukiji Fish Market | $274 |
| Japanese Tea Ceremony | $130 |
| Tokyo Tower & Cherry Blossom viewing | $200 |
| Universal Studios Japan | $180 |
| Epic Robot Restaurant | $160 |
If you're wondering how to fit all of the exciting activities listed above into a 7-day Japan honeymoon, here's an itinerary you can take inspiration from:
Day 1 – Settle into your resort before exploring a little bit of the surrounding area. Find a yatai (small food stall) for a delicious post-flight snack or indulge in one of the spa treatments to really settle into vacation mode.
Day 2 – Immerse yourself in Japanese culture by exploring the local surroundings before joining a Japanese Tea Ceremony in a traditional ryokan or one of the numerous tea houses.
Day 3 – If you're staying more inland, spend a day hiking Japan's beautiful trails and taking a dip in some bubbling hot springs. Or take advantage of some fun water activities and island hopping if you're staying along Japan's coastline.
Day 4 – Visit the beautiful landmarks and popular attractions nearest to you. After which you can treat yourselves to a delicious Japanese meal at one of the local restaurants.
Day 5 – On your fifth day, find out if the resort or inn you're staying in offers any on-site activities, tours, or treatments for you to indulge in.
Day 6 – Choose a final fun activity or excursion for you to take part in. Spend most of your day doing so as you take in Japan's beauty before heading home.
Day 7 – Finish off your honeymoon in Japan with a day of lounging around your resort before catching your flight.
Frequently Asked Questions
How much does a Japan honeymoon cost?
The average cost of a honeymoon in Japan is around $100 per day for two travelers. You should budget for local transportation and meals, which can cost around $50 a day. The price will vary depending on the location of your stay, whether it's all-inclusive or not, as well as the time of year you go.
When is the best time to visit Japan?
Japan is at its most vibrant during Spring (March to May) and Autumn (September to November) with clear skies, little rainfall, and mild temperatures. If you want a cheaper, more budget-friendly time to visit Japan, the shoulder season of summer (June to September) and winter (December to February) are best.
What is the best way to travel around Japan?
The most efficient way to travel around Japan is by train like the shinkansen (bullet train), local train, ferry, and public bus with a JR Pass. The JR Pass is exclusive only to tourists and is cost-effective for long-distance travel throughout Japan.
How long should you spend in Japan for a honeymoon?
Japan is perfect for a week or two week-long honeymoon. You can explore Tokyo and Kyoto in 9 days comfortably, and with a two-week trip, you can cover more of the island country. It's entirely up to you and your thirst for exploration!
Start Planning The Perfect Romantic Honeymoon Getaway
Have you already started looking at flight options in a separate tab? We don't blame you! With its varying magical landscapes, delicious cuisine, hospitability, and rich culture, it's no wonder honeymoon couples flock to Japan!
One of the best things to do with your partner is to explore a new world with them by your side. And what better place to do that than in Japan? You'll find pleasure and contentment, as well as excitement and energy with a honeymoon here.
So what are you waiting for? Check out our Couples Travel resources to begin planning the perfect romantic honeymoon getaway to any destination you can imagine! Whatever type of honeymooner you're looking to be or romantic getaway you're looking to have, we have you covered!