The Seychelles archipelago is a gem off the coast of east Africa that is often seen as the ideal destination for a romantic getaway. For many newlyweds, the pristine beaches, tropical weather, and warm waters of the Indian Ocean make for a dream honeymoon, and perhaps you and your life partner might be thinking the same thing.
Seychelles offers lush vegetation, stunning beaches, year-round sunshine, and all-inclusive resorts across its 115 small islands, making it a paradise on earth and arguably one of the best honeymoon destinations in the world. Besides taking a leisurely stroll through the national parks, you can also enjoy many of the island's diverse activities.
If you're slowly but surely starting to envision yourself on the white sand beaches of Seychelles for your honeymoon, then continue reading to discover the best stays and some handy travel tips.
What Makes Seychelles Perfect For A Honeymoon
The scenic vistas, giant tortoises, and turquoise waters of Seychelles are what screensavers are made of. They provide the perfect backdrop for making wonderful memories with your loved one, and the sheer number of romantic places available is what makes Seychelles an ideal honeymoon spot.
Besides the tropical climate, friendly locals, and abundance of fresh seafood, one of the main draws of a Seychelles honeymoon, is the range of atmospheres and options in terms of accommodation which allow you to enjoy your getaway at your own pace. Hotels can be family-friendly and vibrant or, most importantly, toned-down, romantic, and secluded.
Seychelles also offers both luxurious and budget-friendly stays and various stress-free ways to traverse the island, so a honeymoon trip there doesn't have to break the bank completely.
Best Honeymoon Resorts, Hotels, and Other Stays in Seychelles
A large portion of the resorts in Seychelles can be off-putting for most after looking at their price per night, but this doesn't mean you won't be able to find something to suit your budget and relaxation needs.
All the luxury villas and cozy bungalows available make choosing one particularly difficult. To make your search for a spot a bit easier, we've compiled a list of some of the top-rated honeymoon stays in Seychelles. On top of the price, our list also includes other helpful information such as availability and the amenities you might be interested in.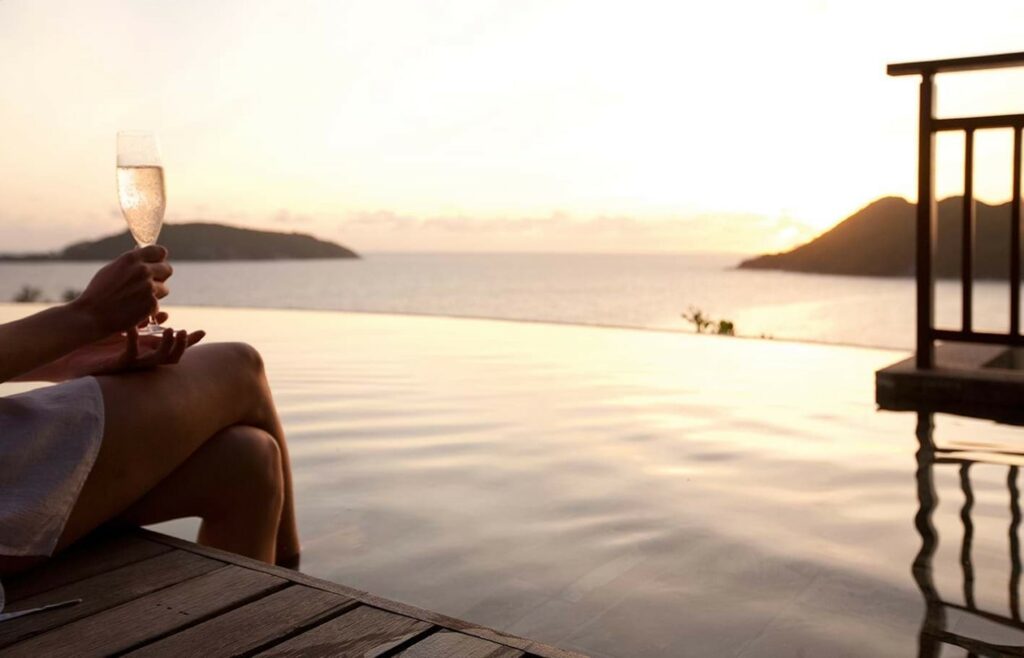 Price per Night: $500 – $3000
Best For: Luxury spa treatments, Scenic views
Availability: Easy to book
This escape is seen as one of the finest that Seychelles has to offer. Situated over 120 hectares of land and boasting luxuriant vegetation, Constance Ephelia is the very definition of a premium experience.
The hotel is a 1-minute walk away from a white sand beach and features five restaurants, six bars, five pools, and boutique shopping for those who don't want to leave. Additionally, Morne Seychelles National Park is a mere five-minute drive away, and Seychelles international airport is a 25-minute drive away.
Other notable features of Constance Ephelia include a spa, gym, private villas with ocean and mountain views, and facilities for activities such as snorkeling and tennis.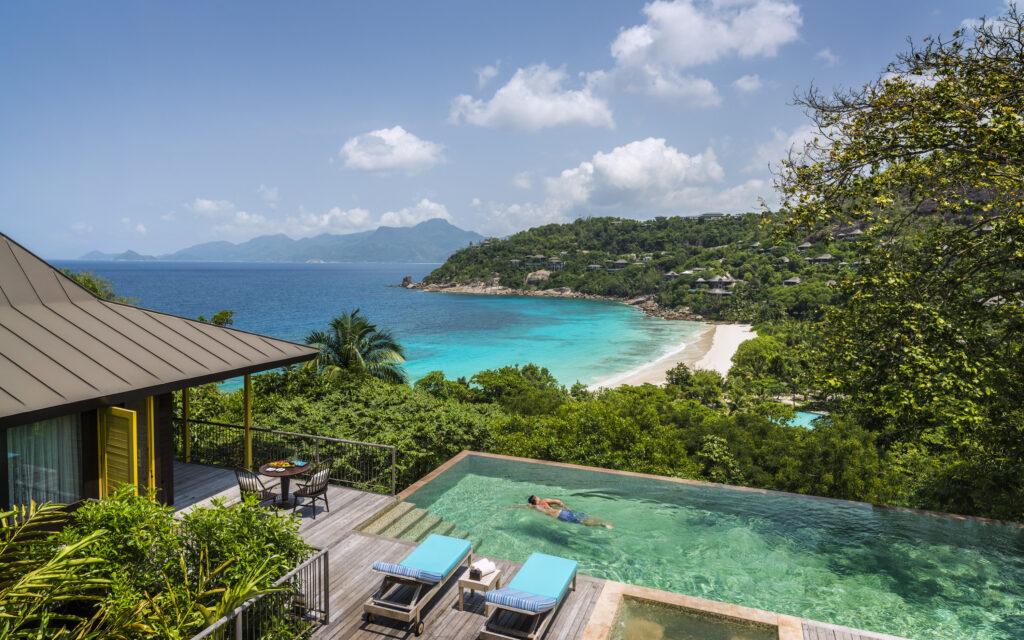 Price per Night: $1500 – $10 000
Best For: Older couples, long stays
Availability: Easy to book
The enchanting villas of the Four Seasons Resort are set on a tropical hill overlooking the Indian Ocean. They are practically designed to make your Seychelles honeymoon an ever-lasting memory.
The 67 villas are nestled in a dense untouched forest and given rustic French colonial style to give a cozier feel. To add to this, each villa is air-conditioned and has a private swimming pool and private patio.
The restaurants offer the best of international, Asian, and Creole cuisine, and a complimentary kids program help to give you and your partner some much-needed privacy. Water sports such as snorkeling, windsurfing, and fishing are available.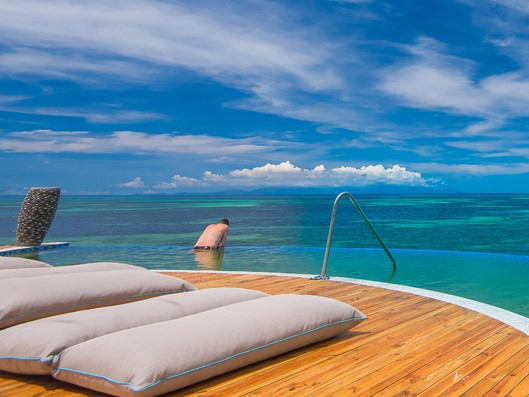 Price per Night: $300 – $600
Best For: Younger couples, short stays
Availability: Limited
Couples find the Coco de Mer hotel one of the best options for a Seychelles honeymoon. Rooms and suites are spacious and feature an en suite bathroom, satellite TV, and charming views.
Popular features include luxurious treatments at The Waterfront Spa and delectable Creole cuisine at The Hibiscus Restaurant and The Mango Terrace Bar.
The hotel is a short distance from beaches and the Praslin airport and can also arrange deep-sea fishing expeditions, island excursions, and scuba.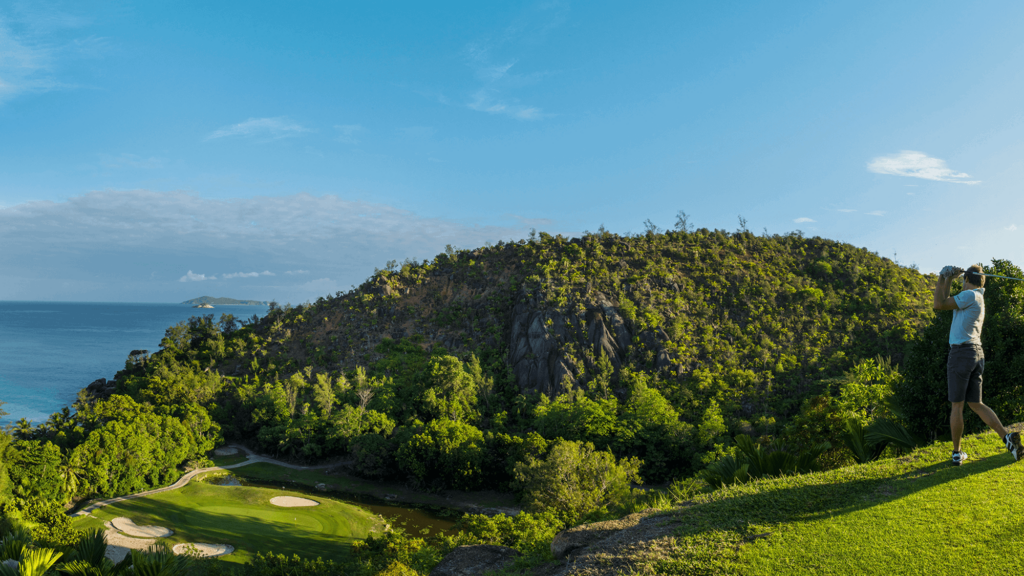 Price per Night: $1000 – $3500
Best For: All-inclusive, older couples
Availability: Limited
Much like Constance Ephelia, Constance Lemuria is a highly rated stay with myriad options to bring the visions of your Seychelles honeymoon to fruition. The hotel is home to a three-level pool, expansive villas, a spa, and four restaurants.
The rooms have a wooden aesthetic complimented by an exotic-looking thatched roof while hosting all the necessary creature comforts.
Other facilities on the property include an 18-hole golf course, two tennis courts, snorkeling trips, and windsurfing. Praslin airport is a short 5-minute drive away from the hotel.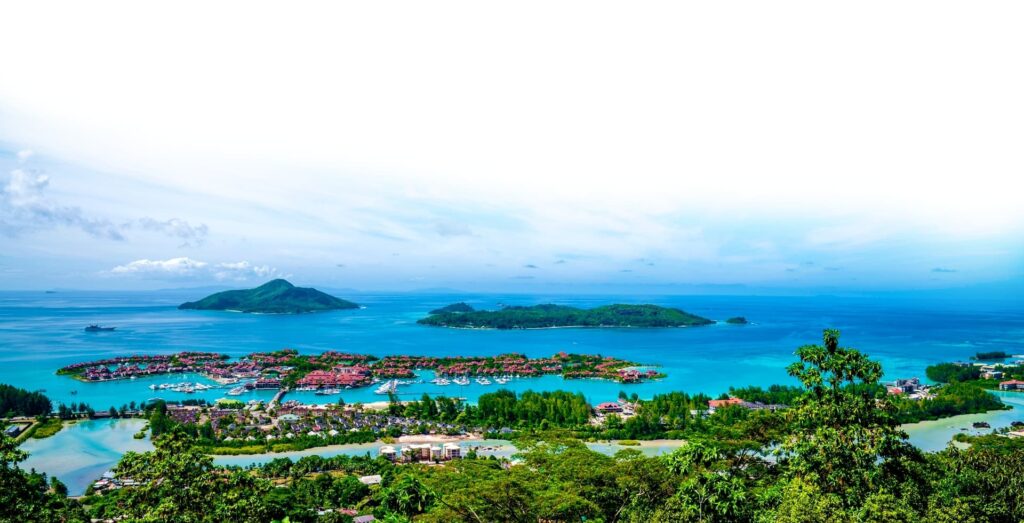 Price per Night: $400 – $1600
Best For: Young couples
Availability: Limited
Located on Beau Vallon beach, this luxury spa resort offers some of the highest standards across the island nation. If you're feeling particularly romantic or just financially free, the hotel has Executive suites with breath-taking sea views and penthouses that come with butler service.
Savoy Seychelles boasts features such as a vast array of health and beauty treatments, a fitness center, a 700-sqm outdoor pool, and a 24-hour help desk for your convenience
To make your Seychelles honeymoon even easier, the resort can assist in arranging trips around Mahe and to other islands.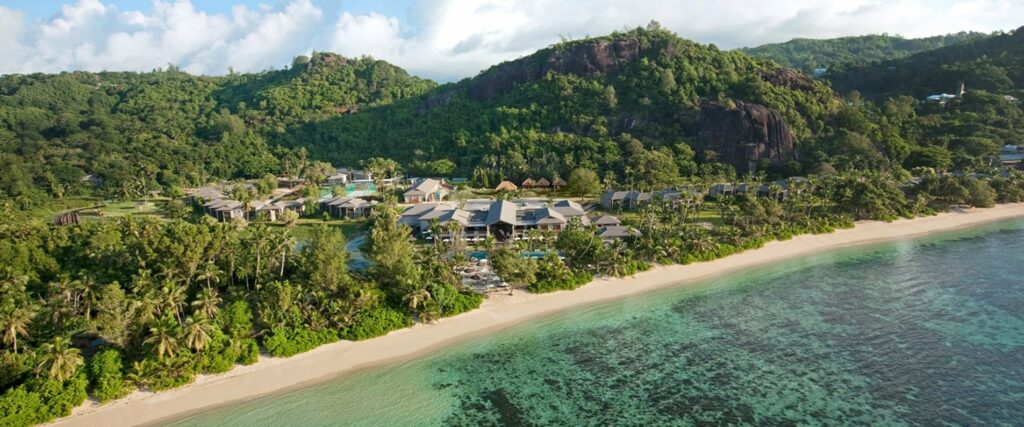 Price per Night: $800 – $2000
Best For: Short stays
Availability: Limited
This self-proclaimed "indulgent retreat" has a wide variety of facilities and activities that serve as the perfect compliment to a Seychelles honeymoon. Guests are mostly found lounging around the Olympic-sized swimming pool or working off a rich meal in the fully equipped gym.
Rooms are spacious, elegantly decorated, air-conditioned, and come with either a private balcony or terrace.
Couples that book this stay generally also love to partake in an intimate private dinner beneath the stars and adjacent to a tranquil lagoon.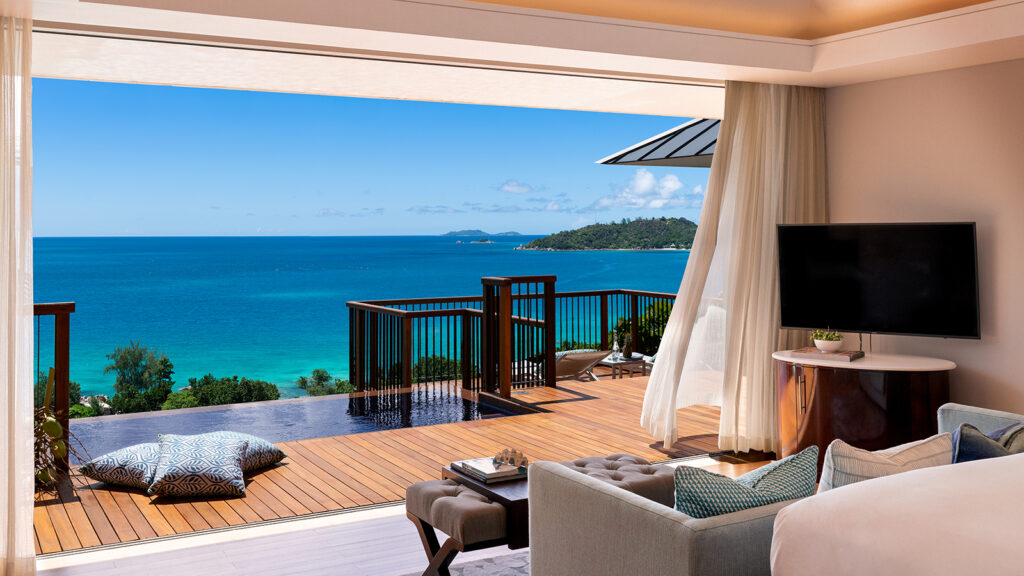 Price per Night: $1000 – $7000
Best For: Older couples, long stays
Availability: Limited/Easy to book
Raffles Seychelles is a short walk from Anse Lazio, which is often described as one of the most beautiful beaches in the world. The hotel does look to keep you comfortably contained by offering private plunge pools, a beauty salon, a kids club, and six restaurants and lounges.
The serene tropical landscapes surrounding the property are best enjoyed from the comfort of one of the modern villas, equipped with free WiFi, air-conditioning, and cable TV.
The UNESCO World Heritage site, Vallee de Mai, is a 15-minute ferry ride from the hotel, surrounded by several leisurely activities.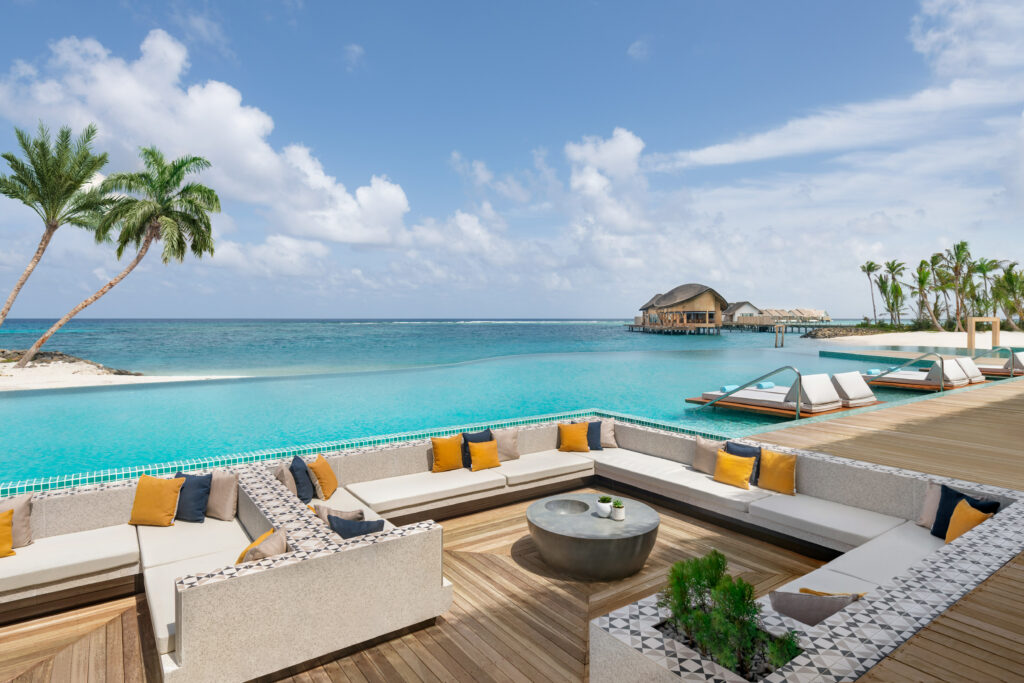 Price per Night: $500 – $2000
Best For: Older couples
Availability: Limited
This tropical resort sits in the middle of Silhouette island, which is 93% national park. This resort is perfect for couples that enjoy nature reserve hikes or being encapsulated by greenery. The deluxe villas are fully-equipped and have expansive, postcard-worthy ocean views.
The resort features a full-service spa with an infinity pool, seven restaurants and cafes, live entertainment shows, and a 5-star PADI diving center. Wedding facilities are also available so you can get hitched and won't even have to travel for your honeymoon.
Couples rate the resort very highly, and it is located 20 minutes from a pier that offers boat rides to the airport.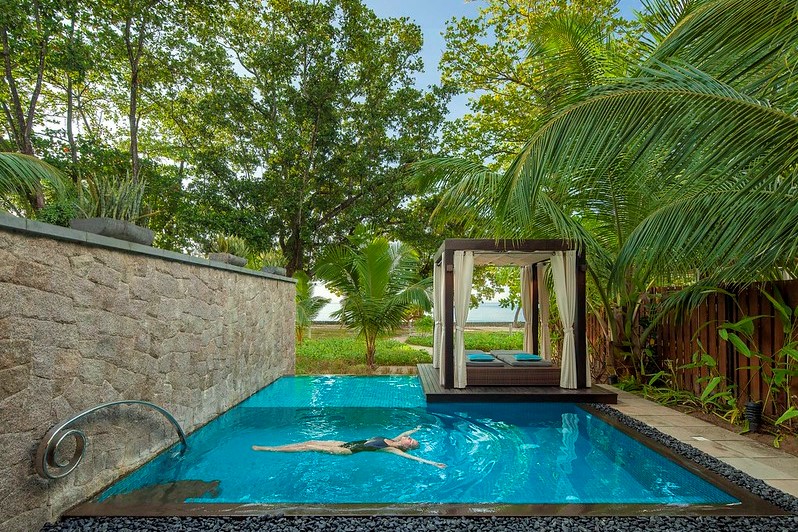 Price per Night: $500 – $2000
Best For: Young couples
Availability: Limited
Located on Beau Vallon beach, STORY Seychelles is a modern paradise that perfectly disrupts the lush forestry of the Morne Seychellois National Park. The suites and villas come with all the necessary trimmings to keep you and your partner comfortable while having extra features such as a private pool, cabana, and rain showers.
Notable activities include tennis, hiking, surfing, and keeping fit in the 24-hour gym.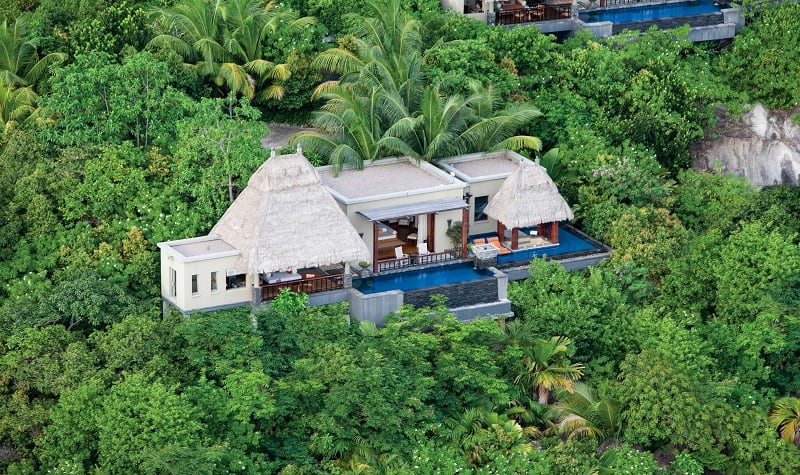 Price per Night: $2500 – $3000
Best For: Long stays, older couples
Availability: Limited
The villas and facilities at Anantara Maia have what it takes to make your Seychelles honeymoon truly memorable. The luxurious resort has stunning views of the Indian Ocean and is home to a gourmet restaurant and wellness center.
Villas offer you a dedicated butler and your own private infinity pool, free WiFi, and Apple AirPort Express. Another noteworthy feature is an outdoor gazebo and sun deck.
The spa offers lengthy massage treatments and flower water baths, but guests are also spoiled for choice with yoga, qi gong, a techno gym, scuba diving, snorkeling, kayaking, and stand-up paddle boards all being on offer.
Best Areas To Stay in Seychelles
Despite having 115 small islands and a population of just under 100,000, most of the small islands around Seychelles are uninhabited. Most of the activity occurs on the inner island of Mahe, Praslin, and La Digue. The islands each have something different to offer and are easy to travel between, but you probably aren't looking to stay on all of them.
If your budget allows and you're the adventurous type, you could consider spending a night or two on different islands, but if you don't know what each one offers, the descriptions below will help you decide which area best suits you.
Mahé Island
Mahé Island, also called "Mahe," is the largest of the Seychelles islands and home to the country's capital city, Victoria, and the most populated beach, Beau Vallon. Victoria is a cultural hub with many historical monuments, bars, and restaurants. The clear turquoise waters and coral reefs of Beau Vallon make it the ideal spot for scuba diving and snorkeling.
Mahe island is also incredibly popular due to its having the Victoria market, the broadest range of accommodation options, and its proximity to Marine National Park.
Praslin Island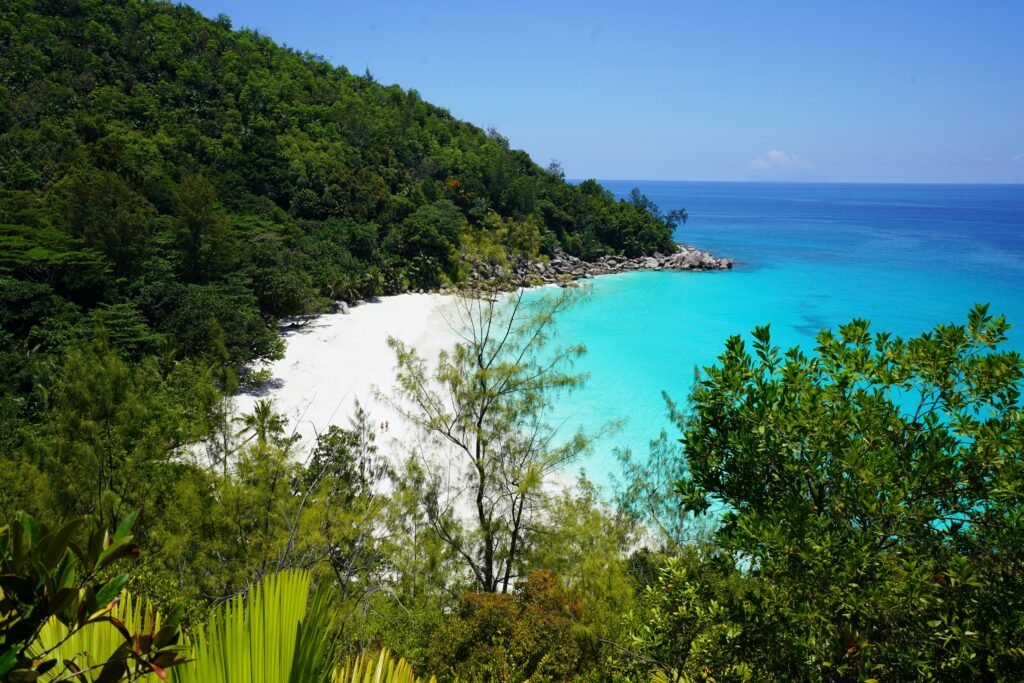 Praslin, the second-largest island in Seychelles, has a more laid-back vibe and is a favorite among tourists and those who like a good party. The island perfectly contrasts quiet and secluded locations with its vibrant party scene of clubs and beachside bars.
Like Mahe island and most of Seychelles, Praslin Island has many white sand beaches to explore. Other activities on offer include visiting the UNESCO world heritage site, The Vallée de Mai, island hopping to Curieuse and St Pierre Islet, trying to spot the elusive Seychelles black parrot, and visiting The Fond Ferdinand Nature Reserve.
La Digue Island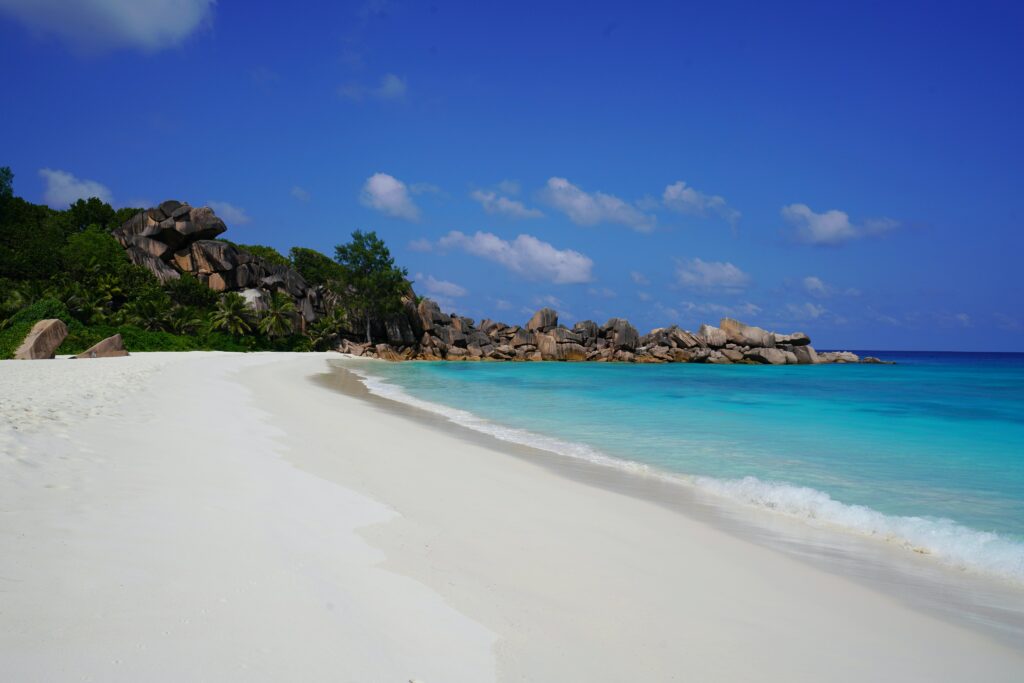 Often referred to as the coolest of the neighboring islands, La Digue is the third-largest inhabited island in Seychelles. Because of how overlooked it is, the island is significantly slower in pace and has fewer hoards of tourists.
The island is also rife with vegetation, so if you and your partner like to explore nature and go on breezy hikes, then spend time on this island before hopping to the others.
Eden Island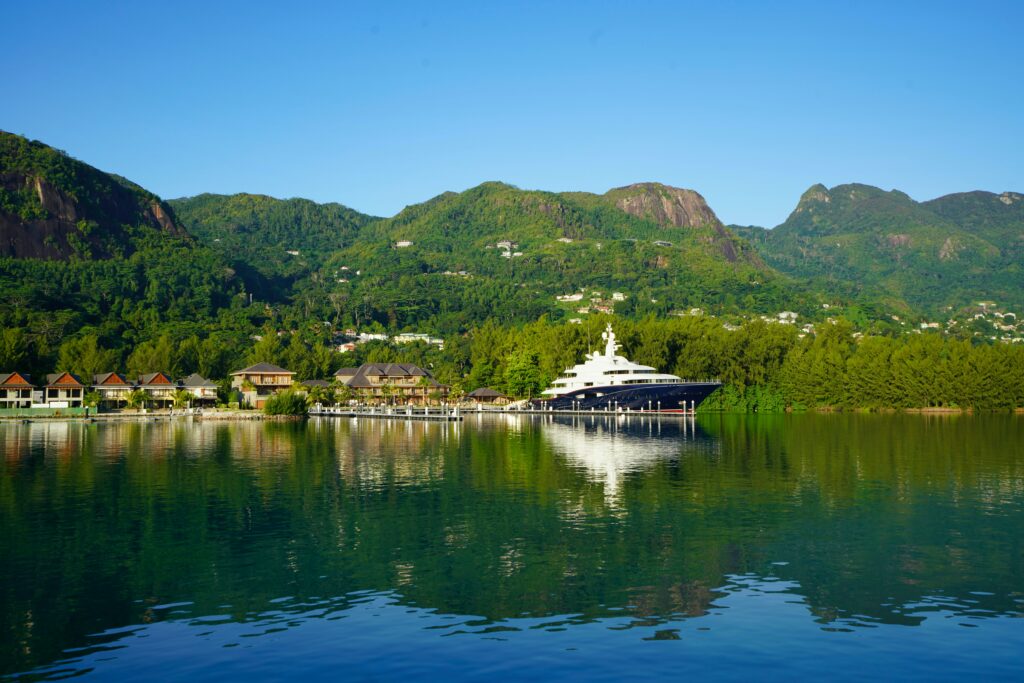 Created in the 2000s, Eden Island is an artificial island between the international airport and Victoria that boasts some of the most luxurious properties in the Indian ocean.
Fun activities on Eden Island include visiting Eden Plaza, the Eden Aquarium, going on boat tours, fishing charters, and unwinding at the Eden Holistic Spa.
Silhouette Island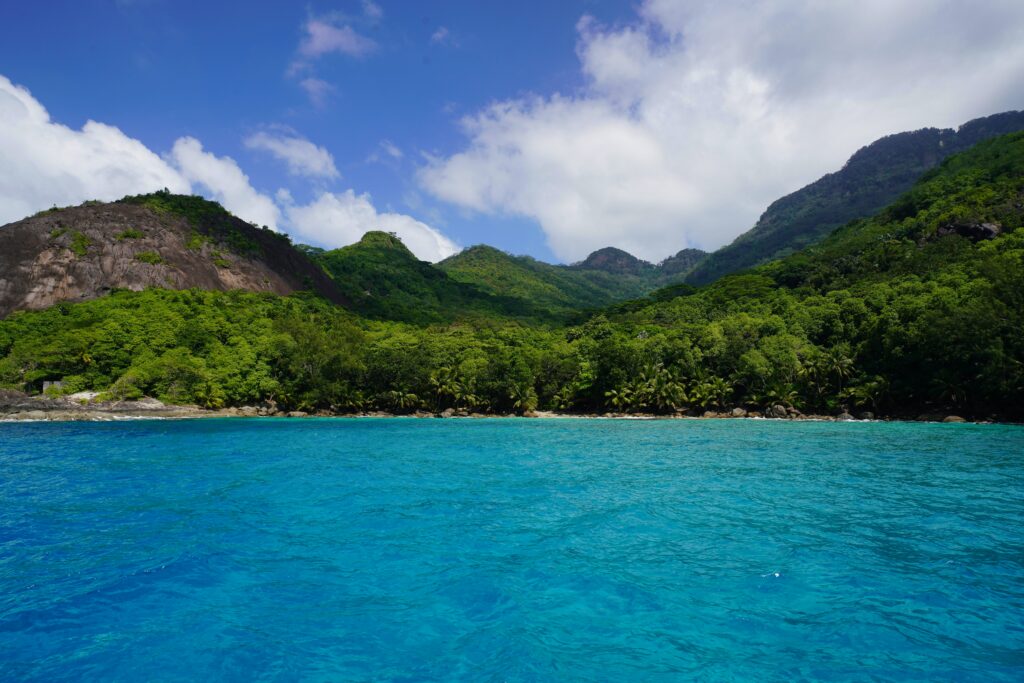 Located northwest of Mahe, Silhouette Island has a small population of around 200, most of whom are workers. Beautiful beaches are complemented by bright sunshine and light breezes, and water sports are plentiful.
The island also has a vast array of plants and wildlife and is most notably home to the highly-rated Hilton Seychelles Labriz Resort & Spa.
Top Excursions & Activities To Do On A Seychelles Honeymoon
The bliss of being newly eloped may make it difficult for a couple to leave the warmth of their hotel room, but while on your romantic escape, you might want a change of pace at some point. Luckily, the islands have several enthralling activities that put a smile on the face of even the most hard-to-please vacationers.
The scenic coral reefs boast sparkling blue waters and some of the most exotic marine life in the world, making them an ideal location for wreck diving. The surrounding beaches also provide an excellent spot to watch the sea turtles making their way to the water.
National parks Morne Seychellois and Sainte-Anne Marine are a must-see when visiting the island nation. The lush greenery of Morne Seychellois National Park makes up 20% of Mahe and, much like the Marine National Park, gives honeymooners a refreshing way to bask in the island's nature and spot creatures like the famous Seychelles black parrot.
Fishing, zip-lining, rock climbing, bird-watching, and windsurfing make great alternatives if you don't fancy any of these activities.
Sample Itinerary & Budget For Your Honeymoon To Seychelles
To make your life easier, we've created a detailed itinerary to give you a better idea of how to budget for your honeymoon. This breakdown is designed for a 7-day trip and provides expenses per person. Note that these expenses could vary according to the time of year that visit the island.
| | |
| --- | --- |
| Activity | Weekly Cost |
| Accommodation | $500 (Budget) to $35 000 (High-end) |
| Flights | Upwards of $1800 (round trip from US) |
| Food & Drink | $500 to $1100 |
| Transport | $50 to $350 |
| Mahe Full day private tour | $100 to $150 |
| Private Island Snorkeling | $60 to $600 |
| Catamaran Cruise through Sainte Anne Marine Park | $50 to $250 |
Here's a suggestion on how you can structure your days:
Day 1 – Before you start exploring the islands, take time to settle into your hotel room. This could even mean you taking a relaxing shower or nap after the journey. This is also prime time to explore your hotel room.
Day 2 – Explore Mahe island and the city of Victoria in particular. Victoria Market is an excellent way to immerse yourself in the country's culture without having to spend a sizeable portion of your money. Alternatively, you can go on a private tour of Mahe.
Day 3 – Since most days will be sunny, day three could be the opportune time to see why Seychelles is said to have some of the best beaches in the world. You could also go snorkeling to explore the coral reefs.
Day 4 – Start this day by hopping over to Praslin Island, where you can explore the UNESCO world heritage site, Vallee de Mai. If ferries aren't your thing, you can also take a helicopter charter to get over to the island. After this, sampling the seafood near Anse Lazio is a must.
Day 5 – Since you'll probably be used to the island by now, a change of pace and island might be necessary. La Digue has a wide range of water sports that may get your hearts racing.
Day 6 – A Catamaran Cruise through Sainte Anne Marine Park is an excellent way to take in the beauty of Seychelles islands and start unwinding as your trip draws closer.
Day 7 – Wrap up your adventures on the Seychelles islands by indulging in a relaxing spa or simply enjoying your resort's facilities. Be sure to cap it off with a romantic dinner for two at a restaurant like the acclaimed Eden.
Frequently Asked Questions
How much does a Seychelles honeymoon cost?
The cost of a honeymoon in Seychelles will vary according to the time of year you choose to go and how much you are willing to spend on accommodation, activities, and transport.
On average, a week-long honeymoon in Seychelles could cost around $1000 to $1600 per person sharing, excluding flights. This amount could cover a three-star hotel or better, transfer, meals, and sightseeing.
When is the best time to visit Seychelles?
Most of the notable activities in Seychelles are weather-dependent. Hiking, for example, is most enjoyable between May and September due to calmer weather. However, flights and hotels tend to be cheaper around January. The best time to visit will ultimately depend on whether you want to prioritize good weather or save money.
What is the best way to travel around Seychelles?
The most popular and convenient way of island hopping between Mahe, La Digue, and Praslin is via ferry. Other parts of the island can be reached by boat or, if you want to enjoy a different view, via private helicopter. For reference, you can expect to pay around $70 for a one-way ferry ride from Mahe to Praslin and $20 from Praslin to La Digue.
Once on the main islands, Mahe and Praslin, taxis, buses, and rental cars provide an easy way to get around. In La Digue, bicycles are the primary mode of transport because there are few car hire options and very few taxis.
Start Planning The Perfect Romantic Honeymoon Getaway
If you've reached the end of this article, then we can convince you no further of the wonders of Seychelles. The collection of beautiful islands that make up Seychelles hold some of the best beaches in the Indian Ocean; couple this with a tropical climate, crystal clear water, and exotic cuisine, and you have precisely what the perfect honeymoon is made of.
While your read this, other couples might be booking the holiday of your dreams, so act fast before you miss out on any deals on romantic excursions. Whether or not you see you and your partner visiting Seychelles, make sure you take a look at our other guides on other honeymoon destinations to find the one that best suits you.