Spain has always been a popular tourist destination, and with its rich cultural diversity, amazing beaches, romantic cities, delicious food, and pleasant weather, it's no surprise that almost every part of Spain will make a great honeymoon destination.
When planning your honeymoon in Spain, you'll be able to choose between visiting the Balearic islands, hopping from coastal town to coastal town, or heading inland into the beautiful hillside country. Or, because of the ease of traveling around Spain, you can always see it all!
To help you plan your trip, we've compiled a list of the best Spain honeymoon destinations, as well as places to stay and what to do while traveling around this beautiful European nation.
What Makes Spain Perfect For A Honeymoon
Spain is the perfect honeymoon destination because of the variety of things to do, see, eat, and places to stay.
Read on for just a few reasons why Spain will be the ideal romantic getaway for newlyweds.
Spain has incredible weather! It's particularly pleasant in spring and summer, with long sunny days making it perfect for relaxing by the many wonderful beaches.
It's safe for tourists and easy to navigate. Traveling is easy thanks to the extensive public transport system, and the roads are also safe and well-maintained for driving if you rent a car.
Spain has massive diversity. From a mix of Mediterranean cultures to Celtic heritage and Moorish traditions, its rich culture makes it a fascinating country to explore.
Spain has an incredible history. From Salamanca being declared a UNESCO World Heritage city to WWII influences and historical kingdoms, history buffs will always enjoy a visit to Spain.
There is an amazing variety of landscapes. From the Sierra Nevada Mountains to the hills of the Basque country and the beaches of the Balearic Islands, there will be something for everyone.
The food and wine are amazing! Spanish cuisine is enjoyed worldwide, and of course, when it's actually made by the locals using authentic Spanish ingredients, it's always going to be a gastronomical treat.
Your honeymoon in Spain will be filled with adventures, amazing experiences, beautiful villages, and romantic meals. There's also something to do for every budget. Spain really is one of the most perfect honeymoon destinations in the world!
Best Honeymoon Resorts, Hotels, And Other Stays in Spain
With such a well-established tourist industry, there are of course plenty of accommodation types in Spain to choose from. From quaint Bed and Breakfasts to luxury hotels, honeymooners will be able to find a cozy spot to temporarily call home during their honeymoon in Spain.
The larger cities, like Barcelona, Madrid, and Valencia, have plenty of large hotels on offer, while the islands like Mallorca, Ibiza, and the Canary Islands, favor boutique hotels and AirBnBs.
Below are our top picks for romantic places to stay while traveling through Spain on your honeymoon.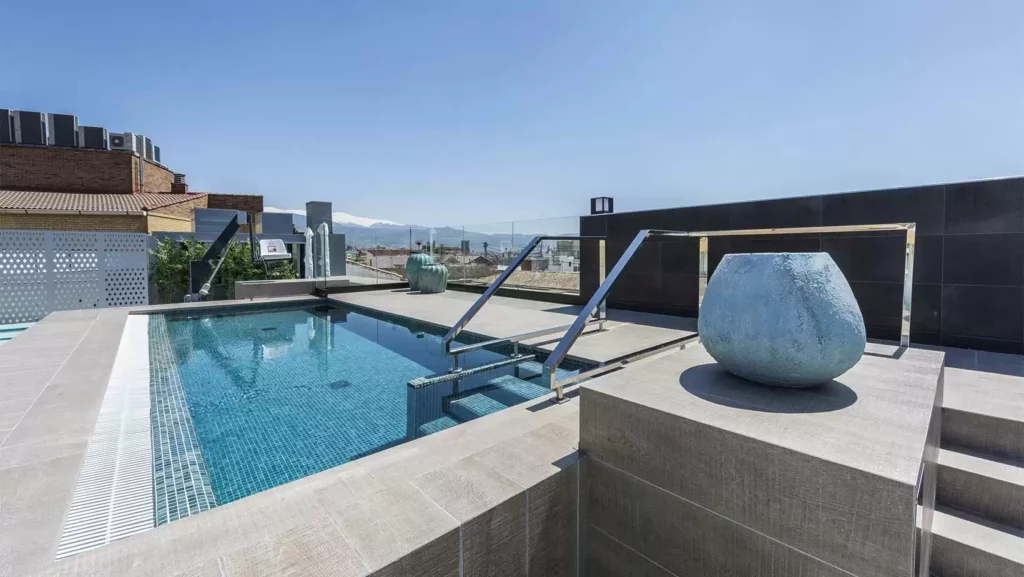 Price per Night: $57 – $104
Best For: Breakfast Included, Affordable Luxury
Availability: Easy to book
The Catalonia Granada is the perfect base for exploring the capital and enjoying the lively Madrid nights. The rooftop sun deck and pool are perfect for unwinding after walking around the city (not to mention the bar service!).
The spa and restaurant on-site mean you don't have to travel too far for modern luxuries if you don't feel like leaving the comfort of the hotel.
The hotel offers several rooms, from smaller (yet comfortable) double rooms to the largest, "The Corner," which boasts a private terrace overlooking the city.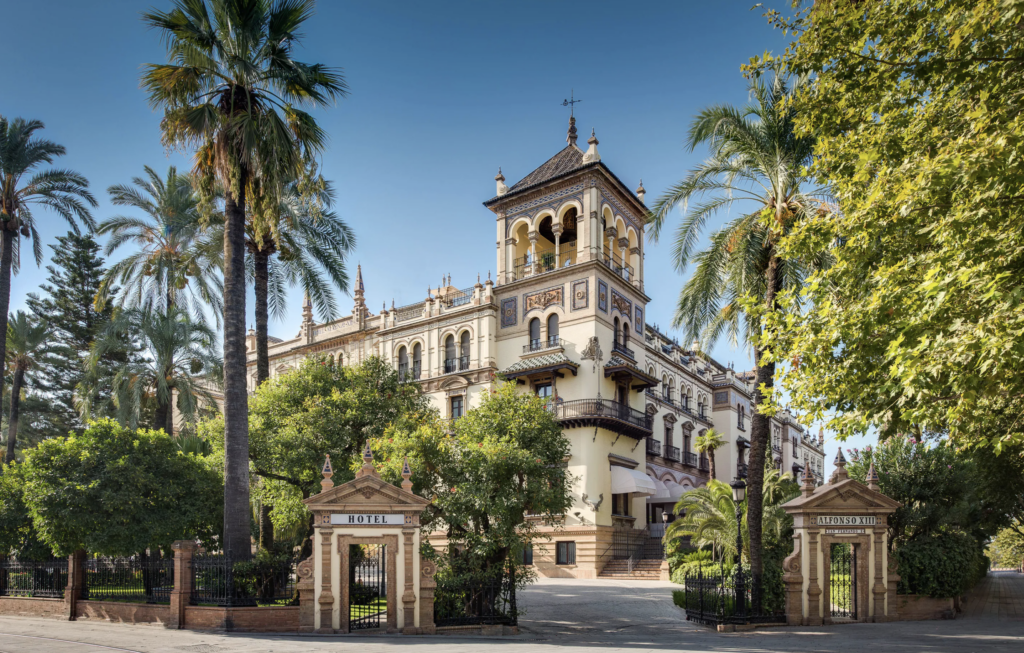 Price per Night: $480 – $2,740
Best For: Romantic Getaway
Availability: Easy to book
Impressively, Hotel Alfonso XIII has a royal history. This hotel was commissioned by the King of Spain to host international dignitaries in 1929 and remains a landmark building to this day.
This hotel is perfectly situated in Santa Cruz, letting you visit the many amazing sites of Seville, such as the Seville Cathedral and Reales Alcazares.
And the regal courtyard is the perfect place to enjoy Spanish food from the Restaurante San Fernando. Alternatively, couples can enjoy tapas at the Ena Sevilla or Pool Restaurant.
The hotel offers guests several rooms and guest suites, with some rooms having a private terrace with views of the city.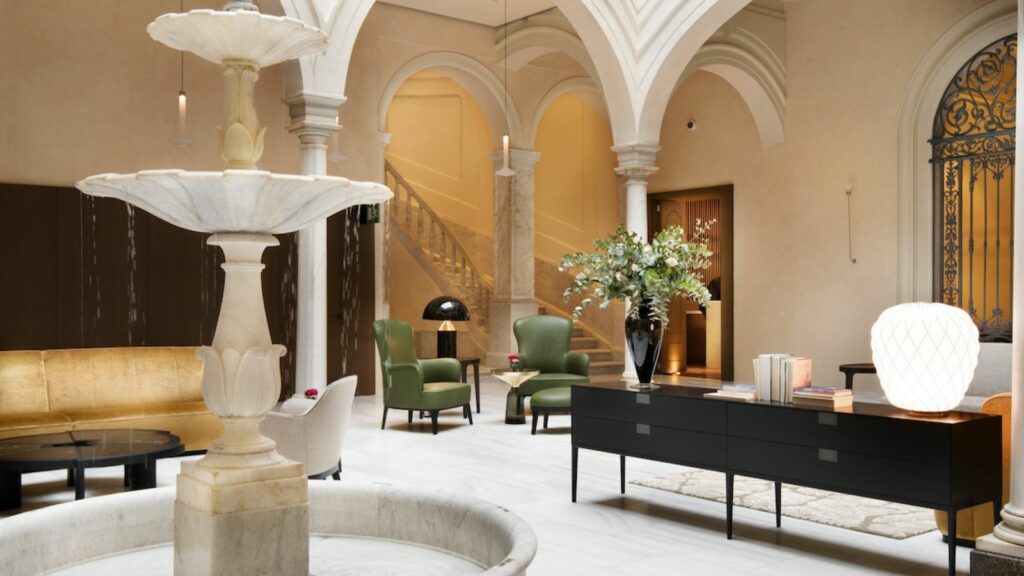 Price per Night: $315 – $1,133
Best For: Boutique Hotel Experience
Availability: Easy to book
This five-star boutique hotel is located in the heart of Seville's Old Town. There are on-site restaurants and bars, as well as a sun terrace where couples can enjoy a drink while watching the romantic sunsets over the city's streets.
Hotel Mercer Sevilla has junior, standard, and deluxe suites on offer, and even the smallest rooms will ensure a romantic stay. There is also a beautiful outdoor pool and room service for couples who wish to stay put and enjoy the luxury of delicious cuisine in bed.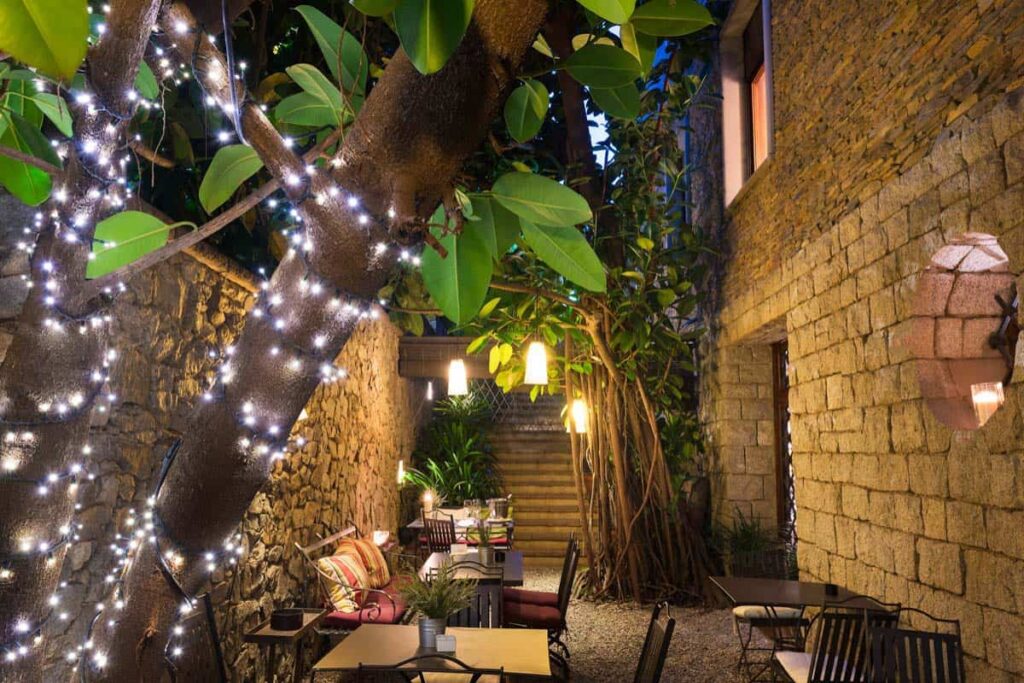 Price per Night: $189 – $342
Best For: Breakfast Included
Availability: Easy to book
Primero Primera offers you peace and quiet as well as fine living in the bustling city of Barcelona. This hotel has been run by the same family since the 1950s, which is where the name of the hotel comes from.
With only 30 rooms at this hotel, each offering amazing comfort and style, enjoy intimate luxury key at this smaller hotel. Primero Primera really is a hidden gem in Barcelona and is located in a quiet neighborhood yet close to plenty of wonderful restaurants and sites.
There are small rooms, junior suites, suites, and deluxe suits available – and no matter the size of the room, couples are sure to enjoy the incredible luxury of their surroundings!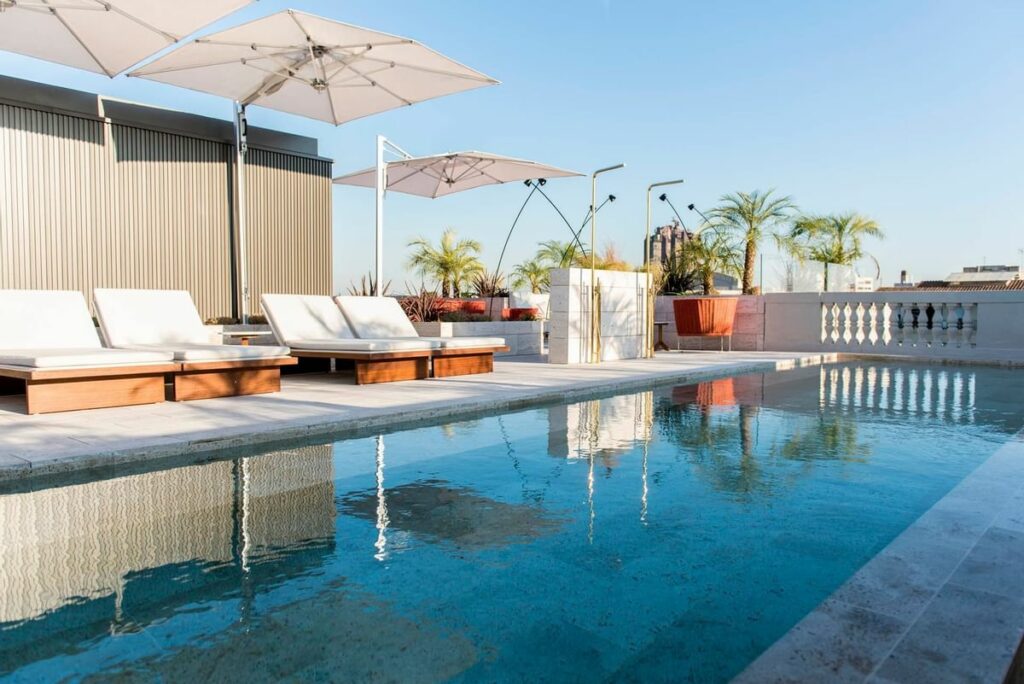 Price per Night: $322 – $2,303
Best For: Long Stays, Food Experience
Availability: Easy to book
For a different take on Barcelona, this 5-star boutique hotel in the heart of the Eixample neighborhood of the city offers complete luxury and comfort and is the perfect place to relax after a busy day of site-seeing.
The suites and penthouses have been designed to allow guests to experience a tranquil break in the middle of the busy city. The sun terrace, exclusive pool, and rooftop bar are the perfect destination for couples, and there is even a plant-based restaurant on site, led by the Michelin Star chef Rodrigo de la Calle.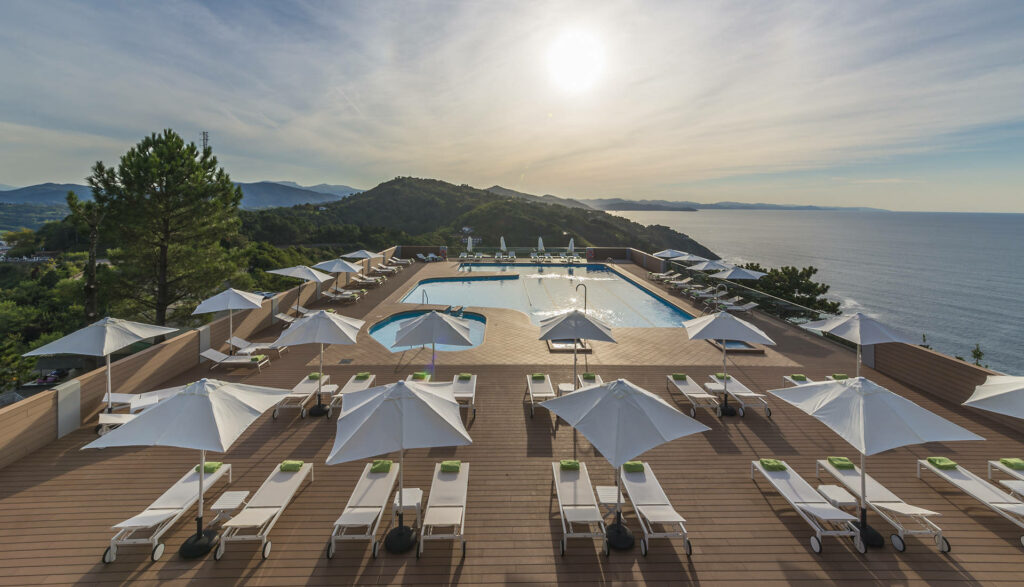 Price per Night: $134 – $310
Best For: Scenic Views
Availability: Limited
Located a short walk from the beach, the Hotel Monte Igueldo is perfect for couples visiting San Sebastian in the north of the country. The crystal clear pool overlooking the Bay of Biscay is the perfect place for cocktails at sundown, with incredible, breath-taking views.
This is truly one of the most romantic places to stay in San Sebastian. On cooler days, you can relax in the sun lounge with 360-degree views of the ocean and Playa de la Concha beach below, or sip some wine at the wine bistro bar or gastro bar on site.
There are five different types of rooms at the hotel: Standard, Premium, Privilege, Single Interior, and Mountain View.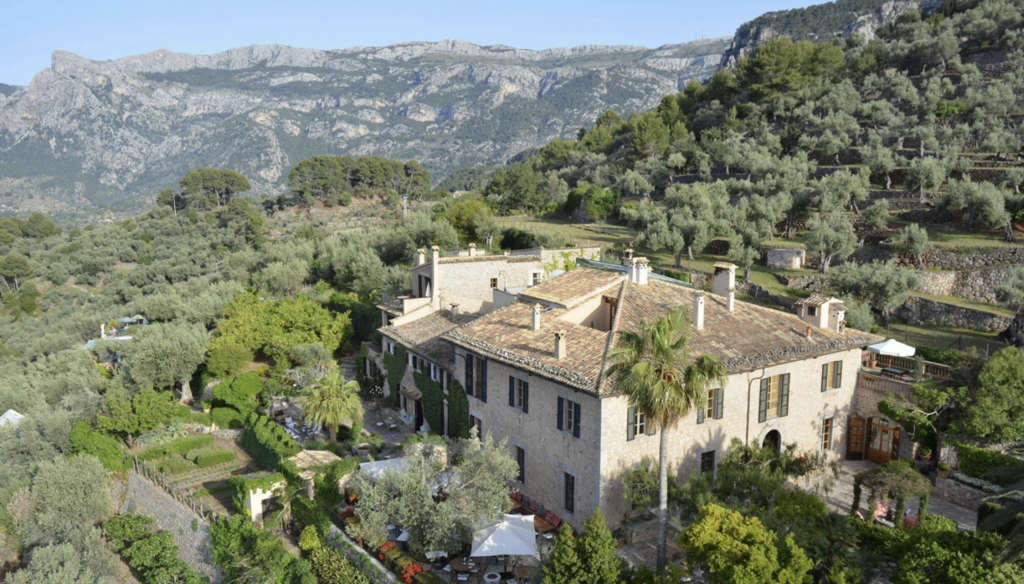 Price per Night: $470 – $870
Best For: Scenic Views, Short Stays, Breakfast Included
Availability: Limited
Ca's Xorc is a luxury mountain retreat in the hills of Mallorca. This is one-of-a-kind accommodation, with the small hotel nestled in lush green gardens, dotted with terraces and with views over the Soller Valley below.
The building was once a historic oil mill that has been restored while still keeping original décor touches in place. There are thirteen luxury rooms and two on-site stone cottages available to honeymooners, a beautiful pool, a scrumptious restaurant, and a large garden area with walkways to explore.
For those weary after the bustle of their wedding and international travel, there is also on-site yoga on offer.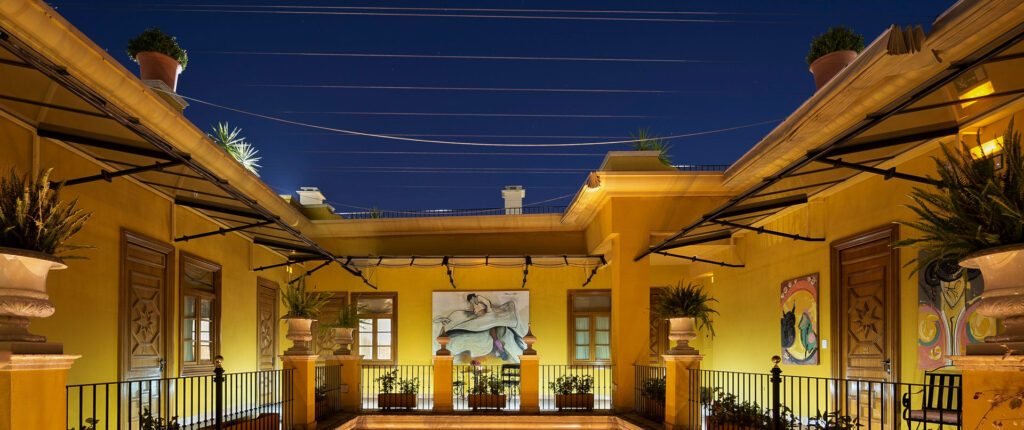 Price per Night: $255 – $615
Best For: Long Stays
Availability: Limited
Another option in Seville, Hotel Case del Poeta is a boutique hotel that offers world-class service, and upon arrival, it'll feel as if you've stepped into the courtyard of a royal palace. This is because the hotel is situated in a 17th-century mansion that has been redone in a traditional Sevillano style.
The terraces, fountains, and magical gardens are the perfect place for couples to fall even more in love. There is even nightly guitar music on the hotel patio, which will complete your Spanish honeymoon fantasies.
Couples can decide whether they want to stay in a room, suite, or in a luxury apartment hosted by the hotel and situated close to the hotel.
Best Areas To Stay In Spain
When it comes to planning your honeymoon in Spain, there is no shortage of cities, towns, villages, beaches, and regions to explore. With almost every corner of this magical country being a destination in itself, it can be hard to narrow down the best honeymoon destinations in Spain.
You will have to start your planning by deciding whether you want to spend time in the cities, by the beach, in the mountains, on an island, or in small towns with quaintly narrow streets.
To help you narrow it down, we've compiled a list of some must-see destinations while visiting Spain. Each of these areas has its own draws, such as amazing gastronomy, rich culture, and gorgeous architecture.
The good news – it is also possible to travel between these destinations due to the ease of local travel in Spain!
Barcelona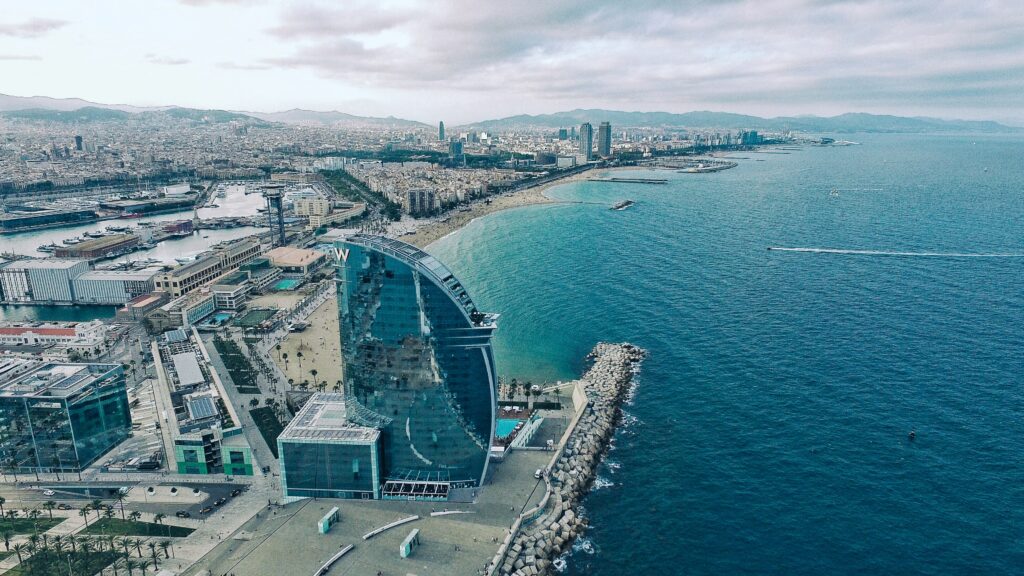 Barcelona is an artistic, trendy, and cosmopolitan city that seems completely unique compared to the rest of Spain. This city has an international feel with a distinct atmosphere of art, music, creativity, and liveliness. It also has a large international airport, making it a good first stop for your honeymoon.
Couples can enjoy some of the following amazing activities while visiting Barcelona:
Marvel in silence at the amazing interior and exterior architecture of Gaudi's Sagrada Familia Basilica. The Basilica has been under construction for more than 140 years and is yet to be completed. We recommend booking your tickets online before you go to skip the long queues. Tickets start at $26 and can go up to $40 for a guided tour and access to the towers.
Get a free walking tour through the Gothic Quarter.
Admire the architectural style of Anton Gaudi. There are several buildings flaunting his unique artistic style, and they draw people from all over the world.
Get your fix of shopping at the Mercat de la Boqueria, the world's best market for fresh food and snacks.
Dine at any of the world-renowned restaurants in Barcelona's busy streets – whatever your budget, you're sure to be in for a delicious treat!
Southern Spain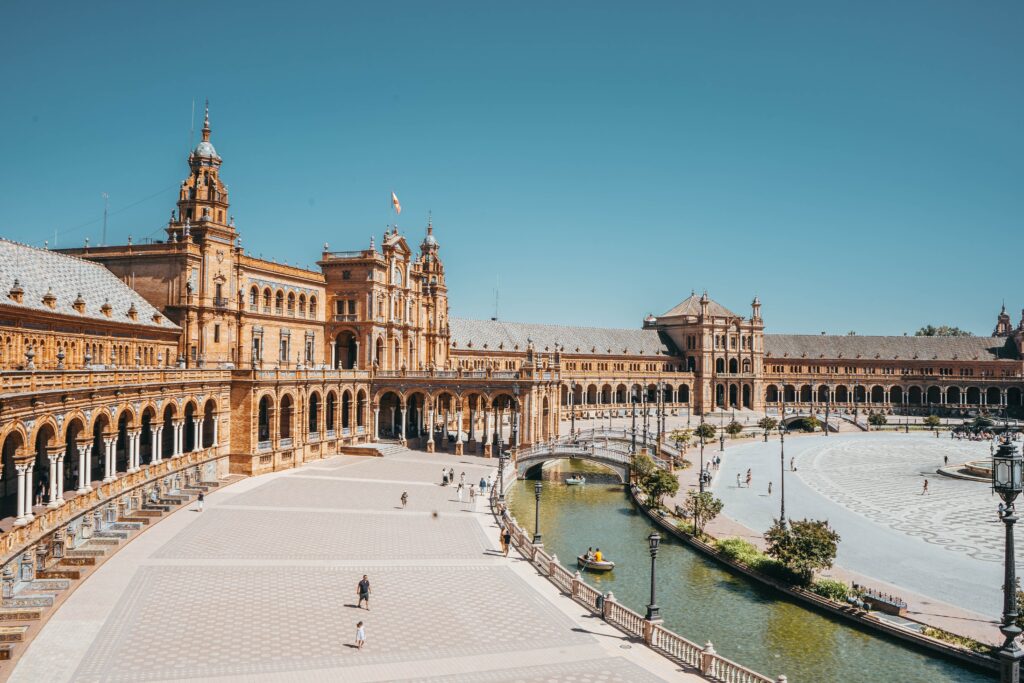 Your honeymoon in Spain wouldn't be complete without stopping in the South of Spain and Andalusia. This region is known for whitewashed villages, Moorish architecture, tapas, and flamenco dancers. It really is one of the most romantic areas in Spain.
Here are some towns and cities in Southern Spain to include in your honeymoon itinerary, as well as tips as to what you can do while there.
Seville:

Explore the palace and gardens at Real Alcazar de Sevilla. Tickets to this gorgeous building will cost you $15 per person.
Get a boat and row along the canal at the Plaza de Espana.
Walk around the Barrio Santa Cruz neighborhood.
Granada:

Visit the Moorish fortress, The Alhambra Palace, and learn more about the history of the area. Tickets to The Alhambra cost $35 for a guided tour.
Visit Generalife Palace and walk around the amazing palace gardens.
Enjoy tapas and views on the streets of Mirador de San Nicolas.
Be amazed by the Gothic intricacies of the Royal Chapel of Granada. Tickets to visit the chapel cost just $5.
Cordoba:

Walk hand-in-hand around the Jewish Quarter (Juderia) and pop into any of the cafes and bars along the beautiful streets.
Visit the unique architecture of the Mezquita Cathedral de Cordoba. Tickets cost $12 per person.
Visit the historic city center of Cordoba, which was built by the Muslims and showcases amazing Moorish designs. The historic center is a Unesco World Heritage Site.
Northern Spain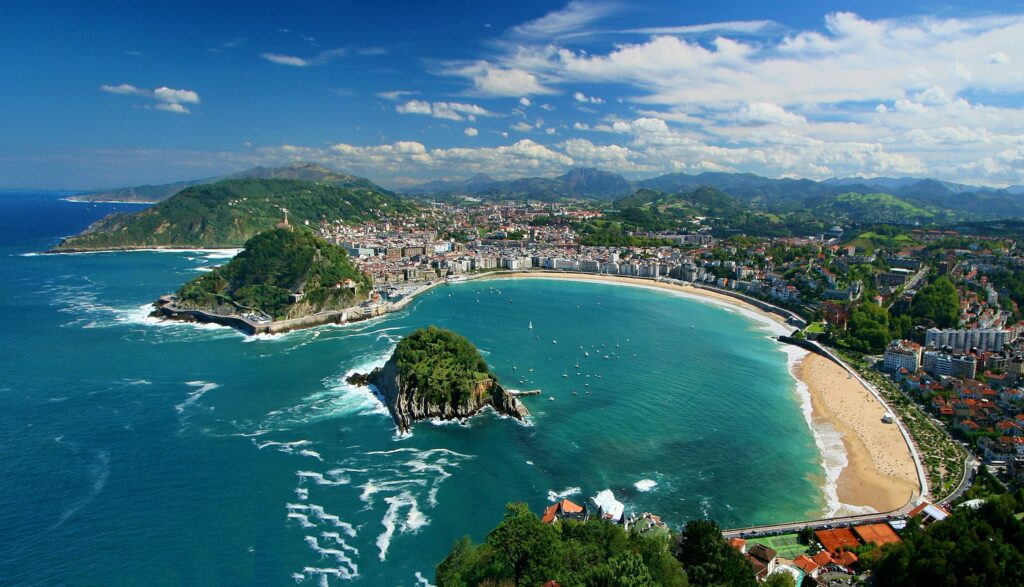 Northern Spain offers plenty of attractions for your honeymoon. It's the region of the fascinating Basque Country and offers amazing beaches, family-run establishments, and delicious food.
Here are some of the best places to stay in this region, as well as romantic activities that you and your spouse can enjoy.
San Sebastian:

Relax at the beautiful beaches of Playa de La Concha.
Climb to the top of Monte Urgull for amazing views of the region, including the iconic Bay of Biscay.
Stroll around the old town of Parte Vieja and stop in at the local cafes.
If the weather turns bad, pop into the San Sebastian Aquarium. Tickets to the aquarium are $15 per person.
Bilbao:

The Guggenheim Museum is a must-see for everyone visiting Bilbao. General admission to the museum is $16, and it is best to book tickets in advance.
Walk around the neighborhood of Casco Viejo (the Old Town).
Buy lunch at the La Ribera Market.
Santiago de Compostela:

Visit the large Cathedral Santiago de Compostela (the world's second most important Gothic Cathedral after Notre Dame), and be awe-inspired by the incredible architecture. Entrance tickets to the Cathedral cost $12 for access to only the Cathedral Museum.
Hike the Camino de Santiago for a modern pilgrimage experience.
Have a picnic at the Parque de la Alameda.
Logrono:

Sip Rioja wine and indulge in tapas at the Calle del Laurel (Laurel Street).
Learn more about local winemaking in the cellars of Bodegas Franco Espanolas. A winery tour will cost you $16 per person, which includes a tour of the winery and a wine tasting.
Valencia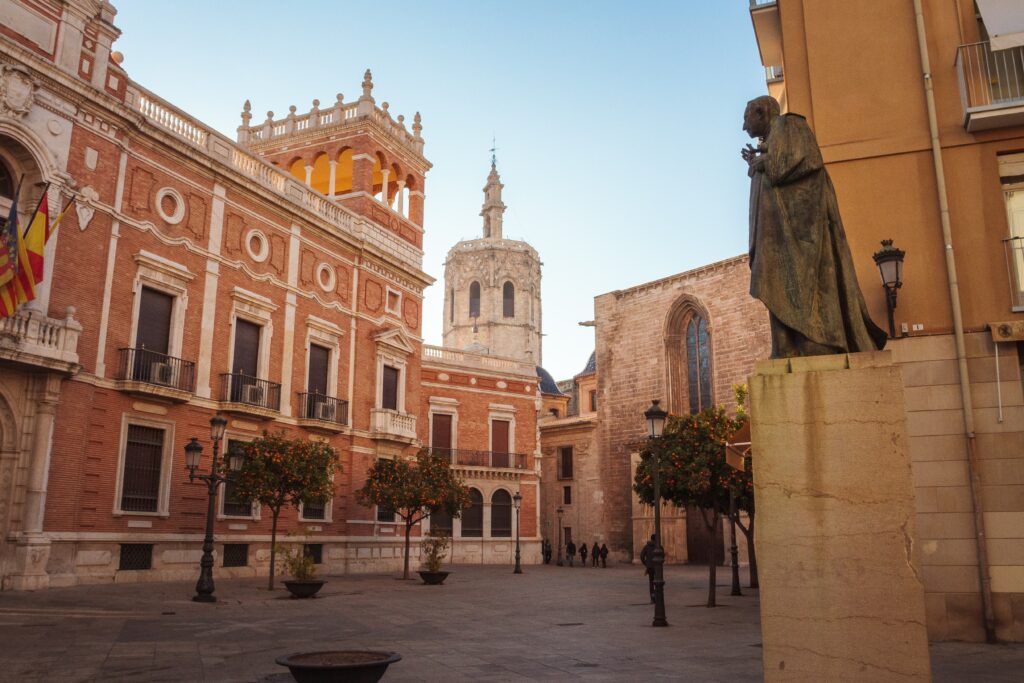 The city of Valencia is the home of paella, but there is so much more to this historic region than a tasty rice dish. Located next to the Mediterranean Sea, couples can enjoy fresh seafood and amazing views when visiting this region.
Here are some of the top romantic activities for couples visiting Valencia during their honeymoon in Spain:
Get wild at the BioParc zoo. Tickets to the zoo are $28 per person and make for a fun day out with your loved one.
Get your shopping fix at the Central Market of Valencia. Not only is it a beautiful building, but you can also get plenty of fresh food and snacks while there.
Take a romantic boat trip around the lake at Parque Natural de la Albufera, the place where paella was invented. A boat trip (with paella!) will cost $26 per person.
Top Excursions & Activities To Do On A Spain Honeymoon
When it comes to a honeymoon in Spain, there are some bucket list activities that you should try to incorporate. Of course, you won't be able to do everything, but we've narrowed down some of the top excursions for newlyweds to enjoy for a memorable honeymoon in Spain.
Savor the Tapas. Tapas are small plates of food that are designed to be shared with loved ones. In certain areas (like Catalonia and Basque Country), tapas are called pintxos. If you are lucky, you might even get some free tapas when you order a drink – a real Spanish tradition. The best tapas dishes include Gambas al Ajillo, Chorizo al Vino, and Tortilla Espanola.
Take a pilgrimage. The Camino de Santiago is the perfect place to build an even closer bond with your new spouse. This 500-mile-long walk has plenty of accommodation and eating options on route. Plan a multi-day walk, or simply stroll along a section of the Camino one afternoon.
Watch Flamenco dancers (or try it yourself!). Flamenco is a real Spanish art form, and there are many establishments that offer Flamenco dancing or classes. You will find flamenco in almost every city and town you visit.
Visit the Balearic Islands. The four Balearic Islands have something for everyone. Ibiza has a party atmosphere, while Mallorca is for those looking to socialize and be adventurous. Menorca is more laid-back, while you can enjoy eco-tourism on Formentera.
Explore the whitewashed villages of Andalucia. These characteristic white villages can be reached by road, or those seeking adventure can follow the beautiful walkways that connect many of the villages.
Sample Itinerary & Budget For Your Honeymoon To Spain
Depending on where you stay and what you do, you can expect to spend around $390 a day during your honeymoon in Spain.
Below we have created an 8-day itinerary in Spain, which will allow you to explore pristine beaches and historical gems.
Day 1 – 3: Madrid. Madrid has a large international airport and is easy to reach, making it a great first destination. There are plenty of attractions in Madrid, and the nightlife and music scene are especially lively here. Explore the city during the day, or head out to the nearby city of Toledo for a day trip.

Day 4 – 6: Valencia. Travel to Valencia from Madrid by train ($25 – $84), bus ($24 – $42), domestic flight ($32 – $120) or rent a car (starting at $60). This beautiful coastal city is known for art and science, gorgeous beaches, wetlands, parks, and delicious food and drink. You can easily fill your days in Valencia by exploring the gorgeous buildings of this Spanish city.
Day 7 – 8: Barcelona. You can reach Barcelona by train from Valencia ($25 – $32), bus ($20 – $42), domestic flight ($30 – $120), or rent a car (from $60). There is so much to do and see in this trendy city you may want to extend your stay! From shopping on La Rambla to learning about the history of this Catalonian city, couples will have a magical time. And be sure to keep an eye out for Anton Gaudi's architecture!
Frequently Asked Questions
How much does a Spain honeymoon cost?
Couples can expect to pay between $300 and $400 per day (excluding flights) on a honeymoon in Spain. This can increase or decrease, depending on where you stay, how you travel between regions, and what you do during your honeymoon.
When is the best time to visit Spain?
The best time for a honeymoon in Spain is between April and October. The weather is best during these months. If you like hot weather, then July and August will be the best time to go, although there will be a lot of people as it's peak-season. The off-peak season is December and January, when temperatures go close to freezing in the large cities.
What is the best way to travel around Spain?
Spain has a great public transport system, and traveling by train is convenient and affordable. If you wish, you could rent a car and travel to the smaller towns. There are also several bus companies that offer transport services at affordable rates.
Start Planning The Perfect Romantic Honeymoon Getaway
Spain is possibly one of the best honeymoon places in the whole world. The large cities have plenty on offer, from access to white beaches to narrow streets dotted with cafes and amazing architectural wonders from history. The Spanish food will have you licking your lips, and Spanish wine coupled with a romantic sunset will be the perfect way to end a busy day.
Are you ready to pack your bags and go on your honeymoon? Make sure to check out Couples Travel for all your honeymoon information, including some other wonderful destinations to include on your honeymoon itinerary.