A Michigan honeymoon is the perfect way to start your fun-filled, new life together. The state of Michigan is located in the Great Lakes region of the midwestern United States. It is no surprise that the 11th largest state is known for its iconic waterscapes and magnificent shoreline.
This article will dive into the many honeymoon options Michigan has, including the best resorts to stay at, ideal activities and sights to see, and travel tips for making the most of your trip while keeping costs to a minimum.
What Makes Michigan Perfect For A Honeymoon
Michigan is the ultimate four-season travel destination and makes for the ideal honeymoon getaway. You will surely love this easygoing getaway destination, with unique shops and artisanal restaurants. Michigan remains popular among honeymoon destinations because of the diverse choice of accommodations and activities.
However, there is so much more to the state of Michigan; you will fall quickly in love with the charm of small-town rural America and the quaint downtown atmosphere. Take a trip to Mackinac Island and ride a horse-drawn buggy through the old-timey main street before sampling a little (or a lot) of the famous Mackinac fudge!
Or perhaps the ocean is your lure? Explore Michigan's Gold Coast and marvel at the towering Saugatuck dunes and pearlescent, white sand beaches. Michigan is a state infused with natural beauty and filled with opportunities for adventure.
The iconic lakes and waterfalls are a major attraction with their serene, romantic atmosphere. Start your new life together with adventure and fill your Michigan honeymoon with kayaking on the great lakes before seeking out the perfect place for camping. We recommend Tahquamenon Falls State Park!
With 15 airports offering commercial flights, a Michigan honeymoon is easily accessible. Of course, if driving is an option, you can save a few cents and share a cross-country road trip simultaneously. Michigan is less expensive than the average US state, but you can tailor your honeymoon getaway to suit your budget.
Best Honeymoon Resorts, Hotels, and Other Stays in Michigan
The first step when planning your Michigan honeymoon getaway is to source the perfect, unique lodging in a country, city, or island setting.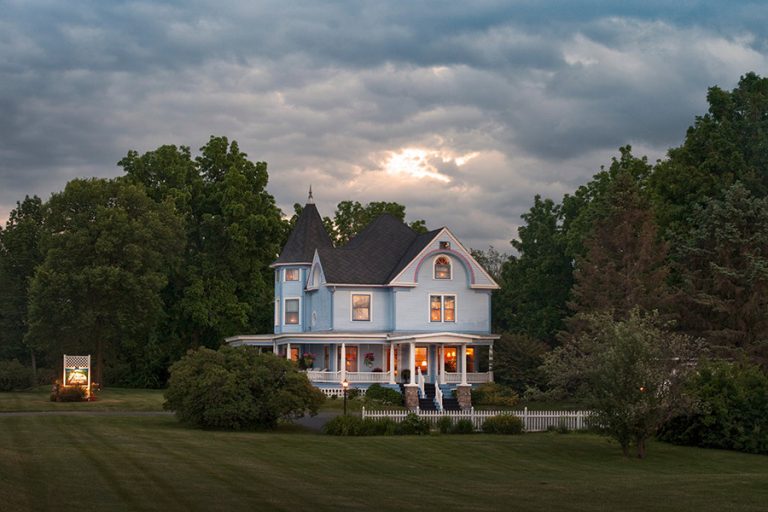 Price per Night: from $379
Best For: Romantic getaways
Availability: Limited
Rooms vary in size and extravagance but retain a shared, medieval-esque theme. There are a variety of rooms for you and your new spouse to choose from, depending on whether you want a king or queen room or suite. With a host of romantic packages and enhancements to suit your personal taste, a stay at the Castle in the Country is an excellent spot for romantic getaways.
Michigan is an excellent all-season travel destination. However, the beautiful natural landscape surrounding the Castle makes it especially popular during the summer and holiday seasons. The Castle in the Country is themed after a classic medieval castle, with rooms dressed in classic wooden detail and fitted with large windows overlooking the picturesque landscape. Stay in a turret (seriously) or enjoy the cozy, slanted ceiling feel or a room on the third floor.
All rooms include high-speed Wi-Fi, a flat-screen television, a Keurig coffee machine, and heating/AC.
The Castle offers a dedicated honeymoon package, giving you complete control over your choice of room and breakfast and enabling add-ons, including couples' spa treatments, nature trails, and brewery tours.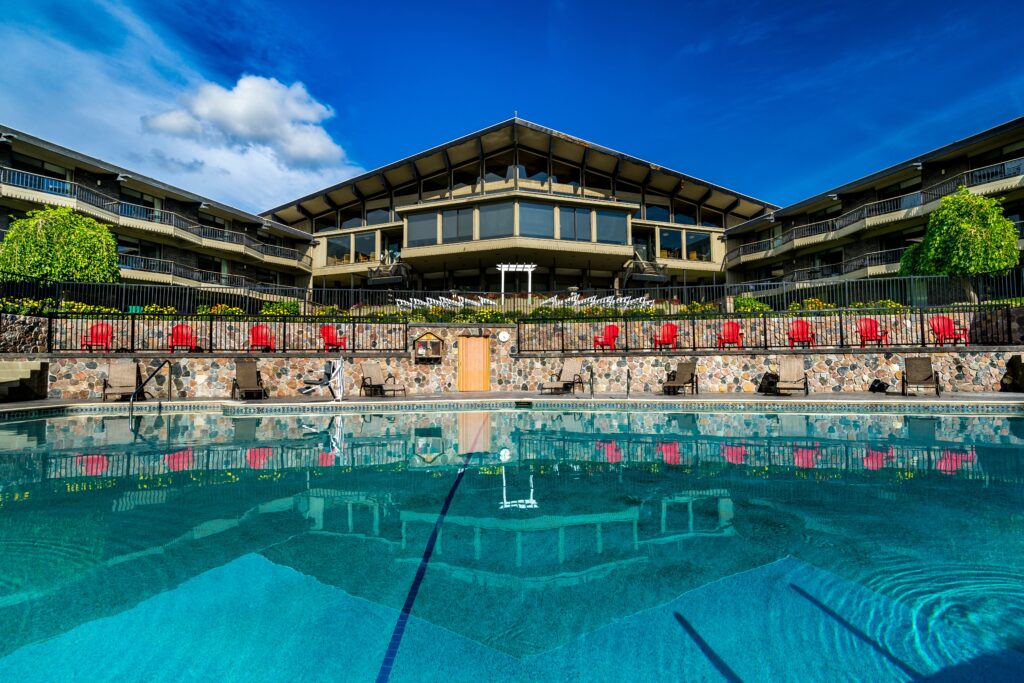 Price per Night: from $181
Best For: Romantic getaways, couples, families
Availability: Limited during ski season
Shanty Creek accommodation is split across four distinct villages:
Summit Village: offers various lodging options with easy access to the wellness spa, fitness center, and two golf courses.
Cedar River Village: has larger suites or golf-side and slope-side condos with ski in/ ski out accessibility.
Schuss Village: provides budget-conscious ski in/ski out accommodation. This option is ideal for the winter months, with easy access to cross-country and alpine skiing.
Hawk's Eye Village: immediate access to the Hawk's Eye golf course and nordic trails.
Each of the four villages includes themed dining options and accessible accommodation options. While you might select the village which appeals most, keep in mind that guests can enjoy facilities and activities across the entire resort.
A honeymoon getaway to Shanty Creek Resort is for adventurers who want their first trip away as newlyweds to be filled with skiing, golfing, nordic trails, and mountain biking. You will love this inclusive, high-adrenaline vacation if that sounds like you. It is especially well-suited to those who mix romance with adventure, as a stay at Shanty Creek is the ultimate outdoor experience.
This hotel resort also welcomes couples and families with over 400 lodging accommodations.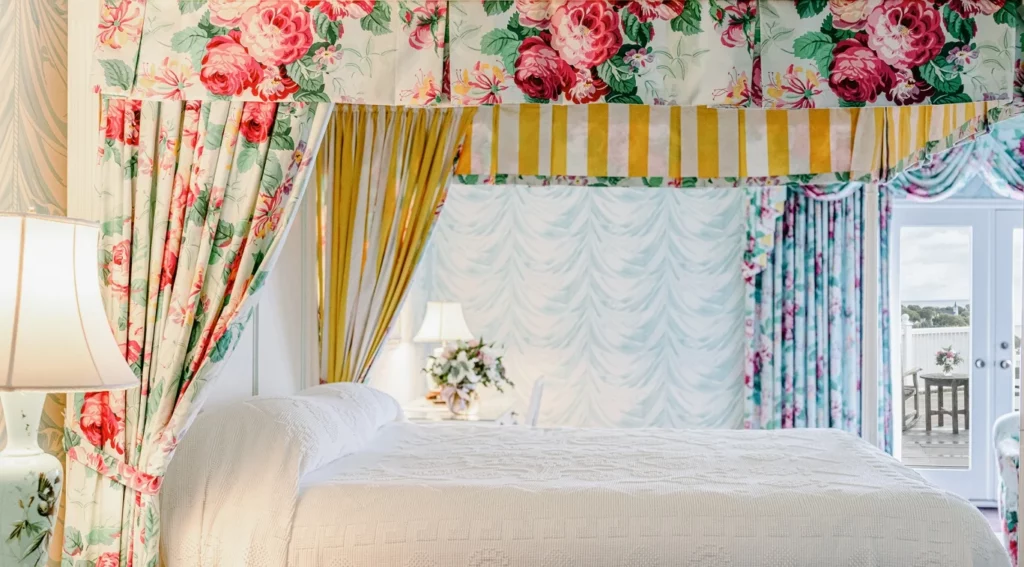 Price per Night: from $511
Best For: All types, romantic getaways
Availability: Limited
It offers a variety of room types, with guests getting to choose from a private balcony overlooking the Jewel golf course, a room with a view of the Straits of Mackinac, or finally, the grand suites with scenic treescape views and ample natural lighting.
Larger, two-bedroom, and family suites are available, as are similar upgrades for couples who desire more space.
A honeymoon getaway to the Grand Hotel is an excellent opportunity to step back in time and escape the bustle of city life. Enjoy access to The Jewel golf course and some time to unwind in Esther Williams swimming pool and the hotel's salon and spa. During the day, spend time in the stables, playing traditional lawn games, or hiring bike rentals from the hotel.
There is no specific honeymoon package, but if you want your vacation to have an inclusive, everything-taken-care-of feel, you might try the Simply Grand Getaway for a great deal.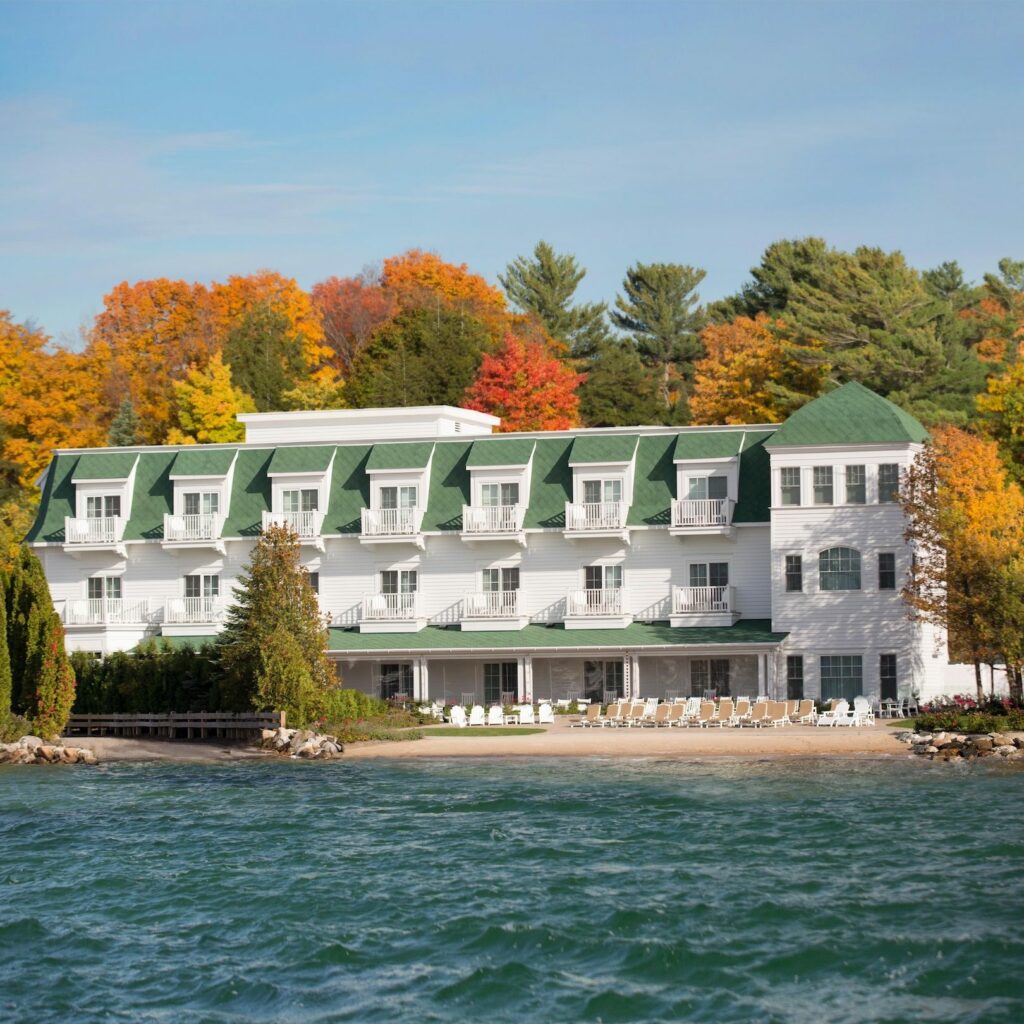 Price per Night: from $350
Best For: Romantic getaways, families
Availability: Limited
Rooms vary slightly depending on size and number of beds and offer different views with Cottage View, Lakeside, or Lakeview rooms.
Hotel Walloon is renowned for its premier twice-daily housekeeping service and turn-down service with handcrafted chocolates (for late-night snacks!) as well as in-room conveniences, including Wi-Fi, Alexa services as an in-room Concierge, smart television with video streaming, premium bathroom amenities, a mini refrigerator and an in-room safe.
You're also sure to make full use of the onsite spa and wellness center. Or, perhaps horseback riding and water sports are a little more up your alley. Ask the Concierge for information about venturing further into Northern Michigan to explore orchards, lighthouses, museums, or breweries.
If you're looking for a mixed activity getaway, a stay at Hotel Walloon might just be the one for you. Rent a boat and explore the lake's crystal waters together, or enjoy a romantic nature trail along the picturesque shores. The central location makes the hotel ideal for exploring everything Northern Michigan has to offer.
This charming hotel on Walloon Lake is a fabulous vacation choice for everyone. Easy access to lake activities and resplendent onsite amenities makes it an excellent choice for romantic getaways and family holidays.
With just 32 rooms, expect this four-season travel destination to book up fast – especially during warmer months when the lake becomes the site of summer sports galore!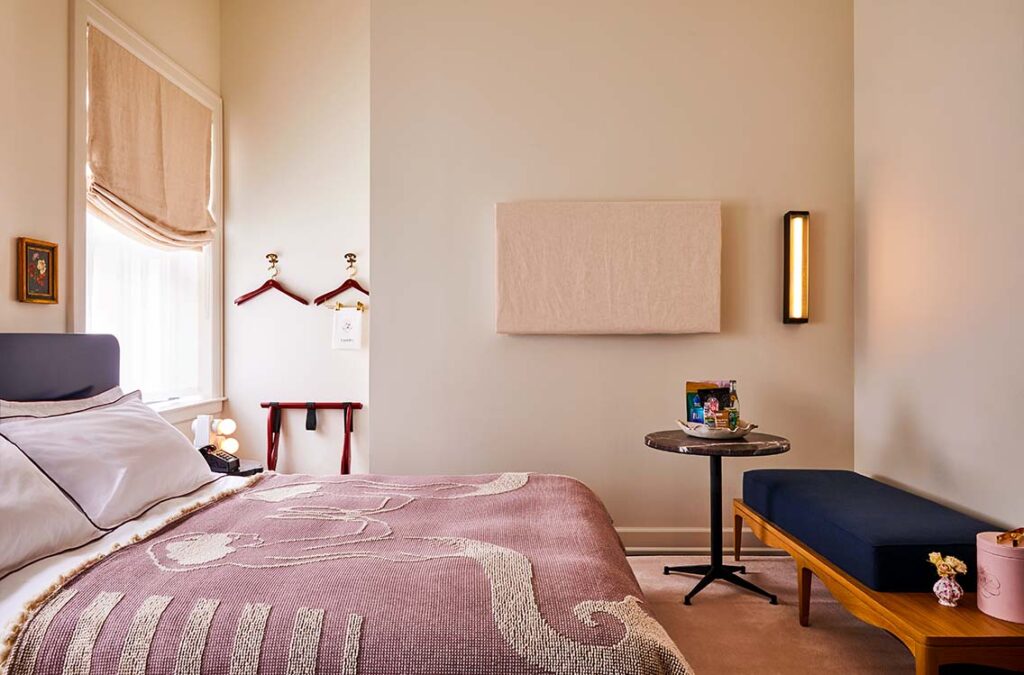 Price per Night: from $179
Best For: Couples, families
Availability: Limited
The Siren Hotel is a bit eclectic, to say the least. Idealized as one of the most romantic hotels in all of Michigan, this popular joint seems almost to have slipped from the roaring twenties, bringing with it the lingering scent of the Tom Collins and well-aged bourbon. It offers a number of room types and sizes, making it easy to find whatever is best suited for your honeymoon and budget.
Bedecked in colorful tiles and draped in Italian linens and hand-loomed blankets, each room at The Siren looks a little different. However, standard amenities include a flat-screen television, Wi-Fi, gourmet snacks, air conditioning, and The Siren branded toiletries
This is the place to stay if you love vintage, cultural vibes, anything a little eclectic, and a little bit out there. There are no advertised inclusive packages, but staying at The Siren, you will likely begin your day at The Siren Cafe and take dinner at the Albena kitchen.
The Siren is the place for art lovers and you who are drawn to the cultural, hipster side of Detroit. It is the perfect place for any couple with a little rebellious streak.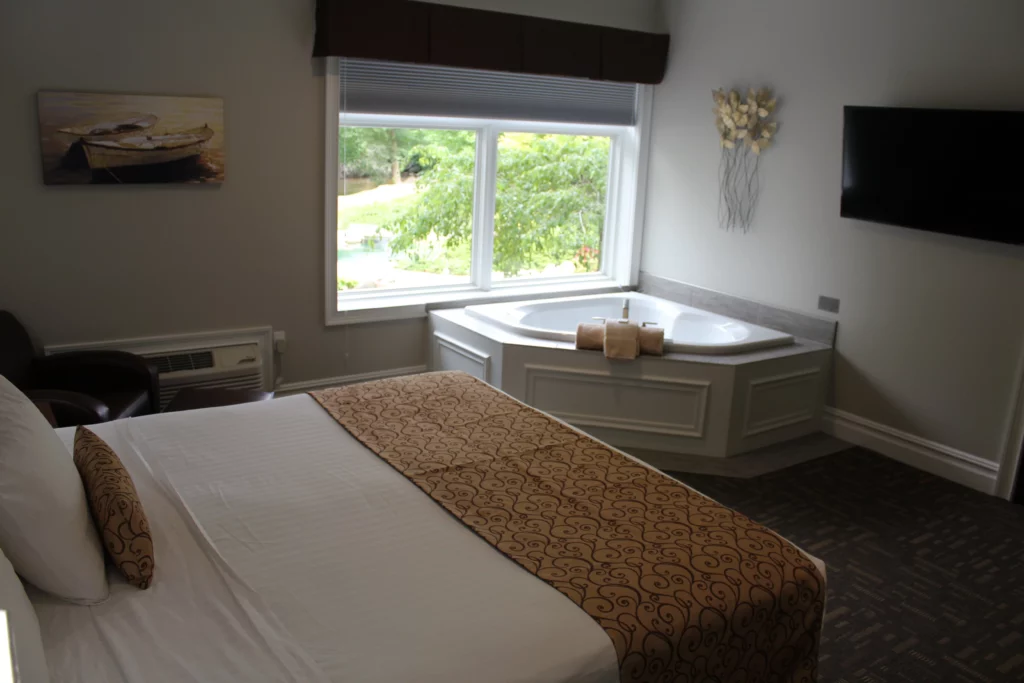 Price per Night: from $119
Best For: Couples, weekend getaways
Availability: Limited; book in advance
Riverwalk Place Resort & Spa is an all-inclusive honeymoon choice with views of the Cedar River and a few accommodation options, including rooms with jacuzzis, double queen rooms, or various suites with balconies and jacuzzis.
Riverwalk Place is the honeymoon choice for a couple looking to relax together. They offer a Couples Getaway Package for one night, which would be the perfect way to start your honeymoon.
While staying at Riverwalk Place, you can unwind at the Oasis Salon & Spa, take dinner at the Riverwalk Grill, and shop at the Chic Boutique. Venture outside the resort into Gladwin to tour world-famous apple orchards and sample the spoils firsthand.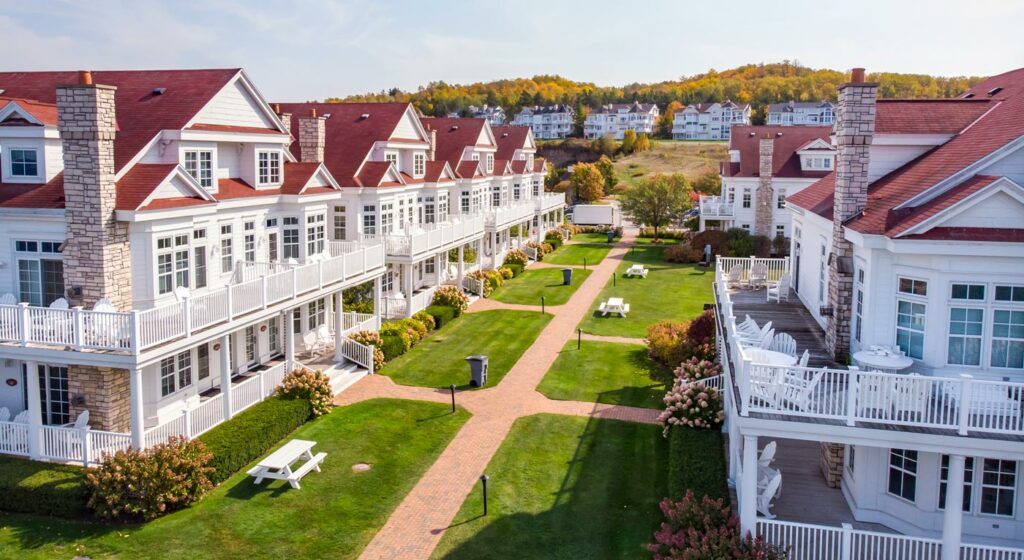 Price per Night: $672
Best For: Families, couples
Availability: Limited in June-September; booking in advance recommended
The Inn at Bay Harbor welcomes all guests, offering various outdoor activities for every season. It is well placed on the shores of Lake Michigan, with a shuttle to take guests into Bay Harbor.
The Inn remains popular year-round, with its four-season approach and a wide choice of accommodation. June – September are the busiest months, with the holiday season running close behind.
The Inn offers accommodation split into rooms, suites, and cottages. For a honeymoon getaway, search for one of their luxurious but budget-friendly two-sleeper rooms, or opt for one of their Deluxe King rooms if you're looking for that extra bit of luxury. Choose from extra space, a more luxurious bathroom, and your pick of fabulous views.
The Inn's Romance Package is perfect for honeymooners, including a spa and pampering day with a romantic meal and a cozy hotel suite. Even without this package, you will find yourself overcome by the romantic ambiance of Bay Harbor, as well as full access to the spa, a choice of eateries, and access to the marina.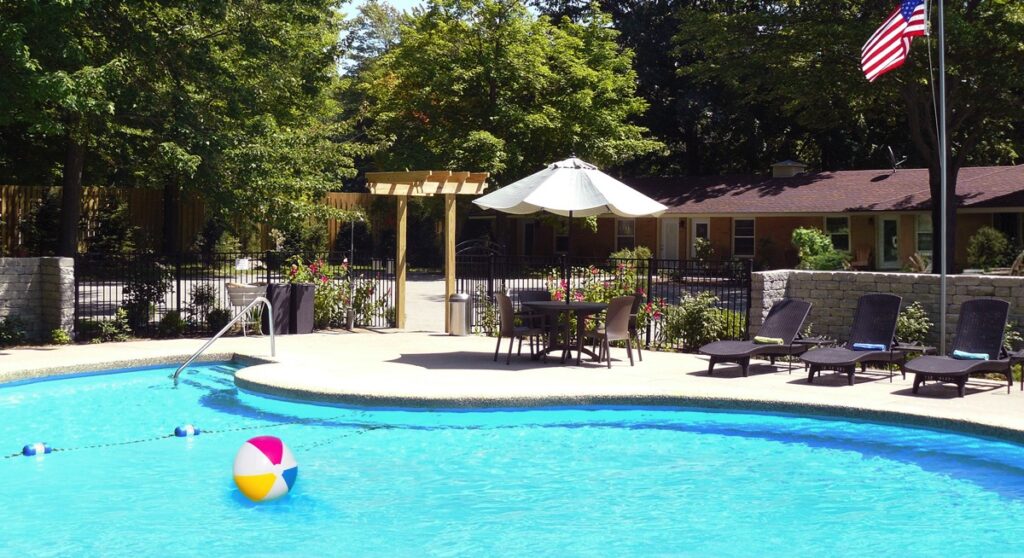 Price per night: $299
Best for: Couples, budget, road trips, families
Availability: Limited, especially during spring and summer
This retro-chic motel functions as a midway motor lodge during a road trip and a central base for holiday goers. Expect bookings to be popular during the spring and summer months.
A motel might not be what most people think of when planning their honeymoon, but this is one for the budgeters and the quirky folk among you. The Saugatuck Motel is uniquely stylized to replicate those old-fashioned motor lodges of the American mid-west.
It's basic, but it's fun, and if you're already drawn to the idea of a road trip honeymoon, chances are you will love this hidden gem. Rooms are simple, with a choice of queen bed or king bed. All rooms include a flat-screen television, Wi-Fi, compact fridge/freezer, microwave, and patio chairs.
The Saugatuck is conveniently close to glistening Lake Michigan beaches and some of the finest hiking and biking paths. Trek into the Saugatuck city center to peruse some fine art galleries, dance wild and free at an open-air concert, and try the craft beverage scene firsthand.
Best Areas To Stay in Michigan
The best thing about Michigan is the choice of city or country, islands or beaches. You're sure to love tailor-making your own Michigan honeymoon getaway. Here are a few recommendations to get you started:
Mackinac Island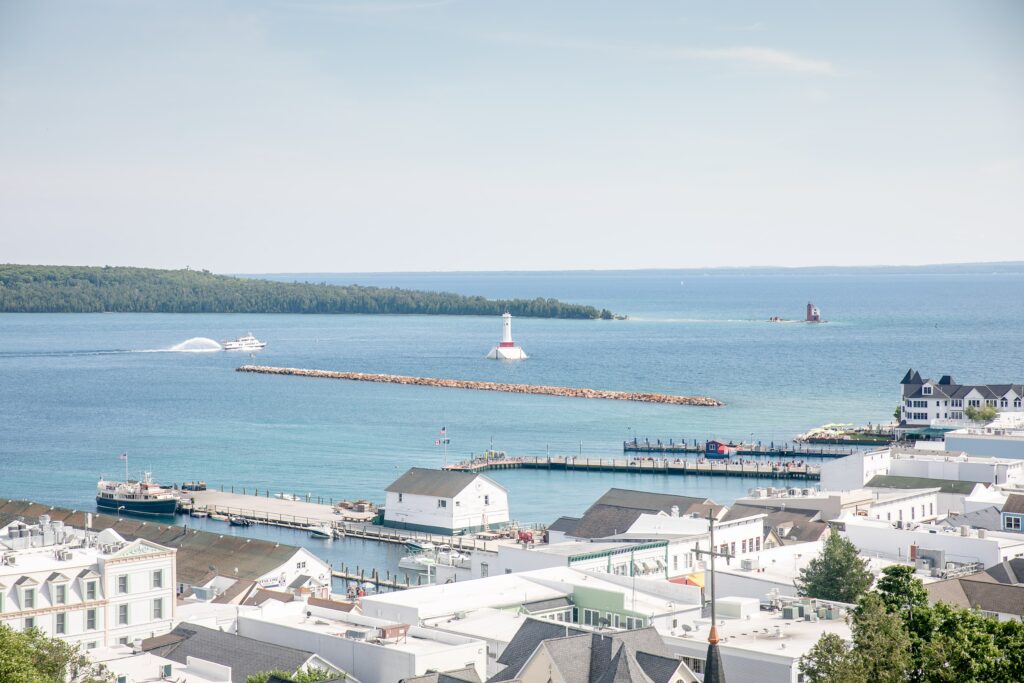 Voted #1 best island in the continental US, Mackinac Island is a short ferry ride from the Michigan seafront. No cars are allowed on this island, lest they spoil the quaint downtown atmosphere, so climb aboard a horse-drawn buggy!
Mackinac Island has a whiff of history about it and a whiff of delicious fudge as well! The island is home to some truly unique shops, golf courses, and the ideal locale for a romantic bicycle ride along the beach. You will love Mackinac Island if you like to get out and explore but take things at your own pace.
Pictured Rocks National Lakeshore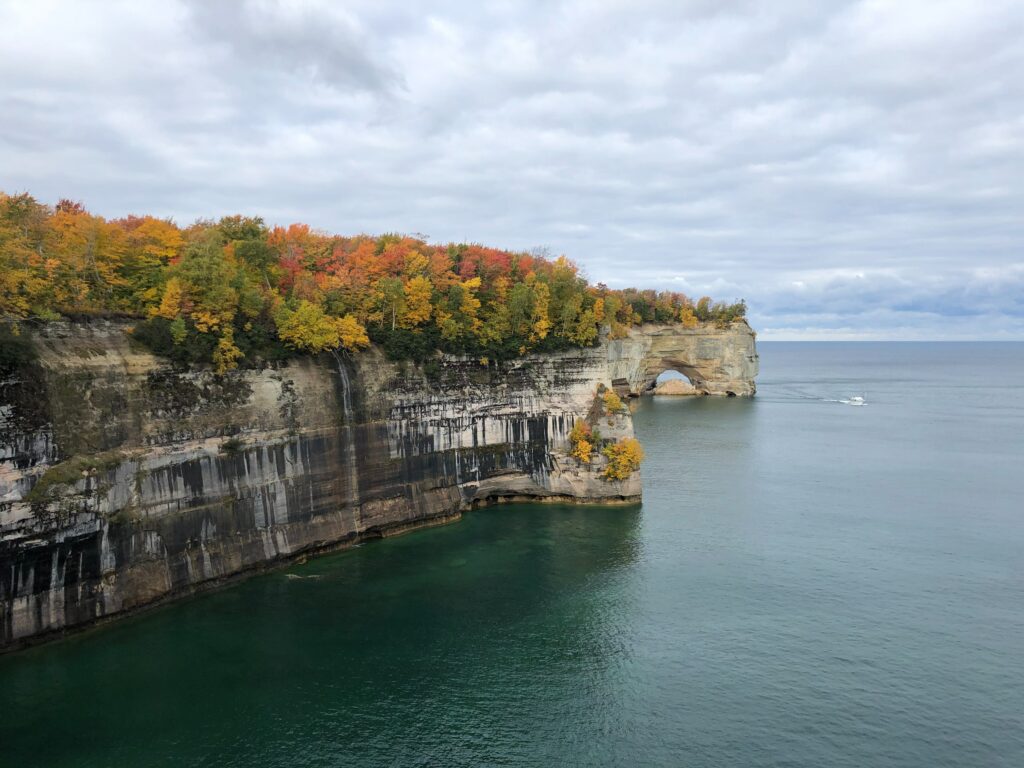 We're getting a little more rustic now with Pictured Rocks National Lakeshore. Michigan is right there among the great lakes, so it isn't any wonder that lakes are among the finest attractions this state has to offer. Pictured Rocks National Lakeshore is the ideal combination of sandstone cliffs, glistening waterfalls, mysterious forests, and sandy beaches.
Pictured Rocks National Lakeshore is the grand haven for any married couple who craves adventure. You will spend time hiking together, kayaking, bike riding, and more. It is a beautiful site for camping, but if sleeping outdoors is just a step too far, a few small motels and rentable cabins are available nearby.
Detroit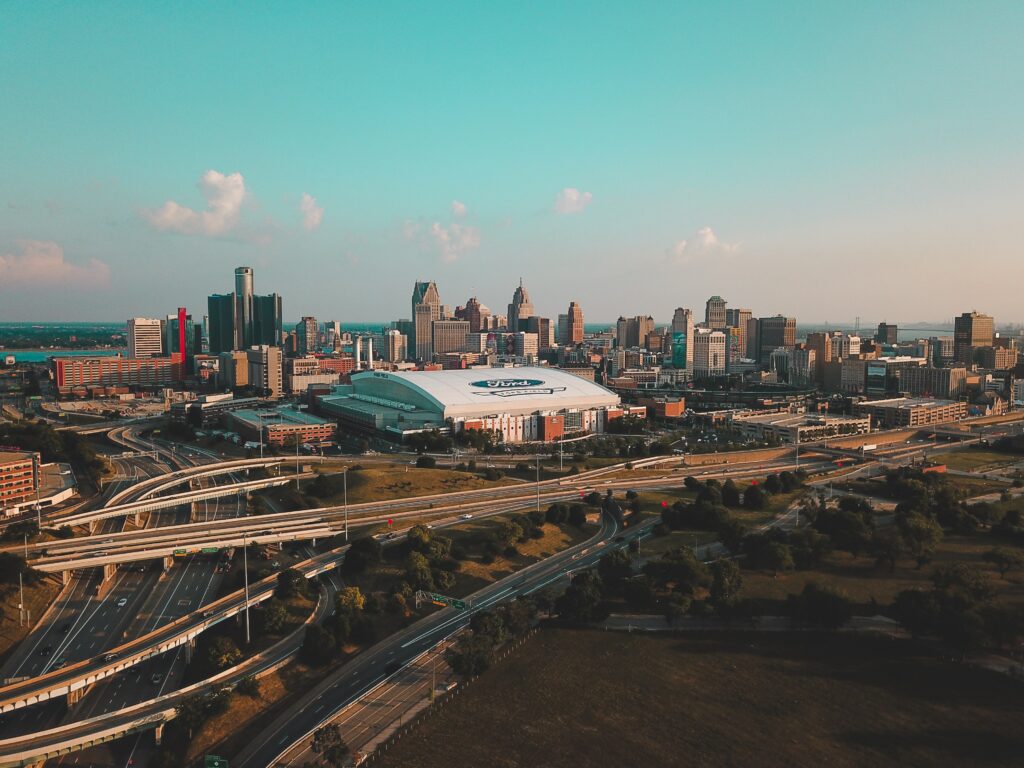 Detroit is the largest city in the state of Michigan and a bustling metropolis filled with ideal honeymoon attractions and a thriving downtown scene. Detroit is popular among music and art lovers but is also the perfect place for couples looking to enjoy their honeymoon vacation in metropolitan comfort.
You could embrace the cultural side of Michigan with a visit to the Detroit Institute of Arts before spending the afternoon strolling through historic Corktown, shopping for vintage and handcrafted souvenirs. To conclude a perfect day, you could share a romantic sunset sail on the glassy surface of the Detroit River and Lake St. Clair.
Top Excursions & Activities To Do On A Michigan Honeymoon
The fabulous thing about taking your honeymoon in Michigan is the variety. If a spell in the lap of luxury is what you find yourselves angling for, there is no shortage of resorts, but if you are looking for a bit of adventure.
Spend a day on the water!
Lake Michigan is the lake to visit if you find yourself anywhere in the state. Charter a boat for the day and take a romantic sail, exploring the crystal waters. Pack a picnic lunch and drift lazily on the water.
If you'd rather let someone else do the work for you, there are plenty of small boat tours you can join, so you can explore the waterways as part of a small group and experience the majesty of the Great Lakes for yourselves.
Anna Scripps Whitcomb Conservatory
If your honeymoon getaway takes you anywhere near Detroit, plot a course for the oldest conservatory in America and explore five separate climate areas with the exotic flora to match.
Perhaps right after your wedding, you've had enough of flowers! Well, this 13-acre conservatory is much more than flowers; it's a feat of architectural ingenuity, a botanical marvel from 1904!
Northern Lights
That's right; the aurora borealis can be seen from Michigan at the right time of year.
This spectacular natural beauty colors the sky in shades of green and purple, red and pink, and is truly not to be missed!
The northern lights are visible from Michigan's Upper Peninsula between August and April, with the shores of Lake Superior being a favored spot to see them.
Sample Itinerary & Budget For Your Honeymoon To Michigan
It is possible to do your Michigan honeymoon on a budget or splash out if you would like to treat yourself. Michigan is such a wide, varied state that there is no right way to do it. You can just pick out the bits that suit both your taste and your budget.
A sample budget and itinerary for seven days might look something like this:
| | |
| --- | --- |
| Activity | Price |
| Accommodation | $518 – $4704 |
| Flights | upwards of $214 (return flight, internal US) |
| Food and drink | $400 – $2000 |
| Charter a boat on Lake Michigan | $260 |
| Ferry to Mackinac | $31 per person |
| Pictured Rocks National Lakeshore | $5 per person |
Day 1: Kick back and relax at your hotel. Make the most of any fabulous services on offer; the pool, the spa… the bar. Eat at the hotel or take a short evening stroll to stretch your legs and try out one of the local restaurants.
Day 2: Embrace that early vacation energy and head over to Pictured Rocks National Lakeshore for a hiking day. There are many different trails to try; some for experienced hikers and other shorter, less arduous trails for the novice hiker to experience the beautiful scenery. Pack a picnic lunch and find the perfect spot!
Day 3: Enjoy a visit to one of Michigan's sandy beaches and spend a day lounging on the sand dunes and sampling favorite ice cream flavors with your partner. Take a dip in the water to cool off, or try out the water sports scene. Many beaches in Michigan have a lighthouse, which is always a good photo spot. End your day with some seafood cuisine.
Day 4: Take a tour of one of many local orchards or breweries and try out some famous Michigan craft beer. In the evening, head to the shores of Lake Superior and look to the skies for a glimpse of the Northern Lights.
Day 5: Take a half-hour ferry ride to gorgeous Mackinac Island and soak up that quaint, old-timey charm. Tour the island by horse-drawn buggy and then stop for a seaside lunch. Pick up some souvenirs in the unique shops and make sure to sample the famous island fudge!
Day 6: Visit the Anna Scripps Whitcomb conservatory. It's free to enter, so well worth even a quick visit! In the afternoon visit some of the local stores for a bit of last-minute shopping.
Day 7: Charter a boat for a couple of hours and sail the glistening waters of Lake Michigan. Alternatively, ask your hotel for information about different boat tours. Return to your hotel early for a leisurely dinner and drinks at the hotel bar.
Frequently Asked Questions
How much does a Michigan honeymoon cost?
The average cost is approximately $2000. Of course, this will inflate if you choose the supremely fancy suites at the most luxurious hotels. Budgeting will be easier if you stir toward the most cost-effective accommodation and focus on spending time together instead of paying for entertainment.
When is the best time to visit Michigan?
Michigan is an excellent, four-season destination, offering its own activities each season.
Spring and summer are perfect for rafting, kayaking, canoeing, and generally making the most of the fabulous lakes and beaches.
Fall is absolutely beautiful. If nature walks and irrepressible landscapes are your vibes, visit when the trees are draped with gold and the scent of maple hangs heavy in the air.
A visit in winter means you can partake in skiing, ice skating, and ice fishing.
What is the best way to travel around Michigan?
Ideally, the best way to travel around Michigan is by car. If you hope to visit more than one part, driving or renting a car will afford you the most flexibility.
If you are hopping between cities, public transport will, however, save you the cost of gas and parking.
Start Planning The Perfect Romantic Honeymoon Getaway
What are you waiting for? Michigan is the ideal honeymoon destination for just about anyone because there are so many different parts to see and so many different things to try. There is no shortage of luxury, but there is also plenty of opportunities to get out into the world together and leap into something new!
Michigan is home to both city and country; hiking, shopping, Grand Rapids, Saugatuck's grassy dunes, and Michigan craft beer, of course. Use Couples Travel for more information on your perfect honeymoon, and browse our other location guides.