When it comes to the best beaches in Maui, you're understandably spoiled for choice. Maui is particularly diverse when it comes to coastal wonders. From mesmerizing black sand beaches to tree-lined golden coasts, Maui has the perfect range for a honeymoon or couples' escape.
But which are the best beaches in Maui overall? Of the 80 accessible beaches on the island, we've whittled the list down to our top 12. Without further ado, make sure your Maui honeymoon or couples' escape itinerary includes these seaside spots:
1. Honokalani Beach, Hana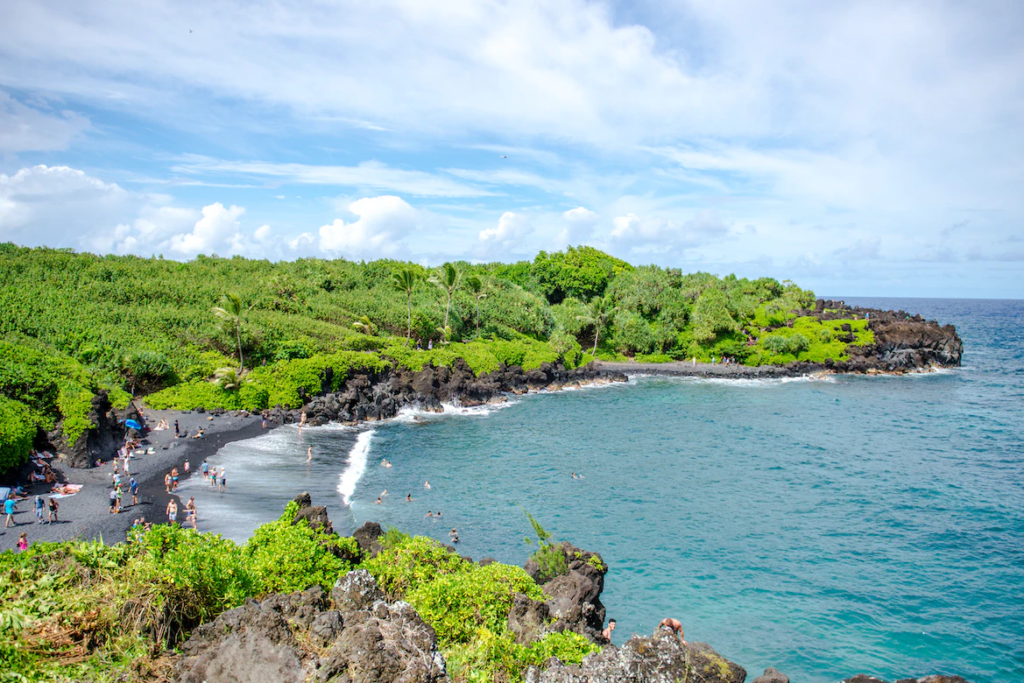 Best for: Instgrammers, romantic strolls
Let's kick things off with one of Maui's most alluring beaches, Honokalani Beach. Also known as the Black Sand Beach, Honokalani's sand is made up of tiny lava pebbles. When you combine this unusual sand with the dramatic backdrop of crashing waves, rich tropical plants, and black rocks, Honokalani Beach paints quite a dramatic picture.
The emotive scenery of Honokalani sees Instagrammers flock to the beach in droves – however, you're sure to find a nice quiet spot for your own photoshoot.
Luckily, Honokalani is part of the wider Waianapanapa State Park. This consists of stone arches, hiking routes, lava caves, and many more enchanting attractions. Honokalani Beach is never too busy as there's so much else to do in the area.
Honokalani's enchantment has attracted travelers and Maui natives for years. Rich in history, it has long been seen as a sacred place. This grants the coast a calming and peaceful quality.
Honokalani's enchantment has attracted both travelers and Maui natives for years, perhaps in part thanks to its convenient location just outside the town of Hana. Its calming, peaceful qualities and rich history mean it has long been seen as a sacred place.
However, we wouldn't advise swimming in Honokalani. The immediate shore is pretty rocky, and the tide can be choppy and strong. Also, there's no lifeguard onsite. While some adventurous watersports fans will take their boogie board out in the summer, we wouldn't recommend it to rookies.
2. Ka'anapali Beach, Lahaina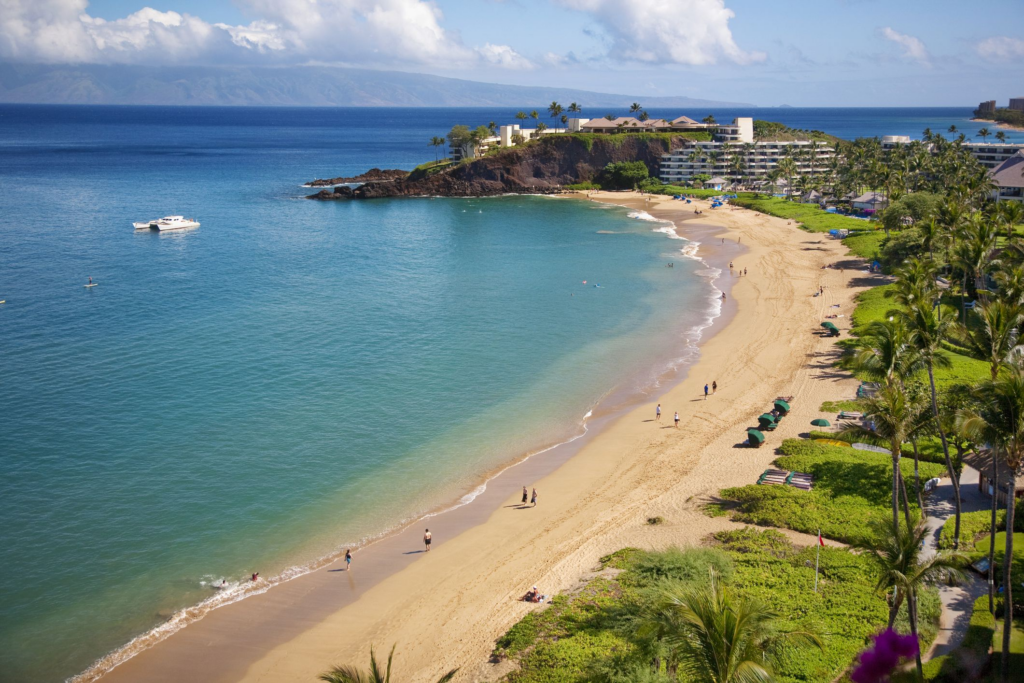 Best for: Sunset cruises, shopping, dining, snorkeling, cliff diving
If you know anything about Maui, you've probably heard of Ka'anapali Beach before. This stretch of golden sand is more than just a beach; it's a whole vacation destination in itself. Facing onto the sand, you'll find some of Maui's most famous resorts, including the likes of Hyatt Hotel and the Sheraton Ka'anapali Hotel.
Ka'anapali is a stone's throw away from Whalers Shopping Village, and some of the best bars and nightlife spots on the island.
In between the hotels and resorts, you'll find amazing restaurants, shops, and entertainment venues, meaning you can spend both day and night on Ka'anapali Beach. During the day, you can laze in a quiet spot on Ka'anapali's three miles of shoreline. This is great for spending a quiet afternoon with your betrothed, or nursing your hangover from Maui's vibrant nightlife!
For adventurous couples, why not set out on the waves on a paddle board or partake in a snorkeling expedition? For even more adventurous couples, why not try some cliff diving? Ka'anapali is one of the best – and safest – spots to do some sea plunging from a height!
Ka'anapali is also the spot where many sunset cruises leave from. So, if you fancy some sea-bound drinks under the Maui moon, Ka'anapali Beach is a great place to be. This big beach truly has something for everyone.
3. Makena Beach, Wailea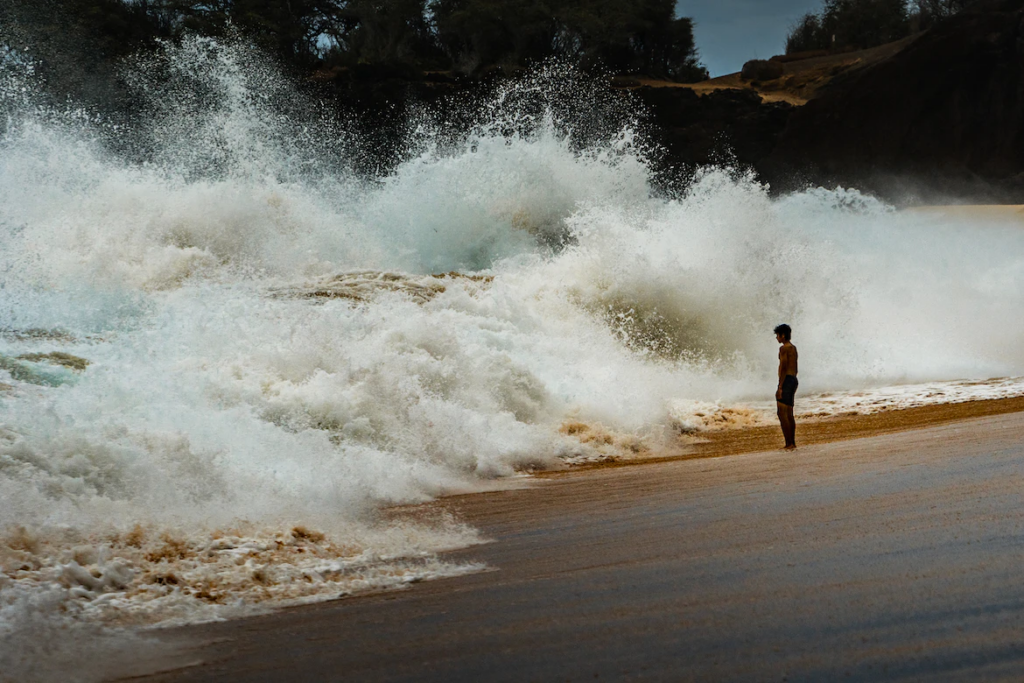 Best for: Peace, views
The complete opposite of Ka'anapali Beach, Makena Beach allows you to escape from the hustle and bustle of tourist epicenters. Located on a quiet stretch of South Maui, Makena Beach gives off a desert island vibe, with privacy guaranteed! The pathways feel less walked on, the beach is less crowded, and there's little noise besides the lapping of the waves.
So, stock up on snacks and supplies, and head down to one of Makena's two beaches: Big Beach and Little Beach. Big Beach is where you'll find Makena's limited amenities. This includes restrooms and showers, should you need to wash after swimming in the azure water.
Makena's Little Beach, also known as Puu Olai, is more difficult to reach. The pathways are less defined, but walking along this terrain is worth it for the privacy afforded. The secluded nature of Little Beach is the reason why it's been a clothing-optional coast for nearly 70 years.
Whether or not you choose to partake in this seven-decade tradition, Puu Olai is an excellent place to admire the wonder of the Pacific Ocean.
On the whole, Makena is a safe place to swim. However, there's not always a lifeguard on duty. So, if you're not a confident swimmer, it's worth checking whether there's a lifeguard or not first.
4. Wailea Beach, Wailea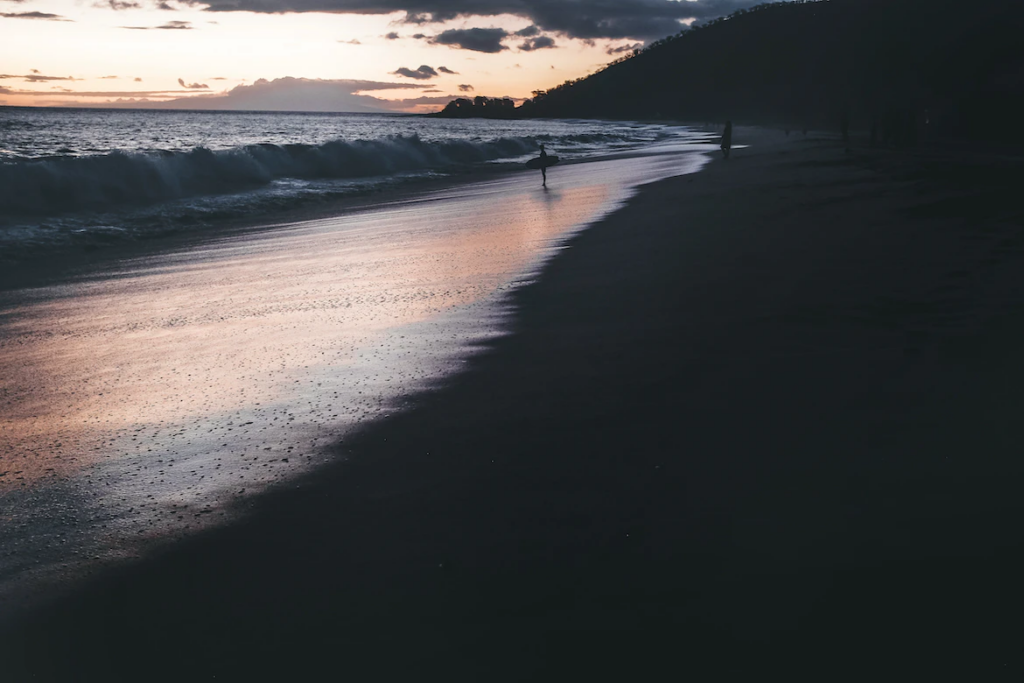 Best for: Resorts, snorkeling, swimming, views
If Makena Beach doesn't give you enough atmosphere, you can head straight to Wailea Beach in South Maui. Some call it the Beverly Hills of Maui due to the expensive resorts and hotels that line its coast. Here, you and your partner could check in at the Grand Wailea or even the Four Seasons.
The golden sands of Wailea are great for sunbathing upon – as long as you don't mind being surrounded by a large crowd. Wailea is one of the most popular Maui beaches. So, you need to get down early for the most glamorous spots.
Once you get yourself set up and start admiring the views of Kaho'olawe, Lāna'i, and Molokini, it will all feel worth it. However, you don't have to spend all day on a chaise lounge. If you enjoy swimming in the sea, Wailea is perfect for it. It's well protected by a cove, so the waves are calm and relaxing.
There are also other great things to do around the beach area. Just south of the beach lies the Ahihi-Kinau Natural Area Reserve, a true gem waiting for you to explore. You won't find much sand here, but you will find a fascinating coastal lava field.
If you're feeling brave, why not explore this underwater world on a snorkeling adventure? Or, once you've seen the sights, head back to Wailea Beach to relax!
5. Baldwin Beach Park, Paia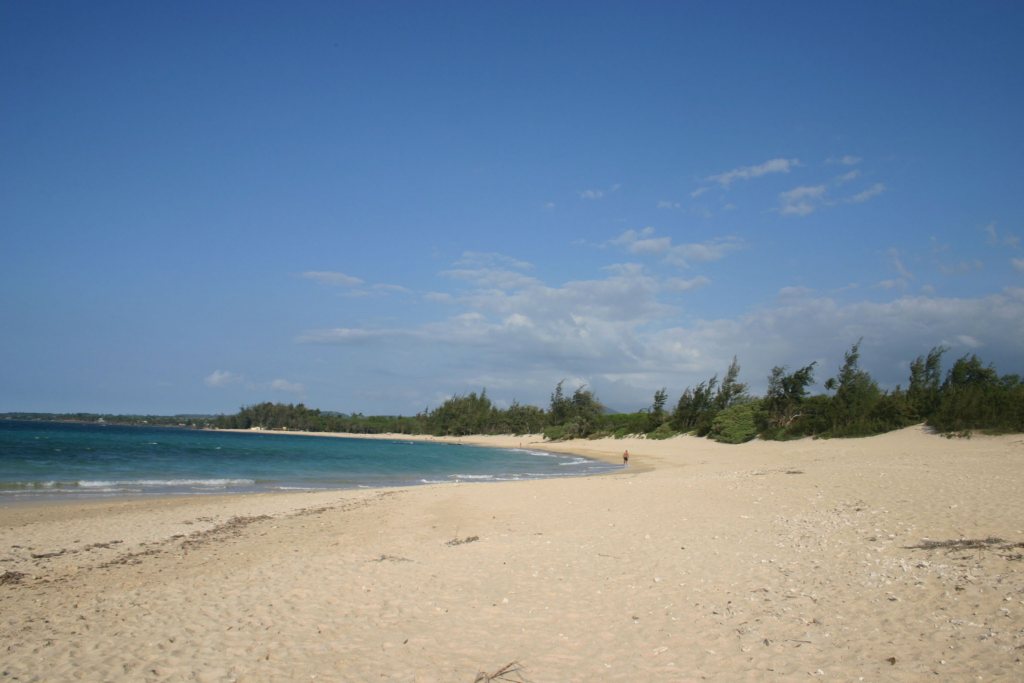 Best for: Bodyboarding, picnics, sports, evening stroll
At the other end of Maui, on the north shore, you'll find the splendors of Baldwin Beach. Its soft sand stretches for about a mile, which gives you plenty of space to find a quiet spot – even in the peak of tourist season. Although it's one of the most popular beaches on the north shore, it never feels too overwhelmingly crowded.
Near Baldwin Beach's western tip, you'll find a spot that goes by the name of "baby beach", which is a small lagoon area.
This is great because there are plenty of amenities for you and your partner to enjoy without having to fight other couples over it. BBQ areas and picnic tables are easy to secure, which you can use to create a romantic beach-side lunch or dinner. There are also showers, toilets, and changing rooms, which makes your beach day all the easier.
Baldwin Beach Park is one of the most popular spots in Maui for body surfing and body boarding. You can spectate some impressive sporting feats from the comfort of your chaise lounge, or you could rent out a body board and try it out for yourself!
Don't worry if you prefer to stay on dry land; there are plenty of other ways to get active on the beach, with great running routes and basketball courts.
Swimming here isn't recommended for weak swimmers, as the water quickly drops to overhead depths. However, there is a lifeguard on duty at all times, so more experienced swimmers can feel free to dip in the water.
If you're staying near the north shore, why not return to Baldwin Beach in the evening? It's also a great spot for a romantic evening stroll – whether around baby beach or the main Baldwin Beach coast.
6. Ho'okipa Beach Park, Paia
Best for: Windsurfing, snorkeling, paddleboarding, parasailing, surfing, sunbathing
Another north shore beach, Ho'okipa Beach Park is world-famous for its exceptional windsurfing conditions. If you're on the road to Hana, it's definitely worth stopping in at Ho'okipa – even if you're not a keen windsurfer. Because of its sporty reputation, the crowds normally forgo Ho'okipa completely.
So, if you're looking for a quiet spot to work on your tan, Ho'okipa Beach Park could meet your requirements. You'll only be disturbed by the occasional windsurfer! Alternatively, if you're looking to get involved in some watersports during your couples' escape, Ho'okipa is by far one of the best Maui beaches to do it.
Hire out gear for windsurfing, snorkeling, parasailing, paddleboarding, or any other watersport you'd like to try! If you and your partner are experienced surfers, be sure to hit up Ho'okipa if you're honeymooning in the winter. With waves up to 30 feet high, this beach will provide you with an unforgettable surfing experience.
7. Hamoa Beach, Hana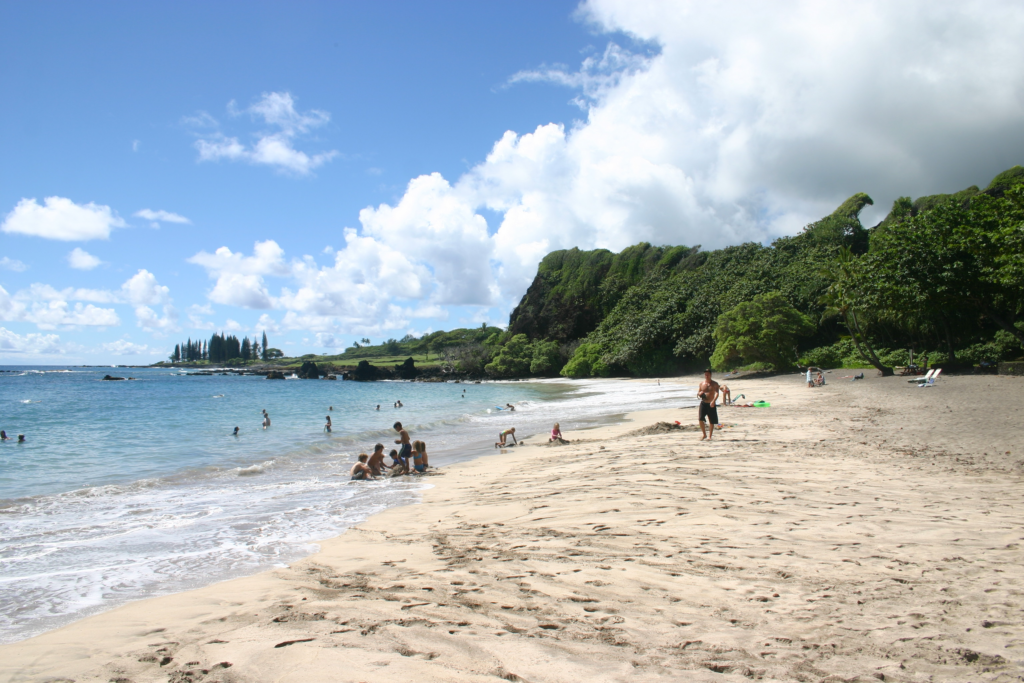 Best for: Hikes, views, sunbathing
If you're looking for a small beach with a large amount of breathtaking scenery, be sure to add Hamoa Beach to your itinerary. It's about 1,000 feet long and 100 feet wide and boasts pure white sand. The water is translucent and the background cliffs are covered in tropical foliage, all of which make Hamoa Beach one of the most picturesque in all of Maui.
Despite all these attractive aspects, Hamoa Beach is rarely busy – which is very surprising, especially when you consider its size.
You can incorporate Hamoa Beach into a longer romantic day trip. There's a vast array of organized trips that pass through the scenery of Hamoa, including ones that lead you to nearby waterfalls, tropical trails, and authentic Hawaiian cuisine eateries.
The only downside of Hamoa is that it's not among Maui's best beaches for swimming. Unlike other Maui beaches, Hamoa is not protected by outer reefs. For this reason, the crashing waves can be quite powerful at times. Although, the areas around the rocks are normally safe enough for snorkeling.
8. Hana Bay Beach Park, Hana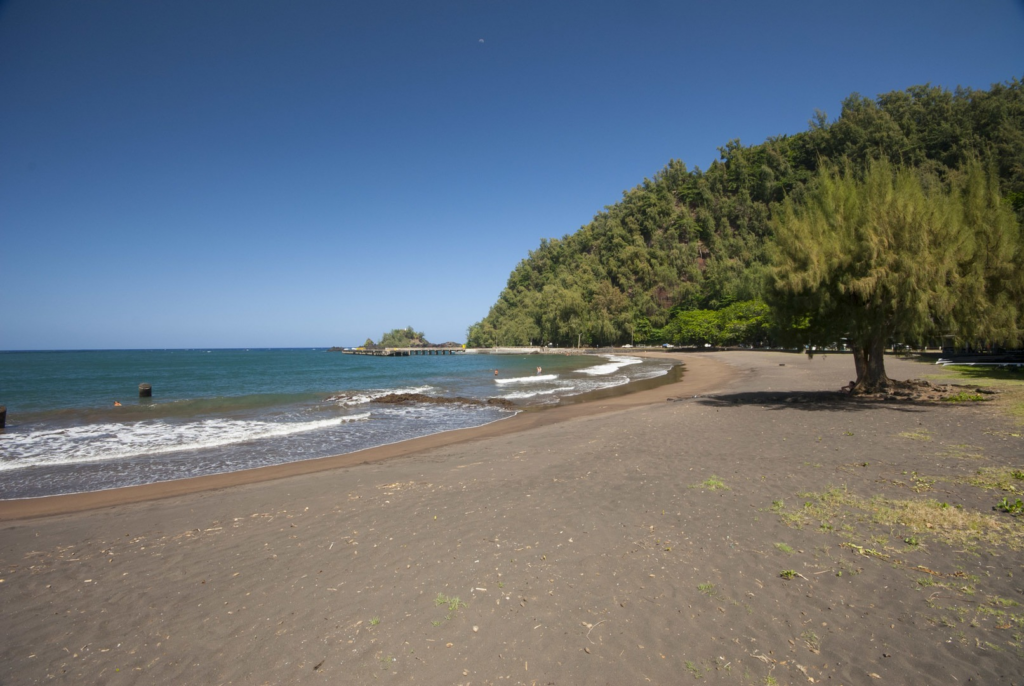 Best for: Swimming, walking, black sand beach
Hana Bay Beach is another black sand beach. However, unlike other Maui beaches featuring black sand, this one isn't too overrun with tourists. You can find Hana Bay Beach Park on Maui's north shore and is normally only frequented by locals. If you're lucky, you might visit on an extra quiet day and secure a stretch of the large beach to yourself.
Despite the fact there's no lifeguard on duty at Hana Bay Beach, the water is totally safe for swimming in. The crescent-shaped beach is protected by an outer coral reef, which ensures that the deeper water is calm. Within the beach area, you'll find restrooms, picnic tables, and even a small snack bar.
While in the area, you can take a romantic stroll down to Hana Pier, which is located further down the right side of the beach. From the pier, you can view the beach, the quaint town of Hana, and the dramatic Ka'uiki Hill. Near the pier, you'll see signposts for a trail that leads you to the top of Ka'uiki.
Interestingly, the color of the sand changes as the year goes on, from dark to light. So, you'll see a totally unique version of Hana Bay when you visit. After you've had enough beach time, we'd recommend going into the small town of Hana to enjoy some authentic Maui culture.
9. Launiupoko Beach Park, Lahaina
Best for: Beginner surfing, picnic facilities, views
Launiupoko Beach Park is great if you're looking for a place to cool down in West Maui. Rocks form a circle around a lagoon area next to the beach, which creates a nice place to bathe. Beyond the lagoon, you'll be met with light-lapping waves. The calmness of the water makes Launiupoko Beach Park a great place to try surfing for the first time.
The lagoon looks onto a small sandy beach, which is also great for catching some rays under the late afternoon Maui sun. From here, you can admire Lanai as well as the West Maui Mountains.
Further along the coast, you'll find an enchanting palm-tree-lined area of lush greenery. This creates quiet, shaded spaces to enjoy a romantic picnic. If you don't fancy sitting on the grass, you can find picnic benches nearby.
Like most Maui beaches, Launiupoko comes with restrooms and changing facilities, as well as two sizable car parks. This makes it one of the best beaches in Maui to visit when road-tripping through the western side of the island. If you head further north into Lahaina, you'll be able to experience some of the town's best boutique shops, restaurants, and art galleries.
For an extra romantic treat, you can book a Lahaina sunset sail, which will glide past Launiupoko, among other beaches.
10. Charley Young Beach, Kihei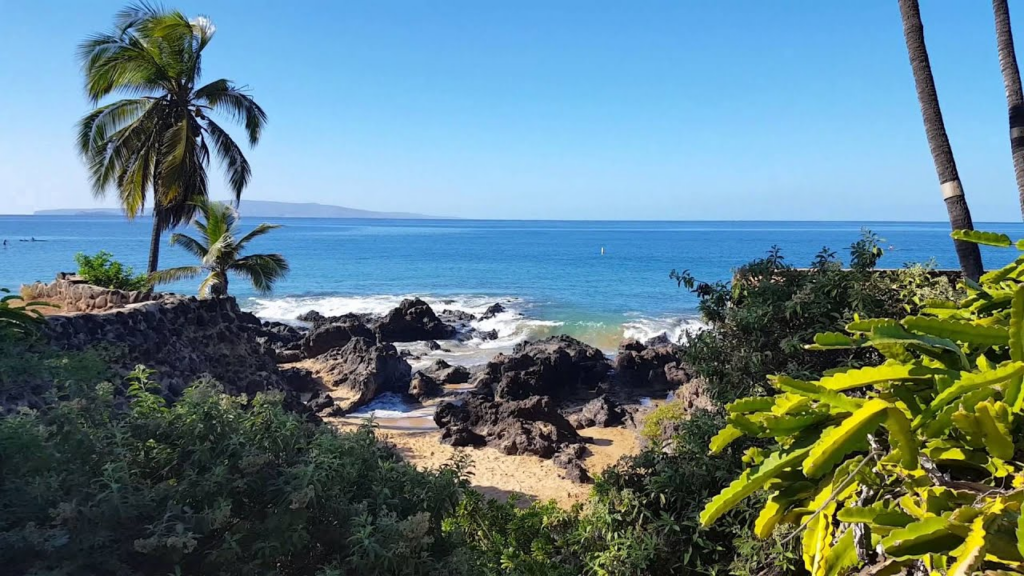 Best for: Walking, sunsets, sea turtles
You can walk right into the waters of Charley Young Beach without having to worry about hurting yourself on rocks. The water is almost transparent, and the sand below your feet is completely rock-free! For this reason, locals and tourists alike visit this beach to enjoy paddling and swimming.
Another of the beautiful beaches found in south Maui, Charley Young Beach is a good option for when Makena and Wailea beaches get a little too crowded for your liking. With over three miles of beach and parkland, there are plenty of nooks and crannies of Charley Young Beach to explore. Despite being nearby the beaches of Kihei, Charley Young never feels too crowded.
Within this 3-mile stretch, you'll find plenty of south-eastern-facing positions to admire the sunset from later. Instead of joining the sunset chasers on Wailea, why not enjoy the far quieter spots of Charley Young?
It's not only honeymooners that enjoy the quieter spots found at this shore. Hawaiian green sea turtles are also known to come considerably close to the beach. Nearby, you'll be able to hire snorkeling gear and take a closer look at these shelled visitors.
11. Napili Beach, Lahaina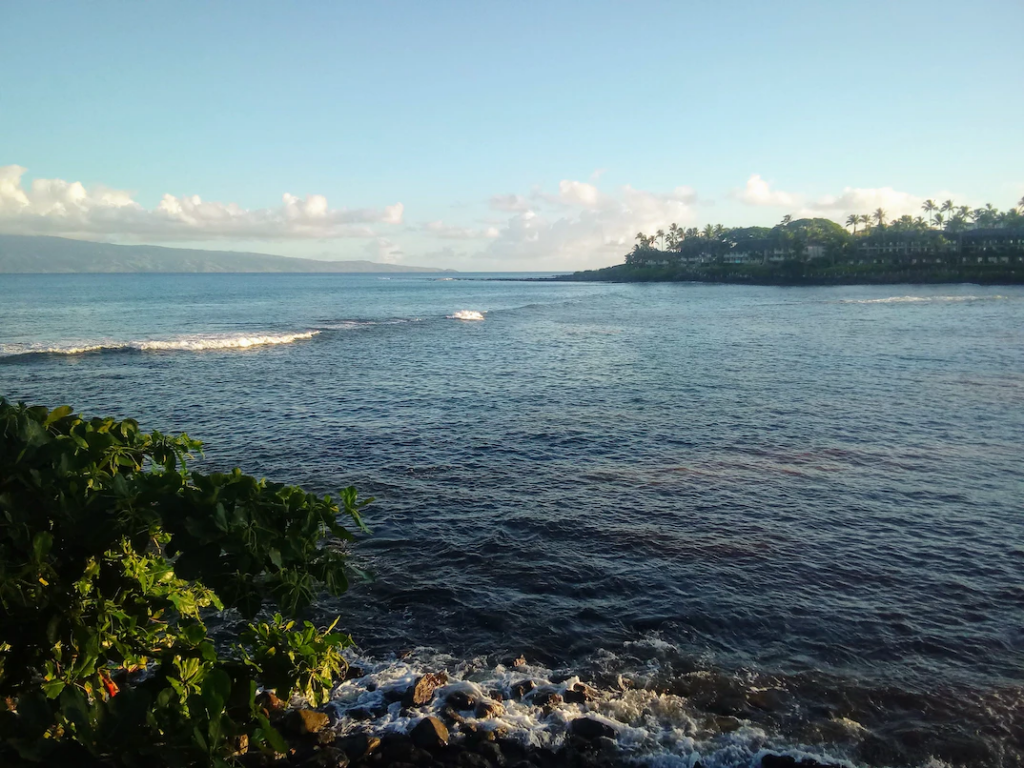 Best for: Beach hopping, dining, nearby amenities
In the northwestern pocket of Maui, you've got Napili Beach, which boasts dreamy smooth sands and turquoise blue waters. With the Napili Kai Beach Resort nearby, you can wake up to the beauty of Napili Beach every morning. Not only is Napili a great beach in itself, but it's also a great spot to base yourself for some couples' escape beach hopping.
Nearby Napili, you'll find Fleming Beach, Kapalua Bay Beach, and Oneloa Beach. Each of these is great for sunbathing, swimming, and adventuring. Plus, they're so close to each other that you could easily meander between them all within a single afternoon.
Upon returning to Napili Beach, you should stop in at Merriman's restaurant for ocean-facing dining. This is great for catching the sunset before setting off on an evening beachside stroll. If you're spending more time around the town of Napili, be sure to check out the spa experiences, tasting tours, and entertainment shows offered throughout the town.
12. Kaihalulu, Hana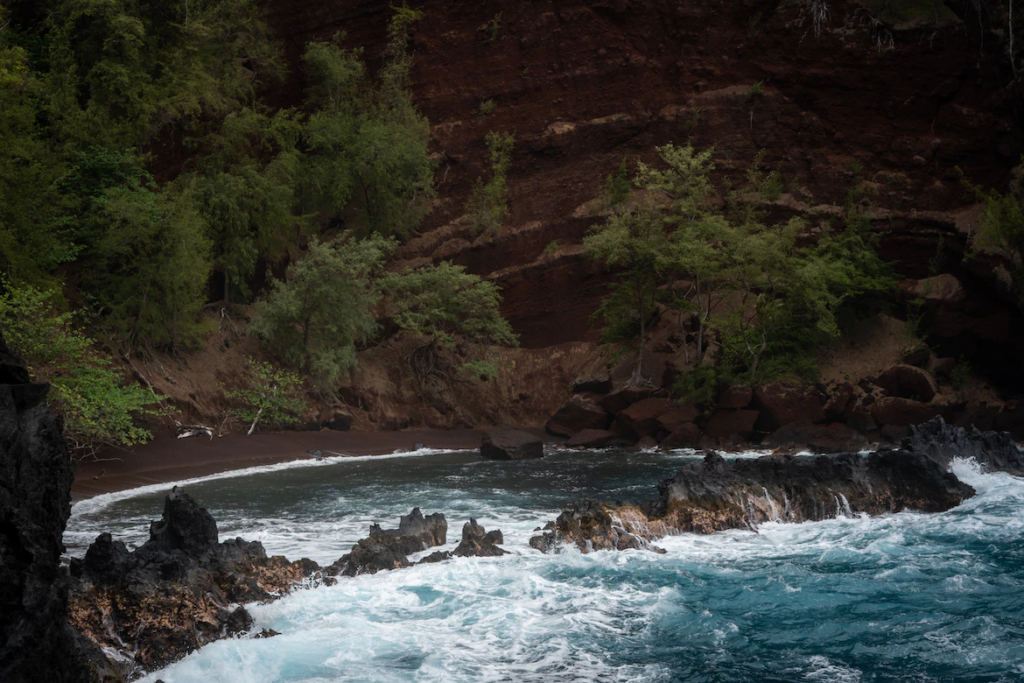 Best for: Guided tours, Instagram spots, red sand beach
It's vital that you only visit Kaihalulu as part of a guided tour. To reach Kailhalulu, you need to venture along a trail. This trail can be dangerous to do if you don't know the way. Plus, the trail goes through private property. There are a number of tour providers on Maui that offer Red Sand Beach tours, including Maui Tickets for Less.
At the end of a short trail, you've got the stunning and well-hidden Napili Beach. It goes by many names, including Maui's Secret Beach, Red Sand Beach, and, more commonly to the locals, Kaihalulu Beach.
Despite the difficulty it takes to reach, the colors that you're met with make the expedition to Kaihalulu worth it. The red sand and the rolling blue waves create a stunning visual experience like no other on Maui. Best of all, you sometimes have the entire beach to yourself. While here, you're sure to take some of the best snaps of your entire vacation.
The crescent beach curves round and below a dramatic cliff edge, standing lofty above the waves. Not only is the sand of Kaihalulu red, but the side of this cliff is also a rust-red color. On top, a green fuzz of forestry adds to its impressiveness. This huge backdrop provides an excellent source of shade when necessary, as does the slight lagoon area.
FAQs
What is the best month for the weather in Maui?
The best time to visit Maui would be between the months of May and September. This way, you'll get to enjoy the best of Maui beaches without dealing with rain. The rainy season runs from November to March. It will most likely be too wet to enjoy the likes of Baldwin Beach Park or Ka'anapali Beach to their fullest during the wetter months.
Which part of Maui has the best beaches?
The southern and western shores of Maui technically have better beaches. These coastlines are found on the leeward side of the island, meaning they're facing away from the wind. Here, you'll find white sand beach parks, swimmable waters, and great scuba diving opportunities.
However, the northern shores of the island have just as attractive beaches and better watersport options.
Where can you find the clearest water on Maui?
Honolulu Bay has the clearest water on Maui. This sheltered bay is perfect for snorkeling and swimming in. If you swim about 700 feet out, you'll be able to see the underwater inhabitants of Honolulu Bay clearly through the water.
What's the most dangerous beach on Maui?
The most dangerous beach on Maui is Big Beach at Makena Beach. Here, the surf breaks right to the shore. This means that even swimming out a little bit could put you at risk of being caught by a wave. Not only that, but Makena Big Beach has also had its fair share of shark attacks over the years.