Puerto Rico has more than 300 miles of coastline, so it's no surprise that many of the best beaches in the world are found here.
With secret coves, mangroves, coral reefs, golden sand, and lots of beachy activities, tourists flock to this island nation to experience the very best of the Caribbean.
But with so many different beaches – each offering a different vibe – it is near impossible to narrow down the best beaches in Puerto Rico. We still gave it a shot, though!
Read on for our top 12 beaches in Puerto Rico, to make your next romantic holiday a great one.
1. Flamenco Beach, Culebra Island
Best for: Remote beach
Lots of people skip the main island of Puerto Rico and head straight to Culebra Island to the east, purely to relax on the sandy shores of Flamenco Beach. It has won many accolades as one of the best beaches in Puerto Rico (and the whole Caribbean)!
Flamenco has sparkling azure waters and is surrounded by tree-topped hills and camping spots, yet it's less crowded than the popular beaches on the main island. If you picture a postcard of the perfect Caribbean beach, then Flamenco is what you see in your mind's eye.
Not only are visitors awestruck by the beauty of the beach itself, but they are often also surprised to spot two colorful Sherman war tanks on the sand – relics of a naval presence on Culebra.
Should you get snacky, there are vendors along the beach that sell traditional local cuisine. After a quick bite, you can don your snorkel and head into the sparkling waters. Get ready to spot sea turtles, manta rays, and lots of tropical fish!
It is one of the best beaches for beach bums who simply want to float in calm waters or chill in a hammock under the palm trees.
2. La Monserrate, Balneario de Luquillo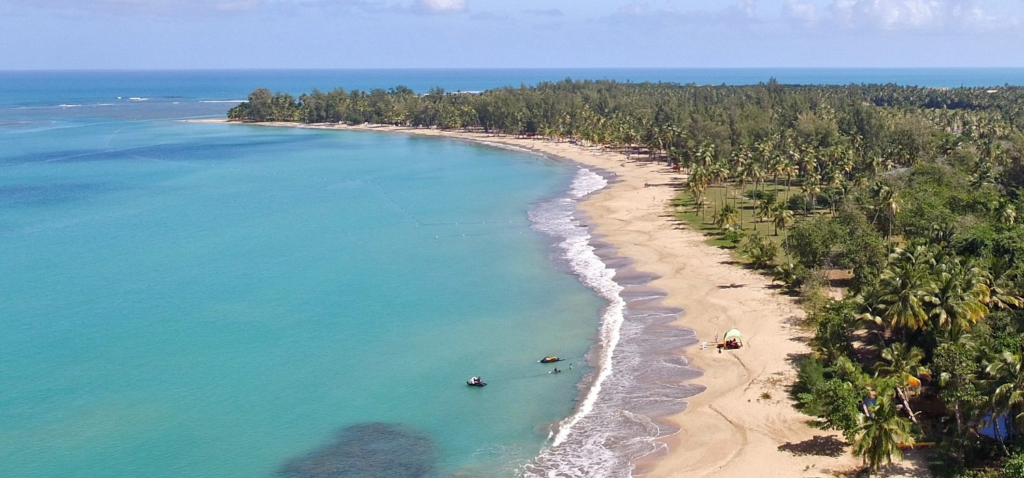 Best for: Blue Flag beach
La Monserrate Beach, called El Balneario de Luquillo (or simply just Luquillo Beach) by the locals, is situated on Puerto Rico's northeast coast. This popular beach is frequented by locals and tourists and is incredibly popular with families.
That doesn't mean that shrieking kids will ruin your couple's trip though, as there is more than enough room for everyone to spread out.
The shallow, warm sea is perfect for unconfident swimmers, and there is plenty of entertainment to keep you busy. It is also a Blue Flag beach, which speaks for itself! Luquillo Beach is consistently voted as one of the best and most beautiful beaches on the island, and we understand why.
Picture 12 miles of unspoiled coastline, with white and golden sand. With that much space, you will never feel cramped! Stroll along the beach, pick up shells, unwind with a book, or dip into the clear water under the watchful eyes of the patrolling lifeguards.
Whether you want to pack a picnic with the kids and settle in at one of the picnic spots, or indulge in the treats of one of the many food kiosks at the entrance to the beach, you certainly won't go hungry!
And if you want to remember your beach day long after the sand has washed out of your hair, the kiosks at Luquillo Beach sell handmade crafts, souvenirs, and beach attire.
3. Playa Sucia, Cabo Rojo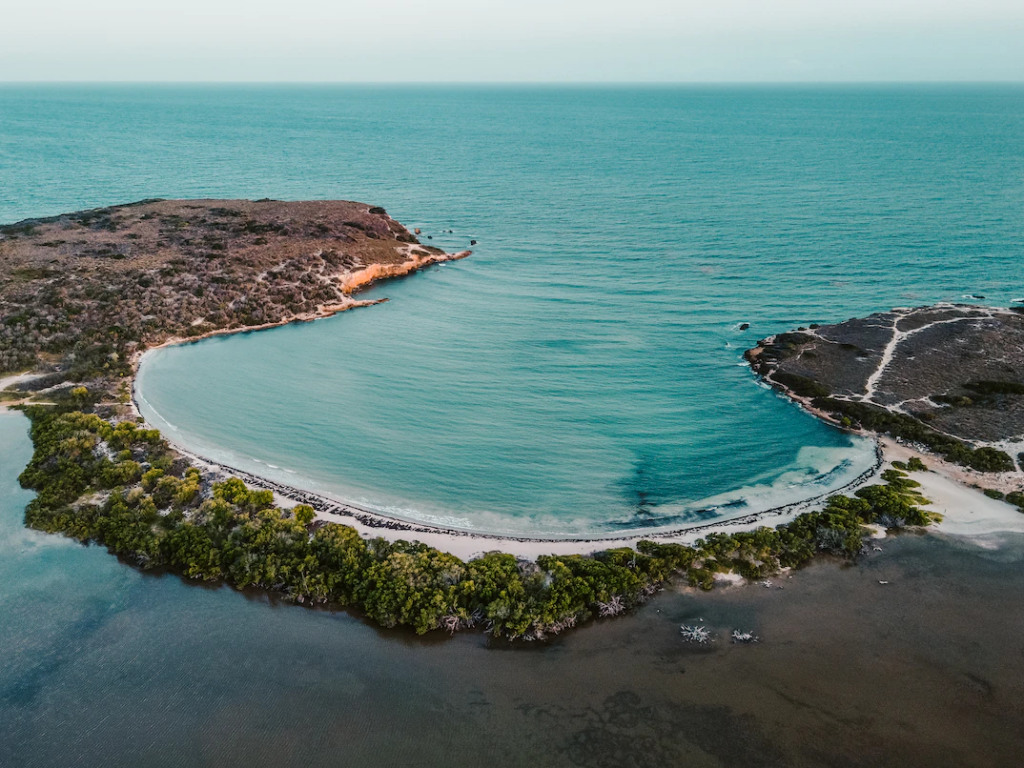 Best for: Outdoor enthusiasts
On Puerto Rico's southwestern coast, you will come across Cabo Rojo. This tiny hamlet is host to Playa Sucia, a remarkable beach. Yes, the name may directly translate to "Dirty Beach", but that is a classic misnomer as the beach is absolutely pristine!
Artists could not possibly try to depict a more perfect beach – the still, warm waters; the lighthouse on the distant bluffs; the white sand; the call of the seagulls.
Thanks to the crescent shape of the beachfront, it is safe for swimming (much safer than many other beaches on the west coast) but take caution not to wade in too deep.
Visitors are often amazed at how the waters and sand change colors throughout the day. As the sun shifts in the sky, the waters change from light turquoise to emerald green to dark blue, while the sands seem to shimmer with a slight pink hue.
It is not the easiest beach to access as it requires a short hike, but that will appeal to the outdoor enthusiasts amongst our readers. On the way there, you will enjoy a bumpy ride through the Corzo salt flats and the Cabo Rojo Wildlife Refuge.
Once there, you can explore hiking trails around the limestone cliffs, spot hidden caves, explore secret coves or simply soak in the serenity.
The lack of facilities, lifeguards, and food kiosks means that those seeking adventure and stillness will find their paradise at Playa Sucia.
4. Isla Verde, San Juan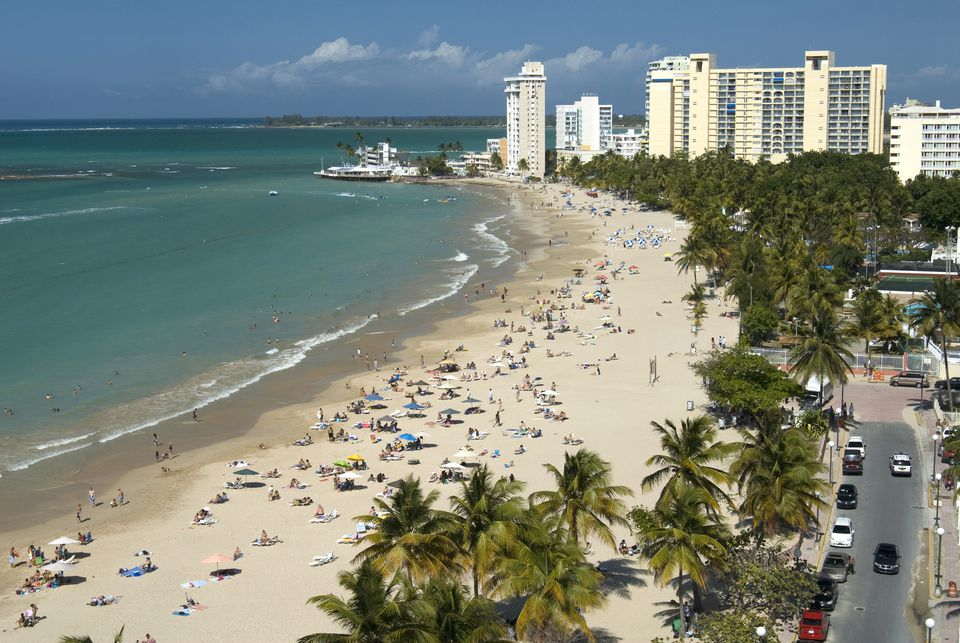 Best for: People watching
You cannot go to San Juan and not dip your toes into the sand of Isla Verde. This is probably the most popular beach in Puerto Rico and is surrounded by high-rise hotels and restaurants.
Picture this: laughing tanners on colorful towels, the soft lapping of the waves on the white sand beach, parasailers gliding overhead in the distance, the smells of amazing Puerto Rican cuisine… sounds like paradise doesn't it?
And that is exactly what Isla Verde in San Juan offers!
Many tourists spend their entire holiday here, and we can't blame them.
There is never a dull moment at one of Puerto Rico's finest beaches: jet skiing, volleyball, banana boats, music, and lively crowds. It is the quintessential Puerto Rican beach experience! And with all this activity happening, you can indulge in some shame-free people-watching from your rented beach chair.
The mile-long stretch of coastline is informally divided into different sections. Pine Grove attracts many surfers for its gnarly waves, while Balneario de Carolina is popular with families. El Alambique is a haven for backpackers who want a chilled, affordable vibe.
You can end off a beach morning with a visit to the historic Old San Juan, located just 15 minutes away. Here you can marvel at the Castillo San Filipe del Morro and learn more about the history of San Juan.
Closer to the beach you can find coffee shops, bars, luxury hotels, and plenty of affordable hostels.
5. Sun Bay Beach, Vieques Island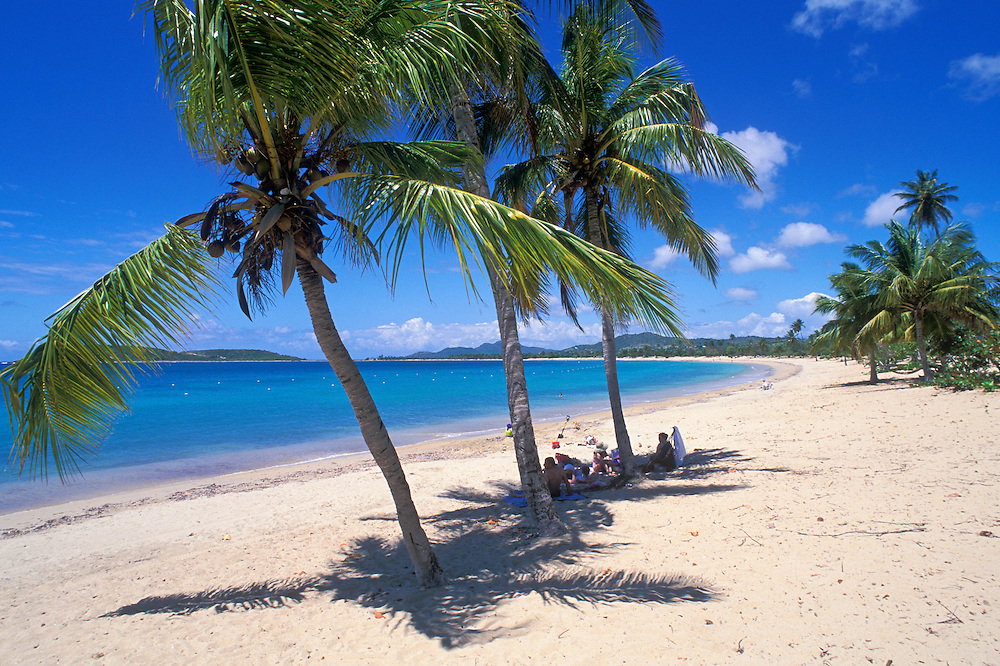 Best for: Large groups
Vieques Island, situated to the east of the main island, has dozens of incredible beaches. The reason Sun Bay made our list as one of the best beaches in Puerto Rico is that it is incredibly accessible with lots of facilities, but it is also spacious enough to not feel crowded, even on the most picturesque summer's day.
It is a mile long, and even with hundreds of visitors, it feels spacious and intimate. Lifeguards patrol the shores, keeping an eye on bathers in the shallow, calm surf. There are food offerings available, including some local criollo favorites.
The eastern portion of Sun Bay Beach sees fewer visitors, making it perfect for couples or groups wanting some privacy.
As the sun starts to set, you can head out on a kayak tour and watch the end of the day over the waters and marvel as the ocean begins to glow with bioluminescence. It is rumored to be the best on a new moon, so plan your trip to Sun Bay Beach accordingly!
There is plenty to do at Sun Bay Beach during the day as well. You can attempt to befriend one of the free-roaming horses, snorkel in the gentle waves, or head about 15 minutes west to Playa Negro to experience the iconic black sand.
If you would rather stay put at Sun Bay Beach, then string your hammock between the palm trees and settle in. You can really make a day of it – with picnic areas, camping spots, clean washrooms, and barbeque grills available for the ultimate beach day!
6. Ocean Park Beach, San Juan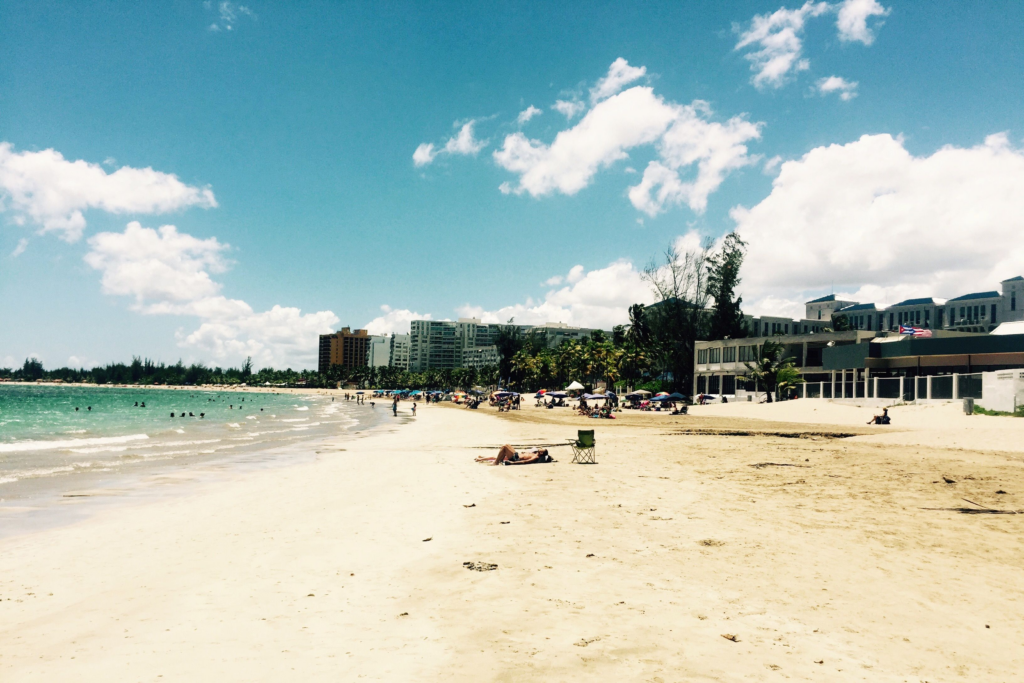 Best for: Urban beach
Located just 10 minutes from the airport, it is no surprise that visitors flock to Ocean Park Beach in San Juan. That said, it is still much more relaxed than some of the other urban beaches in the capital city.
Ocean Park Beach is arguably one of the best beaches in Puerto Rico. It is a welcome break from the bustling city, with a laid-back vibe and a go-with-the-flow atmosphere. We bet that you won't feel rushed or stressed at Ocean Park Beach – it is impossible!
This beach has many activities, as you would expect from an urban beach. You can get some beach volleyball going, go jet skiing, get your heart racing (and hands gripping!) on a banana boat, test your fear of heights while parasailing, or simply rent a beach chair and umbrella and have a nap in the shade.
There are plenty of hotels and eateries in the area, meaning you can enjoy several days at Ocean Park Beach!
7. Playa Tortuga Beach, Culebrita Island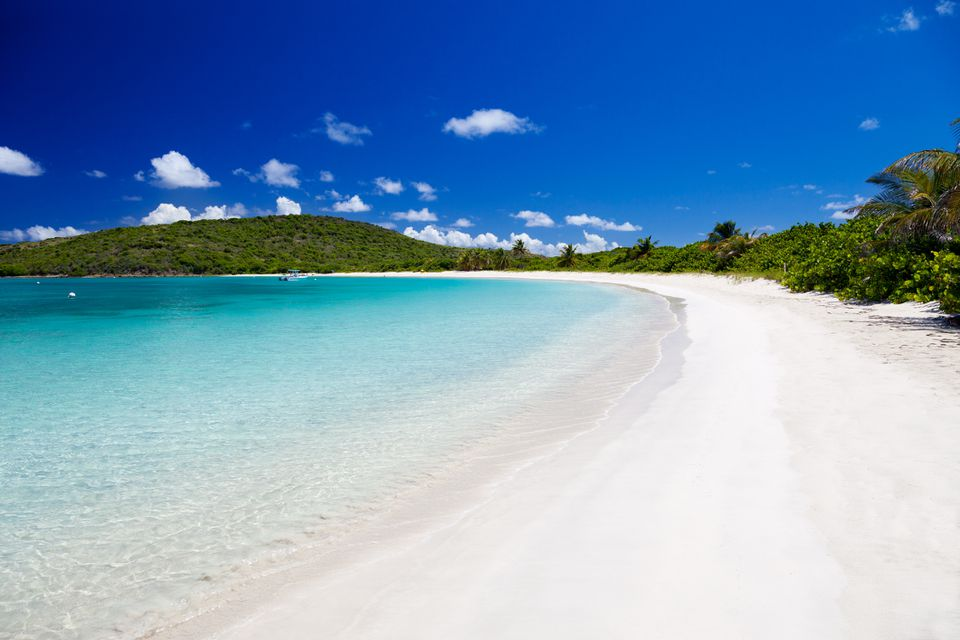 Best for: Peace and quiet
Tortuga Beach on the small Culebrita Island (located off the east coast of the larger Culebra), is fairly remote. It's one of the quietest beaches in Puerto Rico as you need to take a water taxi, boat or seaplane to access the beach – but it will be well worth it!
Tortuga Beach translates to Turtle Beach, because of the sanctuary it provides for the leatherback and hawksbill turtles that feed, nest, and relax there. Apart from these gentle creatures, you will spot plenty of other bright critters under the waves, making it the perfect beach for amateur snorkelers and divers.
The isolation of Tortuga Beach is a draw for many, but be aware that you will not find any facilities here. The lack of washrooms and food kiosks is worth it when you explore the tidal pools, clear waters, golden sand, and many hiking trails around Playa Tortuga.
8. Crash Boat Beach, Aguadilla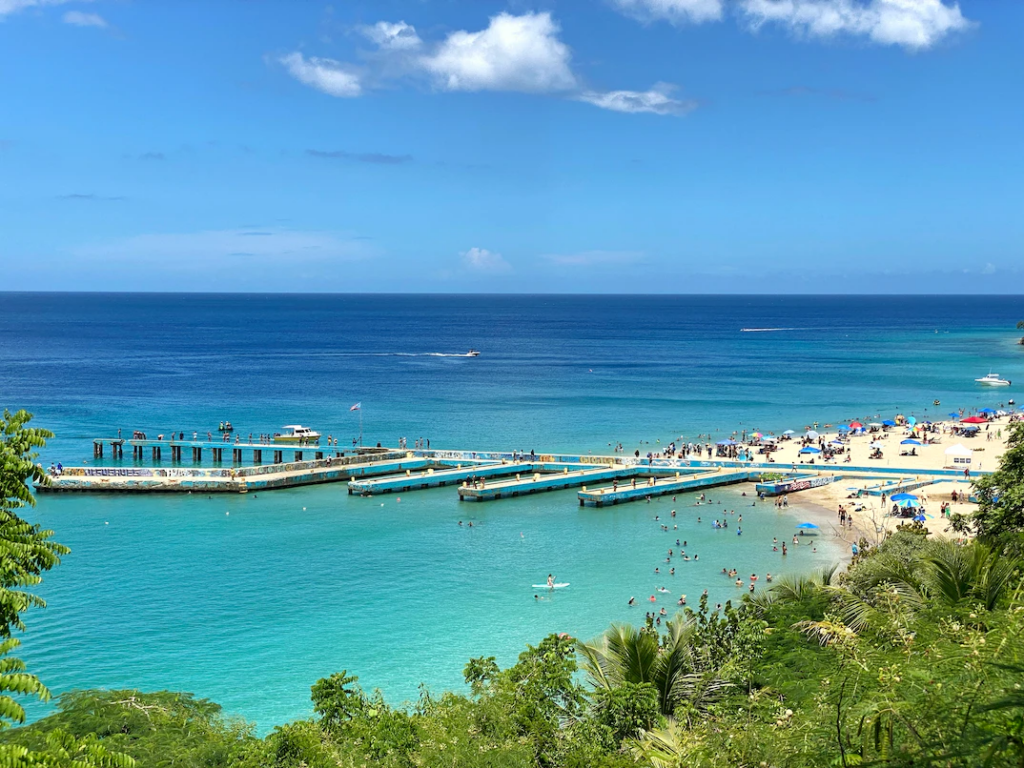 Best for: Thrill seekers
Crash Boat Beach may have an unusual name, but this beach located on the northwestern coast of Puerto Rico is a welcome day out for beachgoers who enjoy more than just chilling on the sand.
Snorkelers and scuba divers adore this destination in summer, hoping to spot some unique marine life. El Natural is a famous diving spot on the coral reef that draws divers from across the globe. Come winter, surfers flock to the shores, trying to catch the next big wave.
The iconic pier is another great attraction at Crash Boat, as thrill-seekers take running leaps off it into the warm waters.
Playa Crash Boat is one of the most popular beaches in Aguadilla for all the reasons listed above. It's also great for people who want to relax by the shore and not have to venture too far to find a great plate of food and a tasty cocktail – it is locally known as Puerto Rico's Party Beach after all!
The town of Aguadilla has lots of budget-friendly eateries and bars serving local fare, and once your tummy is full you can wander around the streets and peek into the many interesting storefronts before heading back to the beach for a sunset swim.
9. Playa Combate, Cabo Rojo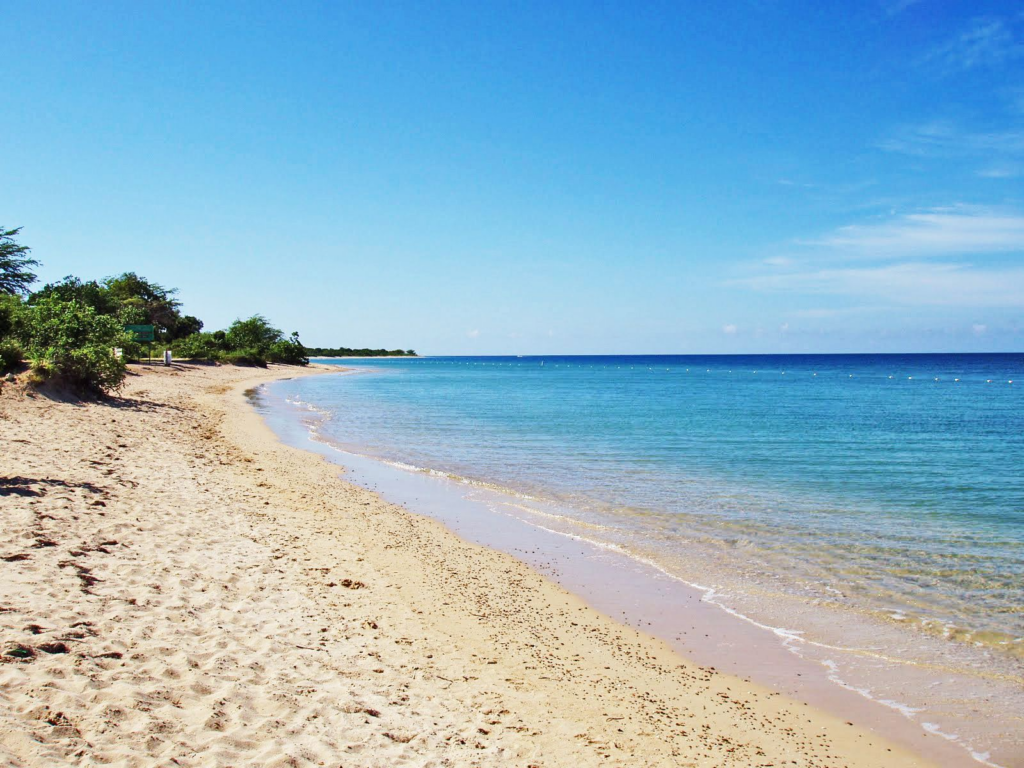 Best for: Younger crowds
Combate Beach translates to Battle Beach, but you won't find any arguments here! It is Puerto Rico's longest beach and attracts huge swathes of young beachgoers each summer.
It might be part of the Boqueron National State Forest, so you would expect a serene environment. But, Combate Beach attracts hundreds of spring breakers every year – and we totally understand why!
Shallow warm waters and powdery white sand are just some of the attractions of this gorgeous slice of paradise.
Visitors can jump off the pier, dive amongst the marine life, and enjoy sundowners on the beach.
The nearby town has plenty of accommodation options, restaurants, and bars. Combate Rooftop is an affordable option for couples who love to socialize and is the best spot to enjoy the sunset from.
10. Domes, Rincón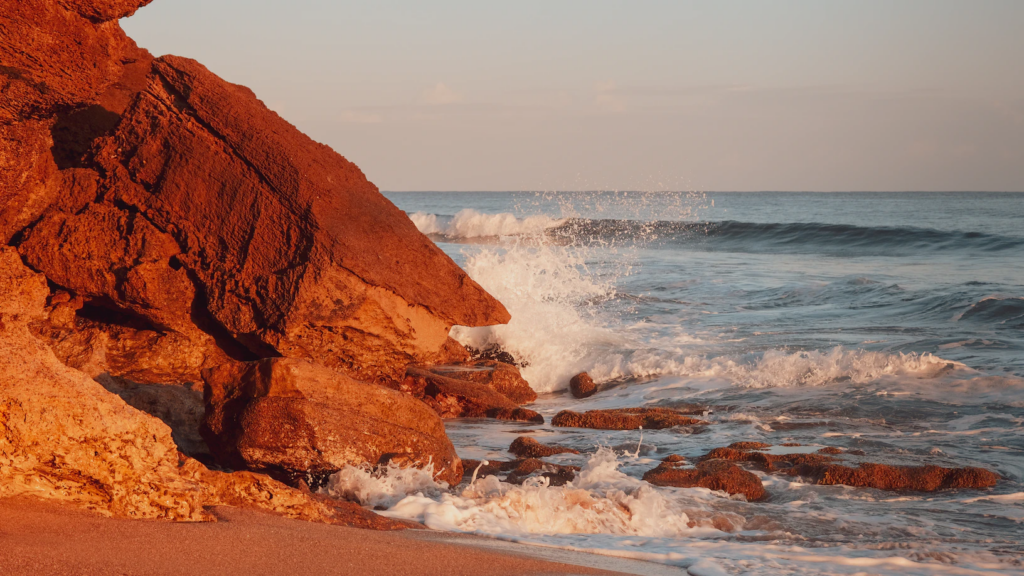 Best for: Surfing
Domes Beach is a two-hour drive from San Juan, but it is well worth it as it is one of Puerto Rico's best surf beaches! Almost all the cars pulling into the parking lot have surfboards strapped to their roofs, while the streets are lined with surf shops and surf shacks.
The combination of the soft-sand beach and the coral reefs means that Domes offers an easy surf for both beginners and experienced surfers. You can expect a long ride here and an easy paddle back to the breaks.
The location of Domes is also somewhat unique – on one side you will find a stately lighthouse, while the other side has an inactive nuclear reactor (the dome-shape of the reactor lending its name to the beach). Bet you've never surfed near one of those before!
But the area is not just a haven for surfers. Rincón Balneario Beach, just 8 minutes south, is great for swimmers, while Sandy Beach to the north has plenty of eateries and bars.
If you prefer to stay out of the water in winter, Domes offers some great whale-watching opportunities or you can book a horseback riding tour. The nearby Punta Higuero Lighthouse Park is great for history buffs or those seeking some gorgeous views.
If you visit during October, you might be lucky enough to be a spectator at the world-famous Corono Pro Surf Circuit which attracts the best surfers from all over the world.
Just note, Domes Beach is not safe for swimmers, so head to one of the other beaches in Ricon for gentler waves and a safer swim.
11. Seven Seas Beach, Fajardo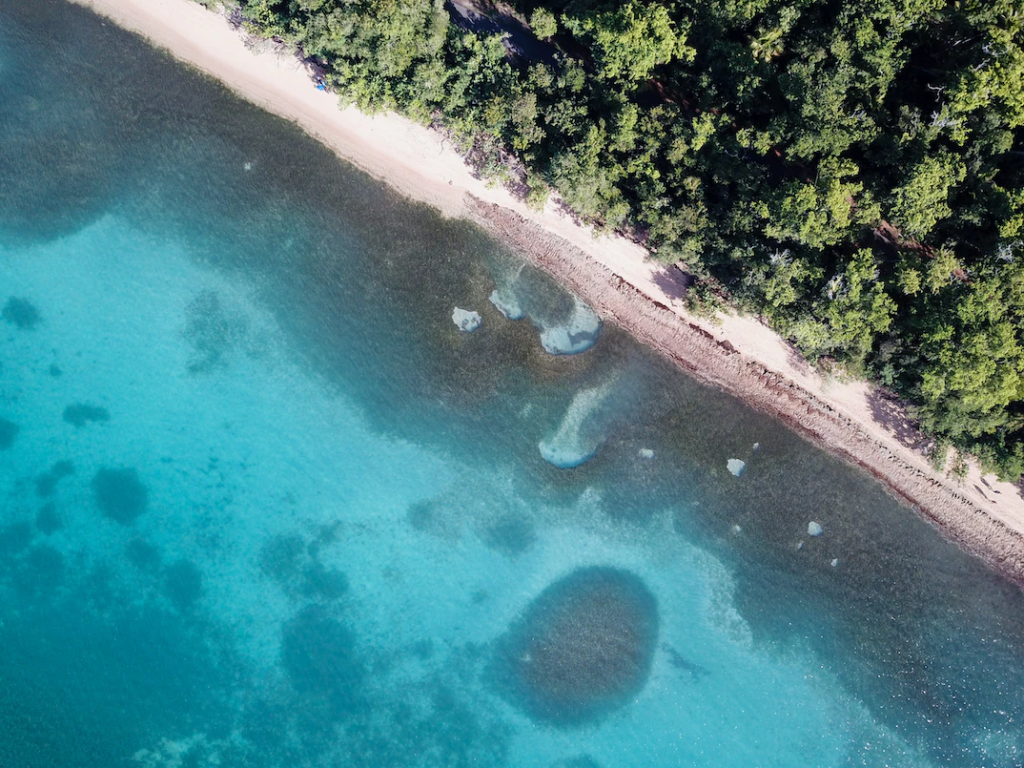 Best for: Facilities and parking
Seven Seas Beach is an easy day trip from San Juan as it takes just an hour to get there from the capital. If you want to experience Puerto Rico's beaches without any hassle, then Seven Seas in the town of Fajardo is the perfect destination.
Families, solo travelers, and couples all enjoy this beach because of its amazing facilities. Washrooms, warm showers, dressing rooms, buoys, and lifeguards ensure beachgoers are always comfortable and safe.
The camping area is incredibly well-maintained, and many visitors opt to spend the night.
If you have ever been to any of Puerto Rico's more popular beaches, you will know parking is an absolute nightmare. But, not at Seven Seas! Even though you pay a small fee to park there ($3 – $5), it is well worth it.
If the Blue Flag beach becomes a bit boring after a while, you can meander into the surrounding nature and explore two beaches nearby – Playa Colora (15-minute walk) and Playa Escondida (20-minute walk).
Head 20 minutes inland from Fajardo and you will enter the magnificent jungles of El Yunque National Forest, which is a welcome respite from the heat of the beach.
12. Jobos Beach, Isabela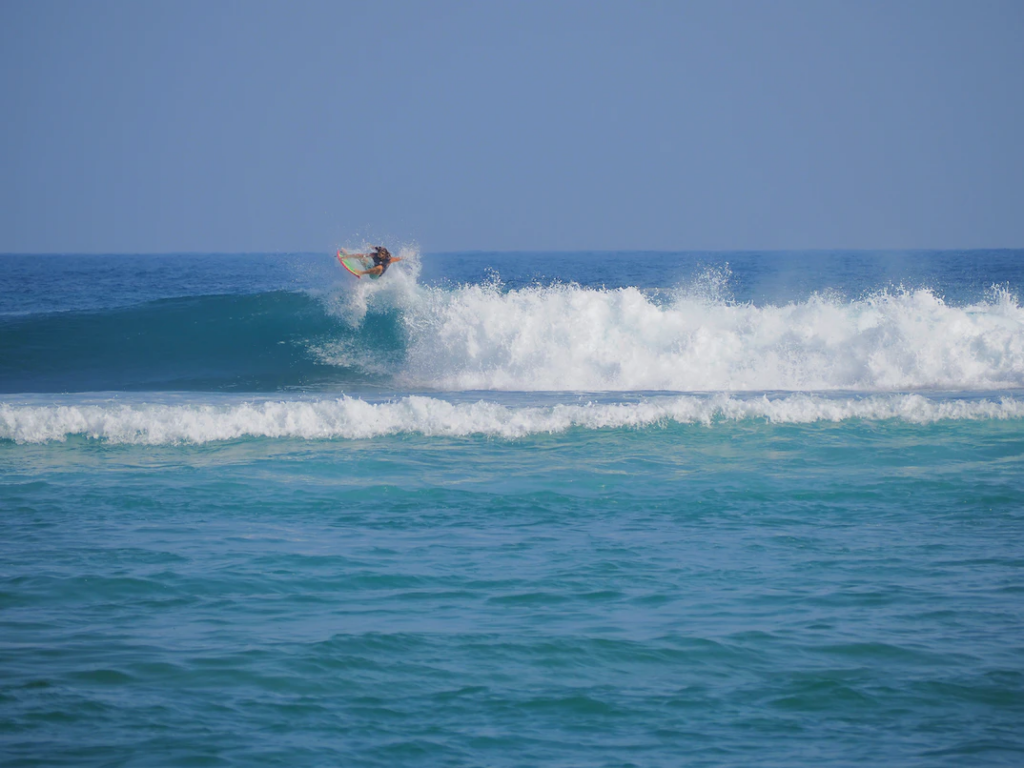 Best for: Local experience
Do you like to feel like a local? Do tourists annoy you (despite being one yourself)? Well, Jobos Beach on the north coast is the perfect destination for you.
Here you will find the locals enjoying the waves. Surfing and paddleboarding are popular activities at Playa Jobos, and once out of the water, you can duck into one of the many beach bars for some local eats and drinks.
Since Jobos is frequented by locals, it has a much more relaxed vibe than many of Puerto Rico's beaches.
Just take some caution – Jobos Beach is not ideal for young kids. It may have good surf, but it also has powerful rip currents. It is best to check where the locals are swimming and follow their lead!
In the nearby town of Isabela, you can find many amazing eateries, cocktail bars with ocean views, and affordable stays.
FAQs
When is the best time to visit Puerto Rico for a beach holiday?
If you want to skip the crowds, visit Puerto Rico from mid-April to June. Interestingly, Puerto Rico's beaches are rather busy in winter due to the amazing surf on offer.
In summer the island is buffeted by hurricanes, which makes spring the best time – fewer crowds, lower prices, and mild, sunny weather.
Is it safe for a solo traveler to visit Puerto Rico beaches?
Many tourists visit Puerto Rico all year long because it's one of the safest Caribbean islands. The crime rate there is also lower than in many big cities in the US.
Solo travelers should have no problem safely visiting the country. Just be aware of your surroundings and share your travel plans with friends so they can check in on you.
The biggest safety concern for visitors is not crime or violence but natural disasters. During summer, destructive hurricanes can make landfall, so take note of the weather predictions when you travel.
Are there any private beaches in Puerto Rico?
Unlike many other island nations, Puerto Rico does not have any private beaches – in fact, it is illegal! Many hotels and resorts have direct beach access, but the beach remains public. Some beaches are more difficult to get to (requiring a water taxi or seaplane), but all the beaches in Puerto Rico are open to the public.
Which side of Puerto Rico has the best beaches?
It really depends on what you consider "the best". The north coast has many urban beaches with amenities, while Puerto Rico's southern coast has secluded, scenic beaches. The west coast is popular with surfers, while the east coast has calm waves.
The nearby islands of Culebra, Culebrita, and Vieques also all have their unique beach offerings.