With all the beaches around the world, choosing one to visit can be hard. This is especially true when you consider all the beautiful beaches in Mexico. From white sand to picturesque landscapes, and clear ocean water, Mexico has it all. So, if you're looking to become the nation's latest beachcomber, look no further than our guide on the best beaches in Mexico.
1. Best for Adventure: Cancun Beach, Cancun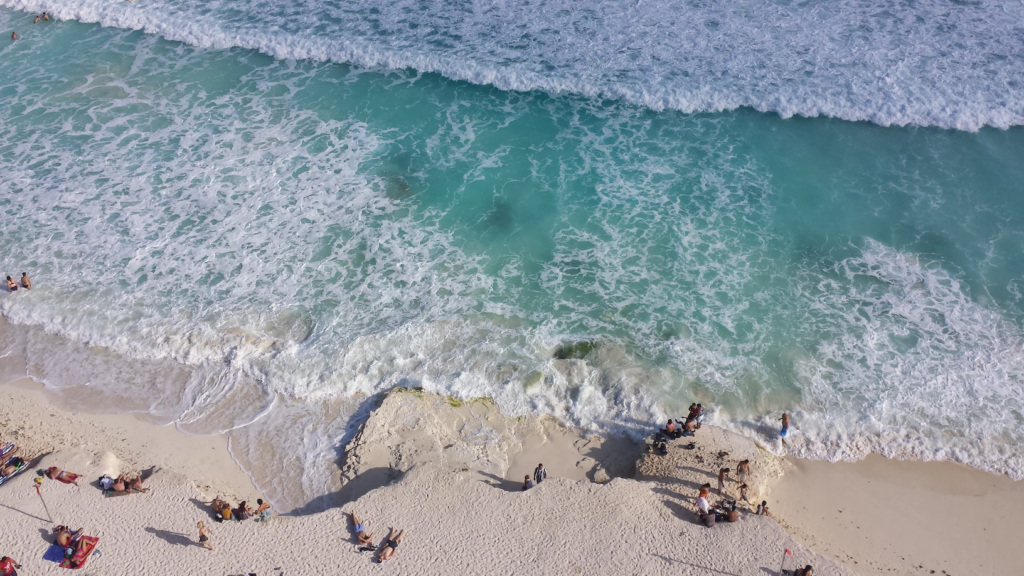 It's probably no surprise that we're starting this list with Cancun Beach, one of the most popular beaches in Mexico. Cancun Beach is an oasis nestled on the Caribbean Sea. While it attracts its fair share of summer crowds, it's still an ideal destination for couples seeking a mix of adventure and opulence.
Once you set foot on the golden sand of Cancun Beach, you'll easily be able to see why it's the beach of choice for many Mexican beachgoers. It features a plethora of beachfront restaurants and luxury hotels. Most of the hotels there offer plush accommodations and amenities. Just picture yourself indulging in fresh seafood while you enjoy stunning ocean views!
2. Best for Romantic Sunsets: Puerto Vallarta Beach, Jalisco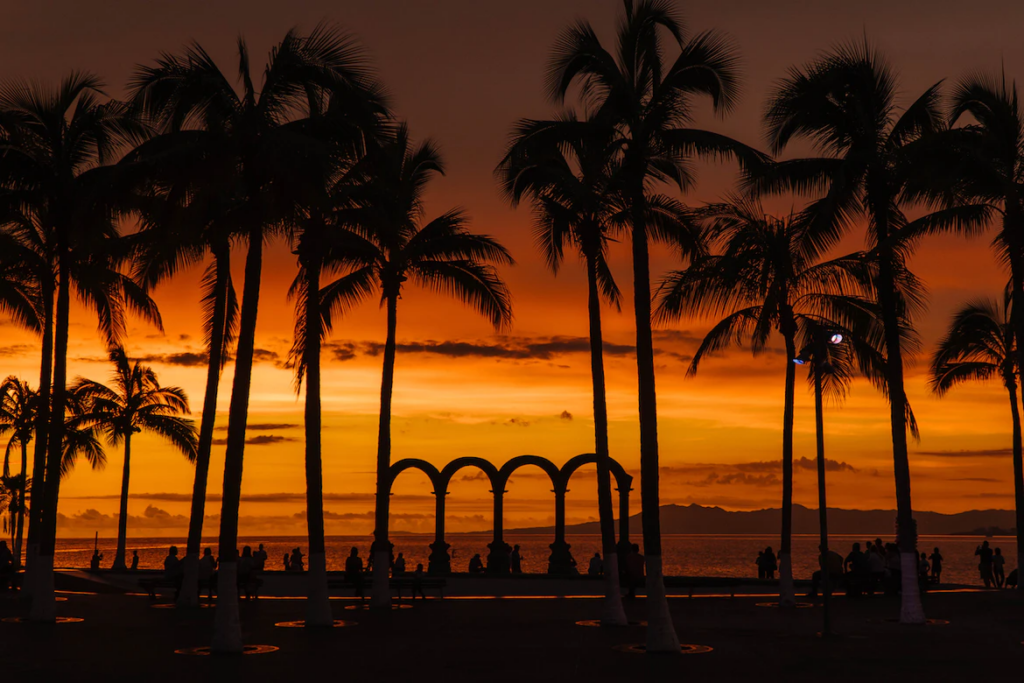 There's not much more that you can ask for; golden sand, sparkling water, and fresh air – Puerto Vallarta is a perfectly balanced beach. Beyond its natural beauty, Puerto Vallarta offers visitors many entertainment options.
Apart from marveling at the natural beauty as you stroll along the shore, there's plenty for adventure seekers to enjoy here too. Just one example is deep-sea fishing, a truly thrilling excursion that, if you're lucky, can mean catching some of the ocean's most prized fish.
Mexico has many beaches to offer. But if you prefer a mix of relaxation and adventure, then Puerto Vallarta might just be the beach you've been looking for.
3. Best for Partying: Playa Mamitas, Quintana Roo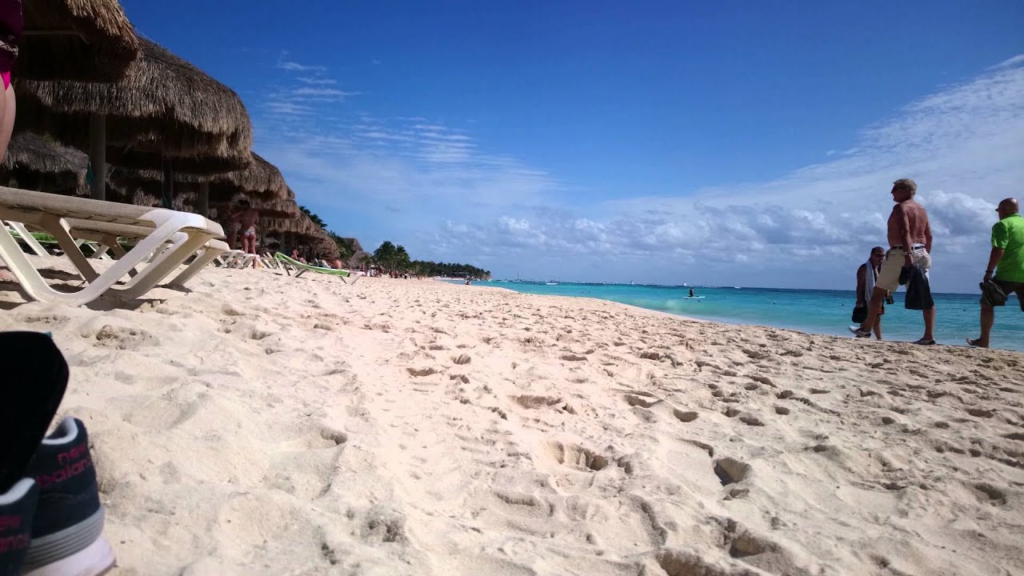 "Vibrant" and "trendy" are the best words to describe the heart of Playa del Carmen. Playa Mamitas boasts soft white sand and turquoise water that attracts beachgoers from across the globe. This beach is famous for its many beach clubs, most of which offer a unique experience for visitors looking to relax in style.
Another selling point of being in Playa del Carmen is that it offers arguably the best experience of Riviera Maya. Bear in mind that people tend to use Cancun and Riviera Maya interchangeably, but they're two different locations.
This area stretches all the way from the fishing village of Puerto Morelos to the biosphere reserve of Sian Ka'an. The Caribbean coastline experience that Riviera Maya offers is truly unforgettable.
Riviera Maya is well-known for its spectacular coral reef. The reef offers snorkeling and scuba diving opportunities to rival that of the Great Barrier Reef.
If cozy loungers, high-end drinks, and delectable foods sound good, then add the main attraction in Playa del Carmen to your list.
4. Best for Marine Life: Playa Norte, Isla Mujeres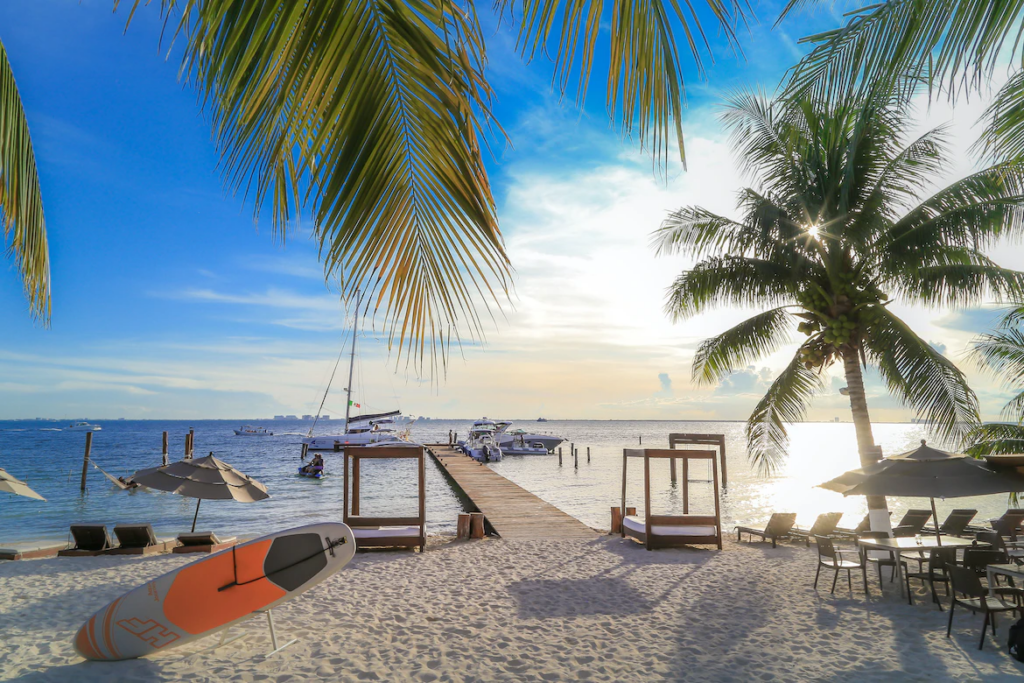 Playa Norte on Isla Mujeres features most of what you'd expect from a Mexican beach; swaying palm trees, powdery white sand, and clear waters. However, one thing that sets it apart is the diverse range of marine life, which includes majestic sea turtles and gentle whale sharks.
It's among the most popular beaches in the Mexican Caribbean and Yucatan Peninsula. Visitors often come seeking the chance to explore the colorful coral reefs and swim alongside friendly sea turtles.
Sealife aside, Playa Norte offers a much-needed change of pace for those who have grown tired of beach club hopping on other beaches.
5. Best for Cultural Experience: Tulum Beach, Riviera Maya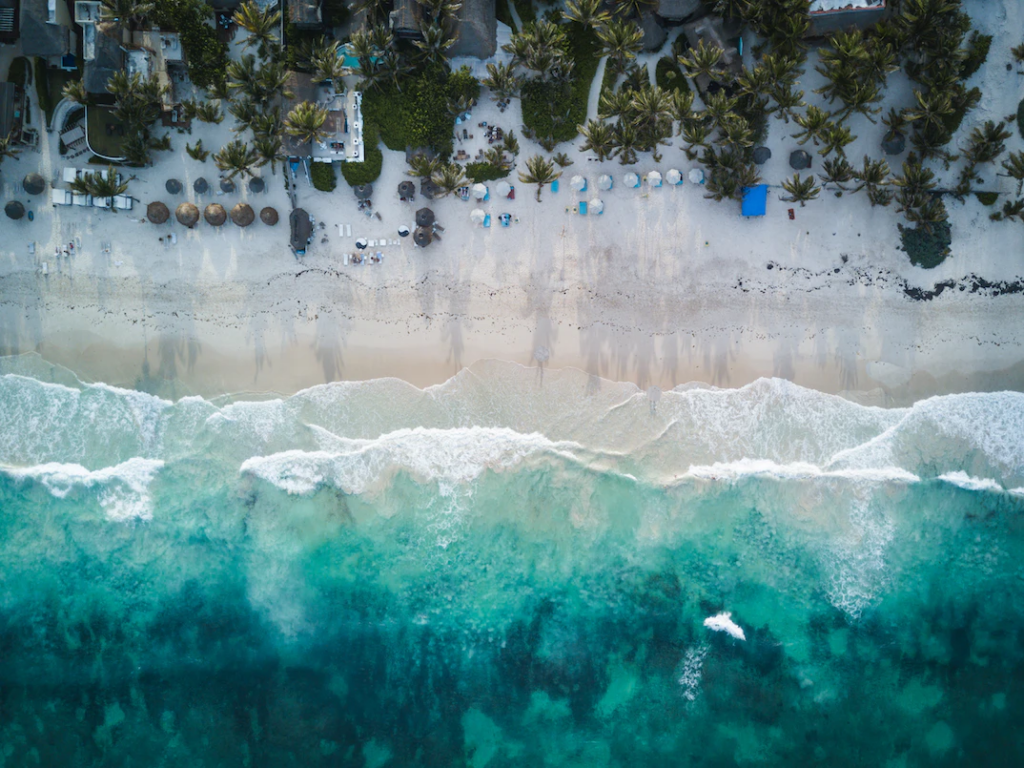 For those who love a taste of culture and history on their trips, Tulum Beach is a must-see. Often described as a "favorite beach" in the Mexican Caribbean, Tulum is another one of Mexico's pristine beaches and a key feature of the Riviera Maya.
While it also has white sand and turquoise water, it's widely known for being the only beach in the world with Mayan ruins on it.
When the sun sets, the beach becomes a hotspot for vibrant beach parties and musical performances. It's the perfect spot for couples who want to enjoy a rich cultural experience during the day and then dance the night away later on.
6. Playa del Amor, Cabo San Lucas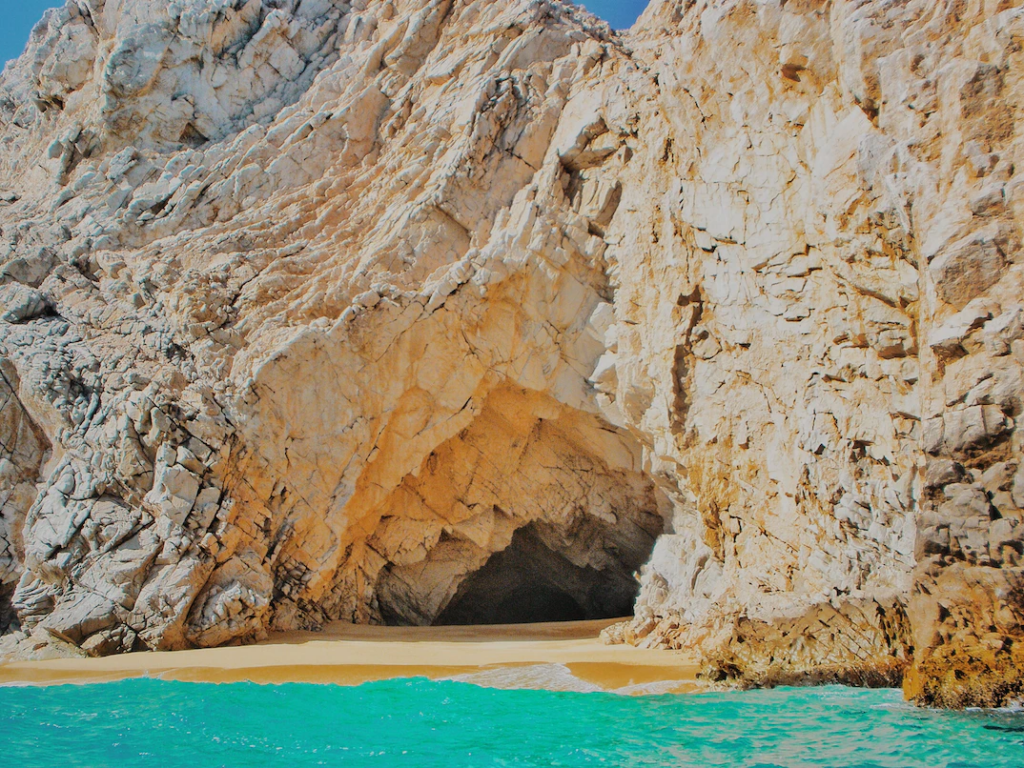 Often referred to as Hidden Beach, Playa del Amor is another beautiful beach destination and a real jewel of the state of Quintana Roo.
Aptly translated as "Lover's Beach," Playa del Amor is easily one of the best beaches in Mexico. It's a secluded paradise you can only access through a hidden tunnel or by swimming through a cave during low tide.
Its inaccessibility is what makes Playa del Amor a romantic experience. Trust us, it's a strong contender for the best off-the-beaten-path experience.
7. Playa Balandra, Baja California Sur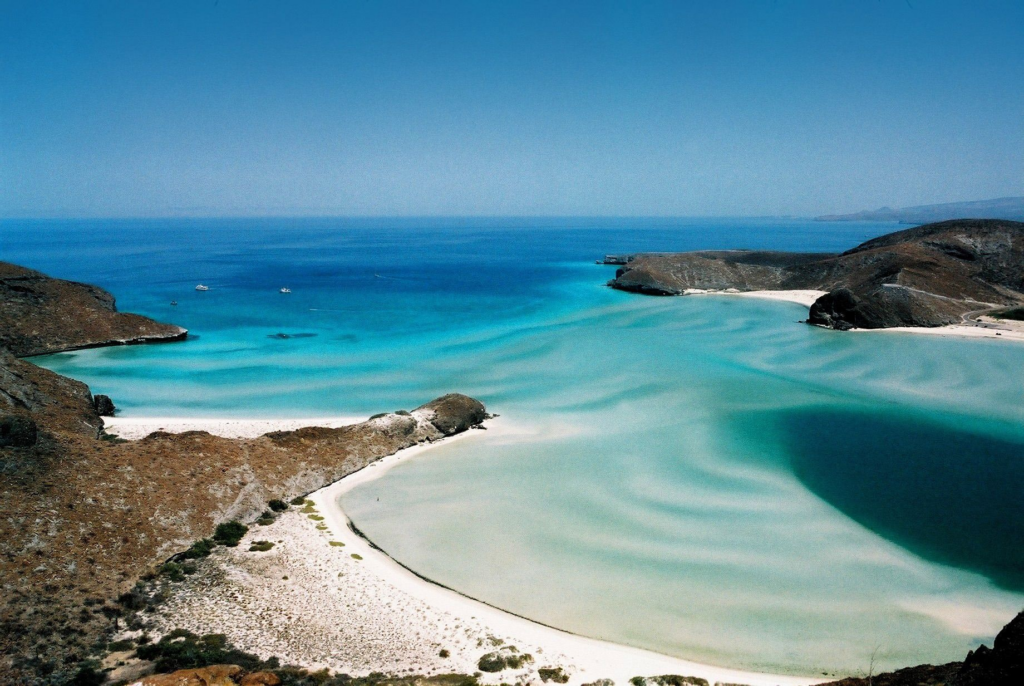 Playa Balandra is an immaculate beach located in La Paz, Baja California. If you're seeking that all-important "Kodak moment" during your adventures, Playa Balandra has to feature on your list.
It features shallow blue waters and unique rock formations, which make for great photographic opportunities. One absolute must-see when there is "The Mushroom." It's a famous rock formation that, despite its uninspired name, does a good job of adding to the beach's beauty.
La Paz has a charming waterfront promenade that features international art and restaurants, so there's plenty to explore after a busy day sunbathing.
8. Playa Paraiso, Tulum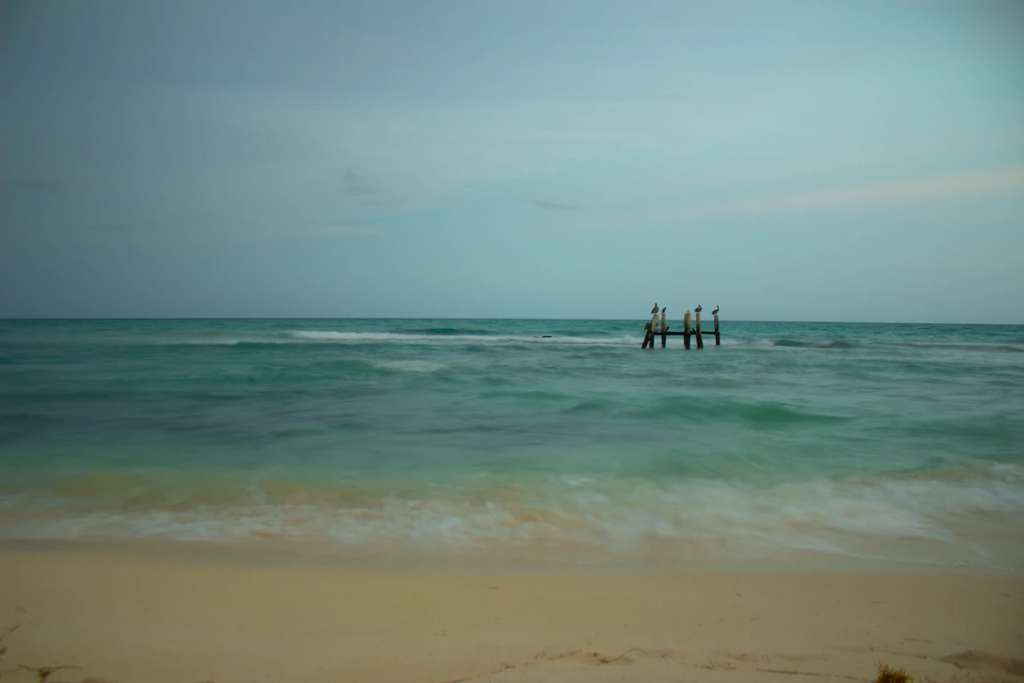 Playa Paraiso (Paradise Beach in English) is a popular beach with a serene atmosphere and a wide range of activities. Picture a long stretch of sand, stunning turquoise ocean featuring water sports and diverse marine life, and well more than one beach club. And all of this is engulfed by lush greenery, making it the perfect setting for you and your partner to escape the city.
When you aren't sauntering around a beach club, you can travel less than a mile to the Tulum archaeological site. Despite being small compared to other Mayan sites, the Tulum archaeological site remains one of the best-preserved.
If you like shopping while on vacation, then Paradise Beach might be a good option to consider, as it has all the stores you'd expect minus the big crowds.
9. Playa Colomitos, Puerto Vallarta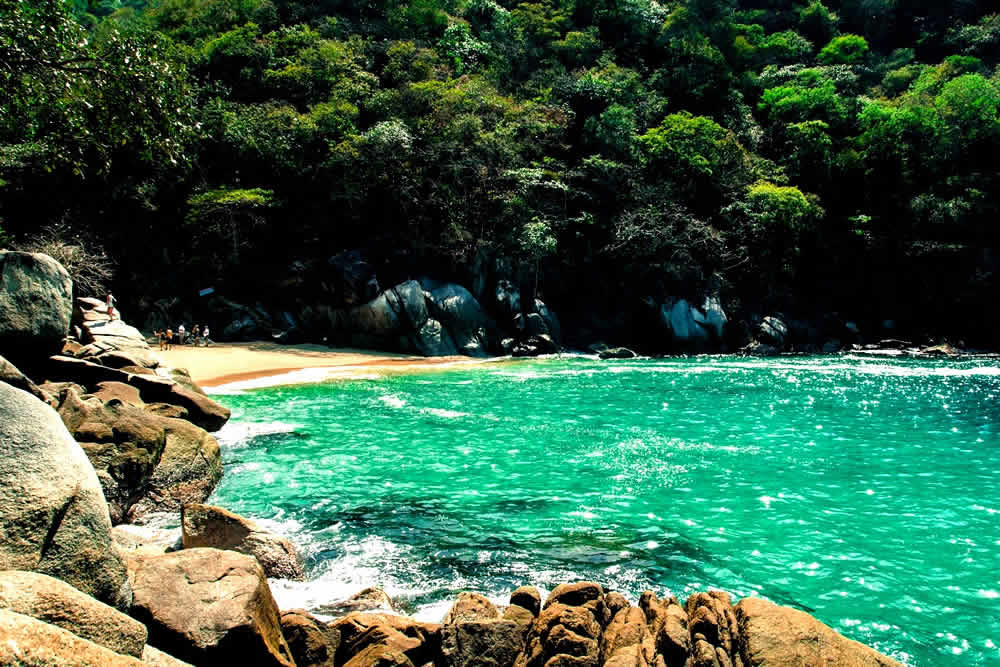 Much like Playa del Amor, accessing Playa Colomitos is not as easy as a simple car ride. Don't be discouraged by this though, as this adds to the appeal of this hidden beach.
Nestled among the awe-inspiring Sierra Madre Mountains lies a concealed gem – the Playa Colomitos. Reaching this beach requires venturing through the jungle on a brief hike or arriving by boat. Either way, you'll be rewarded with a stunning hidden oasis to explore and enjoy. This may sound like needless traveling to some, but it's quite the contrary. It allows visitors the opportunity to explore the jungle trails and take in the breathtaking mountain views.
If you're not into hiking, then fear not, as this miniature paradise offers experiences that are comparable to the ones you find on Cancun beaches. Once you get there, you can enjoy thrilling adventures such as horseback riding, scuba diving, private yacht tours, and so much more.
10. Playa Tortugas, Cancun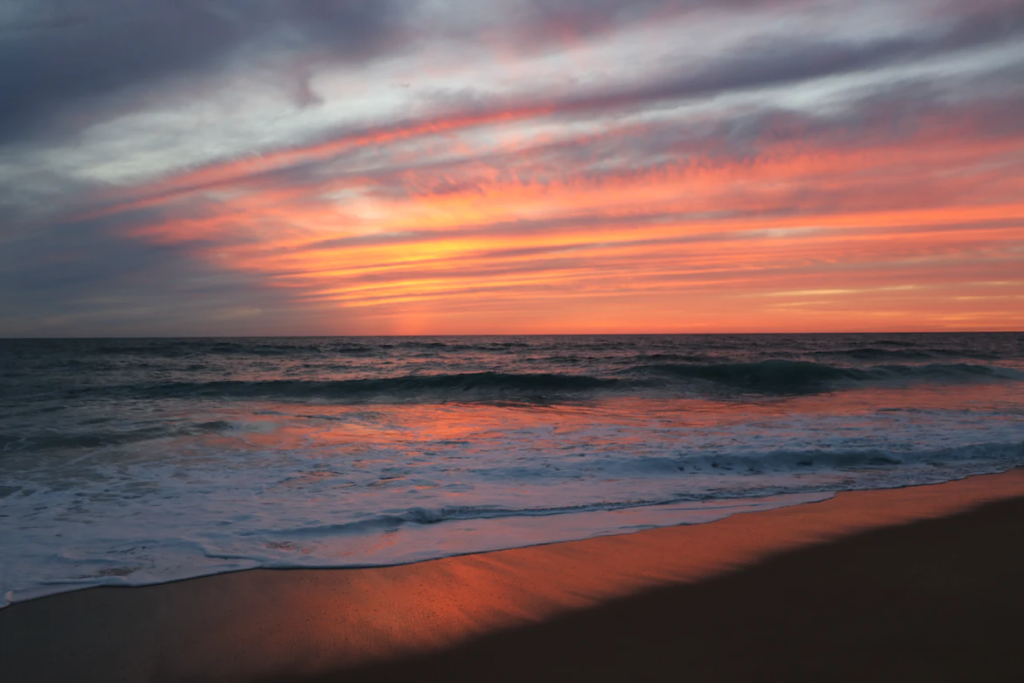 This is a bustling beach in La Paz that's widely known for its calm waters and relaxing atmosphere. Playa Tortugas is not simply just another one of Mexico's white sand beaches. It's a beach that offers a one-of-a-kind experience, largely because of all the water activities it offers.
Visiting this beach means you can get that highly sought-after adrenalin rush from experiences such as parasailing and jet skiing. But, don't rush to the beach until you've sampled the food and beverages from the numerous beachfront restaurants and bars.
The bars and restaurants there are also perfect for couples looking to enjoy a romantic dinner with an unrivaled view of the Caribbean Sea. Top this off with a lively beach scene and warm weather, and you have the perfect Mexican beach experience.
11. Cabo San Lucas, Baja California Sur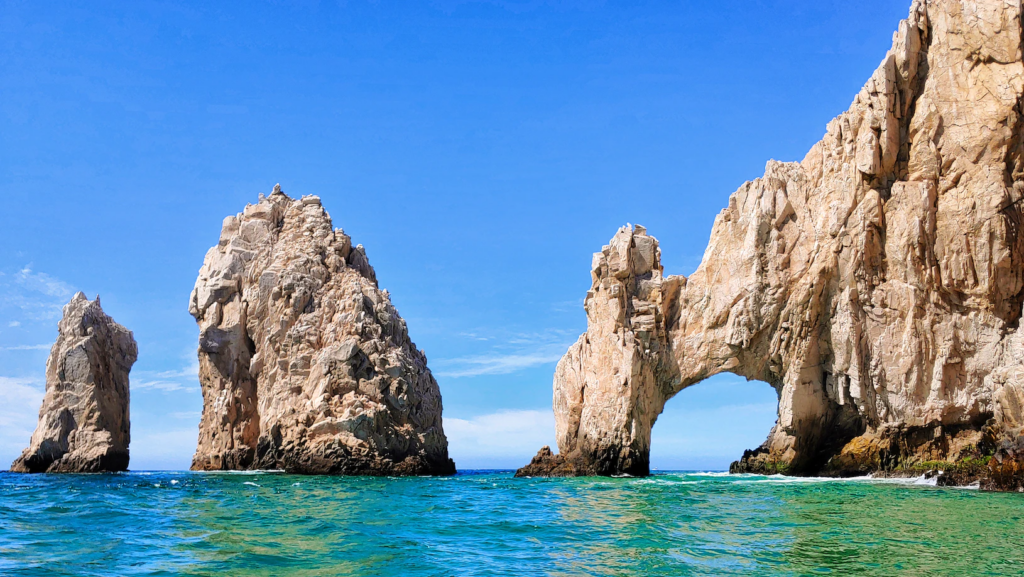 Cabo San Lucas is a Mexican beach town that offers a unique combination of natural beauty and modern amenities. Cabo San Lucas is home to some of the most luxurious hotels, restaurants, and beach clubs. This makes it the ideal destination for couples who love an upscale beach experience.
Luxury experiences aside, Cabo San Lucas pretty much has something for everyone, whether you're seeking relaxation or adventure. Some noteworthy activities available at Cabo San Lucas include whale watching, deep-sea fishing, and scuba diving. While visiting Cabo San Lucas, you'll also be able to catch a glimpse of iconic rock formations such as El Arco de Cabo San Lucas.
12. Playa de los Muertos, Puerto Vallarta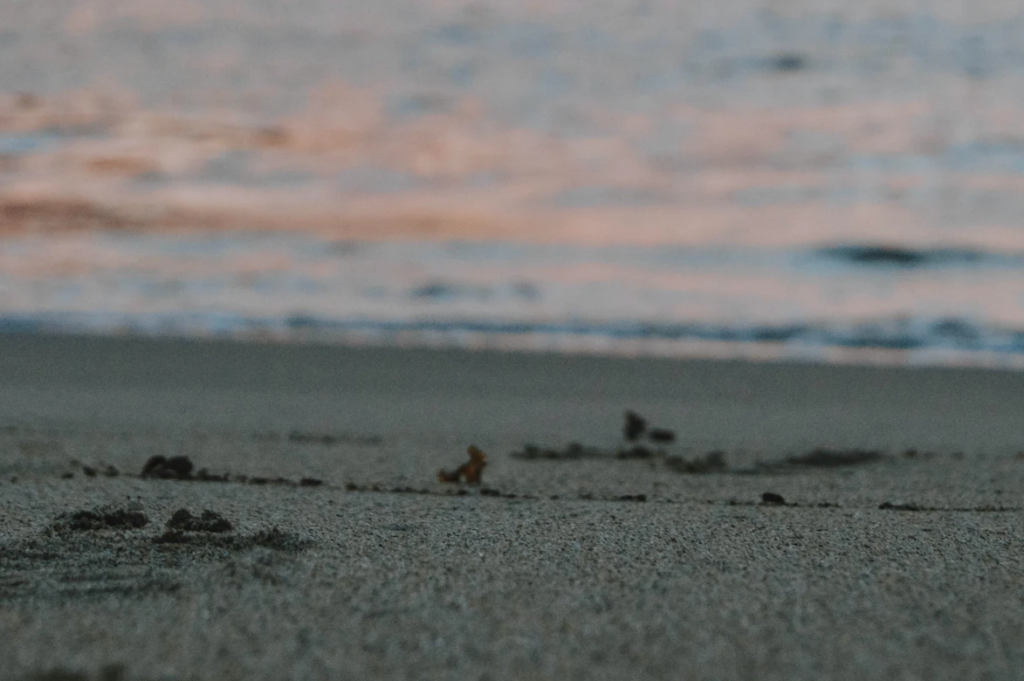 Despite its name translating as "Dead Man's Beach," Playa de los Muertos is a tranquil environment that makes for an ideal escape from city life. It's another secluded beach located in the charming coastal town of Sayulita.
Like many Mexican beaches, Dead Man's Beach has warm waters which are the perfect temperature for taking a relaxing dip. It's also an especially popular beach with couples who like a leisurely stroll on the beach while sampling the various offerings from local vendors.
This may not be the most widely known beach on our list, but it has an undeniable appeal that makes it easy for visitors to lose track of time and spend the whole day there.
13. Playa las Gatas, Zihuatanejo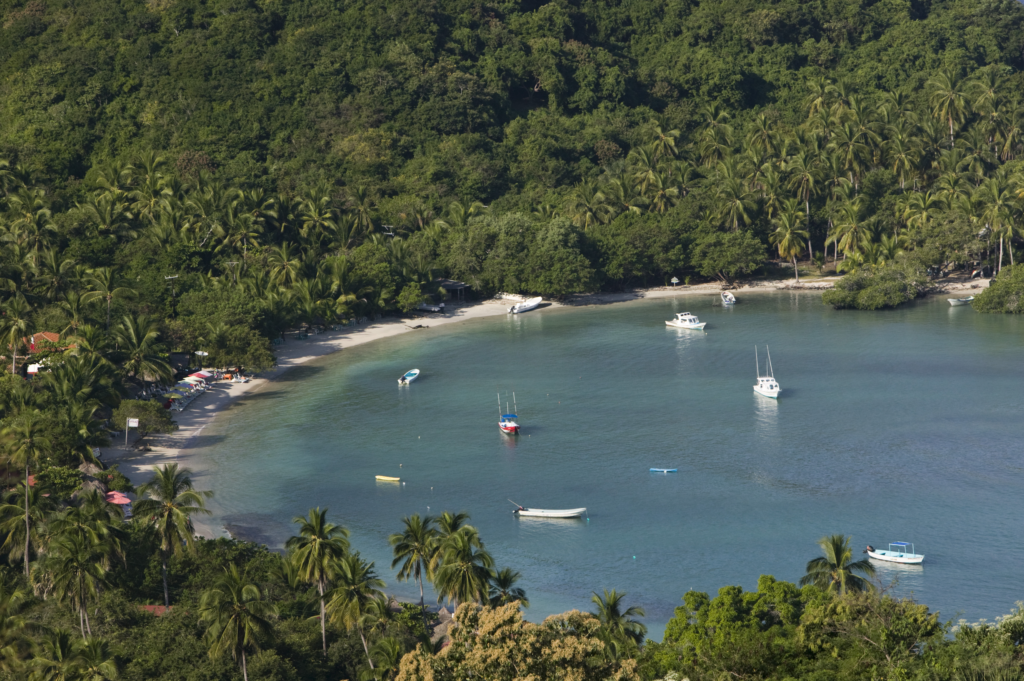 With its swaying palm trees, lush vegetation, and Pacific Ocean vistas, "Cat Beach" creates a truly idyllic atmosphere for visitors. The remote beach has a much-disputed origin story, with some saying it gets its name from whisker-like appendages of nurse sharks and others claiming it was due to the wild felines that roamed the nearby jungles.
Regardless of where the beach gets its name from, Playa las Gatas is a truly sublime beach. It's crowded with sunbeds for visitors to lounge on and also has a multitude of dining options. Like a lot of the other beaches on this list, it has coral reefs to explore, but watch out for sea urchins, particularly if you have children.
Playa las Gatas is also easily accessible via the frequent boat departures from Zihuatanejo's pier.
14. Playa la Boquilla, Pochulta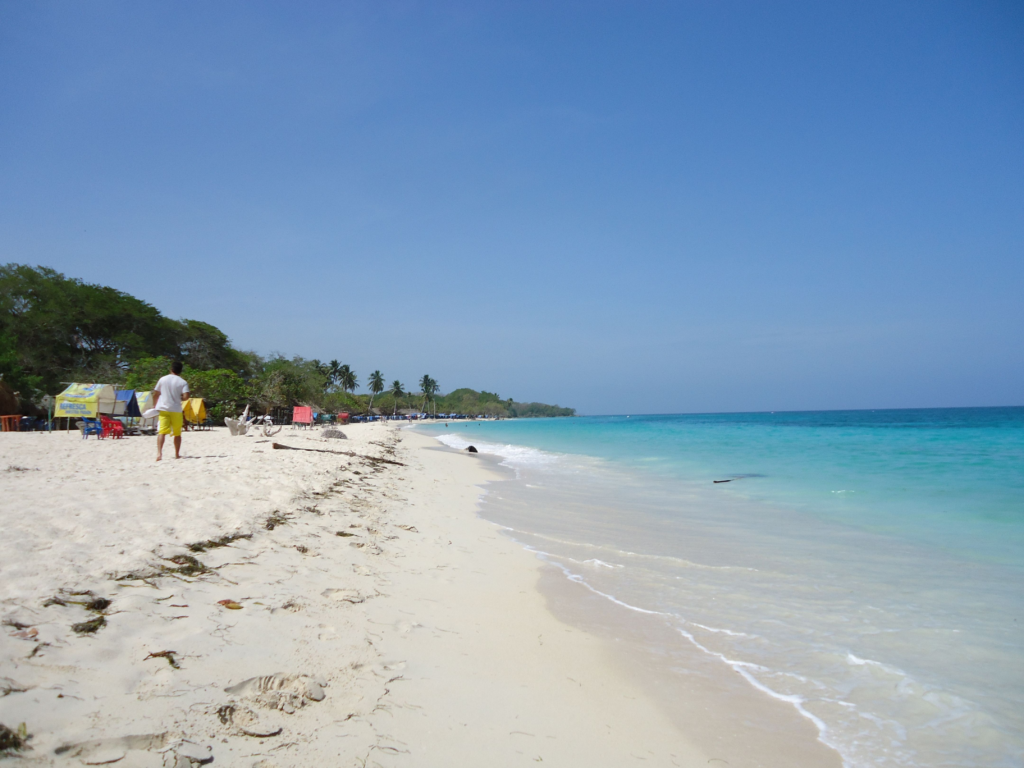 Next up we have a gorgeous beach located amid a contrast of lush vegetation and rugged cliffs. Playa la Boquilla is a small beach protected within a cove. It features the golden sand you'd expect from a Mexican beach and clear shallow waters that make it the perfect spot for swimming and snorkeling.
Beyond the beach, you can enjoy a meal at one of the beguiling Mexican restaurants nearby. One of the most noteworthy names in this department is Bahia de la Luna. It's actually located on the beach and serves up delicious seafood and regional dishes. The restaurant lets you relax under tall palm trees and thatched palapas while feeling the cool breeze that travels along the Pacific coast.
15. Sayulita Beach, Riviera Nayarit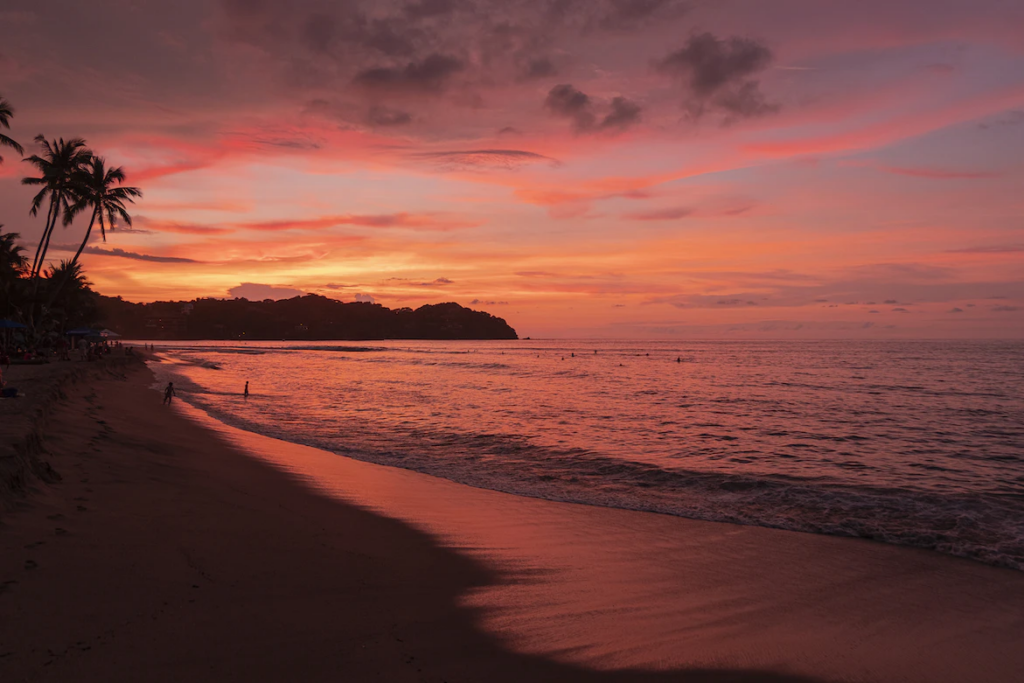 Sayulita Beach is well-known for its Bohemian vibe and being one of the best beaches for surfing, hence the many surf schools and camps here. It's a charming beach on the Pacific coastline and about 30 miles from Puerto Vallarta beach, so, if you have the time, you could even consider visiting one after the other.
When you aren't getting a feel for the surf culture at Sayulita, you can have a taste of small-town life or go exploring the Occidental Mountains. However, if you don't want to go that far, you can always check out the town's restaurants, artisan shops, and eco-friendly resorts.
16. Playa Ruinas, Tulum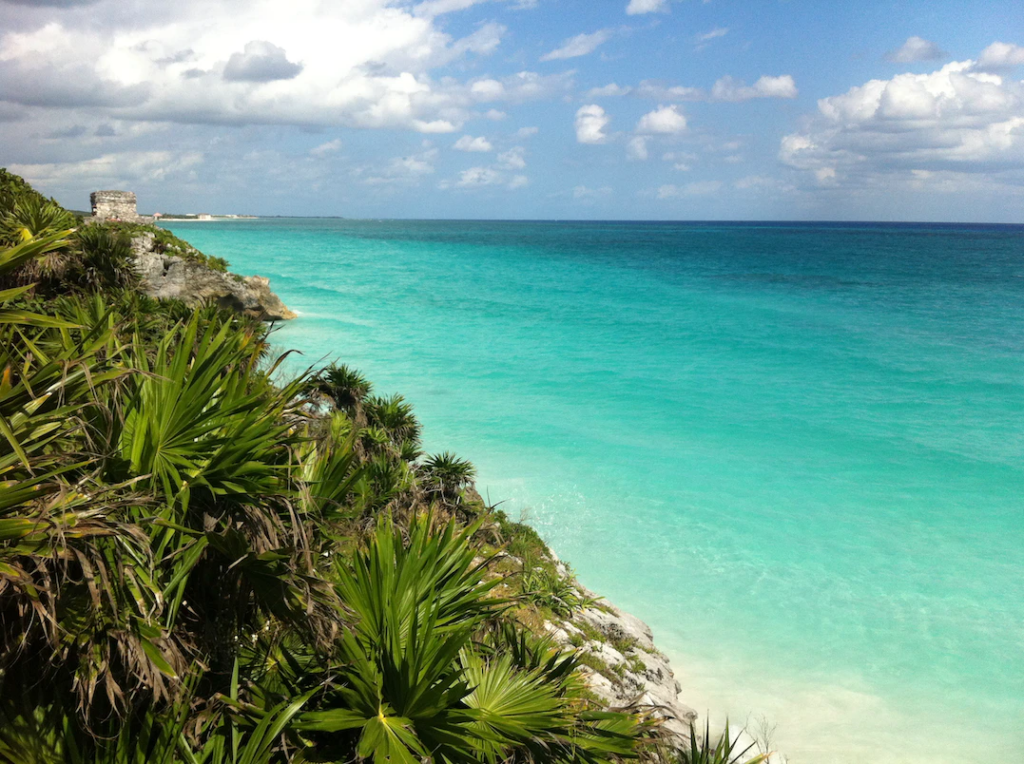 Playa Ruinas is a picture-perfect beach setting. Because it's also located in Tulum, you'll be at the base of ancient Mayan ruins, giving you a highly unique yet tranquil experience.
As you might've guessed by now, this quaint stretch of sand also provides a stunning view of the Caribbean Sea and is arguably one of the most photogenic entries on this list. You also won't have to look very far in terms of accommodation as you'll find a large number of high-end resorts clustered along the south beach.
It's also worth noting that this beach is both family and pet-friendly. However, the northernmost part of the beach beneath the ruins is closed off to protect the resident turtles.
17. Isla Holbox, Yucatan Peninsula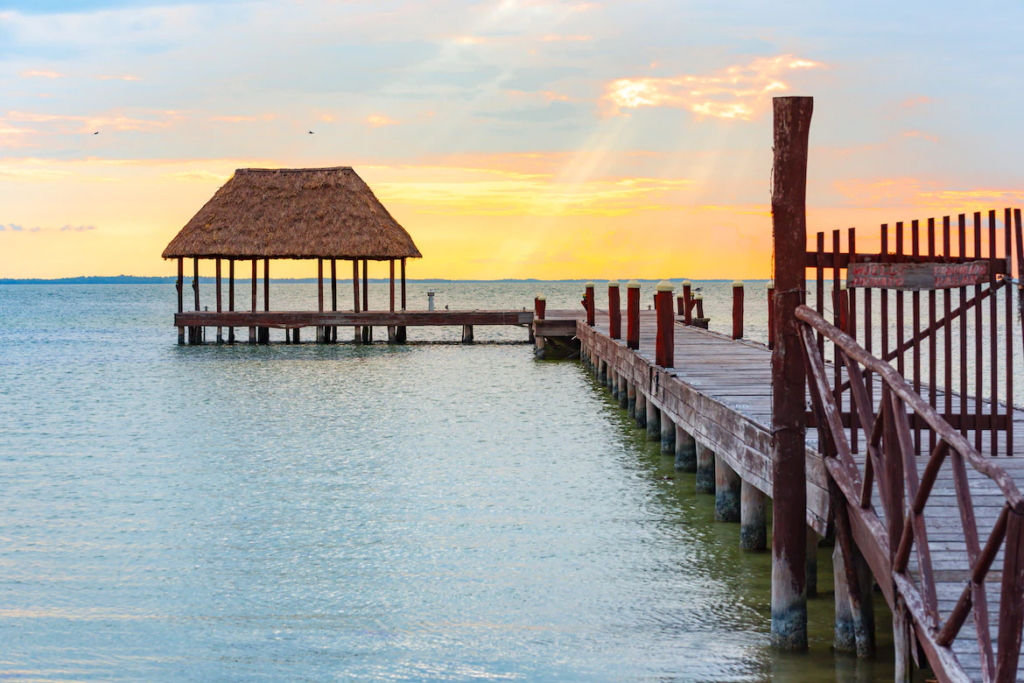 Located approximately three hours north of Cancun is yet another one of Mexico's treasures, Isla Holbox. This beach island is a unique exception to the Yucatan Peninsula and neighboring islands like Cozumel and Isla Mujeres. It's small and quiet, seeing nowhere near as many tourists as the more popular regions do.
Once there, you'll find largely untouched beaches, including a stunning white coral beach on its northern side that provides great conditions for windsurfing. There are also numerous accommodation options on the island and the surrounding waters are also typically calm and shallow, making them perfect for long swimming sessions.
Lastly, the island is part of an ecological reserve and is home to a variety of seabirds. So, if you or your partner likes to engage in a bit of bird-watching, Isla Holbox is the beach for you.
18. Playa Xpu-Ha, Riviera Maya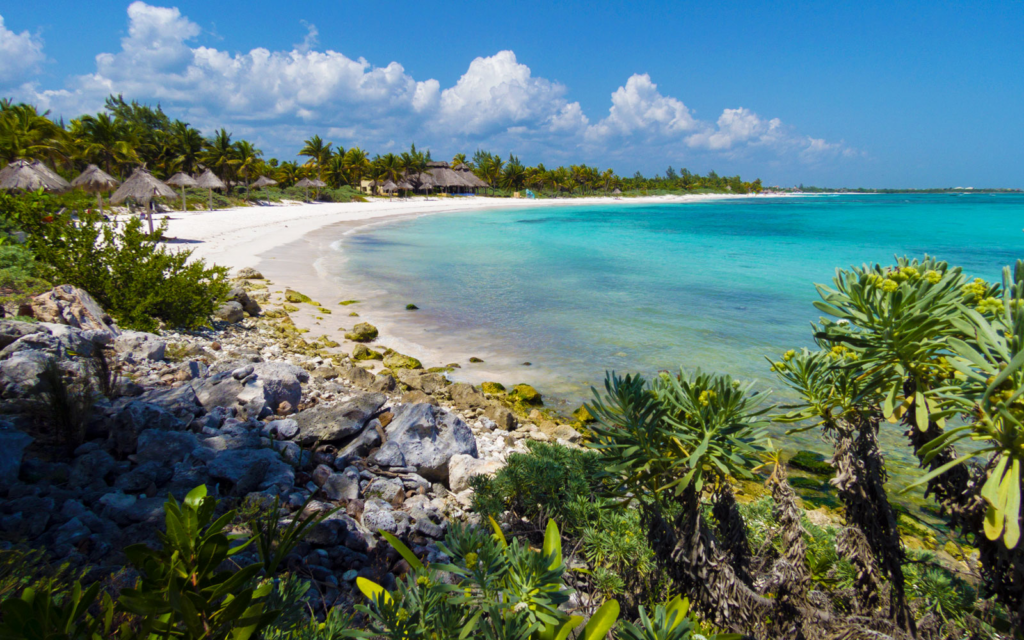 Playa Xpu-Ha is about 30 minutes south of Playa del Carmen and the same distance north of Tulum. So, if you happen to visit either of those beaches and find them too crowded, Xpu-Ha is a great alternative.
Recent years have seen Xpu-Ha become much more popular due to the safe, family-friendly atmosphere there.
Xpu-Ha certainly isn't as popular as Cancun, however, don't make the mistake of choosing only according to where you find the most crowds. Crowded beaches can offer a well-rounded experience but may be a bit stressful. Playa Xpu-Ha offers the best of both, giving you a reasonable amount of entertainment options without the stress that comes with busy beaches.
20. Playa Carrizalillo, Oaxaca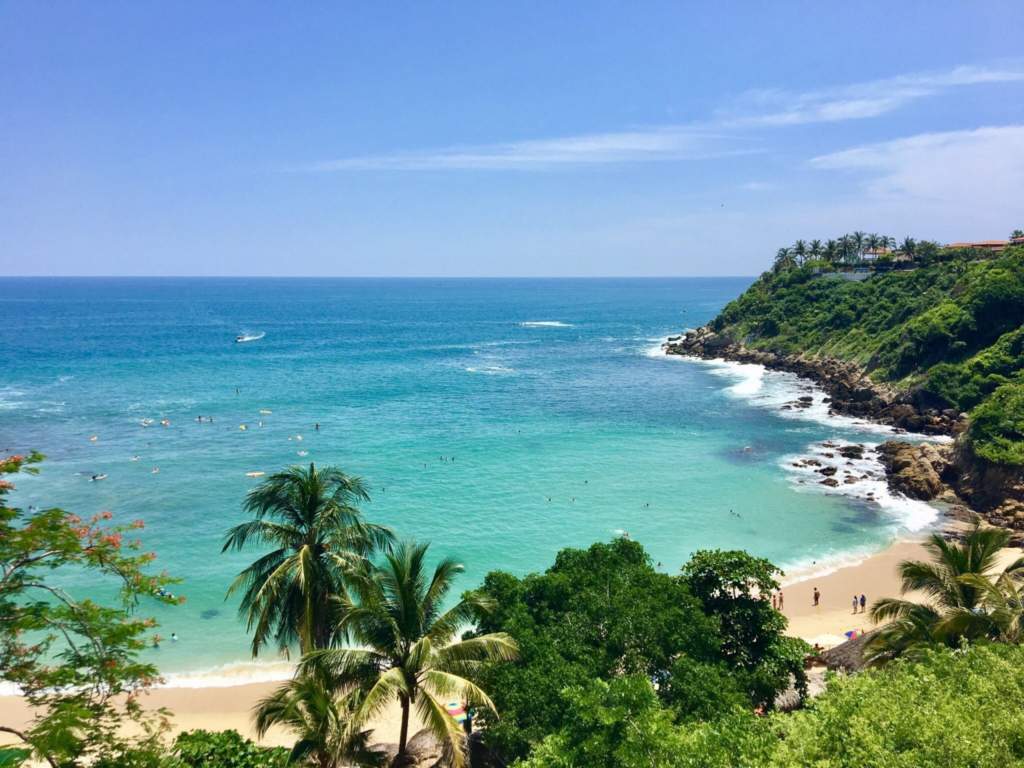 Located on the Pacific coast is one of Puerto Escondido's hidden gems, a crescent-shaped beach known as Playa Carrizalillo. With its awe-inspiring views of the Pacific Ocean, lush green surroundings, and dramatic cliffs, Playa Carrizalillo creates a peaceful yet highly intimate backdrop for your adventures.
This beach destination is perfect for couples seeking a change of pace that can help them in getting to truly appreciate and understand each other. While it tends to be a lot more quiet compared to other beaches, it's still a great option for engaging in activities such as paddleboarding and snorkeling.
21. Isla Espiritu Santo, La Paz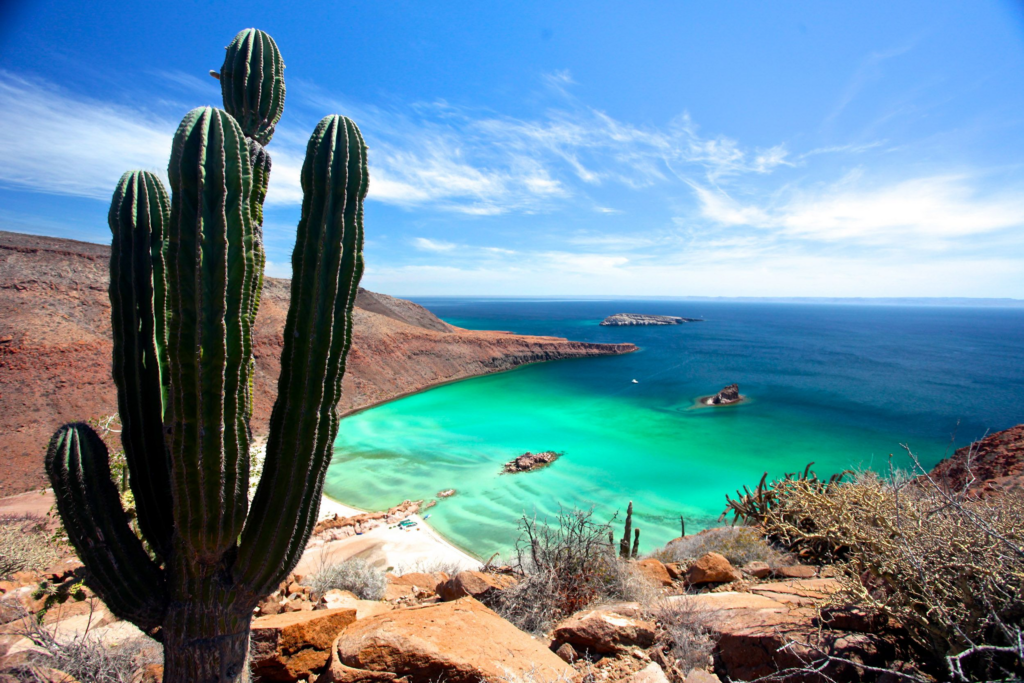 Isla Espiritu Santo is an island off Baja California. Much like Isla Mujeres, Isla Espiritu Santo is teeming with amazing aquatic animals and its beauty will surely take your breath away.
Because it's a protected island, you have to book guided tours in advance. Most tours will give you the chance to snorkel around Epiritu Santo and the neighbouring Isla Partida.
22. Playa Zicatela, Puerto Escondido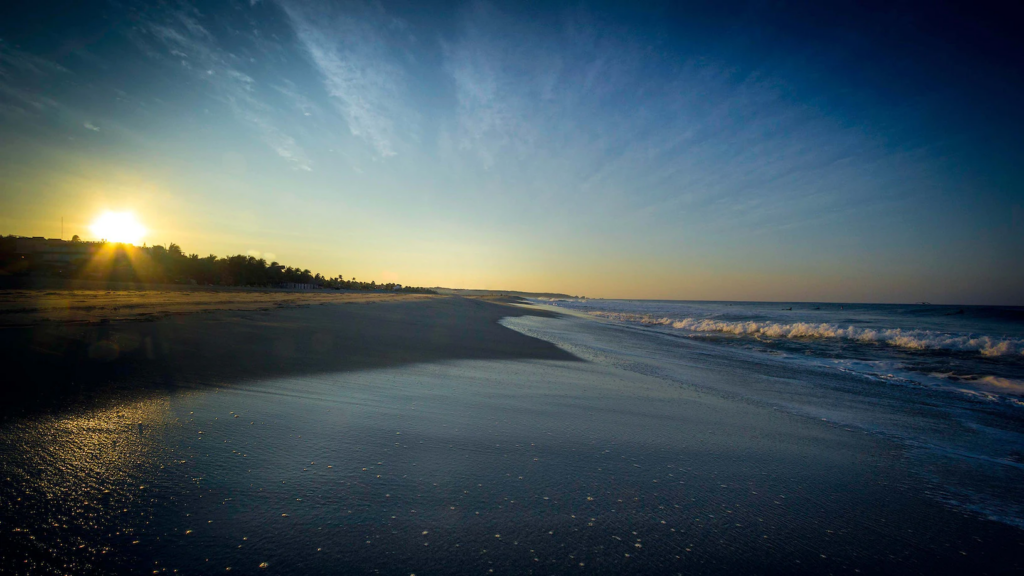 And last but not least is the breathtaking Playa Zicatela. Located in Oaxaca, this long stretch of pristine white sand has garnered a reputation for being a surfer's paradise. Surfers pour in from around the world to ride the massive waves of the"Mexican Pipeline."
Even if surfing isn't your thing, Playa Zicatela still makes a great place for both couples and singletons to soak up the sun or a couple of drinks at one of the beachfront bars.
FAQs
What is the best time to visit Mexican beaches?
Consider visiting between May and October. The high season for tourism in Mexico is from December to April, as the weather is more comfortable during this time. However, you may encounter more crowds and higher prices. Each area varies significantly in terms of factors such as weather and crowds, so the ideal timing varies slightly from beach to beach.
Are beaches in Mexico safe?
Yes, a large number of beaches in Mexico are considered safe for visitors. However, like with most travel destinations, it's important to take certain precautions to ensure your safety. For example, some Mexican beaches are known for their strong currents, so it's important to pay attention to warning signs and avoid swimming in potentially dangerous conditions.
Which beach has the clearest water in Mexico?
Playa Maroma, Playa Norte, and Puerto Morelos in Riviera Maya are considered to have some of the clearest beach water in Mexico.
Are there any restrictions on bringing food or drinks to Mexican beaches?
In general, no, although some don't allow glass bottles. Check the rules before visiting to avoid disappointment or breaking any rules.
What is the water temperature like at Mexican beaches?
Like most destinations, the water temperature at Mexican beaches will vary depending on the time of year and location. In general, you'll typically find that the water temperature is at its warmest in August, averaging around 86 degrees Fahrenheit or 30 degrees Celcius.
February tends to have the coldest water temperatures, averaging 63 degrees Fahrenheit or 17 degrees Celcius.