Michigan is a lovely little place in the Midwest with the perfect balance of city life and some of the most beautiful natural regions. You can find anything from luxury to adventure, whatever you're looking for. When it comes to the perfect romantic getaways in Michigan, this state has it all.
This article has everything you need to know to plan the ultimate romantic getaway in Michigan; from travel tips to the best places to stay and things to do and see. Michigan has the culture, the food, and all the fun and romance! Here is why you should consider romantic getaways in Michigan:
What Makes Michigan Perfect For A Romantic Getaway?
Romantic getaways in Michigan are incredible. It has stunning waterfalls, lush beaches, and fantastic little towns throughout the state. It is also perfect almost all year round. The summers are incredible, the winters are pretty, and the fall is right out of a movie scene.
You can go to a full-service resort, a relaxing time by the sea, a rustic lodge, or a quiet country inn. There are also some unique destinations in Michigan. Like Frankenmuth, Holland, Traverse City, Grand Rapids, Ann Arbor, Mackinac Island, and more.
Getting around is very easy if you have a car, and it is perfect for a weekend getaway or even a couple of days. Michigan is the place to be with the ideal mix of everything. It is also decently priced. You can easily go on a budget or splurge during your romantic getaways.
This state has beautiful scenery and the most incredible natural environment. It also has rich culture, cinemas, books and an electric energy you shouldn't miss!
Most Romantic Getaways in Michigan
One great location is Petoskey – perfect for winter, with fantastic ski trails and snowboarding courses. It's perfect for a relaxing break or an adventure-filled getaway.
Grand Rapids is also a must-do during romantic getaways in Michigan. Gaylord in Northern Michigan is ideal if you are looking for an outdoor romantic adventure. Jacksons, if you are looking for more history and culture. Bellaire, the Great Lakes Bay Region, Marquette, is ideal for those beach lovers.
You can opt for a getaway in the countryside for relaxing downtime. A getaway near the coast means you can spend time at some of the most beautiful beaches, while skydiving and zip lining are perfect for adrenaline junkies.
Michigan has a lot to offer, and you and your loved one will find something that suits your needs and makes for your perfect romantic weekend away. The following are some of our top places for romantic getaways in Michigan.
Mackinac Island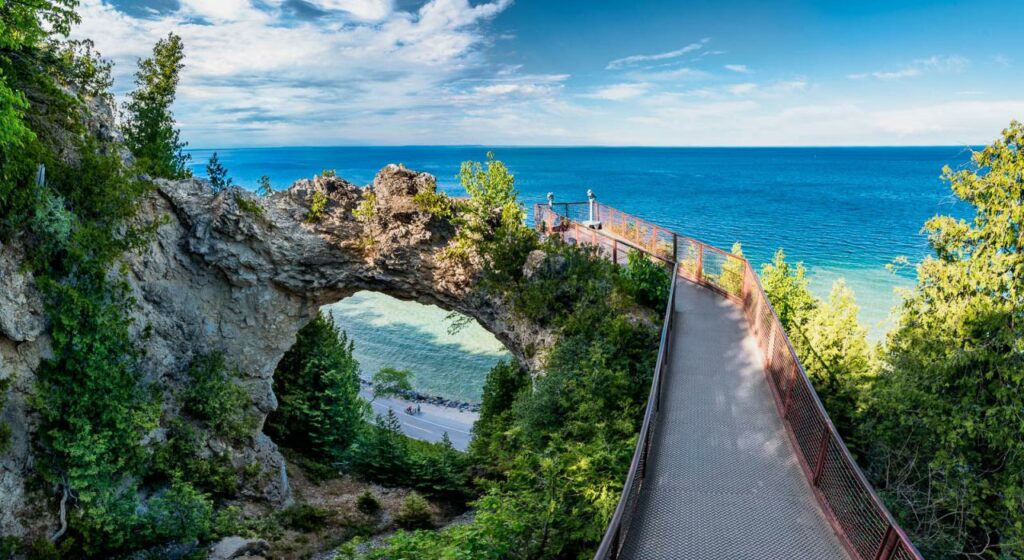 Mackinac Island should be at the top of everybody's list for romantic getaways in Michigan. It is the perfect place to go if you and your partner want to take it easy and slow down. The island can be found in the Midwest, making for a very romantic getaway by Lake Huron and walking along the gorgeous waterfront.
You can do just about anything on Mackinac Island, take a historical tour of the historic Fort Mackinac, go biking, or have tea at the Grand Hotel. No cars are allowed on the island, you'll see horses everywhere, and you must explore the charming streets.
The natural world is lush, and the island has a lot of history. The island has various hiking trails and tons of relaxing resorts.
Arch Rock is iconic and a must-see when you are in Michigan. You can go to Mackinac Island State Park to visit the most photographed spot on Mackinac Island. You can get there by horse, on foot, or by bike.
Go to the Richard & Jane Manoogian Mackinac Art Museum to explore the island's culture and see their comprehensive collection of photographs and art.
Go on a stunning kayak tour at sunrise or sunset. You can also go snorkeling or paddling during the tour. Great Turtle Kayak Tours offers amazing guided trips.
Rent bicycles and cycle around the island. There are loads of different trails that are easy and very safe. You can see the most amazing views and explore some of Mackinac's woods, caves, and beaches.
Best Accommodations in Mackinac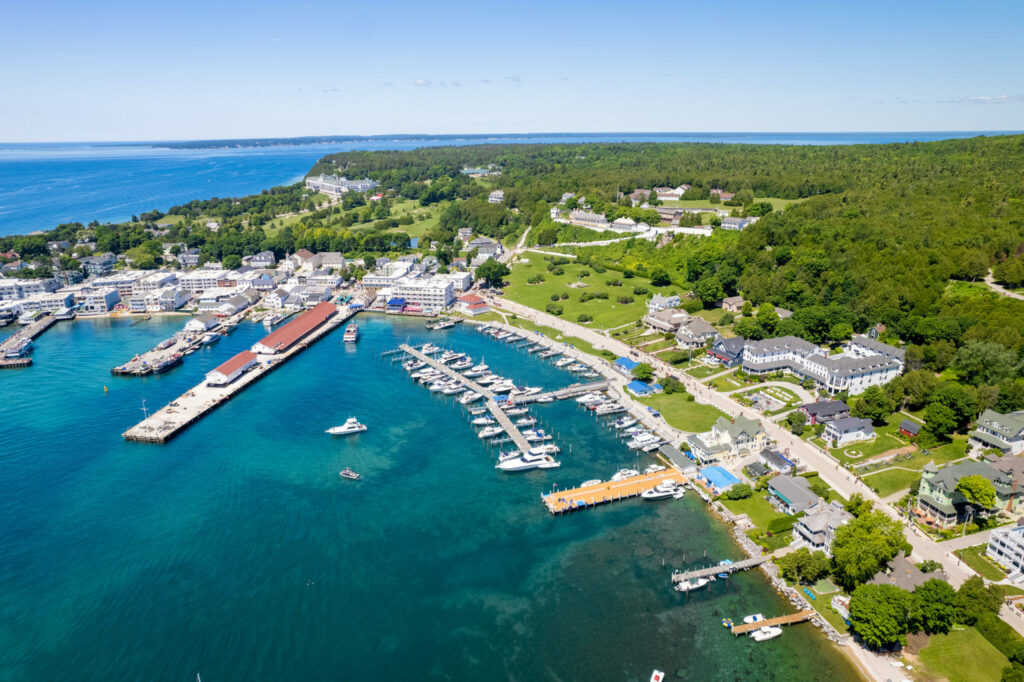 Price per night: Their rooms start at $179 per night.
The Island House Hotel has been around since 1832, it is right on the docks, and you can choose from various room styles. Such as Deluxe, Traditional, Suites, and King. Most rooms have the most spectacular views of the water.
You can sit out by the water and enjoy a delicious meal or dine at Mary's Bistro, with a harbor view patio and an extensive wine list. They also have more secluded dining options for a private romantic evening. The hotel is surrounded by beautiful scenery, and you will have stunning views of the water wherever you turn.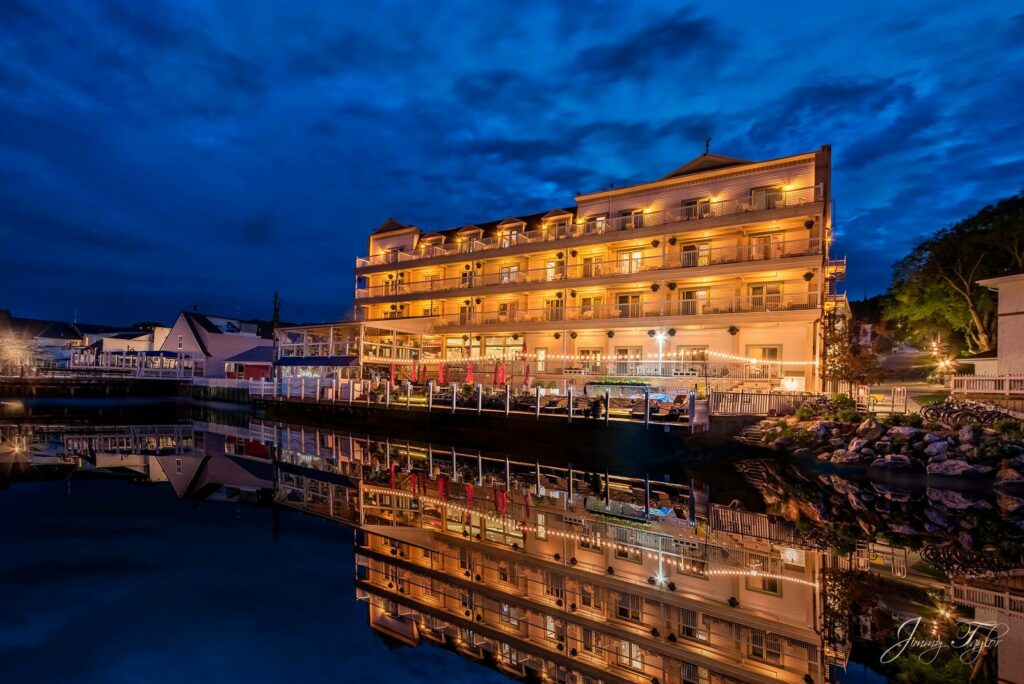 Price per night: Between $209 and $779 per night, depending on the type of room you want.
The Chippewa Hotel can be found in downtown Mackinac, boasting stunning views, lovely rooms, and the most hospitable staff and excellent service. The hotel is right by the marina, and they offer two-room suites with balconies, Jacuzzi suites, economical main street rooms, and wonderful spa amenities.
Your stay here will be romantic and peaceful. You can come here to take it easy or have a busy stay full of activities and adventures. Booking a spa treatment here is a must. The hotel also offers a ferry special, breakfast special, and three or four-night specials.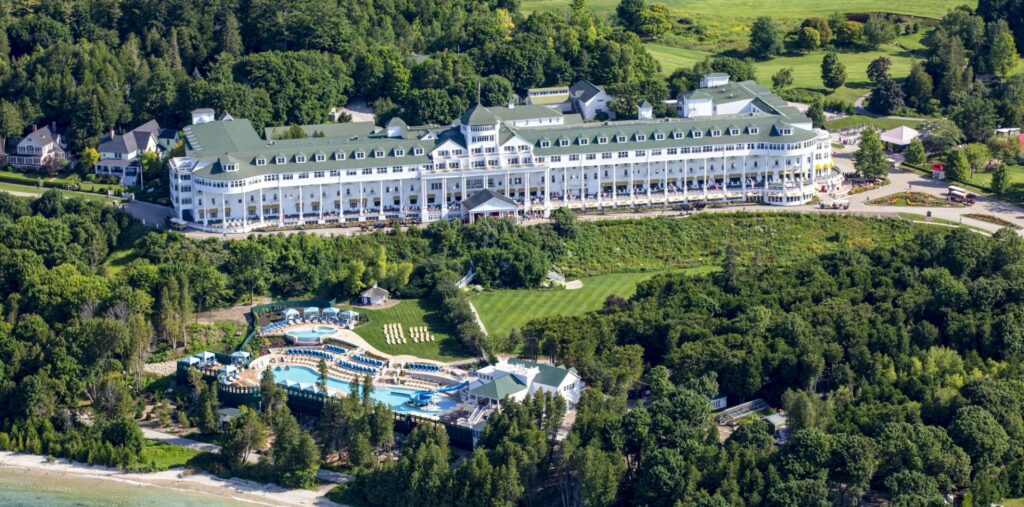 Price per night: Starting at about $583
Found in the Northern part of Michigan's Mackinac Island, the hotel offers a charming and old-world stay. The rooms are individually decorated, and the hotel has 14 different bars and restaurants – the food here is incredible.
The hotel can plan whole itineraries for you, and they offer a number of indoor and outdoor activities. You are in for a beautiful and magical stay at this hotel. Everything from the grounds to the rooms is pure perfection. You can enjoy delicious dinners, dancing, garden walks, and more.
Their rates include meals, accommodation, access to the outdoor swimming pool, discounts on ferry boat tickets, dancing, nightly entertainment, and much more.
Detroit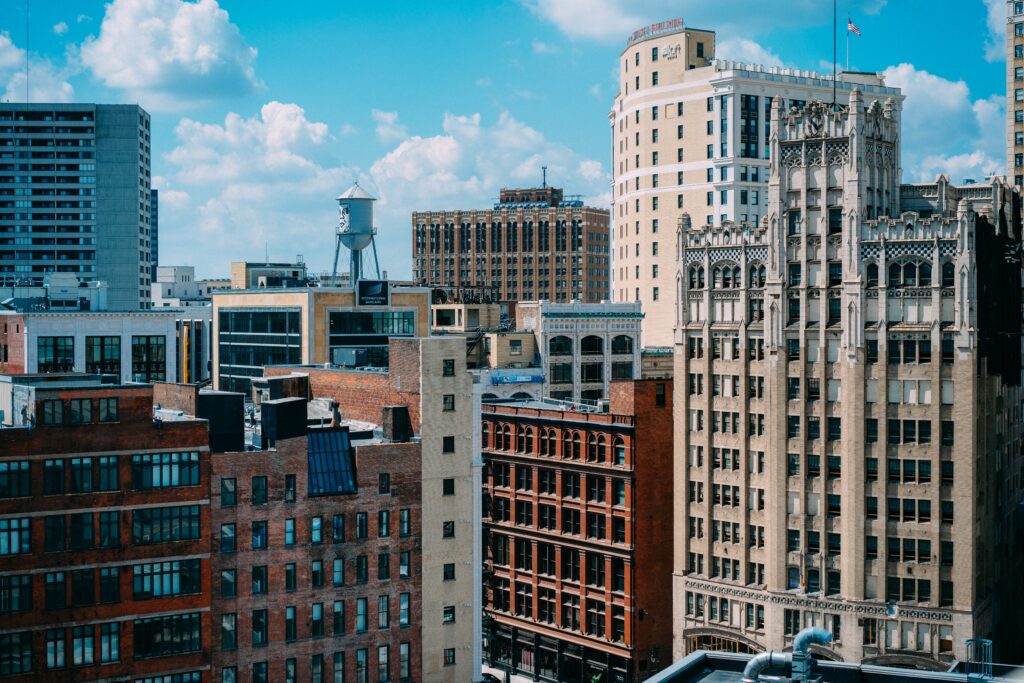 This cosmopolitan city makes for unique romantic weekend getaways. It is mostly known for its street art, sports scene, and automotive history, but it can be very romantic when you look in the right places.
This city offers incredible experiences, from cuddling at a stunning old-fashioned drive-in to strolling along the riverfront – you can make just about anything romantic.
The Detroit International RiverWalk is amazing. The walk starts at Rose Parks Boulevard and goes to the Belle Isle Bridge. You can see the most spectacular views of Windsor, the Detroit skyline, and Canada.
Go and explore Belle Isle. It boasts about 1000 acres of beautiful, lush greenery. You can stroll through the paths and wander around the Anna Scripps Whitcomb Conservatory. You can also rent paddleboards and kayaks.
Go to the chocolatey Bon Bon Bon and indulge in some gourmet treats.
Best Accommodations in Detroit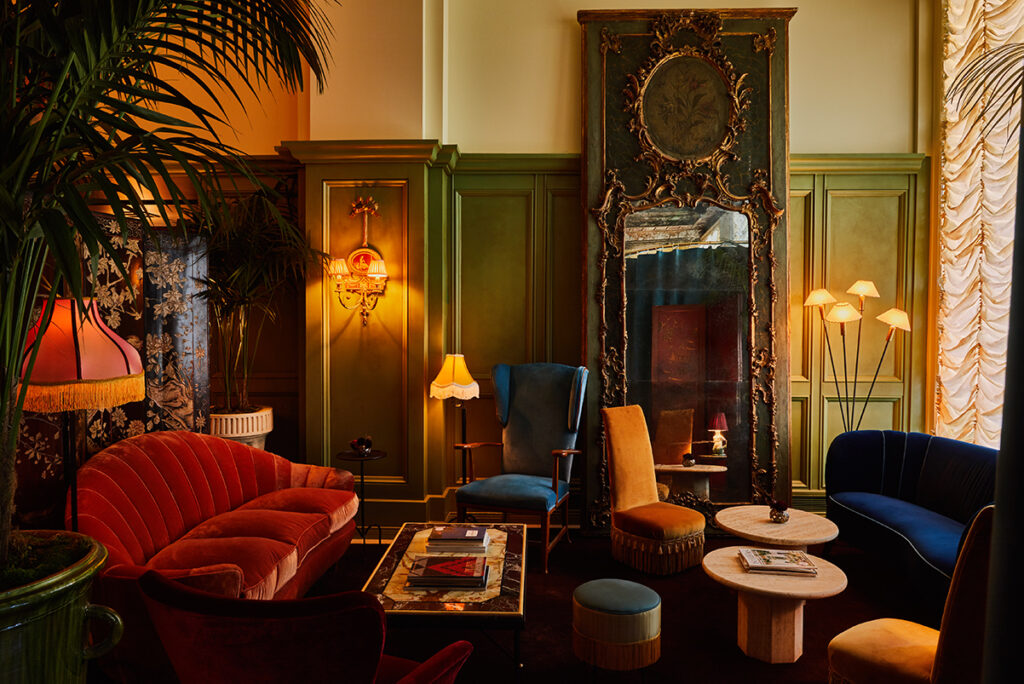 Price per night: Prices start at about $170 per night
This hotel is one of the best locations in Detroit and is in the former Wurlitzer Building. This hotel has a Renaissance Revival style, with 106 rooms, including eight penthouse-floor lofted suites.
There are also various bars and restaurants in the hotel, such as the 8-seat chef's counter restaurant Albena by Chef Garrett Lipar, Candy Bar, Karl's all-day dining restaurant, and Populace coffee.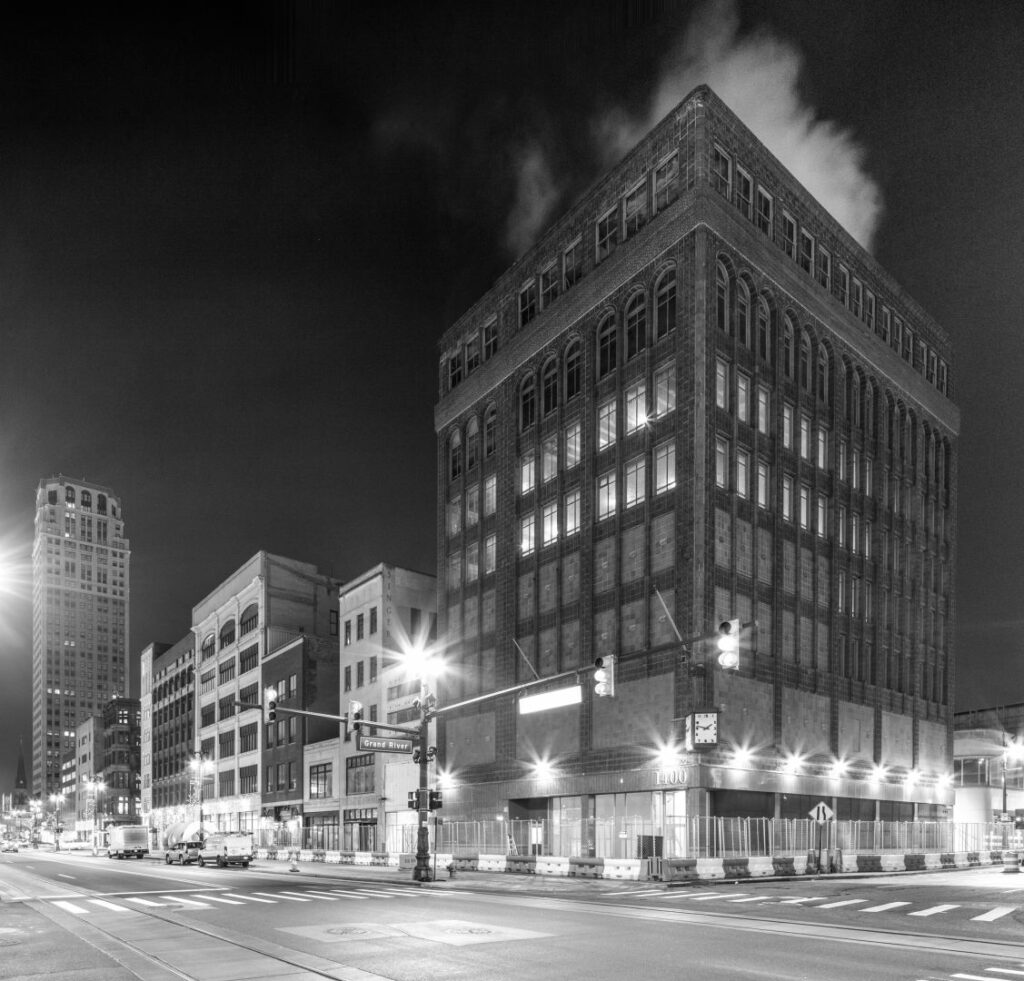 Price per night: Prices start at $215
This luxurious hotel in downtown Detroit is lavish and stylish, and the finishings are of the finest quality. You can enjoy room service or go to one of their many bars or restaurants on-site. You can eat to your heart's delight, and they have a wide range of delicious cocktails and wines.
This hotel is quite hip and in a great location to explore downtown Detroit, making for one of the best and most adventurous romantic getaways in Michigan. The rooms create a tranquil environment and have all the amenities you'll need for a fun and comfortable stay.
The hotel has standard rooms, suites, and penthouses, so you can choose which is best for your romantic weekend.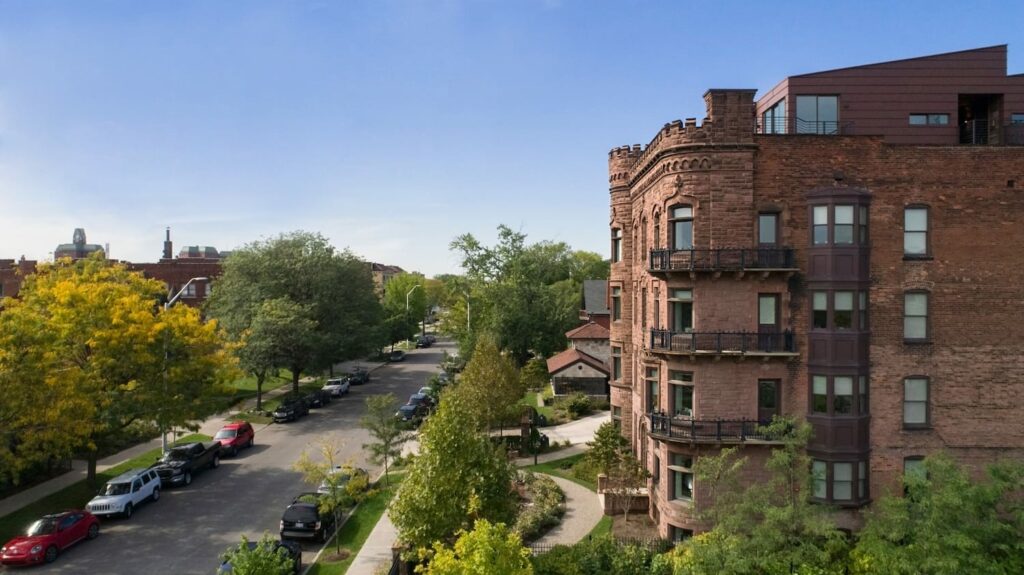 Price per night: Prices start at $155 and go as high as $305 per night
El Moore has been around since 1898, and its focus is on sustainable design. El Moore offers a range of accommodations, including rooftop urban cabins, Parkview rooms, and the CW Moore suite. The hotel is in midtown Detroit, and walking around the area is very easy and convenient.
There are a number of shops, cafes, and restaurants in the area where you can go for lavish dinners and meals. The hotel is also surrounded by interesting history just waiting to be explored. This stay is sustainable, luxurious, and sleek.
Holland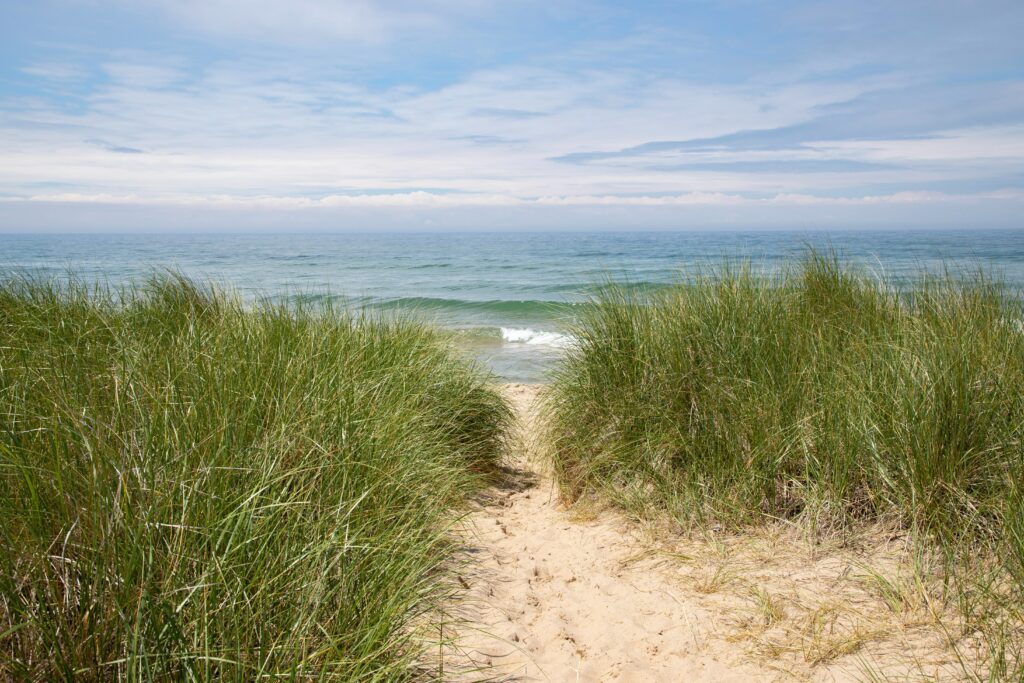 You will not feel like you are in Michigan when in Holland. This is one of the most beautiful and romantic areas in Michigan. It has a lot of Dutch heritage and is famous for its stunning spring tulips. It is best to go in May when the tulips are in full bloom.
Holland is close to the east shore of Lake Michigan, and it is one of the largest cities. It is a stunning location for a getaway. There is much to see and do:
You can visit the windmill island gardens, where you can see about 150,000 tulips during the spring. This is a wholesome and beautiful activity. Windmill Island Gardens are a beautiful location for a romantic stroll and a day out.
There are a number of beautiful beaches that you can visit and spend the day lounging in the sun. These includes Ottawa Beach, Laketown Beach, and Tunnel Park. You will find loads of stunning sandy beaches up along Lake Michigan.
Saugatuck Dunes State Park is full of coastal shorelines, forested areas, and dunes. There are also a number of hiking trails and secluded beaches. This is great for those wanting to explore and have some adventure.
Best Accommodations in holland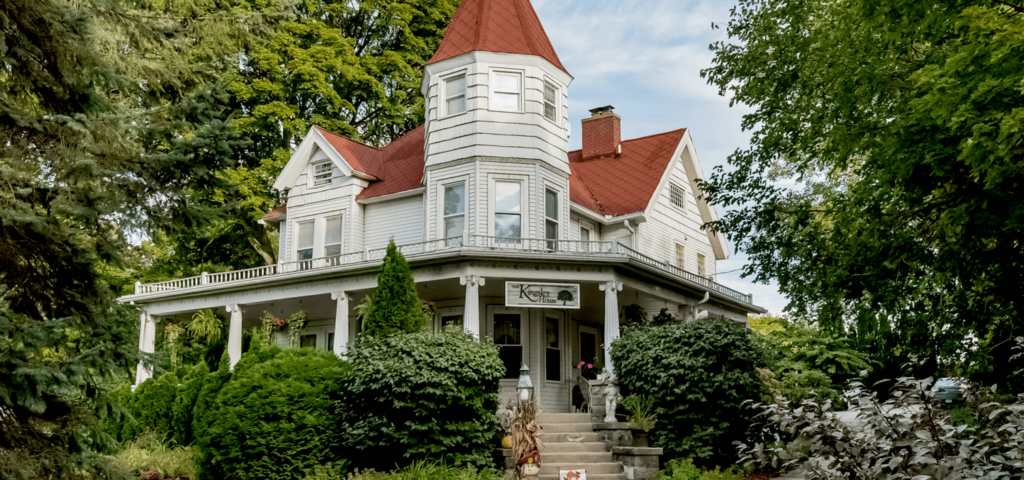 Price per night: Rooms start at $214
This gorgeous Bed and Breakfast inn is in the heart of stunning southwest Michigan and is close by to all of the amazing things this part of Michigan has to offer. You can go cross-country skiing, to Wine Country, or watch the sunset over the beach.
This spot also offers romantic weekend getaway packages. You can hire bicycles to explore, hike the Saugatuck Dunes State Park, wander along the Lake Michigan beaches, and watch sunsets to your heart's content.
Your stay can be adventure-filled and relaxing. This B&B makes for one of the best romantic getaways in Michigan. They have all the modern amenities to make your stay pleasant and comfortable and a fantastic hot tub where you can unwind after a busy day of exploring. They have various suites and chambers on offer.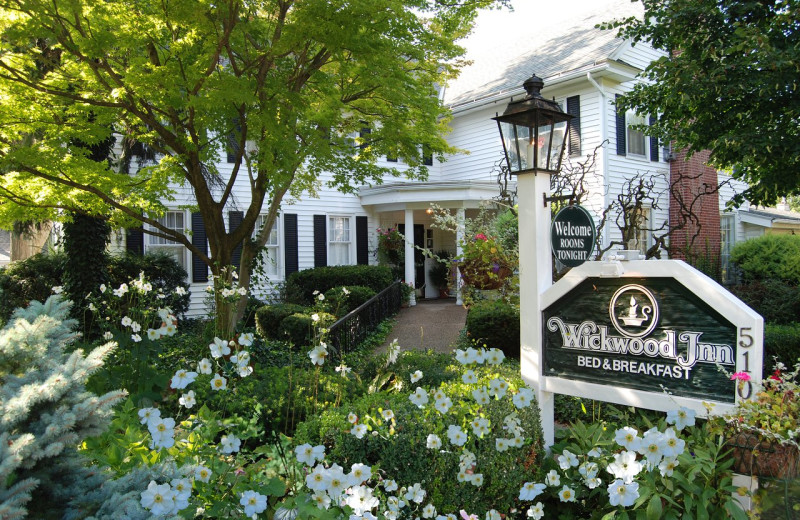 Price per night: Prices start at $266 per night
This stunning Bed and Breakfast has a terrace and garden where you can spend some time relaxing outdoors. They also serve a delicious breakfast. All of their rooms are spacious and luxurious, with comfortable furnishings.
The Inn is surrounded by the most amazing scenery, and the town has some amazing restaurants, shops, and cafes. All of their rooms are different, offering a unique stay for everyone.
Top Excursions & Activities To Do On A Michigan Romantic Getaway
There is so much to do in Michigan, from going to the beach in Grand Haven, spending Christmas in the amazing Frankenmuth, and wandering around the streets of Saugatuck. You can also take various day trips.
Make a trip from Leelanau Peninsula all the way to Grand Traverse Bay, where you will find some of the most amazing beaches.
Go to Grand Rapids, where you will find the most incredible food, world-class attractions, and some amazing events. Grand Rapids also has some stunning hotels in the area.
Go to Travers City and eat loads of cherries, do tons of shopping, and explore all of the delicious restaurants. There is the National Cherry Festival which they celebrate in June, and there are a number of fantastic wineries in the area where you can drink to your heart's delight.
Every romantic getaway destination will have a different selection of activities and excursions. Provide a brief description of the type of activities available at this destination.
The Frederik Meijer Gardens & Sculpture Park has beautiful botanical gardens where you can see stunning sculptures.
The Lake Shore Resort is a must-stay if you are in Saugatuck. This is an amazing and luxurious lakefront hotel, perfect for romantic getaways in Michigan.
You will surely have a great romantic getaway in Michigan. You can explore the beach, the dunes, and the stunning little towns and immerse yourself in the deep history and culture of the city.
Sample Itinerary & Budget For Your Romantic Getaway In Michigan
You can do getaways in Michigan on a budget or splurge a little. There is so much to do and see there it will be impossible to fit it all into one trip, but take a look at this itinerary for one of the most romantic getaways in Michigan:
Day 1: Traverse City
Start with a delicious breakfast in Traverse City, then drive for around 40 minutes until you get to Sleeping Bear Dunes National Lakeshore; here, you can watch hang gliders over Lake Michigan or enjoy a refreshing hike with the best views of the Manitou Islands.
You can make a few more stops along the way and end up in Michigan Beach Park. Here, you can lie on the beach, swim in the sea, and take in the summer air. Your drive will end in Mackinaw City, where you can do stargazing and grab a bite to eat.
Day 2: Mackinaw City to Marquette
Wake up and watch the sunrise over Lake Huron, then make your way to Michigan's Upper Peninsula. Make a stop at Kitch-iti-kipi in Manistique and spend some time in the crystal clear waters. Make your way to Munising and do some sightseeing by renting a kayak.
You will then go to Marquette, where you can get something to eat and buy some souvenirs.
Day 3: Marquette to Copper Harbor
Wake up and go to Irontown Pastries for the most amazing local pastries. When you're fueled up, start the drive to Eagle River Falls, where you will see a 25-foot waterfall right from the road. You want to make your way to Copper Harbor, and you will see the most incredible views along the drive.
In Copper Harbor, you can explore all the shops and restaurants and hike in the Estivant Pines Nature Sanctuary.
| | |
| --- | --- |
| Activity | Cost |
| Accomodation | You can find budget hotels for as low as $55 or find 5-star luxury accommodations for as high as $400. |
| Transport | Daily car rental can cost anything between $15-$40 per day. |
| Food and Drink | You can find inexpensive restaurants in Michigan for about $25 or fancier places for around $75-$100. |
| Excursions | A lot of the excursions are free. Kayaking can cost around $87 per person, depending on the company. |
Frequently Asked Questions
How much does a Michigan romantic getaway cost on average?
If you go for a seven-day mid-budget getaway in Michigan, you can expect to spend around $1,816 as a couple. You can choose more budget stays or up the price through more expensive hotels. Romantic getaways in Michigan are generally reasonably affordable.
When is the best time to visit Michigan?
Michigan is amazing all year. There are fun things to do during the fall, it is beautiful during the winter, and spring and summer are just as special. It all depends on the type of getaway you want.
If you are looking for adventure and snow sports, then winter is best. If you want a beach holiday, then summer is perfect. Romantic getaways in Michigan are wonderful all year round.
How long do people typically spend in Michigan on a romantic getaway?
Some people only go for romantic weekend getaways, but you can go for a couple of days or even a week, depending on what you want to do and see. If you are happy to explore around three parts of Michigan, then three days will be enough.
What is the best way to travel around Michigan?
There are trains and various bus routes in Michigan. But renting a car or RV is recommended if you are looking at making a bit of a road trip.
Start Planning The Ideal Romantic Getaway
Michigan is one of the best places for a romantic getaway because it offers anything and everything. You can explore the many beaches, go on hikes, go skiing and be adventurous in the snow, spend time in little historical towns and go to museums.
It has the perfect blend of it all. The scenery is incredible, making the perfect backdrop for a romantic time away with your partner. There are also lots of secluded viewpoints. Explore a private beach, visit Lake Michigan, and enjoy your stay at one of the luxurious hotels.
Start planning your ultimate getaway early so that you do not miss out. You want to be sure that you get the best accommodation and the best excursions. Romantic getaways in Michigan are always bound to be special and memorable.