Missouri has a ton of wonderful holiday alternatives for couples, including lakefront lodges, golf resorts, historic inns, and quaint B&Bs. Visit St. Louis, Springfield, Branson, Kansas City, and other Missouri hotspots, or go to the country to breathe clean air and unwind amidst nature.
Romantic getaways in Missouri are sure to be special, memorable, and exciting. There is something for everyone to enjoy, and you can easily plan one of the best trips with all that Missouri has to offer.
In this article, we will tell you everything you need to know about a romantic weekend getaway in Missouri. We have got you covered from the best places to stay, budgets, and what to do.
What Makes Missouri Perfect For A Romantic Getaway?
The breathtaking scenery and abundance of natural beauty in Missouri might provide the ideal setting for a special and romantic rendezvous.
The Show-Me State offers a wide variety of getaway options if you're seeking solace. There is something for everyone, from thriving cities like St. Louis and Kansas to tranquil, isolated communities along the Ozark Mountains. Even better, reasonably priced.
The Ozark Mountains, which are located in Missouri, are famous for their miles and miles of lakes. There is lakes and beaches for nautical adventures surrounded by mountains with beautiful rolling hills for rural adventures. The Ozarks provide several locations that make for a getaway.
The state is home to numerous additional locations with romantic hotels and inns. Just a handful are Springfield, St. Louis, and Kansas City. There are numerous places to choose from in Missouri for an amazing romantic weekend.
There are many options, whether you're seeking a charming bed and breakfast, an opulent downtown hotel, or some fun in the huge mountains or on the lake.
Most Romantic Getaways in Missouri
Missouri has some incredible accommodation options, from simple to high-class and luxurious. You are sure to find just what you are looking for in this incredible state. The following are some of the best options around:
Best Accommodations in Kansas City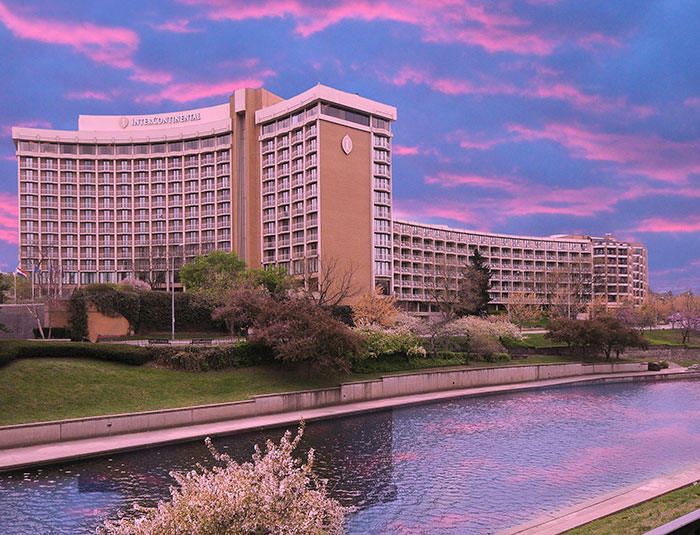 Price per night: starting at around $265 per night
The InterContinental in provides that and more if you like a little bit of sightseeing and city life! It is situated in the center of Kansas City, directly next to Country Club Plaza, just a short stroll from Mission Hills Country Club and the Nelson Atkins Museum of Art.
With a Spanish and European influence, Country Club Plaza provides fifteen blocks of superb dining and shopping enjoyment. Get a cup of coffee at the Classic Cup Cafe before going to the lovely Cupcake A La Mode for a delectable treat. Additionally, there are lots of options for a lovely evening for two, like Mediterranean cuisine at Gram & Dun and a Kansas City barbeque at Jack Stack.
The hotel itself has roomy accommodations with stunning views and top-notch service. The InterContinental Kansas City is well known and respected for its distinct excellence, European charm, and elegant design. It is the best place to stay for a romantic weekend away.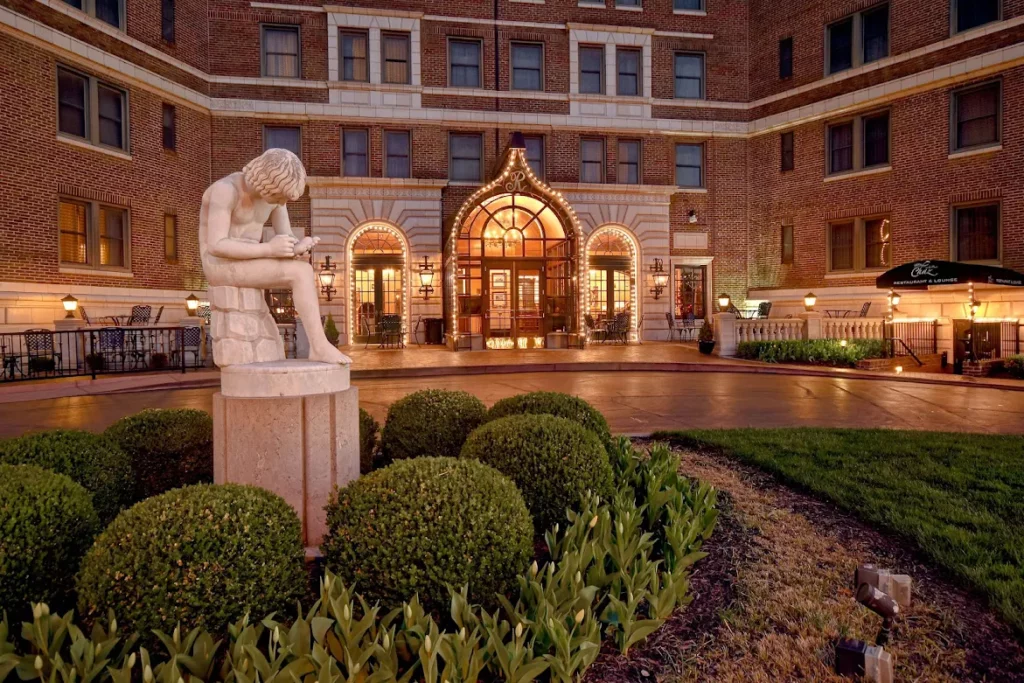 Price per night: starting at $211 per night
Consider the stunning Raphael Hotel if you're searching for a somewhat more luxurious alternative in the city. It is near the Kansas City Zoo and is situated inside the Country Club Plaza in Kansas City.
The foyer gives off a vintage vibe, and the rooms are lovely. With bubbly and rose petals on the bed, you can buy a special welcoming package to set the mood for your romantic holiday. Chaz, the on-site restaurant, also has the ideal setting for a romantic dinner. Visit Country Club Plaza while you're there for upmarket dining and retail options.
Experience comfort and luxury in the tastefully furnished rooms and suites at Kansas City's first boutique hotel, winner of VisitKC's Visitors' Choice Award for Best Hotel Under 300 Rooms.
The Raphael Hotel, which is situated on the chic Country Club Plaza, has 126 lovely rooms and suites with appealing décor and contemporary comforts like gourmet coffee and quick, free high-speed Internet.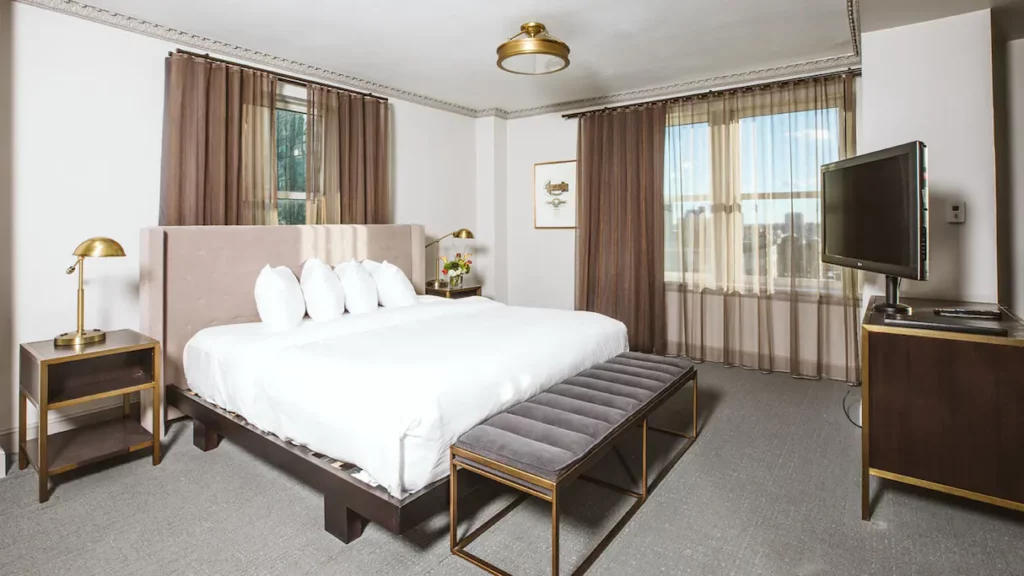 Price per night: starting at $188 per night
You can have an amazing love encounter right in the center of the action at this historical hotel in the heart of Kansas City. You'll feel as though you've walked into a New York City landmark in Missouri because it is elegant, extravagant, and filled with a speakeasy, fine dining restaurant, bar, and opulent decor.
The apartments are large and peaceful, and with crown molding in the foyer. Visit the nearby attractions for the day, or simply meander the streets to discover a wealth of captivating attractions. Additionally, the Berkley Riverfront Park, a great place for a romantic evening stroll, is less than a mile away.
Best Accommodations in St. Louis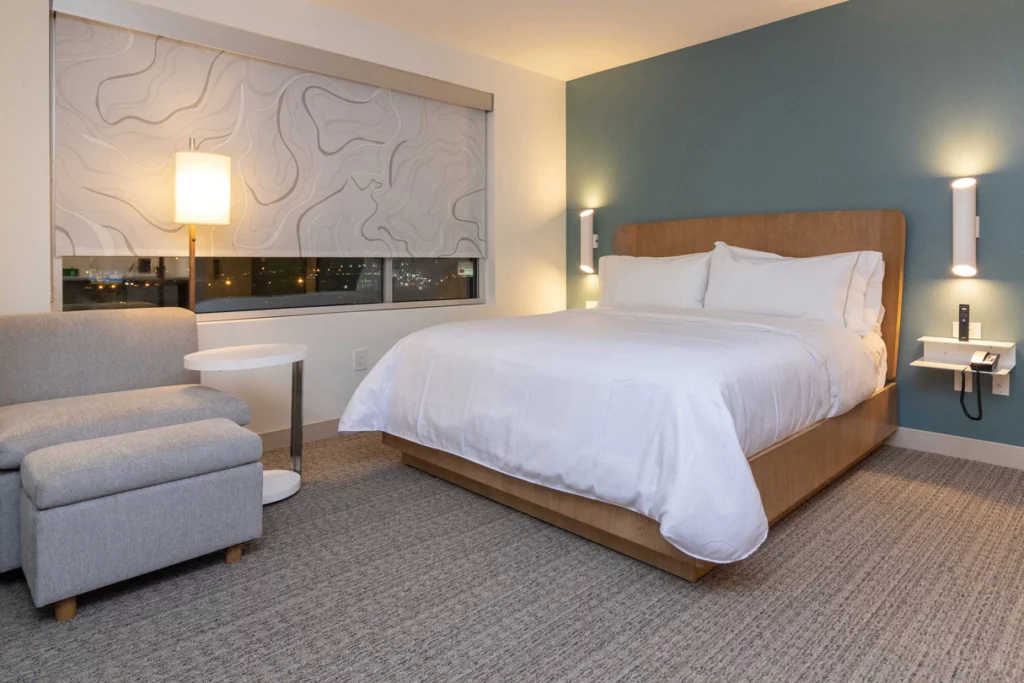 Price per night: starting at $170 per night
The Element in Midtown is a fantastic option for individuals interested in the theater district. It also offers the most amazing views of St. Louis. This hotel's location and rooftop bar, which draw visitors back often, are its two best features.
The hotel itself is ideal for a quick trip with a romantic touch because it is close to Forest Park and the Fox Theater. It has a restaurant, spa, and indoor swimming pool.
Before you leave, make sure to purchase your tickets for the amazing Fox Theater, which, depending on the current schedule, provides everything from comedy evenings to opulent Broadway-style productions. Before embarking on a paddleboat tour down, you can also take a little ride to the amazing Gateway Arch.
The hotel also offers a romantic package that can make your trip even more special and exciting. It is always good to treat your loved one, especially on your romantic holiday.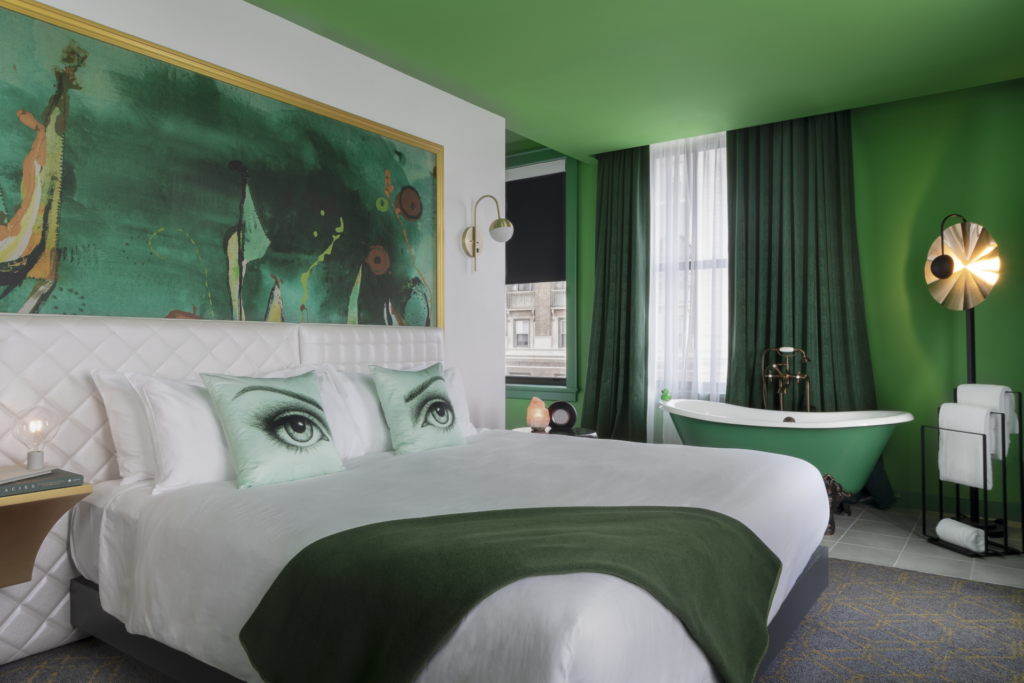 Price per Night: starting at $110 per night
The Angad Arts Hotel in lovely St. Louis elevates design to a new level for an artistic experience. Every room is elegant and vivid, like entering a single color scheme for your stay. Rich purples and soft greys contrast to create a distinctive atmosphere even in the lobby and terrace. Several art installations can be found all throughout the place.
Set the scene by ordering champagne ice bucket delivered to your room. The hotel has a sensual, elegant vibe, according to guests, making it the ideal location for an amazing trip.
There are loads of things to do and see during your stay if you feel like venturing outside the room, and they are only three miles away from the Old Courthouse and a short distance from the Fox Theater.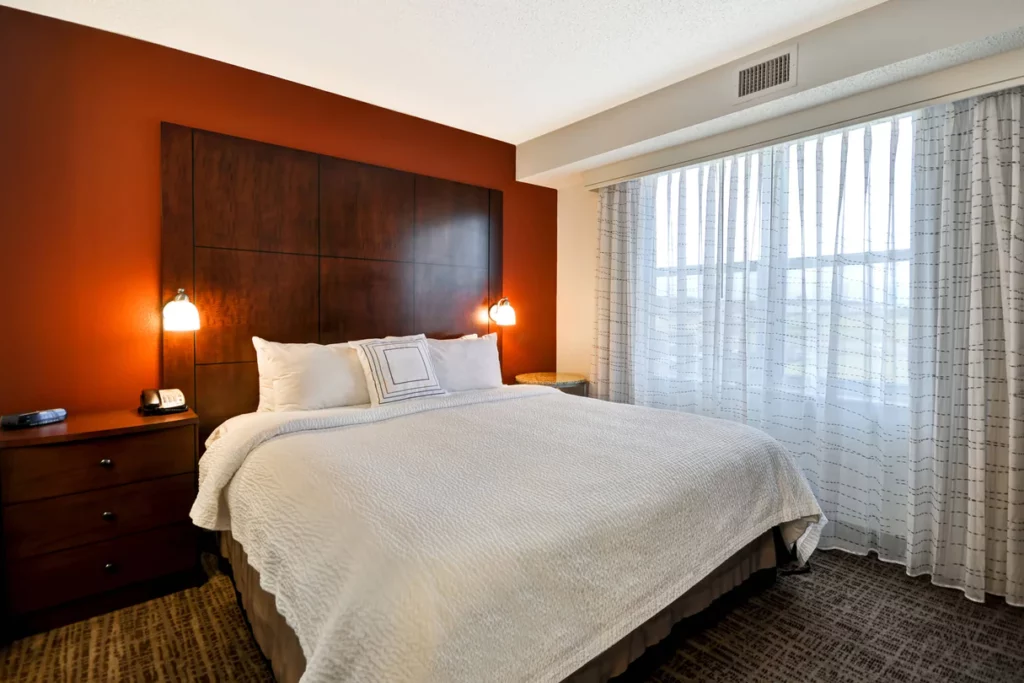 Price per night: starting at $151 per night
The Residence Inn offers multi-room suites featuring full kitchens, living areas, bedrooms, and more for the most roomy lodgings a hotel can provide. For a cozier stay, they also offer hotel rooms designed like studios. On-site amenities include a hot tub, a sizable indoor pool, and a stunning fireplace in the hotel lobby.
The St. Louis Zoo and popular Aquarium, among other great attractions, are a 30-minute drive from the hotel, while St. Louis proper is a little further away. Surprisingly, the location is one of the things that tourists enjoy most because it offers convenient access to just about everything without the rush of city life.
Numerous romantic restaurants, like KiTARO Bistro of Japan, the Brass Rail Steakhouse, Timber Creek Grill, and Lion's Choice, are close by. You can have a relaxing and fun-filled experience during your stay here. With so many romantic date nights and day trips, you are bound to have the best time together.
Best Accommodations in Branson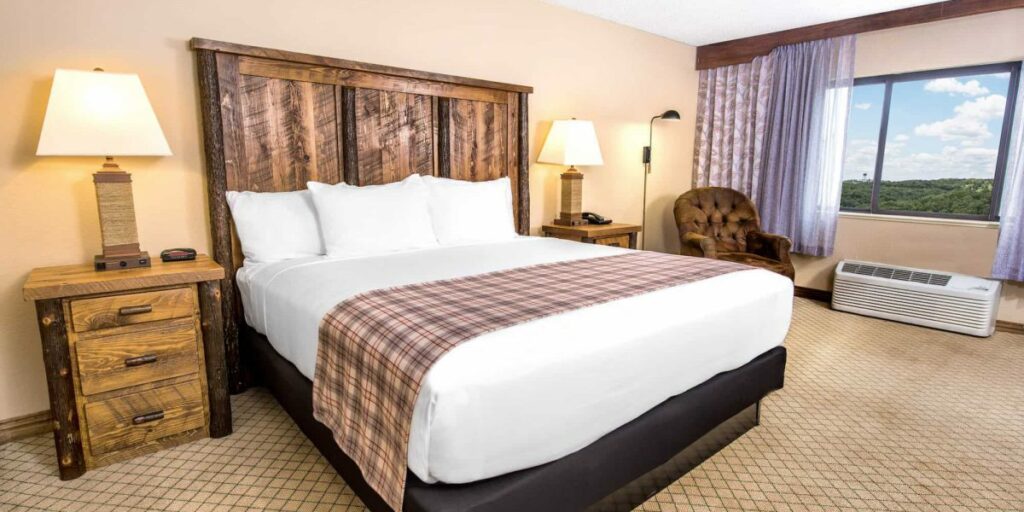 Price per night: starting at $100 per night
The Lodge of the Ozarks is incredible and offers the best of both worlds, and is located in the center of the theatrical area in downtown Branson. You will enjoy stunning vistas and only need to take a short stroll to the nine different theaters, including the hotel-affiliated Hughes Brothers Theater. Additionally, the thrilling White Water Amusement Park is only a few blocks away.
The Lodge is ideal for couples who wish to escape the city but still enjoy a little flash and glamour because of its fantastic location while maintaining a small-town atmosphere. The World's Largest Toy Museum, the Titanic Museum, a stunning Ferris wheel, and Silver City Dollar are all worth visiting.
The hotel features a cozy atmosphere with gorgeous wooden accents throughout, and stunning rooms with jet tubs are an option. The heated indoor pool is available for use every day of the year and is housed inside a lovely atrium.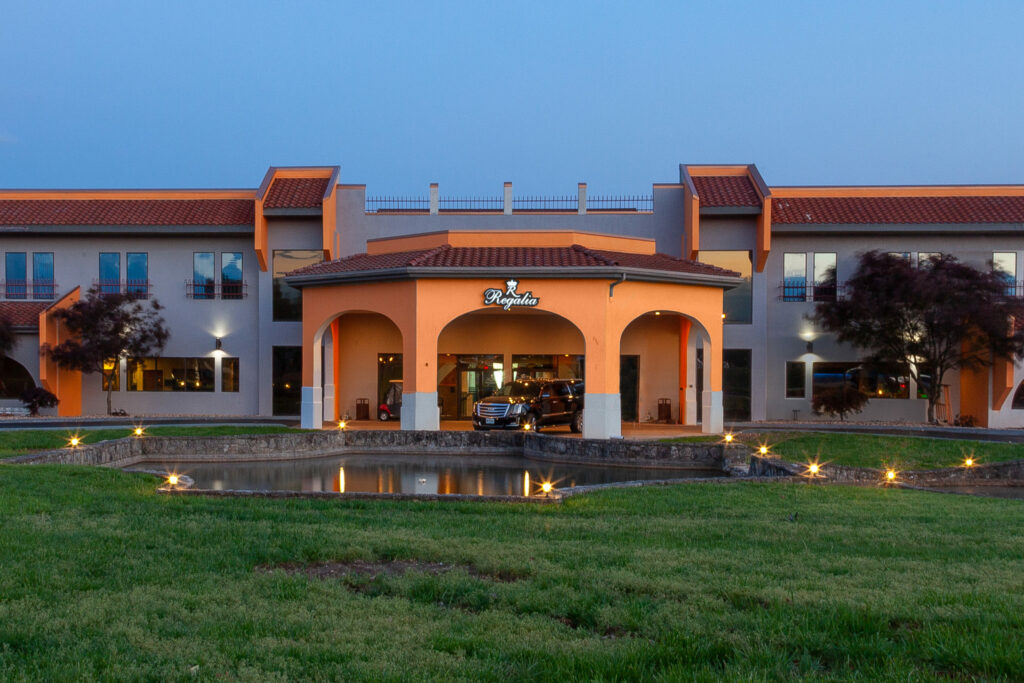 Price per night: starting at $133 per night
The Regalia Hotel & Conference Center provides luxurious, roomy accommodations with resort extras without resort prices. You'll want to stay forever when this is combined with their excellent customer service and peaceful, picturesque setting.
The Regalia provides slightly more on-site entertainment and exciting amenities than other hotels, thanks to a swim-up bar and regular performances. The Ozark Mountains provide the perfect backdrop to the refined and upmarket atmosphere.
The entrance lobby is stunning, and many suites feature en suite living areas and lovely baths. The pool is large, with a swim-up bar in the middle, and the entire area views out over woods and mountains and is encircled by Lake Ozark, guaranteeing a spectacular view from any angle.
Visitors adore the on-site gaming area, which features a pool table, darts, live entertainment, and happy hour. For a romantic evening in, you can have wine delivered to your room, which also has a lovely terrace with a dining area.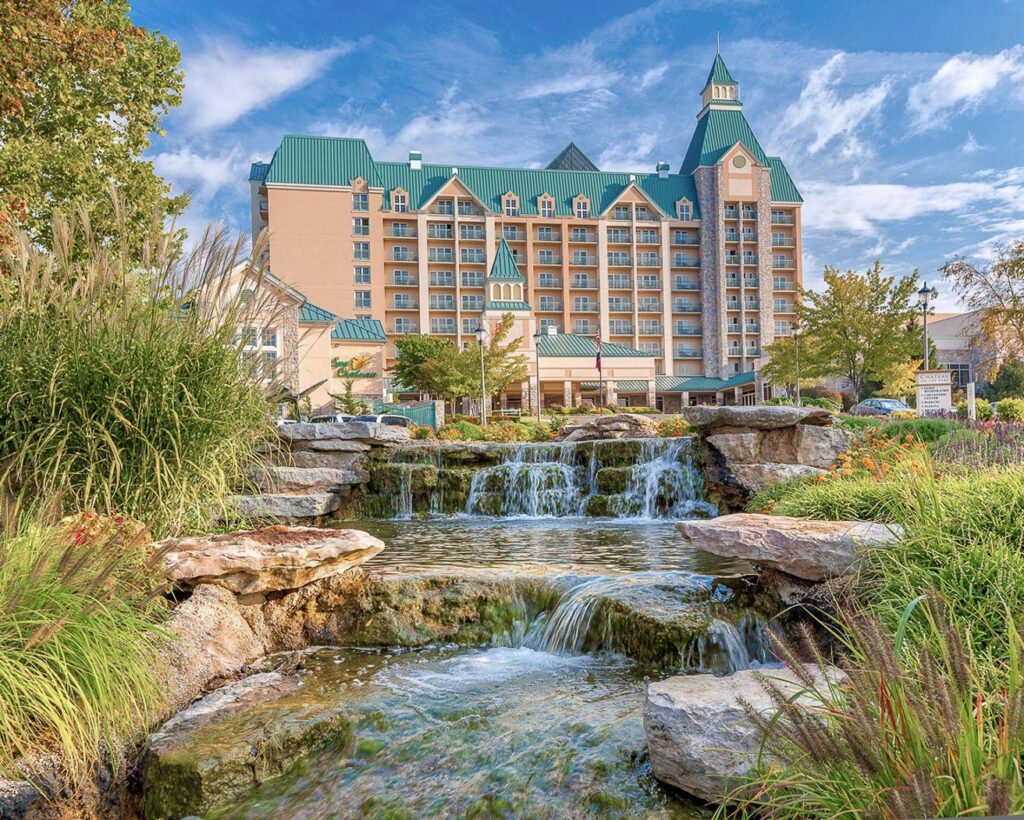 Price per night: starting at $119 per night
Discover an oasis in the Ozark Mountains about 10 miles from the center of Branson, Missouri. This contemporary "Castle in the Ozarks" offers luxurious resort amenities, warm Midwestern friendliness, and breathtaking lakefront vistas as it welcomes visitors.
They serve as the ideal starting point for exploring Table Rock Lake, Silver Dollar City, the live entertainment in Branson, and the nearby nature trails. After a day of adventure, relax at Spa Chateau, the beautiful outdoor pool, or one of the many acclaimed restaurants.
This opulent resort may be found near Branson, Missouri, right on the shore of Table Rock Lake, with unhindered views of the beautiful Ozark Mountains. Anyone who enjoys climbing over hills or boating on the ocean will find it to be the ideal vacation spot. It has three restaurants, a marina, an indoor pool, and a spa. The lake is the ideal setting for a romantic retreat.
Soft hues and lovely French doors that lead onto balconies with views of Table rock lake give the rooms the feel of a remote country retreat. The luxurious bathrooms that have granite countertops are a favorite among visitors.
Enjoy a terrace breakfast at the Atrium Cafe after waking up to a stunning mountain sunrise, then take a short drive to Silver Dollar City, a charming theme park with an 1800s atmosphere, or the Titanic Museum.
Top Excursions & Activities To Do On A Missouri Romantic Getaway
Missouri's breathtaking surroundings and unmatched natural beauty are ideal for creating lifelong memories with that special somebody. There is something for everyone, whether you like the hustle and bustle of big cities or the peace of tiny towns.
A romantic ride on a horse-drawn carriage: St. Louis is a prominent contender for Missouri's most romantic locale. Since 1985, horse-drawn carriages ranging from a Cinderella Carriage to a Hay Wagon have been used by St. Louis Carriage Company and St. Louis Trolley to offer a range of private tours of downtown St. Louis.
Go to the Hermannhof winery and spend the day drinking different wines
Stay at the Stonewater cove resort, a well know stay in Missouri. The rooms have a hot tub and some other amazing amenities.
Take a riverboat Cruise to the historic Kimmswick. The Tom Sawyer Riverboat travels to Kimmswick from St. Louis and then returns. You leave early in the morning and get to Kimmswick at about noon. After eating at the Blue Owl and exploring the town's various boutiques, eateries, and historic structures, you'll board the boat again a few hours later to travel back to St. Louis.
Visit the Missouri wine country or a stunning lake resort spa where you can treat yourself to a wide range of lavish spa treatments.
Spend some time in Forest park. Exploring everything Forest Park has to offer—including its museums, science center, planetarium, zoo, landmarks, and scenic highlights—would take more than a single day. Go for a leisurely stroll and simply explore.
Water activities by Lake Ozark.
Sample Itinerary & Budget For Your Romantic Getaway In Arizona
There is so much to see and do in Missouri. The following itinerary is just a guideline, and you can choose to stay in the various places as long as you wish.
Start: Branson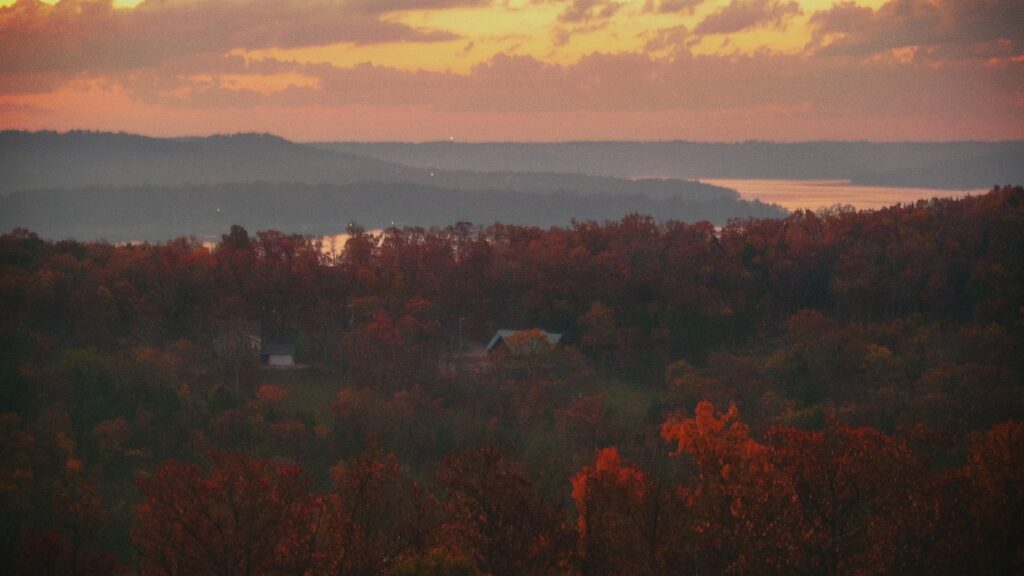 Spend two nights here. One of the most alluring tourist destinations in the nation for year-round entertainment is nestled in Missouri's stunning Ozark Mountains. Branson is well-known for its museums, theme parks, and nightlife.
Some of its top sites are included in your trip: stop for some quiet reflection at Our Lady of the Lake Catholic Church, take in the waterfront views at Table Rock Lake, join the family fun at Arcade City, and snap some amazing photos at College of the Ozarks.
Next: Kansas City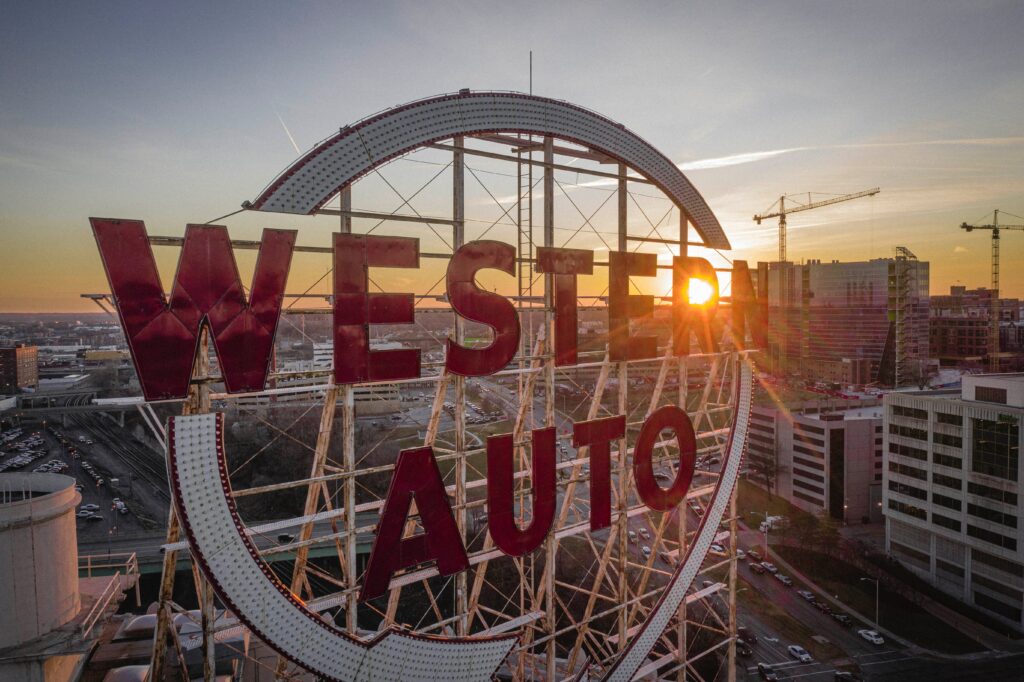 Spend 2-4 nights here. The largest city in Missouri, Kansas City, boasts an excellent selection of top-notch museums, upscale shopping, and top-notch dining establishments, all of which draw tourists to the area. Visit Jowler Creek Vineyard & Winery (in Platte City) and Weston to get away from the city.
There are numerous additional things to do, including exploring the city on your own terms with Barley Bus Tours, getting pampered at Serenity on the Square, learning about the history of art at The Nelson-Atkins Museum of Art, and admiring nature's vibrant creations at The beautiful Ewing and Muriel Kauffman Memorial Garden.
Next: Columbia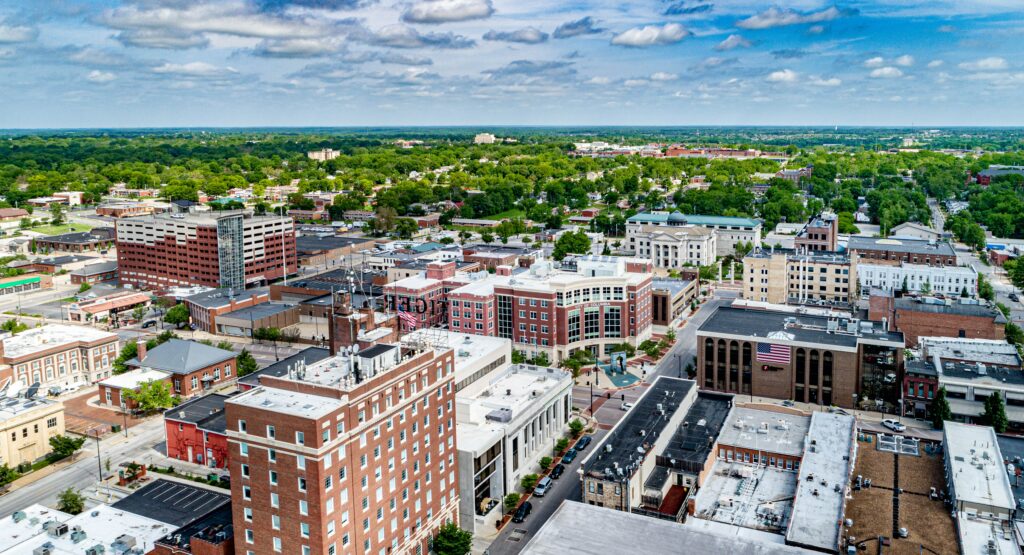 The county seat of Boone County is Columbia, a city in the U.S. state of Missouri. America's National Churchill Museum in Fulton, Cooper's Oak Winery in Higbee, and Ozark Distillery and Brewery can all be visited as side trips from Columbia to mix things up.
End: St. Louis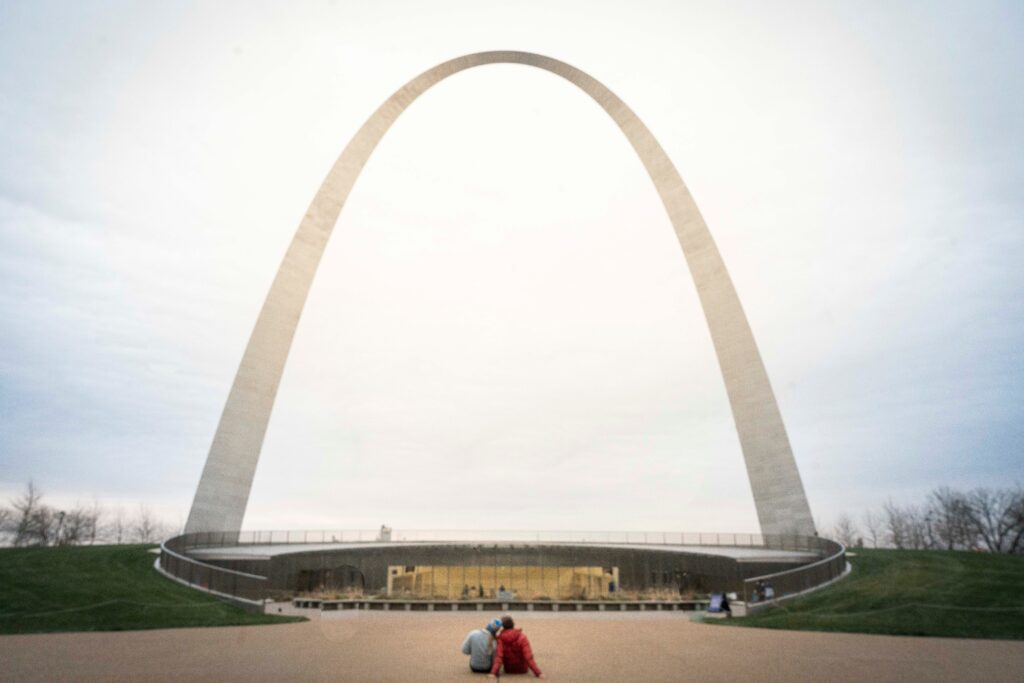 Spend your holiday touring Saint Louis' downtown neighborhoods, which are renowned for their beautiful century-old red-brick buildings, to see whether the locals are right when they say that the city has more free things to do than anywhere else in the country. Saint Louis is well-known for its attractions, such as museums, zoos, and aquariums.
Take in the spectacular vistas from The Gateway Arch, peruse the exhibits at City Museum, sip on excellent spirits at StilL 630 Distillery, and discover wildlife up close at Saint Louis Zoo as part of your visit.
Sample Budget:
| | |
| --- | --- |
| Activity | Price |
| Hotels | budget between $100-$300 for accommodation per night |
| Transport | car rental can cost about $59 per day |
| Food and Beverage | budget around $54.15 for a meal |
| Excursions | most things are free of charge. A riverboat cruise can cost $24 per person. A horse-drawn carriage can cost $25 per person |
Frequently Asked Questions
How much does a Missouri romantic getaway cost on average?
On average, couples spend around $1,749 on a romantic retreat in Missouri. However, the price will vary depending on what type of accommodation you would like, what activities you would like to do, and how long you want to stay.
When is the best time to visit Missouri?
The months of September through November are the ideal times to travel to Missouri. The monsoon reduces to a sporadic drizzle as the summer heat subsides. The weather is perfect for setting out on an adventure journey along the lakes and mountain paths because temperatures range from 15 to 20 C.
How long do people typically spend in Missouri on a romantic getaway?
Some people go for a weekend, and others go for a whole week. It all depends on what type of getaway you would like to have. It may be best to go for longer if you want to do lots of exploring and sightseeing.
Start Planning The Ideal Romantic Getaway
Missouri is the perfect place for a romantic holiday with your loved one. There is so much to do and see that you will be spoilt for choice. You can opt for an adventure-filled trip, a relaxing escape, or a scenic and touristy trip.
Romance blooms in this state, and you will return feeling more in love than ever. Start planning your getaway now to ensure that you and your special someone have the most romantic and unforgettable trip ever!
If you need more inspiration, visit our website for many more exciting romantic getaway destinations.