Mississippi, a state full of Southern charm and beauty, is the perfect destination for a romantic honeymoon getaway. It's full of luxurious resorts and exciting excursions, and everything comes with a touch of Southern hospitality. If you're planning your honeymoon, this guide is for you!
Here, you'll find all the details you need to plan your dream getaway, from top hotel destinations to popular attractions and travel tips. Let's get started!
What Makes Mississippi Perfect For A Honeymoon?
If you're looking for a honeymoon destination that offers a bit of everything, this is the perfect place. Historic Antebellum plantations and sunny beach towns are scattered across Mississippi.
Here are a few things that make this the ideal place for a honeymoon:
The Gulf Coast: With its warm waters and sandy beaches, the Gulf Coast is perfect for relaxing romantic getaways. There's plenty to see and do along the coast with family-friendly towns like Biloxi and Gulfport.
The casinos: For couples who want to try their luck, Mississippi's casinos are some of the best in the country. With hotels, restaurants, and nightlife all under one roof, you can have an unforgettable time without leaving your resort.
The food: Mississippi is home to Southern comfort food, and the freshest seafood money can buy. With world-renowned chefs like Emeril Lagasse calling Mississippi home, you know the food's going to be good.
History: For couples who love history and culture, Mississippi is full of both. You will be in history heaven with the Civil War battlefields and historic downtowns to explore. The Dunleith Historic Inn spans 40 acres and has a rich history – the perfect accommodation for history lovers.
Best Areas To Stay In Mississippi (Explore The Area Together)
Some of the best areas for honeymooners to stay include:
1. Biloxi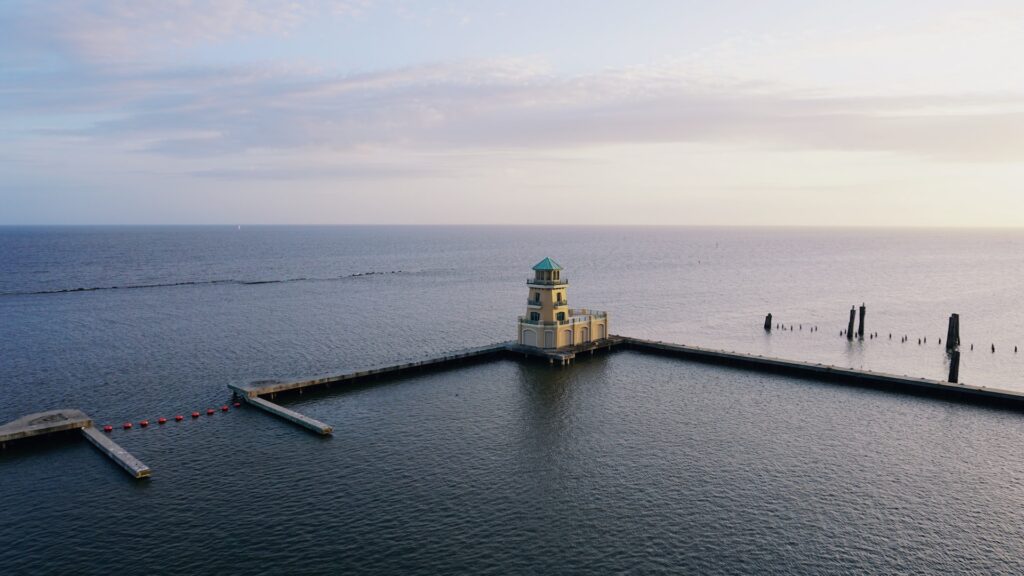 Biloxi is a beautiful beach town located on the Gulf Coast. It is home to several historic sites, including the Biloxi Lighthouse and the Beauvoir Estate. It also offers a variety of activities for couples looking for a romantic getaway.
Visitors can enjoy fishing, swimming, sunbathing, and shopping in the historic downtown. A leisurely stroll along the Biloxi Boardwalk can round off a busy day.
2. Jackson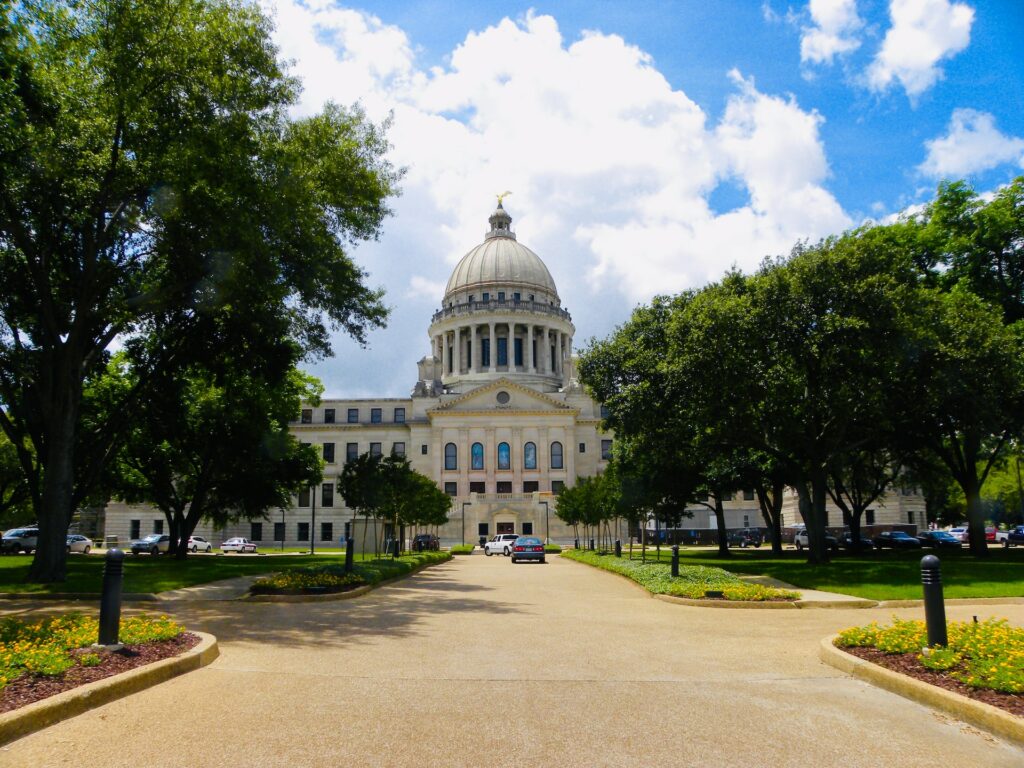 If you're looking for a city honeymoon with plenty of Southern charm, Jackson is the ideal place. As the capital of Mississippi, Jackson is known for its Magnolia trees, Antebellum architecture, and delicious Southern cuisine. Plus, there are plenty of romantic things for couples to enjoy.
Stay at one of the city's top hotels, such as the Fairview Inn or The Westin Jackson, and explore places like the Mississippi Museum of Art, the Old Capitol Museum, and the Eudora Welty House. For outdoor lovers, take a walk through LeFleur's Bluff State Park or rent bikes and ride along the Capital City Trails.
Be sure to sample some of Jackson's signature dishes, like fried chicken and the Mississippi mud pie.
3. Clarksdale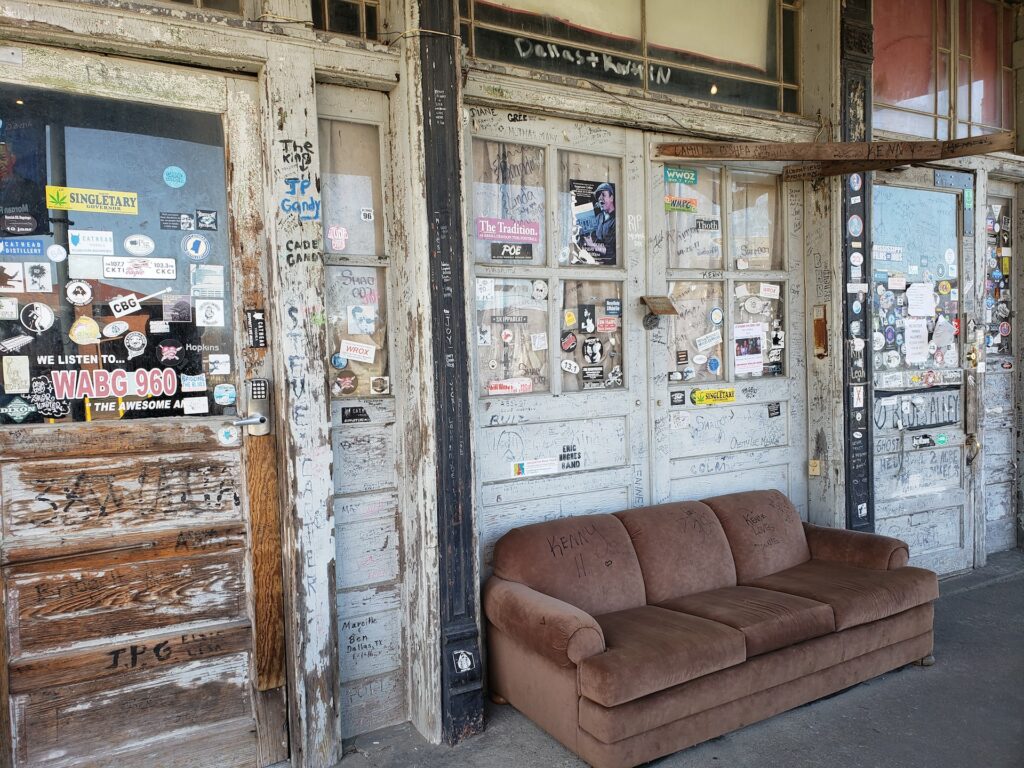 This charming town has a ton of shops, restaurants, art galleries, and several historic sites. Clarksdale is also a convenient base for exploring the rest of the Delta region.
A few must-see sights in Clarksdale include the Delta Blues Museum, the Stovall Plantation, and the Sunflower River. There are also a number of excellent golf courses in the area, ideal for honeymooners who love to stay active.
A few popular golf courses are Clarksdale Country Club, Shelby Country Club, and Wilson Lake Country Club.
Best Honeymoon Resorts, Hotels, And Other Stays
Honeymoons are supposed to be all about relaxation, luxury, and spending quality time with your new spouse.
Mississippi, also known as The Magnolia State, is packed with amazing resorts, hotels, and other accommodations that will make your honeymoon unforgettable. Whether you want to spend your days lounging by the pool, exploring the great outdoors, or indulging in some retail therapy, there's something for everyone.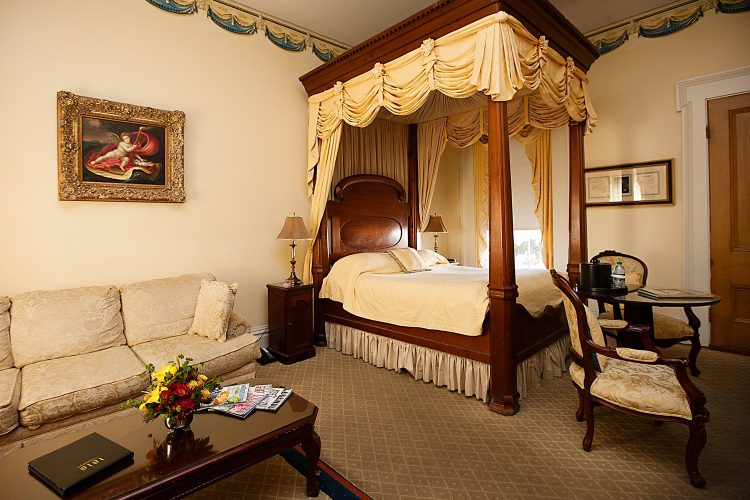 Price per Night: From $131
Best For: Older couples and younger couples
Availability: Easy to book
This Antebellum plantation-style inn in Natchez provides luxurious accommodation, delicious cuisine, and Southern hospitality. Southern hospitality is what this inn is all about, and you will see why with the breakfast they serve. They offer an authentic Antebellum dining experience and a cocktail hour.
During your stay at Monmouth Historic Inn, you can enjoy many activities, such as touring the historic property, visiting the on-site museum, hiking or biking through the scenic grounds, or taking a horse-drawn carriage ride. The Mississippi River is around 2.9 miles (4.8 km) from the Inn. The Natchez National Historical Park is only 950m away.
Guests will get a tour of the Antebellum mansions. The king suites at this hotel come with a living room, so guests will have plenty of space. There are also cottages, such as the 'pond cottage' and 'garden cottages.'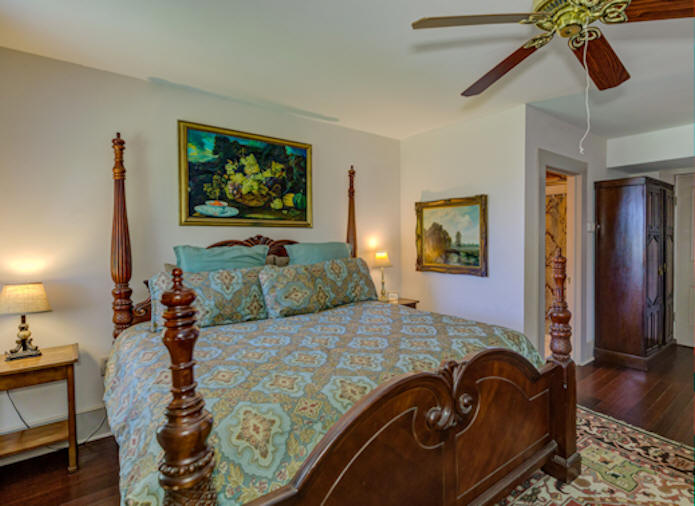 Price per Night: From $121
Best For: Younger couples
Availability: Easy to book
The Duff Green Mansion in Vicksburg is a historic bed and breakfast with the perfect blend of elegance and comfort. The mansion was built in 1856, and its Greek Revival architecture is a sight to behold. Inside, it is furnished with antiques, 12-foot ceilings, hardwood floors, and cozy fireplaces.
The Duff Green Mansion also has a lovely garden with a fountain – the ideal place to wind down after a long day exploring Vicksburg.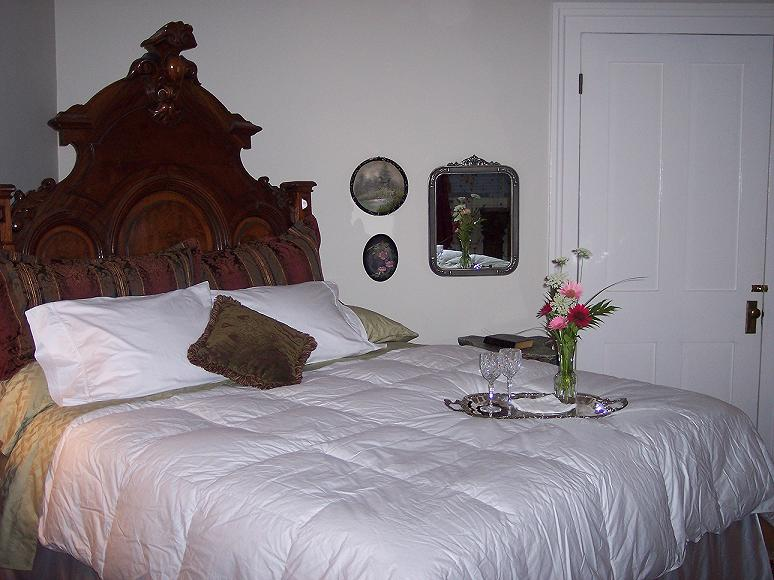 Price per Night: From $295
Best For: Younger couples
Availability: Easy to book
Nestled in the heart of the Mississippi hills, Shadowlawn Bed & Breakfast is the ultimate escape from the hustle and bustle of everyday life. With its secluded location and scenic views, Shadowlawn allows you to unwind and enjoy your honeymoon.
The bed & breakfast offers a variety of suites, such as the Victorian King Suite, French Queen Suite, English Rose Garden Suite, Fleur-de-Lis King Suite, and Master King Suite. Newlyweds can enjoy a couple's massage or dip in the Jacuzzi at the on-site spa.
When you're ready to venture out, there's plenty to do in the area. Take a scenic drive down the Natchez Trace Parkway, visit a local winery, or explore the historic downtown.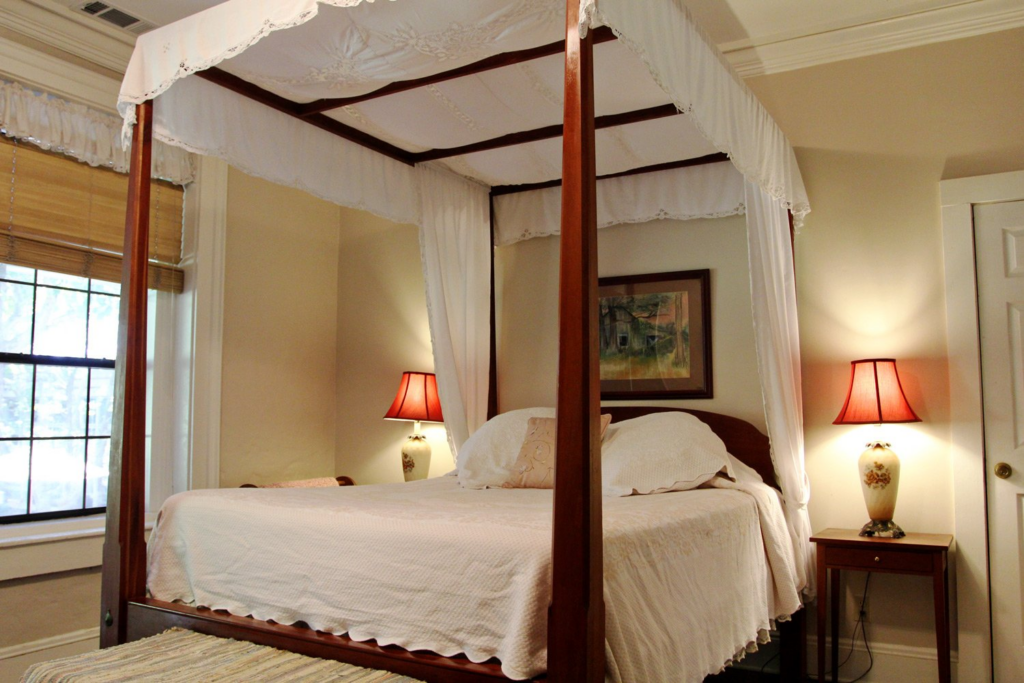 Price per Night: From $165
Best For: Longer stays
Availability: Easy to book
This historic bed and breakfast offers all the amenities you need for a relaxing and romantic stay, including a private pool, spa services, and luxurious rooms.
The Corners Mansion, in the heart of the historic district of Natchez, is a stone's throw from the best local shops, eateries, and tourist attractions. Natchez is known as the City of Dreams – and it's easy to see why when you stay at The Corners Mansion.
This beautiful city is full of charm and hospitality, making it the perfect place to start your new life together.
If you're looking for things to do during your stay at The Corners Mansion, there are plenty of options nearby. Take a stroll through the stunning gardens at Longwood Plantation, visit the Antebellum homes on Magnolia Bluffs, or take a scenic drive along the Natchez Trace Parkway.
And, of course, no trip to Natchez would be complete without sampling some local cuisine. Be sure to try the famous Mississippi Delta tamales (they supposedly have a gritty texture)!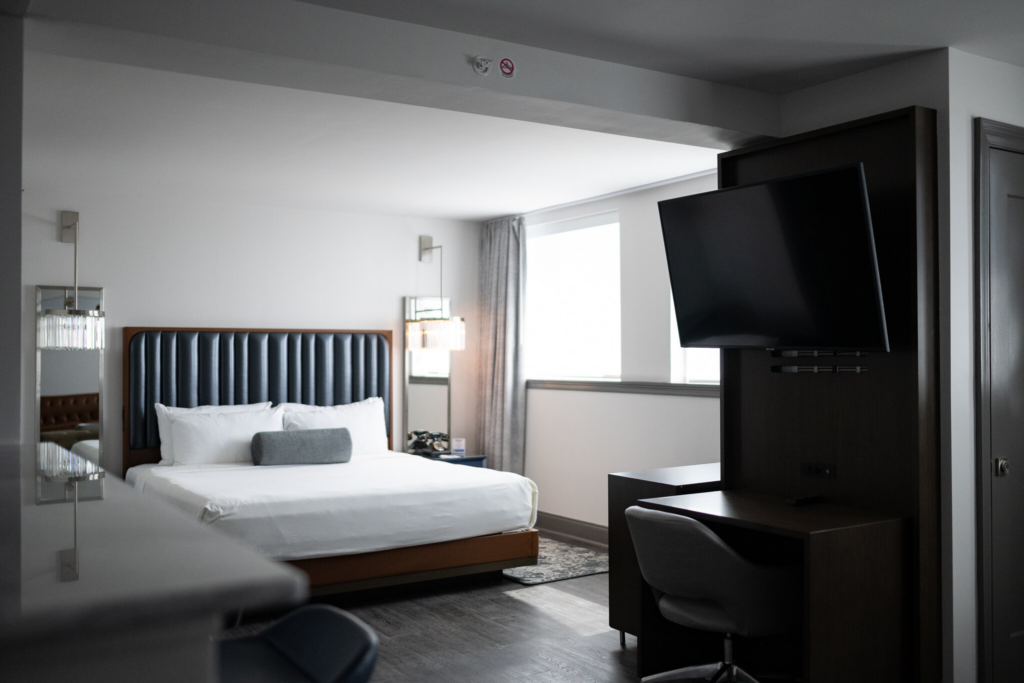 Price per Night: From $129
Best For: Younger couples
Availability: Easy to book
There are 132 rooms at Hotel Legends, which sits in the heart of Biloxi. All 132 rooms are comfortable suites, and there is buzzing nightlife nearby. Relax by the pool or dine at The Sapphire Supper Club.
The Supper Club restaurant has fresh seafood and steaks, so you and your partner will be in for a treat.
The hotel has piano nights every Wednesday. Keep a look out for some of the hotel's exclusive offers, so you can save or find a really good package.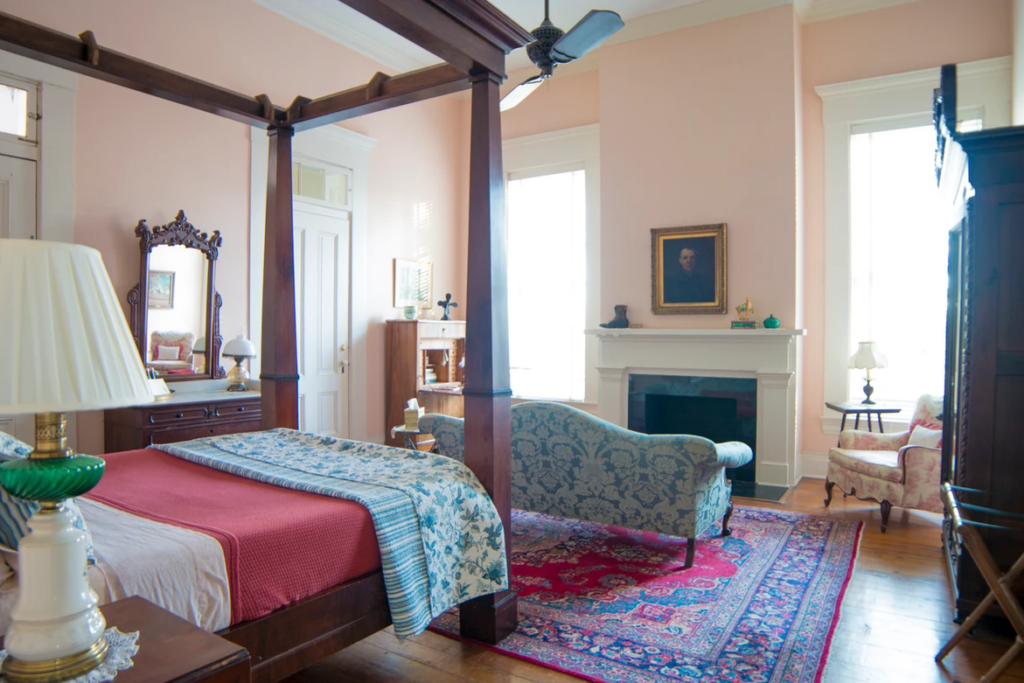 Price per Night: From $170
Best For: Short stays
Availability: Easy to book
The Belmont 1857 is the perfect place to stay for your honeymoon. This Antebellum-style mansion in Natchez has stunning views of the Mississippi River from each of its eight rooms.
The Belmont 1857 has all the amenities you need for a romantic getaway, including a gift shop, a library, and fine dining. Excursions in Natchez include tours of Antebellum mansions, riverboat cruises, and visits to local wineries.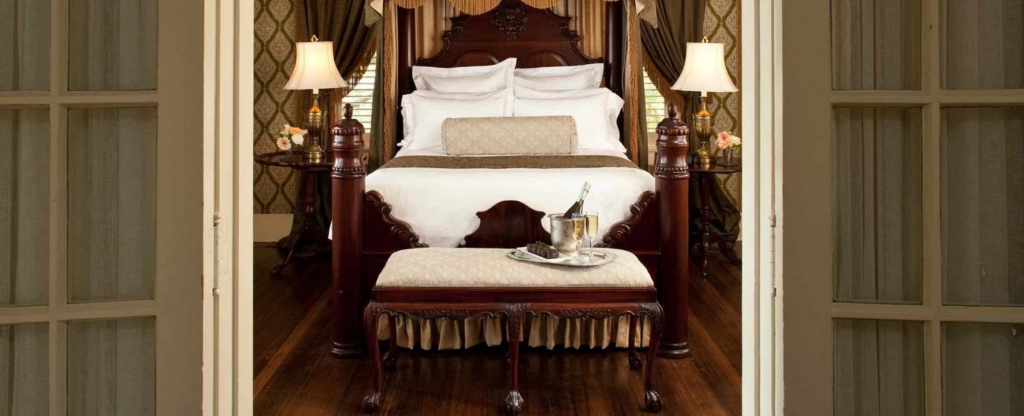 Price per Night: From $300
Best For: Younger couples and older couples
Availability: Easy to book
This historic Jackson inn has luxury accommodations and amenities. For couples looking to explore the area, there are plenty of things to do nearby, including visiting the Mississippi Museum of Art and the Civil War Museum.
If you want to relax and enjoy each other's company, the Fairview Inn offers a variety of spa services.
There is also a Romantic Getaway package that includes a one-night stay, a dozen roses, champagne, chocolate-covered strawberries, and more. You can check out the other inn room add-ons on the website.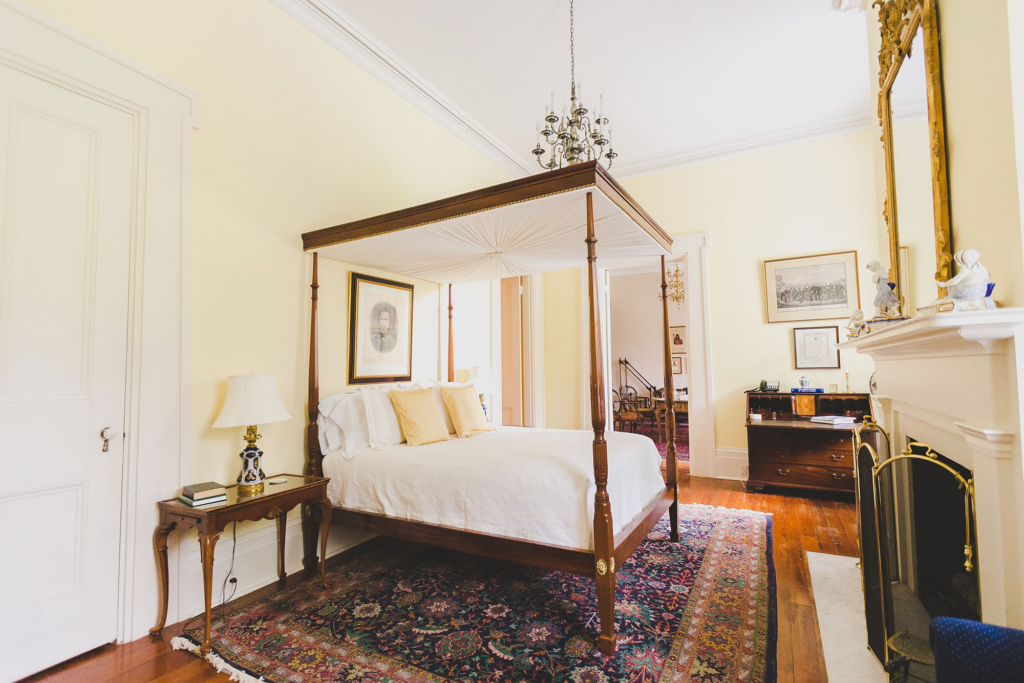 Price per Night: From $199
Best For: Younger couples
Availability: Easy to book
Nestled on a 1,200-acre working plantation in the heart of the Mississippi Delta, Brandon Hall is the perfect setting for romantic getaways. This historic property features beautifully appointed guest rooms and suites with plantation-style furnishings, private balconies, or patios.
Guests can spend their days exploring the grounds, taking a dip in the outdoor pool, enjoying a game of tennis or golf, or indulging in a spa treatment and hot tub.
There are also plenty of opportunities for wildlife watching, birding, fishing, and kayaking on the majestic Yazoo River.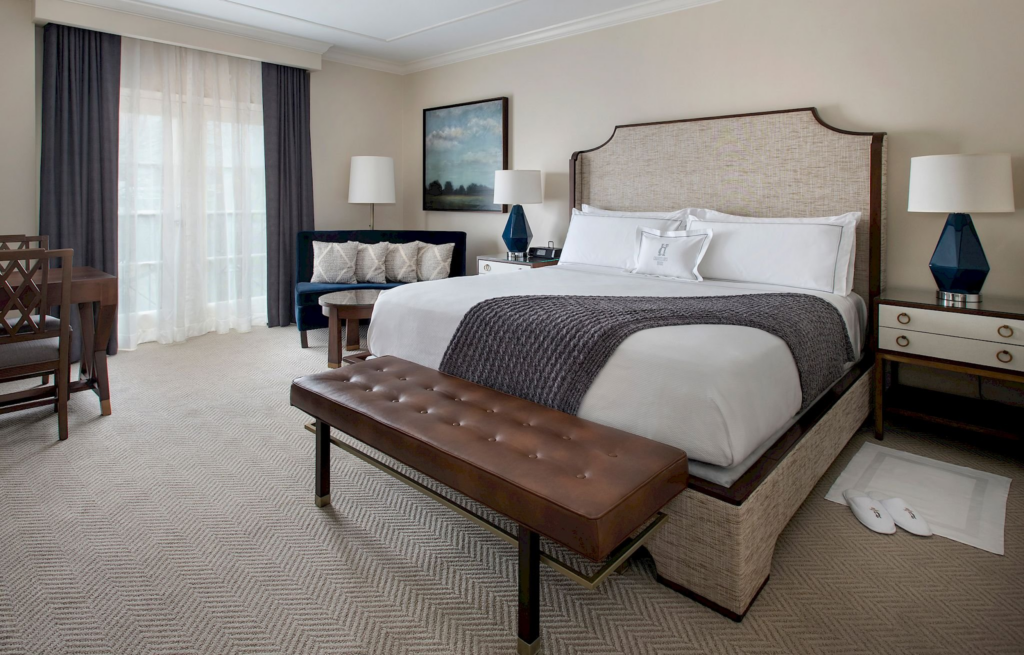 Price per Night: From $139
Best For: Older couples
Availability: Easy to book
Chancellor's House is the perfect place to begin your honeymoon. This resort offers everything you need to start your new life together, complete with a list of excursions and activities to keep you entertained.
Chancellor's House features elegantly appointed guest rooms and suites, each with a private balcony or patio. You'll enjoy all the comforts of home with plenty of space to kick back and relax.
The resort's on-site restaurant serves creative, farm-to-table cuisine made with the freshest ingredients. There's also a wine bar at Chancellor's House, where you can snag a glass of bubbly or a cocktail to toast your new marriage. We can't forget to mention the cocktail hour.
The on-site spa has a selection of treatments designed to help you feel completely relaxed and rejuvenated. Choose from massages, facials, body wraps, and more.
Price per Night: From $100
Best For: Younger couples
Availability: Easy to book
The Hard Rock Hotel and Casino Biloxi was made for entertaining. It was ranked number one for guest satisfaction and you can get the best of both worlds with the spa and pool. There is the Robo Bar, live headliners, and several eateries, including Dunkin' Donuts.
Now, let's talk packages. For starters, there is "The Naughty & Nice," which includes champagne, a love kit, and access to the sauna, hot tub, and steam room. For details about their other packages, check out the hotel's website.
The rooms are modern with a pop of color, in true Hard Rock Hotel style. To be honest, they look like rooms for rock stars!
If none of these hotels and inns are for you, check out the Dunleith Historic Inn, the White House Hotel (right on the beach), Beau Rivage Resort and Casino, Westgate Tunica Resort, or the Devereaux Shields House.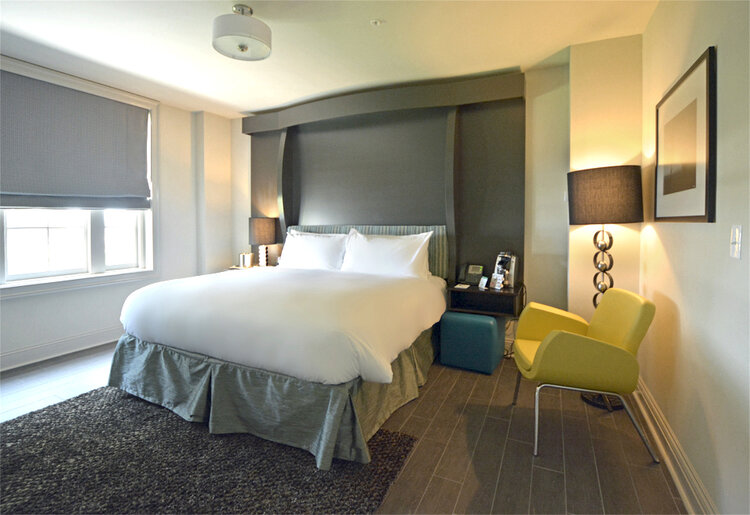 Price per Night: From $93
Best For: Older couples
Availability: Easy to book
The White House Hotel is right on the beach in Biloxi, which is a romantic place to be. Other than the stunning views of nature, the White House Hotel has a luxurious bar and restaurant called Cora's. Cora's serves food inspired by the Gulf Coast.
The White House Hotel amenities include a pool and hot tub if you want to wind down. There is a honeymoon suite, which has a lot of natural light and a gulf-front view. The room includes a kitchen area and lounge. The honeymoon room is big and spacious, which makes it a great place to stay for the night.
The White House Hotel has free guest parking, a terrace, a fitness center, 24/7 service, and free Wi-Fi. This historic inn is romantic, fun, and guests will have a lot to do at the hotel without ever having to leave.
If none of these hotels and inns are for you, check out the Dunleith Historic Inn (a historic inn known for its opulence that has 22 bedrooms), Beau Rivage Resort and Casino, Westgate Tunica Resort, the Golden Nugget, and the Devereaux Shields House.
Top 8 Things To Do In Mississippi
Palace Casino Resort is located in Biloxi on the Gulf Coast. The casino covers over 50,000 square feet, with more than 1,200 slot machines and 60 table games. There are many on-site restaurants, as well as a spa and fitness center.
Take a leisurely stroll hand-in-hand through one of Mississippi's charming small towns. Explore the quaint shops and cafes, and enjoy each other's company.
Visit one of the many historic plantations along the Mississippi River. You can explore the grounds, learn about its history, and imagine what life was like back in another era. The Rosedown Plantation is the most famous plantation in the state
Spend a day on the river aboard a riverboat cruise. Sit back, relax, and take in the stunning scenery as you glide down the mighty Mississippi. Some cruises serve fresh seafood dishes. Take a look at some of the riverboat cruise options available. There are eight-day cruises that are all-inclusive.
For something truly unique, go on a hot air balloon ride over the picturesque countryside. This is an experience you'll never forget.
Try one of the many fine dining options that offer the best Southern hospitality there is. The Vestige (in Biloxi), The Chimneys (in Gulfport), Ely's (in Jackson), Sapphire Supper Club, Char (in Jackson), and Mignon's Steaks & Seafood (in Biloxi) are some of the best options in Mississippi.
If you have a keen interest in American History, stop off at the Vicksburg National Military Park, where there are more than 1,300 monuments and markers for you to see.
Check out the award-winning Castle Restaurant in Natchez. The Castle Restaurant has a fascinating history to complement its menu.
Sample Itinerary & Budget For Your Honeymoon To Mississippi
Day one:
Start your romantic getaway in the capital city of Jackson, where you can explore the historic downtown area, visit the Mississippi Museum of Art (tickets are around $8 for adults), and take a stroll through the lovely gardens at the Mynelle Farms Historic District.
Day two:
On day two, you can head down to the Gulf Coast for fun in the sun! Relax on one of the many sandy beaches, try your hand at fishing or kayaking, or take a scenic boat ride along the coast.
The best beaches in the region are Gulfport Beach and Ocean Springs. Beaches are free, so you don't have to worry about your budget to enjoy this activity.
Day three:
On day three of your Mississippi honeymoon, head inland to Tupelo to see Elvis Presley's birthplace, tour Natchez Trace Parkway, or go hiking and camping in Tishomingo State Park.
And, of course, no trip to Mississippi would be complete without indulging in some delicious Southern cuisine! Try some shrimp and grits, or BBQ ribs at one of the many great restaurants throughout the state.
Budget:
When it comes to budgeting for your honeymoon, there are obviously a few things to look at. Flight prices will vary depending on the time of year, as well as where you will be flying in from. Hotel costs are the second most important factor when budgeting.
As mentioned, prices vary depending on the time of year and the length of your stay. The average hotel price for one night in Mississippi is around $100 a night in Biloxi, around $165 in Natchez, and $300 in Jackson.
Your meal budget will depend on the type of deal you get from your hotel and your choice of accommodation: breakfast only, half board, or full board. A three-course meal for two at a mid-level restaurant can cost around $60.
Lastly, there are the activities. You can visit the Vicksburg National Military Park ($20 entry), for example, or go hot air ballooning ($75 to $275 per person).
FAQs
How much does a honeymoon in Mississippi cost?
The average cost of a honeymoon in Mississippi is around $3,000 in total for one week, including flights. However, there are many factors that can affect the overall cost, such as the time of year, the length of the stay, the type of accommodations, and the activities planned.
For example, a summer honeymoon in Mississippi may cost more than a winter honeymoon due to higher travel expenses. Likewise, a longer stay will typically be more expensive than a shorter stay.
When is the best time to visit Mississippi?
There is no bad time to visit Mississippi! The state is home to a variety of attractions that can be enjoyed year-round. Spring is a great time to visit Mississippi if you're looking to enjoy the outdoors. The weather is perfect for hiking, biking, and golfing, and the spring flowers are too beautiful to miss.
Summer is the peak season for tourism in Mississippi. The weather is hot and humid – perfect for a day at the beach or sun tanning beside the pool. Plus, there are plenty of festivals and events going on during the summer months.
What is the best way to travel around Mississippi?
If you're planning on spending most of your time in one area of Mississippi (such as the Gulf Coast), renting a car may be the best option. This will give you the flexibility to explore at your own pace.
For day trips and excursions further afield, visitors can rely on the state's public transport. Mississippi's Amtrak system offers services to many popular destinations, making it a convenient way to see more of the state without having to drive.
Start Planning The Perfect Romantic Honeymoon Getaway
When you start planning your romantic honeymoon getaway in Mississippi, there are a few things to keep in mind. First, decide what kind of trip you want. Are you looking for a luxurious resort experience or a more adventurous getaway? There are plenty of options in Mississippi to suit any taste.
Mississippi is home to some great parks and attractions, so you couldn't possibly get bored. Hiking, fishing, and sightseeing are all popular activities. Check out the couple's travel resources page for helpful information for planning the perfect honeymoon.