Missouri's spectacular scenery, fascinating attractions, and festivities lend themselves to a memorable honeymoon with your sweetheart.
Picture, as newlyweds, wandering through the enchanting Ozark Mountains, lounging along Missouri's many lakes, and indulging in the most delicious barbeque. Sounds perfect, right?
If you want to experience all that and more with your better half, Missouri might just be your dream honeymoon destination!
Read on to find out what makes Missouri perfect for romantic getaways, including essential tips on where to stay, destinations to visit, and all the romantic things to do while here.
What Makes Missouri Perfect For A Honeymoon?
Out of all honeymoon destinations, Missouri may not be the first destination that comes to mind for a honeymoon. But this midwestern state deserves more attention!
Missouri offers a diverse and exciting array of experiences for newlyweds. From the top of the famous Gateway Arch to the lively shows in Branson and the natural wonders in between, Missouri is a melting pot of American culture.
Honeymooners can enjoy a little bit of everything here, such as dancing to jazz and blues, exploring one of the more than 50 state parks for an outdoor adventure, and tucking into delicious food.
Accommodation options in Missouri are wide-ranging and plentiful, with everything from remote forest lodges to slick city resorts and hotels.
The Best Areas To Stay For A Honeymoon In Missouri
Kansas City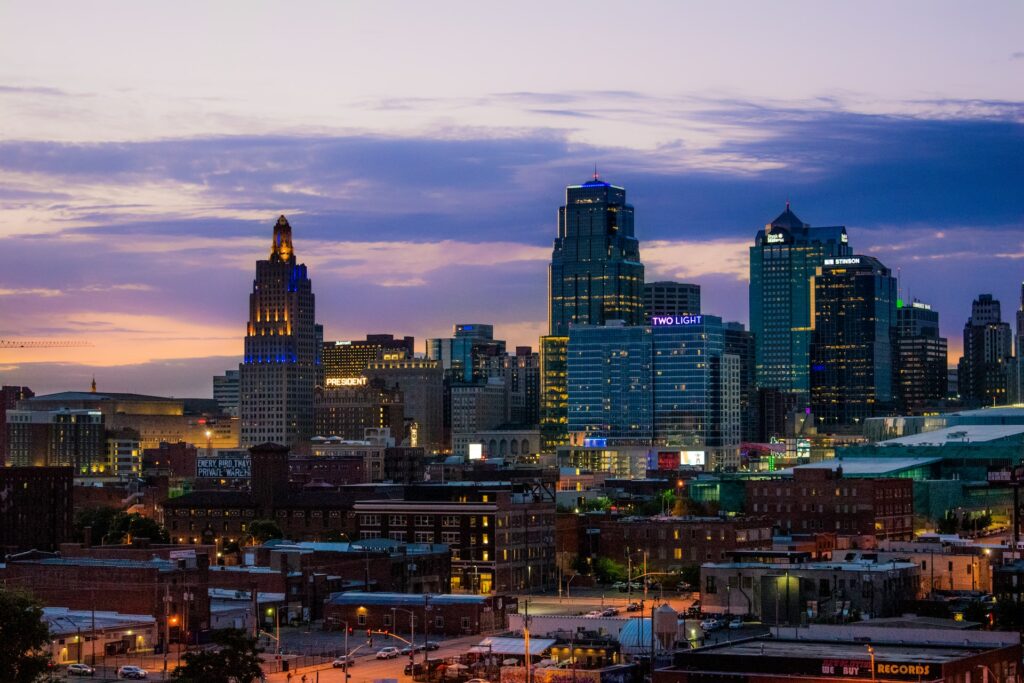 Kansas City is the perfect honeymoon destination for newlyweds looking for a fun and exciting experience.
This is a place where different cultures and traditions intersect. Located at the crossroads of two major rivers and two interstate highways, it has long been a hub for travelers heading west or driving across the country.
It's not just the physical location that makes Kansas City unique. It's the fusion of cultures that has shaped the city's vibrant music and culinary scene. The city is known for its rich jazz history, endless fountains, and signature mouthwatering barbecue.
For couples, Kansas City offers a romantic and exciting experience. The city's food and music scene is a big part of what makes it special, but it's also the perfect backdrop for a romantic getaway.
The combination of different cultures and traditions creates a romantic atmosphere that is both exciting and relaxing. The vibrant music and culinary scene can be enjoyed while taking a tour of the city's fountains, adorned with beautiful sculptures.
St. Louis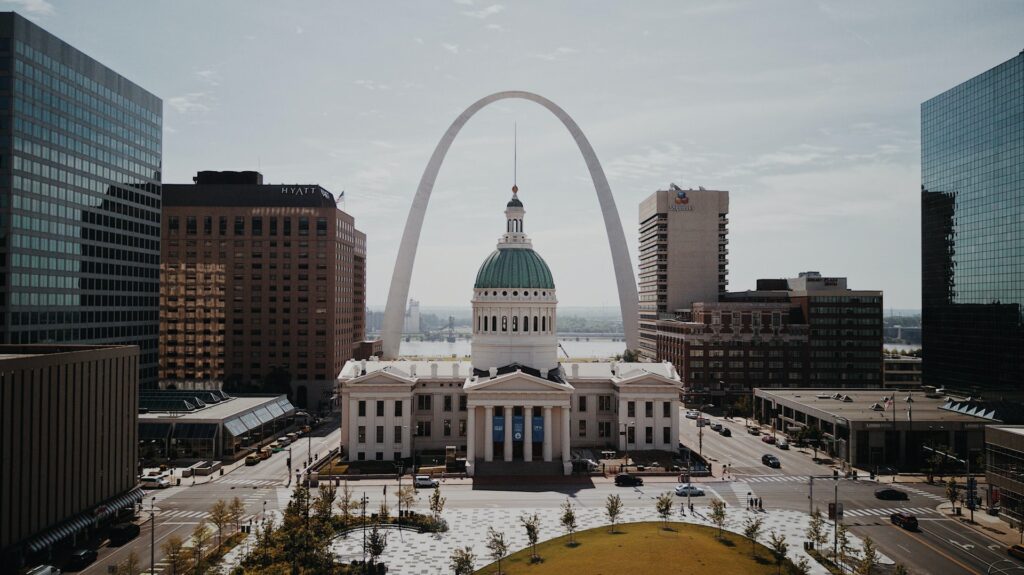 St. Louis is a honeymoon destination that promises adventure, fun, and romance all in one! Defined by the magnificent Gateway Arch and the mighty Mississippi River, this modern and vibrant city offers a plethora of attractions and activities for newlyweds of all ages and interests.
Take a trip to the Saint Louis Art Museum, established in 1879, and admire the over 33,000 works of art that span five thousand years. The museum offers a great view of the iconic Gateway Arch from almost any spot in town.
Date spots are endless in St. Louis. Stroll and picnic in the Laumeier Sculpture Park, see live shows at the Fox Theatre, and enjoy a wine tasting at one of St. Louis' many wineries.
Branson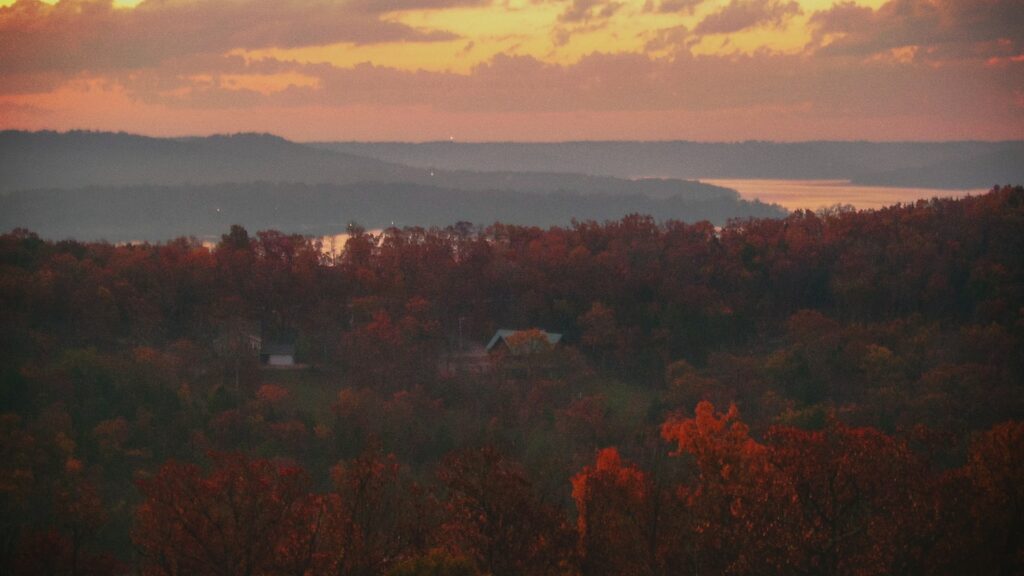 Couples seeking a quiet romantic getaway in Missouri will find it in Branson. The Ozark town is a one-stop experience for lake excursions and romantic dining with a mile-long boardwalk and fountain show.
Whether you want to spend your days in intimate seclusion or in the midst of the country's most entertaining city, Branson has it all. With a wide range of shows, attractions, shopping, golf, and outdoor activities, there's something for everyone.
See the famous Branson Landing Fountains show, take a romantic cruise on Table Rock Lake, and visit the Titanic Museum.
Best Missouri Honeymoon Resorts, Hotels, and Romantic Inns
If you're planning a honeymoon in Missouri, there are plenty of romantic resorts, hotels, and inns to choose from. Whether you're looking for a luxurious getaway or a cozy bed and breakfast, there's something for every couple!
Take a look at our list of the best Missouri honeymoon spots to start planning the perfect trip: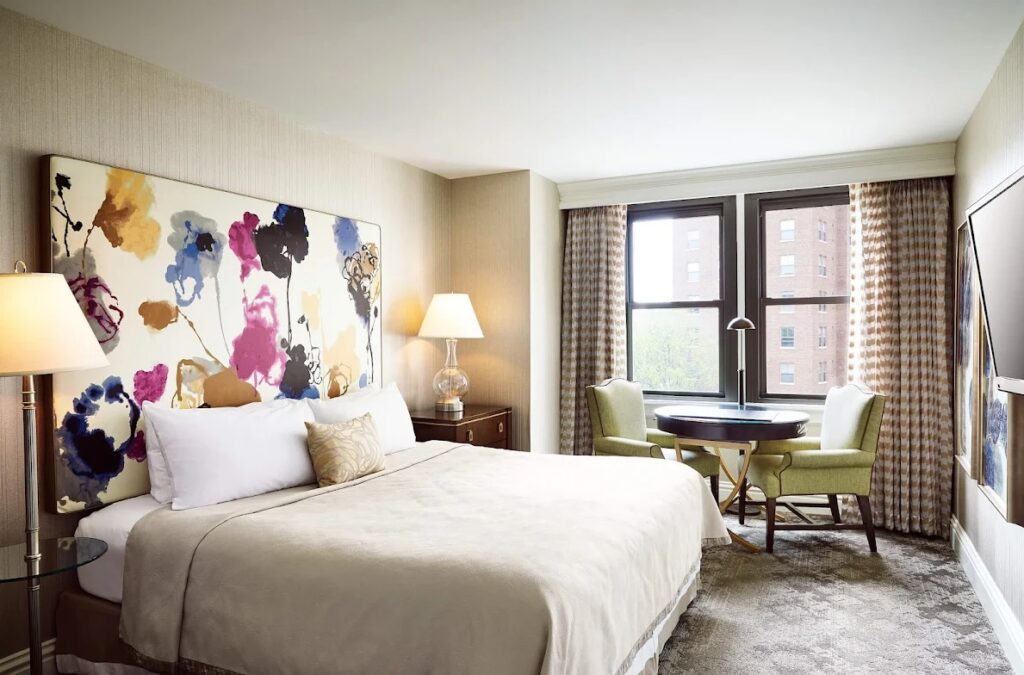 Price per Night: upwards of $300
Best For: younger & older couples, short stays, easy access to attractions
Availability: Easy to book
The Raphael Hotel in Kansas City offers newlyweds the ultimate luxury and elegance for their honeymoon. A recipient of numerous awards and achievements, this luxury boutique hotel is one of the most renowned hotels in Missouri – there's no doubt it's perfect for a romantic weekend getaway!
Housed in a historic landmark, the hotel offers newlyweds the perfect blend of modern service and vintage hospitality for a romantic honeymoon. The Raphael Hotel boasts 126 beautifully decorated guest rooms and suites, each with beautiful views, plush bedding, and ultra-modern amenities.
Located just a stone's throw from the Country Club Plaza – a premier destination for shopping, dining, and nightlife in Kansas City – The Raphael Hotel offers easy access to the city's best attractions.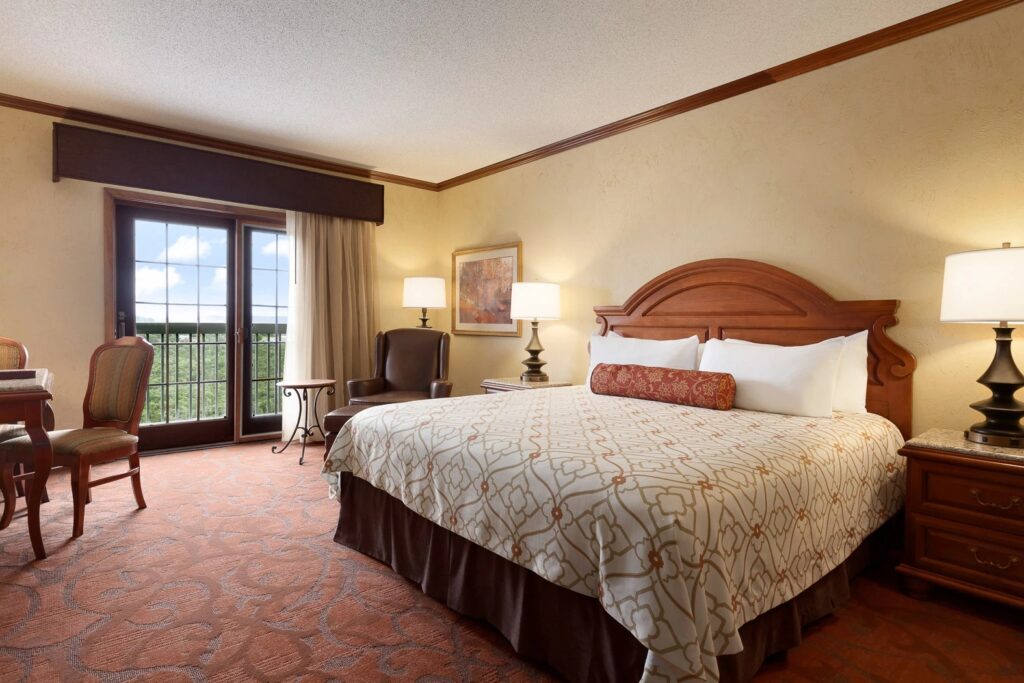 Price per Night: $149-$399
Best For: younger & older couples, long stays, luxury experience, easy access to local attractions
Availability: Easy to book
Escape to a modern-day "Castle in the Ozarks" at the Chateau on the Lake Resort Spa, where warm Midwestern hospitality meets European elegance. This lakeside resort welcomes newlyweds with upscale amenities, spectacular lakefront views, and dreamy rooms.
The resort boasts elegantly designed guest rooms and suites with classic French Country furnishings and modern amenities, including a complimentary flat screen, Keurig coffee makers, and spacious bathrooms. Many rooms also have breathtaking views of Table Rock Lake or the picturesque Ozark Mountains.
Conveniently located just 10 miles from downtown Branson, you'll have access to all the best attractions. You can spend the day exploring Silver Dollar City and the surrounding nature trails, indulge in a spa treatment at Spa Chateau, and lounge at the pool with poolside service.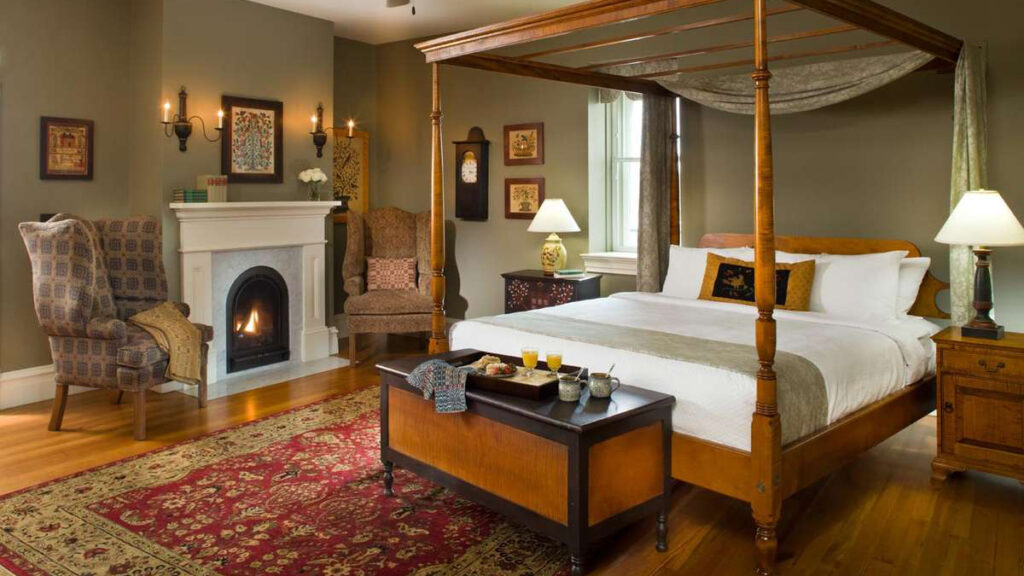 Price per Night: upwards of $200
Best For: older couples, long stays, bed & breakfast style
Availability: Easy to book
Step back in time and experience the romance of Missouri Wine Country's history at the historic Hermannhof Inn. Originally built in the mid-1800s, this boutique hotel offers a glimpse into a simpler era while still providing 21st-century amenities for comfort during your stay.
Each guest room boasts its own unique character, a private bath, and European-quality linens. You and your sweetheart can indulge in complimentary breakfasts and luxurious amenities such as a cozy fireplace, a soaking hot tub, and an in-room massage.
This historic inn also offers special packages for your loved one. This can include chocolates, cakes, floral arrangements, or champagne to make your stay at our romantic getaway in Missouri even more special.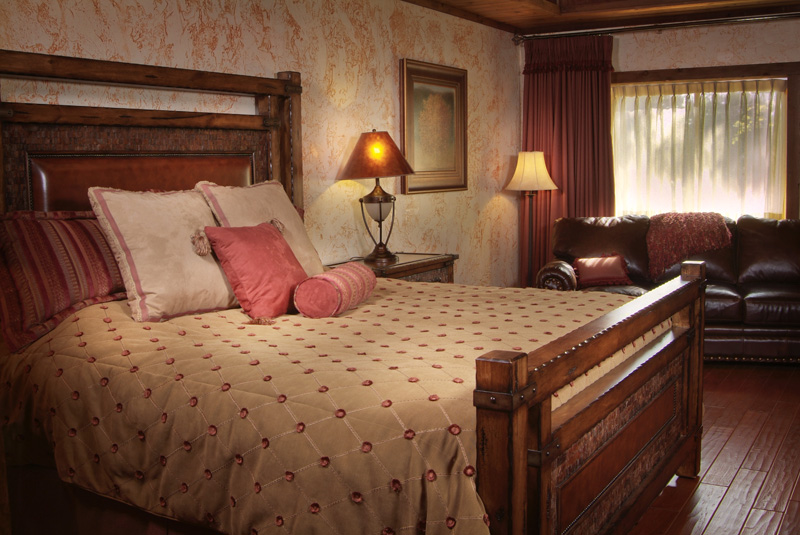 Price per Night: upwards of $500 (minimum two-night stay required)
Best For: all-inclusive, younger & older couples, short stays
Availability: Limited
Nestled within 500 acres of the picturesque Mark Twain National Forest, the Stonewater Cove Resort offers newlyweds a luxury escape into the rugged wilderness. This family-owned resort is all-inclusive, so you can just sit back, relax, and worry about nothing but spending time with your honey.
Each stay here comprises of a hearty homemade breakfast, luxurious lakeside accommodations, and an endless selection of hotel amenities and activities.
For couples looking for adventure, the resort offers a variety of activities to enjoy together. Take a canoe or kayak out on the lake, go on a guided excursion with forest rangers, or experience the thrill of zip-lining.
Stonewater Cove Resort & Spa offers the perfect setting to relax and unwind for those looking for a more laid-back honeymoon. You can stroll through the forest, soak in the hot tub, or simply relax on the private balcony with a glass of wine.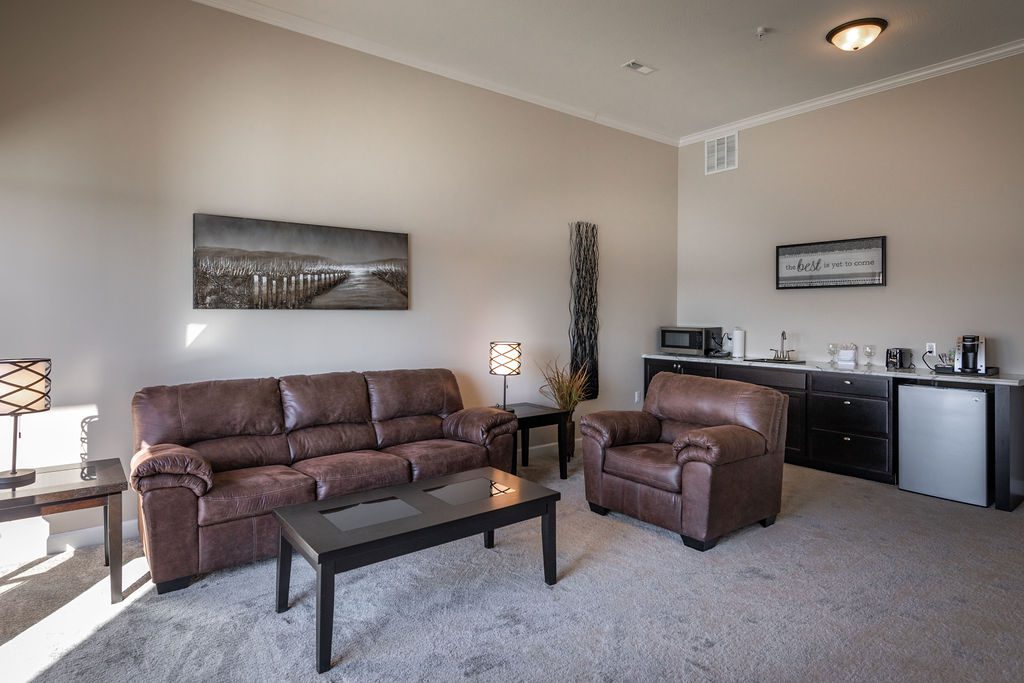 Price per Night: upwards of $200
Best For: younger & older couples, long stays, water sports & attractions
Availability: Easy to book
Escape with your loved one to D'Monaco Luxury Resort and relish in a classic lakefront experience. A hidden gem of Table Rock Lake resorts, the D'Monaco seems like it was made for romantic getaways.
Couples have ultimate intimacy and privacy in one of the 55 suites and villas, all of which come with stunning lake views and unmatched comfort. The Luxury One Bedroom King with a Balcony is perfect for newlyweds, featuring a king bed, modern amenities, and a private lake view balcony.
The resort also offers a host of on-site amenities and off-site activities. Couples can spend their time lounging at the lakefront pool and kayaking on the lake. In addition, off-site activities include visiting Silver Dollar City, hiking in Table Rock State Park, and visiting monuments.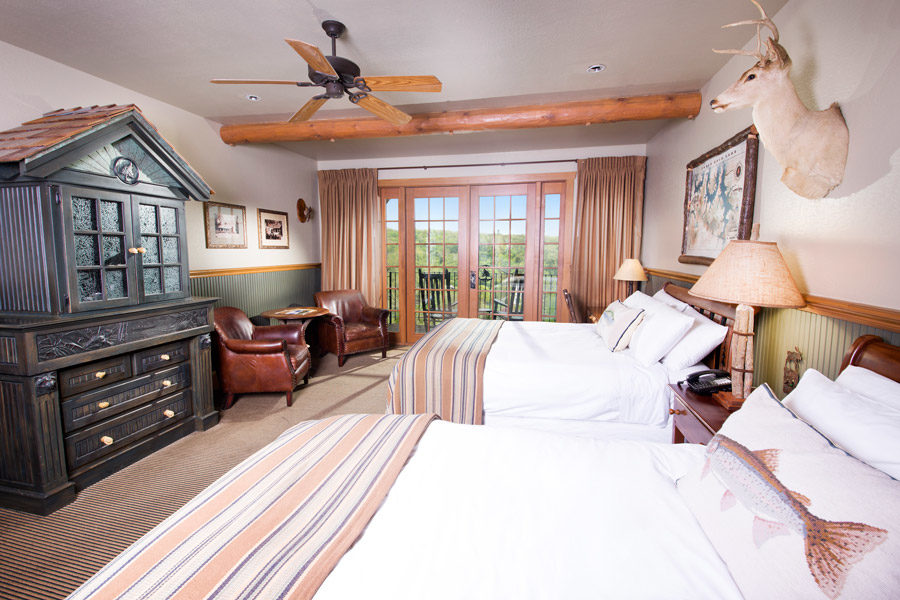 Price per Night: upwards of $450
Best For: younger & older couples, short stays, wilderness retreat
Availability: Easy to book
An adventurous stay awaits at America's premier wilderness resort, Big Cedar Lodge. Nestled amongst 4,600 acres of natural beauty, this remote haven places newlyweds in the rugged landscape of the Ozark Mountains.
With over 300 private accommodations, couples can choose between cozy cottages, grand lodges, rustic log cabins, and inviting camp-style units. The Glamping Unit is perfect for those looking to have their honeymoon tucked into the wilderness. The luxury cabin has a balcony and a private stone room with a firepit and outdoor tub.
This wilderness retreat also boasts a wide range of outdoor activities and amenities for couples to enjoy, including incredible restaurants, two full-service marinas, a breathtaking spa, five golf courses, and more!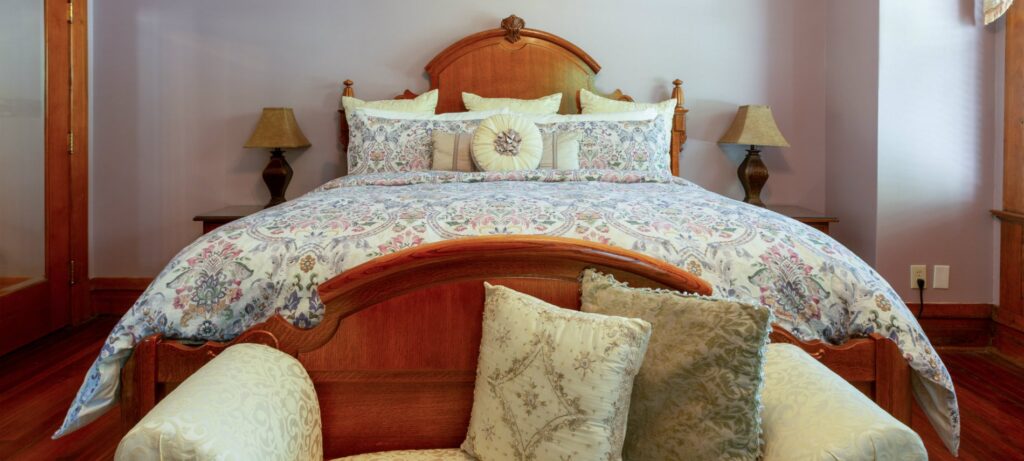 Price per Night: $175-$305
Best For: adults-only, younger & older couples, long stays
Availability: Limited
Experience the romance and grandeur of a bygone era at Fleur-de-Lys Mansion, a 19th-century luxury inn located in the heart of St. Louis. This elegant and historic mansion only offers five rooms, making it the perfect spot for couples looking for an intimate and quiet setting.
All five stylishly appointed guestrooms come with their own unique charm but are equal in their offerings. Each comes with luxurious beds, signature bathrobes, and spacious en-suite bathrooms. Every morning you'll wake to a delicious, full signature complimentary breakfast in the formal dining room.
As for things to do, this boutique hotel is only a short distance from some of St. Louis' most popular attractions, such as the Gateway Arch and the Missouri Botanical Garden. The Mansion also offers a variety of packages to make your stay even more special.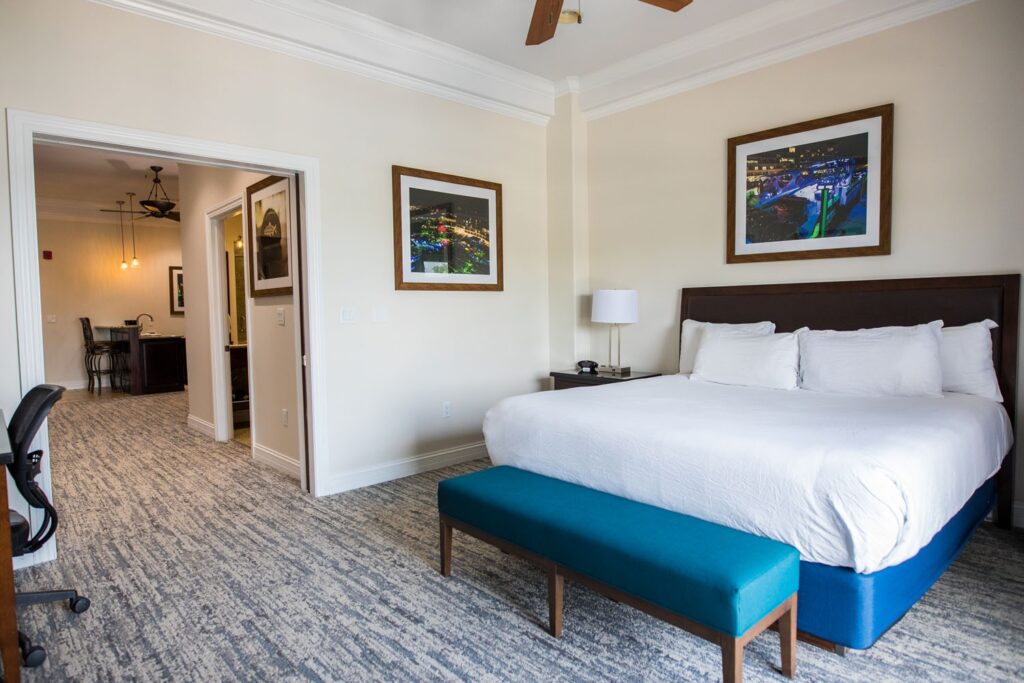 Price per Night: $140-$350
Best For: younger couples, long stays, on-site activities and amenities
Availability: Easy to book
Sweep your sweetheart away on the Lake of the Ozarks at Camden on the Lake Resort. The resort boasts a wide range of amenities that cater to all tastes and preferences. Whether you're looking to relax and unwind or to be active and adventurous, Camden on the Lake has something for everyone.
Pick from 116 rooms and suites, all equipped with high-end finishes, quality furniture, and fully furnished kitchenettes with mini-fridges, microwaves, and a two-burner cooktop.
For couples looking to soak up the sun and enjoy the Lake of the Ozarks, the resort offers a variety of water activities. The resort also has a swim-up bar, where you can enjoy a refreshing drink while lounging in the pool. You can also enjoy some privacy in the hot tub with lake views.
The resort is also 30 minutes away from Sunrise Beach, where couples can explore attractions, restaurants, and shops.
Top Excursions & Activities To Do On A Missouri Honeymoon
A Missouri honeymoon offers endless opportunities for adventure and romance with your sweetie. From exploring the natural beauty of the Ozarks to experiencing city life in St. Louis, there is an excursion or activity for every couple.
Make your honeymoon one to remember with these top excursions and activities:
1. Experience the magic of St. Louis with a horse-drawn carriage ride
What's more magical for your honeymoon than a horse-drawn carriage ride? Imagine snuggling up with your loved one as you meander through the charming neighborhoods and historic streets of downtown St. Louis from the comfort of a cozy carriage.
St. Louis Carriage Company will make your fairytale dream come true. The company offers a selection of carriages to choose from, including the Vis-a-Vis and Cinderella Carriage.
2. Have a candlelight dinner cruise
Romantic getaways in Missouri are not truly romantic without a candlelight dinner on the water.
Celebration Cruises offers a two-hour romantic dinner every Saturday for couples. Together you'll set sail on the breathtaking Lake of the Ozarks, taking in the views as you sip some wine and indulge in a delicious meal.
You can also add their Anniversary Package – perfect for newlyweds too – to your dinner for $20. This includes a bottle of sparkling white wine and a Congratulations balloon.
3. Venture underground at Fantastic Caverns
Hop aboard a Jeep-drawn tram and explore an underground marvel at Fantastic Caverns in Springfield. Any couple looking for a fun yet relaxing adventure will love this!
This "Ride-Thru" tour will take you through the passages in the caverns, where you'll learn about the origins and see fascinating formations of stalactites, stalagmites, soda straws, and cave pearls.
4. Sip some wine at Stone Hill Country
Experience a taste of wine excellence at the Stone Hill Winery. Nestled in the picturesque town of Hermann, this winery boasts original cellars dating back to 1847.
Sip on a glass of locally produced wine while taking in the charming ambiance of the gardens. You can also take a free guided tour of their famous cellars and learn how their fabulous wine is made.
A stop here also calls for some excellent German food at the winery's Vintage Restaurant.
5. See the natural beauty of Forest Park
If you're looking for a little one-on-one time with your sweetheart in nature, visit the beautiful Forest Park in St. Louis! The park boasts stunning scenery and plenty of opportunities for adventure and romance.
Take a leisurely stroll through the park, exploring the many museums, landmarks, and natural highlights. Indulge in a romantic picnic or dine at one of the nearby restaurants.
For a truly unique and intimate experience, book a Moonlight Paddleboat Picnic offered by The Boathouse. For $85, enjoy dinner and drinks for two on a paddle boat as you gaze at your loved one and the sunset.
6. Zipline through the trees at Branson Zipline at Wolfe Mountain
Branson Zipline at Wolfe Mountain is the perfect romantic adventure for couples looking to add excitement to their honeymoon. You'll be zipping your way through the Ozarks and taking in panoramic views of the rolling hills the whole way down.
You can choose from three zipline adventures, including the Canopy Adventure, Ozark Explorer, and Blue Streak. Whichever one you choose, you two lovebirds are sure to have a fantastic time!
Sample Itinerary & Budget For Your Honeymoon To Missouri
Here's a rough estimate of expenses you can expect during a 7-day honeymoon in St. Louis, Missouri:
Accommodation – ≈ $1000
Food & drink – ≈ $200-$600
Flights – upwards of $50 (from another state in the US)
St. Louis horse-drawn carriage ride – $50 for two people
Moonlight Paddleboat Picnic – $85
The Gateway Arch (Tram & Cruise Combo) – $37 per person
Here's a 4-day sample itinerary for a honeymoon in St. Louis, Missouri.
Day 1 – Arrive in St. Louis and check into your hotel (Fleur-de-Lys Mansion). Take time to explore downtown St. Louis and grab a bite to eat after your trip. Spend the first night with a romantic dinner at one of St. Louis's many fine dining establishments.
Day 2 – Start the morning with a delicious breakfast at your hotel. Take a 30-minute ($50) or 60-minute ($95) horse-drawn carriage ride through the historic streets of St. Louis. Then spend the day exploring the Forest Park, visiting the museums and sites. Finish off the night with the Moonlight Paddleboat Picnic.
Day 3 – For day 3, head to the Gateway Arch for the tram and cruise combo. You'll take a tram ride to the top of the Gateway Arch for a panoramic view of the city. After this, you'll then enjoy a lovely relaxing riverfront cruise. Have dinner at a local restaurant and enjoy live music or a show to celebrate your final night.
Day 4 – Finish your Missouri honeymoon with a slow morning as you pack and enjoy breakfast at your hotel. Return home with unforgettable memories from your honeymoon!
Frequently Asked Questions
How much does a Missouri honeymoon cost?
The cost of a Missouri honeymoon depends on various factors, including your chosen accommodations, the activities you want to enjoy, and the time of year you go. On average, a honeymoon for two in Missouri can cost anywhere from $1,500 to $5,000 for a week.
When is the best time to visit Missouri?
The best times to visit are from May to October. The weather is at its best during this time, which allows for spending days outdoors and exploring the state.
What is the best way to travel around Missouri?
The best way to travel around Missouri is by renting a car. This allows you to explore the state at your own pace and makes it easier to visit different towns and cities. Public transportation options are limited, so having your own car is the most convenient way to get around.
Start Planning The Perfect Romantic Honeymoon Getaway
Missouri promises couples romance in every corner, from its magnificent mountains and lush forests to its swanky cities and colorful country towns.
There's truly no better way to celebrate your newlywed status than in the state that's home to the magnificent Missouri River, iconic cities of St. Louis and Kansas City, and stunning Ozark Mountains.
So, pack your bags, grab your partner and let Missouri be the backdrop for your happily ever after. Check out our Couples Travel resources, and we'll help you plan the perfect romantic honeymoon getaway to any destination you can imagine!