Are you and your loved one thinking about planning a romantic getaway to New England and don't know where to start?
Don't stress: a holiday for two should be enjoyable, relaxing, and fun from start to finish!
With our Ultimate Getaway Guide, we've got you covered. This article will walk you through everything that makes New England the perfect romantic getaway. You'll also get insider tips for the most luxurious accommodations and the best excursions in NE.
We've got everything you need to know about a romantic trip to New England. Plus we've got an exclusive romantic weekend getaway sample itinerary and budget to make planning easy. All you have to do is pack your bags and go!
What Makes New England Perfect For A Romantic Getaway?
Tucked away in the northeastern area of the States, away from the hustle and bustle of neighboring New Jersey or New York, lies one of the USA's top lovers' destinations.
New England comprises six states:
Maine
Connecticut
Massachusetts
Rhode Island
Vermont
New Hampshire
Together, they offer a long stretch of diverse land on the East Coast with something for every couple all year round.
The pastel hues of spring are one of the most romantic sights you'll ever see. You can also cozy up next to a roaring fire after skiing through powdery snow in winter. If that's not your cup of tea, immerse yourself in the beautiful fall colors of an Indian summer or relax on white, sandy beaches with a generous helping of seafood.
On top of that, New England charms visitors with some of the most stunning accommodations and picturesque towns and cities.
Most Romantic Getaways New England
One reason why we rate New England so high on our list of romantic getaways is the number of attractions and accommodations to choose from:
Sky-scraper hotels in Boston, Massachusetts, Rhode Island, or Providence
Nature-filled resorts and rocky waterfront inns in Maine
Indian summer-inspired bed and breakfasts in Vermont
Cozy, countryside accommodation in Connecticut
The restaurants and little shops along the way are just as unique as these different areas in NE. Go on an antique shopping spree in Connecticut, horseback riding, or sleigh riding in Vermont, or relax on Rhode Island's beaches!
Cape Cod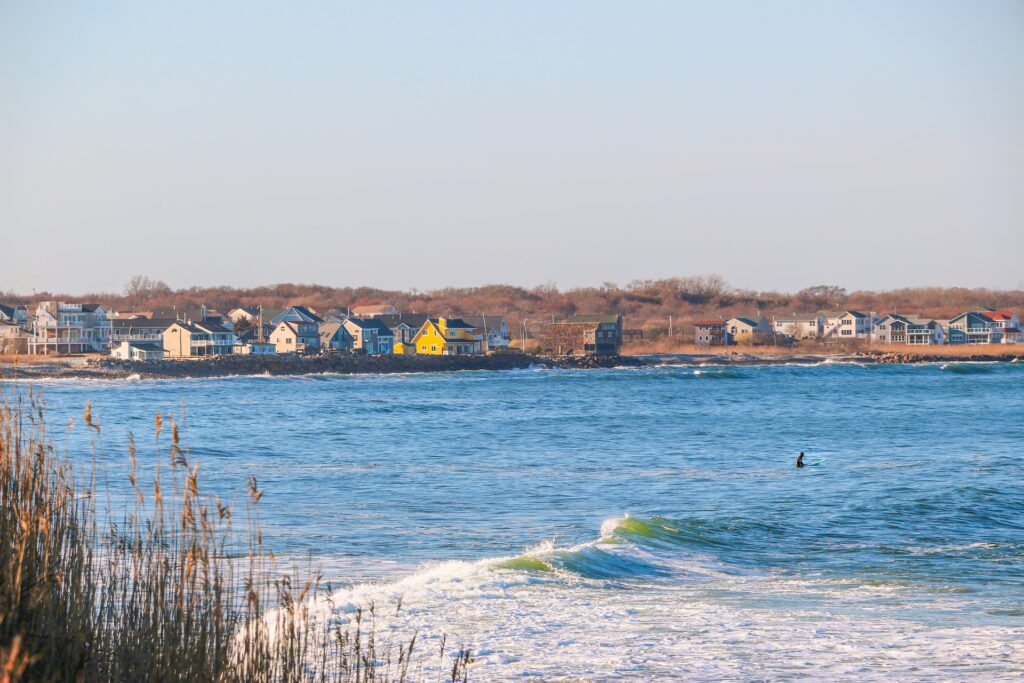 Cape Cod in Massachusetts offers beautiful nature to explore, from incredible wildlife to unspoiled national parks.
You can explore hiking trails, or if you are a mountain biking couple, try one of Cape Cod's scenic bicycle trails. If you like biking, the area has ideal weather (and landscapes).
We highly recommend checking out the following trails:
Nauset Trail
Nickerson State Park Bicycle Trail
New Hampshire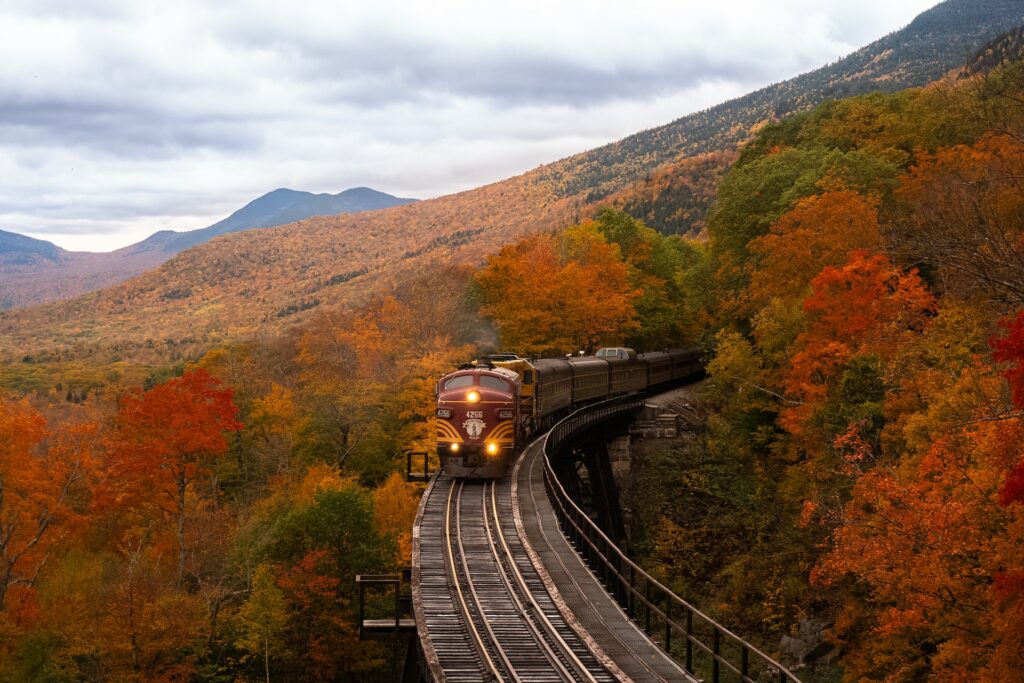 New Hampshire is best known for its magical winter activities.
Hit the slopes on your skis or snowboards or go hiking in snowshoes before relaxing in a hot tub or in front of a crackling fire.
Cross-country skiing is also a favorite. With more than 45 kilometers of skiing trails, one of the best areas for this winter sport is the Great Glen Trails.
One of the more unique adventures New Hampshire has to offer is dog sledding! Don't worry; this isn't a long-distance race across Alaska. Consider it a fun and picturesque pastime to explore the countryside – and potentially spot some of the local wildlife (did anyone say moose?).
Connecticut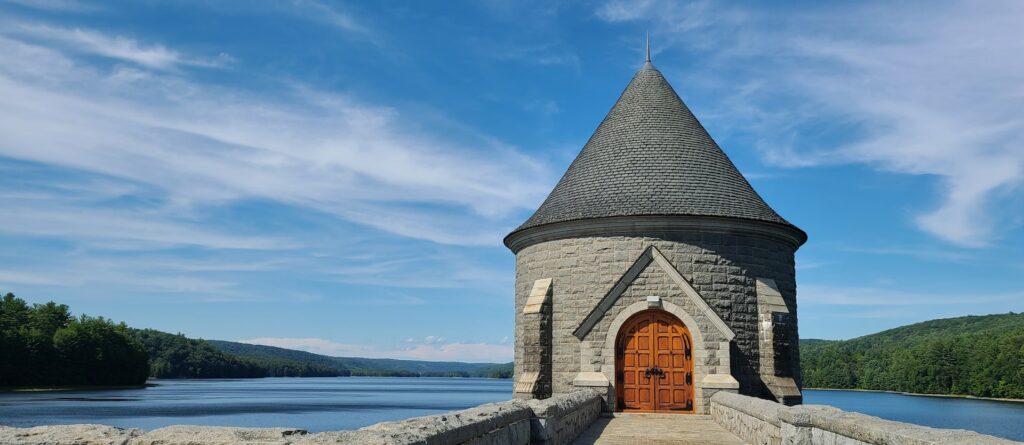 The Nutmeg State, located on the Long Island Sound, comes with little story-book towns such as Kent, surrounded by the most scenic bridges, boutique shopping, cute little antique and coffee shops, and breathtaking waterfalls within walking distance.
As always, you will also be able to get up to many winter sports activities in Connecticut. But one of the other highlights here is the Craft Brewery scene. We highly recommend going on a tour and checking out some of these quirky and worthwhile breweries if you are in the area.
Vermont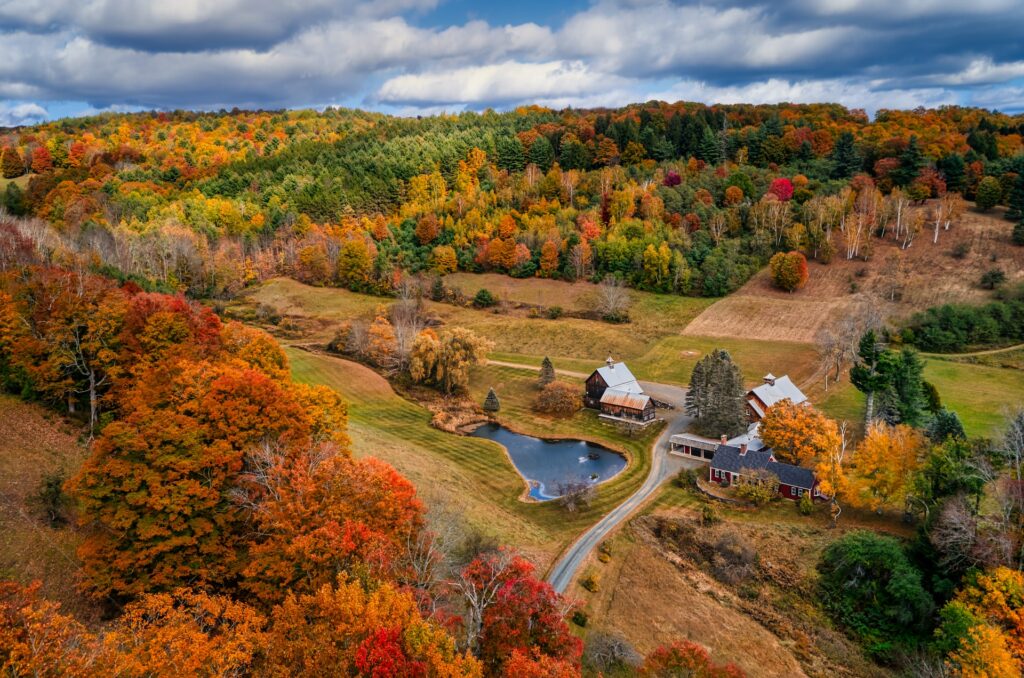 Nothing is more synonymous with Indian summer than Vermont. You will find some of New England's most romantic getaways in Vermont – great for stunning fall snapshots for Instagram.
Going on a hike through the colorful foliage and the Appalachian Mountains in the backdrop during fall is a definite must. We highly recommend visiting the Green Mountain National Forest or doing the Camel's Hump hike.
When you are in Vermont, don't miss out on exploring the beautiful lakes in the area. You can explore them best by renting:
Sailing or motorboats
Pontoons
Canoes, paddleboards, and kayaks
Oh, and did we mention that Vermont is home to one of the sweetest things in the world? Yup, the original Ben & Jerry's Ice Cream Factory is located in Waterbury and invites fans to come and visit! What's more romantic than sharing your favorite ice cream flavors with your favorite person?
Rhode Island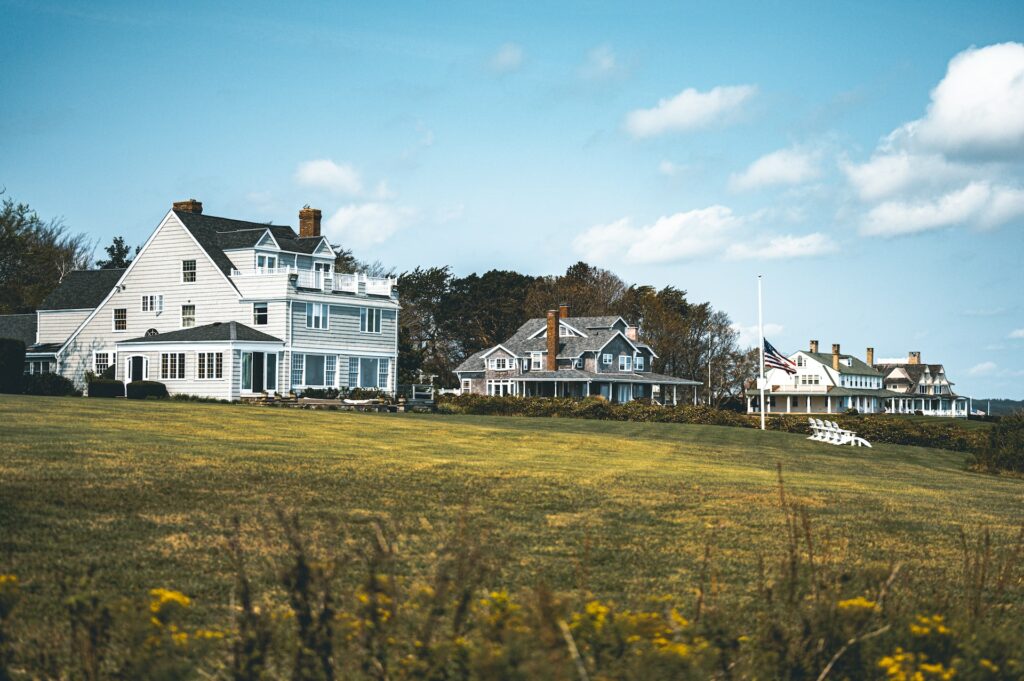 Going on fun couple's activities (particularly during fall) in Rhode Island will be easy. Some of the best excursions include:
Apple picking
Pumpkin picking
Playing hide & seek in a corn maze
Hiking
Visiting Rhode Island's lighthouses
The Ocean State offers fun spots for trips during wintertime as well.
Whether you prefer to be indoors or outdoors, in cities or the country, Rhode Island won't disappoint!
Best Accommodations in New England: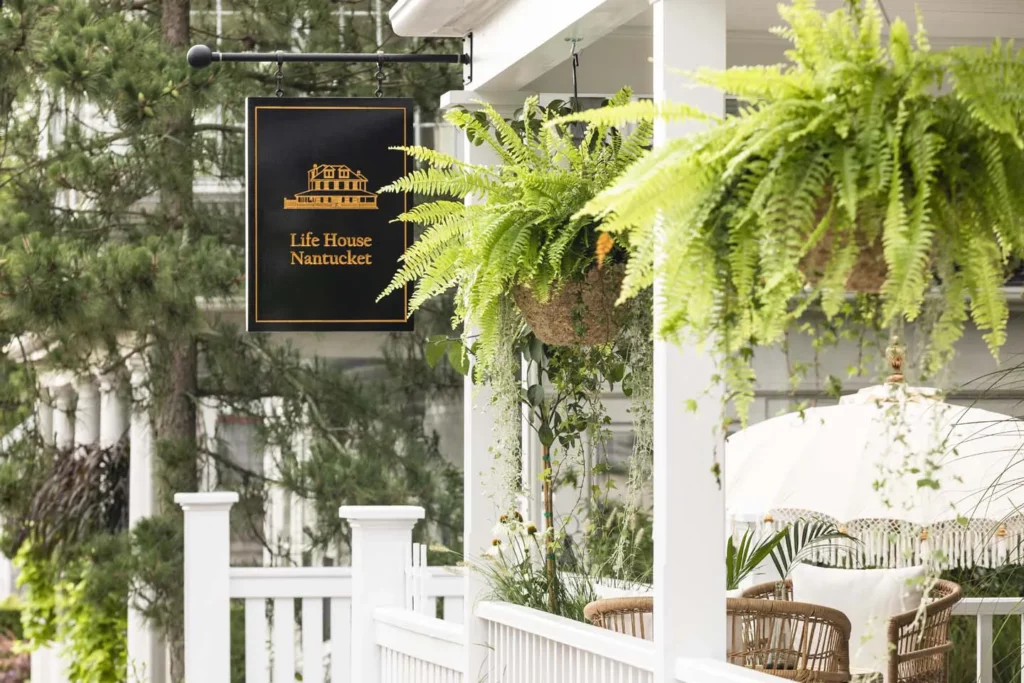 Price per Night: only reopening in spring – prices may vary
The Life House is the new face of the old and infamous Century House in Nantucket. It comes with upgraded and contemporary amenities such as:
Marshall speakers in the rooms
Rain showers
Le Labo bath products
This hotel is perfect for relaxing after spending your afternoons wandering through the little town's cobblestone streets. Their beautiful garden has lots of cozy nooks where you can enjoy afternoon tea and a good book.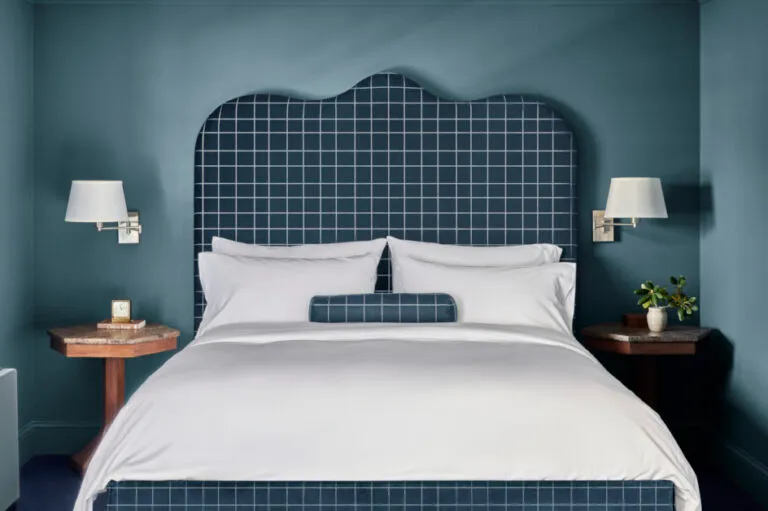 Price per Night: from $632
This property, located at the historic seaport of Newport, in front of Narragansett Bay, provides a unique stay for guests that want to feel like they just traveled back in time.
The beautiful hotel offers exquisite service, stunning guest rooms, and lots of extra packages to book, such as:
Cooking classes
Firepit evenings with s'mores
The Romance package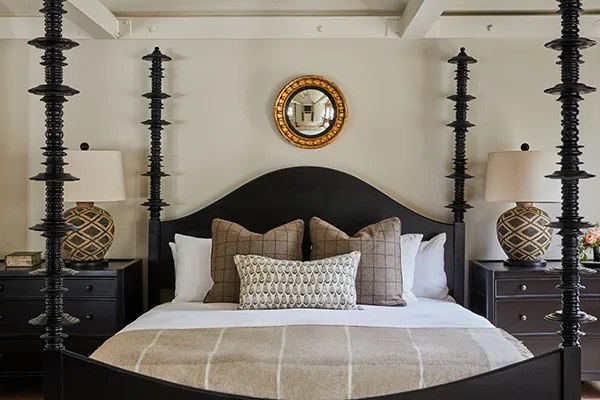 Price per Night: from $584
The Auberge Resort in Kennebunkport offers guests 27 luxurious rooms with waterfront views.
Their spa is top-notch and perfect for a relaxing couples massage. On top of that, the White Barn Inn offers a triple-A, Five-Diamond, and Forbes Five-Star rated award-winning restaurant.
This romantic New England getaway allows guests to participate in lots of fun and romantic local activities such as:
Dog sledding
Cocktail classes
Chocolate making classes
Three-course lobster dinner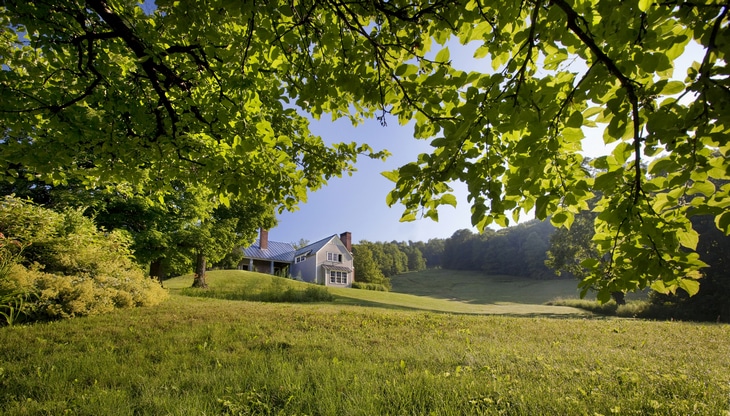 Price per Night: from $2,600
The Relais & Chateaux Twin Farms is potentially one of the world's most romantic getaways and luxury accommodations.
The adults-only hotel offers distinct guest rooms with a fireplace and luxury toiletries.
In-house dining is sourced by local farmers and inspired by the seasons.
If you are a couple that loves fine dining and good wine, then this is the place for you. The hotel's wine cellar comes with an impressive 15,000-bottle collection. You can even rent this for a date night with an intimate wine tasting.
You can be sure that after a romantic weekend getaway at the Twin Farms, you'll be more in love than ever before, with unforgettable memories to cherish.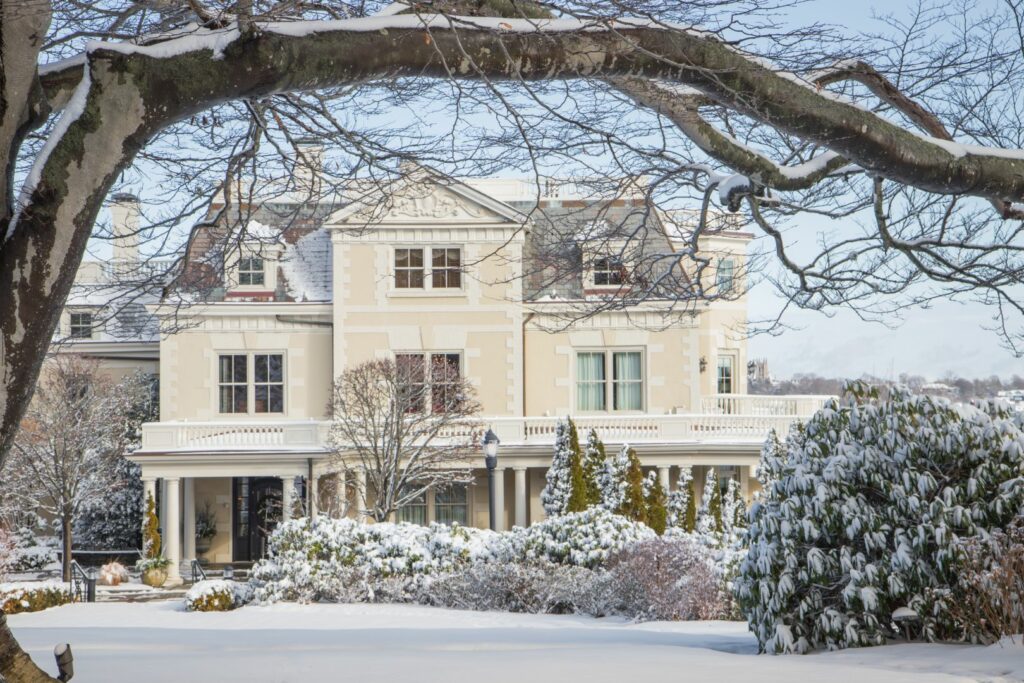 Price per Night: from $475
You'll find this elegant inn on the Cliff Walk in Newport. Each of the twenty rooms is distinctively decorated with a different period as inspiration.
Their in-house restaurant is a must-visit and offers an eclectic three-course menu with delicacies such as:
White truffles
Risotto
Wagyu beef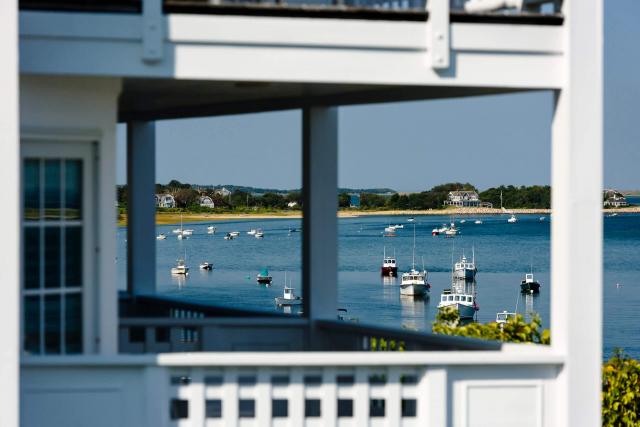 Price per Night: from $350
Cape Cod screams romance for ocean lovers across the globe. That's why the Chatham Bars Inn offers incredibly memorable romantic weekend getaways in New England.
This resort boasts guests 217 guest rooms, and lots of space for recreation and other activities such as:
On top of that, this resort has four restaurants that offer quintessential dishes such as fresh fish. Most food is sourced from the resort's very own farm. You can also try many local craft beers while taking in the scenic ocean views from the bar. And don't forget to get their gourmet breakfast delivered to your room!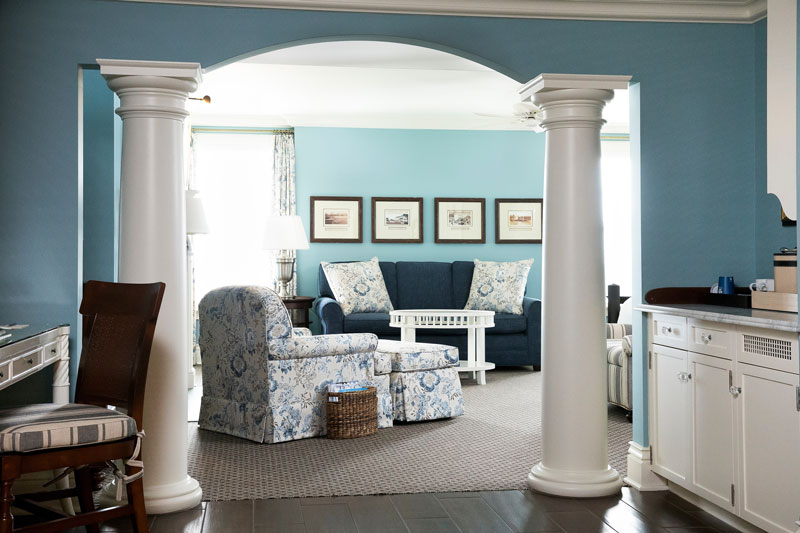 Price per Night: from $635
Sitting atop a bluff above the mighty Atlantic, this five-star hotel in Watch Hill has to be on your list of getaways in New England! Even if you stay somewhere else to save some bucks and book yourself and your partner into their fantastic spa for a couple's massage, it'll be worth it.
For those who feel like splurging, Ocean House allows its 49 guests to choose between lavish rooms and luxury suites with an ocean view.
Your culinary needs will also be met, if not exceeded, at the in-house Center for Wine & Culinary Arts. Here you can enjoy unique locally-inspired dishes paired with quality brewed beers and eclectic wines from across the globe. Sounds like the perfect date night, right?
Oh, and don't worry – their breakfast buffet is just as divine.
When it comes to activities, Ocean House also doesn't disappoint. Guests get to choose from:
The Romance Package
Movie screenings
Tours of local art galleries
Yoga
Jazz brunches
The idyllic Mayflower Inn offers luxurious amenities for all its guest rooms on 58 acres of beautiful land filled with woodlands and gardens.
Their spa makes this the perfect stay to relax and spend some downtime together while their dining room offers locally farmed and inspired contemporary cuisine.
On top of that, most of the Mayflower Inn's activities are aimed at couples. Choose rekindling activities such as:
Pottery making
Tarot Card reading
Cocktails by the bonfire
Snowshoeing

Price per Night: from $209
The Rabbit Hill Inn is an adult-only boutique hotel that offers everything you need for a couple that wants to spend some romantic downtime together.
The boutique hotel offers terrific amenities across the board:
Fireplaces
Spa hot tub
Complimentary Breakfast
Private porches
Sun decks
Irish-style in-house Pub
Farm-to-table cuisine
Afternoon pastries and gourmet breakfasts
Candle glow-turndown service
Romantic packages with multi-course dinners, champagne, roses, and chocolates
The Rabbit Hill Inn is ideally located in the North of Vermont. Here you'll find the charming town of Lower Waterford, packed with artisan crafts, breweries, museums, and boutiques.
This also makes the Inn perfect for outdoor-loving couples, as you can get up to lots of fun and romantic activities in and around the area, for example:
Romantic sleigh rides
Winter biking
Skiing
Watersports
Snowmobiling
ATV or snowshoe trekking
Zip lining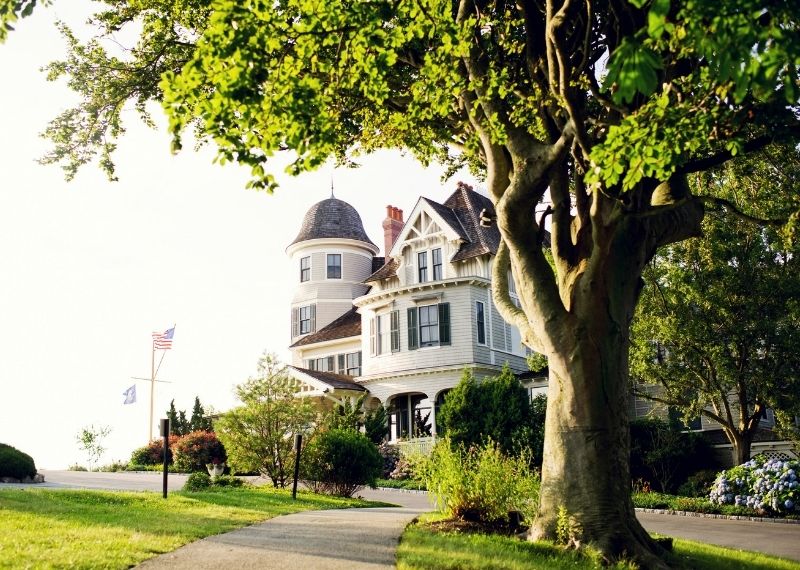 Price per Night: from $525
The Castle Hill Inn is located on 40 acres, overlooking the mighty Atlantic Ocean in Narragansett Bay.
This charming Inn offers 33 guest rooms with luxury amenities such as fluffy bathrobes and local, high-quality toiletries.
Their in-house dining room makes for an extraordinary culinary experience and offers local and traditional dishes paired with an extensive wine list.
Couples can book the Castle Hill Inn Retreat to Romance package that comes with:
Champagne and chocolate strawberries on arrival
Fresh flowers
Three-course dinner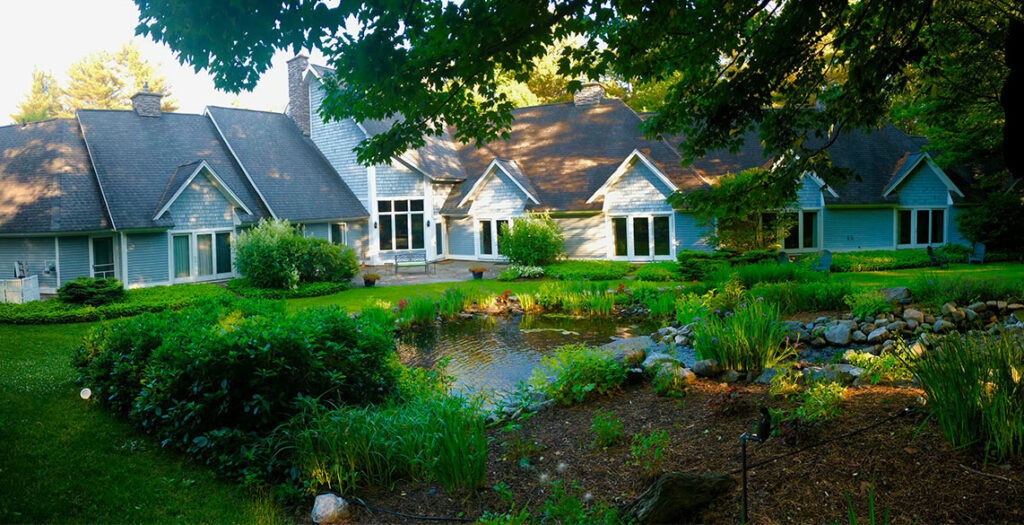 Price per Night: from $459
The Stone Hill Inn is an award-winning romantic Inn. Their super exclusive nine luxurious rooms offer:
Two-person Jacuzzis
Wood-burning fireplaces
King-sized beds
Private entrance to the gardens
In the gardens, guests can enjoy lazy afternoons on recliners or watch movies with popcorn in their lounge.
The Stone Hill Inn is surrounded by 9.5 acres of woodland that's simply waiting for guests to explore during long hikes or lazy strolls.
Top Excursions & Activities To Do On A New England Romantic Getaway
Now that you've had an overview of the best guest rooms and luxury accommodations in this region, let's look at the activities and excursions for couples on romantic weekend getaways in New England.
Boston
Most famous for the rebellious settlers that said "cheerio" to English taxation, Boston has lots to offer. The city has something for everyone, whether you want arts, culture, or just the hustle and bustle of a big city!
We recommend that if you're in the area, you make time to do a harbor sightseeing tour and visit the Boston Tea Party Ship & Museum.
Cliff Walk, Newport
In Newport, the Cliff Walk is the most famous excursion couples shouldn't miss. It's also free, which is great for honeymooners on a budget!
You can best explore the stunning shoreline of Newport on the walk which is famous for its breathtaking views of the rugged coastline and beautiful landscapes.
Visit Martha's Vineyard
Martha's Vineyard potentially offers some of the most breathtaking sunsets in the whole of NE (again, entirely for free).
If you're both adrenaline junkies, we highly recommend taking an open-air plane ride to explore the area from a completely different angle.
For those that like it a bit more relaxed, how about a romantic lobster dinner on the beach? (After a stroll through Larsen's Fish Market.)
In general, food lovers will love a trip to the Vineyard as it offers some of the best restaurants in America. In particular, we recommend checking out the l'etoile.
Ski Mad River Valley
Apart from being a must-see in general during fall, Vermont has lots of unique fun excursions to offer during winter, as well! Mad River Valley is just one example.
Beware, though – this is a ski-only resort, meaning no snowboarders are allowed. This is because Mad River Valley is meant to be enjoyed in a relaxed spirit, carving down the slopes without rushing.
If you are nature lovers, then this stunning area located in the Green Mountains of Vermont is perfect for you.
There are various other ski resorts in the vicinity as well, such as:
Stowe Mountain Resort
Sugarbush Resort
Sample Itinerary & Budget For Your Romantic Getaway In New England
Now, how to get all of this into your budget and make it work as an itinerary for your next romantic escape? Check out our sample itinerary and budget for a long weekend romantic stay in NE below!
Day 1 & 2 – Vermont
Make sure to take a scenic drive, no matter if you rent a car or use your own, through one of the neighboring states.
Drive to Waterbury, Vermont.
For a little roadside snack, visit the original Ben & Jerry's!
Check into your boutique accommodation and refresh yourselves before a stroll through the romantic setting each little romantic town in Vermont has to offer.
Book a couples' massage if you can. Otherwise, have a dip in a heated outdoor pool or enjoy afternoon tea on the porch.
Go for dinner at The Deep End.
Day 3 – Boston
Make your way straight to your hotel of choice. For your accommodation, we recommend a stay at the Harborside Inn.
For early birds, we recommend having breakfast at The Friendly Toast before checking into your hotel.
Once settled in, take a Boston Duck Tour or a harbor tour to the Boston Tea Party Museum.
For lunch or dinner, reserve a table at Galleria Umberto or Regina's.
Have a nightcap at the Warren Tavern
Day 4 – Cape Cod
Have breakfast in bed at the Inn before making your way along the ocean.
Drive to Sandwich, Massachusetts on Cape Cod.
Have lunch at Fisherman's View.
Stay at an inn of your choice.
Book a sunset cruise or take a long hike through the beautiful scenic landscapes.
Relax and enjoy the sun (in summer) on East Sandwich Beach.
Go for a very last New England supper at the Mattakeese Wharf before you make your way back home.
Sample Budget of your four-day romantic getaway to New England
Activity
Price
Accommodations
from $209 to $636 per night
Rental Car
$25-$39 per day
Food & drink
about $49 per person per day
Excursions
Sunset Cruise Cape Cod – $35 per person
Boston Harbor Tour – $40 per person
Ski in Vermont – $169 per day
Private sleigh rides – $269
Mountain biking – $60 per day
Frequently Asked Questions
How much does a New England romantic getaway cost on average?
How much you will spend on your trip to the NE area depends on the accommodations you choose, as well as the amount and type of excursions you decide to go on.
When is the best time to visit New England?
This area is truly magical throughout the whole year. Whether you want to enjoy your own little private sandy beach from an Inn near the shore in summer, or do winter sporting and romantic walks through freshly fallen snow in winter, NE offers something for everyone in every season!
How long do people typically spend in New England on a romantic getaway?
This depends mostly on your budget and how much you want to see of New England when you're there. We suggest staying at least for a long weekend, but ultimately five days to a week is probably best!
Start Planning The Ideal Romantic Getaway
With six states that are so different, you can be sure that you will have the best time during your next romantic trip to any New England village or area.
If you want to find more information on the best romantic getaways to any destination, visit our website and check out our Couples Travel resources.